Our Favourite Chiropractor in Singapore: Top 21 Clinics
Are you noticing frequent and recurring pain around your spine? If so, then you need to consult with the best chiropractors in Singapore as soon as possible.
Before we reveal their names, we're going to share the average cost of seeking chiropractic treatments in Singapore. We've also answered some of the most pressing questions about them and what they do.
The Best Chiropractors in Singapore
Now that you know the expected costs of consulting with a chiropractor, it's time to reveal which specialists we think are worth booking an appointment with.
Keep in mind that our list is in no particular order.
Onsite Health Singapore
Second on our list is Onsite Health Singapore. They are not your ordinary clinic because they also offer on-site and near-site health services directly at the workplace.
For their corporate clients, they strive to combine optimal health with optimal time management. Their services can eliminate stress and delays associated with visiting clinics and hospitals.
We think they are awesome because apart from their Novena clinic, they also provide in-house physical medicine services for many multinational corporates. Their company does in-house ergonomic assessments, wellness workshops, chiropractic and physiotherapy and each is tailored to the individual needs of their clients.
Regarding their chiropractic services, they also offer these at their private clinic located at Royal Square Medical in Novena. What's great about them is they offer one session at a time, they don't sell packages and their treatment plans are tailored to meet the individual needs of their patients. All of their chiropractors are also trained in soft tissue therapy, dry needling, exercise rehabilitation and shockwave therapy so they don't only do spinal adjustments. There appointment times are usually a bit longer as well so you have time to ask questions and don't feel rushed.
Customer Reviews
Here are some reviews from their previous patients:
"Thanks Nora for a much-needed massage that relieved my tight muscles after an over-enthusiastic week at the gym 😎"
"I had a pleasant experience here in Onsitehealth with Dr. Carolyn. Genuine and friendly treatment. Thank you for putting a slot for me on the same day because only you guys acknowledge my desperate request (horrible neck pain that want to get fixed ASAP)."
"Doreen has been a very caring and meticulous therapist. Vera was also very friendly and helpful in managing the bookings."
Dr. Theo Kieu – Light Chiropractic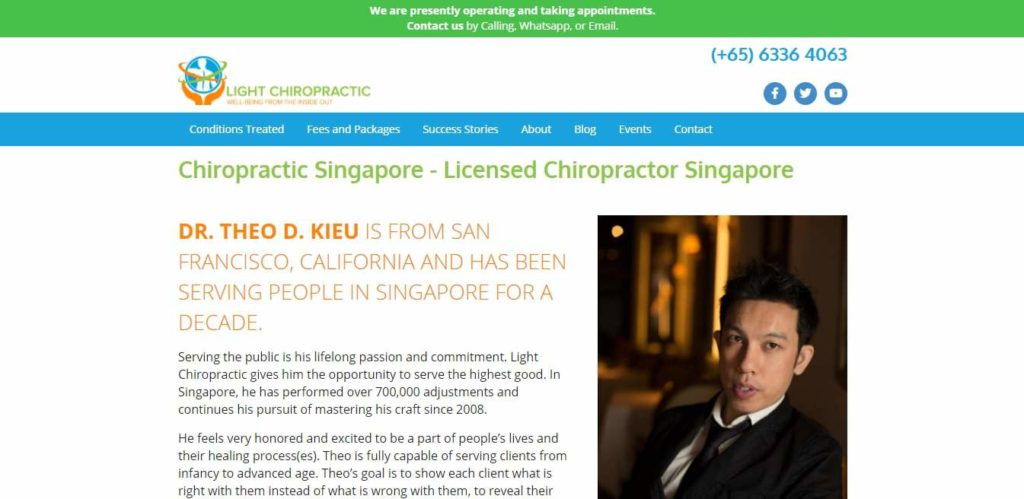 Light Chiropractic is headed by Dr. Theo Kieu, a chiropractor with more than 12 years of experience. He's among the few specialists who look after musculoskeletal problems in both children and adults, so he's the go-to specialist by most parents.
As of writing, he's performed more than 700,000 chiropractic adjustments since becoming a licensed chiropractor in 2008. He specialises in treating all sorts of conditions related to the spines, arms, and legs.
Light Chiropractic, on the other hand, is known for providing drug-free and safe solutions to reduce severe headache, persistent muscle pain, severe asthma, and insomnia, among others.
One of its most in-demand chiropractic services is the full-spine treatment and realignment, which targets most parts of the body. It also has treatments for scoliosis, arthritis, poor posture, and even minor pregnancy issues.
Dr. Marc Calaunan – Healing Hands Chiropractic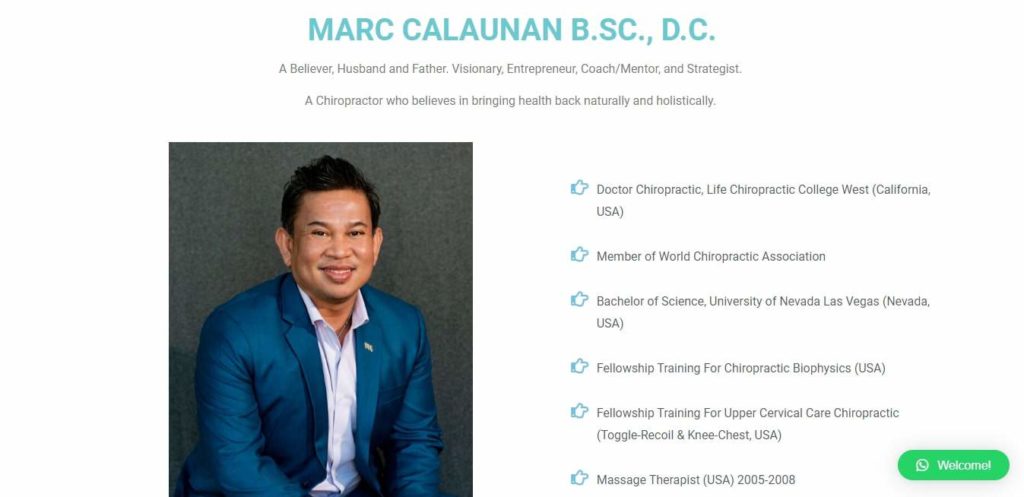 With its multiple branches all over the island, there's no doubt that Healing Hands Chiropractic is considered one of the most accessible clinics in Singapore. Aside from the clinic in Raffles Place, it has another one in Rochester Mall and along Coleman Street.
It houses a large team of chiropractors, including Dr. Marc Calaunan, a specialist with years of experience under his name. He studied science at the University of Nevada Las Vegas and pursued further training in clinics all over the US.
Compared to most clinics, Healing Hands Chiropractic focuses on offering personalised medical services to ensure that every patient receives the highest level of care. Its chiropractic team is trained rigorously to provide the best results for all patients.
Another thing most patients admire about this chiropractic clinic is the cleanliness, safety, and coziness of all their branches in Singapore. As a patient, that's what you should be looking for in a clinic.
Aside from regular chiropractic adjustments, it offers corporate wellness programs too, which are perfect for companies looking for relaxing activities for their employees
Customer Reviews
Here are some comments posted by patients on Google Reviews:
"Always a pleasure to visit Healing Hands — an outstanding, professional and happy team! Dr Marc has done wonders for me – dealing with pain and improving posture. The service is wonderfully efficient, and the practice bright, airy and clean. I always leave feeling like a new man!"
-Tim Young
"Chiro adjustments are very thorough here. Each session will usually take about 30 min which includes stretching, muscle relaxation etc which helps make the adjustments more effective!"
-Vanessa Owh
Dr. Jeff Ederer – Singapore Pain Solutions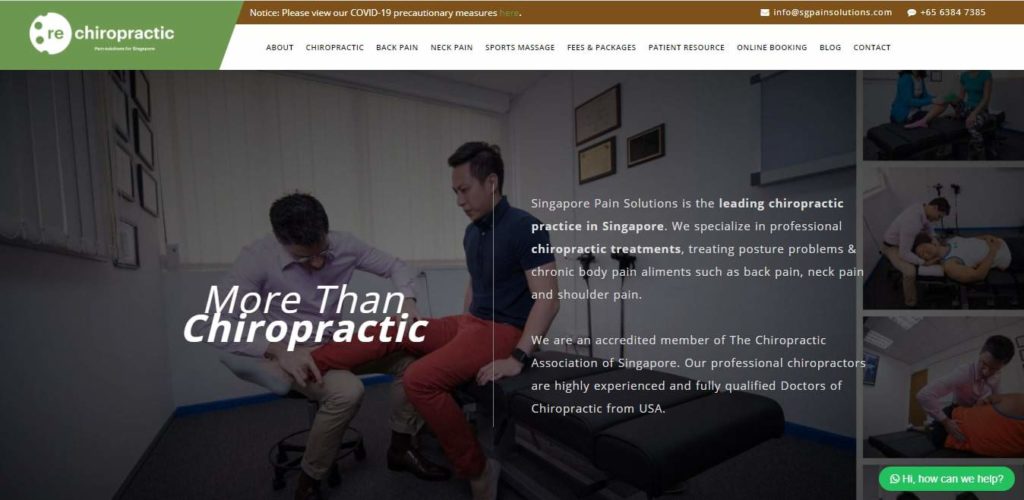 Singapore Pain Solutions is considered one of the leading chiropractic clinics on the island. It's an accredited member of The Chiropractic Association of Singapore and is made up of professional and highly trained doctors of chiropractic from the USA.
Dr. Jeff Aderer stands as one of its resident chiropractors. He has more than seven years of experience and specialises in mirror imaging corrective care, sports injuries, structural corrective care of the spine, and nutritional counselling.
Singapore Pain Solutions isn't open only to adults with muscle and body pains, but to professional athletes and children as well. It can provide specialised treatment to athletes that aim to improve mobility and decrease the chances of injuries.
Its chiropractic care for children, on the other hand, focuses on treating spinal problems, which usually stems from frequent falls and poor posture while growing up.
Apart from its chiropractors, Singapore Pain Solutions is home to experienced physiotherapists, orthopaedic surgeons, personal trainers, and even naturopathic doctors — which means that its services go beyond regular chiropractic adjustments.
Customer Reviews
Here are some comments from previous patients:
"Had 1 session here and Dr Jeff was great in his craft. Signed a year package immediately. My back has recovered so much to a point where I don't need to "crack" myself.. i think a chiropractor is something you need to try. And don't anyhow try out those w cheap trials or unclear packages. One thing I like about this place is the simple package (you pay less per visit) vs ala carte visits. Your body will thank you!"
-Yiping Chen
"I was referred to Singapore Pain Solutions by my friend who also had good results. I met Dr. Jeff and over the past few weeks, he helped me with my back pain through adjustments and exercises. I would highly recommend them for anyone suffering from pain!"
-Jennifer Ang
Dr Wade Stuchbery – Active Life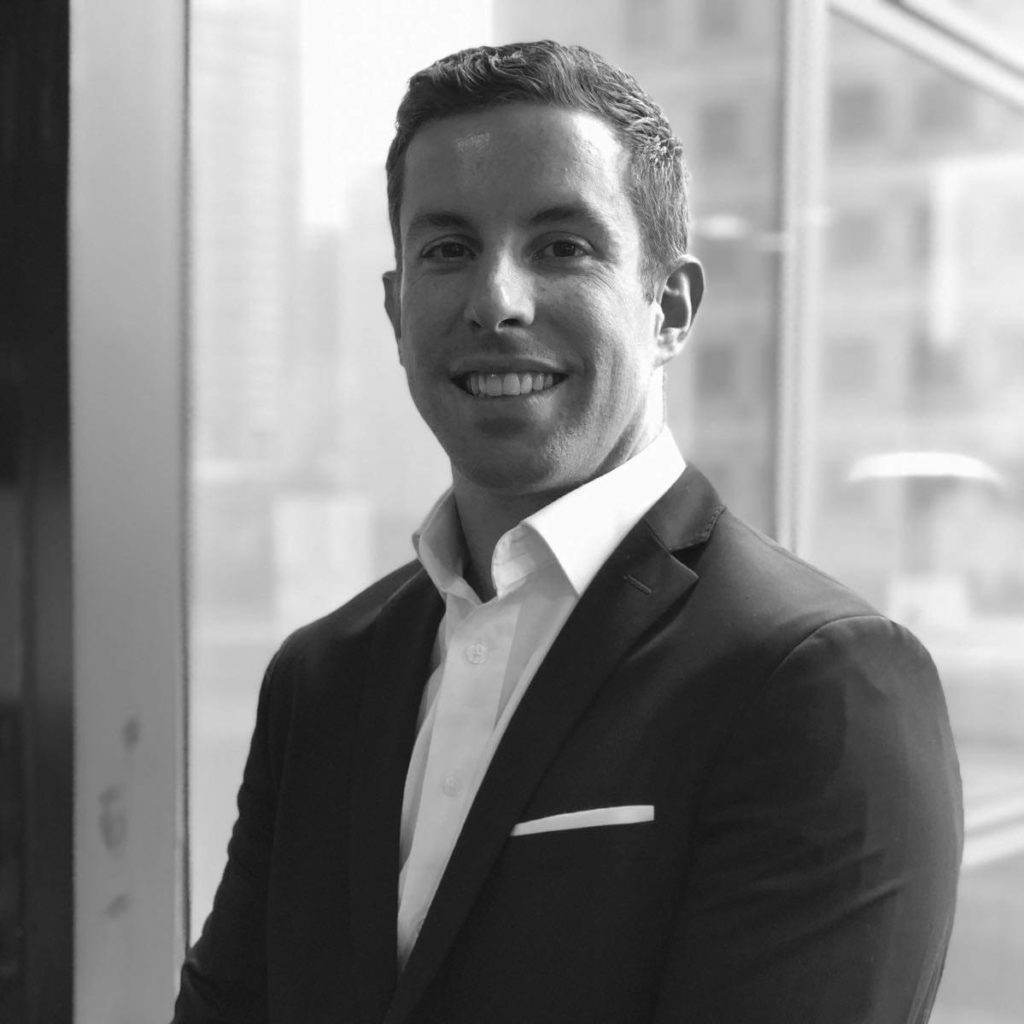 Dr. Wade Thomas Stuchbery is a chiropractic doctor who hails from Adelaide in South Australia. After studying chiropractic at Macquarie University in Sydney, he went on to practice in various clinics Australia before moving to practice in Singapore.
He specialises in neuromusculoskeletal issues and sports injuries, so he's highly recommended to athletes dealing with mobility and endurance problems. In fact, a huge portion of his clientele is made up of professional athletes and sports-inclined people.
Beyond regular chiropractic adjustments, Dr. Wade is experienced in other chiropractic techniques, such as soft tissue releases, cranial releases, sacro-occipital technique, injury rehabilitation, and Thompson Drop Piece, among others.
Dr. Seow Kim Seng – Macquarie Chiropractic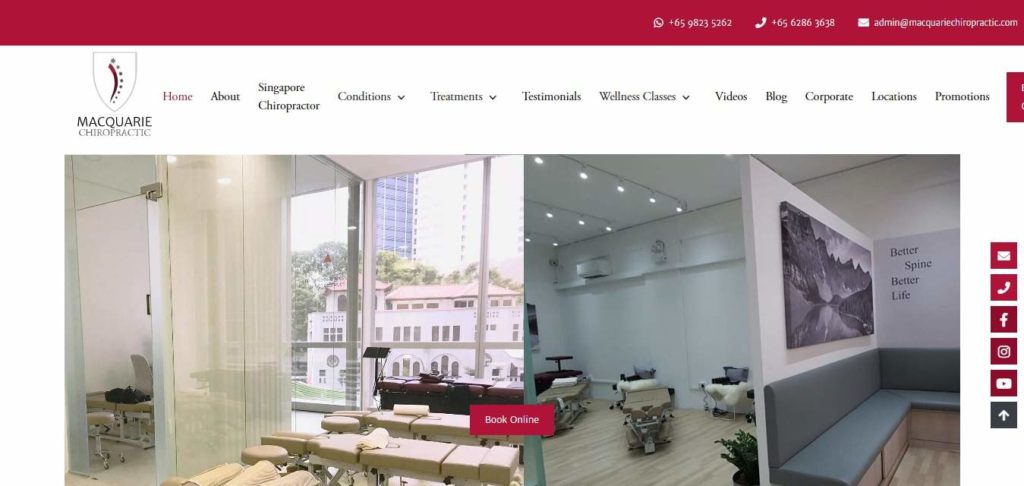 Dr. Seow Kim Seng is the clinic director and resident chiropractor of Macquarie Chiropractic. He's only been in practice for a little over five years but has already dealt with patients of all ages and backgrounds, including professional athletes and office workers.
As a chiropractic patient himself, he knows what most adults go through every day, especially those desk-bound individuals. He aims to provide patients with topnotch chiropractic care that improves their overall lifestyle and health.
Macquarie Chiropractic is relatively younger compared to other chiropractor clinics, but it's already considered the most advanced on the island. For one, it's equipped with BTL Super inductive System (SIS), HILL decompression table, BTL shockwave therapy, and LEANDER flexion-distraction table.
With such advanced technological medical equipment, any spinal and bodily joint complaints, starting from the shoulders down to the knee, are guaranteed to receive a high-efficiency treatment.
Due to the current restrictions caused the pandemic, Dr. Seow can only handle 15 patients per month, so patients might have to wait for a month before their appointment.
Customer Reviews
Macquarie Chiropractic boasts an average rating of 5 out 5 on Google Reviews. Here's what patients had to say about its services:
"I've been regularly heading down to Macquarie Chiropractic for the last few months for treatments and it has been a positive experience. The clinic is clean and well equipped. Dr Seow is very professional and clearly passionate about his craft. The treatments have certainly helped me become more aware of my posture and relieved the strain on my neck. Dr Seow and staff are always friendly and make an effort to address all the patients by name which value adds to the experience."
-A Chng
"My experience with Macquarie Chiropractic has always been good. Through chiropractic treatment my lower back pain and shoulder pain problem have mostly been relieved after getting treated by Dr Seow. The use of a decompression table, SIS machine and cervical and lumbar blocks. The clinic assistants are very helpful and friendly. I would recommend Macquarie to someone who is looking for chiropractic treatment. Always looking forward to going for my treatment session."
-Irene Wong
Dr. Luke Ho – Agape Chiropractic Clinic
Agape Chiropractic Clinic is among the few chiropractic clinics that can cater to both pregnant women and professional athletes, on top of regular patients. It's headed by Dr Luke Ho, a chiropractor with more than 15 years of experience.
Dr. Luke's area of speciality includes sports injuries, slipped discs, scoliosis, core-strengthening exercises, and improving athletic performance among others.
He graduated with a degree in sports medicine from University of Evansville and worked closely with various basketball, volleyball, tennis, and baseball teams, so he knows how to treat injuries most professional athletes deal with.
Agape Chiropractic Clinic uses a multi-step approach in treating all our patients, so expect that there will be multiple sessions with any of its chiropractors.
It's also equipped with state-of-the-art facilities to help patients improve their conditions in a less painful, if not entirely pain-free, way. You won't have to worry about if your pain tolerance is a bit lower than most people. '
Customer Reviews
Here are a few customer comments posted on its website:
"Since my first visit to address all my aches and pains caused by long hours of violin playing, Agape clinic has become my first stop clinic for anything medical. Dr Ho's knowledge is extensive and his diagnosis can be easily understood by a layman. I highly recommend this clinic if you are looking for a chiropractor."
-Gerard Chia
"I found Dr Luke's practice online and after several months of experiencing the most severe back ache and sciatic nerve pain (due to herniated discs), I decided to pay him a visit. It was not easy for me to walk from the car park to the clinic without a walking stick. Ever since the first visit, I felt an immediate improvement. Through my subsequent visits, my back pain has been tremendously relieved and it no longer hinders my day to day activities. Dr Luke is extremely easy going; has consistently been offering great advice and I thoroughly enjoy his treatment sessions."
-Muzdalifah Mustapa
Dr Gary Tho – ChiroWorks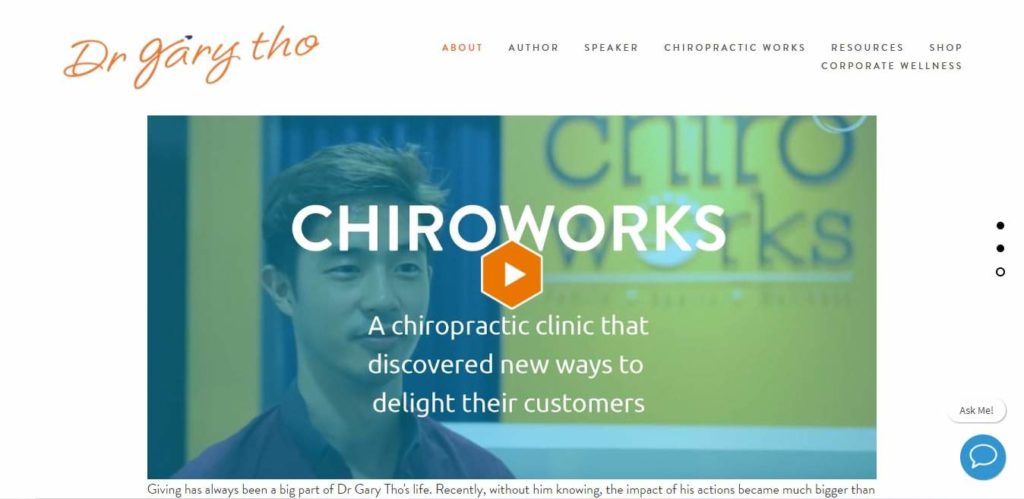 Dr. Gary Tho is a chiropractor with more than 11 years of experience in pain relief and athletic performance. He runs his own clinic called ChiroWorks, where most of his patients are world champion athletes, business executives, and full-time parents.
As an ex-national Australian badminton player himself, he understands the risks that all professional athletes go through — which is why most of his services are geared towards improving performance and reducing the chances of injuries.
At his clinic, Dr. Gary can deal with all types of body aches, starting from the head down to the knees. He even addresses the recurring fatigue experienced by a huge portion of his patients by correcting their posture and learning how to maintain it.
Aside from being one of the best chiropractors in Singapore, Dr. Gary is also a motivational speaker and author where he educates people about the importance of workplace health to create a successful business.
Customer Reviews
Take a look at the comments posted by previous patients on Google Reviews:
"Recently when i came back from a long haul flight from New Zealand, i started having some intense back and neck issues. In the first session alone Dr Gary was able to correctly identify the issue, was exceptionally informative and helpful to explain the cause of it and began a systematic treatment of the underlying problem. I am glad to say he has done an exceptional job in solving my issues and has been seeking a full body adjustment post the initial session. I would highly recommend Dr Gary."
-Senthil Perumal
"I first visited Chiro Works in 2015, I was working a long hours retail job and I had to stand the whole day. After a while I kept having backaches. I took a lot of meds like muscle relaxant and went for massage but did not get well. So one day during my lunch break I decided to make an appointment. Amazing enough, my pain totally went away just after one session with him. 6 years later now, Dr. Gary is still the person I will look for whenever I have a pain that needs to be fixed. He often gives tips as well on how to be more mindful of our body. He is a very experienced Chiro, I would totally recommend it."
-Sky Shi
Natural Healings Chiropractor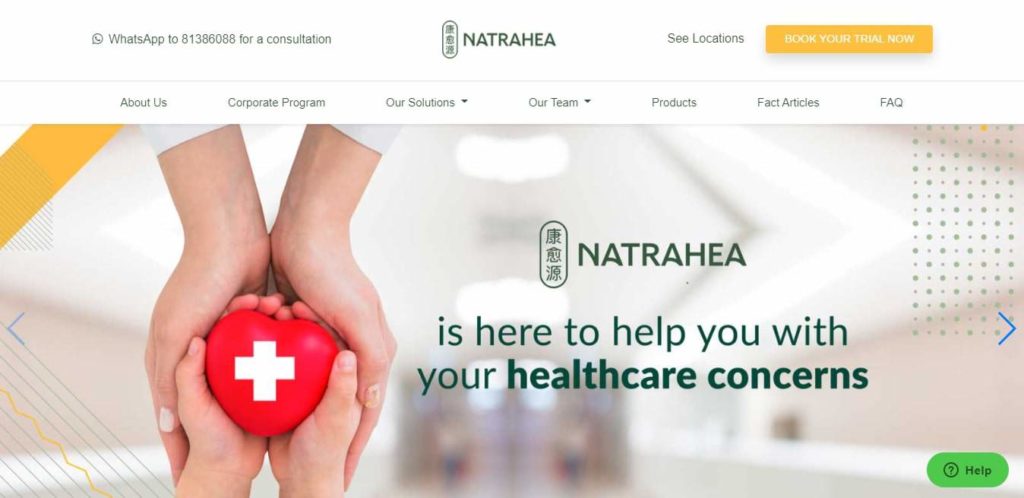 Natural Healings Chiropractor has more than eight branches scattered all over the island, making it one of the most accessible chiropractic clinics in Singapore. It's known for using only safe and all-natural treatment to address different musculoskeletal disorders.
Its chiropractic treatments are open to patients of all ages, from children to working adults. In fact, a huge portion of its clientele are adolescent teens growing up and experiencing changes in their bodies.
On the other hand, every chiropractor on its team is trained and qualified to perform spinal decompression, traditional Chinese medicine, and all forms of chiropractic adjustments.
Its chiropractors also are trained to identify and develop customised treatments to enhance mobility, improve posture, and restore bodily functions on a long-term basis.
Aside from chiropractic services, it's selling products that can help one's muscle strength and endurance. It has an online store that carries orthopaedic pillows, functional straps, healing balms, and neck rolls.
Dr. Choo Suyi – Family Chiropractor Clinic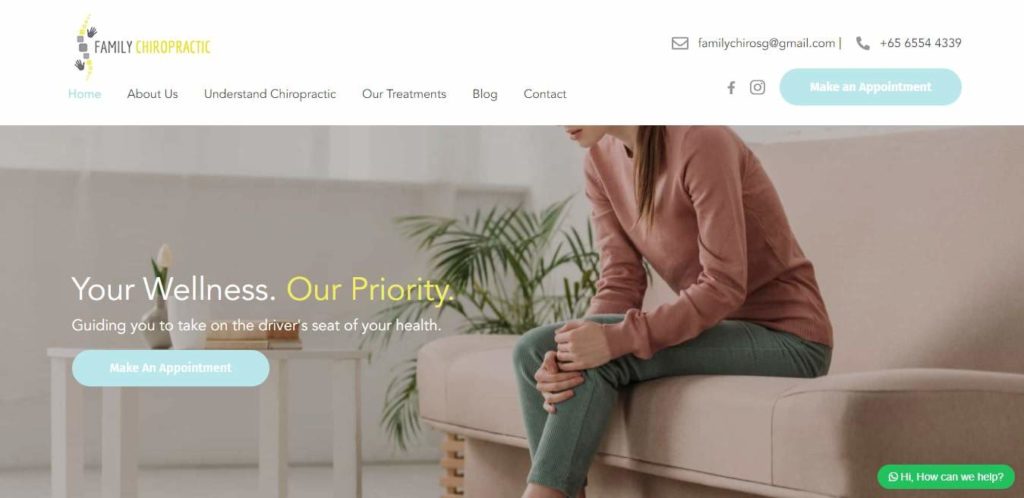 Family Chiropractic Clinic is a family-oriented clinic in Singapore that caters to a broad range of health concerns for all ages. Dr. Suyi Choo serves as one of its resident specialists, a chiropractor with an impressive track record.
Dr. Suyi graduated from the Royal Melbourne Institute of Technology and trained in Singapore, Malaysia, and Australia. Her area of interests include sports injuries, trigger point therapy, paediatric and geriatic chiropractic, and Active Release Technique.
What makes her stand out from other chiropractors in Singapore is that she can deal with both paediatric and geriatic musculoskeletal conditions.
Other treatments offered by Family Chiropractic Clinic are extremity adjustments, myofascial therapy, SOT therapy, denerall blocks stretching, craniosacral therapy, sports taping, electrotherapy, and ultrasound therapy, among others.
Unlike most chiropractic clinics, it's focused on providing personalised treatments, rather than applying a uniform treatment on all cases. Its chiropractors create a carefully written treatment plan after the initial consultation.
When it comes to rates, it's known for having some of the most affordable treatments on the island — which explains why it's dealing with a large number of patients every week.
Customer Reviews
Here's what patients had to say about their experience at Family Chiropractic Clinic:
"I experienced pain in my neck, particularly on the right side as I am a teacher and spend long hours grading papers, in front of the screen preparing for lessons, and so on. After coming to Family Chiropractic, the pain subsided after a few sessions and throughout the years, I've only required a monthly session to "reset" my body from the exertions of my job. Everyone, from the front desk staff to the chiropractors, is welcoming and professional. I've received chiropractic adjustments here for almost a decade and the quality of treatment has never wavered during this period."
-Brendon Chee
"My frozen shoulders are completely well after a year of treatment. And now I'll try to come back once in 3 months to keep myself healthy and well. The staff and doctors are all very friendly and welcoming that makes you feel comfortable while you are at their clinic. Highly recommended!"
-Siti Johari
Dr Michael Bryant – Elite Spine Services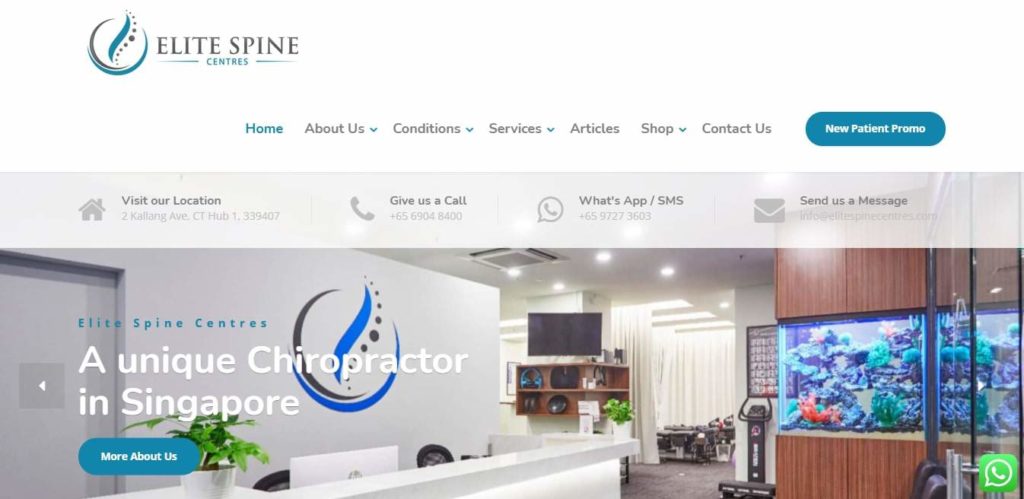 Elite Spine Services is founded and headed by Dr. Michael Bryant, a chiropractor with hundreds of chiropractic adjustments under his name. He obtained his undergraduate degree from University of Michigan and was invited into various prestigious honours programs.
Dr. Michael's specialities include neck pain, back pain, frozen shoulders, sports-related injuries, and spinal decompression. As of writing, he's helped thousands of Singaporeans recover from mild and serious musculoskeletal disorders.
One thing that most patients admire about that Dr. Michael is that he can make anyone feel comfortable and safe during a chiropractic session. He's friendly too, so he tries to chat with patients as a way of distracting them during a treatment.
Some of the treatments provided by his clinic are sports massages, modern chiropractic, shockwave therapy, low level laser therapy, and physiotherapy, among others.
Elite Spine Services doesn't just aim to relieve pain from patients, but teach them practical strategies to avoid getting injured in the future.
Customer Reviews
Elite Spine Centres is one of the top-rated chiropractic clinics in Singapore, with a perfect rating of 5 out 5. Here's what patients had to say about it:
"I have been seeking treatment at Elite Spine Centres since Sep 2020 for tension headaches, neck and shoulder aches. After completing a few sessions, I began to see improvement in mobility of my neck and reduced occurrence of my tension headaches. During my first consultation with Dr Mike, he was very patient in explaining the possible causes of my symptoms and had been very reassuring during my first adjustment. His friendliness and warmness had made the whole experience a very pleasant one and with each session, I must say that my condition has gotten better! The staff at Elite Spine Centres are also very friendly and professional. Each visit is met with warmth from the staff that makes the whole experience a very welcoming one. Thank you so much Dr Mike and team for doing what you do! I believe that you are definitely improving and impacting the lives of those who visit you!"
-Jeremy Ong
"Was recommended to Elite Spine Centres by a friend. Dr Michael Bryant was very patient and knowledgeable and took time to examine my spine as I was suffering from poor posture and a sore back. The hands-on treatment for the Functional Correction Method did wonders.. My back and spine felt so much better afterwards."
-Edmund Ng
Chiropractic Singapore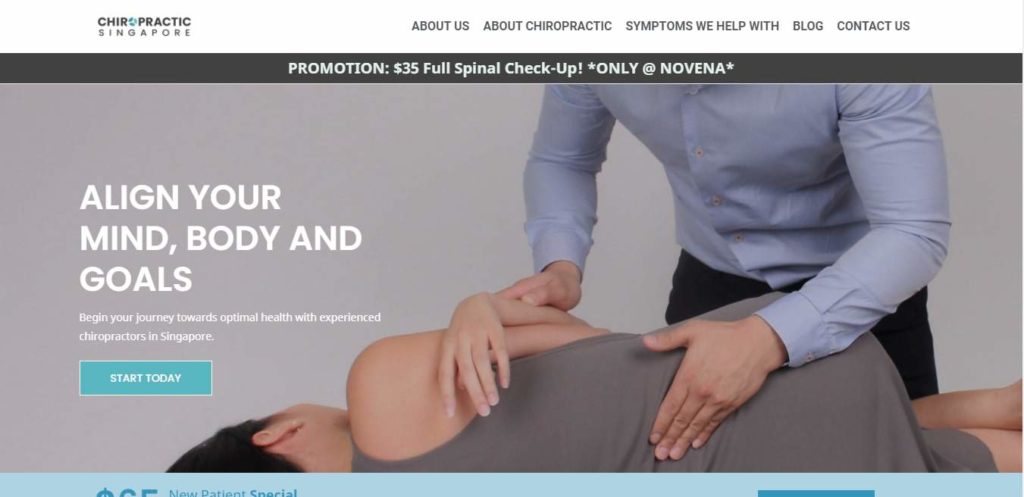 With over 13 years of experience, Chiropractic Singapore has grown into one of the most trusted chiropractic clinics on the island. As of writing, it's helped more than 10,000 patients recover from musculoskeletal and sports-related injuries.
Its team is made up of eight chiropractors scattered all over its four locations in Singapore.
Chiropractic Singapore's goal as a clinic is to provide long-term relief from muscle pains and injuries by providing natural, drug-free, and safe treatments. Patients will be free from pain and discomfort without being exposed to chemicals and sketchy procedures.
The expert team also provides resources for patients who wish to learn more about posture correction for preventive reasons.
Lastly, it's of the most accessible chiropractic clinics in Singapore given its multiple locations, so we're sure that there's a branch close to your home or your
Customer Reviews
Here are some reviews shared on Google Reviews by previous patients:
"I have had previous experience with Chiropractic before due to my 18 degree slant on my spine. I suffered from aching pains in my middle and upper spine. After 4 months of adjustment and maintaining conscious posture, the pain subsided and eventually disappeared. The full potential chiropractic experience has been very helpful with advice for every session, on top of the regular adjustments."
-Reginald Goh
"I really like the service they provide, the staff are all really friendly and nice, they make me feel welcome all the time. The adjustment really really helps with the pain I've been experiencing. I'm so glad I decided to get my spine adjusted with them because I'm now pain free and enjoying my life more. Highly recommend to everyone who's having pain and want a change, you wouldn't regret your decision!"
-Yvonne Ng
Dr. Shaan – Vitality Chiropractic Centres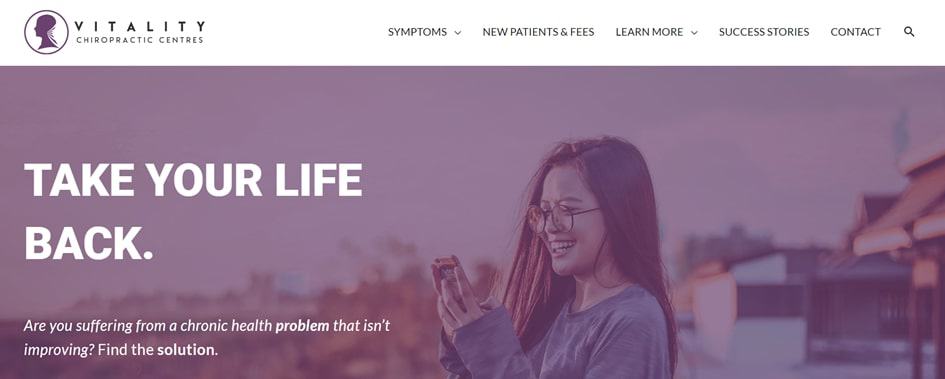 Vitality Chiropractic Centres is the best place to go for chronic and difficult chiropractic needs. It's headed by Dr. Shaan, a chiropractor who specialises in complicated musculoskeletal injuries and disorders.
It's also the island's first upper cervical specific clinic and the only specialist centre for migraines, dizziness, and neurological conditions. It's equipped with cutting-edge and advanced medical technologies to ensure that all conditions are adequately addressed.
Vitality Chiropractic Centres uses unique nerve scans and biomechanical x-rays (the first in South-East Asia) for more accurate diagnoses and more challenging health conditions. It even has recovery suites where patients can rest after their procedure.
Aside from these feats, it's one of the few chiropractic clinics in Singapore that provide flexible payment plans and accept insurance. It's quite rare considering that most medical insurance providers don't cover chiropractic procedures.
Customer Reviews
Vitality Chiropractic Centres has an average rating of 4.8 out of 5 on Google Reviews based on 49 reviews. Here are some comments:
"Had been having Vertigo for many months without improvement, and chanced upon Vitality Chiropractic Centres. Dr Shaan & Alice have been very professional. The progress will take time, but after completing the full sessions that were planned for my case, I can proudly say that I am almost free from Vertigo. Thank you!"
-Nadzira Shamsudin
"Would 100% recommend Vitality for anyone suffering from vertigo, headaches, ear pain, neck pain, dizziness. After years of debilitating symptoms and visits to various doctors who offered medication and advice on which 'triggers' to avoid, I now feel blessed and incredibly relieved to have stumbled across Dr. Shaan and upper cervical care. The service and treatment offered is incredibly refreshing; explanations are clear, focusing on identifying causes, supported by recent, relevant research, with a side of empathy and trust. Give it a try!"
-Amy M
Dr. John Yi – Asia One Chiropractic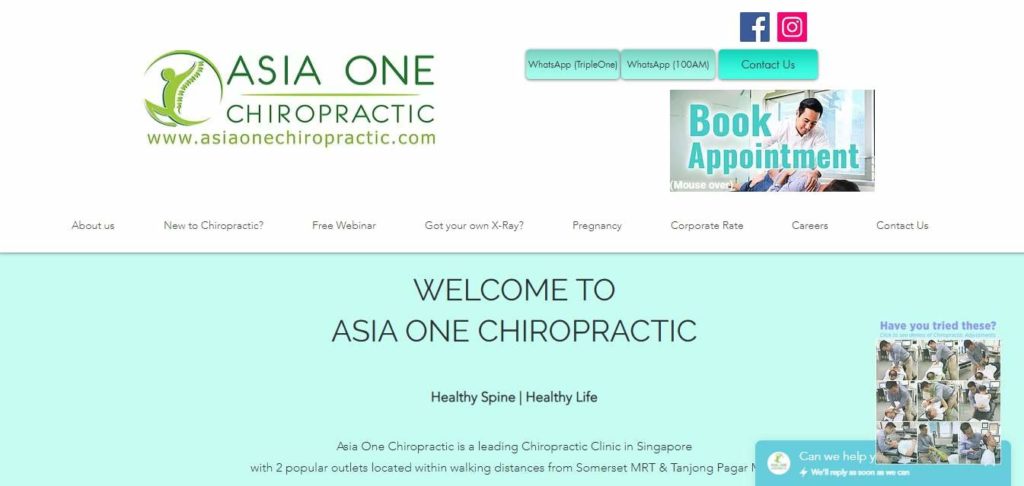 For business owners looking for ways to look after the health of their employees, we recommend taking a look at Asia One Chiropractic.
It's one of the few chiropractic clinics in Singapore that educate people about the importance of spine health through corporate health talks. In fact, most mid-sized companies on the island have availed of its corporate health talks and in-clinic workshops.
Asia One Chiropractic is headed by two resident chiropractors, one of whom is Dr. John. Yi. He's a specialist with more than 30 years of experience in extremities adjustment, soft tissue therapy, diversified treatment, gonstead treatment, and flexion distraction.
Its two branches are conveniently located in popular districts in Singapore, so reaching its clinics wouldn't be a hard time for anyone, even if you don't have a car.
Highlights
Wellness campaigns / Health Talks / Webinars
Affordable Services (1st-time customers – Spinal Health Screening Packages with X-Rays)
Safe & Effective Adjustments for both treatment & maintenance.
Customer Reviews
Here's what a patient had to say about Asia One Chiropractic:
"I've been coming for regular adjustments under Dr John for the past 3 years and it definitely has made a significant improvement in my posture and my overall well-being (used to have headaches often, back pains & tingling sensations in my hands which all links back to our spine). As an athlete, it helped me perform better too! Sachi also makes my scheduling of appointments super easy & flexible hehe!"
-Alana Ang
Dr. Shaun Ranen Ang – Chiropractic Concepts
If you're after a clinic that provides all-around chiropractic care, then look no further than Chiropractic Concepts. It's located in the heart of Singapore's business district, only an eight-minute walk from the City Hall MRT.
Dr. Shaun Ranen Ang serves as one of its resident chiropractors, specialising in extremity adjustments and gonstead chiropractic care. He's a registered member of the Chiropractic Board of Australia and a Functional Neuro-Orthopedic Rehabilitation practitioner.
As a sports-inclined person himself, Dr. Shaun knows what athletes and physically active individuals deal with on a regular basis. What sets him apart from most practicing chiropractors is that he has first hand experience of some sports-related injuries.
Apart from regular chiropractic services, he also looks after children and pregnant women dealing with body and muscle pains.
Customer Reviews
Here are some comments posted on Google Reviews:
"Very impressed with Chiro Concepts! Dr Shaun is highly professional and extremely dedicated to the welfare of his patients. I've sought his help for various problems – neck or lower back pain, stiff hurting shoulders, pain in the knee, pulled groin, etc and he always checks each part thoroughly. He goes above and beyond what you would expect to find the root of the problem and treats it accordingly. Thanks to him I can maintain my active lifestyle with the benefits chiropractic brings!"
-Aaron Choy
"Dr Shaun is dedicated to getting the right diagnosis and treatment for your conditions. Starting from an x-ray scan to getting you to feel for areas of tenderness, he is able to provide treatment catered specifically for your ailments. After just one treatment, my lower back pain is gone! Highly recommended!"
-Marcus Leow
Dr. Tim Errington – Total Health Chiropractic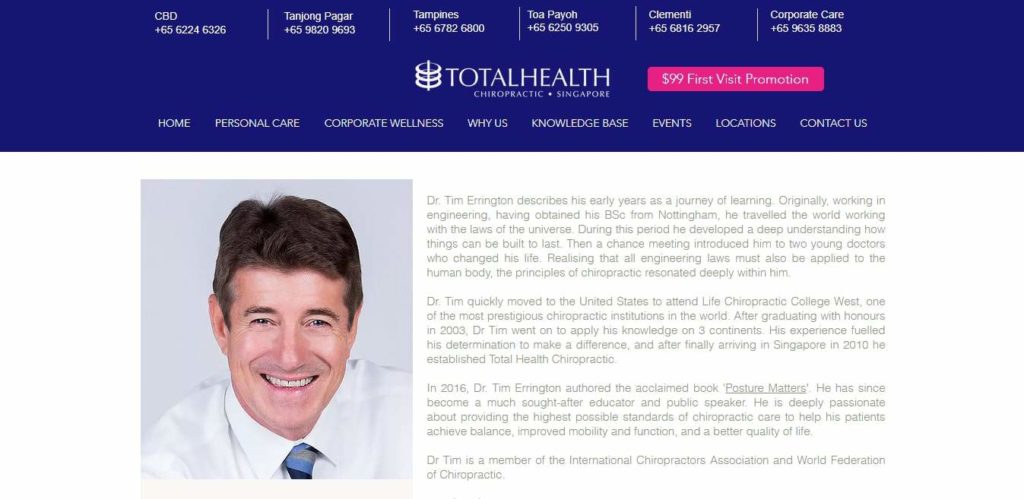 Total Health Chiropractic Singapore is a clinic that aims to provide stress-free, straightforward, and effective chiropractic care. It's founded and headed by Dr. Tim Errington, a chiropractor with almost two decades of experience.
Dr. Tim graduated from Life Chiropractic College West, considered one of the most prestigious chiropractic institutions in the world. He then went to practice chiropractic in different countries before settling down in Singapore.
A typical visit at his clinic will include an initial patient intake, physical exam, treatment, chiropractor recommendations, and a follow-up plan.
During a full consultation, Dr. Tim will first determine a suitable rehabilitation procedure. This consultation comes with a comprehensive case history and any necessary orthopedic and neurological exams.
As one of the largest chiropractic clinics in Singapore, Total Health Chiropractic is composed of ten specialist doctors scattered all over its five branches. Its services are quite expensive too, but it frequently offers promos and discounts to new and returning patients.
In terms of number of successful adjustments, it doesn't fall short as well. As of writing, it's conducted more than 300,000 adjustments and satisfied close to 16,000 patients.
Customer Reviews
Take a look at some comments posted by past patients on Google Reviews
"Really glad to have my chiro experience at Total Health (Tampines). I was experiencing crazy neck and lower back issues and chanced upon Total health. They are definitely a fun and lively bunch! Their consultants gave honest opinions while not being too pushy with their approach. I feel and see the improvement after my program and I know I have to upkeep my current better lifestyle to maintain a good spine (and health)."
-Sheena Chee
"Experienced a lot of back pain before I came to this clinic for treatment. After continuous treatment for about 3 months, the pain has subsided drastically. Do follow the doctors advice prudently on exercises you can do to improve posture etc. The doctors are very patient and informative. Very genuine care and concern for their patients. Always welcomed by their young great team of individuals when you enter the clinic. Very warm and friendly environment, service is top notch."
-Andrew S
Dr. Brett Van Norman – Advanced Pain Centres
Dr. Brett Van Norman is one of the resident chiropractors at Advanced Pain Centres, specialising in managing spinal stenosis, peripheral neuropathy, and spinal disc-related injuries.
Most of his patients are working professionals and full-time athletes, but Dr. Brett loves looking after children with ADD, ear infections, scoliosis, and general spinal health problems as well. He's a trusted name among parents in Singapore.
There's no doubt that he's considered one of the best chiropractors in Singapore given that he works at Advanced Pain Centres. It's a clinic known for all most comprehensive, safe, and effective chiropractic treatments.
In fact, most patients run to its clinic whenever they want a non-invasive alternative to surgeries. It can treat mild and severe musculoskeletal and nervous system-related disorders, including slipped disc, neuropathy, and lower back pain, among others.
It's updated on all the latest in healing technologies and protocols, so it's always one step ahead of other chiropractic clinics on the island. Its patient count of almost 16,000 proves that it's indeed a trusted clinic by the general public.
Advanced Pain Centres has four branches all over the island, so finding a clinic near you shouldn't be any trouble.
Customer Reviews
Here are some feedback left by previous clients:
"Have not finished my treatment sessions for my lower back yet but have seen significant improvements of up to 70% compared to other chiropractors that I have been to. Dr Brett & team are always helpful and friendly. Highly recommended for treatments here."
-Jon Lee
"After my first encounter with APC years ago, I've had no regrets because the doctors & staff are very professional and caring in their treatments. Their clients become their friends. I do need regular checkup & treatment to the lower back & I'm well looked after by the team here. Cheers to APC."
-Daniel Sum
"Had very positive experiences at all my appointments thus far. Staff are very cheerful and always willing to help. Definitely would recommend it to anyone looking for a chiropractor clinic!"
-Nancy Yeo
Dr. Erin Hope – Lion City Chiropractic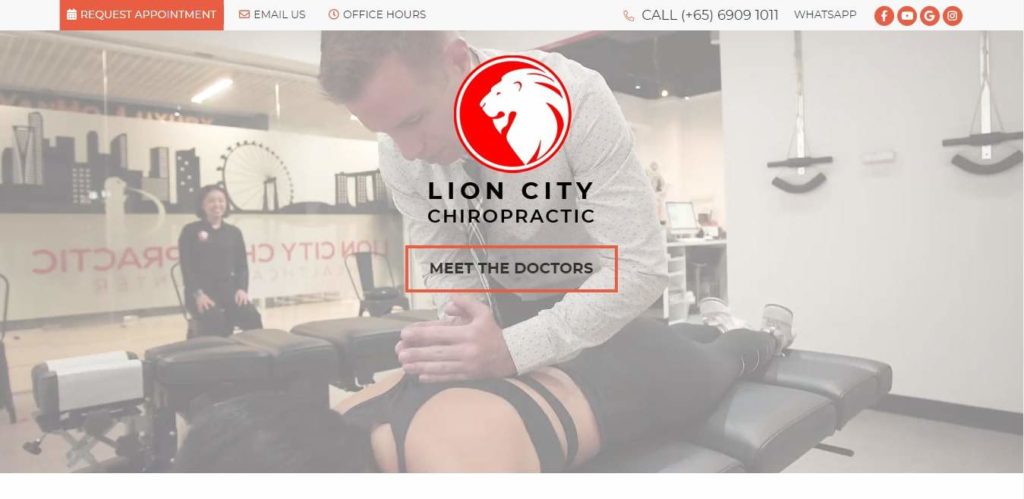 Lion City Chiropractic is one of the most unique chiropractic clinics in Singapore, given that its treatments extend even to animals. It's co-headed by Dr. Erin Hope, a chiropractor who focuses on structural and corrective chiropractic care.
Dr. Erin is relatively younger compared to most practicing chiropractors, but she's managed to earn the trust of working professionals and full-time parents in Singapore. She's particularly fond of looking after children and young adults.
When it comes to facilities, Dr. Erin's clinic doesn't disappoint. Most patients have praised the comfortable and relaxing vibe of Lion City Chiropractic, which puts them at ease before undergoing an intense and nerve-wracking procedure.
What makes Lion City Chiropractic stand out from other chiropractic clinics is its commitment to structural stability. It's common for clinics to focus on pain relief, but it approaches a patient's condition from a wellness point of view instead.
As an expert in corrective treatment, Dr. Erin uses advanced and innovative medical equipment in order to address a different forms of musculoskeletal conditions and injuries, including computerised thermal scanning and advanced instrument adjusting.
Customer Reviews
Lion City Chiropractic has an average rating of 4.9 out 5 on Google Reviews based on almost a hundred comments. Here's what previous patients had to say about it:
"My whole family has been using Dr. Hope and Dr. Hunter for quite some time. Lion City Chiropractic is simply the best! The entire team makes the experience enjoyable and I've seen great results. Singapore has a number of options for chiropractic care but we could not recommend Lion City Chiropractic enough, especially if you live in the East!"
-Nick Mider
"Took the leap of faith at Lion City Chiro and thus far, I have been seeing positive changes to my overall well being. I feel more energetic and am able to concentrate more. Doctors were extremely patient and helpful in answering my questions as well. You never know what you will benefit from it until you try it out. Cheers!"
-Shifa Sheen
Dr. Kevin Lau – ScolioLife

Dr. Kevin Lau of ScolioLife is known to combine state of the art technology and innovation with traditional health care practices. His experience is unparalleled as a doctor and chiropractor who has been treating patients of all ages.
He's known to treat various problems, from scoliosis and chronic pain to diabetes and high blood pressure.
Aside from this, Dr. Kevin Lau is still conducting research on the factors and root causes of scoliosis. His commitment in discovering new ways of analysis and treatments proves how dedicated he is to the field.
Dr Nicholas Lim – Dr Chiro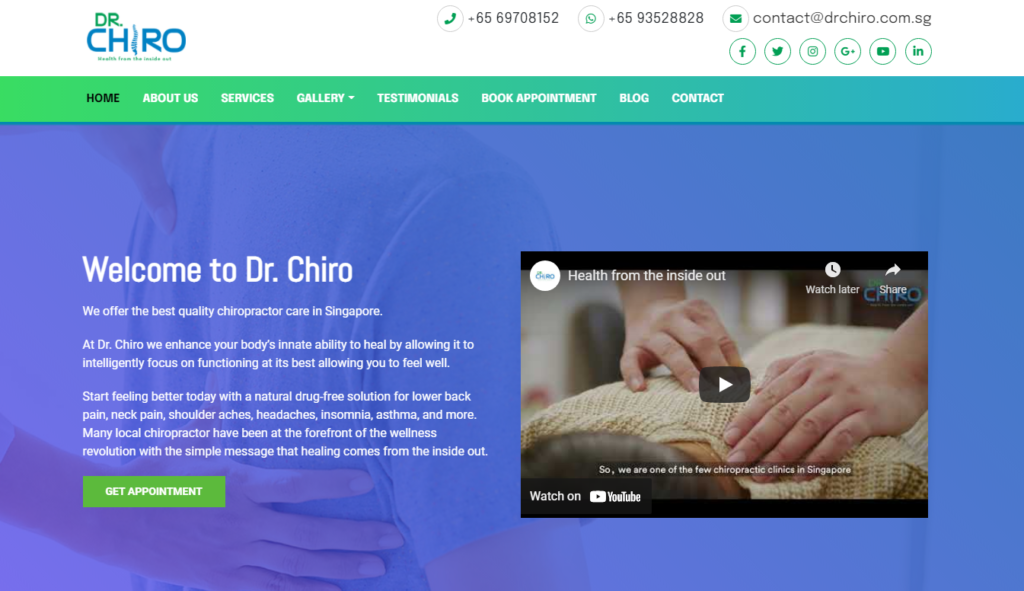 Given the fast paced world we live in and the things we do to sustain our needs, it's not at all surprising that many of us have aches and pains that simply won't go away.
Here is where establishments like Dr Chiro come in.
Dr Chiro is a professionally trained chiropractic and holistic health care practice committed to revitalising and transforming patient's mental and physical health through non-surgical and non-drug procedures.
They offer a wide array of services that help address ailments and problems such as abnormal posture, extreme fatigue, lingering aches, and tingling sensations in various parts of the body.
These services include chiropractic consultations, posture scans, analysis and interpretation of chiropractic x-rays, specific adjustments for Zone Technique, health maintenance adjustments, orthotics consultation, nutrition consultation and supplements, house/hospital call and home-based treatments, and more.
Chiropractic care and procedures from Dr Chiro can accommodate the needs of both adults and children. Moreover, the specialists at Dr Chiro carefully tailor each treatment to ensure that patients get the adequate care that they need from the centre.
Customer Reviews
Here are some feedback left by previous clients of Dr Chiro:
"Had a couple of sessions with Dr. Nicholas Lim from Dr. Chiro pertaining to my trigger finger but instead was treated in addition to a holistic approach to body-mind alignment. He shared about his passion on his practice and how it can help my overall being. Much of the aches and discomfort that I lived with for many years from working out in the gym were relieved after a couple of sessions. I can see significant progression of improved posture and range of motion from my current yoga and mobility practices. Most importantly, I felt lighter, more relaxed and grounded after the release from years of physical stress that I kept to myself, the mental uplift was paramount. I would highly recommend Dr. Nicholas Lim from Dr. Chiro to anyone and I am certain one will walk away with a refreshed impression of a chiropractic experience." -Dan Tam
"I consulted Dr. Nicholas Lim (Dr. Chiro) when I had hypertension & throbbing headaches. Nicholas was able to identify the root cause & after a few rounds of adjustments, the headaches were gone and my hypertension well controlled! Nicholas did a great job to "cure" my problems. Will definitely recommend anyone to Dr. Nicholas (Dr. Chiro)." – Felicia Hoe
FAQs about Chiropractic Care in Singapore
---
With our list of the best chiropractors in Singapore, we hope that you can immediately have a consultation and have your condition checked by reliable health professionals.
If you know of more clinics that deserve to be in our list, share each one with us and let us know why you'd like to recommend their services.
Oh, and in addition to the best chiropractors in Singapore, you might also want to consult with other healthcare professionals. This includes the best orthopaedic specialists in Singapore, which also offer healing treatments and therapies.