Our 34 Favourite Clinics for Physiotherapy in Singapore
Are you suffering from an injury that's greatly affected your ability to carry out everyday tasks? You may need to undergo the best physiotherapy in Singapore to prevent it from getting worse.
Worry not though because we know exactly where you can receive the top physiotherapy on the island. We combed through the entire Singapore in search of physiotherapy clinics that provide manual therapies and tailored exercises.
Before we reveal their names, we'll go over the expected cost of undergoing physiotherapy here in Singapore.
The Clinics for the Best Physiotherapy in Singapore
After sharing the average cost of physiotherapy sessions on the island, it's time to jump into which clinics we believe are worth visiting.
By the way, our list is in no particular order.
The Rehab Lab SG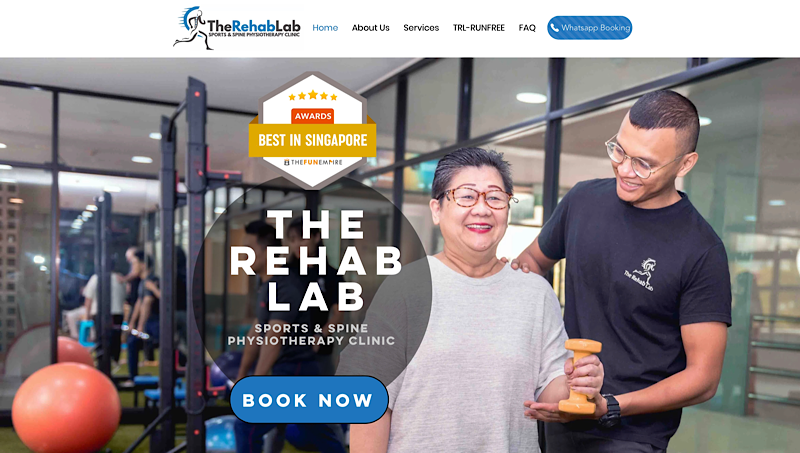 With the best therapists who are certified professionals having different experiences in the field, The Rehab Lab is one of the best health and fitness clinic in the island. They are known for treating injuries and helping athletes through physiotherapy.
From a viewpoint, their greatest assets are their therapists who have gone through extensive training. This is a good assurance to their clients who undergo physiotherapy from trained professionals.
Generally, their services are centered on therapy and flagship programs. We like that they are able to meet the different needs of their clients according to their problems.
For those who would like to improve in running or relieve some conditions like IT Band Syndrome and hamstring injuries, they offer their TRL-RUNFREE program. Based on the case studies that The Rehab Lab SG has conducted, the program gained positive results from their clients.
So far, many have commented on their excellent service in handling their clients. They are told to be patient and very informative during their physiotherapy sessions.
Customer Reviews
Here are some feedback posted on The Rehab Labs's Facebook page:
"Friendly and approachable staff.. fast response and staff are easily contactable.. The place is conducive and comfortable.. They helped to relieve my pain and see through my pain.." – Shahira Lulkan
"The physiotherapist assigned to me was Ms Lorrian. She is very knowledgeable friendly and tackles my injury in a systematic way allowing for a efficient recovery process! After just a few session I had experienced drastic improvements in my injury and could even return to sports. Even outside of the PT sessions she answers any questions or doubts that I have which allows me to tweak and change exercises based on different situations! Highly recommend the Rehab Lab" – Ryan Chan
Singapore Physio: Elite Therapy Clinic
Founded in 2002, Singapore Physio isn't only known locally, but internationally as well, which proves the quality of its service. Originating from Japan, it wouldn't have reached the shores of Singapore if there's nothing special about it.
For one, its therapists are trained in Australian-style physiotherapy, which is considered the standard in the world of physiotherapy. Most of them even studied at the most prominent physiotherapy universities in the world.
Regardless of the level of your injury, we're sure that its therapists have you covered because they can treat a wide range of conditions, including ACL tears, meniscus tears, MCL, wrist injuries, running injuries, and labral tears, among others.
Its physiotherapy sessions include consultation, diagnosis, and a personalised rehabilitation program. Its treatment goes beyond its spaces because every patient will be provided with online links and photos to exercise they can do at home.
In terms of facilities, Singapore Physio doesn't disappoint. Its clinic is equipped with cutting-edge and advanced injury management equipment, including the Game Ready Icing System, which is used widely in pre- and post-operations.
To complement its physiotherapy programs, Singapore Physio offers digital exercise programs to accelerate the recovery of patients. These come in the form of software that's given at the end of your treatment.
Singapore Physio has multiple locations scattered all over the island too, making it easier for patients to gain access to its rehabilitation programs.
Customer Reviews
Here are a few comments posted on Google Reviews:
"My husband and I have both been to see this team of physios for various acute and chronic musculoskeletal problems. On each occasion we have had amazing results and would highly recommend Bevan and his colleagues to others. We have usually been able to get an appointment at the time that suits and we have never had to wait. They are highly professional and we are both very grateful to have found them." -Elicia Duncan
"I have been delighted with the level of service and expertise offered by Bevan of Singapore Physio. I have used his services for a bike fit on 3 occasions for each of my bikes and I particularly like the holistic approach; each time the bike fitting has been preceded by an injury history update and a series of physiological tests. Couldn't recommend highly enough." -Jay Benton
PhysioActive
With more than a decade of experience, PhysioActive has grown into one of the most trusted physiotherapy clinics in Singapore. Here are the reasons it earned a spot on our list:
Its team is made up of 14 trained and multidisciplinary therapists who can deal with a multitude of conditions, including sports injuries, neck injuries, shoulder pain, back pain, scoliosis, and even running injuries.
Another thing we love about PhysioActive is its longer operating hours. Most of its patients are students and working professionals who only have free time during the night, so it extended its hours until 9 PM.
That's not the only instance that PhysioActive goes the extra mile for the convenience of its patients. Its consultations are available in five languages, which is great news for non-English speakers.
When it comes to physiotherapy sessions, PhysioActive has different ways to help patients recover from injuries, such as pain management, post-surgical rehabilitation, shockwave therapy, and more. Basically, it means that it doesn't believe in a cookie-cutter approach.
Compared to other physiotherapy clinics, its consultations and treatments last longer. Its assessment typically lasts for an hour and the actual treatment takes about 45 minutes.
Hello Physio
Hello Physio is headed by Jenny Huang, an experienced therapist with more than two decades of experience attached to her name. She's a lover of physical activities herself, so she has first-hand experience of what athletes and physically active people go through.
The thing we love most about Hello Physio is its tailor-made and individualised rehabilitation programs. Its therapists will first find the root cause of the pain so that they formulate a plan that results in fast recovery and prevents further injuries.
When it comes to its actual treatment itself, we'd describe it as an effective combination of comprehensive care and evidence-based research designed to address the cause of an injury or condition.
Hello Physio is open to patients of all ages, whether you're a physically inclined person or not. It's been the business too long to know the demands and preferences of both a regular patient and a physically active one.
The therapists at Hello Physio have been repeatedly praised for their dedication to helping patients recover easily and get back on track as soon as possible. It's one of the reasons why we admire them.
Customer Reviews
Here are some comments shared by previous patients:
"HelloPhysio has a very positive vibe. Jenny is an amazing physiotherapist who's passionate about her job. She makes sure her clients get the most out of each session. Wani is also a very good trainer who strengthened my legs and lower back. I'm no longer limping under their care and have started to exercise normally now." -Aden Fox
"Went to HelloPhysio for my calf issue and Jenny worked wonders. Had the issue for years and visited multiple physios but Jenny got it sorted out within 2 months from my first visit. Would definitely recommend her to others!" -Joel Tang
Urban Rehab
If you want a physiotherapy clinic that can look after patients of all age groups and lifestyles, then we recommend taking a look at Urban Rehab. It can assess, diagnose, treat and manage a variety of injuries and movement problems.
It's common for physiotherapy clinics to address different injuries and conditions through general physiotherapy, but Urban Rehab goes beyond that by offering sports physiotherapy, women's health physiotherapy, clinical Pilates, and fractures physiotherapy.
After all, there are hundreds of ways an injury can manifest, so it's nice knowing that its therapists are trained in different rehabilitation techniques.
The thing about Urban Rehab is that it doesn't just help patients recover from injuries, accidents, and illnesses, it can guide them towards achieving their fitness goals as well.
Urban Rehab's in-house team includes personal trainers and coaches who work closely with patients toward transitioning from post-injury to working to reach their fitness goals. Whether it's weight loss or strength building, its training team will know what to do.
Overall, Urban Rehab stands as an excellent choice for injured individuals who want to restore their mobility through personal training as soon as possible.
Customer Reviews
Before dropping by Urban Rehab's clinic, here are some comments worth noting:
I had physiotherapy with Jacky. I had a neck problem and was referred to Urbanrehab. I was referred to Jacky who is friendly and approachable. He started to ask for my medical history before giving me proper treatment. After 2 treatments, I feel much better. Soon I will fully recover under his care. Thanks Jacky!"
"Initially I went to check my back but as it got better by the time I visited, I addressed my knee pain concerns instead and I wouldn't have had Jacky not asked about other issues I have. From there, he taught me simple exercises to strengthen my butt and thigh muscles and since then, the pain in my knee has subsided greatly and I've gradually learned to depend more on the thigh strength. Thanks for the guidance and I'm very sure that potential patients can certainly benefit from physiotherapy!"
East Coast Physiotherapy and Sports Injury Clinic
Founded in 2016, East Coast Physiotherapy and Sports Injury Clinic specialises in treating neurological conditions, sports injuries, and musculoskeletal conditions. It's an MOH-accredited centre, so there's no doubt about the quality of its services.
What first drew us to East Coast Physiotherapy is the impressive credentials of its head physiotherapist. Duraimanickam Ramadas is a certified manual therapist, shockwave therapist, movement therapist, clinical Pilates instructor, and so on.
That's a long list of certifications that you'd be hard-pressed to find in a physiotherapist these days, so we couldn't help but add his physiotherapy clinic to our picks. There's more to it than its head physiotherapist's credential, though.
East Coast Physiotherapy regularly deals with athletes and sports-inclined individuals, but anyone who's dealing with injuries and recovering from a surgery will be welcomed with open arms.
In fact, East Coast Physiotherapy is open to babies and children as well. Its team includes experienced paediatric physiotherapists who are experts in child development and childhood disabilities.
It has longer operating hours compared to most physiotherapy clinics in Singapore too, and it's open until Saturday!
Customer Reviews
East Coast Physiotherapy has a 5 out of 5 rating on Google Reviews, proving that it's one of the top spots for the best physiotherapy in Singapore. Here are some comments:
"Dr Ramadas is an excellent physiotherapist. His experience skills in managing the sports injury, core muscle stiffness, etc commands an applaud. My core muscle problem was managed by him so good that I am back to normal state now. Thank you, Dr Ramadas! His smile nature of treating patients creates a better environment for anyone to heal from the pain. Kudos!"-Muthukumar Arumugam
"Highly recommended. The physiotherapist has more than 20 years of practical experience, signalling patients can endorse a high level of trust in him. For me, his treatment is catered to individual needs in conjunction with whole person gait assessment. I have gained more confidence after visiting him and believe that I can return to normal walking very soon. Would recommend ppl in need to go to him — a million thanks to East Coast Physiotherapy clinic." -Cylder Lim
The Stretch Clinic SG
The Stretch Clinic is the physiotherapy clinic to visit if you wish to improve your overall health, performance, and mobility. Instead of treating only an area of your body, its therapists use a special technique that heals your entire body.
Its sessions are quite expensive, though. A 30-minute session with its chief therapist cost around $200, which is above the average rate.
Personally, we'd look past its slightly higher rates given that it's composed of trained and experienced physiotherapists who know everything about posture, biomechanics, strength, and mobility.
If you're an athlete who wants to prevent injuries in the future, The Stretch Clinic knows exactly what to do with you. Its sport therapy is open to all athletes who want to enhance their mobility and balance without worrying about possible injuries.
We like that The Stretch Clinic formulated quick therapy sessions for busy individuals who don't have enough time to spare. Its stretch and massage treatment can relax your entire body and soothe pains in less than 45 minutes!
By the way, if you want to learn neuromuscular conditioning yourself, The Stretch Clinic offers a whole day of class where you can learn different muscle activation techniques. It's a class that can help minimise your chances of getting injuries.
Customer Reviews
Here are some comments posted on Google Reviews:
"It was hard finding out about cancer. It was even harder to recover post cancer and be physically strong again. The Stretch Clinic took very good care of me (especially Dr Kenny Wong and Angeline). Lots of knowledge sharing, rehab and strengthening exercises and here I am today, even stronger than before. Never thought that I could feel normal again post surgery but the holistic treatment approach by Dr Kenny works wonders! Forever grateful" -DT
"I have been a regular at Stretch for the last 6 months more or less. I work out regularly & quite extensively so I leverage their physiotherapist as well as their sports massages. I love the convenience of their location, appointment booking & the level of service they provide. The staff (Isaac, Celine, Angeline, James, Sharon) are all always professional & really really good at their job. They are knowledgeable, have a great bedside manner & are constantly looking for alternate & new ways to alleviate pain from their patients." -Chaitra Laxmisha
Rapid Physiocare
If you're looking for a trusted physiotherapy centre in Singapore, then you might want to check out Rapid Physiocare. There are thousands of satisfied customers of all ages and lifestyles who can attest to the effectiveness of its treatments.
The first thing you should know about Rapid Physiocare is that it's made up of 10 experienced physiotherapists. No patient will ever wait to wait for hours because a physiotherapist is always available.
Rapid Physiocare also has three branches scattered all over the island. There's one in Tanjong Pagar, another one in Novena, and lastly in Paya Lebar, so it's definitely an accessible physiotherapy clinic.
Another noteworthy quality of Rapid Physiocare is the wide coverage of its physiotherapy treatments. There are specific programs for women's health, elderly care, athletes with injuries, and those with chronic disease.
You can even have a physiotherapy session without leaving your own home. Rapid Physiocare's offerings include homecare rehab for elderies and busy individuals.
To ensure the consistency of its treatments, Rapid Physiocare provides rigid training to its physiotherapists, occupational therapists, and nurses, so you know that you're under the care of capable medical professionals.
Customer Reviews
Rapid Physiocare has an average rating of 4.9 on Google Reviews, proving that it's a clinic that can offer quality services. Here are some notes from customers:
"John and Kareen are both very knowledgeable and extremely professional physiotherapists who ensured that my treatment plan was carried out efficiently. They made my recovery a priority with frequent follow-ups and useful advice. The receptionists at Rapid Novena were also very helpful, always staying in touch to update me on appointments, cancellations and other information. Would highly recommend this practice for all your physio related needs."
"Highly recommend John Abraham who was not only knowledgeable with at least 10 years of experience under his belt but also professional. Went to see him for a tailbone injury and throughout the whole treatment he was professional and caring without making me feel uncomfortable at all! He explained his treatment along the way and was eager to share his expertise. Highly recommended! :-)"
Orthomed Physio
There aren't a lot of physiotherapy clinics in Singapore that focus on sports injuries and the needs of athletes, so we had to add Orthomed Physio to our list.
Orthomed Physio uses a hands-on approach in treating the causes and symptoms of different sports-related injuries. It helps that its physiotherapists are athletes themselves because they know what athletes with injuries actually need.
Some of the athletes that Orthomed Physio has worked with are basketball players, crossfitters, weightlifters, tennis players, rugby players, football players, and even Brazilian Jiu Jitsu athletes. But everyone is welcome to its doors.
Since Orthomed Physio has experience in treating sporting teams, it applies the same quality of skill to all its patients, even non sports-inclined individuals. Every patient will basically get the level of treatment that professional athletes need.
It's quite a small physiotherapy clinic, so it can only accommodate a limited number of patients every day. It has an efficient booking system, though, which means you can get an appointment on your most preferred date.
Customer Reviews
Here are some comments shared online:
"Following a total hip replacement, I was fortunate to be directed to the great team at Orthomed Physio. Helen helped me tremendously over a period of 6 months during my recovery. Without a doubt, Helen's professional support and kindness contributed significantly to my very successful rehab." -ARC
"The Team at Orthomed Physio are outstanding. I was referred to their clinic by an Orthopedic Doctor for pain and numbness in my knee. I worked with Ms. Helen over a few months. She was able to accurately identify the root of the problem and prescribe a treatment plan that alleviated my discomfort. Their Team does an excellent job in communicating with their patients. Helen would often check on me, in between my appointments, to see how my home therapy was coming along. I would highly recommend the Team at Orthomed Physio. Thanks guys." -James Miller
Advanced Physio Care
It's common to experience different levels of pain during a physiotherapy session, but if you have low pain tolerance, Advanced Physio Care is a great match for you. It earned a spot on our list based on two main reasons.
First, Advanced Physio Care believes that the key to an effective treatment begins with an accurate diagnosis, so expect a comprehensive initial consultation with its physiotherapist.
Second, the pain tolerance of a patient is considered when creating a personalised rehabilitation plan. Its therapists will incorporate physiotherapy techniques with little to no pain, without ever comprising the recovery of patients.
Even if you don't have a serious body/muscle condition or injury, you're still eligible for its physiotherapy sessions. Advanced Physio Care is open to office workers, sports-inclined individuals, and elderlies.
Another thing we like about Advanced Physio Care is how committed it is to providing every patient with hassle-free and convenient therapy sessions. It starts with its efficient scheduling system that makes sure no patient will line up longer than an hour.
On top of that, Advanced Physio Care has a comfortable and cozy environment that encourages patients to relax before their treatment. It can ease your nerves too!
Pooja Physiotherapy & Healthcare Centre
Pooja Physiotherapy & Healthcare Centre has only been around for a little over six years, but it's succeeded in earning the trust of hundreds of athletes, elderlies, and people dealing with musculoskeletal and neurological conditions.
The thing about younger physiotherapy clinics in Pooja Physiotherapy is that patients can gain access to effective therapy sessions, like the ones offered by more established clinics, at a significantly lower price.
There's no doubt the quality of its treatments because Pooja Physiotherapy is registered with Allied Health Professional Council and Singapore Physiotherapy Association, meaning every treatment has gone through a series of tests to prove their efficacy.
Some of the services offered by Pooja Physiotherapy include pain management, paediatric physiotherapy, women's health, geriatric wellbeing, facial paralysis treatment, and sports injury management, among others.
If you're dealing with frequent body pains because of your home office setup, there's truly no better option for you than this one. It provides ergonomics equations where patients are taught how to improve their posture and office setup while working.
Besides top-notch treatment at a lower price, Pooja Physiotherapy offers a comfortable and quiet environment that relaxes patients while waiting for their treatment.
Customer Reviews
Here are some reviews left by satisfied clients of the clinic:
"Dr Pooja is undoubtedly one of the best Physio we have come across. She studies the complete case, gets into the nuances and suggests the best possible alternative. Moreover, her warm way of interacting with patients gives them a lot of comfort and motivates them. Physiotherapy is a slow progression but patience is the key and her 200% attention to every case makes the journey memorable. Highly recommended.
More power to you Dr. Pooja!"
"Highly recommend Pooja and Matali. Excellent service and quality physiotherapy. Helped me with my back injury and recovery was very quick."
"Had snapped my shoulder and had no clue how to come out of the acute pain. Thanks to Pooja Physio and her treatment was more like a pampering my body and so smoothly pain was gone. Highly recommendable clinic."
LocoMotion Clinic Pte Ltd
LocoMotion Clinic is a physiotherapy clinic that specialises in treating orthopaedic and musculoskeletal conditions. We like that it's not your average physiotherapy clinic because it functions as a wellness and fitness centre as well.
As a physiotherapy clinic, its goal is to help individuals step away from pain medications, so if you've been dependent on painkillers, we're certain that you'll learn a lot from a session or two at LocoMotion Clinic.
Its treatment approach goes beyond short-term pain relief by educating patients on how to deal with recurring pain and injuries on their own. As a result, you get to save money as there's no need to book more sessions, especially if it's only a minor one.
Its physiotherapy mainly targets knee pain, shoulder pain, back pain, and other sports-related injuries. It's open to everyone, even if you're not an athlete or an elderly.
Another thing we love about the LocoMotion Clinic is the gorgeous interiors that further motivate patients to complete their physiotherapy sessions and attend more fitness classes.
LocoMotion Clinic operates on an appointment basis though, so walk-ins are highly discouraged. Walk-in patients will only be accommodated if the schedule for the day isn't fully booked.
Customer Reviews
Take a look at these comments shared on Google Reviews:
"Jing Yi is a professional physiotherapist and is indeed caring and goes the extra mile for her patients! She has helped me strengthen my lower back and I feel as good as new now! Keep up the good work and thanks for making me a stronger person! I would definitely recommend this clinic! Have an injury? Well, you know what to do!" -Reynold Lee
"Had some lower back and neck pains. Jing Yi planned some specific exercises which are sustainable to do on my own in the long run. She explained the reasons for each exercise, which muscles they worked on, how it helped rather than simply going through the motions. Other than strengthening my back at that time, these lessons helped me to prevent the pains and know how to maintain the muscles. It's been almost a year since those sessions, but the pain has been significantly reduced since." -Joel Lim
Performance Sports & Rehab Specialists
Founded in 2014, Performance Sports & Rehab Specialists is composed of allied health professionals and sports and performance enthusiasts who use the manipulation of mechanics and sports science to improve a person's mobility.
There aren't a lot of physiotherapy clinics in Singapore that can cater to the needs of performers, so we had to add it to our picks.
Whether it's recovering through rehabilitation or meeting performance goals through sports training, the experts at Performance Sports can come up with a personalised plan that perfectly matches your situation.
The expertise of Performance Sports doesn't end with physiotherapy. It offers sports massages, cycling analytics, Pilates, sports training, and shockwave therapy as well, all of which are conducted using state-of-the-art equipment.
Performance Sports is quite strict when it comes to bookings and cancellations. Once a schedule has been arranged for, you only have 48 hours prior to the appointment to cancel, otherwise you will be charged with 100% of the consultation fee.
We can't blame them for such a strict policy considering that there's a long waiting queue for patients. Some even have to wait for three to five days just to be accommodated.
Customer Reviews
Here are some reviews left by satisfied clients of the clinic:
"I slipped a disc in my lower back in July last year and saw Belinda to get me back training ASAP as I had a number of key races to finish the year. After managing to get me to the finish line of Bintan 70.3 just 8 weeks after being bed bound I managed to qualify for the 70.3 World Champs in Phuket in November. I would highly recommend seeing Belinda with any niggles as this would prevent more serious injuries in the future. I also saw Martin at the partner bike fitting clinic Fahrenheit Performance to get you in the best position for power/aerodynamics but also a position that doesn't aggravate current/recovering injuries."
"My knee was injured quite badly, to the point where negotiating stairs caused much pain. Dr Malia Ho, Principal Podiatrist of Performance Sports & Rehab, drew up a 6-week rehab plan for me but we made so much progress, she discharged me with her blessings in just 4 weeks! Of course, follow up exercises to maintain good health has to follow but my knee is back in shape. I can even squat down without pain or discomfort! Many thanks to Dr Ho from a grateful patient and an even more grateful knee!"
Physionique
Motivated by the goal of adding to the quality of life, Physionique extends help to people who are having trouble with their bodies – may it be caused by injuries or experiences of problems with sports performance.
Physionique prides itself on its successful track record and positive reputation among local and international customers. Its prominence is mainly attributed to its multinational team of physiotherapists, massage therapists and Pilates instructors.
Another thing you should know about the folks at Physionique is that all of them hold qualifications from Australia, New Zealand, the Netherlands, UK and Ireland, proving that these therapists are the real deal.
For its physiotherapy, Physionique uses traditional techniques like soft tissue massage, manual hands-on method, exercise prescription and electrotherapy. All these are proven to be effective in treating all sorts of sports injuries and body pains.
All in all, Physionique is an excellent choice if you're looking for a physiotherapy clinic with rates that are well within your budget!
Customer Reviews
Here are some reviews left by satisfied clients of the clinic:
"I went to Physionique for neck pain issues I had. Very professional and knowledgeable physiotherapist and service. Justin was excellent. Would definitely recommend."
"A big thank you to Denise and Physionique. In November 2016 I was referred after a serious knee dislocation that left me in a cast. 9 months later I have just completed an Ironman 70.3 with a personal best time and no knee pain at all."
"As someone who does BJJ, Muay Thai and lifts weights while pushing on a bit, in years, I get the occasional injury. Over 7 years, I have been sent to many different physios in Singapore but I always come back to Physionic. Friendly, professional and they understand that even when injured, some people still like to have a recovery regimen that includes some exercises they can do to keep fit."
PHYSIO+
The Physio+ team empowers patients to find the strength in themselves to obtain optimum health. They have designed a careful process to assist patients in their recovery, and at the same time have made it adjustable for personalization to suit different needs.
To ensure a caring operation, the staff of Physio+ are excellently trained to attentively support patients in their healing. That's why so many go to them for physical therapy in Singapore.
If you are looking for an encouraging environment as well as a one-to-one level of connection with your physiotherapist, Physio+ is perfect for your healing and recovery!
Customer Reviews
Lai Ping Wong posted this on Google Reviews
"Yan Ping Physio skills are excellent. I went to her for a very painful back and after 3 sessions felt so much better. I recommend my family and friends to her and they are all very pleased with her skills. Highly recommended! Will definitely give 6 stars"
Another customer named Bernard Ng shared his own experience:
"Superb service from PHYSIO+! My experience with PHYSIO+ has been amazing. Yan pin detected my half-a-decade long shoulder injury immediately on our first visit. She could explain the breakdown of the cause and provide a solution to it. During the session, you can sense the passion she has in her to help you recover asap. Every little improvement she will rejoice with a big smile on her face which is heartwarming! With just one session with her, my shoulder has improved significantly! I highly recommend that you visit this clinic if you are looking for a therapy."
The Posture Lab
If you are concerned about the functions of your body, consider visiting The Posture Lab, with a team that specializes in "The Art of Fixing Bodies".
Their team commits to educating their patients on how to properly guard and protect their and others' bodies through the comprehensive services they offer. These include but are not limited to posture analysis, physiotherapy, and sport massage therapy.
The Posture Lab's team of highly skilled individuals also empower their patients to achieve their goals by helping personalize a training method under their Performance Coaching and Testing service.
If you believe in absolute care for your body—as well as care for those that matter to you—come and be enlightened at The Posture Lab!
Customer Reviews
Here are some reviews left by satisfied clients of the clinic:
"It was my first time with posture lab and I loved it. The therapist was very professional and he knew exactly which part of my body needs help without me telling him. At the end of the session, my body felt so much better and he went the extra mile by giving me advice to strengthen up my body as a whole. Thank you posture lab. It's definitely worth it!"
"Have done a sports message here twice and both experiences have been great. Emile was very knowledgeable and answered all the questions I had – he also explained the potential root causes of my pain and suggested things I could do to manage it. This helped to alleviate the anxiety I was feeling about my pain. Would totally recommend!"
Focus Raffles Studio
If you are concerned about the functions of your body, consider visiting The Posture Lab, with a team that specializes in "The Art of Fixing Bodies".
Their team commits to educating their patients on how to properly guard and protect their and others' bodies through the comprehensive services they offer. These include but are not limited to posture analysis, physiotherapy, and sport massage therapy.
The Posture Lab's team of highly skilled individuals also empower their patients to achieve their goals by helping personalize a training method under their Performance Coaching and Testing service.
If you believe in absolute care for your body—as well as care for those that matter to you—come and be enlightened at The Posture Lab!
Customer Reviews
Here are some reviews left by satisfied clients of the clinic:
"It has been 6 years and 2 months since I started pilates with Focus and I am still enjoying and benefitting from each session. I appreciate that the sessions are varied so that they are never dull and the exercises are tailored to today's lifestyle whilst still keeping true to pilates fundamentals. Thank you."
"I have been taking lessons with Focus for several years and my physical condition is getting better day by day. The instructors in Focus are very professional, good and caring. They take time to find out ask out the trainees feel on the day and select exercises that best fit their physique for the day. The counter staff is polite, cherry and always ready to help.Thanks! I really enjoy my lessons in Focus."
"I work all day at my desk and previously have experienced stiff back and shoulder pain. I started to do Reformer Pilates a couple years ago and felt much much better. I was so happy to find Focus when I relocated to Singapore. The instructors were both professional and friendly. They managed to give good, challenging workouts to strengthen and improve my mobility while not being destructive to the body. I appreciate all their attentions to make sure my all movements and poses were done correctly. The staff were extremely friendly and helpful too. It's always a good day to come to Focus. Thank you!"
BMJ Physiotherapy Clinic
For all of your physiotherapy needs, book an appointment with BMJ Physiotherapy to avail of a high quality yet affordable service. They offer treatments for your bones, muscles, joints (BMJ) and are composed of a talented team that are highly experienced in this field.
By carefully assessing their clients' pains, they are able to give the right treatments to alleviate the discomfort. Their treatments include post-surgery rehab, postural analysis, home therapy, sport massage, and many more.
Furthermore, those who wish to learn more about different conditions may check out their website. They offer reliable and necessary information on conditions concerning the neck, shoulder, wrist, back, knee, and ankle/foot.
BMJ Physiotherapy Clinic has three branches island, making it one of the most accessible physiotherapy on our list. In case one branch is fully booked with clients, you can simply book an appointment with another branch.
Aside from physiotherapy and other rehab treatments, BMJ Physiotherapy Clinic is home to a variety of pain relief equipment like braces, foam roller, and kinesiology tapes, among others.
Customer Reviews
Here are some reviews left by satisfied clients of the clinic:
"The staff are friendly and professional. it was a good experience and my back ache was relieved tremendously."
"I've been seeing Darek for the past 3 years for sports related injuries. He's knowledgeable and experienced. I'll certainly recommend him for your physio needs!"
"Vanessa is very professional in her attitude & care as a physiotherapist and is kind & cheerful in her personality. She is well-trained in her asessment & therapy. I appreciate that she listens & patiently explains to me why I've problems with my body's mobility so that I can understand & be ecouraged to do the physio exercises that she prescribes for me & be on the road to recovery."
Hallmark Physiotherapy
Hallmark Physiotherapy is a versatile physiotherapy clinic that specialises in treating sports injuries, neurological conditions, and musculoskeletal disorders. It's well-equipped to diagnose and treat patients of all ages and lifestyles too.
As of writing, Hallmark Physiotherapy has helped close to 8,000 global patients, which says a lot about the quality and efficacy of its therapy sessions.
If you care a lot about credentials and accolades, then Hallmark Physiotherapy would be a perfect choice in your eyes. It's received multiple awards including the SME Prestige Award, which it won twice in a row.
Among the treatments offered by Hallmark Physiotherapy include post-surgical rehabilitation, manual therapy, pain management, sports therapy, and therapeutic taping. These are some of the staples you should look for in a physiotherapy clinic.
However, if your body is in too much pain to handle any of these therapies, Hallmark's therapists may start with the most basic treatment like knee exercises, shoulder exercises, and stretching exercises and then help you work your way upwards.
If you're searching for a place to have your treatments, Hallmark is ready to help you in all the ways that would make you feel better not just physically, but mentally as well.
Customer Reviews
Here are some reviews left by satisfied clients of the clinic:
"I have the best experience of physiotherapy in hallmark physiotherapy. I get a lot of relief from my pain post therapy and equipment used is really good. Mr Ravi is a very caring and knowledgeable therapist who constantly gives advice and tips on how to recover from my injury. Well recommended."
"Hallmark Physio @ thompson is one of the best around.
Their team is very dedicated and professional. Would highly recommend this place to all."
Physio Dynamics
With their motto: "prevent, rehab and enhance", Physio Dynamics prides themselves on their effective sessions, along with thorough assessment and diagnosis beforehand.
They believe that in order to achieve the best holistic wellness, the passion for helping should be present, and they show that in their creation of individual programs that would suit their client's comfort and needs.
Handling a wide range of musculoskeletal conditions, they still work only with a hands-on treatment that would surely improve the rehabilitation so you'll be better in no time.
Home diagnosis and therapies are also available if you're in no shape to go to their clinics to receive their services. And for our sporty people out there, fret not, as they also offer field side assessments if ever you run into accidents while doing your thing.
Physio Dynamics also conducts physical assessments for athletes that help in ensuring their overall physical performance in order to prevent injuries from happening. With all these great services, they're definitely one of the best physical therapy Singapore clinics.
Customer Reviews
Here are some reviews left by satisfied clients of the clinic:
"My recovery was long drawn, and I could not have learnt to walk comfortably again without the encouragement and skills of Ms Khoo. It was my first experience with a physiotherapist, and I am glad Ms Khoo's personable approach eased my anxieties and pain."
"Shin Jiun is truly God sent. She is very experienced, professional, and dedicated. Her gentle, kind and warm personality dispelled my initial anxieties and each session was enjoyable and extremely beneficial. Surgeon who operated on my shoulder is impressed with my recovery. I would highly recommend Shin Jiun to anyone for a smooth and steady recovery."
Elite Spine Centre
Elite Spine Center does not only focus on treating their patients' pain and symptoms, but also on teaching them strategic approaches in order to reach maximum growth.
Their main goal is to help each and every person that walks in their place holistically, taking in consideration all the factors that could've prevented them from healing.
Known for being one of the best in the field of chiropractic, the team in charge makes sure to examine each case thoroughly and give proper care to their customers.
As an establishment that visualizes the development of what is now called the modern therapy, they continuously move forward in terms of integrating classic rehabilitation with mainstream practices in order to achieve the perfect combination and service.
That's why you know that Elite Spine Center will only offer you physical therapy Singapore services you can trust.
Customer Reviews
As of writing, it has a perfect rating of 5 out 5 on Google Review, making it one of the top-rated physiotherapy clinics on the island. Here are some of the comments:
"Dr. Mike and Dr. Fraser have been very helpful throughout my recovery journey with them! I really like that there are various machines, aside from the usual adjustment, to target and accelerate the recovery and muscles. Diana, May and the other staff are super friendly as well. Very happy with my drastic improvements" -Kimbley Tan
"I was suffering from neck, back and knee pains for a few months before being strongly recommended by a friend to take up a consultation. I remember feeling immensely relaxed and pain free after my first adjustment by Dr Michelle. After which, I decided to take up treatments. Dr Michelle would take the time to thoroughly explain all of my questions and suggest alternatives to any problems I faced with regards to my postures and daily movements. I've seen significant improvements to my posture and injured areas. The nurses are attentive and friendly as well. I look forward to each treatment." -Garrick Tan
Heal360 Physioclinic
If there's one thing that heal360 is famous for, it'd have to be its customised and individualised programs.
These programs are made to ensure that the varying needs of customers will be accommodated with the right combination of treatments — which is why we consider it among the clinics that offer the best physiotherapy in Singapore.
What's more, it caters to the medical needs of clients of all ages, from children to senior citizens. You see, heal360 employs therapists and medical staff who can deal with a wide variety of conditions experienced by people of different ages.
Another thing we like about it is its commitment towards improving the well-being of all its customers. That's why its treatments are very affordable, especially when compared to other clinics' physical therapy Singapore treatment rates.
Customer Reviews
Take a look at some of the comments posted by previous customers:
"I visited this clinic for the first time almost a month back, and with just only a couple of sessions in, I've seen visible improvements with my shoulder pain and I'm very glad to see good results through physiotherapy as it's my first time going through it. Elaine is kind, friendly and highly professional, and she addressed all of my concerns during each session. At the same time, the stretching & strengthening movements that she had advised me to do has been effective in reducing my shoulder pain as well. Overall, I would definitely recommend this clinic to anyone who needs to alleviate and treat their body pain!" -Terence
"I had back pain due to a fall last year. Search around for a physio for help and chance upon Heal360. After looking through the testimonials, I called and asked for physiotherapist Michelle. After the first session, I felt so relieved! Michelle did a lot of manual manipulations, not only on the injured part, she also worked on other parts of the body that I didn't know were also related to the injury. She provided a holistic approach that really helped me tremendously. I also recommended a few of my friends and my mom to her, and they were also very satisfied with the service. Highly recommended! Thank you Michelle!" -Joanne Chua
Wings Therapy and Learning Centre
Established in 2017, WINGS is Singapore's first intensive therapy centre that caters to the needs of disabled and special children, so it holds a special spot on our list.
WINGS's programs are designed to help developmentally challenged children learn important skills such as gross motor, fine motor, and social awareness skills using interactive play-based approach.
What we like most about WINGS is that it doesn't seem like a therapy centre or a medical clinic. It feels like a play centre where developmentally challenged children get to interact with adults and fellow kids, all while learning important life skills.
Every child is welcome at WINGS. It has intensive programs for babies as young as three months to near-adolescent children. A typical class lasts for about two to four hours a day, which is largely similar to setup at preschools.
Its therapy sessions, on the other hand, are handled by experienced and passionate physiotherapists who have years of training in teaching children how to sit, stand, and walk. You can be assured that you'll be leaving your children in safe hands.
Every child will follow a treatment plan designed specifically to address their condition and needs. Just like most of its programs, its paediatric physical therapy class is open to babies as early as three months of age.
Customer Reviews
Here are some reviews on Facebook left by satisfied clients of the clinic:
"I highly recommend Wings center. The staffs and therapists are knowledgeable, experienced, dedicated and super caring. They are friendly and very very patient with my son. They follow his progress closely to design a therapy program best suited him day by day. At Wings, they always focus on what my son CAN do, and never on his disability. Wings is always there with us to celebrate every milestone that my son achieves. I love Wings and all the therapists and their assistants." -NGA TRAN
"Wings Therapy has help us to realized my boy has more potential than we know off.
The staff and therapist there, on top of being knowledgeable and experienced, is dedicated, caring, friendly and most importantly they are very very patient with my boy. He showed more improvement during the 3 weeks time than we have seen in a long time. A big thank you and ??to Wings for bringing intensive therapy closer to us." –JULIANA TAN
"I highly recommend the center. I brought my baby girl for physio to Wings and I was impressed by their professionalism, kindness and flexibility. My daughter's mobility improved exponentially within a very short period of time." -ALEXANDRA SZOMORA
Rehab & Beyond
Rehab & Beyond was established in 2018 in the hopes of providing affordable, high-quality rehabilitation to the people of Singapore. You can expect that its treatments won't hurt your pockets like other physiotherapy clinics would!
The folks over at Rehab & Beyond don't believe in a cookie cutter approach to address sports injuries and musculoskeletal conditions, so they will take time to know your situation to come up with personalised rehabilitation plan.
If you've been dealing with intense neck and back pain, Rehab & Beyond can put an end to that because that's it's forte! For sports-related injuries, its sports injury rehab will not only help you recover but enhance your performance as well.
Another thing we love about Rehab & Beyond is the specialised treatment program for various chronic and neurological conditions. It offers cancer rehab, cardiac rehab, pulmonary rehab, and neurological rehab, among others.
Rehab & Beyond also has three branches strategically located in various spots in Singapore, all of which are armed with advanced equipment for different types of therapy. They were even nominated at the APAC Business Awards 2021 and were eventually were awarded Best Physiotherapy Provider 2021 – Singapore!
Customer Reviews
Here are some comments left by previous clients of Rehab & Beyond:
Jaden came over to our house for a home physiotherapist visit to attend to my father who had been unable to walk for almost 3 weeks following a bad gout attack. Throughout the session, he was very attentive and professional and he engaged and taught my dad some muscle strengthening exercises as well as breathing exercises. At the end of the session, my father was not only very motivated but also had regained some confidence as well as strength to walk a few steps with the help of a walker. Thank you Jaden…" -Leong Jan
"I had sore shoulder for quite sometime and gets worst over time which forced me to stop all my training and workouts. I came to a point where I could not raise my arms up beyond shoulder level and it was really painful. Physiotherapy sessions with Jaden helps a lot on my way to recovery. He explained whats' wrong with my shoulder and he provided guidance on what is the right exercise and proper way to strengthen it. I am now back to dancing and I was so overwhelmed when I was able to do pull ups (with resistant band) months after no workouts." -Dfulguer
Phoenix Rehab Group
The first thing you should know about Phoenix Rehab is that its therapists are extremely qualified to handle all types of sports, body, joint, and muscle injuries. It only hires those who have received training overseas, so you know it's therapists know what they're doing.
Its internationally trained roster of therapists include physiotherapists, hand therapists, podiatrists, massage therapists, personal trainers, and stretch therapists, among others. That's an impressive line up, if you ask us.
Phoenix Rehab specialises in musculoskeletal conditions and sports injuries such as chronic back pain, arthritis, knee tears, and many more. However, if you need help with maintaining a healthy body, you can also ask for ergonomic and postural practice.
It's definitely an in-demand physiotherapy clinic based on what we've researched, but no customer will have a hard time booking an appointment. You can make an appointment in three ways: through email, text, and WhatsApp.
Aside from conventional therapy, Phoenix Rehab also offers traditional Chinese medicine such as acupuncture. You can even receive alternative therapies, like somatoemotional release and cranial therapy here.
Customer Reviews
Here's what a customer has to say about Phoenix Rehab's physiotherapy services:
"They make such effective use of therapy time to empower me to take steps forward. The outcomes are encouraging and i trust my recovery on their hands – great team – thanks to all of you ! The front office staff are also very warm and easy to work with – Thanks"
Homage Home Care
Homage Home Care is primarily known as nursing home care for the elderlies, but we believe that it's physiotherapy sessions are worth checking out as well. Here's why it earned a spot here:
For one, Homage Home Care provides specialised care for elderlies with different degenerative disorders, including Alzheimer's, Parkinson's, dementia, cancer, stroke, hypertension, diabetes, and arthritis, among others.
Second, most of its therapy sessions can be done at home, which is an ideal setup for elderlies who have a hard time walking, let alone leaving their own homes.
Due to the option of home therapy sessions, the chances of your elderly parents missing or skipping a session will be reduced. You'll even have the opportunity to monitor their progress up close.
Homage Home Care doesn't fall short when it comes to equipment either. It makes use of a variety of smart technology to improve their patient's quality of life, allowing them to enjoy every minute of life.
Customer Reviews
Here's what previous customers had to say about their experience:
"Our first time experience with Homage did not let us down. We had an amazing experience with Homage Care Pro services, Nora. At first, my sis and I were reluctant to use such services for our mom, but due to our work schedule and personal lives, we gave Homage a chance and we felt safe and secure. Our mom had an enjoyable time with Care Pro, Nora and she did beyond than expected for our mom. From the bottom of our hearts, THANK YOU! Definitely, we would book another appointment in future." -Hafiya Ibrahim
"First time engaging in homage's services as my maid was having her day off. Staff quickly matched a suitable Care Professional for me. Care Professional was punctual, constantly checking on my dad to ensure he is comfortable. Thank you for relieving my caregiving woes! :)" -Jessica Lee
K.H. Poon Physiotherapy
Since 2006, a humble one-man team has provided basic physiotherapy services. Today, K.H Poon Physiotherapy has grown into a team of five experienced physiotherapists who strive to provide the highest quality physiotherapy to patients of all ages.
K.H Poon Physiotherapy may be a smaller clinic compared to our other picks, but it's not to be underestimated. Its physiotherapists not only have more than 16 years of experience under their names, but all of them are certified by the Ministry of Health as well.
No worries if English isn't your first language because its therapists can also speak Mandarin, Hokkien, Cantonese and Malay.
To complement the expertise of its therapists, K.H Poon equips them with modern technologies and treatment techniques to provide the best professional patient care.
Compared to other physiotherapy clinics, a single musculoskeletal physiotherapy at K.H Poon usually lasts for at least 1.5 hours, which means the therapist will have more than to address your injuries and body pains.
Customer Reviews
Take a look at what its previous customers had to say about their experience:
"Physio that was assigned to me was knowledgeable on Sciatica, and implemented exercises/massages that immediately relieved some of my pain. Also instructed me to do some light exercises at home, which has been helping this far." -Mark Theodore Lee
"Very pleasant and fuss free first experience. Customer care is top notch!! The clinic makes sure to update their patient on every little detail through whatsapp and check up on their condition frequently too" -Grace Lam
The Physio Movement
The Physio Movement is a physiotherapy clinic dedicated to restoring your body's natural movement. Its therapists do so by identifying the underlying problem and designing a personalised treatment program that targets all your needs.
It's one of the physiotherapy clinics in Singapore with a perfecting 5 out 5 rating on Google, with most previous patients praising the attitude of its therapists, effective therapy sessions, and the overall pleasant vibe of the clinic.
We appreciate that The Physio Movement focuses on science-backed treatments that have been proven to be effective, providing its patients the confidence that their rehab program will end in their full recovery.
Another thing we like about The Physio Movement is how easy to find it is. It's strategically located in the major shopping district of Somerset, so it's only a few minutes away from Mount Elizabeth Hospital and Novena Medical Hub.
The Physio Movement may not be as well-known as our other picks, but its therapists can get the job done just as well, if not better.
Customer Reviews
Here are the reasons it earned a perfect rating on Google Reviews:
"Haris and Mark are both excellent physiotherapists – they are not only experienced and passionate practitioners but also have a great heart for their patients. I highly recommend this clinic! It's at a great location as well :)." -Jillian Lye
"I can't thank Haris and Mark enough for helping me through my various injuries and weaknesses. They are passionate about helping their patients not only to reduce and stop pain but more importantly to bring functional stability and strength back to the weak muscles. Physio exercises are tough work but through their targeted activities and manual therapy, I see vast improvements in my strength and posture. Thanks again, guys!" -ChengYan Chan
Aptive Physiotherapy
Aptive Physiotherapy brings a holistic approach to physiotherapy treatment by rehabilitating not only the physical trauma, but also tapping into healing the patient's mind.
Its certified physiotherapists Pauline, Angela and Nicole aim to facilitate open communication with their patients in a relaxed and comfortable environment while providing them with the necessary comprehensive care.
Along with its comfortable and quiet ambience, comes a wide array of treatments for many areas of the body such as the neck, back, shoulder, elbow, knee, ankle and others.
Aptive Physiotherapy has had experience in providing service for Cervical Spondylolisthesis, Scoliosis, Degenerative Disc Disease, Scapulothoracic Impairment, ACL/PCL Tear and many more. Basically, it can deal with more than just body and muscle pains.
We don't recommend walking into Aptive Physiotherapy because it operates mainly on an appointment basis. Those patients with no appointments may have to wait hours with no assurance of getting accommodated for the day.
With its clinical expertise, holistic approach and excellent service in various kinds of treatments, you're in good hands with Aptive Physiotherapy.
Customer Reviews
Here's what previous customers wrote on Google Reviews:
"Pauline was my therapist for a Frozen Shoulder and a partially torn tendon in the same area. She is knowledgeable and quite pleasant to work with. Most importantly, her treatments delivered the intended results. I would highly recommend her." -Mark Randolph
"I recently sought treatment from Pauline for Tennis Elbow pains. This was following a friend's recommendation. After 1 session involving deep tissue massage, ultrasound and electrotherapy, I was able to get more range of movement with my arm without encountering pain. Amazing results considering 2 different rounds of painkillers did not manage to provide any pain relief. Pauline was very patient to explain the purpose of each treatment before carrying it out. Very thankful to the friend who recommended it, and definitely a recommendation I'll gladly pass on to others looking for physiotherapy." -Jeanette Lim
ONE Physio
Originating from Australia, ONE Physio is conveniently located in the Central Business District at Clifford Centre and Marina Bay Financial Centre. It earned a spot here based on three main reasons.
First, its physiotherapy team comprises Australia-trained physiotherapists who each have over 10 years of experience in both public and private healthcare. There's no doubt that you'll be under the care of certified experts.
Second, ONE Physio prides itself on providing a smooth experience for patients' before and after their sessions. Its staff members have been repeatedly praised for being friendly, professional, and approachable as well.
Third, its expertise goes beyond treating joint, muscle, and body pains through physiotherapy. If you need help improving your posture while working, ONE Physio can help you with that as well.
With two locations in Singapore, we guess it's safe to call ONE Physio an accessible physiotherapy clinic. One branch is found in the Raffles Place, while the other one is in the Marina Bay Financial Centre Tower, both of which are famous locations.
Customer Reviews
Curious what customers think about ONE Physio? Here are some of their comments:
"I went to One Physio due to an injury on my neck that persisted for months. Bertrand was my physiotherapist. I was skeptical as to whether or not progress was going to be made but it's been one month since I was discharged from my last session and I've been pain-free since. I was provided with not only physical treatment each visit, but also prescribed exercises and stretches which I believed helped in the long term! Bertrand was also sure to keep track of my progress between each session, and was always available to answer any queries/concerns I had even after my sessions. Would highly recommend One Physio!" -Natalie Tham
"Had a great recovery from a meniscus injury over a 2+ month period. OnePhysio had also worked together with my doctor to confirm that it was not an ACL injury as initially feared. I was able to be nurtured back to the full range of motion as before without undergoing surgery. Exercises were progressive in nature to ease back into regular movement without risk of being too hasty. Overall I would definitely recommend OnePhysio to anyone looking for professional physiotherapy with the nice and friendly Team!" -Edwin Ng
Physio & Sole Clinic
Physio & Sole Clinic is your one-stop podiatry and physiotherapy centre in Singapore for musculoskeletal pain, sports injury, foot pain and other related conditions.
Its roster of therapists consists of licensed physiotherapists and podiatrists who all work together to make treatment for physical problems related to injury, disease, illness and ageing more accessible in Singapore.
More than that, we like that its therapists are experts in preventative therapies and fitness too, something that athletes and physically active individuals need to excel at what they do.
Physio & Sole Clinic is known for its comprehensive and extensive therapy sessions. Every patient on their first visit will undergo thorough assessment to determine the cause and the possible treatment for their injury or condition.
After that, the physiotherapist will then provide a detailed explanation of the cause of injury and the expected duration of recovery, along with the customised rehab program that targets the important points of their condition.
Overall, Physio & Sole Clinic is a physiotherapy clinic for the young, the active and the silver-haired, so everyone is welcome. Plus, its therapists are multilanguangal too, which means foreigners and tourists can go here as well.
Customer Reviews
Previous patients left their thoughts about its services on Google Reviews:
"Agreed with my sister to bring my mom for her podiatrist appointment at Tanglin Shopping Ctr. I was told the podiatrist at this clinic is very good and my mom did not have to tolerate so much pain. He knows how to keep my mom calm throughout the treatment of her 2 nails. He also gives very specific instructions on post care as well as assure my sister to keep him posted if further help is required when at home. I may come back again since 1 of my daughters has an in-grown nail next time." -Shir YH
"My mum went to the clinic after persistent shoulder pain for months, and the condition did not improve after various forms of treatment. It was only recently that she went to The Sole Clinic to seek consultation from Wesley, and after assessment and treatment on the first session my mum felt more comfortable. The conditions and causes as well as further treatment plans were explained in detail. Very professional service!" DX Guo
BFit
BFit specializes in injury and movement management, offering its clients the advantage of having an entire team of experts. This clinic helps individuals explore various care and recovery plans to jumpstart their path to wellness.
BFit's physiotherapists, trainers, coaches, and doctors can diagnose musculoskeletal conditions and create tailor-made programs to help achieve your health goals. So whether it's to minimize pain, gain mobility or increase your physical activity, this clinic's goal is to help you reach yours.
They'll also take the time to get to the root cause of your pain so that you can have a better understanding of your treatment plan. They will keep their communications casual and easy-to-understand so that you can decide on what's best for you.
BFit's physiotherapy program also has the latest in technology to deliver the best care possible, such as ultrasounds and interferential therapy. They also provide extracorporeal shockwave therapy which requires collaboration with their team of in-house doctors.
No matter what age you are or physical hurdles you may face, BFit will guide and educate you towards a healthier lifestyle. When you come to this clinic, you'll have access to the full range of specializations offered by each of their team members.
If you're looking for a physiotherapist that can offer you customized care plans, BFit is an option worth considering. Visiting this clinic will also give you the advantage of having other physical therapists of different disciplines at your disposal, which makes them one of our top choices in Singapore.
Integro Physiotherapy Clinic
Integro Physiotherapy Clinic is a center that specializes in resolving acute and chronic musculoskeletal conditions and pain. They can offer Medical Exercise Therapy and manual therapy to help clients with their concerns.
We find their service ideal for individuals who require rehabilitation and treatment for acute/chronic pain due to musculoskeletal problems (e.g. low back pain, neck pain, knee pain, shoulder pain, or sport injuries), and pre-/post-operative cases since their specialized services are most adequately suited for resolving such issues.
However, we find their website in need of aesthetic improvement and more information could be provided when it comes to the packages they offer and the price ranges they are in.
Nonetheless, they are founded and operated by a professional who has been in the field ever since 1993 and has since then been bringing his vast expertise and experience in the field in every hands-on treatment he gives.
Overall, we think that his services are worth a shot and just need more improvement when it comes to user navigation and customer service features on their online platform.
City Osteopathy and Physiotherapy
With over 13 years of experience, Chiropractic Singapore has grown into one of the most trusted chiropractic clinics on the island. As of writing, it's helped more than 10,000 patients recover from musculoskeletal and sports-related injuries.

Its team is made up of eight chiropractors scattered all over its four locations in Singapore. 

Chiropractic Singapore's goal as a clinic is to provide long-term relief from muscle pains and injuries by providing natural, drug-free, and safe treatments. Patients will be free from pain and discomfort without being exposed to chemicals and sketchy procedures.

The expert team also provides resources for patients who wish to learn more about posture correction for preventive reasons.

Lastly, it's of the most accessible chiropractic clinics in Singapore given its multiple locations, so we're sure that there's a branch close to your home or your office.
Customer Reviews
Here are some reviews from their clients:
"I strongly recommend both Arthur and Madeline as your osteo and physio, they are extremely skilled and friendly on top! They managed to fix some of my long lasting chronic issues, and I can't be happier thanks to them!" – Mourali
"I have been treated by Ashleigh numerous times and her Osteopathy treatment is always really helpful to the various pregnancy and postpartum pains I had and also any other neck and back issues that pertained from desk work. Her manner is gentle, professional and really pleasant. I highly recommend her!" – Roobni SL
Core Fitness Physiotherapy & Pilates
Core Fitness Physiotherapy & Pilates is a company that helps clients recover from their musculoskeletal injuries and other interrelated conditions through the use of physiotherapy treatments. With a solid team of professionals, they are able to deliver a combination of treatments and exercises to help alleviate pain and prevent more future injuries as well.
We find their services to be holistic in that they greatly maximize their non-invasive treatments to effectively treat the concerns of the client without the intake of substances that could have side effects. Additionally, the packages they offer are both comprehensive and ideal for clients looking for long-term and regular treatments.
We think that their website offers an appropriate resource material for clients new to the service and intend to find more about it.
Furthermore, their online booking system makes it convenient for clients to get assistive customer support and contactless transactions would be very convenient for clients living quite far from their clinic.
Overall, with a highly specialized team of professionals and extensive treatments available to be serviced, we recommend clients to give them a try should they have any bodily concerns and injuries that need attention.
Customer Reviews
Here are some reviews from their clients:
"Comprehensive one-stop solution for your pain and fitness. Absolutely love the physiotherapists and instructors attention to you here. I've been doing Pilates with them for 4-5yrs and ongoing. I would recommend anyone to give this place a try!"
"Deserve 5 stars and more🌟best physiotherapy and pilates studio around with the most friendly and amazing people working there. Thank you for all the help you've given me, I always feel so welcome when I go and always leave feeling better."
FAQs about Physiotherapy
---
Paying a reliable physiotherapist a visit is among the first steps towards recovery. We hope that you were able to pick at least one clinic that you think can provide the services that you need.
If you know other clinics that offer psychotherapy, don't hesitate to share their names. If we find them great, we'll also add them to our list.
By the way, if you've been experiencing pain in your spinal area, you might want to drop by the clinics of the best chiropractors in Singapore. These chiropractors can definitely help to alleviate the pain on your back side.