The Top 31 Clinics for the Best Physiotherapy in Singapore
Are you suffering limited mobility due to some ailment or injury? Don't fret, because with the help of the best physiotherapy in Singapore, you can slowly recover through the top physical therapy Singapore treatments.
What's more, the clinics with the best physiotherapy in Singapore can also help you avoid further injuries in the future. They can show you how to ease your body back into its normal functions and movements without putting it in more danger.
As our way of helping you through this process, we searched for the clinics that offer the best physiotherapy in Singapore. Most of these clinics provide manual therapies, physical activity advice, tailored exercises, and education about how to overcome injuries.
(Note: This list is in no particular order.)
1. Physio Asia Therapy Centre Pte Ltd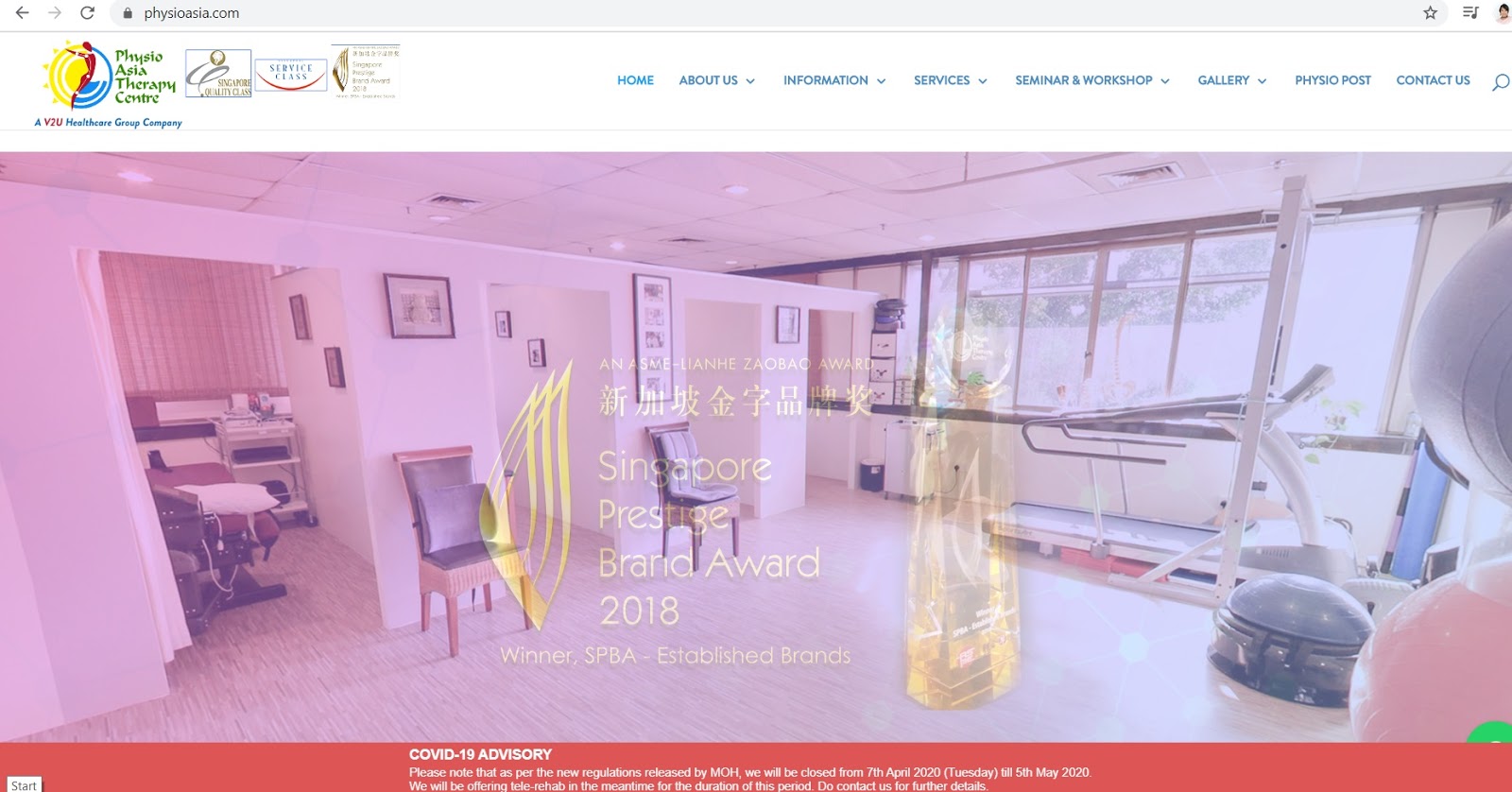 | | |
| --- | --- |
| BEST FOR  | Pain Management, Improvement of function and mobilization, muscular re-education, sports performance enhancement, and neuromuscular balance and coordination. |
| SERVICES | Outpatient Physiotherapy, Women's Health Physiotherapy, Home-based physiotherapy, Modalities, Exercise Classes, Specialized Techniques. |
| WEBSITE | https://www.physiotherapysingapore.co/ |
| ADDRESS | 360 Orchard Road, #05-02 International Building, Singapore 238869 |
| CONTACT DETAILS | Tel : +65 6432 8277 |
| OPERATING HOURS | Monday to Friday: 7:30 AM to 7:30 PM Saturday: 9:00 AM to 5:00 PM |
Physio Asia Therapy Centre established since 2006 provides cost effective, evidence-based physiotherapy and rehabilitation services with integration of state of art technology and skilful implementation. 
Backed by a team of passionate professionals with scores of expertise and years of experience in physiotherapy, providing a holistic approach towards full assessment of clients and focusing on long term recovery. At Physio Asia, we provide the highest quality treatment with specializations in – 
Musculoskeletal rehabilitation – for back / neck Pain management and other muscular-skeletal conditions for Pain management and Sports and soft tissue injury recovery and strengthening.

Women's Health – Pelvic floor training, incontinence management

Neuro-rehabilitation for stroke and vertigo treatment. 

Corporate wellness and Workplace healthcare programs 
Highlights
Physio Asia Therapy Centre is the first physiotherapy clinic to have received SICCI promising entrepreneur finalist award 2019, Singapore Prestige Brand Award 2012 and again in 2018.
25 years of experience
Works closely with the clients' Doctor, personal trainer, or team coach
Customer Reviews
Here are some reviews left by satisfied clients of the clinic:
"Professional therapy from one of the best physiotherapists. You can sense many years of experience through the treatment and care given. Centrally located. I would highly recommend it!"
"Excellent attention to detail and service. Thanks to each of you."
"PhysioAsia is not just a therapy center … it's a healing center where people take their almost incurable ailments. To be utterly honest it's not only a healing center but .. my Friend Monika Verma has shown her healing hands not only on me but when my son Chirag Tewani had a major Soccer accident and had to go through a surgery and thereafter went for physiotherapy in a private hospital.. he didn't recover even 20 percent in one month. He pleaded to go and see Monika. After being under her care .. he not only recovered in 3 weeks but was able to run and deal with his daily routine. This place is not a physio center .. it's a healing center where u can come out as nothing ever happened. Nothing can compare to my healing center."
2.  Singapore Physio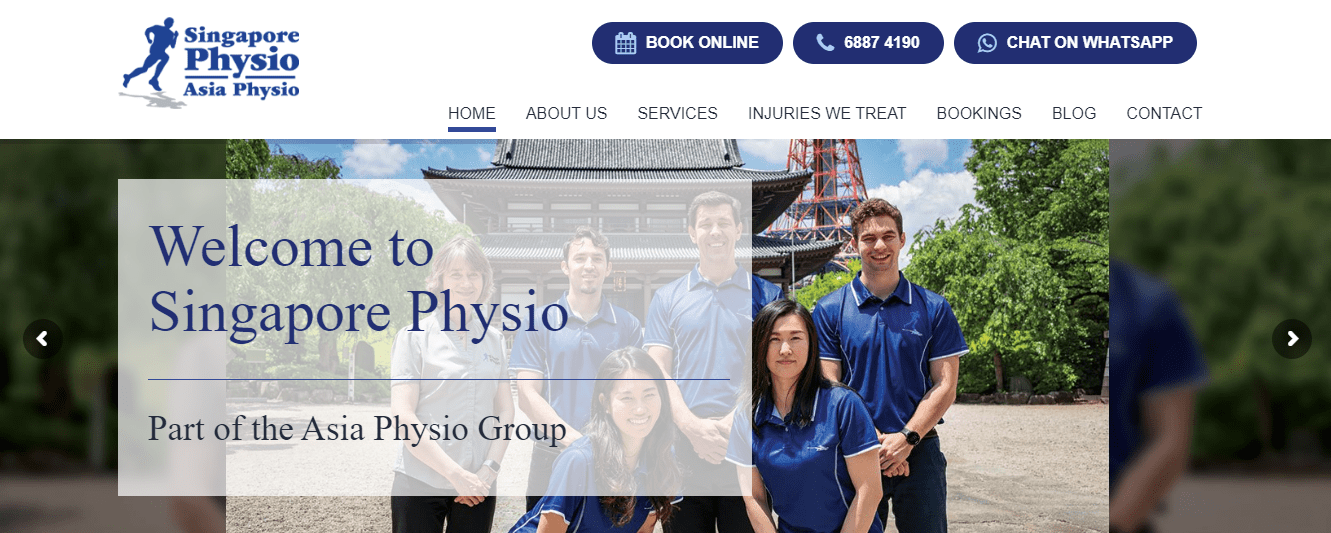 | | |
| --- | --- |
| BEST FOR  | World-class Services |
| SERVICES | Physiotherapy, Running Biochemical Assessments, Triathlon Coaching, Bike Fitting, and Sports Physiotherapy |
| WEBSITE | https://www.singaporephysio.com/ |
| ADDRESS | 282 River Valley Rd, Singapore 238323 |
| CONTACT DETAILS | 6887 4190 | [email protected] |
| OPERATING HOURS | Monday – Friday, 7:00 AM – 8:00 PM |
Singapore Physio is known not only locally, but internationally as well, specifically in Japan. In fact, it has more branches overseas than here on the island!
Established in 2002, it has become one of the most trusted clinics for the best physiotherapy in Singapore. It's become a successful clinic over its years of operation due to its Australian-style physiotherapy, which is considered the standard in the world of physiotherapy.
Among the conditions it provides treatments to are ACL tears, meniscus tears, MCL, headaches and migraines, neck pain, thoracic spine and mid back, lower back and lumbar spine, running injuries, and labrum tears.
In short, you can come here for nearly all your physical therapy Singapore needs.
Highlights
Wide area of speciality
Australian-style physiotherapy
Experienced therapists
Customer Reviews
Here are a few comments posted on Google Reviews:
"My husband and I have both been to see this team of physios for various acute and chronic musculoskeletal problems.  On each occasion we have had amazing results and would highly recommend Bevan and his colleagues to others.  We have usually been able to get an appointment at the time that suits and we have never had to wait.  They are highly professional and we are both very grateful to have found them."
'I have been delighted with the level of service and expertise offered by Bevan of Singapore Physio. I have used his services for a bike fit on 3 occasions for each of my bikes and I particularly like the holistic approach; each time the bike fitting has been preceded by an injury history update and a series of physiological tests. Couldn't recommend highly enough."
3.  PhysioActive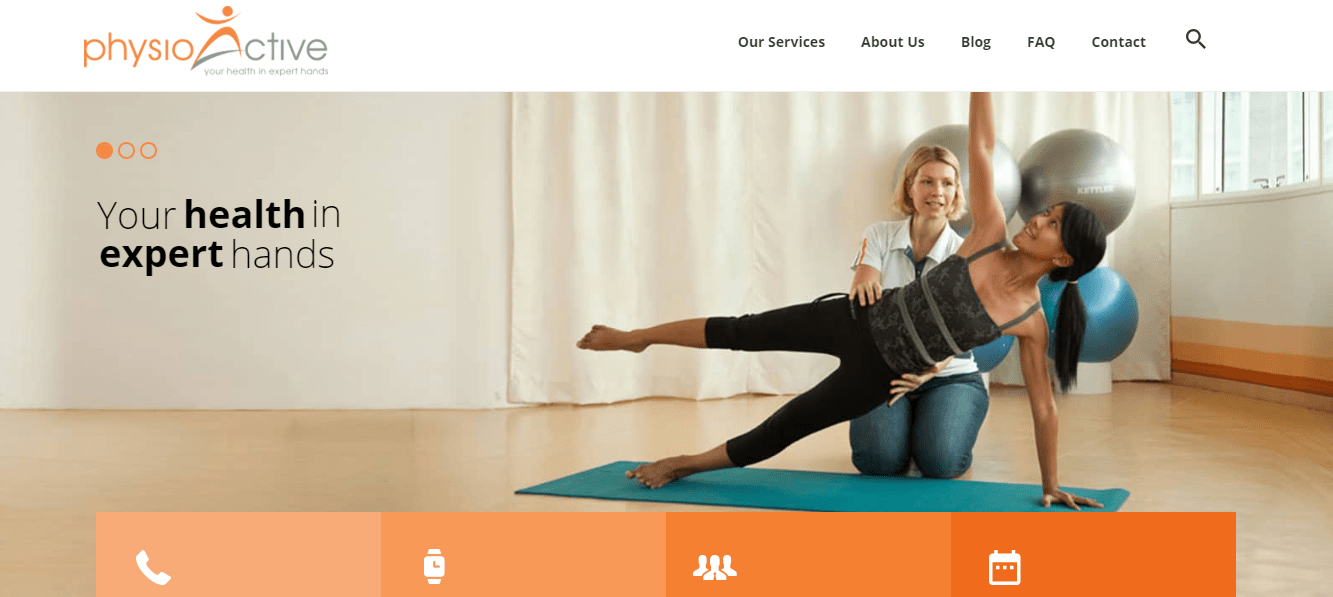 | | |
| --- | --- |
| BEST FOR  | Multi-disciplinary therapists |
| SERVICES | Physiotherapy, Sports Therapy, Clinical Massage, Women's Health, Neurological Rehabilitation, and Functional Fitness |
| WEBSITE | http://www.physioactive.sg/ |
| ADDRESS | 1 Orchard Blvd, #11-05 Camden Medical Centre, Singapore 248649 |
| CONTACT DETAILS | 6235 2647 |
| OPERATING HOURS | Monday – Friday, 7:00 AM – 9:00 PM |
PhysioActive has been improving the well-being of Singaporeans since 2006, providing them with high quality rehabilitation and therapy services.
One of the reasons we consider it one of the top clinics for the best physiotherapy in Singapore is that it has trained and multi-disciplinary therapists who can deal with a multitude of conditions.
Some of these conditions include neck injuries, shoulder injuries, hand injuries, hip injuries, and a whole lot more. You don't need to worry about whether or not you'll receive the kind of services you expect as there are over 15,000 customers who can prove how effective its medical treatments are.
Highlights
13 years in the industry
International therapists with experience in a wide range of physical therapy Singapore methods
Multiple locations
4. Hello Physio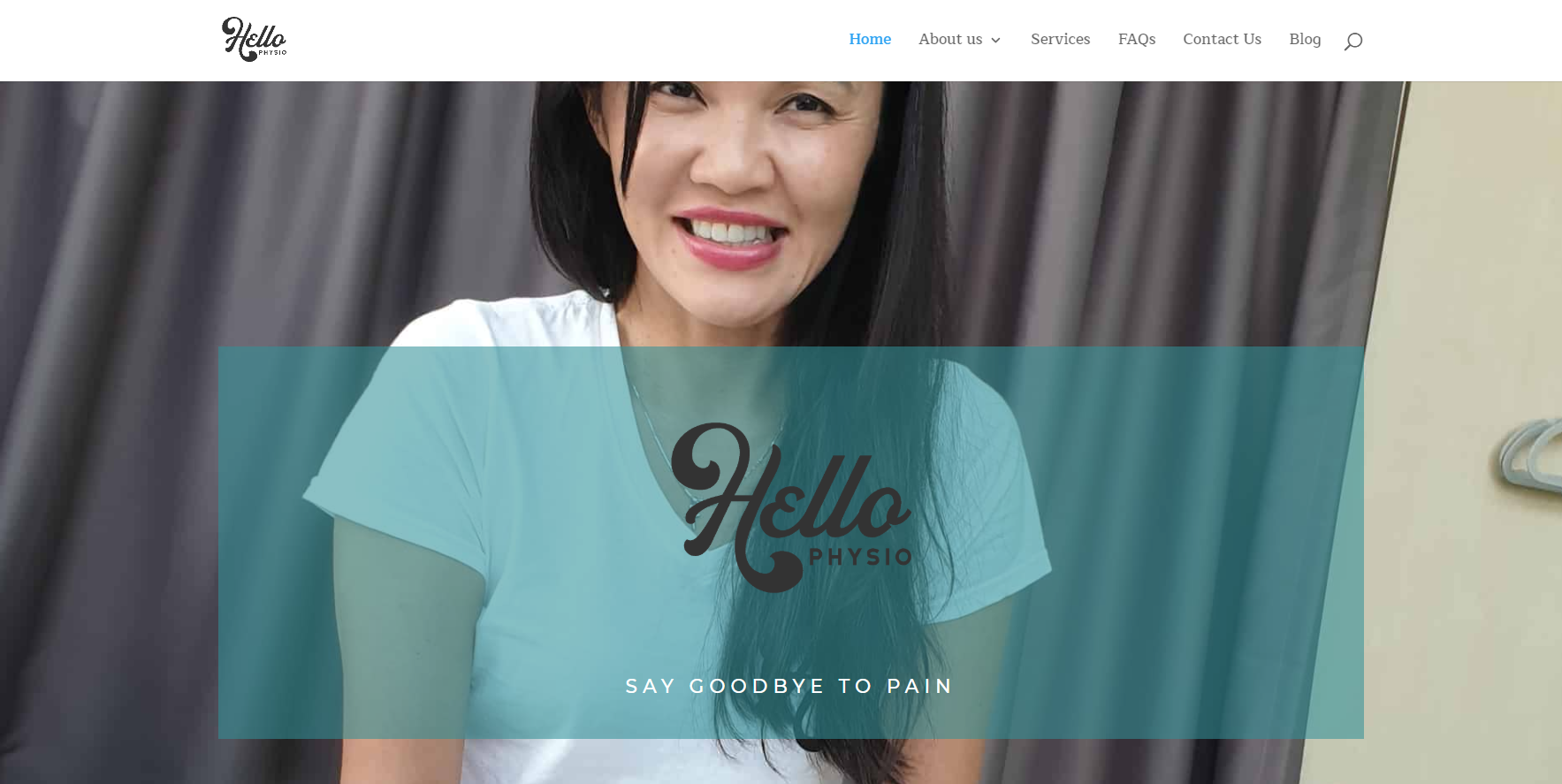 Hello Physio is committed to providing the highest standard of care to all of their clients.
One of the best things about this clinic is that their team takes great care to provide individualised service. They first find the root cause of the pain so that they can better treat their patients.
This is then followed by the treatment itself, which is a wonderful combination of comprehensive care and evidence-based research in order to find the most effective management for the patients' concerns. It doesn't matter what lifestyle a patient leads, because Hello Physio is HelloPhysio is here for work, life, play and the whole spectrum in between.
The team at Hello Physio dedicates itself to helping any and all clients achieve results and complete their goals immediately. They also strive to empower and educate, providing information to teach everyone what went wrong and how the patients themselves can be involved in their rehabilitation.
When you come to HelloPhysio, expect more.
Highlights
Offers Telehealth or Online Physio
Open for appointments on weekends
Friendly and professional staff
5.  Urban Rehab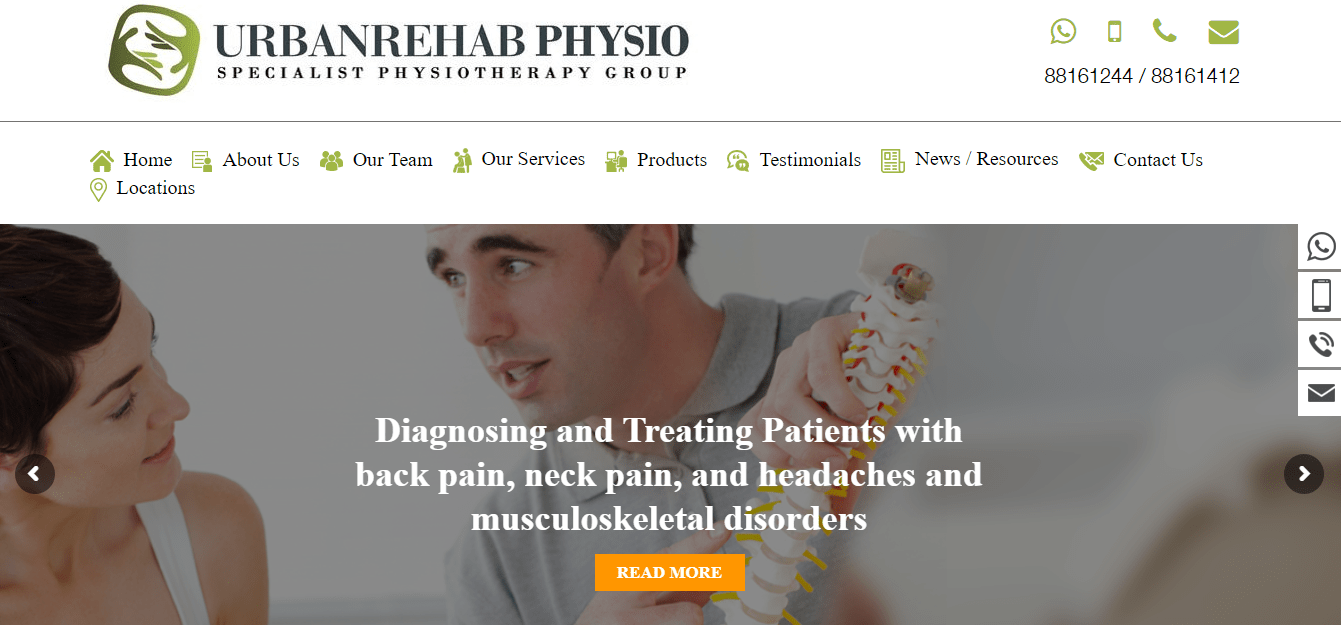 | | |
| --- | --- |
| BEST FOR  | General Physiotherapy |
| SERVICES | Physiotherapy, Hand Therapy, Podiatry, Personal Training, Clinical Pilates, and Massage Therapy |
| WEBSITE | https://urbanrehabphysio.com/ |
| ADDRESS | 22 Malacca St, #03-03 RB Capital Building, Singapore 048980 |
| CONTACT DETAILS | 88161244 | 88161412 |
| OPERATING HOURS | Monday – Friday, 8:30 AM – 8:00 PM |
Urban Rehab offers a long list of services that range from rehabilitation to physical training, including physiotherapy, hand therapy, massage therapy, personal training, and Pilates. It's one of the few clinics in Singapore that cover both training and recovery.
It's also no secret that Urban Rehab offers some of the best physiotherapy in Singapore because of its professional and trained therapists. Everyone on its team has years of experience under their belt, so rest assured that you'll be in safe hands.
Highlights
Competent therapists
Wide range of physical therapy Singapore services
Multiple locations
Customer Reviews
Before dropping by Urban Rehab's clinic, here are some comments worth noting:
I had physiotherapy with Jacky. I had a neck problem and was referred to Urbanrehab. I was referred to Jacky who is friendly and approachable.  He started to ask for my medical history before giving me proper treatment.  After 2 treatments, I feel much better.   Soon I will fully recover under his care. Thanks Jacky!"
"Initially I went to check my back but as it got better by the time I visited, I addressed my knee pain concerns instead and I wouldn't have had Jacky not asked about other issues I have. From there, he taught me simple exercises to strengthen my butt and thigh muscles and since then, the pain in my knee has subsided greatly and I've gradually learned to depend more on the thigh strength. Thanks for the guidance and I'm very sure that potential patients can certainly benefit from physiotherapy!"
6.  East Coast Physiotherapy and Sports Injury Clinic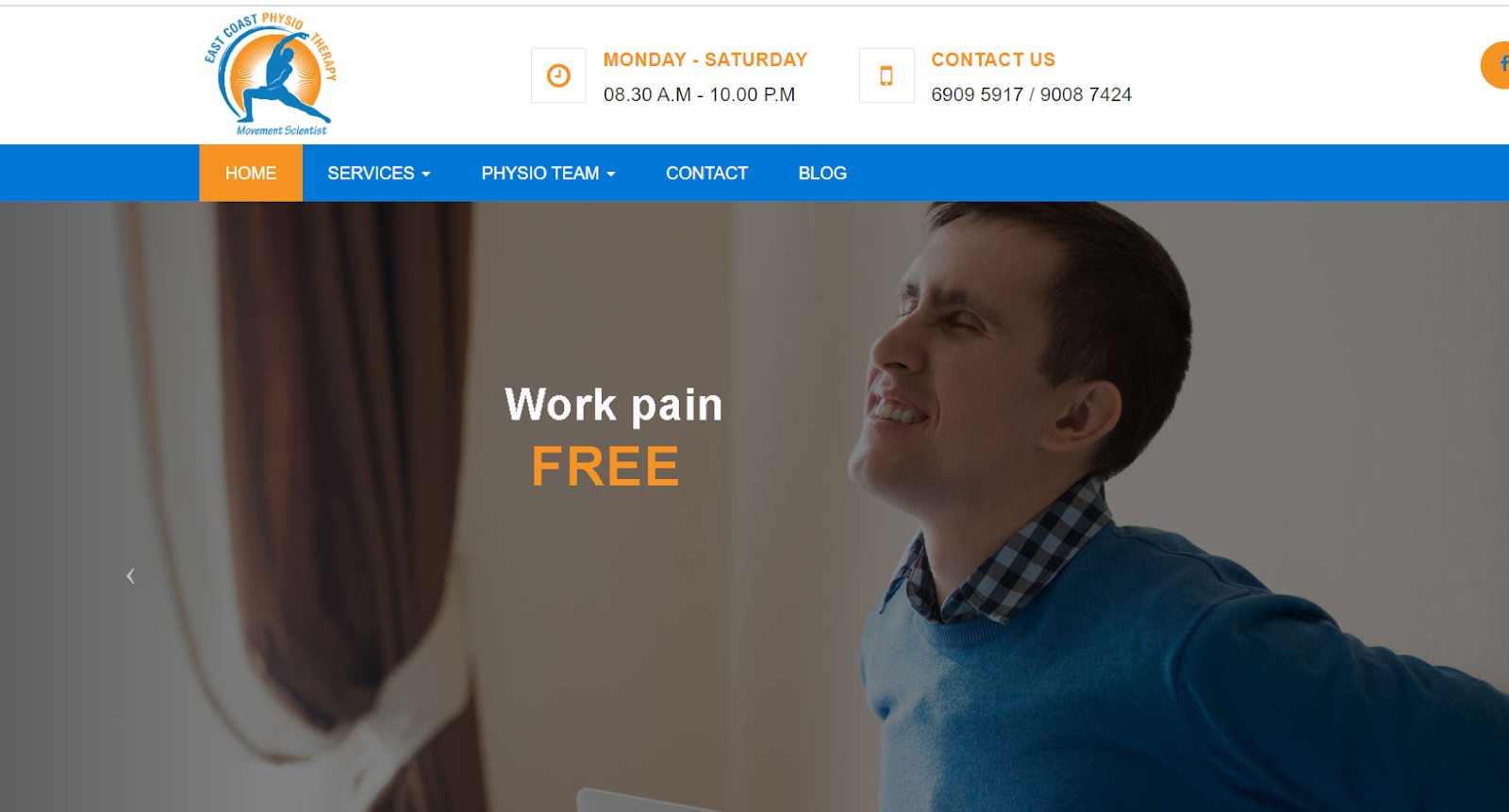 | | |
| --- | --- |
| BEST FOR  | Treating sports injuries, musculoskeletal and neurological conditions. |
| SERVICES | General physiotherapy, Orthopaedic Physiotherapy, Cardiopulmonary Physiotherapy, Neurological rehabilitation, Pre & Post-operative rehabilitation, Sports Physiotherapy |
| WEBSITE | http://www.eastcoastphysio.com.sg/ |
| ADDRESS | 17, Jalan Masjid, #01-02, Singapore, #01-02, SINGAPORE, 418942 |
| CONTACT DETAILS | 6909 5917 / 9008 7424 | [email protected] |
| OPERATING HOURS | Monday – Saturday, 08:30 AM – 10:00 PM |
Established in 2016, East Coast Physiotherapy is a Physiotherapy Clinic that serves its customers by providing high quality treatment for conditions that involve the bones, joints, muscles, tendons, or ligaments using careful and long-lasting solutions.
Its treatments include Back Pain Treatment, Stroke Rehabilitation, Spinal Manipulation, Pilates, Biomechanical assessment, Posture Management, and Ankle Injury Treatment.
Highlights
Wide range of physical therapy Singapore services
Evidence-based, proven techniques
Customized personal therapy techniques
Customer Reviews
Here are some reviews left by satisfied clients of the clinic:
"Very professional n reasonable. Location very easy to access. Very friendly n helpful person. Thank u Mr.Ramadas."
"We went to East coast Physiotherapy clinic on last week for my wife for leg pain.The Physiotherapist is quite knowledgeable and able to find the root cause immediately.Very warm and cool.Nice location.Accessible from Eunos MRT.Very clean environment.with Full of facilities.They are reasonable on the charges also and quite flexible in appointment."
"Went there due to feet pain. manage to lower the pain from a 6/10 to 2/10. Professional service and friendly staff. would recommend to anyone looking for physiotherapist"
7.  The Stretch Clinic SG
BEST FOR 
First-rate health and pain management solutions.
SERVICES
Osteopathy, Physiotherapy, Active Isolated Stretching, Stretch and Massage, Sports Therapy, Therapeutic Massage
WEBSITE
https://www.thestretchclinic.com/sg/
ADDRESS
The Stretch Clinic, 138, Robinson Road, #13-04 Oxley Tower, 068906 Singapore
CONTACT DETAILS
+65 6242 0121 | [email protected]
OPERATING HOURS
Mondays – Saturdays,
8.00 AM – 8.00 PM
The Stretch Clinic is the place to go for those who wish to improve their health and performance. It provides the best solutions for achieving optimum performance using rehabilitation and injury prevention.
By correcting and treating common muscular and neurological problems through improving posture, biomechanics, strength, and mobility, The Stretch Clinic can improve mobility and bring back balance to the body for everyone.
Highlights
Injury prevention for Athletes
Stamina improvement for the elderly
Posture rebalancing for everyone
Education for Professionals
Customer Reviews
Here are some reviews left by satisfied clients of the clinic:
"Personalized treatment and superb service . Daniel really assessed the whole body to understand the root of my pain . I will definitely come back here again ."
"Central location. Staffs were cheerful and helpful. The treatment is effective. I see improvement in my injury and i'm really happy."
"This place is absolutely great! A must visit in any serious athlete's regimen. Keep up the good work guys."
8. Rapid Physiocare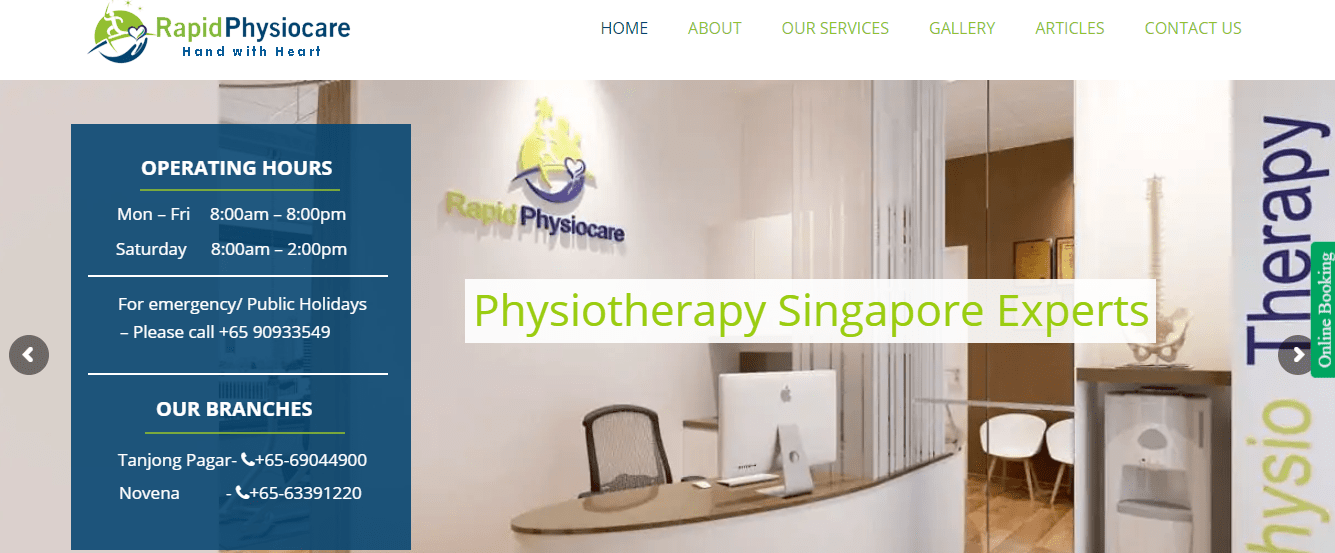 BEST FOR 
Affordable Treatments
SERVICES
Musculoskeletal Conditions, Manual Lymphatic Drainage, Shockwave Therapy, Neurological Conditions, and Women's Health
WEBSITE
https://rapidphysiocare.com/
ADDRESS
8 Sinaran Dr, 02-02/03 Specialist Center, Singapore 307470
CONTACT DETAILS
+65 6904 4900 | +65 9093 3549 | 

[email protected]

OPERATING HOURS
Monday – Friday, 8:00 AM – 7:00 PM
Rapid Physiocare is one of the most trusted physiotherapy experts in Singapore, with thousands of customers who can attest to its effective services. It prides itself on its professional and experienced therapists who are knowledgeable in treating a wide range of conditions.
Some of the services it offers are physical therapy, shockwave therapy, musculoskeletal therapies, and many more — which is why we name it one of the top clinics for the best physiotherapy in Singapore.
Above all, its services are priced reasonably to ensure that more people will have access to quality medical services.
Highlights
Reasonable rates despite offering some of the most up-to-date physical therapy Singapore solutions
Trained therapists
Multiple branches
Convenient locations
Customer Reviews
Rapid Physiocare has an average rating of 4.9 on Google Reviews, proving that it's a clinic that can offer quality services. Here are some notes from customers:
"John and Kareen are both very knowledgeable and extremely professional physiotherapists who ensured that my treatment plan was carried out efficiently. They made my recovery a priority with frequent follow-ups and useful advice. The receptionists at Rapid Novena were also very helpful, always staying in touch to update me on appointments, cancellations and other information. Would highly recommend this practice for all your physio related needs."
"Highly recommend John Abraham who was not only knowledgeable with at least 10 years of experience under his belt but also professional. Went to see him for a tailbone injury and throughout the whole treatment he was professional and caring without making me feel uncomfortable at all! He explained his treatment along the way and was eager to share his expertise. Highly recommended! :-)"
9.  Orthomed Physio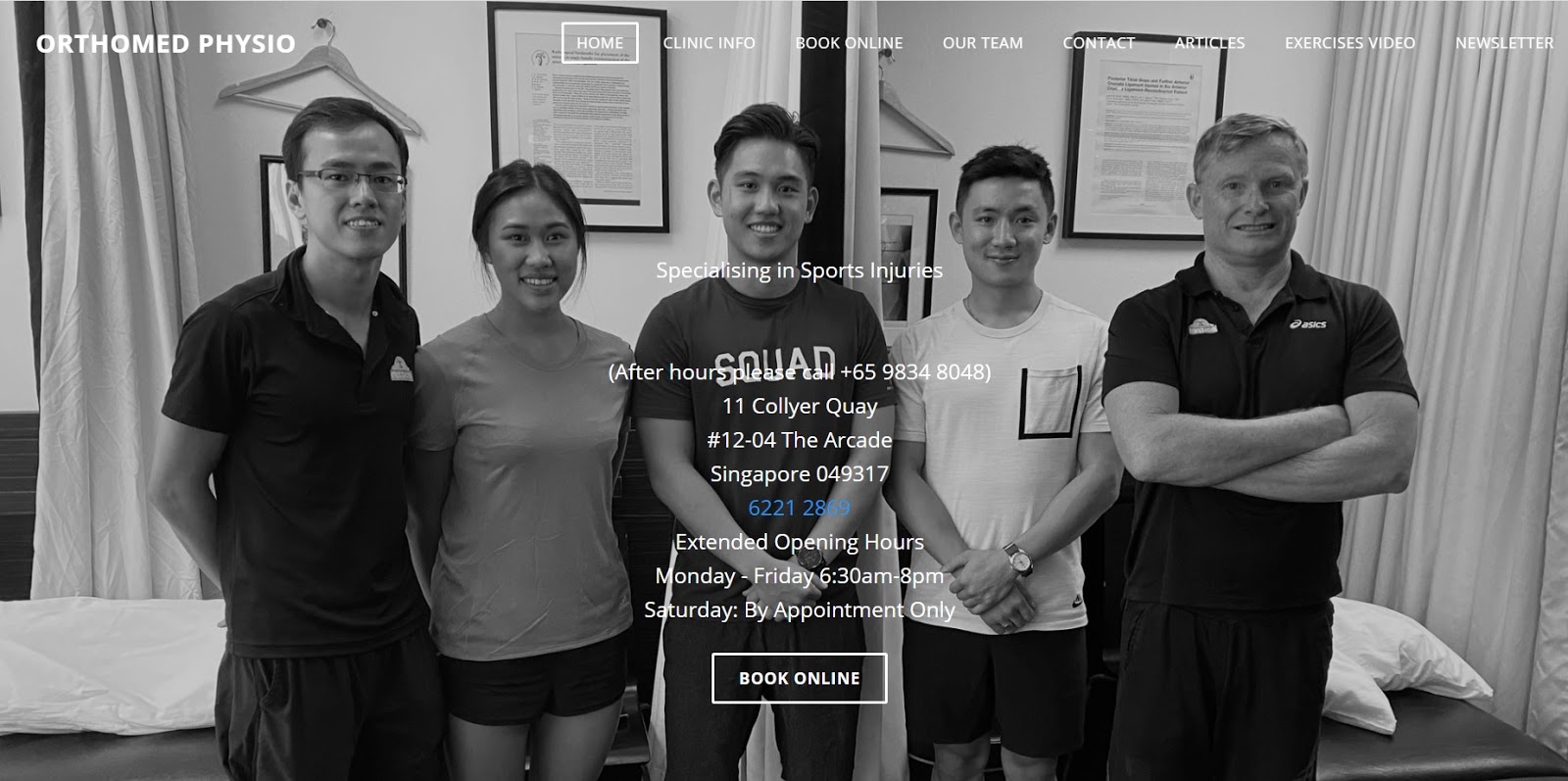 BEST FOR 
Sports Injuries, One to One appointments
SERVICES
Physiotherapy
WEBSITE
http://www.orthomedphysio.com/
ADDRESS
11 Collyer Quay
#12-04 The Arcade
Singapore 049317
CONTACT DETAILS
6221 2869 | [email protected]
OPERATING HOURS
Monday – Friday, 6:30 AM – 8:00 PM; Saturday, By appointment only
Orthomed Physio is a sports physiotherapy clinic located in the Central Business District of Singapore.
It uses a hands-on approach in treating symptoms and causes. Its team of professionals keep up to date with the best physical therapy Singapore practices and treatments.
Since Orthomed Physio has experience in treating sporting teams, the clinic applies the same quality of skill to all its patients. That's why it's among your top options for the best physical therapy in Singapore.
Highlights
Open during extended hours
Has a team of capable professionals
Customer Reviews
Here are some reviews left by satisfied clients of the clinic:
"The wizards of rehab! Simon is without doubt the most knowledgeable Physio I've ever been treated by. His team are all over the most effective exercises and thoughtful treatment with great follow up and clever video clip support for continuing treatment at home. Don't waste your time with others…"
10. Advanced Physio Care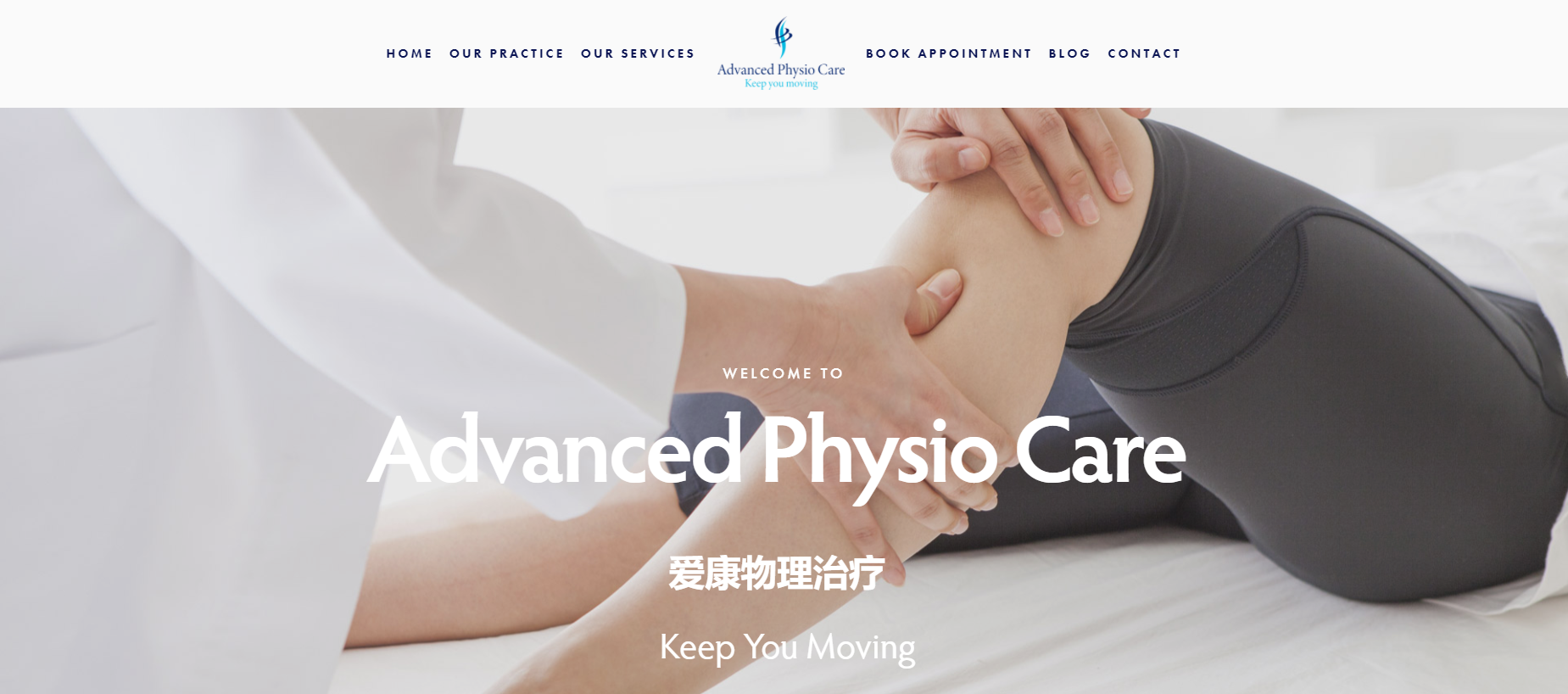 BEST FOR
Treatments with Minimised Pain
SERVICES
Spinal Decompression Therapy, Tecar Therapy, Spinal Mobilisation Treatment, Post Operation Rehab Therapy, Advanced Exercise Prescription, Physio Consultation, Assessment & Treatment, Hydrotherapy
WEBSITE
https://www.advpcare.com
ADDRESS
160 Robinson Road, SBF Centre Medical Suites
#05-11, S068914
CONTACT DETAILS

+65 97352039

OPERATING HOURS
Monday to Friday : 9 am–7 pm
Saturday : 9 am–3 pm
Sunday and Public Holidays : Closed
Advanced Physio Care's goal is to help their patients return to their everyday life as soon as possible. They do so with the help of professional and personalised treatments.
They believe that the key to an effective treatment begins with an accurate diagnosis. From there, they create a treatment plan that not only helps their patient recover, but also does so with as little pain as possible.
Comfort is the priority for their patients. You can count on them to help you recover as fast as you can and with little to no discomfort.
Highlights
Professional & quality care
Specialised treatment and technology
Patient-tailored treatments
Prioritises comfort
11.  Pooja Physiotherapy & Healthcare Centre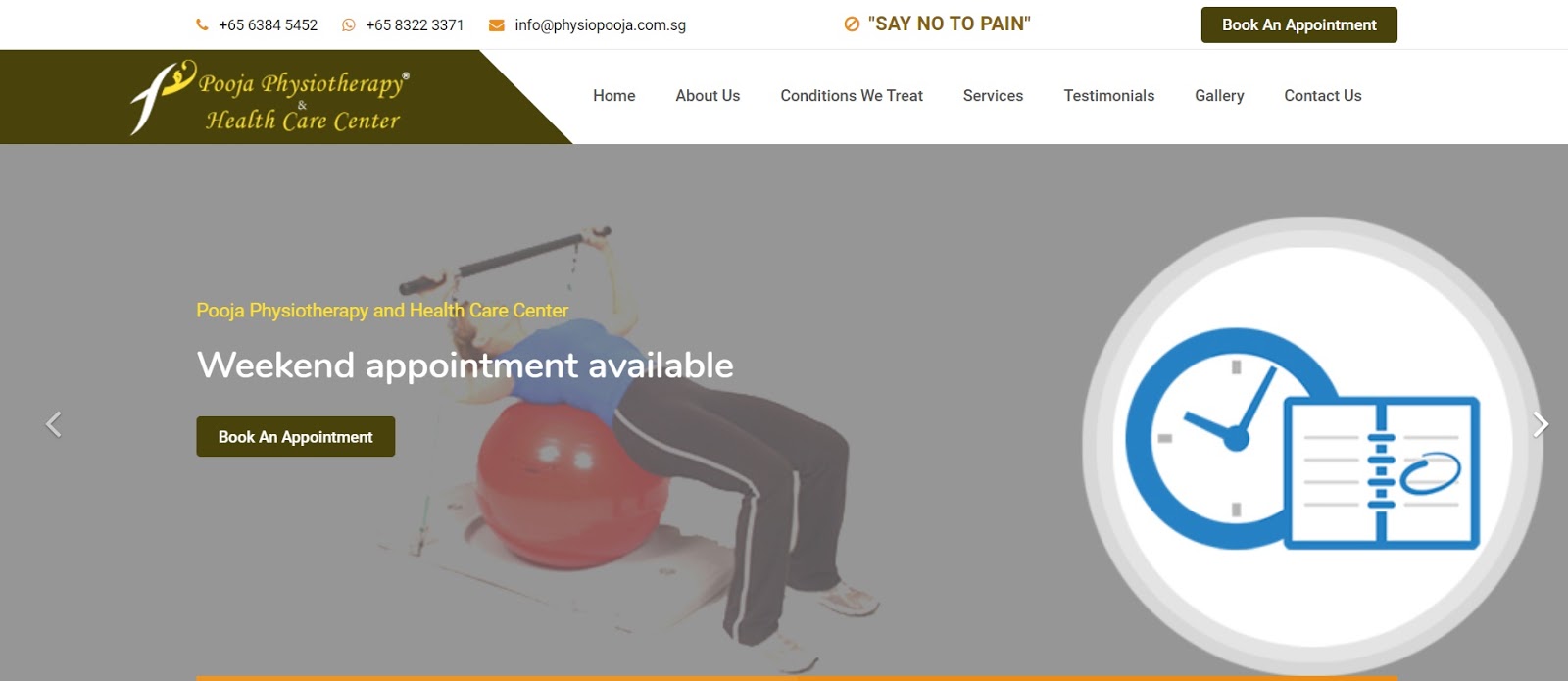 BEST FOR 
Physiotherapy Treatment & Post Operative Rehabilitation
SERVICES
Pain Managment
Muscle stimulation for facial palsy, etc
Exercise therapy
Sports Injuries.
Geriatric rehab
Home therapy
Pediatric physiotherapy
WEBSITE
http://physiopooja.com.sg/
ADDRESS
#02-03, loft @Nathan 428 River valley road Singapore 248327
CONTACT DETAILS
65 6384 5452 | [email protected]
OPERATING HOURS
Monday to Friday, 8:00 AM to 8:00 PM

 

Weekend & public holidays appointment available
Pooja Physiotherapy & Health Care Centre was established in 2015 and is registered with Allied Health Professional Council (AHPC) and Singapore Physiotherapy Association (SPA). Its goal is to provide safe, easy, progressive treatment by collaborating pain management and rehabilitation.
Its team provides personalized treatment for each person and will work with them to establish an effective treatment plan that can improve posture and lifestyle.
Highlights
Quick treatment and rehabilitation
Knee pain management
Customer Reviews
Here are some reviews left by satisfied clients of the clinic:
"Dr Pooja is undoubtedly one of the best Physio we have come across. She studies the complete case, gets into the nuances and suggests the best possible alternative. Moreover, her warm way of interacting with patients gives them a lot of comfort and motivates them. Physiotherapy is a slow progression but patience is the key and her 200% attention to every case makes the journey memorable. Highly recommended.
More power to you Dr. Pooja!"
"Highly recommend Pooja and Matali. Excellent service and quality physiotherapy. Helped me with my back injury and recovery was very quick."
"Had snapped my shoulder and had no clue how to come out of the acute pain. Thanks to Pooja Physio and her treatment was more like a pampering my body and so smoothly pain was gone. Highly recommendable clinic."
12.  LocoMotion Clinic Pte Ltd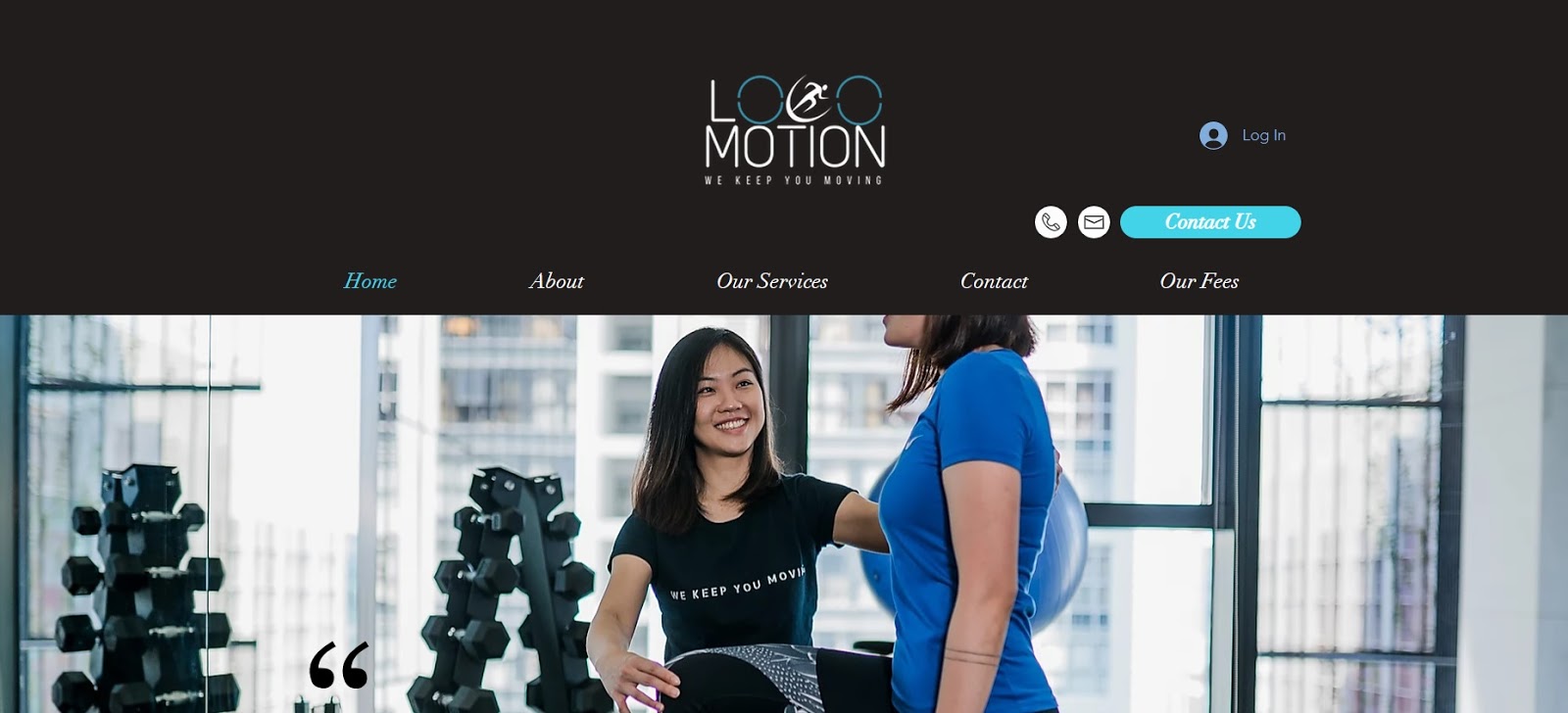 BEST FOR 
1-to-1 personalised Physiotherapy and pilates session
SERVICES
Physiotherapy, Home Therapy, Pilates, Sport Massage, Dry Needling, Corporate Workshop.
WEBSITE
https://www.locomotionclinic.com/
ADDRESS
100 Peck Seah St #10-12

 

Singapore (079333)

CONTACT DETAILS
65 9234 9704 | [email protected]
OPERATING HOURS
Monday- Friday 08:00 AM – 8:00 PM

 

Saturday 09:00 AM – 2:00 PM
Locomotion is a physiotherapy and wellness clinic that specializes in musculoskeletal and orthopaedic conditions. With their belief that "Everyone is built to move", it aims to keep individuals moving and pain free, regardless of their age or lifestyle.
Its treatment approach goes beyond short-term pain relief, thus teaching its clients to prevent recurrent pain and injuries through active movement. That's why it's considered one of the best physical therapy clinics in Singapore.
Highlights
Accepts clients regardless of their age and lifestyle
Treatment is aimed at long term pain relief to prevent injuries and recurring pain
Personal physiotherapist and Pilates instructor
Home therapy services
Customer Reviews
Here are some reviews left by satisfied clients of the clinic:
"Jing Yi is very thorough and professional. She took great care to understand the problem, explored different treatment methods, and responded to feedback. Would definitely recommend to anyone with chronic muscle pain or sports injuries!"
"Highly recommended. My situation was not very serious however it bugged me for my day-to-day routine, after a few sessions I was able to feel much much better and Jing Yi gave me some exercises to do at home and office which helped a lot as well. She took into consideration that I am in office for most of my time so catered to my needs and ensured the simple exercises would be doable in the office."
13. Performance Sports & Rehab Specialists

| | |
| --- | --- |
| BEST FOR  | Physiotherapy and Rehabilitation for injuries |
| SERVICES | Physiotherapy, Sports Training, Sports Massage, Pilates, Cycling Analytics |
| WEBSITE | https://www.performanz.com.sg/ |
| ADDRESS | 101 Irrawaddy Road 15-13/14 Royal Square Singapore 329565 |
| CONTACT DETAILS | 65 6734 3421 | [email protected] |
| OPERATING HOURS | MONDAY TO FRIDAY – 8 AM to 8 PM SATURDAY 8 AM – 1 PM |
Performance Sports & Rehab Specialists, founded in 2014, is composed of Allied Health Professionals and Sports and Performance Enthusiasts who use the manipulation of mechanics and sports science to optimise an individual's potential.
Whether it's recovering through therapy treatments or achieving performance goals through sports training, the experts at Performance Sports & Rehab Specialists are experienced enough and ready to cater to those needs.
Highlights
Currently offers Tele-consults for engagement with physiotherapists online
Affiliated with Fahrenheit Performance, Fencing Singapore, Singapore Cycling Federation, B Strong, Alter G, Athos
Uses technologically advanced equipment
Customer Reviews
Here are some reviews left by satisfied clients of the clinic:
"I slipped a disc in my lower back in July last year and saw Belinda to get me back training ASAP as I had a number of key races to finish the year. After managing to get me to the finish line of Bintan 70.3 just 8 weeks after being bed bound I managed to qualify for the 70.3 World Champs in Phuket in November. I would highly recommend seeing Belinda with any niggles as this would prevent more serious injuries in the future. I also saw Martin at the partner bike fitting clinic Fahrenheit Performance to get you in the best position for power/aerodynamics but also a position that doesn't aggravate current/recovering injuries."
"My knee was injured quite badly, to the point where negotiating stairs caused much pain. Dr Malia Ho, Principal Podiatrist of Performance Sports & Rehab, drew up a 6-week rehab plan for me but we made so much progress, she discharged me with her blessings in just 4 weeks! Of course, follow up exercises to maintain good health has to follow but my knee is back in shape. I can even squat down without pain or discomfort! Many thanks to Dr Ho from a grateful patient and an even more grateful knee!"
14. Physionique

BEST FOR 
Physiotherapy
SERVICES
Physiotherapy, sports therapy, massage therapy, podiatry, pilates & fitball, fit programs
WEBSITE
http://www.physionique.com/
ADDRESS
8 Claymore Hill, #01-02 8 On Claymore, Singapore 229572
CONTACT DETAILS
67340245 | Email: [email protected]
OPERATING HOURS
Mon to Fri: 8am to 7pm
Sat: 8am to 2pm
Motivated by the purpose of physiology adding to the quality of life, Physionique extends help to people who are having trouble with their bodies – may it be caused by injuries or experiences of problems with sports performance.
This physiotherapy and rehabilitation center prides itself on the successful improvement of many patients after they received Physionique's physiotherapy treatments.
If you are seeking a professional and effective physiotherapy service, avail of the treatments offered by Physionique: Podiatry, Sports Therapy, Pilates and Fitball, and many more physical therapy Singapore solutions, depending on your needs!
Highlights
Professional service with knowledgeable physiotherapists
Enhances health and fitness
Effective injury recovery
Customer Reviews
Here are some reviews left by satisfied clients of the clinic:
"I went to Physionique for neck pain issues I had. Very professional and knowledgeable physiotherapist and service. Justin was excellent. Would definitely recommend."

"A big thank you to Denise and Physionique. In November 2016 I was referred after a serious knee dislocation that left me in a cast. 9 months later I have just completed an Ironman 70.3 with a personal best time and no knee pain at all."

"As someone who does BJJ, Muay Thai and lifts weights while pushing on a bit, in years, I get the occasional injury. Over 7 years, I have been sent to many different physios in Singapore but I always come back to Physionic. Friendly, professional and they understand that even when injured, some people still like to have a recovery regimen that includes some exercises they can do to keep fit."
15. PHYSIO+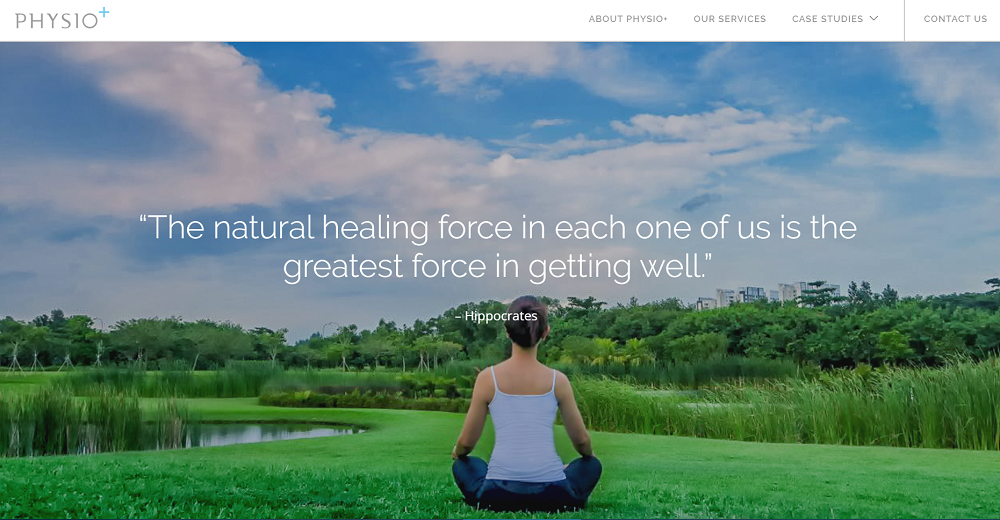 BEST FOR 
Various forms of physiotherapy
SERVICES
Manual therapy, clinical pilates, pre- and post- surgery rehabilitation, electrotherapy, ergonomic education
WEBSITE
https://physioplus.sg/
ADDRESS
321 Orchard Road, Orchard Shopping Centre, (Next to 313 Somerset), #09-03 Singapore 238866
CONTACT DETAILS
[email protected] | +65 6835 7377
OPERATING HOURS
Mon – Fri: 9:00 am – 1:00 pm and 2:00 pm – 6:00 pm
Saturday: 9:00 am – 12:30 pm and 1:30 pm – 4:00 pm
Sunday: Closed
The Physio+ team empowers patients to find the strength in themselves to obtain optimum health. They have designed a careful process to assist patients in their recovery, and at the same time have made it adjustable for personalization to suit different needs.
To ensure a caring operation, the staff of Physio+ are excellently trained to attentively support patients in their healing. That's why so many go to them for physical therapy in Singapore.
If you are looking for an encouraging environment as well as a one-to-one level of connection with your physiotherapist, Physio+ is perfect for your healing and recovery!
Highlights
Professional and friendly service
Accessible rehabilitation
Caring environment
Customer Reviews
Here are some reviews left by satisfied clients of the clinic:
"Awesome and experienced Staff at Physio+. I really enjoyed my physiotherapy sessions at Physio+ Clinic. The staff are warm, friendly and caring. Professional and experienced team of physiotherapists, who understand and address my issue."

"Woke up with an acute pain in my neck and shoulder which got worsen through the day. Grateful to have found Physio+ which helped my condition immediately. Yanping starts by making sure that you feel comfortable while she asked a bit more about my condition. She was gentle during the session and was detailed in explaining. She also taught me exercises which are easy to do to ease my pain and what I should take note to continue to strengthen my weaker areas to prevent future health problems as much as possible."

"The treatment was good and is reasonably priced!"
16. The Posture Lab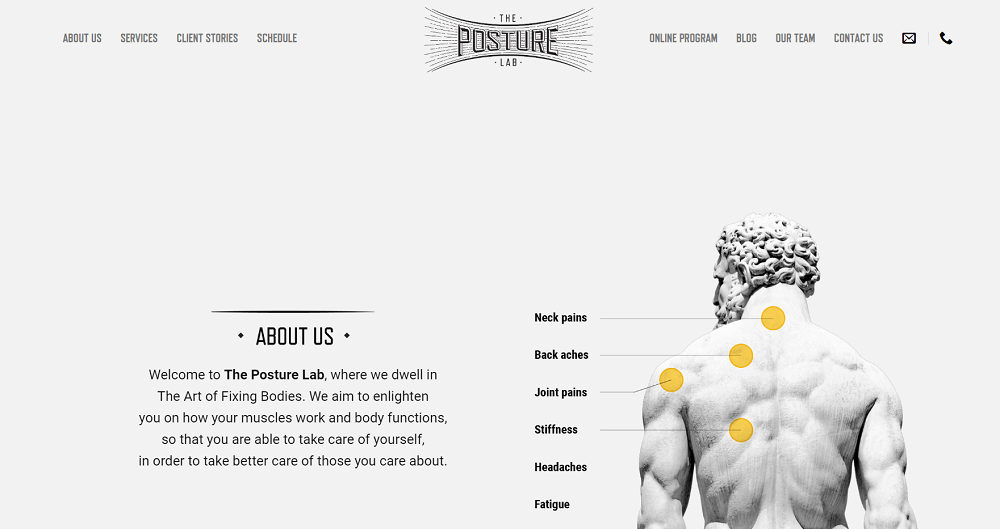 BEST FOR 
Physiotherapy
SERVICES
Posture analysis, physiotherapy, sport massage therapy, performance coaching, performance testing
WEBSITE
http://theposturelab.sg/
ADDRESS
Orchard: *SCAPE, 2 Orchard Link #02-15, Singapore 237978

 

Jalan Bukit Merah: 11 Jalan Bukit Merah, #01-4454, Singapore 150011

CONTACT DETAILS
Orchard: +65 8792 7172 | Email: [email protected]

 

Jalan Bukit Merah: +65 9424 7154

OPERATING HOURS
9 AM to 9 PM
If you are concerned about the functions of your body, consider visiting The Posture Lab, with a team that specializes in "The Art of Fixing Bodies".
Their team commits to educating their patients on how to properly guard and protect their and others' bodies through the comprehensive services they offer. These include but are not limited to posture analysis, physiotherapy, and sport massage therapy.
The Posture Lab's team of highly skilled individuals also empower their patients to achieve their goals by helping personalize a training method under their Performance Coaching and Testing service.
If you believe in absolute care for your body—as well as care for those that matter to you—come and be enlightened at The Posture Lab!
Highlights
Experimental and artistic physical therapy Singapore methods
Helps athletes that struggle to perform
Alternative ways of dealing with pain are taught
Customer Reviews
Here are some reviews left by satisfied clients of the clinic:
"It was my first time with posture lab and I loved it. The therapist was very professional and he knew exactly which part of my body needs help without me telling him. At the end of the session, my body felt so much better and he went the extra mile by giving me advice to strengthen up my body as a whole. Thank you posture lab. It's definitely worth it!"

"Have done a sports message here twice and both experiences have been great. Emile was very knowledgeable and answered all the questions I had – he also explained the potential root causes of my pain and suggested things I could do to manage it. This helped to alleviate the anxiety I was feeling about my pain. Would totally recommend!"
17. Focus Raffles Studio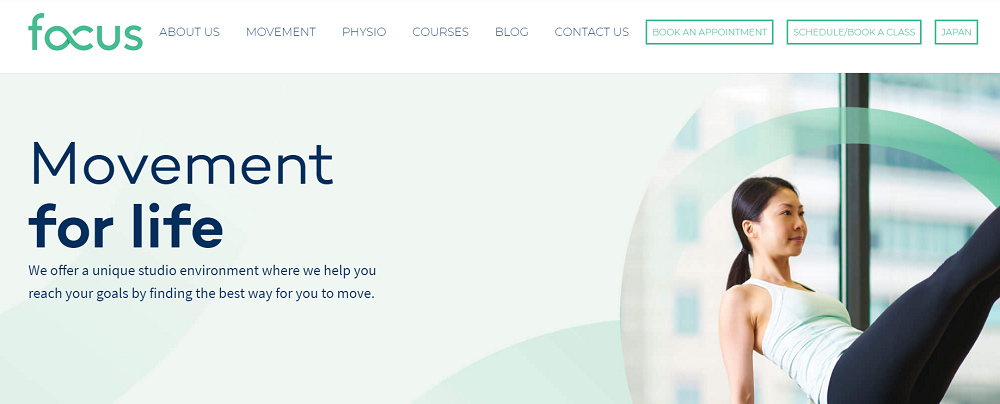 BEST FOR 
Integrated Pilates and Physiotherapy
SERVICES
Movement, integrated pilates, physiotherapy, and courses/classes
WEBSITE
https://focusmovement.sg/
ADDRESS
Raffles Place, 22 Malacca Street, #08-00 RB Capital Building, Singapore 048980
CONTACT DETAILS
+65 6235 3938 / +65 6327 2072
Email: [email protected]
OPERATING HOURS
7:30 AM to 7:30 PM
Focus provides customers with the chance to achieve the ideal health through their integrated Pilates and physiotherapy program. By investing in intelligent movement, their pains, discomfort, or injuries of the body are healed, thereby allowing the body to be well-built and flexible.
If you have trouble trusting others with matters of the body, rest assured that you won't be working with greenhorns here. The team of Focus ensures that their instructors are certified and eminently knowledgeable about what they do.
The team also offers group classes, private sessions, and different courses worth exploring. Overall, the design of their programs is based on the objective of helping others be at their healthiest state by integrating the practice of Pilates into their treatment.
Highlights
Offers over 100 group classes
Largest integrated Pilates studio and physiotherapy clinic in Singapore and South East Asia
Offers a unique Physio-Pilates system and rehabilitation approach
Customer Reviews
Here are some reviews left by satisfied clients of the clinic:
"It has been 6 years and 2 months since I started pilates with Focus and I am still enjoying and benefitting from each session. I appreciate that the sessions are varied so that they are never dull and the exercises are tailored to today's lifestyle whilst still keeping true to pilates fundamentals. Thank you."

"I have been taking lessons with Focus for several years and my physical condition is getting better day by day. The instructors in Focus are very professional, good and caring. They take time to find out ask out the trainees feel on the day and select exercises that best fit their physique for the day. The counter staff is polite, cherry and always ready to help.Thanks! I really enjoy my lessons in Focus."

"I work all day at my desk and previously have experienced stiff back and shoulder pain. I started to do Reformer Pilates a couple years ago and felt much much better. I was so happy to find Focus when I relocated to Singapore. The instructors were both professional and friendly. They managed to give good, challenging workouts to strengthen and improve my mobility while not being destructive to the body. I appreciate all their attentions to make sure my all movements and poses were done correctly. The staff were extremely friendly and helpful too. It's always a good day to come to Focus. Thank you!"
18. BMJ Physiotherapy Clinic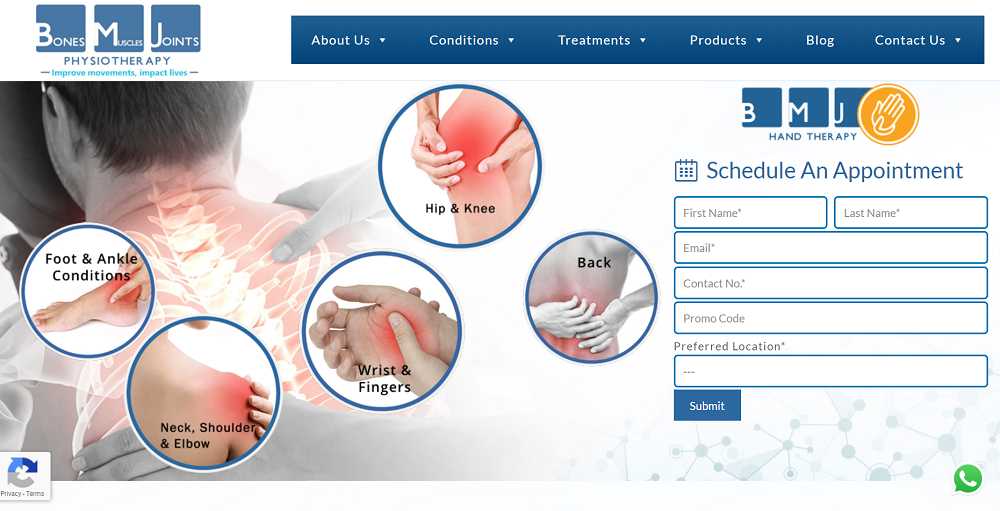 BEST FOR 
Physiotherapy
SERVICES
Physiotherapy services
WEBSITE
https://www.bmjtherapy.com/
ADDRESS
Parkway:
1 Marine Parade Central
Parkway Center,#06-03
S(449408)Kovan:
Blk 204 Hougang St 21
Kovan City, #03-101
S(530204)Orchard:
304 Orchard Rd, Lucky Plaza Orchard Medical Specialists Center, #05-29 S(238863)
CONTACT DETAILS
Parkway: +65 6635 6076, +65 9272 2890
Kovan: +65 6909 5208, +65 9181 7290
Orchard: +65 6635 6076, +65 9272 2890
Email: [email protected]
OPERATING HOURS
Parkway:
Monday-Thursday: 9:00am – 8:00pm
Friday: 9:00am – 6:00pm
Saturday: 9:00am – 1:00pm
Sunday & Public Holiday: ClosedKovan:
Monday & Friday: 9:00am – 6:00pm
Tuesday, Wednesday & Thursday: 9:00am – 8:00pm
Saturday: 9:00am – 6:00pm
Sunday & Public Holiday: ClosedOrchard:
Monday – Friday: 10:00am – 7:00pm
Sunday & Public Holiday: Closed
For all of your physiotherapy needs, book an appointment with BMJ Physiotherapy to avail of a high quality yet affordable service. They offer treatments for your bones, muscles, joints (BMJ) and are composed of a talented team that are highly experienced in this field.
By carefully assessing their clients' pains, they are able to give the right treatments to alleviate the discomfort. Their treatments include post-surgery rehab, postural analysis, home therapy, sport massage, and many more.
Furthermore, those who wish to learn more about different conditions may check out their website. They offer reliable and necessary information on conditions concerning the neck, shoulder, wrist, back, knee, and ankle/foot.
Highlights
Experienced and AHPC registered therapists with advanced technology and techniques
Quality care and experience, with quick pain relief
Friendly and professional service
Customer Reviews
Here are some reviews left by satisfied clients of the clinic:
"The staff are friendly and professional. it was a good experience and my back ache was relieved tremendously."

"I've been seeing Darek for the past 3 years for sports related injuries. He's knowledgeable and experienced. I'll certainly recommend him for your physio needs!"

"Vanessa is very professional in her attitude & care as a physiotherapist and is kind & cheerful in her personality. She is well-trained in her asessment & therapy. I appreciate that she listens & patiently explains to me why I've problems with my body's mobility so that I can understand & be ecouraged to do the physio exercises that she prescribes for me & be on the road to recovery."
19. Hallmark Physiotherapy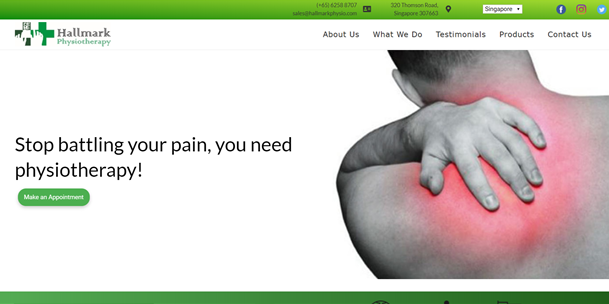 Known as a clinic that can diagnose and treat their patients, Hallmark Physiotherapy offers not only to help in pain relief and management of therapy, but also for neurological disorders. Equipped with a team of health and fitness professionals, they've helped over 7800 global clients to date, with the numbers growing fast.
Opened in 2004, Hallmark Physiotherapy has continuously displayed great service to their customers, taking home the 2013-2014 Prestige Award for their astounding accomplishments as a business. Up until now, they have dedicated all their hard work to the people who supported them from the start and pledge to provide only the best as an establishment for physiotherapy.
If you're searching for a place to have your treatments, Hallmark is ready to help you in all the ways that would make you feel better not just physically, but mentally as well.
Highlights
Multi-disciplinary Approach
Utilises evidence-based methods
Client-centered approach
Customer Reviews
Here are some reviews left by satisfied clients of the clinic:
"I have the best experience of physiotherapy in hallmark physiotherapy. I get a lot of relief from my pain post therapy and equipment used is really good. Mr Ravi is a very caring and knowledgeable therapist who constantly gives advice and tips on how to recover from my injury. Well recommended."

"Hallmark Physio @ thompson is one of the best around.
Their team is very dedicated and professional. Would highly recommend this place to all."
20. Physio Dynamics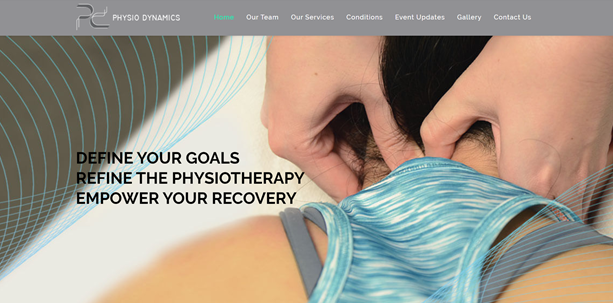 With their motto: "prevent, rehab and enhance", Physio Dynamics prides themselves on their effective sessions, along with thorough assessment and diagnosis beforehand.
They believe that in order to achieve the best holistic wellness, the passion for helping should be present, and they show that in their creation of individual programs that would suit their client's comfort and needs.
Handling a wide range of musculoskeletal conditions, they still work only with a hands-on treatment that would surely improve the rehabilitation so you'll be better in no time.
Home diagnosis and therapies are also available if you're in no shape to go to their clinics to receive their services. And for our sporty people out there, fret not, as they also offer field side assessments if ever you run into accidents while doing your thing.
Physio Dynamics also conducts physical assessments for athletes that help in ensuring their overall physical performance in order to prevent injuries from happening. With all these great services, they're definitely one of the best physical therapy Singapore clinics.
Highlights
Individualistic therapy
Conducts talks and workshops
Customer Reviews
Here are some reviews left by satisfied clients of the clinic:
"My recovery was long drawn, and I could not have learnt to walk comfortably again without the encouragement and skills of Ms Khoo. It was my first experience with a physiotherapist, and I am glad Ms Khoo's personable approach eased my anxieties and pain."

"Shin Jiun is truly God sent. She is very experienced, professional, and dedicated. Her gentle, kind and warm personality dispelled my initial anxieties and each session was enjoyable and extremely beneficial. Surgeon who operated on my shoulder is impressed with my recovery. I would highly recommend Shin Jiun to anyone for a smooth and steady recovery."
21. Elite Spine Centre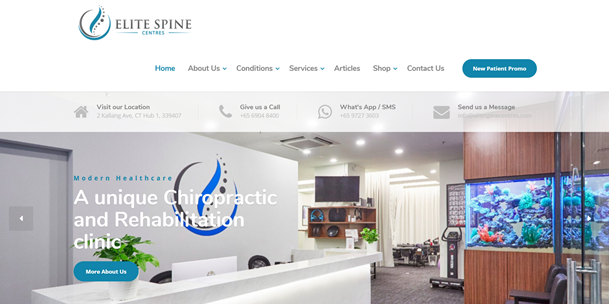 Elite Spine Center does not only focus on treating their patients' pain and symptoms, but also on teaching them strategic approaches in order to reach maximum growth.
Their main goal is to help each and every person that walks in their place holistically, taking in consideration all the factors that could've prevented them from healing.
Known for being one of the best in the field of chiropractic, the team in charge makes sure to examine each case thoroughly and give proper care to their customers.
As an establishment that visualizes the development of what is now called the modern therapy, they continuously move forward in terms of integrating classic rehabilitation with mainstream practices in order to achieve the perfect combination and service.
That's why you know that Elite Spine Center will only offer you physical therapy Singapore services you can trust.
Highlights
Unparalleled patient experience
Trusted Physiotherapy provider
Customer Reviews
Here are some reviews left by satisfied clients of the clinic:
"What is special about this place is the team.
When a person is constantly in pain, compassion and empathy is important, and that is definitely one of the biggest reasons why I chose to do my phase 1 treatments there.
It's always a joy to be there because of the positive energy exuded by Dr Mike and the lovely ladies.
After completion, my back pain has significant improved, and I understood what I needed to do to manage my slipped discs better.
Highly recommended!"

"Dr Mike and team have done a fantastic job in helping me with my back and neck issues. His treatment is top class and he always knows exactly where the sore spots are! The treatment has been highly effective in helping to ease the constant pain and soreness in my neck and shoulder areas, and has been a great help in allowing me to work pain free and more importantly enjoy sports (squash) pain free! I highly recommend Dr Mike and team if you have any been suffering from constant back and neck pain issues!"
22. Heal360 Physioclinic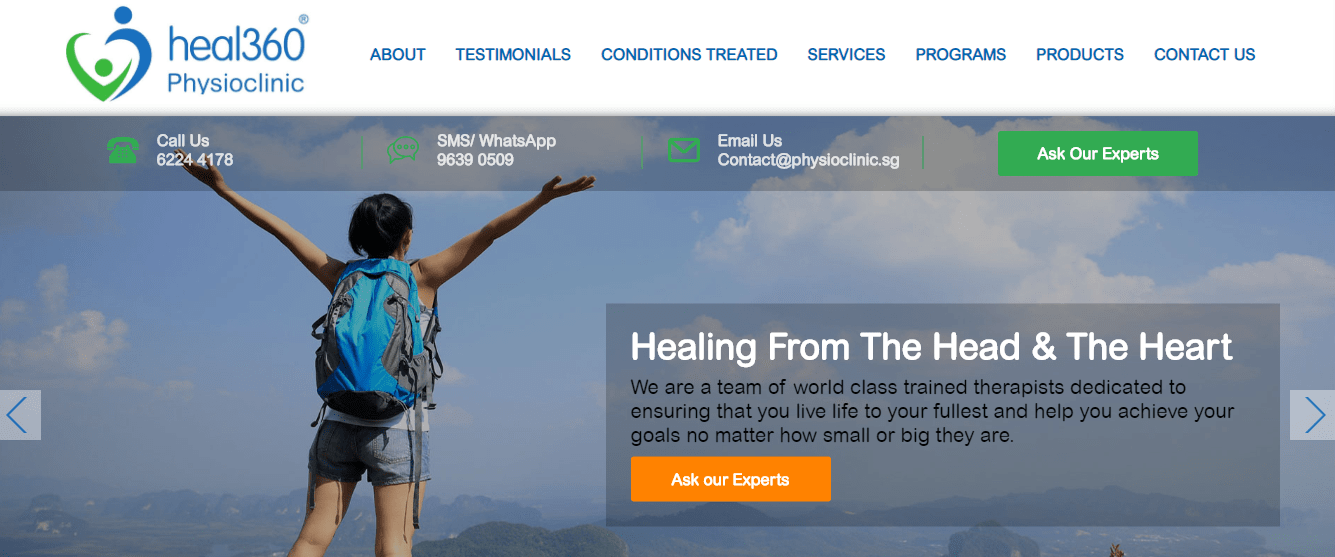 BEST FOR 
Customised Programs
SERVICES
Physiotherapy, Shockwave Therapy, Pain Relief Therapy, Sports Therapy, Manual Therapy, and Home Therapy
WEBSITE
http://physioclinic.sg/
ADDRESS
46 Tras St, Singapore 078985
CONTACT DETAILS
6224 4178 |

[email protected]

OPERATING HOURS
Monday – Friday, 10:00 AM – 8:00 PM
If there's one thing that heal360 is famous for, it'd have to be its customised and individualised programs.
These programs are made to ensure that the varying needs of customers will be accommodated with the right combination of treatments — which is why we consider it among the clinics that offer the best physiotherapy in Singapore.
What's more, it caters to the medical needs of clients of all ages, from children to senior citizens. You see, heal360 employs therapists and medical staff who can deal with a wide variety of conditions experienced by people of different ages.
Another thing we like about it is its commitment towards improving the well-being of all its customers. That's why its treatments are very affordable, especially when compared to other clinics' physical therapy Singapore treatment rates.
Highlights
Affordable treatments
Individualised programs
Customer Reviews
Take a look at some of the comments left by satisfied customers:
"I have nothing but good things to say about the 2 physiotherapists Jeffrey and Jing Wen who treated me for my frozen shoulder. I can say I have fully recovered from my injury. They are both very detailed in finding out the cause, patient in explaining the details for my understanding and answering all my questions. The atmosphere in the centre is always very friendly and positive. Stepping into the centre just gives you the confidence that you will feel much better after the treatment and on the road to full recovery!"
"My therapist, Hannah, is knowledgeable and friendly. When I tell her which area I feel pain, she knows the right spot to massage to ease my pain. The next day, I feel so much better and can resume physical work as usual. At the end of the session, Hannah would teach me a few stretches I can do at home. The stretches help to speed up my recovery."
23. Wings Therapy and Learning Centre
BEST FOR 
World Class Pediatric Therapy Services
SERVICES
Pediatric Physical Therapy, Early Intervention, Suit Therapy (NeuroSuit™ and TheraSuit Method® ), Cuevas Medek Exercises® (CME), Universal Exercise Unit (UEU), Spider Cage Therapy, Intensive Gait Training, Sports for the Special Child, Autism Fitness, Occupational Therapy and Task-Specific Electrical Stimulation (TASES)
WEBSITE
http://wingstherapycenter.com/
ADDRESS
105 McNair Road,
Townerville
Singapore 328568
CONTACT DETAILS
Appointments / Enquiries: [email protected]
Employment / Volunteer Opportunities: [email protected]
OPERATING HOURS
Monday – Friday, 8.30 AM – 6:00 PM
Founded in 2017, WINGS is Singapore's first intensive therapy center to offer transformative therapies such as Suit Therapy (NeuroSuit™ and TheraSuit Method® ), Cuevas Medek Exercises® (CME), Universal Exercise Unit, Spider Cage Therapy, Intensive Gait Training, Sports for the Special Child, Autism Fitness and Task-Specific Electrical Stimulation.
They are dedicated to delivering the most innovative therapies to help children with a diverse range neurological and developmental needs to achieve the kind of freedom and independence they deserve. 
Highlights
First intensive therapy center in Singapore and one of the few across Asia
Outstanding service for families with infants, children through to young adults with a diverse range of abilities and conditions.
First to offer transformative therapies such as Suit Therapy (NeuroSuit™ and TheraSuit Method® ), Spider Cage Therapy, Cuevas Medek Exercises® (CME) and Intensive Gait Training
Experienced and highly trained therapists
Customer Reviews
Here are some reviews on Facebook left by satisfied clients of the clinic:
"I highly recommend Wings center. The staffs and therapists are knowledgeable, experienced, dedicated and super caring. They are friendly and very very patient with my son. They follow his progress closely to design a therapy program best suited him day by day. At Wings, they always focus on what my son CAN do, and never on his disability. Wings is always there with us to celebrate every milestone that my son achieves. I love Wings and all the therapists and their assistants." -NGA TRAN

"Wings Therapy has help us to realized my boy has more potential than we know off.
The staff and therapist there, on top of being knowledgeable and experienced, is dedicated, caring, friendly and most importantly they are very very patient with my boy. He showed more improvement during the 3 weeks time than we have seen in a long time. A big thank you and ??to Wings for bringing intensive therapy closer to us." –JULIANA TAN
"I highly recommend the center. I brought my baby girl for physio to Wings and I was impressed by their professionalism, kindness and flexibility. My daughter's mobility improved exponentially within a very short period of time." -ALEXANDRA SZOMORA
24. Rehab and Beyond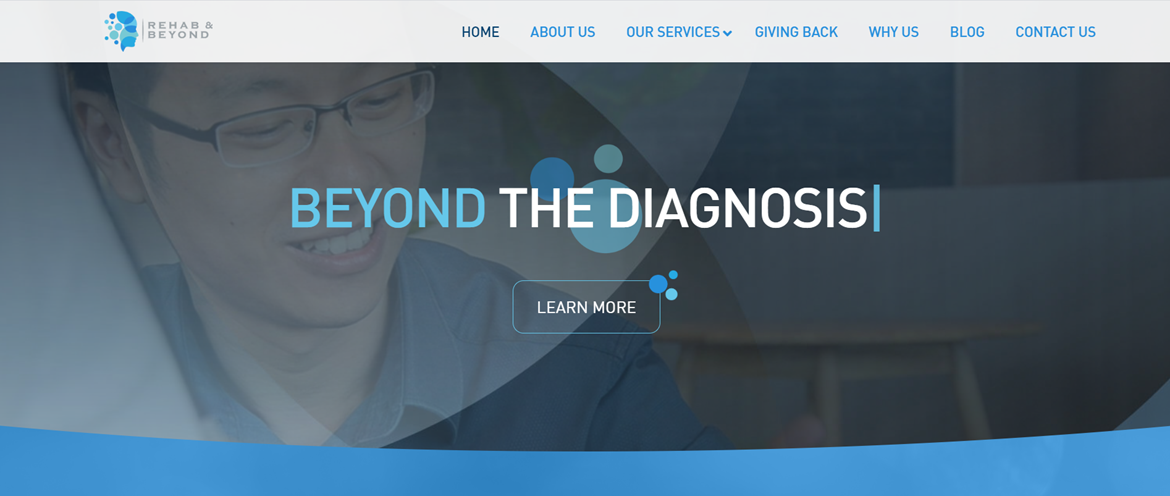 Rehab and Beyond was found in 2018 in the hopes of providing affordable, high quality rehabilitation to the people of Singapore. Coming in, clients can expect experts at Rehab and Beyond to offer tailored therapy sessions, as these allow Physiologists to carefully gauge how a client is coping and healing in their own time. 
Their services include but are not limited to: Cancer Rehab, Elderly Care, Sport Injuries, and Corporate Health Talks and Programs.
Highlights
High quality therapy services
Affordable rates
Best preventive care
Customer Reviews
Here are some comments left by previous clients of Rehab and Beyond:
Jaden came over to our house for a home physiotherapist visit to attend to my father who had been unable to walk for almost 3 weeks following a bad gout attack. Throughout the session, he was very attentive and professional and he engaged and taught my dad some muscle strengthening exercises as well as breathing exercises. At the end of the session, my father was not only very motivated but also had regained some confidence as well as strength to walk a few steps with the help of a walker. Thank you Jaden…"
"I had sore shoulder for quite sometime and gets worst over time which forced me to stop all my training and workouts. I came to a point where I could not raise my arms up beyond shoulder level and it was really painful. Physiotherapy sessions with Jaden helps a lot on my way to recovery. He explained whats' wrong with my shoulder and he provided guidance on what is the right exercise and proper way to strengthen it. I am now back to dancing and I was so overwhelmed when I was able to do pull ups (with resistant band) months after no workouts."
25. Phoenix Rehab Group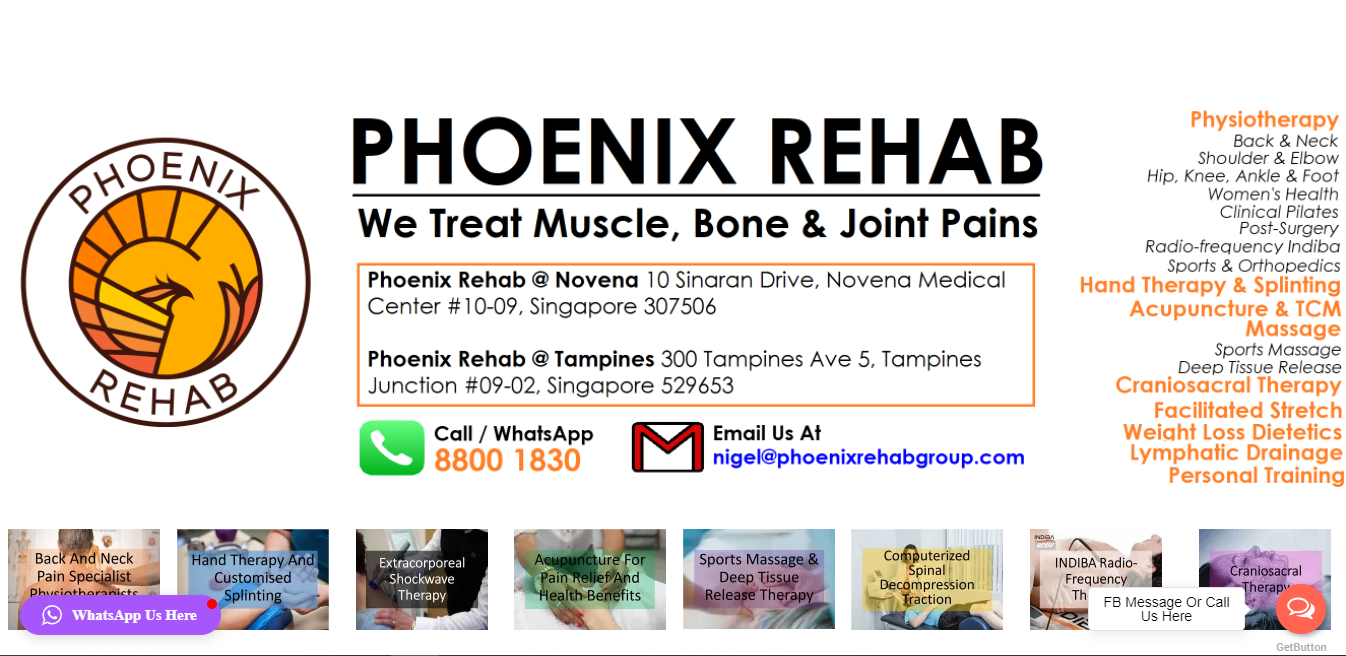 BEST FOR   
Orthopedic and sports conditions
SERVICES
Physiotherapy, hand therapy, sports massage, deep tissue massage therapy, traditional Chinese medicine, alternative therapies
WEBSITE
https://www.phoenixrehabgroup.com/
ADDRESS
Novena: 10 Sinaran Dr, #10-09 Novena Medical Center, Singapore 307506
Tampines: 300 Tampines Ave 5, Tampines Junction #09-02, Singapore 529653
CONTACT DETAILS
+65 8800 1830
OPERATING HOURS
Novena:
Monday – Friday: 8:30 AM – 7:00 PM
Saturday: 8:30 AM – 5:00 PM

Tampines:
Monday – Friday: 10:00 AM – 6:00 PM
Phoenix Rehab only hires the best therapists and medical professionals who are locally and internationally trained. 
The clinic specialises in musculoskeletal and sports conditions and injuries such as chronic back pain, arthritis, knee tears, and many more. And if you need help with maintaining a healthy body, you can also ask Phoenix Rehab for ergonomic and postural practice.
Aside from conventional medicine, Phoenix Rehab also offers traditional Chinese medicine such as acupuncture. You can even receive alternative therapies, like somatoemotional release and cranial therapy, from this clinic.
Highlights
Focus on orthopedic and sports physiotherapy
Ergonomic and repetitive strain prevention therapy
2 locations in Singapore
Hires only the top therapists in the field
Customer Reviews
Here's what a customer has to say about Phoenix Rehab's physiotherapy services:
"They make such effective use of therapy time to empower me to take steps forward. The outcomes are encouraging and i trust my recovery on their hands – great team – thanks to all of you ! The front office staff are also very warm and easy to work with – Thanks"
26. Homage Home Care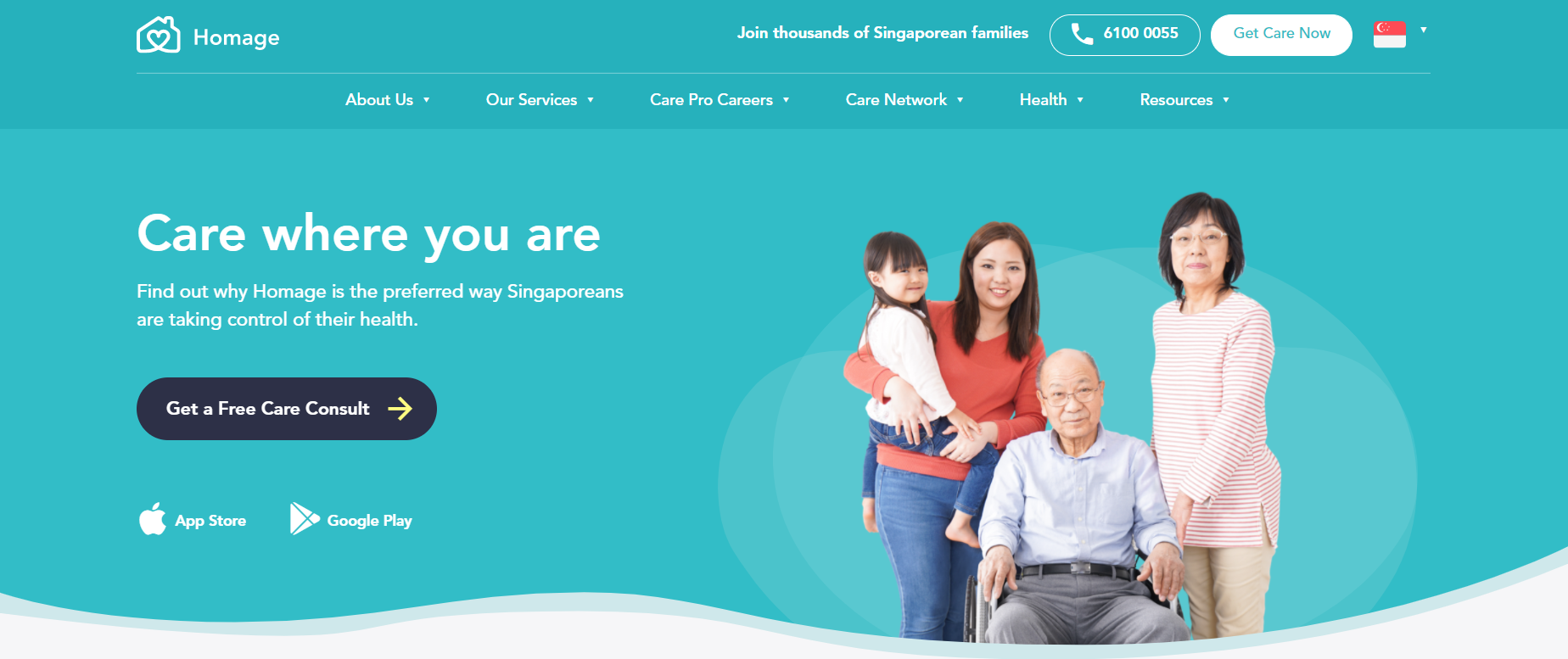 Homage Home Care is a care service provider that offers a wide range of holistic, personalised home care solutions in Singapore. They make use of smart technology to improve their patient's quality of life, helping them enjoy it at their peak health.
Some of their services include assessments, home nursing, home rehabilitation, and home medical care. With their wide range of treatments, they focus on providing solutions for mobility conditions and other specialised cases.
Physiotherapy is one of the treatments they excel at, due to their expertise regarding its effectiveness and accuracy. Besides identifying and solving the root cause of your illness, it also has the additional benefit of improving your health in the long-term.
Highlights
Leading care services provider
Holistic personal care
Knowledgeable staff
Sincere and encouraging
27.

K.H. Poon Physiotherapy
BEST FOR
Excellent Facilities and Fully Certified Physiotherapists
SERVICES
Musculoskeletal Physiotherapy
Post Surgical Rehabilitation
Sports Injuries Rehabilitation
Geriatric Rehabilitation – Physiotherapy for the Elderly
Pediatric Rehabilitation
Bell's Palsy Rehabilitation
Stroke Rehabilitation
Parkinson's Rehabilitation
Weight Management Program
Active Therapeutic Movements (ATM)
Movement Control Therapy
Hot Magner Therapy
Golf Specific Physiotherapy
WEBSITE
http://khpoon.com/ | [email protected]
ADDRESS
36 JOO CHIAT PLACE, SINGAPORE 427760
CONTACT DETAILS
(65) 6344 6345 | [email protected]
OPERATING HOURS
Monday – Friday, 8:00 AM to 6:00 PM
Saturday, 9:00 AM to 4:00 PM
Since 2006, a humble one-man team provided basic physiotherapy services. Today, K.H Poon Physiotherapy has grown into a team of 5 experienced physiotherapists who strives to provide the highest quality physiotherapy to help patients achieve effective, and sustainable recovery outcomes.
Physiotherapists in this team have more than 16 years of clinical experience and offer holistic solutions for every patient's rehabilitation needs. This clinic also offers modern equipment and treatment techniques to provide the best professional patient care.
They offer a wide variety of treatment solutions for both adults and elderly. Finally, their team of experts are fluent in many languages such as English, Mandarin, Hokkien, Cantonese and Malay.
Highlights
Wide Variety of Services
World-class facilities
Certified Therapists
Multi-lingual doctors
Customer Reviews
Previous patients wrote:
"Physio that was assigned to me was knowledgeable on Sciatica, and implemented exercises/massages that immediately relieved some of my pain. Also instructed me to do some light exercises at home, which has been helping this far."
"Very pleasant and fuss free first experience. Customer care is top notch!! The clinic makes sure to update their patient on every little detail through whatsapp and check up on their condition frequently too."
28.

The Physio Movement
BEST FOR
Musculoskeletal and Sports Physiotherapy
SERVICES
Manual Therapy, Dry Needling, Sport Physiotherapy, Shockwave Therapy, Clinical Pilates, Post Operative Rehabilitation
WEBSITE
https://www.thephysiomovement.com
ADDRESS

TripleOne Somerset, 111 Somerset Road #05-16

Singapore 238164

CONTACT DETAILS

[email protected]
Clinic: 6415 8790
WhatsApp: 8750 3705

OPERATING HOURS
Mon – Fri: 9am – 6pm
Saturday: 8am – 1pm
Sunday and PH: Closed
The Physio Movement is a clinic dedicated to restoring your body's natural movement. They do so by identifying the underlying problem and resolving it properly.
They have a wide range of services available in their clinic, ranging from manual therapy to post operative rehabilitation. Not only that, their team of physiotherapists is more than qualified to handle various physiological problems.
With their science-backed treatments, many patients will be delighted to know that there's a possibility of recovering ahead of the expected time. Accurate diagnoses, proficient staff, and effective treatments are all you can expect from The Physio Movement.
Highlights
Wide range of services
Comprehensive care
Individualised treatment
Effective processes
29. Aptive Physiotherapy
BEST FOR
Full Body Physiotherapy Treatment
SERVICES
Full Body rehabilitation from neck, back, shoulder, elbow, knee, ankle and more
WEBSITE
https://www.aptive-physio.com/
ADDRESS
545 Orchard Road Far East Shopping Centre #15-07A Singapore 238882
CONTACT DETAILS
(65) 81335087 | [email protected]
OPERATING HOURS
(By appointment)
Monday – Friday, 9:00 AM to 7:00 PM
Saturday, 8:30 AM to 1:00 PM
Aptive Physiotherapy brings a holistic approach to physiotherapy treatment by rehabilitating not only the physical trauma, but also tapping into healing the minds and hearts. This is why certified Physiotherapists Pauline, Angela and Nicole, aims to facilitate open communication with their patients in a relaxed and comfortable environment while providing them with the necessary comprehensive care.
Along with this clinic's comfortable ambience, comes a wide array of treatments for many areas of the body such as the neck, back, shoulder, elbow, knee, ankle and others.
Aptive Physiotherapy has had experience in providing service for Cervical Spondylolisthesis, Scoliosis, Degenerative Disc Disease, Scapulothoracic Impairment, ACL/PCL Tear and many more.
With their clinical expertise, holistic approach and excellent service in various kinds of treatments, you're in good hands with Aptive Physiotherapy.
Highlights
Certified therapists treat various areas of the body
Fruitful sessions for the hearts and minds
Customer Reviews
Previous patients wrote:
"Physiotherapy doesn't just treat the physical injury, it involves healing Hearts & Minds as well! I was treated by Pauline for 2 different ankle injuries (ATFL strain and post-op torn retinaculum), and was her patient for over a year in total. She is extremely professional and knowledgeable in her expertise and is so much fun to talk to and be around. Physio sessions not only left me feeling physically better, but emotionally and mentally thanks to Pauline's bubbly and humorous personality. I got to be treated by Nicole a few times as well and she is just as proficient as Pauline in what she does and is so friendly and fun to be around as well. I highly recommend Aptive Physio to anyone who needs it!"
"Customised Treatments, Effective Methods. I got to know Pauline during my ACL pre-surgery, and requested to be referred back to her after realising my post-surgery rehabilitation with another Physiotherapist was not ideal.

Pauline customised the treatment for each Physiotherapy session after checking the progress of my condition. Her methods are so effective, and my progress was back on track after just a few sessions with Pauline. Her willingness to share, friendly and approachable nature makes her highly recommended."
30. ONE Physio
BEST FOR 
Treatment of musculoskeletal issues
SERVICES

Musculoskeletal Pain

Post Surgery Rehabilitation

Sports Injuries

Running Injuries

Golf Injuries

Pilates

Ergonomic Specialist

Corporate Health and Education

WEBSITE
https://www.onephysio.com.sg/
ADDRESS

24 Raffles Place, #26-06A Clifford Centre S(048621)

12 Marina Boulevard, Marina Bay Financial Centre Tower 3, #17-01 Regus Office Suite 1737 S(018982)

CONTACT DETAILS
p: +65 6883 1141
e: [email protected]
OPERATING HOURS

Mon-Fri, 8.30am-6pm

Weekends & PH: Closed
Birthed in Australia, ONE Physiotherapy (ONE Physio) is conveniently located in the Central Business District at Clifford Centre and Marina Bay Financial Centre.
Their team comprises Australia-trained physiotherapists who each have over 10 years of experience in both public and private healthcare, making each member fully equipped with the knowledge and skill to assess and manage various musculoskeletal issues. 
Aside from their range of services and expert team, ONE Physio also prides themselves on providing a smooth experience for patients pre-sessions. Staff members are professional, polite, and quick to serve. 
Highlights
Dual-Registered Physiotherapists; Accredited by Singapore (AHPC) and Australia (AHPRA)
Involved with National (SEAG 2019) and International (Cirque du Soleil) collaborations
Wholistic approach to rehabilitation care
31. Physio & Sole Clinic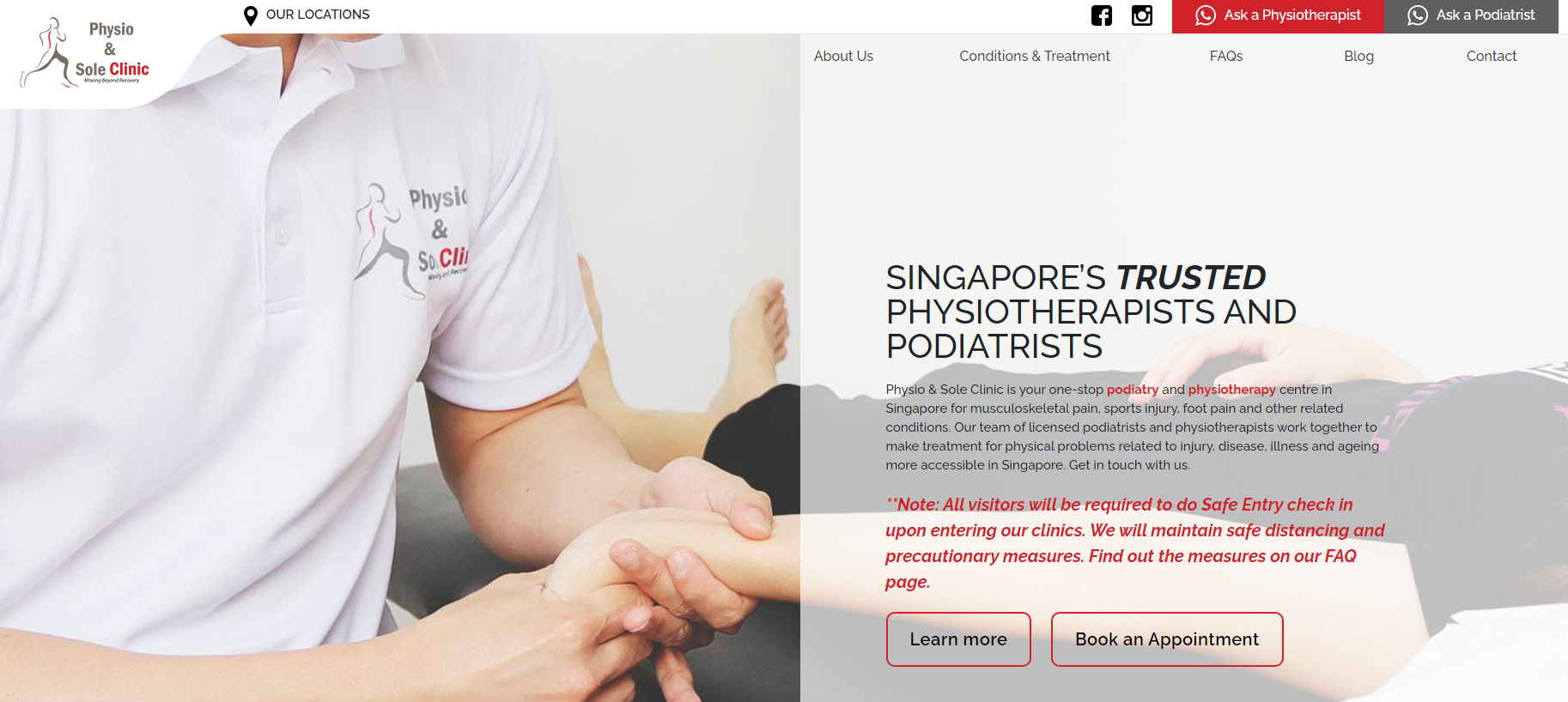 BEST FOR
Physiotherapy and Podiatry
SERVICES
Physiotherapy: Chronic Pain Management, Cycling Injuries, Extracorporeal Shockwave Therapy, Manual Therapy, Post-surgical Exercise Rehabilitation, Postural Analysis, Schroth for Scoliosis, Sports Injury, Sports Massage Therapy, Sports Strapping/Taping
Podiatry: Diabetes Foot Care, Education & ManagementFoot Orthotic (Customised Insoles) TherapySports PodiatryYAMUNA® Foot Fitness
WEBSITE
https://physioandsole.com.sg/
ADDRESS
19 Tanglin Road, #05-19 Tanglin Shopping Centre, Singapore 247909
CONTACT DETAILS
Tel: 9126 8257
Whatsapp a Podiatrist: 91754929
Whatsapp a Physiotherapist: 98997967
Email: [email protected]
OPERATING HOURS
Monday: 9am – 7.30pm
Tuesday: 9am – 9pm
Wednesday: 12pm – 9pm
Thursday: 9am – 9pm
Friday: 9am – 7.30pm
Saturday: 9am – 6pm
Sunday: CLOSED
Physio & Sole Clinic is your one-stop podiatry and physiotherapy centre in Singapore for musculoskeletal pain, sports injury, foot pain and other related conditions. Their team consists of licensed physiotherapists and podiatrists who all work together to make treatment for physical problems related to injury, disease, illness and ageing more accessible in Singapore.
On your first visit, you will undergo a thorough assessment of your condition. After this, their physiotherapist will then provide a detailed explanation of the cause of injury and the expected duration of recovery. With an accurate diagnosis, they will then proceed to customising a rehabilitation programme that optimises treatment outcome for each patient.
In the end, Physio & Sole Clinic is a clinic for the young, the active and the silver-haired. And on top of all this, their also team consists of local practitioners who are knowledgeable in speaking English, Mandarin and various dialects.
Highlights
 Multiple locations available island-wide
Podiatry services offered
Practitioners can speak different languages and dialects
Customer Reviews
Previous patients left their review on the quality of their service:
"Chris is an expert at his job and very professional. He provides personalised and specific advice for my particular issue. I appreciate the personal exercise program which includes details on what I need to do – including a photo/video of the program. Thank you!"
"I was very concerned about my condition. I visited 3 different specialists and each of them had a different opinion. Sue Mei was the one who was able to give me confidence and comfort. I decided to keep visiting Sue Mei because she cared for me and her treatment proved to be very effective!"
Paying a reliable physiotherapist a visit is among the first steps towards recovery. We hope that you were able to pick at least one clinic that you think can provide the services that you need.
If you know other clinics that offer psychotherapy, don't hesitate to share their names. If we find them great, we'll also add them to our list.
By the way, if you've been experiencing pain in your spinal area, you might want to drop by the clinics of the best chiropractors in Singapore. These chiropractors can definitely help to alleviate the pain on your back side.