If you need to interpret or convert something from one language to another, you should use the best translation services in Singapore. Trust me when I say it's better than muddling about with Google Translate.
A professional translator knows the subtleties of a language and can make sure the essence of a message is retained when moving from one language to another.
The best translators can even translate idioms and metaphors across languages… something Google Translate and casual translators often fail to manage.
Lucky for you, there are many professional translation companies in Singapore offering their services. We've taken a look at them and found the top translation services in Singapore for your consideration.
1. RAFFLES TRANSLATION SERVICES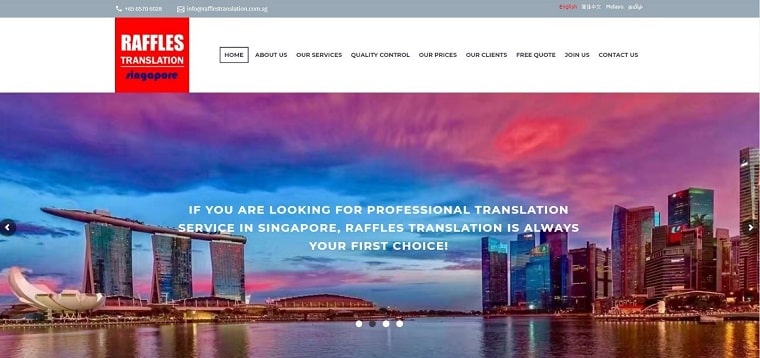 BEST FOR
Native speakers as translators, Asian & European languages
SCOPE OF SERVICES
Language Translations, English Translation, Translation Categories (Financial Translation, Legal Translation, Life Science/Medical Translation, Technical Translation, Business Translation, Aviation/Shipping Translation, Chinese Literary Translation, Certified translation), Interpreting Service, Transcreation, Website Localization, Editing, Proofreading, Transcription, Desktop Publishing (Typesetting), Voiceover, Subtitling
PRICING
From S$0.06 to S$0.35 per word in the source document, depending on the following factors: (A)Source and Target Languages Turnaround Time, (2)Technical nature of the Text, (3)Total Volume, (4)One-time Translation or Ongoing Project

A minimum charge for small orders, ranging from S$20 to S$120

Contact the company for a free quote
WEBSITE
http://rafflestranslation.com.sg/
ADDRESS
71 Jurong West Central 3,
#07-17, Jurong Point Shopping Mall,
Singapore 648335
Republic of Singapore
CONTACT DETAILS
 +65 6570 6028 | info@rafflestranslation.com.sg
OPERATING HOURS
 
Established in 1999, Raffles Translation Services is made up of an elite team in the translation industry. They provide quality translation and interpreting services in ASIAN and EUROPEAN languages.
They handle translations for various languages including, but not limited to, Malay, Tamil, Indonesian, Tagalog, Vietnamese, Burmese, Bengali, Arabic, Hindi, Thai, Cambodian, Lao, Japanese, Korean as well as Chinese on the one side, and German, French, Italian, Spanish, Portuguese, Danish, Dutch, Russian, Ukrainian, Greek, Turkish, Norwegian, Finnish, Latin, Polish, Latvian, Croatian, Czech, Irish, and more.
With such a wide range of covered languages, there's no doubt this is among the top translation services in Singapore. 
SERVICE HIGHLIGHTS
Cost-effective services with their competitive rates
Confidentiality
Proven quality control project
Hires industry-specific native speakers only
Extremely responsive, efficient, and fast
Can deliver large and difficult projects within tight turnaround times
More conversant in greater China than their competitors
Able to do what their competitors deem impossible in terms of price, quality and turnaround time
CUSTOMER REVIEWS
Past clients rate them highly on Google Reviews with most of them leaving 5 stars. The reasons they like Raffles are their fast turnaround, professionalism, and competitive rates. Sophia Octavia wrote:
"Liaised with Michael, he is probably not the friendliest guy, but he is to the point and efficient. The document was translated quickly, and any required changes were rectified immediately. Price point is competitive."
2. WHIZWORDZ INTERNATIONAL PTE LTD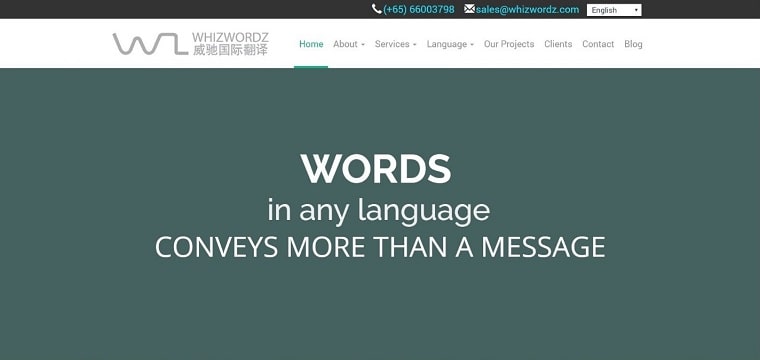 | | |
| --- | --- |
| BEST FOR | Translation projects across all industries |
| SCOPE OF SERVICES | Typesetting, Translation Services, Transcreation, Copywriting, Interpretation, Localisation, Certified Translation, Transcription |
| PRICING | Contact the company for a free quote |
| WEBSITE | https://www.whizwordz.com.sg/ |
| ADDRESS | 151, Chin Swee Road, #13-04, Manhattan House, Singapore 169876 |
| CONTACT DETAILS |  (+65) 66003798 | sales@whizwordz.com |
| OPERATING HOURS |   |
WhizWordz started with only English to Chinese translation requests, then eventually expanded their translation services to include multiple languages for both local and overseas clients in different industries.
With over 10 years of industry experience, WhizWordz also handle copywriting, website localisation, typesetting, interpretation, transcreation, and transcription.
They're among the best translation services in Singapore for Asian-language-to-English (and vice versa) projects.
SERVICE HIGHLIGHTS
Specialises in Bahasa Malay, Bahasa Indonesian, Vietnamese, Japanese, Korean, French
Fast turnaround
Competitive pricing to meet the client's budget within the standard market rate
Very responsive and can easily be reached at all times of the day
Understands client's needs and willing to accommodate the client's requests for 100% satisfaction
Quality delivery that helps explain their high rate of repeat clients
Highest level of integrity
Personalised services
Long-term credibility
Recipients of Singapore Excellence Award 2011/2012
CUSTOMER REVIEWS
Many satisfied clients generously left positive Google Reviews for WhizWordz. They like their responsive account managers, professionalism and prompt delivery.
According to Shamim Anwar:
"I happened to find WhizWordz International by random google search for a translation service in Singapore. I was impressed by their professional approach and the prompt delivery of the translation job. They first called me to confirm the request and explained their fee structure. Overall, I am quite satisfied with WhizWordz services. Wish them success in their business! Thanks!"
3. WORDSBURG TRANSLATIONS PTE LTD
BEST FOR
Native translators, 6-month post-project support
SCOPE OF SERVICES
Certified Translation, Technical Translation, Legal Translation, Medical Translation, Business & Financial Translation, Marketing & Advertising Translation, Software Apps & IT Translation, E-commerce/Website Translation, Food & Culinary Translation, Travel & Tourism Translation, Media & Entertainment Translation, Beauty & Lifestyle Translation
PRICING
Contact the company for a free quote
WEBSITE
https://www.wordsburg.com.sg/
ADDRESS
Wordsburg Translations Pte Ltd
105 Cecil Street, The Octagon, #11-00 Singapore, 069534
CONTACT DETAILS
 +65 62241987 | info@wordsburg.com.sg
OPERATING HOURS
 
Wordsburg Translations is a Singapore-based team of individuals united by the belief that communication works best when paired with a personal touch.
As professional translators, they understand the difference between "mere translation" and "choosing the right word". Their commitment to keeping meaning intact is what makes them one of the best translation services in Singapore.
They handle over 120 languages. Customers can contact them to get a free estimate  quickly and get the job done within the same day (depending on the amount of translation needed).
SERVICE HIGHLIGHTS
Handles translation services for Chinese, Spanish, Japanese, Arabic, French, German, Korean, Italian and ASEAN languages
120+ languages
Fast quotation
80% jobs delivered same day
Express service available
Orders accepted over weekends
100% human translation
Native translators
Industry experts
Dedicated account manager
Pay less for more volume
Customised pricing plans
6 months post project support
Credit terms for business clients
CUSTOMER REVIEWS
Wordsburg clients, both new and returning, gave glowing Google Reviews not just for their excellent services, but also for their friendly customer service.
One client who needed a birth certificate translated and notarised from English to Russian commended them for going above and beyond. Another client, Max Tay, has this to say:
"I was recommended by a friend to use Wordsburg. I had my English curriculum vitae translated into Chinese within 48 hours. Chloe made comments on the document so that I could view her rationale for making certain translation; she also provided options for me to choose from. Liked that I could correspond with the translator to get the result I wanted. Where there were certain very industry-specific terms that Chloe wasn't familiar with, she combed the web for hints of what I meant. Professional service. Would definitely use Wordsburg again for future work."
4. LYRIC TECHNOLOGIES PTE LTD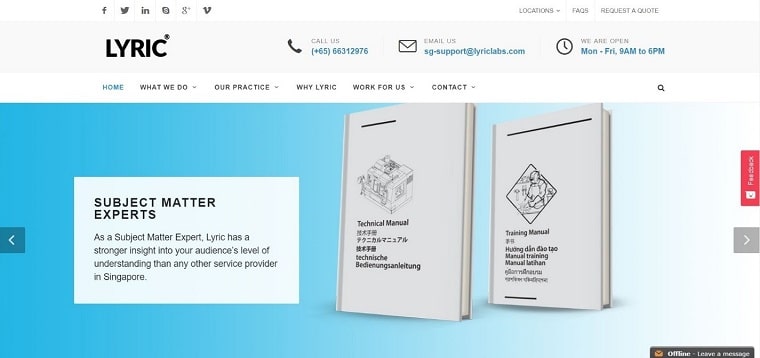 BEST FOR
ISO-accredited translation services
SCOPE OF SERVICES
Translation Services, Multilingual Desktop Publishing, Website Translation, Audio & Video Translation, Telephone and Onsite Interpretation
PRICING
Contact the company for a free quote
WEBSITE
https://www.translators.com.sg/
ADDRESS
Level 19, Singapore Land Tower
50, Raffles Place, Singapore 048623
CONTACT DETAILS
 (+65) 66312976 | sg-support@lyriclabs.com
OPERATING HOURS
Mon – Fri, 9AM to 6PM
Lyric Technologies is an ISO 9001, DIN EN 15038 Translation Company in Singapore with more than 1500 translators for over 100 languages. They have been in business for over 10 years catering to local and international businesses.
Satisfaction is guaranteed for clients looking for industry-specific translation, process know-how, technology expertise and customer experience. Their customers receive complete solution from a single source.
In sum, this is among the best translation services in Singapore for businesses and professional projects.
SERVICE HIGHLIGHTS
Well-trained staff
Over 10 years of industry experience
Average response time of 30 minutes
Project management in place for better efficiency in delivering translation services and ensure enhanced customer satisfaction
Secure customer documents through translator workbench
Translator accreditation programs in place
CUSTOMER REVIEWS
For many of their satisfied clients, Lyric Technologies is an excellent translation service because of their responsiveness, top-notch translation quality, short turnaround and friendly staff. Martin Zischke wrote:
"Farah at Lyric provided a quick feedback on the price for the translation of two education certificates. The price was very fair, the draft version was delivered on the next business day and after a minor adjustment ( the job title was a quite specific German title)  I could pick up the final version at the office. I can fully recommend Lyric for translations
Update: The same was true for the translation of another legal document one year later. It is definitely fantastic, quick and efficient service"
5. LETTER CRAFTS TRANSLATION SERVICES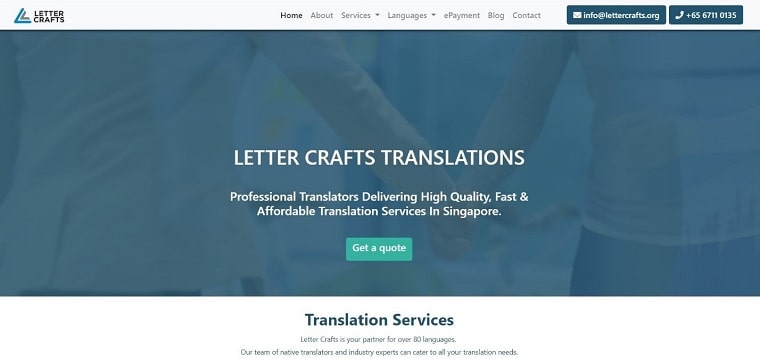 | | |
| --- | --- |
| BEST FOR | Certified translations |
| SCOPE OF SERVICES | Certified Translation, Technical Translation, Legal Translation, Medical Translation, Business & Financial Translation, Marketing & Advertising Translation, Software Apps & IT Translation, E-commerce/Website Translation, Food & Culinary Translation, Media & Entertainment Translation, Travel & Tourism Translation, Beauty & Lifestyle Translation, Typesetting, Localisation |
| PRICING | Contact the company for a free quote |
| WEBSITE | https://www.lettercrafts.org/?utm_source=GMBLisiting |
| ADDRESS | Servcorp, Suntec Tower Three, #42-01, 8 Temasek Boulevard Singapore 038988 |
| CONTACT DETAILS |  +65 8694 8389 / +65 6711 0135 | info@lettercrafts.org |
| OPERATING HOURS | 09.00 AM-06.30 PM |
Letter Crafts Translation Services has a passionate team of professional translators with years of experience in translating over 80 language pairs and handling complex projects.
Founded in Singapore, they are now expanding into Hong Kong, Japan, India, UAE, and the UK. The diversity and rich experience of their team is their biggest asset, enabling them to move from strength to strength.
To provide the highest possible quality of translations, they continuously refine their processes to adapt to the latest technology and best project management practices.
Projects are assigned only to translators with the relevant language proficiency, industry background and qualifications. All large projects undergo a peer-to-peer review and QA checks to ensure consistency in tone and writing style.
Initial assessment, drafting of the Translation, QA check, Customer Service and Client Feedback – every stage of the translation project is logged and reviewed for continuous improvement.
That sort of professionalism and commitment to quality renders them a great choice when seeking translation services in Singapore.
SERVICE HIGHLIGHTS
A great partner for all your translation needs in over 80 languages
Certified translations by professionals
Industry experts and native language translators
Best rates, high quality, and quick delivery guaranteed
CUSTOMER REVIEWS
Many of their clients are impressed with their services, even leaving glowing reviews on Google. Specifically, they appreciate the company's smooth and straightforward process, quick turnaround, and overall efficiency.
This feedback from Siti Rokiah provides further insight on their superb service:
"My first experience with Letter Crafts has been a great one. It's my first time to use translation service. I requested for an Arabic-to-English translation of birth certificate with notarization. Although I was promised to receive the final translation on a later date, it was completed and handed out to me before that.
AK was the initials of the person who guided me through the entire process since it was my first time using such service. Thank you, AK for the precise guidance and being committed to get my document translated properly albeit the many small changes that I requested for.
Good job, Letter Crafts for the very good service. Highly recommended."
6. SAGE LANGUAGES PTE LTD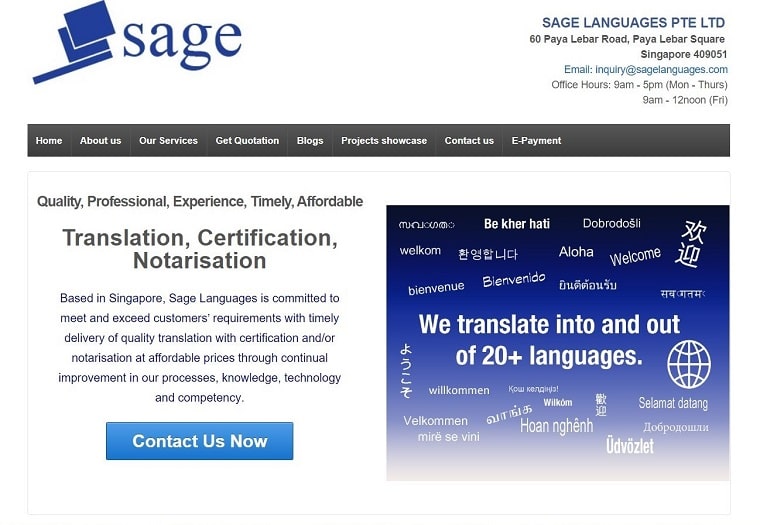 BEST FOR
Cost-effective translation services
SCOPE OF SERVICES
Translation Services (English Translation Service, English to Chinese Translation Service), Notarised Translation Service, Notarization & Legalization Service, Layout

Document Translation Service, Website Translation/Localization Service, Certified Translation Service, Document Editing Service, Technical Writing Service, Layout and Print Service
PRICING
Contact the company for a free quote
WEBSITE
http://www.sagelanguages.com/
ADDRESS
60 Paya Lebar Road, Paya Lebar Square
Singapore 409051
CONTACT DETAILS
inquiry@sagelanguages.com
OPERATING HOURS
9am – 5pm (Mon – Thurs)
9am – 12noon (Fri)
Sage Languages Pte Ltd is a translation services company based in Singapore. Their core belief is that translation services can be provided at more affordable prices than average while still maintaining quality.
With their strategic partnerships, they're able to bring together specialists from around the world. This offers customers a complete and integrated range of translation and localization solutions under one roof.
The core team of Sage Languages comprises language, technology, project management, and business professionals. These have over 40 years of collective experience providing translation services.
They have extensive experience helping companies communicate and conduct business in any language and in any locale. That makes them one of the top translation services in Singapore for professional situations.
SERVICE HIGHLIGHTS
Quality, professional translation
Experienced team of translators
Timely and affordable
CUSTOMER REVIEWS
Sage Languages has a high rating in Google Reviews because of their excellent translations, friendly customer service and responsiveness.
One client even commended them for their honesty after they returned over a thousand Singaporean dollars within a couple of hours after it was wrongly transferred to their account.
Another client, Ben Teo, shared:
"Delivers great results consistently with fair quotations, good quality of work & most importantly, consistent fast turnaround time. Recommended translation agency!"
7. CHAMBERS TRANSLATION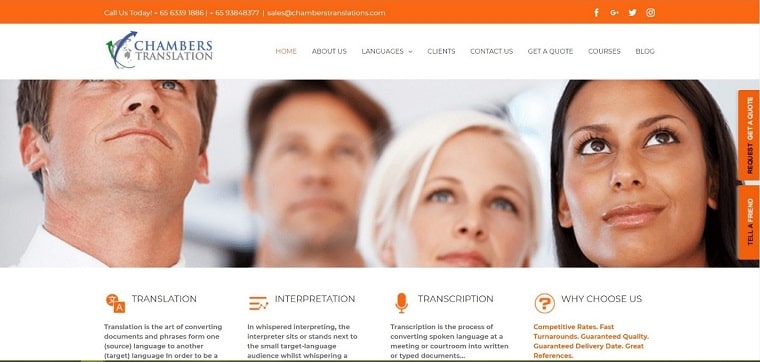 BEST FOR
Proven track record
SCOPE OF SERVICES
Document Translation, Business Translation, Legal Translation, Financial Translation, Website Translation, Marketing Translation, Driving Licence Translation, Birth certificate Translation, Diploma certificates Translation, Wedding certificates Translation, Legal contract Translation, Divorce decree Translation, Driving license Translation, Bank statement Translation, Registration Translation, Insurance certificates Translation
PRICING
Contact the company for a free quote
WEBSITE
http://chamberstranslations.com/
ADDRESS
1 Sophia Road, #03-09 Peace Centre
Singapore 228149
CONTACT DETAILS
Tel: 65 6339 1886 / Fax: 65 6339 6168 | sales@chamberstranslations.com
OPERATING HOURS
 
Established in 1995, Chambers Translation, along with their network of six offices worldwide, has since helped thousands of companies communicate globally.
They're able to expertly bridge language barriers, enabling their clients to market their products and services in foreign markets.
They do this through their professional translation services in over 80 languages, delivered in a fast, reliable, and professional manner.
SERVICE HIGHLIGHTS
Thorough and accurate, with 73% of their business coming from repeat business
Personal interest, whether the project is big or small
Proven track record, trusted by prominent companies
Native-speaking professionals
Cost-effective
CUSTOMER REVIEWS
Repeat business is always a good testament to a company's quality, and Chambers Translation has it. Many of their customers believe them to be among the most reliable translation services in Singapore.
Though they only have a few reviews on Google, all of them are positive with 4 and 5-star ratings. They praise Chambers Translation for a hassle-free transaction, good value for money and excellent translation quality.
One satisfied client wrote:
"We've used your services repeatedly for our legal and immigration documents. We believe you offer very good value for money and we are very pleased with your prompt and friendly service.  Keep it up."
8. LINGUA TECHNOLOGIES INTERNATIONAL

BEST FOR
ISO-certified, global reach of over 5,000 highly qualified in-country translation resources
SCOPE OF SERVICES
Certified Translation Services, Translation & Localisation, Design Services, Desktop Publishing Service, Editing Service, Interpreting Service, Interpretation Equipment Rental, Subtitling Service, Technical Writing, Transcription Service, Voiceover Service
PRICING
Contact the company for a free quote
WEBSITE
https://www.translationsingapore.com/
ADDRESS
Lingua Technologies International Pte Ltd
400 Orchard Road, #13-08 Orchard Towers, Singapore 238875
CONTACT DETAILS
 (65) 6576 0138 / (65) 6576 0139 | inquiry@translationsingapore.com
OPERATING HOURS
 
After being founded in 1996, Lingua Technologies International is now a major player in the global translation and localization industry.
This is one of the top translation services in Singapore in terms of experience and reputation. They have a network of professionally trained native-speaking translators with subject matter expertise.
Through the years, they have expanded to offer a comprehensive range of project management services from design and publishing of the content they translate, to complete editorial services and the creation of original content in multiple languages.
SERVICE HIGHLIGHTS
Singapore's first ISO17100:2015 certified company
Global network of expert translators
Expertise in certified translations
Software translation and localization
Combined power of cutting-edge technology and native speakers
CUSTOMER REVIEWS
For their speed, efficiency and reliability, clients have honoured them with 5-star ratings on Google. Steve Lee highly recommends them:
"They were speedy and co-operative in coping with my requirements and deadline. Highly recommended for certified translation!"
Overall, you'd be hard-pressed to find a translation task none of the above companies can handle. They're head and shoulders above the pack when it comes to translation services in Singapore.
That said, we know that there's a small chance we've missed a translation service that deserves to be in this list — or at least, mentioned. If you can think of a translation service in Singapore that fits the bill, tell us about it!
And before we finish, just a friendly reminder that this is only one of our articles on services and facilities for businesses/professionals. For instance, we also have a list of the best coworking spaces in Singapore if you need it.