The Top 16 Best Notary Public in Singapore
Have you ever experienced the struggle of finding the nearest yet best notary public in Singapore? If so, then you're probably in the middle of submitting some requirements or settling important documents.
Regardless of the reason, knowing some of the best notary public in Singapore will help you get your work done in no time. So here are the most well-known offices where you can properly legalise your documents.
1. Michael, The Notary (Clifford Law)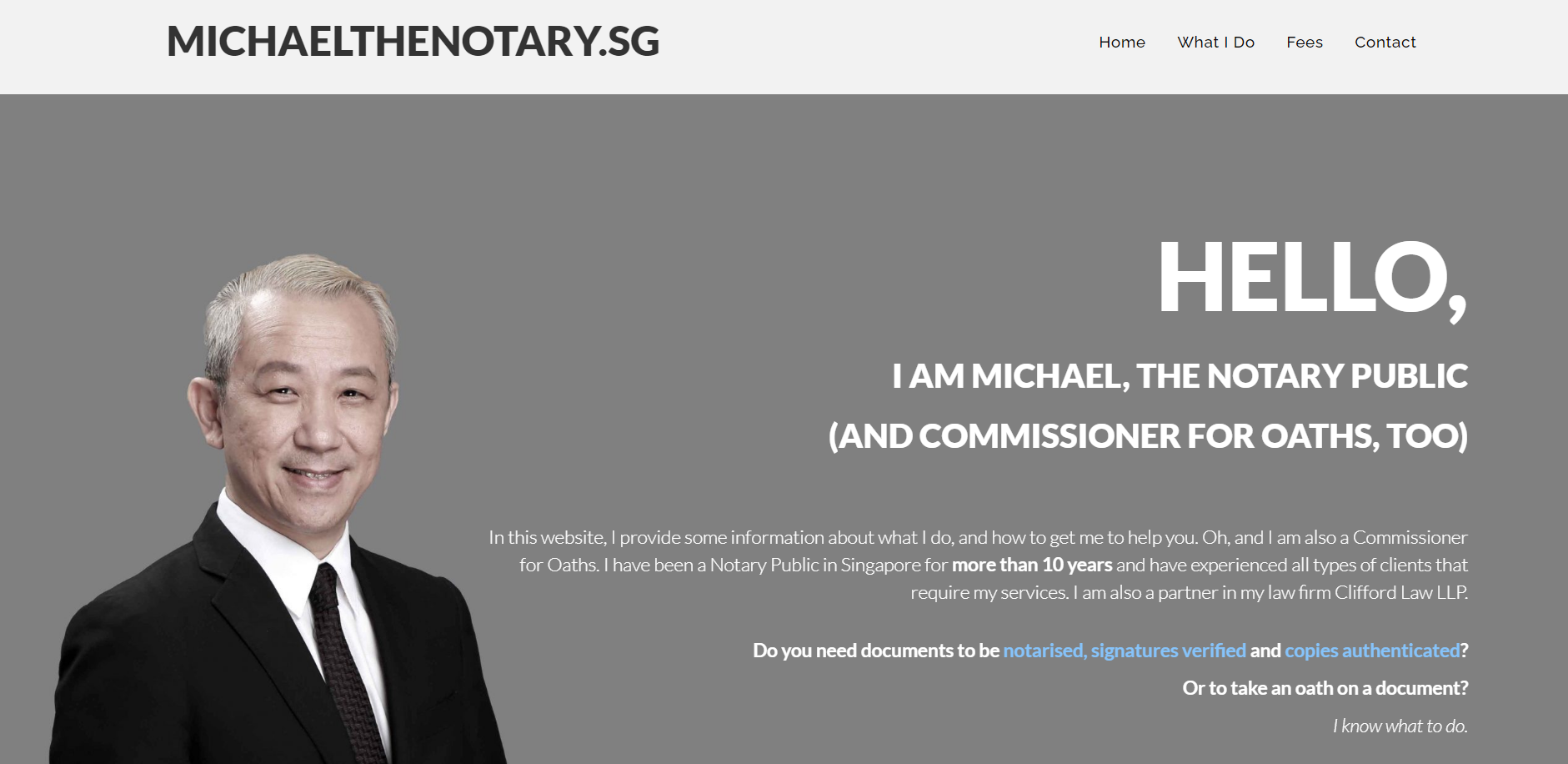 EXPERTISE

Signing of Documents

Authenticating Originals and Copies of Originals

Completing the Authentication Process

Taking Oaths and Affirmations

WEBSITE
https://www.notary-singapore.com/
ADDRESS
Clifford Law LLP 1 Coleman Street The Adelphi
#08-04 Singapore 179803
CONTACT DETAILS
+65 6432 8272
OPERATING HOURS
Monday – Friday: 9 AM – 6 PM
Closed on Saturday & Sunday
Michael, The Notary Public is a public official appointed by a state government to help deter fraud. He witnesses the signing of important documents and verify the identity of the signer(s), their willingness to sign the documents, and their awareness of the contents of the document or transaction.
Michael has been a Notary Public in Singapore for more than 10 years and has experienced all types of clients that require his services. He is also a Commissioner for Oaths and takes great pride in being a partner in his law firm, Clifford Law LLP.
Highlights
Amicable and Friendly
Reasonable Rates
Delivers Excellent Results
2. Hoh Law Corporation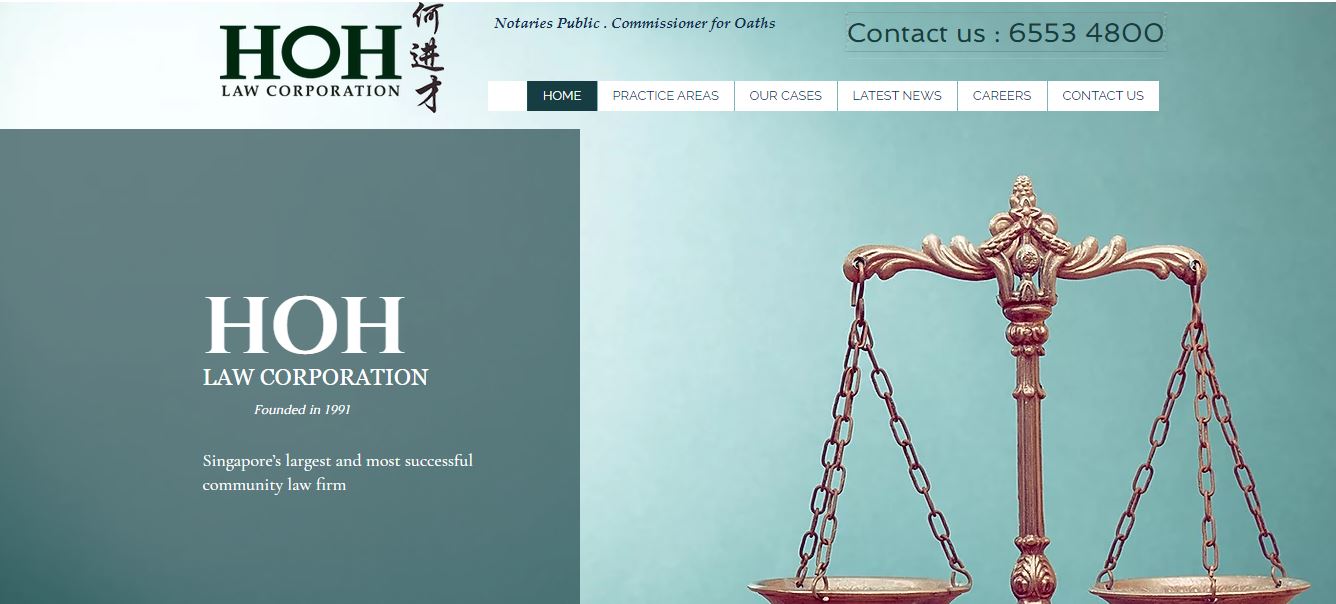 | | |
| --- | --- |
| BEST FOR | Legal consultations |
| WEBSITE | https://www.hoh.com.sg/ |
| ADDRESS | 60 Paya Lebar Road #04-42 Paya Lebar Square (Office Lobby 2) Singapore 409051 |
| CONTACT DETAILS | 6553 4800 |
| OPERATING HOURS | Weekdays, 9am–1pm, 2–6pm |
Aside from notarial services, Hoh Law Corporation also serves other legal services such as consultations for certain cases. This includes accidents and injuries, medical negligence, family law, wills and probate, criminal, commercial and property law more.
After a thorough discussion, they'll analyse and give you a set of options. This'll help you determine your next step towards a proper settlement.
They also have several branch offices so you'll surely find the nearest one to your place. Due to their wide range of services, they've been known to be the best notary public in Singapore.
Highlights
Legal services and consultations
Wide scope of legal cases
3. Tan & Yip LLC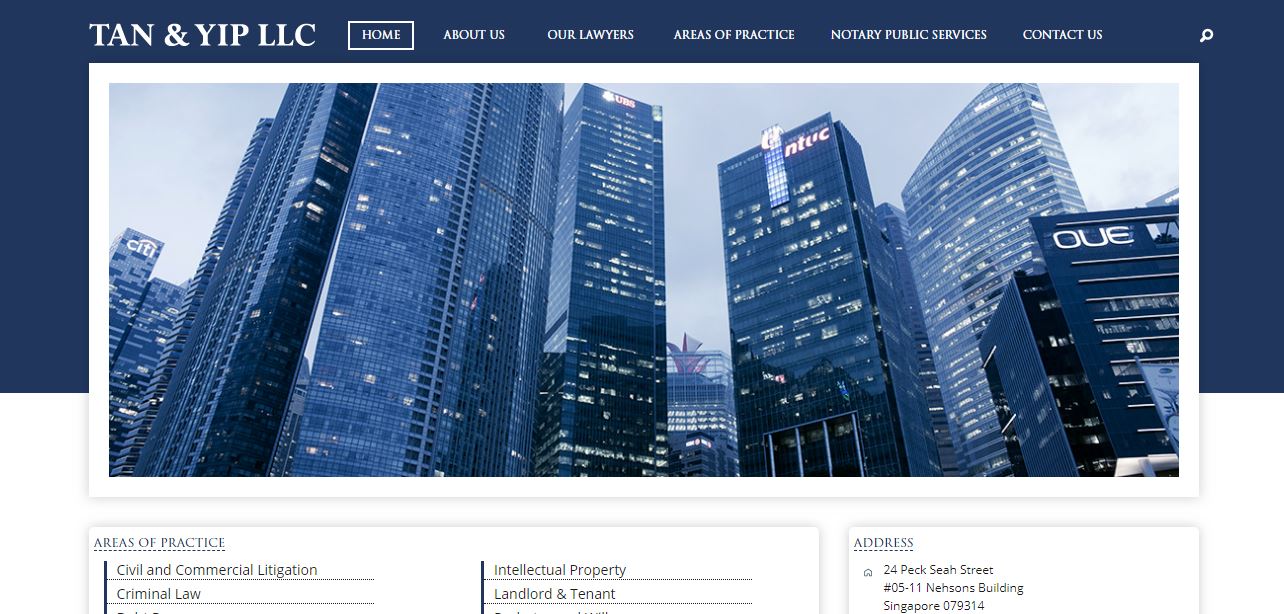 | | |
| --- | --- |
| BEST FOR | Personal and business legal services |
| WEBSITE | http://www.tanyip.com.sg/ |
| ADDRESS | 24 Peck Seah Street #05-11 Nehsons Building Singapore 079314 |
| CONTACT DETAILS | 6323 0030 / 6323 0031 |
| OPERATING HOURS | Weekdays, 9am–5:30pm |
When it comes to notary public services, they cater to both personal and business purposes, as well as overseas documentations. They provide witnessing for affidavits, declarations, authorisations, contracts, agreements, bills of sale, and transfers.
They also certify copies of marriage and birth certificates, educational certificates, passports, and many more. They also have professional and skilled lawyers that specialise in certain legal cases.
If you're currently battling a legal case, then acquiring their services might be a great help for you. This is why they're a part of our list of the best notary public in Singapore.
Highlights
Notarisation services
Legal services
4. Sunshine Translation Services Pte Ltd
BEST FOR
Native and Professional Translation Services
SERVICES
Translation Services
Transcription Services
Subtitling Services
Voiceover Services
Certified Translations
Interpretation Services
Notarization and Legalization
Legal Translation
Technical Translation
Medical and Pharmaceutical Translation
Banking and Financial Translation
Marketing and Advertising Translation
Software and IT Translation
Website localization
Travel and Tourism Translation
Electronics and Communications Translation
Media and Entertainment Translation
Food and Beverages Translations
Business Translation
Beauty and Lifestyle Translation
Copywriting
Notary and SAL Services
Desktop Publishing
Editing and Proofreading
Native Localized Translation
Express Translation Services
WEBSITE
https://www.sunshinetranslations.com.sg/
ADDRESS
68 Circular Road, #02-01, Singapore, 049422
CONTACT DETAILS
+6531595479 |

[email protected]

OPERATING HOURS
9 am to 6 pm
Sunshine Translations is counted as one of the best translation service agencies in Singapore. They are the third company on this list because we believe that they offer top-notch quality translation services in an effective and fast manner.
In comparison to other agencies, they offer a wide range of languages for their translation services. A reason to trust them is because of their international team that is filled with various native-speaking professional translators from across the globe.
One thing great about them is they accept bulk documents. No matter how many your documents are, they will still translate them for you and even give you a discount!
Another positive thing we see is they offer almost all services in this industry anyone can need.
Unfortunately, payments can be done only through a bank transfer or via card. Aside from that, everything is perfect.
Highlights
Competitive prices
Has best quality control process
Uses state-of-the-art tools and technologies
Smooth, transparent and efficient process
Maintains Confidentiality
Dedicated project managers
Localization experts
Industry specific expert translators
Delivers quick and quality translations
Express service for urgent requirements
Discounts on bulk projects
Best post project support
Offers 150+ languages
Language specific native & professional translators
Pro in handling Marketing, Legal, Technical & Medical documents
5. Wordsburg Translations Pte Ltd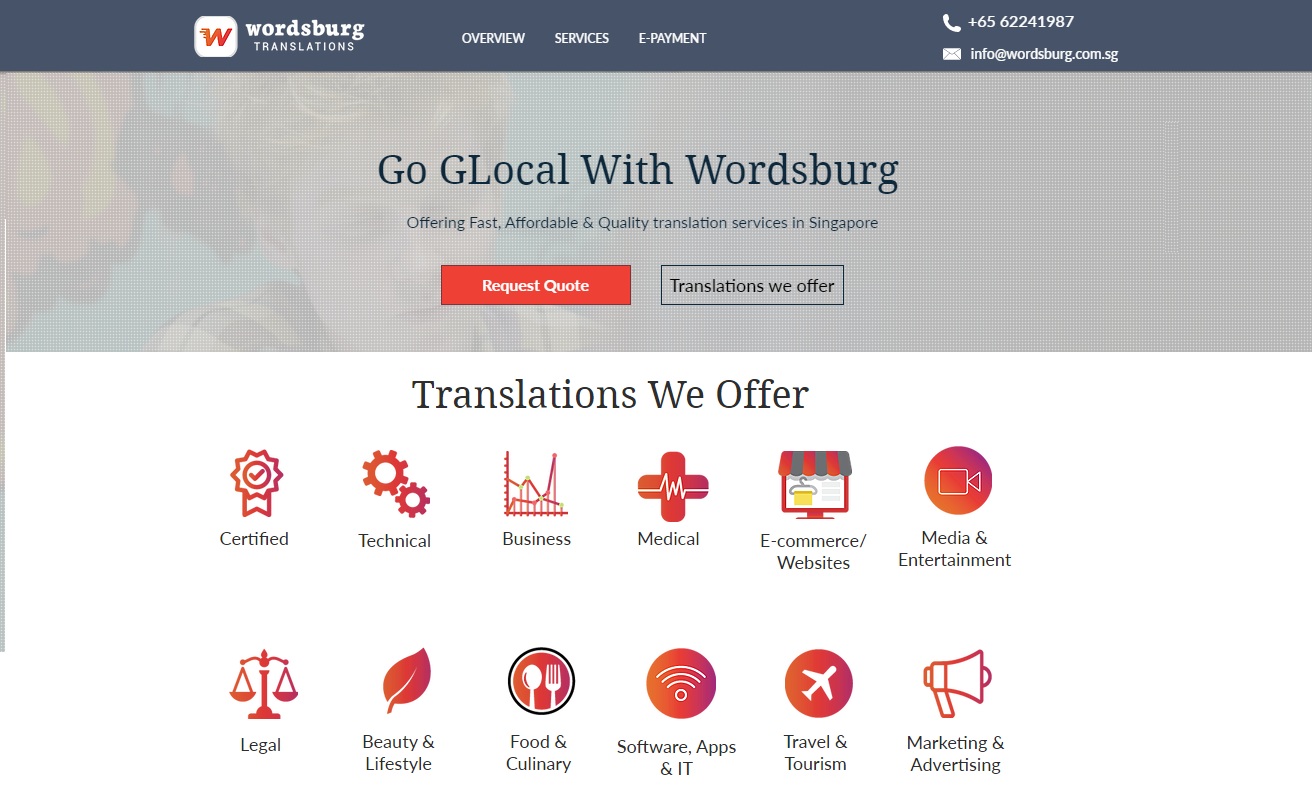 BEST FOR

Fast and affordable translation service

SERVICES

Translation service, Notary Public

WEBSITE

https://www.wordsburg.com.sg/

ADDRESS
Wordsburg Translations Pte Ltd
105 Cecil Street, #13-28, JSE Offices, The Octagon, Singapore 069534
CONTACT DETAILS
T: + 65 6224 1987 | M: + 65 9478 7374[O]
E: [email protected]
OPERATING HOURS
9 am – 6 pm
In case you are in need of an affordable translating service, then Wordsburg got your back. This is a Singaporean based company which provides its customers with translation of different languages. They took pride in their accurate yet fast translation service. Further, their staff are all native speakers of the language used in the text or conversation. As such, there is a 100% correctness to the translated text.
Highlights
100% accurate translation

Human translator

Native speaker

Over 120 languages

Express service
6. Chiu Cheong LLC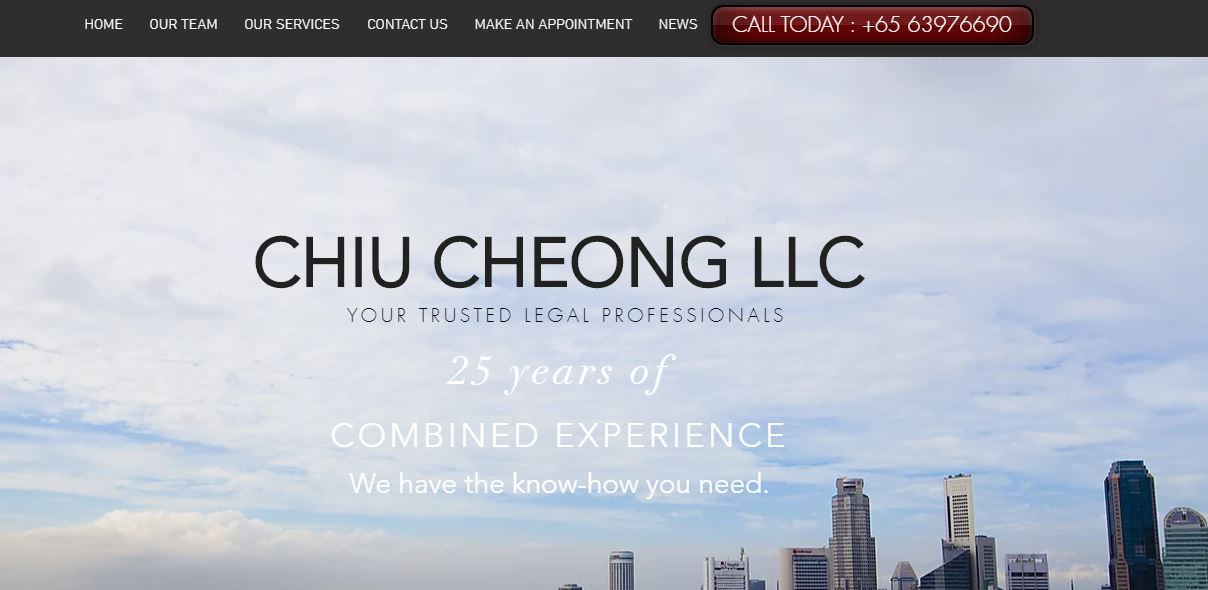 | | |
| --- | --- |
| BEST FOR | Fast notarization process |
| WEBSITE | https://www.chiucheong.com/ |
| ADDRESS | 490 Lorong 6 Toa Payoh #09-15 HDB Hub (Biz 3 Lobby 1) Singapore 310490 |
| CONTACT DETAILS | +65 63976690 / +65 97467381 |
| OPERATING HOURS | Weekdays, 9am – 6pm |
If you're searching for a public office that can process your documents on the same day, then you must visit Chiu Cheong LLC.
You can also have a consultation with their trusted legal professionals and let them assist you with your case. Their area of expertise includes estate matters, conveyancing, divorce, personal injury, civil litigation, and criminal defence.
Due to their short turnaround time and legal consultation services, they've been recognised as one of the best notary public in Singapore.
Highlights
Same-day notarisation process
Legal consultation services
7. Sim Teow Leng & Co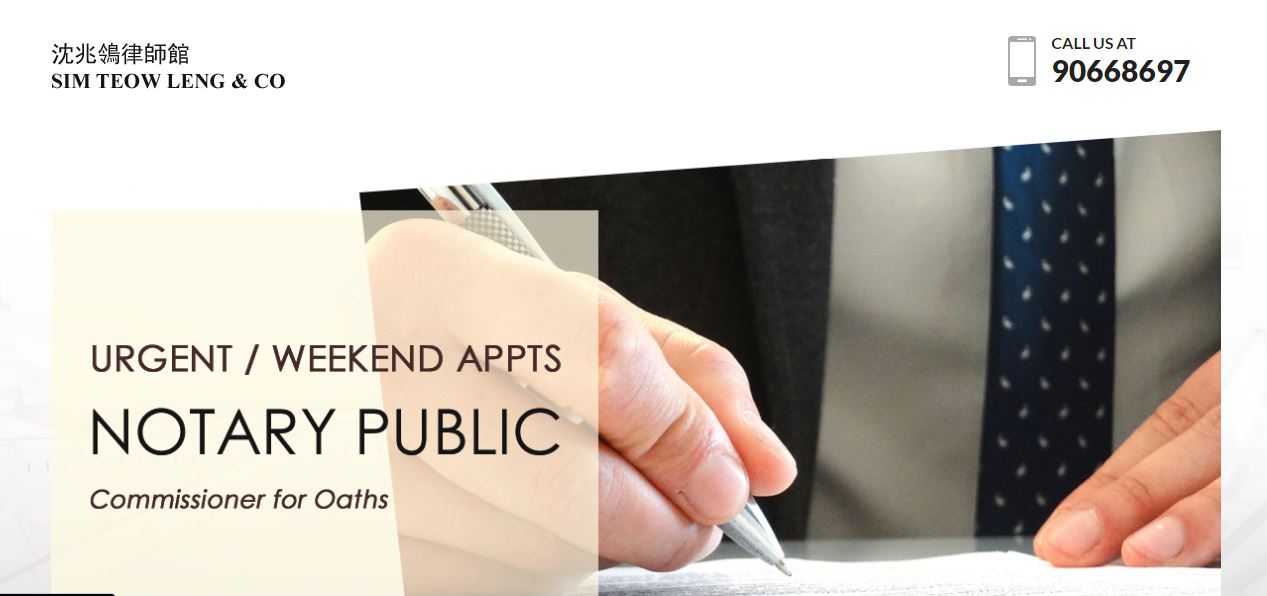 | | |
| --- | --- |
| BEST FOR | Weekend appointments |
| WEBSITE | https://simteowleng.sg/ |
| ADDRESS | 20 Maxwell Road #09-02/03 Maxwell House Singapore 069113 |
| CONTACT DETAILS | 6225 3636 / 90668697 |
Most notary publics are only available during weekdays… except for Sim Teow Leng & Co.
They accept urgent appointments even on weekends, so if you're still working on your day off and you have to submit certified documents, then this might be the best notary public in Singapore for you.
For their areas of practice, they specialise in the sale and purchase of property, divorce, probate and wills, change of name, power of attorney, and adoption.
Highlights
Urgent or weekend appointments
Legal practices
8. Janice Lim, Notary Public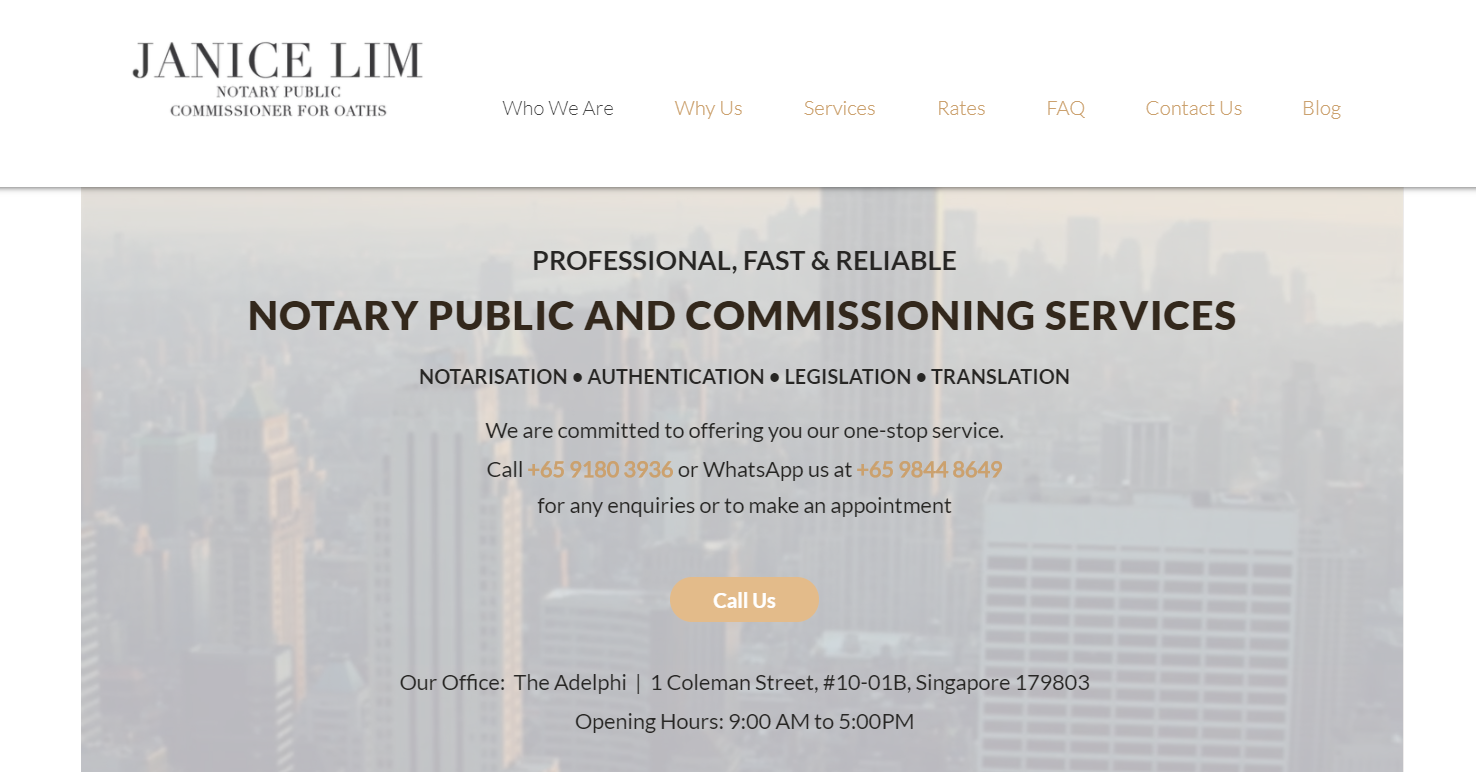 Janice Lim, Notary Public caters to a wide range of documents for notary. They provide this service to private individuals or corporate accounts.
They certify almost all types of documents like Certified true copies, statutory declaration, power of attorney, certificate of declaration and many more. They also attend or witness the certification of documents.
The fees that they collect are compliant to the fees approved by the Commissioner for Oaths.
Highlights
Comprehensive notary services and rates

Other legal services
9. Singapore Notary Public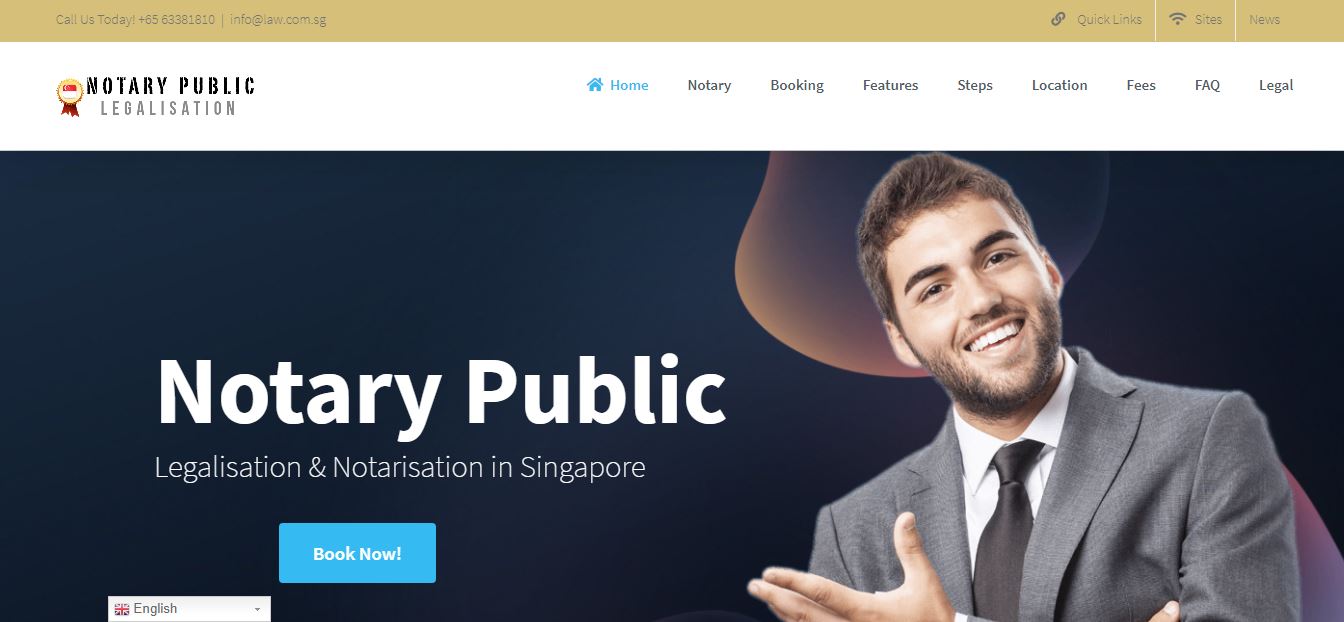 BEST FOR
Online legal services
WEBSITE
https://singaporenotarypublic.com/
ADDRESS
135 Middle Road #05-11 Bylands Building Singapore 188975
CONTACT DETAILS
+65 63381810
OPERATING HOURS

Monday-Friday: 9:00 am – 6:00 pm

Lunch Break: 1:00 pm to 2:15 pm

Closed on Eves of Major Public Holidays
Whether it's for overseas documents, certified copies, legalised files, notarised bill of sale, or affidavits, Singapore Notary Public provides all of these common notarial services.
To book an appointment with them, you can simply download the SG Lawyers App, giving you a convenient option to manage your schedule and payment. They even have a Notary Public Fee Calculator so you can instantly know the fees that you're going to pay.
With their tech-savvy management and quality services, they're indeed considered one of the best notary public in Singapore. It's easy to see why!
Highlights
Easy online payments
Instant notary fee calculation
Accessible location
10. Singapore Translators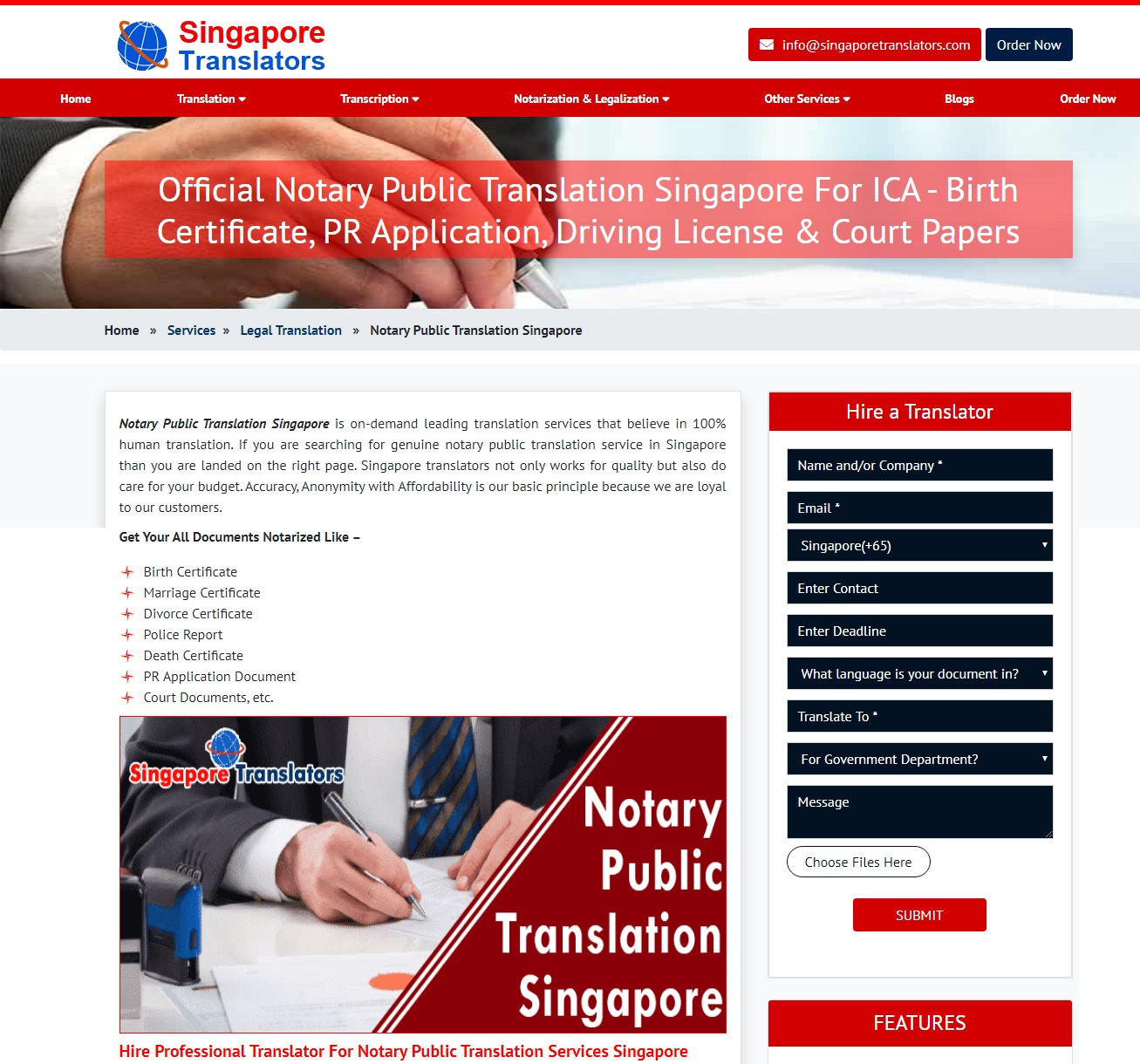 Singapore Translators has more than 10 years of experience translating various types of documents including legal reports, clearances, and certifications.
Aside from this, the company also offers notarization services for documents like Birth Certificate, Marriage Certificate, Divorce Certificate, Police Report, Death Certificate, etc.
As one of the leading notarized public translation services, Singapore Translators guarantees accuracy and anonymity, and affordability in all of their notarization works.
Highlights
Wide scope of specialized services

Affordable notarization rates
11. Crossbows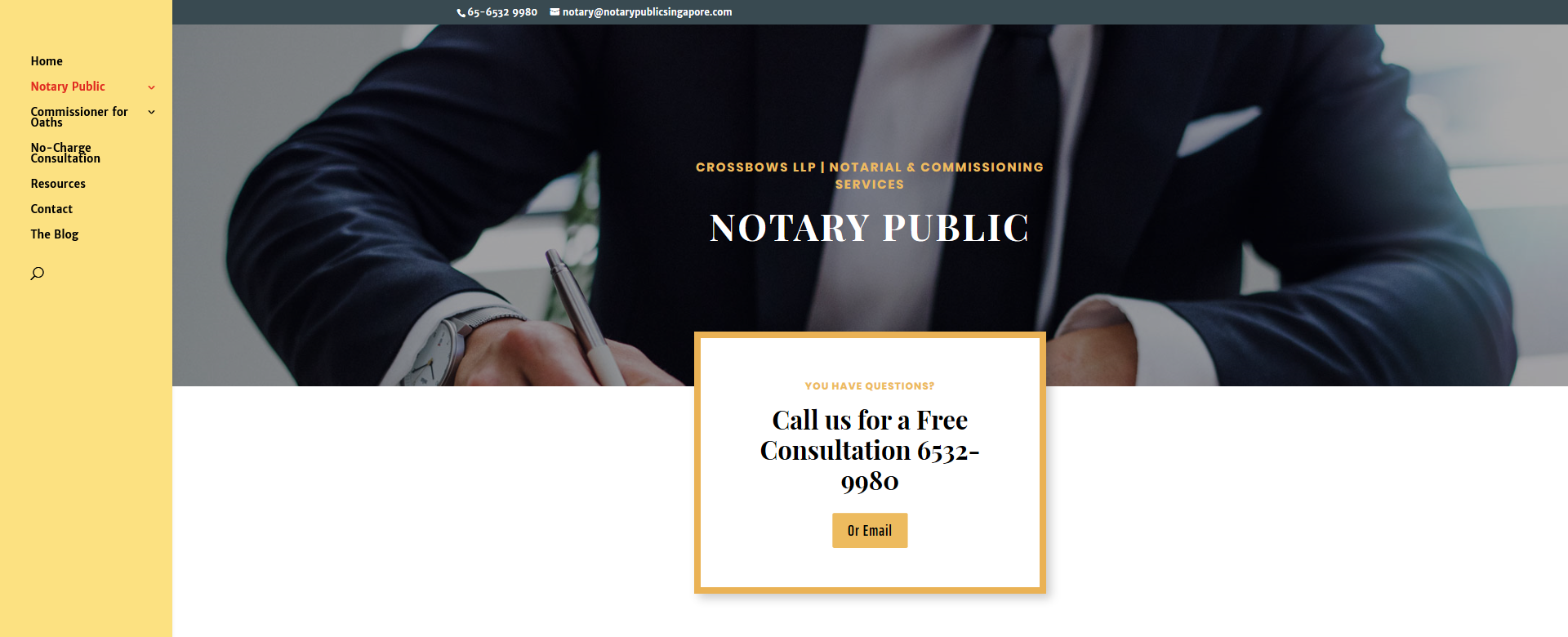 Crossbows provides their clients a full range of Notarial and Commissioning services for all their business, professional, and personal needs. Their Notary Public & Commissioner for Oaths, Gulab Sobhtaj, has been in practice for over 24 years, proving his expertise in the field.
Crossbows' responsibility is to ensure that your documents are properly signed and witnessed, in order to prevent any future legal problems. If there comes a time where those documents are ever needed, no one will question its authenticity.
Because of this, they are extremely particular and fastidious when it comes to preparing their client's documents. They will ensure that a document is prepared according to their client's instructions, as well as the instructions of the party requiring the document's notarisation.
Highlights
Advice on Child Care
Seeking or Varying Maintenance
Seeking Personal Protection Order
Family Assets Division Consultation
Signing of Lasting Power of Attorney
12. Jubilee Law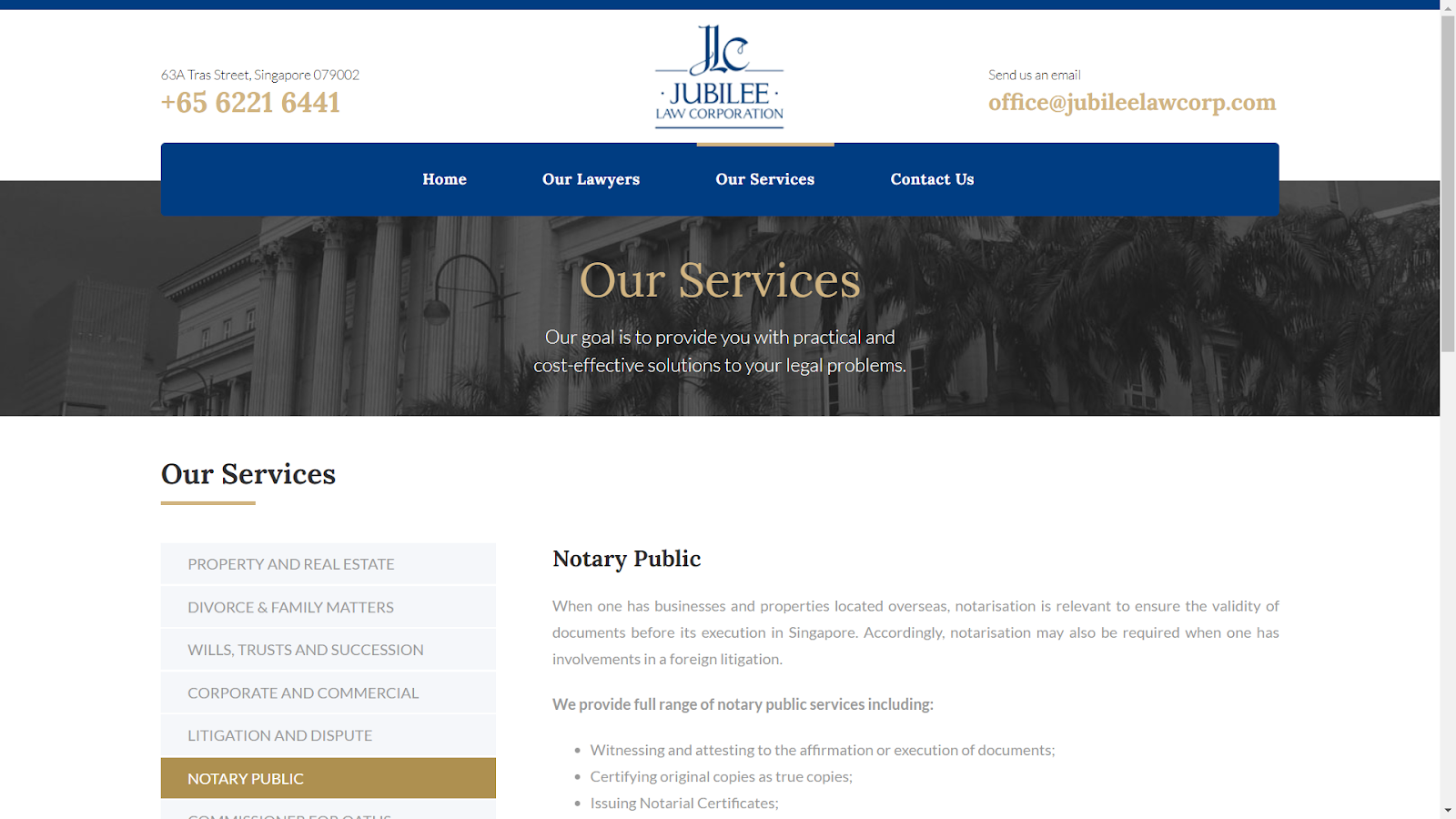 BEST FOR

Notary Public

SERVICES

Property and Real Estate, Divorce & Family Matters, Wills, Trusts, and Succession, Corporate and Commercial, Litigation and Dispute, Notary Public, Commissioner for Oaths

WEBSITE

http://www.jubileelawcorp.com/notary-public.html

ADDRESS

63A Tras Street, Singapore 079002

CONTACT DETAILS

Tel: 6221 6441

Fax: 6221 9570

OPERATING HOURS

Contact for details
Jubilee Law Corporation's goal is to provide good quality services with practical and reasonable prices. Their lawyers Ms. Wong and Ms. Anne are highly qualified for their work.
With their wide variety of services, it is guaranteed that your legal problems will be solved efficiently.
Highlights
Highly professional

Wide variety of services

Good quality work
13. Notary Public SG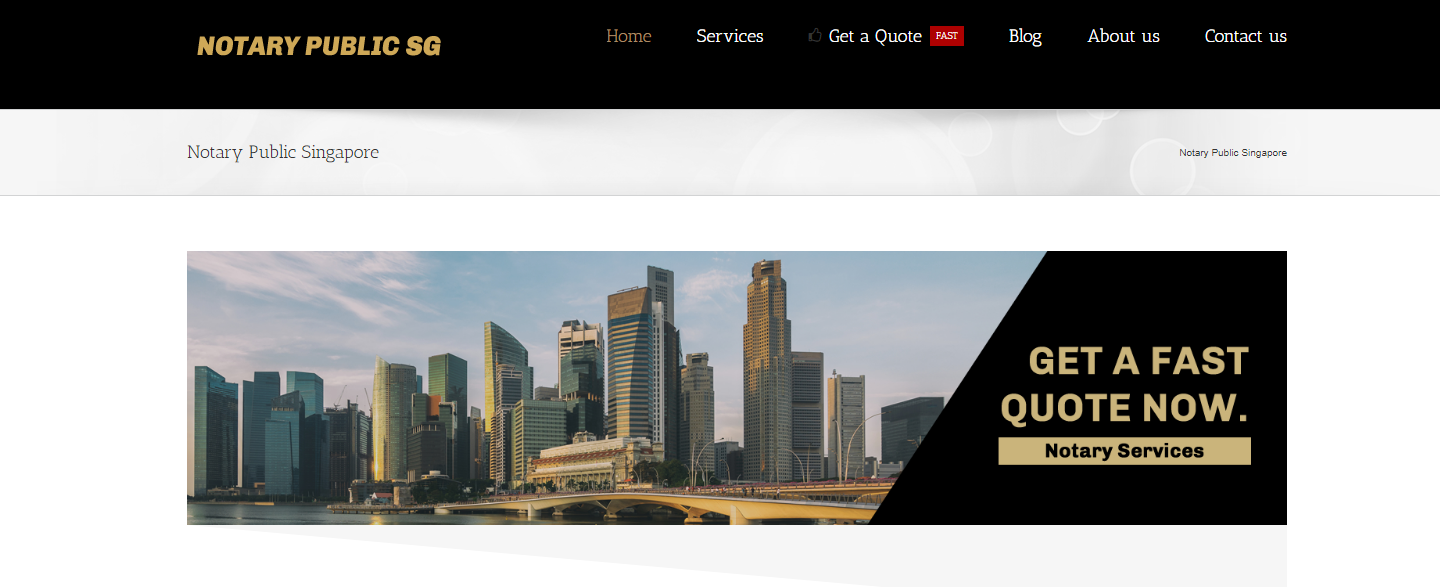 BEST FOR
Licensed and experienced Notaries Public
WEBSITE
https://

janicectlc

.

wixsite

.

com

/adelphinotarypublic

ADDRESS
The Adelphi,1 Coleman Street, #10-01B,
Singapore 179803
Opening Hours: 10:30 AM to 4:00PM
CONTACT DETAILS

Whatsapp No: +65 9844 8649
Contact No: +65 8503 0996

Email Contact
Email: [email protected]

OPERATING HOURS
10:30 AM to 4:00PM (By appointment only)
Across Singapore, there are hundreds of notaries public, and it is important to choose the right one when you enlist these services. A notary public is required to be qualified as a lawyer.
Notary Public SG offers a full range of notarisation and legalisation services such as notarising your documents. Witnessing, authenticating, and certifying a range of papers for use in Singapore and foreign countries.
They also confirm your signature and executing documents for various purposes including contracts, deeds, property deals and more. They will ensure your oath for an affidavits or statutory declarations, as well.
Highlights
Expert at certifying your document copies
Quick quotation
Flexible availability
14. Translation Service SG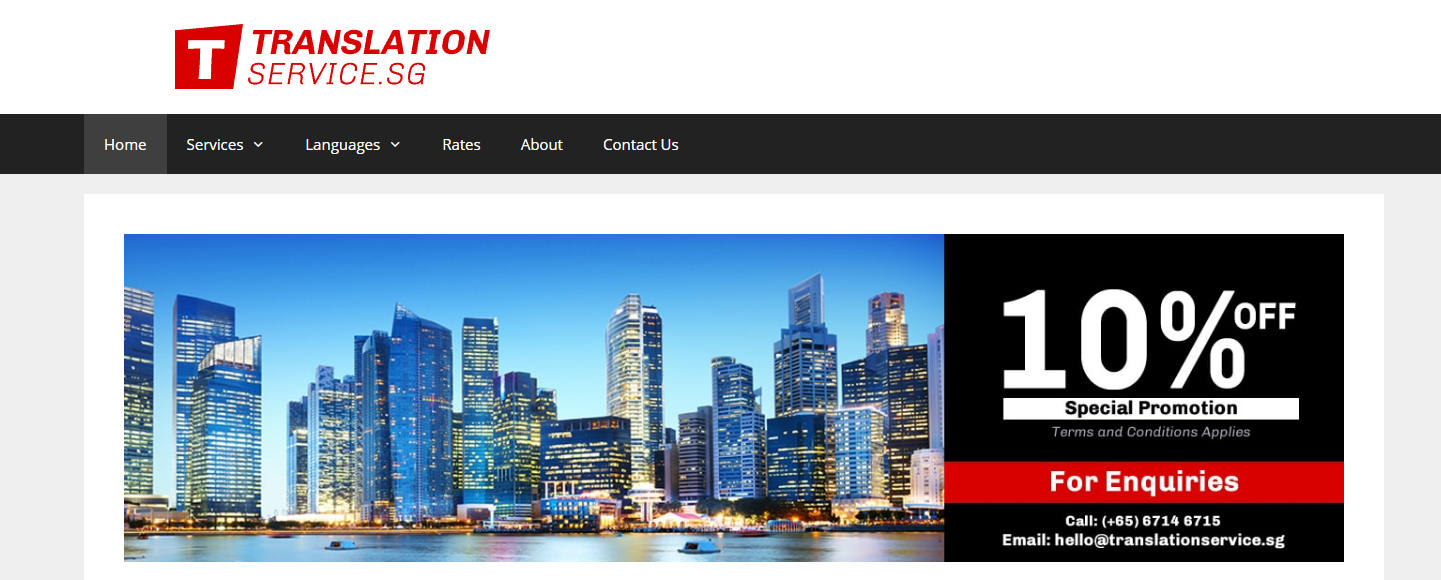 BEST FOR
Business and legal Translation Services
WEBSITE
https://www.translationservice.sg/
ADDRESS
10 Anson Road, Unit #27-15, International Plaza, Singapore 079903
CONTACT DETAILS
(65) 6714 6715
OPERATING HOURS
Monday to Sundays (9.00 a.m – 9.00 p.m)
Closed on Public Holidays.
Translation Services Singapore is a professional translation company that provides companies and individuals with quality document translations and language services. Their translators are certified professionals that are highly skilled in multilingual translation assignments.
They also offer other language/linguistic services such as transcription and proof reading. With a strong and experienced team of translators and project managers, no job is too small.
For individuals, they offer driving license, marriage certificates, divorce certificates, academic certificates and transcripts translation services. Document translation services that they offer includes translation of marriage certificates, academic transcripts, bank statements over 60 languages.
Highlights
Free quotation
Quick response
Proofreading and transcription
15. Singapore Notary Public Harry Sim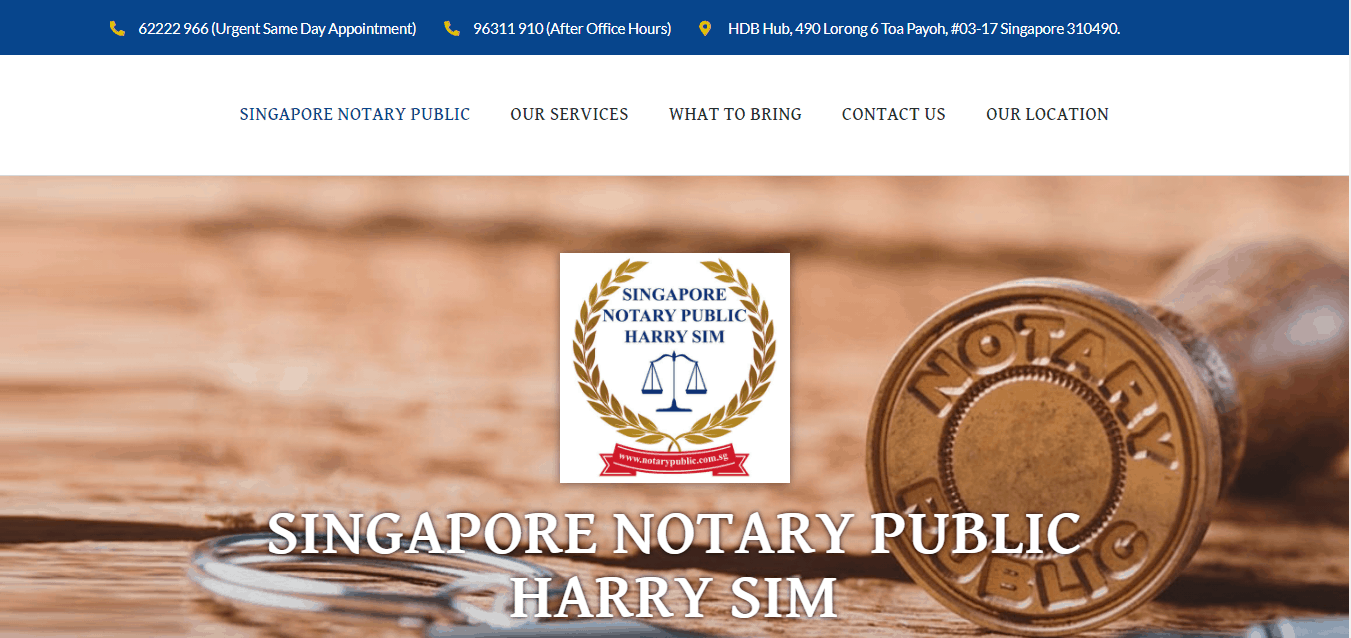 | | |
| --- | --- |
| EXPERTISE | Notary services |
| WEBSITE | |
| ADDRESS | 490 Lorong 6 Toa Payoh, #03-17, HDB Hub, Singapore 310490 |
| CONTACT DETAILS | +65 6222 2966 |
| OPERATING HOURS | Monday – Friday: 9:00 AM – 6:00 PM |
Harry Sim is a notary public who's authorized for witnessing signatures and documents, certifying true copies of documents, and verifying identities and photos. He is also a licensed Singapore Commissioner for Oaths as appointed by the Singapore Authorities.
What we like the most about Harry Sim's notary seals is that they are accepted overseas. So, if you need to authenticate, notarise, legalise, or certify any documents to be used abroad, then this notary public office should be where you should go.
But Harry Sim's services don't end after notarising documents. Before handing you back the documents, he and his associates also go to the Singapore Academy of Law (SAL) for authentication.
We find this service is especially helpful since the legal authorities in the country now require every notarized document to be authenticated by SAL. This legal office also goes out of its way by having special hotlines for the immediate response for same-day and after-hours requests.
Just make sure to bring everything you need for a smooth transaction with this office.
Highlights
Takes notarised documents to SAL

After-hours and same-day services available upon request

Notary seals recognised overseas
Customer Reviews
Here are some reviews to tell you more about what previous clients like the most about Singapore Notary Public Harry Sim:
"Received fast, efficient service for attestation of documents. Legal executive, Ms. Grace Tnay helped through the process and was smart and competent. The only suggestion I would make is to have a little more patience while answering queries. Notary Mr. Harry Sim was warm and helpful. The service is reasonably priced as well. I would recommend the place."—Remya Menon
"Very pleasant and friendly experiences obtaining Notary Public services from Mr Harry Sim and Joy. The charges are very reasonable and the service is great. They went the extra mile to rush it out for me and helped me scanned the document into soft copy. Impressed."—John Chua
16. Notary Singapore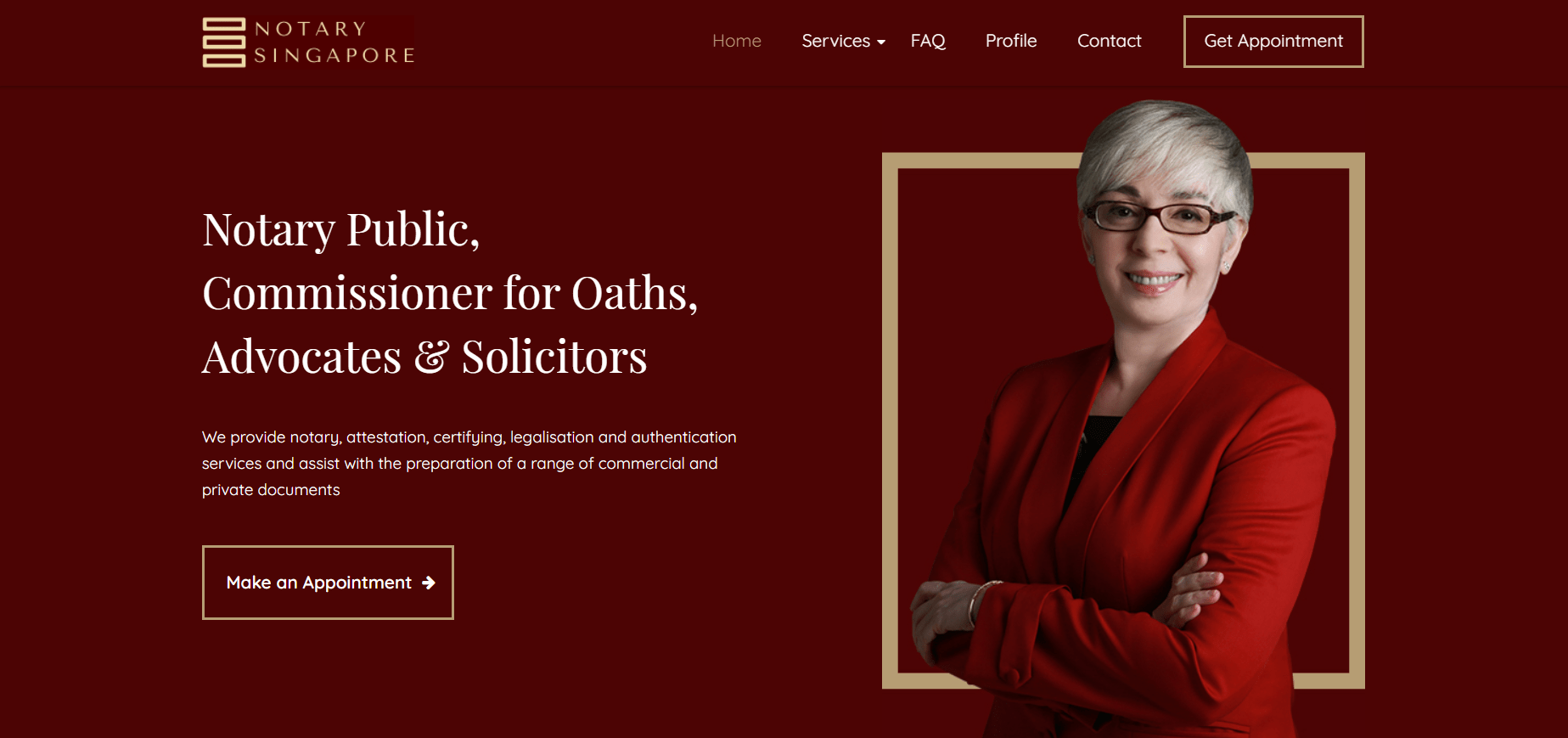 EXPERTISE

Commercial and Private Documents

WEBSITE

ADDRESS

51A Upper Weld Road
Singapore 207408

CONTACT DETAILS

+65 6392 3995
[email protected]

OPERATING HOURS

Contact company for more information
Notary Singapore provides an extensive range of services to their clients not only in Singapore, but also around the world. Their services include commissioner for oaths, legalisation, and notary public services for various legal documents.
They cater to individuals and businesses alike, providing them with notary public services for witnessing documents, attesting to original documents, issuing notarial certificates, and more. For businesses, they also draw up personal and commercial documents such as powers of attorney, authorisation letters, resolutions, trust deeds, and others.
Their team of legal professionals have a wide range of experience working with businesses belonging to various industries. Thanks to their expertise the notarisation process is almost immediate, ranging from 30-45 minutes.
Finally, these quality, professional services are available at reasonable rates, as prescribed by the Singapore Academy of Law. Given Notary Singapore's, prompt delivery, reasonable rates and knowledgeable team, it's no surprise that many turn to them for their legal and notary services.
Highlights
Full range of Notary Public services

Accommodates individuals and businesses
Short processing time
Serves clients worldwide
Finding the most reliable and trustworthy professionals might be a bit hard if you're overwhelmed with choices. That's why we've rounded up the best notary publics in Singapore that you can easily find.
If you're currently dealing with legal family issues such as properties, adoption, and divorce cases, let us know all about it and you might as well take a look at these best family lawyers in Singapore. They'll be able to give you practical solutions and help you decide on a fair agreement.