Top 18 Laptop Repair Shops in Singapore
Do you have a busted laptop that needs repair immediately? If so, it's time to ask for help from a trusted repair shop—because you don't want to entrust your beloved laptop to some amateur.
And to save you from the hassles of looking for a reliable option, we've scoured the island to give you the best laptop repair shops in Singapore based on success rates and service.
But before any of that, let's talk about rates first. We know cost is top of mind for a lot of our readers.
The Best Laptop Repair Shops in Singapore
If you're ready, let's proceed to our picks of the top shops for the best laptop repair services in Singapore! Note that this list is in no particular order.
1. Esmond Service Centre

When it comes to the repair and maintenance of gadgets and laptops, it's best to choose a centre that accommodates a wide range of models. In this regard, Esmond Service Centre makes an excellent choice.
Esmond Service Centre was established to fulfil one simple goal: To provide the people of Singapore with fast and affordable repair services. The service centre is made up of highly skilled repair professionals with over 10 years of experience offering repair services to consumers, ICT support teams, schools and businesses.
Unlike other repair centres, Esmond Service Centre is capable of working with various brands and models. Customers having trouble with Mac products, Windows products, and Surface products need not look further than Esmond Service Centre.
Moreover, Esmond Service Centre is also welcome to accepting repair requests for phones (both iOS and Android), iPads, Apple Watches, and tablets.
To top things off, Esmond Service Centre also offers the Sell My Device services, where customers can sell their old, functional gadgets for cash; as well as Engraving Services to make personal items and gifts even more special.
2. iDevice Repair Centre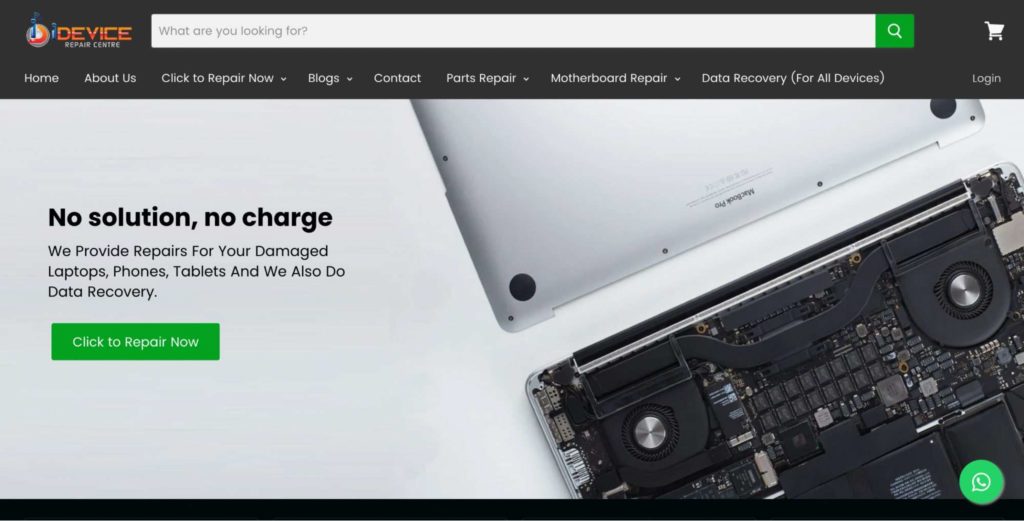 We had to include iDevice Repair Centre in this list for a couple of reasons.
As it's named iDevice Repair Centre, you can already guess that they specialise in fixing Apple devices, from Macbooks to iPhones. But just so you know, they can also repair Android phones and Windows laptops—truly, they're a one-stop shop for all your repair needs.
Perhaps the most important feature that we want to highlight is their quick turnaround time, which ranges from a few hours to a few days on average.
If you want to shop around for the lowest rates, this shop won't hold you back, thanks to their free diagnostics service for all devices.
What's more is that they offer a 90-day warranty for all repairs. This means that they'll fix your device for free should you encounter problems within the 90-day period.
We also love the fact that they're conveniently located near the City Hall MRT station. Just bear in mind that this central location may also mean that they have plenty of customers to accommodate, which may slow down turnaround times just a little bit.
Customer Reviews
Check out some reviews by clients who had their devices repaired with iDevice Repair Centre below:
"It has been my second trip down to this place for my 16inch MacBook 2017 repair. And same as the very first time I came by a very pleasing & happy experience. Came down at 11am just as the shop opened. Collection at around 3pm Replacement of my battery only. Provided free internal cleaning for the price too!" —Jayden Kong, Google Reviews
"I'm glad and lucky to find this shop and I can't stress enough how responsive and fast they resolved my laptop battery problem. I really recommend you visit iDevice Repair Centre for your device repair needs and not to mention how reasonable their service fees are." —Ruben Sabejon, Google Reviews
"I brought in my old iPhone 7 plus for a change of battery yesterday, as well as my iPad (3rd generation)- it can't be switched on and I strongly suspect it's a battery issue. The technician was quite confident about replacing the iPhone battery within 2 hours, but I opted to pick it up the next day. He was quite honest and told me the iPad would take more time. Anyway, I've collected the iPhone 7 and it's working well. The cost was $40, which is significantly cheaper than other outlets. I'm still waiting on the iPad 3rd generation, but I'm optimistic." —Wen Shen Looi, Google Reviews
3. Family Data Recovery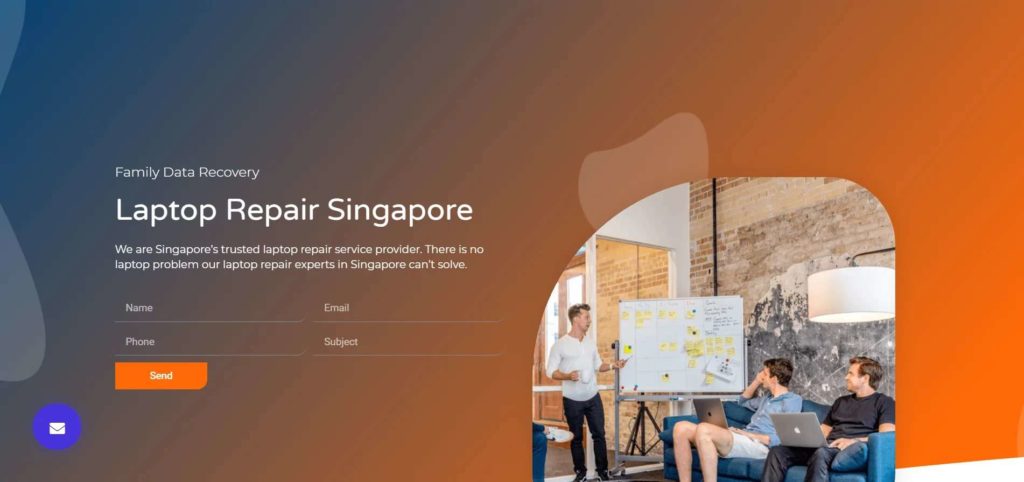 Lastly, we have Family Data Recovery—another one-stop shop that you can consider for all your laptop repair needs. From hardware repairs to water damage cleaning, you can entrust your beloved laptop to them no matter its issue.
Their team of laptop repair experts are experienced in repairing laptops of various models including Macbooks and Windows laptops like Lenovo, Asus, and much more. Data recovery is their forte though, so give them a call if this service is what you're looking for.
Besides repairing your laptop, they'll also make sure to explain your laptop's weak points so you can try to avoid issues in the future. Despite these, there are a few stumbling blocks we've seen with Family Data Recovery, though.
First, you'll have to contact them further for basic information such as operating hours and location. Moreover, there are no mentions of diagnostic fees, warranties, and pick-up services that most repair shops offer.
They don't charge clients when enquiring for quotes though, so be sure to clarify all these details prior to proceeding with their services.
4. Nascorps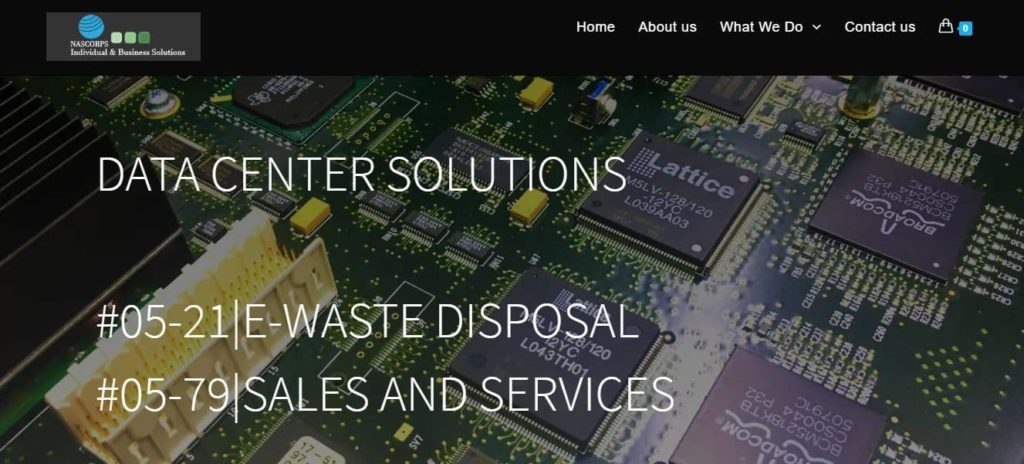 If your laptop needs a new battery, then you don't have to worry about the e-waste it generates with Nascorps. Beyond their repair services, e-waste recycling lies right in their company ethos.
They do all sorts of repair jobs for a variety of electronic devices, including laptops, printers, servers, and more.
All replaced parts will be recycled, with your permission, of course. So, if this is something important to you, then we recommend checking out Nascorps for that.
Alternatively, you have 2 options moving forward if you've decided on getting a new laptop instead.
First, their free e-waste disposal service will make sure that your busted laptop won't produce any e-waste. This service also comes with a complimentary data destruction process to keep your files from risks.
Because of this service, this makes them a popular choice among the banking and gaming development sectors. Take note that this service is only free for the first 5 disposals.
Next, you can also ask them to sell your laptop on your behalf without worrying about admin fees. This means that you can keep 100% of the profits!
We also like that they have a relatively fast turnaround time ranging from 4 to 6 days on average. But from what we've seen, they usually finish basic repairs within 24 hours or so.
Customer Reviews
Here's what some of their past customers said about their services:
"Great customer experience from Nazar to repair an issue with my laptop battery. He explained it very well to me. Also noticed how he takes time to coach his interns which impressed me. Will definitely visit him for trusted laptop repairs…" —D N, Google Reviews
"I had an issue with my keyboard that required replacement. The owner and the staffs of the Nascorps were responsive and really helpful in sorting out the replacement work at a reasonable price. I highly recommend this place for anyone requiring computer repair services or spare parts." —Rajesh Sapkota, Google Reviews
"The price and quality for the screen that they change for my laptop is good. Previously try to change at another shop the screen they fix is yellowish and damage my laptop hinge. But this shop the screen that they change for me is really legit and the color on screen looks good like original. Highly recommended" —Stanley Tan, Google Reviews
5. Fynd

If you don't have time to travel all the way to a laptop repair shop, then Fynd can bring the shop to you, no matter where you are in Singapore!
Whether you're struggling with slow performance or malware, they can help you solve any issue imaginable, regardless of your device.
Of course, data privacy is also a major concern that clients have when leaving their laptop in a shop. But since Fynd travels to your location, expect that repairs will be carried out in front of you—no need to worry about technicians snooping around your files!
One of our favourite things about them is that technicians almost work around the clock, which means they can fix your laptop during late hours until 10:00 pm. Furthermore, there aren't any call-out or transport fees as those are already included in the price quoted to you beforehand.
While repairs are usually finished within the hour, the only caveat is that availability of services will depend on the technician's schedule. Hence, it's possible that your technician will come at a later time than your initial request.
What's also worth mentioning is that Fynd also has handyman services available for call-outs. So, if you also need plumbing services apart from laptop repairs, then you can get both at the same time with Fynd.
Customer Reviews
Here's what some clients have to say about Fynd:
"The price is competitive and prompt service and follow up on the appointment is professional.
the total automated reply and follow up system is well maintained. I would like to recommend to few other friends' companies." —Kosuru Venki, Google Reviews
"Response to service appointment was very efficient and fuss free. There were also text alerts to keep me updated on progress of scheduling appointment, and of technician arriving. Technician arrived promptly and repair was fast. He is in and out within 10 min. Payment options were aplenty as well. All in all a very efficient and seamless experience. Highly recommended." —Norman Tan, Google Reviews
"Very efficient repair service right at your doorstep. Very affordable, genuine parts used for my iPhone. More people should know about this!" —Apple Lee, Google Reviews
6. Pronto Arigatou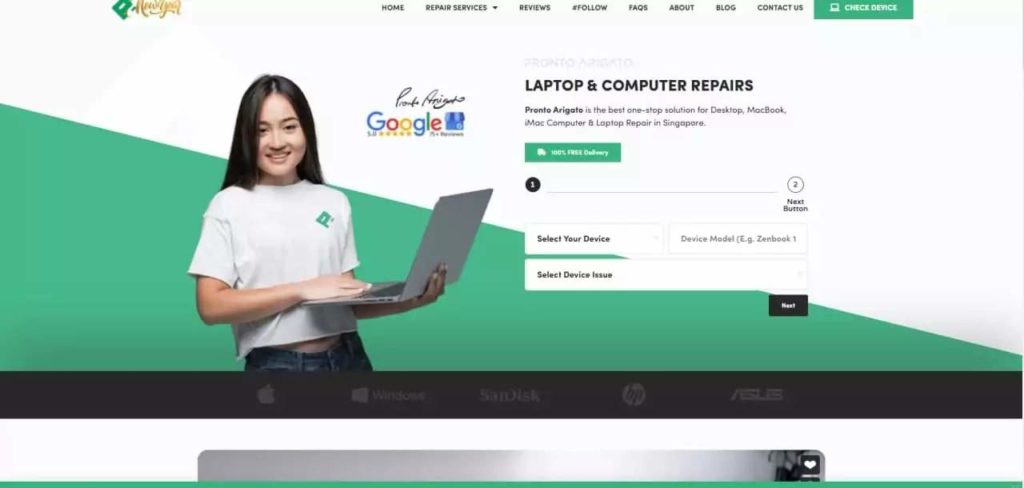 Pronto Arigato started as a humble home-based service provider focusing on Macbook repairs. Now, they've scaled up their business to handle repairs island-wide, thanks to their team of technicians who can travel to you regardless of your location!
They offer repair, maintenance, and upgrade services for Apple and Windows devices from the comfort of your home. Do take note though that they might need to take your device to their repair shop for severe issues.
But don't worry about pick-up and delivery costs, as those services are free of charge! Alternatively, you can also head down to their repair centre if you happen to be in the area.
We also like the fact that they don't charge customers a single cent unless the device has been repaired. Contrary to our other entries, they've laid out the estimates of their services on their website so you can avoid being overcharged.
Warranties are also in place but it would've been more helpful to know its coverage period. Still, we highly recommend Pronto Arigatou for those looking for a convenient laptop repair service!
Customer Reviews
Here's a glimpse of what some clients have to say about Pronto Arigatou:
"Came in on a Saturday afternoon to fix the Escape key on my laptop. Staff were really friendly and quick, and returned my laptop with the key perfectly fixed in less than 15 minutes, for no charge at all. Really appreciate this gesture. Thank you so much! @anyone, please head down for a visit if you need any device repairs." —Yuan Siang Ng, Google Reviews
"I want to thank Dean and Jo for their outstanding service at Pronto Arigato. I came to them to repair and upgrade my desktop because it is so old, and I have no idea when it comes to the compatibility of desktop parts that I bought but couldn't use. Thanks for being patient and answering all my technical questions to clear my doubts on gaming desktops. The best part is, they came to collect and then return for free. Waa! haha. Arigato!" —Hans Haidar, Google Reviews
7. Budget PC Upgrade & Repair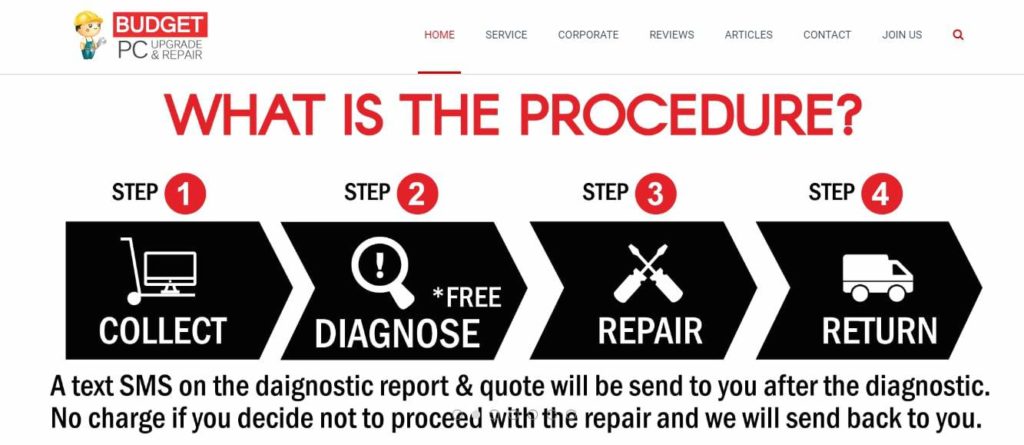 Budget PC Upgrade & Repair is proving to be one of the most reliable laptop repair shops in Singapore for a couple of reasons. What caught our eye with this shop is their flexibility in accommodating customers regardless of location.
You can arrange for an onsite repair or their free pick-up and delivery service no matter where you are on the island. But if you happen to be always on the move, you also have the option to drop by any of their 4 repair centres scattered across Singapore.
Take note that their shops are closed on Wednesdays and public holidays, which also means that there won't be any pick-ups or deliveries on those days.
We also like the idea that they offer free diagnostic services prior to proceeding with repairs. This free service only applies to out-of-warranty laptops and PCs though, in which case a diagnostic fee will apply for devices under local warranty.
Unless you've arranged for a pick-up, you can also get a quote through WhatsApp if you're just shopping around.
While most laptop repair shops also have phone repair services, you won't find that here, which may be an inconvenience for those who intend to have multiple devices fixed at the same time. Still, they're one of the best shops around, so go ahead and give them a call!
Customer Reviews
Here's what some clients have to say about their services:
"Had been going to them several times , an excellent team with amazing service and professionalism. They are most willing to serve from the point of customer's interest. No hard sell, no hard push, no gimmicks, they diagnose and advises the solution, and leave it to customer to decide if they would like to proceed. Best part is, they honor the warranty and you can always go back to them with trust. Excellent company with highest integrity and professionalism. For those who have not try them before, forget about Sim Lim, go to Budget PC for your needs, you will never regret." —Sh How, Google Reviews
"This was my second time using the service of Budget PC Upgrade & Repair. Their service was excellent, professional and timely. Their proposed solution was based on the best interest of customers as well. In addition, the free collection and delivery service provided offers customers with much needed convenience, especially for bulky devices. The various contactless payment options also gives added flexibility to customers who prefer to go cashless. I would definitely recommend Budget PC Upgrade & Repair to anyone who needs to get their IT devices fixed professionally and at a reasonable cost. Thank you!" —KS Lee, Google Reviews
8. Lynx IT Services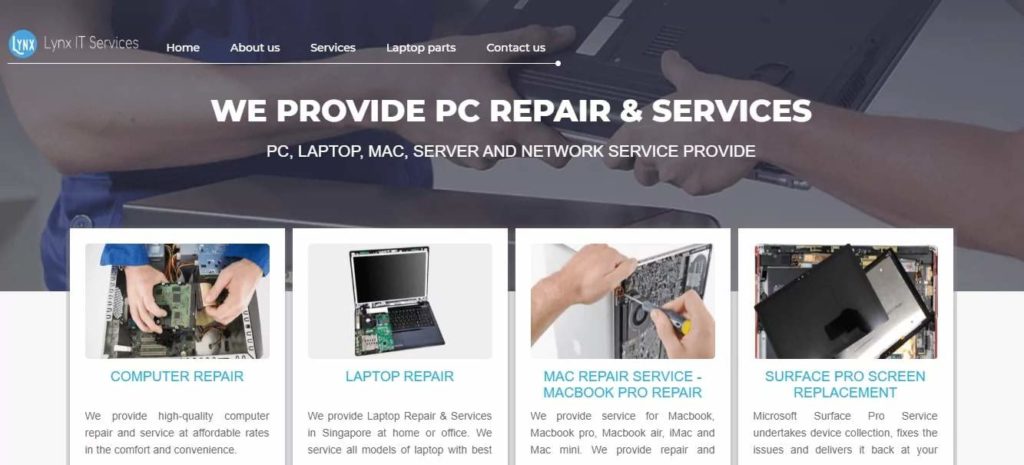 As a full-range PC repair shop, including Lynx IT Services on our list is a no-brainer, and here are some of the reasons why.
With fixed repair fees in place, you don't have to worry about shelling out quite a sum regardless of the time it takes to repair your laptop. Not to mention that they also operate on a "no fix, no fee policy," which guarantees that you won't pay anything if they fail to repair your laptop.
What sets them apart from other repair shops is that they also offer a free 30-day remote support service from the day they repaired your laptop in case there will be issues.
You can also drop by their service centre so they can take a closer look at your device and determine what needs to be repaired—no charges at all.
But despite them mostly operating in-store, one of the things we like about them is that they also have an emergency doorstep repair service, which means that they can swing by your house for computer repairs, even on Sundays and public holidays!
It would've been helpful if fixed rates and call-out fees were readily available on their website though. Still, you can give them a call to know more about their prices.
Customer Reviews
Take a look at what some of Lynx IT Services' previous customers said about their services:
"They were so fast and amazing :') My laptop couldn't turn on for about 2 weeks, I brought it here for a diagnostics and within 30min, they called me to say my laptop was able to run again and that I could collect it. And they didn't charge me a single cent for the diagnostics, it was totally free. Super kind and honest of them. I really appreciate it, thank you guys so much!!!" —Christel, Google Reviews
"My desktop had a power issue and refuses to start up. Lynx ensured that it is something that they could fixed and kept their word. They were really quick to respond to my queries before and during the repair process. They also ensured that there were clear communication between both parties before starting the fix and explained the costs of the job. Overall I am really satisfied with the job done!" —Clement Teo, Google Reviews
9. RM Computer Services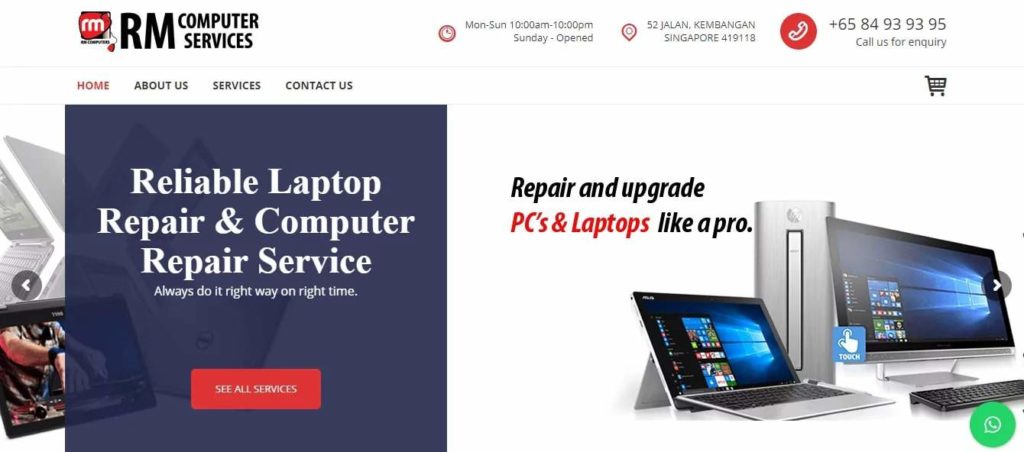 If you live around Kembangan, there's no need to head over to the CBD to have your laptop repaired when you have RM Computer Services around the corner. From Macbooks to HP laptops, RM Computer Services' track record in fixing over a thousand laptops truly speaks for itself.
Their non-central location may not be ideal for some but for those around the area, this means that repairs have a fast turnaround rate. Furthermore, they also have a "no fix, no fee" policy in place, so rest assured that they'll do everything they can to repair your device.
They're one of the few shops on our list to have business hours extending to as late as 10:00 pm, including Sundays. This makes it one of the best shops to accommodate clients after work.
And while you can pick up your device at their service centre, you can also request their pick-up and delivery service for an extra cost. We highly recommend paying their shop a visit though, as they can diagnose your laptop's issues for free.
Customer Reviews
Here are some reviews for them:
"I was worried that there was no computer shop willing to fix my issue since my laptop quite literally broke into three pieces (pics below). But Rizvi at RM Computer Services managed to put it back together! And super fast too! I was expecting it to be a week or so but it only took a few days. I found the price quite reasonable as well since he basically had to assemble my computer again, and even replaced screws as they were missing! Super satisfied with this experience and I look forward to recommending them to others as well! Thank you!" —Zhi Lin Ooi, Google Reviews
"Just changed my Acer keyboard. The communication from the start to quotation through WhatsApp was prompt. Must commend Riswan who did an excellent job changing my keyboard. He checked, ordered and install a new original keyboard all in 3 hours, including delivery. Will return." —Alvin Koh, Google Reviews
10. The Digital Mage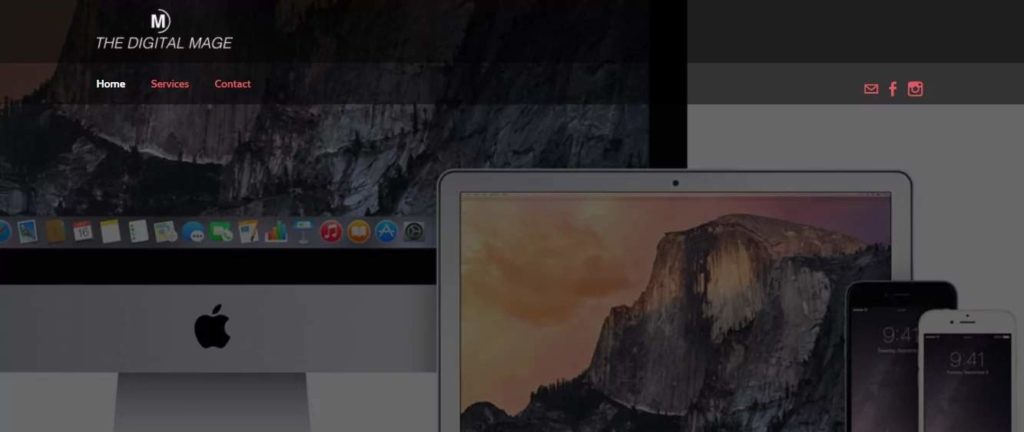 The Digital Mage takes pride in the fact that they love and use gadgets, just like you! With this in mind, you can rest easy knowing that your laptops and gadgets are in safe hands.
Windows laptops, Macbooks, tablets, and even phones—there's no shortage of devices they can repair. What's worth noting though is that this shop offers one of the longest warranties on our list with a 6-month coverage for all replaced parts and repairs.
Regardless of how badly your device is damaged, you'll get the same length of warranty coverage. So, if this is something you care about, The Digital Mage might be your best option.
Furthermore, they also provide trade-in services in case you're planning to get a new device. Alternatively, they also have a selection of secondhand devices including Macs, Windows laptops, and smartphones.
While their service centre at Northstar may be a bit of a challenge to locate, you can request their pick-up and delivery services for free. Don't worry about diagnostics as those have no costs, too.
Customer Reviews
Here's a glimpse of what clients said about their services:
"Really glad to engage Digital Mage for repairing my 13″ MacBook Pro! Send my laptop on Monday, get it back on Wednesday before 12pm. Very efficient! Mike is friendly and offers good suggestions on the repair diagnostic. No judgement when I opt for a more economic choice…Hahaha. Feel very comfortable engaging the service. Just like your good pal helping you with gadgets issue! Very happy with the end product and will definitely engage again in future. Highly recommended!!" —Stevez Chua, Google Reviews
"My 7 year old MacAir suffered a water damage and was unable to be switched on without the charger. (left unused for almost 2 years because it became so slow and impossible to function).
But thanks to Mike and his team, it has just been repaired at an affordable rate that comes with warranty!!! They also replaced my keyboard and battery; and upgraded it to the latest ios. The whole process was Hassle free as they offered pickup and delivery right at my doorstep.
Special shout-out to Magic Mike who is so friendly and responsive to all my questions via WhatsApp!" —Bernice Lau, Facebook
11. Tekkie Help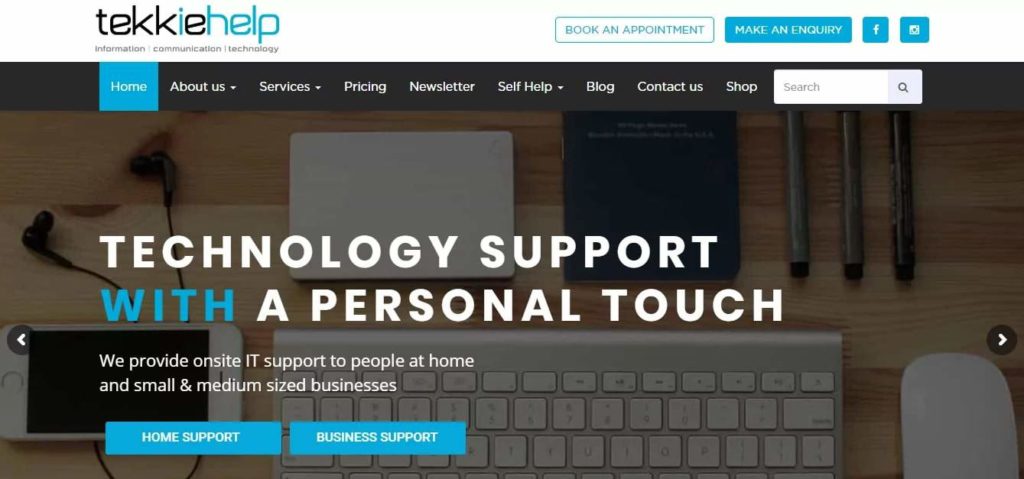 If you find yourself needing a bit of assistance with tech-related issues at home beyond your laptop or PC, Tekkie Help can lend a hand! From laptop and PC repairs to home entertainment troubleshooting, you'll find all these services and more at Tekkie Help.
It's precisely their wide range of IT-related services that earned them a spot on our list, and it's why we think they make a great choice for small- and medium-sized businesses. Apart from laptop repairs, customers generally recommend them for their efficient WiFi repair service.
Contrary to most computer repair shops, Tekkie Help charges per hour, and they're not exactly the most affordable ones out there. On top of that, they also charge a diagnostic fee for computer repairs if you don't wish to proceed with their services.
And because they provide on-site services anywhere in Singapore, there's also a hefty call-out fee of $95 on top of actual repair costs. They can cater to after-hour and Sunday call outs for emergency repairs, though—for an extra fee, of course.
While these charges alone may put them at a disadvantage, we appreciate that their pricing structure is clear and transparent from the get-go.
Still, costs are compensated by their efficiency and professionalism while on the job, which is exactly why customers rave about them, too.
Customer Reviews
Take a look at some reviews about Tekkie Help's services:
"Really friendly business and addressed all my concerns in a time and efficient manner. They backed up my iMac at the first sign of it corrupting, gave me reasonable estimates for work they perceived needed to be done, was able to flexible on timeline of payment, and most importantly didn't oversell and gave me trustworthy advice. Their workshops are very informative and address users of all abilities. I found the Photo Duplicates workshop to be the most informative. Bo even followed up with a free hour once I reached out with a unique problem with my Photos library. Thanks Bo and Sarah. Highly recommend this place." —Lu-min Chew, Google Reviews
"I have been using Tekkie Help for several years now, and they are my 'go to' team anytime I have a computer glitch that I can't fix. So far, their success rate with me is 100% and again, they have solved my issue on the first visit. It gives me great peace of mind knowing that they are there and that they can just about fix anything!" —Naras Lapsys, Google Reviews
12. Come to Repair

Come to Repair invites everyone to literally come by for a repair, as they can deal with all sorts of problems regardless of your device. If you're looking to shop around for the lowest costs first, you can have your device diagnosed for free.
Similar to plenty of repair shops nowadays, they have a "no fix, no fee" procedure in place, so you don't have to worry about paying a penny should they fail to give you a solution.
They're also Apple-certified professionals, which also means that they provide only genuine or premium-grade parts for replacement jobs. We also can't help but mention that they're quite quick in carrying out repairs, too, as they operate on a first-come-first-served basis.
Hence, we recommend coming in early so you can have your device back within a couple of hours to a day or two, depending on your laptop's problem.
Another thing worth noting about this shop is that they're highly accessible, even for those with the busiest of schedules. Come to Repair is open seven days a week, from 11 in the morning to 8 in the evening, giving clients ample time to get their devices checked out.
Customer Reviews
Check out some reviews by Come to Repair's former clients below:
"The hinge of my laptop screen came undone and after getting a few quotations, Come To Repair was the best one compared to the other repair shops. The technician was friendly and professional. I left my laptop at the shop's premises and got it back within a couple of hours. The repair work was well done and the issue was fixed. The price wasn't the lowest but it was reasonable given the fast turnaround to fix it. Recommended if you have laptop repair issues." —S Ho, Google Reviews
"Had one of the best experiences, the technician was able to diagnose my problem immediately and revert within 24hrs. The technician was also able to provide me with some alternatives and recommendations, which I really appreciate – not just forcing the fix and the price like some other shops. Very responsive during chat as well." —Antonius Howard, Google Reviews
13. M3 Digital Hub
M3 Digital Hub promises that your laptops and gadgets are in good hands, as they only employ technicians who have at least 3 years of experience. While they mostly specialise in Macbook and iPhone repairs, they also service Windows laptops and Samsung phones.
Conveniently located within City Square Mall, they also make sure to adhere to the mall's commitment to environmental sustainability by recycling electronic waste properly. So if this is something that concerns you, then we highly recommend checking them out.
What's more is that you can have your device checked and diagnosed for free. And should you decide to move forward, you can even watch the whole repair process at their shop—no need to worry about them opening your files!
While you can conveniently book for their free diagnostic service online, the only drawback is that the portal is only limited on weekdays. Hence, you'll have to give them a call first if you intend on coming by on a weekend.
Apart from their long business hours, we also like the fact that they're one of the few repair shops that are open on public holidays. With a reliable 60-day warranty service for all repairs, there's no doubt why they've earned return customers.
And as an added tip, we've heard that they also offer discounts for referrals. This flexible, no-frills approach to laptop repairs is why we like them, and we hope you will, too!
Customer Reviews
Some comments about M3 Digital Hub are as follows:
"Splendid experience! Highly recommended for excellent service and no hidden charging for their services! We tried this shop and had a very good impression from start to finish. Trust was established from the start, which I say, is a component. After reviewing our techs, the problems were presented with remarkable solutions (will be repaired in front of you) then comes their fare charging (i would say). So overall, we are satisfied customers and our gadgets were fixed by the way and that's the most important thing why we went there. Thank you M3 digital hub and more power to your shop!" —France Bergundo, Google Reviews
"I had a laptop hinge problem that had been worrying me for a few months because some repair shops mentioned that I would need to change the entire housing. I asked around a few places and decided to try M3. Mr Kong was immediately responsive on Whatsapp and very clear in the diagnostic. When I went down to the store, he honoured the price quoted and was clear about what the problem was. He walked me through what he would be doing for the repair, and I felt that it was an extremely transparent process. He has high standards for his work and it shows, because my laptop is as good as new now! What's most impressive is his professionalism. Some laptop repair companies will have hidden costs or try to sell you add-ons you don't need or dismiss your issue. Not this store. Mr Kong will listen to your needs and advise you on what you could do to save money. He is also responsible, the turnaround time is fast, and the entire process was simply enjoyable. Definitely my first choice for future laptop issues. 谢谢你小孔,我一定会介绍朋友来这里修电脑!" —Jamie Reader, Google Reviews

14. TRIT Computer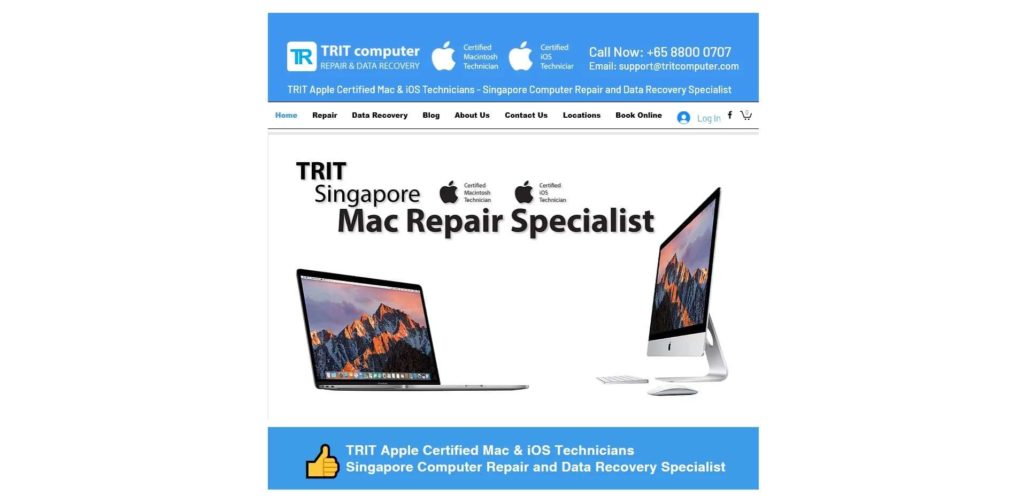 If you have a Macbook or iMac that needs repairing, you can add TRIT Computer to your radar. As they're Apple-certified technicians, it may not surprise you that they can also repair other Apple products, including iPhones and iPads.
Despite this, they're pretty adept at fixing Windows laptops too. From cracked display screens to motherboard damage, rest assured that they can repair whatever issue plagues your laptop.
We like the fact that they have a couple of branches scattered in the northern and eastern parts of the island, from Tampines to Ang Mo Kio. Perhaps the only downside to this is that most branches are closed on Tuesdays, with the exception of the Ang Mo Kio service centre.
While they offer repair warranties, note that coverage varies per repair or part replacement, so you'll have to ask them for more information about your chosen service.
From what we've seen, they do have a quick turnaround time for repairs that are consistent in all branches. They also offer remote services in case you only need someone to walk you through a minor issue.
Customer Reviews
Here are some comments written by clients who used TRIT Computer's services:
"Approached them for help to replace my $5K laptop faulty keyboard. My laptop is a rare high spec gaming laptop. My laptop parts is very rare. They had to order and ship from overseas. They kept in touch with me throughout the entire process, from ordering of parts till it arrived.
They managed to replace my keyboard within a day, in fact it only took them 4 hours. Will surely return to them in future for any laptop issues." —Quincey, Google Reviews
"Great service! Dropped my Acer laptop and damaged, called them and check with them if they are able to help to repair. Been told that had to bring down for them to check as my laptop there's nothing display on the screen. Got their quote on the same day and fix my laptop on the next day. Price are reasonable. They even help to clean my laptop. My laptop is as good as new now. Highly recommended!" —Melvin Tan, Google Reviews
15. Star Shield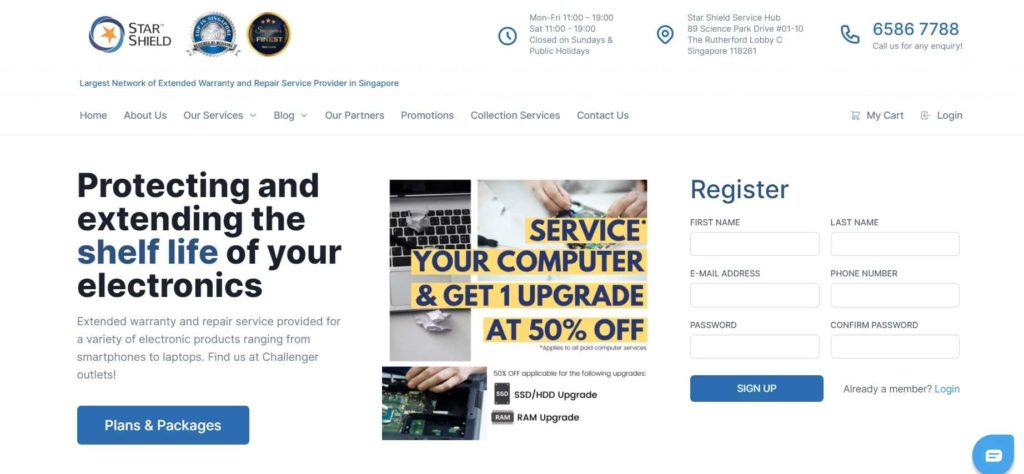 Star Shield provides an extensive range of repair and upgrade services for desktops, laptops, smartphones, and tablets.
While they provide 90 to 180-day guarantees for all repairs, what makes them unique in our book is that they offer extended warranty plans that cover many services.
Depending on your needs, you have the option to choose between 2 tiers. What's common among these plans is that they include basic services including part replacements, cleaning, and remote technical support, among many others.
So if you want an extra layer of protection that saves you costs in the long run, then we highly recommend getting their extended warranty plan as an option.
Otherwise, you can visit any of their 10 shops scattered across the island for one-time repair services. Alternatively, they also have an island-wide pick-up service and drop-off collection at selected Challenger stores around Singapore, both of which have their own corresponding transportation fees.
Still, this broad network and pick-up flexibility is one of the reasons we had to recommend them. While their main service centre is open through Saturdays, make sure to avoid going to any of their stores on Tuesdays as they're closed.
Customer Reviews
Take a look at what some clients have to say about their services:
"I am very pleased with the service received at Star Shield warranty service centre at Nex branch. The staff Eric was very attentive and patient in attending to my laptop that I had sent in for repair. I told him that it was very urgent as I needed it for school and he helped expedite the repair process as quick as possible and I managed to get it back within 3 days. I am grateful for his professionalism and dedication. Highly recommended!" —Stacy Lee, Google Reviews
"I would like to recommend and commend on technician Eric from Nex branch for the quality service he provided me. My screen blackout and he was very nice to connect to his desktop to extract the important information as I have to submit my assignment within the week. He even give me good advice on how to take better care to my laptop and even when the extra mile for me." —Alvin Bay, Google Reviews
16. Mac.Infinity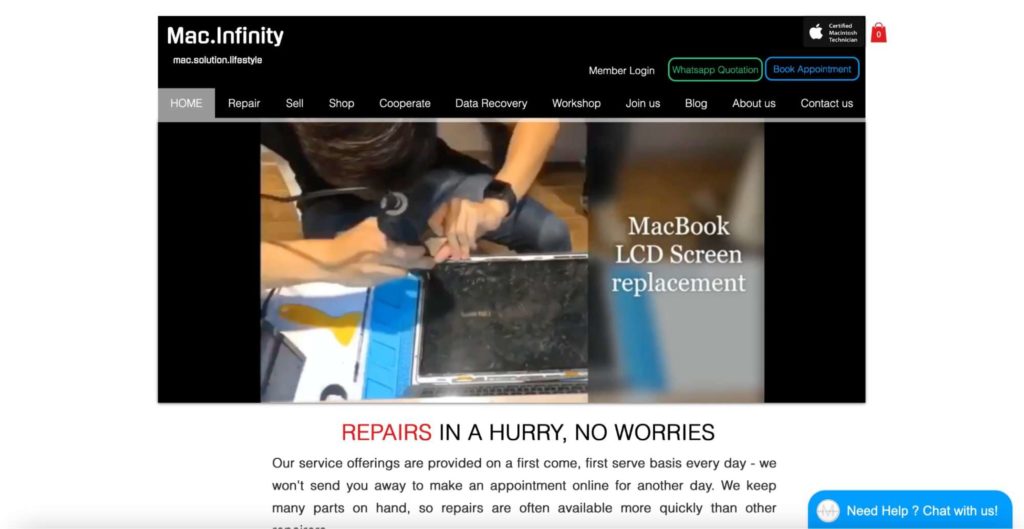 Mac.Infinity is another Apple-certified store that has over 10 years of repair experience handling Macbooks, iWatches, iPhones, and others.
While they can repair Surface Pro devices, do note that they don't accommodate other Windows laptops at all. Hence, feel free to skip this one entirely if that's what you're looking for.
You can get a glimpse of estimated repair costs on their website, as well as an exact quote through WhatsApp. Unique to Mac.Infinity is that they offer student discounts as well, which are very useful considering that Macbook repairs don't come cheap.
You also have the option to choose between 2 branches, both of which are conveniently located inside malls. They're also open on Sundays and public holidays, so keep them in mind the next time you need a repair during those days.
Customer Reviews
Check out some past reviews here:
"Visited the Millenia Walk outlet this afternoon to replace the battery on my MacBook pro. Wei Seng was extremely helpful and professional in helping with the diagnostic and replacement. The charges are also reasonable. I was so impressed with his services that I ended up replacing the worn out battery on my iPhone too. Highly recommended!" —Angeline Hwa, Google Reviews
"Brought in a MacBook Air to fix as it could not start. The Mac.Infinity support staff Jian Guo was very professional and took me through my options on what to do. He also helped to prioritize the fixing of my motherboard and I was able to collect the fixed product the next day. Great service and would recommend anyone with laptop or phone issues to bring to this shop to take a look. Thank you." —HW Tan, Google Reviews

17. Mister Mobile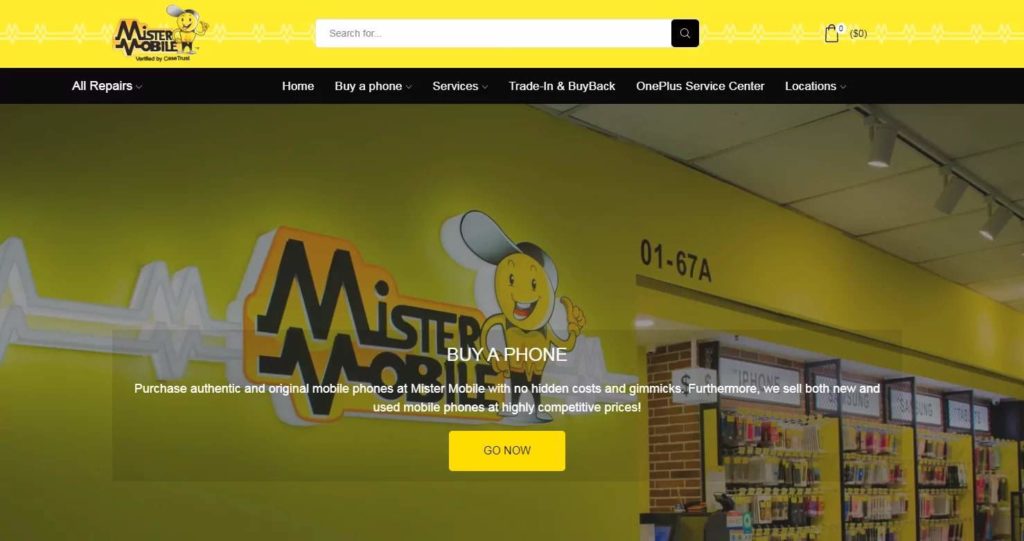 Now, Mister Mobile may be a phone repair shop at first glance, but they provide certain repair services for Macbooks and Surface Pro devices.
Do note that Macbook repairs are only limited to battery replacements. On the other hand, they're more flexible with Surface Pro repairs, which include LCD, charging port, and battery replacements.
While this limitation is clearly a major downside for some, they do offer one of the cheapest rates around specifically for these services. They also have a quick average turnaround time of 3 to 4 hours.
Of course, another huge drawback here is that they don't cover other Windows laptops such as Toshiba, HP, and many others. Hence, you might want to head over to other stores instead if you have any Windows laptop that isn't a Surface Pro device.
But for Macbook and Surface Pro users whom Mister Mobile can accommodate, you'll be glad to know that there are multiple branches across the island, all of which are open until 9PM on Sundays and public holidays.
Customer Reviews
Sample comments about their services include the following:
"Great communication, easy to book and plan. Competitive and transparent prices and timely repair (60 or 90 minutes). They screen replacement has a problem and within warranty they replace the screen and fix the issue." —Giacomo Bottone, Google Reviews
"Despite having ordered for an LCD repair job the night before, their fast service and response time was great. Furthermore they were able to give an estimated time needed for repair to be done after making an appointment. On the day of repair, my phone was repaired by Kenny, who was professional and attentive to detail. There are no hidden fees or additional charges to be paid. Highly recommend Mister Mobile for phone repairs." —Daryl Tay, Google Reviews
18. LYK Repair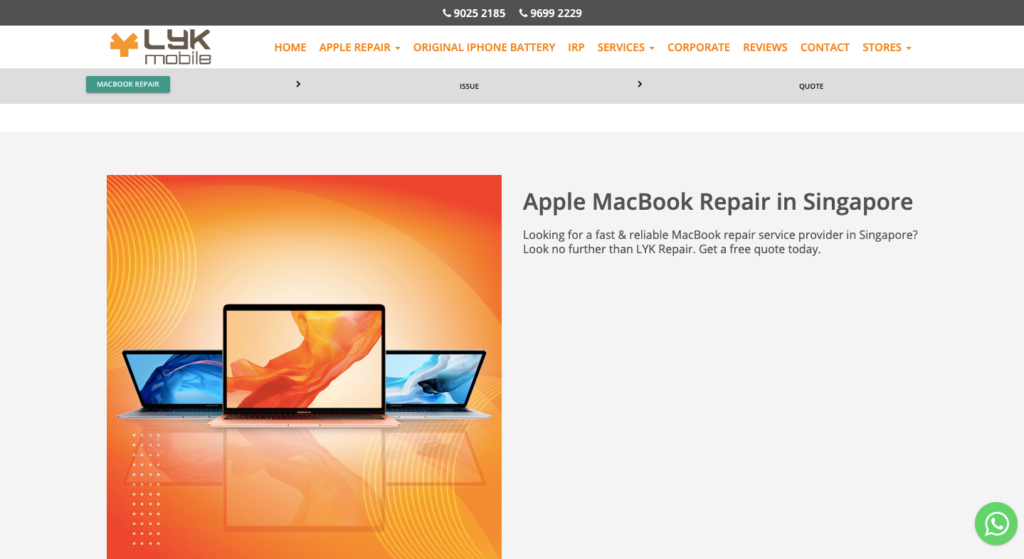 LYK Repair has been providing doorstep iPhone, Ipad, Macbook repair high-quality device repairs in Singapore.
It is impressive that they have employed dedicated technicians that will be able to fix your mobile device at your home or office at a time that is convenient for you, from cracked screen repairs and battery replacements to motherboard replacements and water damage repairs.
We are impressed as they see to it that they always prioritize their clients' needs and value honesty and transparency in their work. With their specialists working around the clock, you can be confident that your devices will be repaired quickly, no matter where you are.
FAQs about Laptop Repair Shops in Singapore
---
And that concludes our list of the best laptop repair shops in Singapore! Just give these shops a call, and they'll fix your devices in no time!
If you think we missed an excellent shop that isn't on our list, feel free to send us an email and we'll look right into it!
Now, if your laptop is a lost cause, then getting a new one might save you from further repair costs. To help you out with that, you can check out our list of the best laptops in Singapore under $2,000.