The 7 Best Door Repair in Singapore
Have you already tried some DIY solutions to fix your broken door but still can't fix it? If so, then you might need to look for a service provider that offers the best door repair in Singapore!
Most importantly, for the commercial spaces, business owners must immediately call for an expert because a broken door can cause interruption to operations. Besides, whether for a commercial or private property, a broken door is a hassle as well as a security flaw!
To save you from long hours of searching for the right repairman to call, here's our list of the most reliable shops that provide the best door repair in Singapore! We've found you experienced experts, responsive services, and affordable charges.
Note that some of the companies in this list are also known for doing the best glass door repair in Singapore. We've noticed that many of the people asking us for recommendations on door repairmen tend to have glass doors, so we made sure to find the top options for that here!
1.

Renovation Contractor Singapore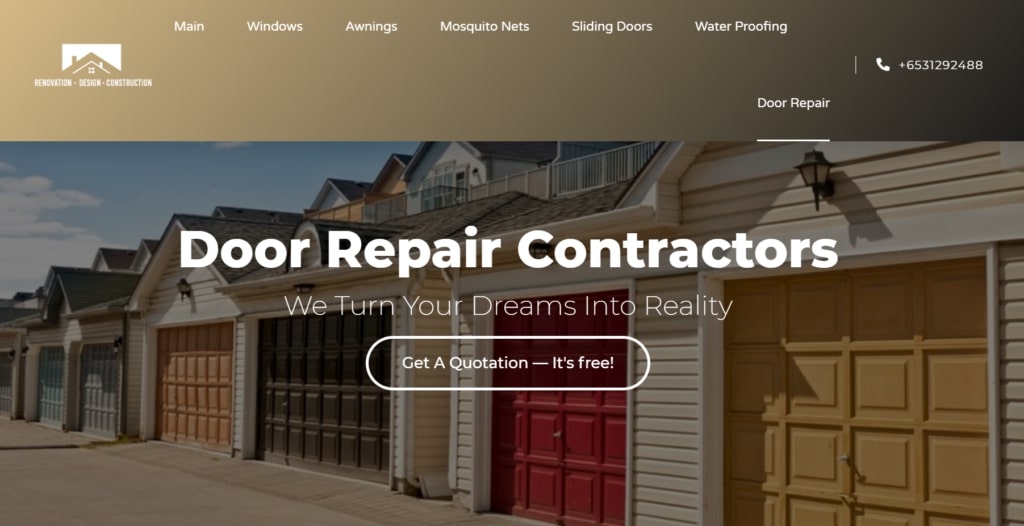 At Renovation Contractor Singapore, they turn your design dreams into reality. They are a full-service contractor and interior designer, dedicated to providing exceptional hands-on customer service as well as excellent after-sales support.
Their team of skilled and dedicated professionals understands that each clients' needs and preferences are different, which is why they make sure to listen to you attentively. This is to ensure that each project is done to your liking.
Trust that your interior space is in good hands. Your dream place starts here. Let Renovation Contractor Singapore turn your home into a fairy tale.
Highlights
Free quotation
Team of experts
Has completed various projects over the years
2. Singapore Door Repair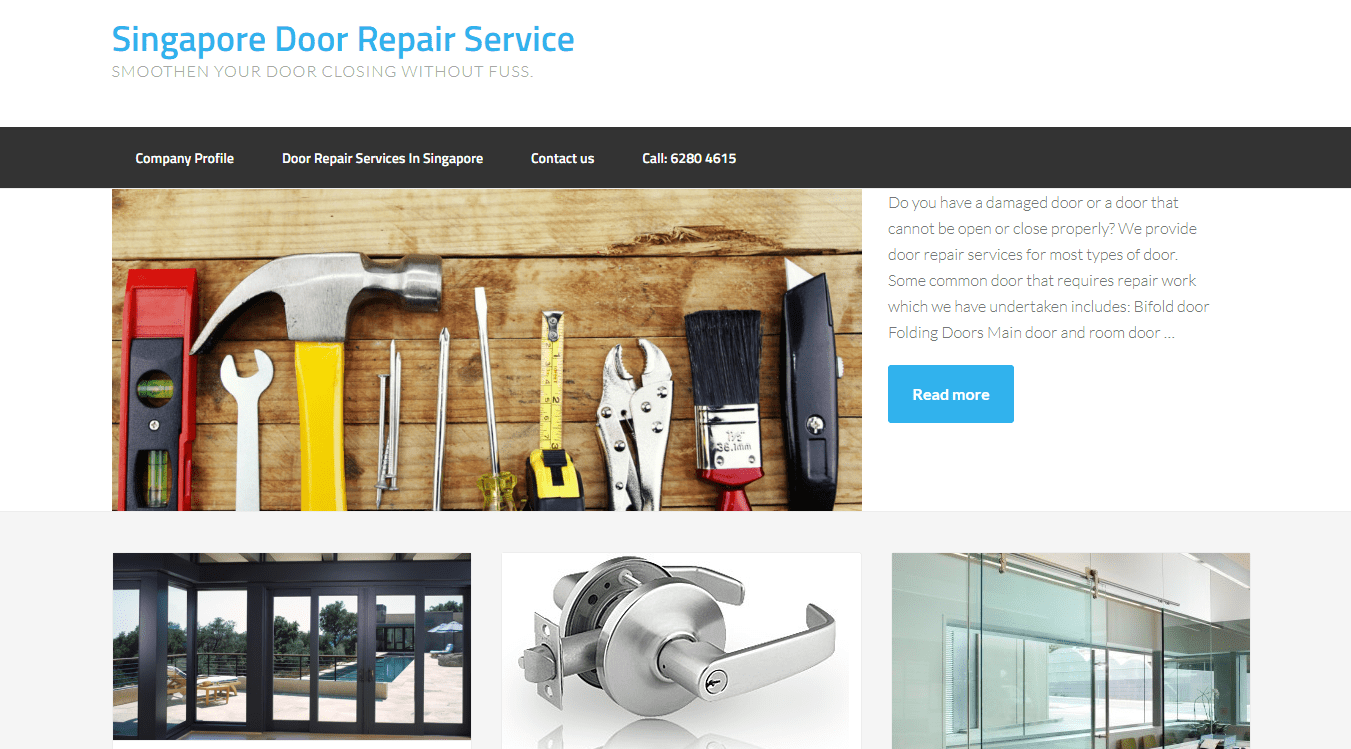 | | |
| --- | --- |
| BEST FOR | Repair services for all door types |
| WEBSITE | https://www.singaporedoorrepair.com/ |
| ADDRESS | 126 Joo Seng Road Gold Pine Industrial. |
| CONTACT DETAILS | 6432 8299 |
| OPERATING HOURS | Daily, 8am–8pm |
Singapore Door Repair provides a competent range of door repair services where they cover most door types such as sliding doors, swing glass doors, folding doors, and more. They also do some of the absolute best glass door repair in Singapore — we've seen it!
They mostly solve alignment issues, door lock problems, damaged door frames, and more. No matter the issue, they work fast and they fix well. That's why they have the best door repair services in Singapore.
Highlights
Automatic door repair
Sliding door repair services
Door lock repair and replacement
Customer Reviews
Singapore Door Repair has gained positive feedback from customers saying that they were impressed with the responsive services and solutions. A customer posted this review:
"We needed a new front door and Singapore Door Repair was easy to schedule, on time, and had the tools and equipment to solve our door problems. Our technician today was Chen and he knew exactly what he was doing, he was very polite and helpful, and gave a great tutorial on its maintenance. We were overall very impressed with their service and would absolutely recommend them if you're in the market for a door replacement or repair."
3. Fixwerkz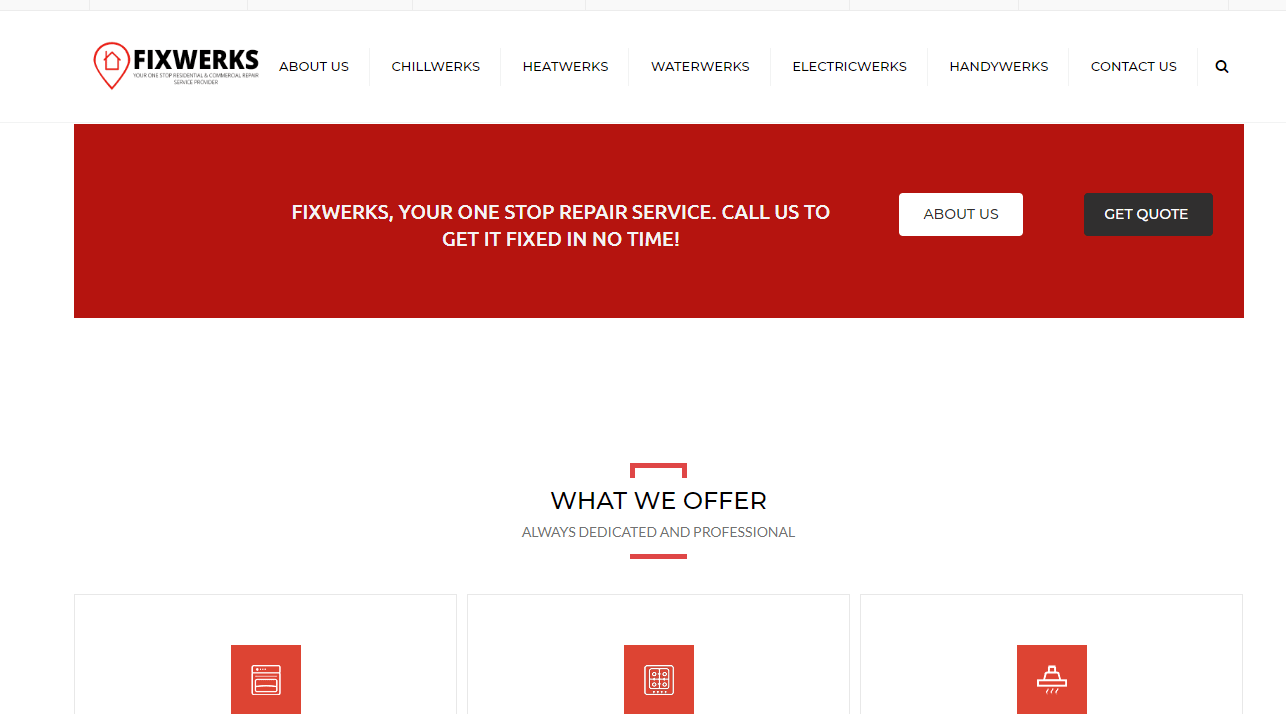 BEST FOR
Full range of repair services
WEBSITE
https://www.fixwerks.com/
ADDRESS
7030 Ang Mo Kio Avenue 5, Northstar, #08-51, Singapore 569880
CONTACT DETAILS
+65 67658890
OPERATING HOURS
Monday – Friday 9am to 5.30pm

Saturday 9am to 12.30pm
Fixwerkz offers a whole range of repair services such as plumbing, electrical and handyman services. This includes their best door repair in Singapore: you can have your cabinet door and toilet cabinet doors fixed with brand-new replacements.
They offer their services for residential, corporate, and commercial spaces. Aside from this, they also offer wall-mounting installation in case you need to put up some shelves, curtain racks, and other fixtures.
And yes, because they do so much work for commercial clients, they also provide some of the best glass door repair in Singapore. Whether your establishment's door is one of the sliding ones or a tall hinged glass pane, they should be able to fix it.
Highlights
Cabinet door repair and replacement services
Residential and commercial spaces
Customer Reviews
Many customers have recommended the services of Fixwerkz because of the knowledgeable technicians, excellent solutions, and transparent costs.
A customer shared this experience:
"Very satisfied with my experience with Fixwerks I would like to commend Cavan for his skill in fixing my wardrobe doors, as well as his knowledge and good humour when we discovered that the "big" ignition and boom problem with my stove hob was actually incorrect placement of the hob rings (oops!) I would also like to commend the company for its fair pricing. They only charged for the transport fee as the work was deemed to be minor. I found this to be honest and fair."
4. Fire Rated Door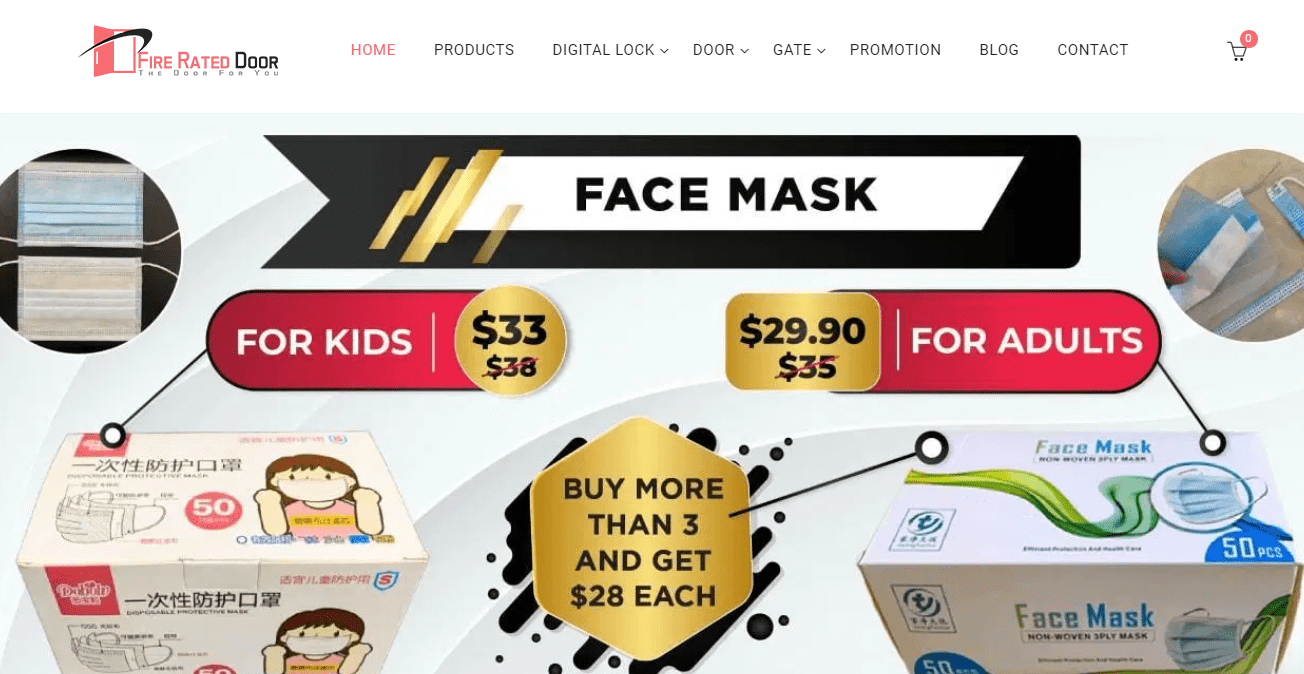 Fire Rated Door specialises in creating well-designed doors as well as offering repair and replacement services. They can even make custom-made door designs and replace your old/broken one with a masterpiece.
As you choose from their collections, you can also consult with them to know which door is the right fit to replace your old door. They also come with digital locks, a perfect choice for people to fully secure their homes.
Highlights
Repair and installation services
Wide range of residential door types
Customer Reviews
From the great door selections to the repair solutions, customers were highly pleased with the overall services of Fire Rated Door. This is why many consider the shop to have the best door repair Singapore.
A customer gave these compliments:
"Leon was very patient in explaining to us our queries on the doors and digital locks. He took the effort to show us the difference between the locks and explained clearly. Will definitely recommend to look for him and will return for future purchases! thank you for the good service!"
5. A1 Handyman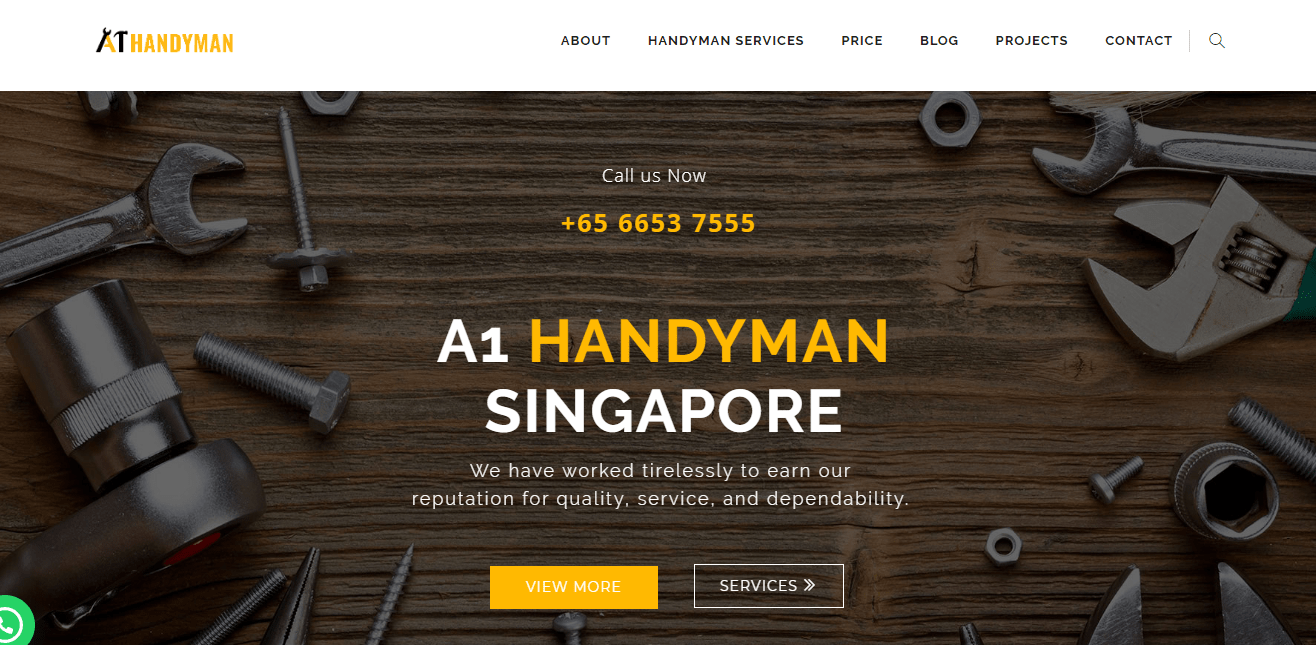 | | |
| --- | --- |
| BEST FOR | Door lock repair, replacement and installation |
| WEBSITE | https://www.a1handyman.com/ |
| ADDRESS | 1090 Lower Delta Road #03-07L, Singapore 169201 |
| CONTACT DETAILS | +65 6653 7555 |
| OPERATING HOURS | Monday – Sunday : 9am to 9pm |
A1 Handyman is fully equipped with years of experience, skilled professionals, and quality workmanship. So, you can truly rely on their best door repair in Singapore.
They specialise in locksmith services where they can repair jammed locks and even prepare duplicate keys in case of emergency. Apart from door locks, hinges, knobs, handles and other door problems are also part of their services.
Highlights
Corporate services
HDB door lock replacement
Customer Reviews
Customers had great experiences with the services of A1 Handyman and praised the well-managed work of the company's technicians. We've also seen remarks from some who claim they do the best glass door repairs in Singapore.
Here's feedback posted by a customer:
"After attempting to rectify a problem with the lock of the front door of my apartment to no avail, I contacted A1 Handyman for assistance two days ago. A technician was sent to my house in the evening the same day. The door lock was replaced the next day. I am very satisfied with the work done, the technician attended the job and the response from the company. The price was reasonable."
6. 24/7 Locksmith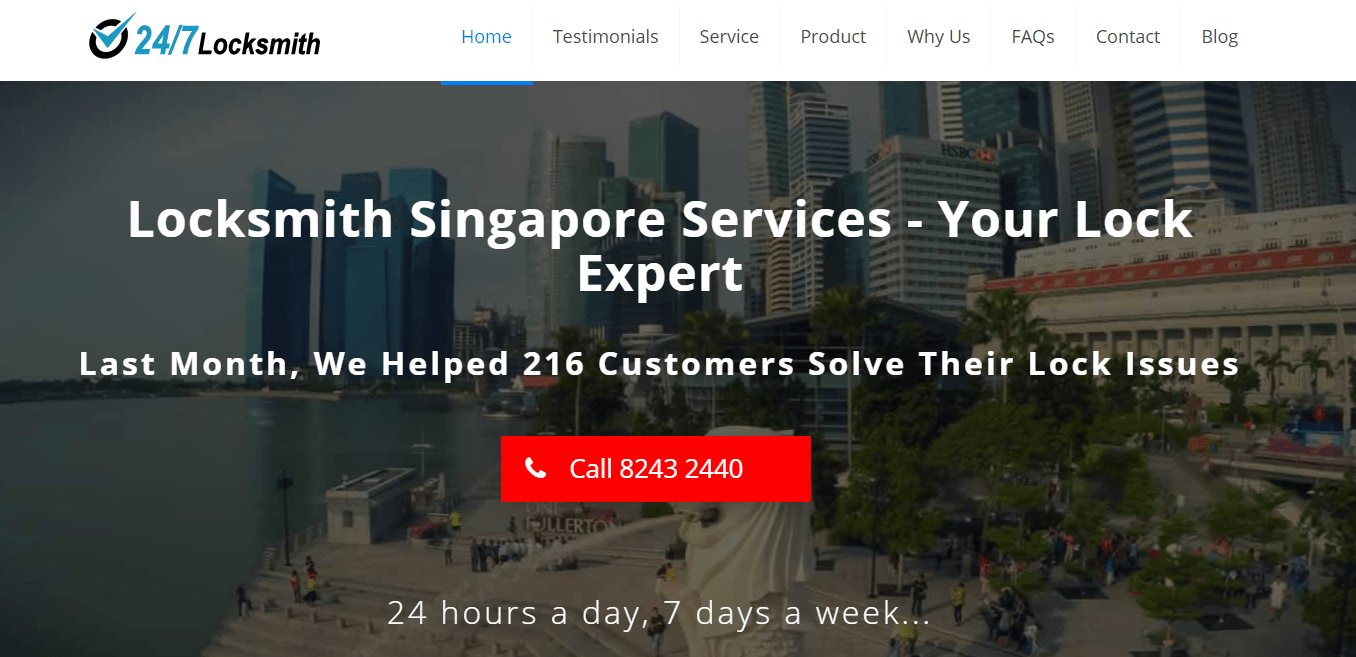 | | |
| --- | --- |
| BEST FOR | Car door lock repair |
| WEBSITE | https://247locksmithsingapore.com/ |
| ADDRESS | Block 801 #01-31 French Road Singapore 200801 |
| CONTACT DETAILS | +65-8243 2440 |
| OPERATING HOURS | Open 24 hours |
If you have key and lock problems, 24/7 Locksmith is another option that you may also consider. The best thing about them is that they can even unlock car doors and repair glass door locks — and of course, perform some of the best glass door repair in Singapore.
They can also fix and replace sliding doors, and installation services are part of their offerings as well. You can also buy digital locks from them if you need to replace your old door lock with a more secured and advanced lock.
Highlights
Glassdoor installations
24/7 repair services
Customer Reviews
24/7 Locksmith has earned the trust of many customers because of their reliable services, well-trained staff, and quality work. A customer gave this feedback:
"My door was broken from the inside and I was worried that there was no locksmith available to help me out. Good thing when I contacted them they were available and had really friendly staff too. They sent their available locksmith to my location and he immediately fixed the problem with no fuss. Came in with tools, equipment, and everything.A highly reliable company."
7. Li Door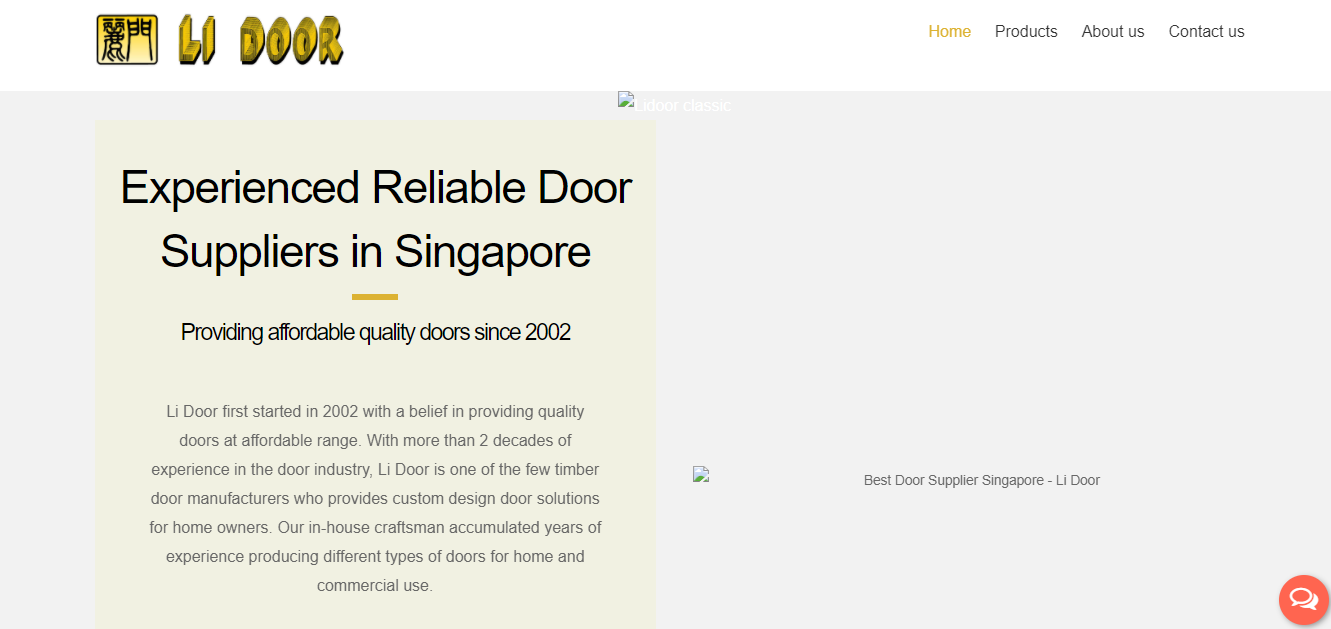 BEST FOR
Quality doors supplier
WEBSITE
https://www.lidoor.com.sg/
ADDRESS
9 Marsiling Industrial Estate Road 3
#01-23 S(739253)
CONTACT DETAILS
65 6368 0036/65 6368 0046
[email protected]
OPERATING HOURS
8:00AM–6:00PM Mon to Sun
Li Door provides affordable quality doors since 2002. The company was established with a belief in providing quality doors at an affordable range.
With more than two decades of experience in the door industry, Li Door is one of the few timber door manufacturers who provides custom design door solutions for homeowners. Their in-house craftsman accumulated years of experience producing different types of doors for home and commercial use.
They have collaborated with NTUC Income Home Services for more than a decade as a certified door supplier. Their workshop is based in Singapore and the staff is always ready to provide clients with pre and post-installation support.
Highlights
Affordable and cost-effective
High-quality doors
Fast installation
And that's it for our list of the companies that do the best door repair Singapore! If you'd like to suggest more services, you may also share them with us!
Also, if you're renovating your home or office, see these best carpenters in Singapore. They can create and repair all kinds of structures, including door frames and doors.