The 11 Options for the Best Roof Repair in Singapore
Have a broken roof at home that needs to be repaired immediately? You'd better have it checked by the contractors who offer the best roof repair in Singapore to prevent further damage.
Since we want to make your life easier, we did the work ourselves and searched for reliable roof repair companies on the island.
Check out our picks below to see which one offers the type of service your roof badly needs.
1. Renovation Contractor Singapore
BEST FOR
Renovation and Construction
SERVICES

Modular Work, Furnishing & Decor, Home Improvement Services

WEBSITE
ADDRESS
Singapore
CONTACT DETAILS
[email protected]
+65 6432 8289
OPERATING HOURS
Everyday: 9am–9pm
Renovation Contractor Singapore is truly a company to consider for any repair and construction services, on any space in the house or office!
They offer good designs and unparalleled quality, all at a very reasonable price. Some of their services include water proofing, roof repair, electrical wiring, and floor and wall tiling.
Make sure to coordinate with them for your next renovation needs, contact them soon!
Highlights
Full service contractor and interior designer
Award-winning IDs
Wide range of services
2. ATLAS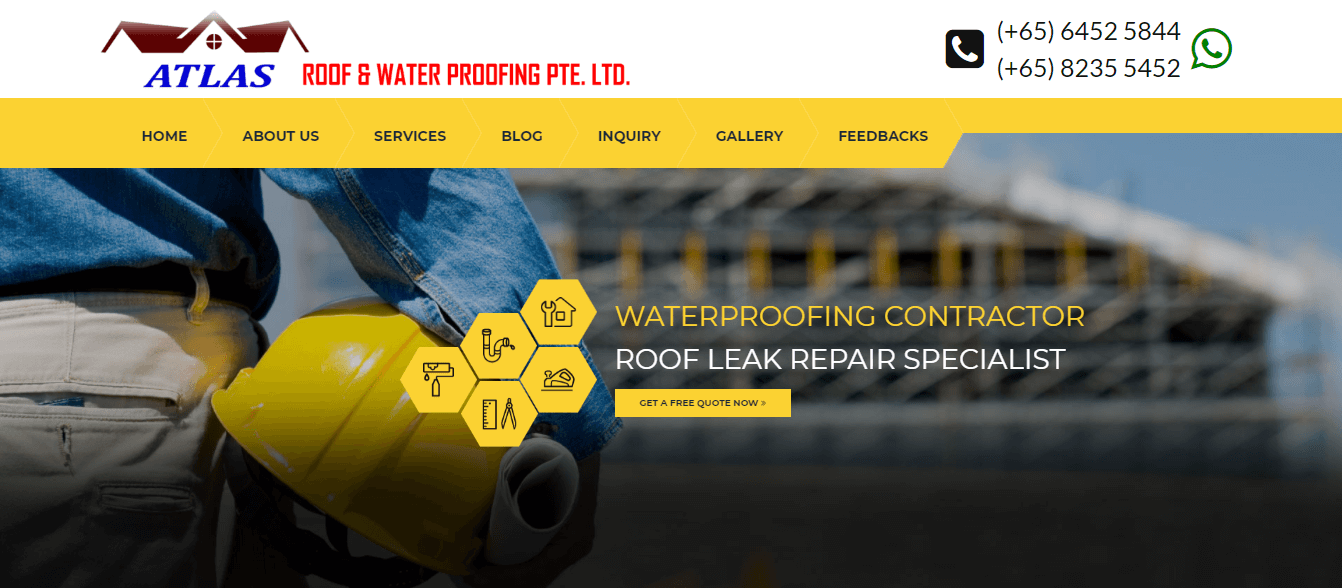 | | |
| --- | --- |
| BEST FOR | BCA Approved |
| SERVICES | Roof Repairs, Roof Painting, Roof Waterproofing, and Roof Installation |
| WEBSITE | https://www.atlasroof.com.sg/w/ |
| ADDRESS | 66, Tannery Lane, #01-05G, SINDO Industrial Building, Singapore 347805 |
| CONTACT DETAILS | +65 8235 5452 |
| OPERATING HOURS | Monday – Friday, 12:00 AM to 11:30 PM |
If you're looking for a roof contractor with an excellent track record, then you might want to check out ATLAS, tagged one of the top sources of the best roof repair in Singapore. It even offers free estimates for all its roof-related services.
In line with that, its services aren't limited to just roof repair. You may also ask for its help in roof installation, painting, and even waterproofing.
All of its services are done by its team of professional technicians who have vast experience in roof-related services.
If you're curious about trying out its services, make sure to give their hotline a ring!
Highlights
Experienced technicians
Accredited by repair institutions
Reasonable rates
Customer Reviews
Here's some customer feedback proving that it truly offers the best roof repair in Singapore:
"One of the best contractors I have ever engaged. Dedicated and professional team who you can trust that all required works will be carried out without reminders and frustration. No cutting corners and shock bills. All works were nicely completed without added costs."
"In today's strange weather and climate, especially in a tropical country like Singapore, waterproofing is the peace of mind we all need. Having ATLAS around is the answer to all our worries and fears. Imagine you having to worry about water leaking all over will definitely mess up your day. Thank you ATLAS! you saved the day!"
3. Hydroseal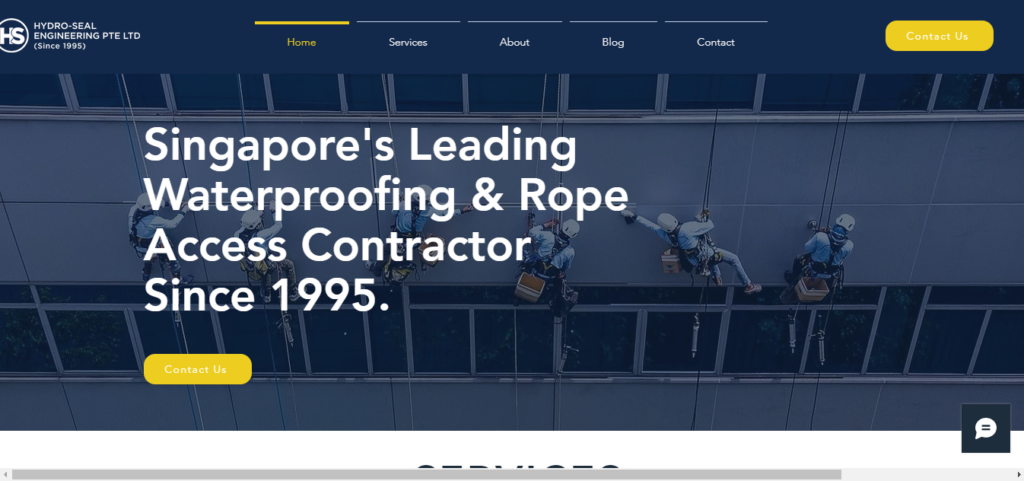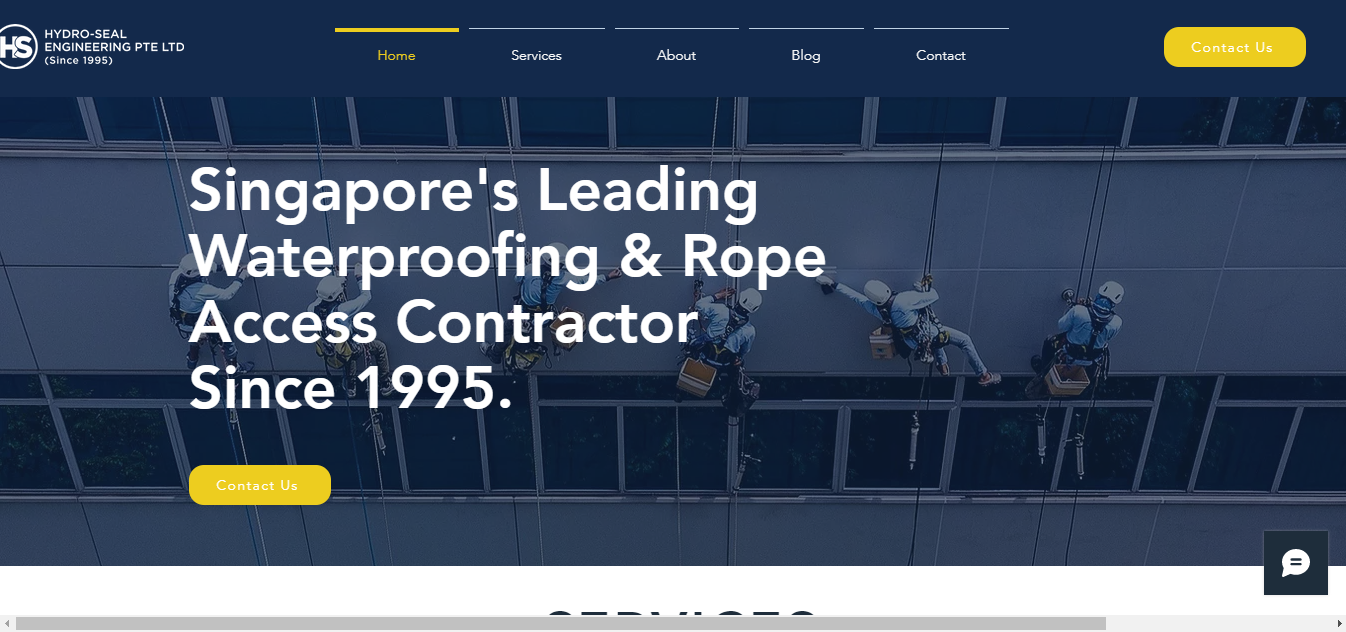 Hydroseal has been Singapore's leading waterproofing and rope access contractor since 1995. They specialize in Residential, Commercial, Industrial waterproofing and concrete repair works.
What people love about them is their customer service. That they offer them a superior level of service at affordable rates.
Unlike other companies, all their works include a "no-hassle" Certificate of Warranty. This makes their customers have peace of mind when working with them.
In case there are any unintended oversights, they will take responsibility and be held accountable for it.
Highlights
Competetive rates
Ensures timely and satisfactory completion of all projects
Offers 1 to 10 years warranties
4. Roofing Hub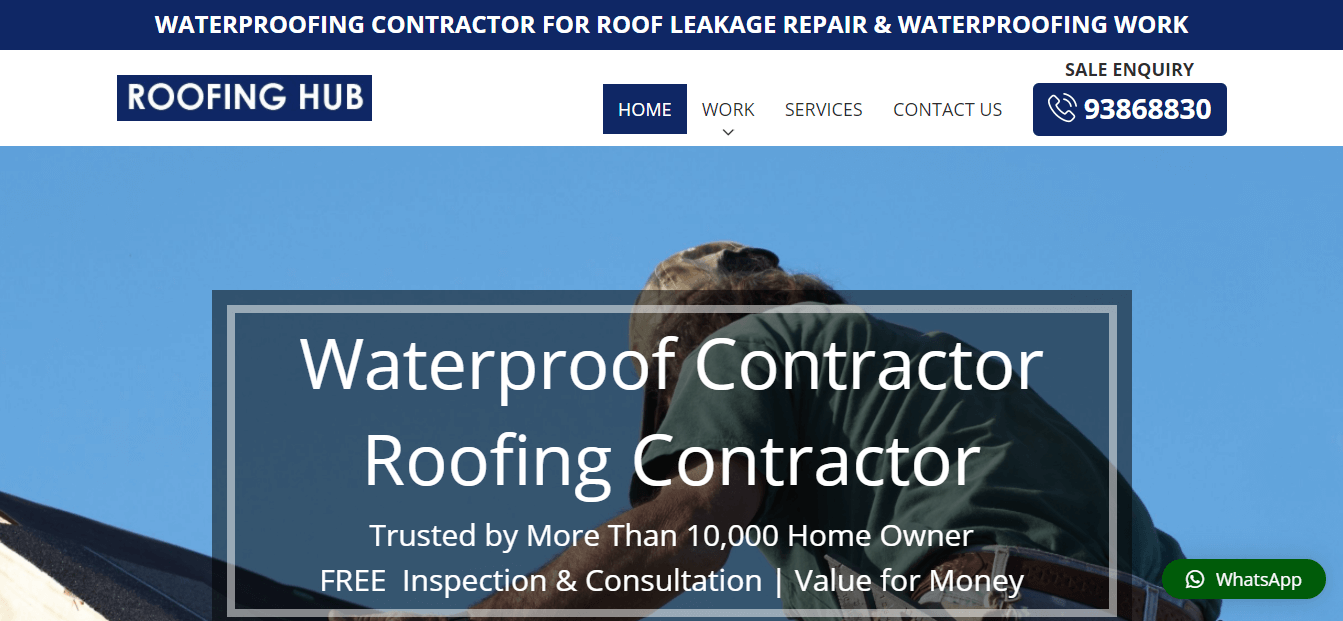 | | |
| --- | --- |
| BEST FOR | Roof Rejuvenation |
| SERVICES | Roof Repairs, Roof Waterproofing,Roof Installation, and Roof Painting |
| WEBSITE | https://roofinghub.com.sg/ |
| ADDRESS | Blk #07-163 Kitchener complex, 808 French Rd, Singapore 200808 |
| CONTACT DETAILS | +65 9068 5928 |
| OPERATING HOURS | Monday – Friday, 9:00 AM to 8:00 PM |
Roofing Hub provides different types of roof repair services to residential, commercial, and even industrial spaces. It's known for having a large team of roof technicians who know how to deal with all sorts of roofing problems.
On top of the best roof repair in Singapore, Roofing Hub can lend a hand in roof painting, roof installation, and roof waterproofing as well! If you want to know how much their services cost, you may call their hotline for a free quote.
Roofing Hub makes use of cutting-edge repair technology that helps its technicians spot damage and leakage quickly.
Highlights
State-of-the-art technology
Experienced technicians
5. GAUSHAN
| | |
| --- | --- |
| BEST FOR | Emergency Services |
| SERVICES | Roof Repairs, Roof Waterproofing, Electrical Works, and Plumbing Works |
| WEBSITE | http://gaushanconstruction.com.sg/ |
| ADDRESS | 101 KITCHENER ROAD, Jln Besar Plaza, #03-04-A, Singapore 208511 |
| CONTACT DETAILS | +65 8775 9011 |
| OPERATING HOURS | Open 24 Hours |
For roof emergencies that need to be fixed as soon as possible, the services of GAUSHAN come highly recommended! It's among the few roof contractors that offer roof repair 24 hours a day, even during the wee hours of the night.
Another reason we consider it one of the top contractors for the best roof repair in Singapore is the fact that all of its services are offered at an affordable price, despite being one of the most in-demand contractors on the island.
If you ever need services beyond broken roofs, GAUSHAN has you covered there as well! It extends its services to electrical and plumbing repairs too!
Highlights
24-hour services
Affordable rates
6. The Roofing Specialists

| | |
| --- | --- |
| BEST FOR | Service Warranty |
| SERVICES | Roof Repairs, Roof Installation and Roof Waterproofing |
| WEBSITE | http://www.theroofspecialist.com.sg/ |
| ADDRESS | 33D Lowland Rd, Singapore 547432 |
| CONTACT DETAILS | +65 9002 4020 |
| OPERATING HOURS | Monday – Friday, 9:00 AM to 10:00 PM |
If there's one thing that makes The Roofing Specialists worth hiring, it'd have to be the 5-year service warranty for all services. If a customer ends up not satisfied with their services, their team of technicians will redo the work without additional fees.
As one of the top contractors of the best roof repairs in Singapore, The Roofing Specialists offers other repair services too, including ceiling repair, plumbing works, electrical repairs, sealant works, and a whole lot more.
Highlights
5-year service warranty
Trained and skilled technicians
Customer Reviews
Here are some examples of feedback posted by satisfied customers:
"I am absolutely pleased with the work TRS did to repair my skylight and roof. They were professional, thorough, and communicated clearly throughout the process. Quality of work and value were my key requirements and they delivered 100%."
"The Roofing Specialist team was professional and very responsive to my concerns. They took care to protect the site and were meticulous in their work. They also helped with some additional minor works which were not part of the quotation. Highly recommend their services."
7. Dryproof Waterproofing Contractor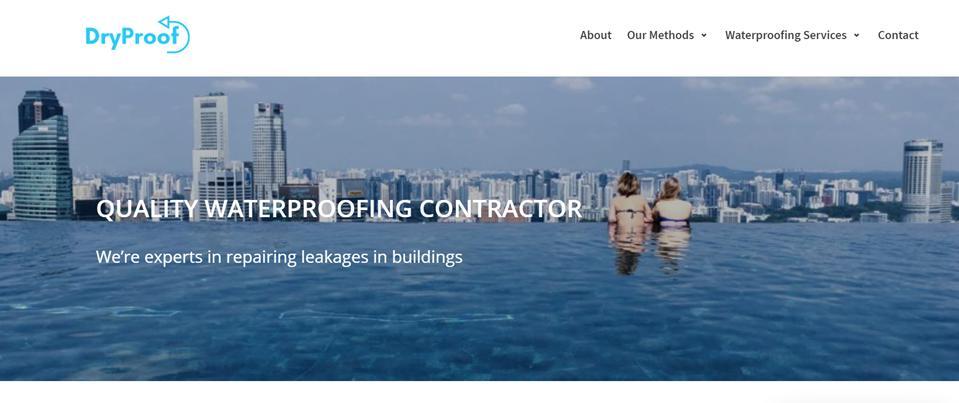 BEST FOR
Wide range of services
SERVICES
WATERPROOFING METHODS
Waterproofing Membrane
PU Injection
Flood Infusion
Nano WaterproofingWATERPROOFING SERVICES
Ceiling Leakage
Toilet Waterproofing
Balcony Waterproofing
Roof Waterproofing
Wall Seepage
Swimming Pool Waterproofing
WEBSITE
https://dryproof.com.sg/
ADDRESS
42 Canberra Dr, Singapore 768434
CONTACT DETAILS
OPERATING HOURS
Monday – Saturday: 9am–5pm
Dryproof is the company to call if ever you're looking for high-quality waterproofing. They offer a comprehensive list of services for you to take up, which includes repairs like ceiling leakages, toilet waterproofing, wall seepage, and of course, roof waterproofing.
With their years of experience and expertise, rest assured that you won't have any more major problems when it comes to bad repairs on roofings and ceilings. At lower rates, you can get a solid standard of roof repair, one you'd definitely get only at Dryproof Waterproofing Contractor.
Highlights
Effective waterproofing installations
Waterproofing installations for residential and commercial units
Professional advice
8. M3M Services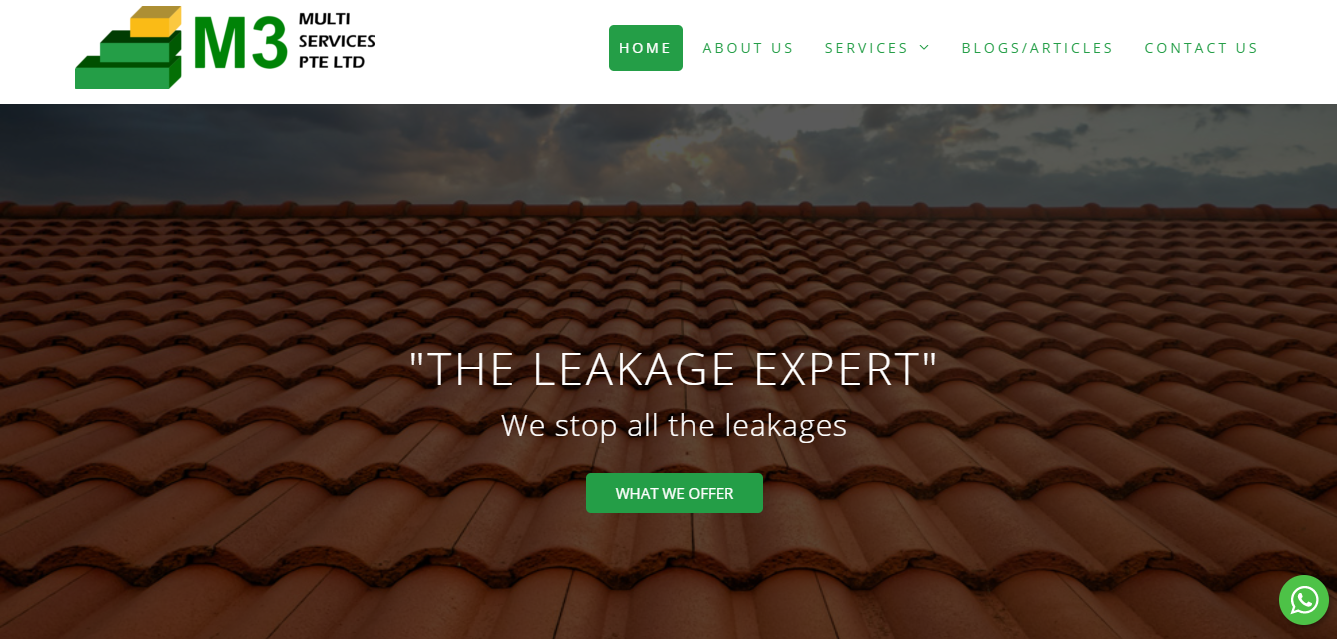 BEST FOR
Waterproofing services and leakage repairs
WEBSITE
https://www.m3m.com.sg/
ADDRESS
65 Chulia Street OCBC Center #46-00, Singapore 049513
CONTACT DETAILS
65 6917 4966
[email protected]
OPERATING HOURS
8:00AM–10:00PM Mon to Sun
M3M Services is a leading professional waterproofing company. They specialized in various waterproofing solutions in Singapore.
They offer a no-obligatory on-site analysis and consultation. As a Specialist in waterproofing works, they strive to keep ourselves updated on the latest technologies.
They also have a wide-range of serives and flexible working hours. M3M Services offers satisfactory solutions to their client's needs over the years.
Highlights
Professional and friendly staff
Quick response
9. J&K ROOF CONTRACTORS
| | |
| --- | --- |
| BEST FOR | Wide Range of Services |
| SERVICES | Roof Repairs, Roof Waterproofing,Roof Installation, and Painting Services |
| WEBSITE | https://www.jkroof.com.sg/ |
| ADDRESS | Blk 5 Ang Mo Kio Industrial Park 2A, #04-15 AMK TECK II, Singapore 567760 |
| CONTACT DETAILS | +65 9880 5116 |
| OPERATING HOURS | Monday – Friday, 12:00 AM to 11:30 PM |
J&K ROOF CONTRACTORS is a roof contractor that services both residential and commercial spaces in Singapore, offering a wide array of repair services. Some of its services are roof repair, installation, painting, and waterproofing.
Since its inception in 2000, it's grown into one of the most in-demand roof contractors on the island for its topnotch yet affordable services. It firmly believes that everyone should have access to quality repair services.
What's more, all of its services come with a service warranty to ensure that customers will receive the services they paid for and expect.
Highlights
20 years of experience
With service warranty
Customer Reviews
Take a look at what a previous client had to say about its services:
"Reliable, experienced and a team that takes pride in their work! This combination is such a rare find for contractors and I am so glad that they were referred to me by a good friend. My roof has been leaking for years and I have used 3 different contractors to fix the leak but they were all temporary and the leaks came again. Kelvin and his team were confident to fix the roof. They have been responsive throughout the repair and exceeded my expectations."
10. The Roofing Specialists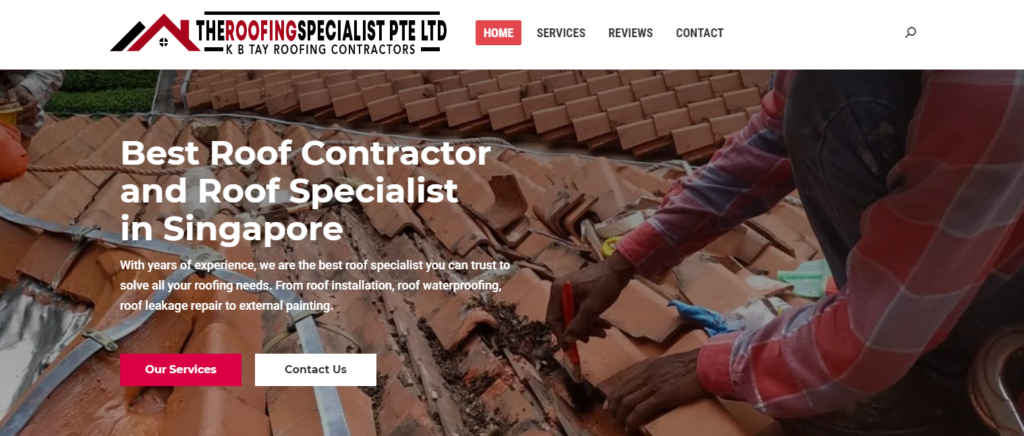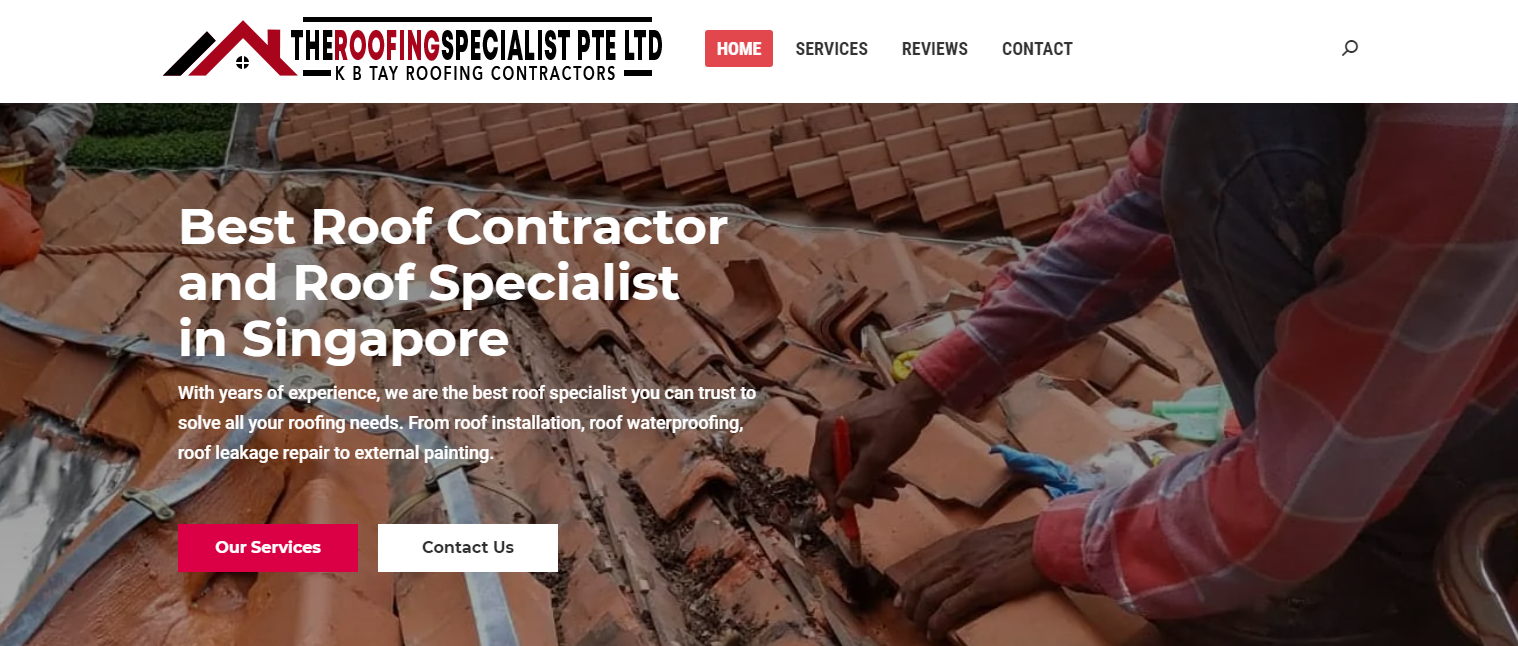 Next on our list is The Roofing Specialists, a roofing and waterproofing specialist that was established in 1996. We recommend The Roofing Specialist for four main reasons.
First, the team. The Roofing Specialist is made up of trained professionals who have years of experience in the fields of roofing and waterproofing. These professionals, aside from being skilled and knowledgeable, are also punctual and polite in every interaction.
Second, the company's specialty. As previously mentioned, The Roofing Specialist's team comprises trained professionals, all of whom have diverse skill sets that allow the company to work on waterproofing, roof leakage repairs, wall seepage, re-roofing, new awnings, internal/external painting and maintenance works to commercial buildings and private housings.
Third, the hours of operation. Unlike other companies on the list, The Roofing Specialist is open seven days a week, from nine in the morning to ten in the evening.
Lastly, the rates, which are some of the most competitive in Singapore. Combined, these elements have drawn numerous clients to The Roofing Specialists.
As of this year, The Roofing Specialist is now one of the most trusted roofing and waterproofing specialist in Singapore, thanks to its professionalism, specialties, flexibility, and competitive rates.
Highlights
Free inspection and estimates
Competitive rates
Fast response
Completed more than 3000 roofing works islandwide across Singapore
Customer Reviews
Take a look at what a previous client had to say about The Roofing Specialist's services:
"I wish to compliment The Roofing Specialist for their service and dedication to the detailed completion of our house's repairs and improvement. The staff were observed to work beyond their hours to ensure that they met their days's work. Their bosses too ensured that their staff's welfare were looked into, in fact, they brought refreshments and snacks for the workers from time to time. This contributed to the company's culture of work safety and professionalism by the workers. Thanks Mr Richard and Marc for the workmanship and being attentive to our needs. You have my gratitude and praises! Highly recommended Company to all who require such services!!"
11. AllStar Waterproofing & Services


BEST FOR
Waterproofing and repairs
SERVICES
Roof waterproofing, Wet area waterproofing, Water leakage repair, Concrete repair, Roof repair, Rope access
WEBSITE
https://www.allstarwaterproofing.com.sg/
ADDRESS
7 Mandai Link #05-40
Mandai Connection
Singapore 728653
CONTACT DETAILS
+65 8828 1913
[email protected]
OPERATING HOURS
By appointment
Next on our list is a company that has served over 3,000 clients, unfailingly providing what the clients asked of them throughout the years.
AllStars Waterproofing & Services, as the name may suggest, specialises in waterproofing roofs and wet areas, but its services don't stop there. The company also offers repairs for water leakages, concretes, and roofs, as well as rope access.
Now, one of the reasons why AllStars Waterproofing & Services comes highly recommended is its customer-centric mindset.
Customer satisfaction is of utmost priority, which is why AllStars strives to provide quality workmanship while making use of top-of-the-line equipment and products. This dedication to making clients happy has resulted in countless projects ending in success.
Another thing we should mention is the transparency that the company has to offer, which ties in with the mindset that they possess. See, AllStars prides itself on the transparent work they have to offer, which ties into the fees that are typically honest when working with AllStars.
To top things off, each and every person making up the AllStars team is polite, courteous, and professional. Plus, their specialists are all trained and highly experienced.
All in all, the combination of transparency, commitment to quality work, and exemplary customer services makes AllStars Waterproofing & Services an excellent choice for waterproofing and repair needs.
Highlights
Free inspection and quotes

Highly experienced and trained roof specialists

High-quality workmanship
Long lasting results
Transparent work and honest rates
Customer Reviews
Take a look at what a previous client had to say about its services:
"Satisfied. Workmanship is good, workers are polite and clean, happy landlord and tenant. I recommend Allstar Waterproofing to anyone who need waterproofing work to be done nicely in their place."
Another one wrote:
"We cannot recommend this company enough. From start to finish, Roy/Lim were honest, communicative, professional and friendly. Unlike other money-grabbing businesses, they were consultative and listened to our roof repair requirements. Alongside being patient with our questions, they also went the extra mile to send us constant updates/ pictures on their progress, regardless of time of day. In the end, we not only have a sturdy roof but the job was completed faster than expected. The workers also left the site clean and tidy. If you want a peace of mind around roof repairs/waterproofing, Roy/Lim are your go-to dream team. You will be impressed!"
And with that, we conclude our list of the contractors with the best roof repair in Singapore. If you've availed of the services of any of these contractors, share with us your experience with them!
If you're looking for waterproof contractors as well, then we have you covered with our list of the best waterproofing specialists in Singapore. Our list features some of the most trusted roof contractors that offer all kinds of services.