The 10 Options for the Best Mold Removal Services in Singapore
Mold on the surface of your ceilings is the least attractive sight in your home! It's better to get rid of it as soon as possible by hiring the services of the best mold removal services in Singapore!
Since we want to make your lives easier, we went around Singapore and looked for the best mold removal services that are reliable and affordable.
So, without further ado, here are the ones we thought worthy of everyone's attention!
1. Lumiair PTE LTD
BEST FOR 

 

Decontamination services
SERVICES

Mold remediation, decontamination, Coronavirus disinfection, fire damage restoration, flood damage restoration, odour removal

WEBSITE

https://www.lumiair.com.sg/

ADDRESS

25 Kaki Bukit Pl, Singapore 416203

CONTACT DETAILS
OPERATING HOURS

24/7
Lumiair brands itself as the decontamination expert. This claim is because it provides mold removal and decontamination services to residential, commercial, and industrial clients.
Lumiair's cleaners identify the specific mold and apply non-leaching anti-microbial solutions to purge any molds your building may have. After the mold removal service, Lumiair will conduct tests such as the IAQ Testing to determine the possibility of mold recurrence.
Besides, Lumiair also conducts research to provide its clients with the latest decontamination chemicals and practices. Aside from mold removal services, Lumiair also offers flood and fire damage restorations, virus disinfection, and odor removal.
Highlights
Premium-grade and government-approved chemicals

Customised equipment and latest technologies

Specialised assessment and aftercare services
Customer Reviews
Here are some customer reviews to tell you more about Lumiair's knowledgeable and reliable staff:
"Very professional and great service done by Andrew and team. When asked to do a second follow up, Andrew and team was on site without delay . Special mention to Jacky for being professional, kind and patient when he came to my place to remove mold a second time. Thanks again everyone at Lumiair… a job well done 👏👏👏👍👍👍"
"The company director is extremely knowledgeable and professional. He is patient and analyse  the issues and solutions with his clients in a professional way.. Andrew leads his team closely and follow up is very prompt."
2. HVAC Engineering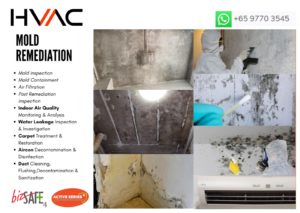 BEST FOR 

Mold Remediation, Inspection and Air Purification Services

SERVICES

Mold Removal, Mold Treatment, Duct Cleaning, and Indoor Air Quality Testing

WEBSITE

ADDRESS

21 Senang Crescent, Singapore 416594

CONTACT DETAILS

 

9770 3545

OPERATING HOURS

24/7
If you're looking for experts in the field of residential and commercial mold removal, then look no further than HVAC.
Their specialization is not just limited to "cleaning" mold, but carrying out mold remediation and ensuring the mold doesn't grow back. They also provide a warranty for it.
Based on the mold type found at your premise, their microbiologist will formulate the most effective chemical to ensure the identified mold is removed from the root. A remediation plan will be given to ensure there is no more mold spores at your premise, thus there is no relapse.  
The process they create is customized to your mold situation, ensuring prevention and cross-contamination.
Highlights
Detailed Mold Removal Process

Post Remediation and Warranty provided

Chemicals used are NEA approved – kids safe and pet safe

Free Consultation

Site Inspection
Customer Reviews
Gave us peace of mind
"HVAC Disinfection provided complete services for Coronavirus Disinfection and Sanitizations for our retail premises, we were very pleased with the thorough job. This gave us peace of mind to continue to have our premises open, we recommend them to other business owners "- Madura Maha
Great Professionalism
"HVAC showed great professionalism for the disinfection at my office. RK the Ops Manager was meticulous on managing the entire job done at my premises. Highly Recommended." – Gayarthi A.
3. SGHomeNeeds
For home-owners who need a one-stop shop for everything home improvement-related, SGHomeNeeds is there for you. Aside from moving services, they also offer house repairs, maintenance, designing, and others.
SGHomeNeeds satisfies every home-owners' needs by only employing the most trustworthy and notable service providers. They regularly perform profile checks on the service providers they employ to ensure that you get the best value and service for your money.
Highlights
Extensive range of home-related services
Wide network of trusted and verified home service providers
4. Four Removal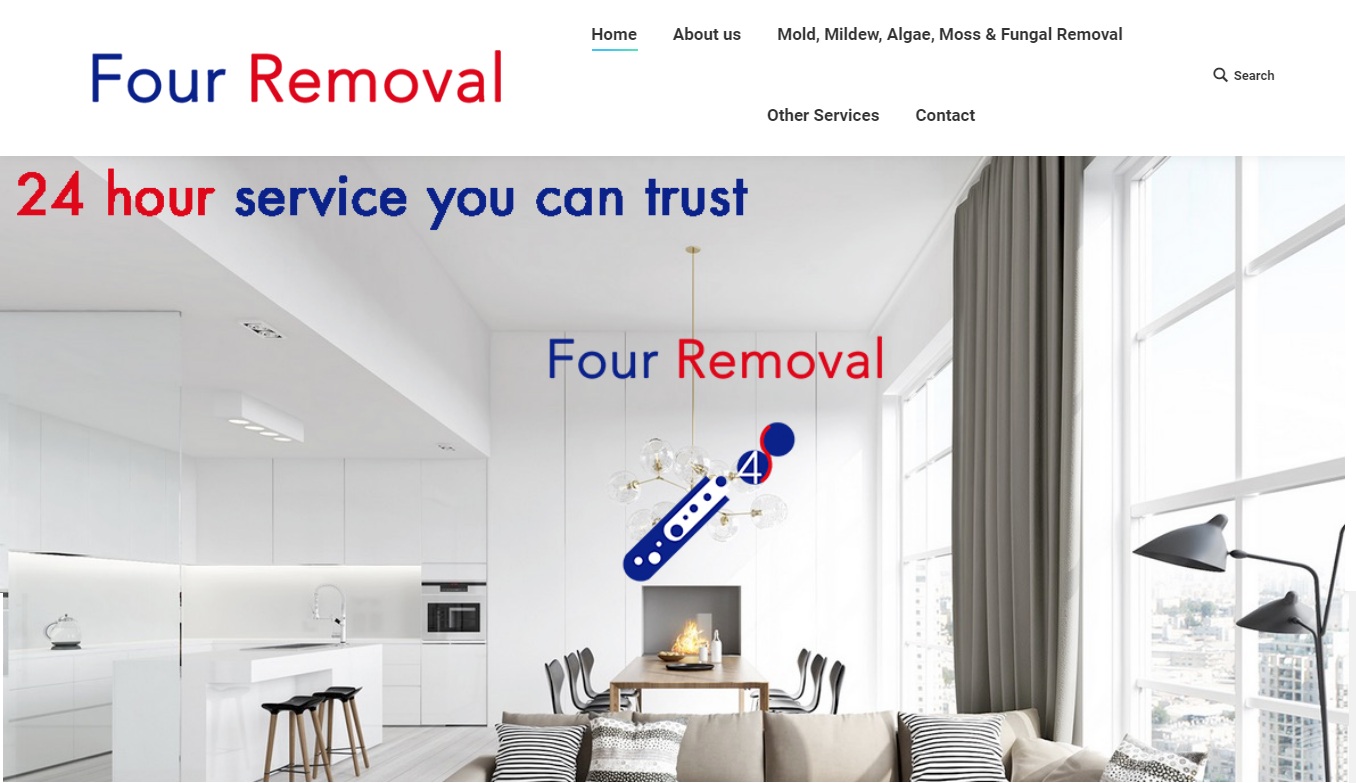 BEST FOR

Round the clock service

SERVICES

Mold, Mildew, Algae, Moss & Fungal Removal, Painting Works, Tile re-grouting, Silicone sealant replacement

WEBSITE

https://fourremovalsolutions.sg

ADDRESS

1 Tampines North Drive 1, #08-57 T-Space, Singapore 528559

CONTACT DETAILS

 +65 6929 2066

OPERATING HOURS

Monday – Friday: 9:00 am – 7:00 pm

Saturday – Sunday: 9:00am – 8:00pm
Another company which you can rely on is Four Removal. This Singaporean based cleaning company provides service for every household in the area. Their goal is to give you fast and quick solutions for your household problems. 
What makes them a good company is that they always welcome criticism from their customers. They believe that every feedback counts and that these should be their basis for improvement. That being said, they are one of the well-loved cleaning companies in the country.
Highlights
Professional staff

Quality Service Work

24 hours service

Operates from Monday to Sunday
5. Air and Odor Management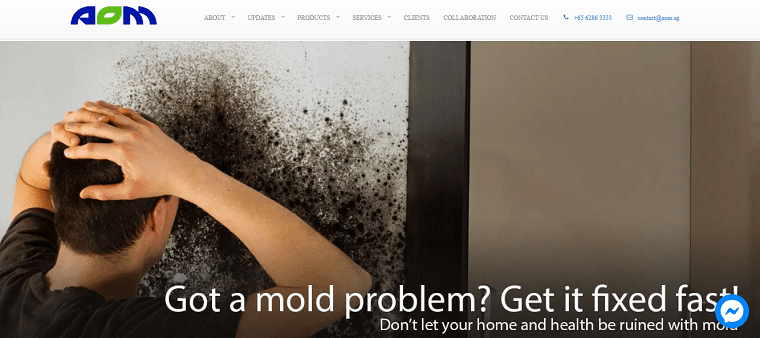 | | |
| --- | --- |
| BEST FOR  | Inspection and Air Purification Services |
| SERVICES | Mold Removal, Mold Treatment, Odour Control, Kitchen Exhaust, and Ambient Scenting |
| WEBSITE | http://aom.sg/ |
| ADDRESS | 60, #01-04 Ubi Cres, Ubi Techpark, Singapore 408569 |
| CONTACT DETAILS | +65 6286 3333 |
| OPERATING HOURS | Monday – Friday, 8:30 AM – 5:30 PM |
Air and Odor Management is trusted by over more than 200 business establishments in Singapore, making it the best option for business owners who need their offices to be cleaned. Whether your concern is mold or foul odour, they can definitely be of help!
In terms of services, they may focus on air quality control but their services in mold treatment are also worth checking out. One of their goals as a business to provide clean air to their clients through their services.
In removing mold, they use a top-grade Australian tree tea oil that has proven to be effective. On top of this, it's also very safe, environmentally friendly, and most of all, safe for pets.
Highlights
Integrated services
Environmentally friendly
Ideal for the business sector
Professional team of cleaners
Customer Reviews
 Boasting a 4.9-rating on Google, the company is well-regarded throughout the island. Here are some reviews that Air and Odor Management has received:
 "They offer free mold inspection which was really convenient since there's no obligation or anything so I thought why not try it out and see what happens. They went to our home and assessed our rooms regarding our mold issues. Staff were really helpful and informative towards the process. We ended up scheduling for a mold remediation and now we're mold free.. Great service!" 
"Great family operated company. Experts for air & odor management. Unique products and services. Top quality! Recommended."
6. Mold Busters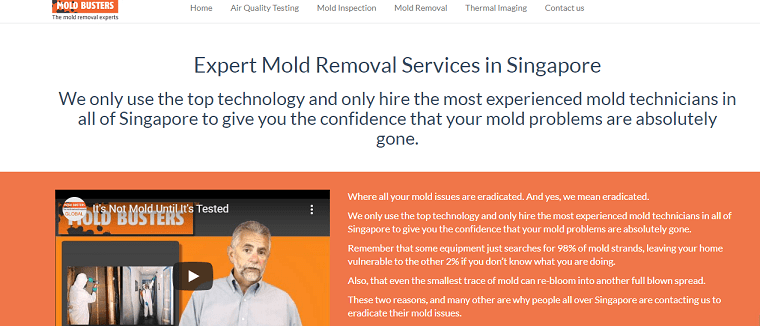 | | |
| --- | --- |
| BEST FOR  | Residential and Commercial Services, Air Quality Testing |
| SERVICES | Mold Removal, Odour Inspection, Mold Testing, Asbestos Testing, and Flood Restoration |
| WEBSITE | https://bustmold.sg/ |
| ADDRESS | 60 Ubi Cres, #01-04 Ubi Techpark, Singapore 408569 |
| CONTACT DETAILS | +65 6286 3333 |
| OPERATING HOURS | Monday – Friday, 8:30 AM – 5:30 PM |
Serving both residential and commercial clients, Mold Busters has grown to be one of the most dependable treatment and air quality testing services on the island. Over their years of operation, they have collected a huge pool of loyal clients who swear by their services.
In removing mold, they make sure to use only the best and most effective technology. On top of this, they only hire experienced and professional cleaners to do the job.
As experts, they know how to prevent the accumulation of mold. So, they will also offer tips on how to stop the growth of mold inside your home.
One of their missions as a business is to remove the risk of getting sick through unclean housing conditions. So, if you want to further protect your family, dial their number now!
Highlights
Uses the most updated technologies
Eco-friendly cleaning solutions
Professional team of cleaners
7. Disaster Restoration Singapore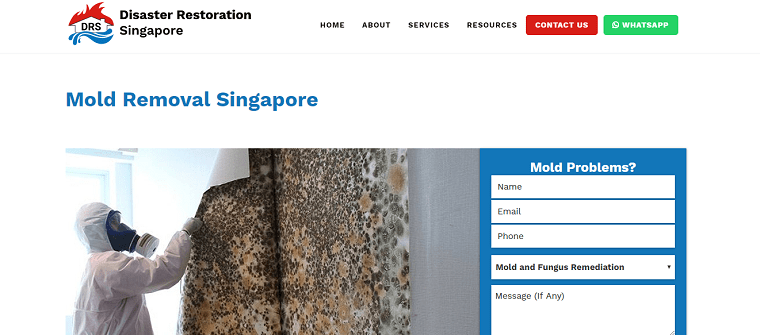 | | |
| --- | --- |
| BEST FOR  | Restoration Services |
| SERVICES | Fire Restoration, Flood Restoration, Mold Removal, and Odour Removal |
| WEBSITE | https://www.drs88.com/ |
| ADDRESS | 3018 Bedok North Street 5, #01-15 Eastlink Building, Singapore 486132 |
| CONTACT DETAILS | +65 6241 9894 |
| OPERATING HOURS | Open 24 hours |
Known for their fire and flood restoration services, Disaster Restoration Singapore also offers quality mold removal services. It's a business that's certified by various organisations such as the Restoration Industry Association, The Carpet & Rug Institute, and a whole lot more.
With more than 30 years of experience, they definitely know their way around removing mold. Moreover, they are known to be fast responders in times of danger, so you know that you can trust them no matter how serious your mold situation is.
Lastly, they implement a policy called "no cure, no pay". If the mold situation in your home turns out to be incurable, they will not charge you for the work they have done.
Highlights
Affordable rates
24-hour service
Fast responders
No cure, no pay policy
8. EcoSense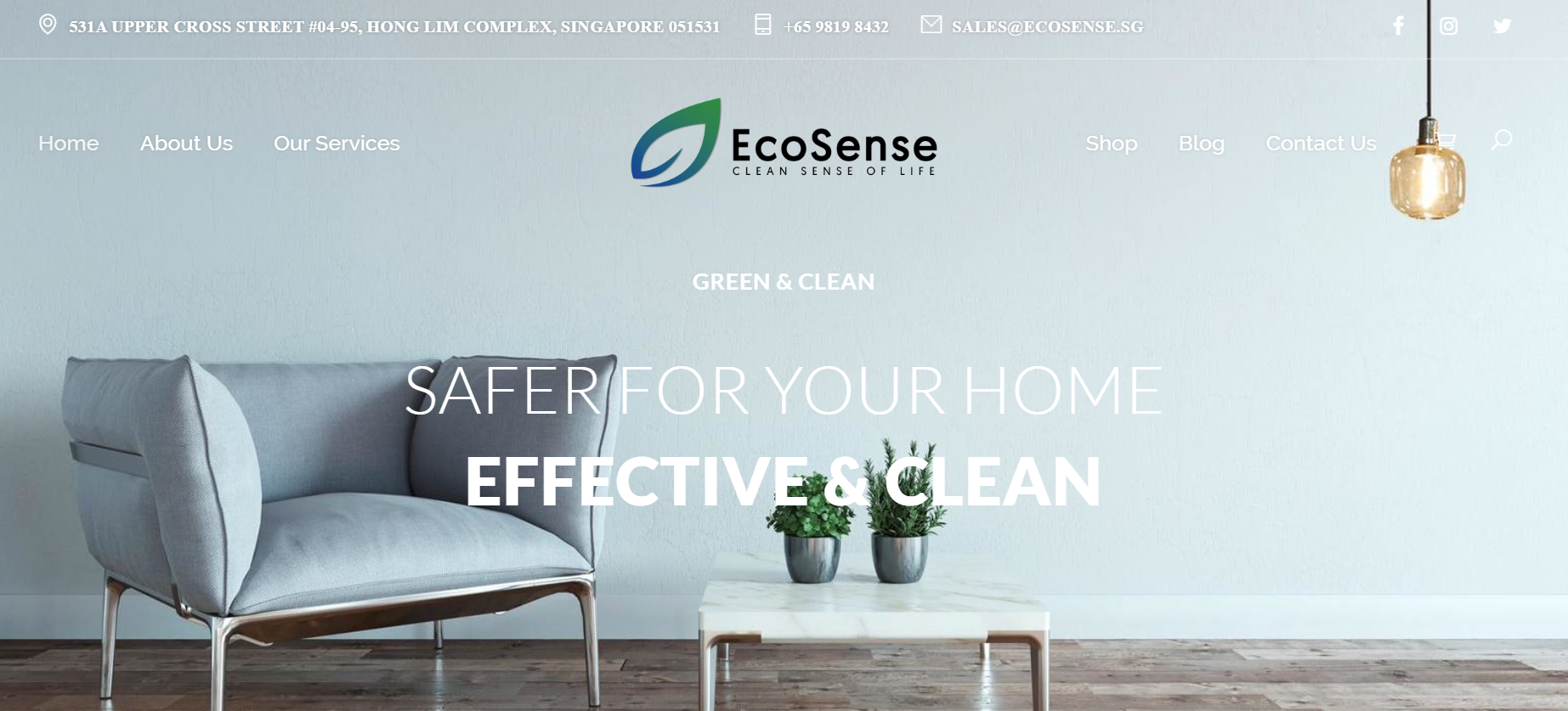 BEST FOR 
Pest Control Services
SERVICES
Mold Removal, Pest Control, Termite Control, and Bed Bugs Treatment
WEBSITE
https://www.ecosense.sg/services/mould-remediation/
ADDRESS
531A Upper Cross Street #04-95, Hong Lim Complex, Singapore 051531
CONTACT DETAILS

+65 9819 8432

OPERATING HOURS
Monday – Friday: 8.30 am – 6.00 pm
Saturday: 8.30 am – 2.00 pm
 If the mold situation in your home is growing by the day and you don't know how to solve it, then let EcoSense take care of it! Known as one of the best pest control services on the island, their skills in eradicating mold are also excellent!
With the help of their experienced mold specialists, they can erase all traces of mold from the surface of your ceilings without using harmful chemicals. Gone are the days of sneezing and coughing because of mold that has been living in your home!
Moreover, along with their team of specialists, they only use the best and safest equipment. They're also among the few companies that are certified by the Singapore government, so all their processes and materials are tested and safe.
Highlights
Eco-friendly cleaning equipment and materials
Quick and professional
Affordable rates
9. SGcleanXpert

BEST FOR 
Cleaning Services
SERVICES
Home Cleaning, Apartment Cleaning, Blinds Cleaning, Curtain Cleaning, End Of Tenancy Cleaning, HDB Cleaning, Post Renovation Cleaning, Sofa Cleaning, Fabric Sofa Cleaning, Leather Sofa Cleaning, Spring Cleaning, Carpet Cleaning, Contractual Cleaning, Post Renovation Cleaning, Restaurant Cleaning, Retail Cleaning
WEBSITE
https://www.sgcleanxpert.com/janitorial-cleaning/mold-cleaning/
ADDRESS
7500A Beach Road, The Plaza #05-319 Singapore 199591
CONTACT DETAILS
(+65) 8417 1368 | [email protected]
OPERATING HOURS
9:00am – 6:00pm (Monday to Friday)
9:00am – 1:00pm (Saturday)
SGcleanXpert is a company committed to making sure you receive only high-quality cleaning services, at costs that definitely wouldn't hurt your budget. They are easy to contact and they conduct regular quality control, which spares you from the hassle of finding a credible cleaning service provider.
The cleaners of SGcleanXpert are detailed and honest about their work. They render all types of cleaning services, whether it may be at home, in the office, or in any other commercial premises.
Since SGcleanXpert is concerned about the welfare of their clients, they make certain that they exceed expectations with their premium-grade cleaning. They are readily available at any time, whether for assistance or for feedback.
Highlights
Expert Cleaning Services
Affordable Pricing Service
Customer Reviews
With SGcleanXpert's Professional service, satisfied customers return time and time again to schedule another appointment.
"The gentlemen who helped perform the services were highly professional, detailed and even provided me advice on maintenance. Thank you :)"
"A very professional and modern approach to cleaning service and good customer service. The cleaners are well trained and of high quality."
10. Mouldgone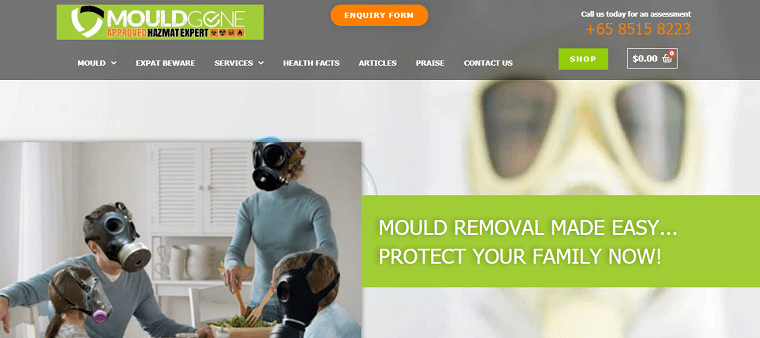 | | |
| --- | --- |
| BEST FOR  | Inspection and Cleaning Services |
| SERVICES | Mold Removal, Mold Treatment, Aircon Services, and Indoor Air Quality Testing |
| WEBSITE | https://moldgone.com/ |
| ADDRESS | 140 Coronation Rd, #02-01, Singapore 269526 |
| CONTACT DETAILS | +65 8515 8223 |
| OPERATING HOURS | Monday – Saturday, 8:00 AM – 6:00 PM |
 Mould can pose a great threat to your family's health. What better way to protect your family than by hiring the services of Moldgone, one of the most in-demand inspection and cleaning services in Singapore?
Powered by their team of experienced cleaners, the company can ensure the health of your home. In addition, they only use non-toxic and environmentally friendly cleaning solutions, so you won't have to worry about exposing your family to harmful chemicals.
If you're a business owner with a mould problem, don't hesitate to contact them because they also extend their services to commercial and business establishments
Highlights
Affordable rates
Free quotation
Uses eco-friendly materials
Customer Reviews
Here are some of the praises that Moldgone has received over time:
"Andrew was very knowledgeable and thorough in addressing and diagnosing mold issues in our condo. We called in late in the evening and he (and his aircon team) were down within the next couple days. Appreciate the flexibility in timing. Also, lots of practical advice and tips on prevention. I can recommend this company with ease." 
"Big thank you to Andrew, he did an extensive mold check in our flat. Not only did he do a check, he also spent time walking me through ways of reducing the possibility of mold in the future. Highly recommended!"
That wraps up our list of the best mold removal services to check out if you want to end the mold situation that has been ruining the atmosphere of your home. If you have tried out any of these businesses, tell us your experience by leaving a comment below!
When you have mold in your home, chances are you have a dirty bathroom as well. If you're looking for a hand to help you with your bathroom situation, please check out our list of the best toilet renovation services in Singapore — say goodbye to stinky and dirty bathrooms with these contractors!