15 Best Toilet Renovation Services in Singapore
Are you searching for ways to improve the overall appearance of your toilet? With the best toilet renovation services in Singapore, your bathroom will surely look better and more sophisticated than before!
While there may not be a lot of contractors that focus on toilet and bathroom renovation, we've managed to find some that you should definitely check out. And since most renovation services cost a lot, we made sure to include some that won't drain your wallet.
Anyway, you'll see that for yourself as we go through our picks. Without further ado, here's our list of the best toilet renovation services in Singapore that can make your bathroom look amazing!
1. Qanvast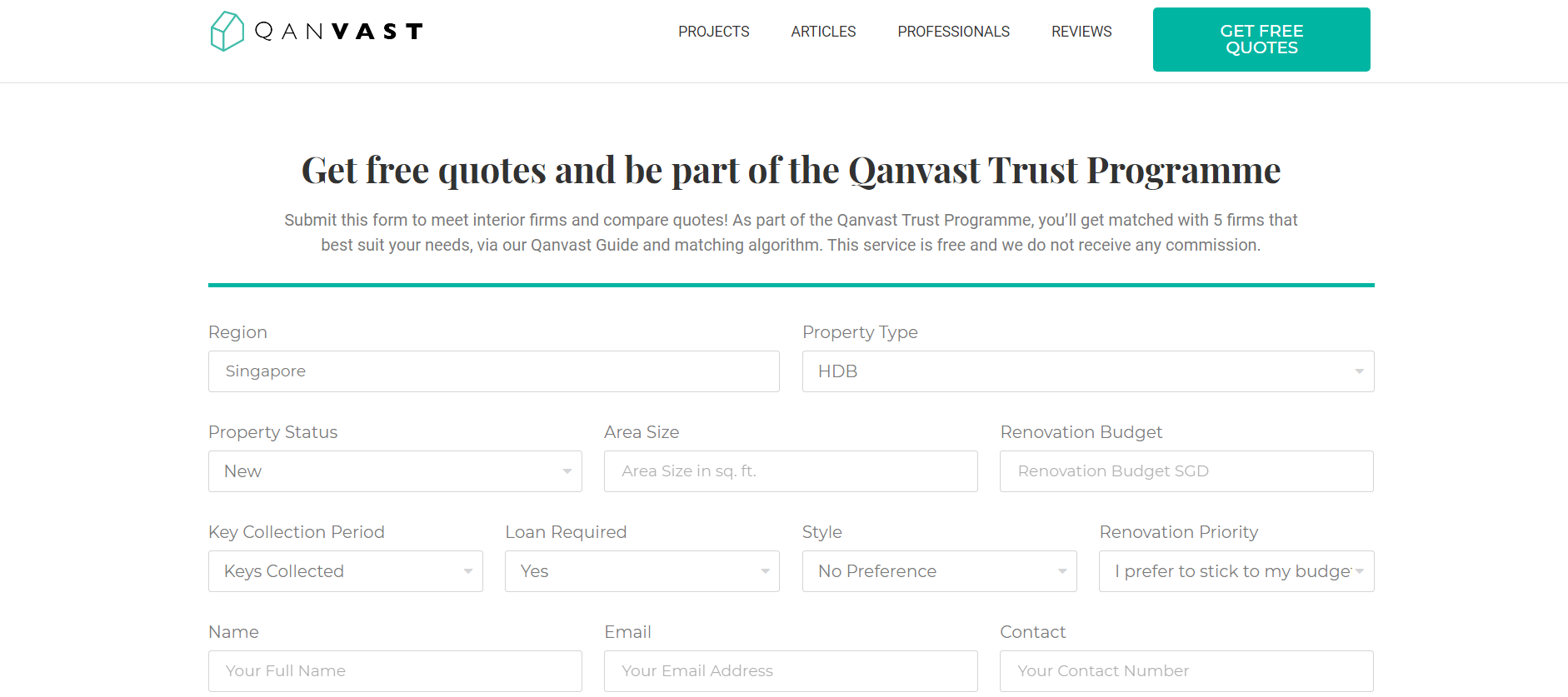 BEST FOR
Personalised interior design services
SERVICES/SCOPE
Specialised interior decoration
Interior designer matching
Project management
Renovations
PRICING
Free
WEBSITE
https://renovate.qanvast.com/get-quotes/
ADDRESS
n/a
CONTACT
Contact them through their site
Or email:

[email protected]
Are you planning a bathroom renovation in Singapore but have no idea how to go about the interior design of your new restroom? Then Qanvast has got you covered!
They are an online platform that helps you connect to reputable design firms. Using their Qanvast Guide and matching algorithm, they are able to connect you to five firms that meet your needs.
Visit their website today to learn more. You can even inquire if they have available toilet renovation packages in Singapore.
Highlights
Get free quotes
Easy-to-use interface
Simple yet effective form
2. Renovation Contractor Singapore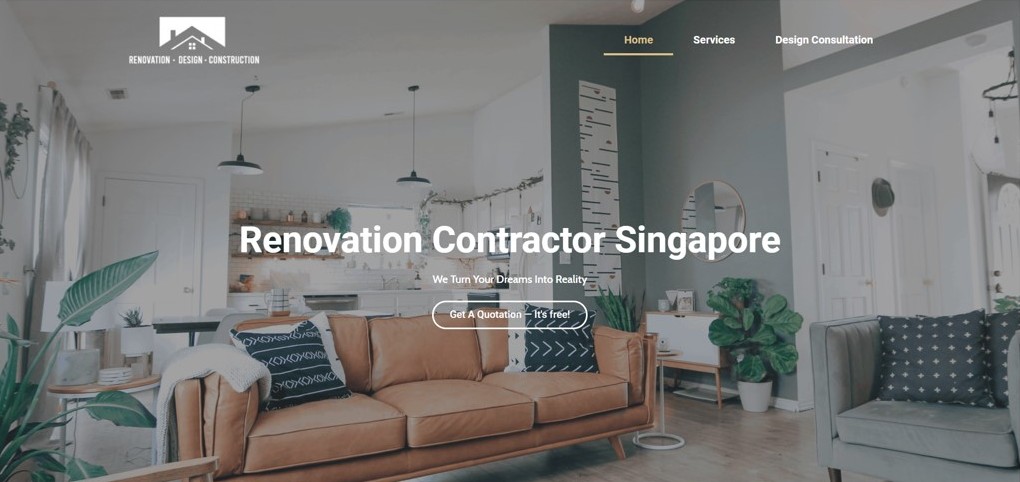 Renovation Contractor Singapore can turn your bathroom renovation dreams into reality. With award-winning interior designers at your disposal, they can create your perfect home from start to finish. In their capable hands, any room can be both functional and inspirational.
This full service contractor and interior designer can handle any job, big or small, be it a simple paint job or a full renovation. You'll find yourself in exceptional hands with licensed professionals, responsive customer service and excellent after sales support.
You can also call them anytime of the day for a quotation on a toilet renovation cost.
Highlights
Design to installation service
Licensed professionals
Assured quality and workmanship
Prompt after-sales support
3. Jaystone Renovation Contractor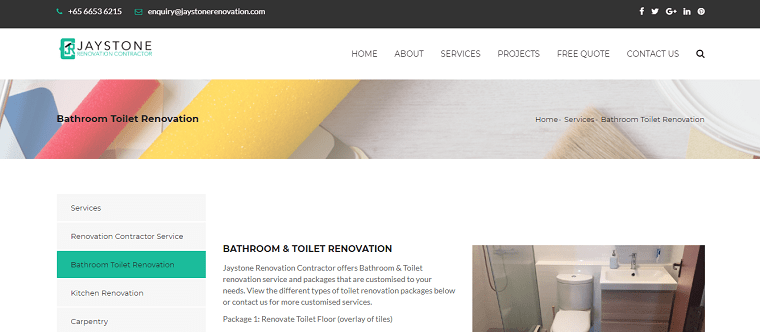 | | |
| --- | --- |
| BEST FOR | All-around Renovation Services |
| SERVICES | Bathroom Toilet Renovation, Kitchen Renovation, Carpentry, Flooring Tiling, Feature Wall, Drywall Partition, Painting, Waterproofing, and Plumbing |
| WEBSITE | http://www.jaystonerenovation.com/ |
| ADDRESS | 1090 Lower Delta Road #03, 07N, Singapore 169201 |
| CONTACT DETAILS | +65 6653 6215 |
| OPERATING HOURS | Monday – Friday, 10:00AM – 6:00PM |
Considered one of the top renovation contractors in Singapore, Jaystone Renovation Contractors offers services that are tailored to fit your needs without going over your budget. Whether you're renovating a bathroom or the living room, they can help you turn it into a much more pleasant space.
For their toilet renovation services, you can choose from their 3 unique and affordable packages. Each of these packages include experienced and professional installers to ensure quality workmanship.
Highlights
Free quotation
Trained staff and installers
Affordable rates
Customer Reviews
One of the recurring comments about them is that they're professional with their work and courteous to all their customers. On top of this, their staff and workers are really approachable and friendly, which makes their services even more amazing.
Some customers also noted that they take their time in renovating to ensure that they will meet the demands and expectations of each of their customers.
4. Reno Pro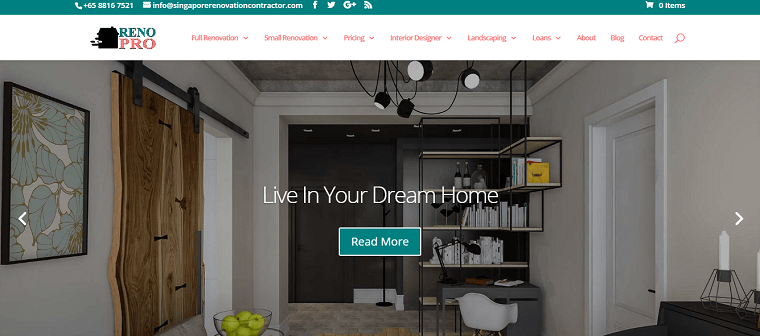 | | |
| --- | --- |
| BEST FOR | Commercial and Residential Renovation Services, Interior Design Services |
| SERVICES | Bathroom Renovation, Bedroom Renovation, Kitchen Renovation, Landscaping, and Waterproofing |
| WEBSITE | https://singaporerenovationcontractor.com/ |
| ADDRESS | 45 Jalan Pemimpin Singapore 577197 |
| CONTACT DETAILS | +65 8816 7521 |
| OPERATING HOURS | Weekdays, 9:00 AM – 5:00 PM |
Reno Pro is a full-renovation and interior design contractor that provides services to most of Singapore, offering their expertise to improve the overall atmosphere of their customers' homes. Each of their services are personalised and tailored to accommodate the preferences of clients.
Driven by their passion to serve their customers, they constantly strive to deliver services that will meet expectations and standards.
Whether you have a pipe leakage or a faulty toilet flush, they have a team of workers who can deal with any bathroom situation. You can be assured that the people you let into your home are the ones most qualified to do the job.
If you're not sure how to begin with your bathroom renovation in Singapore, just ask their staff and they will come up with a package that will best address your needs.
Highlights
100% customer satisfaction
Free estimate
Customised packages
Commercial services
5. HMS Tiling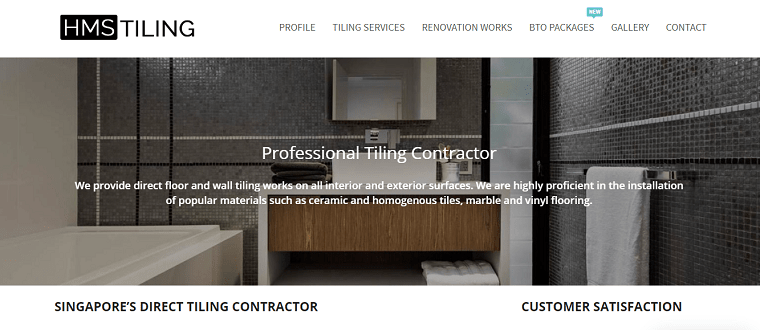 | | |
| --- | --- |
| BEST FOR | Tiling Services, Renovation Works, and Repair & Maintenance |
| SERVICES | Bathroom Renovation, Tiling Services, and Demolition |
| WEBSITE | https://www.hms-tiling.com.sg/ |
| ADDRESS | Tanglin Halt Rd, #01-353 Block 49, Singapore 142049 |
| CONTACT DETAILS | +65 9167 7727 |
| OPERATING HOURS | Monday – Saturday, 9:00 AM – 7:00 PM |
Established in the 1980's. HMS Tiling has become one of the most trusted providers for bathroom renovation in SIngapore. From the beginning, they have always been committed to quality service and unparalleled workmanship.
All their renovation services include carpentry, sanitary, electrical and aluminium works. On top of this, they promise to finish their work on time despite the extent of the project, and without sacrificing the quality of their services.
If you have concerns beyond your bathroom and toilet, no need to call other contractors because they specialise in general renovation services. Their services doesn't just revolve around bathroom renovation in Singapore. They can also work on your bedroom, living room, and even your kitchen.
Highlights
No-obligation quote
12-month warranty for dislodged tiles
Trained team of renovators
Customer Reviews
As one of the most in-demand renovation contractors on the island, HMS Tiling has received nothing but praise from their loyal customers. Among their comments are following:
"For my new BTO flooring project, I engaged HMS tiling contractor and was very satisfied with the outcome. I managed to save on ID costs and design fees for my home renovation as a result. The tilers who worked on my home were clearly experienced and attentive to details."
"Thumbs up! HMS offered practical advice and excellent workmanship for the installation of homogenous tiles in my new home. The renovation was carried out in a very neat and professional manner. The tile contractor was very dedicated and responsive to our design needs.My family was very satisfied that we got our hall retiled at a bargain. Will definitely recommend to my friends."
6. Thomson Renovation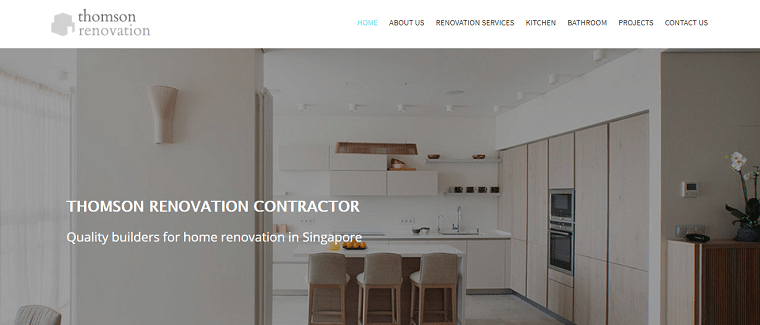 | | |
| --- | --- |
| BEST FOR | Home Renovation Services |
| SERVICES | Bathroom Renovation and Kitchen Renovation |
| WEBSITE | https://thomsonreno.com.sg/ |
| ADDRESS | 42 Canberra Drive Singapore |
| CONTACT DETAILS | +65 9799 9375 |
| OPERATING HOURS | Monday to Saturday, 9:00 AM – 6:00 PM |
If there's anything that Thomson Renovation wants its customers to have, it's the peace of mind that comes with living in a clean and organised home that they can be proud of. With over 10 years of experience, they have been one of the most trusted names in residential and commercial renovation for over a decade.
Since many customers don't know the most effective ways to renovate their washrooms, their staff offer professional advice on it. You don't have to worry about your budget either because they will consider it as they formulate a renovation plan.
Overall if you're looking for a toilet renovation contractor in Singapore with many years of experience under their belt, Thomson Renovation is highly recommended.
Highlights
Non-obligatory site survey
Installation of accessories
Professional team of craftsmen
Excellent project management
Customer Reviews
A customer who commented on Google Reviews said:
"I highly recommend Thomson Renovation.I found the service extremely professional and simple to work with for someone who works full-time and travels a lot. The team had a brilliant understanding of what I liked and didn't like and made the most of my budget to make our home a lovely home. We enjoy all about our new home and I'd suggest it to anyone who wants quality expertise with value for money. For the price I am really pleased with the quality of workmanship and materials, compared to the past few renovations I have had. The process was super smooth and I would definitely hire them again should I need any future renovation work."
7. Elysian Design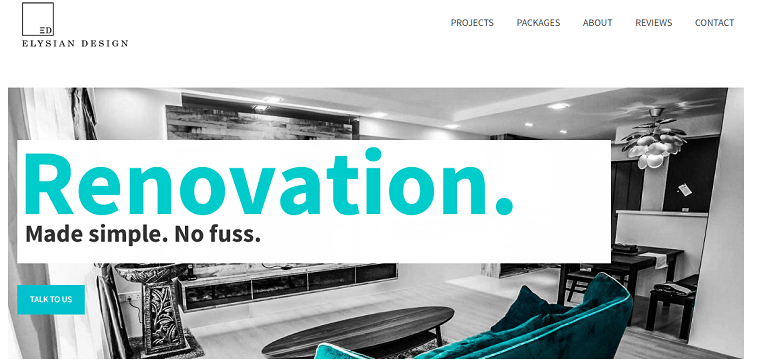 | | |
| --- | --- |
| BEST FOR | Home Renovation and Interior Design Services |
| SERVICES | Bathroom Renovation, Kitchen Renovation, Tiling Services, Painting Services, and Vinyl Floor Installation |
| WEBSITE | https://elysiandesign.com.sg/ |
| ADDRESS | 47 Kallang Pudding Rd, #08-08 Crescent @ Kallang |
| CONTACT DETAILS | +65 6442 0511 |
| OPERATING HOURS | Monday to Friday, 10:00 AM – 6:00 PM |
Elysian Design & Renovation has customers from both residential and commercial sectors, proving that their services are admired by a lot of people. If you're looking for a toilet renovation service that has a great track record and affordable services, then you should check out their services.
One of their secrets to success is that they collaborate closely with their customers in order to achieve their demands and expectations in terms of living spaces. Whether you need help in your toilet or your master's bedroom, they offer different renovation packages to choose from.
So if you're looking for a toilet renovation contractor in Singapore for both residential and commercial spaces, Elysian Design could be the one for you.
Highlights
Competitive rates
Dedicated project managers
Innovative team of craftsmen
Customer Reviews
If you take a look at their reviews, you will see that most customers praise their brilliant services and the fact that they don't hurt clients' budgets.
One customer mentioned that their team was very helpful in every phase, from the consultation period up until the phase where they were already buying materials for his home. Another customer commented that they went beyond expectations too.
8. Octagon Global Trading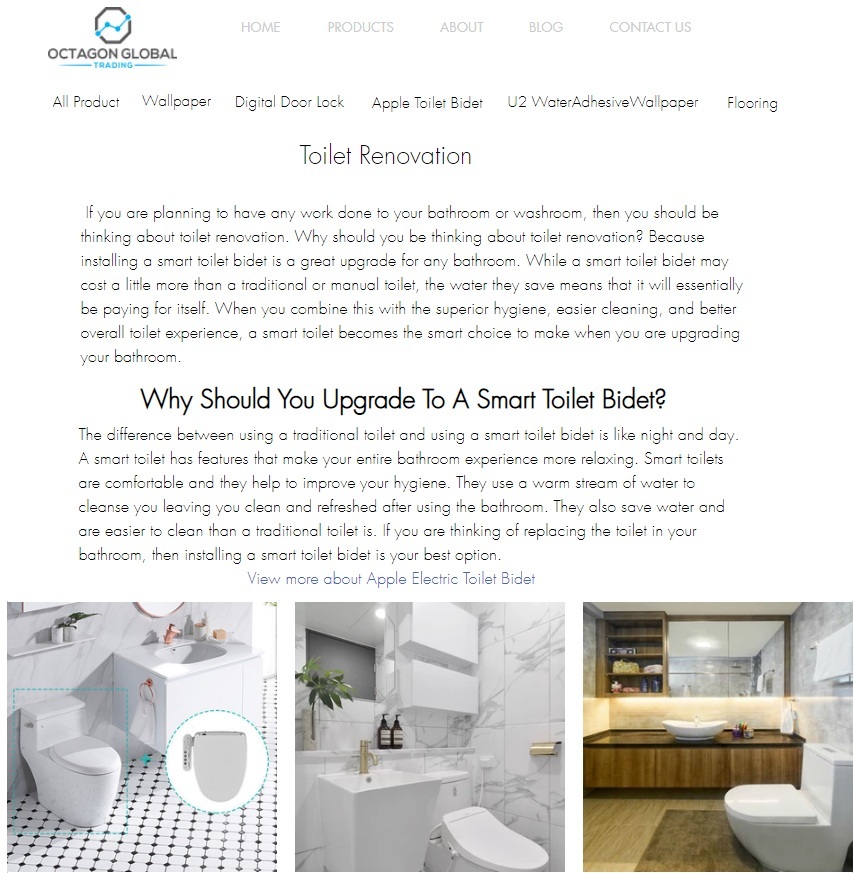 Before you start your toilet renovation, we highly suggest you visit this store for a much-needed upgrade for all your toilet needs. We're talking modern, sleek and automatic bidets that will make you feel like you're using a toilet from the future.
These premium toilet bidets promise a convenient and comfortable toilet you won't exchange for any other type. The company welcomes any inquiries and is more than happy to assist each client with their products.
Overall if you're looking to modernise your toilet and install bidets and other smart toilet features, they are the best toilet renovation contractor in Singapore for you.
Highlights
Premium Instant Heating System Bidet

Smart sensor

Friendly staff
9. YHH Plus Enterprise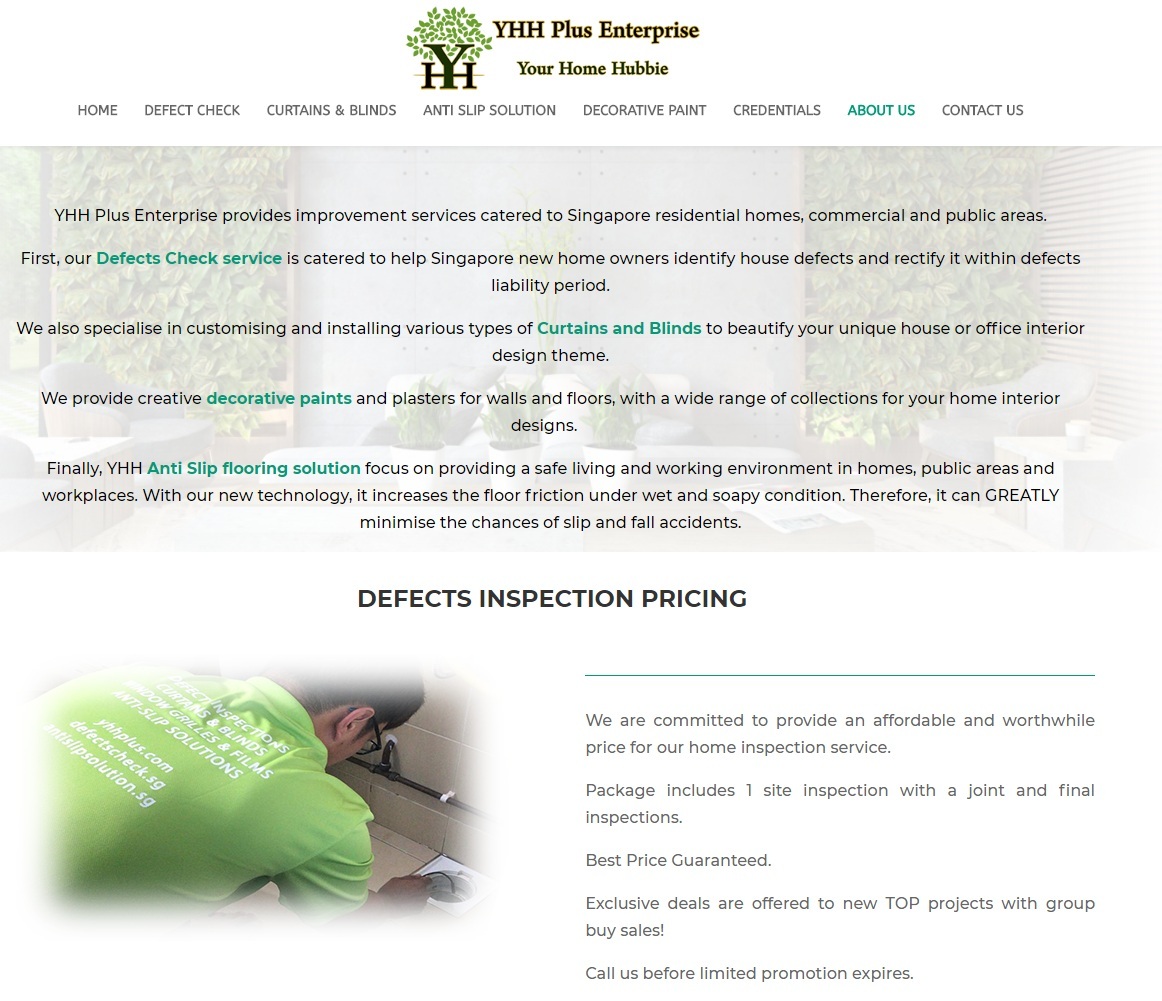 If your main reason for doing a bathroom renovation in Singapore is to improve your toilet and bath safety, this one's for you. Bathroom is the most accident-prone area in a house because its flooring is constantly wet with added slippery elements from all the soap and other bath products. But, with the help of YHH Plus Enterprise, you can make your bathroom a safer one.
They showcase their anti slip solution. This product is proven to reduce the chances of getting into accidents due to slippery bathroom floors.
It is also environment-friendly, proven 100% effective, and lasts longer than expected.
Highlights
Suitable for different floor tiles

Non-toxic solution

Exclusive to Supply and Install in Singapore.
10. Renopedia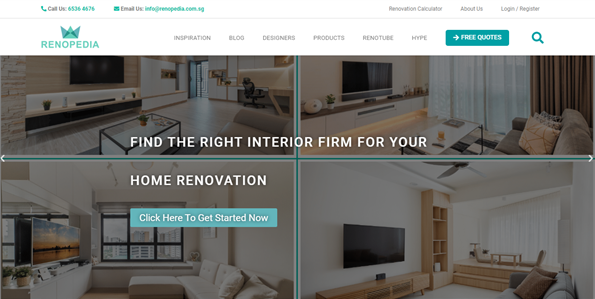 BEST FOR
Interior design, Home renovation
SERVICES
Shortlists interior design firms, furniture stores, home renovation brands, home renovation products and services in Singapore
WEBSITE
https://renopedia.sg/
ADDRESS
101 Upper Cross Street, People's Park Centre
#08-15 Singapore 058357
CONTACT DETAILS
65 6536 4676 | [email protected]
Renopedia is an online platform where Singapore homeowners can find inspirations, solutions, tips and ideas for their home renovation and design. They help homeowners find the contractors needed in making their ideal home possible.
With its partnerships to over 200 interior design firms and renovation merchants, you're sure to find the contractor suited for you. As you connect with the firms you need, they'll make sure to take into account your preferences, as well as your budget.
Whether you're looking for the best price or toilet renovation packages in Singapore that fits you best, we recommend using their online platform.
Highlights
SME 100 Awards Fast Moving Companies

The ASEAN IN Award 2018

Singapore Brand

Successful Innovators Awards
Customer Reviews
"We also recently found out about Renopedia – Singapore Number 1 Online Renovation Media Portal. We can draw inspirations for our new home there! There are even solutions or ideas for us to explore. If you don't have a new home to explore but is keen to renovate your existing house, do visit them too! " – James and Maybeline
"I have engaged 3D innovations via Renopedia last year for my house renovation. The places i have renovated are 3 bedrooms and the bathrooms. The price they quoted was reasonable. The overall design of the house was good and innovative. The designer was very initiative and patient. Although the renovation took slightly longer than expected but with the service and designs they have provided, i am satisfied" (Source: Google Reviews, 2019)
"Thank you Renopedia for the great service. My ID Racheal understands what I really want and gave me advices on what is practical and what's not. She worked within my tight budget and came up with solutions as well. My home is renovated nicely and her after sales service is terrific too. Thumbs up and thank you once again!" (Source: Google Reviews, 2019)
11. Renodots 室计点滴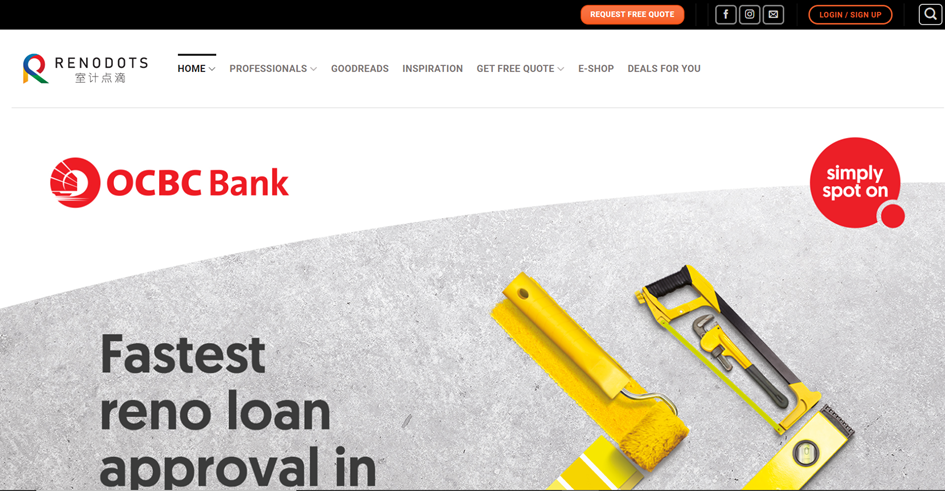 BEST FOR
Wide range of renovation services
SERVICES/SCOPE
DESIGNER LISTING
Interior Designers
HANDYMAN SERVICES
AC Services & Repair
Electrical & Wiring
Flooring Services
Home Cleaning Services
Painting Services
Movers and Packers
Plumbing Services
DESIGN & RENOVATION
Renovation Packages
Renovation Contractor
Interior Design in Singapore
PRICING
WEBSITE
https://www.renodots.com/
ADDRESS
36A Sago St, Singapore 059027
CONTACT
+65 6788 3188
Known to be one of Singapore's best interior design and renovation services company, Renodots offers beautifully made interiors from famous architects and designers in the country, to do on your home. From simple room revamping to kitchen and bathroom renovations in Singapore, they surely have something in store for you.
For toilet renovations, you can tell the team at Renodots what you want to be done and how you want it to be, and they'll handle the rest for you. Expect only the best with this amazing group of carpenters and designers.
For more inquiries, you can simply check out their portfolios and request quotation at the site, too.
Highlights
High-quality renovation service
Fast and efficient procedure
Skilled team of carpenters and designers
12. PURE Carpentry 純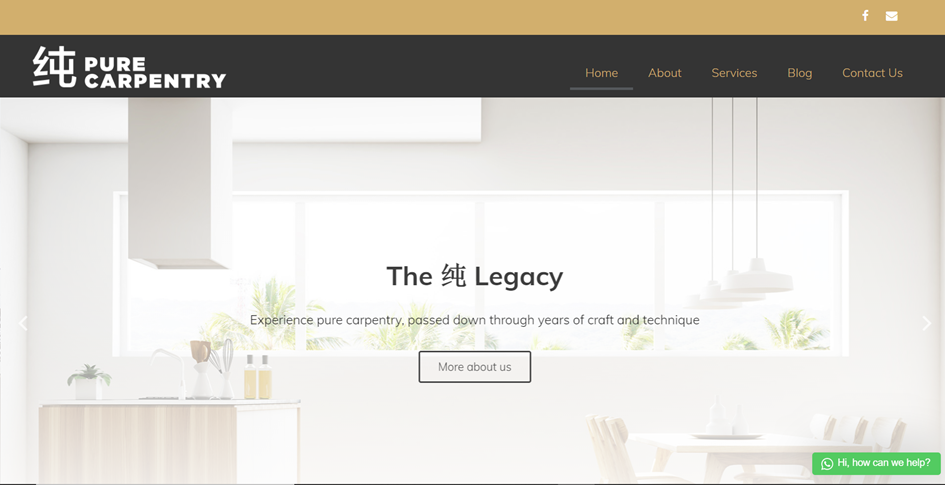 BEST FOR
Design and Renovation
SERVICES/SCOPE
Interior Design, HDB & Condo Renovation Projects, Office Design and Renovation, Masonry and Carpentry Works, Bespoke Furniture Design and Production
PRICING
Contact Pure Carpentry for quotation
WEBSITE
https://purecarpentry.com.sg/
ADDRESS
Showroom:
Blk 681 Hougang Ave 8, #01-825 (S)530681Factory Address:
23 Defu Lane 4, 6A (S)539421
CONTACT
+65 9159 0948

 
If you're looking for a company that does the design and the construction itself, then Pure Carpentry is definitely the one for you. They're composed of a team of expert designers, carpenters and master builders, meaning that they can do all the aspects of the job for you.
The company will be able to produce a great outcome from your ideas, making sure to complete your desired concepts to life, while still considering your budget.
Their toilet renovation services are readily available as well, no matter if you have leaky pipes, broken flushes or the likes, Pure Carpentry can fix it for you.
Check out more information about their services on their site.
Highlights
Functional Design
Excellent Craftsmanship
13. Ritchie Creative Design


BEST FOR
Interior Design and Space Planning
SERVICES/SCOPE

Interior Design concept consultation
Space planning & layout proposal
Material & colour scheme proposal
Site Coordination & site supervision
Workmanship and materials warranty

PRICING
Contact for more informaotion
WEBSITE
https://www.ritchiecreative.sg/
ADDRESS
No. 144 Upper Bukit Timah Road,
#03-03 Beauty World Centre
Singapore 588177
CONTACT

Phone: (65) 6469 4833

Mobile: (65) 8228 5135 (Cherie)

Fax: (65) 6467 2507

Email: [email protected]
Established in 2005, Ritchie Creative Design is one of the longest-running companies on this list, having been a constant presence in the world of interior design and space management since the time of its inception.
Now, if we're talking about the range of services Ritchie Creative Design has to offer, the firm also has one of the widest reach, including interior design planning, space and layout planning, material and colour scheme planning, as well as site coordination and site supervision.
It's also worth noting that every build and project they take on comes with workmanship and materials warranty.
Given all of these, it's no surprise why we, and other Singaporeans, have great respect for Ritchie Creative and Design. It doesn't stop there, though.
It must also be said that Ritchie Creative Design doesn't only focus on aesthetics. They are also committed to creating high-quality builds that will last a long time, making them a popular choice for HDBs and private property owners alike.
Lastly, Ritchie Creative Design offers special packages, some of which often go on sale, for those who are interested in their services. These packages make it possible for you and many others to bring your dream room or build to life without breaking the bank.
Highlights
Wide array of special packages for various rooms
Warranty for both workmanship and materials available
Caters to both HDBs and private properties
14. New Interior Design


BEST FOR
Excellent workmanship
SERVICES/SCOPE

Carpentry, Design & Layout Planning, False Ceiling & Partition, Hacking & Haulage, Masonry & Tiling, Painting

PRICING
List of Packages
WEBSITE
https://newid.com.sg
ADDRESS
Block 3 Marsiling Industrial Estate Road 4 #01-33 Singapore 739230
CONTACT
[email protected]
6366 7478
If you're looking for an interior design firm that can address your aesthetics and design needs for every room, including your bathroom, then you may want to look into New Interior Design.
Established in 2011, New Interior Design has proudly served the community by offering interior design and carpentry services for renovation works or new construction. The firm confidently and competently does so thanks to its team, which comprises professional designers as well as workmen and carpentry experts.
These individuals take pride in being a part of one of the most reliable firms in the business. Their years of experience, skills, and expertise allow them to work on a slew of properties and rooms, including but not limited to regular houses and condos, kitchens, toilets, and many more.
So, if you're looking for a firm with a diverse portfolio, New Interior Design makes an excellent choice for the job.
Highlights
Award-winning company
Diligent and efficient staff
Diverse portfolio
15. Livspace Singapore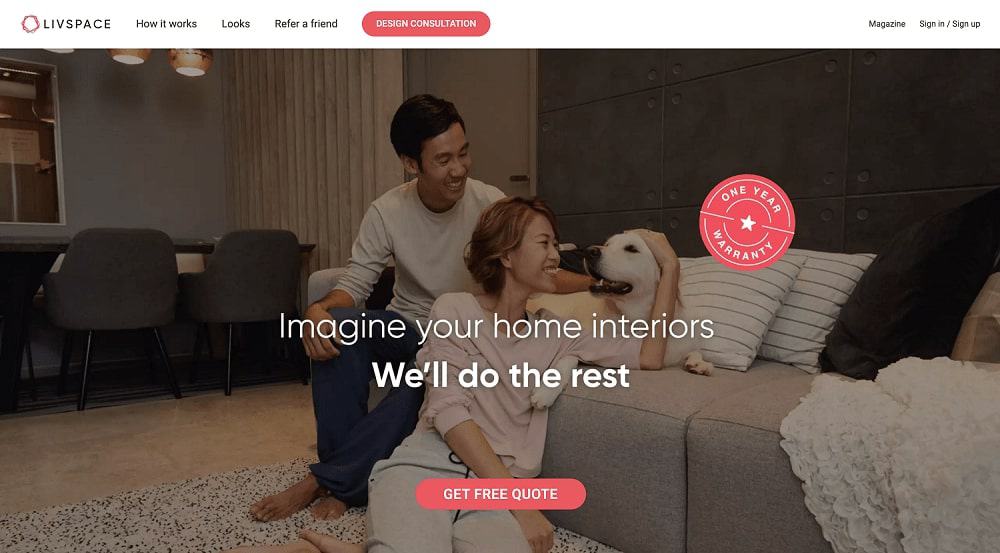 BEST FOR
Renovations, Full Home Interiors, Carpentry
SERVICES/SCOPE
Renovations
Design and build
Carpentry work
Demolition, hacking, masonry, plumbing, etc.
Furniture and decor sourcing
PRICING
You can talk to a designer to get a free quote and sample designs.
WEBSITE
https://www.livspace.com/
ADDRESS
Level 6, Beach Centre, 15 Beach Road, Singapore 189677
CONTACT
https://www.livspace.com/
Livspace, Asia's biggest interior designer, is one of the leading choices if you need the best contractors in Singapore for home interiors and innovation. They have award-winning designers and verified contractors to help customers make their long-lasting dream homes a reality.
To make sure they only hire proven contractors and service professionals, each contractor undergoes a 3-step quality check: Onboarding (portfolio screening), Testing (performance evaluation projects) and Monitoring (via a project manager). For peace of mind, customers also get $4 million insurance cover by AXA as well as one year warranty on all civil and woodwork.
Livspace has proven their mettle in various living spaces, including condos, HDB homes and landed homes. You can start the process of building or renovating your home in 5 easy steps via their convenient and easy-to-use platform.
Don't just take our word for it, check out past testimonials and feedback from over 20,000 happy and satisfied clients. In fact, 4 out of 5 customers recommend Livspace!
They also offer free quotation so if you've been wondering how much a toilet renovation cost in Singapore is, you can get in touch with them.
Highlights
Award-winning designers
Verified contractors
$4 million cover by AXA
One year warranty
Customer Reviews
After meeting a few renovation companies, we decided to go with Livspace to design and renovate our new home. We worked with William and found him to be approachable and accommodating. Mostly, he could articulate designs, which were practical yet appealing while taking into consideration safety aspects for our young child.
–Willie Yeo via Trusted Interior Singapore
Livspace was highly recommended and we were pleased. It was the first time we have used a design professional and I would highly recommend leveraging the skills and experience of Livspace.
–Andy Clark via Trusted Interior Singapore
I recently dealt with Livspace for the renovation of my apartment. Their suggestions were non-intrusive but useful and my designer was able to understand my taste, budget and requirements and plan accordingly.
–David McGoldrick via Trusted Interior Singapore
Anyway, with that, we have our list of the top companies offering the best toilet renovation in Singapore!
If you have one renovation provider in mind that wasn't included in our list, tell us what makes that provider great! We always want to hear about your experiences.
By the way, if you have a leak at home that you think needs to be checked by a professional, please do check out our list of the best plumbers in Singapore. We promise that you won't be disappointed by their services!