Are you searching for ways to improve the overall appearance of your toilet? With the best toilet renovation services in Singapore, your bathroom will surely look better and more sophisticated than before!
While there may not be a lot of contractors that focus on toilet renovation, we've managed to find some that you should definitely check out. And since most renovation services cost a lot, we made sure to include some that won't drain your wallet.
Anyway, you'll see that for yourself as we go through our picks. Without further ado, here's our list of the best toilet renovation services in Singapore that can make your bathroom look amazing!  
1. Qanvast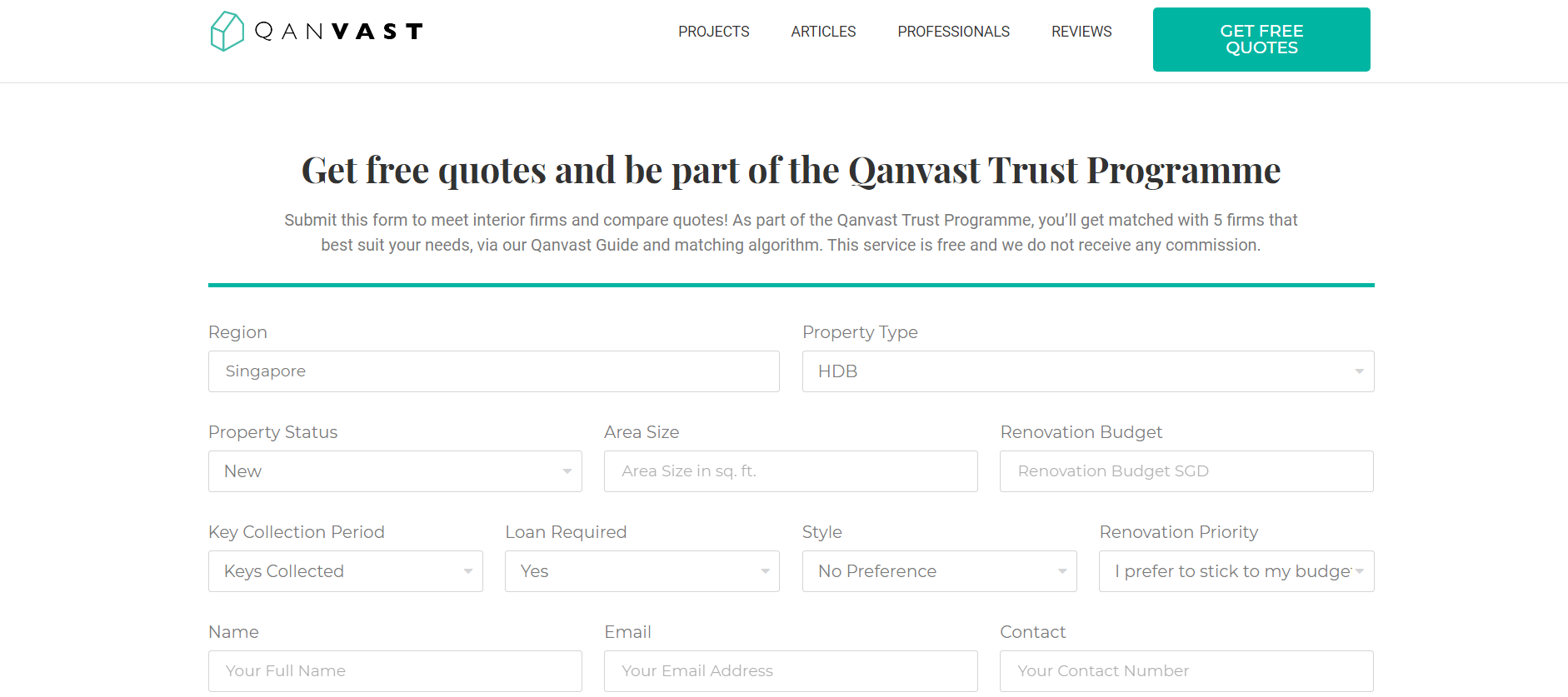 BEST FOR
Personalised interior design services
SERVICES/SCOPE
Specialised interior decoration
Interior designer matching
Project management
Renovations
PRICING
Free
WEBSITE
https://www.trustedinterior.com/qanvastsg/
ADDRESS
n/a
CONTACT
Contact them through their site
Or email:

[email protected]
Are you having your washroom renovated but have no idea how to go about the interior design of your new restroom? Then Qanvast has got you covered!
They are an online platform that helps you connect to reputable design firms. Using their Qanvast Guide and matching algorithm, they are able to connect you to five firms that meet your needs.
Visit their website today to learn more.
Highlights
Get free quotes
Easy-to-use interface
Simple yet effective form
2. Renovation Contractor Singapore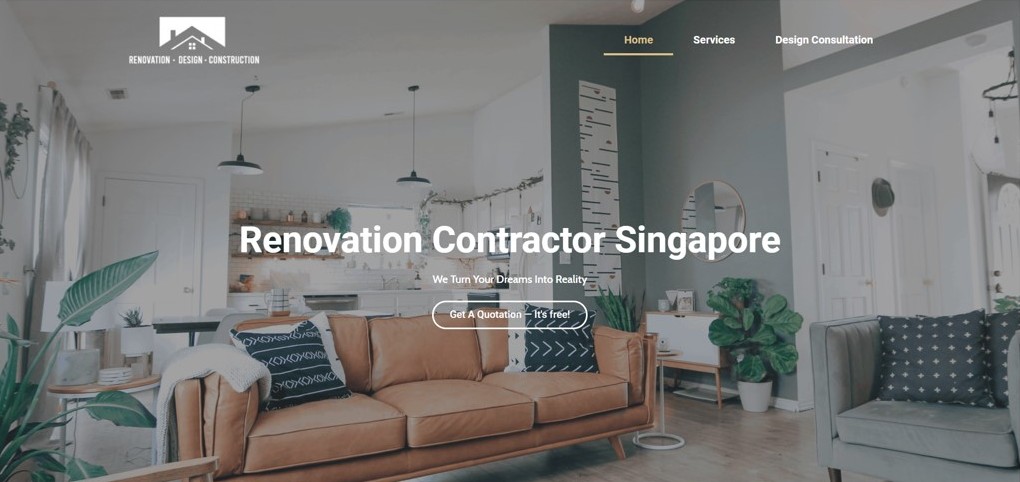 Renovation Contractor Singapore can turn your design dreams into reality. With award-winning interior designers at your disposal, they can create your perfect home from start to finish. In their capable hands, any room can be both functional and inspirational.
This full service contractor and interior designer can handle any job, big or small, be it a simple paint job or a full renovation. You'll find yourself in exceptional hands with licensed professionals, responsive customer service and excellent after sales support.
Highlights
Design to installation service
Licensed professionals
Assured quality and workmanship
Prompt after-sales support
3. Jaystone Renovation Contractor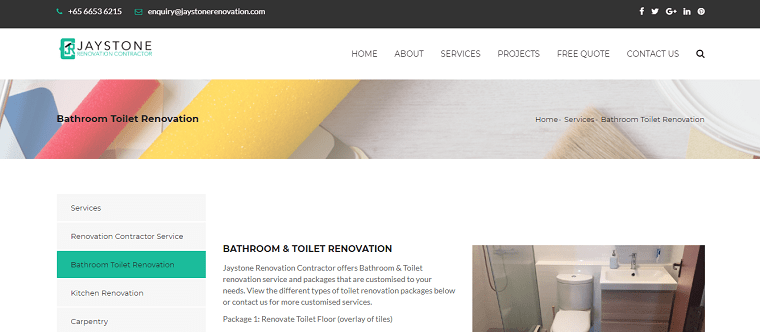 | | |
| --- | --- |
| BEST FOR  | All-around Renovation Services |
| SERVICES | Bathroom Toilet Renovation, Kitchen Renovation, Carpentry, Flooring Tiling, Feature Wall, Drywall Partition, Painting, Waterproofing, and Plumbing |
| WEBSITE | http://www.jaystonerenovation.com/ |
| ADDRESS | 1090 Lower Delta Road #03, 07N, Singapore 169201 |
| CONTACT DETAILS | +65 6653 6215 |
| OPERATING HOURS | Monday – Friday, 10:00AM – 6:00PM |
 Considered one of the top renovation contractors in Singapore, Jaystone Renovation Contractors offers services that are tailored to fit your needs without going over your budget. Whether you're renovating a bathroom or the living room, they can help you turn it into a much more pleasant space.
For their toilet renovation services, you can choose from their 3 unique and affordable packages. Each of these packages include experienced and professional installers to ensure quality workmanship.
Service Highlights
Free quotation
Trained staff and installers
Affordable rates 
Customer Reviews
One of the recurring comments about them is that they're professional with their work and courteous to all their customers. On top of this, their staff and workers are really approachable and friendly, which makes their services even more amazing.
Some customers also noted that they take their time in renovating to ensure that they will meet the demands and expectations of each of their customers.
4. Toilet Renovation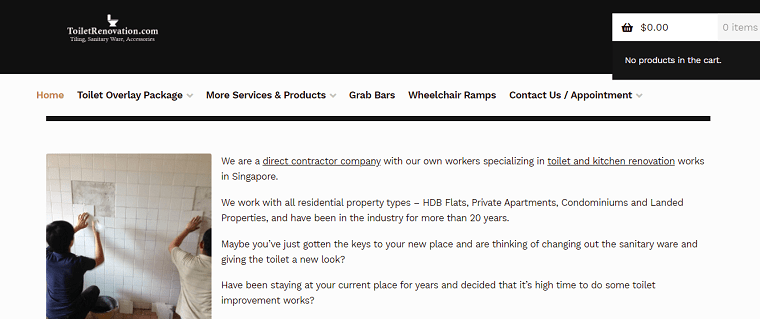 | | |
| --- | --- |
| BEST FOR  | Tiling Works and Hacking Works |
| SERVICES | Bathtub Removal, Toilet Bowl Conversion, Anti Slip Floor Treatment, Toilet Shower Screen, and Toilet Slide Swing Door |
| WEBSITE | http://www.toiletrenovation.com/ |
| ADDRESS | 397 Changi Road Singapore 419844 |
| CONTACT DETAILS | +65 8100 6008 |
If you're looking for a toilet renovation group that knows its way around all types of residential properties, then Toilet Renovation would be a great match for you. Specialising in toilet and kitchen renovation, they have been servicing most of Singapore for over 20 years now.
Their toilet renovation services include tiling and hacking work and installation of toilet bowls, wash basins, and screen doors. Their services are perfect for those who want to improve the atmosphere inside their bathrooms.
What's more, they offer packages that are budget-friendly to elderlies. If you're curious about their services, don't hesitate to give them a ring.
Highlights
Budget-friendly rates
Personalised packages
Non-obligatory quotation
5. Livspace Singapore
BEST FOR
Renovations, Full Home Interiors, Carpentry
SERVICES/SCOPE
Renovations
Design and build
Carpentry work
Demolition, hacking, masonry, plumbing, etc.
Furniture and decor sourcing
PRICING
You can talk to a designer to get a free quote and sample designs.
WEBSITE
https://www.trustedinteriorsingapore.com/livspace/
ADDRESS
Level 6, Beach Centre, 15 Beach Road, Singapore 189677
CONTACT
+65 3129 2402
Livspace is one of the leading choices if you need the best contractors in Singapore for home interiors and innovation. They have award-winning designers and verified contractors to help customers make their long-lasting dream homes a reality.
To make sure they only hire proven contractors and service professionals, each contractor undergoes a 3-step quality check: Onboarding (portfolio screening), Testing (performance evaluation projects) and Monitoring (via a project manager). For peace of mind, customers also get $4 million insurance cover by AXA as well as one year warranty on all civil and woodwork.
Livspace has proven their mettle in various living spaces, including condos, HDB homes and landed homes. You can start the process of building or renovating your home in 5 easy steps via their convenient and easy-to-use platform.
Don't just take our word for it, check out past testimonials and feedback from over 20,000 happy and satisfied clients. In fact, 4 out of 5 customers recommend Livspace!
SERVICE HIGHLIGHTS
Award-winning designers
Verified contractors
$4 million cover by AXA
One year warranty
CUSTOMER REVIEWS
After meeting a few renovation companies, we decided to go with Livspace to design and renovate our new home. We worked with William and found him to be approachable and accommodating. Mostly, he could articulate designs, which were practical yet appealing while taking into consideration safety aspects for our young child.
–Willie Yeo via Trusted Interior Singapore
Livspace was highly recommended and we were pleased. It was the first time we have used a design professional and I would highly recommend leveraging the skills and experience of Livspace.
–Andy Clark via Trusted Interior Singapore
I recently dealt with Livspace for the renovation of my apartment. Their suggestions were non-intrusive but useful and my designer was able to understand my taste, budget and requirements and plan accordingly.
–David McGoldrick via Trusted Interior Singapore
6. Reno Pro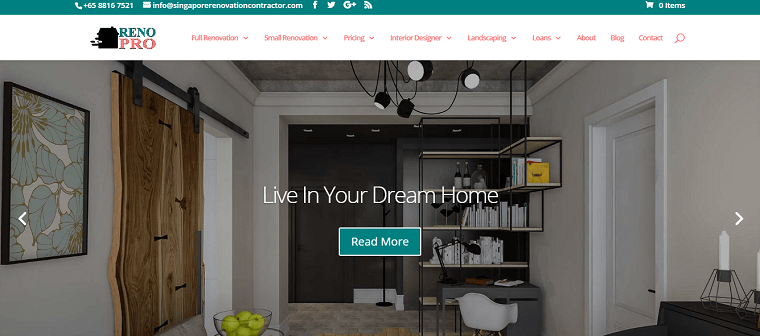 | | |
| --- | --- |
| BEST FOR  | Commercial and Residential Renovation Services, Interior Design Services |
| SERVICES | Bathroom Renovation, Bedroom Renovation, Kitchen Renovation, Landscaping, and Waterproofing |
| WEBSITE | https://singaporerenovationcontractor.com/ |
| ADDRESS | 45 Jalan Pemimpin Singapore 577197 |
| CONTACT DETAILS | +65 8816 7521 |
| OPERATING HOURS | Weekdays, 9:00 AM – 5:00 PM |
 Reno Pro is a full-renovation and interior design contractor that provides services to most of Singapore, offering their expertise to improve the overall atmosphere of their customers' homes. Each of their services are personalised and tailored to accommodate the preferences of clients.
Driven by their passion to serve their customers, they constantly strive to deliver services that will meet expectations and standards.
Whether you have a pipe leakage or a faulty toilet flush, they have a team of workers who can deal with any bathroom situation. You can be assured that the people you let into your home are the ones most qualified to do the job.
If you're not sure how to improve your bathroom either, just ask their staff and they will come up with a package that will best address your needs. 
Highlights
100% customer satisfaction
Free estimate
Customised packages
Commercial services
7. HMS Tiling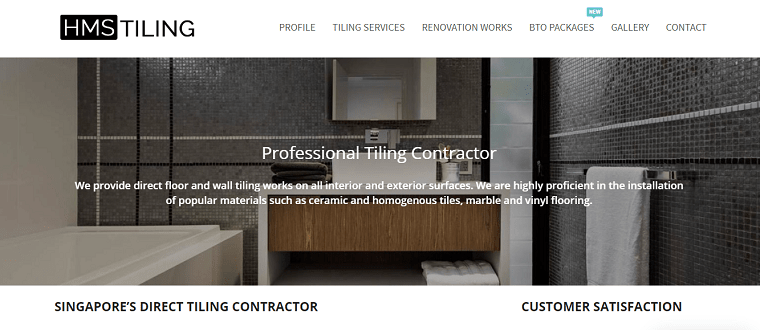 | | |
| --- | --- |
| BEST FOR  | Tiling Services, Renovation Works, and Repair & Maintenance |
| SERVICES | Bathroom Renovation, Tiling Services, and Demolition |
| WEBSITE | https://www.hms-tiling.com.sg/ |
| ADDRESS | Tanglin Halt Rd, #01-353 Block 49, Singapore 142049 |
| CONTACT DETAILS | +65 9167 7727 |
| OPERATING HOURS | Monday – Saturday, 9:00 AM – 7:00 PM |
Established in the 1980's. HMS Tiling has become one of Singapore's most trusted bathroom renovation service providers. From the beginning, they have always been committed to quality service and unparalleled workmanship.
All their renovation services include carpentry, sanitary, electrical and aluminium works. On top of this, they promise to finish their work on time despite the extent of the project, and without sacrificing the quality of their services.
If you have concerns beyond your bathroom and toilet, no need to call other contractors because they specialise in general renovation services. They can also work on your bedroom, living room, and even your kitchen.
Highlights
No-obligation quote
12-month warranty for dislodged tiles
Trained team of renovators
Customer Reviews
As one of the most in-demand renovation contractors on the island, HMS Tiling has received nothing but praise from their loyal customers. Among their comments are following:
"For my new BTO flooring project, I engaged HMS tiling contractor and was very satisfied with the outcome. I managed to save on ID costs and design fees for my home renovation as a result. The tilers who worked on my home were clearly experienced and attentive to details."
"Thumbs up! HMS offered practical advice and excellent workmanship for the installation of homogenous tiles in my new home. The renovation was carried out in a very neat and professional manner. The tile contractor was very dedicated and responsive to our design needs.My family was very satisfied that we got our hall retiled at a bargain. Will definitely recommend to my friends." 
8. Thomson Renovation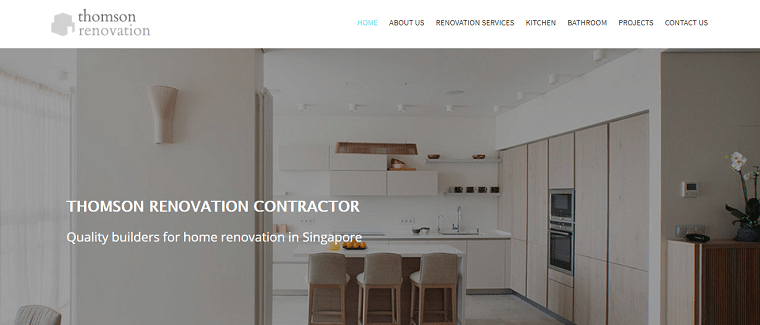 | | |
| --- | --- |
| BEST FOR  | Home Renovation Services |
| SERVICES | Bathroom Renovation and Kitchen Renovation |
| WEBSITE | https://thomsonreno.com.sg/ |
| ADDRESS | 42 Canberra Drive Singapore |
| CONTACT DETAILS | +65 9799 9375 |
| OPERATING HOURS | Monday to Saturday, 9:00 AM – 6:00 PM |
 If there's anything that Thomson Renovation wants its customers to have, it's the peace of mind that comes with living in a clean and organised home that they can be proud of. With over 10 years of experience, they have been one of the most trusted names in residential and commercial renovation for over a decade.
Since many customers don't know the most effective ways to renovate their washrooms, their staff offer professional advice on it. You don't have to worry about your budget either because they will consider it as they formulate a renovation plan.
Highlights
Non-obligatory site survey
Installation of accessories
Professional team of craftsmen
Excellent project management 
Customer Reviews
A customer who commented on Google Reviews said:
"I highly recommend Thomson Renovation.I found the service extremely professional and simple to work with for someone who works full-time and travels a lot. The team had a brilliant understanding of what I liked and didn't like and made the most of my budget to make our home a lovely home. We enjoy all about our new home and I'd suggest it to anyone who wants quality expertise with value for money. For the price I am really pleased with the quality of workmanship and materials, compared to the past few renovations I have had. The process was super smooth and I would definitely hire them again should I need any future renovation work."
9. Elysian Design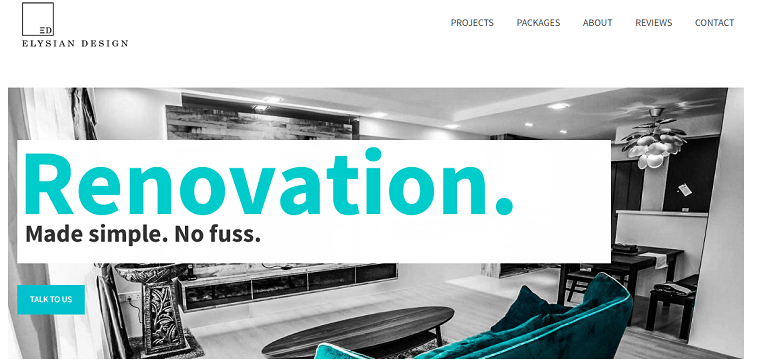 | | |
| --- | --- |
| BEST FOR  | Home Renovation and Interior Design Services |
| SERVICES | Bathroom Renovation, Kitchen Renovation, Tiling Services, Painting Services, and Vinyl Floor Installation |
| WEBSITE | https://elysiandesign.com.sg/ |
| ADDRESS | 47 Kallang Pudding Rd, #08-08 Crescent @ Kallang |
| CONTACT DETAILS | +65 6442 0511 |
| OPERATING HOURS | Monday to Friday, 10:00 AM – 6:00 PM |
 Elysian Design & Renovation has customers from both residential and commercial sectors, proving that their services are admired by a lot of people. If you're looking for a toilet renovation service that has a great track record and affordable services, then you should check out their services.
One of their secrets to success is that they collaborate closely with their customers in order to achieve their demands and expectations in terms of living spaces. Whether you need help in your toilet or your master's bedroom, they offer different renovation packages to choose from. 
Highlight
Competitive rates
Dedicated project managers
Innovative team of craftsmen
Customer Reviews 
If you take a look at their reviews, you will see that most customers praise their brilliant services and the fact that they don't hurt clients' budgets.
One customer mentioned that their team was very helpful in every phase, from the consultation period up until the phase where they were already buying materials for his home. Another customer commented that they went beyond expectations too.
10. Octagon Global Trading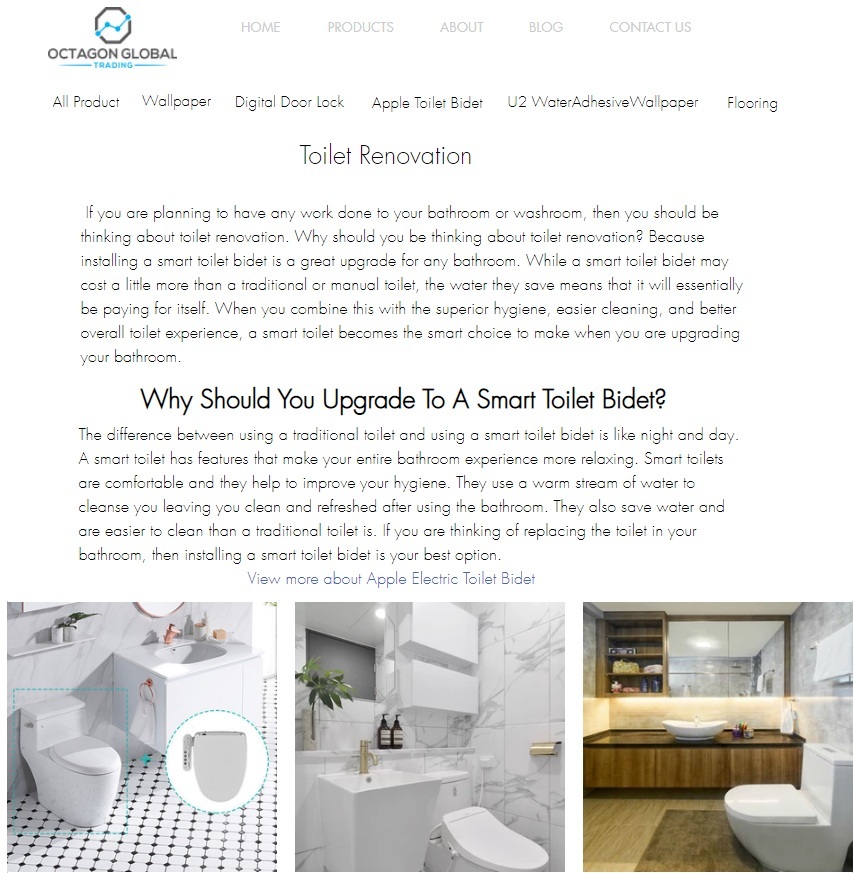 Before you start your toilet renovation, we highly suggest you visit this store for a much-needed upgrade for all your toilet needs. We're talking modern, sleek and automatic bidets that will make you feel like you're using a toilet from the future. 
These premium toilet bidets promise a convenient and comfortable toilet you won't exchange for any other type. The company welcomes any inquiries and is more than happy to assist each client with their products. 
Highlights
Premium Instant Heating System Bidet

Smart sensor

Friendly staff
11. YHH Plus Enterprise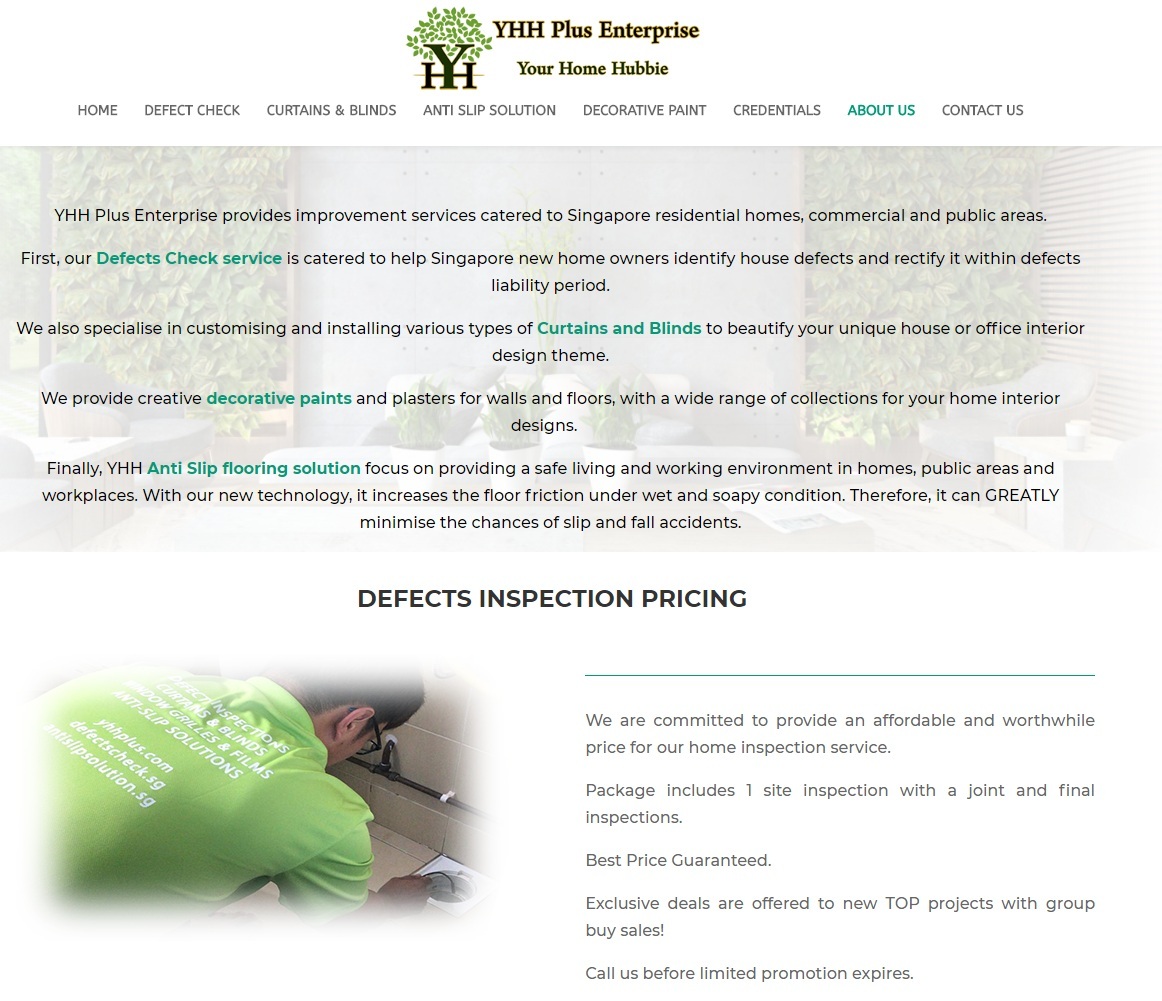 Bathroom is the most accident-prone area in a house because its flooring is constantly wet with added slippery elements from all the soap and other bath products. But, with the help of YHH Plus Enterprise, you can make your bathroom a safer one.
They showcase their anti slip solution. This product is proven to reduce the chances of getting into accidents due to slippery bathroom floors.
It is also environment-friendly, proven 100% effective, and lasts longer than expected. 
Highlights
Suitable for different floor tiles

Non-toxic solution

Exclusive to Supply and Install in Singapore.
Anyway, with that, we have our list of the top companies offering the best toilet renovation in Singapore!
If you have one renovation provider in mind that wasn't included in our list, tell us what makes that provider great! We always want to hear about your experiences.
By the way, if you have a leak at home that you think needs to be checked by a professional, please do check out our list of the best plumbers in Singapore. We promise that you won't be disappointed by their services!