10 Vendors of the Best Kitchen Cabinets in Singapore
Renovating your kitchen is definitely no easy task. On top of finding a reliable contractor, you're going to need to look for furniture and appliances to purchase, which includes the best kitchen cabinets in Singapore.
Since we want to make your life a bit easier, we created a list featuring the places that sell the best kitchen cabinets in Singapore. That way, you could use your time to focus on more important matters related to your kitchen's renovation.
Anyway, here our picks for the places where one can find the best kitchen cabinets in Singapore.
1. A Star Furnishing
| | |
| --- | --- |
| BEST FOR | Customised Furniture |
| SERVICES | Kitchen Cabinets, Vanity Cabinets, and Wardrobes |
| WEBSITE | https://astarfurnishing.sg/ |
| ADDRESS | 71 Woodlands Industrial Park E9, #03-15, Singapore 757048 |
| CONTACT DETAILS | +65 6200 8588 |
| OPERATING HOURS | Monday – Friday, 9:00 AM to 6:00 PM |
If you're looking for a kitchen cabinet with top-notch craftsmanship, then you might want to check out what A Star Furnishing has to offer. It's one of the few furniture shops on the island that sell eco-friendly kitchen cabinets made by professional and experienced carpenters.
A Star Furnishing takes pride in the fact that the materials used in making its cabinets are ethically sourced and environmentally friendly. That way, you can rest assured that no damage to the environment is done in the process.
Another reason we consider it a top option for the best kitchen cabinets in Singapore is the durability of its products. All of its kitchen cabinets have anti-termite treatment, are free from formaldehyde, and are 1005 waterproof.
Highlights
10 years of experience
Durable and eco-friendly products
2. Classic Furniture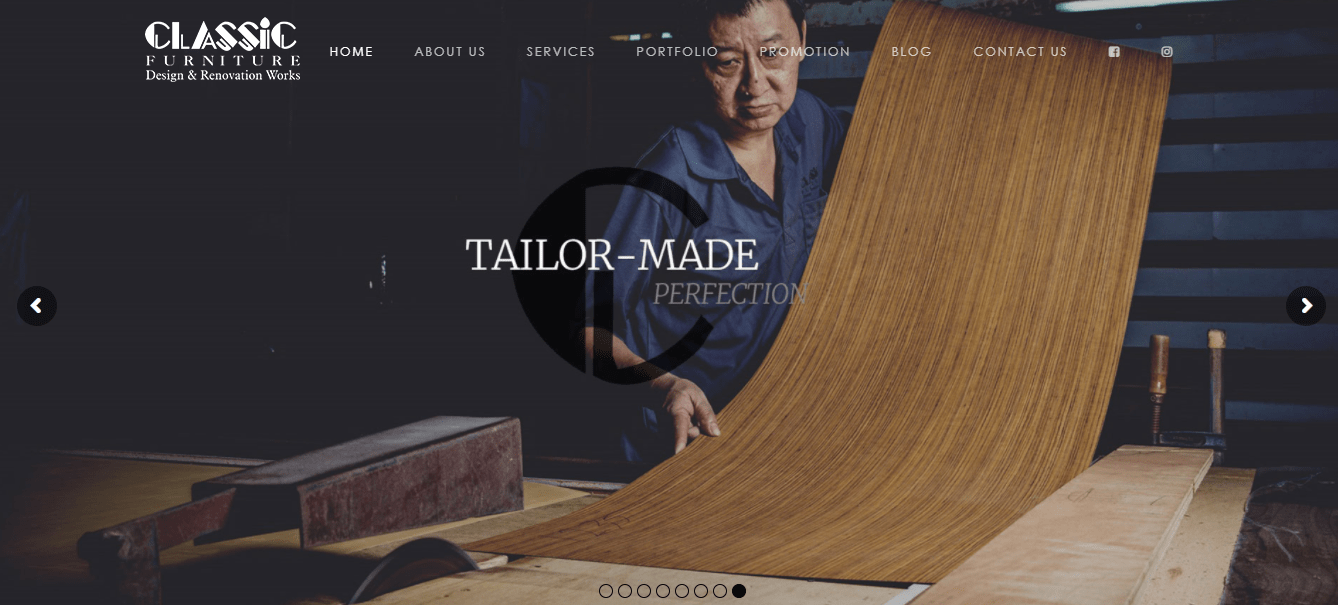 | | |
| --- | --- |
| BEST FOR | Carpentry and Interior Design |
| SERVICES | Kitchen Cabinets, Carpentry, and Renovation |
| WEBSITE | https://classicfurniture.sg/ |
| ADDRESS | 845 Geylang Road #03-56 Tanjong Katong Complex, Singapore 400845 |
| CONTACT DETAILS | +65 6747 4119 |
| OPERATING HOURS | Monday – Friday, 11:00 AM to 8:00 PM |
Considered one of the most in-demand contractors on the island, Classic Furniture offers both interior design, renovation, and carpentry services.
It's known for having a dedicated team of in-house designers and carpenters, all of whom have years of experience to brag out.
Classic Furniture boasts more than 40 years of experience too, making it one of pioneers of home renovation and carpentry in Singapore. It's really no surprise that it ended up on our list of the best kitchen cabinets in Singapore.
Above all, Classic Furniture is famous for its durable furniture, made from quality materials and made with excellent craftsmanship.
Highlights
40 years of experience
Carpentry and renovation
Customer Reviews
Here are some of the comments posted by its past customers:
"If you want a fuss-free experience, Classic is the way to go. I told them what I would like, they tell you what works and what does not and why. They give you good recommendations. There are many decisions to make in a renovation from the colour of the walls, tiles, finishings, carpentry etc. I like how they shortlist based on the theme for you to make a quick decision. Once the mock up is done, I just leave it to them to do the job. They will contact you if there are any issues and will always suggest a workaround. Timing-wise – perfect. No delays. Oh, they are really amazing with the kitchen work."
"was really impressed by classic furniture communication and their willingness to meet my expectations. I'm a pretty detailed oriented person and every inch of my house had to be perfect. I had to drop my previous service provider as they were not making any progress towards what I had in mind."
3. Kitchen Cabinet Singapore

If you're searching for the best kitchen cabinets in Singapore that won't go beyond your budget, then make sure to check out what Kitchen Cabinet Singapore can offer! It sells a wide selection of kitchen cabinets made from quality materials and with different designs.
Kitchen Cabinet Singapore is famous for having some of the cheapest kitchen cabinets sold on the island. Despite its ridiculously low prices, its kitchen cabinets are guaranteed to last for a long time because of their anti-termite and waterproof features.
Highlights
Affordable kitchen cabinets
Made from premium materials
With a team of experienced carpenters
4. Happy Home

| | |
| --- | --- |
| BEST FOR | Durable Products |
| SERVICES | Aluminium Kitchen Cabinets and Furniture |
| WEBSITE | https://aluminium-kitchen.sg/ |
| ADDRESS | 71 Woodlands Industrial Park E9, #03-16 Wave 9, Singapore 757048 |
| CONTACT DETAILS | +65 9712 8608 |
| OPERATING HOURS | Monday – Friday, 9:00 AM to 6:00 PM |
Happy Home is one of the few furniture shops and contractors in Singapore that specialise in aluminium kitchen cabinets, instead of wood. Its carpenters believe that aluminium cabinets have more benefits compared to its wood counterparts.
If you've always been curious about aluminium kitchen cabinets, maybe now's the right time to get your hands on one. Happy Home promises that its products are durable, easy to clean, fire-resistant, water-resistant, and even stain-resistant.
One reason we consider it one the top options for the best kitchen cabinets in Singapore is the fact that all of its kitchen cabinets are aesthetically pleasing to the eyes because of the quality of materials used.
If you want a kitchen cabinet based on your own design, Happy Home will also be willing to custom-make one for you!
Highlights
Customised kitchen cabinets
Made by skilled carpenters
5. Hua Kwang Furniture & Decoration

| | |
| --- | --- |
| BEST FOR | Home Renovation |
| SERVICES | Kitchen Cabinets, Carpentry, Renovation, and Tilling |
| WEBSITE | https://huakwang.com.sg/ |
| ADDRESS | #03-46, Northlink Building, 10 Admiralty St, Singapore 757695 |
| CONTACT DETAILS | +65 9834 5461 |
| OPERATING HOURS | Monday – Friday, 9:00 AM to 6:00 PM |
Established more than 30 years ago, Hua Kwang Furniture & Decoration has grown into one of the trusted sources of home furniture and home renovation services in Singapore. It's made up of a large team of professional contractors, creative designers, and experienced carpenters.
Some of the other services offered by Hua Kwang Furniture & Decoration are carpentry, sketch design, full renovation, demolition, and 3D design services. It's indeed a one-stop shop for all your furniture and renovation needs!
One reason that Hua Kwang Furniture & Decoration has beaten competitors is the fact that it's always used high quality and environmentally friendly materials when producing kitchen cabinets and other furniture.
Highlights
More than 30 years of experience
Premium, eco-friendly materials
Experienced contractors and carpenters
Customer Reviews
Take a look at what its customers had to say about its services:
"We engaged Mr Pang to dismantle our feature wall in the living room. He was very accommodating when we had to change our original date for the project. On the day itself, they arrived within the agreed time and took less than an hour to finish the job, including clearing the debris. A fuss-free and seamless process. A job well done! Thank you Mr Pang."
"Really glad me and my wife engaged Hua Kwang Furniture as our contractor for our first BTO! Great experience dealing with Mr Pang, very friendly and helpful. Throughout the entire renovation period, he was 24/7 contactable and provided us with many renovation advice and tips. Both of us were very held up with work, but I am glad everything turned out well under the hands of Mr Pang. The quality of the carpentry works were also really good! Everything was above expectation. Knowing we had a tight schedule, Hua Kwang also managed to complete our project in time!"
6. Apt Atelier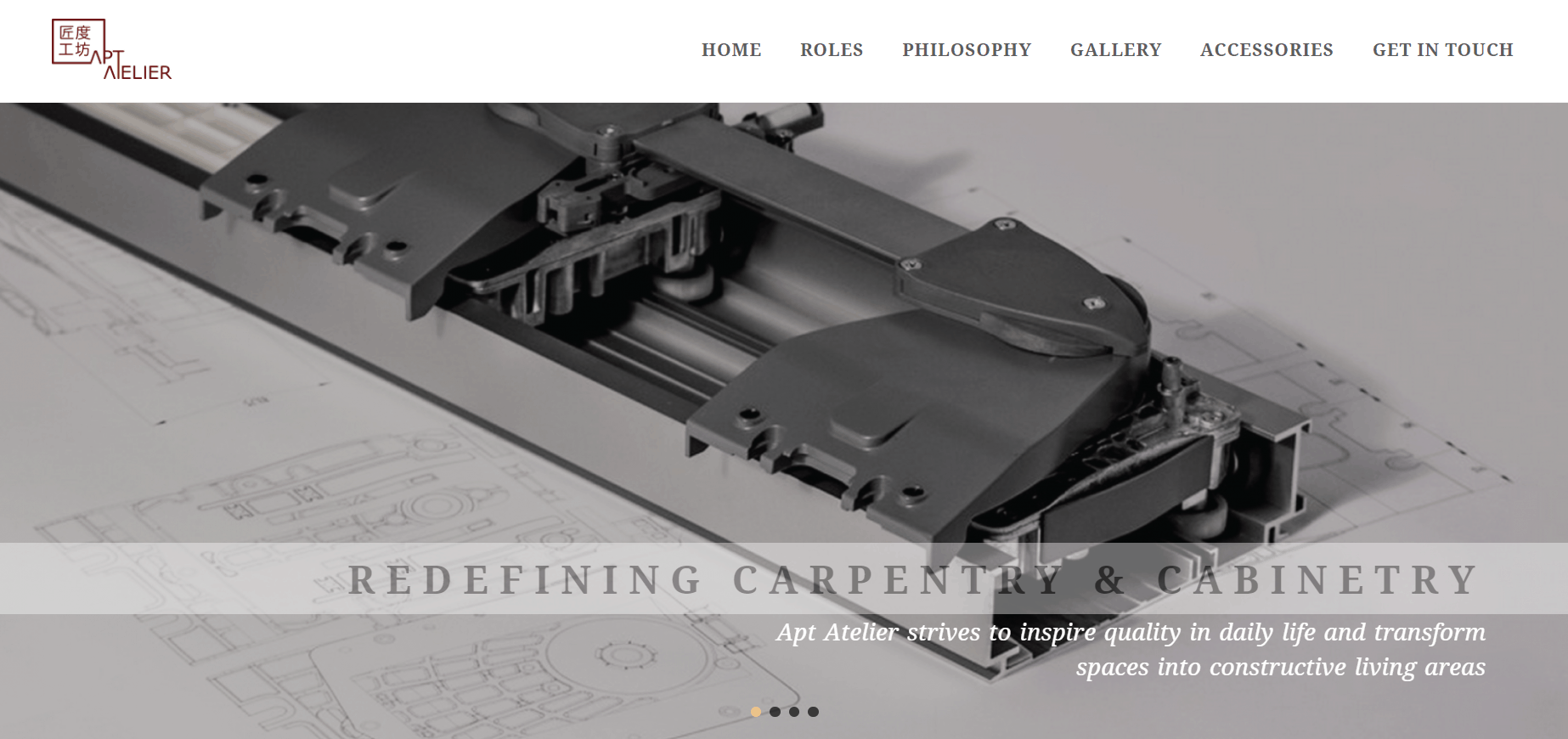 BEST FOR
Innovative Storage and Design
SERVICES

Carpentry and Cabinetry

WEBSITE
https://www.aptatelier.sg
ADDRESS
261 Waterloo Street, #02-30, Singapore 180261
CONTACT DETAILS

[email protected]
+65 6909 3508

OPERATING HOURS
Monday to Friday: 10.00am to 6.00pm (By Appointment Only)
Imagine this: You have a home that you've always dreamt of, its aesthetics and design the way you want, but there's something lacking… proper storage spaces that suit your vision.
So you search up the best cabinets in Singapore and come up short. Well, why not consider Apt Atelier and their services?
Apt Atelier is, simply put, an innovator. The company strives to push the boundaries of design and storage, merging the two to create eye-catching pieces that are functional as well.
Aside from cabinetry, Apt Atelier also offers carpentry services. The company, regardless of the project, strives to use the finest material available for the given budget.
Meanwhile, the team comprises of design and carpentry professionals who collaborate to bring the clients' visions to life. If you're in need of beautifully done cabinet for your kitchen, you might want to try out Apt Atelier.
Highlights
Expertly and cleanly done cabinets
Offers carpentry services for other storage options
Prompt and professional team
7. HOUZE

BEST FOR
Trusted Furniture Brands
SERVICES
Storage Options, Laundry, Bathroom & Kitchen Necessities
WEBSITE
https://www.houze.com.sg/
ADDRESS

10 Paya Lebar Road

PLQ Mall #03-14

S(409057)

CONTACT DETAILS
+65 8818 8581
OPERATING HOURS
10:30 am – 7 pm Daily
HOUZE offers furniture that is not only high-quality but also affordable. Their goal is to make their client's lives easier by beautifying and decluttering one's home.
They have a wide range of furniture options, from seating to other necessities. With their help, chores won't be as bothersome as they once were.
Highlights
7 days refund policy
Free delivery for others above $80
8. Song-Cho
BEST FOR
Kitchen and Bathroom Equipment
SERVICES

Kitchen Layout Consultation (Drawing & Quotation), Kitchen Installation

WEBSITE
https://www.songcho.com.sg/
ADDRESS
37 Jalan Pemimpin #01-08/09, MAPEX Singapore 577177 (KITCHEN DESIGN HUB)
CONTACT DETAILS

Tel: +65 63331198

Fax: +65 6255 0633

OPERATING HOURS
Daily: 10am to 7pm
Song-Cho is one of the best stainless steel products supplier in Singapore. They are the exclusive distributor for various renowned brands, as well as their personal brand.
They continuously work with their manufacturers in developing and creating ergonomic items. If you're interested, make sure to take a look around their various showrooms in Singapore.
Highlights
Quality stainless steel products
Several showrooms around Singapore
9. Plus65Furniture

BEST FOR
Affordable Prices
SERVICES
Furniture Sale
WEBSITE
https://plus65furniture.sg/
ADDRESS
50 Serangoon North Ave 4, #01-12, Singapore 555856
CONTACT DETAILS
Tel: +65 8838 6565(Whatapp)
Email: [email protected]
OPERATING HOURS
Always Open
Plus65Furniture's goal is to provide furniture to its clients at the most affordable prices. They take pride in their excellent customer service, as they prioritize their client's need above all.
Their wide selection of furniture guarantees that you'll be able to find the item you need in their store. As a plus, they're open 24/7, so make sure to contact them now!
Highlights
Affordable prices
Open 24/7
10.  CarpentryWork.SG

BEST FOR 

Custom-made Carpentry Works

SERVICES
WEBSITE
https://carpentrywork.sg/
ADDRESS
229 Mountbatten Road #03-38
Singapore 398007
CONTACT DETAILS

Phone: 6979-6470

OPERATING HOURS

24/7
The right carpenter to work on custom carpentry work can be difficult to find sometimes, especially if we take into consideration how large and diverse the field is. Fortunately, there is an online hub that allows clients to link with professional carpenters: CarpentryWork.SG.
As previously stated, CarpentryWork.SG is an online hub allowing the people of Singapore easy access to professional carpenters. Applying for a quotation that specifies the contact details alongside the type of project allows the site to find a suitable carpenter for the client at hand.
Aside from ease of access, CarpentryWork.SG is also known for the diverse services it has noted on its site. Built-in wardrobes and cupboards, kitchen renovations, custom feature wall, and custom shelving are only some of the many services that CarpentryWork.SG has listed.
So, if you're in a bind and would like to find the right carpenter as soon as possible, consider giving CarpentryWork.SG the chance to help find that professional carpenter. 
Highlights
Easy to navigate site
Wide array of custom projects listed
Large network of professional carpenters to be contacted
And with that, we conclude our list of the places to visit when looking for the best kitchen cabinets in Singapore. Have you already decided which one of these to go with? Tell us all about it!
If you know of other shops or contractors that offer quality kitchen cabinets, share their names, and we'll check if we can add them to our list!
For more options, you might want to check out our list of the best kitchen renovation services in Singapore. Our list features some of the best and most trusted renovation contractors on the island!