16 Best HDB Renovation Contractors in Singapore
Living inside an HDB flat can get frustrating sometimes because of the limited space, especially if you have more than one roommate. If this has pushed you into thinking about renovating your space, then you should know where to find contractors for the best HDB renovation.
Since there are a lot of hdb contractors operating in Singapore, it might be a little difficult to search for the most reliable ones. Well, worry no more because we have a list of the top contractors that do the best HDB renovation.
In making our list, we made sure to include only the HDB approved contractors with proven quality services, great customer service, competent staff, and competitive prices. Take a look:
1.

Goat Creative Studio Pte Ltd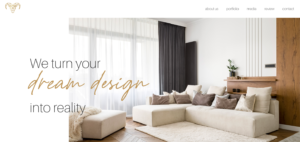 | | |
| --- | --- |
| BEST FOR  | Interior Design and Renovation |
| SERVICES | Space Planning, Hacking/Demolition, Tiling/Screeding, Electrical, Air Conditioner, Partition/Ceiling, Windows, Carpentry, Vinyl/Parquet, Painting, Commercial Renovation, Reinstatement, Roofing & Awning, Doors |
| WEBSITE | https://goatstudio.sg/ |
| ADDRESS | 34 Hillview Terrace, Singapore 669254 |
| CONTACT DETAILS | Email: [email protected] |
| OPERATING HOURS | Contact for more information |
Goat Creative Studio has a rich background and experience in interior design and renovation. 
What we like about them is their end-to-end service and tailored contractor services, as well as interior space planning to interior design based on each customers needs. 
Above all these, they also have other services like furnishing, lightings, sanitary wares, and so on. We think they're a one-stop shop for renovation needs that's why we've decided to place them at the top of our list! 
The amount of services they offer isn't the only thing we like about Goat Studio. Their workmanship is very impressive and we find that they have one of the best portfolios we've seen. 
We like that they don't only provide quality work, but they also provide quality service. They patiently respond to all questions and queries, and they're very meticulous about everything—from planning to execution. 
If you'd like to turn your dream design into reality then we highly recommend Goat Creative Studio! 
Highlights
Excellent customer service
Wide range of services 
One-stop shop for renovation needs 
Customer Reviews
"Engaged Goat Creative Studio for partial renovation and was helped by Jack. Very sincere and attentive person with meticulous planning and paid attention to every small details. Responsive to all our inquiries and provide good advice. Liaison with contractors were seamless, carrying out of the jobs adhere to timeline provided and completion was on time. Great experience to work with and definitely my recommendation for anyone who is in need of renovation work."
"Engaged them for a range of reno works at my HDB unit including changing of flooring for living room and master bedroom. They were both professional, timely and extremely helpful, even when I had late requests. Was very reassuring working with my ID, Weijie, who ensured that I was kept updated on the progress of the works and was always thorough in responding to my many requests and queries. Would definitely recommend to anyone who is looking for renovation works!"
2.  3D Innovation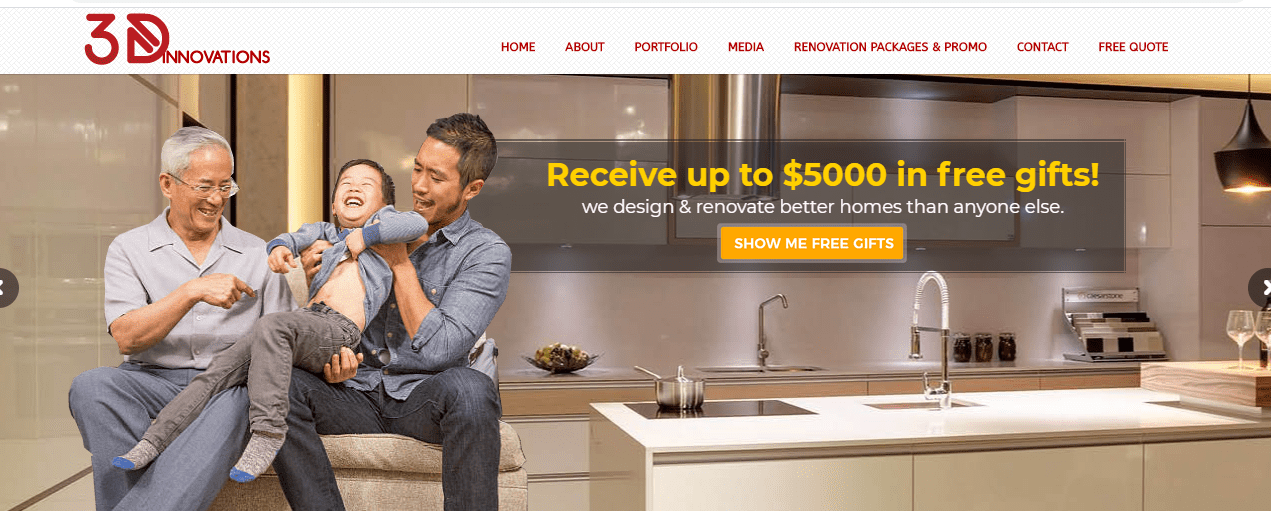 | | |
| --- | --- |
| BEST FOR  | Promos and Packages |
| SERVICES | HDB Renovation |
| WEBSITE | https://www.3dinnovations.com.sg/hdb-contractors/ |
| ADDRESS | 23 Serangoon Central, #02-51 Nex Mall. Postal Code: Singapore 556083 |
| CONTACT DETAILS | 66341030 |
| OPERATING HOURS | Monday – Friday, 11:00 AM – 9:00 PM |
If you're looking for a HDB renovation contractor in Singapore with a consistently great track record, then 3D Innovation would be the perfect match for you. It's been the answer to the renovation needs of most Singaporeans for more than 20 years now.
It specialises in residential renovations and offers different renovation packages for all types of homes. Each customer will also be assigned an expert contractor who will oversee the project from start to finish.
In terms of pricing, 3D Innovations is known for its reasonable and competitive pricing. It promises no hidden fees so customers won't be shocked upon seeing their final bill — which is why we name it one of the top contractors for the best HDB renovation.
Highlights
Competitive pricing
Experienced designers and architects
Free quotation
Customer Reviews
Take a peek at some of these comments posted on Google Reviews:
"We read some good reviews so decided to make a trip down. At the meeting, we found Keith to be a very down-to-earth and practical designer yet doesn't compromise on creativity. He's upfront on what should or shouldn't be done to preserve the integrity of design and quality which was exactly what we wanted. So we signed on with him immediately. Eventually everything turned out very well and now we are indulging in a beautiful home everyday." 
" I would like to thank Stanley for doing a splendid job in converting a condo of 3 years into an elegant home for us. He is so trustworthy, dedicated and professional. Being an experienced interior designer, he is friendly and humble, he hears our views and understands what we want for our home. We will not hesitate to recommend Stanley to anyone in need of an awesome interior designer."
3.  KWYM Interior Designs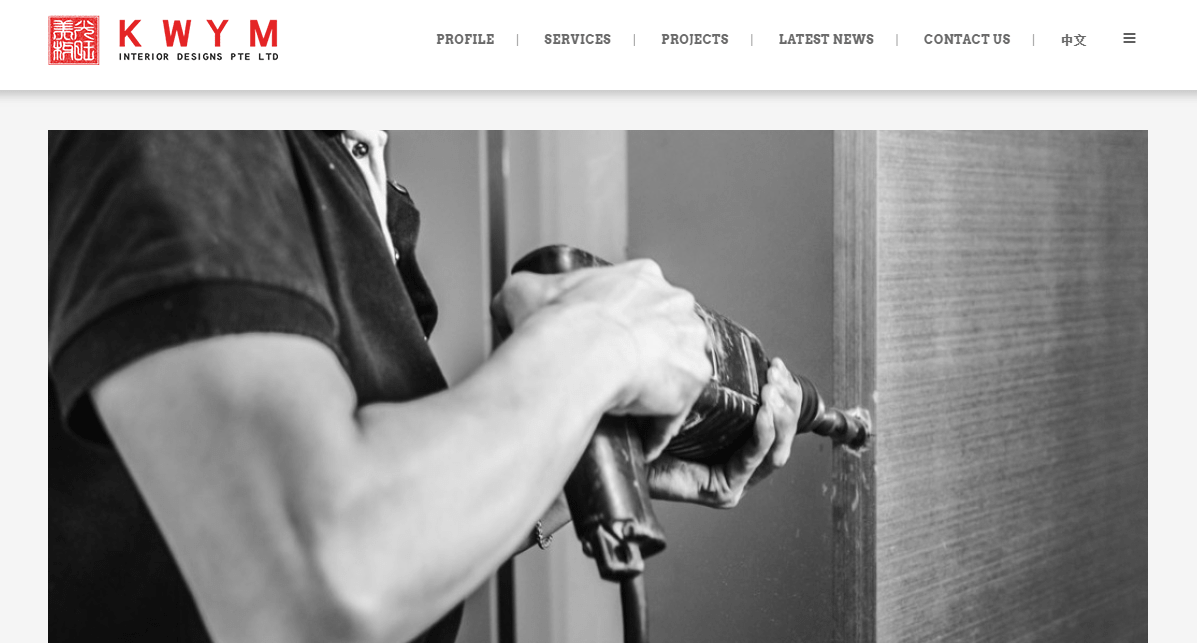 BEST FOR 
Residential and Commercial Services
SERVICES
Interior Design, Carpentry, Minor Renovations, and Reinstatement
WEBSITE
http://kwym.com.sg/hdb-licensed-contractor/
ADDRESS
113 Eunos Ave 3, #03-03 Gordon Industrial Building, Singapore 409838
CONTACT DETAILS
+65 6851 6068 | +65 6851 6069 |

[email protected]

OPERATING HOURS
Monday – Friday, 9:00 AM – 6:00 PM
KWYM Interior Designs is a licensed HDB contractor in Singapore that specialises in residential and commercial renovations. It boasts a team of experienced interior designers and architects who can come up with various ways to improve your space.
Besides renovation, it also offers carpentry, interior design, reinstatement, and furniture to customers. One of the reasons customers consider it the leading contractor with the best HDB renovations is its personalized service.
KWYM Interior Designs ensures that all the demands and needs of customers will be covered and accommodated, so rest assured that your money will not go to waste with their services.
Highlights
Personalised services
Innovative designers
4.  ZLC Construction
On top of being an interior design firm, ZLC Contractors also doubles as a HDB renovation contractor in Singapore. It has managed to collect a huge pool of commercial and residential clients who can attest to its expertise in renovation and interior design.
It's also accredited by a lot of industry institutions such as bizSafe, BCA, ASME, SOCOTEC, and RICS, which only proves that its services are high-quality. It's also composed of a team of architects, designers, and carpentry who have years of experience under their belts.
One of the reasons it is among the top contractors that offer the best HDB renovation in Singapore is that each renovation project will be handled with care and professionalism.
Highlights
Certified Craftstone installer
HDB-accredited
Quality assurance
Customer Reviews
Here are some of the notes provided by previous clients:
"Dedication & serving with their hearts! We stumbled upon ZLC through my hubby friend. The uniqueness of ZLC is that our project manager is a local around our age. Rare to see locals around our age in this line. It was easy for Vincent, our project manager to understand our needs and requirements. Vincent documented the details well which made my hubby happy as it clearly showed the progress of our reno. He is very dedicated and goes out of his way to help us. We are thankful for that. Can consider this company if you need a contractor you can trust!"
"The proficient support and design intricacies by the Z L team is highly commendable, and the proposals gave our work environment a professional yet cosy facelift. Despite the many design iterations, we appreciate your effort in completing the project well on time."
5.  Eight Design

BEST FOR 
Residential Renovations
SERVICES
HDB Renovations, Design Consulting, Condo Interior Design, Plumbing Services, and Fire Protection System
WEBSITE
https://www.eightdesign.com.sg/residential-projects/hdb/
ADDRESS
140 Paya Lebar Rd, #01-04 AZ@Paya Lebar, Singapore 409015
CONTACT DETAILS
6266 8880 |

[email protected]

OPERATING HOURS
Monday – Friday, 10:00 AM – 6:00 PM
With more than 15 years of experience, Eight Design has grown into one of the most trusted contractors with the best HDB renovation in Singapore. It offers a wide range of services such as design consulting, condo designing, plumbing services, and even installation of fire protection systems.
It prides itself on having a creative and experienced team of architects, carpenters, and interior designers who can turn any residential space upside down. Eight Design's services are also priced reasonably to make them more accessible to more people.
Highlights
15 years of experience
Affordable rates
Strict quality control
Customer Reviews
Eight Design has an average rating of 5 on Google Reviews, meaning customers have only left positive comments about its services. Here are some reviews:
"I engaged Eight Design Pte Ltd as turn key Interior Designer for my new office in November 2019. Darrell and Nicholas are the ID in charge. At the design stage, they listened attentively to my needs and value added to my idea. One would benefit from ID point of view. At the contraction stage, Darrell and Nicholas managed the schedule of work systematically, responsively and diligently. They attended to every detail with care and promptly. Lastly, they completed and delivered the project on time."
I would like to compliment Ms Nurul Huda Rahim, a dedicated interior designer from Eight Design whom we can entrust our house to when we got our 1st BTO house key 5yrs back. She will listen to every detail of our dream house. When we first saw our house 3D design, we fell in love at first sight and immediately agreed to it. Most importantly, she is really good at planning, coordinating well with the vendor, keeping us updated timely on our house work progression and managing to complete our house renovation on time and within our budget."
6. Artistroom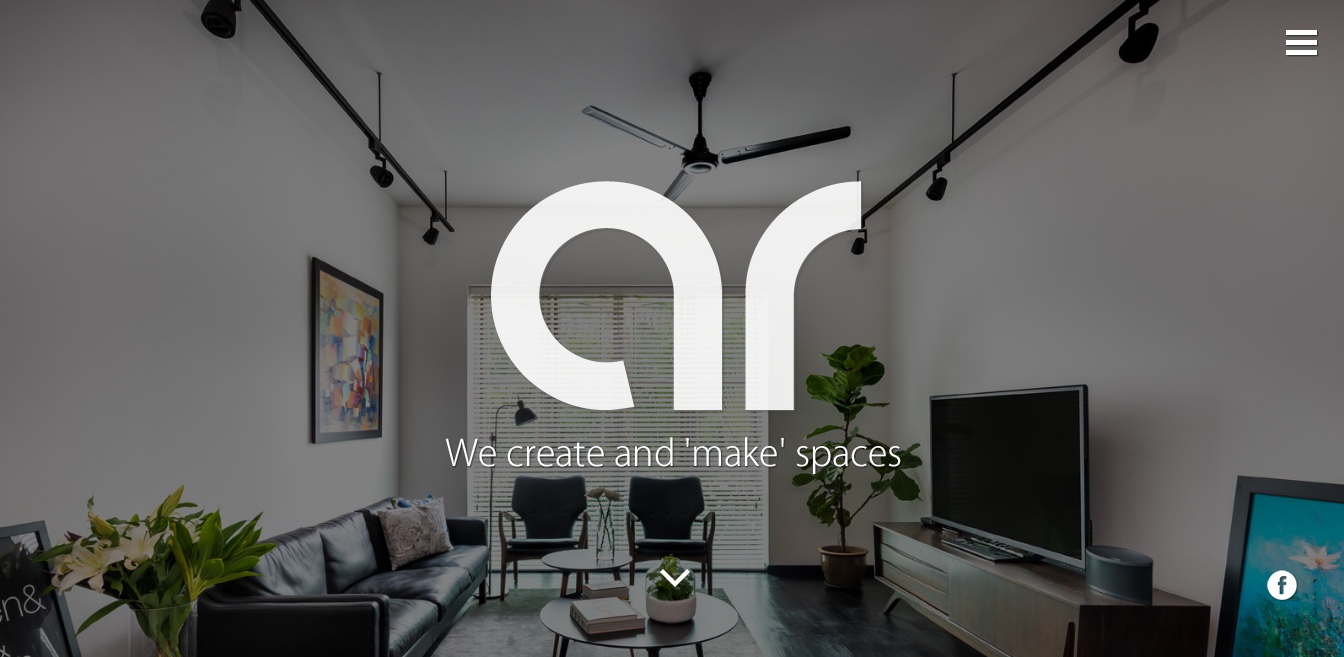 | | |
| --- | --- |
| BEST FOR | Complete and comprehensive planning |
| SERVICES | Planning, New Construction, Renovation |
| WEBSITE | http://www.artistroom.com.sg/ |
| ADDRESS | 195 Pearl's Hill Terrace, #02-01A, Singapore 168976 |
| CONTACT DETAILS | 65-6557-0244/ [email protected] |
| OPERATING HOURS | By appointment only |
Another company that offers HDB renovation is Artistroom. This was established in 2008 and since then, it has helped different clients in restoring and enhancing interior spaces. They approach their client in a manner that will assist as well as lead them during the project. This is done to make sure that their preferences along with functionality is given importance.
Artistroom recognizes that space planning is crucial in terms of designing an office or establishment. That being said, they choose carefully the furniture, lightings, and other materials that will be placed inside a room. So, functions and design-wise, this company has it all. 
What makes them a good choice is that they offer visual sketches to their clients. They provide 3-D drawings to help you in visualizing the overall outcome of their place. Colors and textures are also considered. If you're satisfied, then they will proceed with the construction.
Highlights
Complete and thorough process of construction

Provides 3-dimensional sketch for the plan

Always on time
Customer Reviews
Artistroom is renowned for its professionalism as well as quality output. Here's a 5.0 review from one of their clients:  
We have engaged Katy and Mark for 2 of our homes now. I had met with a number of IDs but they were the only ones who understood my vision for the house. They were never pushy and they didn't need to be since their designs are so beautiful! Their aesthetic tends towards being quite clean, minimalistic and Katy is a master at space planning. She considers the functional aspect and marries that with clean design. Mark manages the client relationship, budget and the project day-to-day. He's been very accomodating and always comes back with solutions. They are also extremely meticulous with the details so I've not had any serious rectifications to deal with. I love all my seamless secret storage spaces, and most of all, my gorgeous kitchen. We've had tons of compliments on both homes! – Jiamei Tay
7. Ban Yew Interior Design Pte Ltd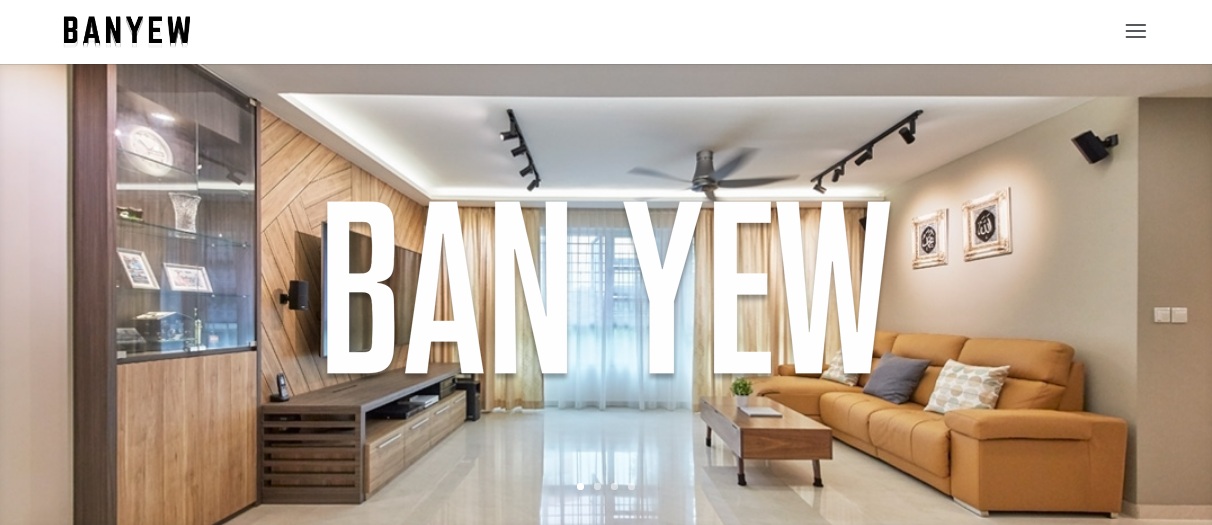 If you want an hdb contractor in Singapore that can take care of both your home and office, you may want to check out Ban Yew.
Ban Yew Interior Design Pte Ltd specializes in bespoke designs for both residential and commercial properties. They make sure to come up with a unique and timeless concept for a more cost-effective interior design. 
Their modern and elegant approach to designs truly livens up the space more, making it always looking fresh and comfortable to live in.
Ban Yew Interior Design Pte Ltd is also one of the few companies that manages their own carpentry factory so choosing them actually means hitting two birds with one stone.
Highlights
In-house warranty

Creative and knowledgeable team of designers

Premium quality designs
8. Fifth Avenue Interior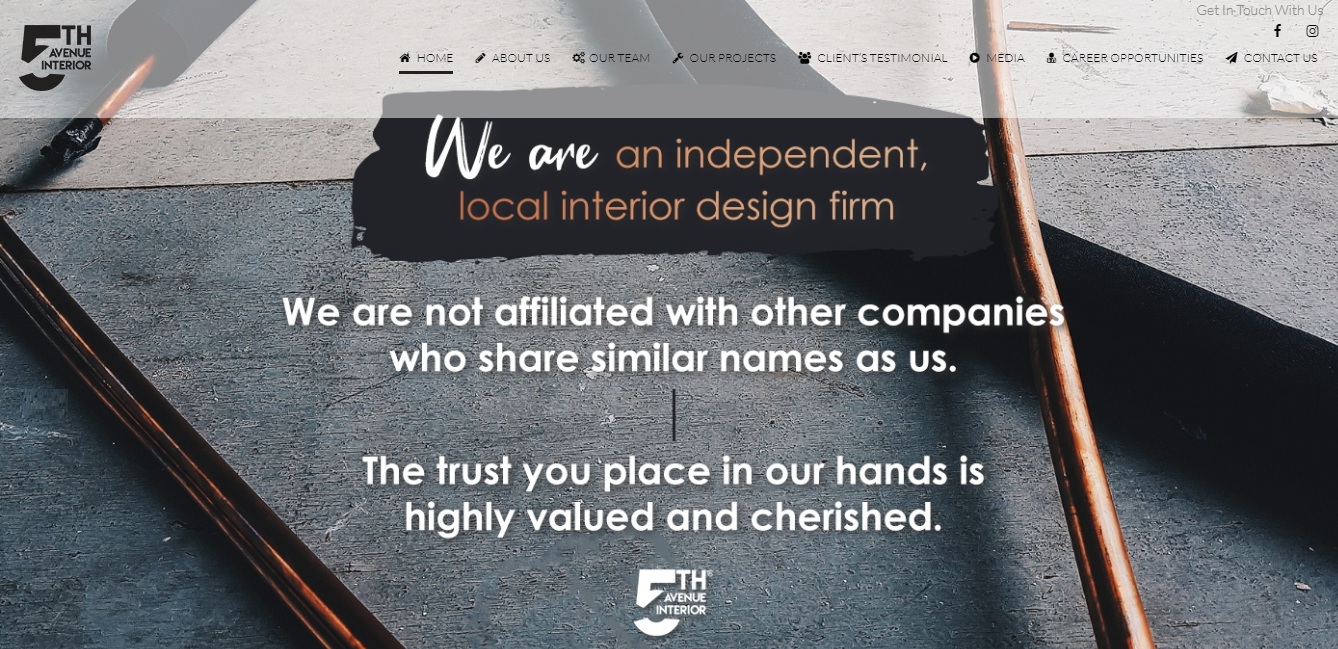 Fifth Avenue Interior is a local-based interior design firm in Singapore that offers end-to-end interior design services for commercial, residential and office spaces.
They offer a full range of hdb renovation and maintenance services, making sure that each of the projects they handle are well-planned and executed and has a unique and excellent finish.
You can also trust them to integrate artistic yet innovative solutions to give your property its best look and give you the best value for money, as well.
Highlights
Creative and well-experienced designers

Unique and innovative designs

Full range interior detailing services
Customer Reviews
"After seeing a few IDs, we decided to go with Fifth Avenue Interior's Lucas. At our first meeting, we were blown away by a 3-hour long informative session which showed his experience in handling renovation and design projects. Lucas was patient in understanding what we wanted and helped us to visualize our design and space planning with 3D drawings over and beyond the carpentry works. He was responsive to our queries and feedback and suggested colour and design ideas to fit our theme and always kept our cat in mind in the design. Even though the project met with some hiccups along the way, he ensured that the issues were fixed as soon as possible and assured us that he will always be a call away. Thanks Lucas! Our cat says hi."
9. Lemonfridge Pte Ltd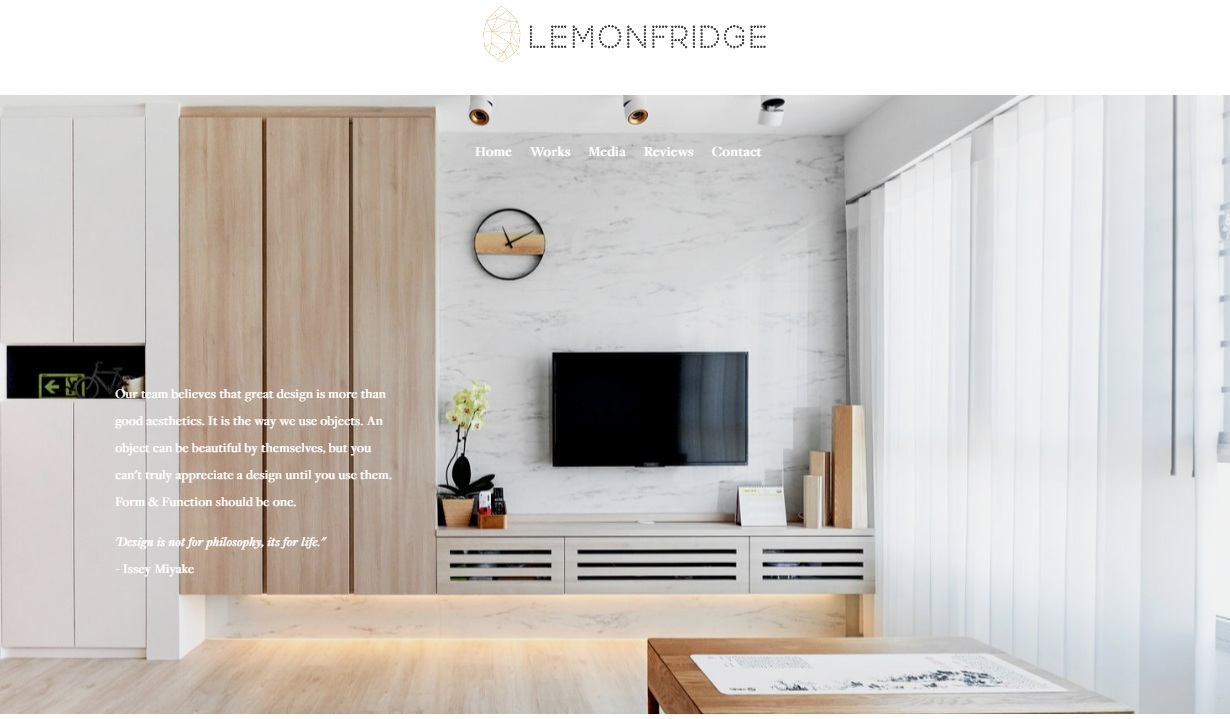 A modern and minimalist design is what you will expect if you decide to have your properties renovated by Lemonfridge Pte Ltd. 
From their choice of materials and their placement to the combination of colors and texture, the team makes sure to create a perfect balance to achieve a design that is not exhausting to look at and brings out a comfortable and cozy ambiance.
Their creativity and versatility allows them to work in either small or huge spaces. The team guarantees to provide you with the highest quality of service at very competitive rates.
Overall if you're after an hdb approved contractor in Singapore that has experience in small, medium or large spaces, Lemonfridge could be the firm for you.
Highlights
Minimalist design

Modern and innovative renovation approach

Expert and creative designers
Customer Reviews
"Dester and Yuxuan of LemonFridge studio were our IDs. My unit is a new Sales of balance flat of 5 rooms which is located in jurong.
The renovation started at the end of the year, which was also a tough period for securing contractors. Dester and Yuxuan was efficient and responsible from the way they handled the project.
Can't say enough about LemonFridge Studio, it was just an absolute pleasure to work with them. The results were just fantastic.
Thank you for being a part of making our house a dream come true"
10. De Style Interior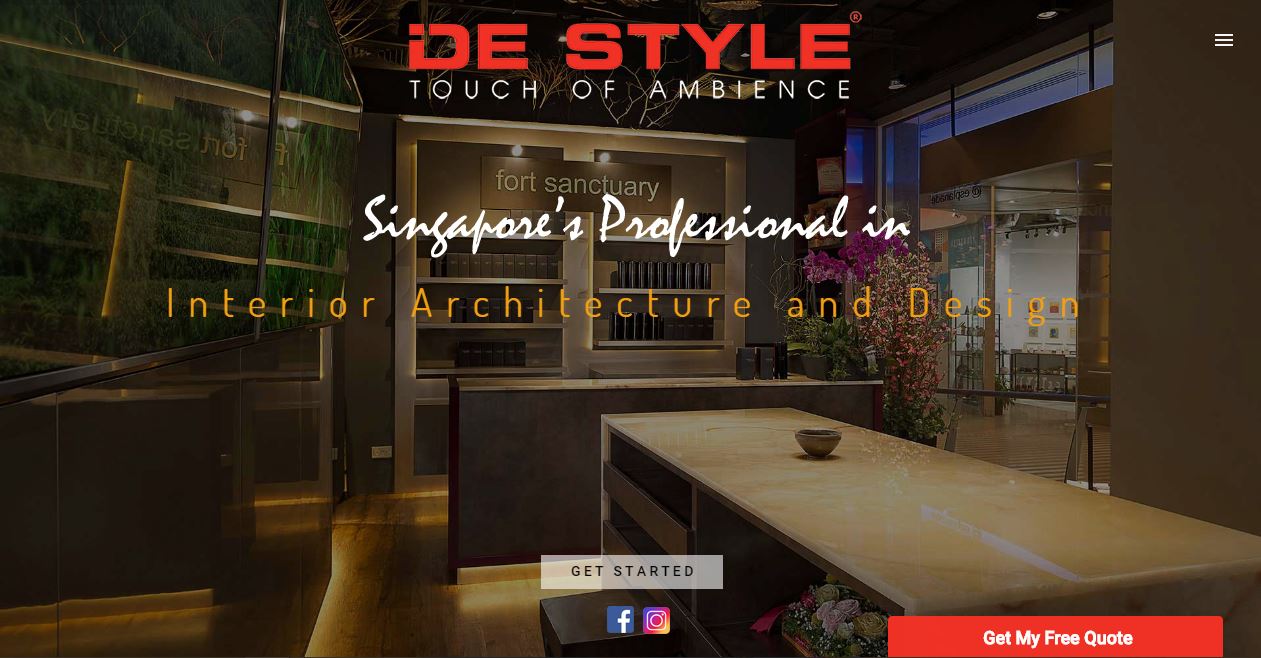 De Style Interior makes sure that each of their work, may it be in a residential or commercial place, is done meticulously and flawlessly. Not only do they focus on the aesthetic beauty of each space but they also maximize its functionality which is best especially for facilities with limited spaces.
The team understands that each of their clients has different preferences and range in terms of interior design that is why they make sure to take note of their ideas and incorporate them in their design concepts for personalized yet signature style designs.
Their impressive interior design services work for HDB, Condo, Semi-D Unit and Bungalows.
11. Renopedia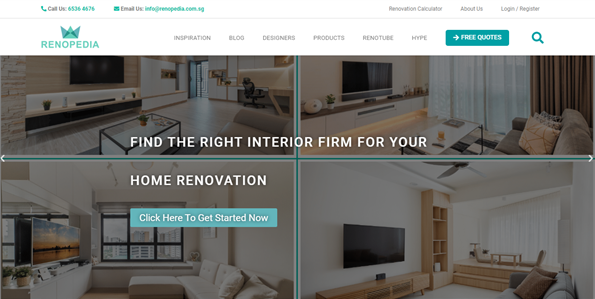 BEST FOR
Interior design, Home renovation
SERVICES
Shortlists interior design firms, furniture stores, home renovation brands, home renovation products and services in Singapore
WEBSITE
https://renopedia.sg/
ADDRESS
101 Upper Cross Street, People's Park Centre
#08-15 Singapore 058357
CONTACT DETAILS
65 6536 4676 | [email protected]
Renopedia is an online home renovation portal that provides inspirations, solutions, tips, and ideas for Singapore homeowners who are planning to renovate or design their homes. They assist homeowners with finding the contractors they'll need to hire in order to achieve the home of their dreams.
Renopedia also benefits from its partnerships with over 300 interior design firms and renovation merchants. So if you want to shop around for the best hdb renovation contractor for you, you should give them a call.  Their numerous connections allows their customers to identify and contact the firms that will improve their house according to their preferences– all while staying within their budget.
Highlights
SME 100 Awards Fast Moving Companies

The ASEAN IN Award 2018

Singapore Brand

Successful Innovators Awards
Customer Reviews
"We also recently found out about Renopedia – Singapore Number 1 Online Renovation Media Portal. We can draw inspirations for our new home there! There are even solutions or ideas for us to explore. If you don't have a new home to explore but is keen to renovate your existing house, do visit them too! " – James and Maybeline
"I have engaged 3D innovations via Renopedia last year for my house renovation. The places i have renovated are 3 bedrooms and the bathrooms. The price they quoted was reasonable. The overall design of the house was good and innovative. The designer was very initiative and patient. Although the renovation took slightly longer than expected but with the service and designs they have provided, i am satisfied" (Source: Google Reviews, 2019)
"Thank you Renopedia for the great service. My ID Racheal understands what I really want and gave me advices on what is practical and what's not. She worked within my tight budget and came up with solutions as well. My home is renovated nicely and her after sales service is terrific too. Thumbs up and thank you once again!" (Source: Google Reviews, 2019)
12. Sense and Semblance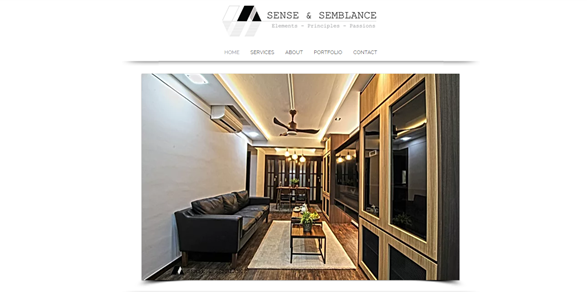 BEST FOR
Interior Design
SERVICES
Interior Design Services, Building Construction
WEBSITE
https://www.sensensemblance.com/
ADDRESS

First Centre, 50 Serangoon North Ave 4 #09-18, Singapore 555856

CONTACT DETAILS
Office – 6904 9006
Dillon – 9834 9369
Incorporated in 2016, Sense & Semblance is an Interior Design Studio that assists every client in turning their ideal homes into reality by utilizing design elements and principles. Composed of passionate individuals who specialize in Interior Design, its company seeks to achieve both practicality and aesthetic in their clients' homes. This hdb licensed contractor also values to form a personal relationship with its clients by meeting their needs and achieving client satisfaction to such an extend that they would recommend Sense & Semblance to their families and friends.
Highlights
Actualizes the clients' visions of their homes
Forms personal relationship with clients to be able to customize the design of houses according to their needs and satisfaction
Customer Reviews
"My husband and I were deciding between Dillon and another Id. Having touched by his sincerity and creativity, we finally settled with Dillon.
As customer, our expectation of a good ID is the responsiveness, the willingness to accept our suggestions and to be on site for any amendments and necessary supervision. And Dillon has it all. He made a point to drop by the site despite his busy schedule, and try to iron things out to the best of his ability. I can truly see his passion towards his job. Not forgetting his frequent famous words to us, "Dont worry, small matter. I will try my best to work it out for you"
We have given Dillon a very tight timeline and we are glad that he managed to hand our love nest over on time. Thumbs up on his carpenters as well. Some may feel that price is slightly premium, the workmanship and after sales service totally justify. The workers are friendly and most Importantly, they adhere to your instructions, and take extra care in not messing up your place.
Dillon has what it takes to be the right ID for us. The kind of rapport built and the trust gained makes us feel that our decision is right.
Thank you, Dillon". (Source: Qanvast Website, 2020)
13. New Interior Design

BEST FOR

Interior design for commercial and residential properties

SERVICES

Renovation, New Construction, Painting, and Hacking services

WEBSITE

https://newid.com.sg/

ADDRESS

Block 3 Marsiling Industrial Estate Road 4 #01-33 Singapore 739230

CONTACT DETAILS
6366 7478 | [email protected]
OPERATING HOURS

Monday – Saturday: 10:30 am to 8:00 pm

 

Sunday: 11:00 am to 5:00 pm
New Interior Design was founded in 2011 and since then, it has proudly served the community. They offer service for renovation works or new construction. Taking pride in their reliable works, this company has provided various services to their clients. In fact, they have been awarded as the "Best HDB Kitchen Interior Design" in 2019.
With a team of talented individuals, New Interior Design aims to become the number one in their field. To help their company achieve such, they work efficiently and diligently. If you want to contract their service, simply contact them on their phone number. 
If you want an hdb registered contractor with over a decade of experience, New Interior Design could be the company for you. 
Highlights
Award-winning company

Diligent and efficient staff
Customer Reviews
Here is a review left behind by a satisfied client of the firm:
"I recommend this ID because overall it's been a pleasant experience. And they really made it a point to work within my budget. For sure renovation work/workmanship can't be perfect. Therefore after sale services are all the more important, especially follow ups and touch ups, etc. They really make it a point to do what's promised.
Communication is of utmost importance. Do not hesitate to voice out if in doubt. Be it at the design conceptualization stage or during the renovation work. Always ask the ID early for clarification if unsure of stuffs or process. It will save everyone's time and effort if rectified earlier. Like I mentioned earlier, it's been a pleasant experience for me and my wife overall. It's also been a cost vs expectation struggle at times but thanks to my ID New Interior Design who facilitated all of the works, scheduling and giving advice on what's feasible in addition to cost effectiveness. I'm a hands-on person so for most interior design and process I am able to visualize the concepts. It's harder for my wife to put the whole picture together so it's double the effort for my ID. Luckily and thankfully for their patience throughout, my wife was delighted with the services rendered. As the saying goes, "Happy Wife Happy Life." Lol.
14. M3 Studio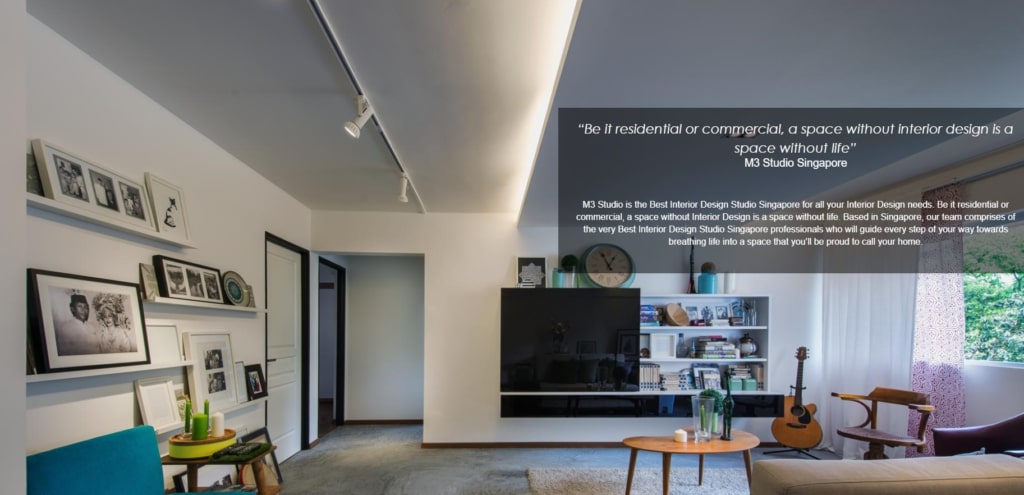 BEST FOR
Unique designs
SERVICES
Interior Design and Renovation
WEBSITE
http://m3studio.sg/
ADDRESS

2 Kallang Avenue #09-04, CT Hub, Singapore 339407

CONTACT DETAILS
Phone: +65 6443 7001 (Main Line)
+65 9237 2952 (Haikel Washi)
Fax: +65 6887 4313
Email: [email protected]
OPERATING HOURS
Monday – Friday: 10am–7pm
Another recommended company for HDB renovations would be M3 Studio. They're considered to be one of the best in interior designs, and has continuously provided amazing designs and renovations to clients in Singapore.
M3 Studio does both residential and commercial spaces, so it doesn't matter if it's your home or your office that needs revamping, they would surely be able to accommodate your needs and requests.
Another thing clients love about M3 Studio is how detailed they do their plans for each projects. Each part of the process is explained thoroughly, with the company constantly checking in with their clients to ensure that they agree with possible changes.
From conceptualisation, to the actual work in progress and even after finishing, M3 Studio will be there every step of the way. Allow them to assist you in achieveing your dream space.
You can check out their portfolio on M3 Studio's website and take a look at their previous projects. For further questions, you can simply drop a form there as well, or get in contact with them through call or email.
Highlights
Beautiful designs and styles
Fast and efficient work
Professional interior designers
15

. Livspace Singapore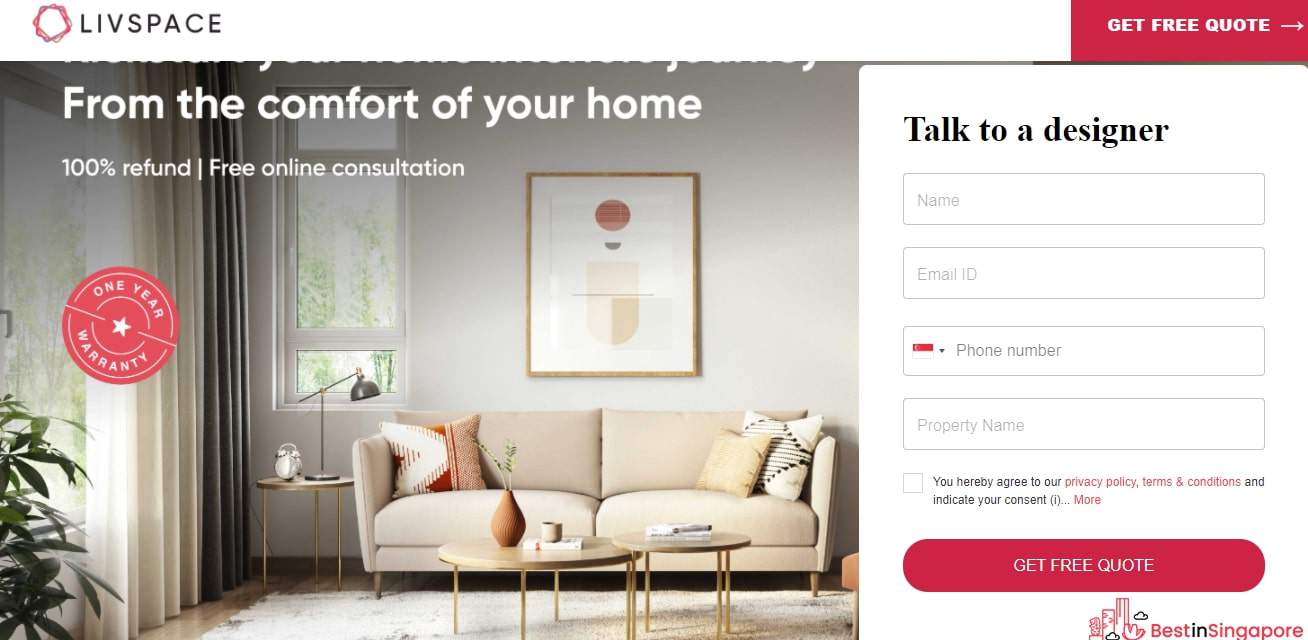 BEST FOR
Renovations, Full Home Interiors, Landed Interior Design
SERVICES/SCOPE
Renovations
Design and build
Carpentry work
Demolition, hacking, masonry, plumbing, etc.
Furniture and decor sourcing
PRICING
You can talk to a designer to get a free quote and sample designs.
WEBSITE
https://www.livspace.com/
ADDRESS
Level 6, Beach Centre, 15 Beach Road, Singapore 189677
CONTACT
[email protected]
Livspace, Asia's biggest interior designer, is also a platform that allows you to connect with experienced and highly renowned interior designers all around the country. There's no doubt that they're partnered with professionals, ones that have many years of experience.
It's important to hire an HDB licensed contractor in Singapore so Livspace is a platform that you can search for an hdb approved contractors list.
Navigating their site is incredibly easy, even if you aren't used to finding interior designers online. As a plus, they even offer free consultations. Take the next step for your dream home and visit their website now!
Highlights
Award-winning designers
Verified contractors
$4 million cover by AXA
One year warranty
Customer Reviews
After meeting a few renovation companies, we decided to go with Livspace to design and renovate our new home. We worked with William and found him to be approachable and accommodating. Mostly, he could articulate designs, which were practical yet appealing while taking into consideration safety aspects for our young child.
–Willie Yeo via Trusted Interior Singapore
Livspace was highly recommended and we were pleased. It was the first time we have used a design professional and I would highly recommend leveraging the skills and experience of Livspace.
–Andy Clark via Trusted Interior Singapore
I recently dealt with Livspace for the renovation of my apartment. Their suggestions were non-intrusive but useful and my designer was able to understand my taste, budget and requirements and plan accordingly.
–David McGoldrick via Trusted Interior Singapore
16. SP Homes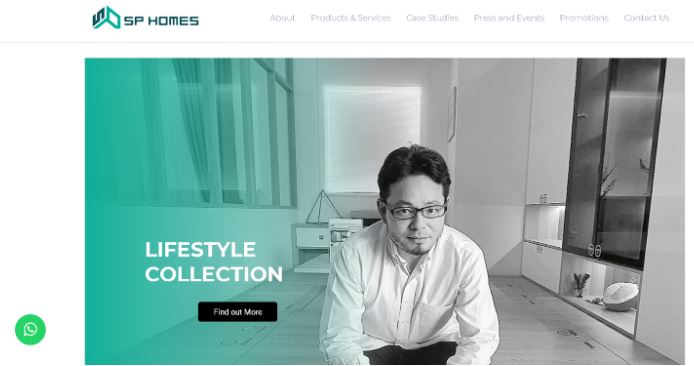 SERVICES
Personalized renovation:
Experiential
Rooms
Hardware & Accessories
Material
WEBSITE
sphomes.com
ADDRESS
Design Studio Level 3 260 Orchard Road Singapore 238855
CONTACT DETAILS
8498 1954
[email protected]
OPERATING HOURS
Monday – Sunday, 11:00 AM – 10 PM
SP HOMES make the design ideas of homeowners a reality. Their designers will produce a 3D model of your house with personalized furnishings using their unique state-of-the-art design technology.
For increased longevity and to protect your family's health, only high-quality, low-formaldehyde materials are utilized. Their hardware and attachments, such as telescopic sliding rails, include soft-closing mechanisms. All of their personalized carpentry comes with a 5-year guarantee and lifetime servicing.
SP HOMES specializes in furniture customization. They guide homeowners through a one-of-a-kind house development process, from concept to completion, ensuring that every aspect is specifically matched to your preferences.
Highlights
Quality products
Available seven days a week
Personalized services
Customer Reviews
Very responsible and fast react to any issues
"Just finished the renovation by SP HOMES. Their furniture is density fiberboard material. The finish product is very nice. I compared with my neighbor's renovation and I felt it is better. Both design team and installation team are very responsible and fast react for any issues. Really appreciate their services." – Tian Jian
He was able to understand my design considerations and meet my high expectations.
"I am an indecisive and demanding client. I met Jacky at SP Homes @ The Heeren. He was the retail manager assigned to take over my storage platform with height-adjustable table (tatami fixture) design project. He was able to understand my design considerations and meet my high expectations. These 5 stars are for him." – Suanzy Tan
And that's a wrap for our list of the top contractors for the best HDB renovation! Let us know of your experience if you've tried out the services of any of the contractors from our list!
By the way, we all know that having your space renovated doesn't come cheap. If you ever need help in financing your HDB renovations, you're free to check out our list of the best renovation loans in Singapore.