The Top 10 Shops for the Best Window Tinting in Singapore
By Jasmine Wee
Can't stand the extreme heat inside the car, especially during your daily commute? If so, you might want to consider searching for the best window tinting in Singapore to keep the temperature cool and protect yourself from sun exposure.
Window tints reduce the glare from the sun, protecting your skin from harmful UV rays and even saving energy costs by not pushing the air-conditioner to work overtime to cool the car. It'll also help maintain your car's interior, including the dashboard, seats, and other cabin features.
Moreover, a good tint will give you security and privacy while you're on the road. In any case, if you need tint that can give you all of these things, we've come here to help you find the one-stop shops where you can find the best window tinting in Singapore!
Take a look at our list below to see more of their offered services and rates!
1.  Absolute Tint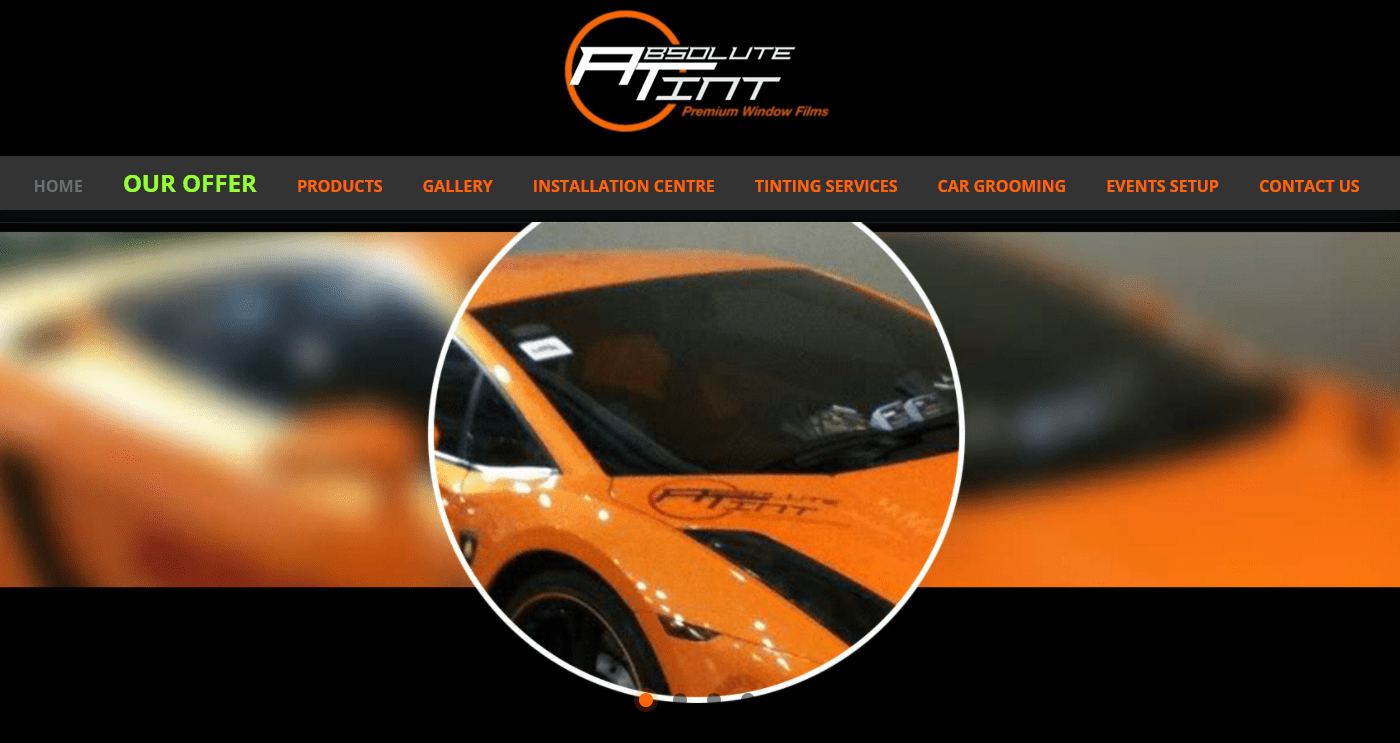 | | |
| --- | --- |
| BEST FOR  | Wide selection of solar window films |
| PRICING | Rates |
| WEBSITE | https://absolutetint.com.sg/ |
| ADDRESS | 39 Ubi Rd 1, #01-05 World Publications Building Singapore 408695 |
| CONTACT DETAILS | +65 6742 5137 |
| OPERATING HOURS | Monday to Saturday : 9.30am – 7.00pm |
At Absolute Tint, you can find a wide range of car window tints offering superb optical clarity, enhanced privacy, and visually appealing styles. They specialise in installing quality solar film window tints, which are designed with maximum capacity to withstand extreme temperatures.
These solar films are manufactured with the industry's latest technologies and finest materials, ensuring long-lasting performance. Also, their window tint products are suitable for all types of cars.
Each of their automotive window films varies in UV ray rejection, InfraRed radiation, and visible light transmission levels. With their help, you can easily find the right window tint for your car.
Highlights
One-piece installation
Superior finishing
7-year warranty
Special promotions
Customer Reviews
Customers shared that the professional team of Absolute Tint was able to do a proper installation and even overall car grooming of their automobile with ease. This is why they also said that the shop has the best window tinting in Singapore.
A customer posted this review:
"Absolute Tint wonderful job fast and efficient also very accommodating. Recently got my ride tinted with Absolute Tint film. Got to say the the performance of their film was what they promised. My car now feels much comfortable to drive in the afternoon under the hot sun and my wife agrees to very happy with the tint. Great job thumbs up to Eugene and his staff at Absolute Tint!!! Will definitely recommend other customers to go to them!!! Reliable and Honest Company!!!"
2.  Infratint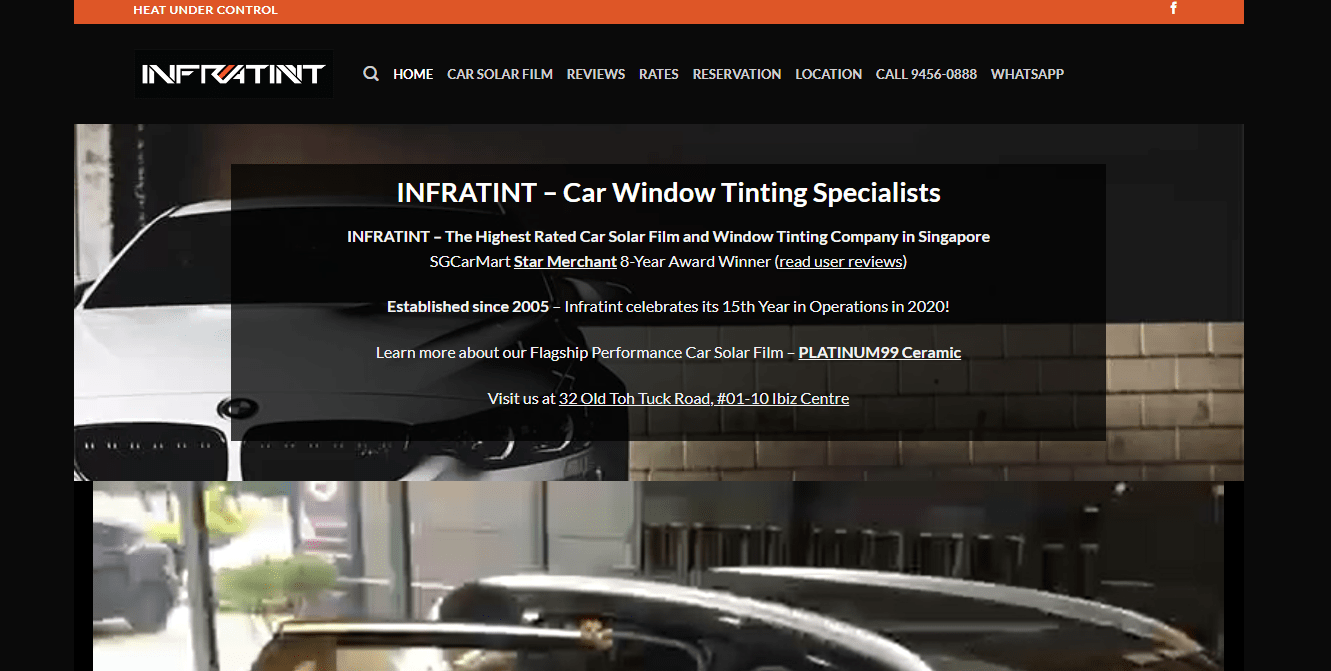 | | |
| --- | --- |
| BEST FOR  | High infrared heat shielding system |
| PRICING | Rates |
| WEBSITE | https://www.infratint.com/ |
| ADDRESS | 32 Old Toh Tuck Road, Ibiz Centre, Singapore |
| CONTACT DETAILS |  9456-0888 |
| OPERATING HOURS | Monday to Saturday : 10am–6pm |
Infratint is an award-winning window tinting company that has been providing premium quality window films for over a decade. They take pride in their highest-rated car solar film that can block 99% of UV rays and InfraRed heat, giving you great in-cabin comfort and cooling.
Aside from the heat protection, their window films also provide uncompromised night-time clarity so you can safely drive even in the middle of the night. They're also made with shatter-resistant glass that reduces the risk of glass injury in case of an accident.
They don't hinder devices like mobile phones either, so you can be sure that your road system devices won't be adversely affected.
When it comes to the installation process, they have experienced staff who specialise in custom cutting, application, and removal of film.
Highlights
Uncompromised night-time vision
Available in varying shades
Service packages
LTA-compliant films
Customer Reviews
Most customers were impressed with the excellent craftsmanship of Infratint. They said that they've consistently done a perfect installation, regardless of the car model.
A customer wrote this feedback:
"I would like to recommend infratint, they are professional, fast and very punctual and will finish within the time they give. After doing the film the car feel more cooler inside and no more scorching sun. Thanks Sherman and team keep up the good work."
3.  Rikecool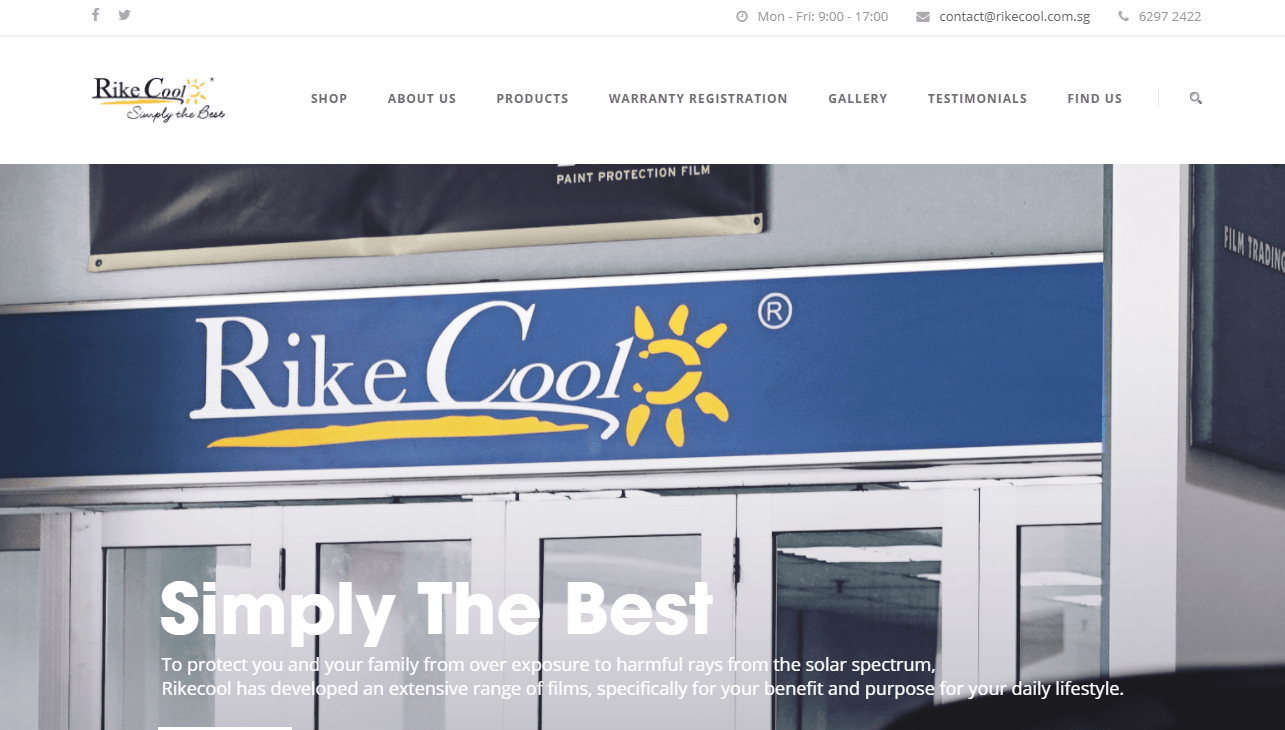 | | |
| --- | --- |
| BEST FOR  | Different types of window films |
| PRICING | Rates |
| WEBSITE | https://rikecool.com.sg/ |
| ADDRESS | 50 Ubi Ave 3 #03-02 Frontier Epark Ubi Singapore 408866 |
| CONTACT DETAILS | 6297 2422 |
| OPERATING HOURS | Monday – Friday: 9:00am – 5:00pm |
Rikecool provides an extensive range of films and each offers certain benefits to match the priorities of the driver. They have automotive films, paint protection films, and headlight protection films, for instance — just pick your poison!
For their car window films, they have high-performance films that don't only maximise comfort, but also boost energy efficiency and ensure safety.
Their window films are hard-coated for damage protection and high durability. They also come in stylish patterns for visuals that'll improve the car's appearance.
There's no need to worry about inaccurate placement of the films because their well-trained installers use the latest techniques to make sure that the film will be installed correctly.
With their best window tinting in Singapore, you can also opt for an after-installation programme. This way, you can do regular car maintenance and prevent possible car problems.
Moreover, they're also affiliated with several car brands such as Kia Motors, Mitsubishi Motors, Mazda, Volvo, and many more!
Highlights
Scratch-resistant films
Shatterproof
Optimum visibility from inside
After-installation programme
Customer Reviews
Customers said that they liked the large collection of customised patterns in the company's window films. They were also impressed with the aftercare services.
A customer left this review:
"Fantastic service, great product! My solar film installation at Rikecool was a breeze and kept the interior of my car cool and bearable on hot days. Service was top notch from the staff whom went out of their way to ensure that I was comfortable and taken care of."
4.  Zenith Films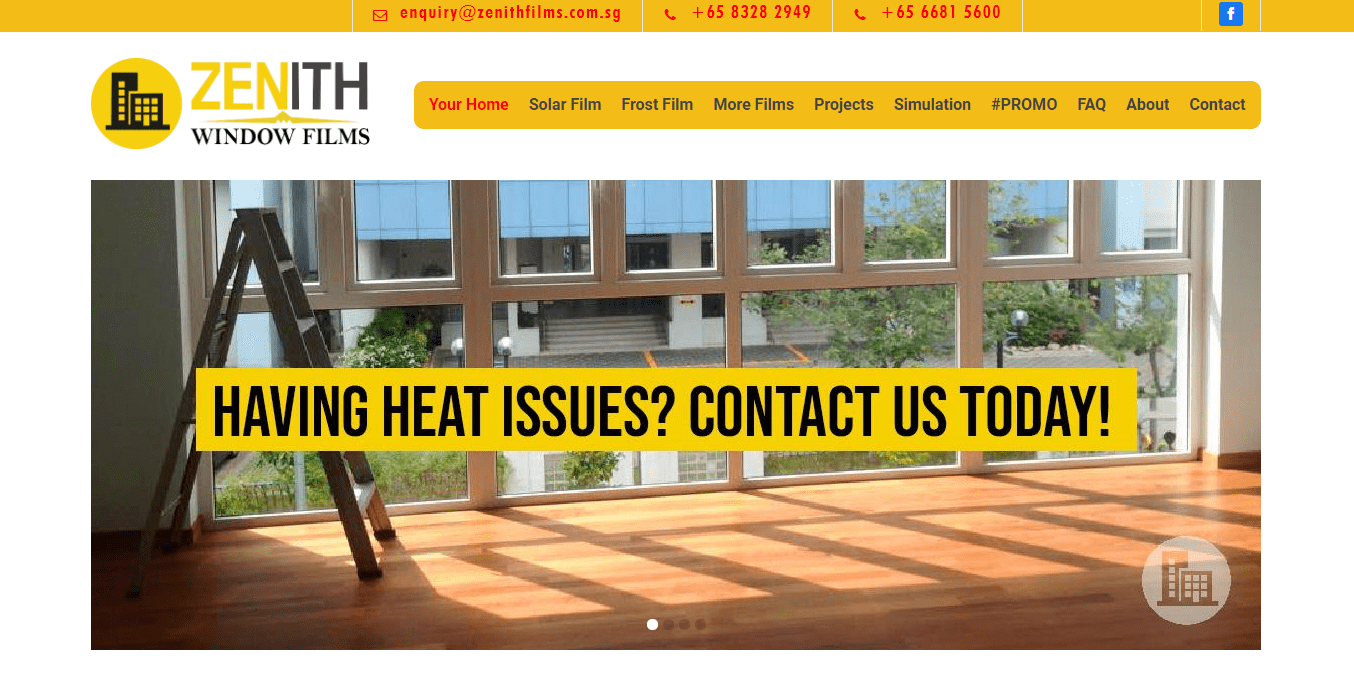 BEST FOR 
Varied series of solar films
PRICING
Rates
WEBSITE
https://www.zenithfilms.com.sg/
ADDRESS
22 Sin Ming Lane #06-76 Midview City S(573969)

By Appointment Basis Only

CONTACT DETAILS
Whatsapp/SMS/Call: +65 8328 2949

Office: +65 6681 5600

OPERATING HOURS
Daily : 08.00 – 20.00
Being one of the leading suppliers of window tints, Zenith Films offers one-stop solutions with their quality products and services as well as affordable packages.
In their car window film selections, they also have a vast range of solar films. This includes the night vision series, providing darker tint yet clear vision during night-time.
They also have nano-ceramic series and 100% UV Clear film for maximum sun damage protection.
They have a team of experts whom you can rely on for consultation, design, estimation, and installation processes. For several decades, they've served major companies like Samsung, Raffles Medical, Changi Airport Singapore, and more!
Highlights
Automotive, residential, and commercial services
Frost films
Laser-cut films
Special promotions
Customer Reviews
Zenith Films has received positive responses from customers who've experienced reliable and cost-effective services. A customer gave this feedback:
"I am so thankful to Zenith Window Film. These guys did an excellent work for me and I got the best quality of window films here. The offering prices were also very suitable. Highly recommend!"
5.  SuperCool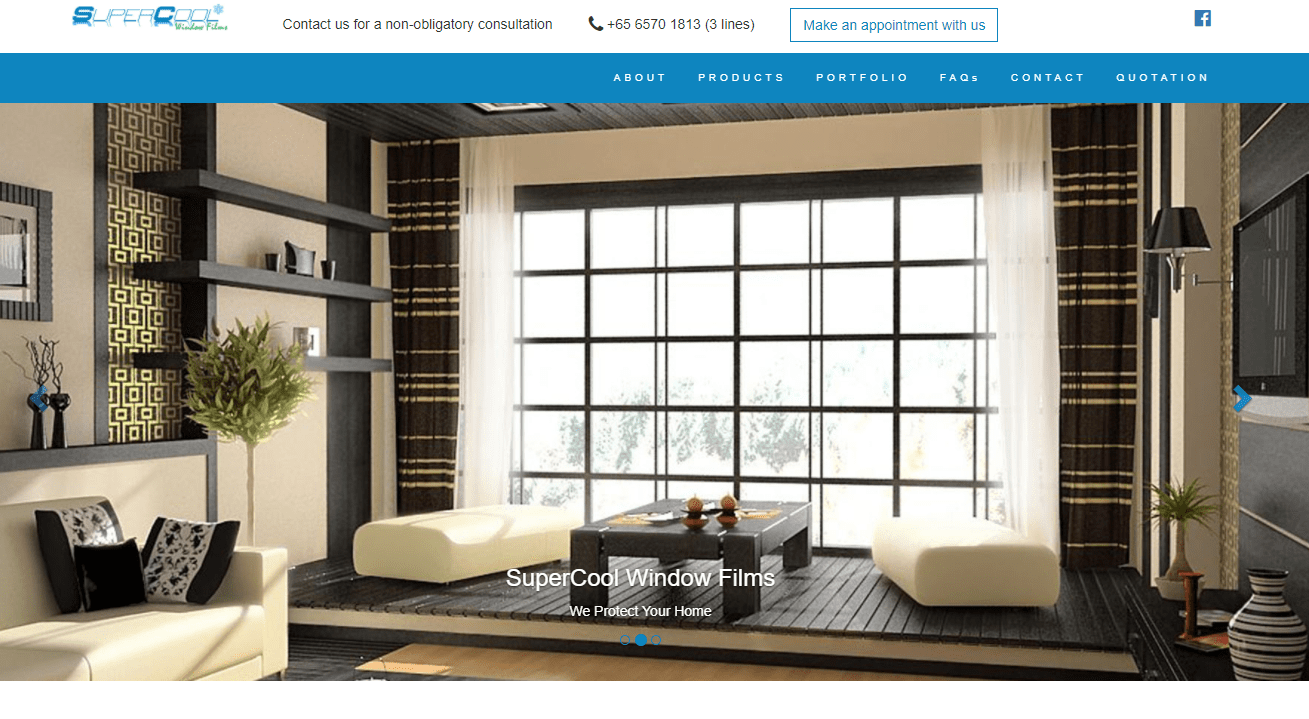 BEST FOR 
Customised window films
PRICING
Rates
WEBSITE
https://www.supercool.com.sg/
ADDRESS
7030 Ang Mo Kio Avenue 5, #05-34 Northstar @ AMK, Singapore 569880
CONTACT DETAILS
+65 6570 1813 (Office)

+65 8533 7577 (Max)

+65 9848 5845 (Shaun)

OPERATING HOURS
Weekdays: 9am–6:30pm
With SuperCool, you can have customised window film specially designed for your car model! Their solar control film series also features a high level of protection from solar damage, with an overall rejection of InfraRed radiation, Ultraviolet, and Visible Light Transmission.
They're also known for producing seamless and wear/tear-resistant films that provide consistent performance. Their selections also ensure optimal clarity and colour stability for a long time.
With the high luminous efficacy, their products allow maximum sunlight with low reflectivity for energy efficiency.
Highlights
Long-lasting quality
Automotive and residential services
Free online quotation
Long warranty
Customer Reviews
SuperCool has gained the trust of many locals because of the friendly and knowledgeable staff who provided reliable assistance throughout the consultation and installation process.
Therefore, they've become known for their best window tinting in Singapore. A customer gave this review:
"Shaun was on time, and shared all needed information on the available films, before I even needed to ask anything. Very professional and meticulous. Also suggested the best value for money option, listing the pros and cons of each very clearly. Installation was done in the same week, very fast and very clean. Can feel the heat has reduced by at least more than 50%, significantly reduced glare from the afternoon sun. Can't get any more seamless than this. Great job and thanks!"
6. Shield Perfect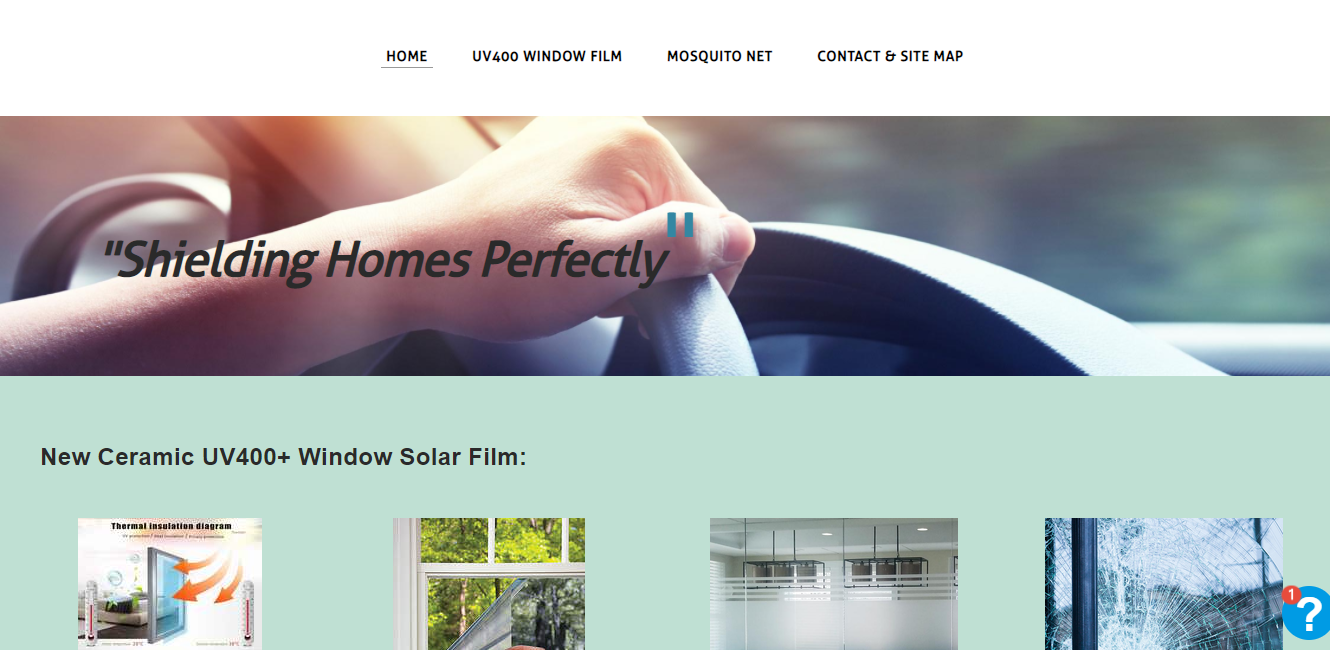 Shield Perfect Insect Screen Systems provides various solutions to your mosquitoes and insects problem at home or at work. Their products are suitable to be installed onto your existing windows.
Not only that, but they can also be applied to sliding or casement (push-out) types. Most importantly, they can help to keep mosquito and other insects out.
At the same time, the products are experts at allowing air to flow through, thus improving home ventilation. The products by Shield Protect are excellent dengue prevention, also can be used as pet screen.
Highlights
Wide-range of services
Free online quotation
Affordable and cost-effective
Customer Reviews
Here are some examples of the feedback posted by customers on Google Reviews:
"Installation is perfectly done. Heat is reduced also."
7. The Window Film People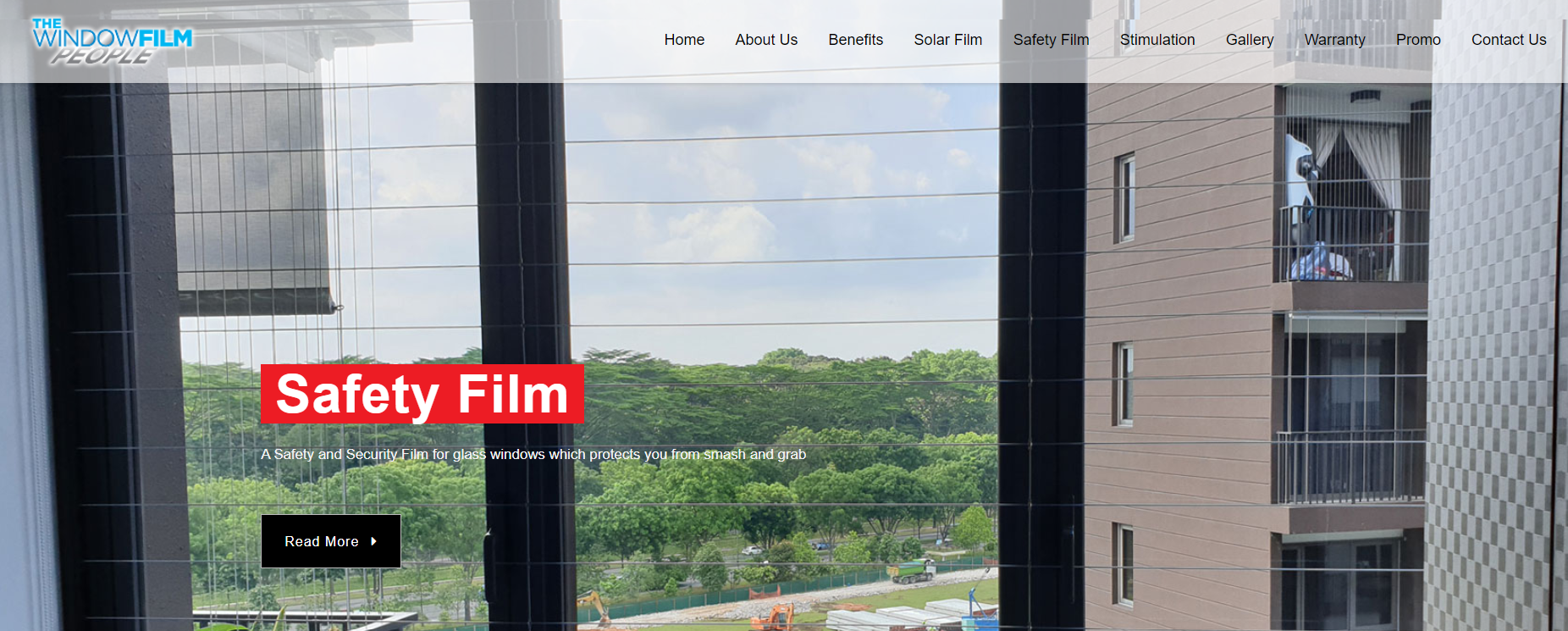 | | |
| --- | --- |
| BEST FOR | Installation of solar and security window films |
| WEBSITE | https://thewindowfilmpeople.com/ |
| ADDRESS | Toa Payoh Industrial Park, #05-1525 Blk 1003, Singapore 319075 |
| CONTACT DETAILS | 65 6352 7833 |
| OPERATING HOURS | 9am to 6pm Mon to Sat |
The Window Film People is a leading distributor of international brands of window films for glass windows. This product protects privately-owned cars from smash and glass breakage.
Since 2003, The Window Film People have been one of the best companies for the industry. Not only does window film tinting reduce up to 75% of the heat from the sun's ultraviolet rays, but it also helps protect your glass from shattering in case of an emergency.
The team specializes in the professional installation of quality Solar film and Safety film. They believe in total customer satisfaction, including a full warranty that backs up most emergencies and accidents.
Highlights
Easy to apply films
Reliable team and staff
Affordable and cost-effective
Customer Reviews
Here are some examples of the feedback posted by customers on Google Reviews:
"Easy to use website. Fab choice of designs, arrived quickly and was easy to apply."
"Immediate response when I called to ask for a dispatch delay to suit my availability."
8. Tintsy Cool International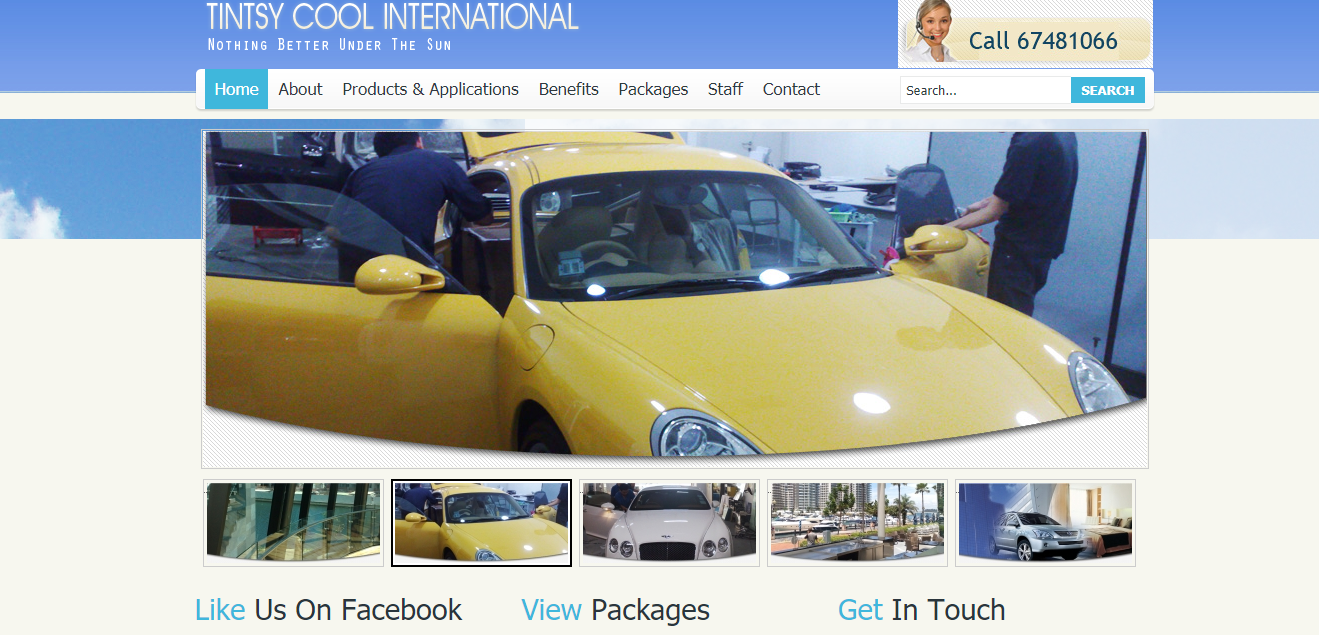 BEST FOR
Car window tinting services
WEBSITE
http://www.tintsycool.sg/
ADDRESS
10 Kaki Bukit Road 2
#01-07 First East Centre
Singapore 417868
CONTACT DETAILS
(65) 67481066/[email protected]
OPERATING HOURS
Mon – Fri : 10.30am – 7.30pm.
Sat & Sun : 11.00am – 6.30pm
Closed On Public Holiday.
With their company's motto of 'we promise to deliver', Tintsy Cool International is committed in providing professional service. They are also keen in giving advice, products and workmanship to their clientele.
They are popular for their range for domestic, commercial, automotive, architectural, safety and security films. Their products have drawn well praises from all clients."
They are pleased to receive positive acknowledgements from our clients that our window films, ranging from automobile to architectures, fulfill its functions well. Regardless of the purpose served such as energy-saving or cooling effect, and the workmanship, have produced guaranteed results and performing at peak level.
Highlights
15 year Full warranty for any product
Fast transaction
Enhances safety with improved glass shatter resistance
Customer Reviews
Here are some examples of the feedback posted by customers on Google Reviews:
"Trent and his team is very professional and patient in proposing suitable film tints for my older vehicle. All the old tints were successfully replaced without any issues. Trent was very accommodating to replace some of the installed tints when my partner preferred a lighter tint. Overall a very positive experience. Highly recommended."
"Wanted to tint my car due to the scorching weather, and my car came with original tinted glass. The boss, Trent advised me on what I can do to achieve the best result with regards to heat and VLT for my particular case. Nice and friendly boss. Prices were reasonable and the car feel much cooler under direct sun."
8. DrGlass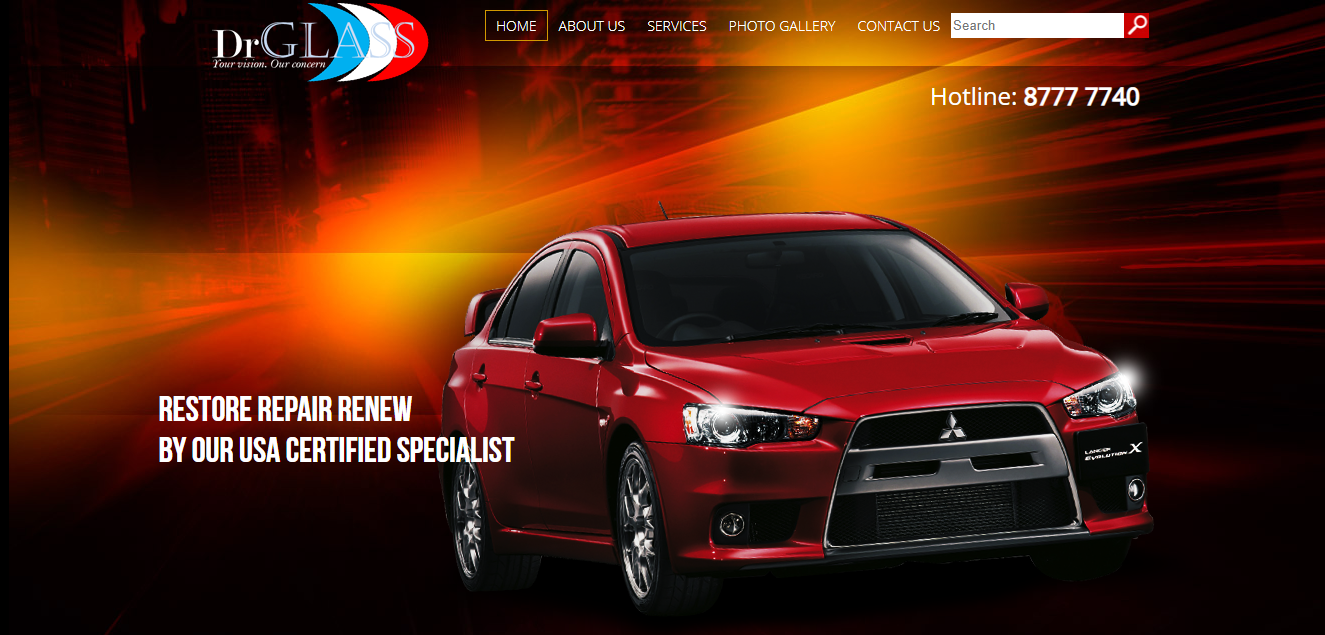 | | |
| --- | --- |
| BEST FOR | Windscreen crack repair and headlight restoration |
| WEBSITE | http://www.drglass.com.sg/ |
| ADDRESS | 25 Kaki Bukit Road 4 #03-69 Synergy Building (417800) |
| CONTACT DETAILS | 8777 7740/[email protected] |
| OPERATING HOURS | Mon to Fri 10am to 8pm. Sat 10am to 6pm |
DrGlass was established in 2005 by Vincent Tan with experience in the automotive trade since the age of 14. Although it is a fairly new company, it has received numerous positive feedback and testimonials from its satisfied clients.
DrGlass is a family providing vehicle restoration businesses. It is also an organization which makes it easily accessible for anyone to repair their car at an affordable rate.
Since its inception, it has developed a high saving opportunity into consumers and corporate clients. They have established strong company culture and based the cornerstone of DrGlass on a shared mission, vision and value system.
Highlights
Hassle-free transactions
Experienced staff
Affordable and cost-efficient
Customer Reviews
Here are some examples of the feedback posted by customers on Google Reviews:
"This guy is good, it took just around an hour and the result was superb."
"Got it done perfectly!"
9. ASRO Interlink Pte Ltd
Asro Interiors provides some of the best window services in Singapore. If ever you're in need of tinting or blinds to get rid of the harsh glares affecting your home, they're one of the best choices for the job.
Their catalogue boasts a wide array of films that clients can choose from. Contact the company today to learn more about their products and services.
Highlights
Professional Installation
Customisations
Cost-efficient
10. Grey Tint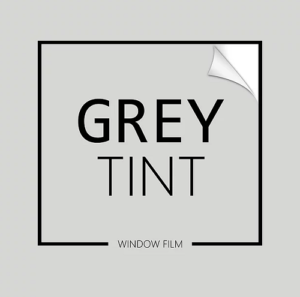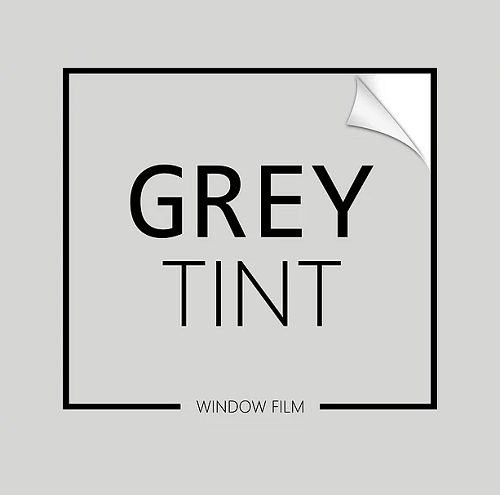 When it comes to home improvement, specifically window films, Grey Tint is one of the best choices in Singapore.
Grey Tint's team has years of experience in installing window films, resulting in their expertise in the field. Aside from their skills and knowledge, they are also highly professional and strive to provide excellent service to all of their clients.
If you want affordable, high-quality window films, Grey Tint is the go-to choice in Singapore.
Highlights
High-quality films
Top-notch customer service
Prompt replies and services
 Customer Reviews
"Professional, responsive, value-for-money! You must engage Grey Tint for your window film! Highly recommend. It is the best we have ever met!" –Jackie Tan
"Very professional with the service they provided. The workmanship for the installation is of very high standard. Finally, their price is very reasonable!" -Subash Ooshiro
And that's it for our list of shops with the best window tinting in Singapore! Have you already found the one that's nearest your place? Let us know all about it!
If not, then you may want to see these places that provide the best car detailing in Singapore. Most of them also offer window tinting so you may also find more options for window tinting there.