Top 12 Shops for the Best Car Grooming in Singapore (2021)
Whether we use our cars daily or less often, they are highly prone to dirt and dust. So, to protect them from any possible damage, you must do a regular general cleaning with the best car grooming service in Singapore.
To ease your struggle of searching for the most affordable and nearest shop for car grooming in Singapore, we've come up with a list of places where you can have your car fully cleaned and polished. Check these out!
1. Ace GT PTE LTD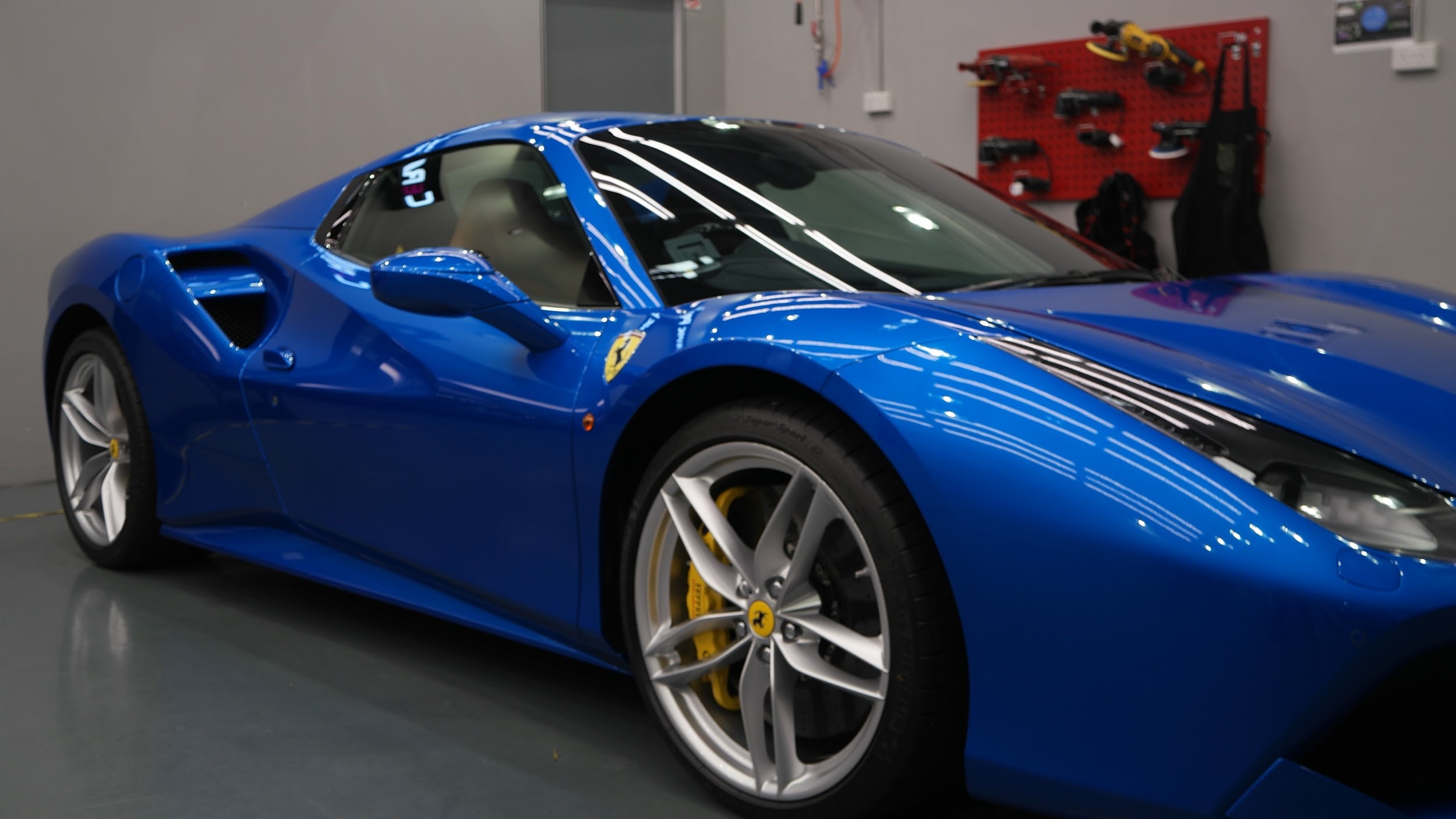 | | |
| --- | --- |
| BEST FOR | Restoration services |
| PRICING | Rates |
| WEBSITE | http://sgpaintprotection.com/ |
| ADDRESS | 9 Yishun Industrial Street 1 #01-70 North Spring Bizhub Singapore 768163 |
| CONTACT DETAILS | +65 6710 7793 |
| OPERATING HOURS | Monday – Saturday, 9:00 Am – 18:00 Pm |
Aside from the exterior of a car, it's also important to take care of its interiors. Ace GT PTE LTD specialises in protecting the overall condition of your beloved vehicle, inside and out.
They use a high-quality paint product, Ceramic Pro, to restore the fineness of both exterior and interior parts. This will also ensure long-lasting protection.
With all this detail given to the finish, we're not too surprised to find out that they are considered to be the most popular place for car polish in Singapore.
Their offered services cover the outer surface as well as the fabric seats, fixed carpets, and more. They also come in different packages for more practical options.
Highlights
Ceramic Pro for both interior and exterior parts
Long-lasting protection
Affordable packages
Customer Reviews
Ace GT PTE LTD has gained compliments from many customers, who said that they were very satisfied with the overall services, particularly with the restoration services and car polishing price in Singapore.
They also mentioned the commendable professionalism of the staff. That's why they're known as one of the shops that provide the best car grooming in Singapore.
Here are some customer reviews posted on Google Reviews:
"Had recently sent my 14 years old car for restoration. Very satisfied with the work done…thumb up!?"
"good service and excelent..my car look so shine..george also very friendly..staff very profesional..i give 5 stars for that!…"
2. Max Polish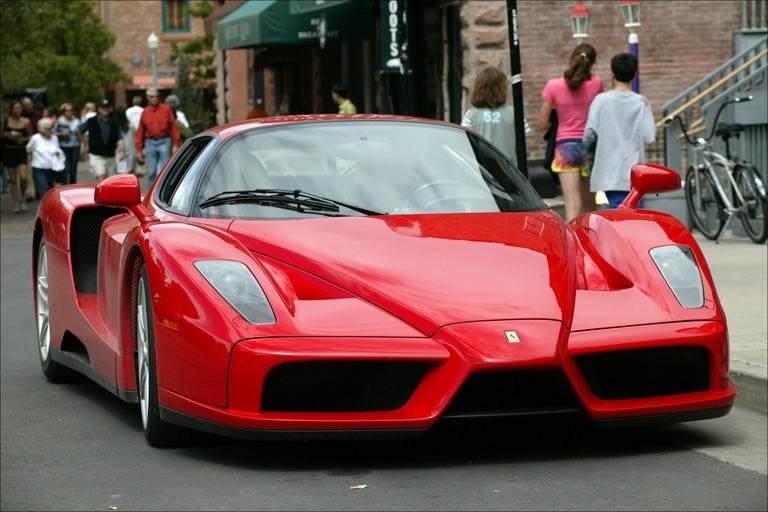 | | |
| --- | --- |
| BEST FOR | Premium products and services |
| PRICING | Packages |
| WEBSITE | http://www.maxpolish.com.sg/ |
| ADDRESS | 307A Tampines Street 32, 521307 |
| CONTACT DETAILS | 9792 0492 |
| OPERATING HOURS | Daily, 10am–10pm |
Max Polish takes pride in their high-quality products such as Meguiar. Despite the premium services, you can be sure that they'll give you consultations and prices that'll fit within your means.
You can also rest assured that your car will be handled by skilled experts who have years of car grooming experience.They also offer promotional packages for more economical options. With these services, they're indeed a shop that offers the best car grooming in Singapore.
We found that many go to them for the best car coating in Singapore.
Highlights
Meguiar, premium car grooming product
Car grooming experts
Discounted packages
Customer Reviews
For over a decade, they've been giving their utmost dedication to the best car detailing in Singapore. Therefore, most customers keep on coming back to their shop.
They've praised the responsive staff and amazing results of Max Polish's services. A customer recommended the shop and wrote this review on Google Reviews:
"As any first timer, a little apprehensive on how the grooming service would turn out. I am extremely delighted with the total Magnum Promo job. Exterior and Interior was visibly cleaner. Price is fair and service crew great. Will certainly repeat"
3. EnGloz Car & Bike Grooming Services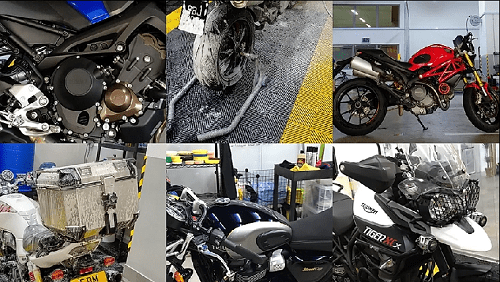 BEST FOR
Motorbike grooming services
PRICING
Packages
WEBSITE
https://www.engloz.com/
ADDRESS
50 Gambas Cresent, #04-18, Singapore 757022
CONTACT DETAILS
+65 9181 1938
OPERATING HOURS
Mon: 12-8pm

Tue: CLOSED

Wed: 12-8pm

Thur: 12-8pm

Fri: 12-10pm

Sat: 12-10pm

Sun: 12-8pm
If you have both a car and a motorbike to maintain and you've been looking for the best car grooming service in Singapore, you should visit EnGloz Car & Bike Grooming Services.
When it comes to their motorbike grooming services, they use ECO degreaser to prolong the life of chains and ceramic coating to strengthen surface durability. From washing up to polishing, they use Sonax products, which are known to be highly effective.
For the interior, they use Nanotechnology to easily remove the stains. You can also do consultations in case you have some specific concerns.
Highlights
Motorbike and car services
Consultation services
Nano technology for interior
Customer Reviews
Most bikers were very impressed with the products used for washing and car polishing in Singapore. Hence, they gave positive responses to EnGloz Car & Bike Grooming Services and shared this feedback on Google Reviews: 
"Professional bike wash with eco and paint friendly products. Highly recommended for bikers" 
4. Waxoyl Singapore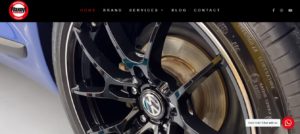 Waxoyl is an international brand that has more than 60 years of heritage and the year 2021 marks its 19th year in Singapore. (and 2022 marks its 20th year in Singapore)
In comparison to others, just by visiting their detailing centre, you will immediately feel at home. You will not get bored waiting for your car as their lounge is equipped with a television, high speed internet, and of course, there are drinks such as sodas and coffee.
At Waxoyl Singapore, you will be spoiled for choice as a car enthusiast. They specialise in detailing for all makes and models, including motorcycles. Choosing a service for your car can be quite daunting. Their menu is straightforward and not confusing with packages and services to suit your every need. There is confidence in leaving your car with the professionals.
Their washing services are pretty affordable and inexpensive. We can really say that you will get what you pay for because they do more than just simply washing your car. They offer a basic, Wash & Shine for $15 and their Hydrocoat Wash & Vacuum for $30.
We absolutely approve of getting the latter one since their Hydrocoat Wash will give your car a hydrophobic effect that can last up to three months. Water will be gliding off your car and leave fewer watermarks after it dries!
The only catch here is that they have a no rush policy, which means that their service duration is longer than others. But do take in mind that they have this in order to not make their workers compromise the integrity of their work. But do bear in mind that this is done in the name of quality!
Highlights
Here are reviews from their Facebook page:
"Friendly staff and they do not rush through the washing and cleaning process.

You can seat in their lounge to work or enjoy a cup of coffee and Netflix."
"Excellent service, easy registration and booking process. The coating was thoroughly applied and with much care and attention to detail. Highly recommended"
"I tried the hydro wash and vacuum service yesterday and I am very pleased with their high standard services and workmanship. I will definitely come back for more car detailing service with this shop. Good job !!!"
5. Elite Image Detailing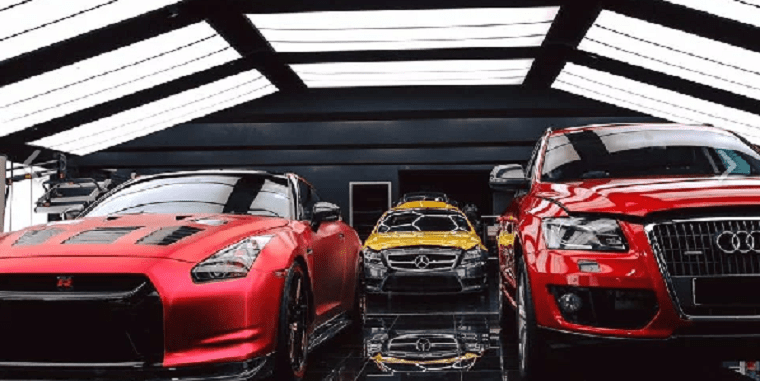 BEST FOR
Personalised detail and maintenance
WEBSITE
https://www.eliteid.com.sg/
ADDRESS
50 Serangoon North Ave 4 #01-06 First Centre Singapore '555856
CONTACT DETAILS
+65 6636 4466
OPERATING HOURS
Monday – Saturday: 9:30 AM – 7:00 PM

Sunday/ Public Holiday: By Appointment

​Night Drop Available
For those who want to add more detail to their cars, you should go to Elite Image Detailing. They provide different packages that'll enhance the depth, clarity, and durability of a vehicle.
They also make sure that once the details have been finished, proper maintenance will be provided. They even offer personalised services that'll perfectly cater to your needs and preferences.
Tailored services
Car appearance enhancement
Detail packages
This award-winning shop has become a favourite of many customers. Many of them have used their services for car polish in Singapore. Most of them said that the coating products were very impressive and the staff service was exceptional.
These are the main reasons why Elite Image Detailing is considered to have the best car grooming in Singapore. A customer from Google Reviews wrote:
"On day 1 I took my car for the protective coating with Elite Image Detailing. Their service is top notch and they really do care about the car. Friendly and very professional, equally well reputed. Cosmics coating is used here, that has its own popularity. Compared to others these are on the premium side but well accepted by seasoned car owners."
6. Groomtech Auto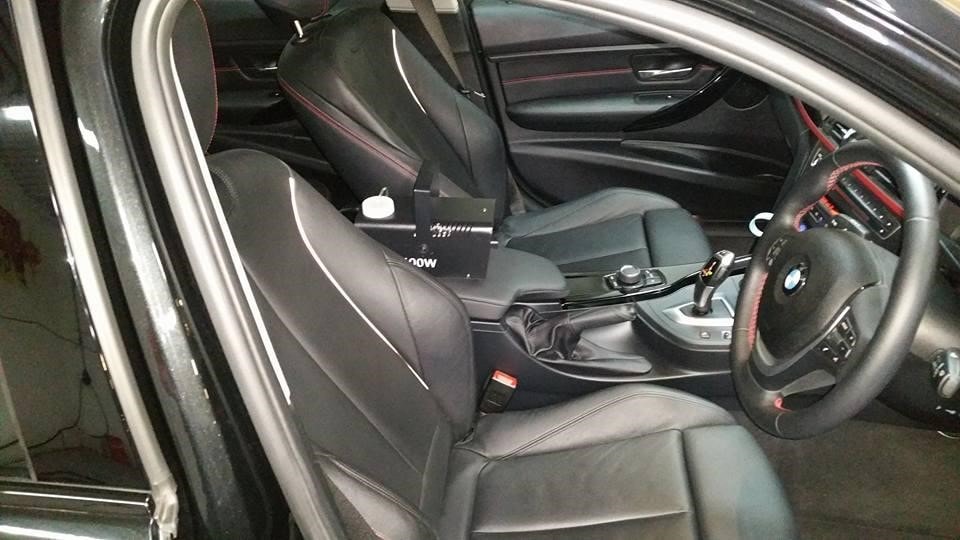 Groomtech Auto features a variety of car grooming services such as antibacterial fumigation, windscreen treatment, interior leather wash and care, ceramic coating and more.
The shop is located in a mall, so you can easily find them and have some consultations after a whole day of shopping.
With a wide range of services and an accessible location, this shop can truly have the best car grooming in Singapore.
Car fumigation
Leather wash and care
7. 5D Solutions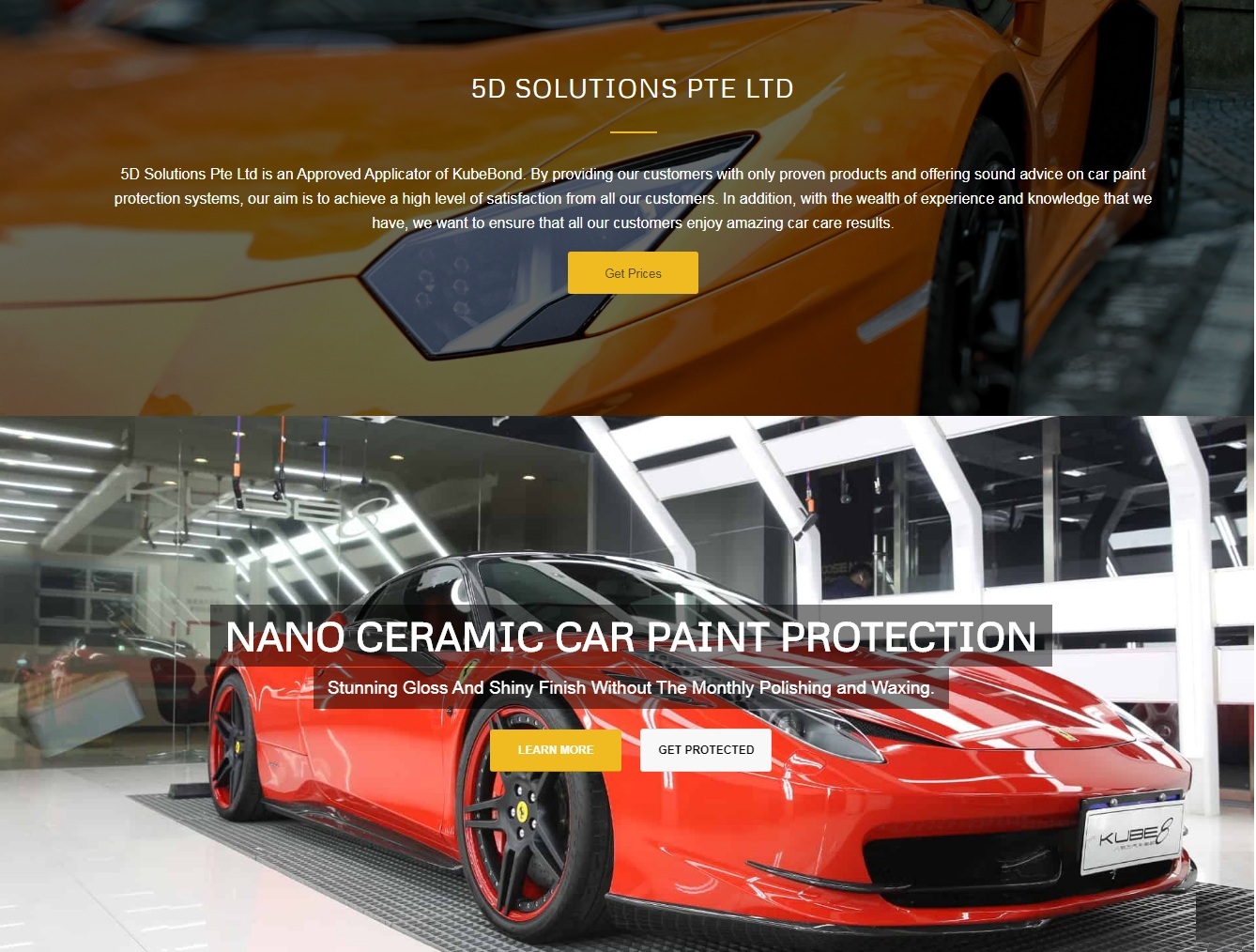 | | |
| --- | --- |
| BEST FOR | Car painting protection |
| PRICING | Services |
| WEBSITE | http://5dsolutions.sg/ |
| ADDRESS | 7 Soon Lee Street #01-26 iSPACE Singapore 627608 |
| CONTACT DETAILS | +65 8668 7560/+65 6254 0456 | |
| OPERATING HOURS | Monday to Saturday: 9:00 am – 6:00 pm |
5D Solutions offers high quality car paint protection services that will totally make your car look brand new. They use quality tools that are specially imported from Germany and Italy, certified calibrated paint thickness gauges and quality polishing pads.
They understand that maintaining a 4-wheel drive is not as cheap as we wanted it to be, that is why they offer package services that will suit every need and budget of their clients while keeping their standards high.
5D Solutions specifically uses KubeBond, a nano ceramic coating designed by professionals for professionals. They offer both interior and exterior packages of this. So, feel free to drop by their shop to get your bad boy some retouch.
For the best car polish in Singapore, we suggest you contact them to find more details such as availability and rates.
Affordable package services
Uses KubeBond technology
Highly recommended by professionals
8. New Age Polish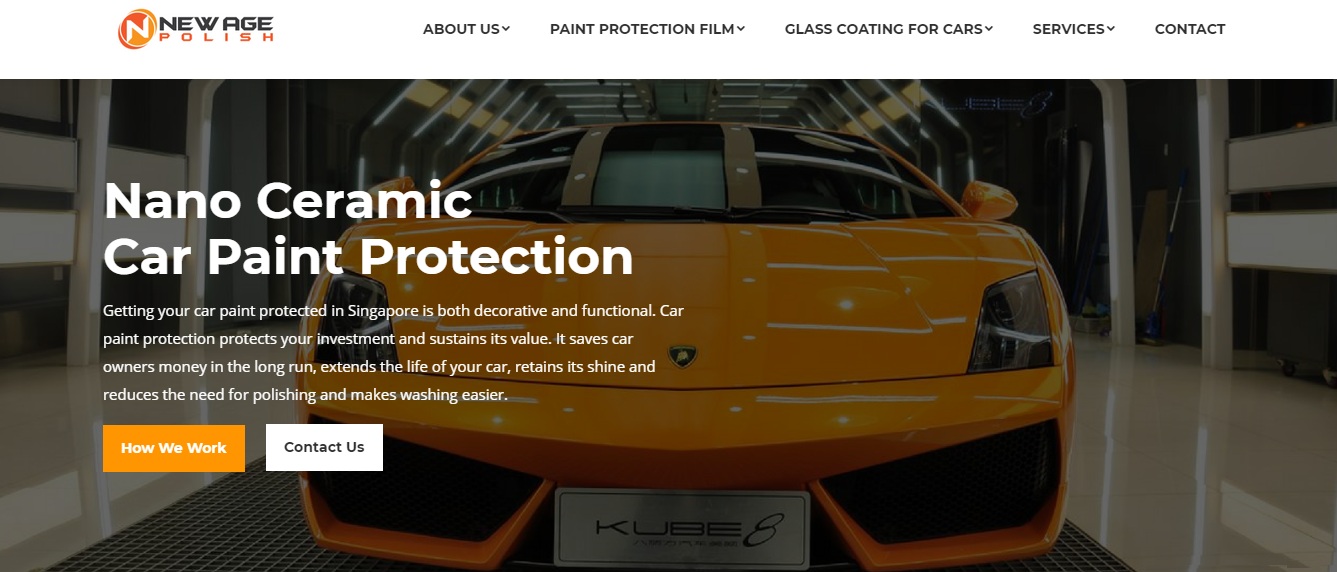 BEST FOR
Nano Ceramic Car Paint Protection
PRICING
Contact shop to get a quote
WEBSITE
https://www.newagepolish.sg/
ADDRESS
11 Yishun Industrial Street 1 #01-112, North Spring Biz Hub Singapore 768089
CONTACT DETAILS
+65 8161 0131 | [email protected]
OPERATING HOURS
Monday ……………. 9 am – 6 pm

Tuesday ……………. 9 am – 6 pm

Wednesday ………. Closed

Thursday ………….. 9 am – 6 pm

Friday ……………….. 9 am – 6 pm

Saturday …………… 9 am – 6 pm

Sunday ……………… 9 am – 6 pm
New Age Polish offers various car grooming services including interior and exterior grooming, paint restoration, pest fumigation, steam cleaning and antibacterial treatment, and possibly the best car wash in Singapore
The shop pride itself with their years of professional experience in the grooming niche. They make sure to always go the extra mile in providing you the best car grooming service. They are also very attentive to detail. Even a single spot could not escape their notice, therefore will leave your car spotless and sparking clean.
New Age Polish offers various grooming packages, particularly in glass coating services. They make sure to apply the most appropriate treatments and products that will fit both your car needs and budget.
Extensive car grooming services
Uses KubeBond ceramic coat for exterior and interior packages
Cost-effective and long-lasting protection
9. Juzz for Cars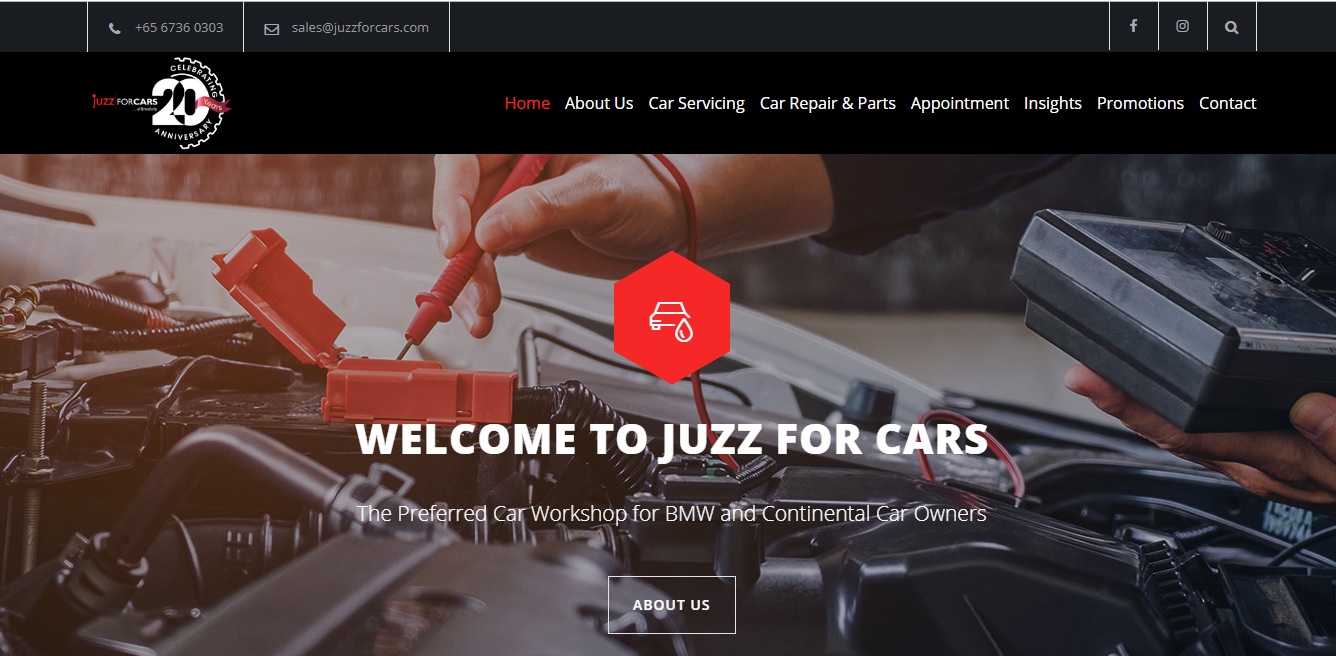 When we were doing our research for car grooming Singapore review, we found out that Juzz for Cars started in 1999 with only four individuals in the car shop. Throughout the years, it grew and became one of the most reliable car repair companies in the country. The shop already has loyal customers who rely on them when it comes to fixing their automobiles.
This one stop service hub offers various services for their clients. You can upgrade your car and groom it the way you like it. They have many top notch automobile parts to choose from. Thus, you're ensured that your car will look good but at the same time, durable.
● 24 hours towing service
● Uses premium quality materials or auto parts
● Experienced car mechanics
With its years in the business, there is no doubt that Juzz for Cars will deliver a good service to their customers. But in case you're looking for more, here's a feedback from one of their satisfied clients:
Good service, solid work quality. Fair and direct, rather then trying to get away with crazy charges and not needed repairs. – Vlasta Berka
10. Groomwerkz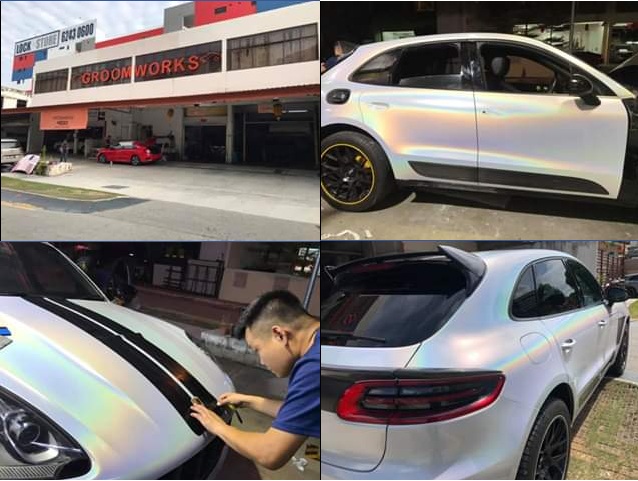 BEST FOR
End to End Auto Aesthetic Services
PRICING
Nano ceramic coating :

$580 per session

$1800 for 4 full session plus 24 sessions of complimentary Wash and Vac services. One becomes a GroomWerkz Member* after subscribing to this program

Internal detailing with interior Nano coating

$180-$220

Fumigation to get rid of pest

$50

PPF and Wrap: POA . $30 to $4000 depending on quantity , location and type of car panels needing application.

PDR ( Paintless Dent Repair ).

POA . Estimate at 1st dent $35, subsequent dent $15.

Bodyworks repair and spray painting : POA

Car Wash :

Strictly for GroomWerkz Members*.

**All prices are before GST

WEBSITE
https://m.facebook.com/groomwerkz/
ADDRESS
48 Senang Crescent, Singapore 416615

1 Esplanade Drive , Basement 2 Carpark ( Green Zone ) , The Esplanade , Singapore 038981.

CONTACT DETAILS
91098219
OPERATING HOURS
Senang Crescent : 0800hrs to 2130hrs

Close Tuesdays and Public Holidays

Esplanade : 0730hrs to 1645hrs

Close Weekends and Public Holidays
Groomwerkz is a bonafide end to end auto aesthetic services provider. Founded 2001, their technically superior craftsmanship is honed over time and sweat, dedication and passion, in our relentless pursuit to being the best.
As one of the most established professional auto detailing companies in Singapore, they take pride and responsibility in leading, cultivating and upholding professional industry standards and practices. Top notch customer service , ethics and quality of works serve as the cornerstone of their business.
Nano Coating to protect Exterior and Interior of Automobiles
Premium Paint Protection Film (PPF ) for Enhanced Paint Protection
Colour Wrap Vinyl to Enhance and customise External cum Interior Look and feel
Bodyworks Repair , Restoration and Spray Painting
PDR, Paintless Dent Repair, the swiftest and most effective method to get rid of small dings and dents
All important members only technically superior car wash
It is without a doubt that Groomwerkz is one of the finest in Singapore when it comes to car grooming services. Their clients praise their extreme professionalism, credibility, and excellence.
Many have praised the customer service that's gone over and beyond merely giving clients the recommended car coating in Singapore.
""I have been a GroomWerkz customer since 2001 and had been kept renewing my membership years after years. I am very pleased with every session I had with GroomWerkz. They always transform my car into a show room condition car every time I collect my car without fail. Yong and his group of professional groomers put in great efforts to ensure all their customers drive their cars out from their grooming workshops with a smile on their faces. They make everything so right that I will not let anyone else touch my car, except the GroomWerkz guys! Thank you Yong, you guys had make my cars shine for 6 years and there will be more 6 years to come."
11. Detail Mania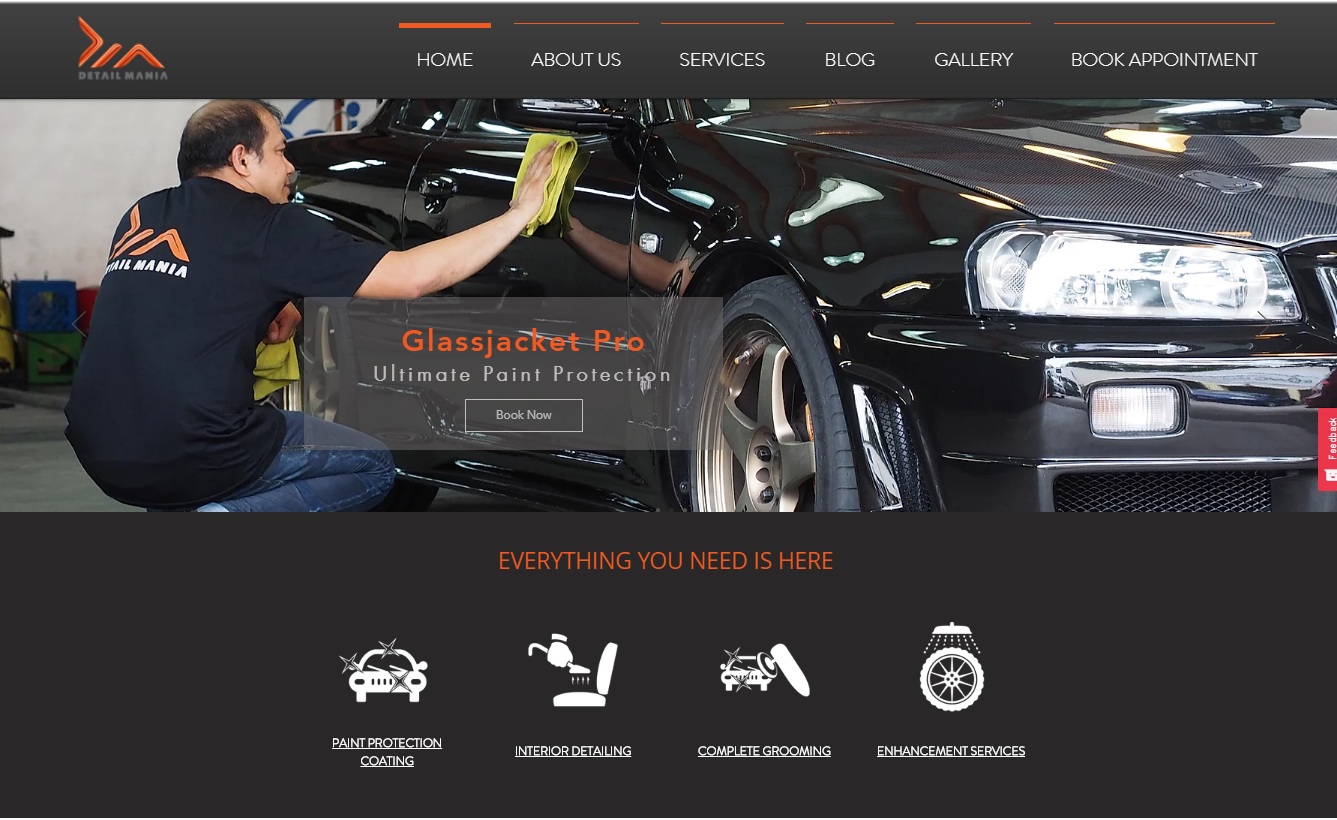 BEST FOR
Car grooming and paint protection coating
PRICING
Rates
WEBSITE
https://www.detailmania.com.sg/
ADDRESS
80, 01-04 Rhu Cross, Singapore 437437
CONTACT DETAILS
+65 8182 6987
OPERATING HOURS
Monday – Sunday

9:00am – 6:00pm

(Last appointment: 4.30pm, or subject to availability)
Detail Mania offers everything you need to beautify and maintain the high quality of your cars. From regular complete grooming to paint protection coating, the company got your all covered.
Their car grooming services take up 3-6 hours due to multiple cleaning and rejuvenating steps for full blown results.
They start with multi-step car washing from wheels to engine, followed by Single Stage Paint Rejuvenation and complete vacuuming, and ends with tire dressing. All these processes are guaranteed to be of the highest quality.
Their rates depend on the type of your vehicle which they categorize as small, medium, large, and extra large.
Multi-step hand car wash
Use of premium microfiber towels
Tires dressed with no-sling formula
Offers same day/urgent appointments
12. Car Singapore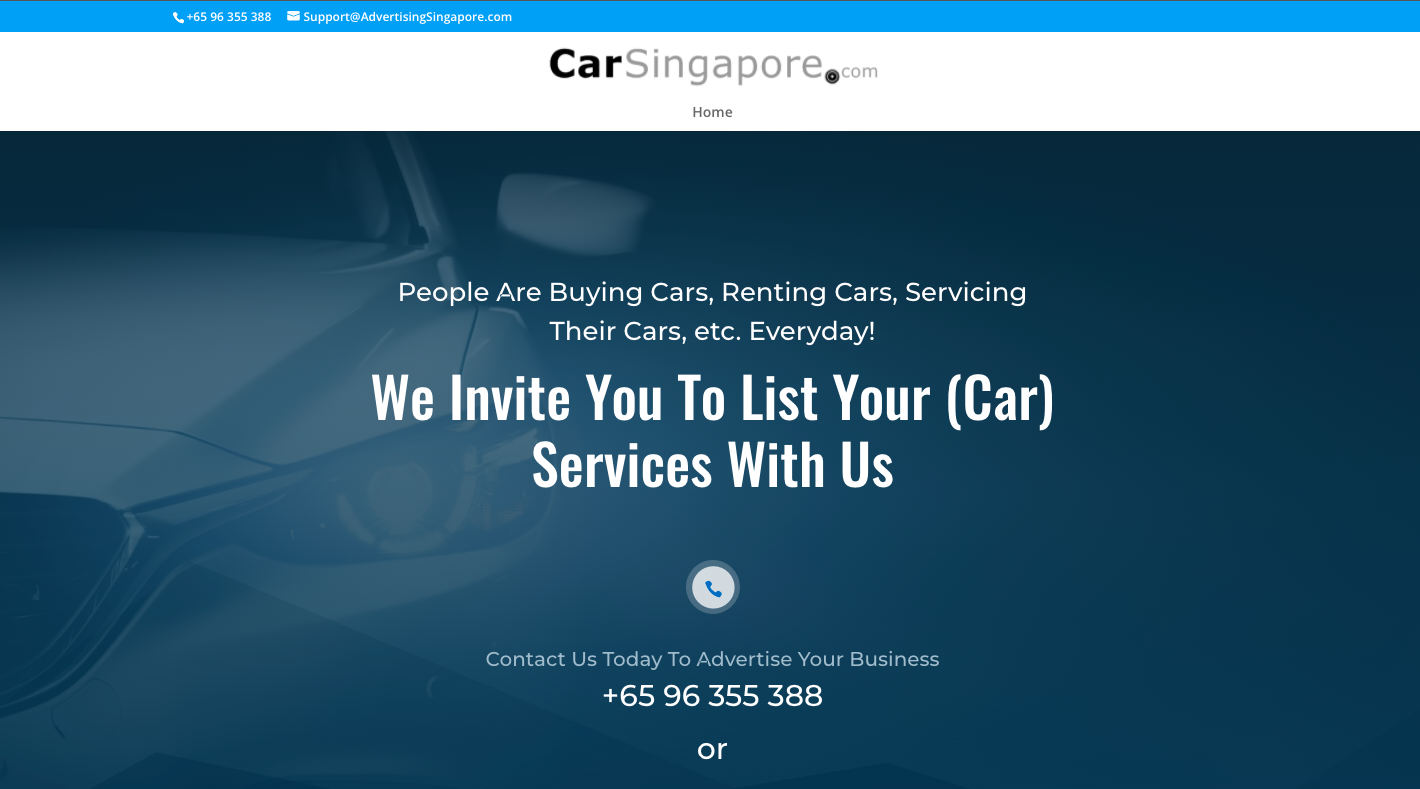 Car Singapore offers an online hub for people to connect with each other about automobiles. If you're looking for something related to cars you can't find anywhere else, this is a good place to start.
If you're considering buying, renting, selling, or need repairs, Car Singapore offers users a single place to search for your needs.
Likewise, businesses that offer services can join the network as well. Whether it's detailing, accessories, or even towing services, this site has it covered.
That's our list of the shops that have the best car grooming service in Singapore! If you want to recommend more service companies, let us know all about it!
To fully protect your car against pests and other possible damages, here are some of the best car fumigation services in Singapore! Especially, if you have kids, make sure that the interior is entirely disinfected, before going on a drive.
Offers both exterior and interior care services
Can do glass treatment, engine protector, and interior sanitization
Can work with vehicles from JDMs to exotics, vans to buses