The 23 Best Options for Car Repair in Singapore
For drivers who don't have an idea on how to repair their vehicles, it's ideal to have a list of auto shops that offer the best car repair in Singapore in case an accident happens down to the road.
Luckily, there are quite a few reputable auto shops with the best car repair in Singapore, offering their car expertise for an affordable price. You won't have to worry about anything as long as you have them looking after your car.
Check out our picks for the best car repair in Singapore below and see which auto repair shops offer the services you're looking for.
1. Providence Automobile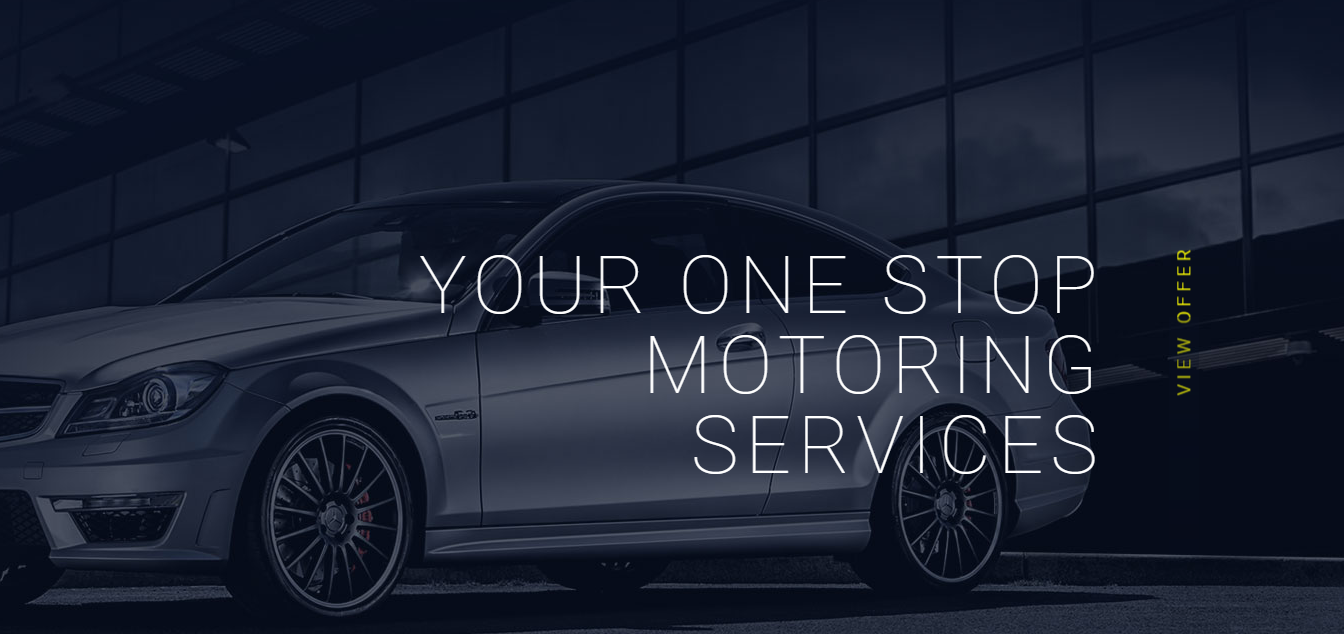 BEST FOR 
Professional Motoring Services
SERVICES
Repair and Servicing
Wheel Alignment
Pre-inspection service
Vitas
Hybrid Battery Repair
Hybrid Vehicle Maintenance Service
Hybrid Vehicle Diagnostic Check
Vehicle Insurance
Accident Claim
WEBSITE
http://www.sgautomobile.com/
ADDRESS
7 Kaki Bukit Road 1, #02-08 Eunos Technolink Singapore 415937
CONTACT DETAILS
6743 3559
OPERATING HOURS

Weekdays: 9:30 – 18:30
Saturday: 9:30 – 16:30
Sunday: Closed

Emergency 24/7
First on our list of car repair providers in Singapore is Providence Automobile. 
They are the best and most trusted company that offers one-stop services for all the needs of your motor vehicles. They can also provide quality services by meeting all the requirements of their clients.
We like them because they are one of the only companies that also specialize in hybrid vehicles.  Another reason is they are the first one to offer a 150,000 KM hybrid battery maintenance package that includes diagnostics, wiring harness replacement, individual cell post-cleaning, and so much more.
With the number of impressed customers they have, they have created a name for themselves over the years. In fact, many of their customers are referrals, which show just how satisfied their past customers were.
They're also the perfect choice for people who do not know much about cars.  You can ask them any question about your vehicle and they will gladly answer.
Highlights
Offers emergency services
Fast service
Highly-trained team
Customer Reviews
Take a look at what customers had to say about them:
"One stop of your car services needed. Brand new/ pre owned purchase, insurance claiming/ repairing etc , all you can get it from Providence Autombile.. come and approach Malcom, if you need the services.."
"Have been using them ever since my first car . Leza has helped me with many of my matters including a recent accident I got into. They helped well with the claim & is always so willing to respond to my questions. Highly recommend."
2.  Harmony Motor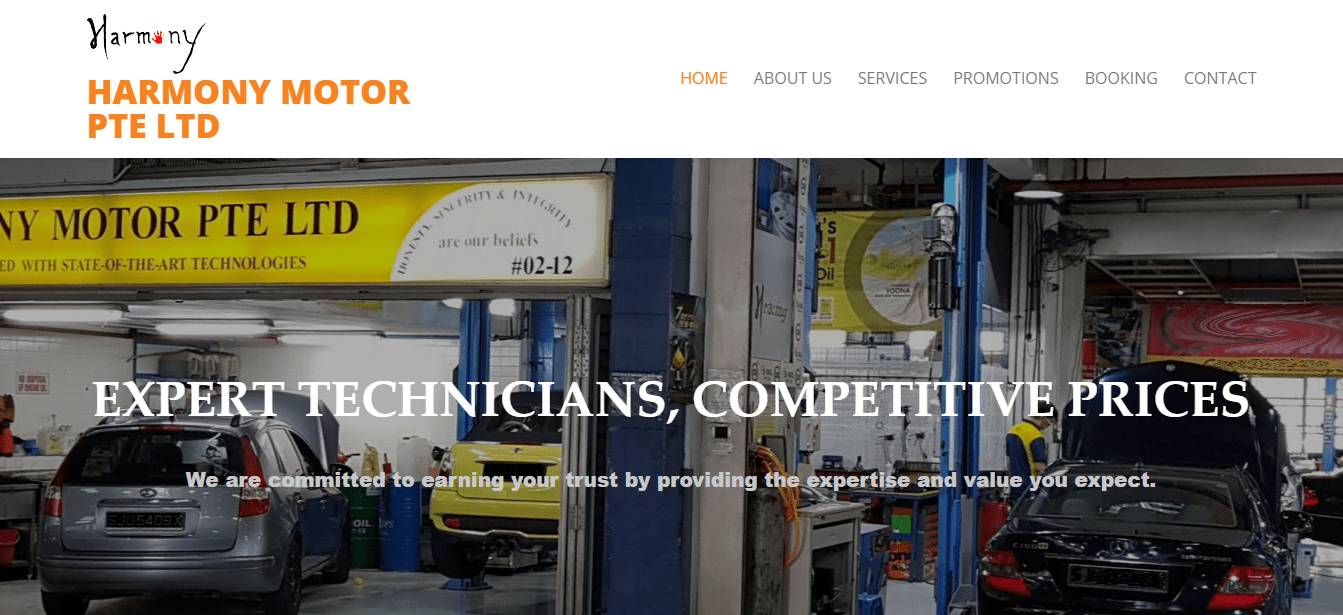 | | |
| --- | --- |
| BEST FOR  | Expert Technicians |
| SERVICES | Accident Repairs, Air Conditioning Maintenance, Brake Repair, and Engine Maintenance |
| WEBSITE | https://harmony.com.sg/ |
| ADDRESS | 10 Ang Mo Kio Industrial Park 2A, #02-12 AMK AutoPoint, Singapore 568047 |
| CONTACT DETAILS | +65 6482 2444 |
| OPERATING HOURS | Monday – Saturday, 9:00 AM to 6:00 PM |
Considered one of the leading auto repair shops on the island, Harmony Motor knows how to handle a wide range of car repair and maintenance issues. Some of these are air con maintenance, brake repair, accident repair, and even engine maintenance.
Harmony Motor is known for having a team of expert technicians, each of whom have years of experience under their belts. Its team has also been repeatedly praised for being friendly and helpful towards every customer.
One reason we consider it the top option for the best car repair in Singapore is its same-day repair service. Customers won't have to wait too long to get their car back.
Highlights
Same-day services
Expert technicians
Competitive pricing
Customer Reviews
Take a look at what customers had to say about the services of Harmony Motor:
"Excellent workshop. Joey is an awesome guy, very knowledgeable about cars, particularly remapping and the like. One of the most humble persons I've ever seen in Singapore in this space, given his experience. Great forward thinking person too and always into the latest tech. Honesty and integrity is rare to find these days, if you care about these, then definitely this is the workshop you want to go to."
"I have been with Harmony for 7 years now over 2 vehicles. They are definitely knowledgeable, reliable and professional. Most importantly, you will find that it is a workshop that is sincere and worth your while to service your vehicle with them for the long term."
3.  Precise Auto Service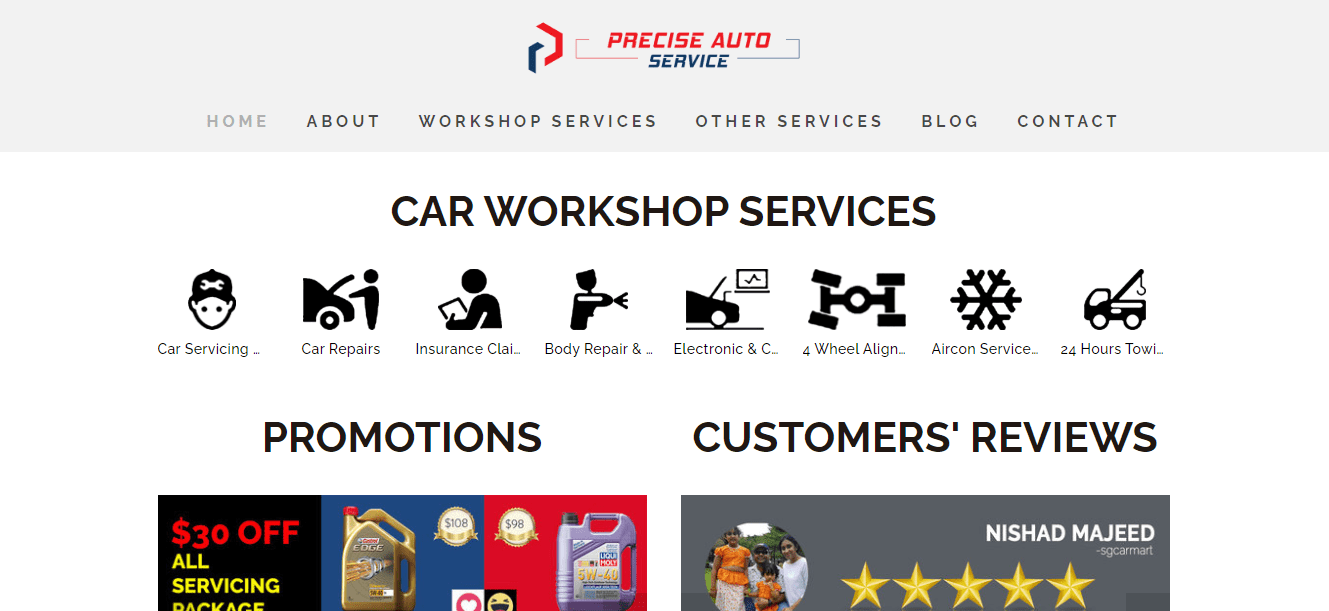 | | |
| --- | --- |
| BEST FOR  | Wide Range of Services |
| SERVICES | Car Servicing, Car Repair, Insurance Claims, Aircon Services, and Towing Services |
| WEBSITE | https://www.preciseauto.sg/ |
| ADDRESS | 1 Kaki Bukit Ave 6, #02-34/36 Autobay @ Kaki Bukit, Singapore 417883 |
| CONTACT DETAILS | +65 6745 7367 |
| OPERATING HOURS | Monday – Saturday, 9:00 AM to 7:00 PM |
If you're looking for an auto repair shop with years of experience and an impressive track record, then you might want to check out Precise Auto Services. It's been helping Singaporeans deal with car repair and maintenance since 1986.
More than that, Precise Auto Services offers an extensive range of car repair and maintenance services, including engine maintenance, air con repair, body repair, wheel alignment, and even insurance claims.
Another thing that makes Precise Auto Services worth hiring is its dedicated team: they're willing to work overtime just to make sure every task is finished promptly.
Highlights
34 years of experience
Affordable services
Fast and efficient services
Customer Reviews
Here are some examples of the feedback posted by customers on Google Reviews:
"Very good service and reasonable price quoted. I had my Toyota wish 14+ years gearbox replaced with. Done within one day. Only had one more year to go and did not want to spend too much.. Friendly and knowledgeable  staff . I would recommend going to them."
"Great experience with Precise Auto. Rented an Altis from them. Car was in great condition! Marcus was helpful in arranging for viewing and sorting out the paperwork. Fuss free in picking up and returning the rental, quick and prompt communications from all of them. Highly recommended! I-like"
4.  BH Auto Services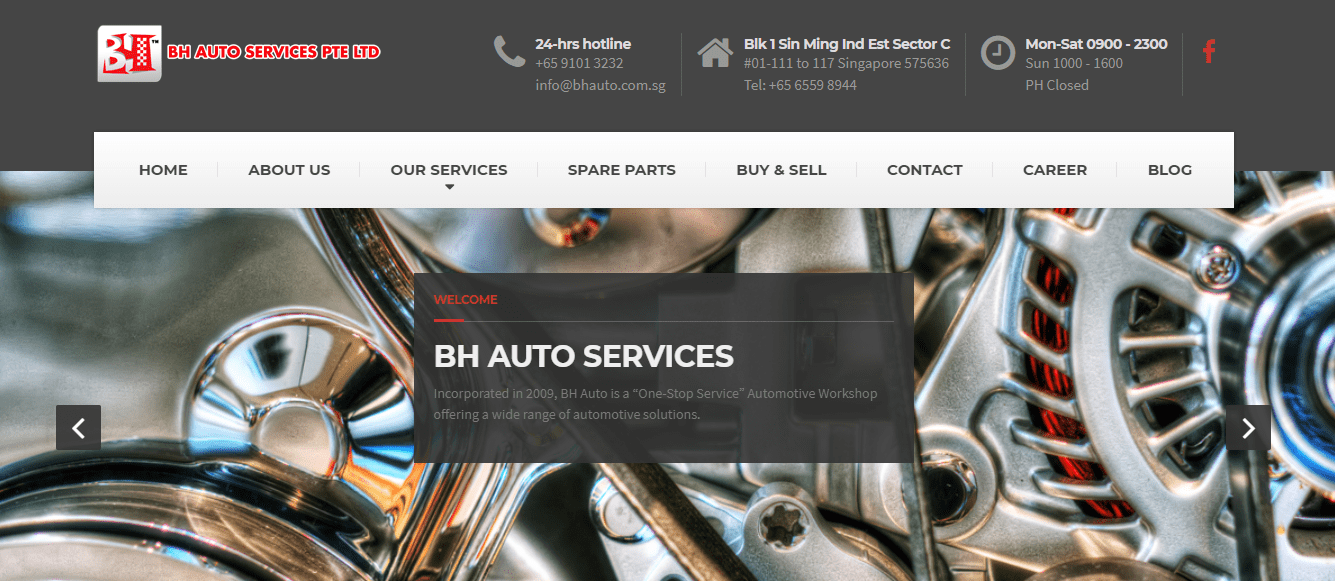 | | |
| --- | --- |
| BEST FOR  | Day and Night Services |
| SERVICES | Car Repair, Battery Recovery, Vehicle Towing, Spray Painting, and Aircon Maintenance, |
| WEBSITE | http://bhauto.com.sg/ |
| ADDRESS | 1 Sin Ming Industrial Estate Sector C, Singapore 575636 |
| CONTACT DETAILS | +65 9101 3232 |
| OPERATING HOURS | Monday – Saturday, 9:00 AM to 11:00 PM |
Ever since its founding in 2009, BH Auto Services' commitment to helping clients deal with car issues and maintenance has never wavered. It started by offering only a single type of car repair service, but it's managed to branch out to other car services over time.
Currently, some of the services offered by BH Auto Services are battery recovery, car repair, aircon repair and maintenance, painting services, and even towing services. Whatever the issue of your car, its team of expert technicians will surely know how to handle it.
BH Auto Services is among the few auto repair shops on the island that operate round-the-clock, helping customers who get in trouble during the wee hours of the night. This is why we consider it one of the top options for the best car repair in Singapore.
When settling payments, BH Auto Services allows customers to pay by either lump sum or installment basis.
Highlights
Late-night services
24-hour towing services
Accepts instalment method of payment
5. ECU Solutions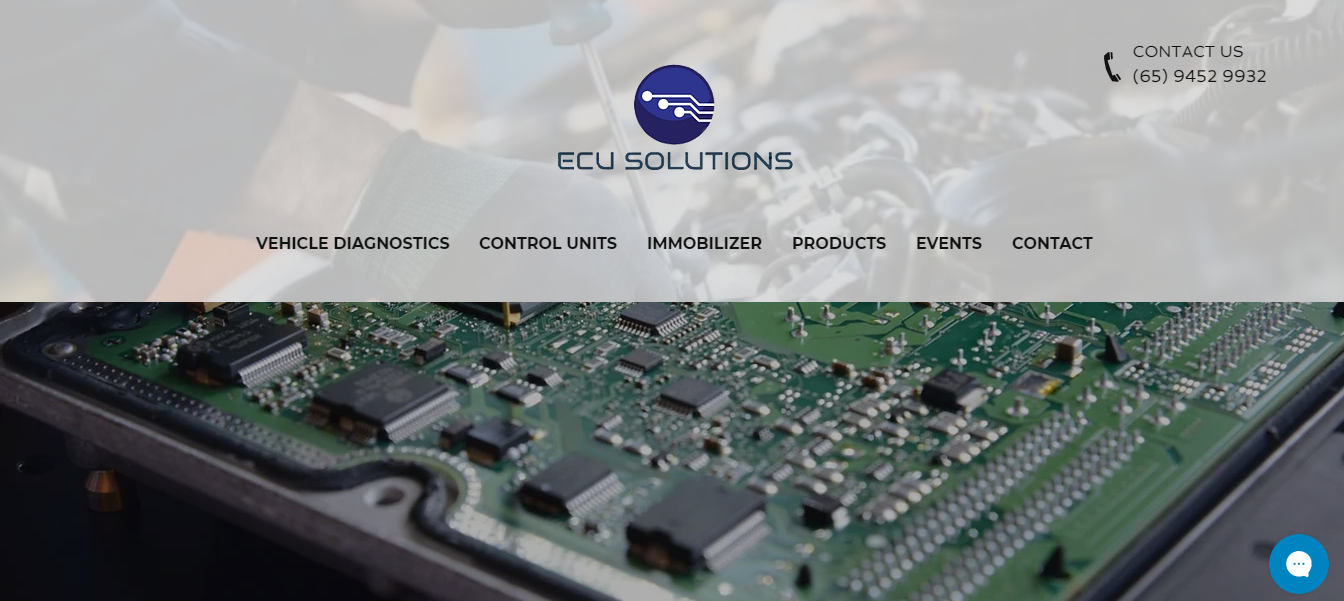 | | |
| --- | --- |
| BEST FOR | System Diagnostics |
| SERVICES | ECU & OEM Diagnostics, Immobilizer, ECU Repair, ESL Repair/Replacement |
| WEBSITE | https://www.ecusolutionssg.com/ |
| ADDRESS | 1010 Bukit Merah Lane 3, #01-121 Singapore 159724 |
| CONTACT DETAILS | (65) 9452 9932 | [email protected] |
| OPERATING HOURS | Monday – Friday, 9:00 AM to 6:00 PM | Saturday, 9:00 AM to 4:30 PM |
If you ever find yourself in a situation with lost keys, malfunctioning lights and the like, then ECU Solutions would be the place to go. They are a car workshop that focuses on the system diagnostics and solutions.
ECU Solutions is best known for your car's system restoration, tuning and customization. And if you have a customized ECU that's irreparable, then not to worry because ECU Solutions are capable of cloning it.
Their top-notch quality, excellent workmanship and genuine costumer care has lead them to be the leading automotive company. ECU Solutions is sure to provide your car with the best care.
Highlights
ECU Restoration
Tuning
Customization
6.  Fix Auto
| | |
| --- | --- |
| BEST FOR  | Car Insurance |
| SERVICES | Car Repair, Car Aircon Repair and Maintenance, Car Entertainment, and Car Accident Claims |
| WEBSITE | https://www.fixauto.sg/ |
| ADDRESS | 5, #01-61 Soon Lee St, Pioneer Point, Singapore 627607 |
| CONTACT DETAILS | +65 6710 4077 |
| OPERATING HOURS | Monday – Saturday, 9:00 AM to 6:00 PM |
In the event of an accident, Fix Auto can help in handling and claiming accident claims from your insurance provider. It's only been around since 2017, but it's managed to help a lot of customers who find themselves in trouble with their insurance companies.
Customers can also depend on Fix Auto when it comes to car repair and maintenance. Some of the services it offers are aircon repair and maintenance, gearbox repair, overhaul and computer diagnosis, and more.
Fix Auto is an authorised dealer of in-car cameras, engine oil, brake kits, coilovers, and more. So, in case you find yourself in need of these, just ask its repair team for help.
Highlights
Car insurance claims
Affordable services
Authorised dealer of in-car cameras, engine oil, etc.
7.  The Battery Shop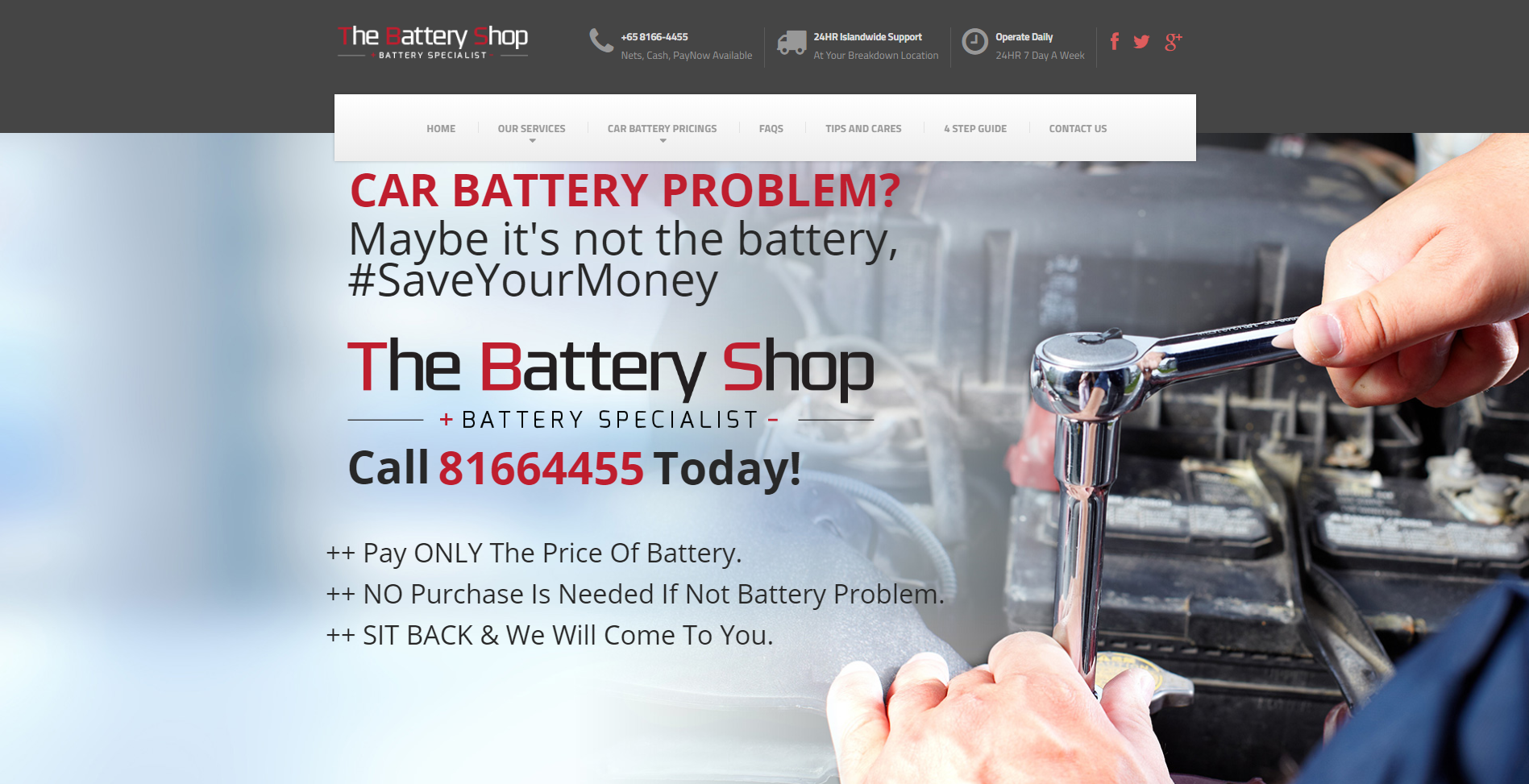 BEST FOR 
All-day Service
SERVICES
Car Battery Delivery, Mobile Tyre Repair, Car Jump-Start
WEBSITE
https://thebatteryshop.com.sg/
ADDRESS
51 Goldhill Plaza, #08-02, Singapore 308900
CONTACT DETAILS
+65 8166-4455
[email protected]
OPERATING HOURS
24 hrs daily
The Battery Shop aspires to deliver around-the-clock car repair services at the most affordable prices. Their team of experts has experience handling various vehicles, from cars to lorries and vans.
Beside car battery replacement, they also offer troubleshooting if needed. Best of all, their services are available 24/7– they can always come to your aid in case of car troubles.
Highlights
Onsite car battery warranty
24/7 availability
8.  Car Doctor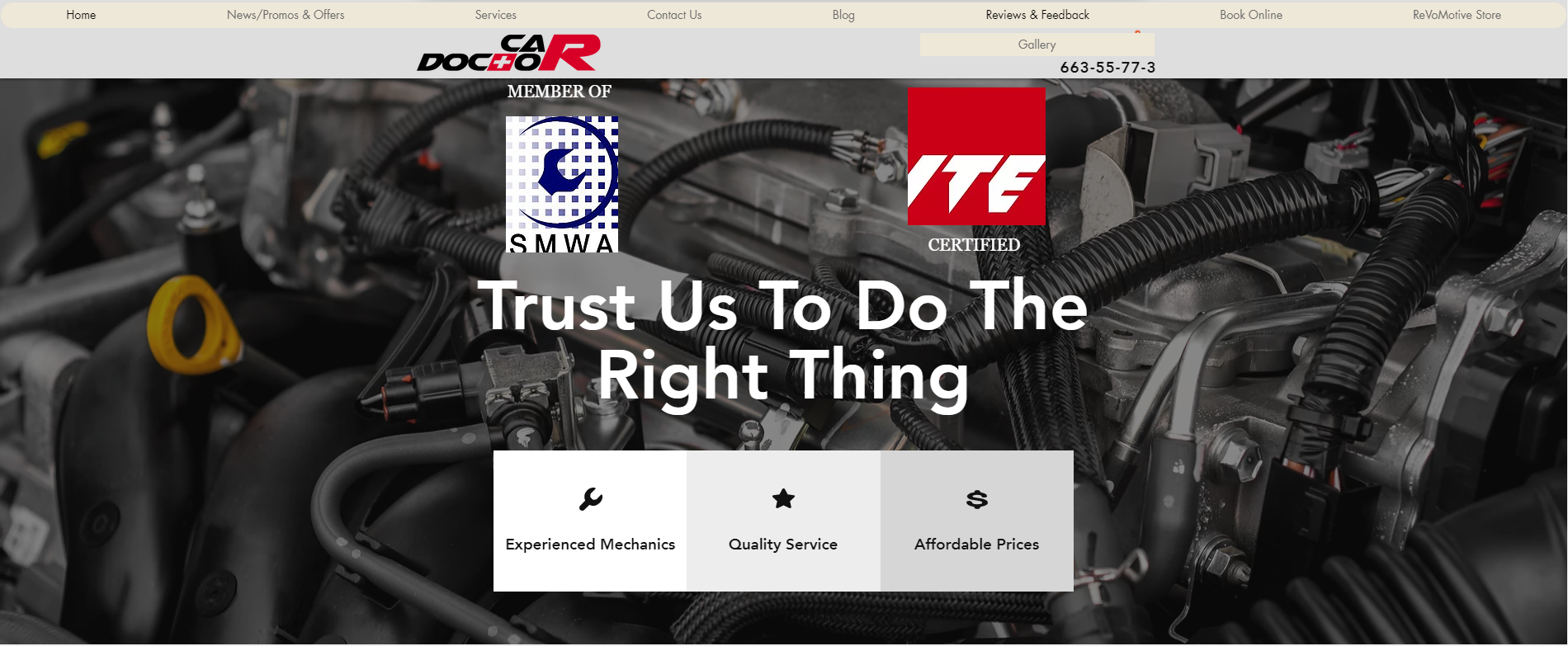 BEST FOR 
Affordable, Quality Services
SERVICES
Company Fleet Management, Accident Claims, Repair, Servicing & Maintenance, De-kitting/Swapping of Parts, Oil, Fluids & Vehicle Checks, Consign/Buy/Sell Used Parts & Accessories, Tyre & Battery Replacement, Online 'Pharmacy' & Sale of Merchandise & Accessories, Repair of Vehicle Bodywork/Panel Beating
WEBSITE
https://www.cardoctor.com.sg/
ADDRESS
60 Jalan Lam Huat, Carros Centre
#02-20
Singapore 737869
CONTACT DETAILS
Tel: 6777 3233
Email: [email protected]
OPERATING HOURS
Mon – Fri: 9am – 6pm
Sat: 9am – 5pm
Closed on Sundays & Public Holidays
With their wide variety of auto services, the Car Doctor aims to be a one-stop-shop for all of your vehicle needs. Their experienced mechanics are sure to deliver affordable, high-quality services at all times.
They've partnered with many prominent brands in Singapore, so you can rest assured that they offer premium products and services. If you're interested, make sure to contact them now!
Highlights
Various car services available
Experienced technicians
9.  Godspeed AutoTechnik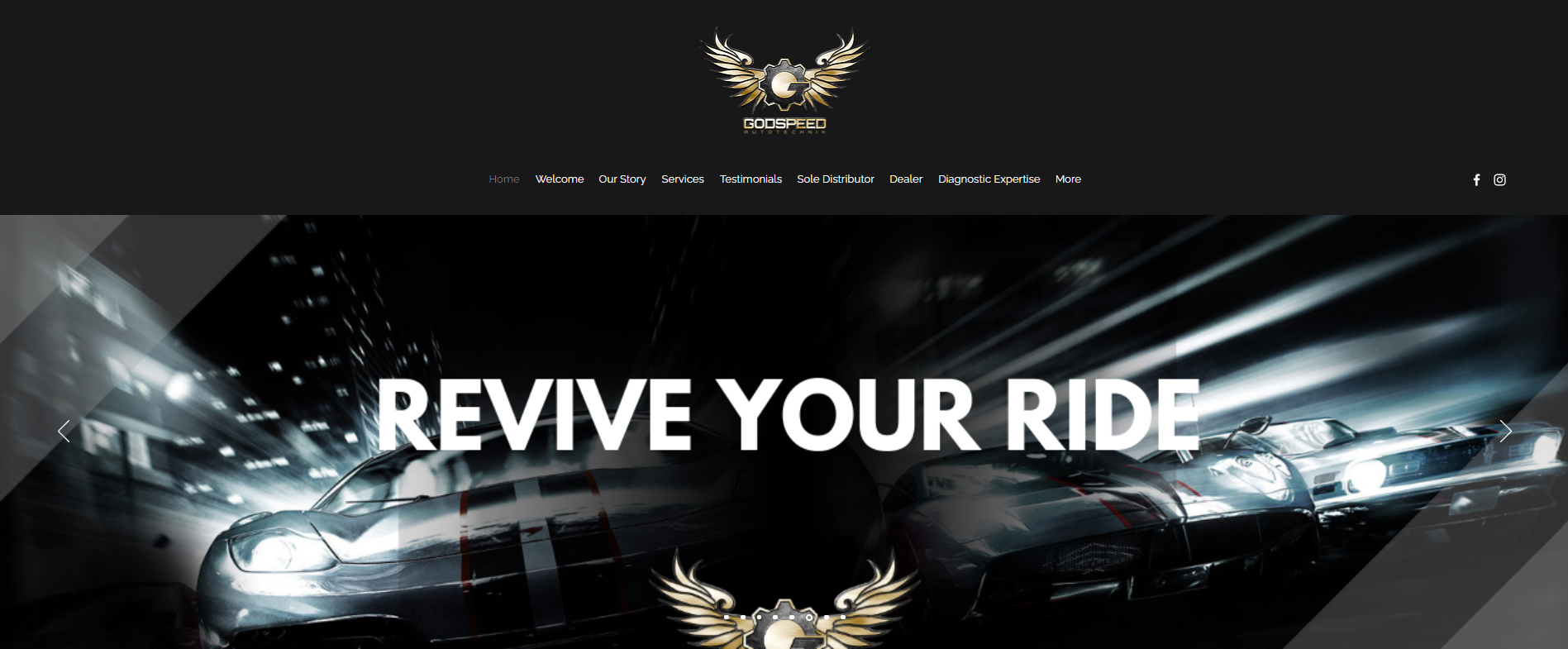 BEST FOR 
All-Around Car Servicing
SERVICES
Routine Oil Change & Servicing, Vehicle Modification, Mechanical Repair & Maintenance, Inspection Checks, Automotive Diagnostic & Troubleshooting, Brakes, Brake Pads & Rotors Change
WEBSITE
https://www.godspeed-auto.sg/
ADDRESS
15 Kaki Bukit Road 4, Bartley Biz Centre, #01-51
CONTACT DETAILS
Lyonel – +65 90612014
Herman – +65 82282877
OPERATING HOURS
Mon – Fri: 10am – 7pm
Sat: 10am – 5pm
Sun & public holidays: Closed
Estbalished in 2014, GodSpeed AutoTechnik is dedicated to delivering only the best products and services to its customers.
To continue upholding this vision, they make sure to train their mechanics and improve their technical expertise. As they grow, they have expanded their services to accommodate even more of their customer's needs.
Even today, GodSpeed AutoTechnik is motivated to serve their clients well. If you contact them now, you're sure to receive the comprehensive and attentive customer service you deserve.
Highlights
Specialises in vehicles of continental make
Prioritises customer satisfaction
10. Choon's Motor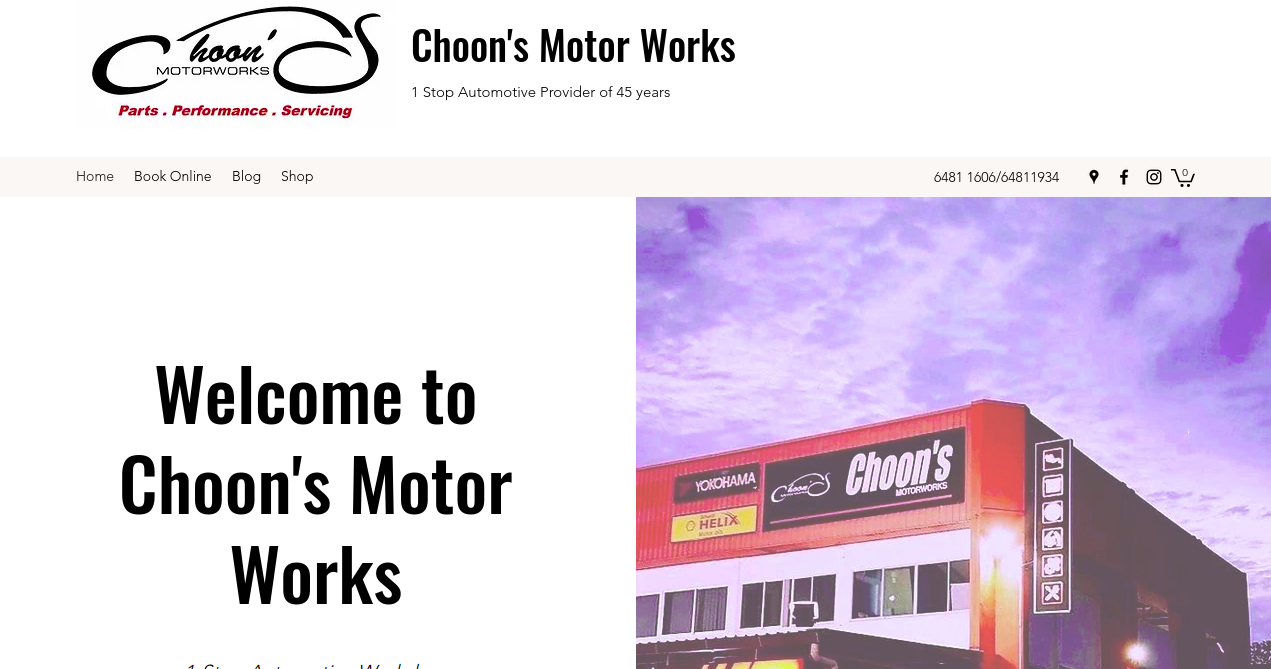 | | |
| --- | --- |
| BEST FOR | 1-Stop Shop |
| SERVICES | Tires and wheel change, Air Conditioning Repairs and Maintenance, Periodic Maintenance, Fleet Maintenance, Performance Upgrade, Body work & Smash repairs, Suspension, Spare Parts |
| WEBSITE | https://www.choonsmotorworks.com/ |
| ADDRESS | 172 Woodlands Ind Park E7, Singapore 757872 |
| CONTACT DETAILS | (+65) 6481 1606 / 64811934 | [email protected] |
| OPERATING HOURS | Monday – Friday, 9:00 AM to 7:00 PM | Saturday, 9:00 AM to 5:00 PM |
With 45 years of experience in the industry, Choon's Motorworks has dedicated themselves to being a 1-Stop Automotive Workshop. They offer a variety of services such as air conditioning repair, Bodywork and Smash Repairs, Suspension, Periodic Maintenance and more.
Choon's Motorworks prides themselves with staff members with high levels of technical expertise. They have also been praised for the quality of their work and skillful workmanship.
Aside from repair services, Choon's Motorworks also sells spare parts and custom bodykits. It truly is a 1-Stop Automotive Workshop and this makes it one of the options for the best car repair in Singapore.
Highlights
45 years in the industry
Technical Expertise
Sells spare parts
Customer Reviews
Here are some examples of the feedback posted by customers on Google Reviews:
"The staff people are very competent and knowledgeable with older car models. They also have fast services. If you need custom bodykits, they do it here."
"It is a family run workshop that focuses on quality and workmanship. It's good for enthusiasts who are new to the scene."
11. Accord Auto Services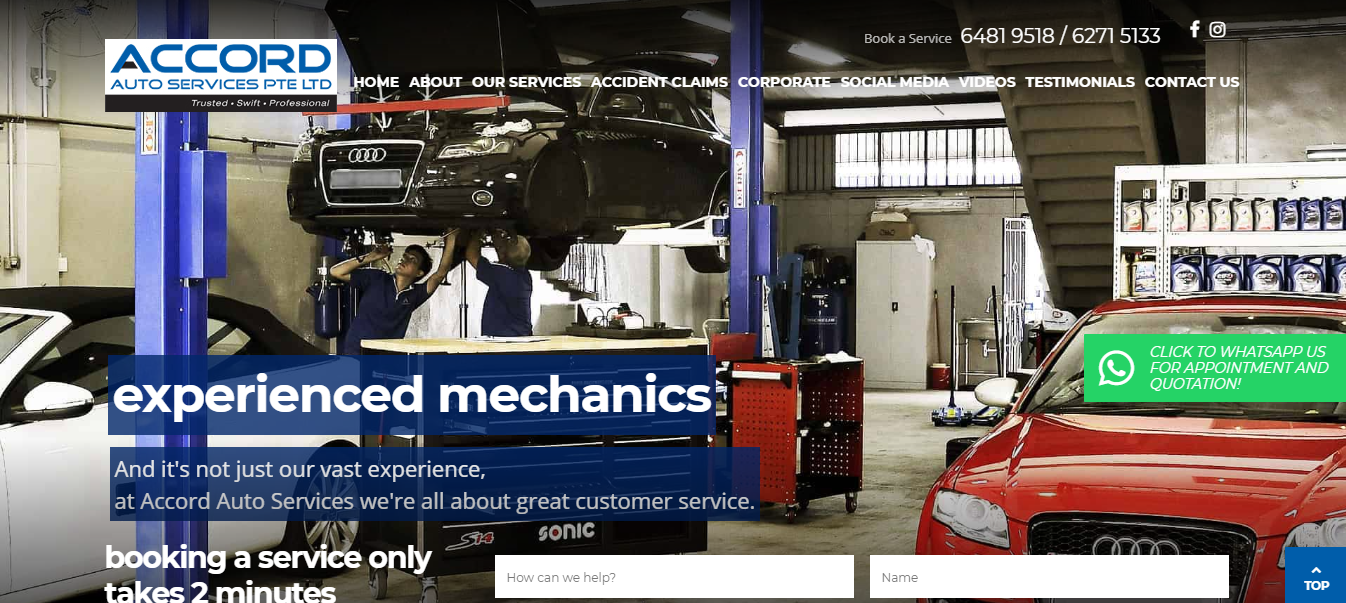 | | |
| --- | --- |
| BEST FOR | 1-Stop Accident Services |
| SERVICES | Accident Services, Fleet Maintenance, Essential Car Services |
| WEBSITE | http://www.mycarworkshop.com.sg/ |
| ADDRESS | 1009 Bukit Merah Lane 3, #01-80, Singapore 159723 |
| CONTACT DETAILS | 6481 9518 / 6271 5133 |
| OPERATING HOURS | Monday – Friday, 9:00 AM to 6:00 PM | Saturday, 9:00 AM to 4:00 PM |
Affordable, yet quality service with fast turnovers, this is what Accord Auto Services is known for. This workshop believes in delivering quality services in a short amount of time which is why their staff consists of experienced mechanics that provide skillful and professional services efficiently.
Accord Auto Services is also equipped with modernized and state-of-the-art diagnostic equipment. It is also commended for it's expert care on various kinds of models. Whether you own a family car or a luxury car you can bring it to their workshop.
Accord Auto Services can be considered one of the top options for car maintenance because of its affordability. Costumers get fast and quality services all for a good price.
Highlights
Fast-turnover
Free Carwash
Competitive Pricing
Customer Reviews
Here are some examples of the feedback posted by customers on Google Reviews:
"I had a problem with my Aircon on my Honda Stream and they were able to fix it for me the next day along with some other repairs/ servicing of the car. They were straightforward and I felt the prices were fair."
"Very happy with their workmanship. They were able to quote competitively and accomplish the job faster than scheduled. Used WhatsApp to communicate and paynow to settle."
12. Gold Autoworks

| | |
| --- | --- |
| BEST FOR  | Affordable Services |
| SERVICES | Car Repair, Car Servicing, Car Insurance, Fleet Management, and Car Garage |
| WEBSITE | https://goldautoworks.com.sg/ |
| ADDRESS | 48 Toh Guan Road East, #01-119 Enterprise Hub, Singapore 608586 |
| CONTACT DETAILS | +65 6264 0995 |
| OPERATING HOURS | Monday – Saturday, 9:00 AM to 6:00 PM |
Gold Autoworks is a reputable car workshop that's known for offering the best car repair in Singapore. It's a company dedicated to keeping drivers and their families safe by making sure every vehicle is in perfect condition before getting released.
On top of topnotch car repair services, it offers customers pickup and delivery services and shuttle services. It rewards frequent and loyal customers with promos and discounts too, as a way of showing gratitude.
Since it offers a long list of car services, we're more than sure that whatever the concern with your car, its team of experienced technicians will know how to fix it.
Highlights
Competitive pricing
Shuttle services
Pickup and delivery
Customer Reviews
As one of the most trusted auto repair shops on the island, Gold Autoworks receives a lot of praise from its customers. Here are some of them:
"Been to various workshops across Singapore for the better part of the decade. GA clearly stands out in my view. Responsive, transparent, honest, friendly, reasonable pricing, what's there not to like. There aren't many reputable workshops in the west. And GA is definitely a gem in the west. For those novices, or lady drivers, you won't feel intimidated over here, friendly bunch of folks over here. Strongly recommended."
"Was referred to Gold Autoworks by a friend and was amazed by their efficiency and professionalism. Car was picked up and returned at my convenience, making the servicing experience seamless and fuss-free. A detailed checklist was provided after to certify the work done, also pointing out some other improvements that can be made. Overall a fantastic experience and definitely value for money. Highly recommended!"
13. Ricardo Auto Centre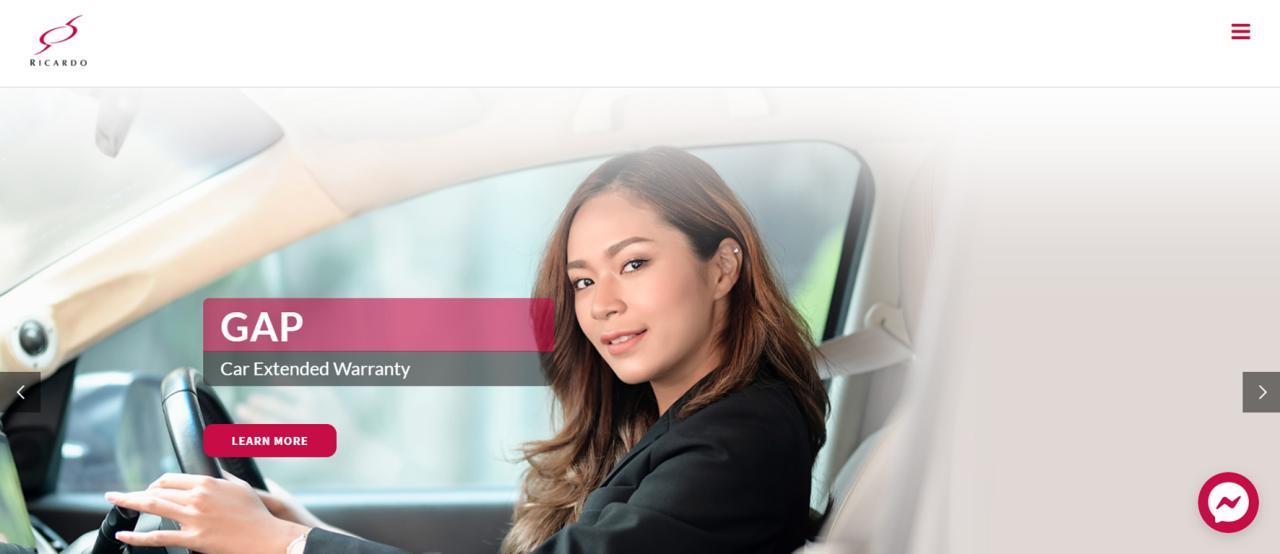 BEST FOR
Car extended warranty
SERVICES
Car Servicing
Car Loans
Car Extended Warranty
Car Insurance
Finance Forms
WEBSITE
https://www.ricardo.com.sg/
ADDRESS
160 Sin Ming Drive
#02-02/03 Sin Ming AutoCity
Singapore 575722
CONTACT DETAILS
PHONE
6515 6888 (Workshop/Warranty)
6775 6888 (Loans/Insurance)EMAIL
[email protected]
OPERATING HOURS
Sunday: Closed
Monday: 09:00 – 18:00
Tuesday: 09:00 – 18:00
Wednesday: 09:00 – 18:00
Thursday: 09:00 – 18:00
Friday: 09:00 – 18:00
Saturday: 09:00 – 14:00
Have your car checked by Ricardo Auto Centre and they'll do the rest for you! From the moment you enter their shop, professional mechanics are there to assist you with everything you may need. From car aircon recovery to wheel replacement, and even oil change.
Founded in 1975, their experience and expertise are truly one to look for. Contact them for emergency repairs or simple check-ups.
Highlights
Amazing customer service
Affordable rates
Fast and efficient repair
Customer Reviews
Read some of the feEdbacks left on Ricardo Auto Centre's google review:
"Went for road force balancing, one of the only 2 workshops that has this machine. Superb service from Ah Ken, been to countless workshops and felt he really did his best for me without cutting corners. 有心. Very grateful, tedious job that took 2hrs to troubleshoot alongside with me, it wasn't easy. Manager Henry is friendly, responsive and welcoming too. Kudos to this workshop!"
"This workshop is really clean & modern. I had quite a few repairs done recently on a 7 year old car. The manager was very detailed and personal, and handled everything professionally. Overall I had a good experience there and will go back again. Good to know that they are an AA Approved Workshop as well."
14.

Technic Autocare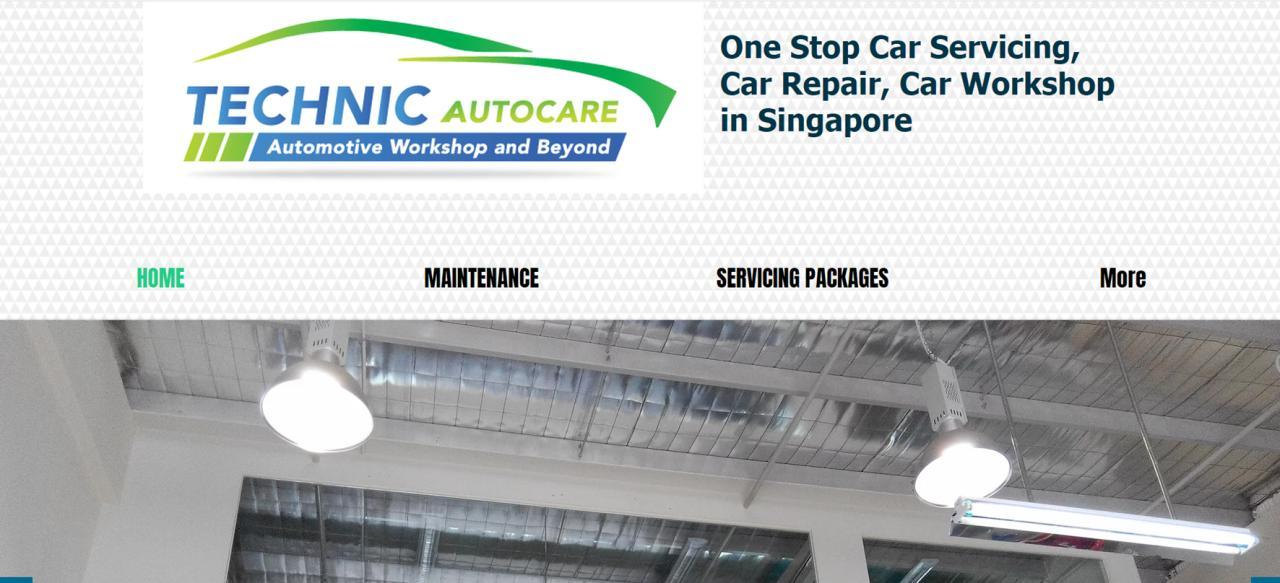 BEST FOR
Servicing packages
SERVICES
WEBSITE
https://www.technicautocare.com/
ADDRESS
5 Soon Lee Street #06-14
Pioneer Point
Singapore 627607
CONTACT DETAILS
Tel: 6710 4518 / 9768 0905
OPERATING HOURS
Mondays – Fridays : 9:00 AM – 6:00 PM
Saturdays : 9:00 AM – 3:00 PM
Sundays & Public Holidays Closed
Technic Autocare provides premier car workmanship for the people in Singapore. They're your one-stop servicing company for anything that involves your automobile.
Not only that, but they also offer a wide range of products that are proven to be the best of quality. Partner up their amazing services to top-notch products, and you're sure to get your money's worth.
Check out more of their service descriptions on Technic Autocare's website.
Highlights
Reasonable pricing
Reliable mechanics
Customer Reviews
Here's what Jake Koh had to say about Technic Autocare's overall service:
"Reliable and honest guys at work. Have been visiting this workshop ever since I got my first car. Price is transparent and reasonable, service is quick and top-notch. Will definitely recommend anyone who needs their regularly car servicing to visit this place."
15.

Oh My Car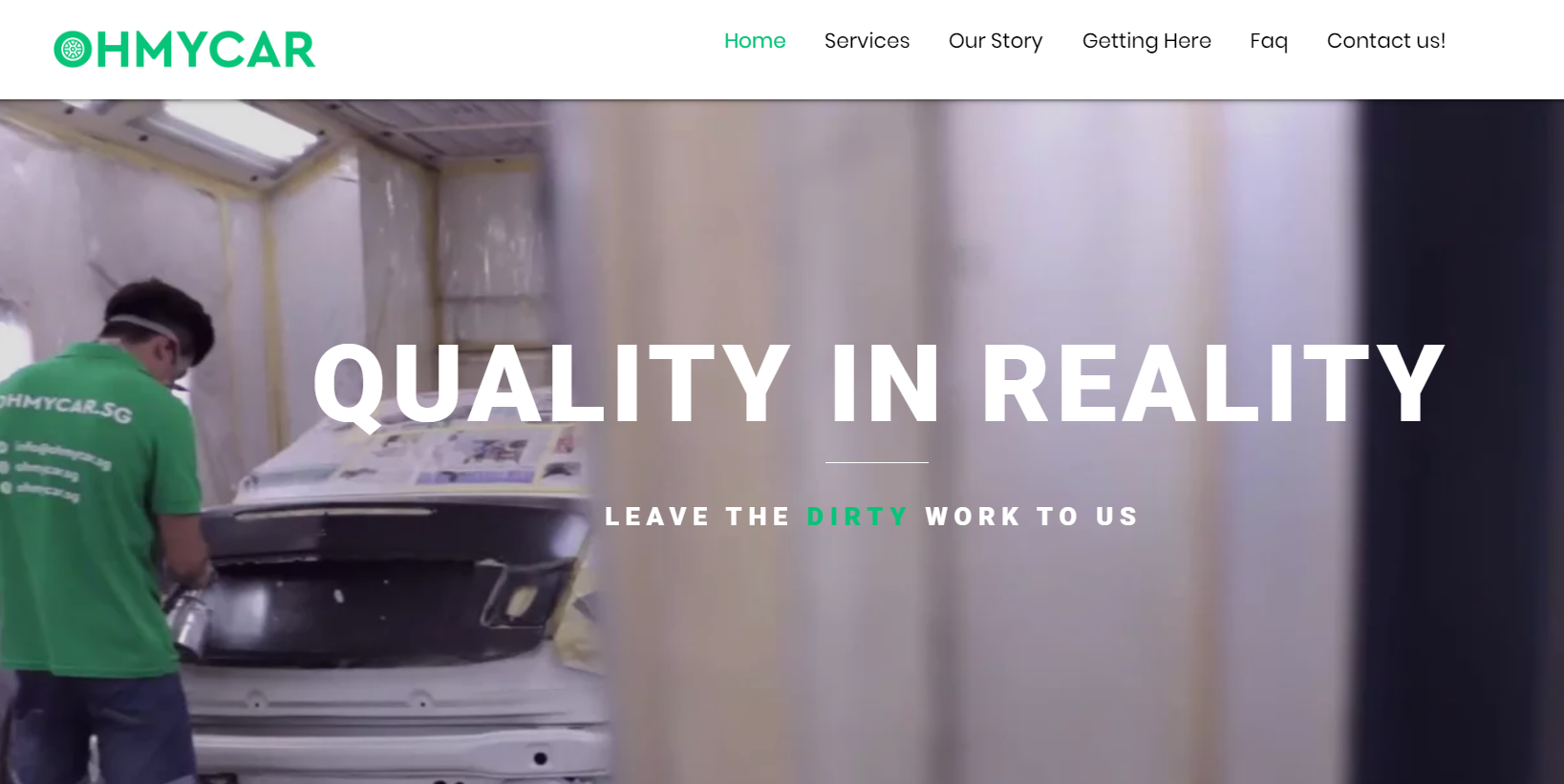 BEST FOR
Autoservices
SERVICES

Accident Assistance
Number Plate
Servicing
Accident Claiming
Spray Painting
Towing
Insurance Renewal
Damage Repair
Wrapping

WEBSITE
https://www.ohmycar.sg/
ADDRESS
[email protected] Bukit
Kaki Bukit Ave 6 #01-29 
Singapore 417883
CONTACT DETAILS
Pheron: 9088 5504
Zack: 9230 3750
OPERATING HOURS

Monday – Friday 09:00 – 19:00

Saturday 09:00 – 18:00

Sunday Closed
With over 30 years of establishment, Oh My Car is an award winning car spray painting company in the automobile industry. With its advanced spray paint technology for precision and top-notched repair service, Oh My Car is highly recommended by SGCarmart and is well known for its professionalism, efficiency and great workmanship.
Oh My Car is also well known for its wide selection of colours, customisable bespoke effects and spray paint hailing from Germany that guarantees an outstanding finish. An additional bonus? Oh My Car is wallet friendly and full coating paint could be easily done within a few days! Don't forget to check out Oh My Car at ohmycar.sg!
Highlights
Excellent workmanship
Efficient services
Professional and friendly team
16. Swift Tyre Specialist
BEST FOR
Car or Tire Service
SERVICES

Car Tyre Replacement, Car Tyre Puncture Repair, Car Battery Replacement, Car Wheel Alignment and Balancing, Car Servicing, and Car Repair

WEBSITE
https://swifttyrespecialist.sg/

ADDRESS
8 Kaki Bukit Avenue 4, [email protected] kaki bukit, #05-35, Singapore 415875 (Gate 2)
CONTACT DETAILS
+65 8484 3838 | [email protected] 
OPERATING HOURS

Mon – Sat: 9:30am – 6:30pm  

 
Swift Tyre Specialist is patronised all across Singapore for its distinguished expertise in caring for and installing vehicle tires. If you are having any problems regarding your car, most especially your tires, you may visit its state-of-the-art facilities – or you can also simply call its personnel up, and they will come to you!
Swift Tyre Specialist will help you choose what tire specification suits your vehicle best, and in any event of breakage, it will handle the repairs and replacement for you with exceptional skill. Its services, of course, are not merely limited to tire work; it could also perform exemplary car maintenance and car repairs at affordable prices. Furthermore, you can reach out to them at any time of the day, in the case of interrupted roadtrips caused by faulty tires.
The staff of Swift Tyre Specialist are very professional and dedicated, and they work only with premium-grade materials and equipment as they render their services. You will never go wrong in approaching them for help.
Highlights
 Reasonable prices
Gives tips and advice for free
Uses latest technology 
Customer Reviews
Swift Tyre Specialist is applauded for their high-quality service and experienced team. Here are some of the reviews posted on the Google Reviews.
"I called for their onsite Tyre replacement service and they were on time and the charges are very reasonable. The tyre replacement machines are all in their 10ft lorry to complete the service! Excellent service! 👍🏼 Well done highly recommended."
"Gotten my 2nd hand car and went to workshop for advice on which item need replacement. They are genuine and honest, only ask to change which is require and even explained in details. I will stick with Swift Tyre Specialist for all my car maintenance as their standards are excellent!"
17. GSC Automotive
BEST FOR 
Hybrid Cars
SERVICES
Car Servicing and Repair
WEBSITE
http://mobile.gsc.com.sg
ADDRESS
10 Admiralty Street #01-12,
Northlink Building
Singapore 757695
CONTACT DETAILS
8113 2370
OPERATING HOURS

Mon-Sat: 9 AM – 5 PM

Sun & PH: 9:30 AM – 5 PM 

(Closed on CNY)
GSC Auto Service is a private auto workshop that specialises in working with hybrid cars. They have been offering their car servicing and repair services for more than 35 years.
Soh Hock Yong, its founder, is a skilled technician in the automotive industry. With his team of skilled technicians, any problem you may have with your vehicle can easily be solved.
Highlights
Over 35 years of experience
Skilled technician
First private auto workshop to receive the Hybrid Certification
Awardee of the 2010 Successful Entrepreneur Award
18. The Doctor Battery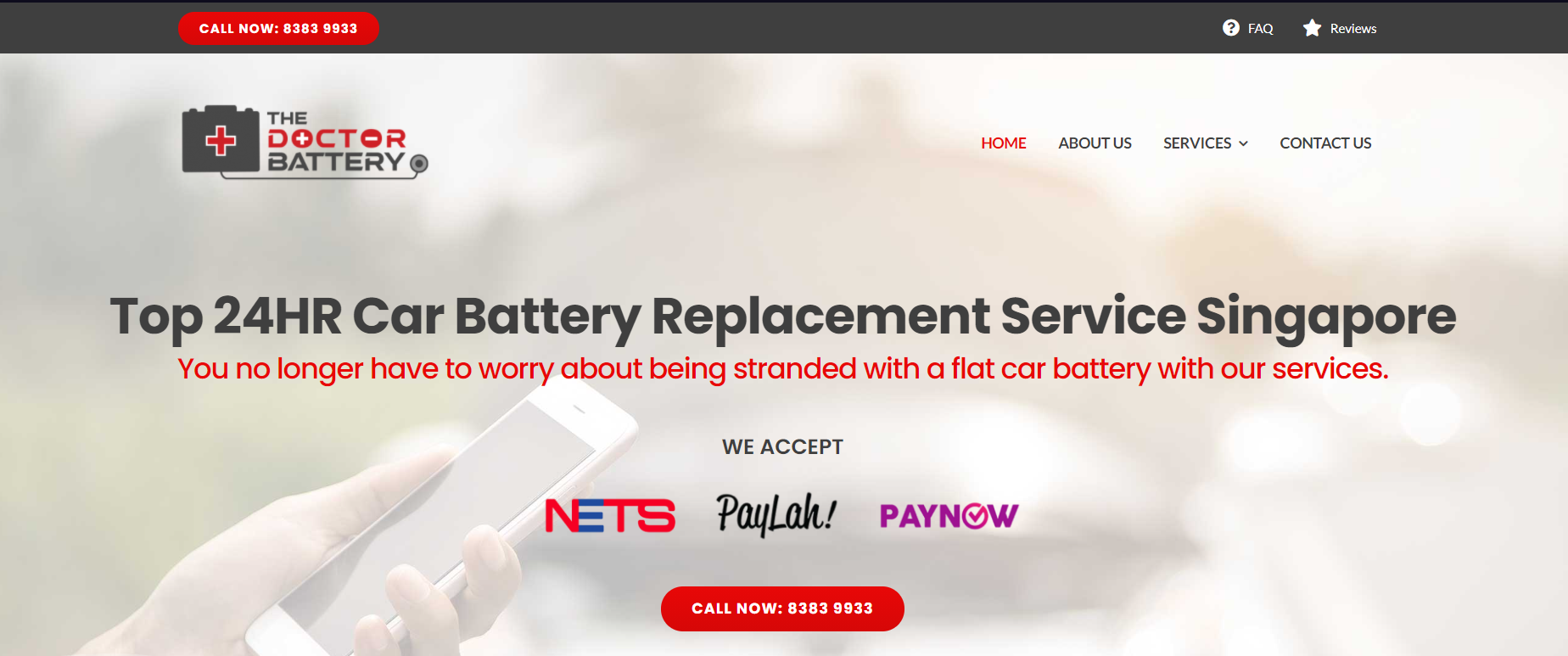 The Doctor Battery aims to provide professional roadside services to their clients. They strive to uphold only the highest standards when it comes to their work.
Their expert team of technicians are composed of individuals skilled in various areas of roadside service. You can count on them to actually solve whatever problem you may have.
Most importantly, they're upfront and honest when it comes to pricing. There's no need to worry about any hidden fees or sudden surcharges.
Highlights
24/7 Emergency Roadside Assistance

Affordable & Transparent Pricing

Professional services

Fast Delivery
19. BCC Automotive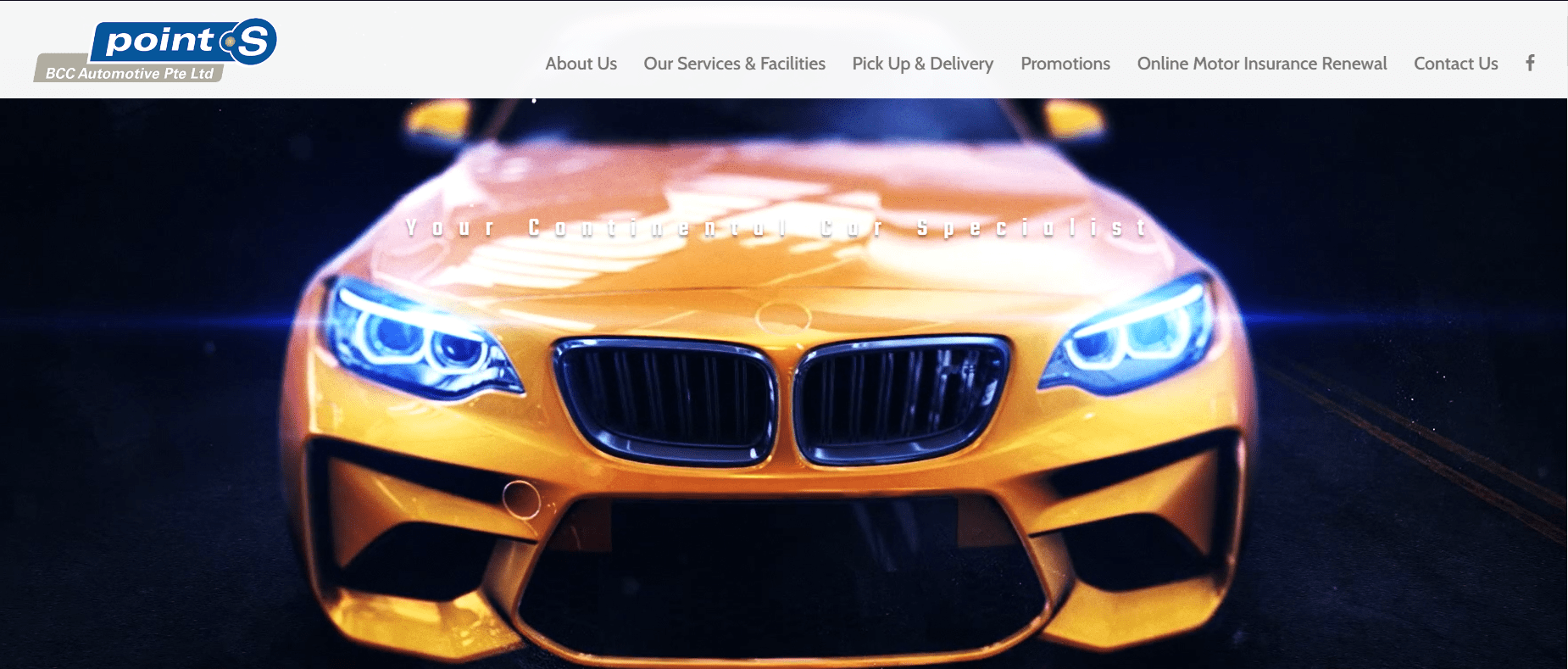 BEST FOR

Conttinental Car Specialist Workshop

SERVICES

Car repair, insurance, disinfection

WEBSITE
https://www.bcc.sg/
ADDRESS

Point S – BCC Automotive Pte Ltd (Central HQ)
Blk 1 Sin Ming Industrial Estate Sector C, #01-101/103/105 S575636

Point S – BCC Automotive Pte Ltd (West)

50 Old Toh Tuck Road, S(597657), Cynergy Gas Station

Point S – BCC Automotive Pte Ltd (East)

255 Paya Lebar Road S(409037), SHELL AutoServ

CONTACT DETAILS

Email : [email protected]

Point S – BCC Automotive Pte Ltd (Central HQ)
T :  65 6552 5588     F : 65 6552 7750 

Point S – BCC Automotive Pte Ltd (West)

T: 6468 5588

Point S – BCC Automotive Pte Ltd (East)

T: 6702 5588

OPERATING HOURS

Monday – Friday: 8:30am – 5:30pm
Saturday: 8:30am – 4:00pm
BCC Automotive is a one-stop solutions provider for anything car-related. They offer repairs, maintenance, and even quotation on accident claims and insurances.
With their use of the latest technology in vehicle servicing, top-notch diagnosis is all they will provide. They have experience working with German marques, French marques, British marques, and other continental marques. 
They have a pick-up and delivery method where you can save time from bringing your vehicle to their shop. This works best for those who work, as they can easily get your car during the day, have it fixed, and return it before you finish — a process that is fast, efficient, and hassle-free on both ends. 
With three branches spread across Singapore, and around 26 working bays, queues are almost minimal to non-existent. No matter the branch you go to, you can expect only the highest quality services from their friendly and efficient staff.
Highlights
Dedicated team of professionals
Expert car repair services
Promotional packages are available
Customer Reviews
Below are some of the feedbacks left for BCC Automotive that you can read:
"First time at BCC Automotive for car servicing and some minor repairs. Staffs are polite. Workshop supervisor explained in detail what things needed to be done. Costs are reasonable even for continental car. Overall pleasant experience. Would recommend to others."
"Always a good experience at BCC! Quality work at reasonable cost, and car feels like brand new again."
20. KT Group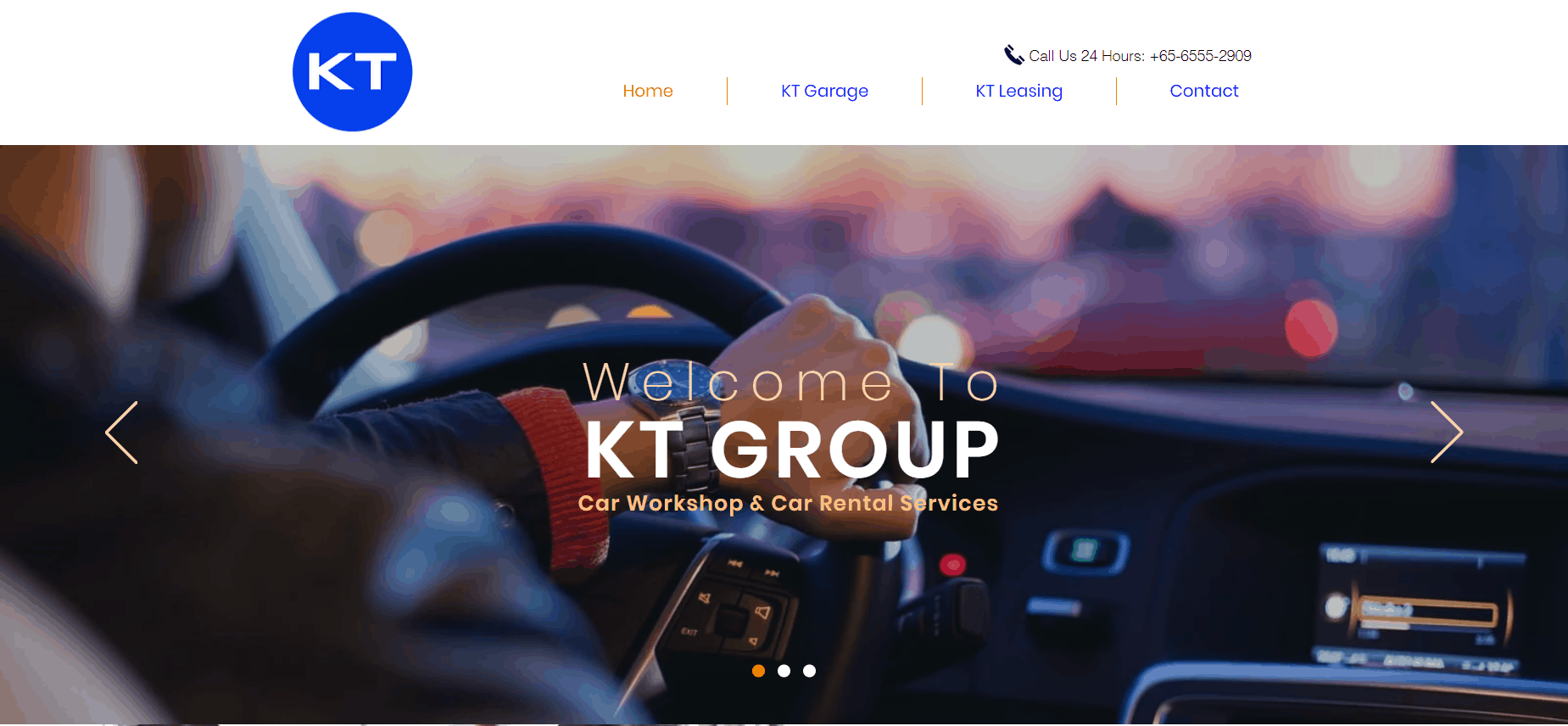 BEST FOR

24-hour towing

SERVICES

24-Hour Towing
Accident Reporting & Claims
Accident Repair
Car Repair, Servicing & Maintenance
Fleet Management
Short Term Leasing
Long Term or Corporate Leasing
Commercial Leasing
Lease To Own

WEBSITE
https://www.ktgroup.com.sg/
ADDRESS
AutoBay @ Kaki Bukit (Entrance A)
Block 1 Kaki Bukit Ave 6
#01-04, Singapore 417883
CONTACT DETAILS
KT Garage Pte. Ltd.
+65-6555-2909
+65-8499-3326​
[email protected]

KT Leasing Pte. Ltd.
+65-6555-2909
+65-9018-0988
[email protected]
OPERATING HOURS

Monday – Friday: 9am – 6pm
Saturday: 9am – 1pm
KT Group offers a wide range of car services, ranging from repairs to leasing assistances. With years of experience in the automotive industry, their team commits to providing only the best quality of work, as well as customer service like no other.
Their team of professionals are composed of individuals with a wealth of experience in the ins and outs of automotives. They strive to deliver honest and top-notch workmanship to each and eery one of their clients.
The KT Garage, Kt Group's half that focuses on the workshop part, helps with the repair and maintenance. Meanwhile the other half, KT Leasing, focuses on the retail and renting of vehicles.
KT Garage also offers free complimentary car wash and polishing, as well as free collection and delivery services upon request. Make sure to take advantage of these amenities if you're considering hiring their services.
Highlights
Professional consultancy and repair
Full assistance
Free collection and delivery services upon request
21. Apple Hev International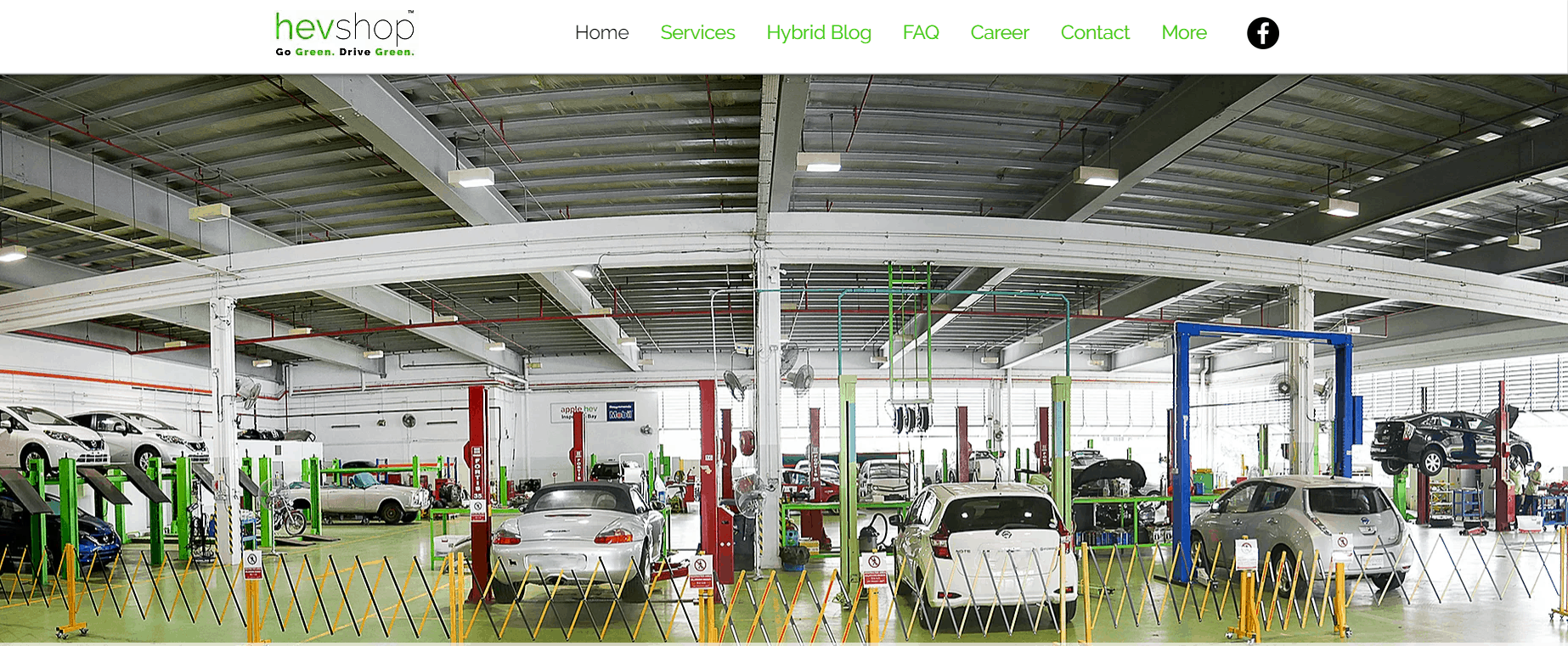 BEST FOR

Electric Car Repair

SERVICES

Vehicle Diagnostics, Battery Pack Replacement, Routine Service, Health Check, Fleet Service

WEBSITE
https://www.hevshop.com/
ADDRESS
600 sin ming ave, level 3 service centre
citycab building, (STA inspection side)
Singapore 575733
CONTACT DETAILS

6352 9268

Technology Consultant: 8338 6197  (E W Theophilus) 

​24/7 Emergency / helpline: 83386197

OPERATING HOURS

monday – friday: 9am – 6pm
saturday: 9am – 1pm
Apple Hev International is a joint project of Hev Shop and Apple International made to service hybrid and electric vehicles. As one of the leading companies in the industry, many praise them for providing excellent automotive assistance.
Their services include repair, maintenance, health check, and more, making them a one-stop solution for your car needs.  They also cater to a multitude of brands, ranging from Toyota and Honda, to Lexus and Porsche, so you're sure that they know what to do no matter your car model.
To maintain their high standards when it comes to reliability, safety, and performance, they make sure to use only the original Factory Hybrid Battery Pack in their services. For residents in Singapore, it comes with a lifetime warranty for Toyota and Lexus vehicles. 
If you're interested in a long-term maintenance provider for their vehicle, you might want to consider joining their Exclusive Hybrid Protection Member Program. It comes with many benefits, such as lifetime diagnostic support, complimentary software updates, and more.
Given their numerous vehicle solutions and excellent customer service, Apple Hev International is an option that any hybrid and electric vehicle owner should consider.
Highlights
Environmentally friendly
Precision quality repair
Original JDM Factory Diagnostic Software
Expert team of technicians
22. Lee Sheng Auto

BEST FOR
One-Stop Auto Services
SERVICES

Accident Repairs, Auto Sport and Spoiler, Car Servicing, Fleet Maintenance, General Repair, Spray Painting

WEBSITE
https://www.leeshengauto.com.sg
ADDRESS
1 Kaki Bukit Ave 6,
#01-60/58/57/36, Autobay, Singapore 417883
CONTACT DETAILS

+ 65 6747 7397 | [email protected]

OPERATING HOURS

Contact for more information
Established in 1979, Lee Sheng Auto is one of the oldest auto service shops on this list, having served the people of Singapore for several decades now. 
Countless people have put their trust and depended on Lee Sheng Auto, and were not disappointed. This is because Lee Sheng Auto endeavours to constantly provide honest, reliable, and excellent experience in motor car services, no matter if the customer comes in for accident repairs, car servicing, fleet maintenance, or general repairs.
Aside from the quality of service, Lee Sheng Auto doesn't skimp out on the materials and equipment used in every project. The auto service shop makes use of top-of-the-line machinery to ensure that everything turns out successfully. 
Highlights
Quality parts and repair services
Trained and experienced technicians
Provides insurance/accident claim services
23. MCF Auto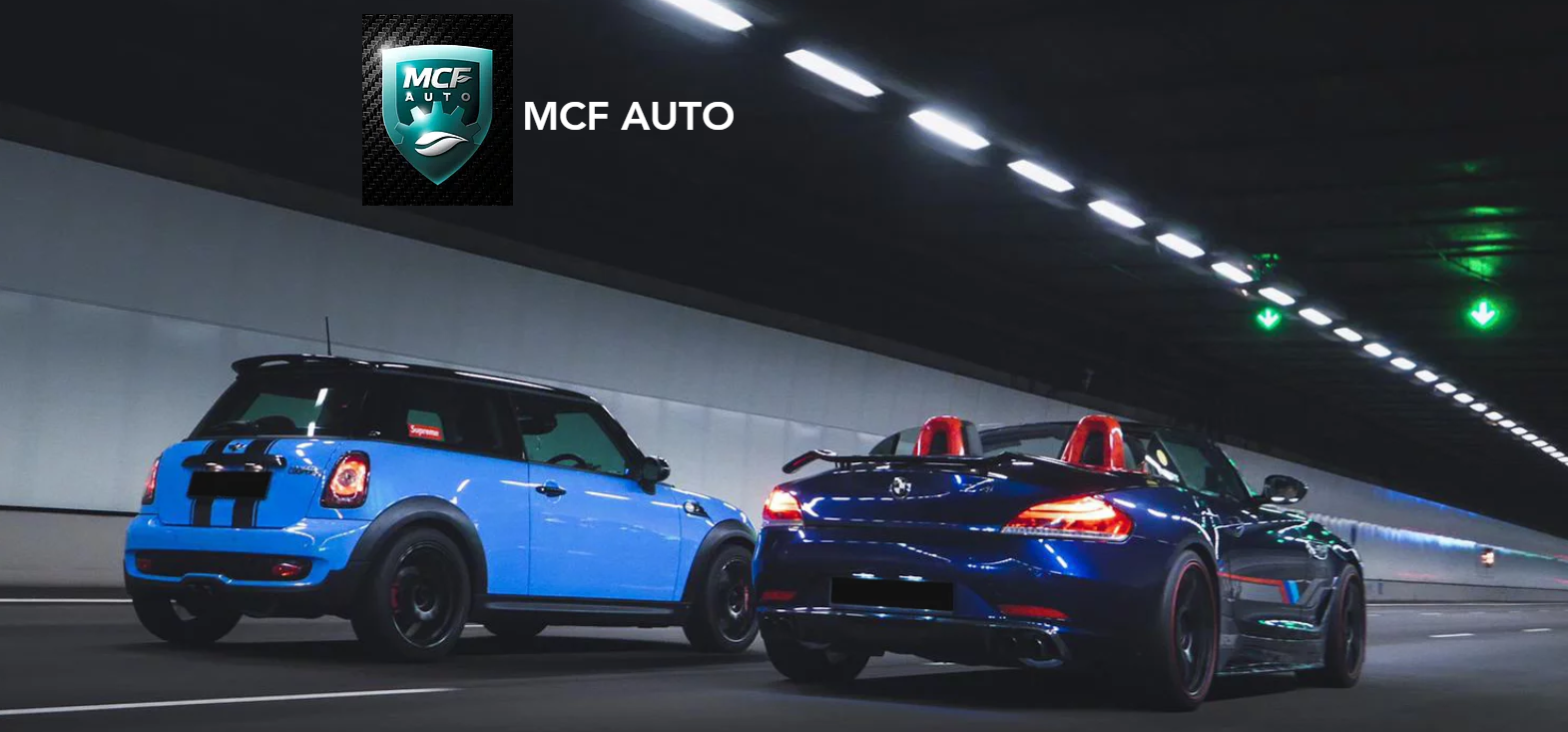 BEST FOR
Maintenance and Full Restoration
SERVICES

Auto Maintenance Services, System Diagnosis and Repair, Performance Enhancement, Wheel Alignment and Air Conditioning Services, Spray Painting and Grooming, 3rd Party Claims

WEBSITE
https://www.mcfauto.com.sg
ADDRESS

8 Kaki Bukit 4 #05-54 Premier @ Kaki Bukit, Singapore 415875

CONTACT DETAILS

Office: 67021012 | Norbert: 96653300

OPERATING HOURS

Mon – Fri: 0930 – 1830

Sat: 0930 – 1600

Sun & PH: Closed
Next on our list is MCF Auto, a full-service professional auto service shop. The shop offers a wide array of auto maintenance services alongside system diagnoses and repairs, and performance enhancements.
While we commend the extensiveness of the service list, the main thing that drew us to MCF Auto is its team, which consists of highly dedicated and skilled technicians who have gone through rigorous training, all to ensure that they provide the highest quality service each time.
Aside from being knowledgeable and trained in their trade, these technicians are also professional, polite, and courteous to every client they work with. 
Under their capable hands, many vehicles have been restored to their proper state, making MCF Auto one of the most sought-after auto service shops on the island.
Highlights
Highly qualified, trained technicians
Offers a wide range of auto services
Excellent customer service
And with that, we conclude our list of the auto repair shops with the best car repair in Singapore. If you've tried any of these shops' services in the past, share with us what you think about their services.
Oh, and to protect yourself from the costs of your car getting damaged again in the future, get car insurance to help you defray the expenses! If you don't have one yet, we recommend checking our list of the cheapest car insurance in Singapore.