By Jasmine Wee
Have you already gone to different shops but found that your car problems are still not fully resolved? If you have, then you should see our list of the best car workshops in Singapore.
We've searched the island and found these most recommended places that have a team of skilled and professional mechanics. With their years of experience, you'll certainly get your car fixed in no time!
To know more about their services, costs, and locations, take a look at the data we gathered on them below.
1.  Gold Autoworks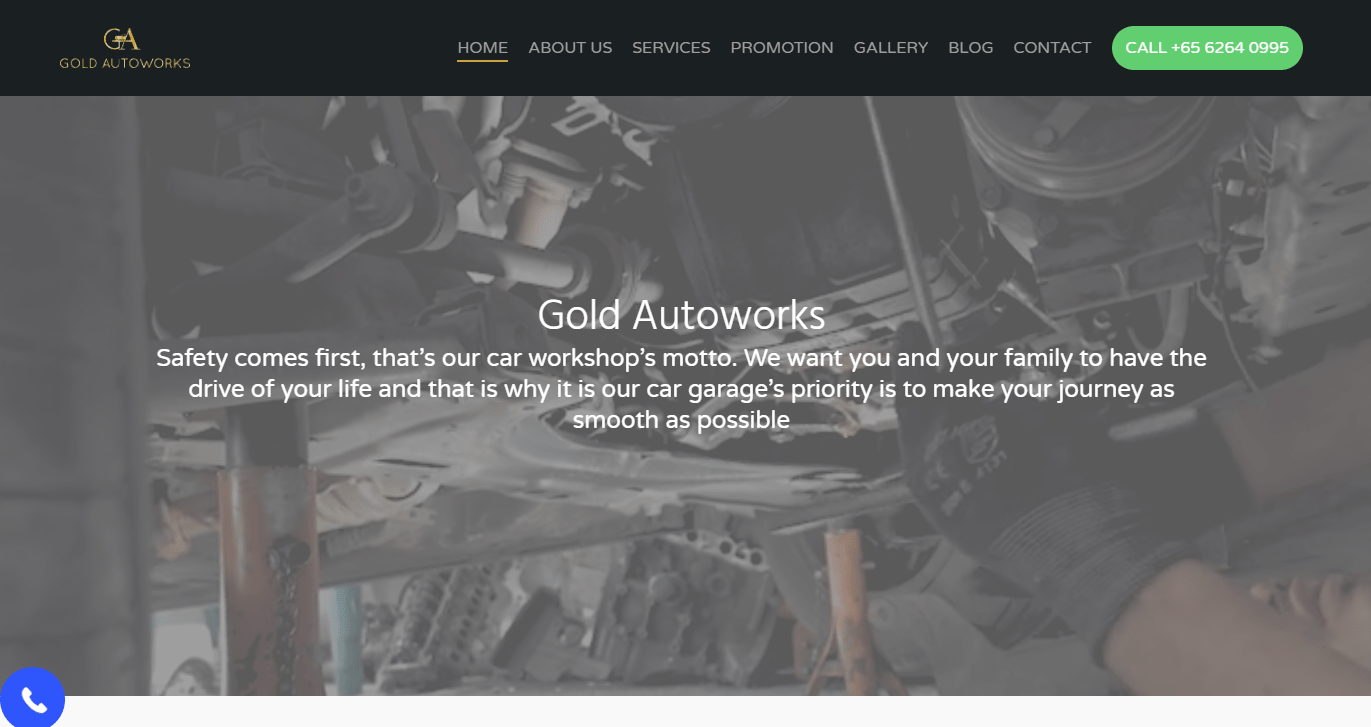 BEST FOR 
Personal and corporate vehicles, Car insurance claim
PRICING
Rates
WEBSITE
https://goldautoworks.com.sg/
ADDRESS
48 Toh Guan Road East, #01-119 Enterprise Hub,Singapore 608586
CONTACT DETAILS
+65 6264 0995
OPERATING HOURS
Weekdays: 09am to 6pm

Saturday: 09am to 3pm
Gold Autoworks offers all types of car repair services such as repairs for transmission functions, engine and tyre services, and many more! Whether it's a minor or major car issue, they can provide long-lasting solutions.
They also have car garage services for vehicle maintenance needs like air filters and conditioning as well as wheels and tyres. Most importantly, they offer car insurance claims so in case of an emergency, you can immediately contact them and they'll be at your location as fast as possible.
Highlights
Regular car service packages
Transparent pricing
Free shuttle service
Pick up and delivery service
Customer Reviews
Many customers were delighted and satisfied with the outcome of Gold Autoworks' services. They said that they saw no trace of dents afterwards and every part was meticulously restored.
This is why the shop has become one of the best car workshops in Singapore! A customer posted this review:
"Was referred to Gold Autoworks by a friend and was amazed by their efficiency and professionalism. Car was picked up and returned at my convenience, making the servicing experience seamless and fuss-free. A detailed checklist was provided after to certify the work done, also pointing out some other improvements that can be made. Overall a fantastic experience and definitely value for money. Highly recommend!"
2.  KGC Workshop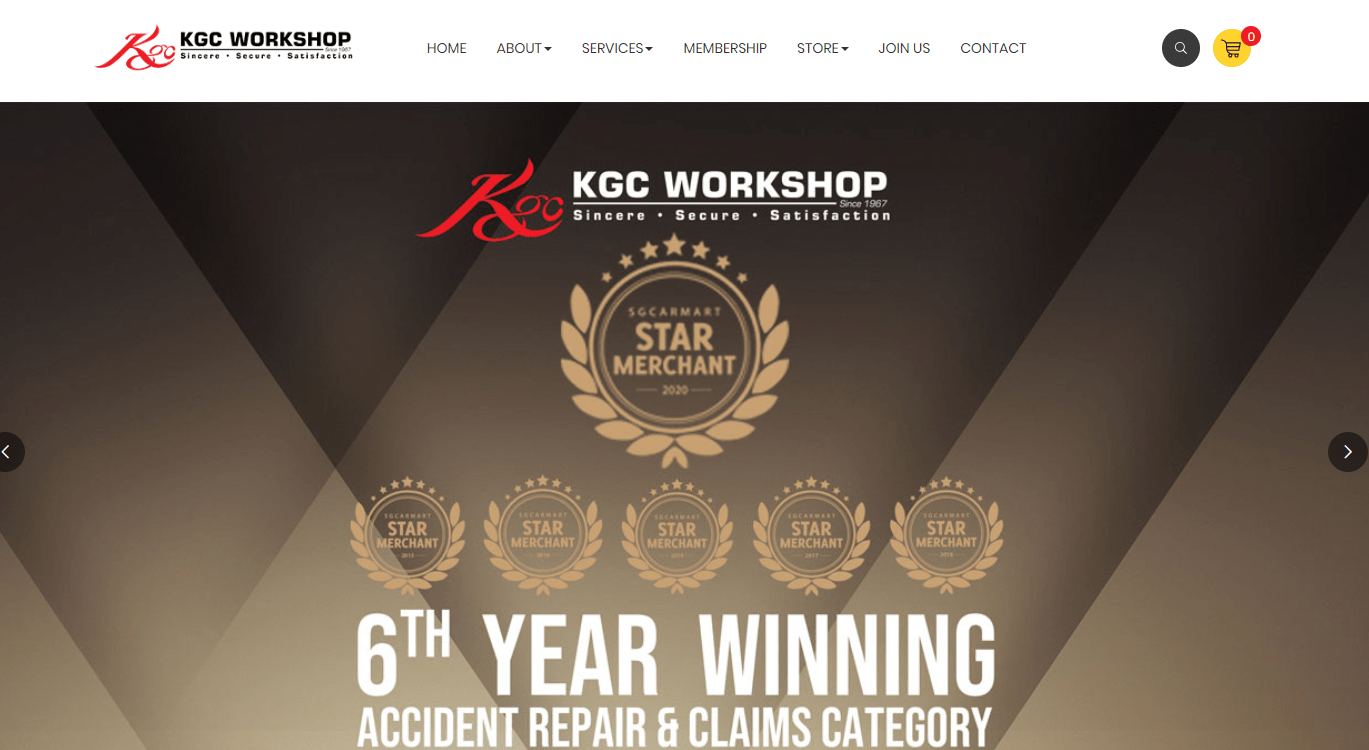 BEST FOR 
Affordable body kit repair and customisation
PRICING
Rates
WEBSITE
https://kgcworkshop.com.sg/
ADDRESS
14 Ang Mo Kio Street 63, Block B, Singapore 569116
CONTACT DETAILS
6453 6279
OPERATING HOURS
Weekdays: 9:30am–6:30pm

Saturday: 9:30am–5pm
KGC Workshop is an award-winning automotive shop that specialises in car servicing. This includes providing premium engine oil, air filters, oil filter, car wash and vacuum and many more!
The best thing about their services is that you can choose your favourite engine oil! If you also need to refurbish your old car, they offer high-quality and full spray painting services.
Highlights
Car repairs for insurance and non-insurance damages
Car polishing and grooming
Accident claim
Customer Reviews
Customers shared that KGC Workshop has fully repaired the internal and external damage of their car. They were also impressed with the quality care products that enhanced the performance of their vehicles.
Therefore, many consider the place to be the best car workshop in Singapore! Here's a feedback from a customer:
"Special thanks to DJ and his team from KGC for the paint correction and paint protection work done for my car which was splattered with paint. DJ was totally customer-centric and always stand ready to answer and update me on the progress. That is truly admiring considering the volume of cars in the workshop. I did not get the names of the 4 guys working on my car but suffice to say their professionalism in the work done for my car has won me over as a loyal customer to KGC. Finally, I love the one stop service provided by KGC where I could rent a car while I leave my car in their workshop."
3.  Riverview Auto Services
| | |
| --- | --- |
| BEST FOR  | Repair services for a wide range of car models |
| PRICING | Rates |
| WEBSITE | https://www.riverviewauto.com.sg/ |
| ADDRESS | 10 Ang Mo Kio Industrial Park 2A Ang Mo Kio Autopoint #04-07 / #04-16 Singapore 568047 |
| CONTACT DETAILS | +65 6481 2025 or +65 6481 5797 |
| OPERATING HOURS | Weekdays and Saturdays: 9am–6pm |
As one of the longest-running car shops in Singapore, Riverview Auto Services was a natural entry in this list. They're able to cater to various types of vehicle brands and models.
Their services include vehicle diagnostics, wheel alignment, panel beating, and spray painting as well as electrical repairs. They use advanced diagnostic tools that can deeply analyse different models in the market.
For car accidents, they also offer insurance claim services. With this range of services, they're indeed one of the best car workshops in Singapore!
Highlights
Car servicing packages
24-hour towing service
Car air conditioner maintenance package
Customer Reviews
Riverview Auto Services has earned the trust of many car owners because of reliable and maintenance repair services. A customer shared this experience:
"I have been to quite a few car workshops in Singapore. This one is by far the best!! Received a detailed quotation for my repair. Kanashvijayan S/O Rama took his time explaining the repairs that needed to be done proper and patiently. Kept replaced parts and showed me. The car has never run so smoothly and quietly. The only place I will go for future car repairs and car servicing. No more hassles with workshops who want to rip you off and don't do a proper repair job."
4.  Ace Motorsports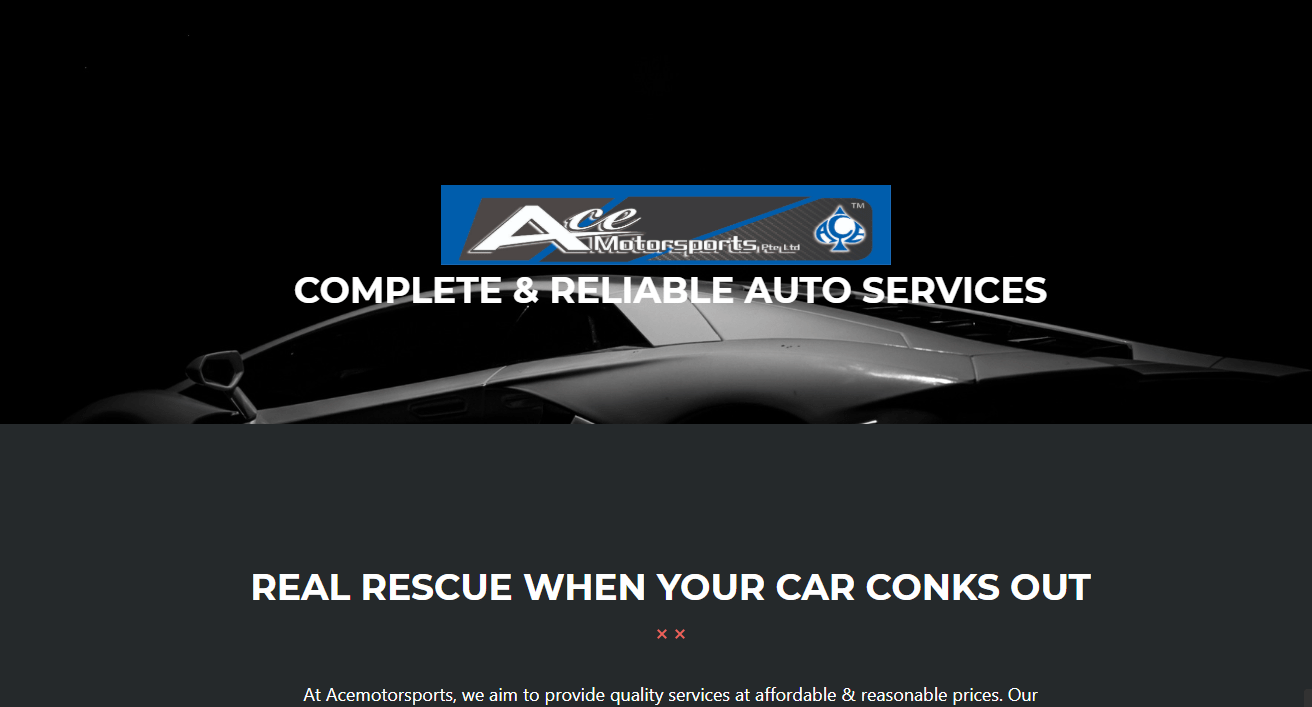 BEST FOR 
Maintenance services
PRICING
Rates
WEBSITE
http://acemotorsports.sg/
ADDRESS
1 Soon Lee Street #01-34 Pioneer Centre Singapore 627605
CONTACT DETAILS
6334 3064 / 9688 8112
OPERATING HOURS
Weekdays: 10:00am – 10:00pm

(After 8pm appointment only)

Saturday: 10:00am – 3:00pm
At Ace Motorsports, you can schedule maintenance services to make sure that your tyres are in good condition and have excellent wheel alignment.
They have certified mechanics who use modern technologies to fully analyse the condition of a car. All of their quality services are also offered at a reasonable price, making them the best car workshop in Singapore if you want quality at a good price!
Highlights
Scheduled services
Affordable rates
Customer Reviews
Ace Motorsports received a lot of compliments from customers saying that they had seen great improvements in their car's performance — thanks to the high-quality maintenance services.
One of their customers wrote this feedback:
"This is honestly the best car workshop so far i have been to. They are responsible and does their job professionally well. The price is reasonable and the staff are well trained and skilled to do their specific job. I recently bought a new car camera to replace my old one, which was done by the boss himself. Not only his work ethic is good, the things he does was real professional, everything was done neatly. Did my car servicing as well, the mechanics were really experienced, they even  highlighted the important things i need to take note, which have to be replaced upon my next visit. I would highly recommend others to come here. It provides excellent services."
5.  Night Servicing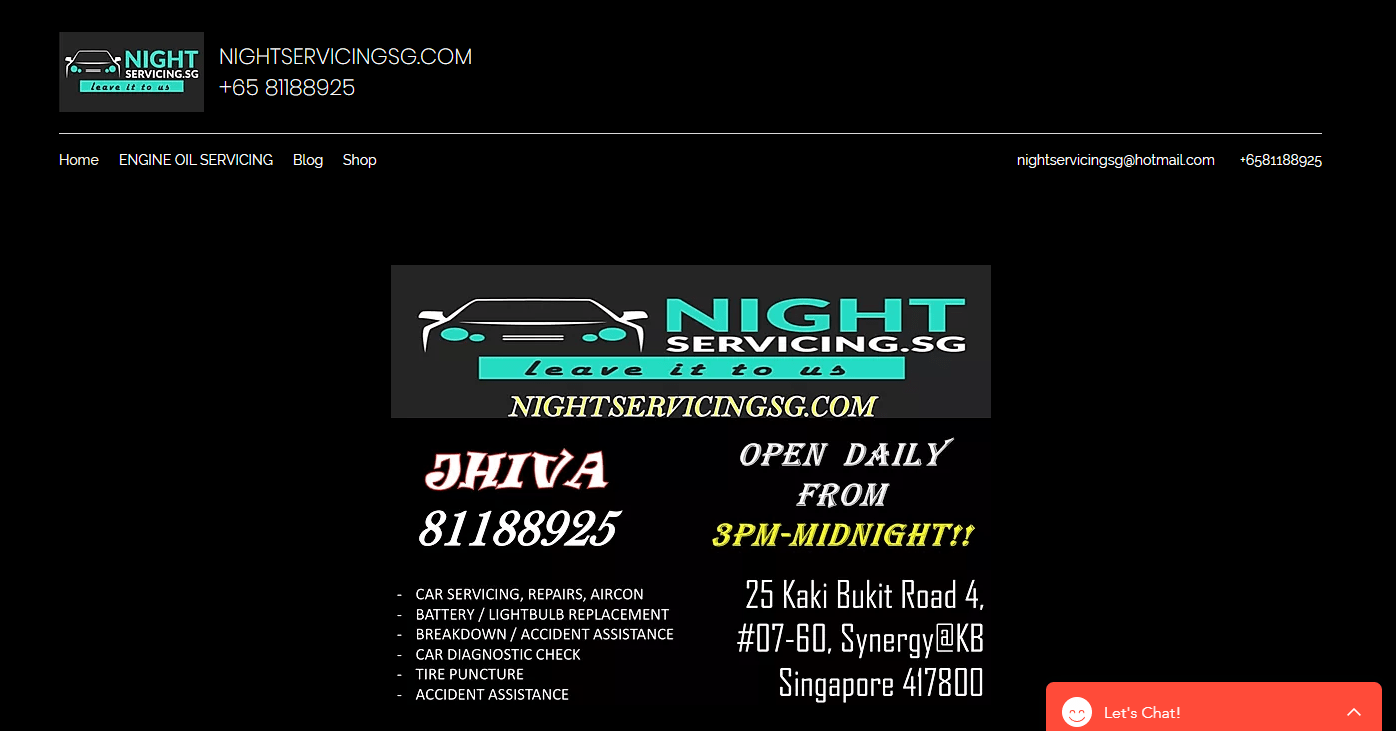 | | |
| --- | --- |
| BEST FOR  | Engine oil servicing packages |
| PRICING | Rates |
| WEBSITE | https://www.nightservicingsg.com/ |
| ADDRESS | 25 Kaki Bukit Rd 4 Singapore, 417800 Singapore |
| CONTACT DETAILS | +6581188925 |
| OPERATING HOURS | Daily, 3pm–1am |
Night Servicing is a one-stop-shop that provides car repair and servicing as well as breakdown/accident assistance. With their experienced mechanics and accurate car diagnostic tools, you can be sure that your car is in good hands.
They also have an online shop where you can find engine oil and filter change products and even all types of gearboxes.
Highlights
Vehicle customisation packages
Variety of car products
Customer Reviews
Most customers said that they were satisfied with the overall services of Night Servicing. Particularly, with the competent range of engine oils and spare parts.
A customer left this post:
"Last minute activation at 10pm to swap exhaust with a friend.. Looking on Carousell and Google for a workshop who could help. Stumbled upon this Night workshop and man was I pleasantly surprised. Jhiva the boss is friendly and reasonable. Price was a lot less than I expected for a last minute call up. Recommend place. Honest pricing, friendly staff."
And that's our list of the best car workshops in Singapore! If you'd like to recommend more shops, you may also share them with us!
And for those who are looking for grooming and polishing services in particular, our list of shops with the best car grooming services in Singapore offer long-lasting and affordable solutions! Check out that roundup too!