13 Best Car Workshops in Singapore: Finest Car Service in 2021
Have you already gone to different car workshops in Singapore but found that your car problems are still not fully resolved? If you have, then you should see our list of the best car workshops in Singapore.
We've searched the island and found these most recommended places that have a team of skilled and professional mechanics. With their years of experience, you'll certainly get your car fixed in no time!
To know more about their services, costs, and locations, take a look at the data we gathered on them below.
1.  1 Car Service Workshop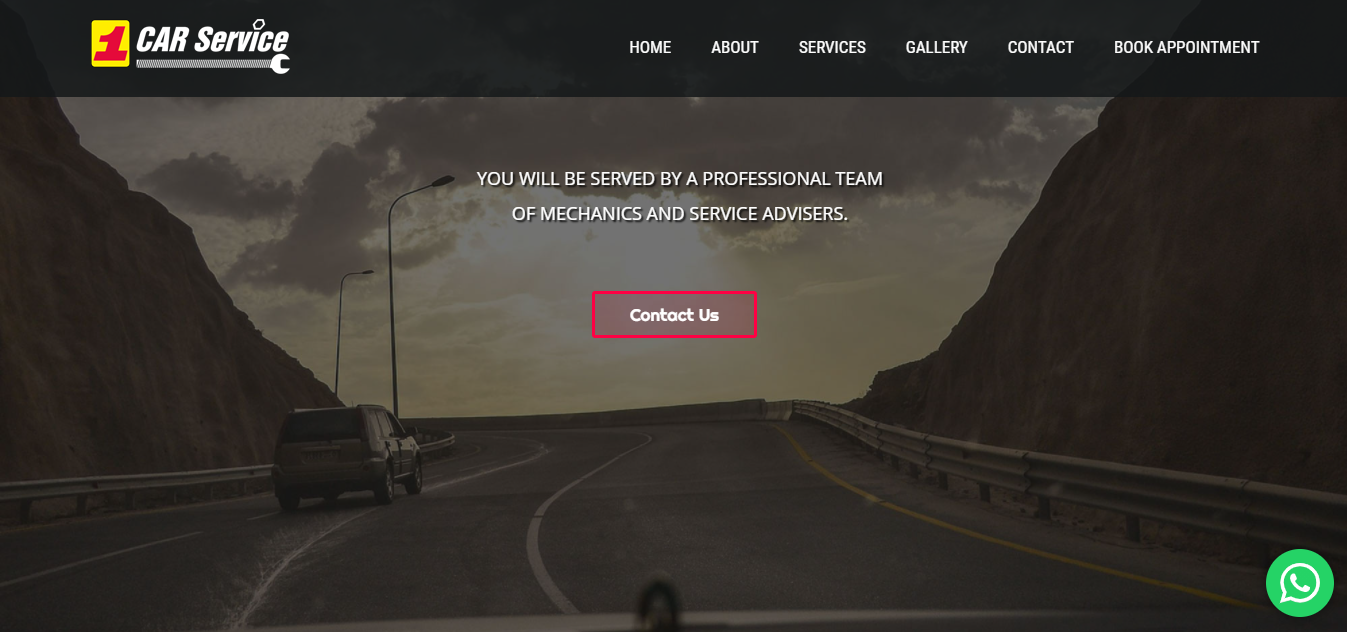 BEST FOR 
Solutions to all transmission, engine, aircon, and electrical problems
PRICING
Rates
WEBSITE
https://1carservice.com.sg/
ADDRESS
160 Sin Ming Drive, #03-07, Sin Ming AutoCity. S575722
CONTACT DETAILS

9857 8141 | 9008 8958

OPERATING HOURS

Weekdays: 9am to 6pm
Saturdays: 9am to 4:30pm
Closed on Sundays and public holidays
1 Car Service Workshop is the best car repair workshop in Singapore, specializing in Engine, Aircon and Gearbox, with full suite of professional equipments and advanced computers to solve any technical issues you might face. We rank 1 Car Service Workshop as our top choice for car repairs and servicing due to the following reasons:
Firstly, they have a very strong team of mechanics with high technical capabilities. Unlike other service providers, they work quickly yet meticulously.
Many customers choose 1 Car Service Workshop for their accuracy in diagnosis of Engine, Aircon and Gearbox related issues, which helps car owners save a lot of costs!
They are also the top rated car workshop on Google, with 4.9 stars from over 200 reviewers. This is the result of their exceptional customer service and technical skills.
Customers can always expect them to provide the best advice on all their repair needs, with highly transparent pricing. You can put your mind at ease and rest assured that they have your best interests at heart.
They also have the lowest prices for Engine overhauls and Gearbox overhaul, and provides the longest warranty period in the market. Their engine overhauls come with a lifetime warranty while their Gearbox overhauls come with a 2-year warranty.
Highlights
Helps you save cost by eliminating unnecessary repairs
Honest and transparent pricing
Professional team of highly skilled mechanics trained in all makes and models
Excellent customer service
Comfortable lounge and with complementary snacks and coffee
Customer Reviews
Here are some of the positive reviews left by their previous clients on their Facebook page:
"Team was very efficient when I brought my Honda Fit in for servicing. Ryan also provided good advice & was very courteous and patient. Would definitely recommend 1 car service to anyone who needs this service."
From Google Reviews as well:
"We chose 1 Car Service based on the good reviews on Google and glad the team didn't disappoint us. They will ask for your permission to proceed on the part that you need to pay extra and no hard selling. On top of basic servicing, they help us to get quote for tyre replacing from another shop as they didn't supply and help us to send the car upstairs for alignment upon requested. One stop servicing under one roof. Very helpful and not to mention the lounge with amenities make the waiting easier and pleasant. Few hours of waiting is worthwhile. A complimentary parking ticket is 👍🏻 Will be back for the next servicing."
"Very good service from the customer service executive, Ryan Lee. When I sent my car in for evaluation, it was immediately tested and found that the gearbox had some issues. Ryan quoted a reasonable price for overhauling the gearbox with replacement of parts when necessary, together with the time frame needed. The car was repaired within the time frame and it was a job well done. The gearbox is operating smoothly now and it came with a 2 years warranty."
2.  Gold Autoworks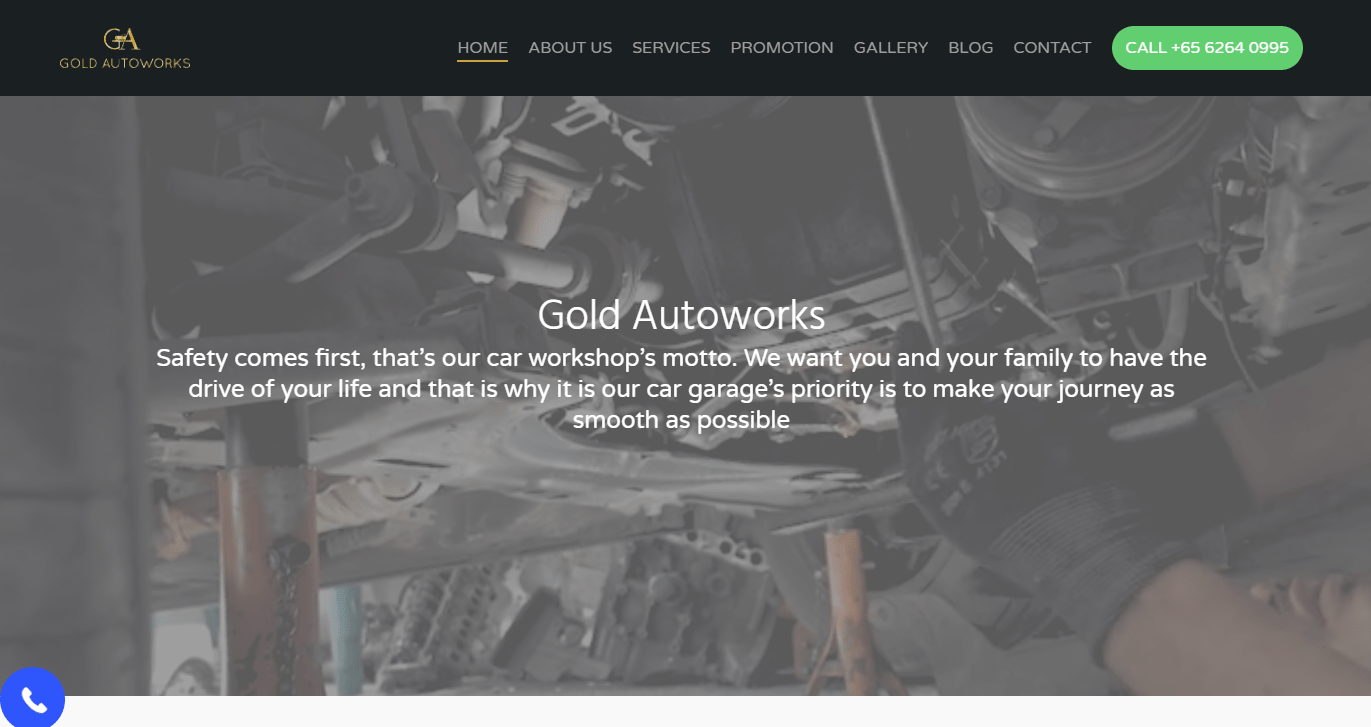 BEST FOR 
Personal and corporate vehicles, Car insurance claim
PRICING
Rates
WEBSITE
https://goldautoworks.com.sg/
ADDRESS
48 Toh Guan Road East, #01-119 Enterprise Hub,Singapore 608586
CONTACT DETAILS
+65 6264 0995
OPERATING HOURS

Weekdays: 09am to 6pm

Saturday: 09am to 3pm
Gold Autoworks is a centre for car servicing in Singapore that offers all types of car repair services such as repairs for transmission functions, engine and tyre services, and many more! Whether it's a minor or major car issue, they can provide long-lasting solutions.
They also have car garage services for vehicle maintenance needs like air filters and conditioning as well as wheels and tyres. Most importantly, they offer car insurance claims so in case of an emergency, you can immediately contact them and they'll be at your location as fast as possible.
Highlights
Regular car service packages
Transparent pricing
Free shuttle service
Pick up and delivery service
Customer Reviews
Many customers were delighted and satisfied with the outcome of Gold Autoworks' services. They said that they saw no trace of dents afterwards and every part was meticulously restored.
Their complimentary shuttle service along with their great service has made them quite popular and considered by many to be one of the best car servicing in Singapore.
This is why the shop has become one of the best car workshops in Singapore! A customer posted this review:
"Was referred to Gold Autoworks by a friend and was amazed by their efficiency and professionalism. Car was picked up and returned at my convenience, making the servicing experience seamless and fuss-free. A detailed checklist was provided after to certify the work done, also pointing out some other improvements that can be made. Overall a fantastic experience and definitely value for money. Highly recommend!"
3.  KGC Workshop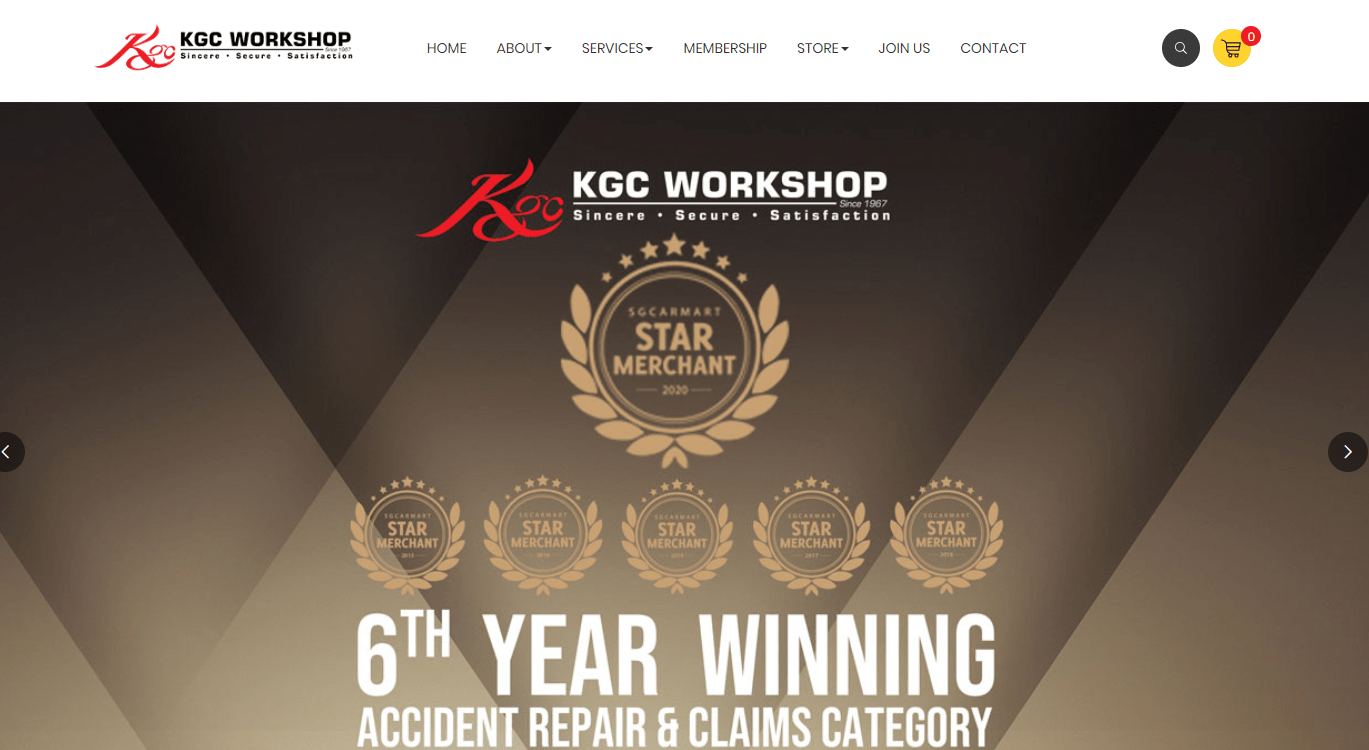 BEST FOR 
Affordable body kit repair and customisation
PRICING
Rates
WEBSITE
https://kgcworkshop.com.sg/
ADDRESS
14 Ang Mo Kio Street 63, Block B, Singapore 569116
CONTACT DETAILS
6453 6279
OPERATING HOURS

Weekdays: 9:30am–6:30pm

Saturday: 9:30am–5pm
KGC Workshop is an award-winning automotive shop that specialises in car servicing. This includes providing premium engine oil, air filters, oil filter, car wash and vacuum and many more!
The best thing about their services is that you can choose your favourite engine oil! If you also need to refurbish your old car, they offer high-quality and full spray painting services.
This car repair in Singapore also has one of the most competitive rates in the market so that's something worth remembering. 
Highlights
Car repairs for insurance and non-insurance damages
Car polishing and grooming
Accident claim
Customer Reviews
Customers shared that KGC Workshop has fully repaired the internal and external damage of their car. They were also impressed with the quality care products that enhanced the performance of their vehicles.
Therefore, many consider the place to be the best car workshop in Singapore! Here's a feedback from a customer:
"Special thanks to DJ and his team from KGC for the paint correction and paint protection work done for my car which was splattered with paint. DJ was totally customer-centric and always stand ready to answer and update me on the progress. That is truly admiring considering the volume of cars in the workshop. I did not get the names of the 4 guys working on my car but suffice to say their professionalism in the work done for my car has won me over as a loyal customer to KGC. Finally, I love the one stop service provided by KGC where I could rent a car while I leave my car in their workshop."
4.  Riverview Auto Services
| | |
| --- | --- |
| BEST FOR  | Repair services for a wide range of car models |
| PRICING | Rates |
| WEBSITE | https://www.riverviewauto.com.sg/ |
| ADDRESS | 10 Ang Mo Kio Industrial Park 2A Ang Mo Kio Autopoint #04-07 / #04-16 Singapore 568047 |
| CONTACT DETAILS | +65 6481 2025 or +65 6481 5797 |
| OPERATING HOURS | Weekdays and Saturdays: 9am–6pm |
As one of the longest-running car shops in Singapore, Riverview Auto Services was a natural entry in this list as they are one of the most known car mechanics in Singapore. They're able to cater to various types of vehicle brands and models.
Their services include vehicle diagnostics, wheel alignment, panel beating, and spray painting as well as electrical repairs. They use advanced diagnostic tools that can deeply analyse different models in the market.
For car accidents, they also offer insurance claim services. With this range of services, they're indeed one of the best car workshops in Singapore!
Highlights
Car servicing packages
24-hour towing service
Car air conditioner maintenance package
Customer Reviews
Riverview Auto Services has earned the trust of many car owners because of reliable and maintenance repair services. A customer shared this experience:
"I have been to quite a few car workshops in Singapore. This one is by far the best!! Received a detailed quotation for my repair. Kanashvijayan S/O Rama took his time explaining the repairs that needed to be done proper and patiently. Kept replaced parts and showed me. The car has never run so smoothly and quietly. The only place I will go for future car repairs and car servicing. No more hassles with workshops who want to rip you off and don't do a proper repair job."
5.  Night Servicing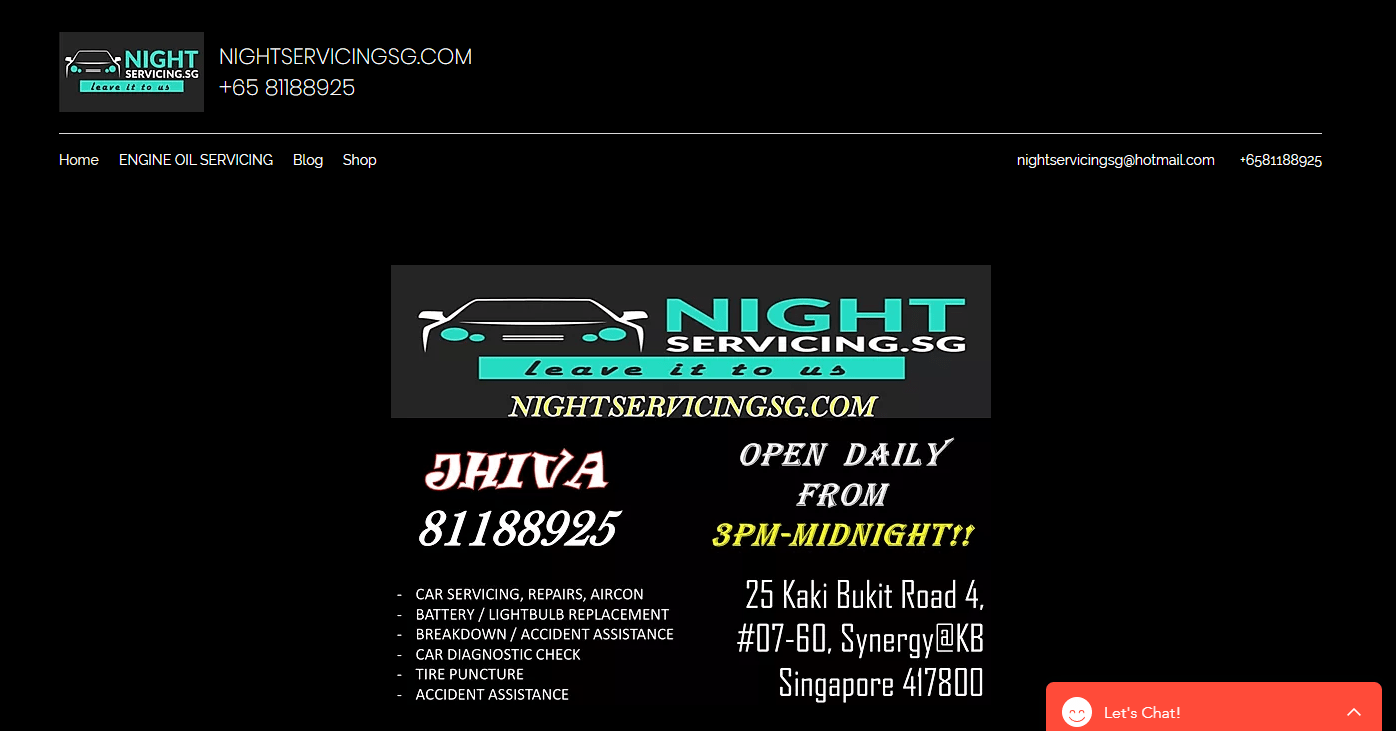 | | |
| --- | --- |
| BEST FOR  | Engine oil servicing packages |
| PRICING | Rates |
| WEBSITE | https://www.nightservicingsg.com/ |
| ADDRESS | 25 Kaki Bukit Rd 4 Singapore, 417800 Singapore |
| CONTACT DETAILS | +6581188925 |
| OPERATING HOURS | Daily, 3pm–1am |
Night Servicing is a one-stop-shop that provides car repair and servicing as well as breakdown/accident assistance. With their experienced mechanics and accurate car diagnostic tools, you can be sure that your car is in good hands.
They also have an online shop where you can find engine oil and filter change products and even all types of gearboxes.
They are open from 3PM to 1AM so it's probably as close as you can get to a 24 hour car workshop in Singapore.
Highlights
Vehicle customisation packages
Variety of car products
Customer Reviews
Most customers said that they were satisfied with the overall services of Night Servicing. Particularly, with the competent range of engine oils and spare parts.
A customer left this post:
"Last minute activation at 10pm to swap exhaust with a friend.. Looking on Carousell and Google for a workshop who could help. Stumbled upon this Night workshop and man was I pleasantly surprised. Jhiva the boss is friendly and reasonable. Price was a lot less than I expected for a last minute call up. Recommend place. Honest pricing, friendly staff."
6. Precise Auto Service

| | |
| --- | --- |
| BEST FOR | Car Services and Car Rental |
| WEBSITE | https://www.preciseauto.sg/ |
| ADDRESS | 1 Kaki Bukit Ave 6, #02-34/36 Autobay @ Kakibukit, Singapore 417883 |
| CONTACT DETAILS | +65 6745 7367 |
| OPERATING HOURS | Monday to Saturday: 9:00 am to 7:00 pm |
Cars are listed as one of the investments or assets of every individual. Thus, keeping it in good condition and on its best is what the Precise Auto Service is known for. They have been in the service for more than 30 years and are in the limelight as one of the best car servicing in Singapore.
Mr. Eric Ong, as the founder of the company, dedicated most of his time to dealing with automotive and attending different courses to keep on track of the modern technological advances. They have been known in the industry for the quality of the work that they've done.
Highlights
Affordable Cost
Well maintained Car
Fast and Reliable
Customer Reviews
A lot of customers really loved the services offered by Precise Auto Service as well as the accommodation of all the staff. One of the satisfied customers wrote this:
Great experience with Precise Auto. Rented an Altis from them. Car was in great condition! Marcus was helpful in arranging for viewing and sorting out the paper work. Fuss free in picking up and returning the rental, quick and prompt communications from all of them. Highly recommended! – Marcos Wee
7. CLH Tyres Trading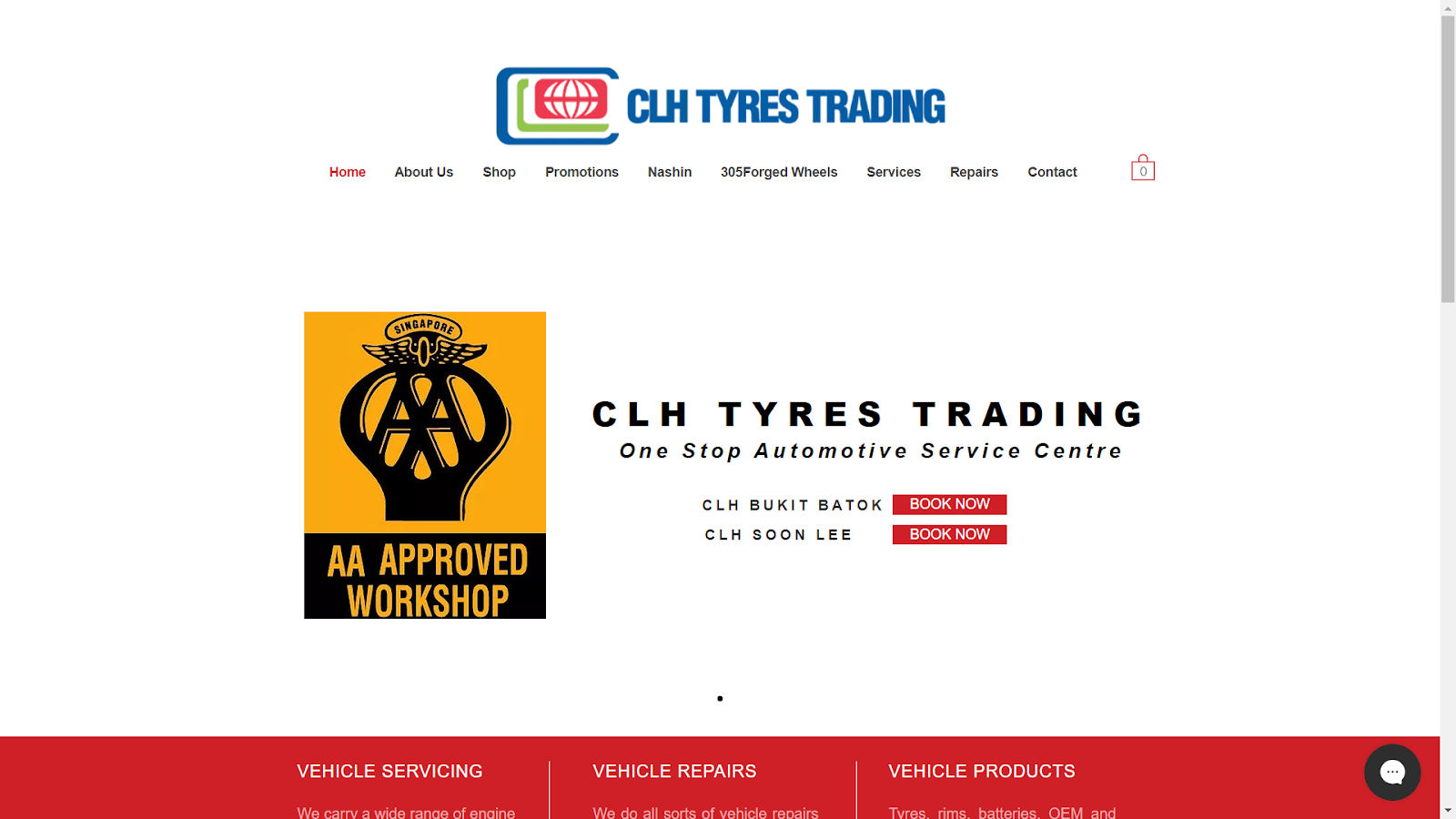 BEST FOR

Car Service & Repair

SERVICES

On-board Diagnostics, Car Checks, Car Servicing, Breakdown Service, Tyre Balancing, Rotation, and Alignment, Battery Change

WEBSITE

https://www.clhtyres.com/

ADDRESS

CLH Bukit Batok 50 Bukit Batok Street 23 Midview Building #02-01 Singapore 659578

CONTACT DETAILS

Tel: 6896 8986

OPERATING HOURS

Monday to Saturday 9am – 6pm

Closed on Sundays and Public Holidays
CLH Tyres Trading has been providing good quality workmanship for over 20 years. They understand the different problems drivers face with their cars on a daily basis and this is why they are committed to finding solutions to any problems you're having.
They are a team of professional and highly-skilled technicians that will help you all the way. You will never feel intimidated in consulting them for they are very open and friendly.
Highlights
Warm and friendly workers

Reasonable price

Great service
Customer Reviews
Here's a review from one of CLH Tyres Trading's clients:
"h Hong and his team are Super friendly and warm. Don't feel intimidated to ask his team if there are any questions or concerns. I was allowed to test the fitment of the brake kit before deciding if I wanted to purchase it.
All in all, very good service and would highly recommend." – Lionel B
Here's another one:
"Ah Hong and team will attend to me no matter how busy they are or my car issue is small. Been there customer for at least 10 years now. Vivian and colleagues at the office counter is also friendly and helpful. Good job all….." – Azidah Kamis
8. Sin Heng Long Motor Work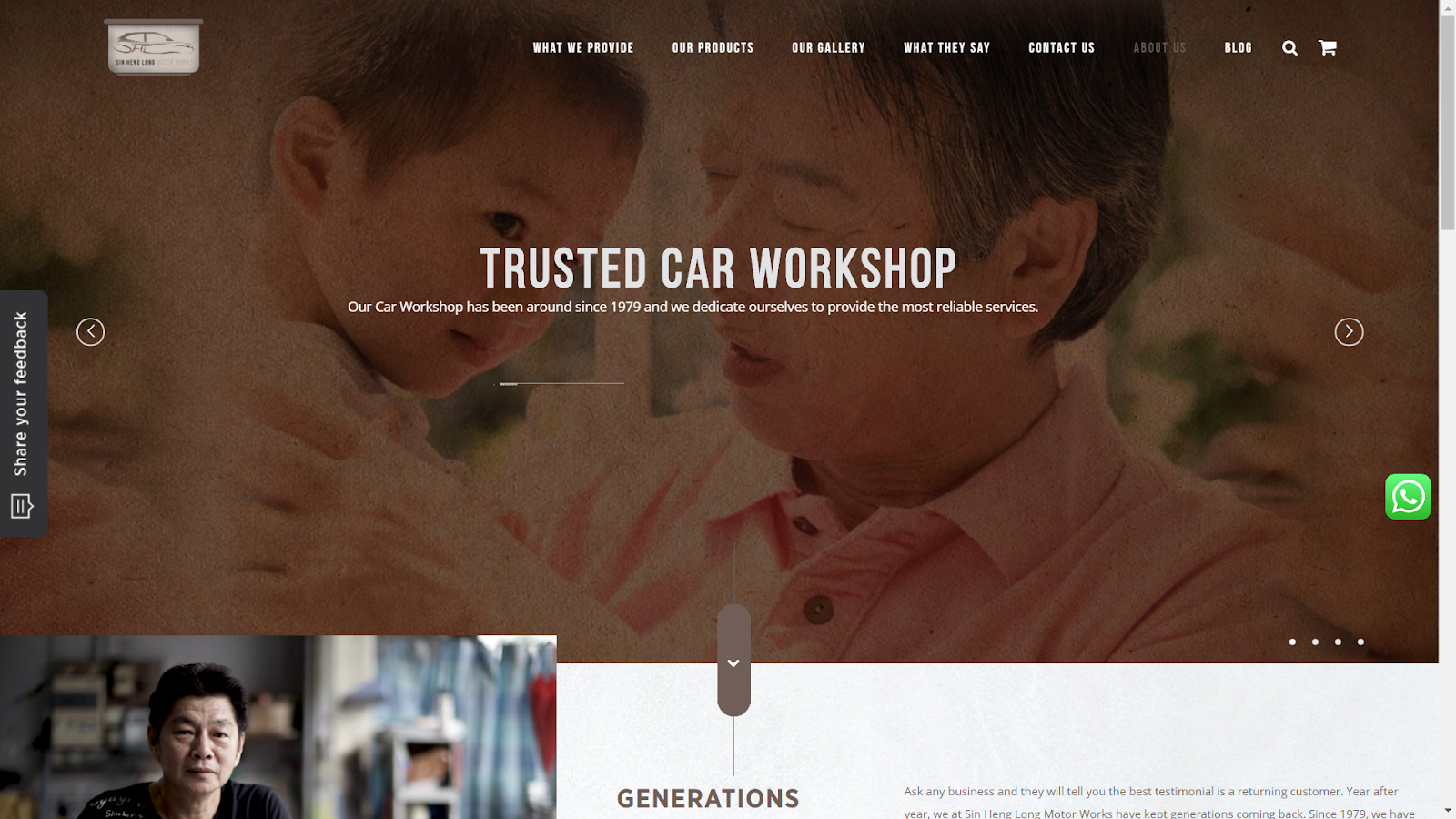 BEST FOR

Car Workshop

SERVICES

Car Spray Painting & Accident Repair, Other Spray Painting Services, Car Grooming, Accident Insurance Claims, Other Car Services, Personal Services

WEBSITE

http://sinhenglong.com/

ADDRESS

5032 Ang Mo Kio Ind Park 2, #01-305, Singapore 569535

CONTACT DETAILS

Contact: 64816078

Mobile: 90681801 (Ian) / 96487310 (Kia)

Fax: 64830905

Email: [email protected]

Facebook:  Sin Heng Long Motor Work

OPERATING HOURS

Monday – Friday, 9AM – 8PM

Saturday, 9AM – 7PM
Since 1979, Sin Heng Long Motor Work has been attending to their client's automotive needs. As they grow, they have not forgotten their own traditional family beliefs what kept their business thriving. 
They provide quick and efficient solutions to their clients that made them earn trust and dependency from previous and existing clients. 
Highlights
Competitive quotes

Quick response

Good shop location
Customer Reviews
Here's a review from one of Sin Heng Long Motor Work's clients:
"While some of the body workshops pride on using particular renowned  brand(s) of products to enhance the overall perception that quality jobs would be delivered , Sin Heng Long adopts a holistic approach in delivering jobs of respectable quality. Not only paint, primer products of respectable quality have been used in the job, the proper body preparation procedures have been observed.
From the management staff to the crew, the Sin Heng Long team is single-minded in restoring the bodywork to the original condition, as if the mishap had not occurred. Thanks to Ian's leadership, he was able to convey my requirements to his crew for my recent job, namely, fidelity of the base colour, texture and orange peel effect of the refinished sections to the original factory paintwork.
The regular stream of vehicles, either from fleet owners or private owners, at Sin Heng Long's workshop, 7 days a week, is a strong testament to the Sin Heng Long's passion in delivering quality in every job it undertakes.
Best part of the deal, Sin Heng Long's quote is extremely competitive, in comparison to the other renowned names in the body refinishing industry." – TS Ng
Here's another one:
"r Ian Chan was prompt enough to answer queries in double-quick time on quotation for bumper spray and tail light replacement. My recent E-class had a slight dent on the left bumper and the tail light was cracked when I was reversing carelessly. Amazingly, SHL did a prompt job of excellent fender knocking and spray-painting and with extremely reasonable rates too. I would recommend SGCarMart guys to use SHL for all their services. Their workshops at AMK Industrial Park 2 is convenient and easily accessible and is considered quite a big place too" – Haw Leng
9. Swift Tyre Specialist
BEST FOR
Car or Tire Service
SERVICES
Car Tyre Replacement, Car Tyre Puncture Repair, Car Battery Replacement, Car Wheel Alignment and Balancing, Car Servicing, and Car Repair
WEBSITE
https://swifttyrespecialist.sg/

ADDRESS
8 Kaki Bukit Avenue 4, [email protected] kaki bukit, #05-35, Singapore 415875 (Gate 2)
CONTACT DETAILS
+65 8484 3838 | [email protected] 
OPERATING HOURS

Mon – Sat: 9:30am – 6:30pm  

 
Swift Tyre Specialist is patronised all across Singapore for its distinguished expertise in caring for and installing vehicle tires. If you are having any problems regarding your car, most especially your tires, you may visit its state-of-the-art facilities – or you can also simply call its personnel up, and they will come to you!
Swift Tyre Specialist will help you choose what tire specification suits your vehicle best, and in any event of breakage, it will handle the repairs and replacement for you with exceptional skill.
Its services, of course, are not merely limited to tire work; it could also perform exemplary car maintenance and car repairs at affordable prices. Furthermore, you can reach out to them at any time of the day, in the case of interrupted roadtrips caused by faulty tires.
The staff of Swift Tyre Specialist are very professional and dedicated, and they work only with premium-grade materials and equipment as they render their services. You will never go wrong in approaching them for help.
Highlights
 Reasonable prices
Gives tips and advice for free
Uses latest technology 
Customer Reviews
Swift Tyre Specialist is applauded for their high-quality service and experienced team. Here are some of the reviews posted on the Google Reviews.
"I called for their onsite Tyre replacement service and they were on time and the charges are very reasonable. The tyre replacement machines are all in their 10ft lorry to complete the service! Excellent service! 👍🏼 Well done highly recommended."
"Gotten my 2nd hand car and went to workshop for advice on which item need replacement. They are genuine and honest, only ask to change which is require and even explained in details. I will stick with Swift Tyre Specialist for all my car maintenance as their standards are excellent!"
10. GSC Automotive
BEST FOR 
Hybrid Cars
SERVICES
Car Servicing and Repair
WEBSITE
http://mobile.gsc.com.sg
ADDRESS
10 Admiralty Street #01-12,
Northlink Building
Singapore 757695
CONTACT DETAILS
8113 2370
OPERATING HOURS

Mon-Sat: 9 AM – 5 PM

Sun & PH: 9:30 AM – 5 PM

(Closed on CNY)
GSC Auto Service is a private auto workshop that specialises in working with hybrid cars. They have been offering their car servicing and repair services for more than 35 years.
Soh Hock Yong, its founder, is a skilled technician in the automotive industry. With his team of skilled technicians, any problem you may have with your vehicle can easily be solved.
For those asking about a car workshop open on Sunday in Singapore, do take note that GSC Auto Service is open on Sundays and Public Holidays. 
Highlights
Over 35 years of experience
Skilled technician
First private auto workshop to receive the Hybrid Certification
Awardee of the 2010 Successful Entrepreneur Award
11. Accord Auto Services Pte Ltd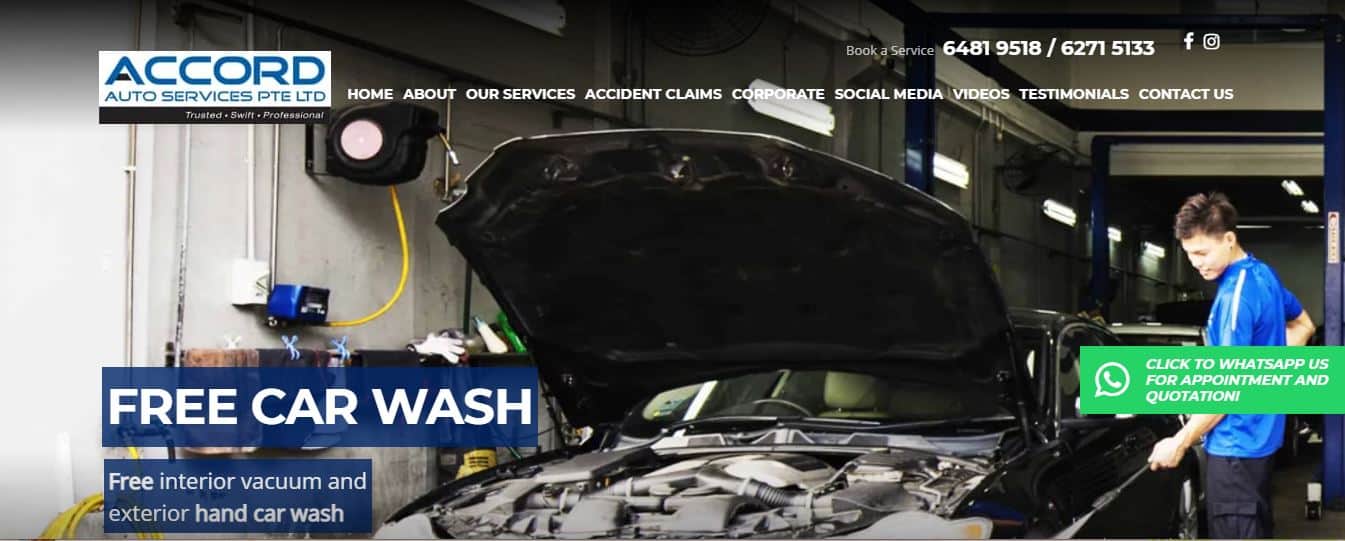 WEBSITE

ADDRESS

Bukit Merah Lane: 1009 Bukit Merah Lane 3, #01-80, Singapore 159723

 

AMK AutoPoint:

Address: 10 Ang Mo Kio Industrial Park 2A, Singapore 568047

CONTACT DETAILS

Bukit Merah Lane: +65 6271 5133

AMK AutoPoint: +65 6481 9518

OPERATING HOURS

Monday – Friday: 9:00 AM – 6:00 PM

Saturday: 9:00 AM – 4:00 PM
Accord Auto Services offers all types of auto services for all types of cars, whether family cars, exotic models or even corporate fleet units. With state-of-the-art equipment, this car workshop can diagnose and repair issues involving the car's brakes, suspension, wheels, air conditioning, batteries, transmission, and other mechanical parts.
To get their cars serviced, all clients need to do is to fill out Accord Auto Services' online appointment forms. 
Accord Auto Services also features a comfortable lounge where customers can relax while their cars are serviced. And to cater to those who want to see the repair for themselves, the auto workshop offers live streaming of the repair.
What we like the most about Accord Auto Services is that all of its repair services come with free car wash and maintenance checks on essential auto parts. So, customers receive a holistically improved car after an appointment with Accord Auto Services. 
This car workshop also has access to agencies for car loans and insurances. So, if ever you need repairs or check-ups for your car due to damages that can be covered by car insurance, Accord Auto Services can help. 
Highlights
Thorough 21-point checkpoint

Free car wash and maintenance checks per repair service

Connection with car loan and insurance agencies

Live streaming of repair

Paperless transactions
Customer Reviews
Read these reviews to know why Singaporeans continue to pick Accord Auto Services for repairs, maintenance, and other auto needs:
"Although there many workshops available, we picked Accord because of the good reviews.  This morning was our first experience for regular car service. It was indeed hassle free. Questions were answered and staff (Ah Soon and Annie) were very helpful and friendly. Our IU was not properly adhered to the windscreen. They took initiative to put it properly for us. They went beyond what was requested. They also went for digital invoice to safe tree, we had a very good experience. Will send our car to Accord for servicing in future."—John Tan
"Today was my second time with them, first being the week before. I only started going to them because I just shifted house and they're close by. They're located in a very competitive locality, where dozens other automotive shops are. They're professional, and respects your car the way you would as well. The price is manageable – its fair. Neither too high, or bargain worthy. I'd recommend it only because they have delivered what I've asked, to the tee. Probably will stick with them due to convenience. Oh, they're also paperless, and have electronic invoices for every service they've charged for. I like keeping track of my receipts, so this is a plus as well."—Alfred Wan
12. Kaizen Motors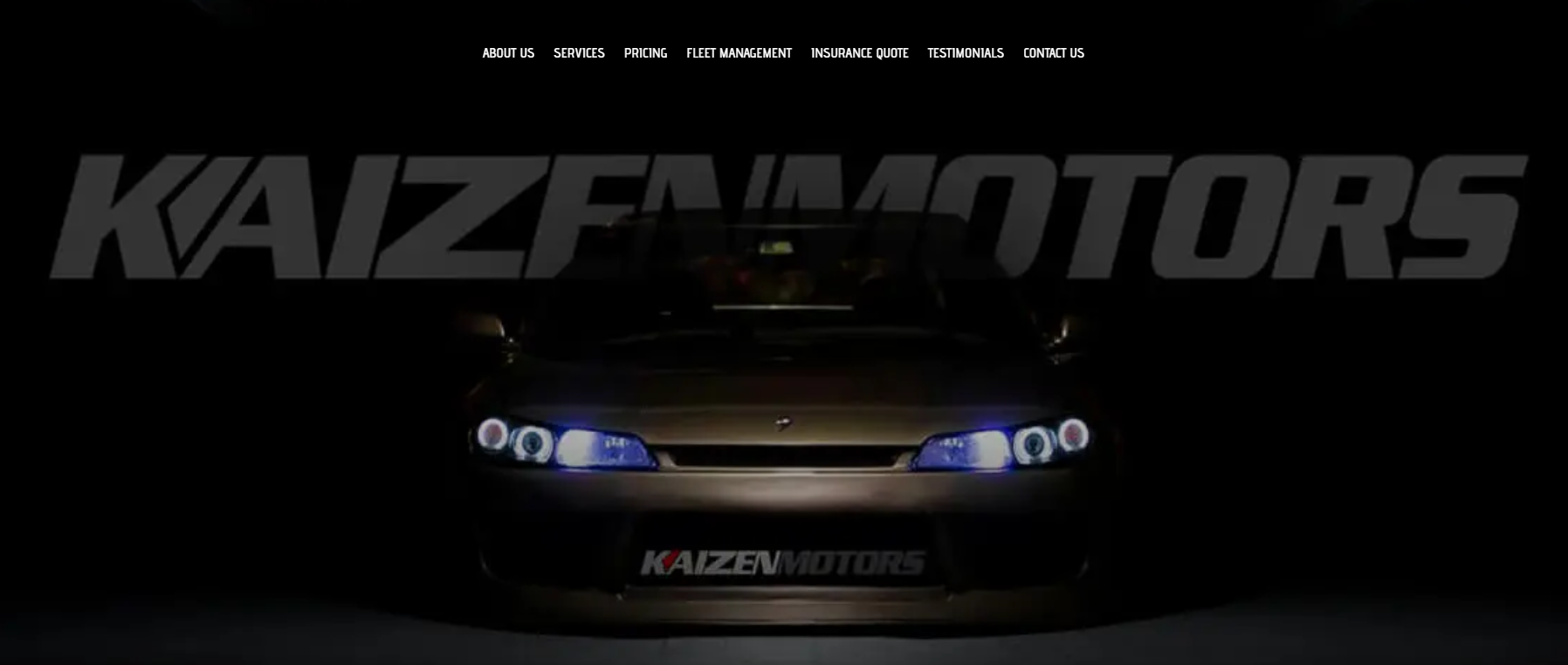 WEBSITE

ADDRESS

68 Kaki Bukit Avenue 6, #02-12 [email protected], Singapore 417896

CONTACT DETAILS

Tel: (+65) 6384 1956   Fax: (+65) 6384 1957
Mobile: (+65) 8823 3366
[email protected]

OPERATING HOURS

Monday to Friday: 9:30am to 6:00pm
Saturday: 9:30am to 4:00pm
Closed on Sunday and Public Holidays
Kaizen Motors is a car workshop in Singapore that offers excellent services in all aspects of car repair and maintenance. They are open Mondays to Saturdays for convenince.
The workshop offers comprehensive car services, including but not limited to preventive maintenance, corrective maintenance, and individual sessions like aircon cleaning, rotating and balancing of tires, and brake lathing services.
Kaizen Motors' team of skilled mechanics will work with you to find the best solution to meet your needs and budget.
What makes them unique from our other entries is that they have a fleet management programme—perfect for companies owning multiple commercial vehicles.
This service will help you keep fuel costs to a minimum while increasing the lifespan of  your vehicles.
Highlights
Clear pricing matrix

Uses genuine local agent products
Operates six days a week
Accommodates a wide range of vehicles
13.  Ace Motorsports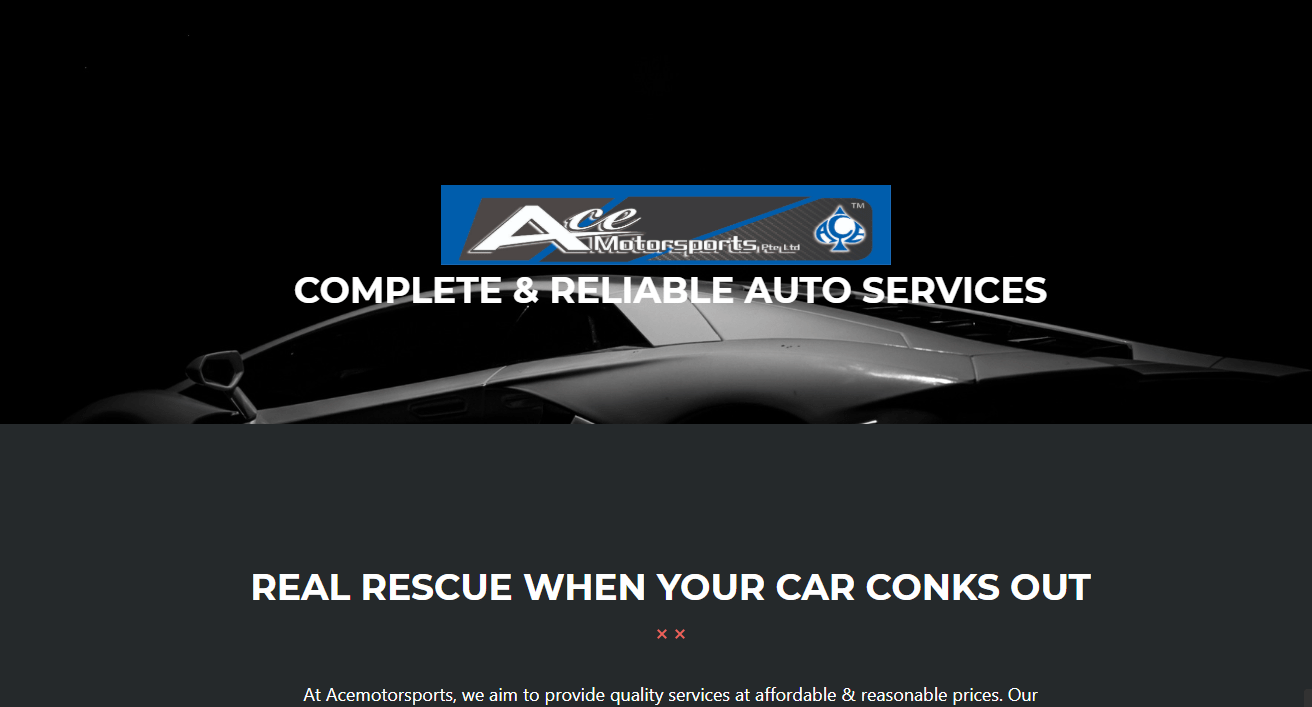 BEST FOR 
Maintenance services
PRICING
Rates
WEBSITE
http://acemotorsports.sg/
ADDRESS
1 Soon Lee Street #01-34 Pioneer Centre Singapore 627605
CONTACT DETAILS
6334 3064 / 9688 8112
OPERATING HOURS

Weekdays: 10:00am – 10:00pm

(After 8pm appointment only)

Saturday: 10:00am – 3:00pm
At Ace Motorsports, you can schedule maintenance services to make sure that your tyres are in good condition and have excellent wheel alignment.
They have certified mechanics who use modern technologies to fully analyse the condition whenever they do a car service in Singapore. All of their quality services are also offered at a reasonable price, making them the best car workshop in Singapore if you want quality at a good price!
Highlights
Scheduled services
Affordable rates
Customer Reviews
Ace Motorsports received a lot of compliments from customers saying that they had seen great improvements in their car's performance — thanks to the high-quality maintenance services.
One of their customers wrote this feedback:
"This is honestly the best car workshop so far i have been to. They are responsible and does their job professionally well. The price is reasonable and the staff are well trained and skilled to do their specific job. I recently bought a new car camera to replace my old one, which was done by the boss himself. Not only his work ethic is good, the things he does was real professional, everything was done neatly. Did my car servicing as well, the mechanics were really experienced, they even  highlighted the important things i need to take note, which have to be replaced upon my next visit. I would highly recommend others to come here. It provides excellent services."
And that's our list of the best car workshops in Singapore! If you'd like to recommend more shops, you may also share them with us!
And for those who are looking for grooming and polishing services in particular, our list of shops with the best car grooming services in Singapore offer long-lasting and affordable solutions! Check out that roundup too!