12 Best Car Insurance Plans in Singapore for 2021
First things first! Why bother looking for the best car insurance in Singapore when cars nowadays come with a bunch of features to ensure the safety and well-being of passengers?
Well, because there are times when things completely out of your control happen on the road—anywhere and without warning.
That's why getting the best car insurance in Singapore should be one of your top priorities before you go on the road. However, car insurance can be expensive, and the variety of insurance options out in the market can easily make your head spin.
Car insurance comparison in Singapore can also take time, so to help you with all of this, we took a look at all the options available on the island and picked out the best car insurance in Singapore for your convenience.
Before we proceed with our top picks for best car insurance, we've put together a comprehensive guide on the best car insurance in Singapore for 2021 to help you pick out which insurance option is best for your needs. But if you already know what you want, feel free to skip ahead to the main list.
The Importance of Car Insurance
In Singapore, before you can even drive on the road, you need to have car insurance. According to the Motor Vehicles (Third-Party Risks & Compensation) Act, not having car insurance can lead to hefty fines, jail time, and even the disqualification of your driver's license.
Aside from legalities, having car insurance in Singapore helps you with financial matters when it comes to injuries and damages in the case of vehicular accidents. Thus, getting car insurance doesn't only protect you and your loved ones but also other people on the road.
According to the Singapore Police Force's Annual Road Traffic Report for 2019, there were 7,666 reported road accidents with over 9,000 injured persons. Out of all the accidents, 116 fatal accidents were reported with a fatality count of 117.
And although there's a downward trend in the number of road accidents from 2016, we can't say for certain that we won't be part of that statistic. That's why you'll need to set-up all the safety nets you can get in case these things happen—and getting the right car insurance is a great first step.
Types of Car Insurance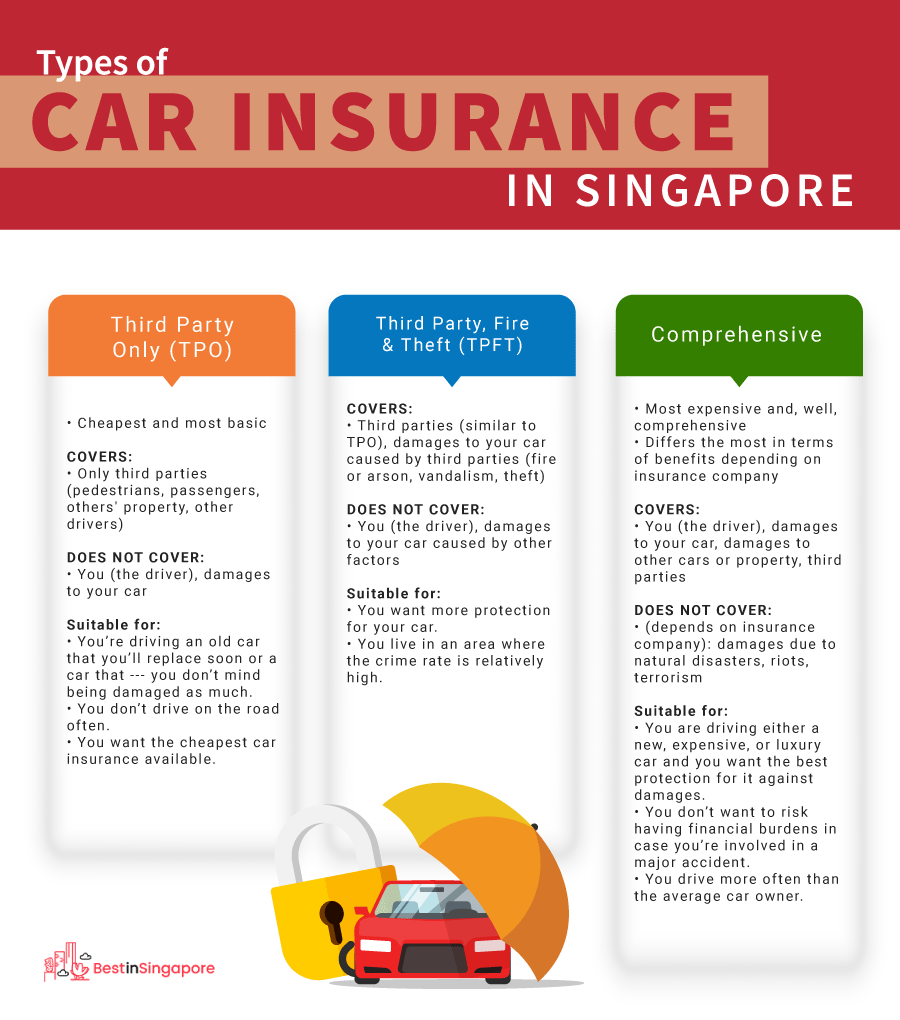 According to GoBear, there are only three types of car insurance in Singapore: Third party only (TPO); third party, fire & theft (TPFT); and comprehensive car insurance.
1. Third Party Only (TPO)
As the name suggests, this type of car insurance only covers affected third parties—such as pedestrians, your passengers, other drivers, damaged properties—but not you or your car.
This is the most basic and minimum car insurance you can get in Singapore. 
Example:

You're driving your car, carrying two other passengers, when you accidentally collide with another car. This collision results in damage to both your cars and minor injuries for you, your passengers, and the other driver.

The TPO car insurance will cover medical expenses for your passengers and the other driver, as well as repair costs for damages to the other driver's car. However, you won't receive any payouts for your medical bills and car repairs.
A TPO car insurance is perfect if:
You're driving an old car that you'll replace soon or a car that you don't mind being damaged as much.
You don't drive on the road often.
You want the cheapest car insurance available.
This type of car insurance is similar to TPO car insurance but with more benefits. Like the TPO car insurance, it will only cover liabilities to third parties, but if your car is damaged by fire (through an accident) or becomes a victim of theft.
Any damages incurred by third parties—such as vandalism, arson, etc.—will also be covered by the TPFT insurance policy.
Example #1:

You got into a car accident with another driver, which caused damage to both your vehicles. This also sparked a fire in your vehicle, causing it to become heavily damaged.

The TPFT car insurance will cover damages to both your cars.
Example #2:

Your car has a broken window, and you've been meaning to fix it. However, a thief used this window of opportunity (Hah!) to steal your car.

Thankfully, it was later recovered by law enforcement. During the theft, your car's side panels and rearview mirror were damaged.

The TPFT car insurance will cover repairs for your side panels and rearview mirror but not for the broken window as it wasn't caused by the theft.
A TPFT car insurance is perfect if:
You want more protection for your car.
You live in an area where the crime rate is relatively high.
3. Comprehensive
This is the most expensive type of car insurance in Singapore. Although different insurance companies may differ in what they offer, most comprehensive car insurances cover damages to your car, other cars involved, and injuries to third parties—whether the accident was your fault or caused by natural occurrences.
How to Find the Best Car Insurance in Singapore
Even though we've provided you with a pretty comprehensive guide on what to look for in a car insurance plan, it's still good to shop around and compare the different insurance plans out in the market.

 

But with so many car insurance options out there, comparing one with another can be a daunting and time-consuming task. Luckily, there are services out there that do all the searching and comparing for you.

To help you with the task, we've listed the best car insurance comparison websites in Singapore. Check them out!

1. sgCarMart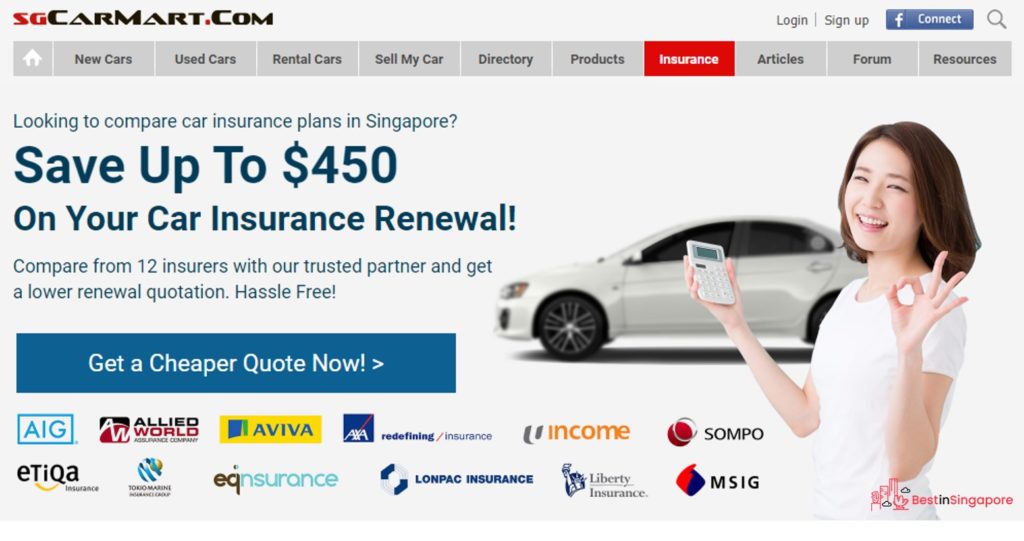 For all automotive solutions, you can go to sgCarMart. They're one of the most popular information portals for anything and everything related to cars. They're mostly known for their car buy-and-sell platform, but their car insurance comparison service is also widely used by many Singaporeans around the island. 

By entering your personal and car details, sgCarMart eliminates the hassles of searching and comparing car insurance plans for you and delivers the top three best insurance options for your needs. No need to wait for a long time to get your quotation because sgCarMart can deliver it within 1 working day.

SgCarMart is partnered with 12 leading car insurance providers and will make sure to give you the best deals at discounted prices. If you're planning to renew your car insurance plan with them, you can get discounts of up to S$450.

 

2. Quotigo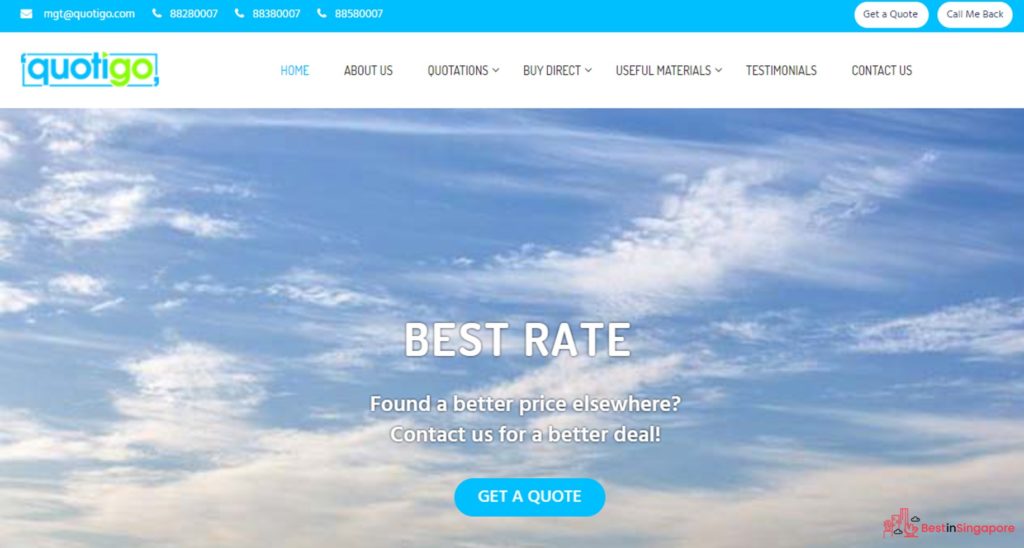 Aside from being one of the best car insurance comparison websites in Singapore, Quotigo also offers insurance comparison for motorcycle insurance, travel insurance, and even insurance for Uber and Grab drivers.

Quotigo has serviced thousands of Singaporeans since it opened its doors in 2011. If you're new to applying for car insurance and aren't confident in dealing with the technical stuff, its staff of helpful and dedicated insurance managers can help.

One of their main selling points is that they appoint Relationship Managers for each customer, serving as their guide to all things related to their insurance. Whether you're asking for insurance quotations or need to make a claim, rest assured that they'll be there to help you every step of the way.

Plus, with their help, you can get access to more affordable car insurance plans. That, coupled with their excellent customer service, make them a valuable service for car owners all around Singapore.
10. Accord Insurance Agency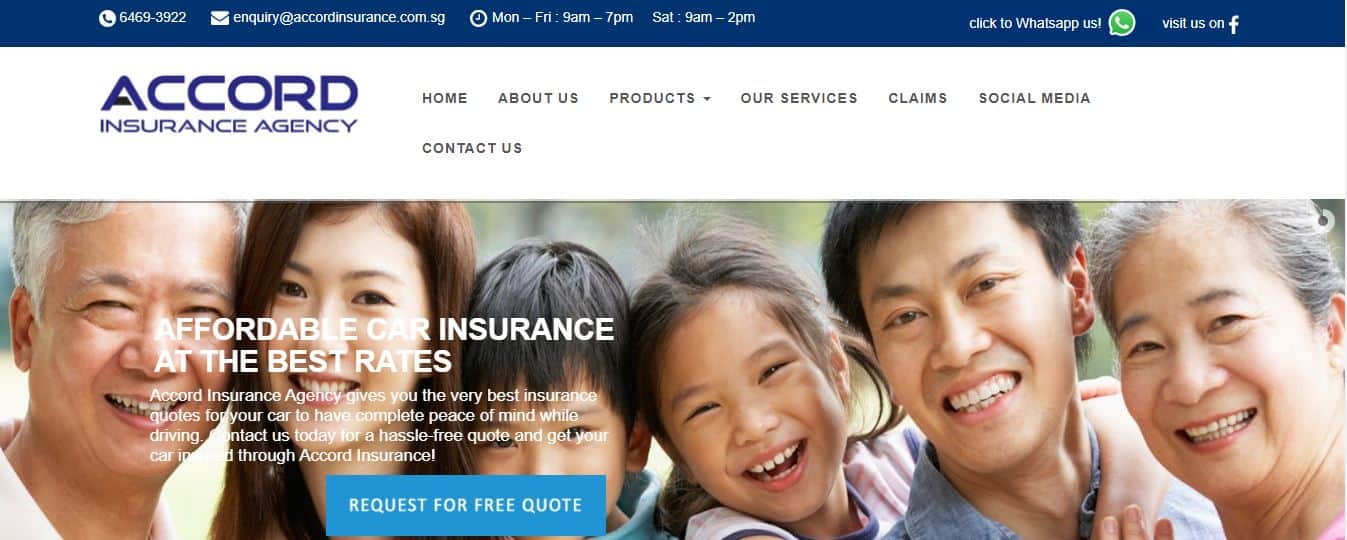 ADDRESS

18 Sin Ming Ln, #05-13 Midview City, Singapore 573960

CONTACT INFORMATION

+65 6469 3922 | https://www.accordinsurance.com.sg/

OPERATING HOURS

Monday – Friday: 9:00 AM – 7:00 PM

Saturday: 9:00 AM – 2:00 PM

TYPES OF INSURANCE COVERAGE

Comprehensive coverage, third party, fire and theft, and third party only

OTHER INSURANCE SERVICES

Travel, home, personal, business insurance
Accord Insurance Agency is an expert when it comes to car, travel, home, personal, and even business insurance plans. 

This insurance boutique has connections with many insurance providers. So, it guarantees its clients the best and most competitive rates in the market.

And as an expert, Accord Insurance Agency informs its clients of discount premiums they can get. Demerits free driving record, restricted drivers, and no-claims record are among the instances that this insurance brokerage can work with to get you insurance discounts.

Additionally, Accord Insurance Agency has been providing insurance premiums with 0% interest. This insurance agency also helps its clients find plans allowing instalment payments of up to 12 months.

And in the event of accidents, Accord Insurance Agency is always ready to assist its clients. Those who are filing claims can simply answer this agency's online forms or even call the company.

For quotations, you can contact Accord Insurance Agency via their online forms. You can also call them at +65  6469​ ​3922 during its office hours.

Customer Reviews

Accord Insurance Agency has been praised for its staff's expertise and top-notch customer service. Read these reviews for more details:

"I just experienced possibly the very best customer service of all time for the year. I love Oliver and the team. Accord was my agent for vehicle insurance for more than a decade. Proactive, friendly, efficient and most importantly always sourced for the best competitive quotations for me. Amazing team! So many comments on how fantastic you guys are! They have a customer for life!"—Lena

"Very responsive and professional.  I ask for a quotation with specific terms and get the reply and quotation the next day.  They compare the price and terms of different packages from different companies, and recommend the best package value for money."—Sam Li
11. InsureMyCar
ADDRESS

My Mail Box (Business) No. 880336, Singapore 919191

CONTACT INFORMATION

+65 6469 3912 | https://insuremycar.com.sg/

OPERATING HOURS

Monday – Friday: 9:00 AM – 7:00 PM

Saturday: 9:00 AM – 1:00 PM

TYPES OF INSURANCE COVERAGE

Comprehensive coverage, third party, fire and theft, and third party only

OTHER INSURANCE SERVICES

Domestic Helper, Home, Travel, Commercial Fleet, Work Injury Compensation, Public Liability
Now, if you're a commercial driver, say a Grab or Uber driver, then you may need cheap yet useful commercial car insurance. If so, then InsureMyCar may be of great help.

This insurance boutique offers all types of car insurance, all thanks to its large network of insurance providers. Whether you're looking for comprehensive, third party, theft, or fire, and third party only premiums, you can benefit from InsureMyCar.

InsureMyCar also helps clients lower their insurance fees by educating them about the no-claims record, off-peak car, and free driving record discounts. This brokerage even helps car owners get plans that are payable via 12-month instalments without any interest.

Additionally, InsureMyCar's plans allow clients to pay using DBS, POSB, or UOB credit cards.

InsureMyCar focuses more on new insurances, but it also takes care of car insurance renewals. Its process for renewals is even as simple as a click on its site or a phone call with its representatives.

InsureMyCar has detailed yet intuitive online forms for those in need of instant car insurance quotations. You can also call the agency at +65 6469 3912 for help with your car insurance application or renewal.

Customer Reviews

Here are some reviews to tell you more about what customers like about InsureMyCar:

"The shop to-go-to for all of your car insurance needs. Even for new cars! – has gotton my new car insurance policies via them for both continental and japanese cars. Dealers do accommodate as they could not beat the quotes! Has done several referrals as well just because it's hassle-free, service is responsive and professional. And of course, their quote has to be one of the lowest, if not the lowest, in the market. Highly recommended! Keep up the exemplary work!"—Bernard Ong
12. Insure Care Agency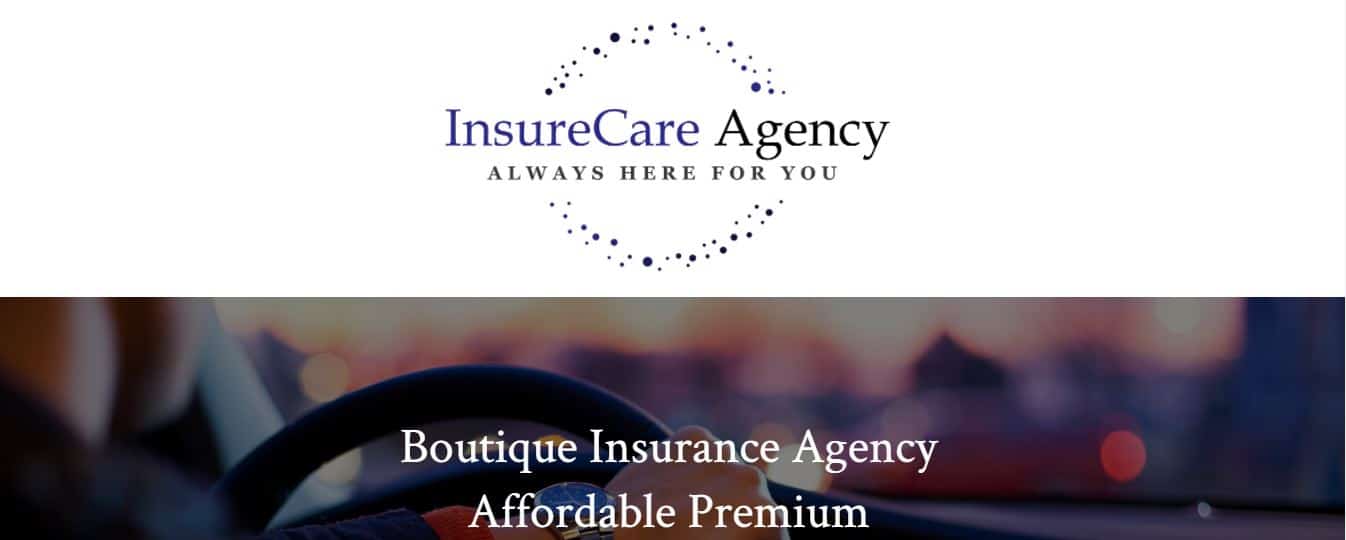 ADDRESS

My Mail Box (Business) No. 880181, Singapore 919191

CONTACT INFORMATION

+65 6469 9815 | https://insurecare.com.sg/

OPERATING HOURS

Monday – Friday: 9:00 AM – 6:00 PM

Saturday: 9:00 AM – 1:00 PM

TYPES OF INSURANCE COVERAGE

Comprehensive coverage, third party, fire and theft, and third party only

OTHER INSURANCE SERVICES

Travel, home
InsureCare is a general insurance specialist, so it can help those in need of car, travel, and home insurance premiums. For car insurance, InsureCare reports the best rates from insurance providers to its clients. 

And because InsureCare understands that regular insurance plans may not be enough for mitigating accidents, this agency also provides excess protector insurance plans. 

InsureCare even has exclusive plans for public and commercial vehicles. The best thing is that these plans already cover almost all types of worst-case scenarios, such as loss of use, accidental death, and temporary disablement cases.

What separates InsureCare from its competitors is the level of attention it provides its clients. This insurance boutique agency is small and tight-knit, thus allowing itself to focus on its clients all year round.

That said, you may have a bit of trouble landing InsureCare if they're already busy with their other existing clients.

You can get in touch with InsureCare via its website to receive quotations for your car insurance.

Customer Reviews

Here are some customer reviews to help you decide whether or not you should choose Insure Care for your car insurance:

"Recommended by a friend to this insurance agency, very responsive and prompt and excellent service. Very satisfied with the quote given. Strongly recommended to get this agency to quote for very reasonable price and reputable insurance firm for my car insurance."—Lim Sun Kiat

 

 

And that's the end of our guide to the top options for the best car insurance in Singapore! Make sure to read and consider each car insurance plan's policy and guidelines to know that it's the right one for you.

Were you able to pick a car insurance option from our list? Let us know what you think in the comments below! 

Did we miss anything in our list? Share it with us in the comments below!

If you unfortunately find yourself in a car accident, and you're unable to use your car for a few days, you may want to check out our top picks for the best car rentals in Singapore.

 

 

Example:

Your car was parked along the street when a strong gust of wind blew and snapped off a large tree branch that fell onto your windshield, damaging it. Although it wasn't your fault, the accident was caused by a natural occurrence that was out of your control.

And so, your comprehensive car insurance will cover the damages especially if you took good car insurance plans.

A comprehensive car insurance is perfect if:
You are driving either a new, expensive, or luxury car and you want the best protection for it against damages.
You don't want to risk having financial burdens in case you're involved in a major accident.
You drive more often than the average car owner.
Factors that Affect Your Car Insurance Premiums in Singapore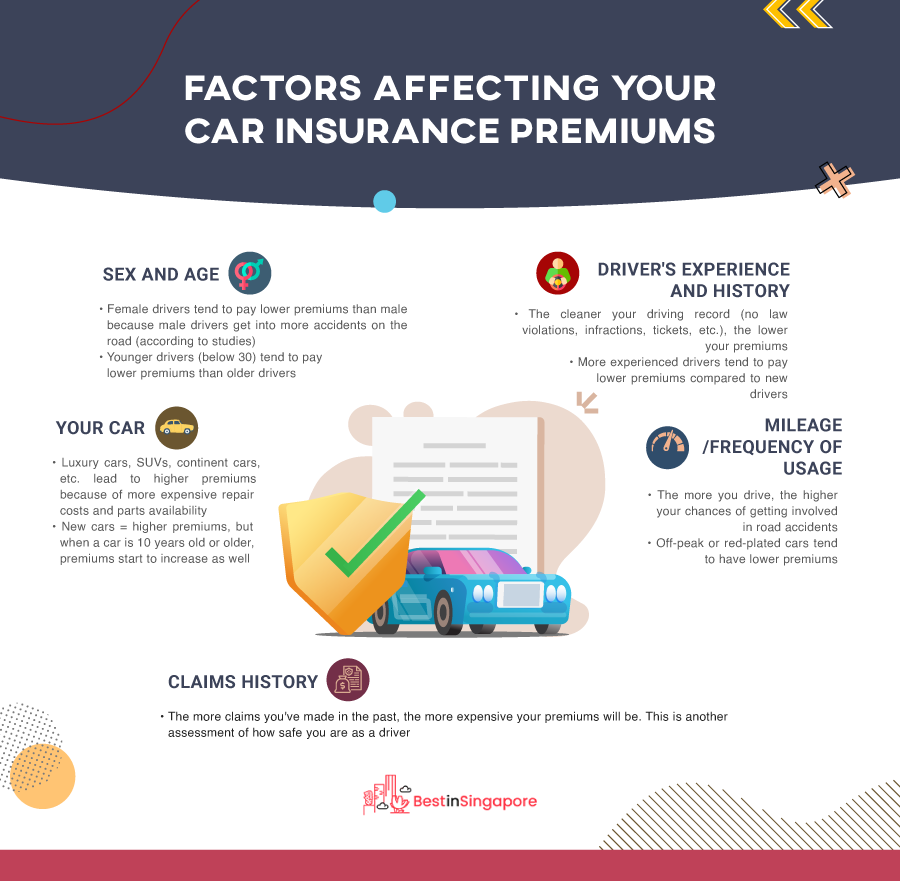 Insurance companies are very thorough and take into account a lot of factors when computing your car insurance premiums. They do this to assess the driver's likelihood of being involved in accidents so that they'll be able to compute how much they would need to payout.

There are many factors to consider, with some factors weighing more than others. But to make things simple, we chose the ones that are the most important when calculating your car insurance premiums.

1. Sex and Age

Throughout the years, multiple studies found that male drivers are more susceptible to road accidents than female drivers. In other studies, car accidents involving drivers aged 21-29 are the highest compared to other age groups. 

And so, female drivers and those above the age of 30 can expect lower premiums. However, this isn't a guarantee, as there are other factors that come into play.

2. Driver's Experience and History

Those who have been behind the wheel for a long time (think years) usually get lower premiums compared to, say, drivers who have only been driving for a few months. 

Aside from that, the car insurance companies in Singapore will also take a peek into your driving history and check for any violations, tickets, or infractions. Of course, having traffic law violations in your record may earn you a higher premium.

3. Your Car

The make and model of your car heavily affect your premiums as well. 

If you drive luxury cars, SUVs, or other high-end cars, you will surely need to pay higher premiums. This is simply because these types of cars cost considerably more to repair than other cars.

In addition, newer car models usually mean higher premiums, with the cost going down the older the car gets. However, if your car is 10 years old or more, the premiums start to go high again as these cars become more expensive to repair due to unavailability of parts and a higher tendency of breakdowns.

4. Mileage / Frequency of Usage

It's safe to say that the more you drive, the higher your chances are of getting involved in road accidents. This is why many insurance companies charge higher premiums to drivers who use their cars on a daily basis compared to drivers using off-peak or red-plated cars.

5. Claims History 

The car insurance companies will also consider any claims you've made in the past from all car insurance providers. The more claims you've made, the higher your premium will be.

This is also another way for the insurance company to find out how "safe" of a driver you are, as the number of claims can be equated to the number of accidents you've been in.

Take note that any fraudulent claims made in the past can lead to the denial of your insurance application. In fact, there are many factors that can lead to the refusal of your application or voiding of your insurance policy.

According to GoBear, it can be driving under the influence, fronting, non-LTA-approved car modifications, or simply even being dishonest or misleading when reporting an accident.

 
Frequently Asked Questions
 

Now that you know a bit more about car insurance in Singapore, you can finally pick out which car insurance is most fit for your needs. Luckily, we've already compared the top car insurance companies in Singapore so we've done the nitty gritty for you!

 
1. Allianz
Best for Lightweight But Adequate Coverage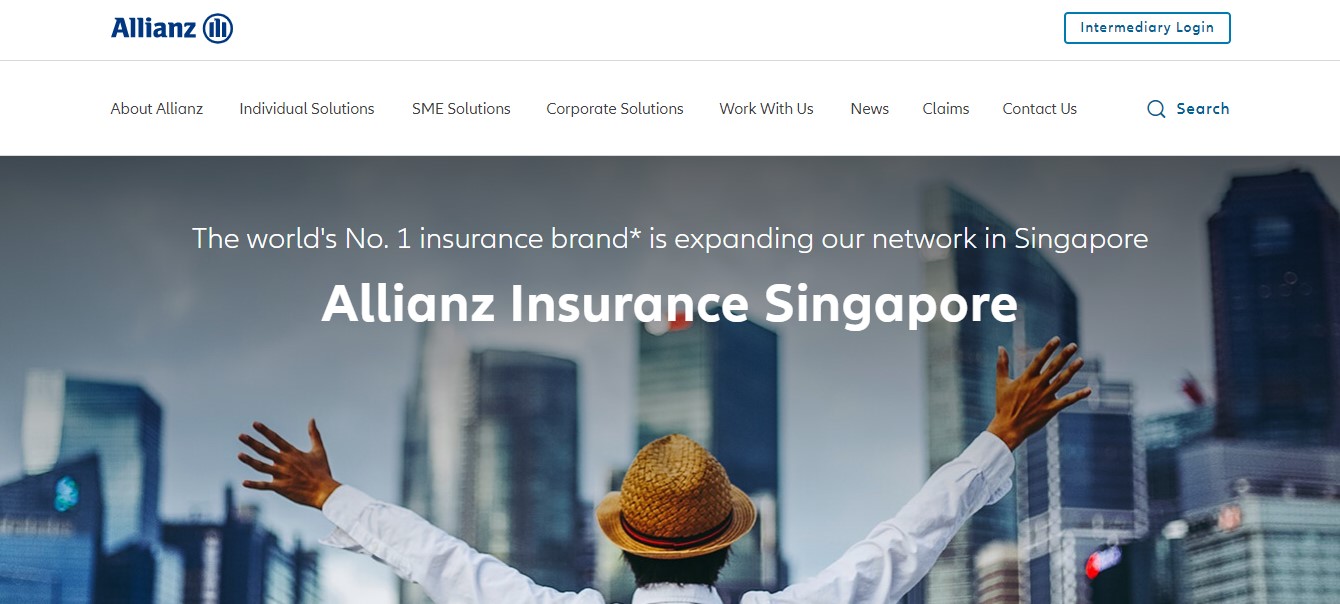 Allianz was fouded in 1890 as a transport and accident insurer. Comparing them to other companies, they are ranked amng top 3 globally in Property and Casualty and top 5 for Life and Health.

We prefer them because of their numerous insurance solutions. No matter what type that is, we are sure that they can help you with it.

If you are a driver, you do not know when an accident can occur. With Allianz you are in safe hands because, similar to others, they offer the tree types of car insurances.

But what makes them stand out from their competitors is their Lifetime Guarantee for accident repairs work. For any defective workmanship in your accident repairs done by any of their authorized workshops, you may simply proceed back to the same authorized workshop for repairs for as long as you are insured with them.

Another reason why we like them is because of their 'New For Old' Replacement Car. This feature is helpful if your car got damaged and is beyond repair within the first 24 months of its first registration in Singapore.

What they will do is either replace your car with the same exact model, with a similar car if the first option is not available or pay you in cash instead. Even though this is for the first 24 months only, it is still better to be safe than sorry.

Customer Reviews

"I just put a claim in back in February and was very concerned because of all the negative reviews I read, it proves you can't believe everything you read I mm very happy with there service and the timely manner I received my money back, Would highly recommend them. There customer service is also excellent"

 
2. AXA SmartDrive Car Insurance
Best Customisable Car Insurance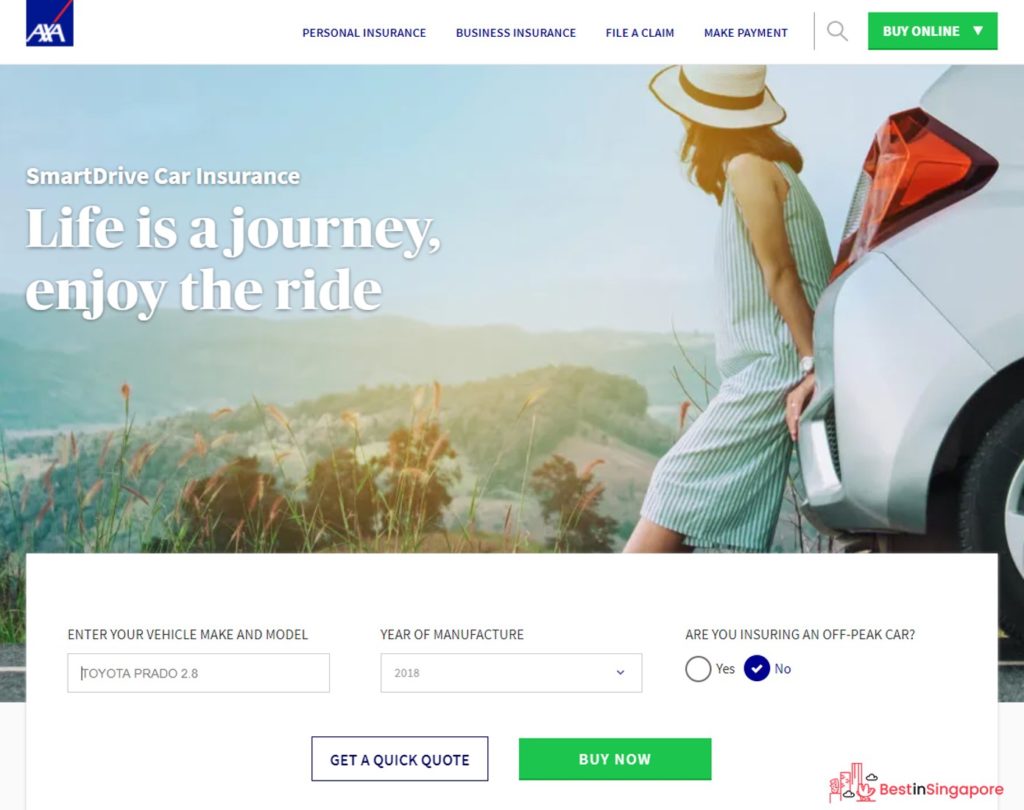 AXA Insurance is one of the most prominent names in the insurance industry—and for good reasons. In fact, we consider its SmartDrive Car Insurance plan to be the best car insurance in Singapore for personal cars.

Under the SmartDrive Car Insurance, you can choose from 7 different insurance policies to find one that's tailored most to your needs. Depending on the policy you choose, you can avail of features like medical coverage, 24/7 towing, flood protection, windscreen coverage, and much more.

If you want more flexibility, you can request for add-ons like Car Protector, insurance for your car accessories, excess waivers, and phone assistance and roadside support, among others. 

If you're having trouble picking out which add-ons to choose to maximize your plan, you can pick from their add-on packs, which include Duo Protector (suitable for couples), Family Protector (for families), Overseas Protector, and more.

Furthermore, you can have peace of mind while travelling abroad because the AXA SmartDrive Car Insurance covers Singapore, West Malaysia, and Thailand.

For quotations, you can access their online quotation form on the AXA website or contact their Customer Service hotline (1800 880 4888).

Alternatively, you can visit their Customer Service Centre (8 Shenton Way, #01-21/22 AXA Tower, Singapore).

 

Customer Reviews

AXA Insurance is one of the leading insurance companies in Singapore, having insured over 800,000 cars on the road to date. Take a look at this review by GoBear on why you should get their car insurance:

"AXA car insurance is suitable for people who want to have complete control over their car insurance policy. It is also a reputable brand name. If you are savvy about car insurance, you will be able to know how to customise to your liking."

 
3. FWD Insurance
Best Comprehensive Car Insurance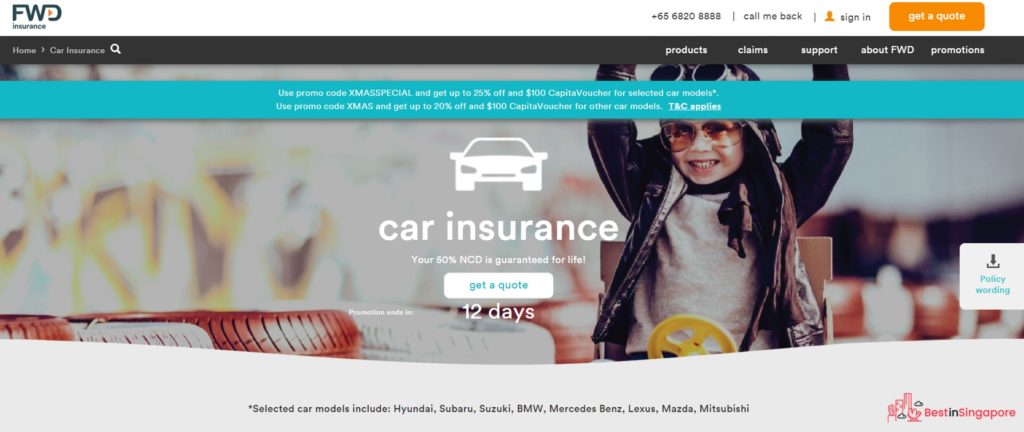 If you're a deliveryman or a private-hire driver, chances are you're highly dependent on your car for work. Being on the road for most of the day means that you're more at risk of being involved in vehicular accidents than the average car owner.

If you want to drive with no worries, you should FWD's Commercial Car Insurance. They have the best all-around car insurance in Singapore for commercial and personal cars.

They offer three car insurance plans—TPO, TPFT, and Comprehensive—all of which are customisable according to your needs and budget. Furthermore, FWD rewards its drivers for driving safely by offering a No Claims Discount (NCD) of 50%.

Some of the benefits their car insurance plans provide are 24-hour road assistance, customised excess, medical expenses coverage, and more. If you're using a commercial car, their Comprehensive plan comes with income protection to make sure that you will still earn money while your car is undergoing repair.

No need to worry about cross-country travels as your insurance policy covers you anywhere in Singapore, West Malaysia, and some parts of Thailand.

Their 24/7 assistance and convenient customer service has made them one of the best car insurance companies in Singapore for 2020.

For quotations, you can answer their online quotation form on the FWD website, or set up an over-the-phone appointment to the details.

 

Customer Reviews

Lots of car owners find that FWD offers truly comprehensive car insurance plans, giving them peace of mind while driving on the road. Here's GoBear's take on why FWD's car insurance plans offer great value:

"FWD's car insurance premiums are as not dirt cheap as a la carte plans, but the comprehensive plans offer value for money.

You get high levels of coverage bundled into the premiums, so it is easy to buy and understand. We love it that the language on FWD's website is crystal clear with no ambiguity too!"

 
 4. Aviva Insurance
Best Car Insurance for Young and/or Inexperienced Drivers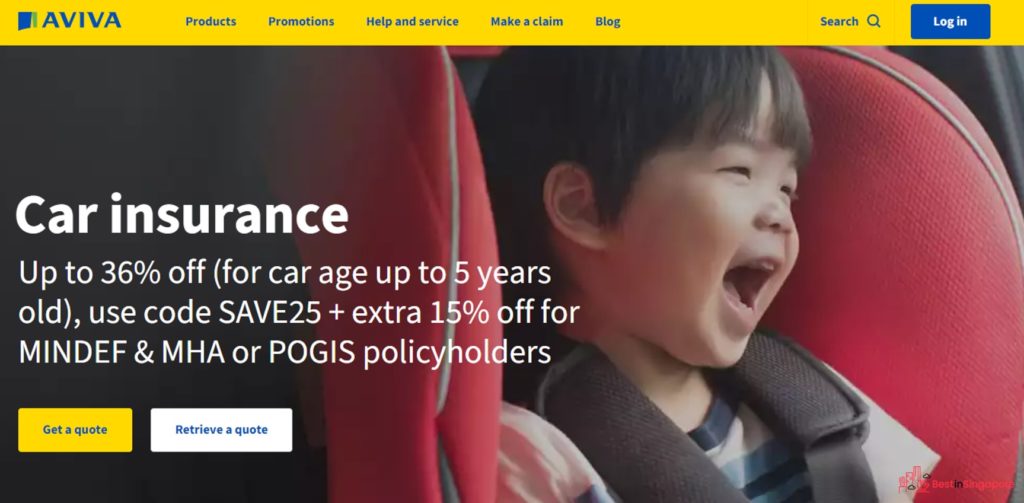 Aviva is also one of the most well-known insurance companies in Singapore, providing a range of services from travel insurance to home insurance. They also offer the best car insurance in Singapore for you and/or inexperienced drivers with new cars.

You can choose among their three insurance plans—Lite, Standard, and Prestige. While the most expensive plan, Prestige, has the most benefits, you're sure to benefit from car repairs coverage, brand new car replacement (for cars < 12 months old), additional excess S$2,500 for young and inexperienced drivers, coverage for medical expenses, and more, no matter which plan you choose.

If you need more benefits than your chosen insurance policy, you can also opt for add-ons such as No Claims Discounts, courtesy or temporary replacement cars, replacement locks and keys, and additional personal accident coverage.

Aviva Insurance often puts out promotions and discounts for new cars, new drivers, and even old cars. If you're currently an Aviva MINDEF/MHA policyholder, you can avail of discounted car insurance plans for you and your family members.

For quotations, you can fill out their online quotation form on the Aviva Insurance website, or contact their customer service hotline (+65 6827 9966).

 

Customer Reviews

Aviva offers great promotions and discounts when it comes to their car insurance plans. But even without those, Aviva's car insurance plans are worth every cent because of their convenient services and features.

Take a look what GoBear's review of their insurance offerings:

"Aviva car insurance may not be the cheapest on the market, it is one of the more comprehensive ones. If you can get promo codes or discounts to secure a cheaper premium, we think it's a great car insurance policy plan.

With the lowest penalty on NCD upon a car insurance claim, as well as the eCall Assistance and $0 excess for young and inexperienced drivers offered under the Prestige Plan make Aviva car insurance great for insuring family cars."

 
5. HL Assurance Car Protect360
Best Car Insurance for Safe or Experienced Drivers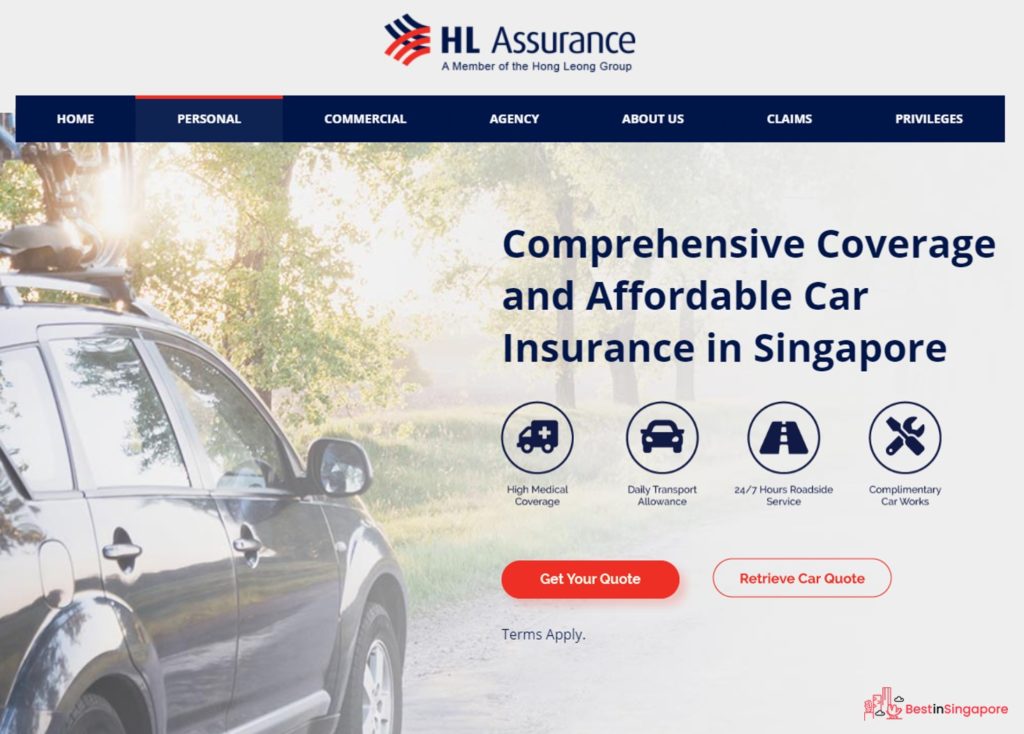 HL Assurance is another resounding name in the insurance industry, boasting a wide range of insurance options and a large presence in Asia, Europe, North America and Oceania. But aside from its reputation, it's also considered to provide the best car insurance in Singapore for safe and/or experienced drivers.

Although only offering one car insurance plan, you get loads of benefits such as daily transport allowance for repairs lasting 3 days, 24/7 roadside assistance, and medical expenses coverage of up to S$20,000 for you and your passengers. Plus, the plan covers damages to third party property for up to S$5 million.

Unlike other car insurance plans, HL Assurance's Car Protect360 doesn't allow you to customise your plan with add-ons. Instead, you get plenty of discounts and promotions such as complimentary car servicing and flexible workshop plans.

HL Assurance does its part in making the road a safer place by rewarding their policyholders with the best road performances with NCD discounts up to 57%. Take note, however, that you have to be at least 27 years old and no older than 65 years old to purchase their Car Protect360 plan.

 

 
6. Budget Direct
Best Car Insurance for Used COE Cars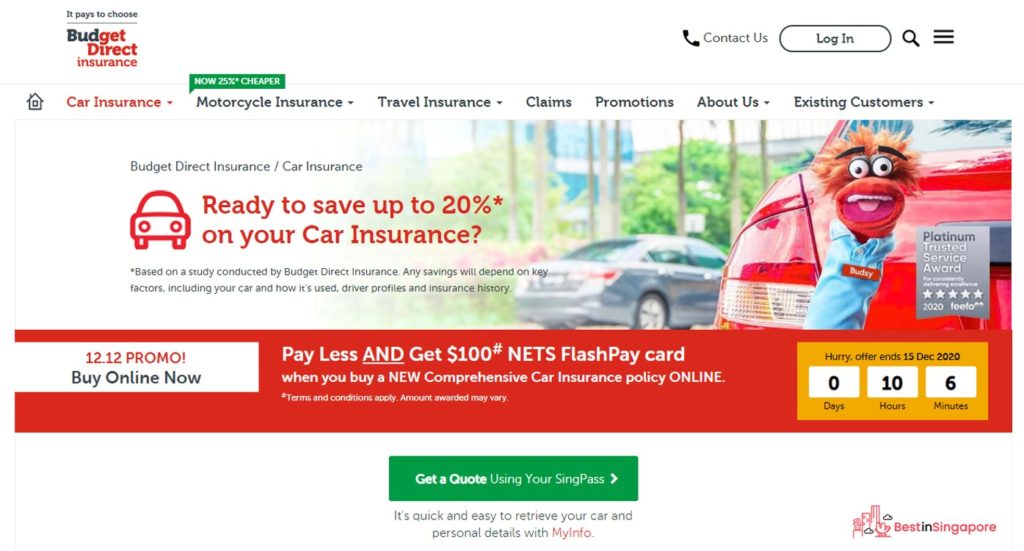 Their name says it all—if you're looking for cheap but quality car insurance plans, Budget Direct is your top choice. We believe that they're the best car insurance in Singapore for used COE cars.

They offer TPO, TPFT, and Comprehensive plans—all plans with an array of optional covers such as personal accident coverage, NCD protector, medical expenses coverage, 24-hr roadside assistance, coverage for car modifications and accessories, and much more.

You can further customise your plan by choosing between their two driver plans, Authorised Driver and Named Driver Plans. Budget Direct also makes sure that every dollar spent on your car insurance is maximised by tailoring your plan to your vehicle usage.

According to ValueChampion, Budget Direct offers the lowest insurance premiums in Singapore at S$429 per year. Aside from prices that can't be beat, Budget Direct covers COE cars up to 15 years old. 

 

For quotations, you can answer their online quotation form on the Budget Direct website. If you're a SingPass user, you'll have an easier time getting a quotation from them through MyInfo.

 

Customer Reviews

Despite offering the cheapest car insurance plans in Singapore, Budget Direct doesn't skimp out on providing quality customer services. They've even been awarded the Feefo Platinum Trusted Service Award.

Here's what their policyholders have to say about their experience with Budget Direct:

"Probably, I was fortunate to be entertained by this lady, Yu San who had explained every details on each clause especially on registering authorized drivers and the basic requirements of the policy. Moreover, the premium is unexpectedly cheaper compared to other companies."

"Very caring and efficient.  They called to politely inform me of my claim, and left me with their contact.  I like their thoughtfulness.

My workshop did all the claims without any issues, and my car was fully repaired a week later"

 
7. DirectAsia Insurance
Best Car Insurance for Families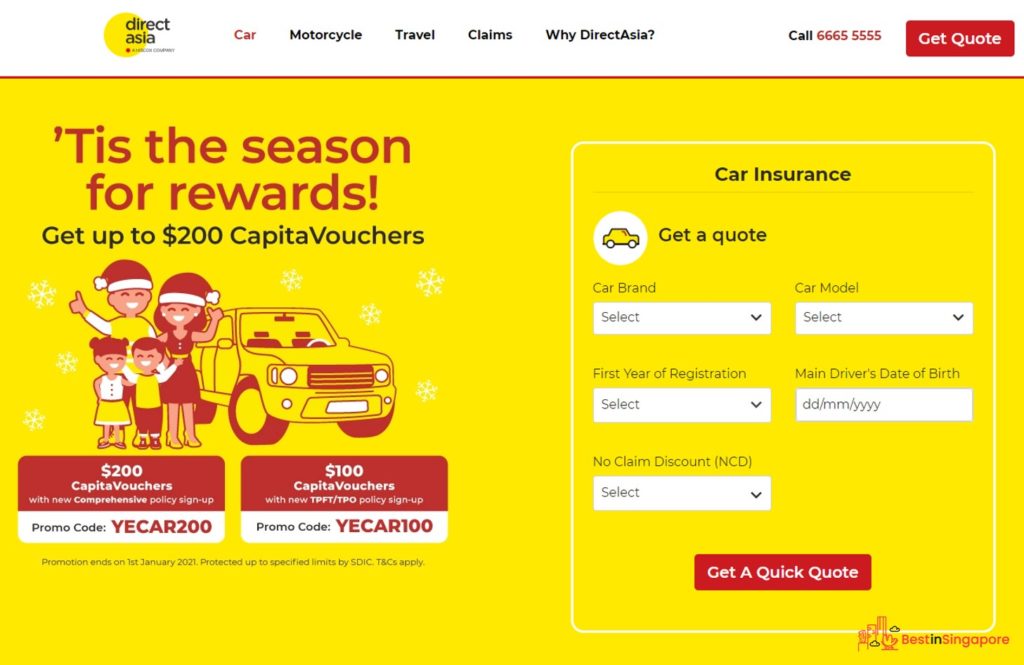 DirectAsia is a fairly new player in the insurance industry, having been established in 2010. But despite being new to the scene, they've proven to provide some of the best car insurance in Singapore.

They provide TPO, TPFT, and Comprehensive car insurance plans that can be fully customised with a range of add-ons, such as 24-hour breakdown assistance, repatriation costs coverage, medical expenses coverage, choice of workshop, and more.

DirectAsia also offers different driver plans along with your car insurance policy. These driver plans allow you to finetune your insurance policy more and make sure that authorized drivers driving the insured car will be properly covered—perfect for families sharing cars.

They also give their policyholders an incentive to drive safely on the road. If a policyholder has kept their 50% NCD for five consecutive years, they're rewarded 60% NCD and an extra 10% discount on their insurance premiums.

Aside from a wide range of insurance options and competitive pricing, they also have exceptional customer service with a customer satisfaction rating of 90%. In fact, they were awarded the Feefo Platinum Trusted Service Award for their high standard of service. 

 

 
8. Tokio Marine 
Best Car Insurance for Commercial Cars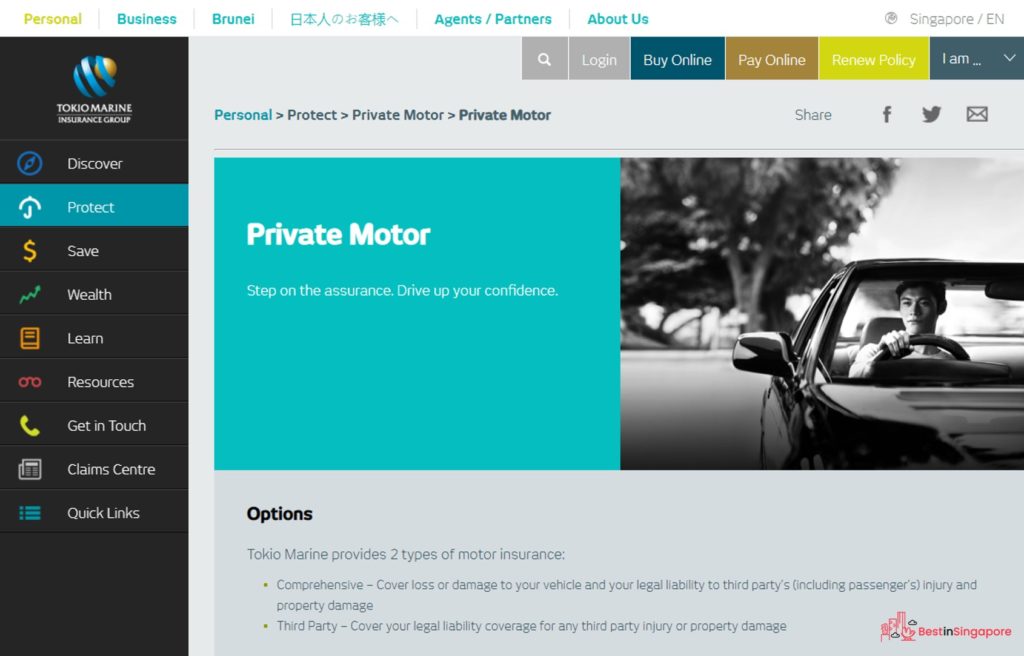 Since 1878, Tokio Marine has established its name as one of the most trusted insurance providers in 38 countries, including Singapore. They provide a range of insurance plans such as health insurance, travel insurance, home and family insurance, accident insurance, and the best car insurance in Singapore for commercial cars.

Like other car insurance companies, they offer three car insurance plans–TPO, TFPT, and Comprehensive. But unlike most companies, their Comprehensive plan allows you to include additional covers against floods and windstorms; and strikes riots and civil commotion.

Furthermore, you can also avail of unlimited windscreen cover (subject to applicable excess). You also get different benefits whether or not you choose to have any repairs done in their approved workshops or workshops of your choice.

Other benefits their insurance plans offer are 24-hour towing services, personal accident coverage (up to S$50,000), legal liability coverage, and medical expenses coverage of up to S$1,000 for every accident.

 

For quotations, you can answer their online enquiry form on the Tokio Marine website, or send them an email at [email protected]. You can also call their customer hotline (+65 6221 6111).

 

Customer Reviews

Tokio Marine's proven track record of great services and even greater insurance plans make them one of the top options for car insurance in Singapore. Here's a review on why GoBear thinks you should choose Tokio Marine for your car insurance:

"Tokio marine car insurance shields your vehicle against flood, windstorms, strike, riot and civil commotions. It has unlimited cover for windscreen amounting to $100 per claim. With Tokio Marine, car insurance is a simple and hassle-free affair. Comprehensive coverage ensures that you need not worry about your car — or its passengers — whenever you go for a business trip or family vacation."

 
9. SGP Car Insurance 
Best for Hassle-free Car Insurance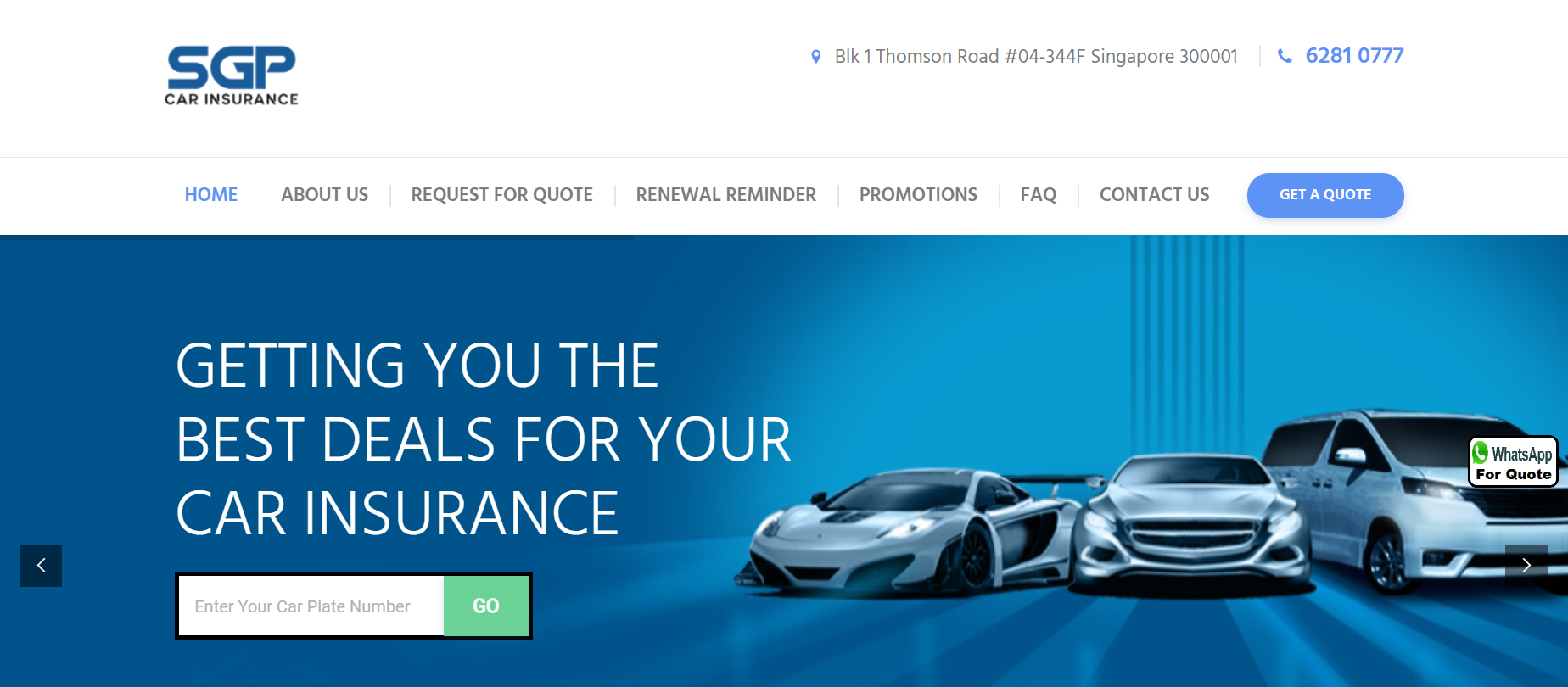 The best place to get a cheap and hassle-free car insurance is with SGP Car Insurance. They're one of Singapore's leading car insurance companies thanks to their partnerships with numerous car insurance providers and agencies.

The advantage to getting multiple quotations from numerous companies is that you'll be able to compare prices, which will help you get the most affordable rate for your car insurance. No matter the vehicle you're driving, you can rest assured that they'll be able to find the best rate for it.

Their years of experience ensure that you will receive professional services from them. If you're interested, feel free to contact them through their many lines of communication.