You'd think, with Singapore's efficient public transportation, car rental wouldn't be popular. However, since car ownership can be tedious and expensive, there's no shortage of people seeking the best car rental companies in Singapore.
There are many occasions when car rental may be called for on the island. Touring, special (group) events, transporting corporate guests, and the like… all are valid reasons for renting a car here.
Whatever your reason and whether you need short-term or long-term car rental in Singapore, we have the answer for you. In today's article, we've compiled a list of the best-reviewed and most-recommended car rental companies in Singapore.
COMPANY
LINK
RENTAL
RATES
CAR
TYPES
BUDGET CAR RENTAL
Lion City Rentals Pte Ltd
Website
From $55/Day
Sedan, SUV, Hybrid
Drive.SG
Website
From $50/Day
Hatchback, Hybrid, Sedan, Luxury Sedan, MPV, Sports, Stationwagon, SUV, Truck, Van, Wedding
Budget Car Rental
Website
From $58/Day
Sedan, SUV, MPV
LOCAL CAR RENTAL
AKA Car Rental
Website
From $60/Day
Sedan
Eazi Car Leasing
Website
From $55/Day
Sedan, SUV, MPV
Swee Seng Leasing
Website
From $60/Day
Sedan, SUV, MPV, Hatchback
Asia Express
Website
From $70/Day
Sedan, SUV
Horizon Automotive
Website
From $70/Day
Sedan, SUV/MPV, Van, Lorry
Ace Drive
Website
From $110/Day
Wedding, Luxury, Limousine, Corporate, Long Term, Budget, CNY, Expat
INTERNATIONAL CAR RENTAL
Avis Car Rental
Website
From $104/Day
Compact, Standard, SUV, Large SUV, Premium, Luxury, Premium MPV
Europcar Car Rental
Website
From $134/Day
Luxury, Vans, Compact
Quick Tips for Car Rental in Singapore
Of course, we want you to find the best deal for your needs. Even if these are the best car rental companies in Singapore, it doesn't hurt to know how to get the best deal from any of them.
So, before narrowing down your options, let's go over a few things to consider when renting a car in Singapore. This should help you make the most of your rental once you do pick a car rental company.
1. Weekends usually fetch lower rates.
Since people usually rent cars during weekends for out-of-town trips or the like, you'll notice a much lower rate for weekdays.
In addition, smaller car rental companies may not be able to assist you on weekends because they have a lean team.
2. Rates go up during peak seasons.
Peak periods for Singapore car rental services usually fall on public holidays and festive seasons, including CNY, Hari Raya, Deepavali, and Christmas. Long weekends can also increase demand for car rental.
That's because these are the times most people host out-of-town visitors or need cars to visit friends and family.
3. Some car rental companies only allow driving within Singapore.
If you're planning to drive to Malaysia, let them know because some cars are not cleared for entry in Malaysia.
There are also a few companies that charge additional fees for Malaysia entry. That said, you can still find companies that allow driving to Malaysia with no additional charge.
4. Not all companies rent out to probation drivers.
Not all companies rent out cars to drivers on probation – those with less than 1 year of driving experience or newly converted Singapore license.
If they do, companies will usually have a higher insurance excess (we'll explain what this is in the next tip). So, remember to read the fine print.
5. Insurance technicalities.
A comprehensive insurance covers any injuries sustained and damage to the car as well as to other people and property.
On the other hand, 3rd party insurance usually covers damage to the third party, if you are found to have caused the accident. Meanwhile, damage incurred by the rented car as well as any injuries you sustained will be your financial burden.
Another term you will encounter is Insurance Excess. This means the maximum amount you are liable to pay to the rental company in the event the car gets damaged or you get into an accident.
Meanwhile, a Collision Damage Waiver limits how much the company will charge for repairs.
Finally, a Security or Rental Deposit is an amount paid on top of the rental rate, in case any damage is incurred during the lease. This will be refundable at the end of the contract if the car is returned without any incident.
6. Do online research for rate comparison.
There are comparison websites that collate rental rates from various sites and services, so you'll know what rate to expect. You can check Carflexi, Drive.sg, and Skyscanner as examples of helpful sites to compare rates.
Car Rental Companies with the Cheapest Rates
1. Lion City Rentals Pte Ltd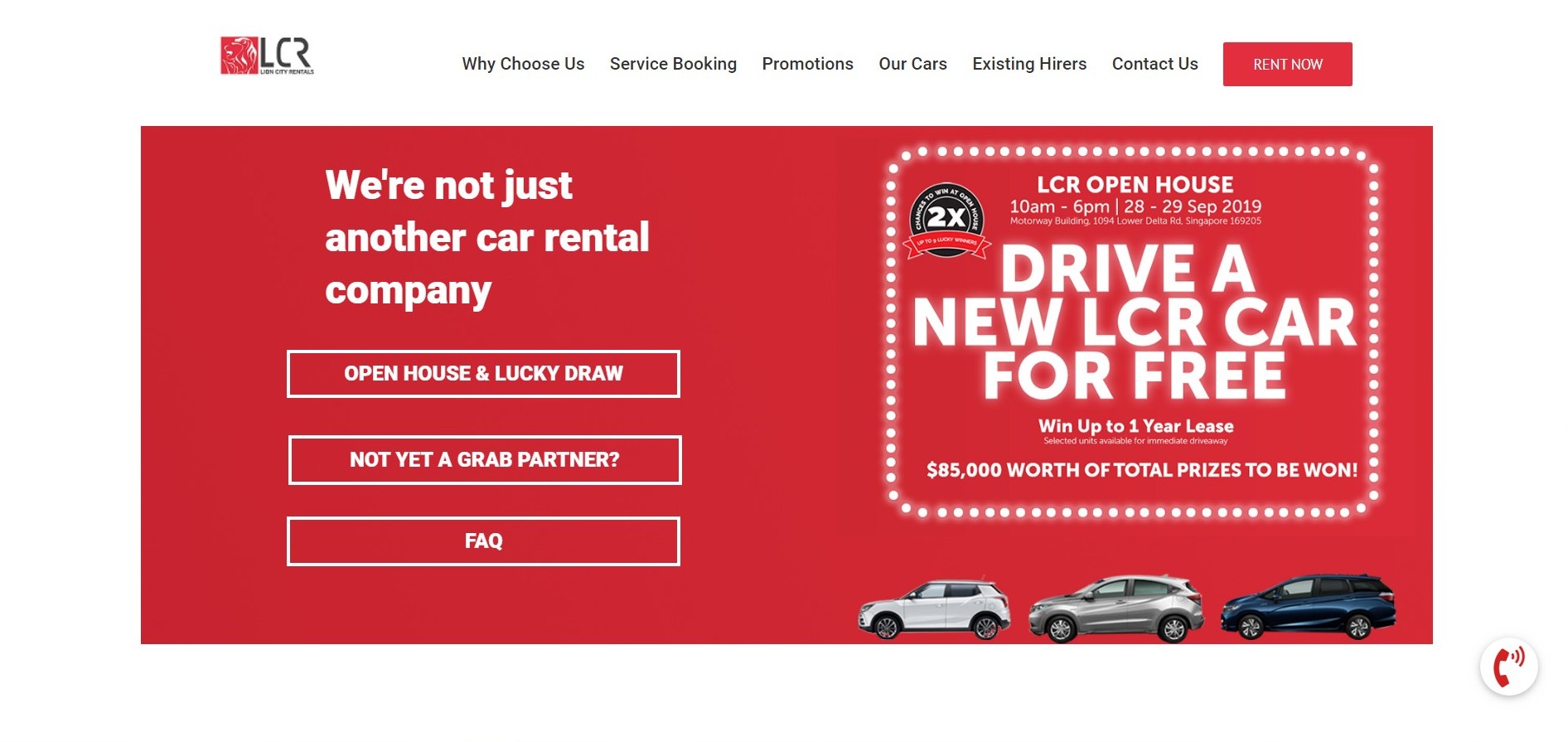 BEST FOR
Budget Car Rental
RENTAL RATE
From $55/Day
CAR TYPES
Sedan, SUV, Hybrid
SERVICES
Car Rental
WEBSITE
https://lioncityrentals.com.sg/
ADDRESS
60 Jalan Lam Huat
#04-01 Singapore 737869371 Beach Road
#02-55 City Gate Mall
Singapore 199597200 Jalan Sultan
#03-33 Singapore 199018
EMAIL
rentals@lioncityrentals.com.sg
PHONE
6252 5525
OPERATING HOURS
Monday to Friday: 9am – 6pm
Saturday/Sunday/Public Holiday: Closed
You can rent a car at Lion City Rentals for a minimum of one week with a refundable $100 deposit with your credit card.
For as low as $55 per day, they are one of the cheapest car rental companies around with decent reviews and a solid track record. They are also known for renting out their cars to Grab drivers.
Lion City Rentals was once Uber's wholly-owned rental subsidiary, but in 2019 they were fully acquired by WayDrive Holdings. The latter is a local joint venture between Motorway Group, one of Singapore's auto industry heavyweights and investment vehicle, Toh Motors.
What People Like
All-in-one service, repair and accident reporting centre. LCR has their own full-service car maintenance and repair facility. So, if you're renting a car for companies like Grab, then you'll spend less time waiting and more time earning money on the road.
Complimentary Shuttle Service. They have a free shuttle service to and from the nearest public transport hub at regular intervals throughout the day for your convenience.
Pay After Use. Instead of paying up front, you can rent a car and settle the bill after you're done.
Drive to Malaysia. They do allow you to drive their cars to Malaysia, but it will cost you extra.
What Customers Say
I am supposed to have the servicing done at 1.00 pm, however, I was around this area, I came in around 11.10 am, they manage to slot in for me, the counter staff is courteous and helpful, the servicing takes about 2 hours, good job guys..keep it up !!! 👍👍👍💪💪💪 – Lim Capnil via Google Reviews
Best rental service out there! Staff are really patient and willing to answer specific queries. Along with the cheap promotions, their service gives me a +1 for this great company. Definitely recommended for people out there. – Da Sheng Wong via Google Reviews
2. Drive.SG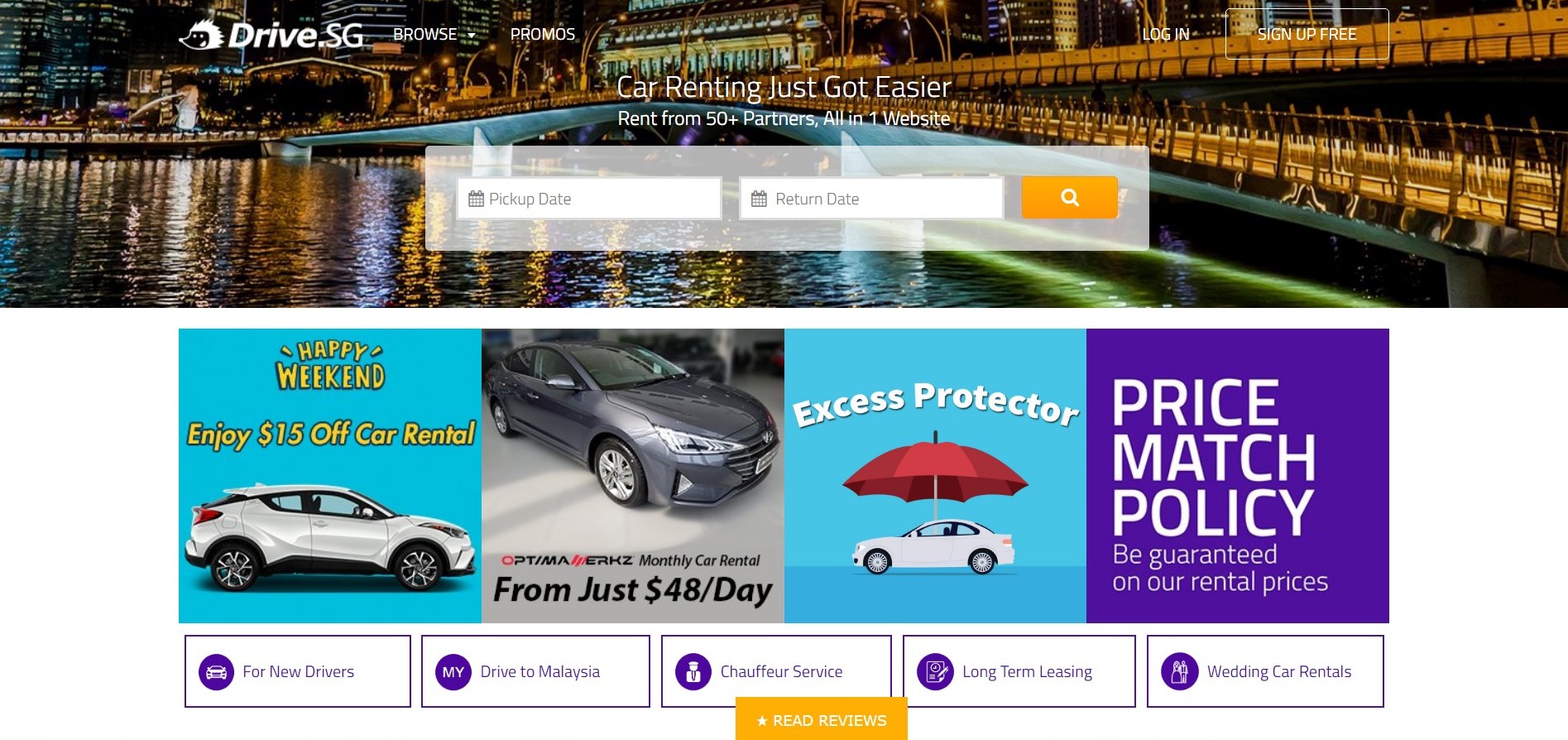 | | |
| --- | --- |
| BEST FOR | Car Rental Comparison |
| RENTAL RATE | From $50/Day |
| CAR TYPES | Hatchback, Hybrid, Sedan, Luxury Sedan, MPV, Sports, Stationwagon, SUV, Truck, Van, Wedding |
| SERVICES | Chauffeur, Long Term, Grab, Wedding, New Drivers, Supercar, Drive to Malaysia |
| WEBSITE | https://www.drive.sg/ |
| ADDRESS | – |
| EMAIL | – |
| PHONE | (+65) 6655-7701 |
| OPERATING HOURS | Weekdays 10am to 7pm |
Drive.SG is actually a comparison website where you can check rates for a specific car with your specified timeframe from over 50 different car rental companies in Singapore. This way, you can find the most value for your money.
What People Like
Wide range of options. Because Drive.SG works with various car rental companies, you'll find varying rates for different car types, from sedans to SUVs and luxury cars
Drive to Malaysia. You can filter your preferences to find the most suitable deal, including cars for driving to Malaysia. Some of them will have no additional cost, while others will charge extra. So, make sure your read all details or call the company hotline before booking.
Convenient pickup locations. If you're concerned about convenience in picking up and dropping off the car, then you can easily check from the many options available.
What Customers Say
Booking of vehicles had been a seamless process from the booking from the website to driving the car. The system is reliable and the staff had been helpful with my enquiries. The cars provided were 9/10. Good condition and the prices are much cheaper. – Ryan Tan via Google Reviews
Best service providers for personal use – Shiva Mass via Google Reviews
3. Budget Car Rental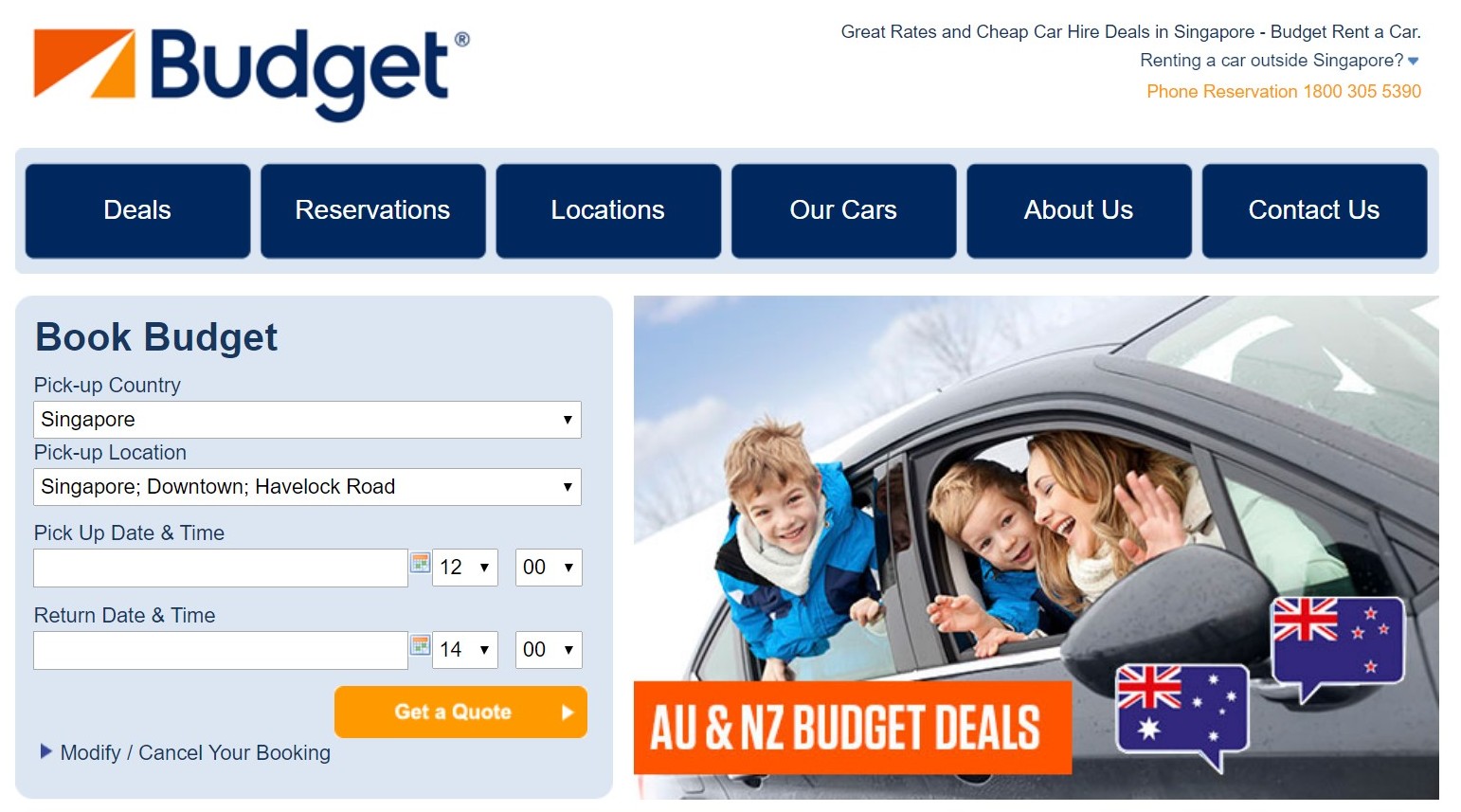 BEST FOR
Value for Money, Family-Friendly Cars
RENTAL RATE
From $58/Day
CAR TYPES
Sedan, SUV, MPV
SERVICES
Car Rental
WEBSITE
https://www.budget.com.sg/
ADDRESS
390A Havelock Road
#01-07 Waterfront Plaza
Singapore 169664
EMAIL
PHONE
1800 305 5390 (Toll Free in Singapore)
(65) 6305 5390 (Outside Singapore)
OPERATING HOURS
Monday to Friday: 9:00am – 5:00pm
Saturday & Sunday: 9:00am – 1:00pm
Public Holidays: ClosedPhone Reservations Office Hours
Monday to Friday: 8:00am to 6:00pm
Saturday: 9:00am – 1:00pm
Budget Car Rental not only provides cheap car rates, they're also pretty convenient, with numerous locations for pick up and drop off around Singapore.
They have a huge range of cars, 4WDs, and sports models, so you'll definitely find the perfect vehicle for your budget.
What People Like
Smoke-free cars. This family-friendly car rental company does not allow smoking inside the car, so it's healthier for passengers of all ages.
Kid-friendly. Since they target groups and families, you can request child restraints, if needed.
Large fleet.
Numerous areas for pickup and dropoff.
What Customers Say
Had the experience of renting a Mazda 3 for a weekend before Chinese New Year. Received a really new car (approximately 3 years old). Loved how it happened to come with a sun roof. Fast service and incident-free rental. – Corinne Sim via Google Reviews
4. Island Car Rental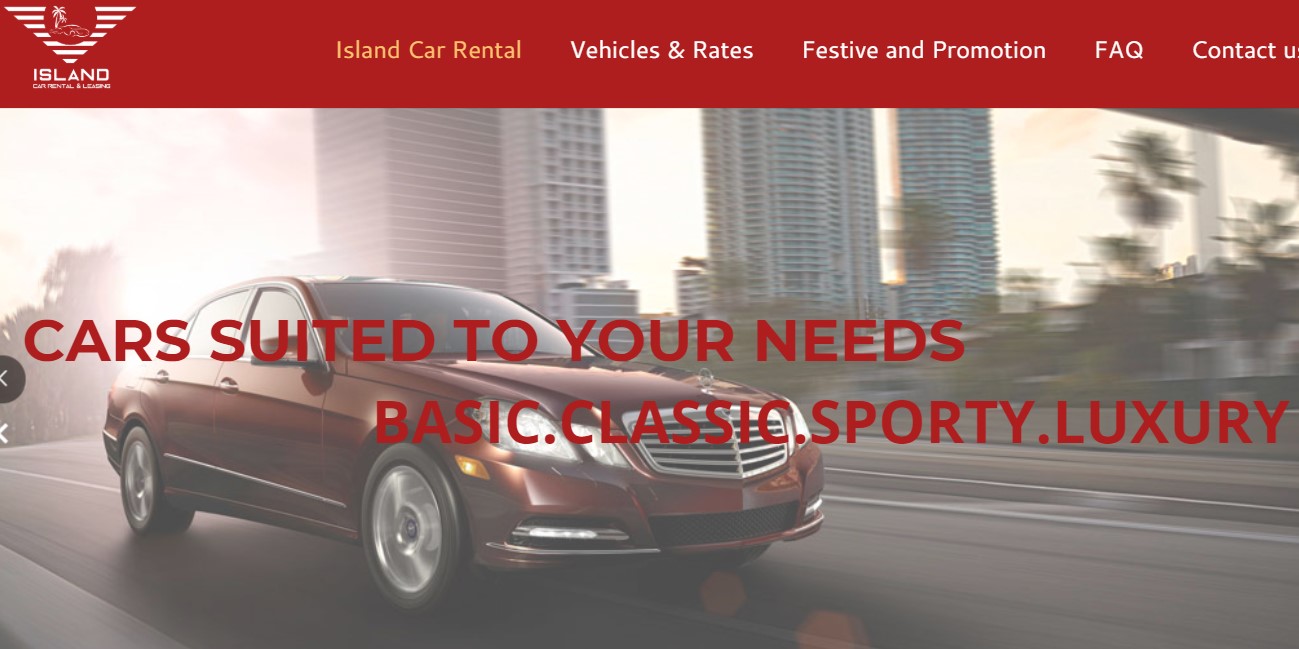 BEST FOR
4.9-Rating out of 100+ Facebook Reviews
RENTAL RATE
Check rates here: http://islandcarental.com/vehicles-rates/
CAR TYPES
Hatchback, Sedan, SUV, MPV, Coupe, Luxury
SERVICES
Car Rental and Leasing
WEBSITE
http://islandcarental.com/
ADDRESS
Blk 859A Woodlands Street 83 Singapore 731859 Carpark Deck 4B
EMAIL
carrentalleasing@gmail.com
PHONE
Islandcar:
+65 9859 4496
+65 9859 4785
+65 9027 7786Haig Road:
+65 9220 8786
+65 9091 2126Emergency & Breakdown Services:
+65 90277786
+65 98594496
+65 92208786
OPERATING HOURS
Operating Hour:
10AM – 10PM Everyday ( Mon- Sun)
Island Car Rental has been around since 2015. It has vastly improved the quality of car rental experiences by providing value-added professional services to renters.
Started with a branch at Woodlands, they have since expanded to 3 branches across the Island at Yishun and Paya Lebar.
What People Like
60+ Cars for Rent
10,000 customers served
Flexible hours
Affordable prices
What Customers Say
I recently bought Honda Fit from Sharuk Riza, such a wonderful person, very friendly. I started with renting car from him but soon we bought a car from him and made a good relationship with him. Confirm cannot see a company like Island car rental in Singapore. They service, flexibilities…. Highly recommended company. Thank you Sharuk. – Asha Parthivan via Facebook Reviews
5. Car Leasing Exclusive Limo & Car Rentals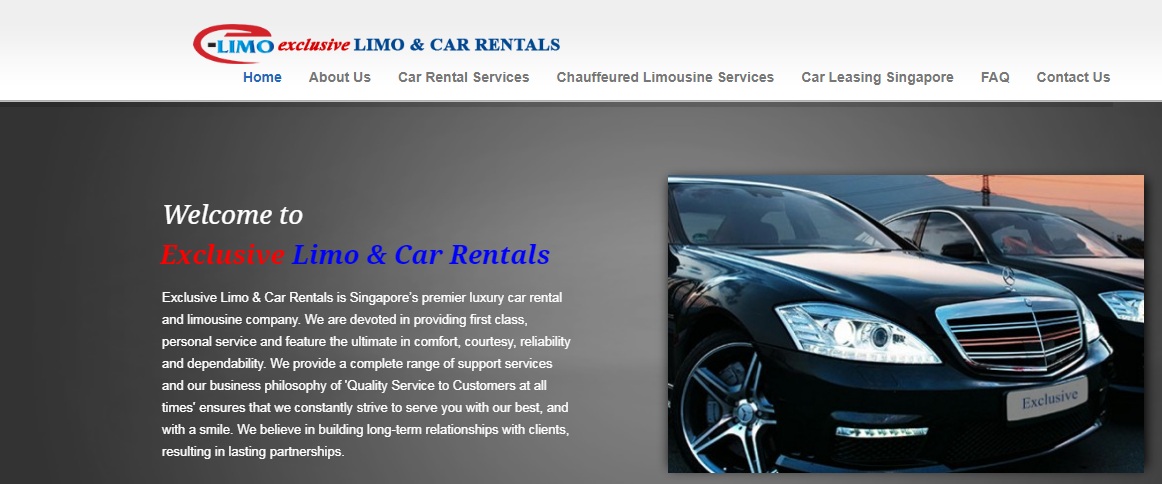 | | |
| --- | --- |
| BEST FOR | Limousine rentals or service |
| RENTAL RATE | Rate is based on daily use (minimum period: 1 day) |
| CAR TYPE | Limousine, SUV, MPV |
| SERVICES | Car Rental, Chauffeured Limousine service, Driver service |
| WEBSITE | https://www.exclusivelimo.com.sg |
| ADDRESS | 435 Orchard Road, 11 Floor, Wisma Atria, Singapore 238877 |
| EMAIL | johnny@exclusivelimo.com.sg |
| PHONE | +(65) 62850020 |
| OPERATING HOURS | Open 24 hours/ Opens daily |
For those who want to experience a lavish lifestyle, you can book a Limousine in Car Leasing Exclusive Limo & Car Rentals. They specialize in providing first class service to their clients. The company uses premium cars and luxury cars so you can try it on your own. 
If you don't want to drive personally, you can also hire a driver to accompany you. Rest assured that their staff are friendly and safe driver.
What People Like
NO ADDITIONAL CHARGES.

Customers praised the company because of its fixed rates. This means that you will pay what you expect to pay for the car that you want to rent. There are no extra charges or additional pay of such. 
CAN BE USED IN MALAYSIA.

If you want to go to Malaysia, then you're free to do so. This is for the reason that you can use the car even in Malaysia. It's a great relief because you won't have to find for a new car rental if you're going from Singapore to Malaysia. 
OPENS 24 HOURS.

Because the company values their clients, their shop is open 24 hours. Further, they operates from Monday to Sunday. That being said, you can always rely on them whenever you will need a car to rent. 
What Customers Say
The company takes pride on providing good service to their clients. Here's a feedback on one of their satisfied customers:
Rented a car for a couple of months now. Car in great shape and rental cost within my Budget. Hard to find a good car rental company but Glad I found them. – Brian Taylor
Best Local Car Rental Companies in Singapore
1. AKA Car Rental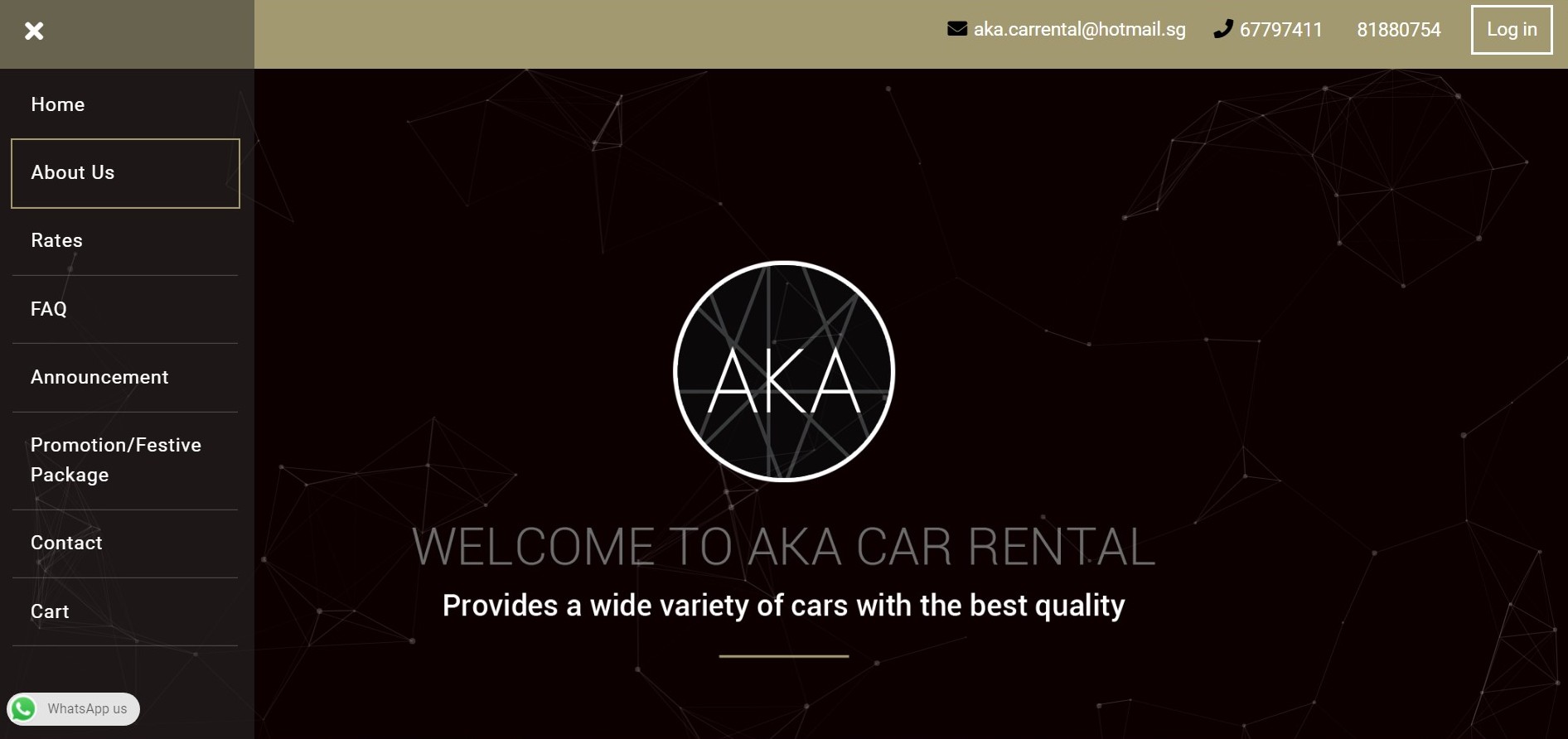 BEST FOR
P-Plate Drivers
RENTAL RATE
From $60/Day
CAR TYPES
Sedan
SERVICES
Car Rental
WEBSITE
https://akacarrentalsg.com.sg
ADDRESS
East Branch: 25 Kaki Bukit Road 4 #05-36/37, Synergy @ KB, Singapore 417800

West Branch: 1 Commonwealth Lane #02-05, One Commonwealth, Singapore 149544

EMAIL
aka.carrental@hotmail.sg
PHONE
81880754
AKA Car Rental is one of the few companies in Singapore providing rental and leasing services to P-plate drivers and customers below 21 years old.
They pledge to provide an affordable and hassle-free service for their customers. They also have a wide selection of reliable sedans available for rent and lease in Singapore.
Plus, with their competitive rates, you can get value for money even as a probation driver.
What People Like
Reliable cars for P-plate drivers. They provide rental & leasing services to P-plate drivers and any individual between age 18 – 65 years with an official Singapore driving license.
No deposit required. No need to shell out money before using the rental car.
Proper insurance. Insurance coverage is for all customers, including drivers & customers below 21 years old.
Many car options. You can choose from a wide selection of well-maintained vehicles available.
Budget-friendly rate. They offer cars for rent at affordable rates with tailored packages to suit any customer's needs.
Convenient locations. They have branches in the east (Kaki Bukit) and West (Commonwealth) for convenient pick-up and drop off.
Safe and reliable vehicles. They conduct safety checks and wash and vacuum the vehicle before handing it over to the customer.
24-hour assistance. In case of any untoward incident, they have 24-hour roadside assistance and recovery service as well as a 24-hour accident service.
Earn points for loyalty. Their membership program rewards points that you can swap for discounts. They offer lifetime membership with no subscription and no recurring fee.
What Customers Say
excellent service with detailed explanation for a first timer! will recommend aka car rental! good service and promptly providing me details for my condo parking – Jim Tan via Google Reviews
Rent a car from them. A very good customer service, 1 of the most cheap car rental I ever rent. Good job guys. – Chieng Bing Nan via Google Reviews
2. Eazi Car Leasing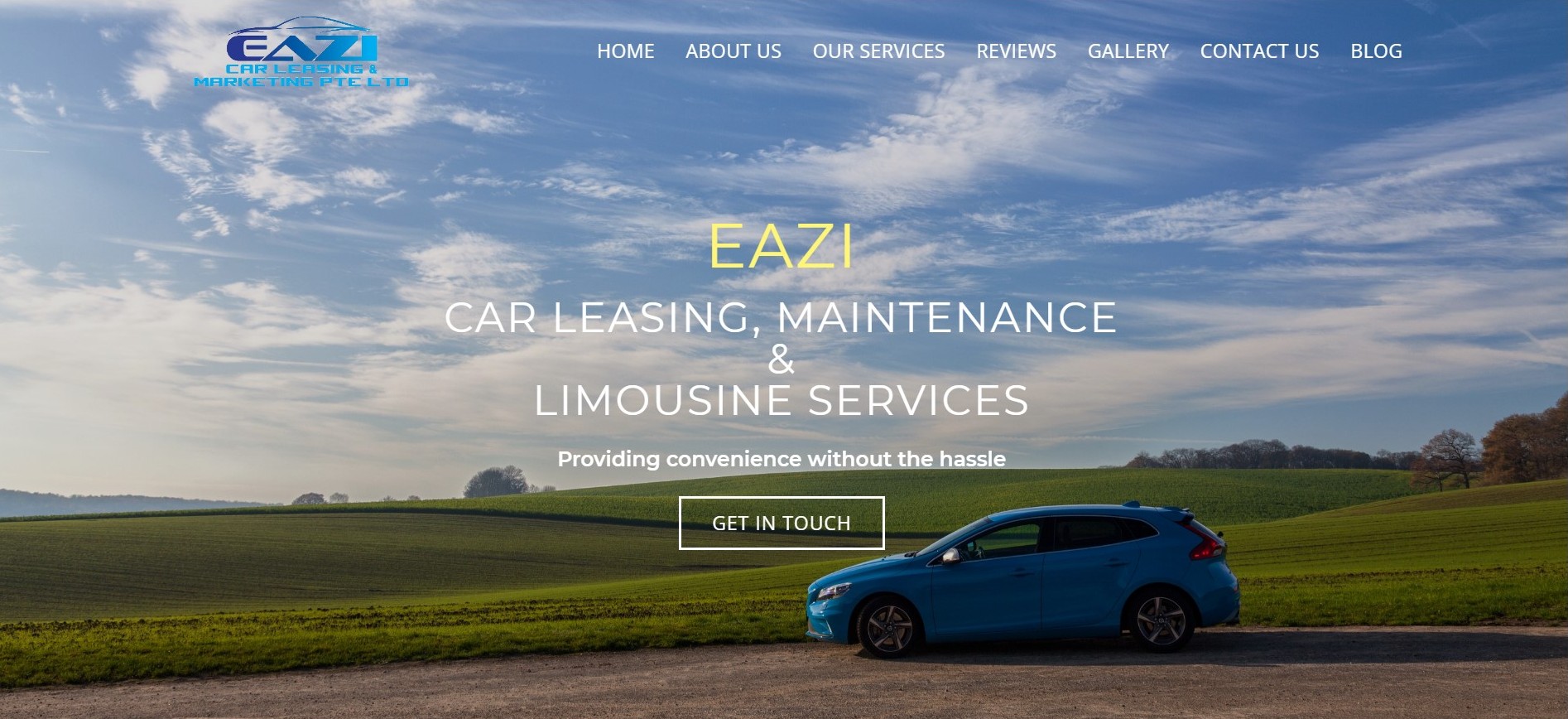 BEST FOR
One-Stop Shop for Car-Related Services
RENTAL RATE
From $55/Day
CAR TYPES
Sedan, SUV, MPV
SERVICES
Car Rental, Servicing & Repair, Accident Claim, Limousine Services
WEBSITE
http://eazicarlease.com.sg/
ADDRESS
Eazi Car Leasing & Marketing Pte Ltd
1 Bukit Batok Crescent, WCEGA Plaza, #02-43 Singapore 658064
EMAIL
ASK@eazicarlease.com.sg
PHONE
(65) 6684 0762 / (65) 6684 0763 / (65) 6684 0767
OPERATING HOURS
Monday to Friday: 10am – 7pm
Saturday: 10am – 2pm
Sunday and Public Holidays : We are closed
Eazi Car Leasing provides an affordable alternative to car ownership with their wide range of sedans, SUVs, and MPVs.
Since being established in August 2007, they have expanded their business to include limousine services, car servicing and maintenance, car workshop and repair, and assisting clients in accidents claims.
What People Like
Holiday promotions. Since holidays are typically peak periods for car rental companies in Singapore, their holiday promotions are welcome deals for discounts and convenient packages.
Drive to Malaysia. Their cars can be driven to Malaysia for an additional charge.
Convenient delivery and pickup options.
What Customers Say
Booked three cars here through drive.sg, very nice experience. The cars were clean, the price was honest ($55 with no hidden fees, GST already included), owners were nice and let me pay by NETS instead of cash for the deposit. Once I forgot my phone mount inside and they found it, kept it for me and let me take it next time! Super nice experience, will recommend. – Ignis Incendio via Google Reviews
Rented a Honda Odessey for long weekend Malaysia, Ipoh trip. Car was clean and in good condition. Taking and delivering the car was quick. Prices are slightly higher than other competitors in the market. Dan was pretty helpful in the whole process. – Sumit S via Google Reviews
3. Swee Seng Leasing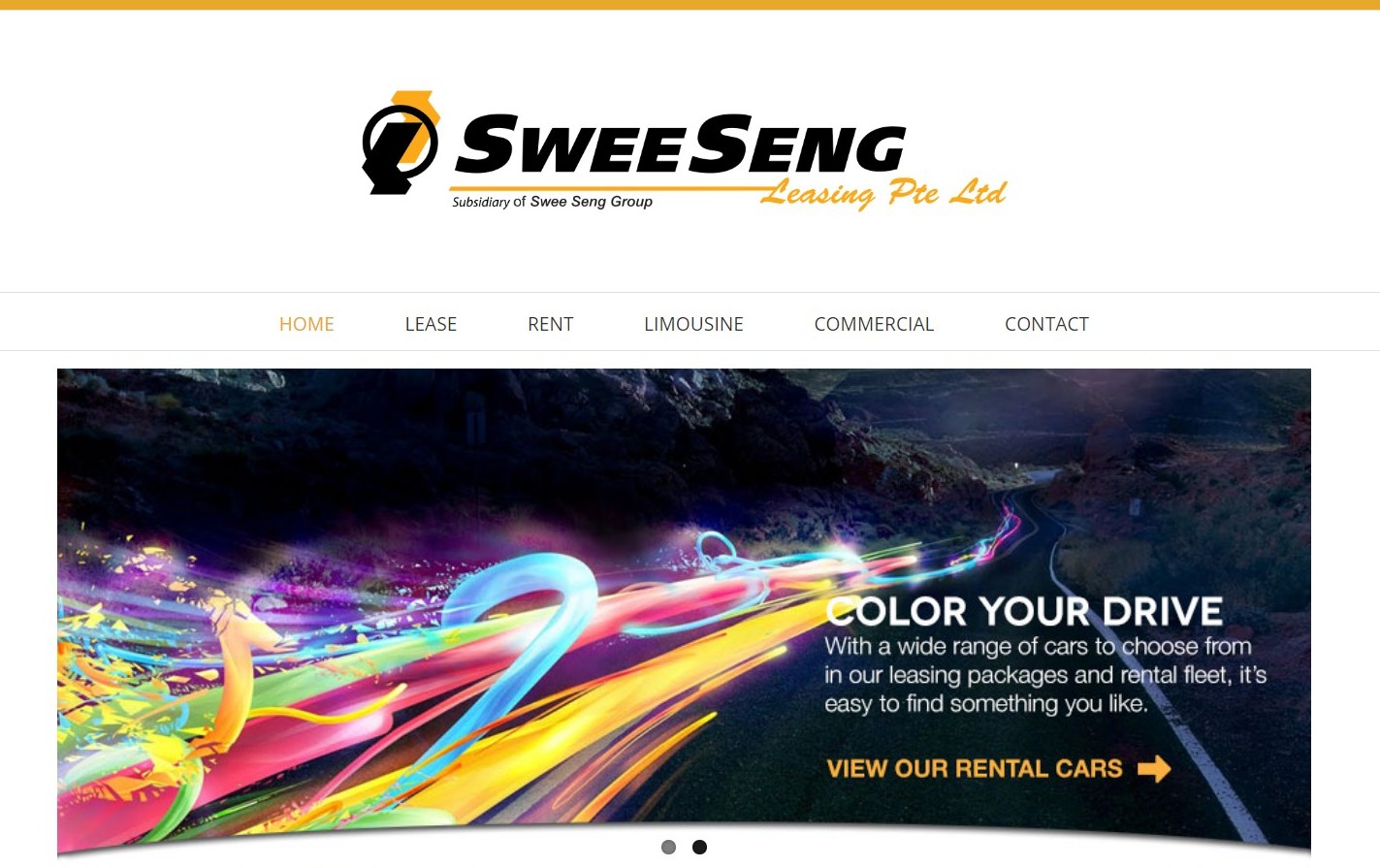 BEST FOR
Large Fleet
RENTAL RATE
From $60/Day
CAR TYPES
Sedan, SUV, MPV, Hatchback
SERVICES
Lease, Rent, Limousine, Commercial
WEBSITE
http://www.sweesengleasing.com/
ADDRESS
21 Toh Guan Road East
#03-02 Toh Guan Centre
Singapore 608609
EMAIL
leasing@ssgroup.sg
PHONE
+65 6567 3808
OPERATING HOURS
Sales:
Mon – Fri, 9am – 6pm
Admin:
Mon – Fri, 9am – 6pm
Swee Seng Leasing is part of the Swee Seng Group, which is a one-stop shop for your vehicular needs.
Swee Seng Leasing targets families and groups, which are better shuttled from place to place through a rented car rather than ferried through public transportation. The latter can make keeping track of everyone difficult, after all.
Fortunately, this local car rental service in Singapore has a large fleet, from compact cars to SUVs that can fit your entire family.
What People Like
Large fleet. Whether you need a car for solo trips, a group excursion, or a family gathering, you'll find the perfect vehicle in their selection.
Family friendly. Bound by local values and professionalism, you can rest easy knowing your family is safe in well-maintained vehicles.
What Customers Say
Friendly staff. Nice clean ride… Superb service. – Kelvin Tan via Google Reviews
We're very satisfied with the customer service we received from Mitchell from day 1. He is very patient and accommodating with all our questions; he will proactively provide tips and advice; and he also helped tremendously for us to get the best car and best deal he could secure. Mitchell really went over and beyond our expectations. As you can see, he even went to office despite being off-duty today just to give us our car! Truly, Mitchell's service is "best in class". Now you know who to look for, for all your car needs.. – Dex Jizmundo Jr via Facebook
4. Asia Express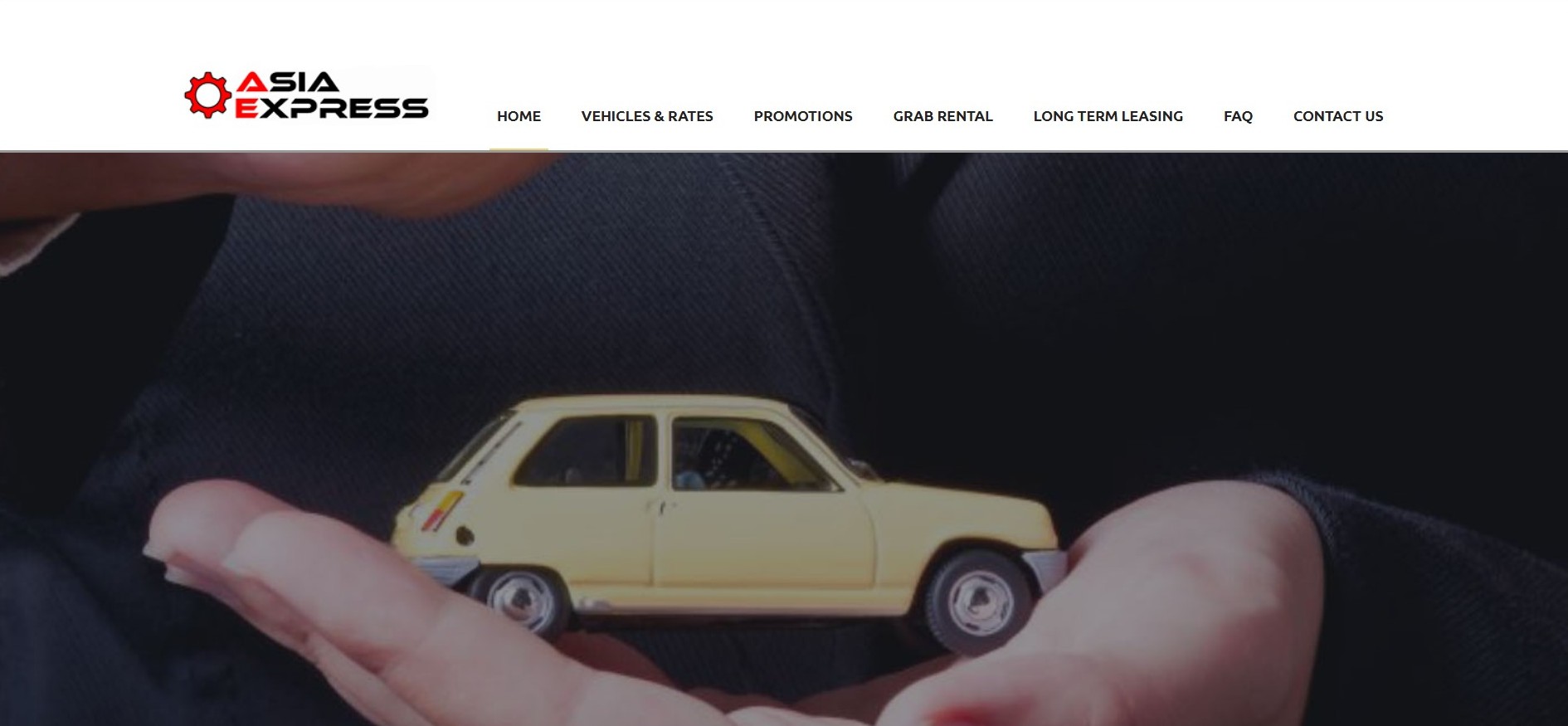 BEST FOR
Long-Term Car Rental
RENTAL RATE
From $70/Day
CAR TYPES
Sedan, SUV
SERVICES
Grab Rental, Long Term
WEBSITE
https://www.expresscar.com.sg/
ADDRESS
82 Geylang Lorong 23
#03-06 Atrix, Singapore 388409
EMAIL
cheewee@expresscar.com.sg
PHONE
(+65) 6842-4992
Established in 2005, Asia Express Car Rental Singapore is committed to being a hassle-free and affordable car rental service to valued customers. As a budget car rental company in Singapore, this is ideal for long-term car rental.
For instance, if you need a reliable car for work or for commercial purposes. Rest assured, their fleet of cars are meticulously maintained and inspected regularly by their team to ensure safety and optimal performance.
Plus, their wide range of cars come fully equipped with the necessities, including CD players and cool air conditioning for your comfort.
What People Like
Great selection of cars. Ride in style with their many choices of sedans and SUVs.
Convenient car pick-ups. They have multiple locations to make it easier for you to pick up and drop off your rented car.
Round-the-clock service. With their 24-hour emergency breakdown service at no extra cost, you can be at ease driving your rented vehicle.
What Customers Say
Saw many reviews on this company and decided to give it a try. Picked up a Honda Stream from the Aljunied branch to drive into Malaysia. Overall car condition was good and clean though petrol consumption was abit high. Pricing was acceptable and pick up location is convenient. – Morellino Scansano via Google Reviews
Reasonable rate and car provided was good. Pickup is convenient, close to Aljunied MRT. Only thing is, they request that you wash and vacuum car before returning. Never have such request from other rental companies..- JJ via Google Reviews
5. Horizon Automotive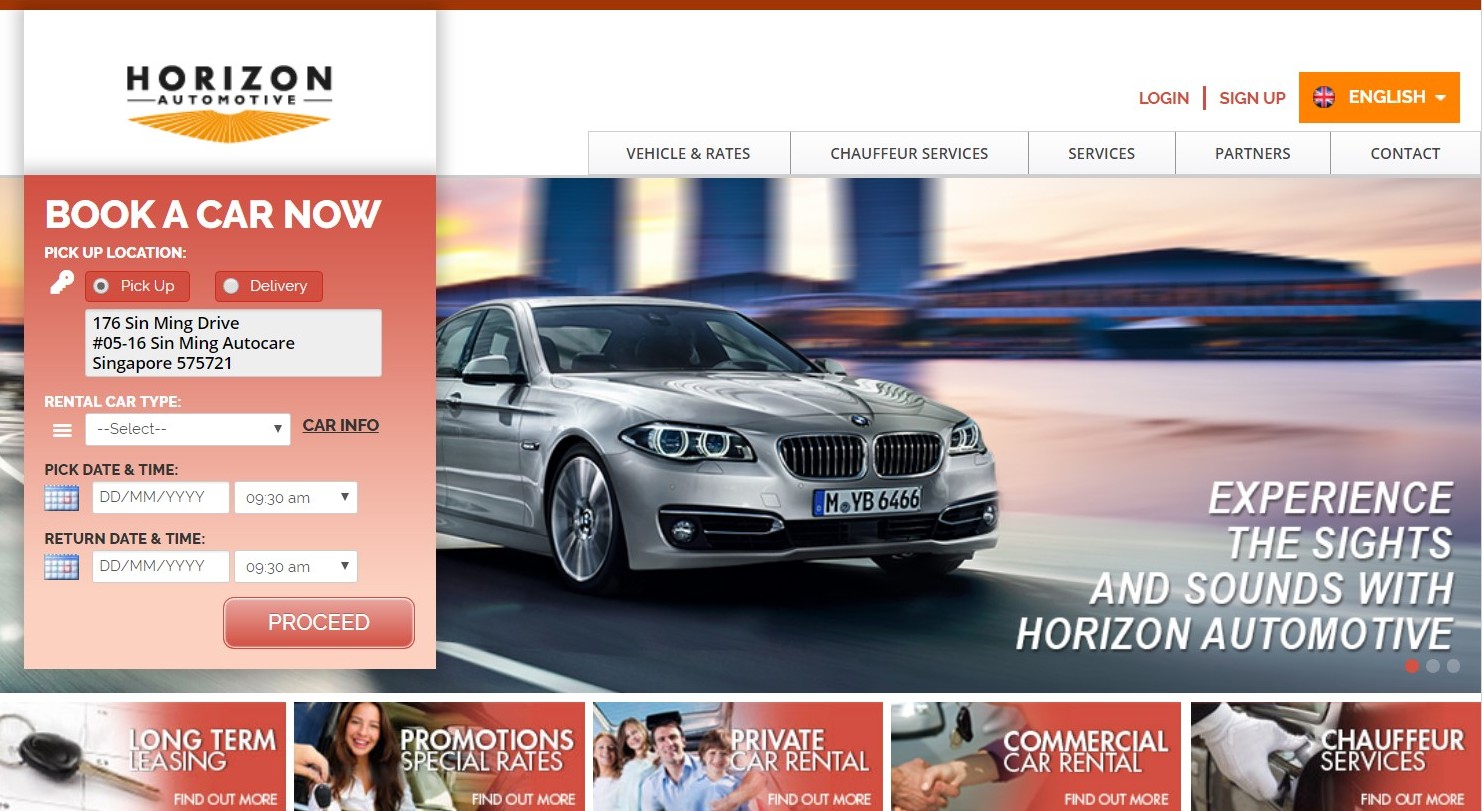 BEST FOR
Commercial Vehicle Rental
RENTAL RATE
From $70/Day
CAR TYPES
Sedan, SUV/MPV, Van, Lorry
SERVICES
Leasing & Short-Term Rental, Vehicle Sales (New & Used), Car Sharing Program, Transfer Assignments, Fleet Maintenance & Integration, Motor Financing & Insurance Facilities, Quality Workshop Services, Chauffeur Services
WEBSITE
http://www.horizon-automotive.com/index.php
ADDRESS
176 Sin Ming Drive #05-16
Sin Ming Autocare, Singapore 575721
EMAIL
rental@horizon-automotive.com
PHONE
(65) 6453 0100
Horizon Automotive provides leasing and short-term car rental for Singaporeans. Their vehicles range from economical to luxurious cars.
You can also lease or rent vans (small to big), pick-ups, and even 10ft lorries and 14ft lorries. The nice thing about their vehicles is that the average fleet age is about 3 years old.
In other words, this young fleet will be safe and reliable for your transportation needs.
What People Like
24-hour service. Customers are their topmost priority, so they are reachable 24 hours a day for any concern.
Young fleet. 3 years is the average age of their vehicles, so you can expect to rent a vehicle in tip-top shape.
No worries about breaking down. Their vehicles are backed by their own subsidiary workshop, so don't worry about vehicles breaking down.
What Customers Say
Very good service. Car conditions are good. – Teo Yizhi via Google Reviews
Pick up of car is smooth and quick. the car was in good condition. would totally recommend this co. for those who are looking ard to rent car. – PierreSu via SGCarMart
6. MyCarRental Pte Ltd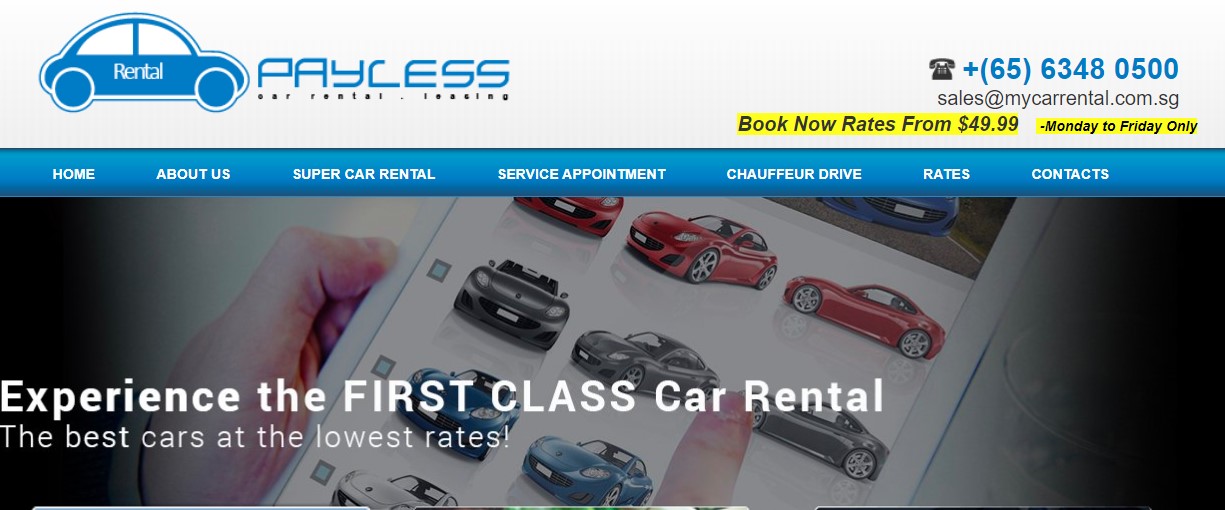 BEST FOR
Hybrid and Electric Car Rental Pioneers
RENTAL RATE
Starts at SG$1380 per month
CAR TYPES
Contact for more information
SERVICES
Rental, Leasing, Chaffeur Drive
WEBSITE
https://www.mycarrental.com.sg/
ADDRESS
50 East Coast Road #02-68. Roxy Square Shopping Centre
Singapore (428 769)
EMAIL
sales@mycarrental.com.sg
PHONE
Tel:+(65) 6348 0500
Fax:+(65) 6440 1275
OPERATING HOURS
24 hours
MyCarRental Pte Ltd-MCR, formally known as the Payless Group, is one of the most respected automobile rental and leasing companies in Singapore.
They have no less than 15 years of experience. They were the first in Singapore to introduce Hybrid and Electrics cars on rental in 2006.
Their Full Service Leasing Program is available not just for brand-new vehicles but also for pre-owned vehicles.
Brand-new vehicles can be leased for 18 to 120 months depending on your requirement. Pre-owned vehicle selection can be leased from 12 months to 24 months.
What People Like
Comprehensive insurance.
Road tax and radio license fees.
Full maintenance service.
24-hour delegated customer service and road assistance service. This is for Singapore and West Malaysia* additional fees apply*.
Tire and battery replacement for fair wear and tear.
Replacement vehicle. Replacement vehicles are provided during scheduled maintenance periods and repair.
On location motorcar pick-up and exchange service. This applies to all servicing and repair needs and in the event of an accident.
Excess or liability reduction cover available with minimal costs.
West Malaysia usage.
Unlimited mileage.
Personal Accident Insurance (PAI).
Call In As You Like (CIAUL). The company promises to beat any competition in emergency response by responding within 1 hour.
7. Ace Drive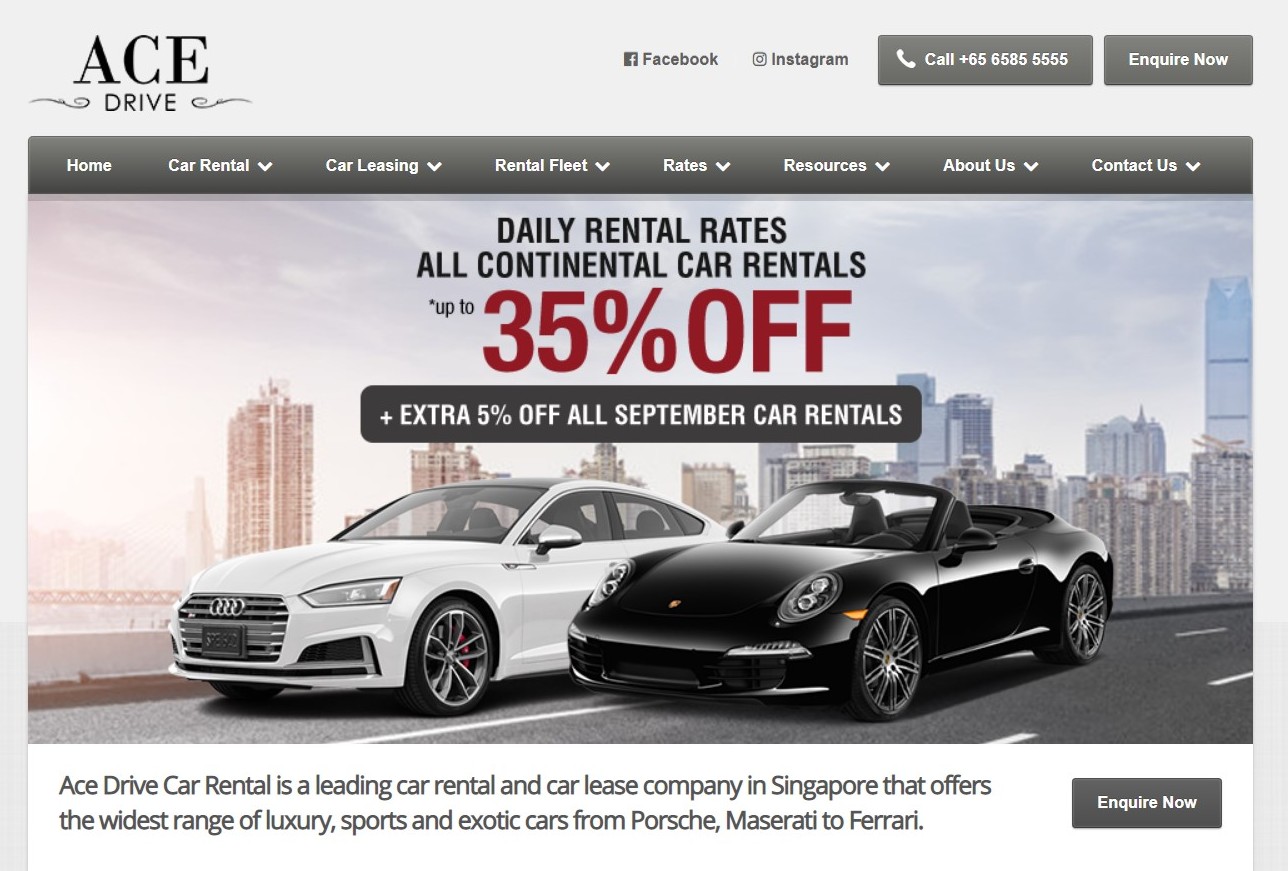 BEST FOR
Exotic & Luxury Sports Cars
RENTAL RATE
From $110/Day
CAR TYPES
Wedding, Luxury, Limousine, Corporate, Long Term, Budget, CNY, Expat
SERVICES
Rental, Leasing, Fleet
WEBSITE
https://www.acedrive.sg/
ADDRESS
50 Ubi Ave 3, #05-06
Frontier Building, Singapore 408866
EMAIL
info@acedrive.sg
PHONE
+65 6585 5555
OPERATING HOURS
9:00am-6:00pm (Monday-Saturday)
Ace Drive Car Rental is an award-winning car rental company in Singapore specialising in exotic and luxury sports cars.
They lease or rent cars from compact cars to SUVs to luxury sports cars. The Ace Drive Rental team oversees all maintenance, insurance, and other aspects of car leasing and ownership, so customers can focus on driving and maximising their car rental experience.
What People Like
Award-winning company. They have been recognised as Singapore Tatler's Best Car Rental Company (2013 & 2014).
Full insurance coverage. To ensure a hassle-free rental experience, they offer full coverage.
Competitive packages.
Customer-oriented mentality.
Key industry links to vehicle dealers, insurance agents, workshops, and agencies.
Understanding of market trends, needs, and practices.
Quick resolution of issues.
24-hour response for enquiries.
2-hour response times for emergencies.
4/8/NBD-hour response times for non-emergency issues.
Replacement car in case of accidents, servicing, and other reasons.
24/7 emergency standby personnel and hotline.
Hirers to receive one copy of original vehicle checklist for each check.
What Customers Say
Good service and fuss free from the car rental company. We rented a car for our wedding and found out that we got an upgraded version of the car (coupe) that we wanted due to availability on collection. Good gesture but will be good to be informed before hand as customers may have particular reason for wanting the specific model/version. Overall highly recommended! – Shane Wang via Google Reviews
Rented a few cars from them for the past 2 years for different events and usage… Great experience every single time! – Douglas Yew via Google Reviews
8. Ride Now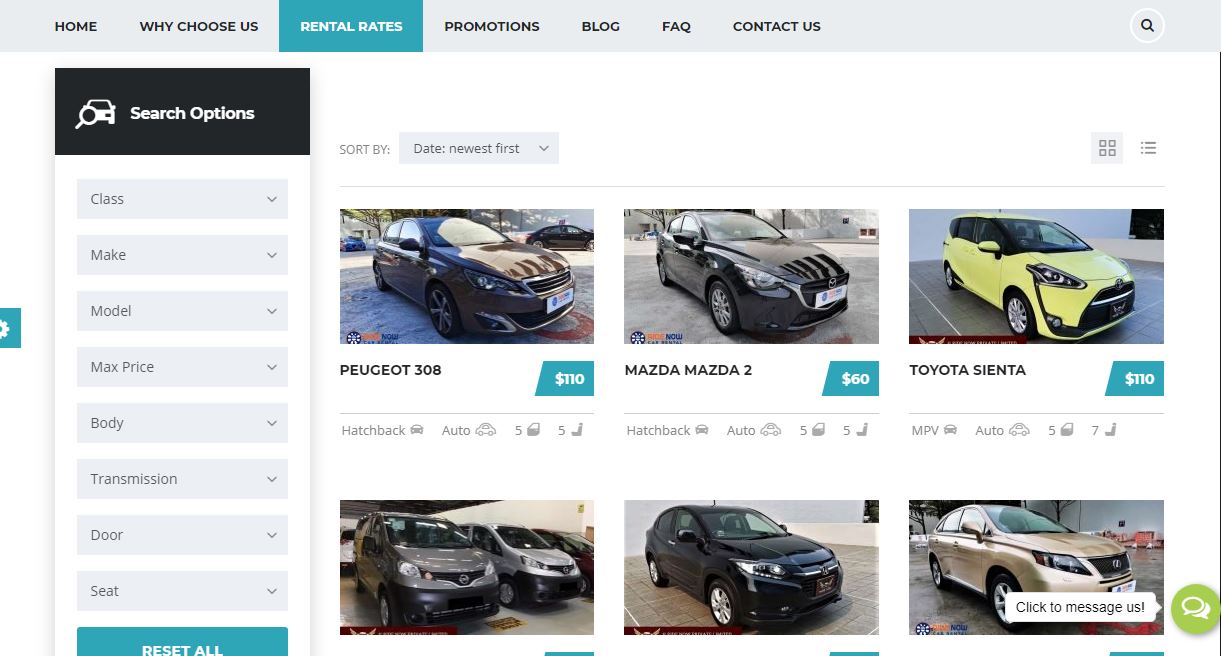 BEST FOR

Economic car rentals

RENTAL RATE

Rate varies

CAR TYPE

Standard, Economic, MPV, Commercial

SERVICES

Car rental

WEBSITE

https://ridenow.sg/

ADDRESS

No. 1 Bukit Batok Crescent, #04-47 WCEGA Plaza, Singapore 658064

EMAIL

hello@ridenow.sg

PHONE

+65 9138 0218

OPERATING HOURS
Monday – Friday:

10:00 am – 7:00 pm
Ride Now is a good company that offers various cars for rent. They have Audi, BMW, Ford, Honda, and other brands of automobiles, depending on your preference. Further, they allow you to change your vehicle if you think the one you chose doesn't fit you. 
They make sure that your car runs in a smooth and good condition. That is because they maintain their car and regularly consult mechanics for the status of their cars. This is to avoid accidents or other unnecessary events from arising.   
What People Like
INTERNATIONAL LICENSE ACCEPTED.

In case you are not a resident in Singapore, you don't have to worry if you want to drive around the city.  Here, international license is accepted. That means that you can drive around the city if your license is internationally accepted. 
FREQUENT MONITORING AND MAINTAINING.

In order to prevent unexpected incidents from happening, the company prepares their cars in advance. In fact, they frequently monitor and maintain their cars. 

24 HOURS HELPLINE.

If you have questions or need help in some way, you can rely on their 24 hours helpline. This is a great relief for you can always contact the company if there's an issue with your car. 
What Customers Say
Even in social media, Ride Now is proving that it has what it takes in giving quality service to their clients. This is a piece of customer's sentiment from their Facebook page: 
Their cars are always in very good condition. All of the guys are very friendly and helpful. Customer service is awesome be it their admin side or the people who handle the cars!
9. Cars and Trips

BEST FOR

Wide selection of cars

RENTAL RATE

Rate varies

CAR TYPE

Brand New Cars, Used cars, Rental cars

SERVICES

Rental Car, Lease to Own Car

WEBSITE

https://www.carsandtrips.com.sg/

ADDRESS

24 Sin Ming Lane #02-95 Midview City Singapore 573970

EMAIL

sales@carsandtrips.com.sg

PHONE

+65 9170 2773  | +65 9128 8989

OPERATING HOURS
Monday – Friday:

10:00 am – 7:00 pm

Saturday: 10:00 am – 2:00 pm
Cars and Trips is actually an online platform that connects users to local car rentals. They partners with various business owners to make sure that their clients will not run out of choices when it comes to selecting their preferred car. 
In case you are interested in joining the business, you can sign up with the company. They are always on the look for partners who will help them serve the community. 
What People Like
PROVIDES CATEGORIES FOR CHOOSING YOUR CAR.

If you want to be particular in your car, then this one's the best choice for you. The site asks their customers or users different questions before booking their car. This includes the type of car, the fuel kind, and also the duration one will use such a car.
WIDE SELECTION OF CARS.

Since it's a platform that partners with different local car rentals, you can choose from hundreds of cars for rent. 

ACCOMMODATING STAFF.

They also have nice staff that helps their customers in choosing their cars. Further, if you encounter problems, they will gladly assist you. 
What Customers Say
Good service coupled with a great attitude made it one of the best car rentals in Singapore. Here's a review from their customer:
Rented a car from  Cars and Trips. The salesgirl Pauline was super helpful and patience with my request. I'm glad to rent from her as her service was tip-top. Thank you Pauline for making my experience a great one! – Mohd Firdaus
Best International Car Rental Companies
1. Avis Car Rental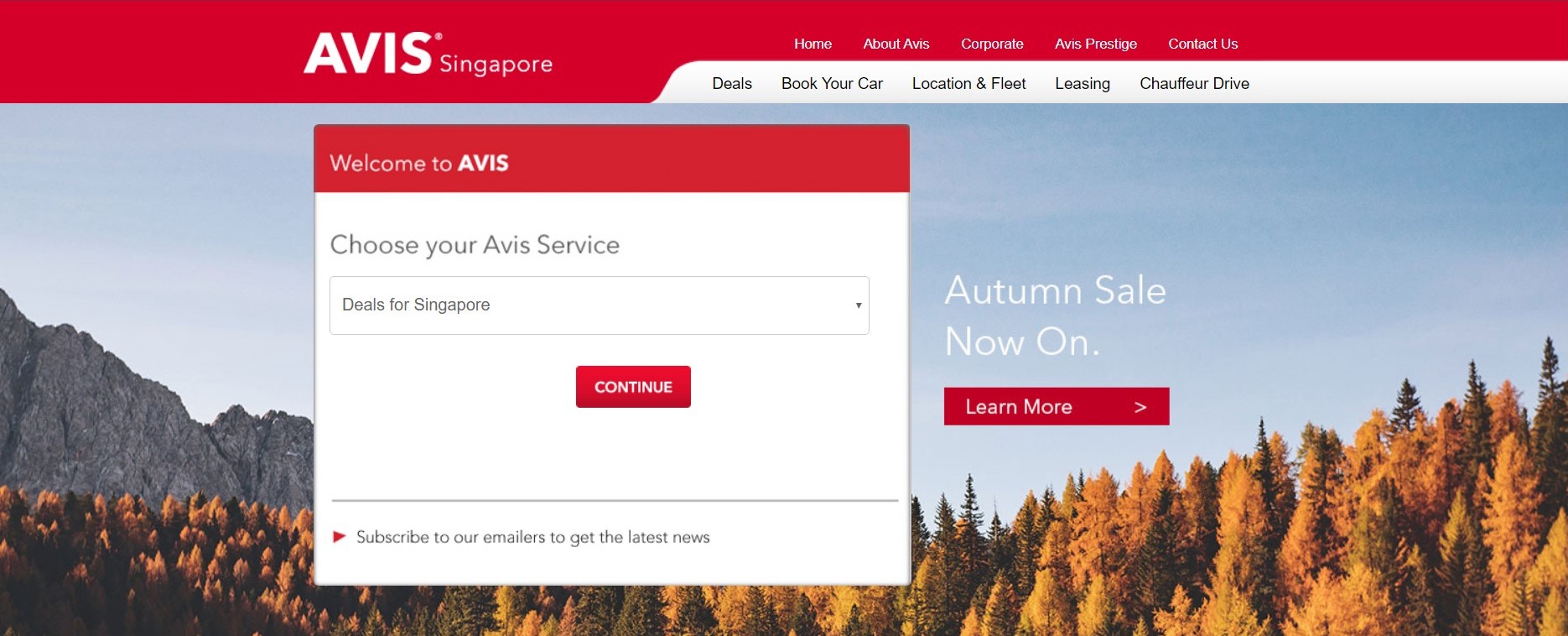 BEST FOR
Wide Range of Cars, Corporate Accounts, Expats
RENTAL RATE
From $104/Day
CAR TYPES
Compact, Standard, SUV, Large SUV, Premium, Luxury, Premium MPV
SERVICES
Chauffeur, Leasing
WEBSITE
https://www.avis.com.sg/
ADDRESS
390A Havelock Road #01‐07
Waterfront Plaza Singapore 169664
EMAIL
Reservations@avis.com.sg
PHONE
1800 737 1668
+65 6737 1668
International car rental companies are typically considered reliable options because they already have a tried and tested process, large resources, and the fleet to match. That's not always true, but Avis definitely lives up to those expectations.
Avis Singapore, as a 100% subsidiary of Avis Budget Group, Inc., is an internationally-recognised brand as well as the oldest car rental company in Singapore.
With a combined fleet of over 600 vehicles, they offer numerous and tailored rental packages for their customers for their top-of-the-line vehicles of varying classes.
What People Like
Convenient service. This is a one-stop brand for all your mobility needs. They have a network of seven locations, including four airport locations, for convenience and accessibility.
Internationally trusted brand. Avis is one of the world's leading international brand for car-related services, including car rental.
Singapore's longstanding brand. Avis is the oldest car rental company in Singapore (National Car Rentals Pte Ltd).
Numerous car rental possibilities. Among their rental services include short‐term car rental, monthly car rental, vehicle leasing, luxury vehicles, commercial vehicles ancillary products/services, limousine, transfer services and international call centre & outbound services.
Wide range of Ancillary products. Customers can request Cost Damage Waiver, GPS, WIFI child booster seats, and others.
Attractive membership service. Customers can become an Avis-preferred member for various perks and discounts.
What Customers Say
For ease of doing business and cost of a long term rental in SG, this is a top choice. Had the pleasure of working with Fadil during my selection and contracting process. He is knowledgable, efficient and easy to work with on the sales side. And so too is the other staff I have worked with during the first few months. Front desk very fast and knowledgable, service staff handled a flat tire very quickly without me needing to do anything, and the accounting staff are helpful and attentive to client needs. To find a car rental in SG that offers new cars for the rates that others charge for an 8-10 year old, stop looking and contact Avis/Budget on Havelock Rd, Waterfront Plaza. Save $, time and headaches. – Jeff Miller via Google Reviews
What's great is that it's open on Sundays which works very well for me.  – Angelo Sumayao via Google Reviews
2. Hertz Singapore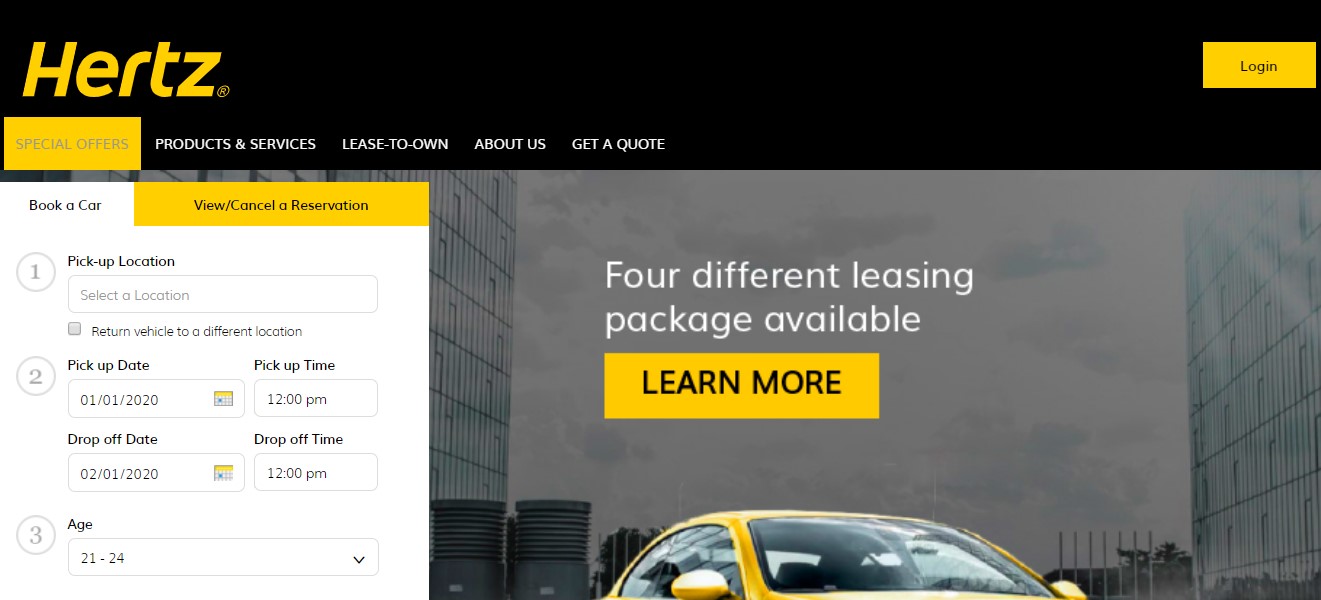 BEST FOR
Corporate Car Rental, Expats & Tourists, BMW Vehicle
RENTAL RATE
From $108/Day
CAR TYPES
Compact, Standard, Executive, Full Size, Oversize, Premium, Luxury, SUV, Premium SUV
SERVICES
Long Term Leasing
Short Term Rental
Wedding Car Services
Chauffeur Drive Services
BMW Lease-to-Own Program
WEBSITE
https://www.hertzsingapore.com/
ADDRESS
305 Alexandra Road, Vantage Automotive Centre, Basement 1, Singapore 159942

60 Airport Boulevard, Changi Airport Terminal 2 Arrival Meeting Hall Counter 10, Singapore 819643

EMAIL
reservation.hertz@simedarby.com.sg
flexi-rent.hertz@simedarby.com.sg
PHONE
1800 734 4646

(65) 6447 3388
Hertz is proud to be one of the most recognised car rental brands in the world, with approximately 10,200 corporate and franchisee locations including multiple branches in Singapore. They are committed to offering you superior car rental solutions for all your budgets and needs, with a wide and comprehensive fleet of quality cars for your choosing, as well as our expertise in automobile services.
Represented by Sime Darby Services Pte Ltd since 1982 as part of Sime Darby Motors Division, Hertz Singapore's experience in fleet management and operational leasing complements Sime Darby's distribution and assembly of motor vehicles regionally.
What Customers Say
Facebook recommendation from Micah Lim Property:
"Went with my Friend to pick up his rental car. Above average car and friendly service."
3. Europcar Car Rental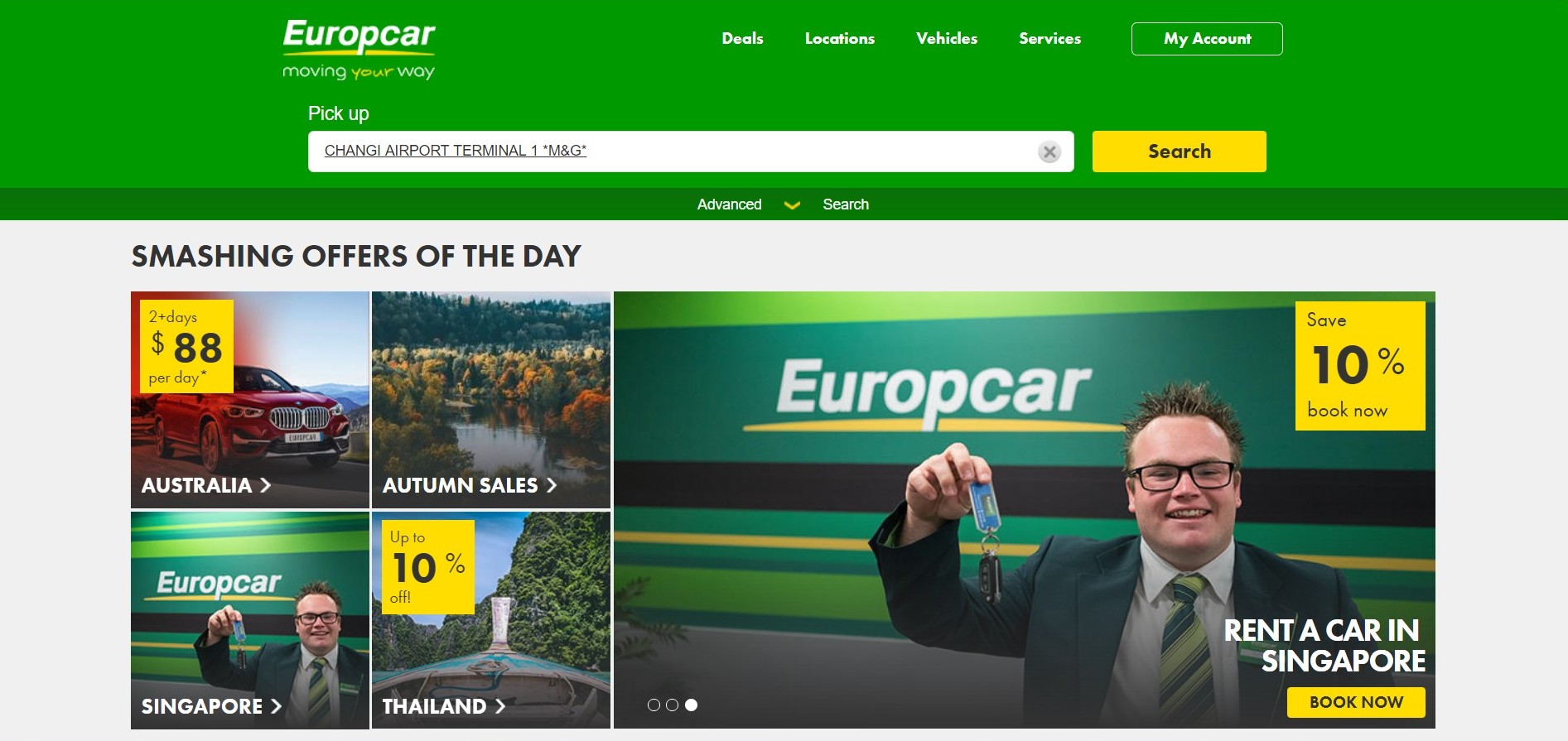 BEST FOR
Corporate Car Rental, Expats & Tourists
RENTAL RATE
From $134/Day
CAR TYPES
Luxury, Vans, Compact
SERVICES
Privilege Loyalty Programme
WEBSITE
https://www.europcar.com.sg/
ADDRESS
ARRIVAL HALL, 80 AIRPORT BOULEVARD 819642 SINGAPORE, Singapore

ARRIVAL HALL, 60 AIRPORT BOULEVARD 819643 SINGAPORE, Singapore

ARRIVAL HALL, 65 AIRPORT BOULEVARD 819663 SINGAPORE, Singapore

ARRIVAL HALL, 10 AIRPORT BOULEVARD 819665 SINGAPORE, Singapore

56 LOYANG WAY, N.03-05 508775 SINGAPORE, Singapore

EMAIL
Reservations@avis.com.sg
PHONE
1800 737 1668
+65 6737 1668
Europcar is another award-winning and trusted international car rental company.
They're known for easy online booking, flexible car rental (from daily to long-term rentals), young fleet, and express pick-up service. If you need a car on short notice and a hassle-free transaction, this is a good fit.
What People Like
Round-the-clock assistance. Europcar offers 24-hour roadside assistance for your peace of mind, including 24/7 service in most major airports.
Trusted international brand.
No hidden charges.
Young fleet.
What Customers Say
Just used OCR over the weekend:
Delivery of car was on time.
Car is new and most importantly free from cigarette smell (as I have a young child). Had GPS, which was important as I am not familiar with the new roads built in recent years. Umbrella and cash card were provided. Small gestures but well thought out. My family and I enjoyed the i40 we rented.
I extended for another day and change the pick up venue on the last day – all done with ease.
Car pick up was on time
Dealt with 3 different personnel and service level was excellent!.
I highly recommend this company! I will be using them again soon.
-Paul L via Google Reviews
4. Global Advance Leasing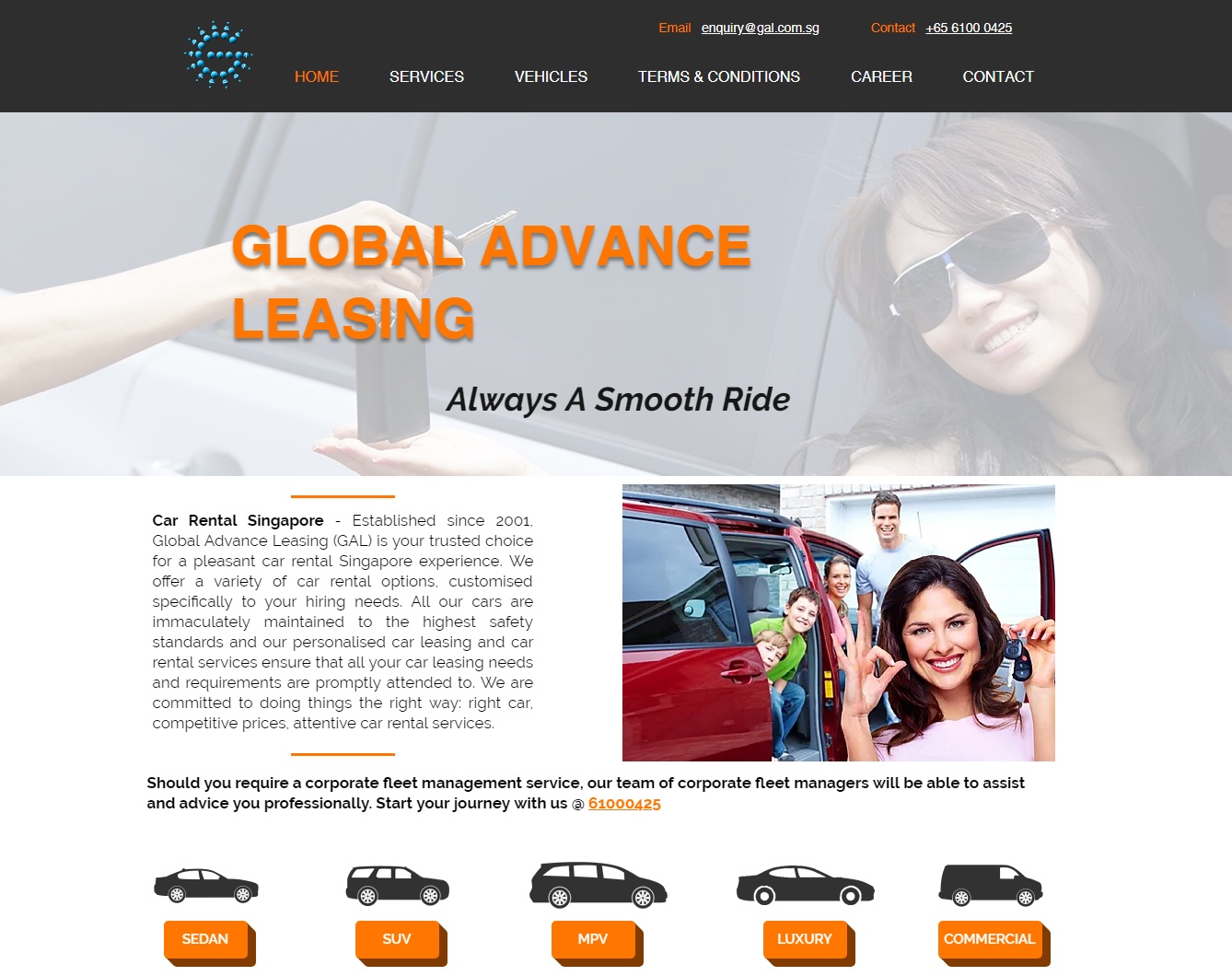 BEST FOR

Long term leasing

RENTAL RATE

According to stipulation

CAR TYPE

Sedan, SUV, MPV, Luxury, and Commercial

SERVICES

Car Rental, Long term car leasing

WEBSITE

https://www.gal.com.sg/

ADDRESS

No. 1 Defu Lane 6 Singapore 539365

EMAIL

enquiry@gal.com.sg

PHONE

+65 6100 0425

OPERATING HOURS
Monday – Friday:

8:30 am to 6:00 pm

Saturday: 8:30 am – 1:00 pm
Car Rental Singapore was established in 2001 and since then, has gained the trust and confidence of different costumers. They provide various car rental options for those who want to experience driving around Singapore. While choosing the car that will be assigned to the users, the company take into consideration the preferences and other requests communicated to them. 
What People Like
SECURED TRANSACTION.

The company makes sure that your personal data will not be compromised once you signed up for their service. They are bound by their privacy agreement that no data will be released to the public or third party. As such, you are ensured that you can enjoy driving without worrying about your personal information being given out in public.

CORPORATE LEASE.

If you own a startup company and you're in need of a car, you can lease for long term at Global Advance Leasing. They extend the lease period for corporations, companies, and other individuals who are need of such service. Further, if your contract is for 2 years, you may request for a brand new car from them.  
What Customers Say
There's no need to say more as the company has already proven its integrity throughout its years in the business. Nonetheless, here's a 5.0 review from Google
Rented a Toyota Camry for my dad – great car, great service! Would definitely recommend friends and family to rent/lease! – Shawn Dass
In sum, you could do much worse than the car rental services we listed here. They're easily the most reliable and convenient companies to go to for car rental in Singapore. 
By the way, if your rental needs are specifically for large-capacity vehicles, you may want to check out our list of the top van and lorry rental services in Singapore. You may even give our list of the best movers in Singapore a read too if you're renting specifically to move or relocate.