The 16 Best Van Rentals in Singapore
Are you planning to move to a different place but don't have the transportation to carry all your belongings? If so, then worry no more because we know of the best van rentals in Singapore that are perfect for long drives and can carry heavy items.
Since there are a lot of van rental companies scattered all over Singapore, we made sure to include only the ones with reliable services, a wide variety of vans, and dependable customer services.
Curious to find out where they are? Well, here's our list of the best van rentals in Singapore that everyone should check out:
1.  Rentalorry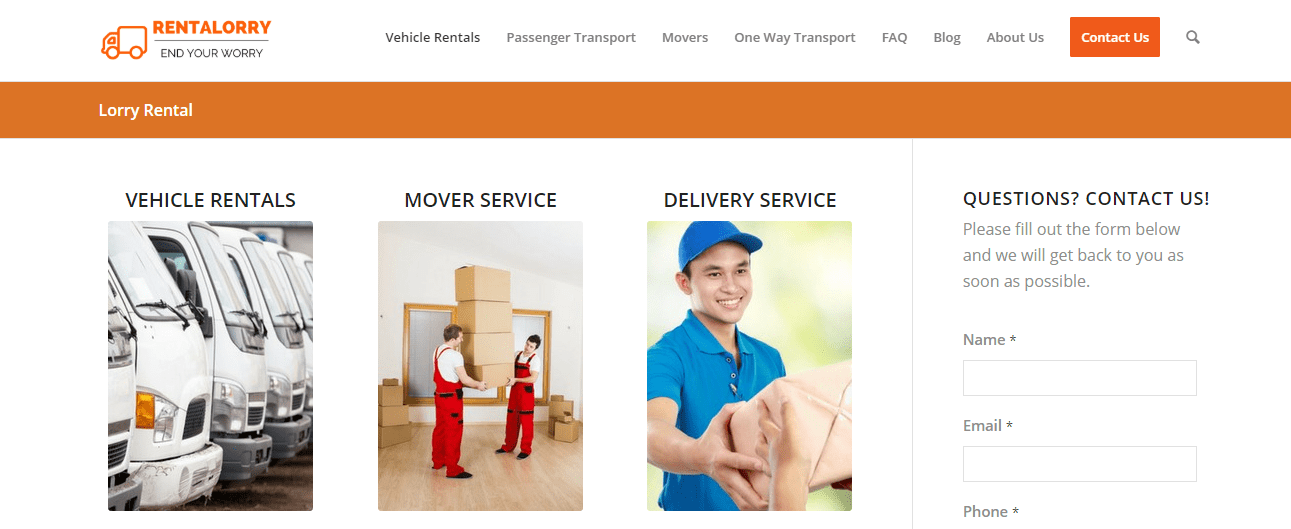 BEST FOR 
Quality Vans
SERVICES
Van Rentals, Passenger Transport, Mover Service, and Delivery Service
WEBSITE
https://www.rentalorrysingapore.com/
ADDRESS
22 Woodlands Link, #03-27B, Singapore 738734
CONTACT DETAILS
6589 8964 |

[email protected]

OPERATING HOURS
Monday – Friday, 9:00 AM – 6:00 PM
If you're looking for a reliable van rental service with a great track record, then look no further than Rentalorry. It's considered one of the best van rentals in Singapore due to its quality services and well-maintained vehicles.
Some of the services it offers are a transportation service, mover service, and delivery service. It also has different types of vans that can transport heavy goods.
What's more, Rentalorry is also open to short-term and long-term van rentals. If you're going to need transportation more than one, then it's the perfect option for you.
Highlights
Well-maintained vans
Flexible rental packages
Experienced movers
Customer Reviews
Here's what clients have to say about the services of Rentalorry:
"We engaged Syed and team yesterday 10jan to move a bed frame and mattress and they did it seamlessly. They did a great job dismantling and assembling the frame and wrapping them up well. They were fast and took good care of our bed frame and mattress. Would definitely hire them again."
"Rentalorry provided a very courteous service. They were on time and provided all that we asked for. The truck came with a tailgate which was very useful especially while moving the couch and the washing machines. Trolleys were also available to move other stuff. I'm sure the price is reasonable as well. We were able to move houses in a couple of hours. I'd highly recommend this service if you want to move houses. For other applications, I'm sure they'd have the appropriate service to suit your needs."
2.  Rhino Rental

BEST FOR 
Convenient Location
SERVICES
Van Rentals and Vehicle Leasing
WEBSITE
https://www.rhinorental.sg/
ADDRESS
5 Soon Lee St, #01-59 Pioneer Point, Singapore 627607
CONTACT DETAILS
6254 8858 |

[email protected]

OPERATING HOURS
Monday – Friday, 9:00 AM – 6:00 PM
With over 30 years of experience, Rhino Rental has grown into one the most in-demand van rental and leasing companies in Singapore. One indication of its success is that it's both patronised by homeowners and business owners on the island to help with their logistics.
In terms of services, Rhino Rental has never fallen short throughout its years of operation. It prides itself on providing quality yet affordable services to both residential and commercial clients in Singapore.
Another reason we consider it one of the best van rentals in Singapore is its wide selections of vans and vehicles that cater to the varying budgets of customers.
Highlights
Wide selection of vans
Affordable services
Roadside assistance
3.  Dynamic Motoring Commercial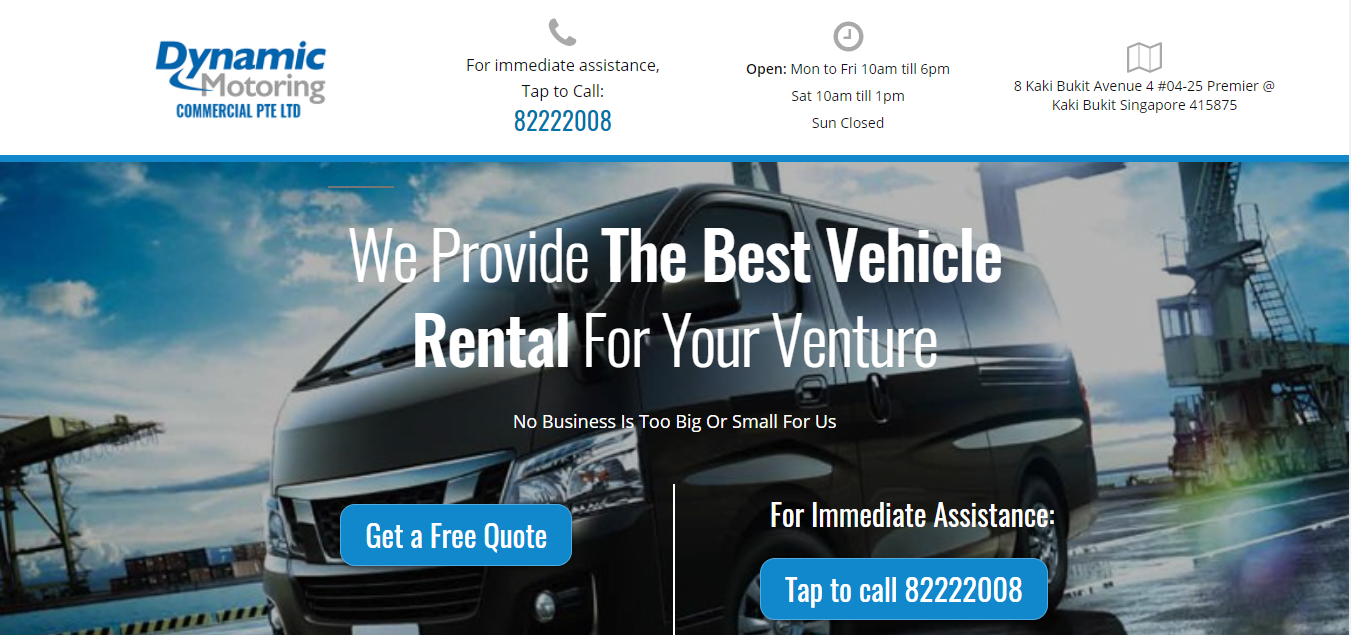 BEST FOR 

Flexibility in rental packages and good after-service follow up

SERVICES
Van Rentals 
WEBSITE
https://dmc.com.sg/
ADDRESS
8 Kaki Bukit Avenue 4 #04-25 Singapore 415875
CONTACT NUMBER
OPERATING HOURS

Monday – Friday, 10:00 AM – 6:00 PM

Saturday, 10.00 AM – 1.00 PM

Sunday & Public Holiday: Closed
Dynamic Motoring Commercial has been serving Singaporeans since 2016. Ever since, they have been continually expanding their fleets in order to reach out to more individuals and businesses.
Unlike other companies, they have a reputation for exceptional quality customer service! With this, they aim to be the most standout commercial vehicle leasing in the country. 
What people like about them is their wide selection of well-maintained vehicles. They consider DMC a worthy investment because they have flexible deposit and road tax & commercial insurance is included!
With them, you will always have a peace of mind because they have a 24-hour road side assistance, provide complimentary replacement vehicle, and tires and mobile battery replacement!
Highlights
Flexible deposit scheme
Affordable pricing
Customer Reviews
Take a look at some of the reviews posted by their previous customer:
"Rented hiace manual for long term from mr Alvin.Good after service from the team at dynamic motoring commercial Pte Ltd.will refer more customers to him in future – Collin toh, Rented Toyota Hiace GBK22–R"
"Good rental company…. Will highly recommend – Intikhab, Rented Toyota Hiace Van GBF71–J"
"Excellent service from the service provider. Awesome support with close follow up to achieve the requirements from customers or clients. Shall share with friends and others. Great job ! Dynamic Motoring – Jeffrey Chng, Rented Fiat Doblo GBC87–E"
4.  Edmund Vehicle Rental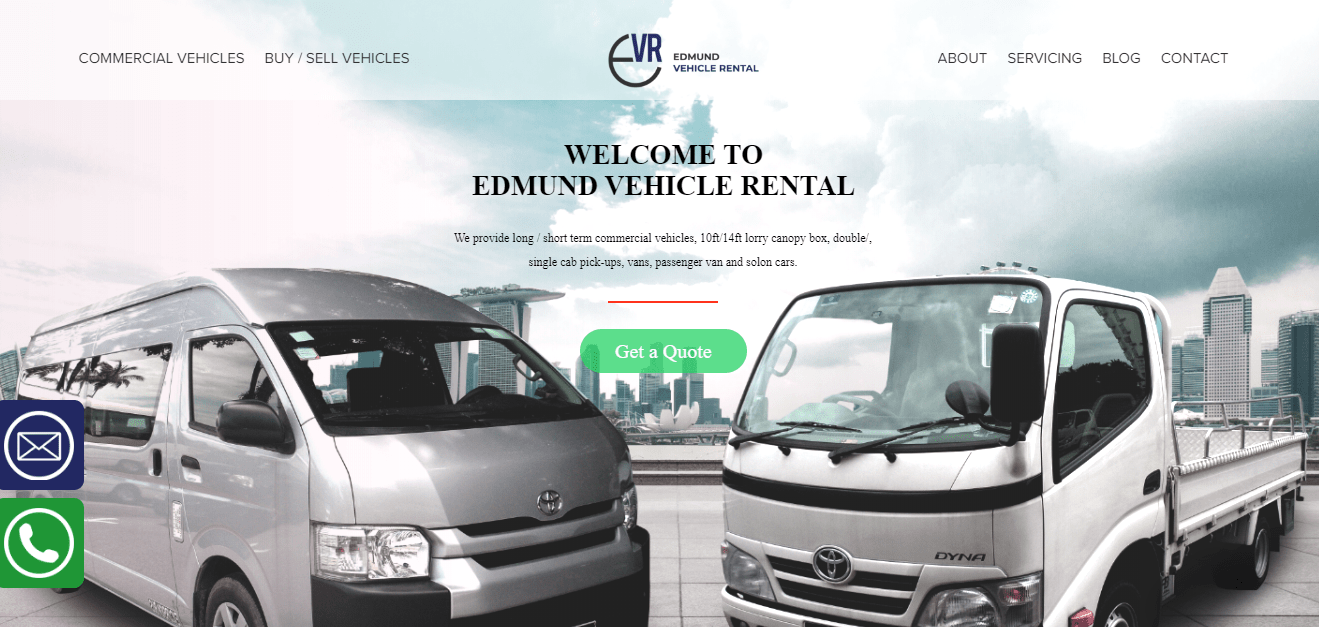 | | |
| --- | --- |
| BEST FOR  | Maintenance and Inspections |
| SERVICES | Van Rentals and Buy & Sell Vehicles |
| WEBSITE | https://edmundvehiclerental.com.sg/ |
| ADDRESS | 279 Balestier Rd, #02-27 Balestier Point, Singapore 329727 |
| CONTACT DETAILS | (65) 6250 3339 |
| OPERATING HOURS | Monday – Friday, 9:30 AM – 6:00 PM |
If you're looking for a van rental company that takes the safety of its clients seriously, then consider checking out Edmund Vehicle Rental. It's among the few rental companies that offer car maintenance and inspection, along with teaching of car safety measures.
In terms of selection of vehicles, Edmund Vehicle Rental surely doesn't disappoint, which is why we name it one of the best van rentals in Singapore. Its vans are ideal for passenger transport, long drives, and even business logistics.
Highlights
Well-maintained vehicles
Wide selection of vehicles
24-hour breakdown recovery
5.  Goldbell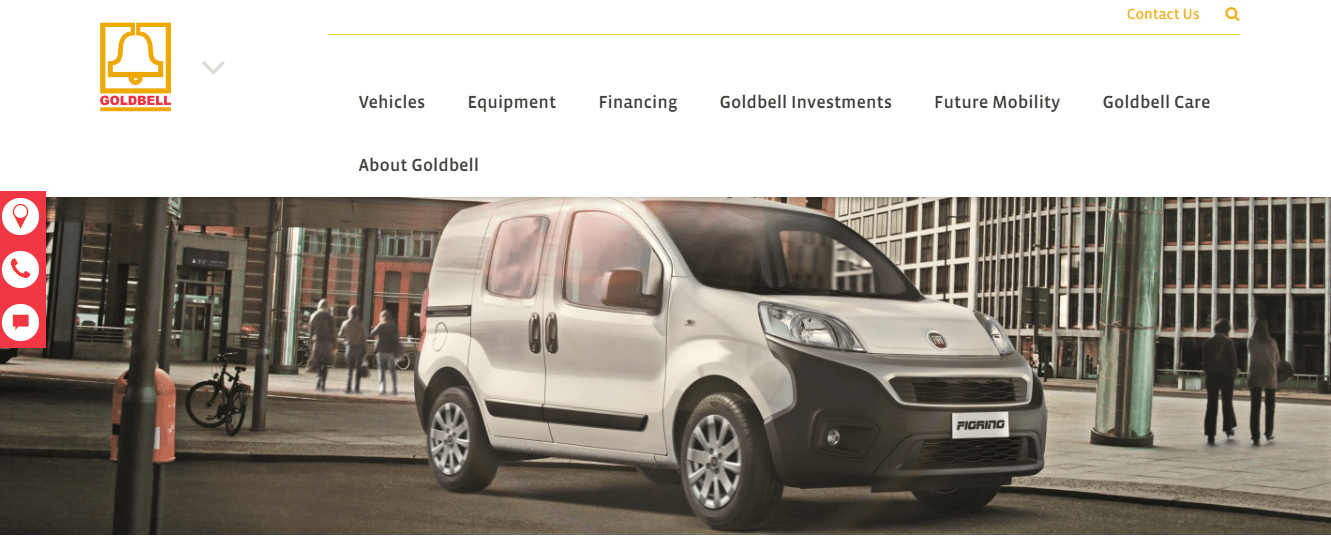 | | |
| --- | --- |
| BEST FOR  | Business Needs |
| SERVICES | Van Rentals, Truck Leasing, and Bus Leasing |
| WEBSITE | https://www.goldbellgroup.com/ |
| ADDRESS | 14 Benoi Rd, Singapore 629887 |
| CONTACT DETAILS | +65 6494 2888 |
| OPERATING HOURS | Monday – Friday, 8:30 AM – 5:30 PM |
As one of the most trusted van rental companies on the island, Goldbell has worked with over 10,000 clients, proving that it offers the best van rentals in Singapore. It has proven itself to be a staple name in business logistics and transportation.
More than this, Goldbell is a worthy company because it also provides maintenance training and programmes to clients to ensure that they know how to handle different types of vehicles.
Lastly, Goldbell also has a wide variety of well-maintained and quality-controlled vehicles. So, rest assured that the vehicle that ends up on your hands is safe and won't likely cause any trouble.
Highlights
Maintenance training
24-hour breakdown service
6.  Skylink Vehicle Rental Pte Ltd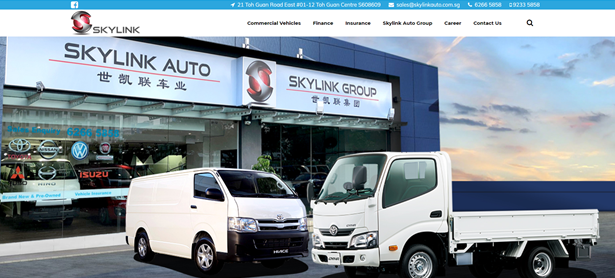 BEST FOR 
Van Rentals, Truck Rentals, Vehicle Investments
SERVICES
 
WEBSITE
https://www.skylinkauto.com.sg/
ADDRESS
21 Toh Guan Road East #01-12 Toh Guan Centre S608609
CONTACT DETAILS
[email protected] | 6266 5858
OPERATING HOURS
Daily: 9am–7pm
Public Holidays: Time subject to change
Skylink Vehicle Rental offers a wide variety of vehicles you could rent for a very reasonable price! From minivans to buses and heavy trucks, whatever you need to relocate, they're able to accommodate.
They also sell commercial and private vehicles for your needs, may it be brand new or pre-owned, allowing higher loans and better finance solutions than most companies. So if ever you're looking for a temporary need of a means of transport, or a more permanent one, head to Skylink Vehicles for the best service and vehicles in the making.
Highlights
Comprehensive Manufacturer's Warranty
Flexible Financing Option Available
7. Eng Hup Vehicle Rental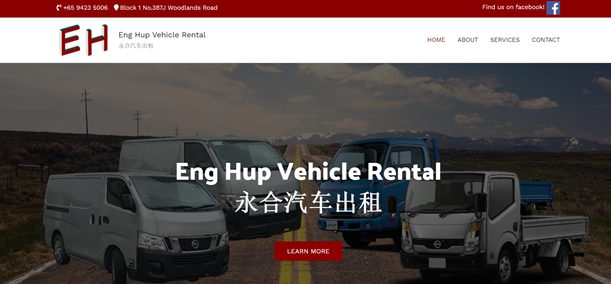 BEST FOR 
Monthly Rental Service Subscription
SERVICES
•Servicing and Repairing
•Tyre
•24 Hrs Towing
•Insurance and Road Tax
•Request For Half or Full Canopy at no extra charges
•Inspection
WEBSITE
https://www.enghupvehiclerental.sg/
ADDRESS
Block 1 No.387J Woodlands Road
CONTACT DETAILS
 +65 9423 5006
OPERATING HOURS
Monday – Friday: 8:30am–6pm
Saturday: 8:30am–5:30pm
Sunday: 8:30am–12pm
As a company in business for over 40 years, Eng Hup Vehicle Rental has mastered the art of great customer service and has great perception of a client's wants and needs. Known for providing excellent services in rentals, repair, and even inspection and accident insurances, you definitely are in best hands.
And as rentals can be be quite pricey, Eng Hup made sure that their rates start at $1100 per month! A great bargain for such well-maintained vehicles. Invest in the experts, invest with Eng Hup Vehicle Rentals.
Highlights
No deposit required
Hassle-free application process
No Hidden Costs
8. Scoopy's & Cream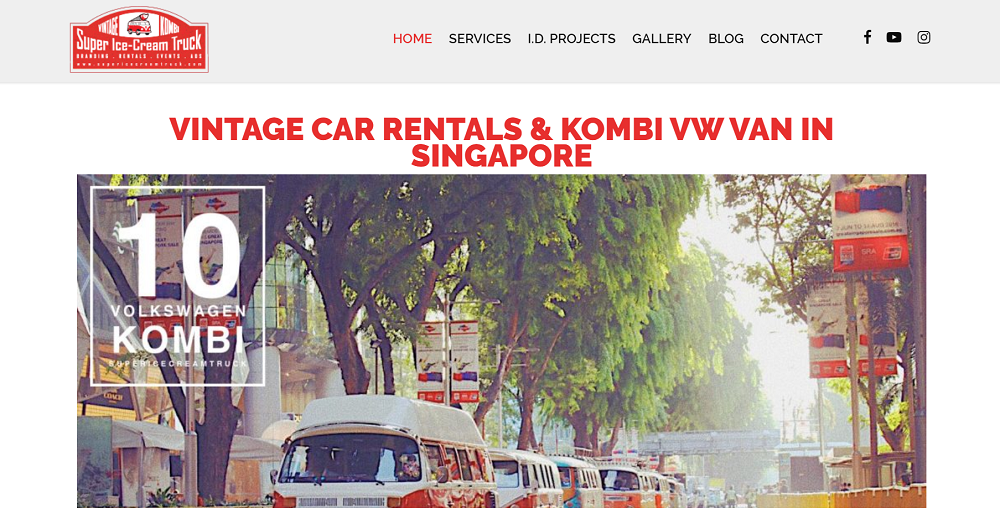 When it comes to vintage cars, Scoopy's & Cream is regarded as one of the best companies for the job. On their fleet is a wide array of Kombi WVs and other vehicles, such as classic trucks and mini cabriolets.
The best thing about Scoopy's (Kombi Rentals Singapore) is that clients have the option to choose from a good varied range of different Kombi Vans, as well as dedicated and experienced drivers to drive these vehicles. This is why it isn't at all surprising that the Kombis and other vehicles have been used for photoshoots, advertisements, pop up stores, and even food trucks!
So, if you want a quality van that operates well and fits the vintage aesthetic, then check out Scoopy's & Cream today.
Highlights
Accepts design and build projects
Vans and caravans can be used for branding, advertising, and photoshoots
Easy booking process
9. Ride Now Pte Ltd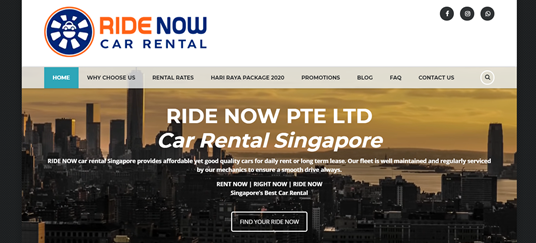 BEST FOR 
Private Cars for rent
SERVICES
Car rentals
WEBSITE
http://ridenow.sg/
ADDRESS
1 Bukit Batok Crescent, #04-47 WCEGA Plaza, Singapore 658064
CONTACT DETAILS
Office: +65 6734 3438
Fax: +65 6734 3478
OPERATING HOURS
Monday to Friday: 10am to 7pm
Saturday, Sunday & Public Holiday: Closed
If you're looking for a car rental that provides the best service along with great vehicles, then Ride Now is the company of choice! They don't have a minimum age limit so as long as you can show a driver's license, then you're free to take on their offered amenities. There is also a 24-hour emergency services so rest assured that you're always in safe hands.
Ride Now is also an in-house workshop that has packages that are easily customisable to fit your budget and of course, your needs! With just a call away, you'll be able to get a car that fits your road trip, for a very reasonable price!
Highlights
CONVENIENT PAYMENT METHODS
ROUND-THE-CLOCK HELPLINE
1-FOR-1 REPLACEMENT CAR
ZERO EXCESS
FLEXIBLE SELF RETURN
10. Think One Leasing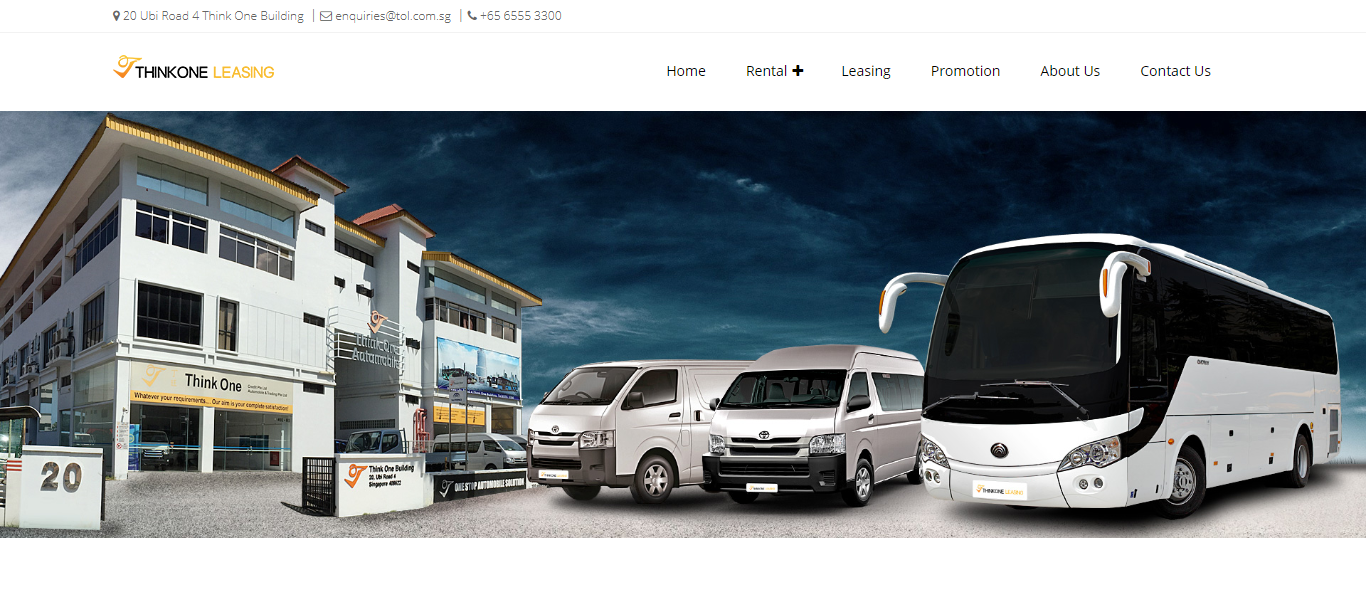 BEST FOR
Quality Vans
SERVICES
Van Rentals and Lease
WEBSITE
http://tol.com.sg/
ADDRESS
20 Ubi Road 4 Think One Building, Singapore 408622
CONTACT DETAILS
+65 6555 3300
[email protected]
OPERATING HOURS
Monday – Friday, 8:30AM-6:00PM
Think One Leasing is one of Singapore's leading one-stop centre for automobile needs. This is because they have prioritised customer satisfaction since they first began operating in 1992, complying the best that they can with what the clients want or need.
Think One provides one-stop services, from buying, selling and exporting vehicles, helping you renew insurance and road tax, and arranging rates for your hire-purchases. They specialise in buying and selling of Right Hand Drive continental and Japanese pre-owned cars.
If you need any on the go vehicle needs Think One will definitely be there to satisfy your automobile needs. Ranging from different vehicles and high quality services given.
Highlights
24 Hours Break Down Services
1 Hour Response Time
Island-wide Coverage
11. ABS Leasing
BEST FOR
Customized Rental Schemes
SERVICES
Rental/Lease, Vehicle Evaluation, Insurance &Financing
WEBSITE
https://www.absleasing.com.sg/
ADDRESS
172 SIN MING DRIVE, SINGAPORE 575720
CONTACT DETAILS
87273866 / 89220537
OPERATING HOURS
MONDAY – FRIDAY 9:30 – 18:30
SATURDAY 10:00 – 17:00
SUNDAY 11:00 – 17:00
ABS Leasing has certainly come a long way from their humble beginnings as a motor trading company. With over a decade of accumulated experience, they've mastered the art of getting the best vehicles and renting it to customers in need of personal transportation.
They offer premium rides at an affordable price. From the start of the lease to the end of the service, ABS Leasing makes sure that their customers are consistently happy and satisfied.
Select a trusted establishment and go for the people's first choice in leasing– hire ABS Leasing now!
Highlights
Responds Timely
Provides reliable vehicles
Resourceful with vehicle options
Excellent Customer Service
12. ETHOZ Group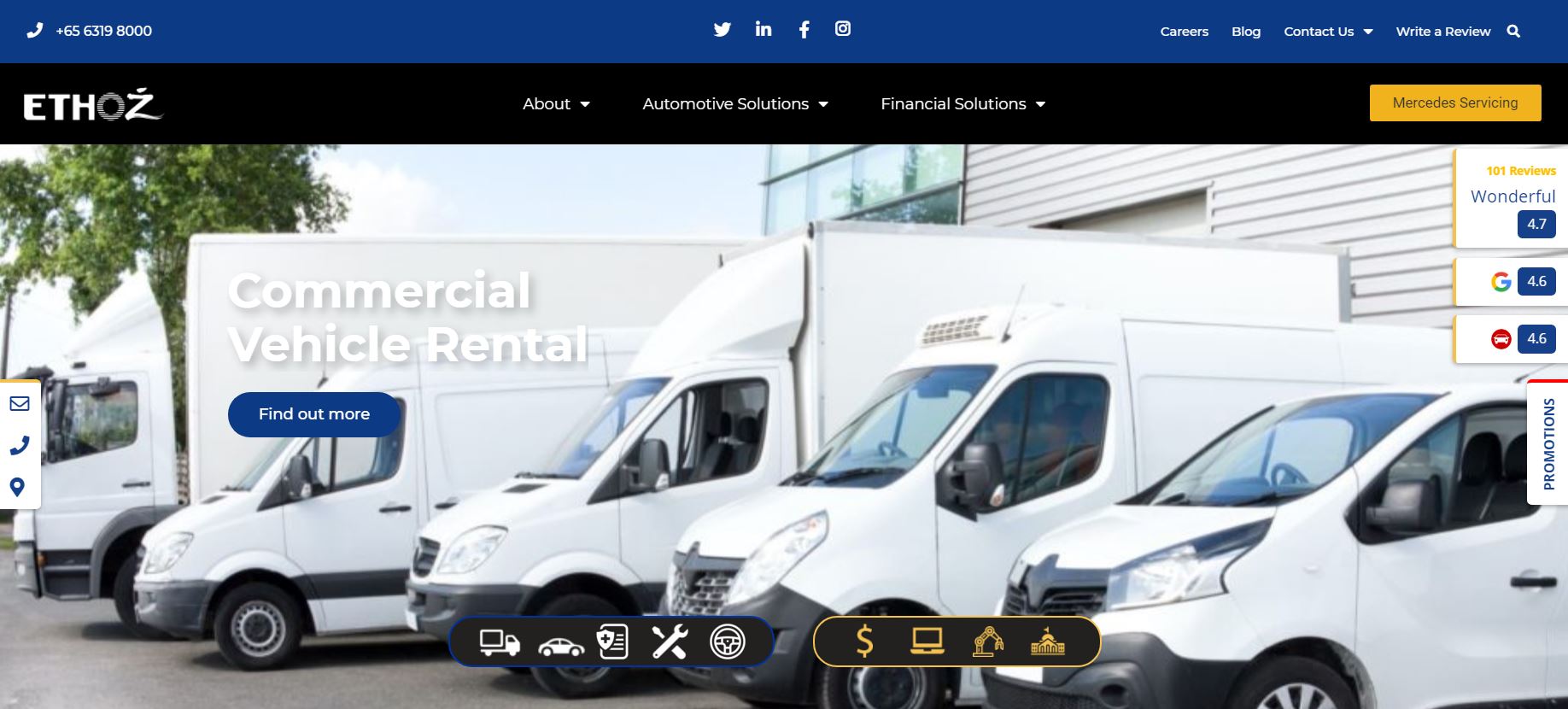 BEST FOR
A wide selection of vehicles tailored to your needs and budgets
RENTAL RATE
https://www.ethozgroup.com/automotive-solutions/commercial-vehicle-rental/
CAR TYPE
Limousine, MPV, SUV, Executive Sedan, Minivans
SERVICES
ETHOZCab
Car Rental (Short Term)
Car Rental (Long Term)
Commercial Vehicle Leasing
Limousine Service
Vehicle Financing
Capital Solutions (Singapore)
WEBSITE
https://www.ethozgroup.com/
ADDRESS

Headquarters (Bukit Batok):
30 Bukit Batok Crescent
Singapore 658075

 

Branch (Tampines):
22 Tampines Street 92
Singapore 528876

EMAIL

[email protected]

PHONE
6319 8000
OPERATING HOURS

Headquarters (Bukit Batok):
Mon to Fri : 8.30am to 7pm
Sat : 8.30am to 3pm
Sun : Closed

 

Branch (Tampines):
Mon to Fri : 8.30am to 7pm
Sat : 8.30am to 3pm
Sun : Closed
ETHOZ provides commercial vehicle rental to businesses seeking to optimise their operations. Zero downtime, predictable operating costs, and controlled cash flow — these are all paramount to any business, and can be offered by ETHOZ through the company's services.
Aside from that, ETHOZ is also known to work with customers to meet these objectives through short term and long term leasing of commercial vehicles. 
Apart from the regular Passenger Van Rental, Cargo Van Rental, Pickup Truck Rental and Lorry Rental, ETHOZ is also able to tailor commercial vehicles of all configurations and customisations to their customers. Examples include and are not limited to Box Truck Rental and Freezer Truck Rental.
ETHOZ's track record is evidenced by the growing SME and MNC clientele pool from various industries: government-linked companies, logistics and warehousing, freight forwarding, construction, food and beverage.
Highlights
Wide Range of Service
High Service Standards
35 Years of Experience
Customer Reviews
"Great service and follow up by salesperson Clement Lin, great knowledge on his stuff. Very helpful and always answer to our queries very fast.
ETHOZ servicing is great and their servicing is is point to point pickup at your desired location and timing. Repair of vehicle is also very fast. Will be able to take back your vehicle very fast." – Ivan Koh
"I had the great pleasure of meeting Rainer Ng through work and am so pleased that he is taking care of my car leasing! He explained everything thoroughly and offered advice on what I was keen on. And when I had decided on the model, he ensured that I got the best price! The whole experience was seamless and just so easy for me from start to finish!
Thank you Rainer, thank you ETHOZ!" – Gerie Tan
13. FCY Enterprise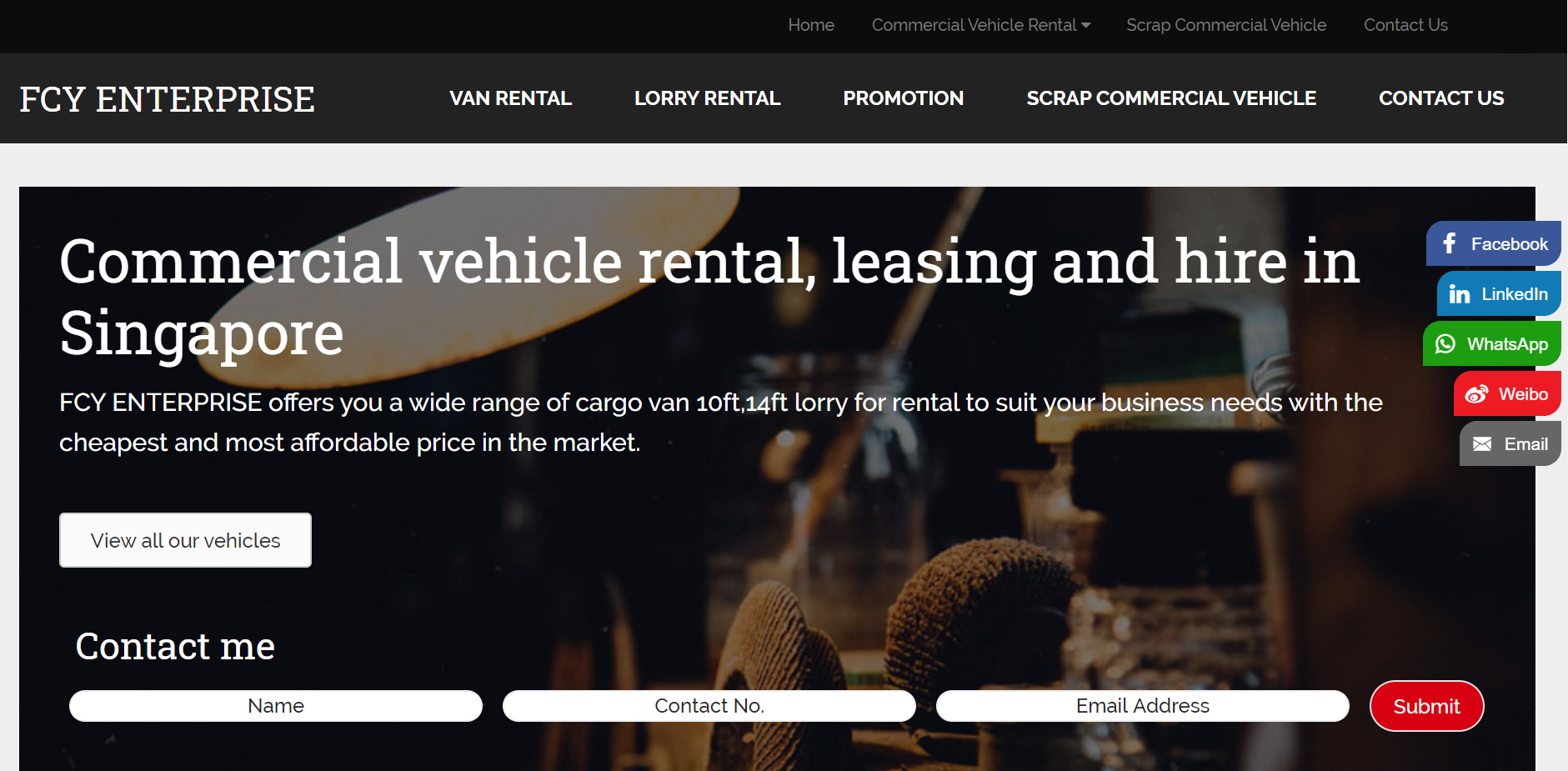 BEST FOR 

High quality and cheap van

SERVICES

Van and lorry rental leasing

WEBSITE

https://www.fcyenterprise.com/

ADDRESS

15 Tampines Ave, Singapore 529788

CONTACT DETAILS

Miss Keh 9018 7303

Email: [email protected]

OPERATING HOURS

Monday – Sunday, 9:00 AM – 9:00 PM
FCY ENTERPRISE started in 1999 with more than 20 years of experience in commercial vehicle rental and leasing. They have served large companies to small, medium enterprises and customise their solutions to their different needs. Their company mission is to provide the best quality van, 10ft, 14ft lorry at the most affordable rate and help our client achieve their desirable outcome.
Highlights
Wide selection of vans and lorry

Affordable

Roadside assistance

Rental Insurance

Fleet management and solution
14. BKW Rent-a-Car

BEST FOR 
Multiple Locations
SERVICES
Limousine Services, Corporate Leasing, Vehicle Management
WEBSITE
http://www.bkw.sg
ADDRESS
Head Office: No 120 Lower Delta Road #02-15 Cendex Centre Singapore 169208
CONTACT DETAILS

BKW Rent-A-Car Pte Ltd
TEL : +65 6738 7777 (24 hours / 4 lines)
FAX : +65 6738 6666

Servicing & Accident Claim Hotline
TEL : +65 6223 1122 (24 hours)
FAX : +65 6278 8121

Email : [email protected]
SMS : +65 9789 8888

OPERATING HOURS
24/7
When it comes to services with a personal touch, nothing comes close to beating BKW Rent-a-Car. They create tailor-made plans for individuals, companies, and everything in between.
Their fleet of vehicles range from saloons, MPVs, luxury sedans, and more. No matter what vehicle you need, you can rest assured that you will be offered the latest models available on the market.
They have a 24 hour breakdown and towing service available in case of emergencies. Best of all, their competitive prices ensure that you will be able to rent the best van you need while staying within budget.
Highlights
Personalised services

Professional specialists

Latest models in the market
Competitive rates
15.  Pan Pacific Van & Truck Leasing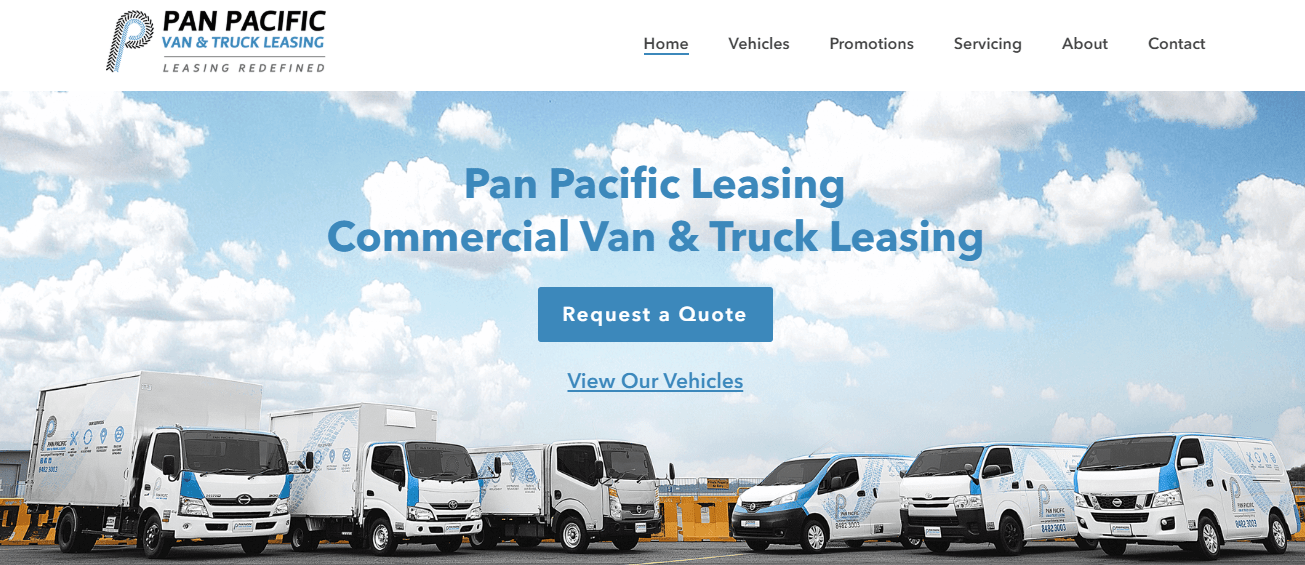 | | |
| --- | --- |
| BEST FOR  | Well-Maintained Vehicles |
| SERVICES | Van Rentals and Leasing |
| WEBSITE | https://www.panpacificleasing.com.sg/ |
| ADDRESS | 52-56 Joo Chiat Rd, Singapore 427374 |
| CONTACT NUMBER | +65 8482 3003 |
| OPERATING HOURS | Monday – Friday, 9:30 AM – 6:30 PM |
Considered one of the largest vehicle rentals in Singapore, Pan Pacific definitely owns the type of van that you're searching for. It has vans for transportation service, road trips, logistics, and even house moving — which is why we name it one of the best van rentals in Singapore.
Pacific Pan is known for its hassle-free and quality services that come at an affordable price. Why spend thousands of money on a van rental company when there are much cheaper options waiting for you at Pan Pacific?
On top of all these, Pan Pacific also has a reliable customer service hotline that's open for 24 hours a day.
Highlights
Competitive rates
Vehicle replacement scheme
24/7 support service hotline
Customer Reviews
Take a look at some of the reviews posted by customers on Google Reviews:
"Pan Pacific Leasing has granted me excellent service in renting commercial vehicles for my business. Special mention goes out to Dylan for accomodating to my request and being responsive to my text/calls even during the weekends. As a company, they are very professional and knowledgeable in advising me on the most optimal vehicles to rent. I will highly recommend Pan Pacific Leasing to all. 2 thumbs up!"
"All the staff at Pan Pac are very friendly and helpful. There are two people that have always been very helpful and responsive to my inquiry and needs : Dylan and Elaine. Overall Pan Pac is the best place to go."
16. Fulco Leasing Pte Ltd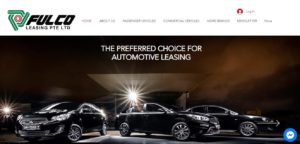 BEST FOR 
Concierge Service (Doorstep Delivery)
SERVICES
Passenger Vehicle Leasing
Commercial Vehicle Leasing
FUMO (Short Term Rental/Car Sharing)
WEBSITE
https://www.fulcoleasing.com.sg/
ADDRESS
22 Ubi Road 4, Fulco Building, Singapore 408617
CONTACT DETAILS
6743 6266| 

[email protected]

OPERATING HOURS
Monday – Friday 9.00 am to 5.30pm
Saturday 9.00 am to 12.00pm
Fulco Leasing Pte Ltd is a company that offers clients a wide range of leasing packages of Japanese, Korean, and Continental brand vehicles.
Available for both long-term and short-term rentals, all of their vehicles are competitively priced to make the most out of each motoring experience.
We like that each vehicle has unlimited mileage so that clients won't have to worry about driving anywhere they would like to in the country.
Furthermore, they provide a concierge service to assist you with any issues you might encounter as well as doorstep delivery for the vehicles you lease. Their recovery team is available for 24 hours should the client need any roadside assistance.
Overall, with their concierge service and very supportive team of professionals ready 24/7, we highly recommend them to clients in the area who are in need of vehicles both for passenger and commercial purposes.
Highlights
Concierge Service
Doorstep Delivery
Unlimited mileage vehicles
Flexible packages
24/7 support team available
Customer Reviews
Take a look at some of the reviews posted by customers on Google Reviews:
"Rented a Lancer for long term use. They gave me a very good rate that is alot better than other places. Car is very good and clean. No problems and servicing and maintenance is taken care of. Anything I am unsure, I can call the saleman who has helped me alot! Thank you Fulco Leasing!"
"Awesome experience renting from Fulco Leasing the past year. Hassle free and no hidden costs. Will definitely be back if i require another vehicle for rent!"
"I wanted to start a courier service company after doing some research online, I found this company, and I leased a Toyota Dyna with them. Till now, I am their customer for 5 years. Their vehicle is right in condition. whenever I need to service my van, they will send me a reminder before the date reach in case I overlook the date. Thanks for the service for all those years."
And that's it for our list of the best van rentals in Singapore. If you've tried out any of their services in the past, don't hesitate to share your experiences with us.
By the way, if you're also planning to get your own car but don't have enough funds yet, you might be open to the idea of the best car loans in Singapore. With these car loans, you will have to worry about your own transportation ever again!