12 Best Couriers in Singapore: Cheap, Fast and Efficient! (2021)
Have you ever experienced a late or poor delivery on an important package? Most people have unless they only ever use the best couriers in Singapore.
In fact, that's a good rule of thumb whenever you have to send something on or from the island. Why waste your money on a courier service in Singapore if you can't rely on them to do the job?
Fortunately for you, we've gone ahead and narrowed down the options by inspecting the many local courier service available in Singapore.
In the end, we came up with the ones that we'd recommend for best results — these are 11 of the best Singapore courier service available!
1. Ezie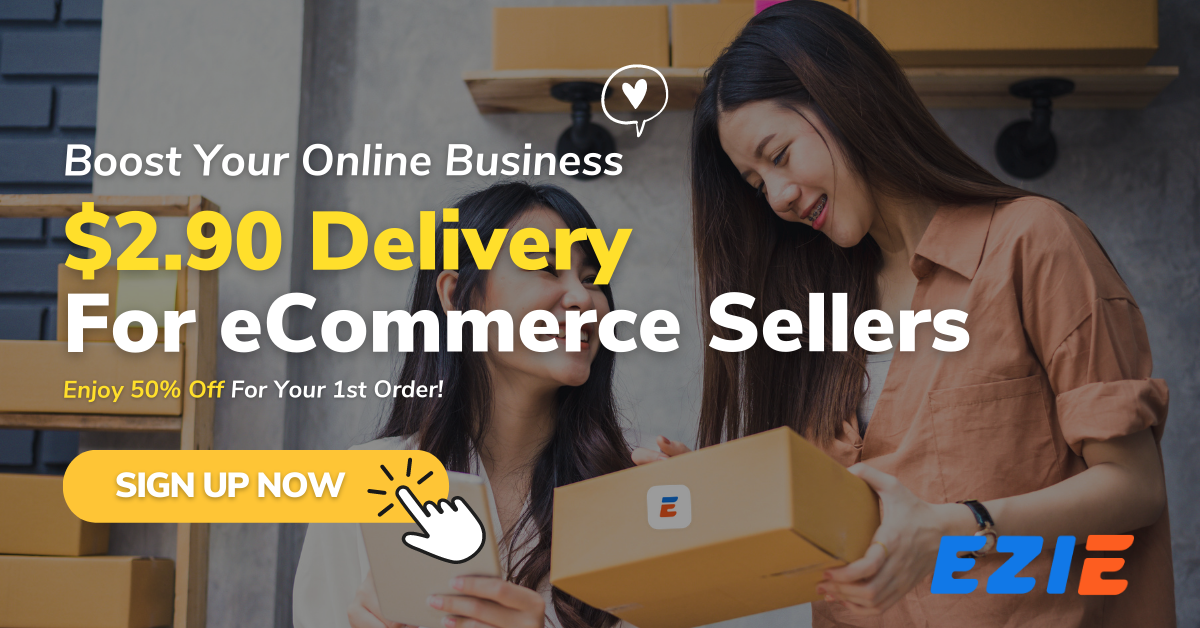 BEST FOR: Shopee OLP/SOF sellers, Lazada DBS sellers, Shopify & Woocommerce sellers
PRICING:
Below 2kg (3-5 days standard): from $2.98
Below 5kg (3-5 days standard): from $3.21
Below 5kg (1-3 days express): from $3.75
Below 5kg (3-5 days paperless): from $3.75
Below 5kg (6-8 hours same day): from $13.91
Below 20kg (2-3 hours instant): from $8.56 (Basic fee)
WEBSITE: https://ezielog.com/
ADDRESS: 230 Victoria St, #15-01/08 Bugis Junction, Singapore 188024
CONTACT DETAILS: [email protected]
OPERATING HOURS: 
(Customer Support Live Chat) 
Mon-Friday: 9am – 6pm 
Saturday: 9am – 12pm 
DELIVERY BOOKING ONLINE: 24/7
CUSTOMER SERVICE: +65 9076 2127 Whatsapp / Telegram
EZIE App is a revolutionary company building the most innovative "super-app" digital platform to help new eCommerce / social sellers and SMEs to grow their business online with Financials, Logistics, and Sales & Marketing business solutions.
If you are selling on social media (Instagram, Facebook) or Lazada / Shopee / Carousell and do not want a huge shipping or delivery fee, we believe that Ezie is the perfect application for you.
You can simply connect the online Lazada / Shopee / Shopify stores to EZIE and they will automatically import your pending orders from e-commerce platforms so that you can quickly select the most suitable Lazada courier, Shopee courier, or Shopify courier.
Service Highlights
Full integration with your eCommerce multi-stores (Lazada, Shopee, Shopify, Woocommerce)
Working capital loans
In-transit parcel protection program
Fast online delivery booking
Suitable Both Individuals and Businesses
No Subscription or Min. volume to start
Customer Reviews
Here are some testimonials from their previous clients:
"Delivery service is critical for our business. EZIE has a large portfolio of courier services (3h express delivery, same day delivery, express delivery, overseas delivery, etc.) allows our company to always meet our customers expectations."
"The EZIE customer support team is always very supportive to help us coordinate parcel delivery with their delivery company. Having someone that we can trust that will answer our questions related to the delivery courier and even help us to coordinate door-to-door delivery with the courier service vendors in case of dispute is also very helpful."

2. EasyParcel Singapore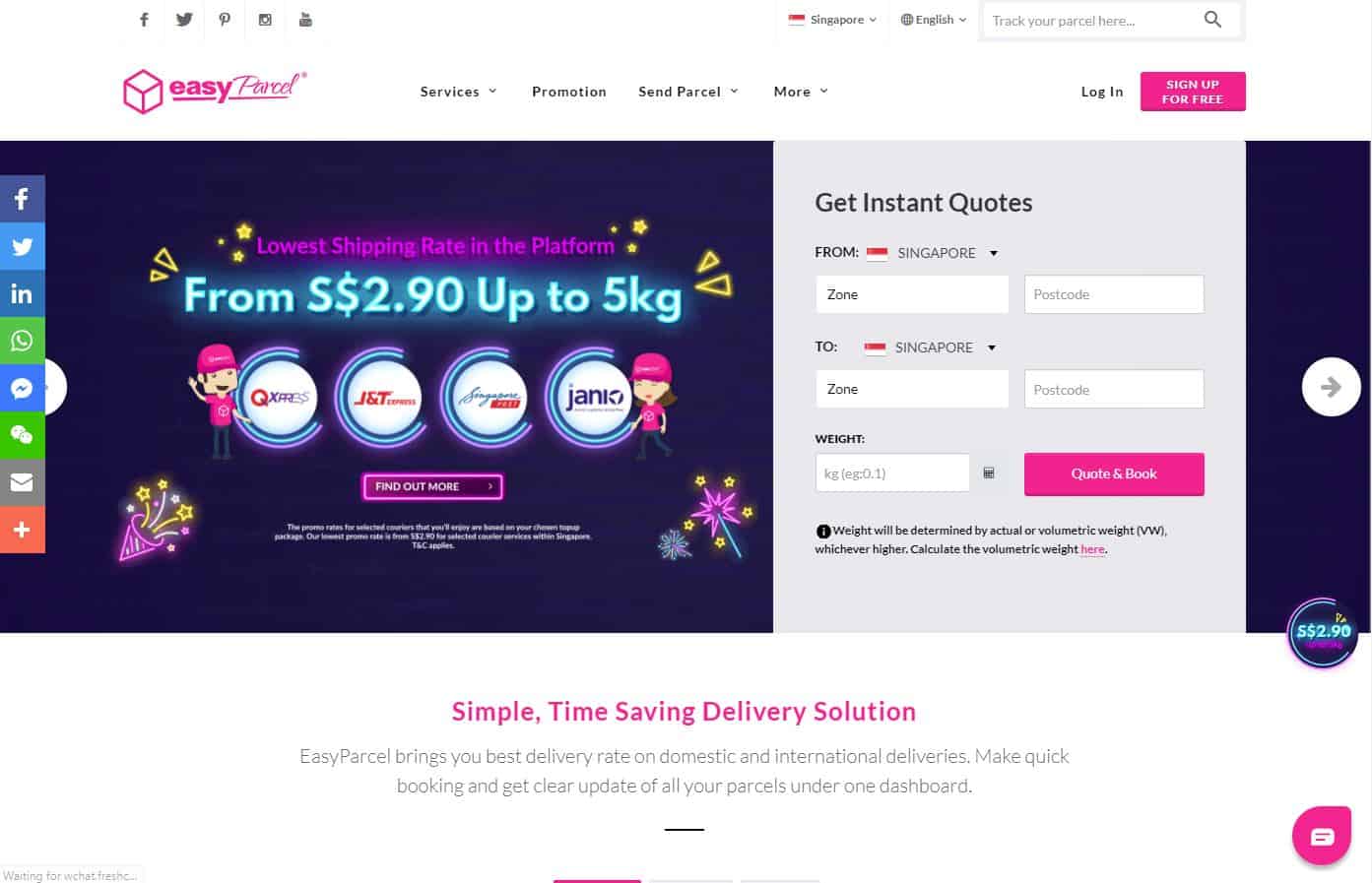 BEST FOR: Affordable rates with many courier choices including Qxpress, J&T Express, SingPost and more
PRICING:May get instant quotes on their website, from S$2.90 for local delivery, from S$3.90 for international delivery.
WEBSITE: https://easyparcel.com/sg/en/
FREE SIGN UP: https://bit.ly/best-easyparcel
ADDRESS: Singapore
CONTACT DETAILS: https://easyparcel.com/sg/en/contact-us/
OPERATING HOURS: 24/7
DELIVERY BOOKING ONLINE: 24/7
CUSTOMER SERVICE: https://easyparcel.com/sg/en/contact-us/
EasyParcel Singapore is an online booking platform that can deliver any type of parcel. Unlike other courier companies, you may be able to get instant quotes from them by simply visiting their website.
We will give you more than enough reason why you should start considering them as your go-to platform for delivery.
First of all, they offer a wide range of services, from domestic shipping to international shipping they got your back. In line with this, it will still have an affordable rate even it if will be shipped out of the country.
Second, they accept bulk upload which means you can make orders up to 100 times at a time. This feature is perfect for small businesses that do not have their own delivery service yet.
Lastly, their partnership with other premium courier companies is quite commendable. As mentioned above, this allows them to cater to domestic and international delivery.
They are in partnership with QXpress, Ninjavan, Singapore Post, Viamove, UPS, Park Parcel, UrbanFox, TNT, J&T Express, Aramex, PickUpp, XDel, Airpak, Jani, SF Express, and so much more!
Service Highlights
Fast Online Delivery Booking
Many Courier Choices with Rate Comparison
Free Doorstep Collection (No Minimum Parcel Required)
Easy Online Tracking for Shipment Statuses
Integration with Your E-commerce Stores / Website
Suitable Both Individuals and Businesses
No Subscription, Deposit or Volume Commitment Needed
Customer Reviews
Here are some testimonials from their previous clients:
"By using EasyParcel, we can single click to create order in courier website, auto detect another courier when the common use courier is not available in the city, schedule when to collect the parcel as well as API to query order status easier. Thus it indeed save a lot of our time in preparing and printing the consignment note."
"Our team could save half of the time compare to conventional procedure, the most obvious parts are printing orders and searching order history, we had more time to improve other parts in our business."
3. UParcel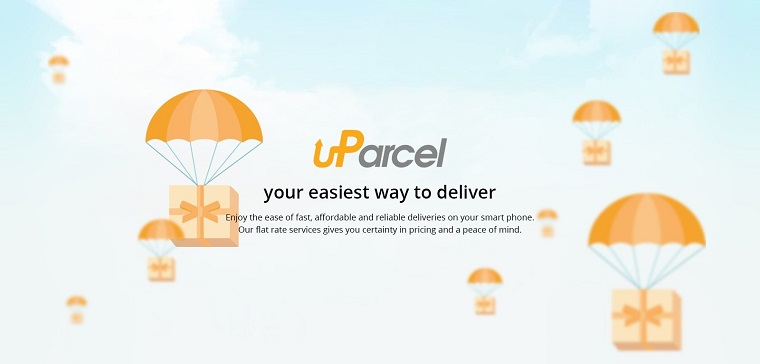 BEST FOR: Various Delivery Options
PRICING: Rates
WEBSITE: https://www.uparcel.sg/
ADDRESS: 10 Kaki Bukit Ave 4, #05-70, Premier @ Kaki Bukit Building, Singapore 415874
CONTACT DETAILS: +65 6589 8763
OPERATING HOURS: 9am-10pm (Monday – Sunday). They do pick-ups and deliveries from Monday to Sundays.
DELIVERY BOOKING ONLINE: 24/7
CUSTOMER SERVICE: 9.30am-7.00pm (Monday – Friday), 10am-2pm (Saturday)
Whether it is for personal or business purposes, UParcel will be able to serve you with fast, accessible, and accommodating services. Regardless of the size and weight of your parcel, you can be certain that it will be delivered to you, safe and secure.
They also provide door-to-door services to lessen the hassle of going to the package pickup centres. In case the item has lost during the transaction process, no worries because it can be insured.
Furthermore, if you have a document or a parcel that must be delivered urgently, you can rely on their 24/7 shipment services. That convenience is what puts them in this list of the best couriers in Singapore.
Service Highlights
Mobile app services
Affordable and fixed rates
Special bulk discounts
Customer Reviews
Customers are highly satisfied with UParcel's timely updates, responsive staff, reliable deliveries, and storage services. Rachel Wong, a loyal customer, shared her own experience on Google Reviews:
"I have been using uParcel for several years. I found them very reliable and always deliver excellent service! I have tried using other delivery companies however I still prefer uParcel in terms of value and simplicity."
4. Fast Fast Delivery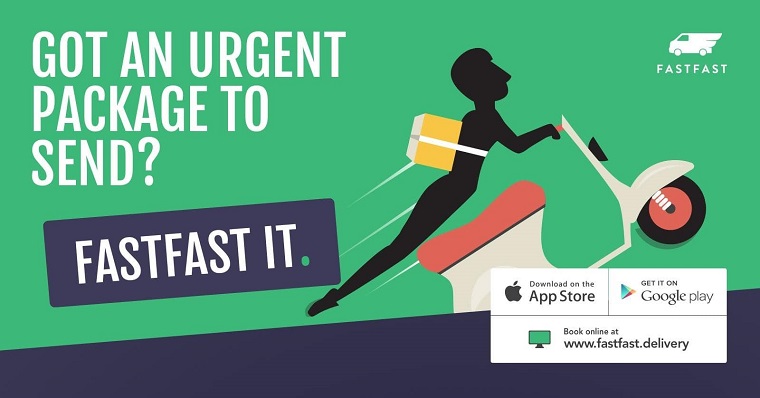 BEST FOR: Instant Package Delivery (Within the day)
PRICING: Rates
WEBSITE: https://www.fastfast.delivery/
ADDRESS: 26 Sin Ming Lane #07-115, Midview City Singapore 573971
CONTACT DETAILS: +65 6659 6510
OPERATING HOURS: 24 Hours
CUSTOMER SERVICE: Monday – Friday, 9am to 6pm
It probably makes sense that a company named Fast Fast Delivery is eligible for the title of the best courier in Singapore.
The company embraces its name because of its on-demand and speedy services. What stands out the most about this courier service is that they are being recognised by entrepreneurs. They provide reliable and convenient assistance for business operations.
Once you've used their system, you might be surprised by how easily you can send or receive your parcel in no time. You can also easily set up your delivery through their mobile app.
Service Highlights
Weekend promotions
Insured coverage
90 minutes least duration time of delivery process
Customer Reviews
Fast Fast Delivery offers time-efficient and low-cost rates with high-quality services, making them a trustworthy courier for many customers. A reviewer left this high-rated feedback on Google Reviews: 
"Requested for an urgent delivery of a 10kg parcel from an online retailer's warehouse situated at Yew Tee to my place at punggol this morning at 10:35am, and I received the item by 12pm. Delivery man Mr Dennis Chang was very patient, efficient and friendly. It was both our first time using   fast fast delivery, him as a driver and me as the sender.  It was quite a smooth and pleasant process. Big thanks to Mr Chang! The Customer Service helpline staff Sherry was another kind lady who patiently taught me how to navigate the website and explained to me in detail fast fast delivery's services and limitations (they do not allow scheduled requests) Greatly appreciate her comprehensive info! Would highly recommend fast fast to anyone who needs to deliver urgent bulky parcels." 
5. Go Go Van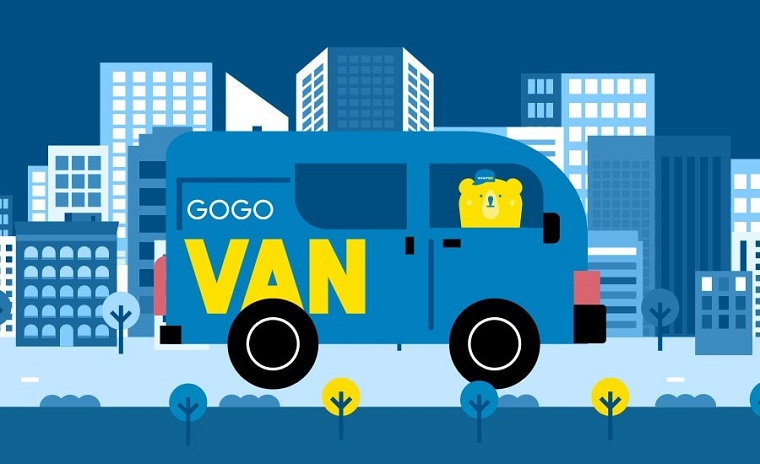 BEST FOR: In-store Kiosk Services
PRICING: Rates
WEBSITE: https://www.gogovan.sg/
ADDRESS: 18 New Industrial Rd, #05-17, Singapore 536205
CONTACT DETAILS: (+65) 6836 1110
OPERATING HOURS & CUSTOMER SERVICE: Daily, 09:00am – 6:00pm
Gogovan is said to be the first local courier service in Singapore that started with an app-based platform. Since their beginning, they've been continuously serving their customers with practicality and efficiency.
Similar to Fast Fast Delivery, they also have same-day delivery services. The only difference is that they have an in-store kiosk that'll let you do a self-booking.
If you're relocating, they can also help you move your furniture and all of your things to the new area that you will be staying at.
It is highly suggested that you sign up for an account to get an accurate quote for your delivery. 
Service Highlights
Van rental service for business purposes
Moving services for relocation of homes or offices
Door to door services
Customer Reviews
The success of Gogovan can be shown in its many outlets in several international countries. That already tells you how satisfied their customers are, because they wouldn't have been able to expand had they failed to please their clients.
Here's a great review from Google Reviews that shows what a typical delivery experience is for their clients:
"On 11 Mar 19, at about 2030hrs, I requested for a Gogo Lorry from Punggol to [email protected] Woodlands. The driver is very informative. He updated me the estimation time of arrival and followed by a whatsapp to update me he is reaching. He arrived on time. Also, he helps me into loading /unloading and carry my items to my store knowing that I only have one manpower. Good thing that he has trolleys that really convenience our storing process. He is one in a million who did what he has done as me mentioned above. No regrets on hiring and paying. Good job Gogo for having such a driver on the road." 
6. Pickupp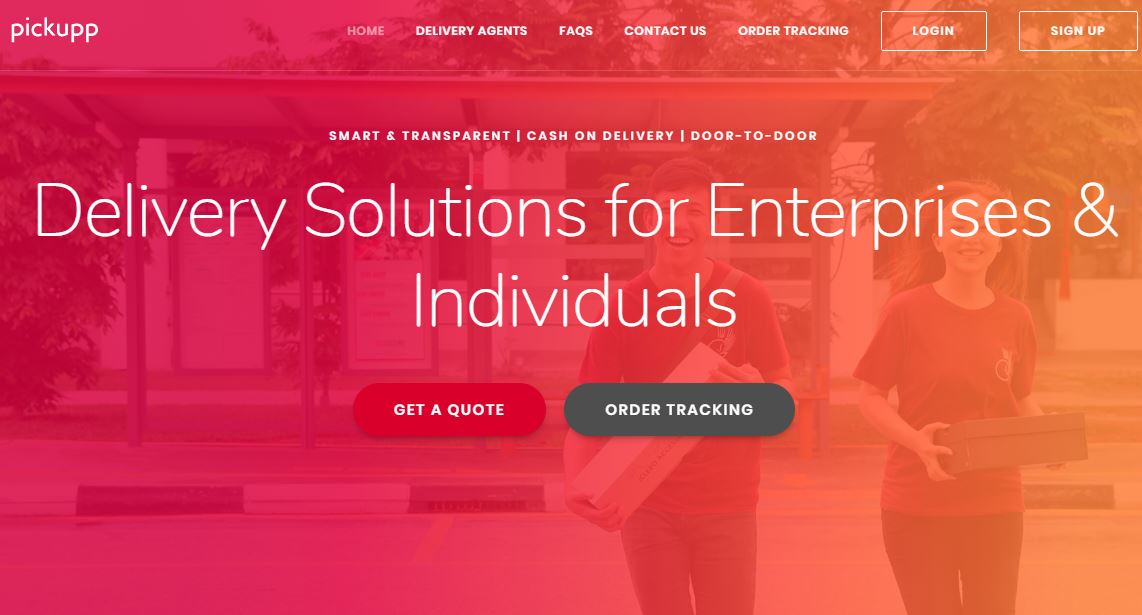 BEST FOR: Pick up and deliver in 4 hours
PRICING: same day 4-hour delivery is from $7.50 but next day delivery is from $3.20
WEBSITE: https://sg.pickupp.io/
ADDRESS: 5 Shenton Way, UIC Building #10-01, Suite 1182, Singapore 068808
CONTACT DETAILS: [email protected]
OPERATING HOURS:
– 0800 to 1200hrs
– 1000 to 1400hrs
– 1300 to 1700hrs
– 1600 to 2000hrs
– 1900 to 2300hrs
– 1000 to 1700hrs
– 1000 to 2200hrs
(All deliveries created outside the above time slots will be automatically adjusted to the next available time slot.)
Pickupp is a technology-based logistics platform that currently serves more than 21,000 merchants across Southeast Asia. They're popular for their 4-hour same-day, next-day, and 1-to-3-day door-to-door delivery services.
They have an easy-to-use portal, parcel tracking, and a rating system that can help send your goods to your customers hassle-free. Their highly competitive rates can easily make them the cheapest courier in Singapore.
Pickupp has also launched an eCommerce feature on its app to make it easier for customers to get what they need within the app. More information on the platform can be found here: https://sg.pickupp.io/shop-on-pickupp/
Service Highlights
Lowest cost deliveries starting from $3.20
On-demand, speedy door-to-door delivery, anytime, anywhere
GPS real-time tracking
Cash on delivery
Matching guarantee
Customer Support Center
Customer Reviews
One of the main reasons this is in our list of the best couriers in Singapore is its flexibility and responsiveness to customer demands. You'll see this in a lot of the reviews its clients leave.
Here's an example of a review mentioning this particular strength of the company:
"Being able to deliver emergency orders, arrange pickups and change destinations on the day itself gives our business an edge. Our customers love the flexibility of the service."  – Fashion Company
7. Lalamove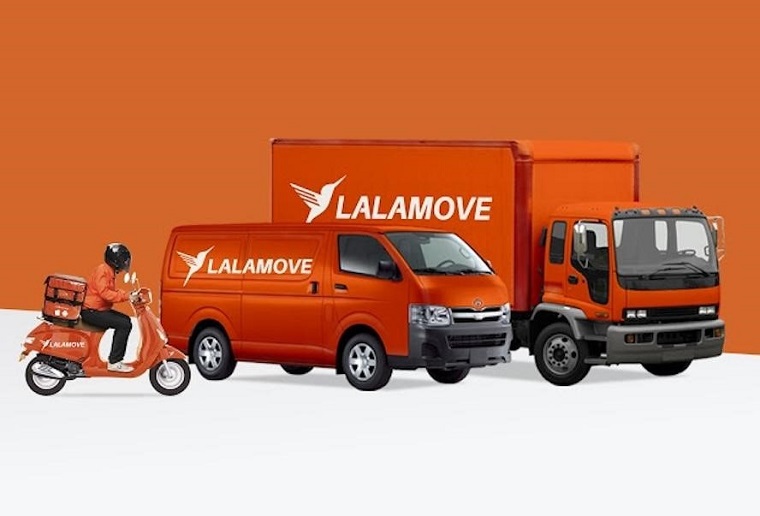 BEST FOR: Customisable Delivery Experience
PRICING: Rates
WEBSITE: https://www.lalamove.com/singapore/
ADDRESS: 10 Ubi Crescent, Ubi Techpark (Lobby C), #04-35, Singapore 408564
CONTACT DETAILS: 6631 8383
OPERATING HOURS & CUSTOMER SERVICE: 8am to 10pm daily, including public holidays.
Unlike many the other courier establishments, Lalamove started as a moving services company that focuses on customers who will be transferring residency or office. After their business expanded, they added options for smaller and lighter items.
They are also proud to say that they provide one of the shortest delivery times for many tasks (55 minutes). Many different corporate businesses in different industries are also partnered with them.
Service Highlights
Short delivery time
Bonus rebates
On-demand delivery services
Estimated prices
Customer Reviews
Lalamove has earned excellent compliments from their customers because of their simple but smart way of delivering items. Whether it is for personal or commercial use, you can be sure that they can be a great help to your transactions.
May Lim recommended the service and wrote this positive review:
"Efficient and prompt service provided!! Picked up important document and delivered it to the law firm when I was overseas. Dispatch personnel updated me the delivery progress knowing that I am not in Singapore to reassure me. Good job! Trusted and reliable services provided. Thank you!"
8. SendSingapore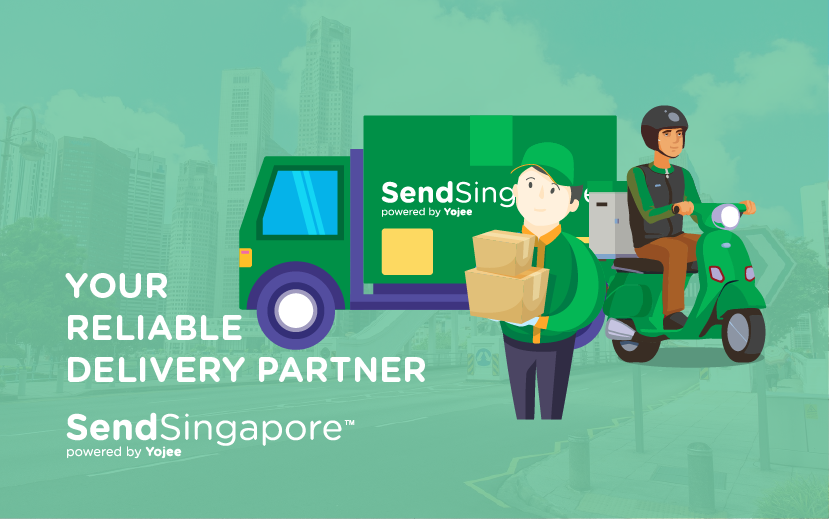 BEST FOR: Flexible and Dynamic Delivery Options
PRICING: Rates  
WEBSITE: http://sendsingapore.com/
ADDRESS: 144 ROBINSON ROAD #15-01 SINGAPORE 068908        
CONTACT DETAILS: [email protected]
OPERATING HOURS: Daily, 10am to 10pm
If your business demands a competent courier partner that can handle an organised system despite numerous transactions, then SendSingapore is the perfect option for you!
They are able to manage multiple day-to-day deliveries. The company uses its own software to control, monitor, and keep track of daily operations so you can truly depend on their services.
Service Highlights
Higher-insured cover charges
API integration that connects your eCommerce website to their platform
Various modes of transport offered
Customer Reviews
Even though they might not be the longest-running company, customers are convinced of their reliable and trustworthy services. Many say they're among the best couriers in Singapore for those on a budget.
A satisfied customer gave a 5-star review on Google Reviews:
"Great service! Their services are quite affordable and the drivers are polite. 10/10 would use again!!"
9. Grab Delivery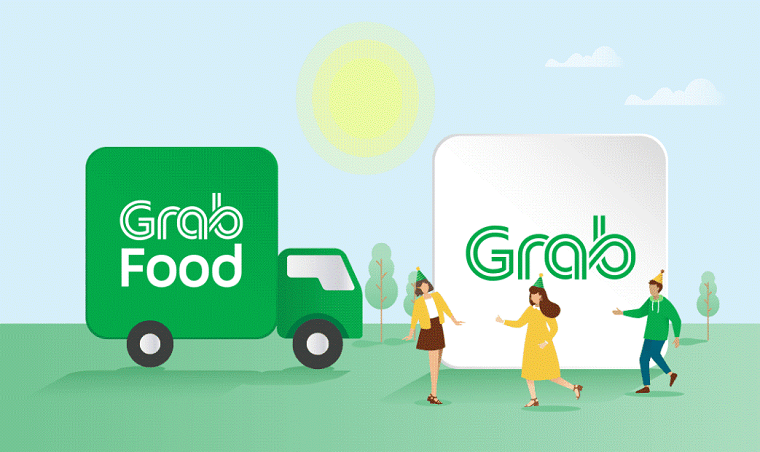 BEST FOR: Multi-purpose Services
PRICING: Rates
WEBSITE: https://www.grab.com/sg/express/
ADDRESS28: Sin Ming Lane, #01-143, Midview City Singapore 573972
CONTACT DETAILS: (65)69021030
OPERATING HOURS: 8am–11pm, 7 days in a week.
Grab Delivery is among the most well-known of our picks for the best courier in Singapore. Part of this is because they offer multiple options to their customers.
Aside from the usual item deliveries, you can also have your food and even your ride transported to you through them. So, for pretty much all of your delivery needs, they'll always be at your service.
Their newly-launched feature (called GrabExpress) also serves an instant delivery. However, they can only process certain parcel sizes (below 5kg) through motorbikes.
As of the moment, it still has some limitations, which are reasonable because it just recently started. Nevertheless, it's still a great option for documents and other lightweight items that must be sent immediately.
At the moment, Grab is one of the few courier companies that provide cheap delivery in Singapore for both items and food.
Service Highlights
Affordable prices for main delivery services
Payment options for in-store purchases
Fund transfers for bill payments 
Customer Reviews
Grab Delivery can be considered a one-stop solution for many of the delivery needs in our daily lives. Throughout the years, they have also proven to be progressive with their new features and services.
These are the reasons most customers say they're among the best couriers in Singapore. A post from Moneymax stated:
"GrabFood is ahead of the game when it comes to customer service, as it lets you get in touch with the rider directly. This makes the food delivery service more flexible than its competitor because you can easily make changes to your order and get real-time updates from the rider."
10. XDel Singapore
BEST FOR: Multi-purpose, technology-backed services
PRICING: Contact for more information
WEBSITE: https://www.xdel.com/
ADDRESS: 207 Henderson Road #01-03 Henderson Industrial Park
Singapore 159550
CONTACT DETAILS: [email protected]
OPERATING HOURS: Contact for more information
XDel Singapore offers a full range of services, whether it is same-day delivery in Singapore, express courier service, eCommerce fulfillment, international cross border distribution, or setting up a bespoke solution for your logistics needs.
Service Highlights
Express courier & delivery services
E-commerce & last mile fulfillment solutions
International & cross-border
Mailroom & logistics solutions
Customer Reviews
Their clients compliment them for their professionalism and ability to go above and beyond the usual when serving a customer. They say the brand is one of the best couriers in Singapore because of its commitment to service.
Here's a review from Loish Goh, E-commerce customer:
"Awesome service! Some mistake happened to my delivery booking and my parcel was not delivered on the date I assumed it to be delivered. I was quite upset when I messaged them, but was quickly made happy again when they kindly offered to help me push for my parcel to be delivered on the following day. So instead of having to wait for one long week more, I am now scheduled receive my parcel tomorrow~
Totally made my day. Thanks for the awesome service guys~"
11. Ixpress647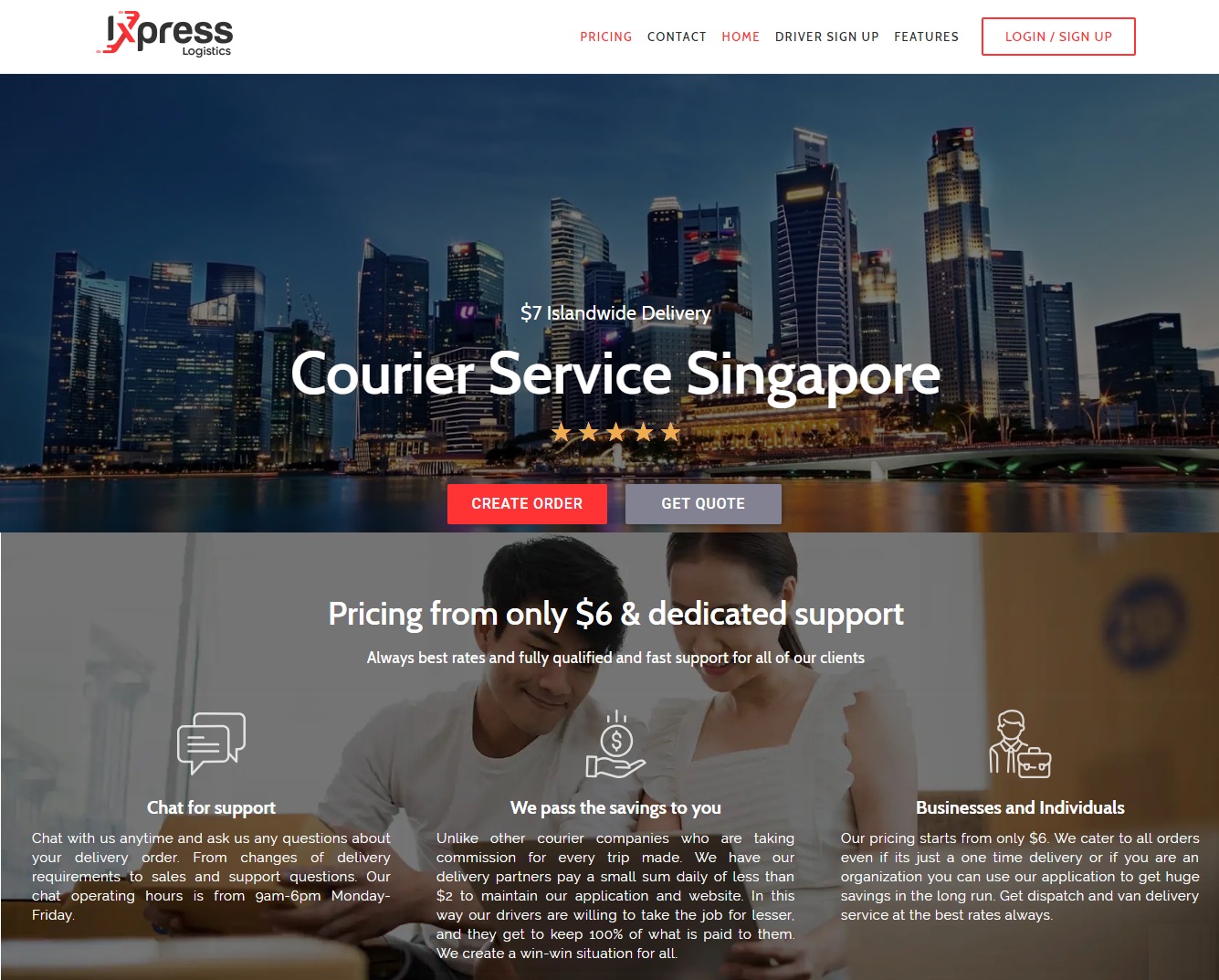 Ixpress647 is a local courier service that works 24/7. They cater to a wide range of customers from individuals to companies, with a rate that starts at $6. 
Every transaction made with them is solely digital, even receipts and similar proof of transaction so not only will you be able to have a convenient and seamless process, you also get to help make a clean and green environment because of the reduction of paper waste.
Ixpress is also not a commissioned-based courier service. They get to maintain the business and their website by having their delivery partners pay a small sum daily of less than $2. So, they get to keep 100% of the payment they receive.
Because of their technology and digital-based operations, iexpress Singapore has one of the best Singapore tracking available in couriers.
Highlights
Friendly & Fast Dashboard

Online tracking of delivery

24 hour courier service
12. Ninja Van
| | |
| --- | --- |
| BEST FOR  | Small parcels |
| PRICING | starts at 3.20 SGD : fit all you can, island-wide |
| WEBSITE | https://packs.ninjavan.co/ |
| ADDRESS | 8 Jln Kilang Timor, #02-01 Kewalram House, Singapore 159305 |
| CONTACT DETAILS | +65 6602 8271 |
Small business owners who are looking for a cheap courier service in Singapore have reason to rejoice. Ninja Van's no-weight-limit, all-you-can-fit delivery scheme is heaven-sent for small packages and items! 
Ninja Van keeps it simple: they only deliver small items. Their regular Ninja Packs come in 3 sizes: XS (230 x 170 mm), S (350 x 250 mm) and M (470 x 330 mm). If your items are fragile, they also have packs that come with extra padding. 
Ninja Van provides door to door delivery in Singapore in 1-3 days. They have approximately 400 drop off locations islandwide, make up to 3 delivery attempts and provide real-time tracking.
Their straightforward operations and pricing are giving many people reasons to name them the most convenient small package courier in Singapore.
Pros
Straightforward pricing
No weight limit
Eco packs available
Several drop-off locations available
Doorstep delivery
Cons
Not suited for bigger packages and parcels
Customer Reviews
Ninja Van has a staggering amount of online reviews (over 6,000!) Here's one from a satisfied client named Wilson Tan:
Delivery man came to my house when nobody was around. Told delivery man that Thursday I will be home entire day or he can deliver after 6pm today.

Did not expect a redelivery today itself at 7.30pm. Fast and efficient, thank you and keep it up.
Customer Marc Lin also seemed to appreciate the improved service of Ninja Van:
I used to be pretty disappointed with Ninjavan but i must say that their delivery services of late have been tip top and more than stellar. Kudos to the Orchard team, they have been perfect in my pass few deliveries! Thank you!
And there you have it! These are the best couriers in Singapore at the present time, whether you need them for a personal delivery or a business-related one.
It's worth saying that if your delivery is for certain items, it may be wiser to just use the shop's delivery service, of course.
For example, if you're just getting cakes delivered to someone as a present, the best cake delivery services in Singapore will bake the cake as well as deliver it themselves. The same is true of the best flower delivery services in Singapore — well, they won't bake the flowers, but they'll prepare and arrange them.
Anyway, whatever you do decide to do or send, we hope your delivery's fulfilled soon! Tell us about it if you use any of the best couriers in Singapore we recommended here.