The 8 Options for the Best Furniture Delivery Service in Singapore
Are you in the middle of moving to a new home and need some help in carrying all of your furniture? If so, you might want to explore the idea of hiring the services of moving companies that offer the best furniture delivery service in Singapore.
Seeking help from moving companies with the best furniture delivery service in Singapore is the most practical option as doing the work all by yourself would be impossible. Even if you ask a few friends to help out, it'd take days before every furniture is transferred.
If you have no idea which companies have the best furniture delivery service in Singapore, we have you covered. We listed some of the most trusted moving and delivery companies for your convenience.
Check them out below!
1. Cheap Movers Singapore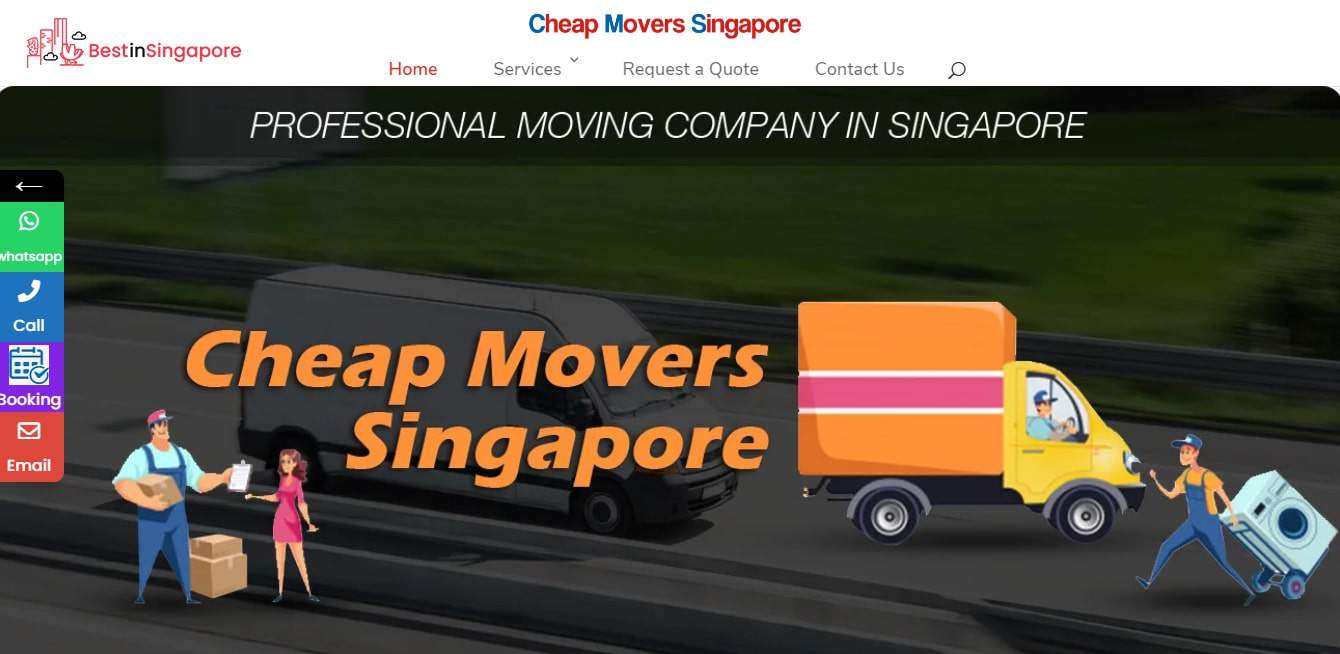 | | |
| --- | --- |
| BEST FOR | Affordable moving services |
| SERVICES | Furniture delivery services, house moving services, office relocation, and storage services |
| WEBSITE | http://www.cheapmoverssingapore.com/ |
| ADDRESS | Singapore |
| CONTACT DETAILS | +65 6854 4955 |
| OPERATING HOURS | Monday – Friday: 8:30 AM – 11:30 PM |
Cheap Movers Singapore provides affordable moving and furniture delivery services, a great option for those who are on a budget. It's considered one of the most trusted moving companies in Singapore as well.
For one, Cheap Movers Singapore offers its services for all kinds of moves, from residential moves down to office relocation. It comes with different moving service packages to accommodate the varying needs and budgets of its customers.
When it comes to the staff, Cheap Movers Singapore is known for having a team of competent and trained furniture and house movers. They will arrive on time to pick up your furniture and drop them off at your new location on time.
Highlights
Competitive rates
Large team of movers
Different moving packages
Customer Reviews
Here are some comments proving that Cheap Movers Singapore offers the best furniture moving delivery in Singapore:
"I would like to comment on the movers, they conducted themselves very professionally and were very helpful to my requests. They also take extreme good care to wrap and protect my items for moving. They were also quite fast and did not waste any time moving. In all, I'm very happy with the service provided. Thank u and please send my appreciation to the team. Cheers'
"An excellent moving company. The movers came within the allotted time, worked very hard throughout the move, were easy to communicate with and were very flexible with my specialized requests. Overall a memorable moving experience. I would definitely use them again."


2. Yong Shen Service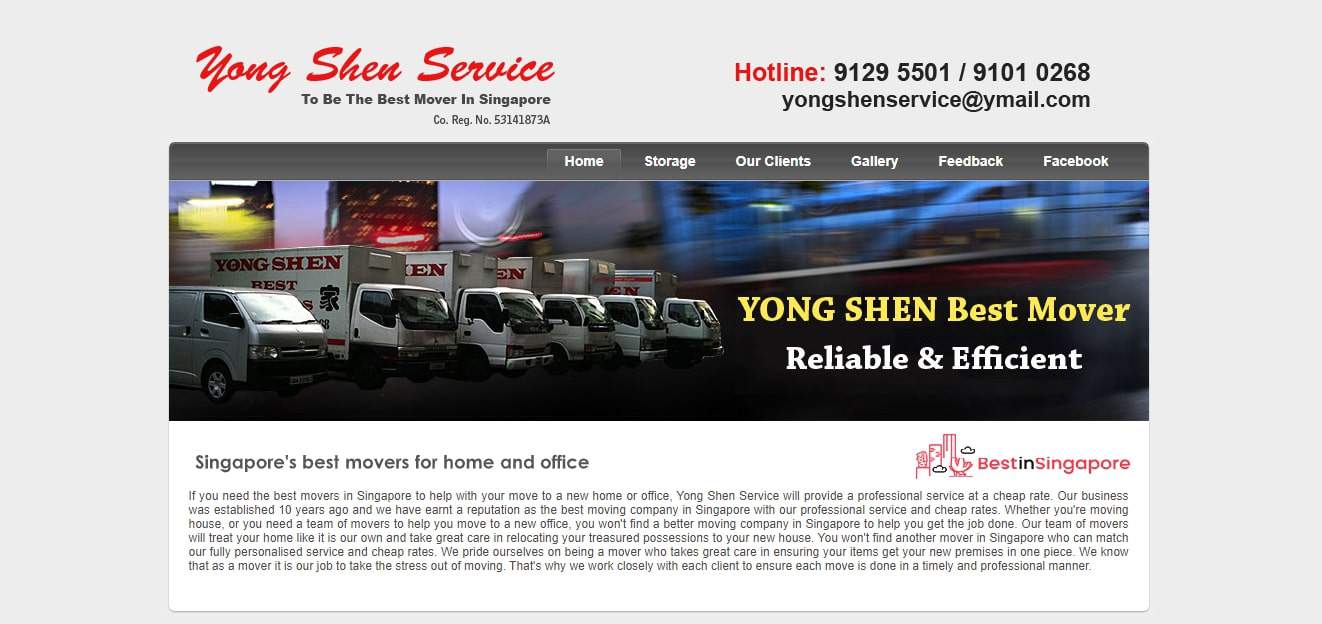 BEST FOR
Round-the-clock services
SERVICES
Furniture delivery services, storage services, home relocation, and business relocation
WEBSITE
http://www.yongshenmover.com.sg/
ADDRESS
39 Woodlands Cl, Singapore 737856
CONTACT DETAILS

+65 9129 5501

+65 9101 0268

OPERATING HOURS
Open 24 hours
With more than 10 years of experience, Yong Shen Service has become one of the most in-demand moving companies on the island, providing both cheap and professional services. It can lend a hand in moving furniture, residential moves, and even business relocations.
Yong Shen Service employs a team of movers known for being careful and respectful of every client's space and property. Customers can expect that its movers will treat every furniture as if it's their own, making sure it arrives at your new place in one piece.
Another reason we consider it one of the top moving companies with the best furniture delivery in Singapore is the fact that it operates round-the-clock.
Highlights
Affordable rates
Professional movers
24 hours services
Customer Reviews
Take a look at some comments shared by previous clients of Yong Shen Service:
"I had used Yong Shen Service two years ago, this time almost switched to another mover due to Yong Shen's heavy booking. Considering that I have many TV and PC screens and knowing safety risks, I still chose Yong Shen for its reliability. It surely didn't disappoint. I have a lot of stuff, and the staff are very helpful and try hard to squeeze everything into one truckload. They are efficient as always. Everything reached my new place intact."
"Booked them for a cabinet display pick up and delivery. Very good price and responded fast. Pick up on time and deliver it to me. Item wrapped up and polite and nice movers. 5 stars service!! Will use them again if needed."
3. Vantage Delivery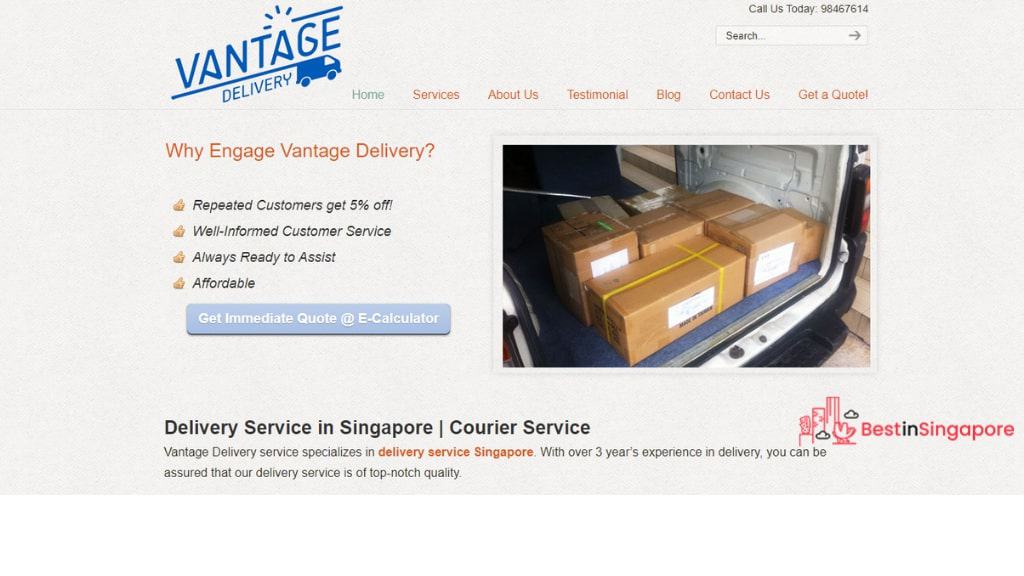 | | |
| --- | --- |
| BEST FOR | On-time deliveries |
| SERVICES | Furniture delivery service, courier service, distribution service, and van delivery |
| WEBSITE | http://www.vantagedelivery.com/ |
| ADDRESS | 160 Pemimpin Pl, Singapore 576128 |
| CONTACT DETAILS | +65 9846 7614 |
| OPERATING HOURS | Monday – Friday: 9:00 AM – 11:00 PM |
Vantage Delivery is a courier company that offers all sorts of delivery services, such as distribution, express delivery, and furniture delivery, among others. Reasonable rates and high-quality services are what customers can expect from them.
It's only been around for 3 years, but it's managed to earn the trust of hundreds of household and business owners in Singapore. It comes as no surprise given that it rewards repeat customers with a 5% discount on their succeeding bookings.
When it comes to customer services, Vantage Delivery has a dependable team always willing to answer the queries and concerns of customers. This is why we consider it among the top options for the best furniture delivery in Singapore.
Highlights
Competitive pricing
Excellent customer service
Fast and efficient services
4. Caleb's Van-ture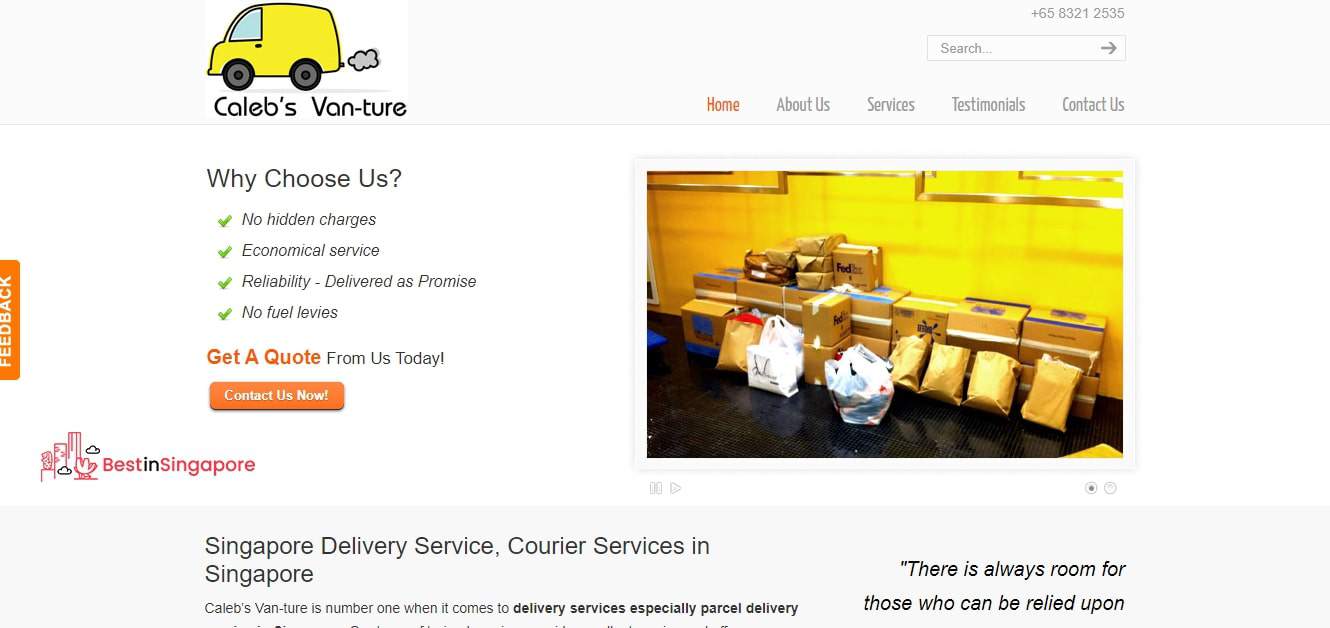 | | |
| --- | --- |
| BEST FOR | No hidden charges |
| SERVICES | Furniture delivery service, express delivery, night delivery, and courier service |
| WEBSITE | http://www.calebsvanture.com/ |
| ADDRESS | 100 Jln Sultan, Singapore 199001 |
| CONTACT DETAILS | +65 8321 2535 |
| OPERATING HOURS | Monday – Friday: 9:00 AM – 5:00 PM |
Caleb's Van-ture is a trusted delivery service company on the island that offers a broad range of services, from furniture delivery to courier service. It's a great option for both household owners and business owners who are in need of a reliable delivery service.
One thing we like about Caleb's Van-ture is how affordable its services are, compared to other moving and delivery service companies. The business is transparent when it comes to rates of its services, so customers are aware of what they're paying for.
If you're in a rush to have furniture or other items delivered, you can definitely trust its services. You may opt for its express delivery service in case you're in a hurry.
Highlights
Cheap rates
No hidden fees
Fast delivery
Trained movers
5. VS Movers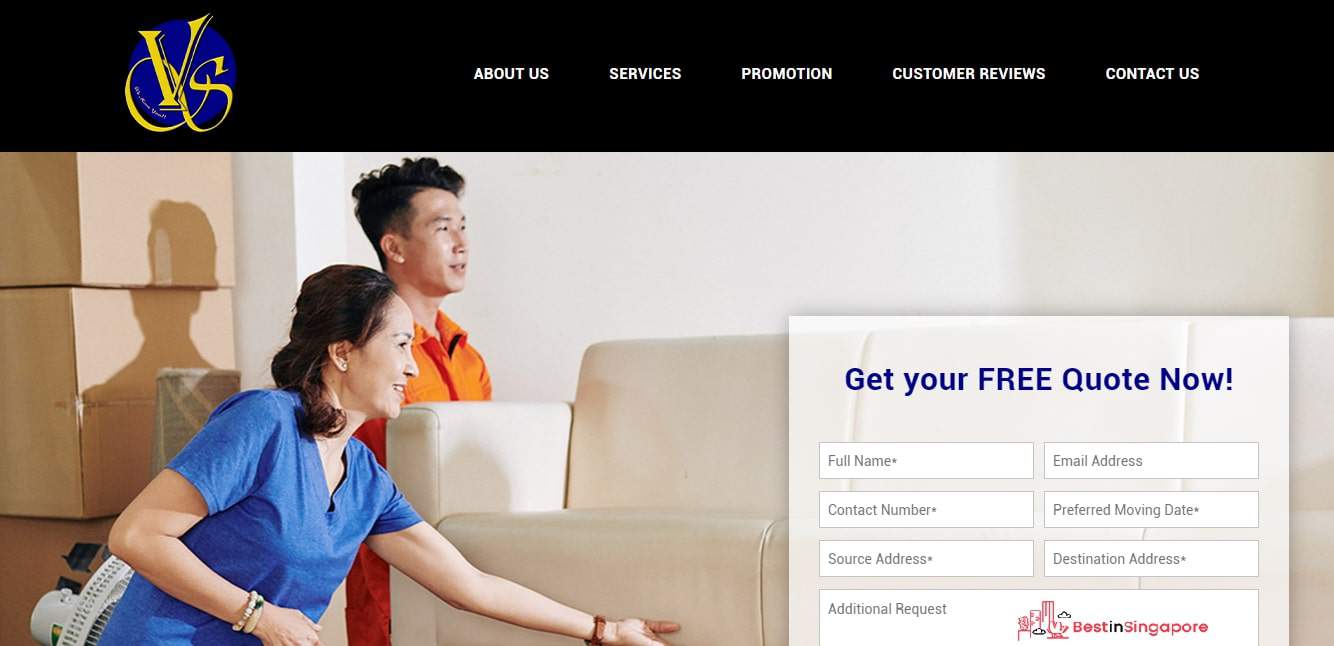 | | |
| --- | --- |
| BEST FOR | One-stop moving services |
| SERVICES | Furniture delivery service, disposal service, disposal service, and handyman service, home relocation, and business relocation |
| WEBSITE | http://vsmovers.com.sg/ |
| ADDRESS | Ang Mo Kio Ave 5, #03-20 North star building, Singapore 569880 |
| CONTACT DETAILS | +65 9786 8480 |
| OPERATING HOURS | Monday – Friday: 9:00 AM – 5:00 PM |
If you're after a moving company that can help out in every aspect of house moving, then there's no better option than VS Movers. It offers all sorts of services that people who are in the process of moving may need.
Some of these services are handyman services, disposal services, storage rentals, moving of bulky items, packing and packing, and of course, the best furniture delivery in Singapore. You won't need help from other moving services once you've tried VS Movers's all-in-one services.
Hiring the services of VS Movers can also help in saving money because you will only be paying for entirely one service, which already includes everything you may need.
Highlights
Comprehensive moving services
Trained and professional movers
Quick and efficient deliveries
Customer Reviews
We checked Google Reviews to see how other customers find the services of VS Movers. Here are some comments worth noting:
"My 2nd time engaging their services! The 1st move was very smooth and price was very reasonable that's why i decided to engage their services again. Jasper and the team were very efficient and handled my furniture very carefully. Salesperson was very responsive as well! Very highly recommended. Thank you."
"My experience with VS Movers is excellent! movers were very fast and efficient, managed to move even thought it was very last minute. Also, there was a sure win lucky draw. very nice of them to add that in! I will definitely recommend it to my friends who wanna move their houses in the future . Keep up the good work!"
6. GetVan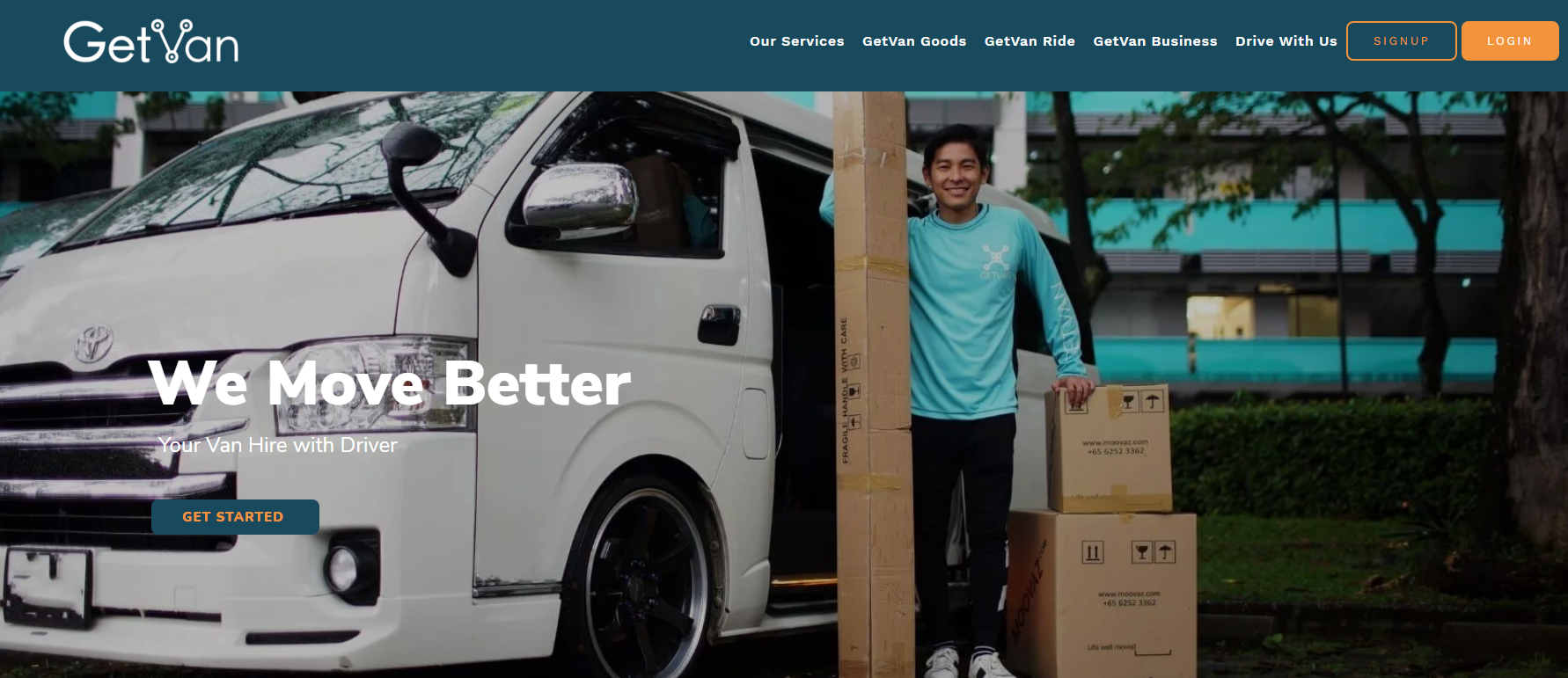 BEST FOR
Convenient booking services
SERVICES

Send Parcels & Goods

Hire Transportation

Logistics For Business

Become A Driver

WEBSITE
https://getvan.com.sg
ADDRESS
Singapore
CONTACT DETAILS
Application
OPERATING HOURS

24/7
When it comes to moving convenience, GetVan makes an excellent choice of a company. Any client can avail of their services through the company's app, which offers an easy-to-navigate UI that will have one booking a moving vehicle in no time.
Moreover, GetVan also understands the need for fair and transparent prices. Clients won't have to worry about additional costs when working with GetVan, as the company computes the total amount based off the distance and weight of the objects. Clients can also choose when the booking should arrive.
Highlights
Transparent pricing
Scheduled booking
Affordable services
Various vehicle sizes
7. Vimbox Movers Singapore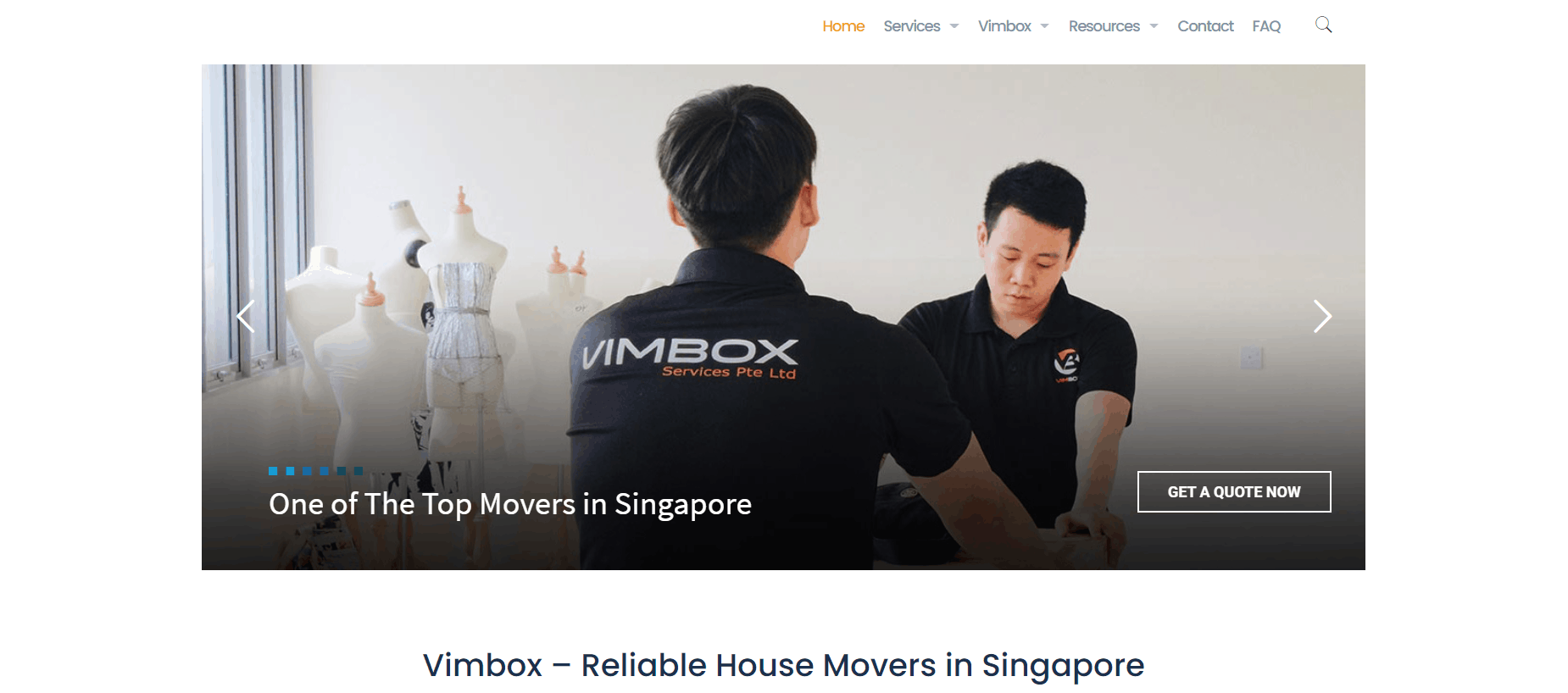 BEST FOR
First-class service
SERVICES

Furniture delivery service, moving service, storage provider

WEBSITE
https://vimboxmovers.sg/
ADDRESS
10 Kaki Bukit Road 1, #03-08, Singapore 416175, KB Industrial Building
CONTACT DETAILS
tel: +65 6339 4439
email: [email protected]
OPERATING HOURS
Monday – Saturday: 9am–6pm
Vimbox is an award-winning company based in Singapore that does moving, delivery, and storage services not only for local clients, but for international ones as well. They are an all-rounder company, catering to both residential and business deals.
With their 'customer first' mentality, Vimbox can be trusted with quality care for all the items entrusted to them. They will ensure that you get the assistance that you pay for, and so much more.
The hiring process is seamless too. Simply head to their website, choose the service you need, book the date, and Vimbox will do the rest for you.
Highlights
Refined quality of service
Most reliable mover
Caters to small and large scale assistance
Customer Reviews
Take a look at some of the reviews Vimbox has received from their previous clients, proving their top-tier service:
"After reading positive reviews on Vimbox, we decided to give them the project. True enough, thanks to Bernice who arrange Jack & his team to my condo on time on the day of moving. They were very careful & gentle to my piano, antique display cabinet, TV etc just to mention a few.. they carefully wrap them & move my furniture to my new place and carefully unload them, taking extremely good care of my walls & fixtures in the house. Thanks to u guys! Good job done👍. Highly recommended 😊 very satisfied with their impeccable good service 😊"
"Very happy to have engaged Vimbox. They are very experienced and reliable, and their rates are reasonable. During the move, they were not only fast but careful in wrapping the big and small items. Very professional indeed. Highly recommended."
8. Singapore Movers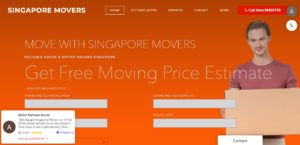 BEST FOR
Professional Moving Services
SERVICES
House Moving
Items packing
Removals/Disposal
Furniture Moving
Student Moving
Commercial Moving
Office Moving
Warehouse Clearance
Document Moving
Contract Moving
WEBSITE
https://www.movers24seven.com/
ADDRESS
1002 Toa Payoh Industrial Park, #06-1457 Singapore
CONTACT DETAILS
96858795
OPERATING HOURS
Contact for more details.
Singapore Movers is a moving company that accommodates clients should they need the said services 24 hours at all days of the week. May it home moving to office relocations, they have just the right equipment and approach that is efficient just for any move setting.
Since they are certified and registered moving company, clients can be sure that they employ only professionals and trained individuals for the job for both their safety and peace of mind.
Aside from this, they also offer full-service moving and are adequately trained in handling, dismantling, loading, and unloading various furniture and other items that can prove to be difficult to move.
However, note that clients may need to take a video with their required contents in order for them to properly assess and accurately quote a moving project.
Nonetheless, their services prove to be reliable and affordable in which their past clients have expressed their satisfaction with their steadfast and responsive services and communication as well.
Highlights
Professional movers employed
Full-service moving available
Respnsive customer service
Customer Reviews
Here are some reviews from their clients:
"We engaged Singapore Movers on 19 Feb 22 for mover services to our new home in Pine Close. It was a right decision. Dinu and his team did a great job to our satisfaction. They came a day earlier to survey the items and did the stacking. On the day of the move, erything went smooth withour any problem. Nothing is broken ! Even our glass display cabinet. They took special care to our glasses table tops. We certainly will engage their services should there be a need. Good Job Dinu & Team !!"
"Engaged Dinu and his team for their moving services from home to nearby storage facility. Dinu was responsive and transparent throughout the process. A party of three turned up on time on the move day and smoothly loaded the items into their 14 footer. At the storage facility, Dinu and team helped to arrange my boxes to fit into the space available. 5 stars to Dinu and his team for a move well executed. They were polite and professional and we are happy to have engaged their services. Will strongly recommend their services to friends and family. Keep up the good work!"
And with that, we conclude our list of the companies with the best furniture delivery service in Singapore. If you've tried any of these companies' services in the past, tell us your experience in the comments below!
For more options, you might want to read our list of the best furniture movers in Singapore. Like the ones featured here, these moving companies offer everything that you might need while in the process of moving out.