The 10 Best Freight Forwarders in Singapore
Are you looking for a reliable forwarding agent to safely transport your business's goods from one place to another? If so, hiring only the best freight forwarders in Singapore should be your priority.
If you're clueless as to where to find the best freight forwarders in Singapore, then worry no more because we have your interests covered. We made a list of the ones we believe are worth trusting. Check them out below!
1. EES Freight Services
BEST FOR
Swift and quality services
SERVICES
Air Freight, Ocean Freight, Trans loading, Warehousing, Project, Dangerous Goods, Exhibition and Events
WEBSITE
http://www.eesfrt.com.sg/
ADDRESS
110 Tanjong Pagar Road, Singapore 088527
CONTACT DETAILS
Tel: (65) 6272 7878
E-mail:

[email protected]

OPERATING HOURS
8am to 6pm
EES is one of the leading logistics providers in Singapore. They were established in 1983 and have served and satisfied various customers since then.
Their company offers consolidation services, project handling, warehousing and distribution, and customs clearance, which makes them the perfect choice for large companies or enterprises that need the large manpower. Furthermore, they specialize in handling printed matters, DG, event and exhibitions, projects, marine ships spares, and automobiles.
Today, they have a team of over 50 professionals who offer a full menu of logistics services to their local and worldwide customer, making them one of the best choices for logistics. They also have an extensive global network that helps them in moving any shipment from any point of the world in the most reliable and economical way.
Highlights
50 professionals
Various years of experience
Provides their clients with constant updates
Recognised and Awarded as one of the Top 1000 SME companies in Singapore from 2011 to 2019
2. Trans Global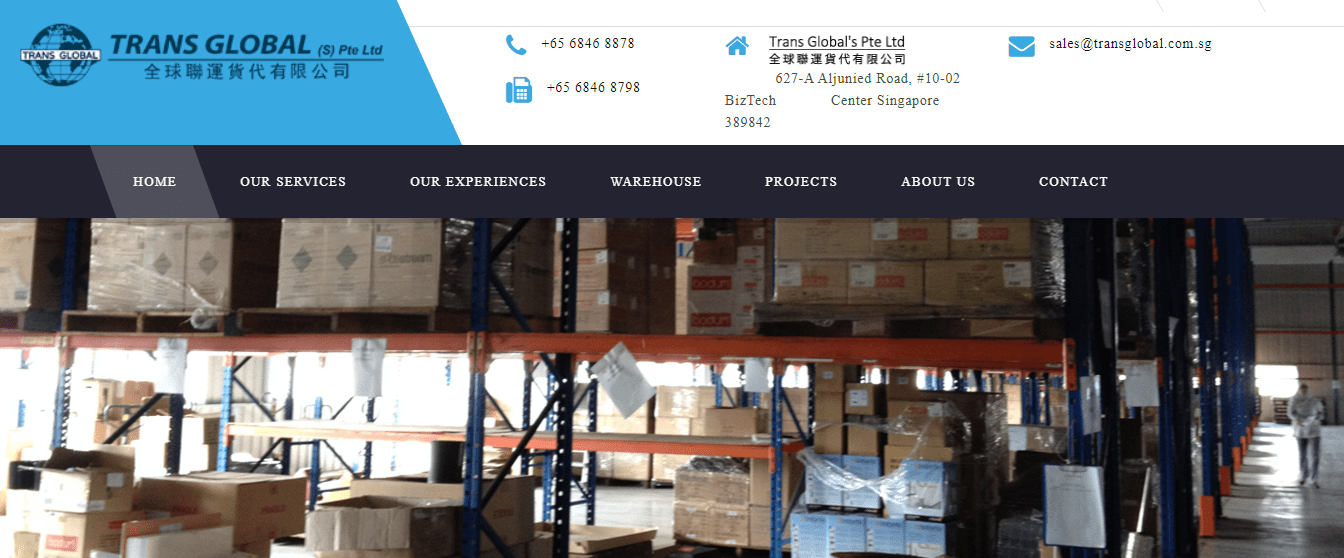 BEST FOR
International Freight
SERVICES
Road Truck, Warehousing, Ocean Freight, Air Freight, and Heavy Lift Equipment
WEBSITE
http://www.transglobal.com.sg/
ADDRESS
627A, #10-02 Aljunied Rd, Biztech Centre, Singapore 389842
CONTACT DETAILS
+65 6846 8878 |

[email protected]

OPERATING HOURS
Monday – Friday, 9:00 AM – 6:00 PM
With more than 17 years of experience, Trans Global has grown into one of the most trusted and best freight forwarders in Singapore. It's the go-to for companies in need of reliable international freight services.
Trans Global offers many other freight services as well, including road truck transportation, warehousing, ocean freight, air freight, and even services for lifting heavy equipment.
It employs an experienced and professional logistics team that will ensure that your package arrives at the destination safely.
Highlights
17 years of experience
Professional logistics team
International transport
3. Global Freight Solutions

| | |
| --- | --- |
| BEST FOR | All Kinds of Freight Solutions |
| SERVICES | Storage Solutions, Sea Freight, Air Freight, Road Freight, Courier, Warehouse, and Project Handling |
| WEBSITE | http://www.gfsforwarding.com/ |
| ADDRESS | 18 Tampines Industrial Cres, #03-09A, Singapore 528605 |
| CONTACT DETAILS | +65 6749 9989 |
| OPERATING HOURS | Monday – Sunday, 9:00 AM – 5:00 PM |
If you're looking for the best freight forwarders in Singapore who can offer any type of freight service, then look no further than Global Freight Solutions. It provides every freight solution that businesses need, from warehouse storage to air transportation.
On top of that, it has managed to earn the trust of many of the well-known corporations not only in Singapore, but around the world as well. Even if you're a small business owner, it offers services that shouldn't hurt your budget.
In terms of handling of goods, you can make sure that Global Freight Solutions will handle items carefully too, delivering them to the destination safe and sound and without a scratch.
Highlights
Weekly consolidations
Flexible delivery time
4. M&P International Freights

BEST FOR
Cargo Insurance
SERVICES
Storage Solutions, Warehouse, Customs Clearance,, Sea Freight, Road Freight, and Air Freight.
WEBSITE
https://www.mp.com.sg/
ADDRESS
37 Jalan Pemimpin, #04-10 MAPEX, Singapore 577177
CONTACT DETAILS
+65 6221 2218 |

[email protected]

OPERATING HOURS
Monday – Sunday, 8:00 AM – 6:00 PM
M&P International Freights is one of the few freight forwarders that provide cargo insurance to their clients — which is why we call it one of the best freight forwarders in Singapore. It even helps clients in securing requirements, if there are any, for customs clearance.
Some of the services offered by M&P International Freights are warehousing, air freight, trucking, road freight, sea freight, and more. It's managed to secure thousands of international trade lines over its 12 years of operation, so rest assured that your cargo's safe with them.
What's more, it offers its services for an affordable and competitive price, making it the perfect option for small businesses with cargo needs.
Highlights
12 years of experience
Assists in custom clearance
5. AGI Freight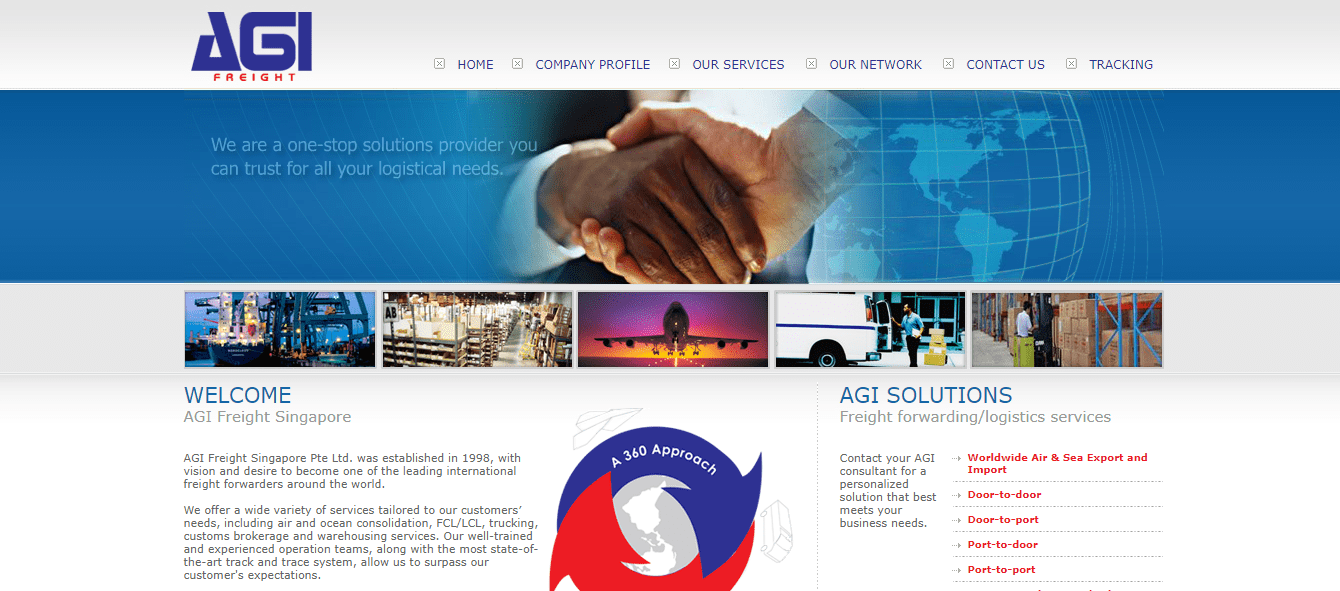 BEST FOR
Door-to-Door
SERVICES
Air Freight, Sea Freight, Road Freight, and Warehouse Services
WEBSITE
http://www.agifreight.com.sg/
ADDRESS
101 Alps Ave, Singapore 498793
CONTACT DETAILS
+65 6545 6033 |

[email protected]

OPERATING HOURS
Monday – Sunday, 8:00 AM – 6:00 PM
Established in 1998, AGI Freight Singapore has been one of the most trusted names in cargo services on the island. It provides a wide-range of freight services, including sea freight, air freight, road freight, and even warehouse services.
One reason we consider it one of the best freight forwarders in Singapore is that it makes use of a state-of-the-art tracking system to ensure that customers are updated on the status of their cargo at all times.
That being said, customers can expect that their package will arrive at the destination safely and on time, as much as possible.
Highlights
Large network
With tracking system
Professional logistics team
6. National Forwarder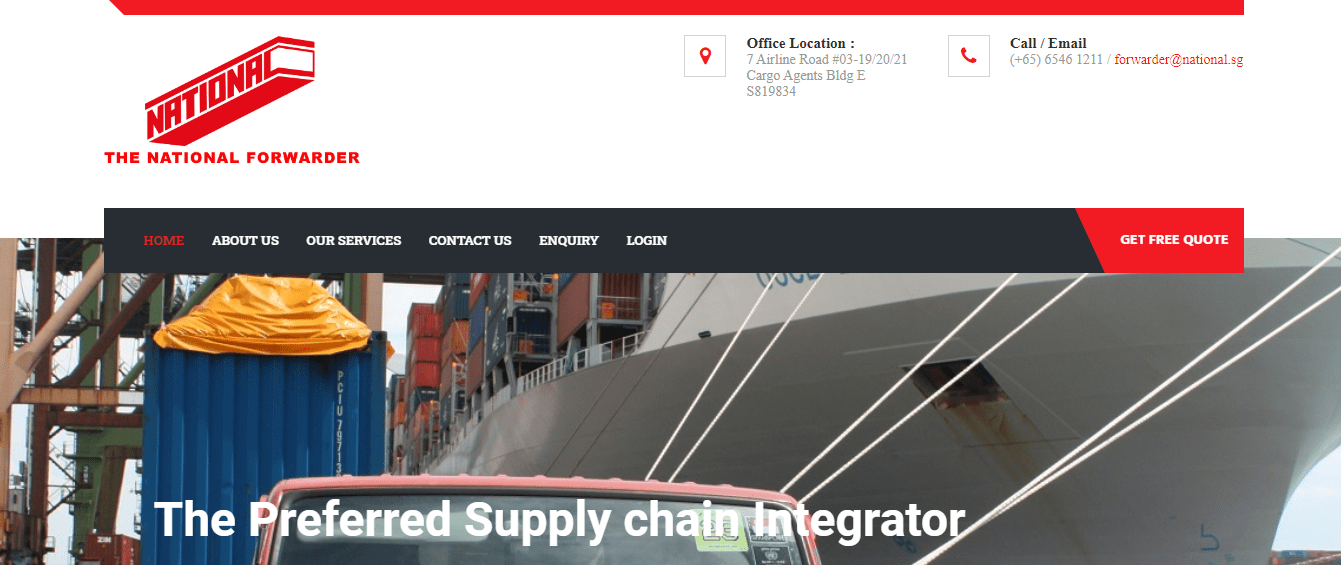 | | |
| --- | --- |
| BEST FOR | Large Warehouse Space |
| SERVICES | Air Freight, Sea Freight, Road Freight, and General Cargo |
| WEBSITE | https://www.nationalforwarder.com/ |
| ADDRESS | 7 Airline Rd, #03-20/21 Cargo Agents Building E, Singapore 819834 |
| CONTACT DETAILS | +65 6546 1211 |
| OPERATING HOURS | Monday – Friday, 9:00 AM – 6:00 PM |
National Forwarder has been transporting cargo from Singapore to different destinations and vice-versa for more than 30 years now. It's become one of the most in-demand and best freight forwarders in Singapore for its consistent topnotch services.
It's also known for having one of the largest warehouse spaces on the island, allowing it to accept and transport huge volumes of cargo every day. Its specialty is transporting heavy cargo to far-flung destinations.
Lastly, National Forwarder is composed of a team of professional and skilled workers who will ensure that your cargo will reach its destination safely.
Highlights
30 years of experience
Huge distribution centres
7. FreightPaul

With the evolution of technology and the internet, it stands to reason that industries should also have more modern approaches in their industry. FreightPaul is one such company, serving as one of the leading innovators when it comes to digitalised forwarding.
They offer a variety of services, including air freight, container transportation, and small parcel deliveries. What makes them stand out from other companies, however, is their digital platform. You can get instant bookings at transparent prices, as well as track the status of your item.
With their fair prices and excellent customer service, FreightPaul certainly won't disappoint. If you have any forwarding needs, they're the ones you should call.
Highlights
10 years of experience
Leading in China's freight industry digitization
8. Rapha Shipping
BEST FOR
Various Services
SERVICES
Ocean Freight (Import/Export), Airfreight (Import/Export), Break Bulk, Warehousing, Transportation, Distribution, Packing & Crating, Cross Trade, Transshipment/Transloading, Consolidation & other services relating to logistics
WEBSITE
https://www.rapha.sg/
ADDRESS
10 Anson Road, #10-11 International Plaza, Singapore 079903
CONTACT DETAILS
Tel: 65 6909 9499 (Main Line)
Fax: 65 6909 9500
OPERATING HOURS
N/A
Rapha Shipping is a freight forwarding service provider that is committed to offering only the best to their clients. With that in mind, they employ the latest methods and processes oriented towards efficiency.
From Sales to Administration, you can rest assured that their team is more than capable of handling those tasks. They've also partnered with other prominent companies to have a large network at their disposal.
Rapha Shipping always keeps its customers at the forefront of their services. When it comes to freight forwarding services, they're the ones you should call.
Highlights
Highly qualified team
Partnered with many businesses
9. Neptune Global Logistics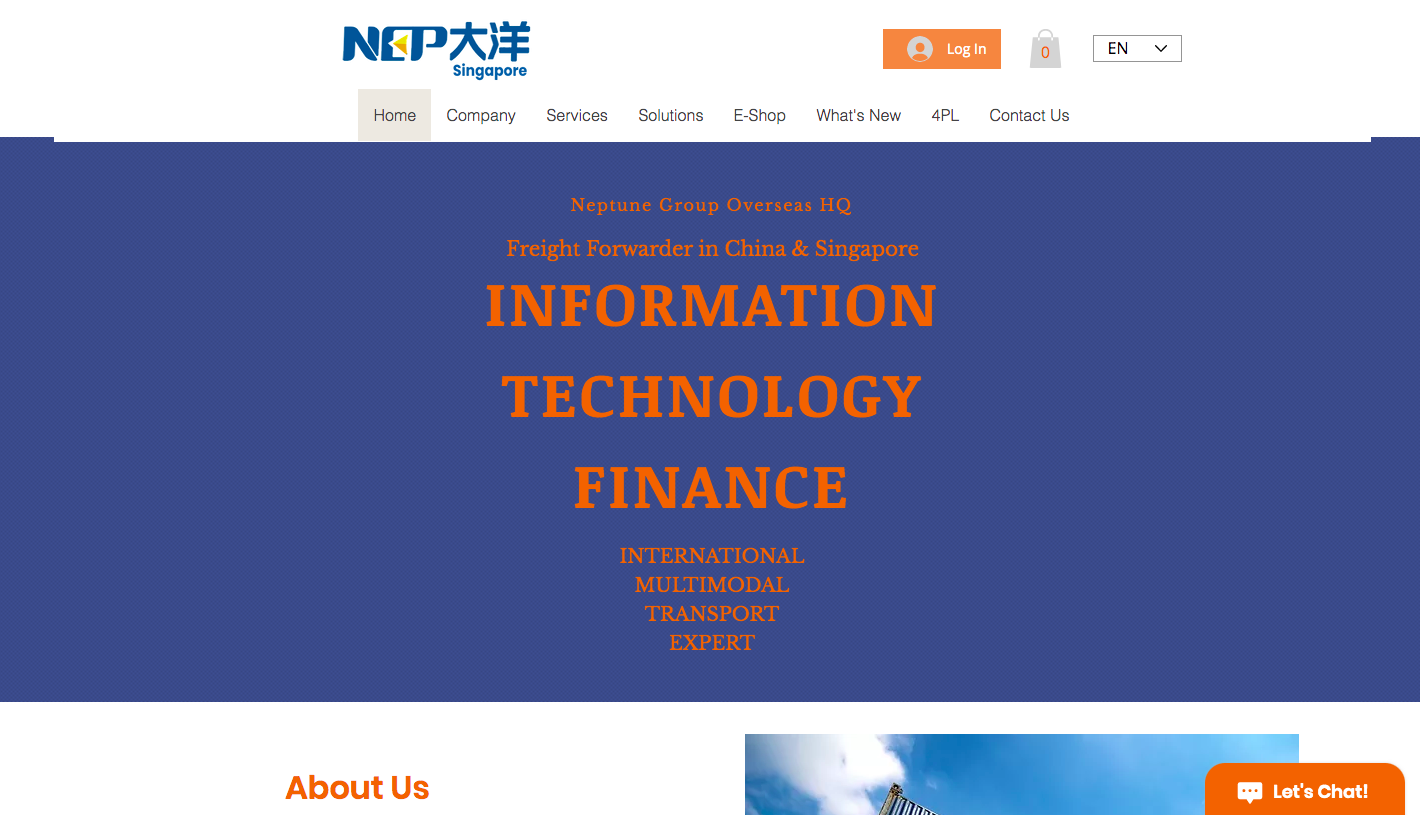 BEST FOR 
Multimodal transport
SERVICES

Multimodal Transport, Seafreight , Container , Railway Transport, Road Transport, 4PL Consulting & Training, Airfreight, Warehousing, Supply Chain (Finance), Logistics

WEBSITE
https://www.nep-logistics.net/
ADDRESS

3791 Jalan Bt Merah #06-05 (e-Centre @ Redhill) S159471

CONTACT DETAILS

Tel: +65 67219386


Mail: [email protected]
OPERATING HOURS

Monday to Friday: 8:30AM–5:30PM
Neptune Global Logistics (formerly Shenzhen Neptune Shipping Co.) was established in 2002. They have almost two decades of experience as a logistics and supply chain management company. 
In 2019, they opened up a new office located in CBD Financial Center, which allows for easier access to facilitate logistics, information flow, and capital flow environment. They have also placed more focus and resources on Southeast Asia in an effort to strengthen their business line with the Asian-Russian-European market. 
Some of the transport services they offer include sea freight, airfreight, road transport, and even international railway transport.  They are ISO 9001 2015 certified and fully committed to providing clients with competitive logistics solutions.
Highlights
Experienced company of almost two decades
Multimodal transport solutions
Various logistic solutions offered
10. Jacobson Global Logistics 

BEST FOR 
Vast selection of warehousing and freight options
SERVICES
Logistics solutions, Ocean freight, Air freight, Land freight, Warehouse and distribution
WEBSITE
https://jglww.com
ADDRESS
2 Bukit Merah Central #15-01, Singapore 159835
CONTACT DETAILS
+65 6532 7088
[email protected]
OPERATING HOURS
Mon – Fri: 8.30 am – 5.30 pm
Sat, Sun, Public Holidays: Closed
Jacobson Global Logistics (JGL) was founded in 1994.  Headquartered in Singapore, it is currently managed by a team of industry veterans, all of which have extensive experience and knowledge in freight forwarding, transportation, supply chain management, and its capabilities. 
While JGL's headquarters is located in Singapore, the company has branch offices across Southeast Asia and strong partnerships throughout the world. This makes it easy for clients to reach out to JGL and secure the necessary services they require.
However, their services are not available during public holidays and weekends.
Aside from accessibility, JGL is also most known for their customer-centric approach. Every professional that is part of JGL has customer satisfaction at the top of their list of priorities. They take the time to consult with each client, learning their needs before offering an array of solutions that will help solve the clients' problems. 
Lastly, JGL's tagline is "We deliver it like it's our own." Given this, clients can rest easy knowing that their items are in safe, capable hands. 
Highlights
Decades of experience in the field
Bespoke supply chain solutions
Promotes sustainability and protection of the environment
And with that, we conclude our list of the best freight forwarders in Singapore. If you've tried any of their services before, share with us what your experience was like.
And if you're looking for a more affordable option, you might want to check out the best van rentals in Singapore. All these vans can be hired to bring your package to any place in Singapore as fast as possible.