The 11 Options for the Best Solar Panels in Singapore
If you're searching for ways to eliminate or cut down energy bills, you might want to consider switching to using the best solar panels in Singapore.
Most households in Singapore are now switching to the best solar panels in Singapore because of the seemingly endless benefits. On top of reducing energy bills, the best solar panels in Singapore are a huge help to the environment as they lessen our dependence on fossil fuel.
So, if you think you're open to trying out the best solar panels in Singapore, then we have you covered. We created a list featuring the most trusted companies that offer solar panel-related services on the island.
Check them out below!
1. Rezeca Renewables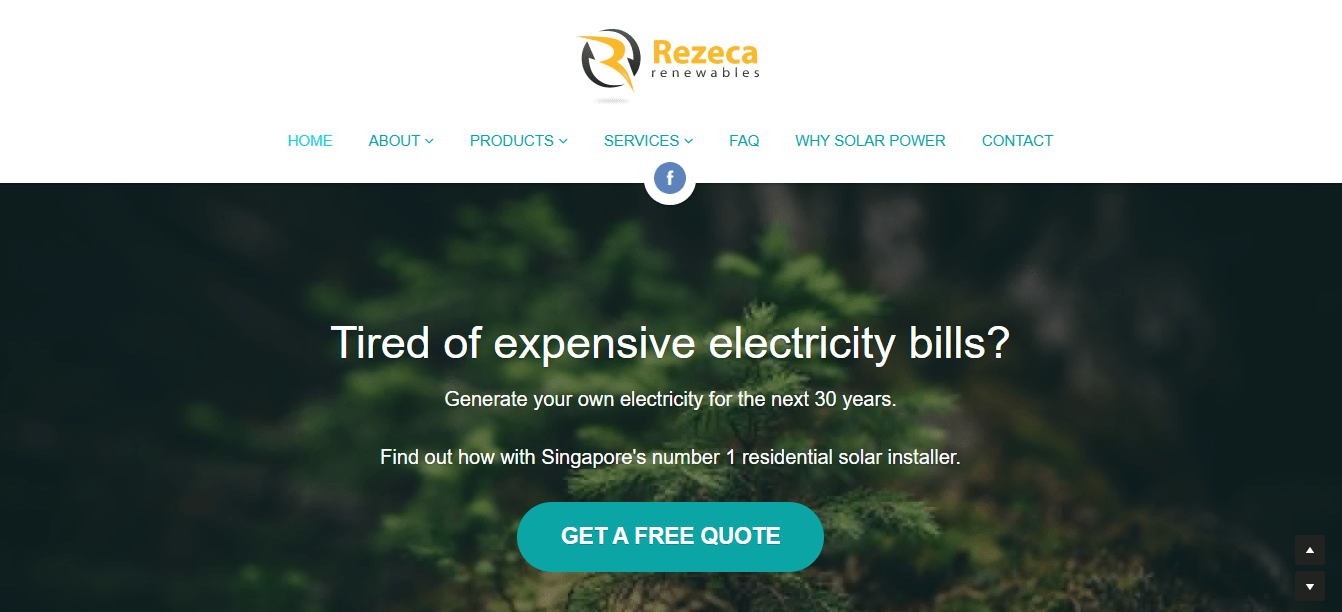 | | |
| --- | --- |
| BEST FOR | Free Quotation |
| SERVICES | Residential and Commercial Services |
| WEBSITE | https://www.rezeca.com/ |
| ADDRESS | 37 Jln Pemimpin, #06-11, Singapore 577177 |
| CONTACT DETAILS | 63393982 |
| OPERATING HOURS | Monday – Saturday, 8:00 AM – 10:00 PM |
If you've gotten tired of having to pay for unreasonably hiked-up electricity bills, then you're going to like what Rezeca Renewables has to offer. It's one of the most trusted sellers and installers of the best solar panels in Singapore, all for an affordable price.
Rezeca Renewables focuses on solar panels for both residential and commercial spaces — which is why it boasts a huge clientele from both sectors.
It's also made up of a team of professional and experienced technicians who commit to every customer's preferred roof design and layout. It offers free quotations to all customers too!
Highlights
Experienced technician
Uncompromised workmanship
2. SinEnergy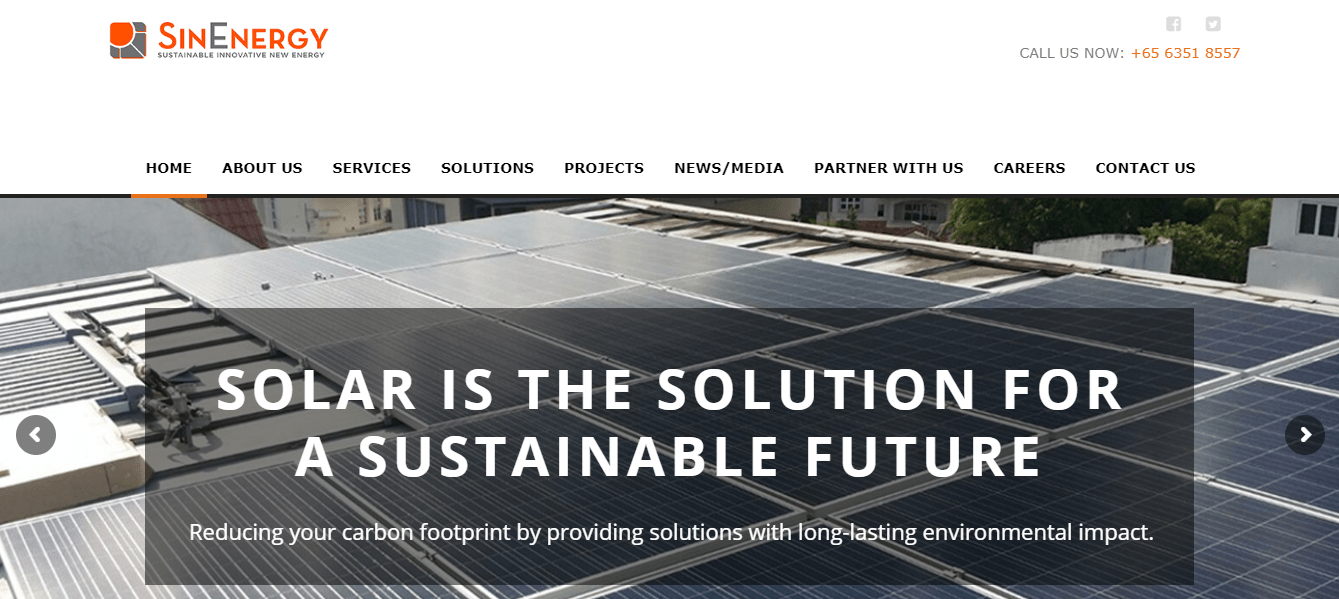 | | |
| --- | --- |
| BEST FOR | Reduced Costs |
| SERVICES | Residential Services and Commercial Services |
| WEBSITE | https://sinenergy.com.sg/ |
| ADDRESS | 19 Tuas Ave 20, Singapore 638830 |
| CONTACT DETAILS | +65 6515 6116 |
| OPERATING HOURS | Monday – Saturday, 8:30 AM – 5:30 PM |
SinEnergy is a local solar panel company that aims to reduce the dependence of Singaporeans on fossil fuel by introducing the wonders of the best solar panels in Singapore. It accepts clients from residential, commercial, and even utility sectors.
Unlike other solar companies, SinEnergy offers 3 types of solar panel setups: roof-top, ground-mounted, and on-grid systems. If customers aren't sure which of these is ideal for their home, SinEnergy's customer service team will be more than willing to help.
Some of the famous corporate clients of SinEnergy are Canadian Solar, Panasonic, and Huawei, proving that it offers topnotch services.
Highlights
3 types of solar panel setups
Experienced technicians
3. SolarPVExchange

BEST FOR
Approved Installation Process
SERVICES
Commercial Services and Residential Services
WEBSITE
https://www.solarpvexchange.com/SG/index.aspx
ADDRESS
Harbourside 2, #04-03/04, 2 Boon Leat Terrace, Singapore 119844
CONTACT DETAILS
+65 6816 1000 |

[email protected]

OPERATING HOURS
Monday – Saturday, 9:30 AM – 5:30 PM
As one of the most established solar panel companies in Singapore, SolarPVExchange carries some of the best solar panels in Singapore, created by reputable companies.
SolarPVExchange is an in-demand name within the commercial sector, but it extends its services to residential clients as well. Its solar panel installation process even complies with the strict regulations implemented by authorities.
On top of that, SolarPVExchange employs a team of professionally trained and skilled engineers and technicians, backed by years of experience handling solar panel projects.
Highlights
Trusted by business owners
Experienced engineers and technicians
Customer Reviews
Take a look at what clients had to say about the services of SolarPVExchange:
"Great experience buying a system from this company. Service was excellent and price was very good for the latest panel in the market. Will recommend my friend to get their solar system from here."
"We have been very satisfied with the entire service provided by the team at SolarPVExchange. They have been very responsive with their follow-up services and take the time to address all our queries."
4. LYS Energy Group

| | |
| --- | --- |
| BEST FOR | Corporate Clean Energy Solutions |
| SERVICES | Commercial and Industrial Services |
| WEBSITE | |
| ADDRESS | 232A South Bridge Road, Singapore 058781 |
| CONTACT DETAILS | +65 6610 4534 | [email protected] |
| OPERATING HOURS | Monday – Saturday, 9:00 AM – 6:00 PM |
If you're thinking about jumping to renewable energy for your business, then look no further than LYS Energy Group. It's one of the few solar panel companies that specialise in meeting the needs of the commercial sector.
Some of the industries that LYS Energy Group caters to are engineering, manufacturing, pharmaceutical, electronics, transportation, logistics, and more. It's also the first company in Singapore to build and operate its own solar photovoltaic systems.
What's more, LYS Energy Group does not only offer solar energy-related services, it provides clean energy solutions and carbon energy management solutions too!
Highlights
All-around renewable energy solutions provider
Clean energy solutions
Carbon energy management
5. SolarGy

BEST FOR
Caters to a Wide Range of Industries
SERVICES
Residential, Commercial, Industrial, Educational, Floating, and Landed Houses
WEBSITE
http://solargy.com.sg/new/
ADDRESS
20 SIN MING LANE, #04-65 MIDVIEW CITY, SINGAPORE 573968
CONTACT DETAILS
+65 6570 9001 |

[email protected]

OPERATING HOURS
Monday – Saturday, 9:30 AM – 5:30 PM
If you're looking for a solar panel company that caters to all types of houses and industries, then you might want to check out SolarGy. It's open to servicing homeowners, business owners, and even school administrators.
Since there's been a huge increase in the number of people using the best solar panels in Singapore, SolarGy wants to extend its services to as many industries and sectors as possible.
Some of the benefits that come with using the solar panels by SolarGy are reduced electricity bills, reduced carbon emissions, enhanced corporate social responsibility, a reduced carbon footprint, and a whole lot more.
Highlights
Hassle-free application
Fast installation
6. Solar Era
Solar Era is a great option if you're looking to reduce your electricity costs through solar panels.
They're a widely recognized solar company that offers high-quality panels at an affordable cost. What makes them special is that their team makes sure that they communicate with you at every step of the way, from the initial planning to the final panel installation.
Highlights
Award-winning solar company

Affordable

Great communication with clients
Customer Reviews
Here's a review from one of Solar Era's clients:
Solar Era has a perfect 5.0 rating on Google, which shows that their solar panels have left many clients and customers highly satisfied!
7. PMCE (Global)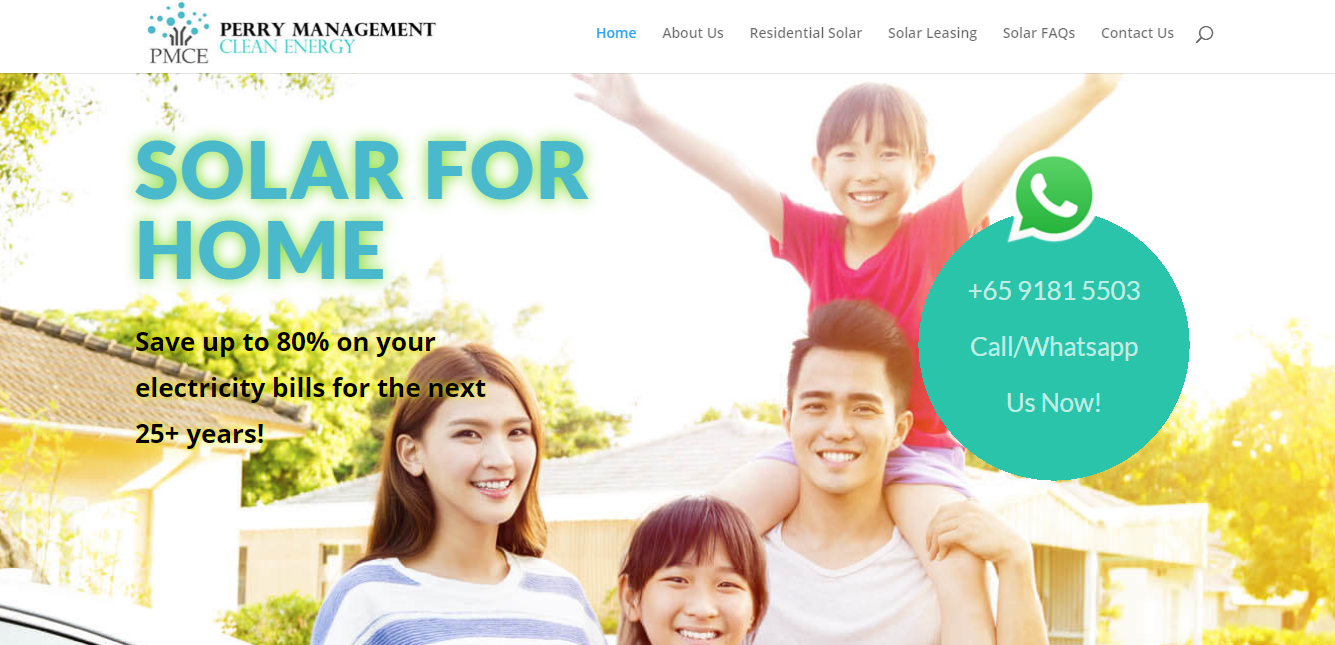 | | |
| --- | --- |
| BEST FOR | Solar Panel Installations in your area |
| WEBSITE | http://www.pmce.sg/ |
| ADDRESS | 21 Woodlands Close, #02-10 Primz Bizhub, Singapore 737854 |
| CONTACT DETAILS | 65 6264 0449/65 91815503/[email protected] |
| OPERATING HOURS | |
PMCE (Global) specializes in Solar Panel Installation for Residential and Commercial Buildings. They started as a small-time distributor for Solar Panels and Inverters and has since developed a vast network in the Solar Sector.
They aim to provide customers with a valuable investment through our quality workmanship and service excellence. Not only that, but they have also been a reputable and respectable global player in the Solar sector that many can attest to.
PMCE Solar Panels helps reduce carbon footprint worldwide and raise awareness on the benefits of going solar. They provide highly competitive prices, which service does not end with installation as they provide maintenance and system monitoring services 24/7.
Highlights
Specializes in Residential Solar Panel Systems
Worthy investment prices
Can save up to 80% in electricity bills
Customer Reviews
"I would like to feedback to PMCE the performance of my Solar Panel System for the past 6 months. It has been performing as per your power saving calculations. This helps to cover all of my electrical load and most of my water usage. Thanks and I will definitely recommend PMCE to my neighbors."

"I am glad to have chosen PMCE to undertake Solar Panel Installation for my home. Highly professional in service delivery. Satish and his team handled everything from start to finish and answered every question I had. The installation was quick and completed without a hitch. They were discreet and involved my preference throughout the whole process. Thank you for delivering a quality work. I would be more than happy to refer PMCE to my friends and family."
8. Energetix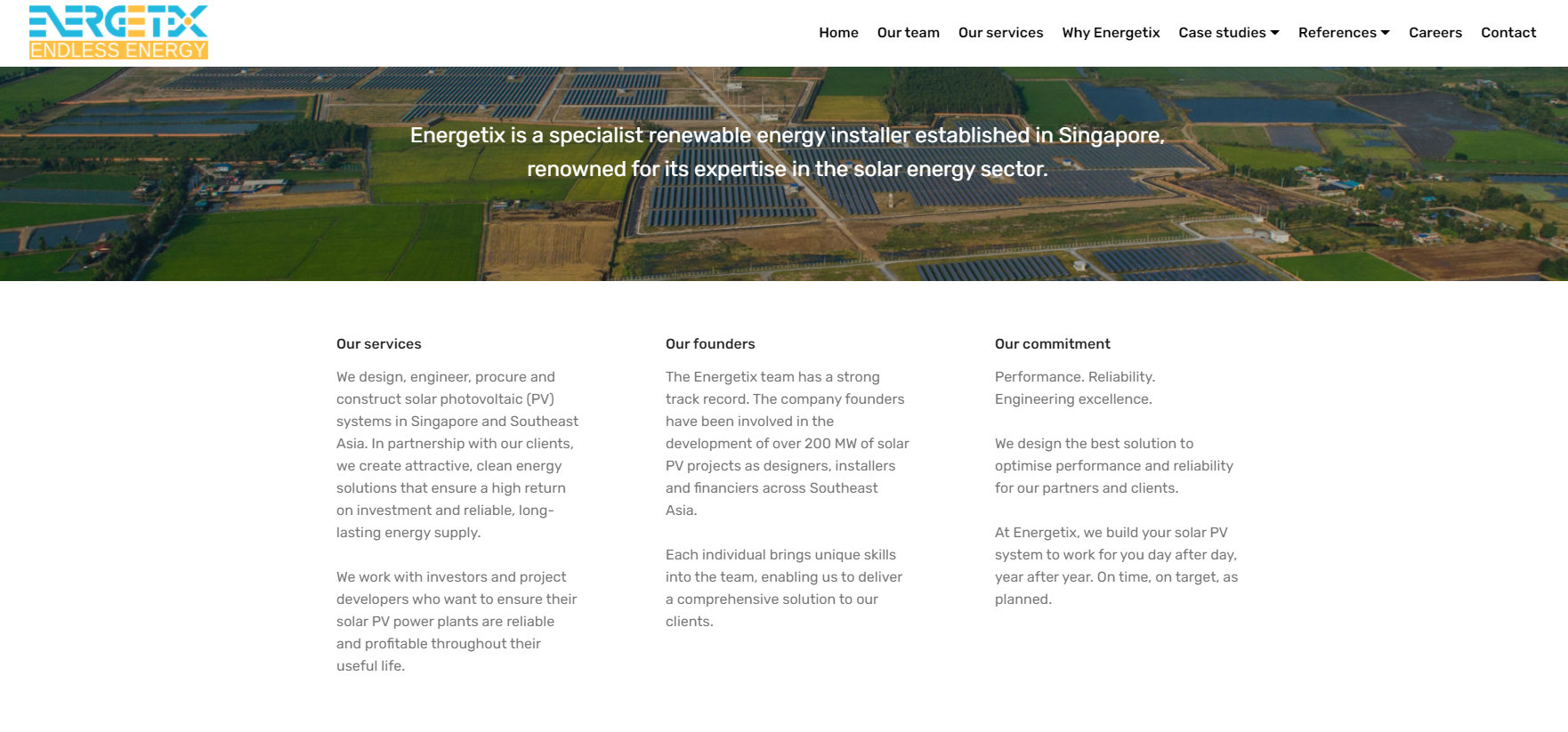 BEST FOR
Solar photovoltaic (PV) systems
SERVICES
Residential, Commercial, and Industrial Services
WEBSITE
http://www.energetix.sg/
ADDRESS
19 Kallang Avenue #01-157, Singapore 339410
CONTACT DETAILS
Phone: +65 6394 9349
Email: [email protected]
OPERATING HOURS
Monday – Friday: 8am–7pm
Next on the list is Energetix. They're one of the pioneers of utilizing solar energy in Singapore, known for making solutions that guarantee a clean, stable energy supply.
Their processing is easy and seamless, done in five steps: selecting site, engineering, financing, procuring and constructing, and lastly, operation and maintenance.
Energetix can also offer two primary services to acquire: a straightforward solution where clients can pay for the whole thing or enter a third-party investor through a leasing scheme where the clients don't have to pay upfront.
For any additional inquiries, Energetix accepts questions via phone or email. They offer an initial non-binding consultation and are always readily available to accommodate you.
Highlights
High return investments
Long-lasting energy supply
Optimised performance
9. Eco Power Roof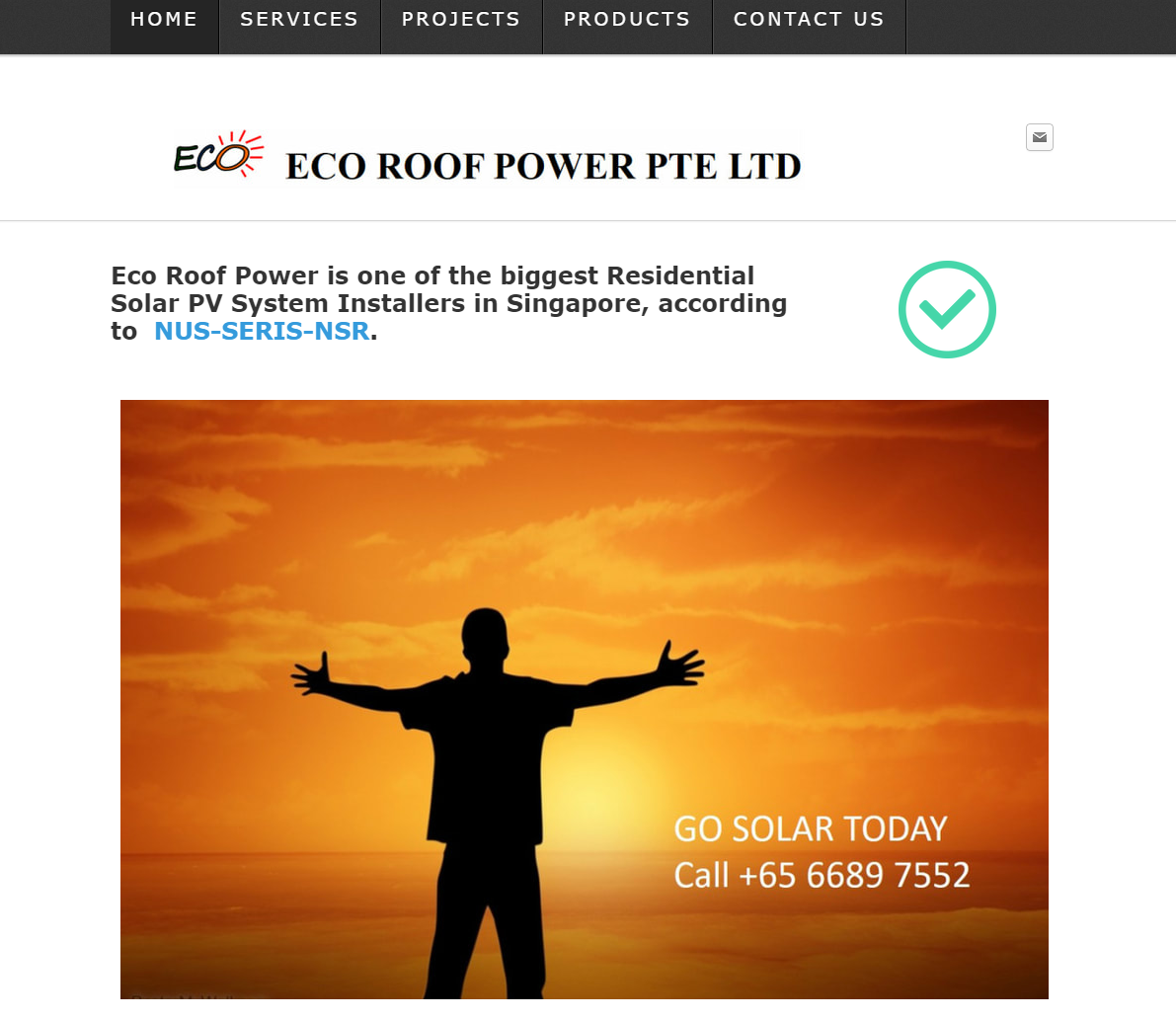 BEST FOR
Residential Solar PV Installer
SERVICES
RC Roof
Tile Roof
Metal Rood
Structure
WEBSITE
https://ecoroofpower.com/
ADDRESS
2 Yishun Industrial Street 1, #03-22
NorthPoint BizHub
Singapore 768159
CONTACT DETAILS

Tel: +65 6689 7552(Office) / +65 8206 3798(Linda) / +65 9007 8096(Peter)

Email:

[email protected]

OPERATING HOURS
Monday – Saturday: 8am–6pm
Eco Roof Power has one of the best residential solar energy services to offer. They have been in the industry for over 20 years and are considered the biggest PV System installer in Singapore.
The company's utilization of the Solar Photovoltaic System, or the PV System, is safe, reliable, and one of the cheapest technology in the field.
It directly converts sunlight into energy, which means it doesn't contribute to pollution and can be an excellent investment in the long run. It's fit for both residential and commercial spaces.
What's more, is that Eco Roof Power offers a free warranty for their services.
Even after the installation, the company regularly monitors, maintains, and can repair any possible malfunctions. There are 10 years of security for all components involved and a 25-year warranty for the linear output.
Book up an appointment with Eco Roof Power and receive a free on-site visit to your place.
Highlights
Reduces carbon footprint
Emerging technology is utilised
Secured and profitable solar pv system
10. REC Solar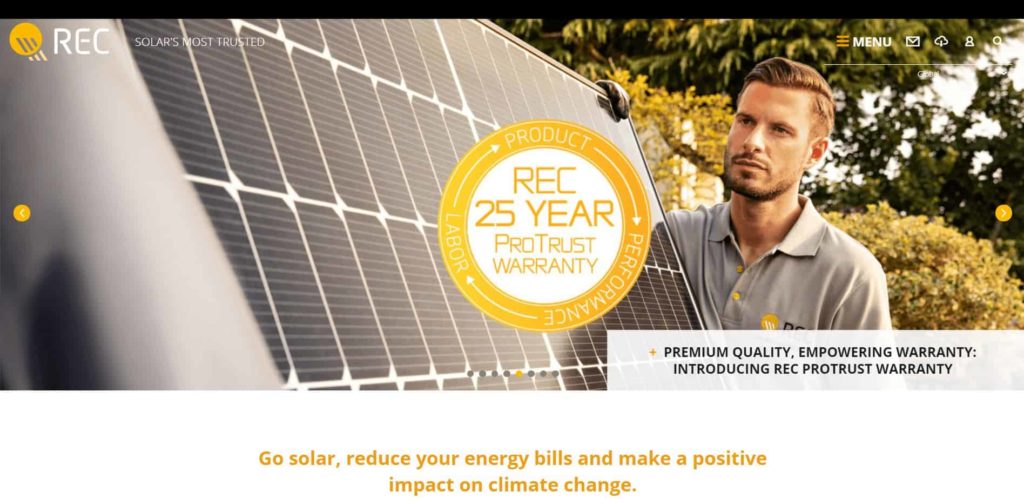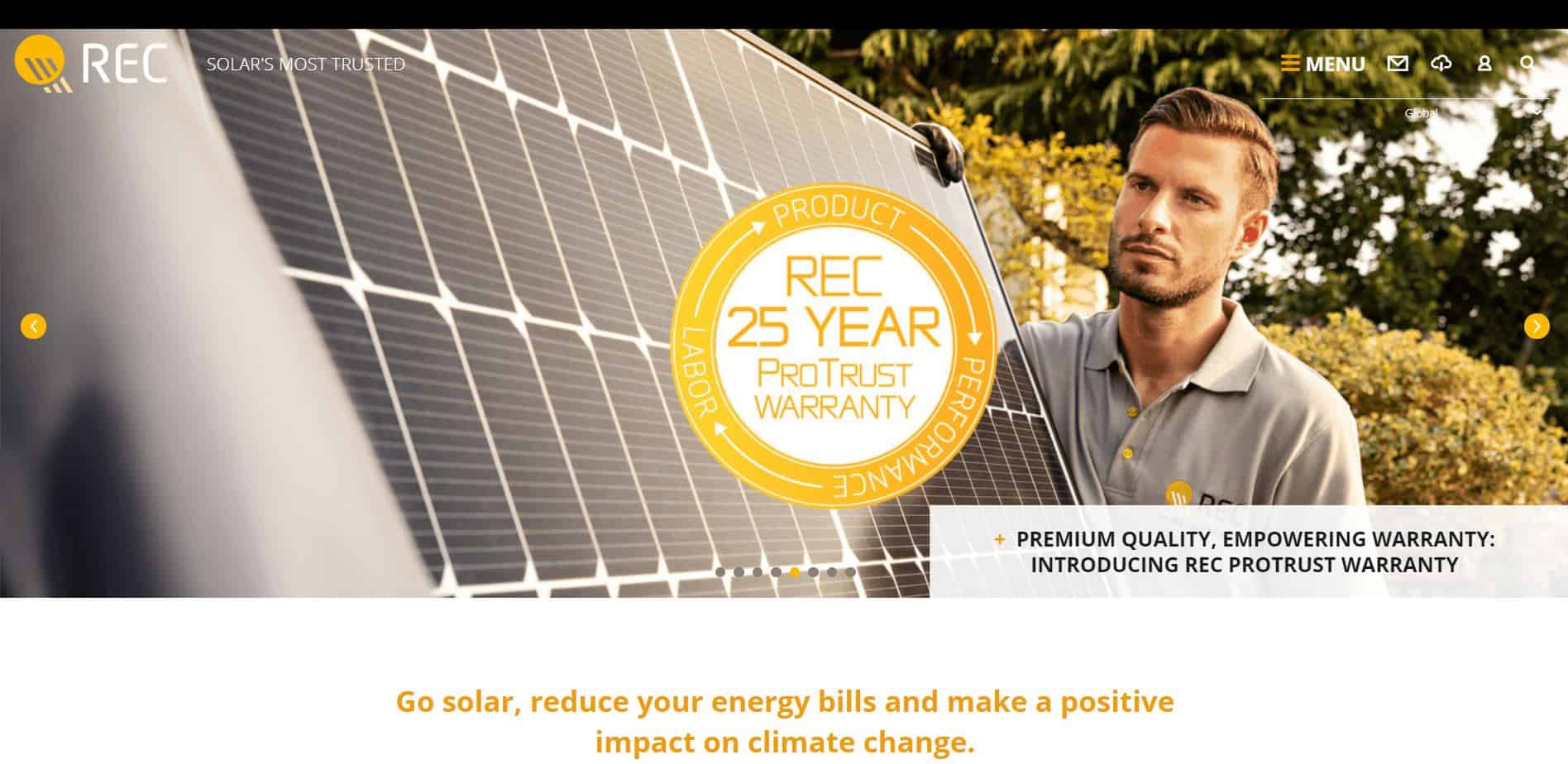 | | |
| --- | --- |
| SERVICES | Solar panel manufacturing and sales |
| WEBSITE | https://www.recgroup.com/en |
| ADDRESS | 152 Beach Rd, Level 2-01/04 Gateway East, Singapore 189721 |
| CONTACT DETAILS | +65 6495 9786 |
| OPERATING HOURS | Monday – Friday: 8:00 AM – 4:45 PM |
Founded in Norway way back in 1996, REC Group Solar has manufactured and installed over 40 million panels, providing sustainable solutions to over 17 million people in the world.
With its company size and its manufacturing capabilities, it caters to just about anyone looking for solar energy solutions. Whether you may be a homeowner in need of a few watts of solar energy or an industrial plant looking for hundreds of gigawatts of continuous power, REC Group's got your back.
It offers four options for its residential solar panels, ranging from 360 to 405 watts of power. All of these options feature a heterojunction (HTJ) cell, which is advantageous for its high temperature coefficient and high power density.
REC's solar panels also feature more abundant yet less visible wires for improved electricity flow. The design is also solder-free and gapless, with a full-black design for elegance.
And most importantly, these solar panels are manufactured using environmental-friendly practices and materials.
But what we like the best about REC's solar panels is that they come with a 25-year product and performance warranty and up to 25 years of labour warranty. Just make sure that your installer is a Rec-certified solar professional installer to avail of these benefits.
Highlights
Caters to industrial, commercial, and residential clients
World's leading solar panel manufacturer
Environmentally-friendly manufacturing processes
High temperature coefficient and power density
25-year product and performance warranty
Customer Reviews
Here are some reviews about Rec solar to help you decide whether or not you should contact it for your solar panel needs:
"Proven Energy has been using REC panels for several years now and they're one of the most reliable products on the market. The products aren't the only good part though; the company also offers great support for warranties, installs and individual projects. We recently worked with Ross to install a 40KW system and solar display for the Queensland Energy Museum at Highfields Pioneer Village and he was very helpful in providing advice and products for the installation."—Peter Sutrin
"Solair takes pride in installing systems with some of the highest quality components on the market. We install REC modules almost exclusively due to their best of market low failure rate and warranties. As REC ProTrust partners, the warranties offered are extended even further. It's hard to justify installing any other module."—Eric Van Orden
11. Eigen Energy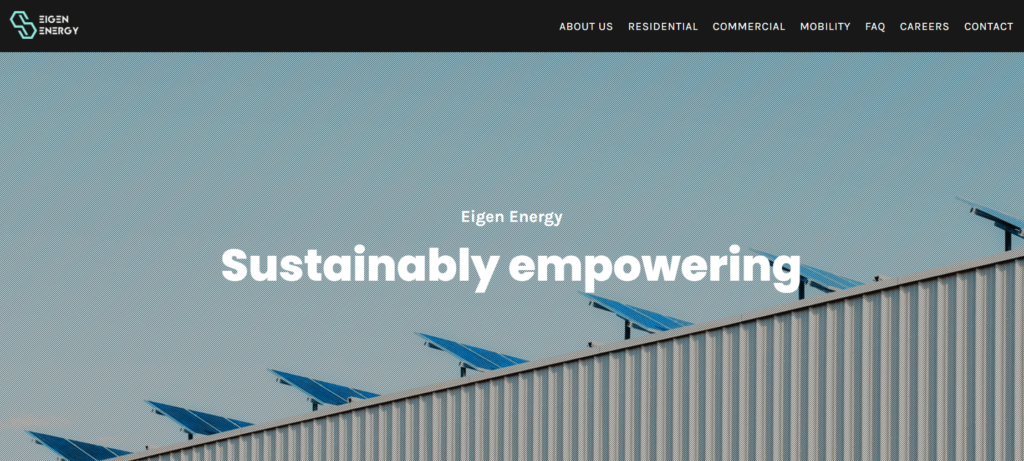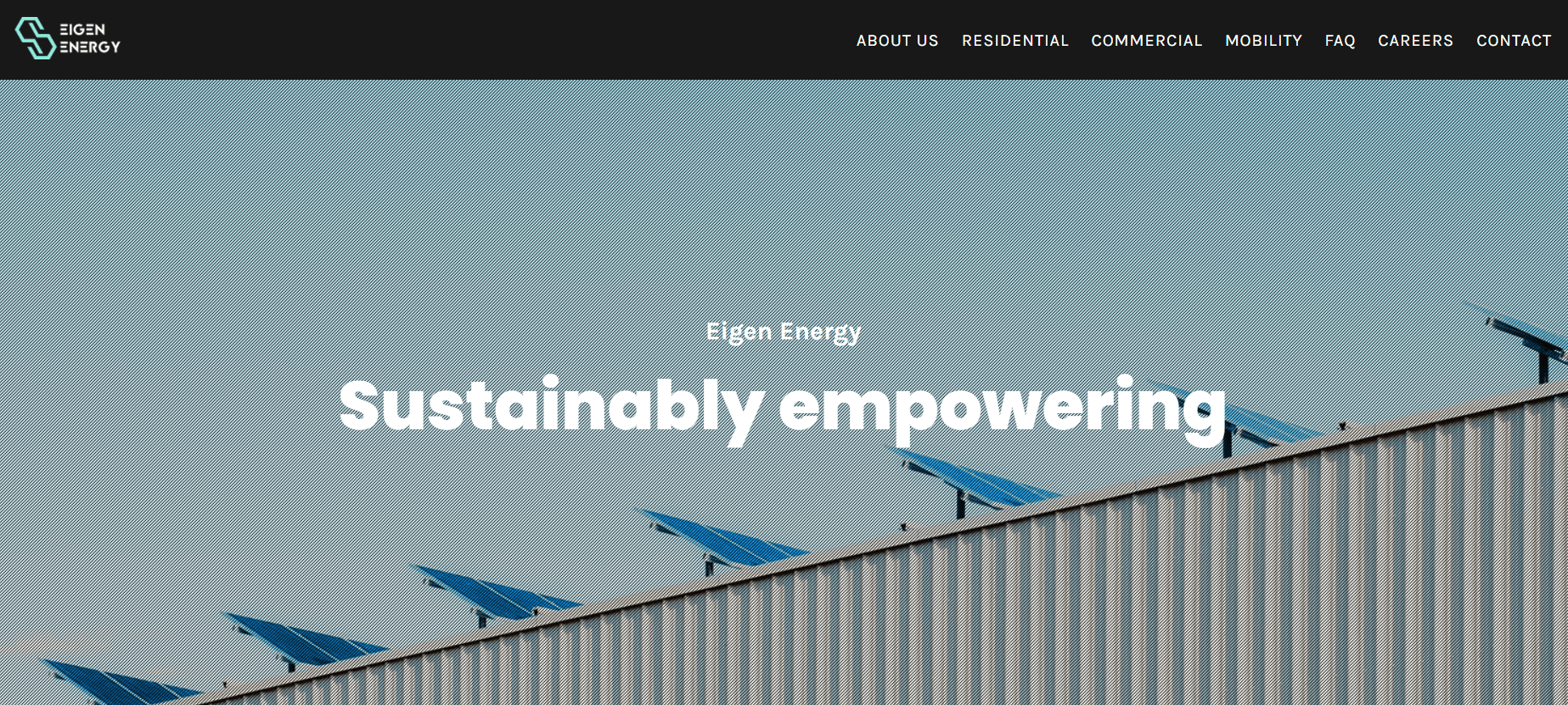 SERVICES
Residential Solar Panels, Commercial Solar Panels,
WEBSITE
https://www.eigen.energy/
ADDRESS
100G Pasir Panjang Road #05-07, Singapore 118523
CONTACT DETAILS
6589 8601
[email protected]
OPERATING HOURS
Contact company for more information
Eigen Energy is a one-stop solar solutions provider for individuals and businesses located in Singapore. They offer comprehensive and highly customisable services that aim to meet their client's personal needs.
As a company that's known by many as one of the leading solar experts in the country, it's no surprise that they've installed over 150,000 solar panel nationwide, with DBS, Ikea and REC as prominent clients. This is not only proof of their expertise but has also served to further develop their skills in solar system installation and configuration.
Their team is composed of a diverse set of individuals with certain specialisations that complement each other's capabilities well. They have licensed electrical workers and endorsed professional engineers, which leaves no room for doubt regarding their skill.
Besides residential and commercial installations, they also provide vehicle electrification solutions such as charging point installations, electric vehicle charging, and more. Given their diverse set of services and qualified team of electricians, Eigen Energy will give you your money's worth when it comes to solar panel supply, installation, and maintenance.
Highlights
One-stop solar solutions provider
Professional, licensed team of experts
Experienced with numerous installations
Free consultation available
Specialises in EV charging infrastructures
Performed the first installation of Tesla superchargers in Singapore
And with that, we conclude our list of companies that offer the best solar panels in Singapore. If you've already decided on a company to hire, tell us all about it!
By the way, since purchasing a solar panel setup is going to cost a lot of money, you might want to consider signing up for the best loans in Singapore. Our list features loans for both personal and business purposes.