Our 7 Picks for the Best Loans in Singapore
Loans are necessary if you want to make a big purchase but don't have enough cash on hand. If you're thinking of getting a loan yourself, you have to make sure to borrow money only from reputable lenders that offer the best loans in Singapore.
Searching for the right lenders to get a loan from isn't going to be easy, but we're here to help you out with our list of the best loans in Singapore. Check them out one by one to see which one offers the best loan on the island.
1.  Standard Chartered CashOne Personal Loan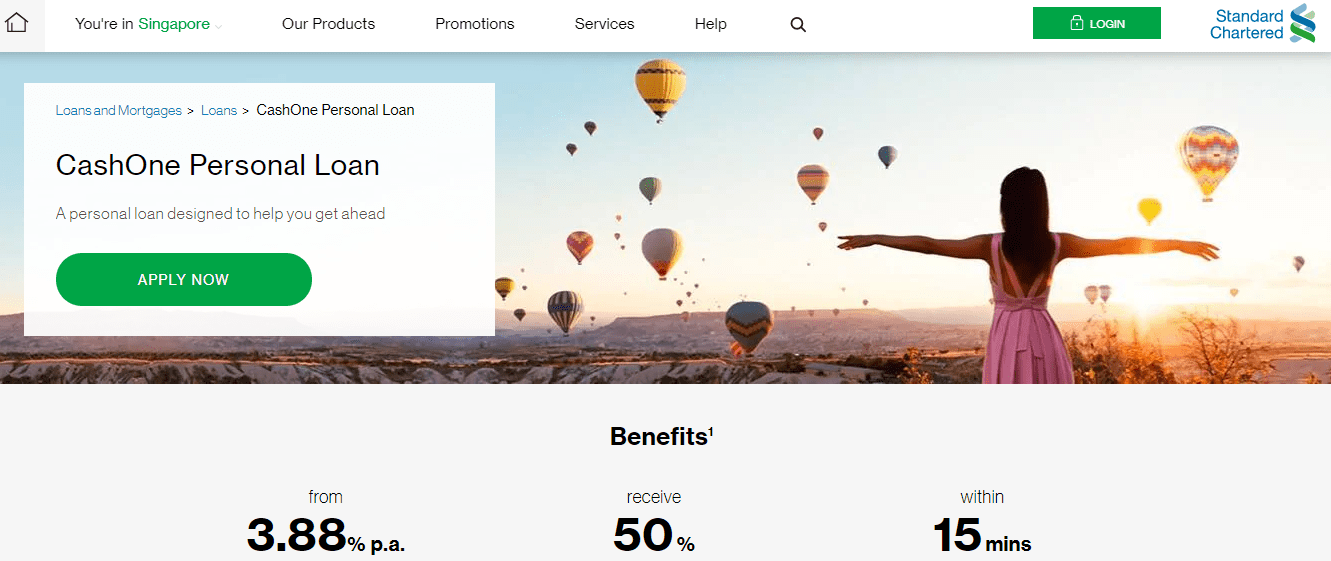 | | |
| --- | --- |
| BEST FOR  | Instant cash |
| SERVICES | Debt Consolidation, Fund Transfer, and Auto Financing |
| WEBSITE | https://www.sc.com/sg/borrow/loans/cashone/ |
| ADDRESS | 8 Marina Boulevard, Tower 1, #01-01 Marina Bay Financial Centre, Singapore 018981 |
| CONTACT DETAILS | +65 6747 7000 |
| OPERATING HOURS | Monday – Friday, 10:00 AM – 7:00 PM |
Standard Chartered's CashOne Personal Loans is perfect for people who are in need of cash immediately. Once your application is approved, the money will be transferred within 15 minutes to your chosen bank account.
To qualify for this loan, you need to earn at least S$30,000 annually. If you meet this requirement, you will be able to apply for a loan 4 times your monthly income.
In terms of its interest rate, it's fixed at 3.88 pa, so no need to worry about struggling to pay it back incrementally because the interest rate is competitive. On your first payment, you will even receive a reward in the form of 50% cashback.
All these things are what convinced us that it's one of top options for best loans in Singapore!
Highlights
Instant cash
50% cashback on first payment
Competitive interest rate
Easy application
2.

Lendela

BEST FOR
Multiple Personalised Offers
SERVICES
Debt consolidation
Cash loan
Wedding loan
Student loan
Quick loan
WEBSITE
https://sg.lendela.com/
ADDRESS
Found8 Prinsep
128 Prinsep St, #01-01
188655 Singapore
CONTACT DETAILS
+65 8201 0158 / +65 9670 1595
[email protected]
OPERATING HOURS
N/A
One of the hardest parts of getting a loan is finding the right lender, as well as monitoring the progress of your application. Fortunately, Lendela solves those problems, ensuring that your loan is not only accepted but also processed as fast as possible.
Lendela takes pride in their unique Fintech platform– which allows clients to find the best loan offers for them without any hassle. Transparency is part and parcel of their services, where they ensure that you are immediately informed of any prospective offers from their partnered lenders.
Best of all, you can count on them to be with you every step of the way. They will make sure that you not only know all of your choices but also end up with a loan that suits your lifestyle and budget. No matter the type of loan you need, Lendela is sure to find the right one for you.
Highlights
Personalised offers
Multiple Lenders
Full Customer Support
Easy Online Comparison
Customer Reviews
Here's what a few of Lendela's satisfied customers had to say:
"My experience was excellent. Staff by name Ben helped me through the process patiently and promptly that made my loan process easy. Appreciate!"
"Very proactive following up on the status and outcome of the application. Prompt and friendly sales rep. who shares best available solution to aid your application needs."
3. HSBC Personal Loan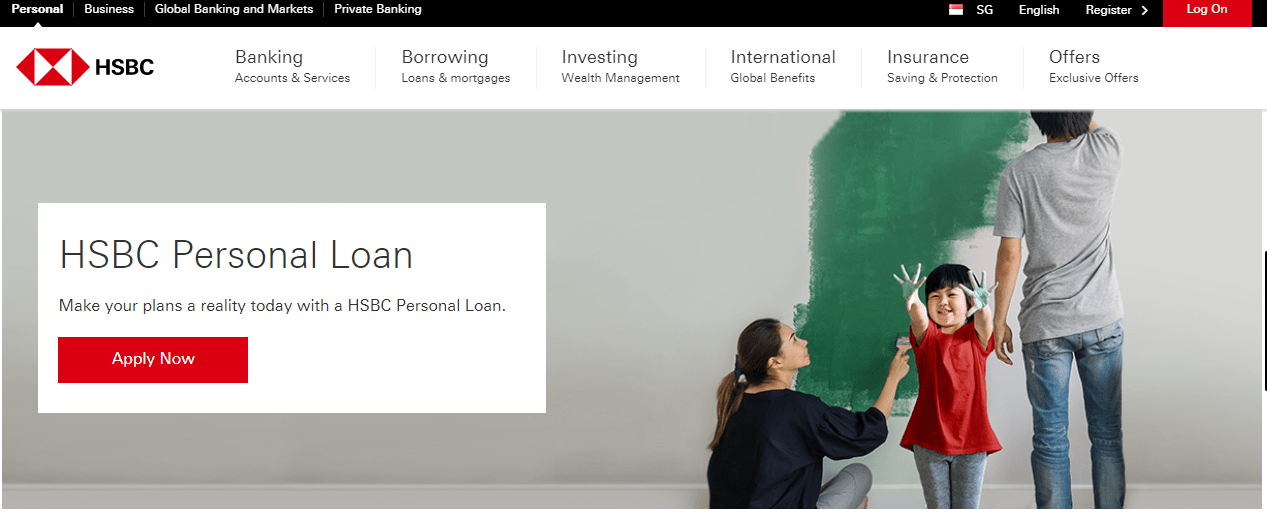 BEST FOR
Fast approval
SERVICES
Personal Loans, Home Loans, and Debt Consolidation Loans
WEBSITE
https://www.hsbc.com.sg/loans/products/personal/
ADDRESS
Singapore
CONTACT DETAILS
+65 6227 8889

+65 6227 8886

OPERATING HOURS
Monday – Friday, 9:30 AM – 5:00 PM
HSBC shows its support to customers who want to pursue their dreams by offering personal loans with reasonable interest rates and lenient requirements. If you have an annual income of S$80,000, your application is pretty much already accepted.
In addition, if you also apply online, you get approved in as fast as 1 minute! Only reliable money lenders that offer the best loans in Singapore can approve applications as fast as this!
One of the best features of HSBC's Personal Loan is the flexibility of terms. Customers can choose how long they want to repay the loans — from 1 to 7 years.
You may even avail of a loan that's 8 times higher than your monthly income. But don't be scared of paying it back because HSBC can arrange a set-up that won't be hard to your pockets.
Highlights
Flexible tenor
Fixed monthly rate
1-minute approval
4.  POSB Loans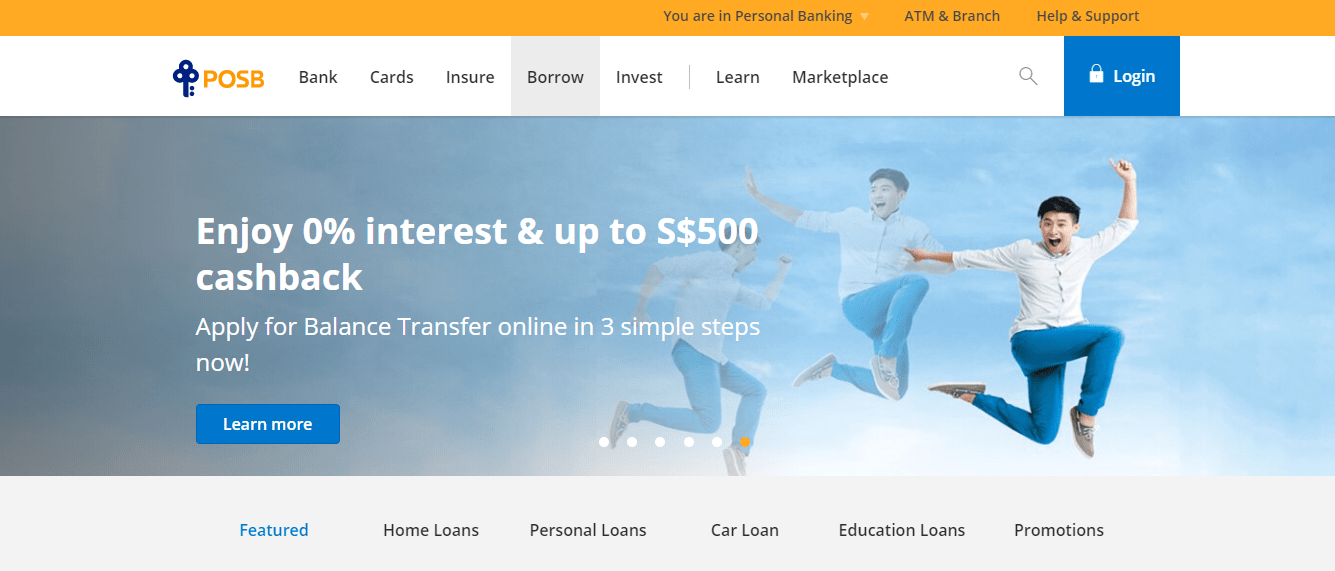 | | |
| --- | --- |
| BEST FOR  | Borrowing and insurance |
| SERVICES | Personal Loan, Home Loans, Car Loans, and Education Loans |
| WEBSITE | https://www.posb.com.sg/personal/loans/ |
| ADDRESS | 107 Lor 1 Toa Payoh, # 01-266, Singapore 310107 |
| CONTACT DETAILS | +65 6339 6666 |
| OPERATING HOURS | Monday – Friday, 11:00 AM – 7:00 PM |
If you're looking for a money lender that can accommodate all types of loans, then make sure to check out POSB in Singapore. It's definitely one of the best banks that offer the best loans in Singapore, mainly for their lenient payment methods and easy application.
Whether you need financial assistance  to pursue your studies or just want to purchase your own car, POSB is here to be of help! Most of their loans have low interest rates and frequent cashbacks.
Moreover, all their plans have discounts and promotions. POSB will make sure that you won't have a hard time repaying the loan once you've successfully reached your goals!
Highlights
Low interest rates
Regular cashbacks
Easy applications
Lenient requirements
5.  Credit Master

| | |
| --- | --- |
| BEST FOR  | Low interest rate |
| SERVICES | Health Loans, Car Loans, Wedding Loans, Education Loans, and Personal Loans |
| WEBSITE | https://www.creditmaster.sg/ |
| ADDRESS | #01-50 Park Rd, People's Park Complex, Singapore 059108 |
| CONTACT DETAILS | +65 6748 1338 |
| OPERATING HOURS | Monday – Sunday, 11:00 AM – 8:00 PM |
Borrowing money from banks is more stressful than borrowing money from licensed lenders. With Credit Master, you don't have to go through multiple hoops just to have your loan application approved.
Credit Master offers loans for all purposes, including education, car, health, and even weddings. On top of this, all loans come with flexible payment plans and low interest rates.
What we truly love about applying for loans from licensed money lenders is that their application process is very simple and lenient. As long as you meet their basic requirements, your application is less likely to be rejected.
Highlights
Flexible payment
Easy application
Fast disbursement
6.  Lending Bee
| | |
| --- | --- |
| BEST FOR  | Fast application |
| SERVICES | Debt Consolidation Loans, Renovation Loans, Auto Refinancing Loans, and Room Rental Loans |
| WEBSITE | https://www.lendingbee.com.sg/ |
| ADDRESS | 14 Scotts Road Far East Plaza, #02-44/45, Singapore 228213 |
| CONTACT DETAILS | +65 6219 1611 |
| OPERATING HOURS | Monday – Sunday, 11:00 AM – 8:00 PM |
If you want a money lender with the fastest application process, then look no further than Lending Bee in Singapore. In just 3-minutes, you can have your application approved and the money transferred to your chosen bank account!
Lending Bee believes that they can help improve the lives of their customers by offering loans with reasonable interest rates and flexible payment methods. Whether you need to purchase your own home or have it renovated, they definitely have you covered!
With over 42,000 clients, there's no denying that it's one of the most in-demand lending companies in Singapore. It's really one of the top options for the best loans in Singapore!
Highlights
3-minute application
Low interest rate
Flexible payment
Customer Reviews
Lending is one of your best options if you don't want to borrow money from banks. Take a look at some of these reviews from their clients:
"It's my first time requesting for a loan and I'm glad I chose Lending Bee Orchard Branch. The whole process was carried out professionally and transparently. Derek who attended to me was efficient and very helpful. He was clear and precise when explaining the salient terms of the loan and answering my questions. Overall Lending Bee made it a hassle free process and I got my loan request approved in an hour!. I thank Derek especially and also the team for their efficiency. It was a new but good experience, I'm impressed. Thank you Lending Bee, I will definitely recommend your firm to others who may need financial help."
"Great service provided. They will try their best to fit our needs and time to pay up the monthly loan. It's the third time loaning from them and I would say their service and payment method is one of the best that I have encountered before."
7. Linkflow Capital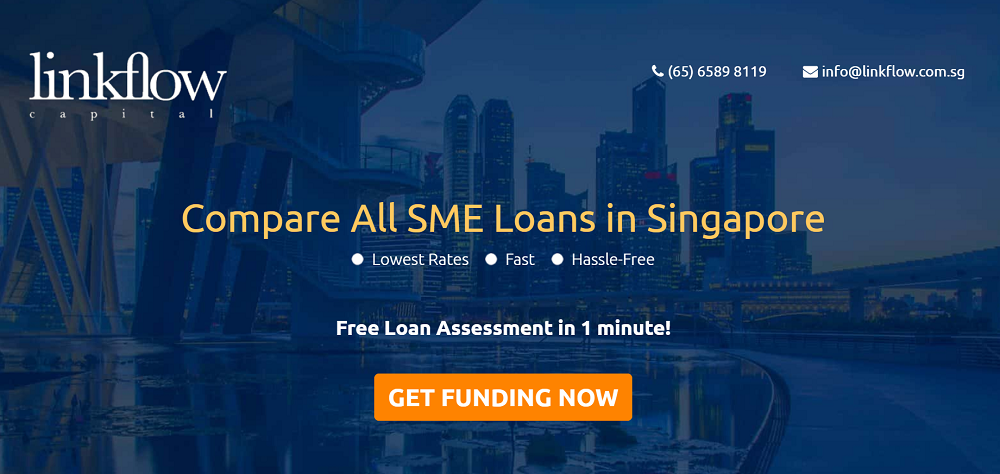 | | |
| --- | --- |
| BEST FOR  | Free Loan Assessment |
| SERVICES | Small-Medium Enterprise Loan Assessment |
| WEBSITE | https://smeloan.sg/ |
| ADDRESS | 150 South Bridge Road #02-10A Singapore 058727 |
| CONTACT DETAILS | Tel: +65 6589 8119 Email: [email protected] |
| OPERATING HOURS | Monday-Friday 9AM-7PM |
Perfect for those who need cash as soon as possible, Linkflow Capital helps your company reduces the process time for your SME loan application by 3-5 working days. You'll also have a lower chance of getting your application rejected. Compared to others, you can possibly save 30%-50% or close to $10,000+ on interest costs. The best part of all is that it's hassle free. Their specialists will handle the tedious business loan application process.
Additionally, with its free online loan assessment tool, you can compared all SME loans within a minute.
Highlights
Low rates, fast and hassle-free
Provides comparison of different SME loans from different banks
Customer Reviews
Here are a few reviews left behind by satisfied clients:
"Consultant demonstrated deep domain knowledge in business financing, successfully assisted to secure business loan, good follow up & service. Overall, quite satisfied with the business loan consultancy engagement."
"Very responsive. The staff is willing to help and share their knowledge."
And that's a wrap on our list of the top banks and money lenders that offer the best loans in Singapore! No need to worry about repaying your loans when you're protected by any of these options.
There are lots of banks and money lenders in Singapore, of course, so there's a possibility we missed some. If you know others that also offer the best loans in Singapore, feel free to tell us their names!
By the way, if you're specifically looking for personal loans, then we've also got you covered! Here's our list of the best options for personal loans in Singapore!