The 13 Best Payday Loans in Singapore
Making sure that every bill and expense will fit within a budget can be challenging, especially if your current salary can't handle all of your finances. When this happens, searching for the best payday loan in Singapore can be a great help.
Loan providers are offering different kinds of payment solutions and one of them is the plan where you can pay on your payday. This is an ideal option for emergency needs and personal expenses as well.
That's why we're here to help you find the most reliable service providers that give the best payday loans in Singapore. Each selection has a flexible payment schedule and accessible interest rates so you can have a hassle-free transaction!
1. Goldstar Credit Pte Ltd
BEST FOR
Loans with unbeatable rates
WEBSITE
https://goldstarcredit.co/
ADDRESS

Hougang Branch
1187 Upper Serangoon Road(Hougang Central) #01-21
The Midtown. Singapore, 533971

Toa Payoh Branch
Blk 190 Lorong 6 Toa Payoh (Toa Payoh central),
#01-576, Singapore S310190
(2 shops from KFC and just beside to 7-11, Guaradian)

CONTACT DETAILS

Hougang Branch
Tel: 6384 0088
Email: [email protected]

Toa Payoh Branch
Tel: 6252 0088
Email: [email protected]

OPERATING HOURS

11.30am – 8.00pm (Mon to Sat)

10.00am-5.00pm (Sunday)
Goldstar Credit Pte Ltd has high approval rates that have same-day approvals. When you choose to work with them, you won't have to wait around for days to get a personal loan or for cheques to clear.
They understand that some of their clients require a loan as soon as possible, which is why their loan process is quick and hassle-free. As a credible and highly reputable licensed moneylender, their loans are transparent and have no hidden costs.
Regardless the amount or type of loan you get, you can be sure that Goldstar Credit Pte Ltd has no collateral, no guarantor, and no deposit needed.
Highlights
All personal information that are handed to them is safely secured
Provides assistance to individuals and businesses who find themselves in financial strain
Offers loan solutions that are tailored to your every need
Customer Reviews
Here's what some of their past clients have to say:
"Ms Vanessa is very patience and try her very best to help the customer( me). I like her attitude of not giving up easily and make me feel that there is a way to settle the impossible! Thankiu so much!! Very much appreciated!"

"Very quick & efficient service. Environmental friendly for all. Polite staff, recommended to others."
2.

Lendela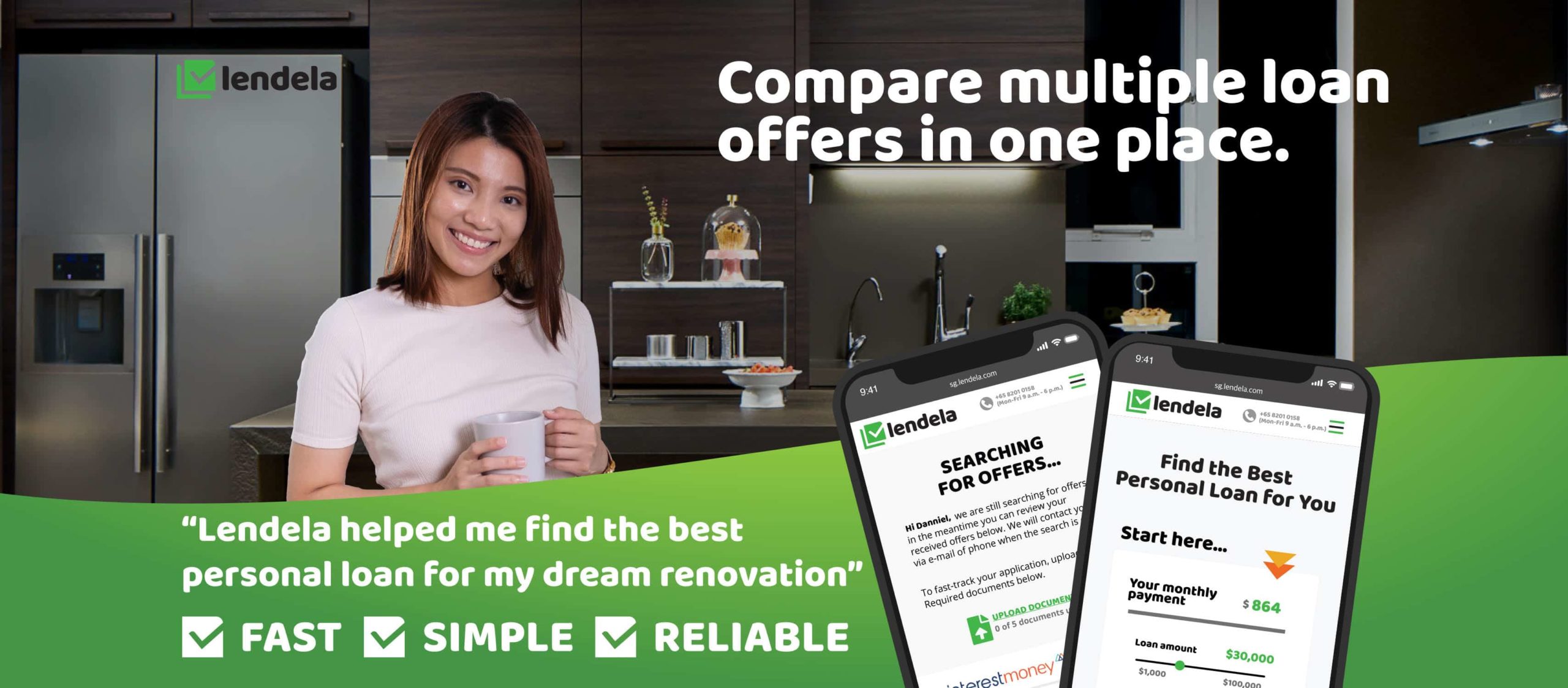 BEST FOR
Multiple Personalised Offers
SERVICES
Debt consolidation
Cash loan
Wedding loan
Student loan
Quick loan
WEBSITE
https://sg.lendela.com/
ADDRESS
Lendela Pte. Ltd. (UEN: 201801220D)
Funan
109 North Bridge Rd, #07-21
179097 Singapore
CONTACT DETAILS
+65 9154 1705


[email protected]

OPERATING HOURS
(Mon-Fri 9 a.m. – 6 p.m.)
One of the hardest parts of getting a loan is finding the right lender, as well as monitoring the progress of your application. Fortunately, Lendela solves those problems, ensuring that your loan is not only accepted, but also processed as fast as possible.
Lendela takes pride in their unique Fintech platform– which allows clients to find the best loan offers for them without any hassle. Transparency is part and parcel of their services, where they ensure that you are immediately informed of any prospective offers from their partnered lenders.
Best of all, you can count on them to be with you every step of the way. They will make sure that you not only know all of your choices, but also end up with a loan that suits your lifestyle and budget. No matter the type of loan you need, Lendela is sure to find the right one for you.
The requirements so you can apply include:
18 – 70 years old
Minimum monthly income of $1,200
Salaried Singaporean / PR / EP holder
Highlights
Personalised offers
Multiple Lenders
Full Customer Support
Easy Online Comparison
Customer Reviews
Here's what a few of Lendela's satisfied customers had to say:
"My experience was excellent. Staff by name Ben helped me through the process patiently and promptly that made my loan process easy. Appreciate!"
"Very proactive following up on the status and outcome of the application. Prompt and friendly sales rep. who shares best available solution to aid your application needs."
3. A1 Credit

BEST FOR
Loanable amount of up to one month worth of income
WEBSITE
https://www.a1credit.sg/
ADDRESS
2 Havelock Road #02-08 Havelock II Singapore 059763
CONTACT DETAILS
+65 6336 0833 |

[email protected]

OPERATING HOURS
Monday to Friday: 11am to 8:30pm

Saturday & Sunday: 11am to 5pm

Closed on Public Holiday
A1 Credit offers a variety of financial solutions and this includes their best payday loan in Singapore. If you need a budget for urgent bills, emergency repairs, or a vacation cash shortage, their services can cater to all of your needs.
They comply with all the rules and regulations of the law, so rest assured that you'll be in good hands. To apply, you must be 18 years old and above — local and foreign employees are covered, and only those who have an income of $1,500 can be approved.
Highlights
Approval within 30 minutes
Flexible payment schedule
Customer Reviews
Customers have recommended A1 Credit because of their knowledgeable staff who explain all possible loan options and discuss which one is the most suitable for them. A customer gave this feedback:
"Ariene Lu was very helpful and very detail in explaining the loan which i intended to take up.whole process was very smooth and A1 staff were professional.Ariene was very polite and professional.This is really a trusted credit company and i will surely recommend this to anyone who is genuine in need of help.Thank you Ms Airene and A1 for helping me solve the finance issue i'm having and granted me the loan on the spot! Very impress"
4. Cash Mart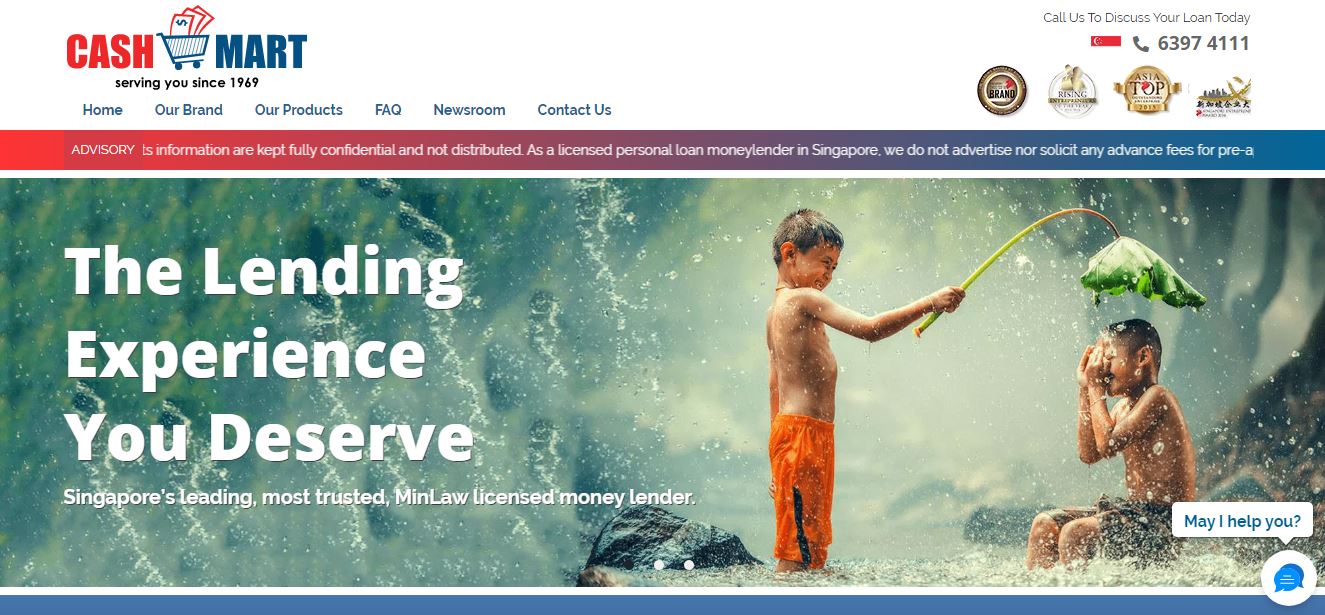 BEST FOR
Personal and business loans
WEBSITE
https://cashmart.sg/
ADDRESS
277 Balestier Road, Singapore 329726
CONTACT DETAILS
+65 6397 4111 |

[email protected]

OPERATING HOURS
Mondays – Fridays: 11:00 am – 8:00 pm

Saturdays: 11am – 6pm
Cash Mart is an award-winning private lending company that provides express loans for every individual and corporate borrower as well. As they're also one of the longest-running companies on the island, they know how to adapt to market trends and legal changes, giving their clients the best payday loans in Singapore.
When it comes to their payday loan, you can get a loanable amount of up to $15,000 with the lowest possible interest rate. It's also payable within a maximum of 12 weeks and you can be approved within 30 minutes.
Highlights
Permanent residents and foreigners with a valid work permit can apply
Must be above 21 years of age
5. Credit 365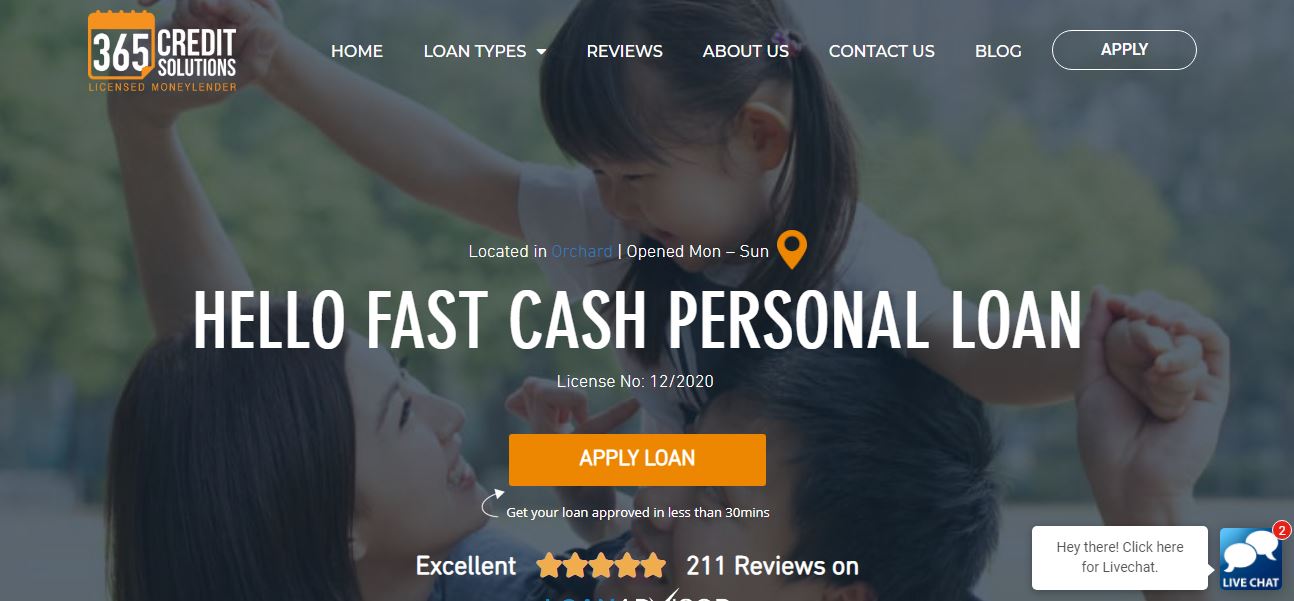 BEST FOR
Monthly installment loans
WEBSITE
https://www.365credit.com.sg/
ADDRESS
14 Scotts Road #03-64 Far East Plaza, Singapore 228213
CONTACT DETAILS
+65 6222 5500
OPERATING HOURS
Weekdays: 10:30am–8:30pm

Weekends: 10:30am–5pm
Credit 365 can help you survive the next few weeks before payday as they provide monthly installment loans. The payment schedule will be set depending on your capability to pay so you can have a stress-free negotiation.
Locals and foreigners with 18 years of age can apply and the required salary is between $1,500 – $2,000. Just submit all the necessary documents and you're now ready for loan approval.
Highlights
Same-day cash loan approval
Separate foreigner loan
Customer Reviews
Most customers keep coming back for the reliable services of Credit 365 and its best payday loan in Singapore. A customer wrote this review:
"I'm back again and requested to be served by Cecilia as I was served by her when I was there a few months back. I feel very comfortable and happy with her patience and explanation. Not that I'm not happy with the rest of the staffs. Overall the staffs there are friendly as they do smile at you when you enter. No regrets going there and will recommend friends in future"
6. Quick Credit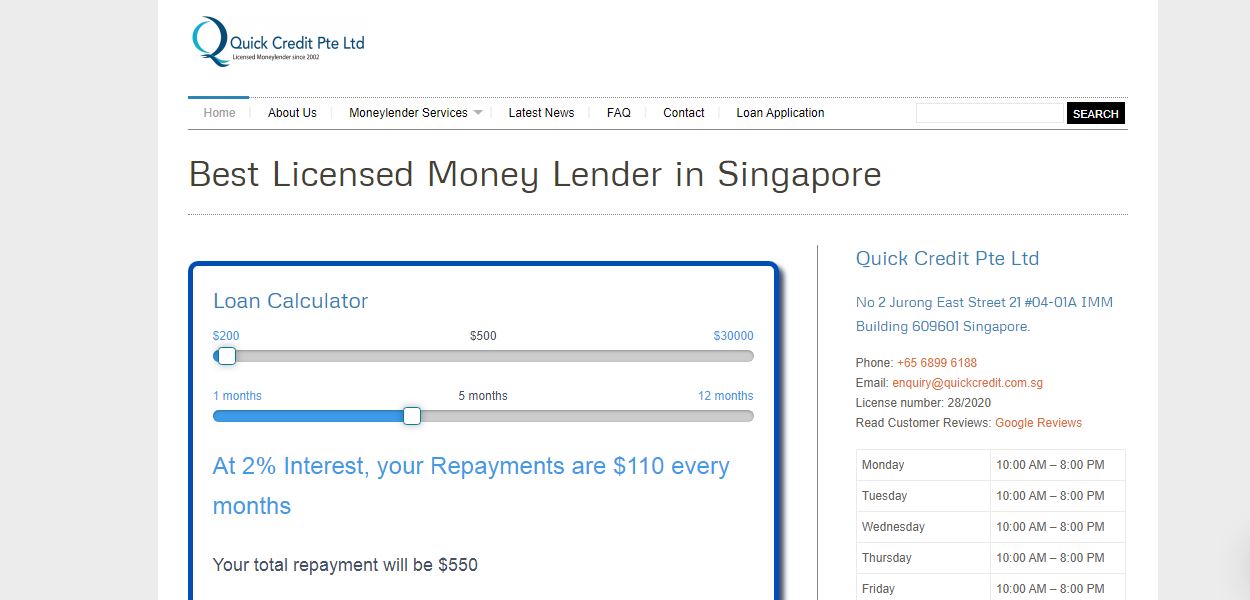 BEST FOR
Fewer document requirements
WEBSITE
https://www.quickcredit.com.sg/
ADDRESS
No 2 Jurong East Street 21 #04-01A IMM Building 609601 Singapore
CONTACT DETAILS
+65 6899 6188 |

[email protected]

OPERATING HOURS
Weekdays: 11:00 am to 8:00 pm

Weekends: 12:00 pm to 5:00 pm
Quick Credits offers a simple and easy loan application process with fewer documents than usual needed for approval. Their loan limit is based on the borrower's annual income.
They also consider special cases for flexible monthly repayments to meet your needs. Whether you're a local or foreign resident, you can apply fairly easily.
Highlights
Local and foreign residents
Flexible monthly repayments
Customer Reviews
Throughout a decade of service, Quick Credits has gained a lot of wonderful feedback from many customers due to their detailed guidelines. A customer left this post:
"Pleasant experience! Was being served by Ms Karman, she was all smiles and patiently guide all the details laid out. And advised further on what to do in order to prevent to pay more. An experience that i have never encountered with others. Highly recommended!"
7. Raffles Credit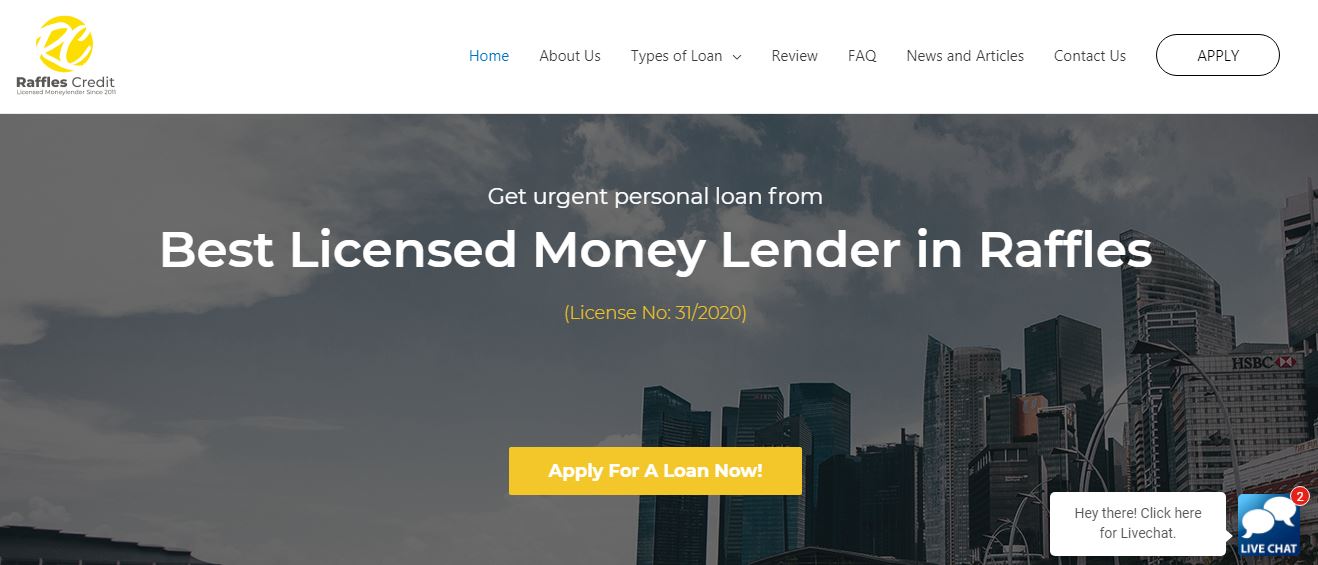 BEST FOR
Personalised loan repayment terms
WEBSITE
https://www.rafflescredit.com.sg/
ADDRESS
17A Circular Road Singapore 049373 We are at Level 2! Nearest MRT: Raffles Place & Clarke Quay)
CONTACT DETAILS
6235 1788
OPERATING HOURS
Mon to Fri: 10.30am to 8pm

Sat & Sun: 10.30am to 4.30pm

Closed on Public Holiday
Raffles Credit provides a highly amenable payment plan designed for your needs and convenience. Regardless if you're a local or foreign resident, as long as you have regular employment and your annual income is between $18,000 and $24,000, you can apply for their best payday loan in Singapore.
Their loans are accompanied by low-interest rates so you can easily calculate the repayment amount. Other services such as personal, business, foreigner, and monthly loans are also part of their offers.
Highlights
60-minute loan approval
No hidden charges
Customer Reviews
Raffles Credits has earned the respect of the customers through their flexible payment solutions and accommodating staff. A customer gave this feedback:
"I am very happy with this company. They really helped me finish my loan without pressuring me. They are very very patient with me especially this past few months that i had struggle financially. All their staff will serve you with a smile. Everything will be properly explained to you."
8. Capable Loans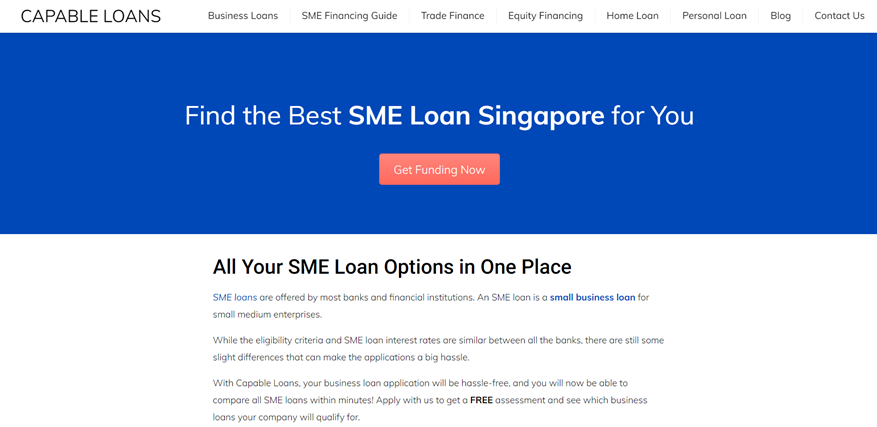 Capable Loans allows you to start your business hassle-free! They're able to accommodate almost any business need, from starting funds to equipment expenses. With their help, you won't have to worry about your starting capital.
They're easy to deal with as they're personable to every client– no matter how big or small the business one runs. Make sure to check more of their services and apply early, to get a free assessment and personal check about what loans can be applicable to you.
Highlights
Fast and Efficient Service
Great Customer Dealings
Easy Applications
Customer Reviews
Take a look at what a satisfied customer had to say about Capable Loans' amazing service and offers:
"Most efficient of all the loan agencies. Capable Loans got back to me the fastest and were very quick with assessing/submitting for my company. One shot got my business loan approved"
9. Advance Cash Credit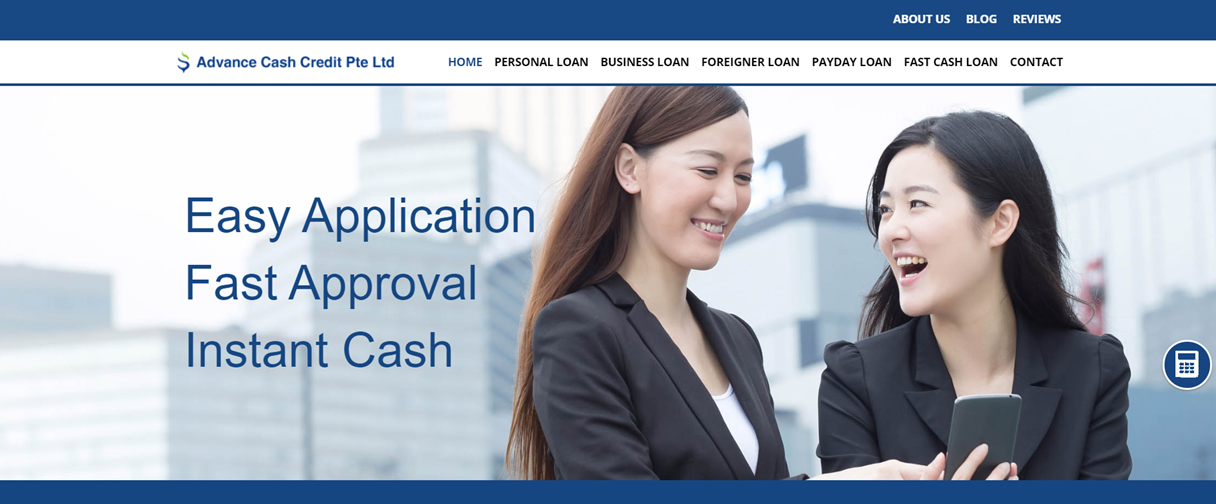 BEST FOR
Fast Cash Loans
WEBSITE
http://advancecashcreditonline.com.sg/
ADDRESS
304 Orchard Lucky Plaza, #04-12 Singapore 238863
CONTACT DETAILS
Contact no: +65 6250 0848
Fax No. : +65 6336 4044
Email : [email protected]
OPERATING HOURS
Monday – Friday: 10.30am to 7.30pm
Saturday: 10.30am to 4.30pm
Sunday / Public Holiday : Closed
If ever you're in sudden need of money to pay off those unexpected bills and expenses, then Advance Cash Credit is certainly the one you should go to. They're known in all of Singapore to be fast, reliable, and easy to work with.
Advance Cash Credit ensures that you get the money you need without worrying about the interest piling up and the due date being too near. All they're here for is to be of help to those who are in dire need and unable to get financial aid from their own banks.
Highlights
Few-Stepped Application
Low Interest Rates
Highly Flexible Payment Schemes
Customer Reviews
Previous clients of Advance Cash Credit applauds the company for being personable to each of their customers, and making sure that each are handled with the utmost importance. Here is one of the feedbacks left on their Google Review:
"Excellent, reliable and fast service by loan officer Kai Ling. Highly recommended if you intend take loan from them."
10. Accredit Loan

BEST FOR
Cash Advance, Personal, and Business Loan
WEBSITE
https://www.accreditloan.com/
ADDRESS
Tampines: 503 Tampines Central 1, #01-315, Singapore 520503
Hougang: 1187 Upper Serangoon Rd, #01-15 The Midtown, Singapore 533971
Tiong Bahru: 18, Jalan Membina, #01-04, Singapore 164018
Yishun: 743 Yishun Ave 5, #01-548, Singapore 760743
CONTACT DETAILS
Tampines: +65 6226 2662
Hougang: +65 6245 2662
Tiong Bahru: +65 6261 2662
Yishun: +65 6219 2662Email:

[email protected]

OPERATING HOURS
Tampines:
Monday-Friday: 11 am to 9 pm
Saturday-Sunday: 10 am to 5 pmHougang:
Monday-Friday: 10 am to 8 pm
Saturday-Sunday: 10 am to 5 pmTiong Bahru:
Monday – Friday: 11 am to 9 pm
Saturday – Sunday: 10 am to 5 pm

Yishun:
Monday – Friday: 11 am to 9 pm
Saturday – Sunday: 10 am to 5 pm
If you're in need of cash assistance, then you must give Accredit Licensed Money Lender a call. They offer a wide range of loans, including personal loan, emergency fund, business loan and cash advance.
They pride themselves on providing the highest quality of loans suited to your needs– all with low interest rates. They assure you that you can count on them when it comes to your financial needs.
Through the help of their expertise, best believe that they can help you with your concerns. Reach out to them today, and be provided with the best assistance!
Highlights
Low interest rates
Fast, safe and simple
Secured and responsible lending
11. Aero Credit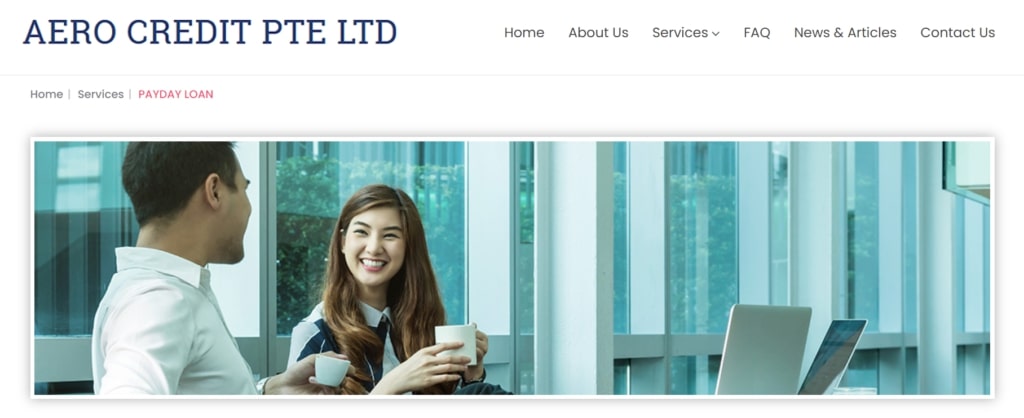 BEST FOR 
Fast Loan Processing
WEBSITE
https://www.aerocredit.com.sg/service/payday-loan/
ADDRESS

810 Geylang Road City Plaza, #02-59, 

, 

Singapore

 

409286

CONTACT DETAILS
OFFICE NUMBER: +65 6256 6319
OPERATING HOURS

Monday – Friday: 11:00 AM – 8:00 PM

Saturday: 11:00 AM – 3:00 PM

Closed on Sunday & Public Holiday
Aero Credit is considered to be one of Singapore's most reputable moneylenders, having first opened its doors to the public in 2010.
What began as a humble firm soon grew into something more, thanks to Aero Credit's dedication to providing only the highest quality loan services to their clients. Every loan is easy to manage, safe, and beneficial to the person being lent money. 
Payday Loans at Aero Credit are given after a short, quick assessment, which includes checking employment terms and credit rating for eligibility. Once cleared, clients can easily acquire the loan, one that should be paid off come the next paycheck.
The team at Aero Credit is highly knowledgeable in the field, professional, and are quick on their feet. Contact them today for more details on the loan process. 
Highlights
Fair rates
Free online inquiry
Easy application
No hidden fees
Customer Reviews
Take a look at the feedbacks left on Aero Credit's Google Review:
"Been with Aero Credit for quite some time, only went there when need urgent cash. They are always fast respond and the loan application very fast. I should say it's very efficient. Well done."
"Thanks so much for providing me this urgent personal loan. A very friendly money lender. Thanks for listening to my problems and provide a some guideline."
"It was my first experience approaching a moneylender for some last minute financial matters. Staff was patient and clarified with me on my doubts. Will recommend them if anyone requires such assistance."
12. R2D Credit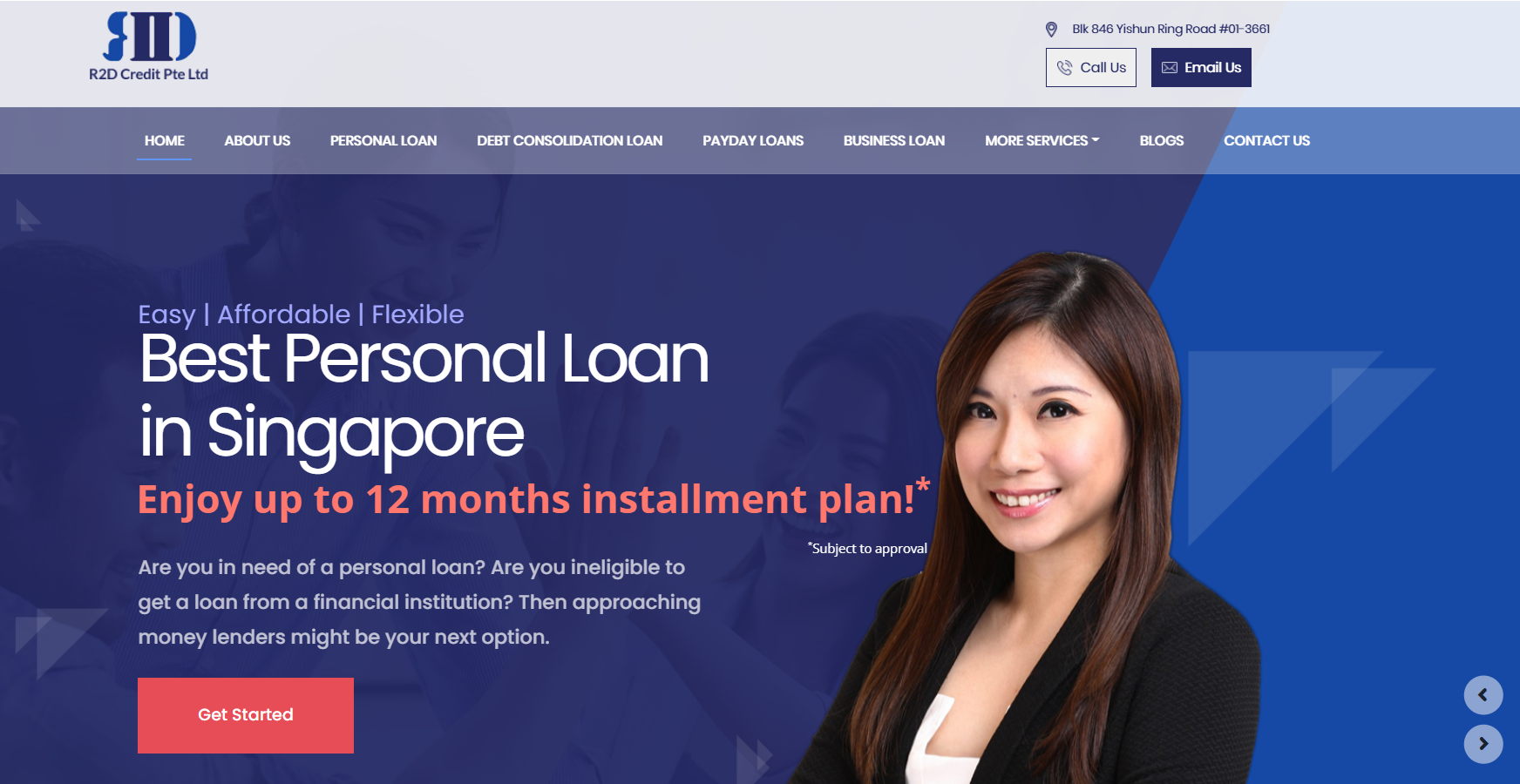 BEST FOR
Up to 12 months installment plan
WEBSITE
http://r2dcredit.com/
ADDRESS
Blk 846 Yishun Ring Road #01-3661
Singapore, 760846
CONTACT DETAILS
[email protected]
6635 1596
OPERATING HOURS
Mon-Fri 11.30am – 7.30pm, Sat 11.30am – 6.00pm
R2D Credit offers a wide range of money lending assistances like business loans, debt consolidations, and more. They're considered to be Singapore's number one personal loan provider, and is known for their hassle-free payday loans as well.
R2D boasts a high approval rating, way above other loaning companies, which allows them to accommodate and assist more clients through their financial problems. Their applications are also very easy to finish and requires only the simplest of information.
Another reason why clients prefer R2D is because of their top notch customer service. All of their officers and staff are professional, courteous, and take the time to listen to each of their clients' inquiries.
With the way they handle things, R2D is definitely a company recommended for you to consider. All the details are posted on their website, but questions are still welcomed and can be sent through email or via call.
Highlights
Friendly and accommodating staff
Professional loan services
Fast and efficient processing
13. I-Credit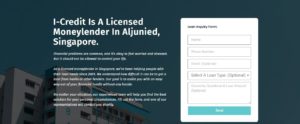 BEST FOR
Personalized Loans
SERVICES
Short-term loans, Long-term loans
WEBSITE
https://www.icredit.com.sg/
ADDRESS
82 Lorong 23 Geylang, Atrix Singapore #05-02 (S) 388409
CONTACT DETAILS
+65 6222 5222
OPERATING HOURS
Monday to Friday: 11:00 am – 8:00 pm
Saturday & Sunday: 11:00 am – 4:00 pm
I-Credit is a private licensed moneylender that is perfect for personal loans, whether they are short-term or long-term loans like mortgages. They are also at an accessible location, which is perfect for consumers who are on the go and need moneylending services nearby.
We admire their approach to moneylending since they pay special attention to detail and care about the clients' requirements and priorities, such as their budget and circumstances.
All necessary information is also easily available on their website so that clients may know what charges to expect when using their services, as well as the assurance that they completely adhere to the law and industry regulations.
Aside from that, they feature a quick approval rate and flexible repayment ways that are readily adjustable to the client's demands, such as monthly, weekly, and fortnightly, among others.
Overall, with a complete government license and equally effective customized services, we strongly suggest their services to consumers in need of money without the trouble and time-consuming application process.
Highlights
Fast approval 
Flexible loans
Fully licensed by the government
Customer Reviews
Here is a review from their client:
"Super convenient location just across Aljunied mrt. Ample carpark and nice building. I am a customer of the licensed moneylender (I-Credit) on the 5th floor. Always find it very easy to come here."
And that's the end of our list of the best payday loans in Singapore! If you'd like to see more options, see these best personal loans in Singapore! They also offer flexible deals that can help you manage your finances.