The 4 Best Personal Loans for Foreigners in Singapore
Living far away from home and family is already hard enough, but it gets harder when you're hit by a financial problem while in a foreign country. If you're an expat who's in need of financial support, we're here to help you out with our list of the go-to options for the best personal loans for foreigners in Singapore.
While there are a lot of banks and money lenders that offer personal loans to foreigners, only a few have reasonable interest rates, flexible tenure, low monthly dues, and great reviews from customers. It's better to know the rules and guidelines of these money lenders before signing up for their personals.
We guarantee that you will not be disappointed with the services of the banks and money lenders on our list. So, hurry up and take a look at our list of the best personal loans for foreigners in Singapore.
1. CreditMaster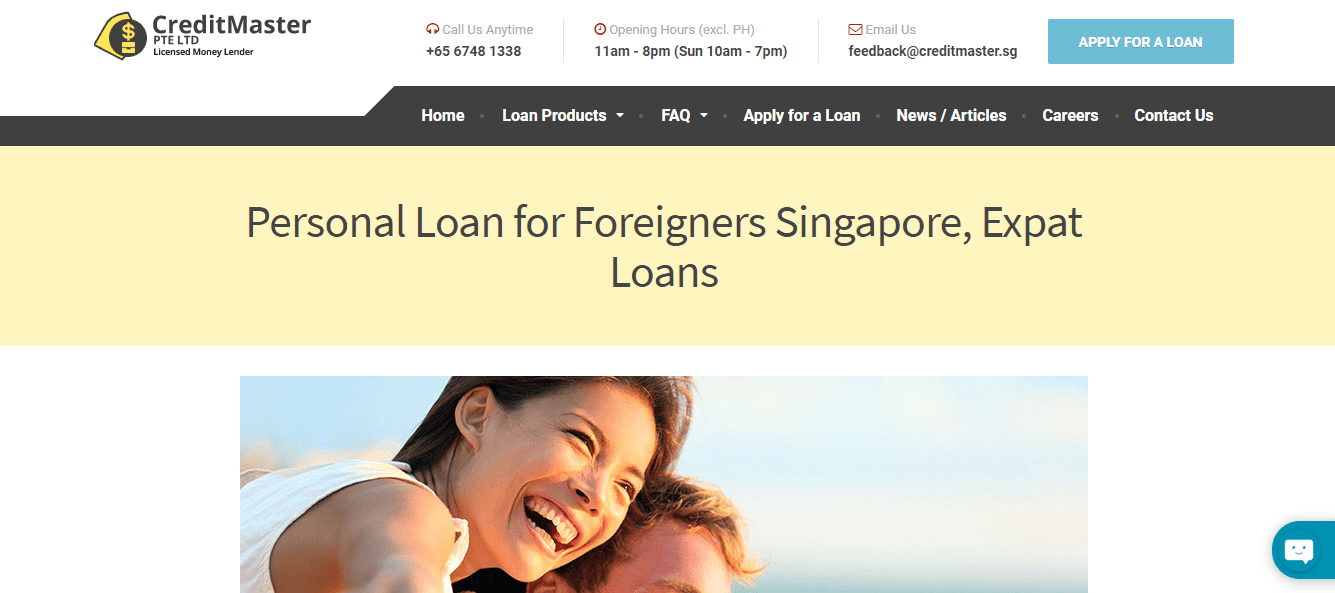 BEST FOR
Flexible Payment
SERVICES
Expat Loans, Personal Loans, Car Loans, Home Renovation Loans, Dental Loans, and Wedding Loans
WEBSITE
https://www.creditmaster.sg/foreigner-loan/
ADDRESS
1, #01-50 Park Rd, People's Park Complex, Singapore 059108
CONTACT DETAILS
+65 6748 1338 |

[email protected]

OPERATING HOURS
Monday – Friday, 11:00 AM – 8:00 PM
CreditMaster has long been one of the most trusted and established money lenders in Singapore, with customers coming from all walks of life. It doesn't limit its services to personal loans alone as it also offers wedding loans, car loans, vacation loans, and even dental loans.
Many say that it's one of the top options for the best personal loans for foreigners in Singapore because of its equal and fair treatment of all nationalities.
It also guarantees fast and efficient processing of loans so clients won't have to wait long for the results of their applications.
Besides quick processing of applications, CreditMaster also disburses cash right away. Once the loan has been approved, there's no need to wait for days and weeks for the money to make its way to your bank account.
Highlights
Easy application
Fast disbursement
Fair treatment to all nationalities
Customer Reviews
Take a look at some of the reviews on Google Reviews from satisfied clients:
"To be honest, I can be quite slow in understanding things, therefore I've faced quite a number of unpleasant people. Today I went down to Credit Master, I was very pleased with the working attitude they have. I would like to specifically point out Jessica, who had so much patience despite me asking so many questions . She even gave me some financial advice due to some difficult situations. Thanks to her, I'll be back to credit master again instead of others."
"Best place to come when you need a loan. Sharlene and Jessica are always helpful when I'm here to apply for the loan. Good customer service and very professional. They are very transparent with their loan and interest. Thank you Creditmaster!"
2. 1AP Capital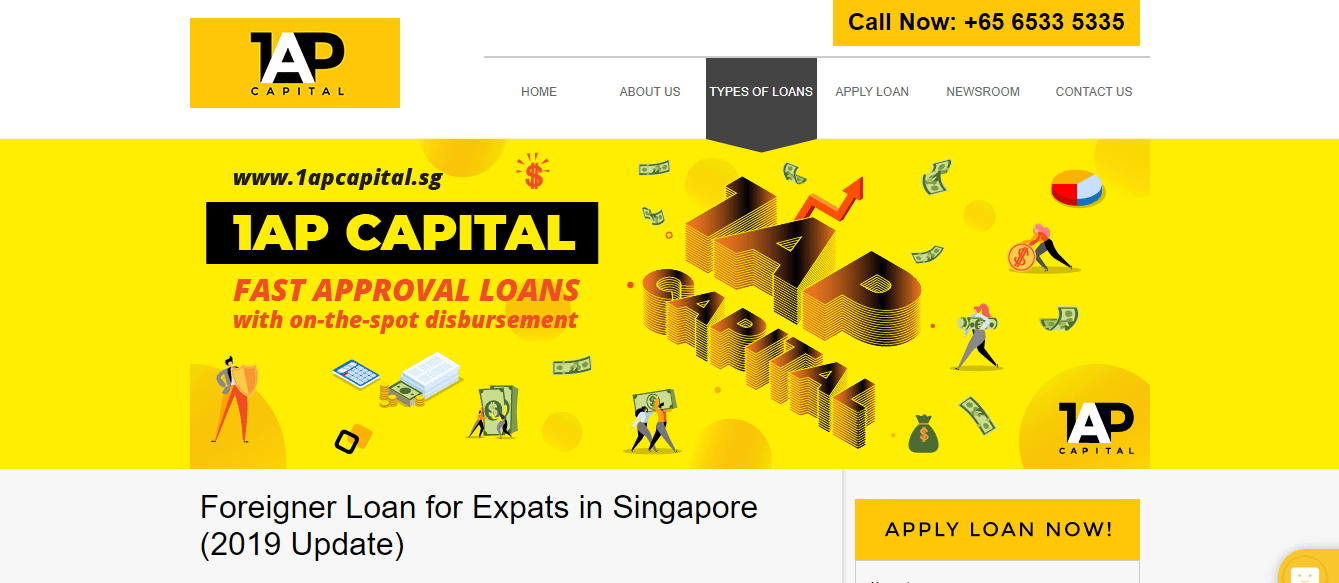 | | |
| --- | --- |
| BEST FOR | Fast Application |
| SERVICES | Expat Loans, Personal Loans, Business Loans, Wedding Loans, Payday Loans, and Dental Loans |
| WEBSITE | https://1apcapital.sg/foreigner-loan/ |
| ADDRESS | 10 Anson Road #01-38A, International Plaza, Singapore 079903 |
| CONTACT DETAILS | +65 6533 5335 |
| OPERATING HOURS | Monday – Friday, 11:00 AM – 8:00 PM |
If you're looking for a money lender that understands your struggles as a foreigner, then 1AP Capital can be the perfect option for you! Its loan packages can be used to cover any type of emergency and even just for the benefit of having extra cash on hand.
We name it one of the top money lenders for the best personal loans for foreigners in Singapore as each loan comes with flexible payment, confidentiality, convenient application, and low interest rates. And these are the exact qualities that people look for in a money lender!
What's more, its streamlined loan process promises that clients don't have to wait for days or weeks to know the status of their application.
Highlights
Low interest rates
Confidential
Flexible tenure
3. Credit 21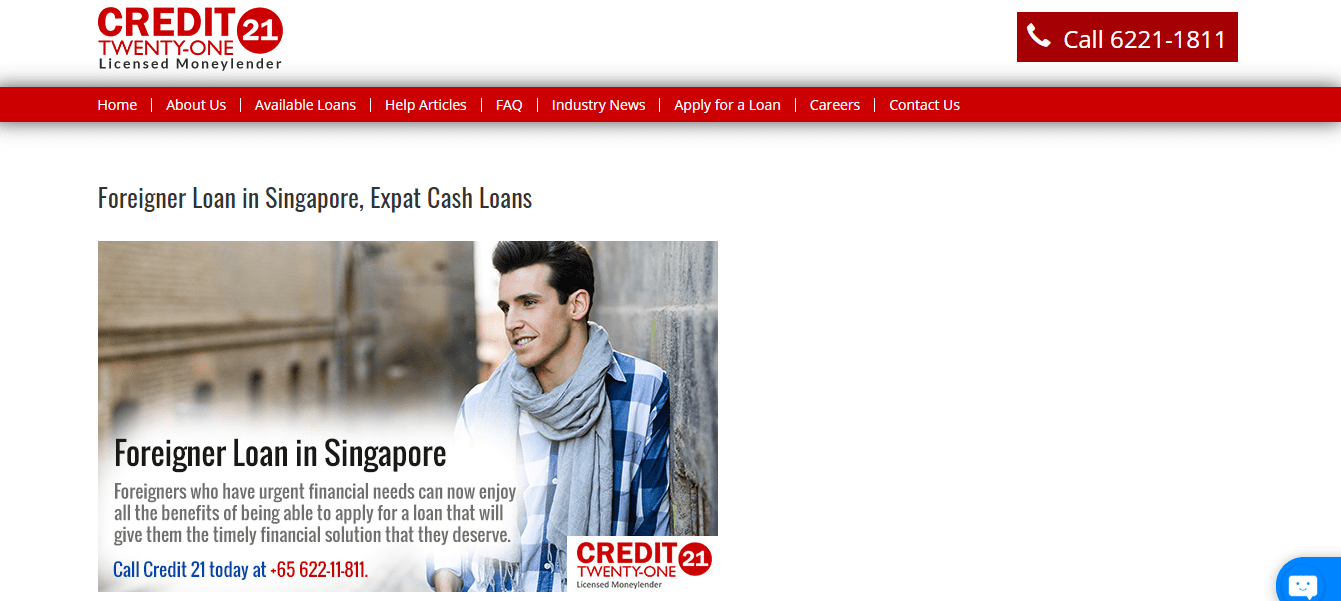 | | |
| --- | --- |
| BEST FOR | Financial Advisors |
| SERVICES | Foreigner Loans, Personal Loans, Business Loans, Urgent Loans, Wedding Loans, and Renovation Loans |
| WEBSITE | https://www.credit21.com.sg/foreigner-loan/ |
| ADDRESS | 10 Anson Rd, #01-07 International Plaza, Singapore 079903 |
| CONTACT DETAILS | +65 6221 1811 |
| OPERATING HOURS | Monday – Friday, 11:00 AM – 8:00 PM |
Credit 21 is one of the best-reviewed money lenders on the island, and we stand by its inclusion in this list as we know how efficient and beneficial its loan packages are. More than this, it also offers a wide array of loan packages that cater to the needs of most, if not all, Singaporeans.
On top of that, Credit 21 also has a team of competent financial advisors whom customers can talk to about managing and paying for their loans. It's really a dependable money lender that everyone can turn to in times of need, which is why we deem it one of the money lenders for the best foreign loans in Singapore.
Applying for its foreigner loans also isn't that hard. Expats just have to make sure to show proof of their work permit, employment letter, bank statement, and playslip.
Highlights
Transparent rates
Hassle-free application
Consultation with financial advisors
Customer Reviews
Credit 21 has been praised by customers for its quick and efficient services. Some also noted that its staff explain the conditions of each loan package in a detailed manner.
Other customers have also said that Credit 21 is transparent on fees and interest rates. Here are some comments:
"After having a not so ideal experience with a previous lender, I decided to try taking a loan from Credit 21. They have good customer service and will go through the loan terms with you patiently, make sure that you fully understand them before proceeding to sign documents and receiving the loan. The best part is that they are not pushy and will not keep asking you to take a loan. Recommend everyone to visit Credit 21 if you ever need to take a loan!"
"I choose Credit21 based on the review given. The environment, staff and procedure have always been fast and smooth. Whenever I need a loan, I will always take up from Credit21. Trusted and reliable without hidden interest."
4. Cash Mart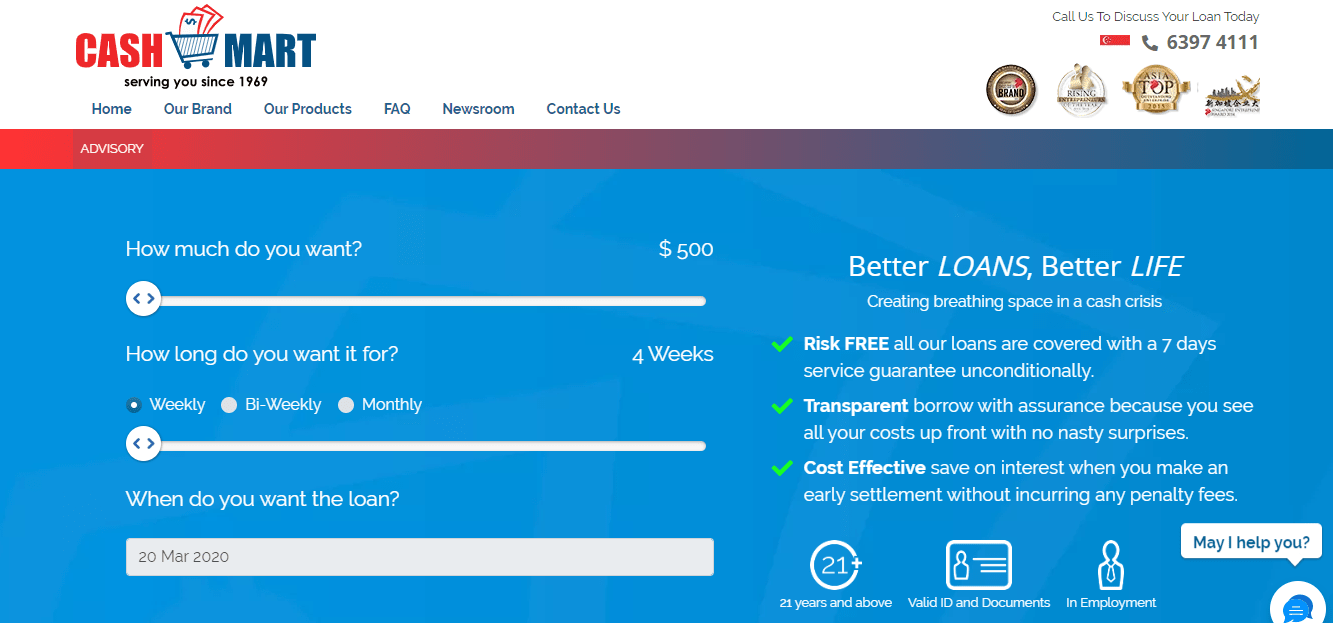 | | |
| --- | --- |
| BEST FOR | Cost Effective |
| SERVICES | Foreigner Loans, Personal Loans, Payday Loans, and Business Loans |
| WEBSITE | https://cashmart.sg/expat-loan/ |
| ADDRESS | 277 Balestier Rd, Singapore 329726 |
| CONTACT DETAILS | 6397 4111 |
| OPERATING HOURS | Monday – Friday, 11:00 AM – 8:00 PM |
Cash Mart has been helping Singaporeans manage financial problems since 1969, providing them with loan packages with flexible payment and reasonable interest rates. It has also opened its services to foreigners, and we think that it has one of the best personal loans for foreigners in Singapore.
All of its loan packages are covered by the 7-day service guarantee. Within the given timeframe, Cash Mart will ensure that your loan ends up only in your hands — no other person will have access to claim it.
What's more, Cash Mart is also transparent with interest rates and fees that clients will have to pay. Unlike other money lenders, it will not shock you with questionable fees.
Highlights
Risk free
Easy application and approval
Transparent fees and interest rates
Customer Reviews
Cash Mart is known for its professional and accommodating staff. Customers also liked that someone will explain each loan package in detail to help clients understand before making a decision. Take a look at this comment:
"Saw this company from Google and called the office. Didn't expect their customer service to be so professional. They will explain to you patiently with your queries. Head down to the office and apply. Took me around 20 mins to get the money as there were few people ahead of me. Services excellence is there. 1 of the best lenders I went to. From the office design, officers, services they provided. I could not find any other lender with such a standard. Thumbs up. Definitely will introduce my friends here."
Now that you have an idea of which are the top money lenders that offer the best personal loans for foreigners, all you need to do now is prepare for the requirements and bring yourself to their office!
If you've already tried signing up for a loan from any money lender on our list, don't hesitate to share your story with us because we always want to hear from you.
By the way, in case you're also planning to buy a car but don't have enough savings, you may check out our list of the best car loans in Singapore. Any of these options will help you purchase the car of your dreams!