Where to Sell Your Car in Singapore: Sell Your Car Fast in 2021
Car selling in Singapore is one of the wisest ways to make use of our costly properties. This includes our used cars that might be too old for us and we want to have something new for a change. For those who are having a hard time looking for a used or second-hand car buyer, there are a lot of options that you can try which includes an online buy and sell car shop whereas it will be more convenient to find a reliable place to entrust your car to.
If you decide to sell your car in Singapore, know that there are lots of options where you can do it. We decided to round up the places where you can do it. 
See the list below and you will get to know the best options to sell your car in Singapore!
1. STCars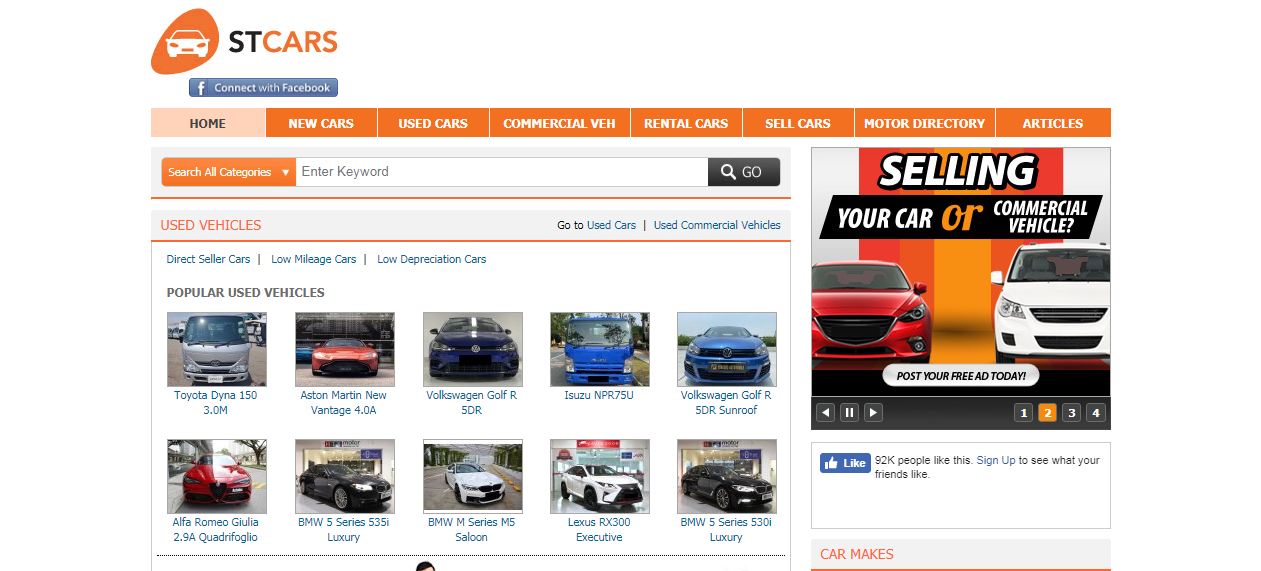 | | |
| --- | --- |
| BEST FOR  | Wide-range of Car Brands Available |
| WEBSITE | https://www.stcars.sg/ |
| ADDRESS | 61 Ubi Ave 2 #07-05/06 Automobile Megamart Singapore 408898 |
| CONTACT DETAILS | 6508 4266 |
At STCars, there will be a total of three methods on how will you sell your used car. So there's going to be a backup plan if your initial plan will not work. These options include posting an advertisement, sell cars to ready dealers, and bidding. If you are in an urgent situation where you need someone to purchase your car immediately, you can consult with their list of dealers who are always on-the-go to take and buy any car.
Buyers at STCars are very much satisfied with their shopping experience and final purchase for they were able to explore different brand new and vintage cars at competitive prices.
Because of the wide variety of used cars in their fleet, many consider them the best site to sell one's car in Singapore.
Service Highlights
Rental cars
Commercial vehicles
New and used cars
2. Prestige Auto Export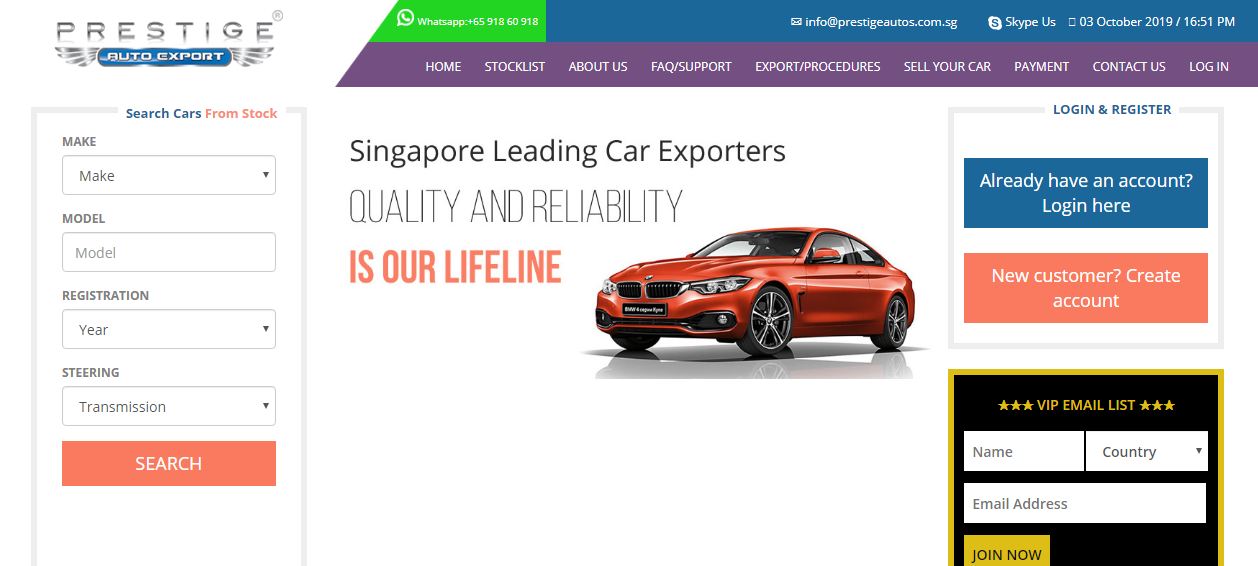 | | |
| --- | --- |
| BEST FOR  | Local and International Used Car Exporters |
| WEBSITE | https://www.prestigeautos.com.sg/ |
| ADDRESS | 8 Ubi Road 2 #07-27 Zervex Singapore 408538 |
| CONTACT DETAILS | +6591860918 |
Prestige Auto Export is said to be a renowned used car dealer that has been recognised in the global scene. They serve both local and international customers who have experienced fast and efficient services. This proves that they are highly reliable and responsive. They offer up-to-date releases of car brands and valuable used cars with detailed descriptions. So rest assured that you can easily find a buyer with their comprehensive accommodations. You can never go wrong with this platform for they provide excellent services for buyers and sellers.
It's helpful to know that they've got customer support available anytime during the day so you always have a point of contact. It's helpful to know car selling things such as knowing the best time to sell a car in Singapore, etc. 
Service Highlights
24/7 live help and customer support
Well-organized shipping and delivery services
Clearance offers
Customer Reviews
Prestige Auto Export received countless positive reviews and the customers are very glad about the overall services provided to sell car in Singapore. Kevin left this feedback on the official website:
"Hey Guys, Great Job, Car is here and i am delighted with your services. Surely will deal again. Thumbs Up Team"
3. Cosmo Automobiles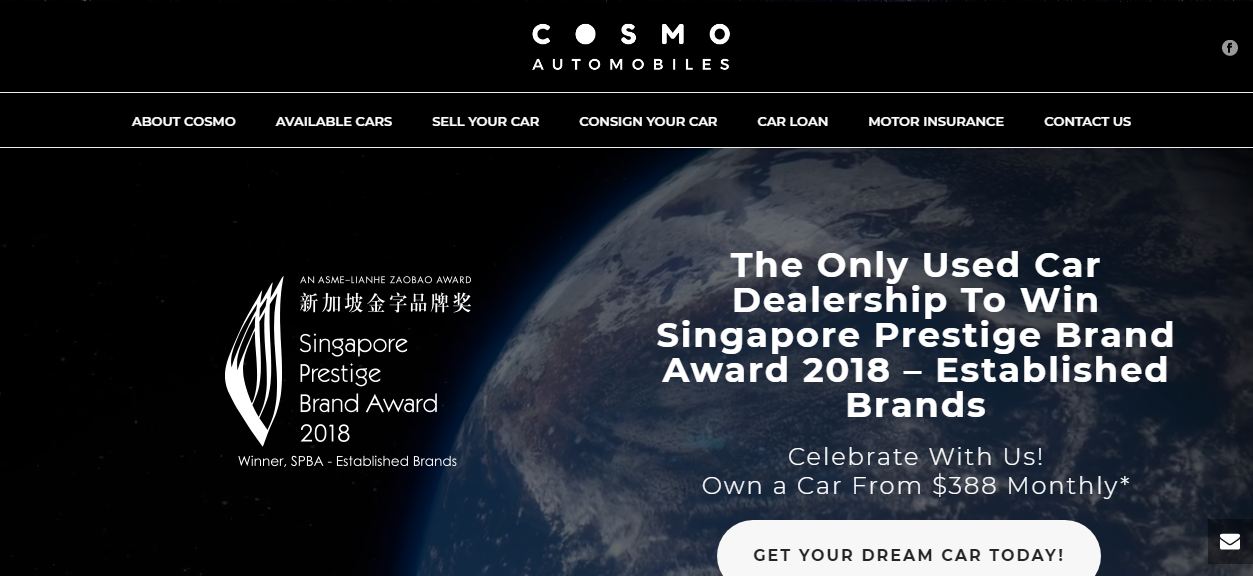 BEST FOR  
Accepting All Make of Cars In Any Condition
WEBSITE
https://cosmoautomobiles.com/
ADDRESS
210 Turf Club Road The Grandstand Lot A16/A22/A23/B25 Singapore 287995
CONTACT DETAILS
6465 0852
OPERATING HOURS
Open every day including Public Holidays!

 

10am to 7pm
The most outstanding feature of Cosmo Automobiles is that they accept any resourced condition of cars such as loan settlement, insurance refund, and Preferential Additional Registration Fee (PARF) Rebate.
Consider them to be a modern-day, industrial car scrap yard in Singapore. Vintage collectors (and sellers) and enthusiasts will be happy because they sell used cars in Singapore of all brands and condition.
They will also present your vehicle with the best price on the market to help you more potential buyers. Also, with their management, you can use your car while they searching for a buyer so it will be more practical for can have always had a ride from home to work and vice-versa.
With great management and a wide collection of brands, parts and fleet, many customers consider them to be the best scrap car dealer in Singapore.
Service Highlights
Full direct owner market price
Dedicated consignment consultants
Motor insurance and car loans
Customer Reviews
Cosmo Automobiles is an award-winning used car dealership company that has earned the trust of car buyers and sellers. Throughout a decade, they have been serving their clients with quality cars and excellent customer service. A reviewer from Google Reviews shared this experience:
"The mechanic finally did found the problem and fix it. the sales person also replied promptly after the feedback. Overall it's a good learning experience for all of us. I believe will go back to the same sales person again if I'm changing another car as she really show her sincerity and honesty after the feedback. keep it up!"
4. Speedo Motoring Singapore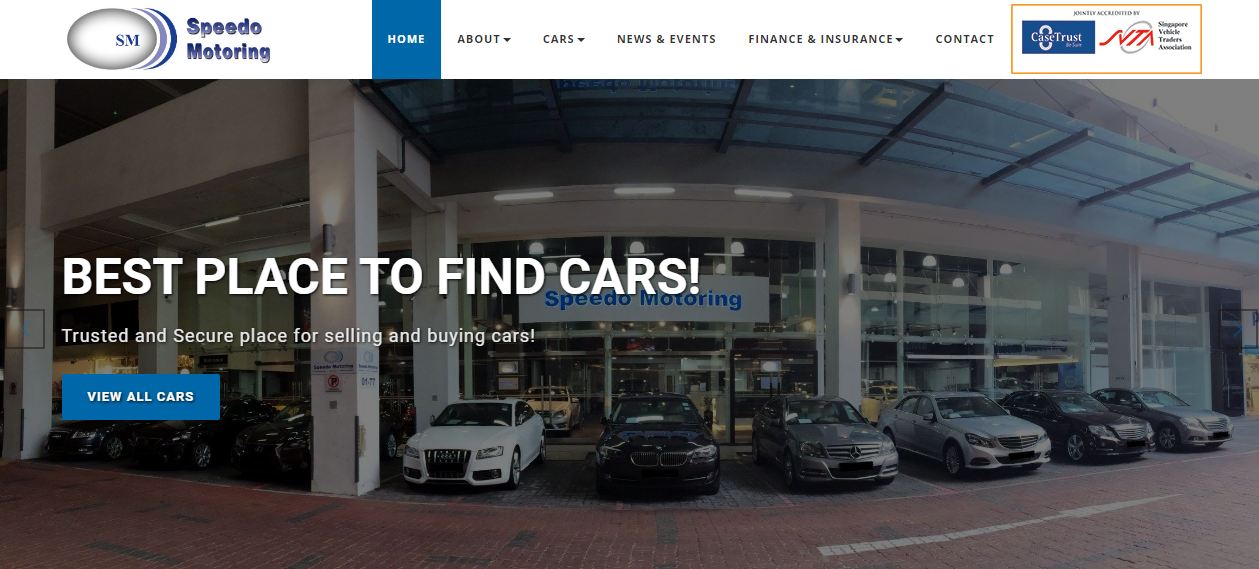 BEST FOR 
Competent Sales Team
WEBSITE
http://www.speedomotoring.com.sg/
ADDRESS
33, Ubi Avenue 3 Vertex#01-75/76/77, Singapore 408868
CONTACT DETAILS
6763 7757
OPERATING HOURS
Mondays to Friday 9:30AM to 8.30PM

 

Saturday 10.00AM to 7.30PM

Sunday 10:00AM to 6:00PM

 

Special Operating hours

Mid Autumn Festival, 13 Sept 2019 :9:30AM TO 7:00PM

Company Event, 14 Sept 2019 : 10:00AM TO 4:30PM
Speedo Motoring Singapore is a one-stop solution centre for buyers and sellers. You can be sure that you will be in good hands for they provide trusted and secured procedures as you turn over your car to them. They have won awards from prestigious institutions which made them a well-respected car dealership in the country. For the buyers, they have in-house/bank financing, motor insurance, and corporate fleet management sales/purchase.
If you're a first time seller and want to be guided on things such as when and where to sell your car in Singapore, we suggest Speedo Motoring due to their team with a strong focus in customer service. 
Service Highlights
Consignment services
Trusted agents
Customer Reviews
Speedo Motoring Singapore has not only earned awards but they also gained wonderful feedback from their clients and customers. Chin Guan, a former customer , expressed her gratitude by leaving this review on the official website:
"I've just acquired a used car through Javier last week, and I wish to commend Javier on his more than excellent service: Explaining the fine details of the vehicle, transaction administration and etc. He has been very patient and forthcoming in his attitude and that is an attribute hard to come by these days. Thank you very much!"
5. Lay Auto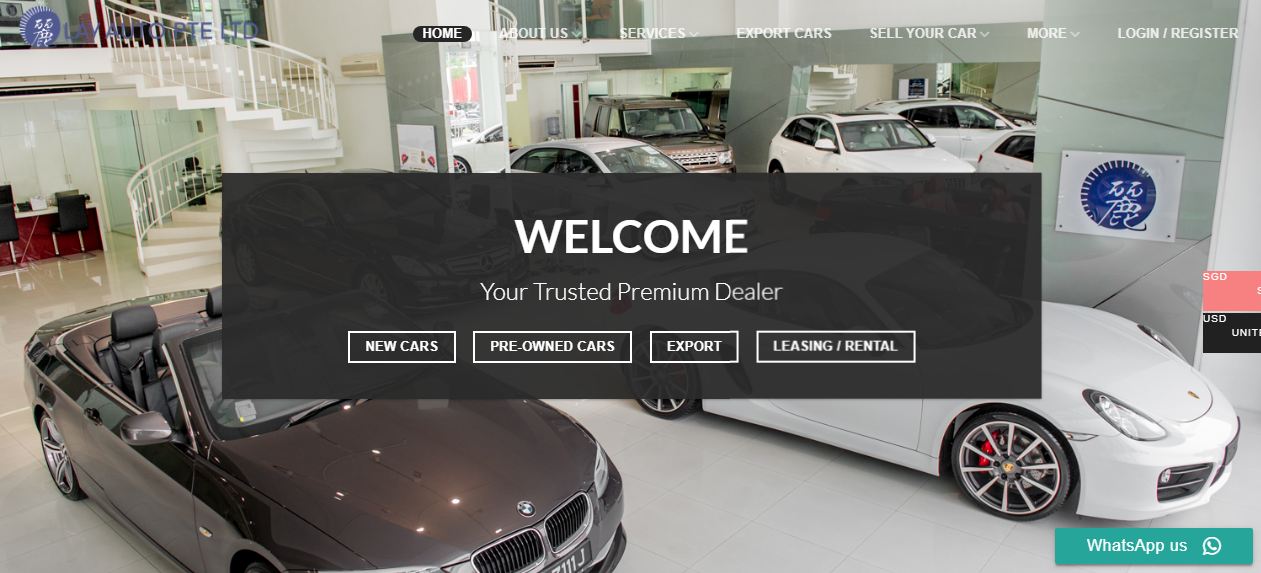 BEST FOR 
One-day Payment Process
WEBSITE
https://www.layauto.com/
ADDRESS
21 Toh Guan Rd E, #01-16/17, Singapore 608609
CONTACT DETAILS
64625828
OPERATING HOURS
Monday – Saturday:

 

09:30AM – 07:00PM

Sunday and Public Holiday:

10.00AM – 18:00PM
Compared with the other car dealership companies, Lay Auto focuses on car selling in Singapore at the highest price possible in the market. They will be able to assess a good price within one day and if the car is in a satisfactory condition, they will immediately give the payments. They have received awards from local and international institutions. Special promotions such as premium packages are also being offered so if you are a seller, you can be certain that you can find a buyer in no time.
If you've decided to sell scrap car in Singapore for decent rates, this is the best place to do it. 
Service Highlights
Extensive fleet range
Quoted insurance
Financing, leasing, and workshop services
Customer Reviews
For over 20 years, Lay Auto has been serving top-notch products and accessible solutions to their clients and customers. Benedict had a nice first impression towards the team and left this high-rated feedback on Google Reviews:
"Honest dealer with smooth transaction. Although this is my first car with them, it is a very pleasant transaction. Thanks a lot Joel and team."
6. Car Lingual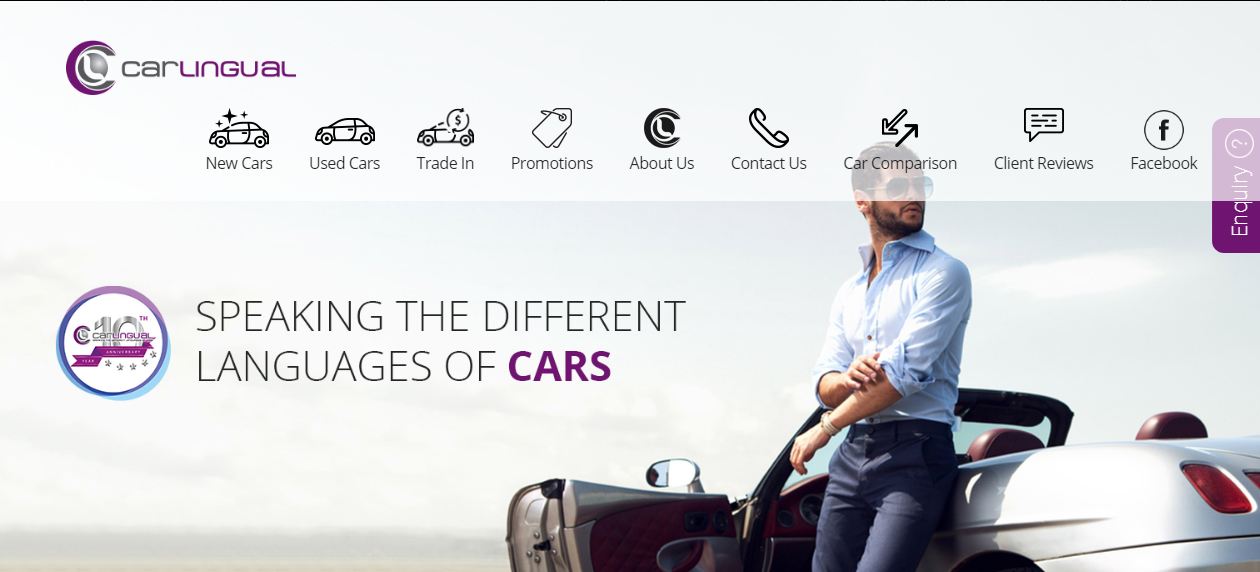 | | |
| --- | --- |
| BEST FOR  | Professional Used Cars Trade-in Management |
| WEBSITE | https://www.carlingual.com.sg/ |
| ADDRESS | 1 Bukit Batok Crescent #04-58/59/60/61/62 WCEGA Plaza Singapore 658064 |
| CONTACT DETAILS | +65 6469 0002 |
Car Lingual is known for selling cars with prime conditions and if you are planning to place your vehicle out in the market, you can be sure that they will maintain its value until it has finally found a new owner. They also have their own in-house subsidiary Car Laboratories that is managed by an experienced team that can properly maintain the wellness of the cars. They have built long-term business relationships with clients because of their trustworthy services.
Service Highlights
Consignment options
In-house workshop and warranties
No hidden costs
Customer Service
With the competitive market prices on the car industry, Car Lingual has helped numerous dealers to advertise and car sell in Singapore. A reviewer gave this feedback on Google Reviews:
"Bought a vehicle from Car Lingual through salesperson Delen Sim. The purchase process was smooth. There was clear communication at every stage. Delen was patient in answering all questions and ensured that he had provided me with accurate information. We have received the car in excellent condition and the pre-set specifications had all been fulfilled. Thank you for the wonderful experience!"
Cars and other forms of vehicles are good investments for the future because once you have used them for a long time, they would still have a certain value. Hence, it is highly advisable to maintain the good condition of your car as soon as you bought it.
7. Wagonmate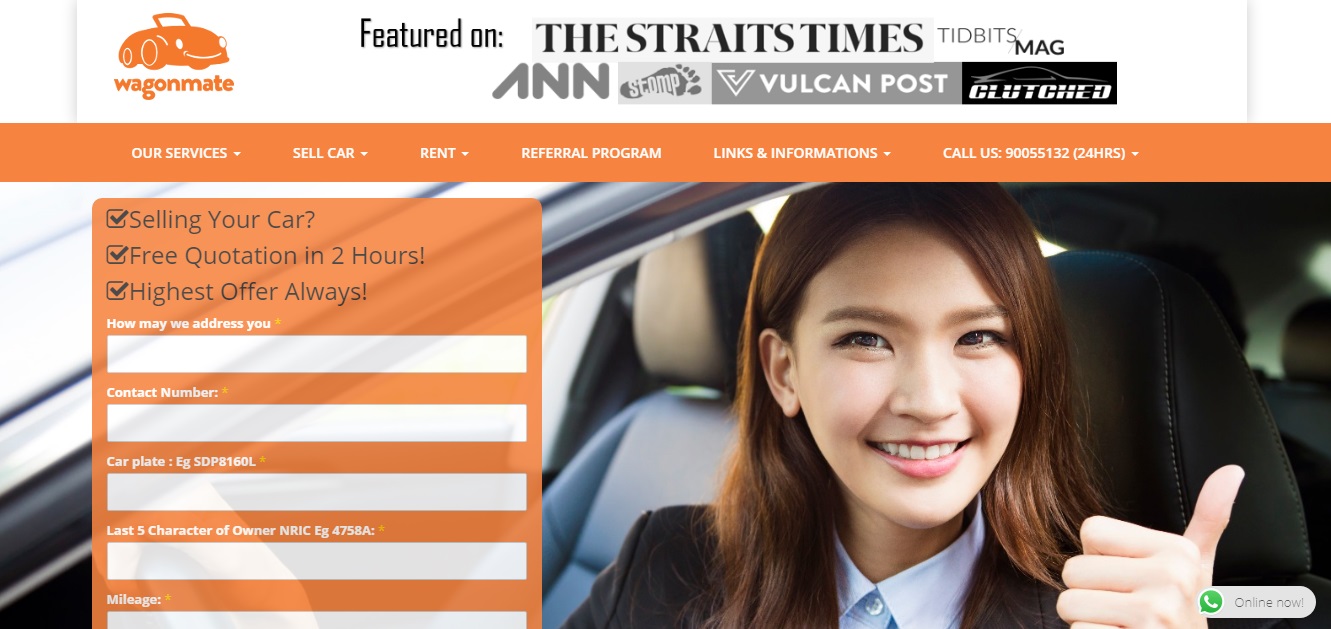 | | |
| --- | --- |
| BEST FOR | Car to Cash in 2 hours |
| PRODUCTS | Auto Sales & Purchase |Lease| Auto Finance | Number plate |
| WEBSITE | http://www.wagonmate.com/ |
| ADDRESS | 61 Ubi Avenue # 04 – 11, Automobile Megamart 408898 |
| CONTACT DETAILS | +6590055132 / [email protected] |
| OPERATING HOURS | From Sunday to Saturday, 9:00 am to 6:00 pm |
Wagon Mate is your mate for your car concerns, whether selling, buying, renting, and loaning. This is truly a one stop shop for your car needs beside purchase and sales of auto vehicles they also offer insurance, vintage number plate via www.carplatemart.sg assistance, and COE Renewal. 
Their services are extra fast and easy too. If you're planning to sell your car, they could give you a quotation in just 2 hours. Just provide the information like car plate, mileage, contact number, they will come by to view your car and confirm the deal instantly.

You could also purchase a car here and they offer extensive information that would help you in your decision. 
Service Highlights
Purchase of Used Vehicles for Local and Export Sales

Sales and Purchase of Vintage Car plate via www.carplatemart.sg

Consignment

Auto Financing at low interest rates.




 
Customer Reviews
The customers of Wagon Mate certainly love the customer service that the owner and the staff provides. 
Testimonial from Customers: 
"It was a great experience , my girlfriend and I have been looking for a car for the past 2 weeks . Finally we managed to get our Mercedes Benz E200 from wagon mate, the boss Ralph Koh was very friendly and down to earth , non judgemental kind of business man are rare today ! I will come back in two years time for my s300 thank you Wagon mate"
"Extremely satisfied with the assistance that the owner had rendered. Service is Professional and Fair."
8. Scrap Car Yard
| | |
| --- | --- |
| BEST FOR | Simple and Fast transaction |
| PRODUCTS | Car Parts |
| WEBSITE | https://www.thescrapcaryard.com/ |
| ADDRESS | 25 kaki bukit road 4 #05-57, Singapore 417800 |
| CONTACT DETAILS | + 6563679266  |
| OPERATING HOURS | Monday to Saturday: 9:30 am to 6:30 pm |
Scrap Car Yard is a well known shop around the world. They partner with well known brands as well as they carry some of the materials of the top brands in the car manufacturing industry. 
They provide access to different types of car parts. They also provide services like scrap car, selling of used car, car insurance and assistance for LTA renewal. 
When you transact with them, you are well assured that you are on the right path as they make it a point to make every transaction simple and fast.
Service Highlights
Authorized agent

Carries car parts of known brands

Fast and Easy transactions
Customer Reviews
Learn from people who gets a firsthand experience of the services offered by The Scrap Yard below:
"Staff were helpful. The owners (father and son) were kind and professional"
9. Otua Auto

| | |
| --- | --- |
| BEST FOR | Best car deals |
| PRODUCTS | Motorcycle and car |
| WEBSITE | https://www.otua.sg/ |
| ADDRESS | 18 Sin Ming Lane, Midview City. |
| CONTACT DETAILS | #06-17 (573960) / [email protected] |
| OPERATING HOURS | Monday to Friday: 10:00 am to 7:00 pm |
Otua Auto is a car matchmaker made in heaven. They connect everyone in the business industry from seller to buyer. They currently have a large network of sellers, buyers, and dealers. 
They guarantee to offer the highest price for a car you will be selling. Then, directly match you with a buyer that's looking for the unit and ready to pay! 
Lastly, they also provide assistance in the most tedious part of the transaction – the paperwork! They'll help you all the way even with the nitty gritty details needed to finish the paperwork.
Service Highlights
Buy and sell of used car
Buy and sell of used motorcycle
Car Workshops
Purchase of New Car (1 bid COE)
Car Workshops repair quotation
COE loan renewals
Buying of scrap cars
Customer Reviews
They certainly are great at matchmaking as evident on the five star ratings they received on their customers. According to their google page:
"Good experience. Fast deal. Trustable will recommend to friends and family"
"Honest car people. Am a customer of their workshop (Otua Works). Fair, transparent pricing and speedy service. Will definitely visit again. Helps that the contact person (Paul) is very friendly too!"
10. Arcade
Arcade is a one stop shop for a car enthusiast. Do you want to sell your old car? No problem, selling of used car is available in the platform. Do you want to buy a car? They display the cars that they currently have, be it used or new. 
Here at Arcade, personal buyers, authorised dealers, and importers are welcome to browse and purchase. They aim to provide a one platform that serves almost all the needs of their visitors. 
Aside from the cars, they also assist their customers in COE renewal and other additional car services.
Service Highlights
Customer centric service

One Stop Shop for car enthusiasts

Car deal solutions for every type of customer
11. SGCars4U.com

There's something truly charming about cars especially once they're transformed into something that's more your style- and that's what SGCARS4U.com does.
They specializ in the import of bespoke vehicles that are customized to every individual's specifications.
And to guarantee that these vehicles are top-quality, they even offer a warranty of up to 5 years with unlimited mileage!
Head on to their site to scan what car will pick up your attention or head on to their store. Their lovely staff will personally assist you from start to finish.
Service Highlights
New Vehicle Factory Customization
Direct Import of New/Used Vehicles
Warranty for Imported Vehicles
Customer Reviews
Buying a car is a big decision to make. So, of course, you're gonna do a lot of researching and doublechecking. We've gathered some reviews that will ease your mind:
"I imported a manual coupe via Jaye. Process was very smooth and communication was timely. There were a lot of assurances from Jaye along the way, updating me every step from shipping to clearance. Although there were hiccups, Jaye took a lot of initiative to clear them."
"Just received my octavia combi Vrs245! Appreciate the effort for delivering the vehicle in such a short time frame (2 days- upon securing the COE). Well Done!"
12. Car & Stars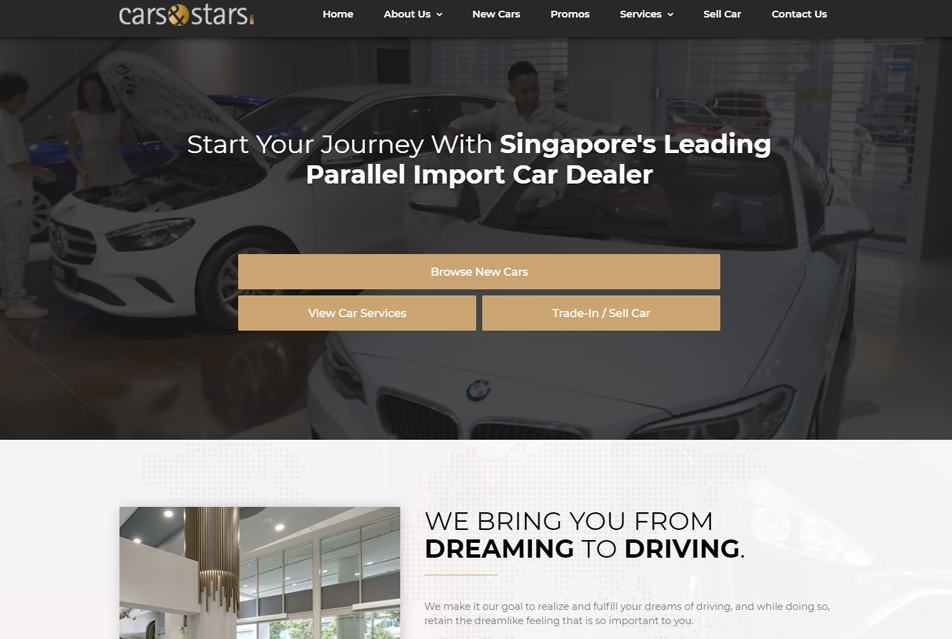 | | |
| --- | --- |
| BEST FOR | Parallel Import of New & Used Cars |
| WEBSITE | https://www.carsandstars.com.sg/ |
| ADDRESS | 50 Ubi Avenue 3 Frontier, #01-01/02 Singapore 408866 |
| CONTACT DETAILS | +65 6585 5555 |
| OPERATING HOURS | Monday-Sunday, Including Public Holidays: 10:00am-6:00pm |
Car & Stars has been in the industry since 2007 and remains to be one of the leading parallel importers of new cars and used cars in Singapore. They offer the best value-for-money new and used Japanese and Continental Cars in Singapore.
By living up with their tagline "We Bring You From Dreaming To Driving", the company never fails to provide a good range of new and imported cars, all designed and tailored to fulfill your goal of owning your dream car.
Additionally, they are notable for their 100% delivery rate, car packages and deals, low-interest rates, and a comprehensive 5-year warranty for all their new Japanese and Continental Cars.
Service Highlights
One-stop car boutique
Comprehensive warranty
Value-add services such as car insurance, financing, leasing, and rental
Trade-in and car consignment services
Car scrapping and export services
Customisation of new cars

 (materials, accessories, equipment, and more!)

Extra-l

ow

 

car prices

 and packages

 for imported cars
No hidden costs
Customer Reviews
The company is praised for their excellent and trustworthy services. Mr Michael Ong Bock Teck particularly pointed out that the Car And Stars is very patient and not pushy. Here is his exact words as posted on the company's reviews page.
"Just completed my purchase of the new Honda Freed 1.5G and I must say I am really happy with the purchase. Despite so many Parallel Importers in the market, I have decided to go with Cars & Stars and it is mainly due to the diligence, sincerity, and transparency of their sales consultants and service.
From answering my initial enquiries late at night to putting in the best effort in making sure I can get my car in the shortest possible time, Cars & Stars really moved me from the start to the end. I have purchased my cars from a few PIs previously, and this is definitely one of my best experiences ever.
Their timely updates on my purchase, their patience with my endless questions, and their willingness to assist me, really made me felt like they are a good friend of mine.
I would highly recommend anyone who wishes to purchase a car to go to Cars & Stars as they will surely bring us from dreaming to driving."
——
"I was introduced by a friend to Cars & Stars. I was impressed by their professionalism and how they take care of their customers. Within 2 weeks, I received my car and I am very pleased with the excellent customer service. I have no hesitation in recommending my friends to Cars & Stars Pte Ltd."
13. SGCarDeals.Com
BEST FOR
Parallel Import of New & Used Cars
WEBSITE
https://www.sgcardeals.com
ADDRESS

WCEGA Plaza

1 Bukit Batok Cres #05-61

Singapore 658064

CONTACT DETAILS
61007999
OPERATING HOURS
Contact for more information
SGCarDeals.Com endeavours to create an easy-to-use platform that provides clients the opportunity to acquire and sell vehicles with little to no worries.
Now, aside from the hassle-free experience that SGCarDeals.com has to offer, there are plenty more reasons why the company comes highly recommended, especially if one is thinking about consigning their vehicle.
For one, SGCarDeals.Com has one of the best teams in Singapore, consisting of highly qualified, skilled negotiators who will do their best to secure the clients' desired outcomes. Team members are also very professional, working to be polite, friendly, and prompt at all times.
Not only that, but they also provide 24/7 sales support for those who are in need of assistance. They're also in charge of all the legal paper work to minimise any possible risks that may be encountered during the sale. 
Those who choose SGCarDeals.com also has access to free market evaluation, which helps in assessing the vehicle's current value; and 360° VR photoshoot, which better sells the vehicles.
Lastly, SGCarDeals.com works to offer quality deals to their clients, many of which are 10% higher than the market price. The turnover rate is also one of the quickest we've seen so far, with many clients seeing their vehicles sold after around three viewings. 
Service Highlights
Free car evaluation
Quick turnover
24/7 sales support
Car loans/insurance
10% higher price
Customer Reviews
Here's what some people have to say about them:
"Great consignment agent to deal with! Sold my BMW 7 series with Aaron. He was able to deal with a buyer at a desired price that I have requested and the process was very smooth."

"Excellent service provide by Ming, I have consign my vehicle to his company. He can accommodate my timing of viewing. Advise to look for him if you are selling or buying of cars."

Images are taken from each company's official websites/social media.