The 7 Best Food Processors in Singapore
Are you looking for kitchen equipment that can help in making salad dressings and kneading dough? Well, what you need is a food processor!
We've put together a list of the best food processors in Singapore right here. Before that, though, we're going to share a few ways to ensure that you end up with the right one.
How to Buy the Best Food Processors in Singapore
We've listed below some of the things you need to watch out for before purchasing a food processor online.
1. Power
Since food processors should be used in various kitchen tasks, they should be powerful enough to handle tough jobs, such as chopping raw carrots, shredding hard cheese, mixing stiff dough, and chopping hard nuts, for example.
A reliable food processor should be able to perform all these tasks, on top of doing basic functions. The power required to do such work is anywhere from 400 to 700 watts.
Otherwise, you'd run the risk of having ingredients that are not properly and uniformly chopped. For surety, there are bigger food processors that can use up to 1,200 watts of power, which we would recommend to those who bake on a regular basis.
One of the risks of overpowering a food processor is overheating, obviously. It can cause the processor unit to burn, which is why it's important to match your kitchen habits with a food processor's power.
2. Bowl capacity
Capacity refers to how many raw ingredients a food processor can handle. It's measured in cups, which usually ranges from three to 20 cups.
What size is perfect for you depends on the number of people in your household and the recipes you frequently use. The food processors with maximum bowl capacity are usually used by professional chefs or large households.
If you're only chopping small amounts of herbs or making tiny portions of sauces, then it'd be practical to go with a food processor with a small bowl capacity.
On the other hand, if you frequently cook for large groups of people, then we'd recommend going with a unit with a mid-ranged bowl: 11 to 13-cup bowls should suffice.
3. Controls
Most food processors only have three modes: on, off, and pulse. If you're not a professional chef or baker, we believe that these modes will suffice.
In fact, low-end food processors don't need different speed levels because it's easy to control the chopping using the pulse button.
Some high-end food processors, on the other hand, come with different speed levels to get more work done quickly, but they're more expensive,
If you want to do more than just chop small ingredients, then we'd suggest picking a food processor with more than three modes. More speed levels would benefit bakers because different types of dough require different mixing speeds.
4. Features
Two of the most important features of the best food processors in Singapore are the design and the feeding tube/lid.
The design of most food processors is quite simple. It contains a wide bottom bowl mounted on a motorised unit.
Aside from the motor that rotates a vertical shaft, there are blades attached to it, which do all of the chopping, mincing, and shredding of food.
Unfortunately, most food processors aren't dishwasher-safe because of their parts. Some have sharp edges and inaccessible cavities where food can get stuck, so it's difficult for a dishwasher to reach these places.
Only a few can be thrown inside a dishwasher, but these are usually the higher-end models that cost significantly more.
Meanwhile, the lid that fits on top is usually made of plastic. It comes with a feeding tube that makes it possible to insert ingredients into the bowl while the processor is running.
The task of the lid and feeding tube is to keep the user safe and prevent the food from flying out of the bowl while it's operating.
These features should never be absent from a food processor, so make sure to inspect these parts before taking one home.
5. Functions
The functions of a food processor boil down to its blade and attachments. For it to perform multiple tasks, it should come with different attachments because a single blade isn't enough to do complicated tasks such as mixing dough, grating cheese, and juicing fruits.
Every food processor has an s-shaped blade. One half of the blade is placed on top of the other half, allowing to sweep through the food inside the bowl.
When it comes to the attachments, make sure it has a disc for grating, dough blade for kneading dough, egg whip for whipping cream, and juicer for squeezing out fresh fruit juice.
The Best Food Processors in Singapore
Let's now jump to our picks for the top food processors in Singapore. Of course, we have to start with the cheapest one we could find and liked:
1. Bosch MUM9GX5S21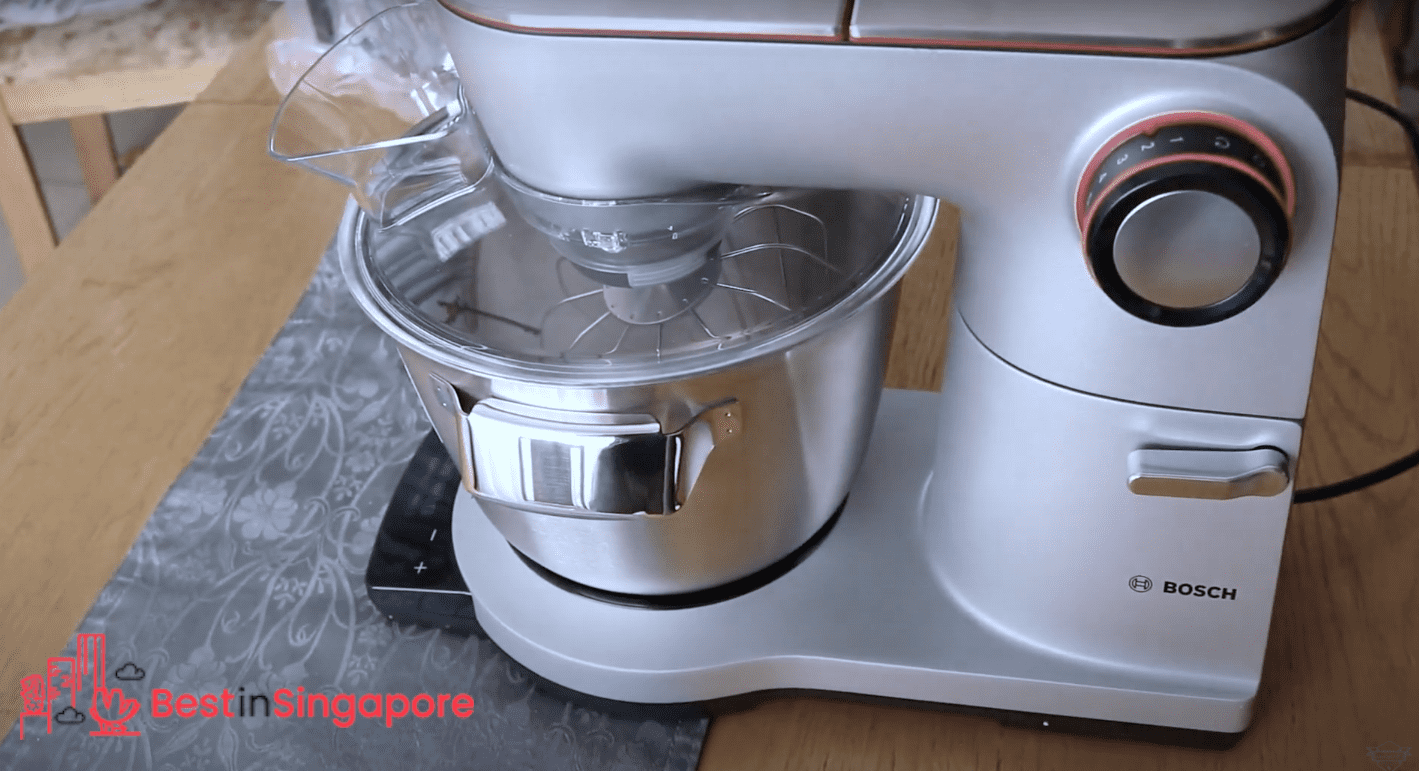 | | |
| --- | --- |
| BEST FOR | All-in-One Equipment |
| POWER | 1500W |
| CAPACITY | Up to 3.5 kg of cake mixture |
| SIZE | 337 x 222 x 433 mm |
| WEIGHT | 13.388 kg |
| WARRANTY | 2 years |
| PRICE | S$2,100.00 |
Were you surprised about its price? Do not fret because we are here to explain to you why the Bosch MUM9GX5S21 is a great investment for your kitchen.
First of all, it comes with a huge variety of accessories that can open up the space for your cooking creativity. In comparison to the other ones on this list, you can use this as a mixer, food processor, blender, and juicer!
Next is it has a unique integrated scale that will allow you to weigh ingredients directly in the bowl. This will definitely save you more time, space, and dish cleaning.
There is also a timer function that was added to avoid constant monitoring.
If you have a big family or you just love making food in huge quantities, consider buying this because it ha an extra-large brushed 5.5L stainless steel bowl that is ideal for preparing large amounts of dough in a single step. (up to 3.5 kg of cake mixture)
Has intelligent SensorControl Plus automatic programs
Can handle huge quantities of mixture
No matter what tool is used, the OptiMUM takes care of the maximum speed for each tool
7 speed settings, plus pulse function, for individual speed selection
Automatic cable rewind for simple and quick storage of the cable
On the pricier side of the market
Customer Reviews
Here is a comment from a customer who got it from Lazada:
"CS reply so fast. And can got it on next day. Super super happy of it~"
2. Mistral Mini Food Processor MFP411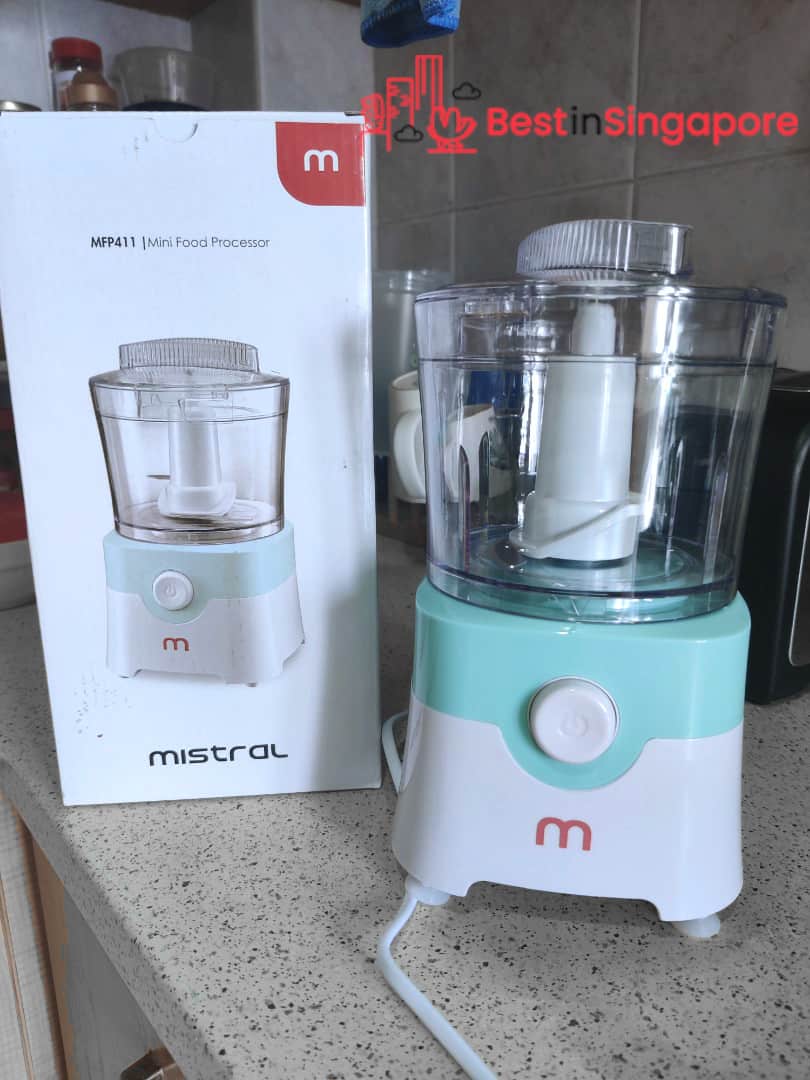 | | |
| --- | --- |
| BEST FOR | Low price but dishwasher-safe |
| POWER | 400 W |
| CAPACITY | 740 ml |
| SIZE | 134 x 134 x 235 mm |
| WEIGHT | 1.05 kg |
| WARRANTY | 12 months |
| PRICE | S$35.00 |
If you only need a food processor for slicing small ingredients, then you'd want to check out the Mistral Mini Food Processor. It's a budget-friendly and compact model that's a perfect accompaniment when preparing simple recipes.
We don't recommend that you regularly use it to slice hard ingredients or knead dough because it only runs on 400 watts. It also only comes with one speed button, so it's designed mainly to break down small food materials.
One thing we like about this portable food processor is that it comes with a safety switch and overheating protection. If you don't want it overheat, though, just don't use it for demanding kitchen tasks.
On top of that, some of its parts can be thrown into a dishwasher… which is quite rare considering that it's a budget food processor.
It weighs only a little over a kilogram, which is lighter compared to most food processors. You won't have a hard time moving it to different areas in the kitchen and finding a perfect place to store it.
Every unit sold comes with 12-month warranty coverage too, which is again rare for cheap kitchen equipment.
One of the most affordable food processors
Compact and portable
Perfect for light cooking
12-month warranty
Customer Reviews
Here are some comments from customers got it from Shopee:
"Didn't expect it to be so small. I mean yes it's mini but I'm shocked lol. Despite its size, it's powerful, just that there's only one button. Price is worth the quality. Chops quickly! Haven't tried with thicker consistencies though."
-deskybaladingdongmoo
"Delivery was extremely fast, took about 2 days. Overall it's a pretty decent food processor but it took pretty long to grind my almonds into almond butter. Would recommend it if you want to try grinding small amounts of food!"
3. Philips Daily Collection Food Processor HR7320/01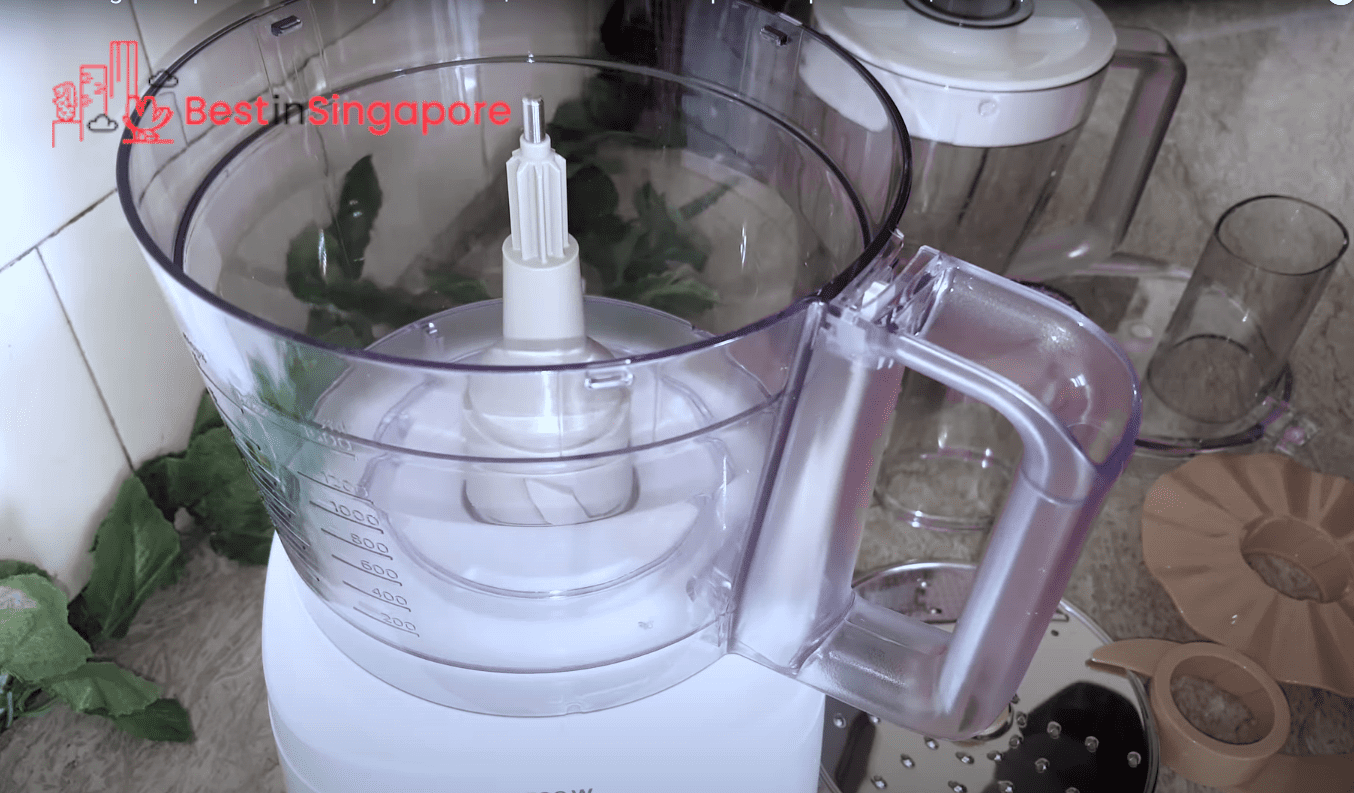 | | |
| --- | --- |
| BEST FOR | Multiple functions |
| POWER | 700 W |
| CAPACITY | 2.1 L |
| SIZE | 244 x 244 x 377 mm |
| WARRANTY | 24 months |
| PRICE | S$129.00 |
The Philips Daily Collection Food Processor comes with a powerful 700-watt motor that can chop, slice, and shred a variety of ingredients, including cheese, chocolate, stiff dough, and hard vegetables, among others.
It's designed with a wide feeding tube, so large ingredients don't need to be pre-cut. For example, a whole piece of apple can even fit inside its feeding tube.
If most food processors only have three functions, the Philips Daily Collection Food Processor comes with 19 functions. This means that there's no limit to which recipe you can recreate with it.
Another unique feature about it is its 2-in-1 blade, which can shred and slice ingredients at the same time, resulting in consistently broken-down food materials.
Apart from the standard s-blade, it comes with an emulsifying tool, reversible disc, kneading tool, and resistant jar. Its bowl has a capacity of 2.1 litres, which equates to more than seven soup servings.
All of its accessories can be put on top of a dishwasher rack for faster and easier cleaning afterwards.
Easy to use
1.5 L bowl capacity
Quick and easy assembly of parts
Dishwasher-safe
Powerful motor
Comes with several accessories
Noisier than most food processors
A bit bulkier than the previous option
Customer Reviews
Take a look at the comments shared by a few buyers:
"Powerful , modern , easy to use for every meal This generation of Philips food processed comes with a very cool design. The in-bowl storage helps me a lot to store it in kitchen. The color matching concept brings an innovative feel. The chopper function is great. Overall, I like it very much."
-Celia
"This is a great compact Food Processor! This processor is compact, easy to use, simple parts. I have just purchased the Blender accessories so I can make juices and smoothies cheaper than buying a good blender."
-Megzie
4. Tefal Multifunction Easyforce Food Processor DO2461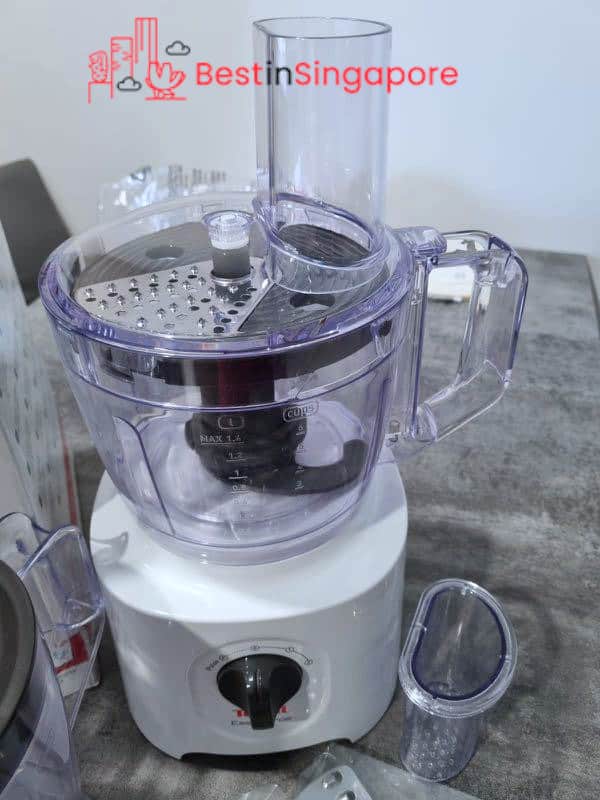 | | |
| --- | --- |
| BEST FOR | High-performance accessories |
| POWER | 700 W |
| CAPACITY | Bowl: 2.4L Blender:1.8L |
| WARRANTY | 24 months |
| PRICE | S$119.00 |
The Tefal Multifunction Easyforce is another heavy-duty food processor with 700-watt power, capable of handling both soft and hard ingredients. It can slice, shred, chop, grate, knead, and even emulsify different types of food materials.
It might look a bit intimidating to some, but it's actually easy to use as it's designed for beginners. It's actually an all-in-one food processor with six high-performing accessories and more than 25 different functions.
Its speed settings are listed on each attachment, making it easier for users to receive the best results on their first try. You don't need to be a tech expert in order to know how it works.
When it comes to capacity, the Tefal Multifunction Easyforce doesn't fall short. Its food processor jar can carry up to 2.4 litres worth of ingredients, while its blender jar can hold up to 1.8 litres of smoothies, cocktails, or soup.
Easy to use
Large capacity
Multifunctional
Durable accessories
Leans towards the pricey side
5. KitchenAid Food Processor 5KFP0719B
| | |
| --- | --- |
| BEST FOR | Low maintenance |
| POWER | 400 W |
| CAPACITY | 7-cup |
| SIZE | 39 x 19 x 19 cm |
| WEIGHT | 2 kg |
| WARRANTY | 12 months |
| PRICE | S$$209.00 |
If you're after a basic food processor that doesn't come with complicated controls, then we recommend taking a look at KitchenAid Food Processor. It's quite pricey considering that it doesn't come with special features, but it does what it's supposed to do excellently.
For one, it comes with a 2-in-1 feed tube with oil drizzle opening that can fit ingredients of all shapes and sizes. There's no need to pre-cut any ingredients!
There's no need to worry about leaks because it's designed with a sealed lid and leak-resistant bowl. The bowl is made from high-grade plastic, so it won't crack that easily.
Most owners even noted that it's easier to use compared to most food processors that come with confusing and complex speed paddles. There are only three buttons, each designed for a specific type of ingredient.
Apart from the multi-purpose blade, it comes with additional accessories such as a dough blade, shredding disc, and slicing disc. All these are dishwasher-safe, so you won't have to manually clean them.
Speaking of a dishwasher, it can be used to clean the bowl. However, cleaning it wouldn't be that hard because it can be wiped with a wet towel.
Portable
Easy to clean
Low-maintenance food processor
7-cup capacity
Convenient storage
Expensive
Noisy while operating
6. Ninja Food Processor with Auto-iQ BN650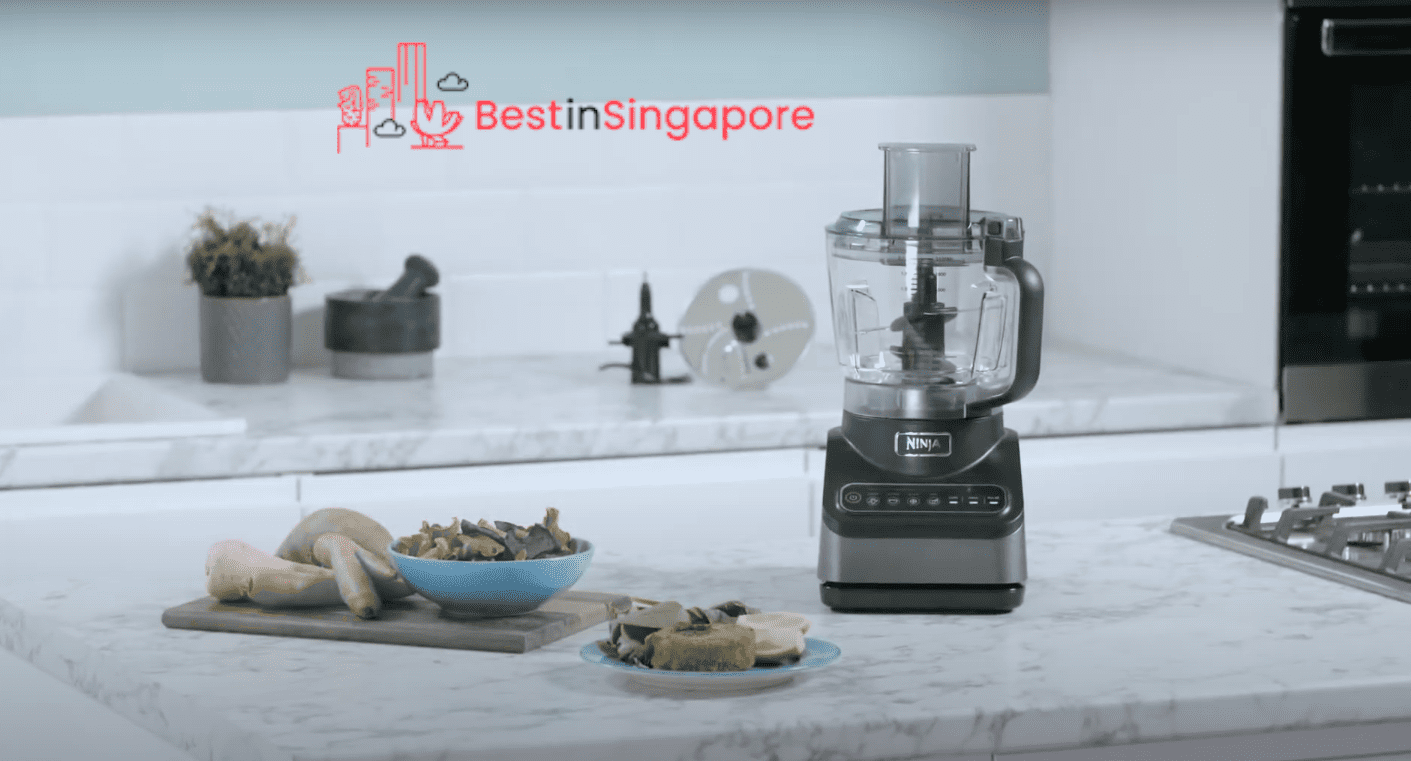 | | |
| --- | --- |
| BEST FOR | Auto-iQ Technology |
| POWER | 850 W |
| CAPACITY | 2.1 |
| SIZE | 40.7 x 19.7 x 25 cm |
| WEIGHT | 3.47 kg |
| WARRANTY | 12 months |
| PRICE | S$245.00 |
The Ninja Food Processor is designed with the Auto-iQ Technology that makes it easier and faster to prepare food through its dedicated pre-set programs. It's now possible to make sauces and pizza dough with just a touch of a button.
It's built with a 850-watt motor too, making it the most powerful food processor on our list. It can slice, chop, and shred even the toughest of ingredients, so there's no need to pre-cut them before throwing inside the bowl.
In fact, it can efficiently mix 900 grams of dough in as fast as 30 seconds. It comes with a dough blade attachment that can evenly fold and mix ingredients faster than a regular food processor blade.

Another thing we like about the Ninja Food Processor is its 2.1-litre (or 9-cup) bowl capacity, which is perfect for users with large families and those who regularly entertain guests at their homes.
When it comes to durability, there's no doubt that this one can deliver. It's known for its precision-engineered blades made from high-quality stainless steel which are built to last for years.
There's need to worry about cleaning up the mess afterwards because it's extremely easy to clean. All you have to do is pulse some warm water and a drop of liquid dishwashing to clean the bowl and blade.
Powerful motor
Pre-set programs
Durable and high-performing blades
Comes with a grating disc and dough too
Easy to clean, dishwasher safe
Customer Reviews
Here are some comments from customers who bought it from Amazon:
"Ninja food processor is our new best friend at home ! We are doing a specific diet and we need to eat between meals a lot of fruits as you see from the video. It is chipping like 6-7 fruits with few movements and is very easy to build and use it . Suitable for hand wash and dishwasher! Very sharp must be careful when washing or touching the blades inside . Great for potatoes doing them on pure just a couple of movements on the pure botton. Great for doing baby food pure and is next to me when I'm cooking ! Amazing product worth each penny!"
-Leprotina Loulou
"Only just received this today. Made bread dough. When I say it took about 20 secs I'm not exaggerating. Also made a batter for a cake again done in seconds. Whole block of cheese grated in seconds. Not tried other features yet. The processor is quite compact and very light. Which I find great. Little suction cups on the underneath to secure it to the worktop which are very hard to move,so the machine stays put. Very happy with my purchase."
7. Iona Smart Food Chopper GLMC16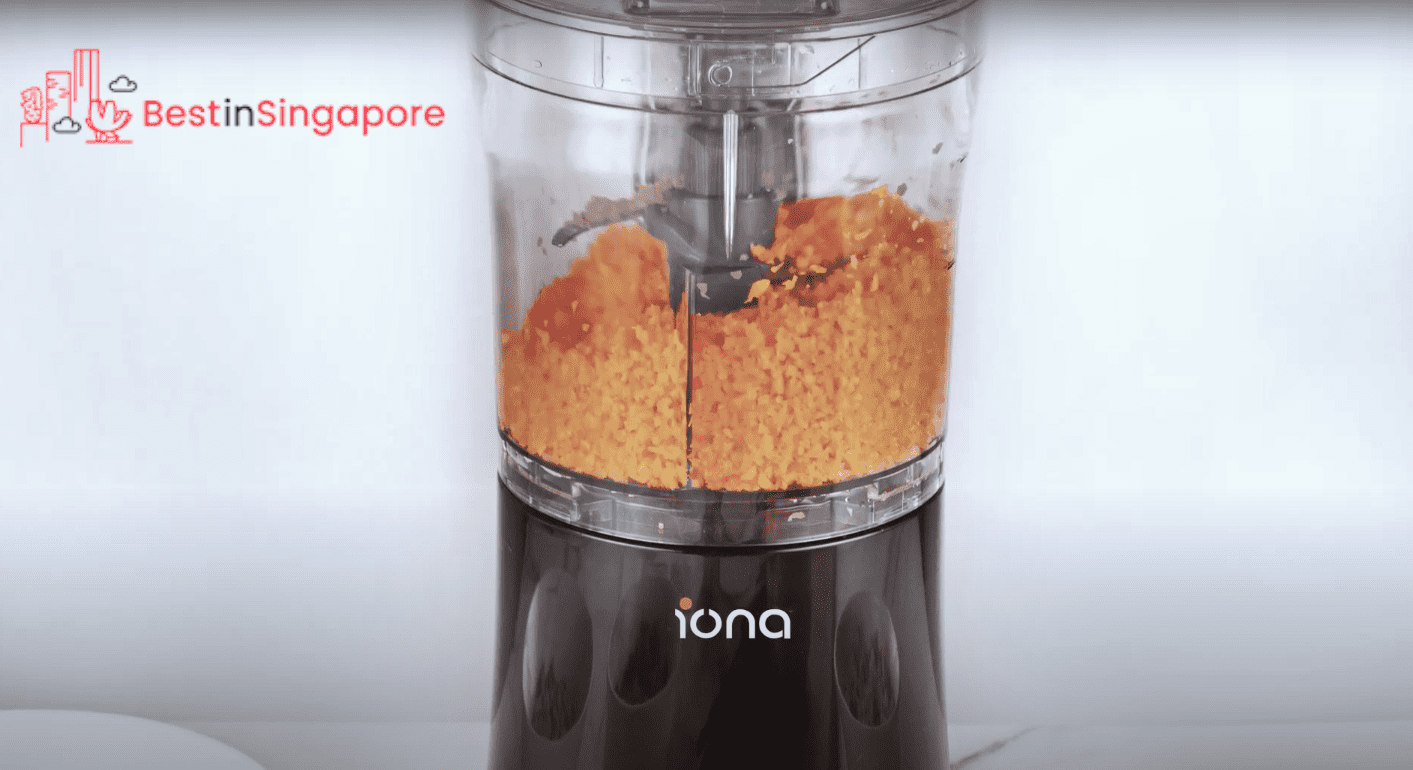 | | |
| --- | --- |
| BEST FOR | Chopping Small Ingredients |
| POWER | 500 W |
| CAPACITY | 700ml |
| SIZE | 15 x 16 x 28cm |
| WEIGHT | 1.1kg |
| WARRANTY | Contact for more information |
| PRICE | S$49.95 |
Sometimes all you need is a food processor that's just the right size. The Iona Smart Food Chopper provides you convience and easy usability when dicing your small ingredients for quick and simple recipes.
Most food processors only have one variety of knives and only relies on speed settings to get the preferred thickness of a slice. But what's unique about the Iona Smart Food Chopper is that it has a variety of two sets of knives with different purposes.
Using the triple knife blade with the basket offers you evenly diced food, while the 4-blade knife allows you to have that perfect puree consistency.
Above all this, the Iona Smart Food Chopper is easily detachable, easy to wash and comes in a small and compact design which makes it easy to store into your shelves or cupboards.
Convenient for small amounts
Compact design and easy to store
Affordable
Only 2 speeds available
Can only chop small ingredients
FAQs about Food Processors in Singapore
---
And with that, we conclude our list of the best food processors in Singapore. If you've tried any of them in the past, share with us how it improved your time in the kitchen.
If you know other food processors worth spending money on, tell us their names and we'll see if we can add them to our roster.
By the way, if you need another kitchen tool that can help with baking, don't forget to read our list of the best stand mixers in Singapore. Our list features stand mixers with proven high-quality performance perfect for novice and experienced bakers!