6 Best Electric Stand Mixers in Singapore for Easy Baking
If you're a person who bakes on a regular basis, having the best stand mixers in your arsenal of kitchen equipment will definitely make your life easier. Compared to hand mixers, the best electric stand mixers in Singapore can whip eggs, cream, and butter much faster.
So, if you're on the lookout for the best stand mixers in Singapore, worry no more — we're here to help. We did the work ourselves and searched for the stand mixers on the island worth checking out, then made a list for the convenience of our readers.
Since the cost of the best stand mixers in Singapore is no joke, we would like to offer a few tips and reminders that will help them spot the right mode for them. After all, not everyone shares the same budget, baking skills, and kitchen space.
So, without further ado, let's start!
How to Pick the Best Stand Mixers in Singapore
It's no secret that the best stand mixers in Singapore can bring your baking game to the next level, but you have to find the right one that caters to your needs and skills first.
One of the first considerations should be the size and weight as both practically reveal the overall capacity and limitations of a stand mixer.
After size and weight, checking the power, features, and price will help buyers find the best stand mixers in Singapore for their situation.
Let's go over each of these points below.
1. Size and Weight
If baking is part of your everyday kitchen routine, then choosing large stand mixers is obviously the most practical option. You will be able to whip a large volume of batter at once and bake more cookies and cupcakes.
Large stand mixers range from 6 to 8 quarts, an ideal size for those who bake lots of goodies on a regular basis.
However, if you have limited kitchen space, it might not be in your best interest to opt for large stand mixers. It's good that there are mixers designed for small kitchen counter spaces, with a bowl size that ranges from 4 to 6 inches.
2. Power
One secret rule in picking out the best stand mixers in Singapore is to choose the one with higher wattage, but never forget to consider the limits of your budget.
If a stand mixer has more power, it can whip up a sturdier dough much faster. If you're not sure what's the benchmark for the ideal wattage, just aim for nothing lower than 300 watts.
3. Features
Some of the features that come with the best stand mixers in Singapore are speed settings, attachments, and the like. Not all models of stand mixers have a complete set of features, but it's best to pick one that has at least 2 or 3 features.
One feature that shouldn't be absent from a stand mixer is multiple speed settings, in particular. The option to vary speed is important, as it would allow users to use the mixer for a variety of purposes, not just for baking.
4. Price
In terms of price, the best stand mixers in Singapore are a lot more expensive compared to hand mixers, but the former will definitely offer more help in the kitchen.
In line with that, if you're keen on getting your hands on a quality stand mixer, it's best to save up a little bit more just so you can have more options to choose from.
Based on our research, some of the high-end stand mixers range from $300 to $500, while the cheaper ones don't go above $200.
The Best Stand Mixers in Singapore
Now that you know which features to take note of when looking for the best stand mixers in Singapore, it's time for you to see which ones we think are worth spending money on.
So, without further ado, here's our list of the best stand mixers in Singapore for a wide range of budgets.
1. Bosch MUM46A1GB
Best for Professional Use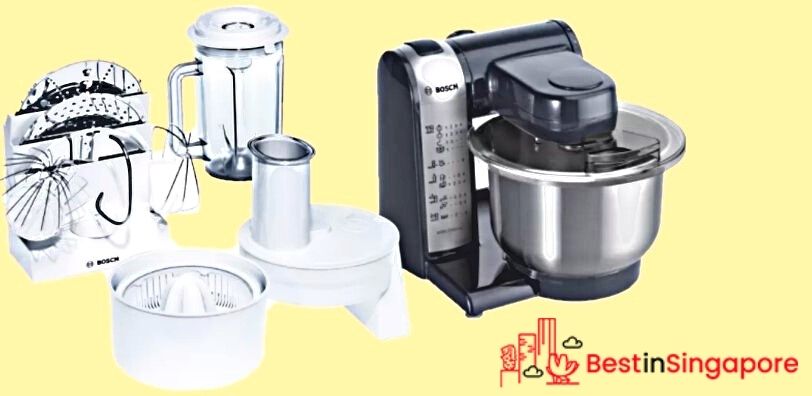 Price: $499.00
If you are looking for a stand mixer that can withstand a huge mixture, you might want to read about Bosch MUM46A1GB.
Talking about quantity, Bosch MUM46A1GB has a large bowl that is made for optimum preparation of doughs. The high-quality 3.9 L stainless steel bowl is suitable for small amounts as well as for easy processing of up to 2 kg of cake mixture and 1.5 of yeast dough.
Another reason why we can recommend them is how easy it is to clean the different accessories. They are usually dishwasher-safe and can ensure easy and convenient cleaning in the dishwasher.
Furthermore, we love how easy it is to hide the cable of this mixer. It has a cable compartment for storing the cable conveniently and easily in the device.
One more reason why we think this product is great is due to its MultiMotion Drive that mixes ingredients to perfection, thanks to its dynamic 3-D mixing system.
Pros
Has rubber feet for stability and high security
4 speed-settings
Multifunction arm with special gearing
3 drive positions for optimum power transmission
Extensive range of optional accessories
Weight: 5.427 kg
Cons
On the pricier side if the market
Product is not available on their official website anymore
2. 7 Speed Electric Beater
Best for Affordability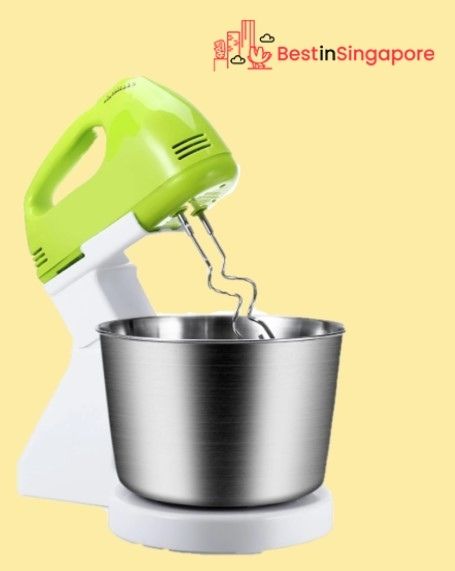 Price: $27.99
If you think that you have no chance to get your hands on a cheap stand mixer, then checking out the 7 Speed Electric Beater will definitely change your mind. It might be ridiculously cheap for a stand mixer, but it gets the job done!
Considering that it's a budget stand mixer, it doesn't come with a lot of special features other than the multiple speed settings, a feature that should never be absent from a stand mixer.
Each purchase comes with additional accessories, though, such as an extra whisk, extra beaters, extra dough hooks, and more. Extra accessories are rare among budget stand mixers, so that's just another reason we consider it one of the best stand mixers in Singapore.
In terms of durability, we can't promise that it's going to last for a long time as it doesn't feel and look sturdy enough. Our recommendation is to not use it every day, so it doesn't wear out too easily.
Pros
Affordable
Lightweight
Additional accessories
Cons
Doesn't look too sturdy
Durability is not guaranteed
3. FM203 Stand Mixer
Best for Safety Features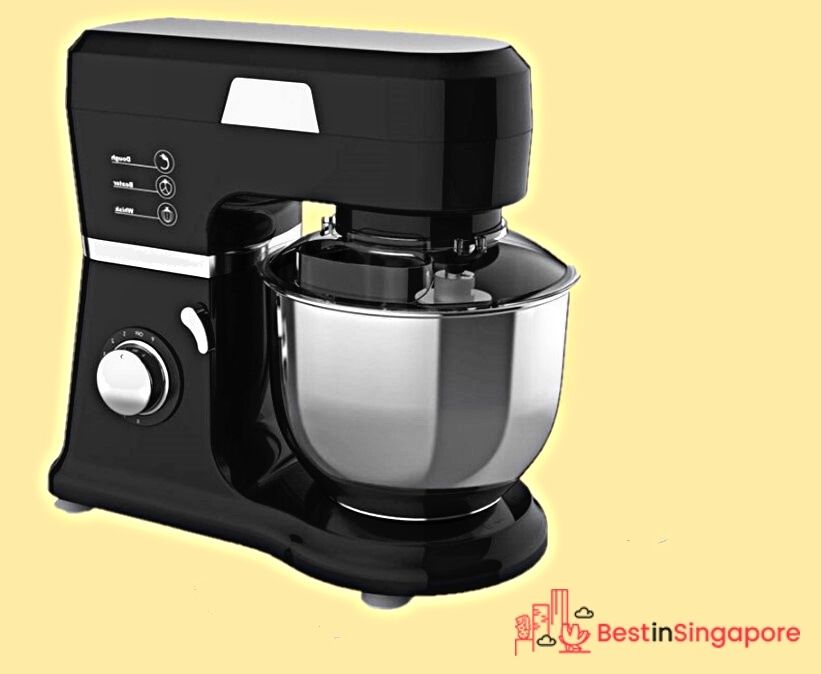 Price: $116.06
The FM203 Stand Mixer comes with a powerful motor that can be used for functions outside baking. Despite its cheap price, it features an 800W high-performing motor and a 6-speed setting.
Another reason we call it one of the best electric stand mixers in Singapore is its 4.2L stainless steel bowl, which allows users to whip a decent amount of dough. It comes with multiple accessories as well, like whisks, beaters, dough hooks, and a splash guard.
It's also one of the few models that have safety features to minimise the chances of accidents while baking. If you take a look at its bottom surface, you will see anti-silicone suction cups to make sure that it's steady while in use.
Above all, the FM203 Stand Mixer is designed for long-time if not lifetime use. It's made from premium and high-end metal that will make sure it won't wear down too easily.
Pros
2L bowl capacity
Durable build
Safety features
Extra accessories
Cons
Only has 6 speed settings, lower than most stand mixers
4.   Mayer MMSM101
Best for Large Bowl Capacity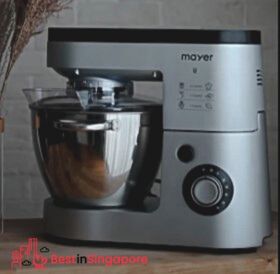 Price: $359.00
In terms of bowl capacity, nothing else in our list can beat what Mayer MMSM101 has to offer. It can carry up to 5.5L of dough, making it an ideal option for those who run a bakery or pastry business.
Another feature that will make every baker fall in love with the Mayer MMSM101 is its powerful 1000W motor. So, not only will users be able to whip a huge amount of dough at once, but do so much faster!
What's more, it comes with a total of 6 speed settings, a non-slip bottom, full-metal motor gears, and a lot of extra accessories. It has an LED indicator as well so users can know if it's turned on or off, or even if there's something wrong with the motor.
It might be a more expensive option compared to the other two, but it will definitely make your life in the kitchen a lot more convenient, as if someone's personally lending you a hand.
Overall we think this is the best stand mixer in Singapore for making big batches of home-baked goodies.
Pros
Large bowl
Durable build
Multiple speed settings
Cons
Heavier than other models
5.   KitchenAid Classic K45SS
Best for Multifunctionality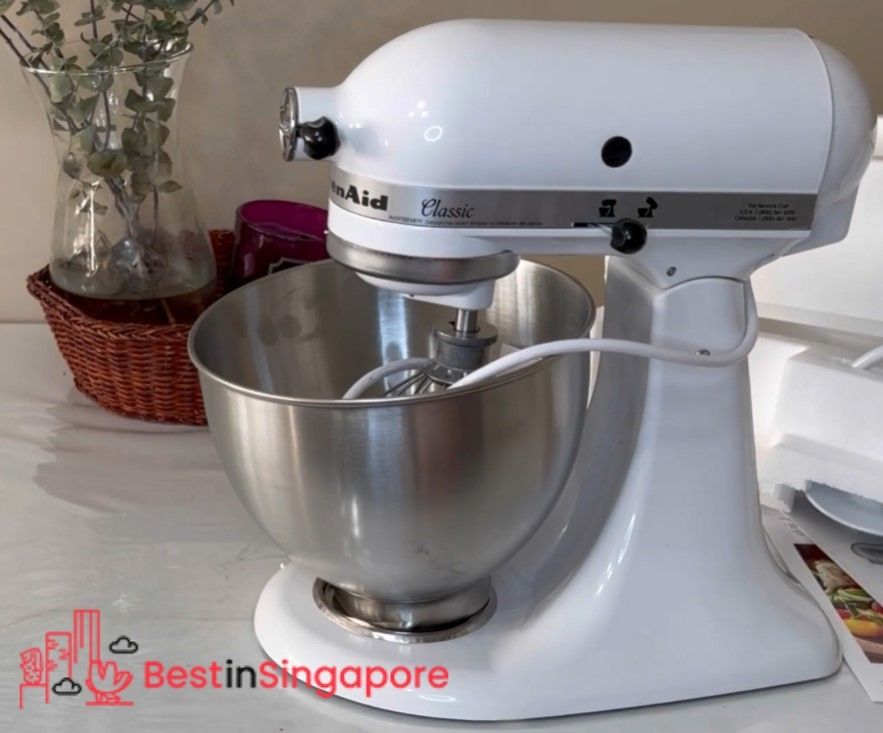 Price: $499.00
Since KitchenAid is one of the most trusted names in kitchen appliances, we couldn't end our list without mentioning at least one of its many amazing products. So, here's the KitchenAid Classic K45SS, and we're sure that it's one of the best stand mixers in Singapore.
For one, it comes with 10 speed settings, which is a lot more than what most of the models in Singapore can offer. It also means that users will be able to use it for a wide range of purposes outside of baking.
More than that, the KitchenAid Classic K45SS comes with additional attachments that can be used to make paste from scratch or crush a huge block of cheese in less than 5 seconds. It's indeed a multifunctional stand mixer!
Pros
10 speed settings
Powerful motor
Extra attachments
5-quart stainless steel bowl
Cons
Goes out of stock quickly
Expensive
Customer Reviews
Here are some of the comments posted by its buyers on Amazon:
"Anyone that has ever owned a KitchenAid product, should know that this is one of the best! Look out for sales, as the mixer is a bit on the expensive side, but you'll never look back after getting one of these! It will make everything so much easier and once you get the hang of it, you can start building your attachment collection, that can help you with various other tasks, such as making fresh pasta from scratch, or creating that perfect burger patty with just the right amount of fat and meats in the meat grinder!"
"Definitely a good purchase if you are a fan of cooking. I have used this to make cheesecake and other baked goods, and no surprise it gets the job done. Would recommend buying the flex edge beater if you are going to be dealing with sticky mixes that get stuck to the edge."
6. Smeg SMF02
Best for Retro Design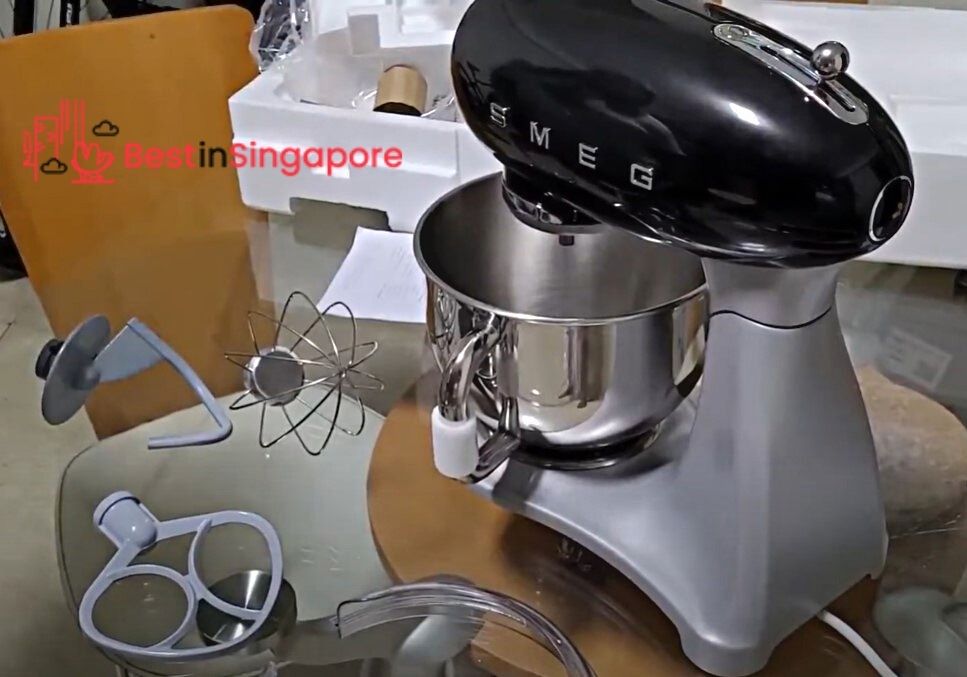 Price: $598.98
If you're looking for a stand mixer that can complement any kitchen interior, then you'd want to get a hold of the best Smeg SMF02, easily one of the best stand mixers in Singapore.
It's not the most affordable option out there, but it will surely give your money's worth, down to the last cent. It can crush and combine all sorts of ingredients with its powerful motor, so rest assured that it can whip up the best dough out there.
What's more, the Smeg SMF02 has a total of 10 speed settings, so it can also be used for other meal preparations such as making pasta, making burgers, whisking eggs, and a whole lot more.
In terms of build, the Smeg SMF02 does look and feel sturdy enough, having been made from premium stainless steel. There's also a safety lock when not in use to prevent kids from getting injured when fiddling around with it.
Lastly, it comes with safety features to ensure that there won't be any accidents when it's in use — which is why we consider it one of the best stand mixers in Singapore.
Pros
10 speed settings
Eye-catching design
Dishwasher safe
Durable build
Cons
Expensive, so not recommended to everyone
And that's it for our list of the best stand mixers in Singapore. If you've used any of these stand mixers in Singapore, don't hesitate to share with us how it improved your overall game in the kitchen.
By the way, if you're also looking for a better oven that can help with your baking needs, we recommend checking out our list of the best ovens in Singapore. Our list features ovens that come in a variety of sizes to accommodate the different needs of bakers.