The 6 Best Conveyancing Lawyers in Singapore
Do you need help in securing a property that you've always wanted to purchase? If so, the best conveyancing lawyers in Singapore can help with the legal aspect of transferring properties to ensure that you're protected during the exchange.
Moreover, the best conveyancing lawyers in Singapore ensure that you're meeting all the legal obligations towards the owner of the property. So, if you don't know where to find the best property lawyers in Singapore, then don't stop reading just yet because we have what you're looking for.
1. APEX Law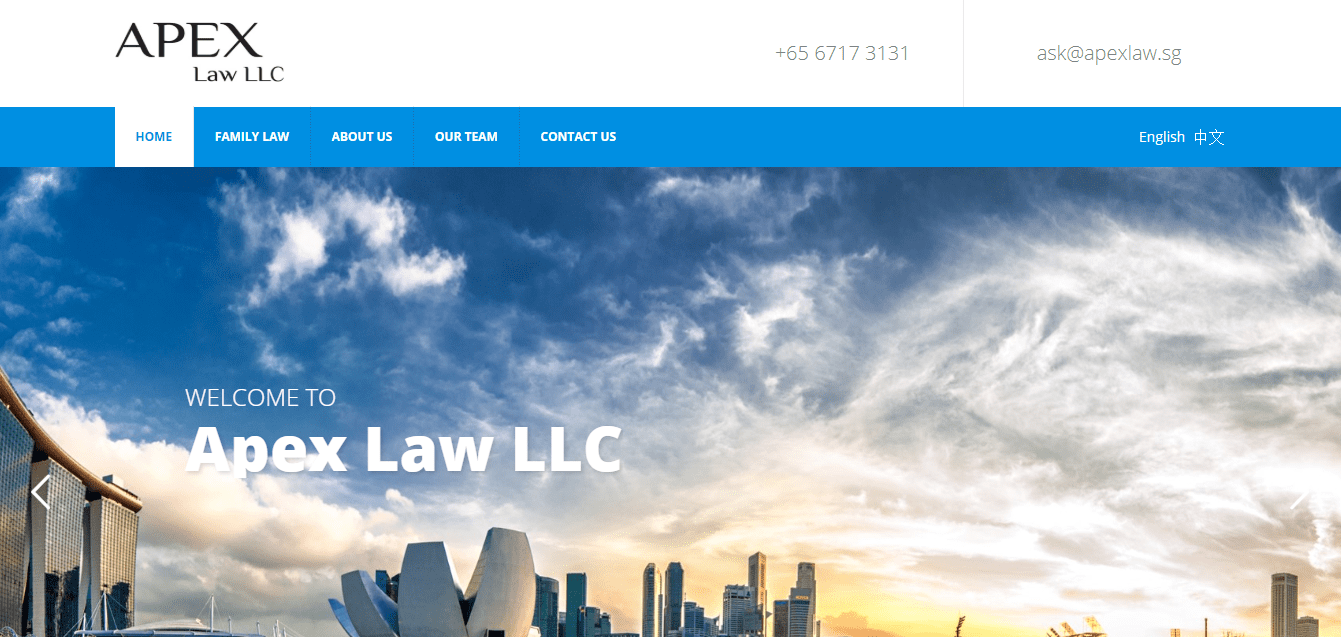 EXPERTISE
Conveyancing, Corporate, and Family Law
WEBSITE
https://www.apexlaw.sg/
ADDRESS
185 Toa Payoh Central, #02-342/344 346/348, Singapore 310185
CONTACT DETAILS
+65 6717 3131

+65 9624 9200

OPERATING HOURS
Monday – Friday, 8:00 AM – 6:30 PM
Considered one the top law firms on the island, APEX Law houses some of the best conveyancing lawyers in Singapore. All their lawyers have years of experience in managing and settling different types of properties in Singapore.
You may ask for their legal advice if you're dealing with HDB, Private Properties, Commercial and Industrial Properties, Part-Share Purchase, and even Redemption of Properties. APEX Law also guarantees that clients will receive quality and cost-effective legal services.
APEX Law also deals with family law, corporate law, and mediation and arbitration. So, if you need help in any of these areas as well, you don't have to call for another law firm.
Highlights
Effective meetings
Experienced lawyers
Convenient locations
Personalised legal services
Customer Reviews
Here are some reviews by previous clients of APEX Law:
"Apex Law is definitely a go to for legal matters and conveyancing work! Jonathan Ow is a very experienced and sincere lawyer who has given us much well-rounded legal advice. He's responsive and "eveready" to go an extra mile to help his clients. His warm and humorous demeanor puts us at ease and makes communication so easy and accessible. Kudos."
"My experience with Apex Law has been very pleasant and I am very satisfied with the service. The team at Apex Law is competent, professional and efficient, especially Mr Jonathan Ow who is very experienced and helpful. I will definitely recommend Apex Law to my friends."
2. Tan Lee & Partners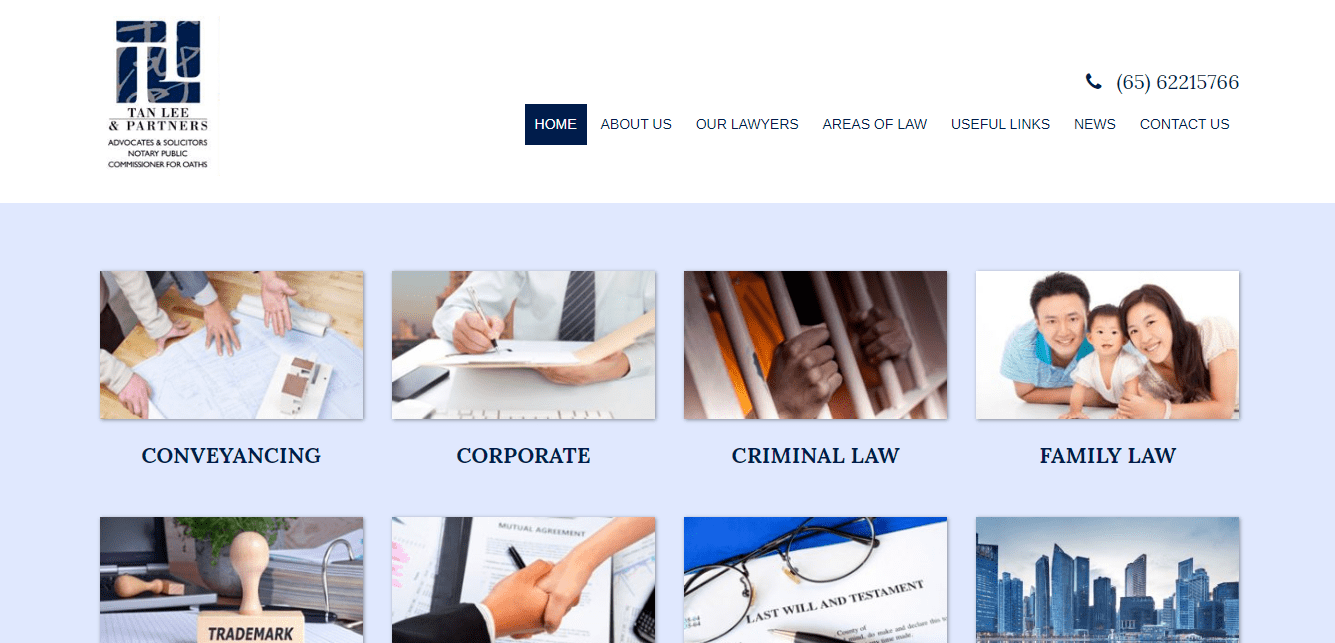 | | |
| --- | --- |
| EXPERTISE | Conveyancing, Corporate, Family Law, Intellectual Property, and Probate |
| WEBSITE | http://www.tanleepartners.com.sg/ |
| ADDRESS | 10 Anson Road, #12-06, International Plaza, Singapore 079903 |
| CONTACT DETAILS | (65) 62215766 |
| OPERATING HOURS | Monday – Friday, 9:00 AM – 6:00 PM |
If you're looking for a law firm that houses the sharpest lawyers on the island, then look no further than Tan Lee & Partners. It also has a long list of areas of expertise including conveyancing, family law, criminal law, corporate law, and a whole lot more.
What's more, its conveyancing practice includes property development, property disputes, property financing, mortgages and loans, commercial and residential leases, and landlord and tenant law. One of the reasons we consider it among the best conveyancing lawyers in Singapore is due to its lawyers having successful streaks.
Above all, Tan Lee & Partners assures clients that its team of lawyers will do everything in their power to make sure that a good deal will come out of the transaction.
Highlights
Customised legal services
Cost-effective services
Approachable lawyers
3.  Ho & Wee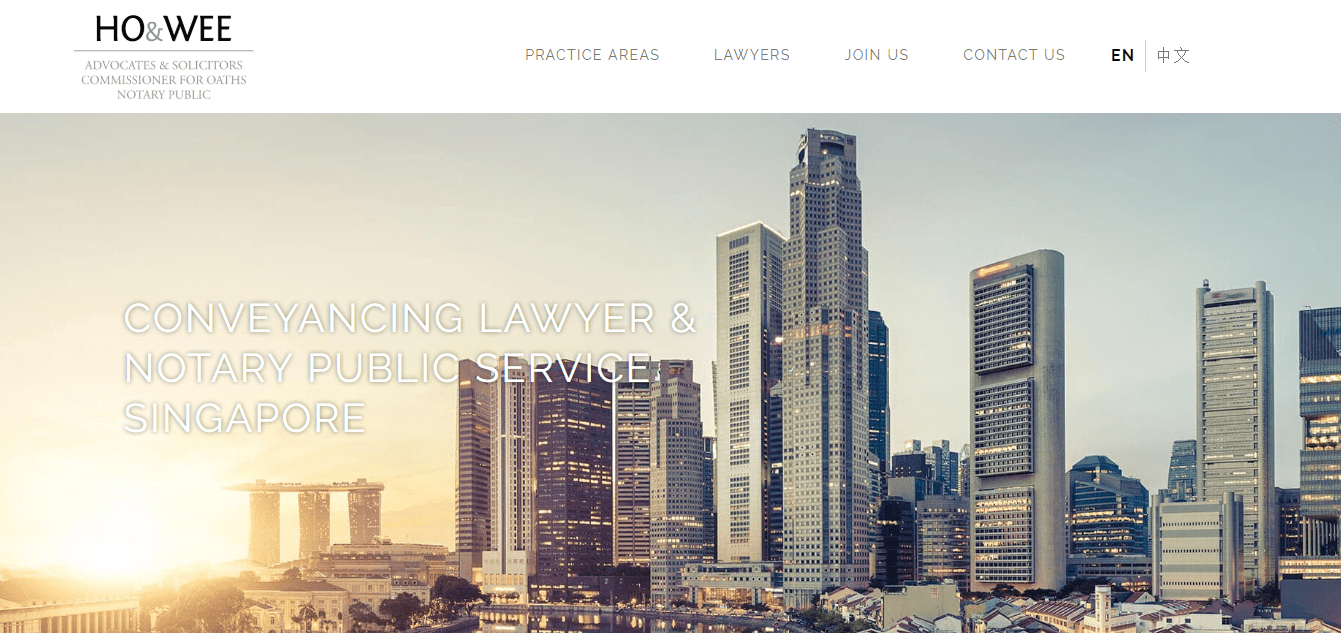 | | |
| --- | --- |
| EXPERTISE | Conveyancing, Litigation, and Corporate |
| WEBSITE | http://hoandwee.com/ |
| ADDRESS | 24 Raffles Place, #17-03 Clifford Centre, Singapore 048621 |
| CONTACT DETAILS | 6224 4242 |
| OPERATING HOURS | Monday – Friday, 9:00 AM – 6:00 PM |
With over 30 years of experience, there's no denying that Ho & Wee has become one of the most trusted law firms on the island. It has gained a great reputation for being a law firm that can deal with any type of legal problem, including anything related to property law.
Moreover, it has years of experience in dealing with individual sales and development projects. It also has a long list of clientele that includes businessmen, land developers, construction companies, and individual investors.
Lastly, we consider it one of the top law firms with the best conveyancing lawyers in Singapore because they have won and mediated cases both locally and in other countries.
Highlights
30 years of experience
Wide area of expertise
Local and overseas exposure
4. Ohmyhome Pte Ltd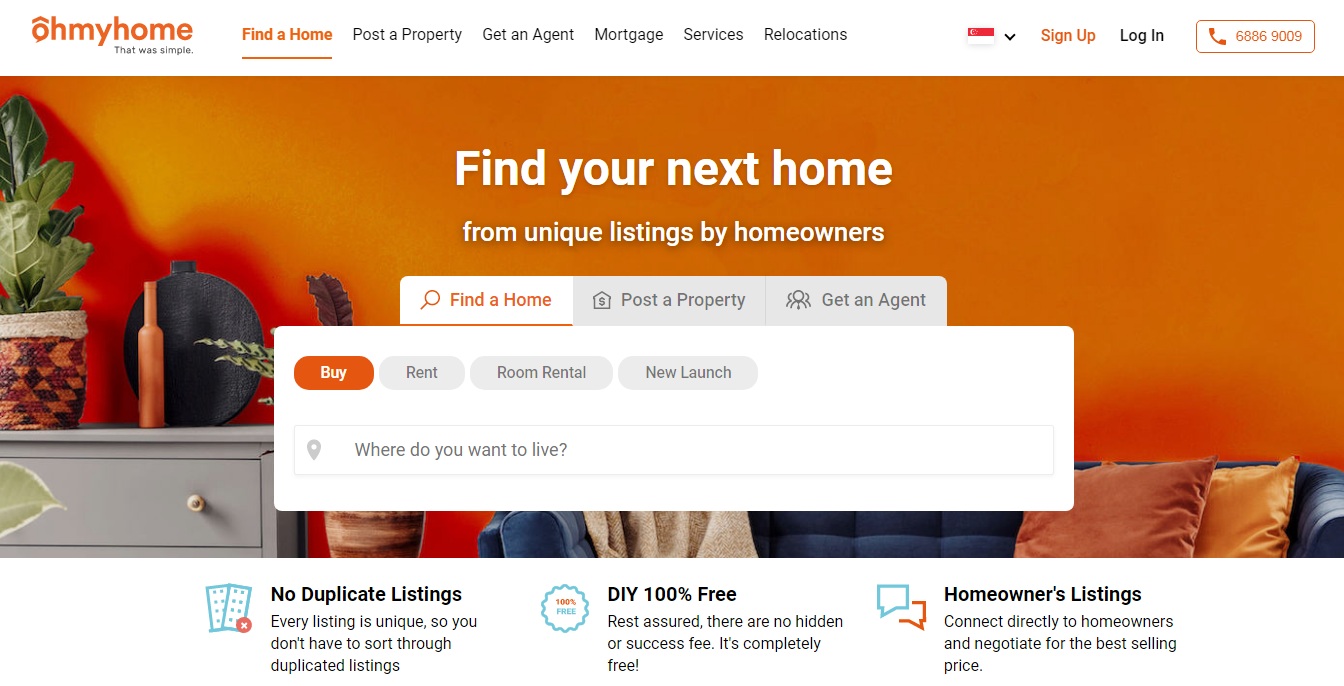 EXPERTISE

One-stop property acquisition solutions

WEBSITE

https://omh.sg/

ADDRESS

Ohmyhome Pte Ltd 11 Lorong 3 Toa Payoh #04-17 Jackson Square

Singapore 319579

CONTACT DETAILS

+65 68869009 |

[email protected]
Ohmyhome Pte Ltd is one of Singapore's most trusted companies when it comes to property acquisitions. They have a wide range of topnotch services that will definitely help you should you decide to pursue with your purchase.
One of the services they offer is Conveyancing. Their seamless processes make everything at ease and quicker for their clients. They house some of the best professionals to accommodate their clients' property concerns.
You may also opt to avail their initial conveyancing advice before totally proceeding with the process, free of charge.
Highlights
Guaranteed quality

Reliable support

Quick process
5. TAN LEE & CHOO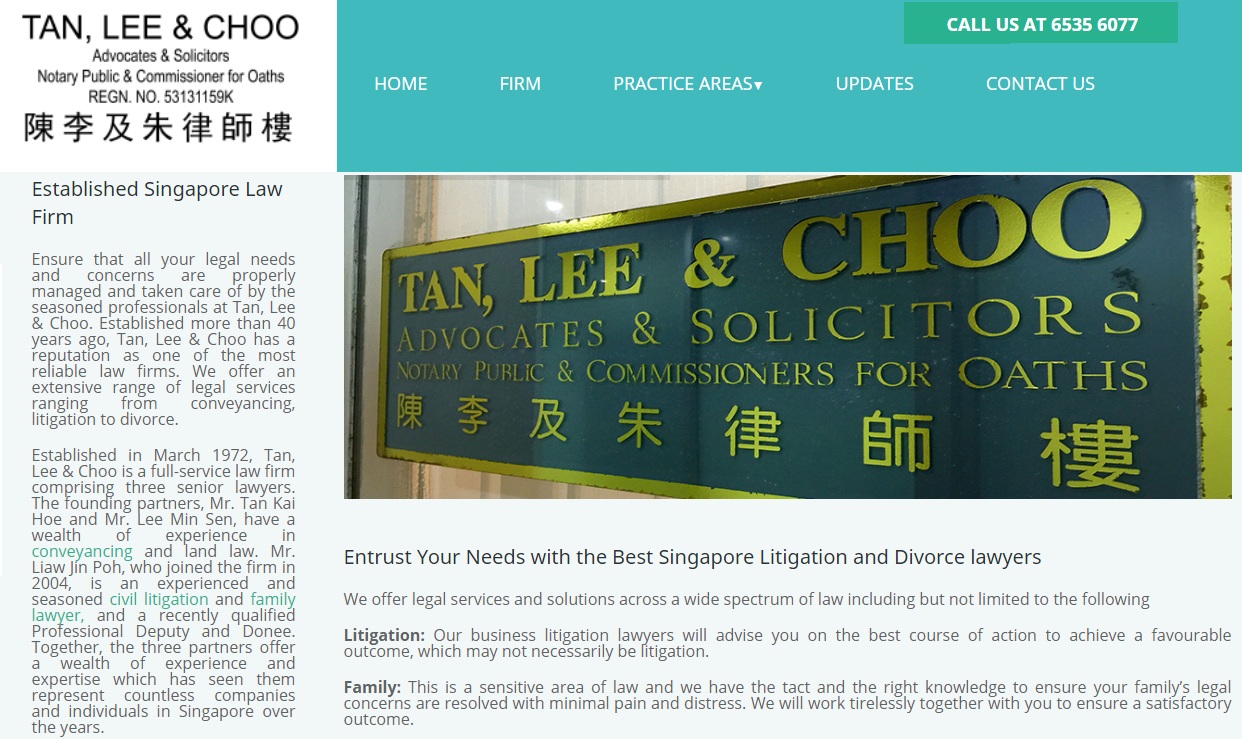 Founded in March 1972, Tan, Lee & Choo is among the oldest law firm in Singapore. As such, they have experienced and well-established lawyers in their firm. They are also renowned for their reliable reputation and integrity in the industry.
At Tan, Lee & Choo, you can consult any legal issues that you have. This is for the reason that they provide a comprehensive legal service to their clients. They specialize in conveyancing and land laws. So, if you have problems regarding this matter, you can contact their legal department.
One of their lawyers practices family law and civil litigation. In fact, he also qualified as Professional Deputy and Donee. Thus, the firm can handle whatever case you bring to them.
Highlights
Provides legal service and solutions across a wide range

Experienced and professional lawyers
Customer Reviews
You will never go wrong if you choose Tan, Lee & Choo as your law partner. You can check out their client's review:
I think there is no one can good law firm in Singapore compare to Tan Lee and Choo. Here's lawyers listen me first and consult my case first. Here is best lawyers team and help us full. I won my 15 years old civil litigation case help of this firm.
Thanks Tan Lee and Choo Lawyers. – Paul Eisen
6. Loh Eben Ong LLP


EXPERTISE
Conveyancing & Property
Corporate & Commercial
Commissioning
Deed Poll
Divorce, Separation & Adoption
Notary Public
Power of Attorney
Probate & Administration of Estates
Trade Mark
Wills
WEBSITE
https://law.com.sg
ADDRESS
135 Middle Road #05-11
Bylands Building
Singapore 188975
CONTACT DETAILS
+65 6338 1810 | [email protected]
OPERATING HOURS
Monday-Friday: 9:00 am – 6:00 pm
Lunch Break: 1:00 pm to 2:15 pm
Closed on Eves of Major Public Holidays
Loh Eben Ong LLP is a law firm that provides a wide range of services to their clients. They're one of the few that offer reliable and trustworthy online legal services.
Their team of lawyers are well-versed in various areas of law, including Conveyancing Law. They handle most, if not all, aspects of their client's case, from court representation to paperwork processing.
Many praise them for their dedication to providing their best quality work, no matter the service needed. No case is too big or too small, too simple or too complex for them.
Loh Eben Ong LLP's virtual legal services can be accessed through LAW.com.sg, their online platform. Given their client-oriented approach and continuous pursuit of excellence, it's no surprise that many Singapore residents trust them with various conveyancing matters.
Highlights
Many years of experience
Numerous areas of practice
Offline and online processing available
Conveyancing Panel Lawyers of various major banks in Singapore
And with that, we conclude our list of the best conveyancing lawyers in Singapore. If you've got more options in mind, don't forget to let us know and we might end up adding them to our roster.
By the way, if you also need help in settling a dispute concerning your own family, we suggest that you seek legal advice from the best family lawyers in Singapore. These experienced and competent lawyers can definitely deal with any type of messy situation concerning families.