The 4 Best Syariah Lawyers in Singapore
Are you looking for a lawyer who knows everything about the Syariah law? Well, consider yourself lucky because we're making a rundown of the top law firms with the best Syariah lawyers in Singapore.

People of the Muslim faith seek the help of the best Syariah lawyers in Singapore when it comes to divorce, administering wills, estate planning, financial issues, and even religious observances.
We combed through the entire island in search of trusted law firms that house the best Syariah lawyers in Singapore. You'll get to know more about them here, along with the range of their services.
Continue reading below to know which law firm offers the services you're searching for.
1. I.R.B. Law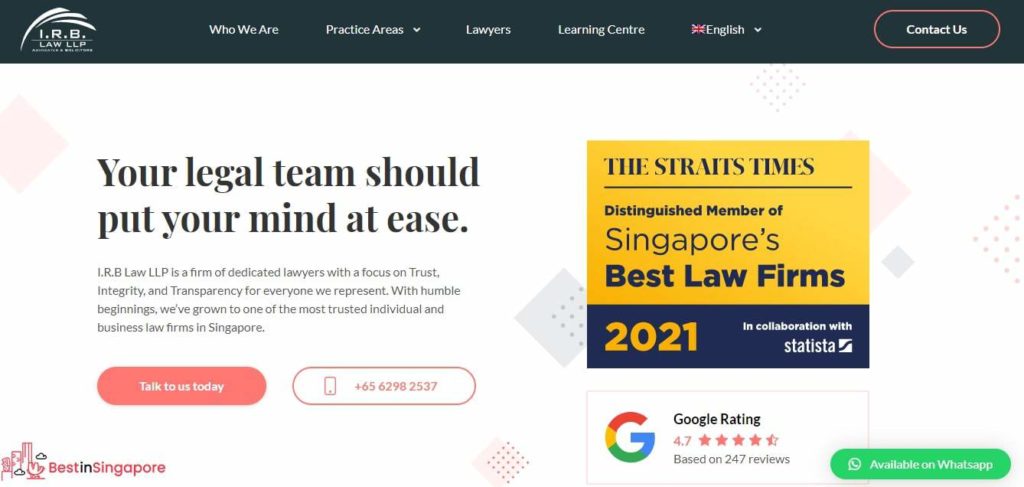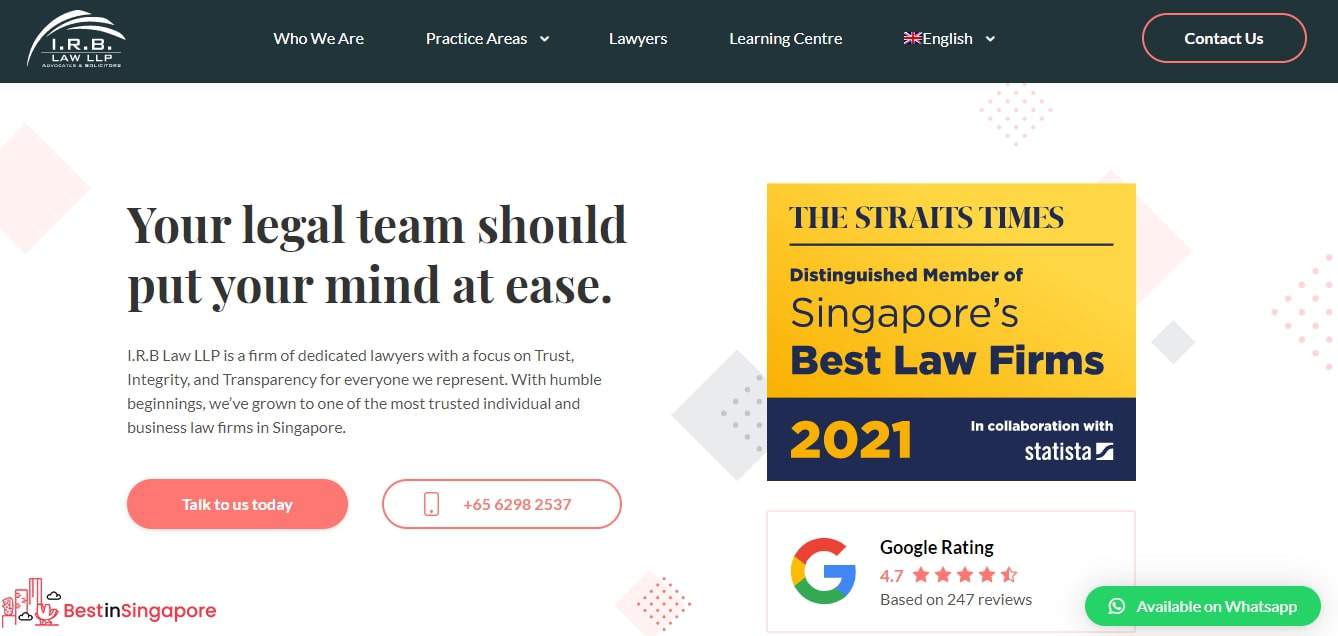 | | |
| --- | --- |
| BEST FOR | Separation and divorce |
| EXPERTISE | Syariah law, divorce, annulment, prenuptial agreements, adoption, civil ligation, personal injury, debt recovery and collection, employment law, and international arbitration |
| WEBSITE | https://irblaw.com.sg/ |
| ADDRESS | 119 Jln Sultan, Singapore 199008 |
| CONTACT DETAILS | +65 6298 2537 +65 9799 6763 |
| OPERATING HOURS | Monday – Friday: 9:30 AM – 6:30 PM Saturday – Sunday: 9:30 AM – 1:00 PM |
I.R.B Law is a trusted law firm with some of the most dedicated and sharpest lawyers on the island, providing a broad range of legal services. Its competitively-priced legal services make it one of the top options for regular individuals and small-sized, family-owned businesses.
Unlike other law firms that tend to have hidden fees, I.R.B Law is upfront and honest about what their customers have to pay for. You don't need to worry about going above your budget as its team will try to keep everything as affordable as possible.
I.R.B Law boasts a team of the best Syariah lawyers in Singapore too. In fact, it's one of the largest Syariah law practices on the island, with over 10 lawyers and paralegals working with Muslim clients.
Its Syariah lawyers can speak multiple languages as well, including Malay, Tamil, Chinese and English, so foreigners are more than welcome into their office. It specialises in Syariah divorce, helping its clients with custody of children, division of assets, and maintenance.
I.R.B Law is also one of the few law firms that are open 7 days a week, making it the perfect option for those who only have free time during the weekends.
More than 20 years of experience as a law firm
Personalised legal services
Competitively-priced legal services
Large team of Syariah practitioners
Multiple locations
Can be difficult to get an appointment due to the large number of clients
2. Abdul Rahman Law Corporation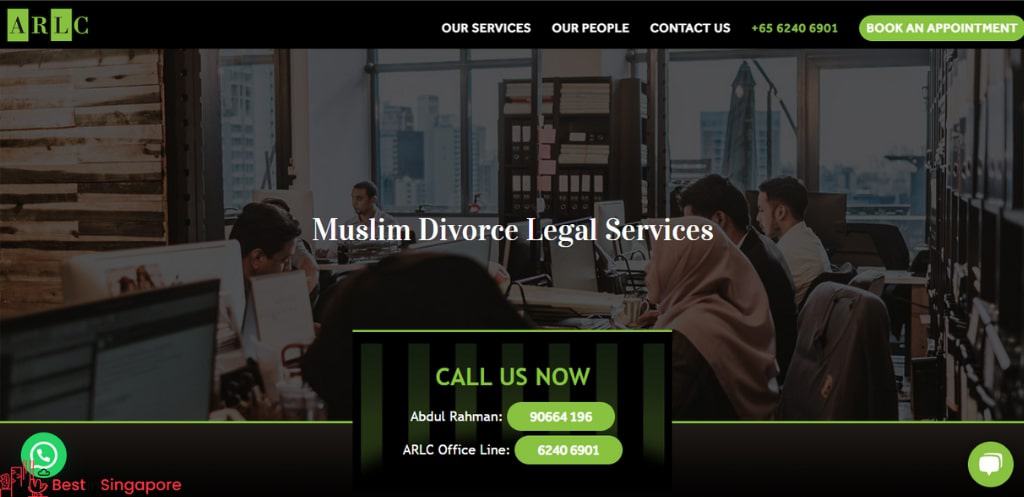 BEST FOR
Muslim divorce and finance law
EXPERTISE
Syariah law, Islamic finance law, Islamic finance for SMEs, wasiat and hibah, Muslim divorce, criminal law, convenyancing law, dispute resolution, and immigration law
WEBSITE
https://www.arlc.com.sg/
ADDRESS
114 Lavender Street #10-01 CT Hub 2, Singapore 338729
CONTACT DETAILS
+65 6240 6901

[email protected]

OPERATING HOURS
Monday – Friday: 9:00 AM – 6:30 PM
Abdul Rahman Law Corporation, or commonly known as ARLC, is a boutique law firm that caters to the needs of the ordinary man. It provides an extensive range of Syariah law-related services, including Muslim divorce, Islamic finance, drafting of Syariah-compliant wills, among others.
Every interested client is entitled to a free consultation with any of its Syariah lawyers, where they can discuss what type of service they want and the range of their budget. Worry not though, because its legal team will try to keep everything as cheap as possible.
ARLC knows that finding a Syariah lawyer in Singapore is not as easy as in the neighbouring countries, so it aims to make it services accessible to every Muslim as possible.
Other non-Syariah legal services that Abdul Rahman Law Corporation can help with are dispute resolution, criminal law, deed polls, visa immigration law, and conveyancing law, among others.
Offers free consultation
Wide range of Syariah-related services
Can help in non-Syariah related legal concerns
Small team of Syariah lawyers
Relatively less experienced compared to other law firms
3. RW Law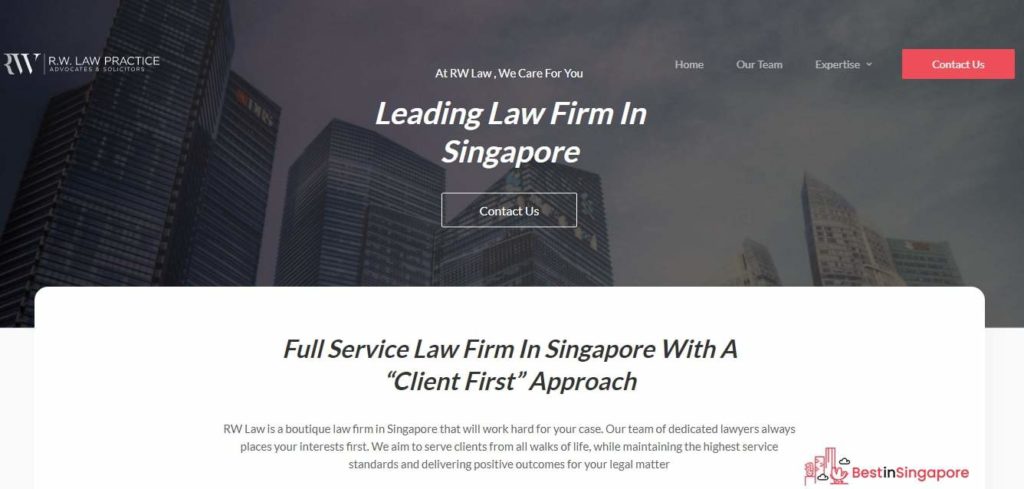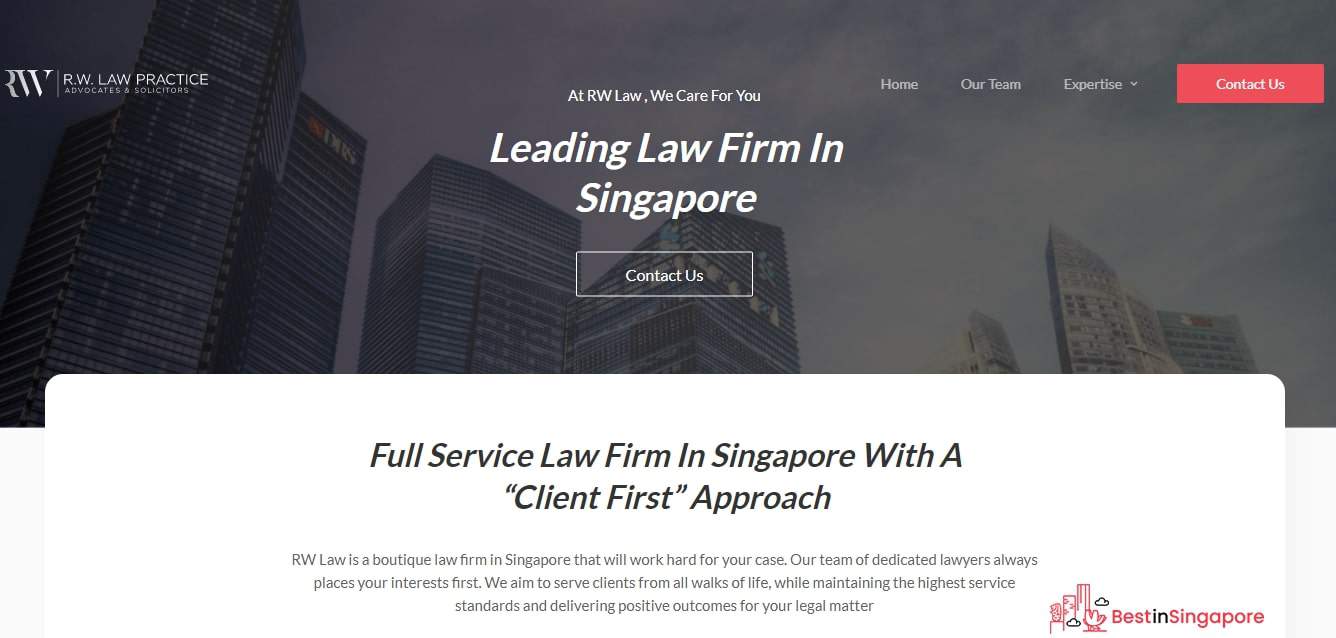 BEST FOR
Transparent and affordable fees
EXPERTISE
Syariah law, Syariah divorce, debt recovery, civil litigation, probate and letters of administration, employment law, and criminal law
WEBSITE
https://rwlaw.com.sg/
ADDRESS
390 Victoria St, #03-25 Golden Landmark Shopping Complex, Singapore 188061
CONTACT DETAILS
+65 6291 8043

[email protected]

OPERATING HOURS
Monday – Friday: 9:30 AM – 6:30 PM
If you're looking for a law firm that doesn't have ridiculously expensive rates, then look no further than RW Law. It's one of the most accessible law firms on the island, offering some of the lowest legal rates.
It may offer its legal services at an affordable price, but the quality of its services is never compromised. It doesn't believe in one-size-fits-all type of services, so clients will receive personalised services.
On top of that, every client will be under the care of the best Syariah lawyers in Singapore who know their way around Muslim divorce, inheritance law, and wasiat and hibbah.
RW Law makes an effort to know the situation of every client before coming up with any solution, so potential clients are entitled to one free consultation with any of its Syariah lawyers.
Offers some of the lowest legal rates
Provides only personalised services
Free consultation
Small team of Syariah lawyers
4.  Syariah Lawyer SG by Emerald Law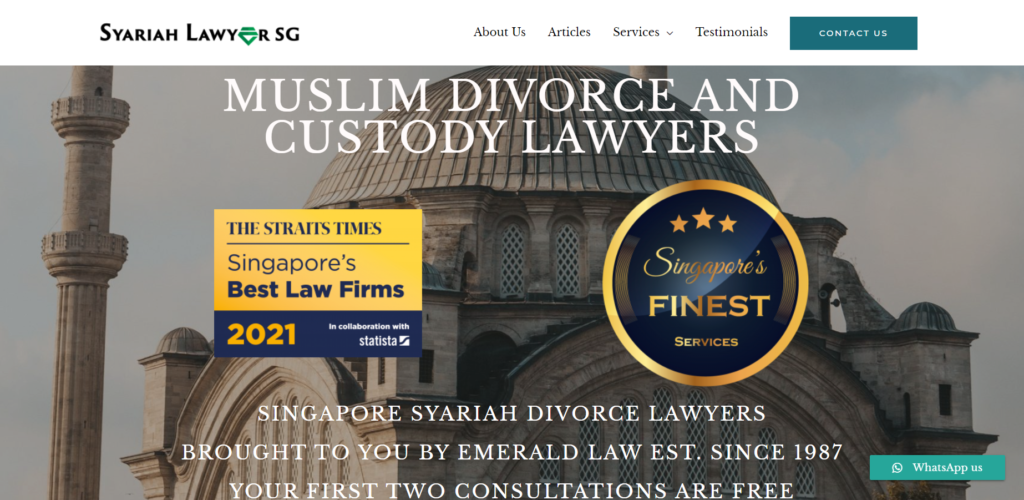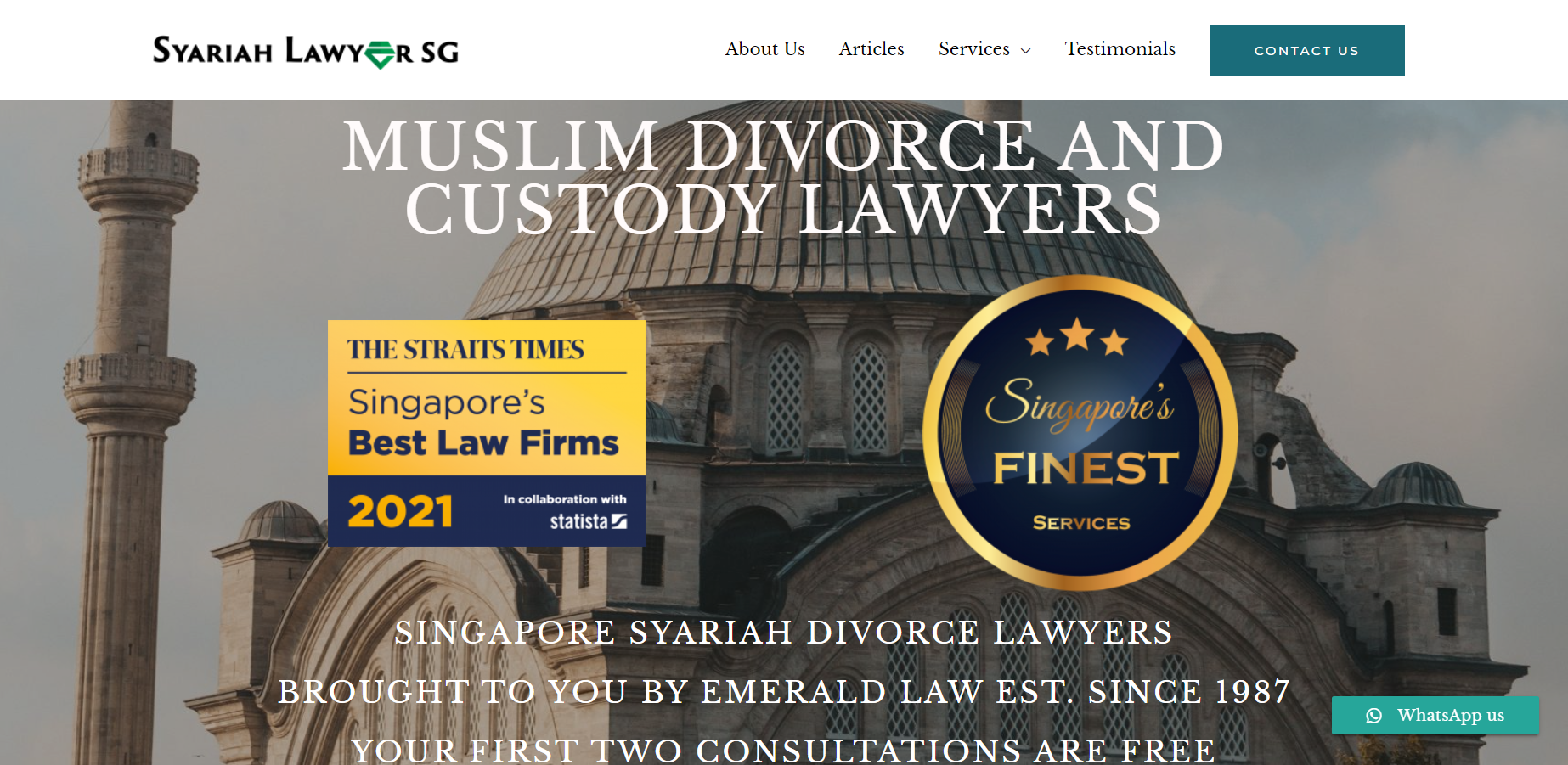 BEST FOR
Experienced Syariah Law Firm
EXPERTISE
Syariah Divorce Law
WEBSITE
https://syariahlawyersg.com
ADDRESS
Main Office
3 Shenton Way, Shenton House #11-10, Singapore 068805
Branch Office
Block 9 Jalan Kukoh, Unit 01-87, Singapore 160009.
CONTACT DETAILS
Office Number: (+65) 6226 0439
Mobile Number: (+65) 9711 8078
Email: [email protected]
OPERATING HOURS
Monday to Friday – 9am – 9pm
Saturday to Sunday – 10am – 6pm
Syariah Lawyer SG by Emeral Law is a law firm that is experienced in all aspects of Islamic Law. They specialise in dealing with cases regarding divorce.
Their lawyers are knowledgeable experts in their respective specialisations. They make sure to provide the most attentive and personalised care to their clients, no matter what the case may be.
They're guaranteed to provide only the most detailed and concise analyses regarding your case. Budget won't be an issue, as they will do their best to accommodate your financial needs.
Well-versed in Syariah Law
Works across all areas of Islamic Law
Dedicated and personalised attention
First two consultations are free
FAQS about the Best Syariah Lawyers in Singapore
Looking for the best Syariah lawyers in Singapore is easier said than done. Apart from the limited options, you probably have multiple questions about it running through your mind.
Anyway, worry no more because we're here to answer the most commonly asked questions about Syariah law and its lawyers. Here are some of them:
---
And with that, we conclude our list of the best Syariah lawyers in Singapore. If you've decided which lawyer to hire, don't hesitate to share your pick with us!
If you know other Syariah lawyers in Singapore that should've been included in our list, tell us their names, and we'll check if they're worthy to add to our roster.
For those who want to know the difference between divorce and annulment, we recommend checking out our guide to annulment in Singapore. We also listed the top annulment lawyers on the island there, should you need one in the future.