Where to Find the Best Criminal Lawyers in Singapore
One of the most effective ways to get yourself out of trouble is by seeking help from the best criminal lawyers in Singapore. We know that being summoned in court is not easy but having an experienced criminal lawyer to depend on can be a great relief.
As a way of making your life easier, we looked for the best criminal lawyers in Singapore so you can focus your time on other pressing legal concerns. We found a few law firms that employ some of the sharpest lawyers in Singapore, so don't stop reading just yet!
Without further ado, here's our list of the best criminal lawyers that can help you get out of trouble.
1. Trident Law Corporation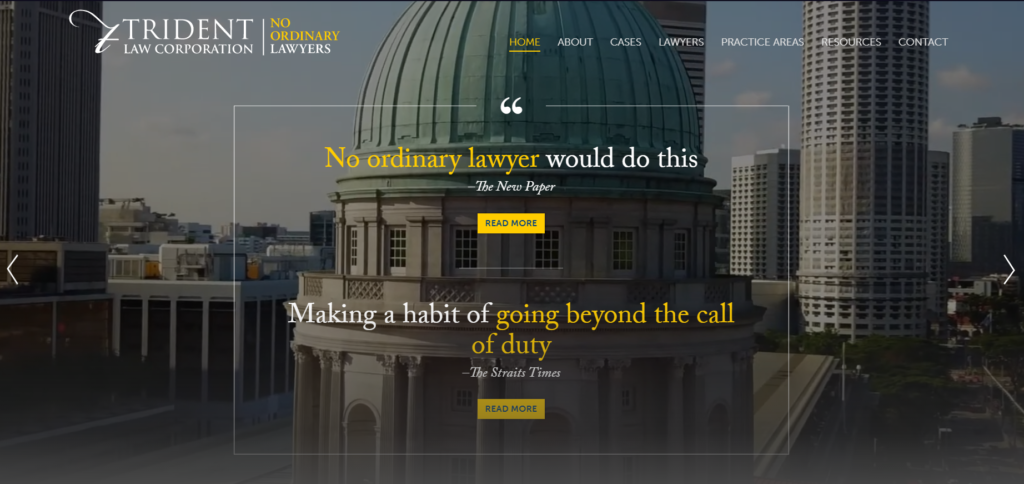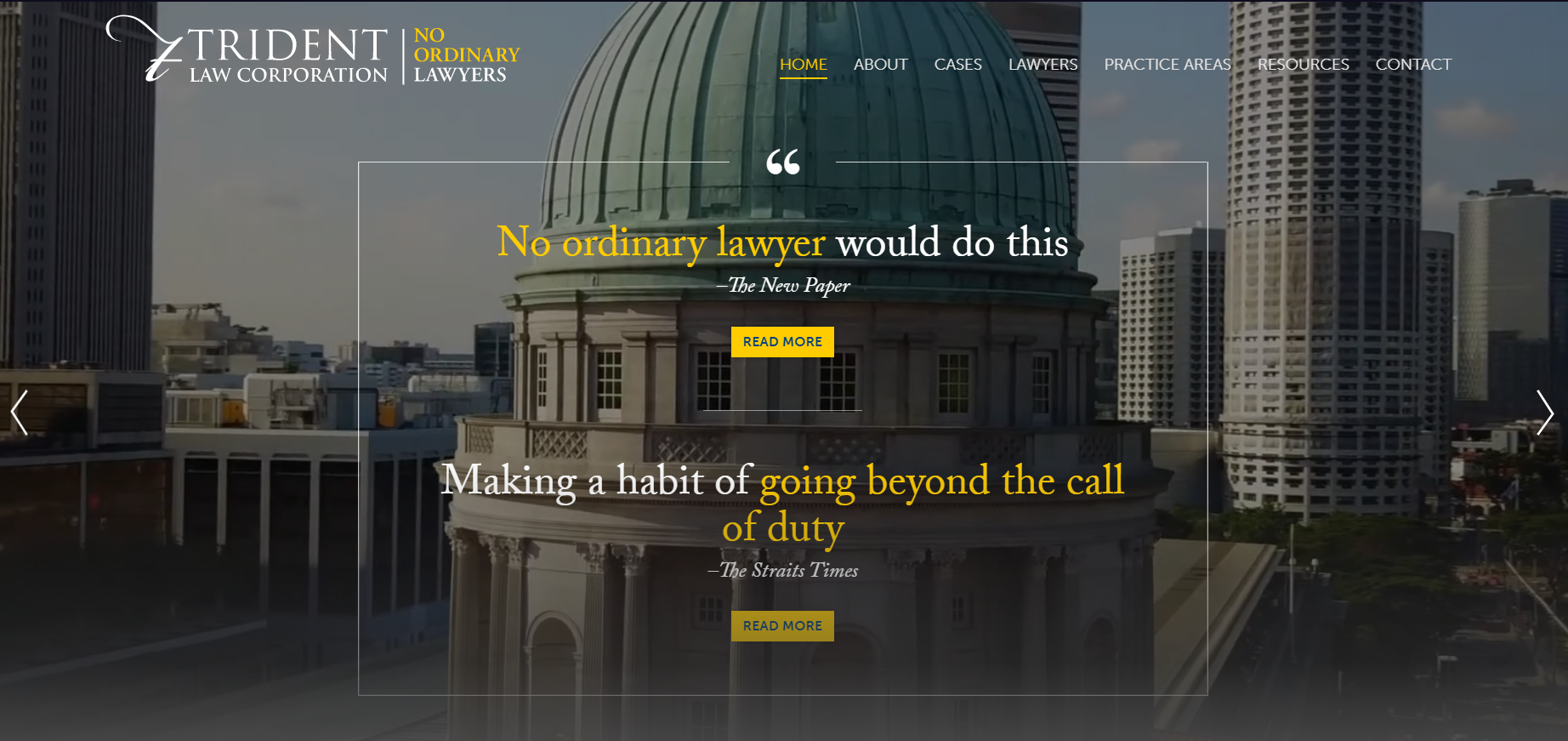 The Trident Law Corporation has a reputation for going above and beyond for their clients. They have experience with cases both minor and major.
Their team of lawyers are knowledgeable in various areas of law. They strive to improve themselves and learn more despite being considered experts in their field.
They won't be afraid to tell you the cold hard facts about your case, even if it's something you won't want to hear. This transparent communication is what puts them above and beyond most law firms.
Highlights
Experienced with high profile and landmark cases
Client-oriented mindset
Expert lawyers
Transparent communicators
2.  Tan Lee & Partners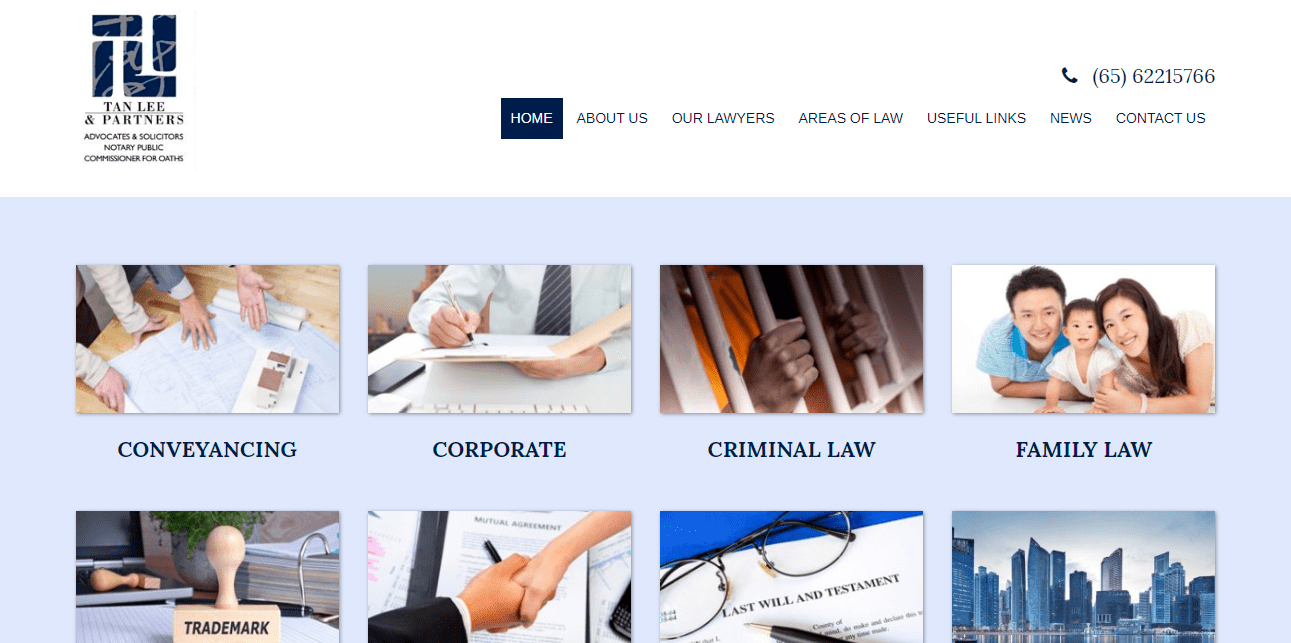 | | |
| --- | --- |
| EXPERTISE | Family Law, Conveyancing, Corporate, Intellectual Property, and Probate |
| WEBSITE | http://www.tanleepartners.com.sg/ |
| ADDRESS | 10 Anson Road, #12-06, International Plaza, Singapore 079903 |
| CONTACT DETAILS | (65) 62215766 |
| OPERATING HOURS | Monday – Friday, 9:00 AM – 6:00 PM |
Tan Lee & Partners employs some of the sharpest and most competent lawyers in Singapore. It also has a wide array of legal services such as criminal law, family law, corporate law, IP law, and a whole lot more.
One of the reasons we name it one of the top law firms with the best criminal lawyers in Singapore is its consistently positive track record of its lawyers. Tan Lee & Partners will provide only the best personalised legal services to ensure that every client's needs will be covered and addressed.
Highlights
Personalised services
Experienced lawyers
Cost-effective services
3.  APEX Law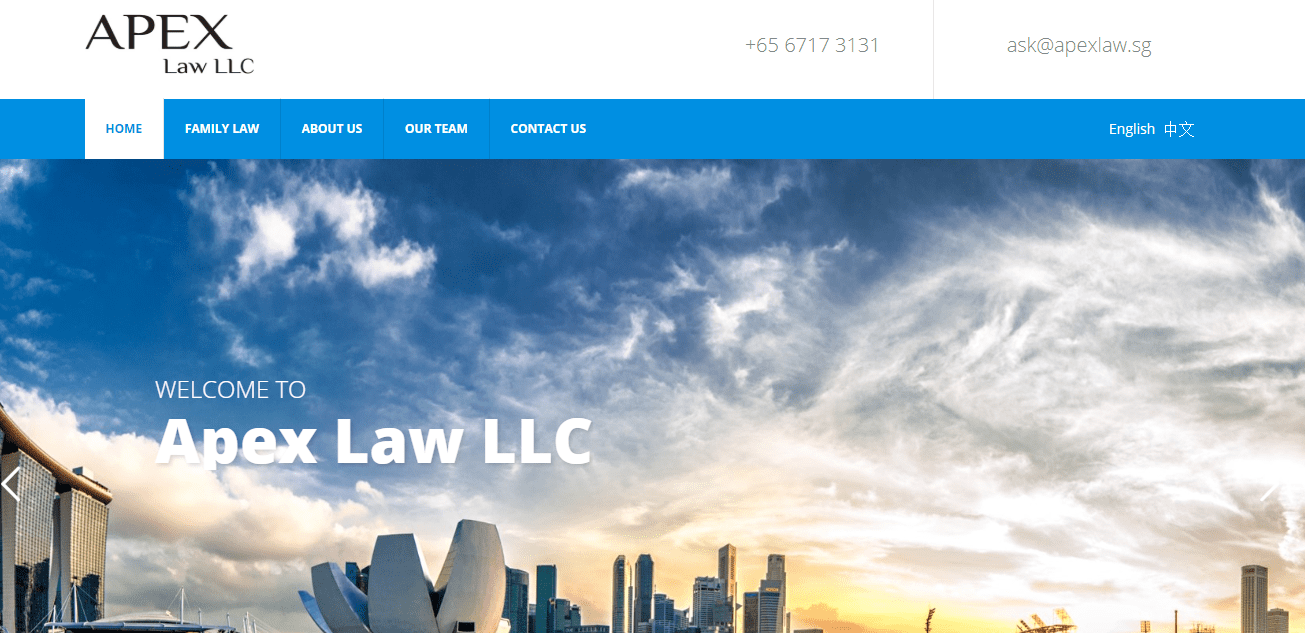 EXPERTISE
Criminal Law, Conveyancing, Corporate Law, and Family Law
WEBSITE
https://www.apexlaw.sg/
ADDRESS
185 Toa Payoh Central, #02-342/344 346/348, Singapore 310185
CONTACT DETAILS
+65 6717 3131 | +65 9624 9200 | 

[email protected]

OPERATING HOURS
Monday – Friday, 8:00 AM – 6:30 PM
APEX Law has lawyers who are experts in family law, corporate law, property law, mediation and arbitration, and of course, criminal law. Every lawyer on its legal team has years of experience and practice — which is why we consider it one of the top options for the best criminal lawyers in Singapore.
What's more, APEX Law is known for having some of the cheapest and most affordable rates in Singapore. One of the reasons behind this is that it believes that everyone should have access to quality legal services.
Highlights
Convenient location
Competent lawyers
Personalised services
4. Tembusu Law LLC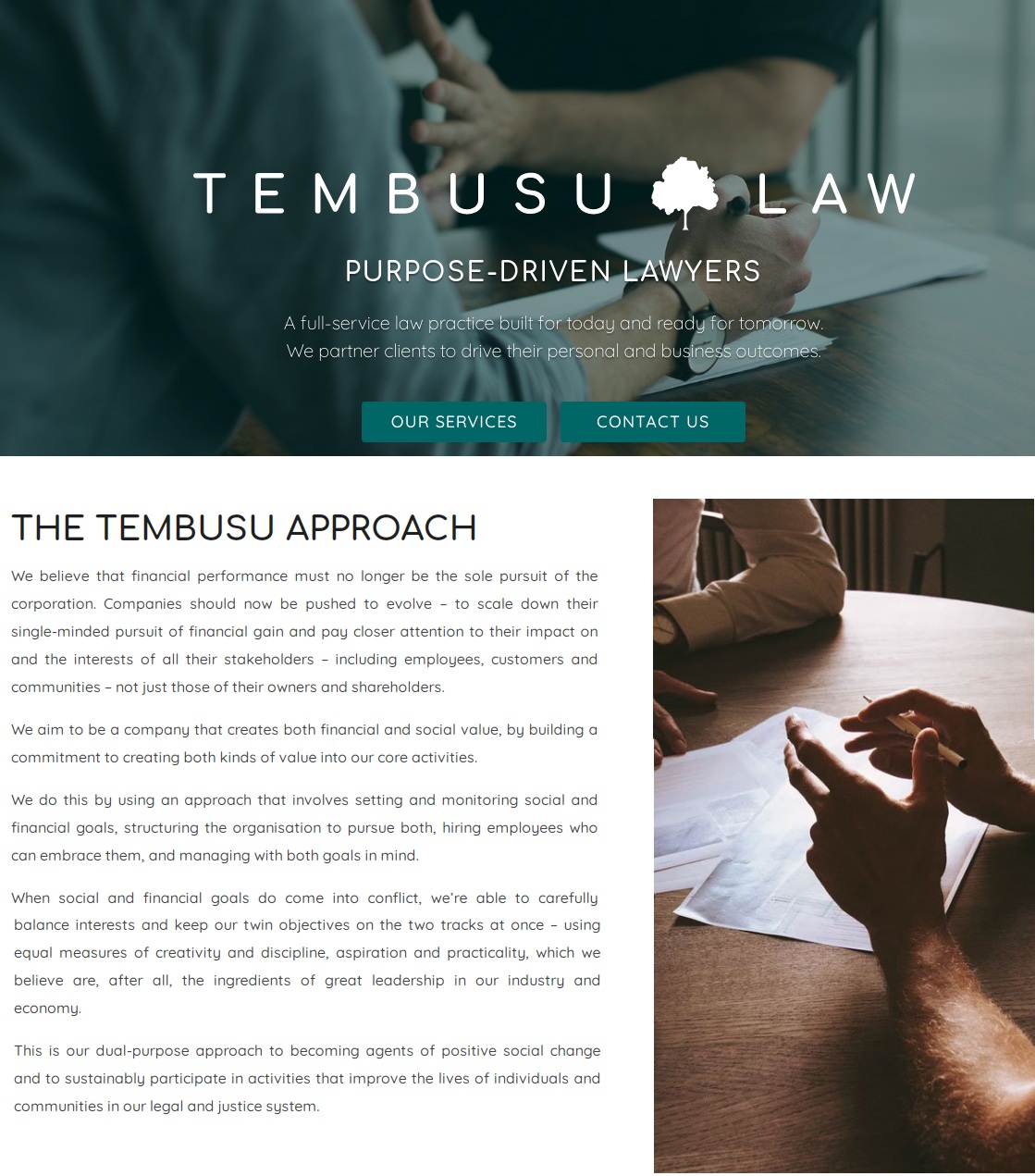 Tembusu Law LLC is known for their full range law services that are custom tailored according to their clients' needs and requirements. 
While each of their clients has a different set of cases, therefore receiving personalized services, the firm guarantees that all of their legal solutions are pragmatic and cost-effective.
The firm accommodates an extensive array of law services including but not limited to Probate & Administration, Family & Matrimonial Law, Civil & Commercial Litigation, Private Equity & Venture Capital, and Criminal Law & Regulatory Offences.
Highlights
Personalized legal solutions

Reputable lawyers

High level of integrity
5. Ray Louis Law Corporation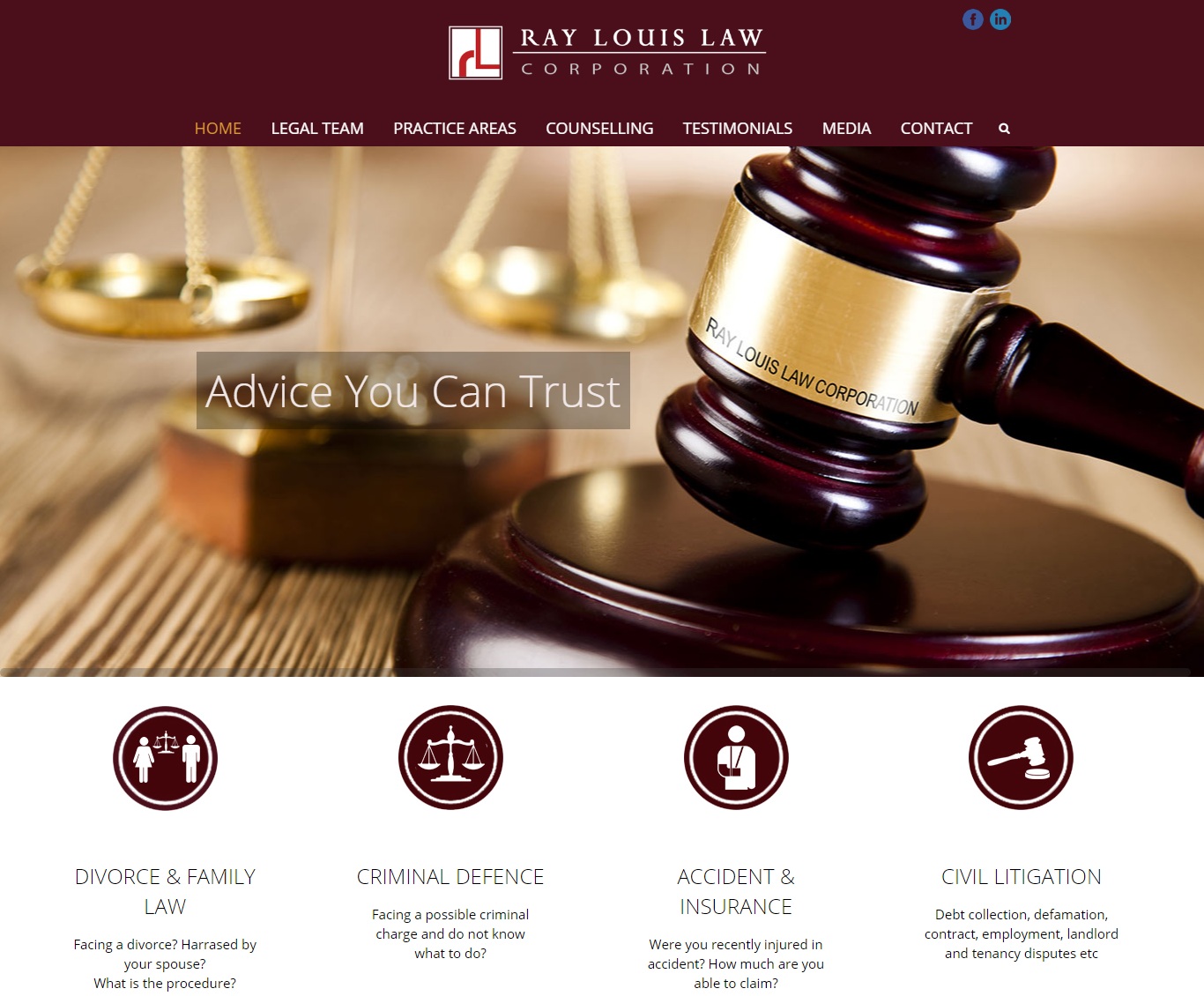 Ray Louis Law Corporation is a firm full of dedicated lawyers with varying expertise. They offer legal advice services on divorce & family, criminal defense, civil litigation, accident & insurance, etc.
The team knows too well how to handle very stressful cases, thus they guarantee to make everything at ease for their clients while providing them with the most effective and appropriate solutions for their cases.
They have also dedicated a counselling facility for their clients where professional counsellors assess your case and bring you only the best lawyer suited perfectly to represent you.
Highlights
Team of committed and reliable lawyers

Practical and effective legal solutions

Competitive rates
6. Abbots Chambers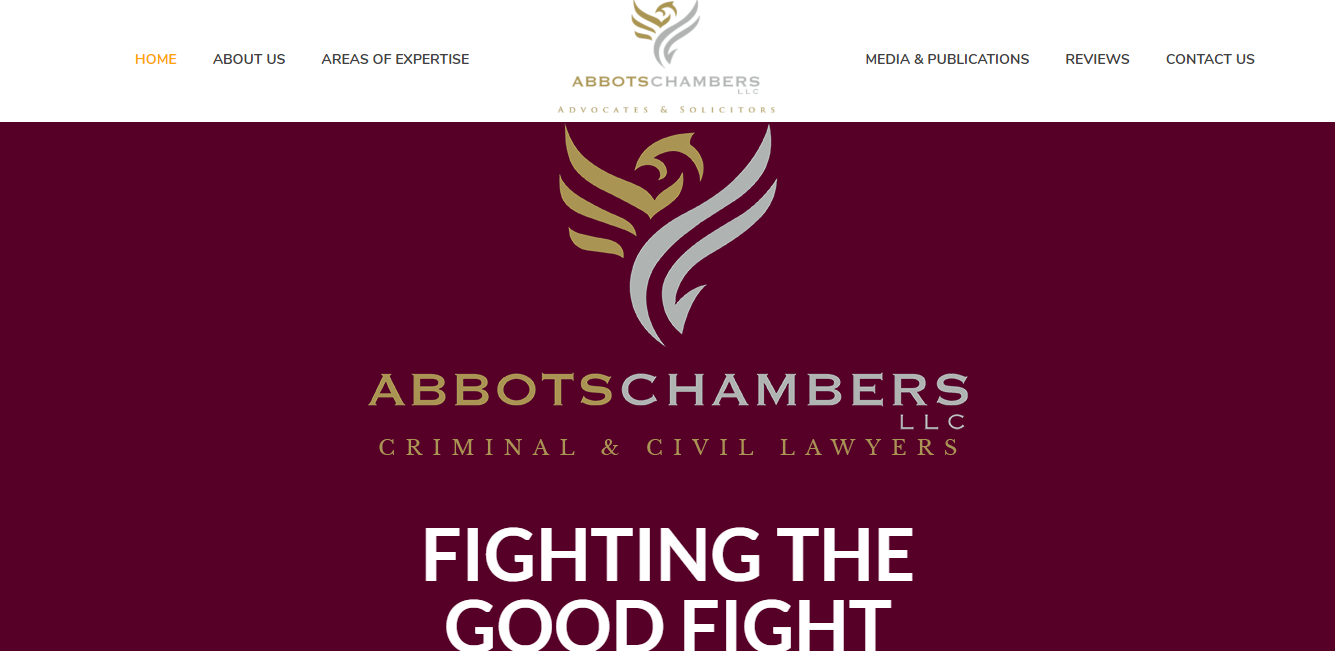 Abbots Chambers boasts a team of dedicated and fearless lawyers who know how to fight for the welfare and rights of their clients.
While offering a host of legal services ranging from family disputes and civil matters, the team at Abbots is especially noted for its expertise in criminal matters, both white-collar and blue-collar.
It is headed by Gino Hardial Singh, one of Singapore's most renowned criminal lawyers – boasting years of experience in criminal practice and as a former officer with the Singapore police. He's also received various recognition from different legal institutions, proving that he's among the best criminal lawyers in Singapore.
What's more, Abbots Chambers offers excellent legal services for a competitive price, providing the general public with access to quality legal advice.
Highlights
Fearless and experienced lawyers
Competitive legal services
7. Eugene Thuraisingam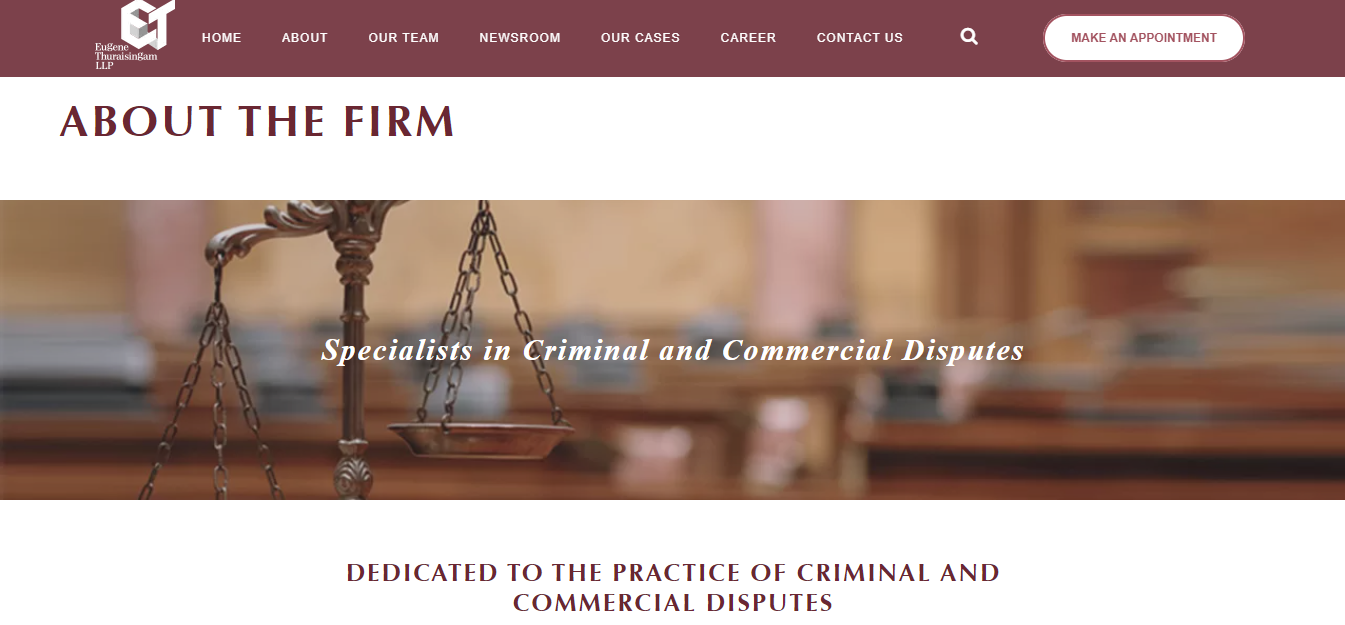 | | |
| --- | --- |
| EXPERTISE | Criminal Law, Commercial Litigation & Arbitration |
| WEBSITE | https://thuraisingam.com/ |
| ADDRESS | 1 Coleman St, #07-06 The Adelphi, Singapore 179803 |
| CONTACT DETAILS | +65 6557 2436 |
Eugene Thuraisingam LLP is a premier dispute resolution firm with a very strong criminal law practice. Named as one of the "Firms to Watch 2019" by ALB, "Notable Firm" for dispute resolution by Asialaw Profiles 2020, "Notable Firm" for commercial and transactions and white collar crime by Benchmark Litigation Asia-Pacific 2020, Leading Criminal Law Firm in Singapore and Leading Criminal Lawyers in Singapore by Doyle's Guide 2020.
The firm has 8 lawyers who have expertise and experience with all types of criminal work in the Singapore Courts. Its lawyers have successfully defended persons accused of a whole range of criminal matters including murder, drug trafficking, rape, outrage of modesty, cheating, criminal breach of trust, securities and futures act offences and road traffic offences in the State Court, High Court and the Court of Appeal.
Highlights
Dedicated and committed lawyers

Strong willed and determined

Experienced and commercially savvy
8. Foo Cheow Ming Chambers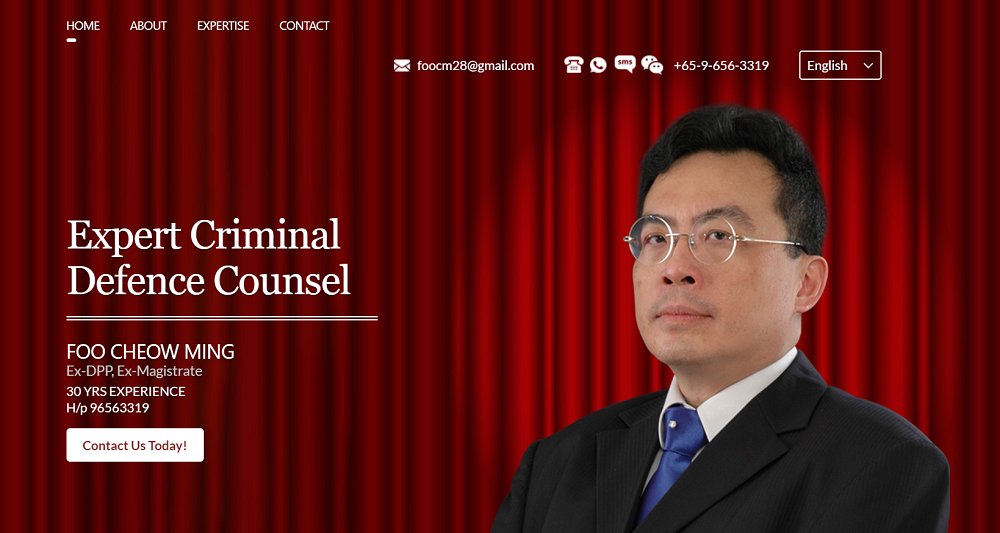 Labelled as the "Defender you want on your side", Mr. Foo is a criminal defense lawyer with almost 30 years of practice experience. His expertise promises you a effective approach and perspective to your criminal case.
Foo Cheow Ming began his career in the Legal Service around 1989 to 1999. He has worked in partnership with some of Singapore's most prominent criminal defenders. He went through criminal defense practice for 7 years in KhattarWong LLP, also known as one of Sinagpore's biggest firms. Mr. Foo is also recognized as a respected criminal defense counsel internationally.
Highlights
Member Asean Law Association (Singapore)
Member International Criminal Bar (since 2009)
Member Executive Committee, Association of Criminal Lawyers of Singapore (ACLS)
Counsel International Criminal Court
Member Law Society's Ad Hoc Committee to Review the 2007 Penal Code Amendments.
Member Law Society's Working Sub-committee to Review the 2008 Criminal Procedure Code Amendments
Member International Criminal Defence Attorneys Association
9. Kalidass Law Corporation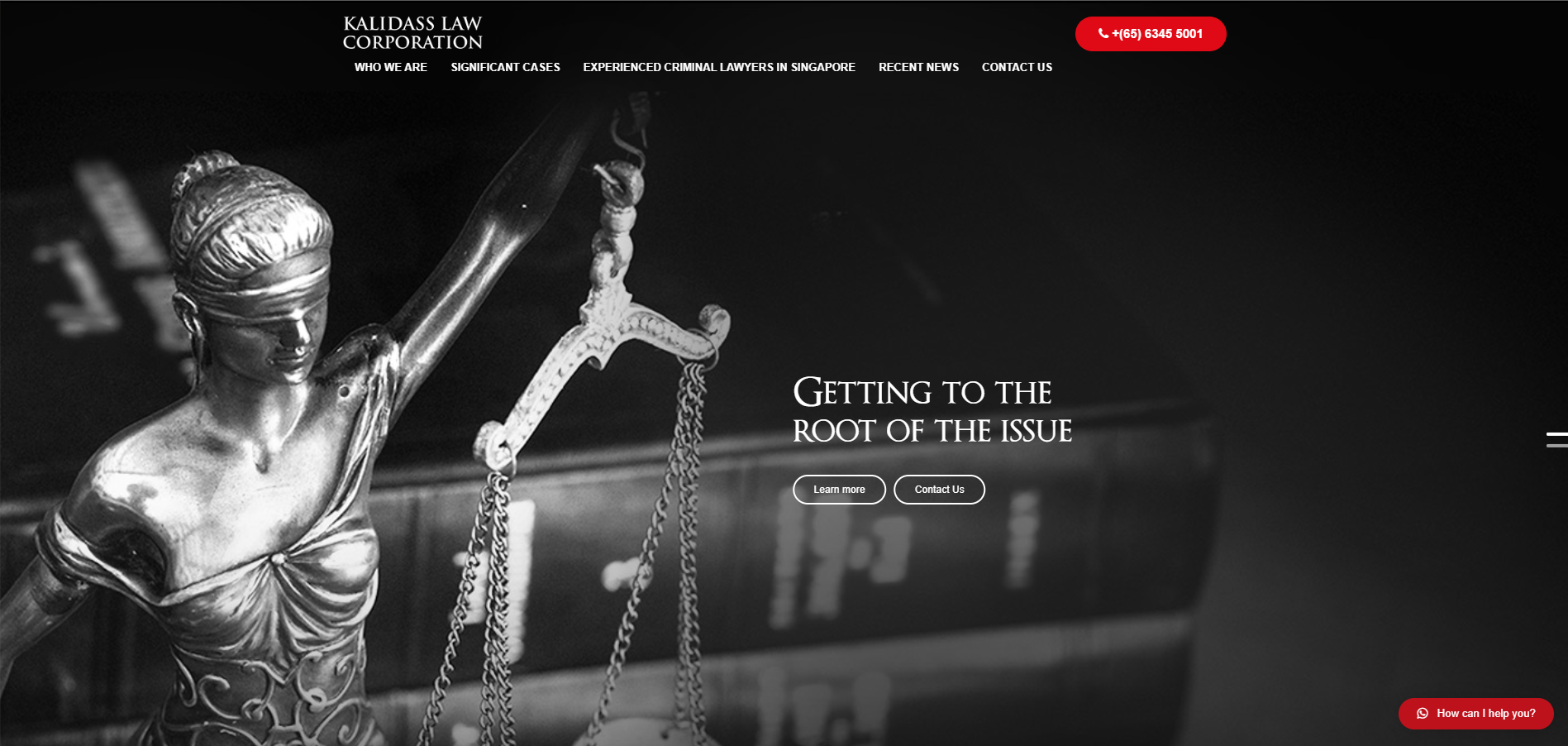 | | |
| --- | --- |
| EXPERTISE | Criminal Law and Related Regulatory Matters |
| WEBSITE | http://www.daslaw.com.sg/ |
| ADDRESS | 160 Robinson Road, SBF Center, #19-10, Singapore – 068914 |
| CONTACT DETAILS |  +(65) 6345 5001 / +(65) 919 10111 | [email protected] |
If you ever need people to represent you in the court, you should seek someone who is trustworthy and is hard as steel to give you a chance of winning in the trial. Kalidass Law Corporation just might be what you were looking for.
Specialising in criminal law and related regulatory matters, each of their defense lawyers are highly experienced and qualified to work in a range of criminal cases.
They always make sure to cater their clients' needs with impeccable professionalism and intelligence. They also provide unwavering support throughout the duration of the case, to assure the client that they are not alone in their predicament.
Highlights
Affordable, Quality Legal Services
Dedicated and Efficient Defence Lawyers
Highly Experienced Criminal Defence Lawyers
Customer Reviews
Here is a review left by a very satisfied client:
"An experienced, patient and compassionate lawyer. Very approachable and understanding." – Aw Yong Tian Seng
10.  I.R.B. Law LLP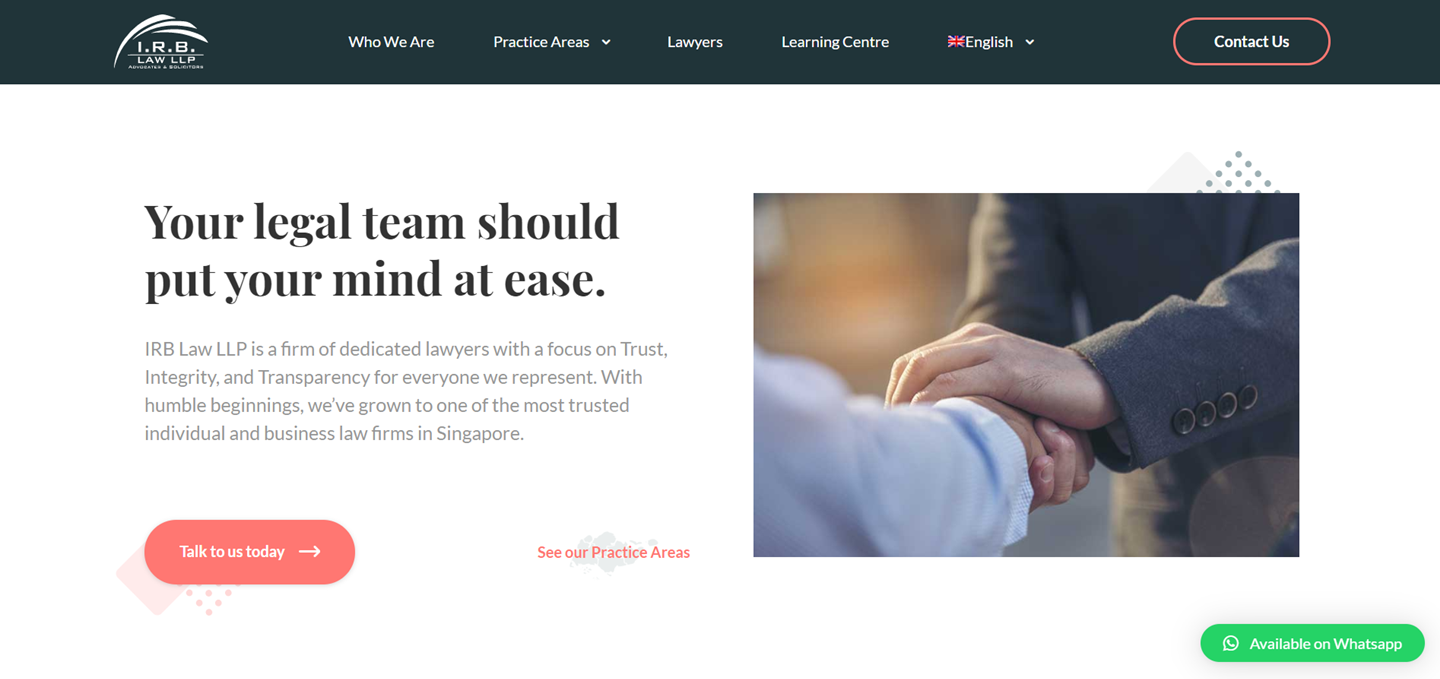 BEST FOR 
Multiple Law Specialisations
SERVICES
Family Law, Estate Law, Litigation & Dispute Resolution, Personal Legal Procedures, Syariah Law, Bankruptcy, Restructuring & Insolvency, Corporate & Commercial Law, Criminal Defense, Conveyancing & Real Estate, Due Diligence
WEBSITE
https://irblaw.com.sg/
ADDRESS
Collyer Quay
20 Collyer Quay, #17-05, Singapore 049319Jalan Sultan
119 Jalan Sultan, Singapore 199007[email protected]
116 Changi Road, #02-14, Singapore 419718Sam Leong Road
42 Sam Leong Rd, Singapore 207932Sultan Plaza
100 Jalan Sultan, #02-09/10 Singapore 199001
CONTACT DETAILS
https://irblaw.com.sg/contact-us/
OPERATING HOURS
Mon – Fri: 9:30am – 6pm
Sat – Sun: 9:30am – 1pm
I.R.B. Law LLP is a law agency that practices in multiple specialisations of law, making it one of the most well-rounded law agencies in Singapore. Their services are not only high quality, but also available for an affordable price.
While they have a spread out set of services, it doesn't mean that its quality is compromised. With I.R.B. Law LLP, you will receive the best legal help available, whatever the sector you may need it in.
Highlights
Wide range of legal services
Internationally appraised company
Highly knowledgeable and skilled lawyers
Very affordable
11.  W.M. Low & Partners
EXPERTISE
Criminal Law, Family Law, Probate Law
WEBSITE
https://www.criminallaw.sg
ADDRESS
No. 1 North Bridge Rd, #B1-46 High Street Centre, Singapore 179094
CONTACT DETAILS

Phone: +65 6534 1328
Fax: +65 6534 1038
Email: [email protected]

OPERATING HOURS
Monday – Friday: 9 Am – 6 PM
Closed on Saturdays and Sundays
W.M. Low & Partners takes pride in providing professional legal services to their clients. They specialise in criminal law, family law, and probate law.
Their lawyers have many years of experience in their respective specialisations. They make sure to work efficiently and effectively no matter the case they're handling.
They're proficient in strategising to get the best results for their client. You can count on them to do whatever it takes to resolve your case.
Highlights
29 years of combined experience
Outstanding results
Reasonable rates
Excellent case strategy
12. 

TheSingaporeLawyer.com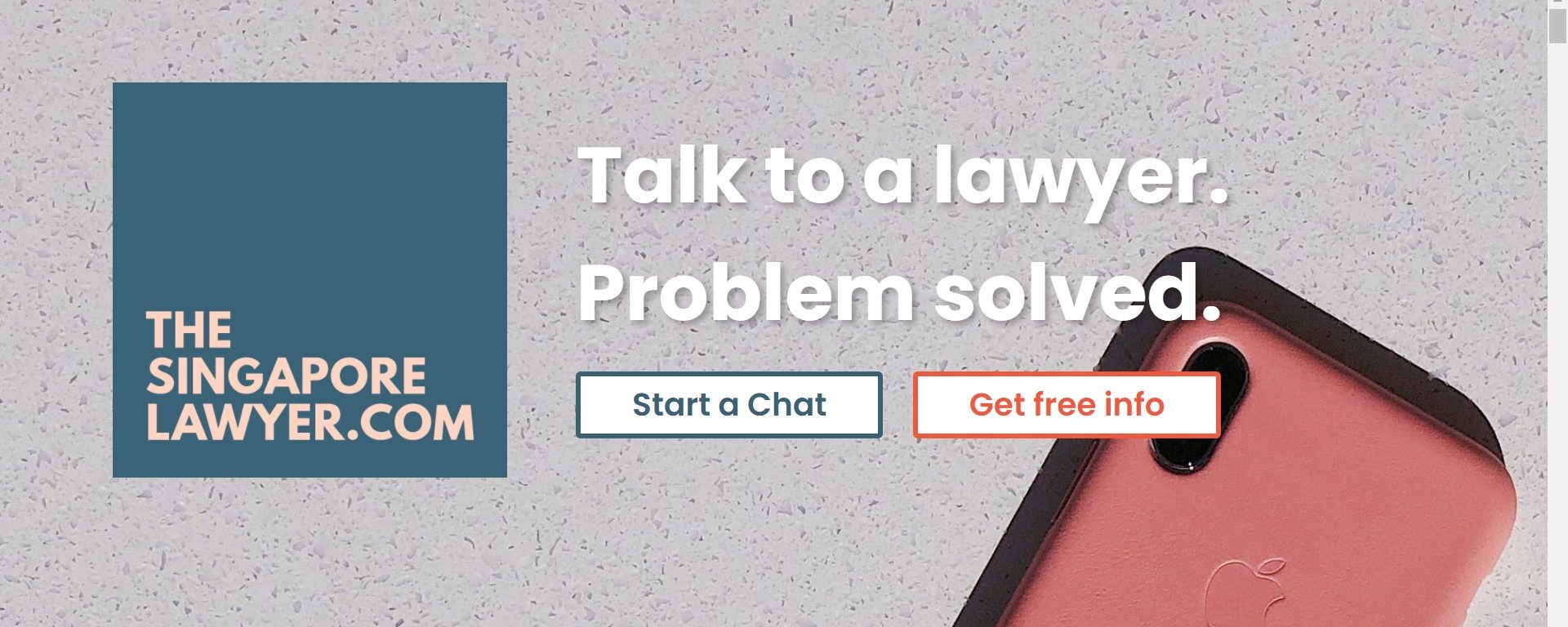 | | |
| --- | --- |
| EXPERTISE | Criminal Law, Divorce & Family Law, Business Law, Civil Litigation, Employment Law, Wills & Estate Law, Startup Legal Toolkit, Singapore Law |
| WEBSITE | https://www.thesingaporelawyer.com/ |
| ADDRESS | 11 Keng Cheow St, #02-05 The Riverside Piazza, Singapore 059608 |
| CONTACT DETAILS | +65 6974 0068 | [email protected] |
| OPERATING HOURS | Monday – Friday, 9:00 AM to 6:00 PM |
TheSingaporeLawyer.com's team is dedicated to helping people and serving a higher purpose; bringing greater access to help, answers, fairness and justice.
They believe that companies should now be pushed to evolve, to scale down their single-minded pursuit of financial gain and pay closer attention to their impact on and the interests of all their stakeholders, which includes their employees, customers and communities – not just those of their owners and shareholders.
With this, they aim to be a company that creates both financial and social value, by building a commitment to creating both kinds of value into our core activities.
This is why they not only offer free legal advice, but also have their lawyers ready to accommodate with assessing and evaluating your options and solutions with you.
However, their rates can be a bit more expensive compared to other law firms.
But all in all, with their experience in different kinds of laws, TheSingaporeLawyers.com is willing to help in any way, all you have to do is ask!
Highlights
Free legal advice
Free consultation
Quick response
And with that, we end our list of the best criminal lawyers in Singapore. If you've tried out the services of any of these law firms, don't hesitate to share your experiences with us.
By the way, if you also need legal help in settling a property you've always wanted to buy, then we highly recommend these best conveyancing lawyers in Singapore. These lawyers will ensure that you will get only the best deal with your dream property!