8 Places for Best Dim Sum in Singapore: Updated 2023 List
If you want to get the best dim sum in Singapore, you're on the right page! We've rounded up the very best restaurants for those bite-sized treats today so dim sum lovers can indulge themselves.
The restaurants we've chosen are all famous for the quality of their dim sum, as well as the service. What's more, they all have a superb value-to-price ratio for their offerings.
Anyway, you'll see that for yourself once you try any of these establishments. So, let's not delay any longer and dive right into your options for dim sum restaurants in Singapore:
1. Sum Yi Tai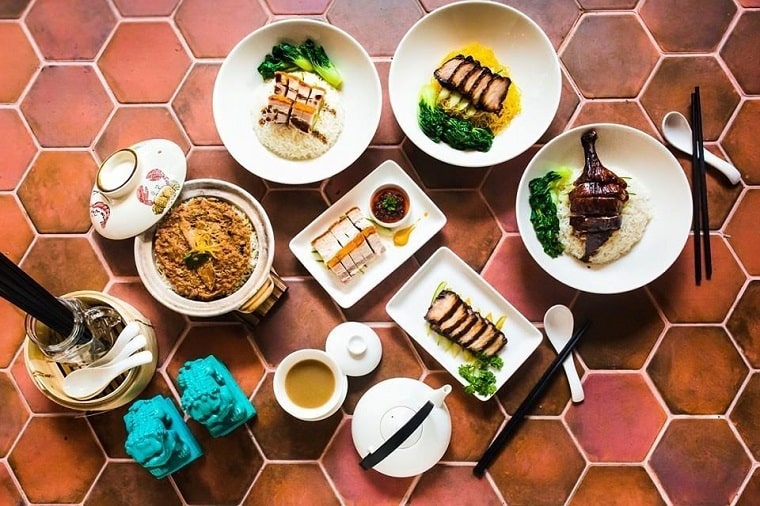 BEST FOR
Traditional Chinese cuisine
PRICING
Dim Sum, Tapas, Drinks
WEBSITE
http://www.sumyitai.com/
ADDRESS
25 Boon Tat Street Singapore 069622
CONTACT DETAILS
+65 62213665
OPERATING HOURS
Monday to Friday: Lunch – 11.30AM to 2.30PM / Dinner – 5.00PM to 1.00AM

Saturday: 7.00PM to 1.00AM

Closed on Sundays
At Sum Yi Tai, you can enjoy three different dining concepts.
These include the Tapas Bar where dim sum lunch and drinks are served. You can also have some dinner and late-night conversations here.
Meanwhile, the Mona Lounge stands as a nostalgic cocktail bar with Asian fusion on each well-crafted beverage.
Finally, for an exclusive and private gathering, the Rooftop Bar usually serves as the perfect getaway after a long day of hard work. Definitely the best dim sum in Singapore with modern elements.
The main highlights of their menu would be dim sum and tapas. Be sure to try both when you go there!
Service Highlights
Private karaoke room
Different dining areas
Chinese tapas
Customer Reviews
Sum Yi Tai brings back the good old memories of Hong Kong's fearless era during the '80s, which is why it's loved by many locals and tourists. Tom Lee complimented the breathtaking view at the Rooftop Bar and wrote this review on Google Reviews:
"Another cool rooftop bar beneath the towering skyscrapers in commercial Singapore. Good place to hang out after a long day at the office, with ice cold beers, small bites or a full meal, and not too loud chill music."
2. Red Star Restaurant

BEST FOR
Authentic Cantonese Cuisine
PRICING
Menu
WEBSITE
https://redstarrestaurant.com.sg/
ADDRESS
Block 54, Chin Swee Road #07-23, Singapore 160054
CONTACT DETAILS
6532 5266
OPERATING HOURS
Open Daily (including Public Holidays)

Breakfast/Lunch: (Monday to Saturday) 8.00am to 3.00pm / (Sunday & Public Holiday) 7.00am to 3.00pm

Dinner: (Monday to Sunday) 6.00pm to 10.00pm
You can easily find the Red Star Restaurant at the heart of Chinatown, serving quality dishes in a friendly environment. If you enjoy casual dim sum in Singapore with family and friends, add this to your list!
They mostly provide Cantonese dishes such as roast duck special and dim sum. Keep in mind that the dim sum selections are only available until 3pm… so be sure to get there early.
Their menu consists of a variety of traditional and signature dishes for a memorable dining experience.
Service Highlights
Venue for family celebrations and events
Affordable set menus
Relaxed and warm ambience
Customer Reviews
Aside from an accessible location, Red Star Restaurant also provides simple yet comforting vibes. If you've just started exploring the Chinese cuisine, patrons say this would be an ideal place since they have the basics and signature dishes that leave the best impressions.
Yoong Daren shared this experience on Google Reviews:
"One of the few dim sum restaurants in Singapore that opens early (7am on Sun, 8am on other days). Delicious and authentic dim sum that delivers through push carts. Large crowds here for this long-standing establishment are a good endorsement of quality. Family-friendly and this place is a treasure. Will definitely come back!"
3. Yan

BEST FOR
Innovative signature dishes and well-crafted traditional Cantonese cuisine
PRICING
Menu
WEBSITE
https://www.yan.com.sg/
ADDRESS
#05-02 National Gallery Singapore 1 St. Andrew's Road Singapore 178957
CONTACT DETAILS
+65 63845585
OPERATING HOURS
(Daily) Lunch: 11.30am – 2.30pm / Dinner: 6pm – 10.30pm

*They will be closed for private events so make sure to check their event schedules on their official website.
If you're looking for a good dim sum in Singapore with signature dishes, Yan's cuisine is rich in the traditional flavours of Chinese cooking at its best. The presentation is classic too, and can only be described as elegant.
They have their own dim sum menu too, which includes the six dim sum platter and a mixture with porridge. The place can also be used for wedding venues, corporate events, and other special occasions.
Service Highlights
Multi-functional venue
Classic food presentation
Original dishes
Customer Reviews
Customers of Yan have only praise for their food, particularly their dim sum. A reviewer commented about the fine dining service at the restaurant and left this feedback on Google Reviews:
"Yàn has been on my to-try list for a while and we were well pleased with the food! Definitely one of the best Chinese restaurants in town. Great ambience coupled with delicate dim sum, well balanced flavors and food prepared to perfection, literally Chinese fine dining at its best. We ordered the lunch set menu that provided great value for all that was offered. Will definitely be back!"
4. Taste Paradise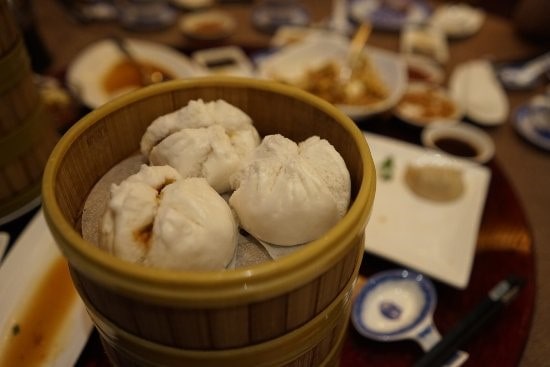 Image Source: Trip Advisor
BEST FOR
Fancy and exclusive Chinese dining
PRICING
Menu
WEBSITE
https://www.paradisegp.com/brand-taste-paradise/
ADDRESS
2 Orchard Turn ION Orchard #04-07 Singapore 238801
CONTACT DETAILS
+65 6509 9660
OPERATING HOURS
Mon to Fri 11.00am – 3.00pm (Last order at 2.30pm) | 6.00pm – 11.00pm (Last order at 10.00pm)

Sat, Sun & PH 11.00am – 4.30pm (Last order at 3.30pm) | 6.00pm – 11.00pm (Last order at 10.00pm)
With their many outlets, Paradise has proven to be one of the most successful Chinese restaurant brands on the island. So the next time you search for 'dim sum near me' in Singapore, don't be surprised if there is always a Paradise within your reach.
Part of their success comes from the fact that they offer excellent value, as many loyal customers will attest. Because of their convenient locations and quality dishes, they have been considered by many to be the best dim sum in Singapore for 2020.
If you are looking for a dim sum restaurant in Singapore that serves a combination of traditional dishes fused with contemporary tastes to suit everyone's palate.
Taste Paradise is one of their leading restaurants, and it provides dim sum cooked in inventive ways. Most dim sum enthusiasts are sure to love their culinary concepts!
Service Highlights
Original dishes
Catering services
Special promotions
Customer Reviews
Gourmet food lovers like Taste Paradise because of their signature dishes that deliver unique and flavorful tastes. A reviewer commended the surprisingly reasonable prices (for a fine dining restaurant) and left this 5-star rated review on Google Reviews:
"Always enjoy my meals at Taste Parsdise! Love their dim sums and century egg porridge! It seems costly but I must say their portion is reasonable to their price. This is probably my 7th time here. Not a lot but it will continue to add on. Must come!"
5. Dragon Bowl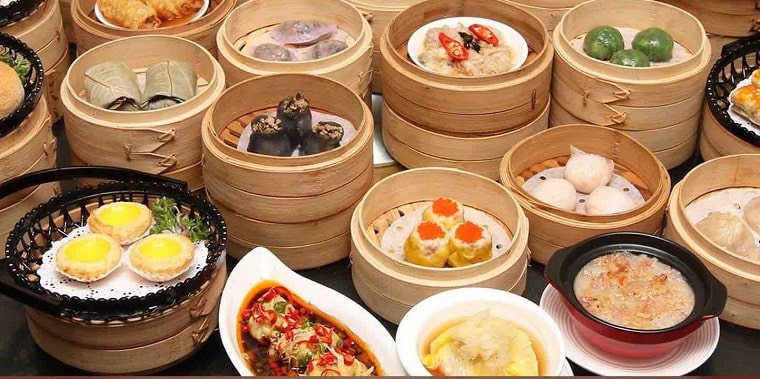 Image Source: Why Not Deals
BEST FOR
Festive traditional contemporary Cantonese cuisine
PRICING
Set Menu, A la carte Menu
WEBSITE
http://dragonbowl.com.sg/
ADDRESS
12 Kallang Ave, Aperia Mall #02-09, S339511
CONTACT DETAILS
6702 1588
OPERATING HOURS
Weekday: Lunch 11am–3pm

Weekend: Lunch 10.30am–3pm

Dinner: 5pm–10pm
If you typically opt for vibrant and dynamic food choices, Dragon Bowl is the place to go!
Each dish served creates a perfect balance of old and modern tastes. They have different styles of dim sum to try out too!
All dishes are cooked with premium ingredients and most of them can be paired with a vegetarian diet. Their dining area can serve more than a hundred guests so they are the best dimsum in Singapore for large gatherings.
Service Highlights
Customer Reviews
Dragon Bowl has received praise due to their generous servings and portions as well as their ability to handle a large number of guests with aplomb. Dr. Alvin Tung shared this experience on Google Reviews:
"A luxurious Cantonese feast for all of your senses! Our family was treated with great extravagance and deliciousness! The service was absolutely professional, friendly and perfectly paced. All of the dishes were prepared to absolute perfection and were served at their appropriate temperature at just the right pace. We look forward to celebrating our next family occasion at Dragon Bowl and spoil ourselves with their delicious cuisine!"
6. Spring Court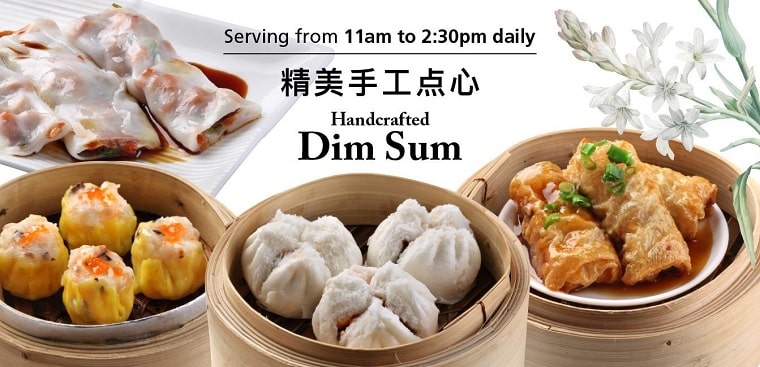 BEST FOR
Signature dim sum dishes
PRICING
Set Menu (Visit their website for more menu options)
WEBSITE
http://www.springcourt.com.sg/
ADDRESS
52-56 Upper Cross Street, Singapore 058348

(Opposite Chinatown Point carpark)

CONTACT DETAILS
+65 6449-5030
OPERATING HOURS
Lunch: 11.00am to 3.00pm

(Last Order: 2.30pm)

Dinner: 6.00pm to 10.30pm

(Last Order: 10.00pm)
Spring Court takes pride in their original handcrafted tim sum in Singapore. Each serving has a large portion, making it a high-value meal at a reasonable price.
The restaurant is located at a 4-storey building that has classic exteriors. The interiors are reminiscent of traditional Chinese architecture too.
They have a wide range of services that even includes a special set of dishes for wedding celebrations. Their wedding package also has additional services such as decorations, a bridal make up room, and valet parking for guests.
Service Highlights
Karaoke facilities
Special coupons
Exclusive menu for wedding receptions
Customer Reviews
Spring Court's dim sum is very popular, not least because it's paired with superb service. Because of the excellent staff service and delicious menu, a reviewer from Google reviews wrote this: 
"One of the best Chinese restaurant in Singapore that provides excellent food. The service staff provide top notch service. Place is specious and good for family gathering. Must try dish includes the roast chicken, steam prawns, fried rice, crab meat stew and fish"
7. Dim Sum Haus

Craving some authentic Hongkong-style dim sum? Satisfy that without having to fly out of Singapore by visiting Dim Sum Haus. They have tons of options to choose from— steamed, fried, baked, etc.
All of their dishes are guaranteed to be fresh, handmade, and made only from the finest ingredients.
Their store is open 7 days a week and they usually accept customers on a longer time frame on weekends. If you opt to order online, Dim Sum Haus will treat you to 25 percent off the total of your orders. 
Service Highlights
Affordable prices
Online reservation
Available for delivery
Customer Reviews
Dim Sum Haus is definitely one of the crowd's favorite places to go for authentic Hong Kong Dim Sum. In fact, it has a 4.3-rating on Google with 544 reviews. Here's one of the reviews as posted on Makansutra.com.
"That first molar-bite into the Har Gao ($4.20) delivered a lovely shuddery crunch of prawns (treated with cold water rinse, an old school technique that enhances the texture) with a softly gummy, unbroken and well pleated skin. Now I'll add the hashtag #winalreadyla. It was ditto for the Siew Mai ($3.90) with a prawn atop peeping at me hiding behind a wolfberry seed…
"… the Fried Mee Sua Kueh ($3.60, which a nearby competitor is famed for). The version here, is cut up, then fried individually and crispy all around and soft inside, unlike the others. How can you not like this one, with Chinese sausage bits and dried shrimps inside."
8. JU Signatures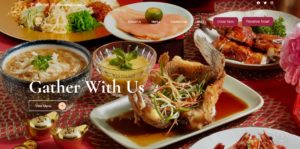 BEST FOR

Authentic Chinese Cuisine

PRICING

WEBSITE

ADDRESS

4 Maju Ave, Singapore 556682

CONTACT DETAILS

8876 7498

OPERATING HOURS

Tuesday – Friday, 9:00 AM–2:30 PM, 5:30–9:30 PM

Saturday – Sunday, 8:30 AM–2:30 PM, 5:30–9:30 PM
JU Signatures has provided authentic Chinese Cuisine to Singaporeans for years. Their mission is to bring people together and connect them over authentic dim sum and Cantonese wok-fried treats in a modern and friendly atmosphere.
As one of the leading companies to provide authentic dim sum, they want to bridge the gap between tradition and modernity in local cuisine culture, as well as across generations.
Chef Wong, their head chef, was previously the Group Dim Sum Chef at one of Singapore's best Chinese restaurants for the past 15 years. Chef Wong, 50, has three decades of culinary expertise, specializing in Chinese food, notably dim sum.
His excellent repertoire of dim sum and mooncakes has satisfied the most discriminating taste buds of both abroad and local clientele throughout his stint in international five and six-star hotels in Jakarta and Singapore.
Highlights
Over 30 years of experience

Calming and fun atmosphere

Convenient location
Customer Reviews
You must try it to believe it
"Great cozy Dim sum+ zi char place for dinner. Best dish is the garlic spinach 👍 It is really impressive as our family love it, even my kid wants to eat more if it. The rest taste good too, you must try it to believe it. And the manager service excellence." – Irving Lee
We thoroughly enjoyed our meal here
"We thoroughly enjoyed our meal here. The hor fun was chewy and just right, going along well with the hor fun sauce, which had the right balance of sweetness and saltiness. Good ambience and not too many people on a weekday night, and would bring my grandma here as I think she will enjoy the food! Also, staff were really attentive and quick to respond to any needs."  – Kirby Ong
With these restaurants, you can indulge in all the dim sum you can eat. If you go to any of them, tell us which one it was and what you had!
Should your dim sum feast fail to sate your Chinese food craving, by the way, you can also check out our list of the best Chinese restaurants in Singapore. If that still doesn't satisfy you, we don't know what will!
---
*Images are taken from each company's official websites/social media.