Afraid to hire catering services for your upcoming party because you assume that they don't have enough healthy menu selections? There's no need to worry anymore because we've found you the options for the best vegetarian catering in Singapore!
With these, you can give your guests a delightful experience with local or international vegetarian cuisine. With our inclusive list of the best vegetarian catering in Singapore, you can choose your own preferred catering style and vegan menus!
1.  Catersmith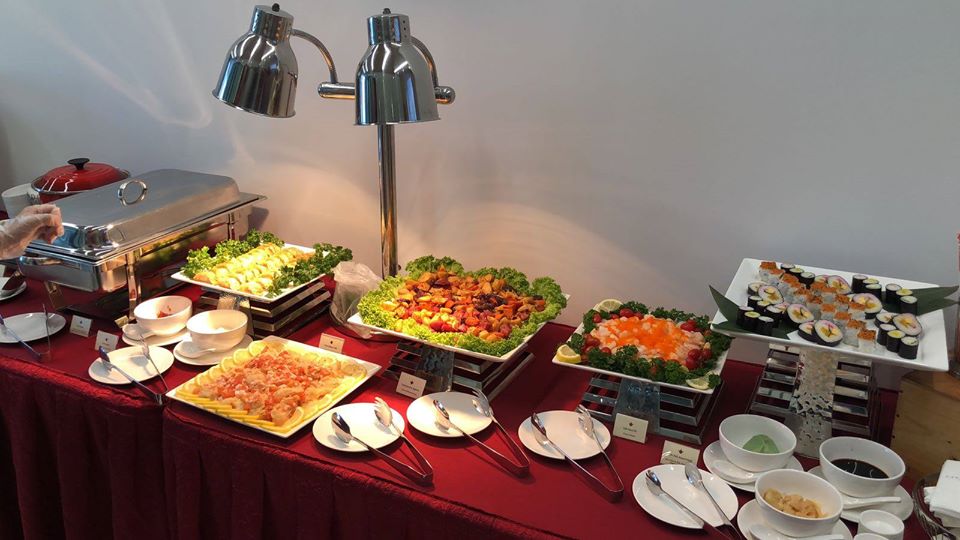 | | |
| --- | --- |
| BEST FOR  | Full range of international cuisines |
| PRICING | Menu |
| WEBSITE | https://www.catersmith.com.sg/ |
| ADDRESS | 1 Sunview Road, #03-06, Singapore 627615 |
| CONTACT DETAILS | +65 8778 9627 |
| OPERATING HOURS | Weekdays: 10am – 6pm |
If you want to explore an extensive range of cuisines, see the exquisite menus of Catersmith! They offer different kinds of selections including Chinese, Vietnamese, Japanese, Italian, Korean, Peranakan, Thai, Muslim, Mexican, and more!
They're Halal-certified too, so they have a menu that only involves healthy and vegan dishes. They offer seafood, salads, pasta, and more meals.
For their catering style, you can choose from among full set-up buffet, mini buffet, bento boxes, high tea as well as seminar, wedding, party, and other event packages. They've served several prominent companies such as Airbnb, Cisco, Citibank, and many more.
Catersmith has captured the interests of most customers because of their responsive and fast services and great food quality. This is why they've become one of the top options for the best vegetarian catering in Singapore!
Highlights
Local and international dishes
Halal certified
Event packages
2.  YLS Catering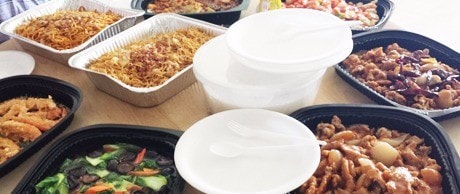 | | |
| --- | --- |
| BEST FOR  | Chinese cuisine |
| PRICING | Menu |
| WEBSITE | https://ylscatering.com.sg/ |
| ADDRESS | 8 Woodlands Link, #01-01 Kong Guan Industrial Building Singapore 738738 |
| CONTACT DETAILS | +(65) 6745 1855 |
| OPERATING HOURS | Weekdays: 7am–8pm |
For those who'd like to serve selective Chinese dishes to their guests, then you should inquire about the services of YSL Catering. Their menus are mainly focused on giving the authentic freshness and taste of the best Chinese meals!
Their selections are categorised into a buffet, mini buffet, and vegetarian menu. When it comes to healthier meals, they offer different sets, which include noodle dishes, fish, pork, prawn, mutton, duck, curry, vegetable, chicken, and more.
Customer reviews show they're clearly one of the services offering the best vegetarian catering in Singapore. They offer birthday parties, wedding receptions, seminars, exhibitions, house warmings, functions, and even company lunch box delivery services.
Highlights
One free course
Special promotions
Company lunch box delivery service
3.  Yeh Lai Siang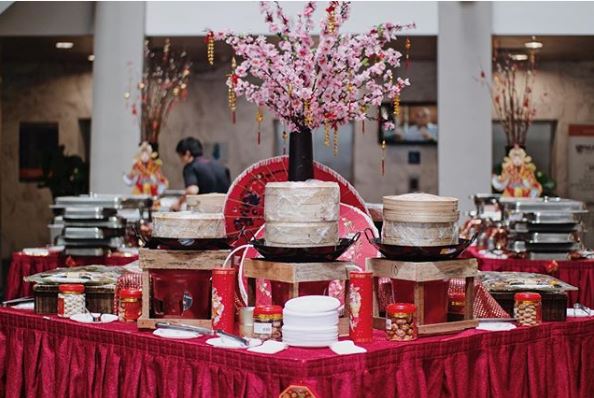 BEST FOR 
 Authentic recipes
PRICING
Menu
WEBSITE
http://www.yehlaisiang.com.sg/
ADDRESS
3017 Bedok North St 5 Gourmet East Kitchen, #02-13 Singapore 486121
CONTACT DETAILS
6449 9732
OPERATING HOURS
Weekdays: 9am–6pm

Saturday: 9am–1pm
Are you searching for the best vegetarian catering in Singapore for unique and original dishes? Yeh Lai Siang might be the right choice for you!
They offer a signature buffet that's rich in flavours! One of their specialities is the Mandarin buffet and they also have premium oriental, Thai royal, vegetarian divine, and high tea, which all opt for healthier menu dishes.
You can have a day value buffet, party set, bento, BBQ, hot pot, and even a customised menu if you already have a list of your preferred dishes.
Highlights
Signature buffets
Hot pot menu
Special promotions
4.  Ronnie Kitchen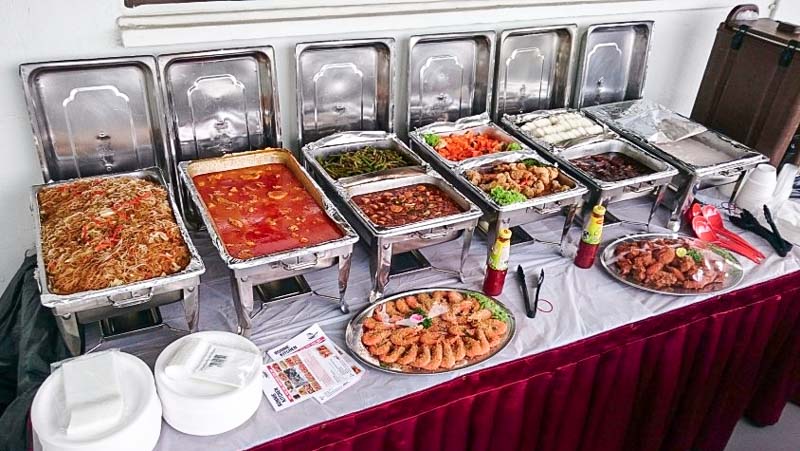 | | |
| --- | --- |
| BEST FOR  | Deluxe buffets |
| PRICING | Menu |
| WEBSITE | http://www.ronniekitchen.com.sg/ |
| ADDRESS | 8A Admiralty Street #06-07, Food Xchange @ Admiralty, Singapore 757437 |
| CONTACT DETAILS | +65 67531003 |
| OPERATING HOURS | Daily, 9am–6pm |
The vegetarian buffet of Ronnie Kitchen is full of Chinese dishes such as pork, duck, and seafood dishes. Their buffet comes in either a regular, a deluxe or a mini package.
They also have a bento box menu and various lunch and dinner options. They cater to various events like parties, wedding receptions, seminars, functions, and more social gatherings.
Highlights
Chinese dishes
Company lunch box delivery service
Customer Reviews
Customers were very impressed with the food quality and portion of Ronnie Kitchen. They also mentioned that they have a lot of options for vegetarians.
This is why many consider them to have some of the best vegetarian catering in Singapore.  A customer from Google Reviews wrote:
"We ordered some food catering from them last week and the food portion was great! I like most of the food taste and most of our guests felt it's good too. As we had some vegetarians with us, we requested for them to ensure that it's vegetarian and they gladly said okay. Would love to give 5 stars actually… but the delivery guys fell short with their service. They came late and were rushing to keep by 9ish when we told them to clear at 10pm. And when we delayed a little to put the food on the plates, the guy was pretty impatient."
5.  Nature Vegetarian Catering
| | |
| --- | --- |
| BEST FOR  | Wide range of vegetarian options |
| PRICING | Menu |
| WEBSITE | http://www.natureveg.com/ |
| ADDRESS | 11 Jalan Bukit Merah, #03-4462, Singapore 150011 |
| CONTACT DETAILS | +65 6276 5049 |
| OPERATING HOURS | Daily: 11am–9:15pm |
If your guests are mostly vegetarians and you want a full vegan buffet without any mix of other non-vegan dishes, then you might want to look at the menus of Nature Vegetarian Catering.
They prepare oriental, Asian, and local cuisine that provides a healthier taste, making them the go-to choice for the best vegetarian catering in Singapore for many locals.
Their award-winning catering services include grand, deluxe, hi-tea, and bento menus. They also have side orders and Chinese New Year specials.
Highlights
Fully packed vegetarian menu
Seasonal specials
Customer Reviews 
Many customers expressed their delight with the menu selections of Nature Vegetarian Catering that include different kinds of delicious vegan dishes. A customer from Google Reviews shared this experience:
"Excellent vegetarian restaurant serving a variety of Chinese vegetarian dishes. Menu selection is wide, suitable for individual or group dining. Not 5 stars as service is a hit or miss as waiters/waitresses are not responsive at times perhaps due to the big lunch/dinner crowds that they usually have. Quality of dishes is as expected with no bad experience with the food so far."
6. VeganBurg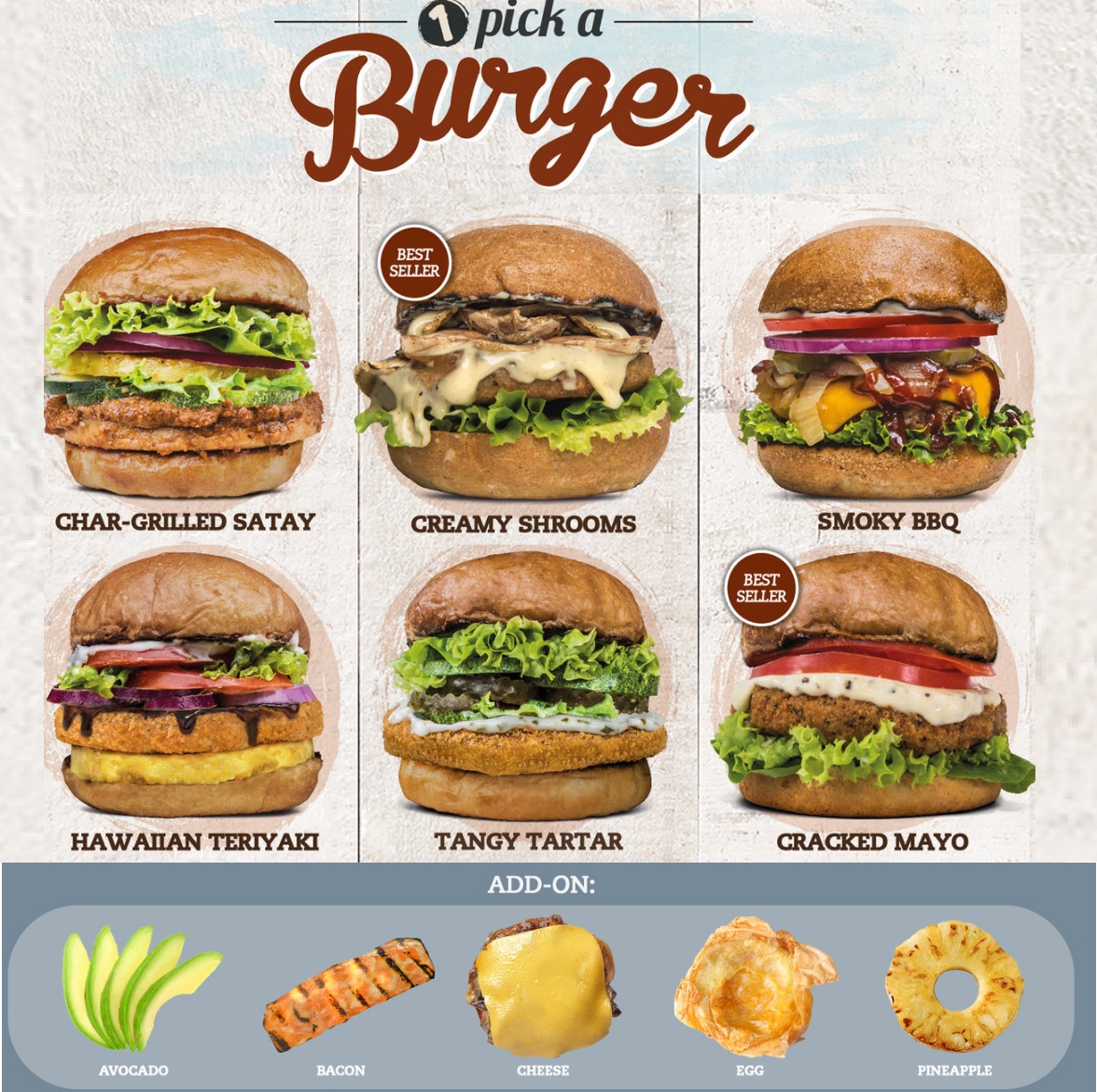 BEST FOR

Vegan fast food 

PRICING

Menu

WEBSITE

https://www.veganburg.com/aboutus-sg

ADDRESS

44 Jalan Eunos Singapore 419502

CONTACT DETAILS

+65 6844 6868

OPERATING HOURS

Monday-Sunday & Public Holidays

11:30AM-10:00PM (Last order 9:45PM)
VeganBurg is the world's first 100% plant-based burger joint. From their crispy fries to chunky, juicy burgers, everything is on a plant-based diet. This is especially perfect for those who constantly crave fast food meals yet do not want to compromise their health.
Everything in VeganBurg's menu is hand-crafted so you are secured with the quality and taste. The products are also guaranteed to be cholesterol-free, non-GMO, and more importantly sustainable.
Some of their bestsellers burgers that you must definitely try are Creamy Mushroom, Cracked Mayo, and Avocado Beetroot which are best matched with their seaweed fries and seasonal chillers.
Highlights
100% plant-based menu

American-inspired fast food selection

Farm-fresh greens

Mini meal for kids
Customer Reviews
Their healthier version of fast food products have made the people in Singapore appreciate Vegan food even more. With their 4.4-rating on Google with 1,367 reviews, it is without a doubt that VeganBurg is a holy grail in the burger world.
"Amazing burger joint. After hours of walking and countless subway trips around the city, looking for a vegan place this restaurant was my salvation. Managed to try most of the burgers there, all were good. I particularly loved the truffle burger. Do yourself a favour and check it out, you will be glad you did."
7. THE FOODIST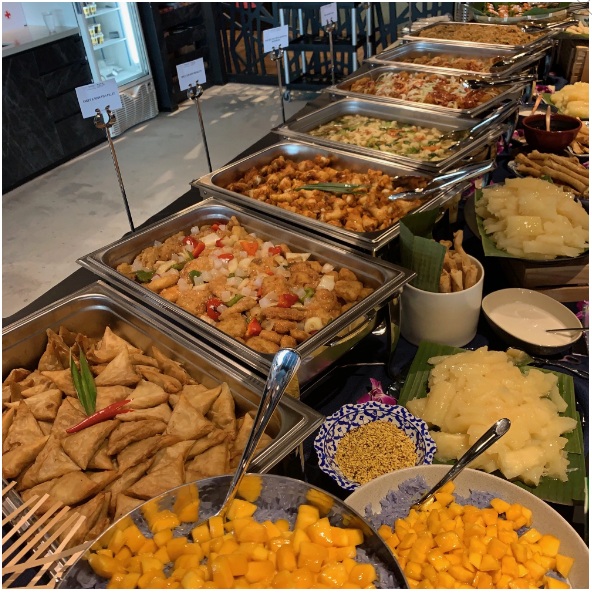 The Foodist has a wide selection of menu to choose from. Whether you're looking for a traditional vegetarian buffet for your event or a classic bento box, they are the right person to book. 
Their menu selection is already classified depending on your budget or the theme of your event. You could easily choose from the selection on the website. 
To them, catering is more than just providing food on the table. Creating an experiential dining is The Foodist's specialty. Working with a variety of Food and Beverage establishments allows them to curate the best menus regardless of your event type, and cuisine preference. Every detail from menu planning to set up is meticulously taken care of.
SERVICE HIGHLIGHTS
Bento Boxes
Breakfast and Afternoon tea selections
Meal planning and Thematic set up
Now that you already know your options for the best vegetarian catering in Singapore, you can just relax, choose from our picks, and peruse their well-curated healthy menu options and efficient services!
If you'd also like to try more vegan cuisines, here are the best vegetarian restaurants in Singapore! Some of them offer catering services, so you might also find more buffet options!