Top 24 Best Food Catering in Singapore for All Events
When preparing for big events such as corporate gatherings, functions, and other grand celebrations, you need to have a festive amount of food. With the best food catering in Singapore, your family, friends, and colleagues will surely have a blast with a variety of different cuisines!
Since you'll be getting ready for massive orders, it's important to have the best food catering service in Singapore that can cook your desired dishes and deliver it on time. This is why we've narrowed down your choices with only the most recommended services.
Take a look at our list below to choose which one suits your preferred taste and style of service.
1. Orange Clove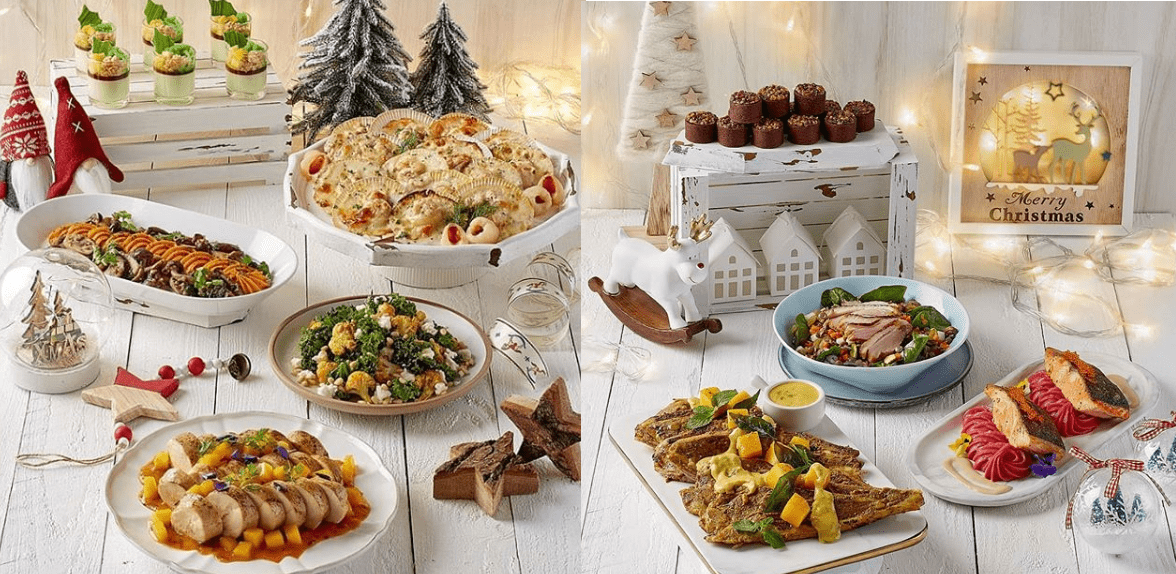 | | |
| --- | --- |
| BEST FOR | Full range of menu selections |
| PRICING | Menu |
| WEBSITE | https://www.orangeclove.com.sg/ |
| ADDRESS | 1 Kaki Bukit Road, Enterprise One #05-03/04, Singapore 415934 |
| CONTACT DETAILS | (+65) 6515 0991 |
| OPERATING HOURS | Daily, 9am–6pm |
Whether it's a corporate or private event, Orange Clove has all the menus and food catering services in Singapore that you've been looking for.
You can choose from any style of catering such as buffet, cocktail, sit-down, Bentos, BBQ, food truck, and many more. They can manage up to 120 guests and above, perfect for grand celebrations like and big party events.
They're also Halal-certified, offering you healthier menu selections. Their menu is categorised by catering style and event type so it'll be easier for you to figure out which type of feast you'd like to provide to your guests.
Highlights
Halal-certified
Fully packed event services
Special promotions
Customer Reviews
Most customers were greatly satisfied with the fast and efficient services of Orange Clove. Their dishes also gained a lot of positive compliments and the excellent overall setup was also mentioned.
These are the reasons why they have the best catering in Singapore. A customer from Google Reviews gave this feedback:
"Ordered the Christmas Mini buffet for Christmas Eve. Very generation portion of fragrant butter rice with nuts and raisins, signature curry was delicious, ebi fry with garlic aioli dip was great. Christmas sushi platter was also a welcomed food choice for guests. Everything was packaged well – some in reusable containers and good quality utensils and cutlery. Very impressed. Service was smooth – fast in replies. Thanks Orange Clove!"
2.  Mum's Kitchen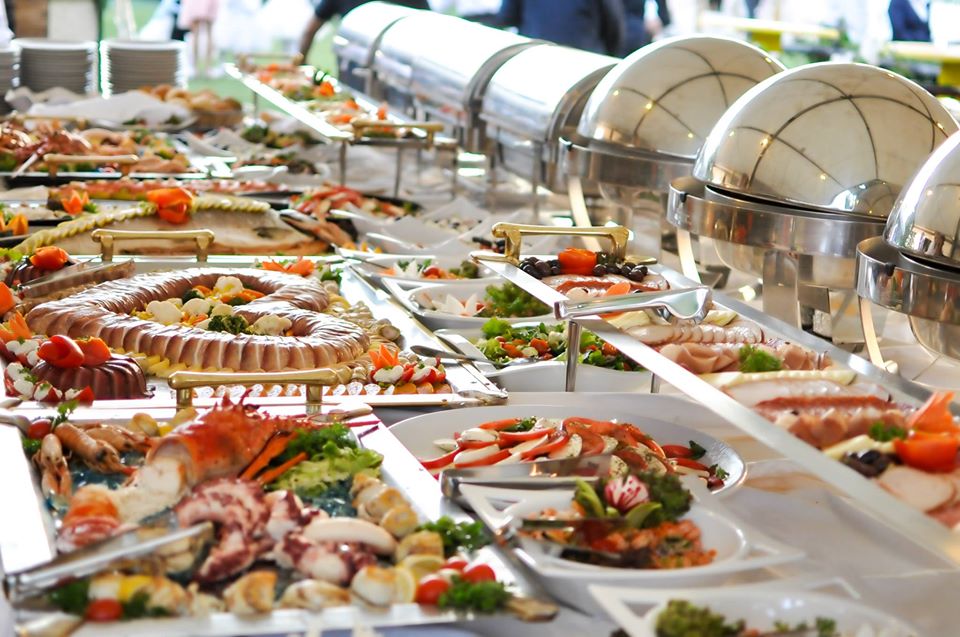 BEST FOR 
Fusion buffet catering
PRICING
Menu
WEBSITE
https://www.mumskitchen.com.sg/
ADDRESS
3015 Bedok North Street 5 #02-06 Shimei East Kitchen Singapore 486350
CONTACT DETAILS
(+65) 6346 0969
OPERATING HOURS
Weekdays: 09:00am – 05:30pm

 

Weekends: 09:00am – 05:00pm
Mum's Kitchen showcases different kinds of cuisines including local favourites as well as international dishes. This award-winning restaurant offers buffet, bento, cocktail, and more.
They also have particular menus for corporate, wedding, and even festive events. Signature recipes like Laksa and Mee Siam dishes are also included in their services.
Aside from their wide range of menu options, they have service staff and table settings. With their unique menu selections and convenient services, they've become known to have the best catering in Singapore. 
Highlights
Fusion buffet
Signature menus
Staff service and table settings
Customer Reviews
Many customers have recommended Mum's Kitchen because of its responsive staff, fine food quality, and pleasant setup. A customer wrote this review Google Reviews:
"Mum's Kitchen provided the catering to our corporate events (from 30 to 80 people) and we were always very happy with the food quality, super friendly staff, nice presentation and cleanliness. The food was always served on time and in the right quantity. The staff is always very helpful and very prepared to help as needed. The feedback regarding the food, from the event participants, were really good and they were overall very pleased with the food.
We will definitely continue to hire Mum's Kitchen catering for all our corporate events and we definitely recommend their services!"
3. Deli Hub

Deli Hub can cater to a thousand guests with their regular buffet, live stations, seminar packages, and many more! They make sure that every dish is cooked to perfection — that's why each menu is handled by a certain chef.
Another great thing about their services is their sustainability. It's quite rare for a catering service company to have these protocols but they use sustainable utensils to create a safe and environment-friendly setup.
Since they're owned by Neo Group, which has event halls and community space for social events, you can get both the venue and catering services in one transaction. This is why they offer some of the best catering in Singapore.
Highlights
Sustainable utensils
Live stations
4. Rasel Catering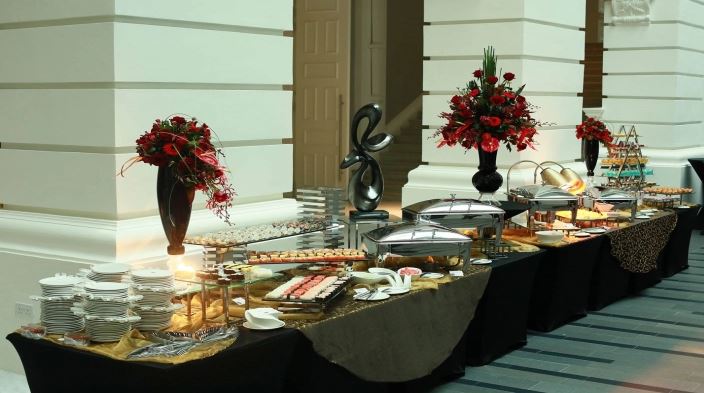 | | |
| --- | --- |
| BEST FOR | Wedding catering services |
| PRICING | Menu |
| WEBSITE | https://www.rasel.com.sg/ |
| ADDRESS | 253 Pandan Loop Singapore 128432 |
| CONTACT DETAILS | 67777-183 |
| OPERATING HOURS | Weekdays,9am–6:30pm |
For the wedding event organisers or soon-to-be-wed couples who are searching for the best catering in Singapore for wedding receptions, you should take a look at Rasel Catering.
They can give you the ideal themed wedding with their creative chefs, who can create customised menus based on your preferences. They have different healthy catering menus including buffet, tea reception, cocktail, Western, Chinese, and more!
When it comes to their menus, they concentrate on giving artistic dishes that are filled with delightful tastes, textures, aroma, and colours.
Highlights
Themed catering services
Personalised menu
Halal-certified
Customer Reviews
Rasel Catering earned praise from customers, who said that their overall wedding buffet was well-loved by the guests. A customer left this feedback on Google Reviews:
"Rasel was my wedding caterer, I had nothing but positive comments about the food and presentation of the buffet line. More notably was the rendang which everyone liked. A big shout out to Amanda for her responsiveness and attentiveness to the whole management of my wedding. Her professionalism allowed for a much easier time to keep my mind off the preparation for the arrangement. Rasel is an experienced caterer in many big events and if one should get them, you wouldn't have to worry about anything. They are flexible in accommodating to changes that a customer wants to make. Which is a thumbs up because many places are stringent about their menu. Kudos to them and thank you Rasel."
5. FoodLine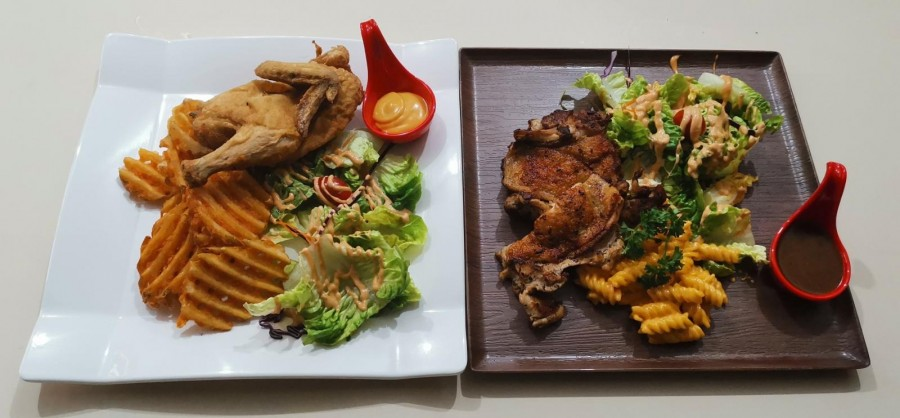 BEST FOR
Wide Range of Cuisines and Food Choices
PRICING
Message Food Line for Customised Quotations
WEBSITE
https://www.foodline.sg/
ADDRESS
51 Tai Seng Avenue
#03-03 Pixel Red
Singapore 533941
CONTACT DETAILS
[email protected]
Hotline: 6100 0029
WhatsApp: 8432 6505
OPERATING HOURS
Mon – Fri 9.30am to 6pm
Established in 2009, FoodLine was created by owners Joseph and Shawn. Their goals is to make other people's lives easier when it comes to finding the perfect catering service for their party or event. The portal they've created shows the reviews and dishes; each catering can offer to the customers.
Budget and preference for food can be placed on the site to narrow down the options a client can choose from. Aside from your normal food catering services, you can find cake and desserts on FoodLine, together with several wine stores as well. You can say it's a one-stop-shop for any of your dining needs.
To this date, FoodLine has become the biggest catering portal in Singapore, housing over 500 catering services on their site for you to consider. Make sure to have them help you if you're in search of the best food catering service in the country.
Highlights
Halal catering
Wedding Catering
Birthday Catering
Available for personal and corporate events
Customer Reviews
FoodLine has received nothing but high praises from their clients. Their amazing platform helped tons of people looking for the best catering service that fits their needs and budget. Check out some of the reviews below:
"A great food catering marketplace to select the best deal in town for events. Ever since I was introduced to this website, it has become my default website to order food for all my events. The ordering is simple and fast. Great job foodline !"
"Lots of caterer to choose from, easy and convenient to order using Foodline. Their customer service staff will also recommend base on customer preference. Most important can earn points and offset orders."
6. Neo Garden Catering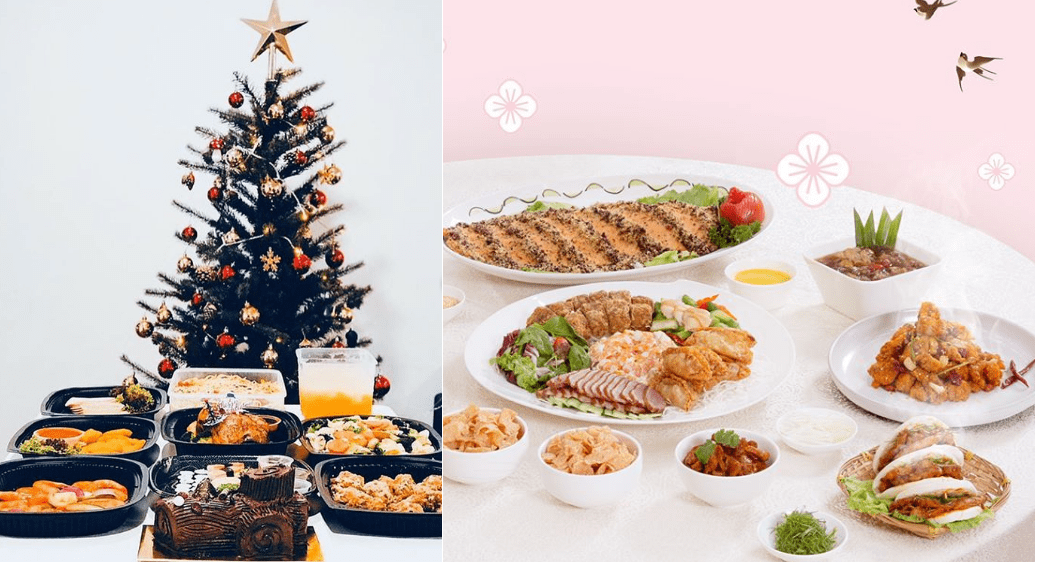 BEST FOR
Affordable catering menus
PRICING
Menu
WEBSITE
https://www.neogarden.com.sg/
ADDRESS
1 Enterprise Rd, Singapore 629813
CONTACT DETAILS
+65 6896 7757
OPERATING HOURS
Monday to Thursday: 9am–7pm

Friday to Sunday: 9am–6pm
If you're worried about what you might be spending on catering services, Neo Garden Catering can be the best option for you.
They offer a regular buffet that starts from as low as $10.99 per pax. They also have mini party buffets if you're going to hold a little gathering with your close family and friends.
They have live stations, Peranakan buffet, side orders, DIY style, thematic decor, dessert tables, and rental services. With these services, many consider them an all-around shop that has the best catering in Singapore.
Highlights
Thematic decors
Rental services
Special promotions
Customer Reviews
Many customers were very pleased with the various menus and fast delivery services of Neo Garden Catering. A customer from Google Reviews shared this experience:
"And again i'm pleased with their service! They are able to cater my needs for small party. The delivery was on time and their deliveryman is always friendly & smiley. They have wide variety of food and NEO GARDEN are generous with their servings."
7. Four Seasons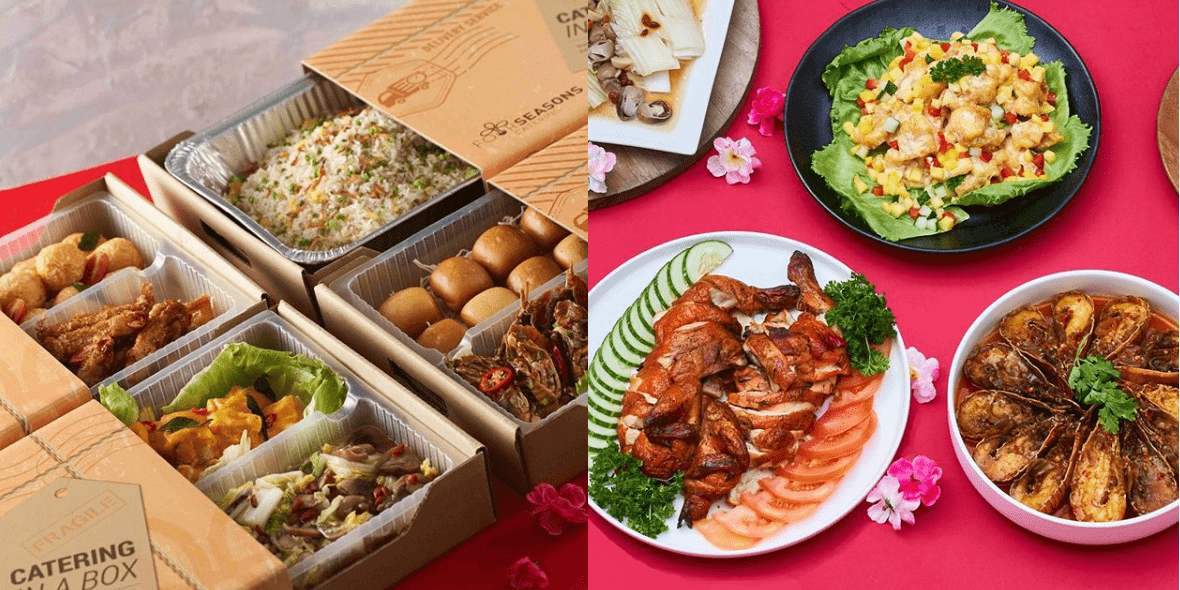 | | |
| --- | --- |
| BEST FOR | Packed meal boxes |
| PRICING | Menu |
| WEBSITE | https://www.fourseasons.com.sg/ |
| ADDRESS | 171, Kampung Ampat #05-07, KA Foodlink Singapore 368330 |
| CONTACT DETAILS | 6383 3003 |
| OPERATING HOURS | Monday to Saturday: 9:00am to 6:00pm |
From basic buffet up to seminar menus and New Year dishes, you can rely on the catering services of Four Seasons. They offer meal boxes, buffet, tea reception, party boxes, BBQ, and even seminar and wedding packages.
Aside from these menus, they also have healthier options for those who prefer vegan dishes. Due to these simple yet delicious treats, many locals have claimed them to have the best catering in Singapore.
Highlights
Seminar and wedding packages
Party boxes
Free delivery for weekday orders
8. ROYAL TAJ CATERING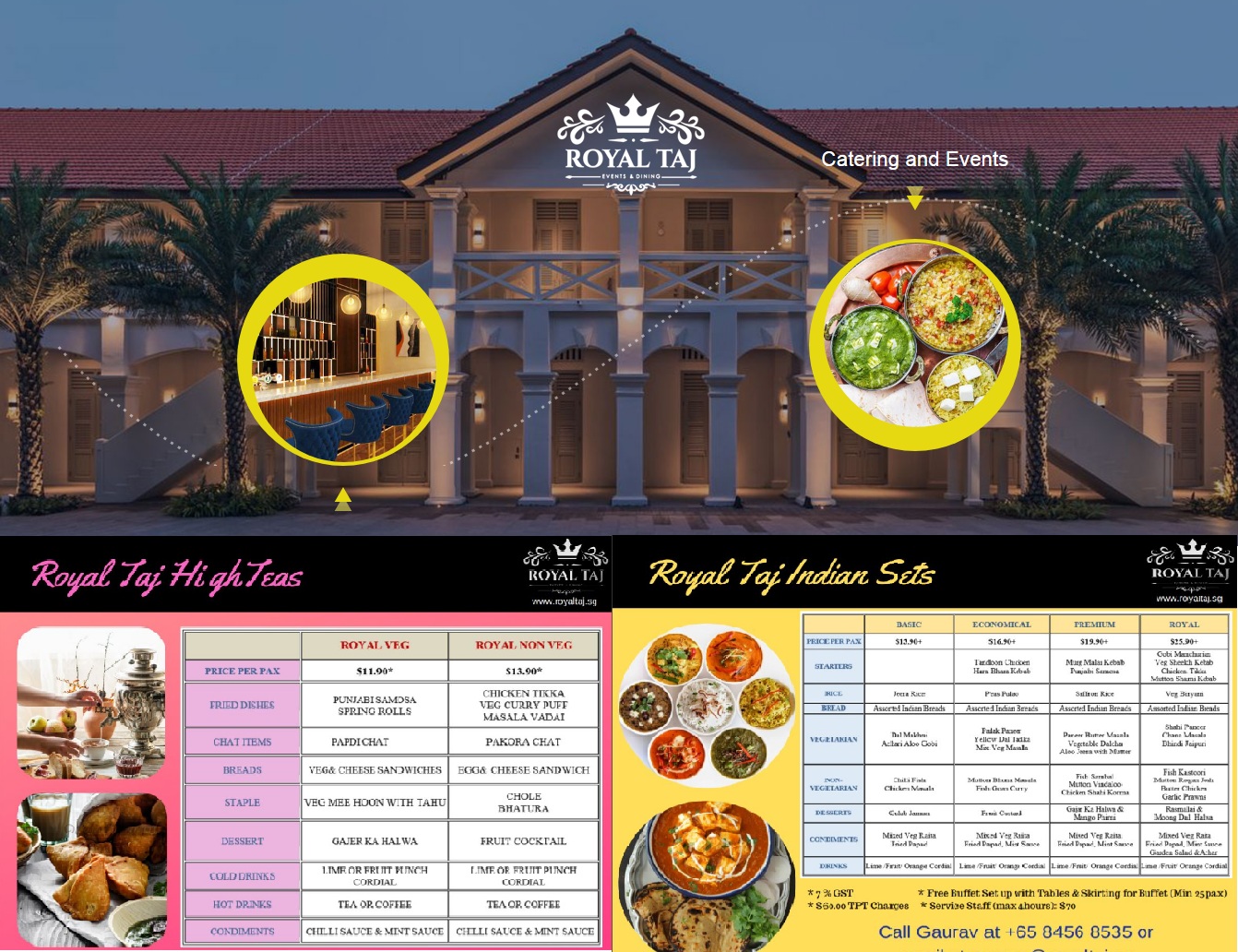 Royal Taj Catering from the name itself is well known for the delicious Indian food that they serve. But aside from that, they also offer other international cuisine that you could enjoy as well.
To ensure quality across the service that they offer, they only use fresh ingredients and unusual yet excellent ingredients. The chefs in this catering service in Singapore always try to explore new food offerings that could excite your taste buds.
Lastly, you'll just love the ambience and elegance brought by the place. You could never say no to this place, so book now.
Highlights
Wide selection of buffet offerings

Tasty and authentic Indian food and other international cuisines

Ambience and decorations

Good service from staff
Customer Reviews
Customers rave about the Indian food that they serve. They certainly liked the authenticity of the taste and the presentation of the food. If you're not really an Indian food fan, they also offer other foods that could surprise you.
Hear the best reviews from their customers:
"Had a combination of great Indian food with excellent ambiance. Surprisingly wonderful Indian restaurant at Sentosa… Anyone missing Indian food in Singapore must try this place, I'm sure they would love it"
"Delicious food and great Indian international buffet with good spread. Reasonably priced – highly recommended,they do catering services too."
9. Best Food Caterer Singapore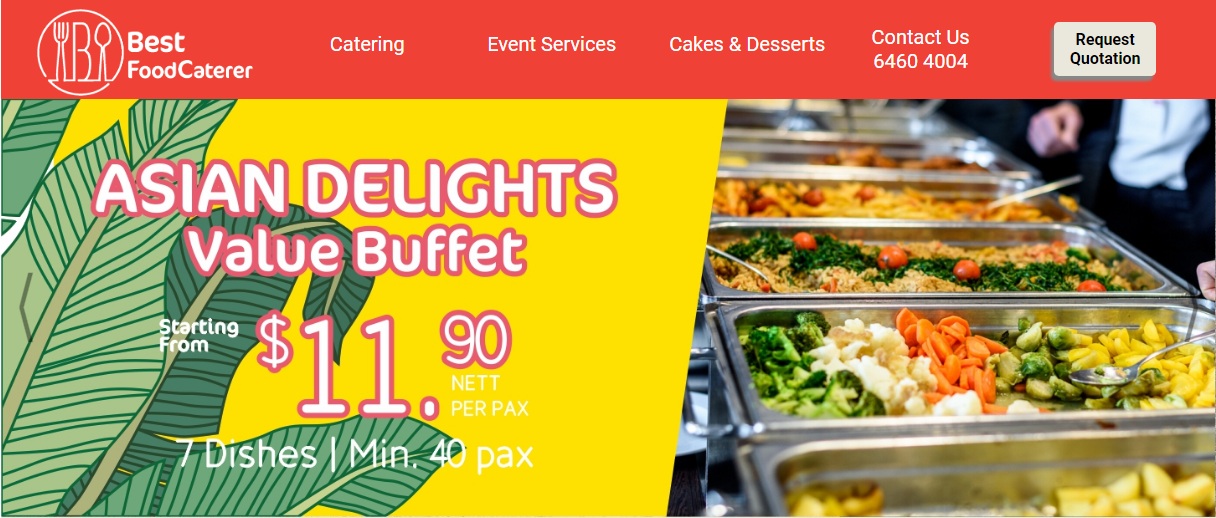 BEST FOR

All types of catering and delivery options

PRICING

Menu

WEBSITE

https://www.bestfoodcaterer.sg/

ADDRESS

Valiant Industrial Building, 30 Kallang Pudding Rd, #06-08, Singapore 349312

CONTACT DETAILS
6460 4004 | [email protected]
OPERATING HOURS

Monday- Friday 9am–6pm

Saturday 10am–2pm
Best Food Caterer Singapore offers an extensive range of cuisines to accommodate various events and to cover a diverse pool of clients. They offer the following: Asian Delights, Malay Buffet, International Buffet, and Indian Vegetarian Buffet.
Whether you are celebrating a birthday, anniversary, baby shower, or wedding, Best Food Caterer Singapore promises a promising set of meals and catering services.
Highlights
Diverse selection of cuisines

Accommodates all kinds of events and gatherings
10. Abbie's Coffeehouse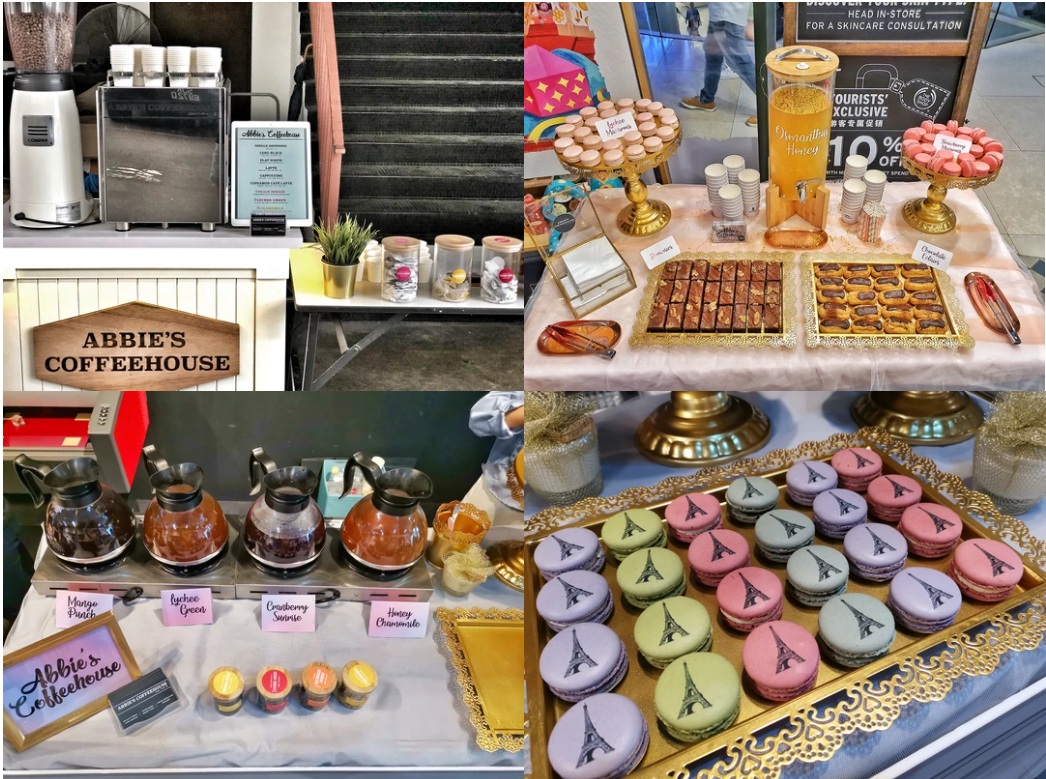 Abbie's Coffeehouse is Singapore's largest mobile coffee catering service that accommodates all kinds of events, may it be a private party, corporate meeting, bridal shower, etc.
They offer different packages depending on the number of beverages you wish to cater and barista service hours. They, however, require a minimum of 100 beverages and 2 hour of barista service hours for you to avail their packages.
Abbie's Coffeehouse guarantees that all of their products like coffee, tea, and milk are fresh and in the finest qualities. They offer both hot and cold beverages which also vary in prices.
If you want to have the cups customized, they will gladly do so. Stamp Printing, Sticker Printing, Coffee Art Dusting, And Customize Of Coffee Cart are offered by the team.
Highlights
Customized mobile services

Offers dessert options

Neat and stylish coffee carts for events

Coffee appreciation workshop
11. Bliss Catering

BEST FOR

Catering services for all occasions

PRICING

Menu

WEBSITE

http://blisscatering.com.sg/

ADDRESS
1 Old Parliament Lane, #01-02

The Arts House

Singapore 179429

CONTACT DETAILS
62803389

92398583 – Chang Wen

81186030 – Mimi Tan

97624226 – Christine

Email – [email protected]

OPERATING HOURS

Mon to Fri 7am to 7pm

Sat 9am to 3pm

Sun & PH Close

Office Hours (Daily 10am to 6pm)
Whatever occasion you're celebrating, may it be a birthday party or a formal corporate meeting Bliss Catering promises to always be a call away. The restaurant offers a wide range of catering services filled with extensive meal options and also comes with a complimentary setup including warmers, required sauces, serviettes, disposable cutleries and trash bags.
Aside from a buffet setup, Bliss Catering also offers Lunch Out Bento Express for your quick meetings; nevertheless, they guarantee it to be equally delectable. Should you want to include a vegan option in your menu, just let the team know and they will have it prepared.
Highlights
Full range catering service

Vegan option available

Elementary school meal plan
Customer Reviews
Their clients were very much delighted with a wide range of delectable menu the restaurant offers. From the appetizers to dessert, everything are perfectly flavorsome.
"Bliss was punctual in the setup and catering of the food for our event, and it comes at a reasonable price. We also applaud them for being a social enterprise that helps disadvantaged peoples in society.
Will recommend for future events!"
12. Fine Palate Catering

Bring with you a ready-made meal and snack exclusively made by Fine Palate Catering anywhere you are and whatever you do. They offer various bento and sandwich boxes which is especially perfect for on-the-go and constantly booked people.
These are also great for meetings and other similar gatherings so you won't have to pick one dish at a time. With these on-the-go boxes, you already have a complete meal in one. Hands down the best catering in Singapore for busy people and if you feel overwhelmed with choices.
Highlights
Easy to carry meals

Home-made and fresh
13. Lao Huo Tang Catering Pte Ltd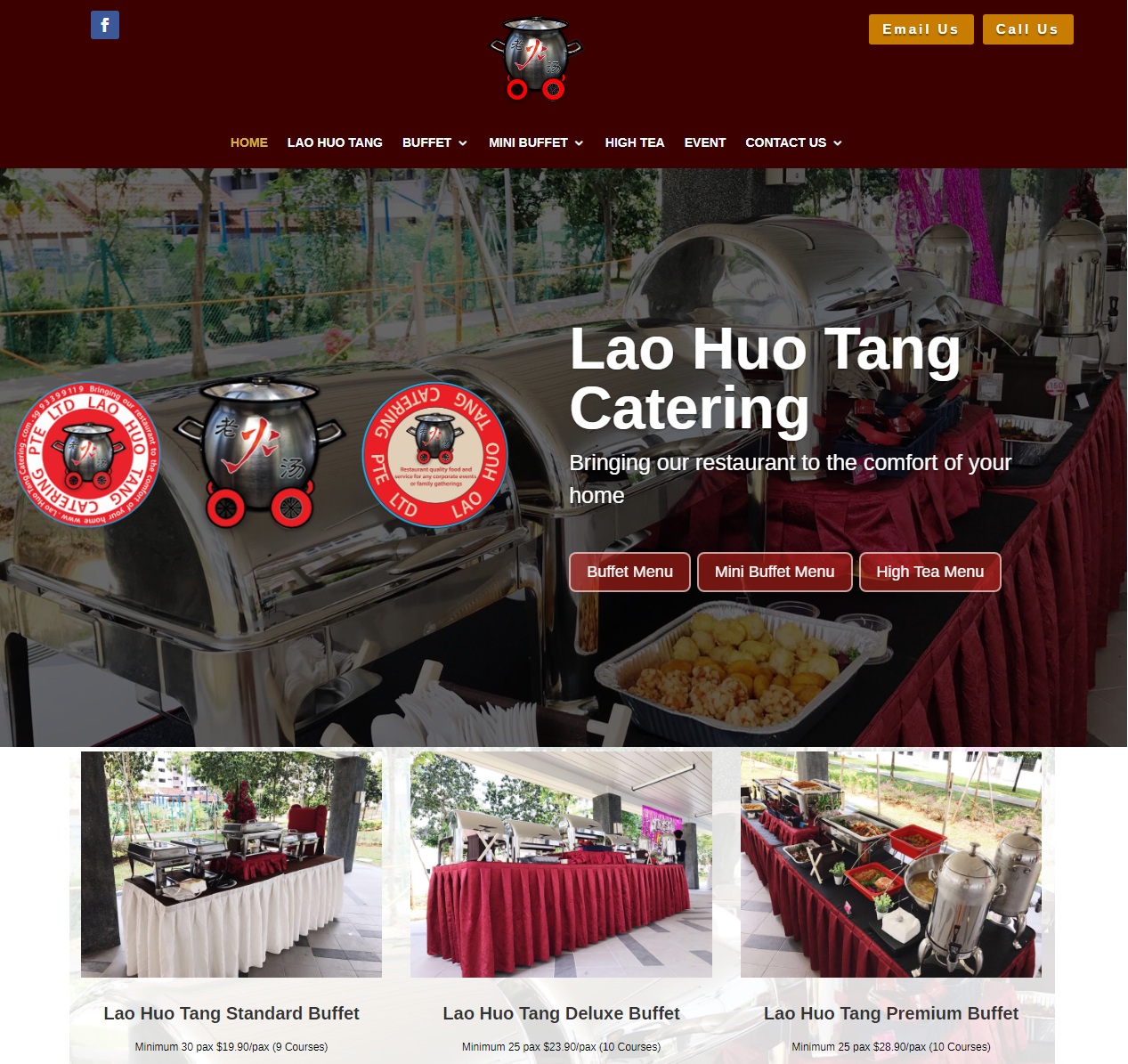 Whether you are preparing food exclusively for small groups or you are feeding hundreds of people, you can always trust Lao Huo Tang Catering Pte Ltd to provide you with some of the most savory buffet menu.
They offer different kinds of catering services— Standard buffet, deluxe, and premium, mini buffet 1, or mini buffet 2.
Their idea of catering is bringing their restaurant in the convenience of your home and true enough they are able to set up the buffet table as if you are dining in their luxurious restaurant.
Highlights
Wide range of dish options

Reliable delivery and setup services

Easy to order
14. FattyDaddyFattyMummy Pte Ltd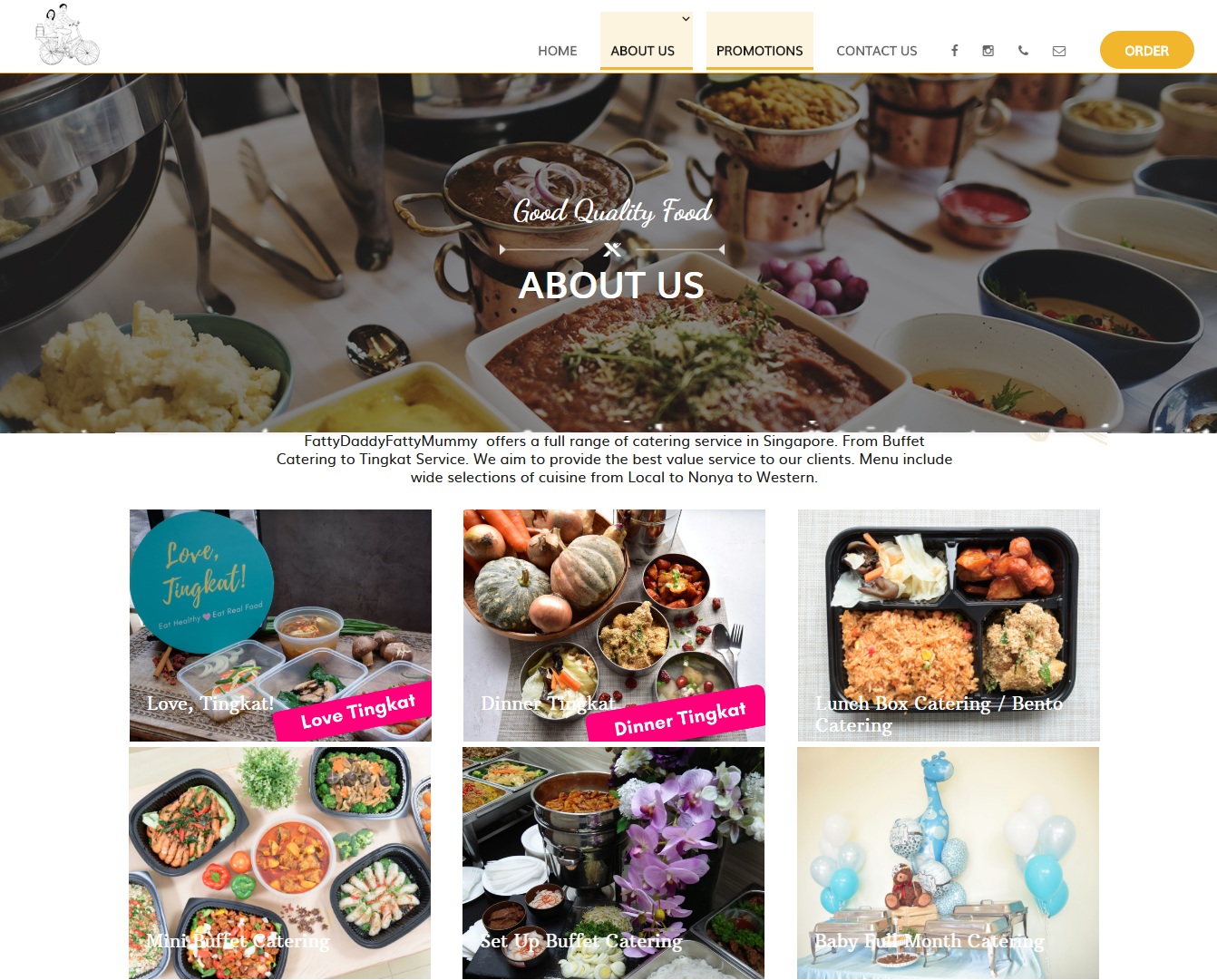 FattyDaddyFattyMummy Pte Ltd is best known for their buffer catering and tingkat servings. You can easily contact them to cater for any type of event, may it be a birthday, a formal gathering, a seminar, or a corporate party.
Their catering services come in different packages so you can conveniently choose the one most suitable for your budget.
The business is managed by a passionate family so you can trust them to serve you not only with a scrumptious set of meals but also dishes that will fill your hearts.
Whether its for corporate or personal events, this is one of the best food catering in Singapore for a wide range of events.
Highlights
Large selection of catering packages

Wide variety of dishes

Competitive rates
15. Shiok Kitchen Catering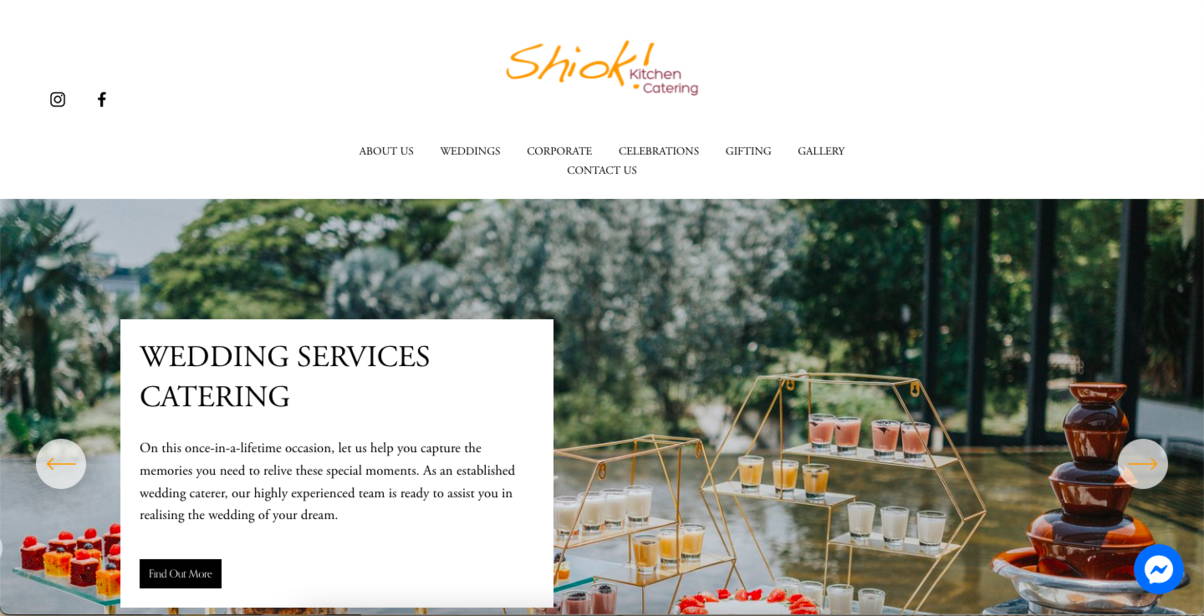 BEST FOR

Full Range Menu 

PRICING

Contact for more information

WEBSITE

ADDRESS

Henderson Building
211 Henderson Rd, #05-03,
Singapore 159552

CONTACT DETAILS

6411 4994

OPERATING HOURS

Daily: 9:30AM–6:30PM
No matter the occasion, you can count on Shiok Kitchen Catering to turn it into a gastronomical experience. 
From their humble beginnings as a catering service offering Thai food, they've expanded their options with an array of local and international cuisines. Just pick a cuisine and leave it to them! 
They don't only have an extensive menu, but they also have different catering styles. They can provide you with buffet catering, bento catering, Chinese New Year mini buffet catering, sit down catering, halal food catering, cocktail receptions, and tea receptions. 
You bet that you can trust them since they've been catering for weddings, corporate events, and all sorts of special occasions since 2004! 
Even simple at-home gatherings with a few of your friends can be made special with their COVID-friendly menu for takeaways or their mini buffet option. 
They also have cake, tart, canapé, tea break, cheese and cold cut, and customised bento sets to choose from. 
We think it's great that Shiok Kitchen gives you many choices, so you're sure to find something that will suit your needs.
Highlights
Extensive menu which includes both local and international cuisine
Halal-certified
Different catering style options
Customer Reviews
Here are some feedback from a Shiok Kitchen Catering client:
"Thanks again for making our Christmas a special one. All the food was amazing and delicious. We had everyone snatching up the left overs by the end.
I'm a bit biased because I have a sweet tooth just like a handful of my colleagues, hence the extra desserts we ordered. But I have to commend on the desserts served that day. The Christmas Bread & Butter Pudding to the Fruit tarts and eclairs. But the best was still the chocolate log cake.
Also the delivery was by far the most timely I've ever experienced from any catering. I catered an extra hour into the delivery time because I was expecting the usual delays. But the delivery came exactly on time. Kudos to you guys!! Great job!"
16. Purple Sage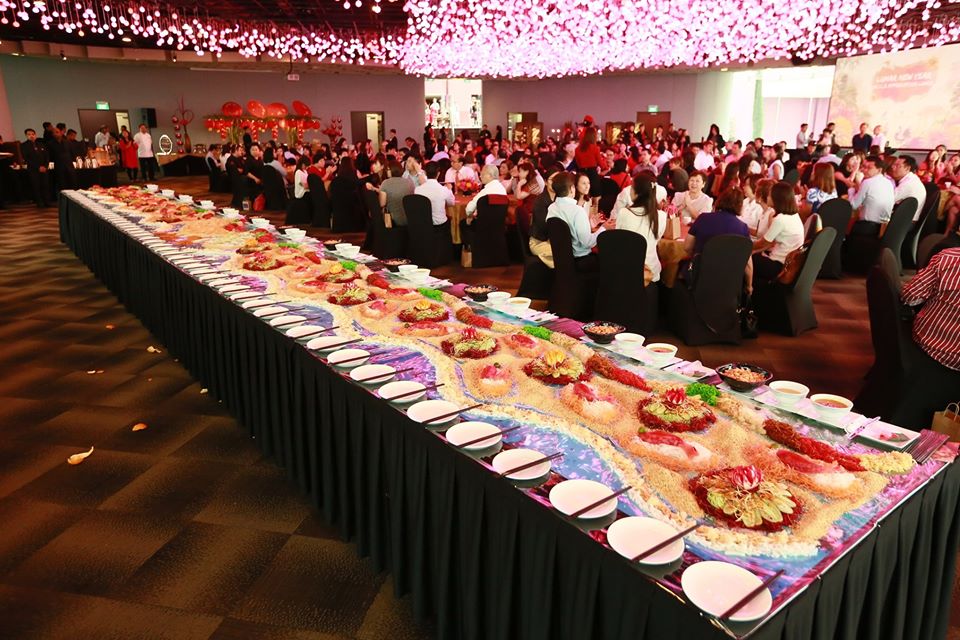 BEST FOR 
Authentic cultural cuisine
PRICING
Menu
WEBSITE
https://www.purplesage.com.sg/
ADDRESS
157 Pandan Loop, Singapore 128355
CONTACT DETAILS
(65) 6396 6990
OPERATING HOURS
Weekdays: 9am–6pm

 

Saturday: 9am–1pm
For those who enjoy fine dining and want to share this experience with the guests, you must see the services of Purple Sage. You can explore different cuisines with authentic ingredients.
Their offered catering services include boutique butler, cocktail reception, molecular action station, western sit-down, buffet, and wedding events. With these premium catering services, they indeed have the best catering in Singapore.
Highlights
Corporate catering
Customised menus
17. KCK Food Catering

Are you in need of some catering services for your Singapore occasion? Then look no further, as KCK Food Catering has got you covered! They continue to provide the best catering services in Singapore since they first started in 1991. Whether it's daily dinner delivery, tea reception, or other special occasions, they guarantee to bring you all the food you are looking for.
They ensure to keep all their foods healthy by only using low MSG, low salt and healthy oil. Aside from, that they also provide their customers eco-friendly wares. Not only do they care for the health of their customers, but they are also conscious of the environment. Their company is highly committed to offering you the highest standard of food and service at an affordable price.
Whatever may be your needs, KCK Food Catering is your partner in providing delicious food for your events.
Highlights
Nutritious and delicious food
Suited for all occasions
Wide range of menu
Affordable rates
18. Gusto's
BEST FOR
Halal Food
PRICING
http://gustos.sg/gustos-menu/
WEBSITE
http://gustos.sg/
ADDRESS
Gustos Pte Ltd
171 Kampong Ampat # 05-05
KA Foodlink
Singapore 368330
CONTACT DETAILS
For Household Parties
Ivy Ow
Tel: 6286 3003
E-mail: [email protected] Corporate orders
Ophelia Ong
Mobile: 8828 3003
E-mail: [email protected]
OPERATING HOURS
9:00 am – 6:00 pm
(Mondays – Saturdays)
Closed on Sundays & Public Holidays
Are you searching for a catering service that offers the best tasting food at an affordable price? Well, look no further as Gusto's is definitely an option that's recommended by many of their previous and recurring clients.
What makes them a top contender for catering is that they have almost every catering food there is to offer. They have breakfast food, cocktail receptions, and even buffet-type and fine dining services. Whatever theme your event may have, Gusto's probably has something for you.
To add on to it, their team of professional chefs are all trained in culinary and fusion cuisine. So you can bet delicious dishes are awaiting you if you decide to hire them.
Expect only the most amazing and mouth-watering food with Gusto's, as they've never failed to deliver the best for their clients.
Highlights
Buffet reception
Coupons available
Special Promotions
19. Monsta BBQ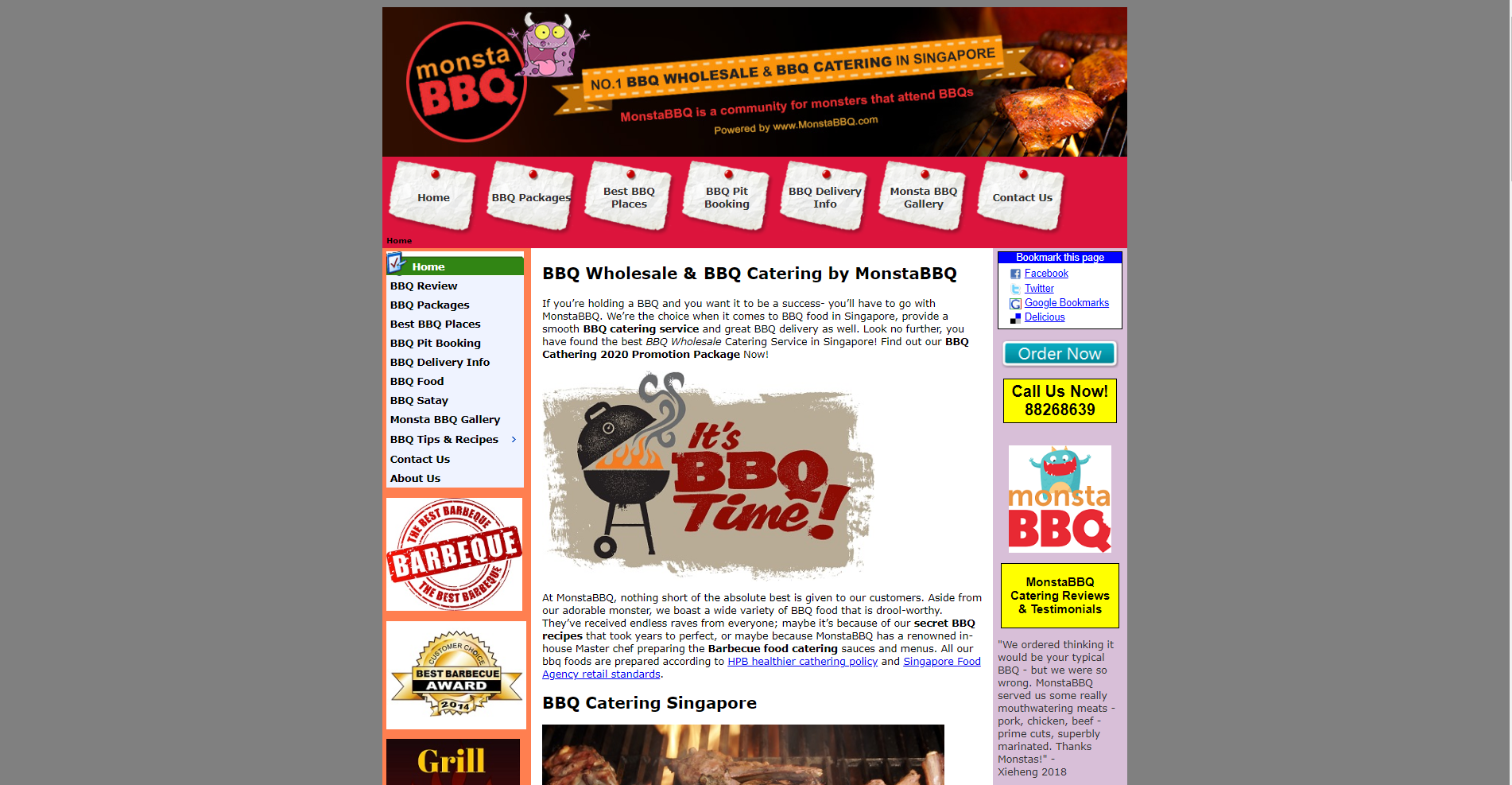 When it comes to barbecue, Monsta BBQ is the caterer you should call.
They offer various BBQ packages with different kinds of meat, such as ribs, steak, chicken, and more. These packages also include miscellaneous items you might need, from grilling equipment to disposable eating materials.
Best of all, they offer discounted prices for larger sales– perfect for large scale get-togethers. Contact Monsta BBQ now for a grill experience you won't forget!
If you're having your event outdoors, this is one of the best catering in Singapore to get.
Highlights
BBQ Packages with all kinds of meat
Free delivery for purchase totals above $300
20. Katong Catering

Katong Catering is one of the best caterers in Singapore. They're well-known for their homestyle specialties, such as King Size Prawn Sambal, Curry Chicken, Mutton Rendang, and more.
No matter the occasion, they're ready to serve a variety of catering services, from Asian Buffets to Barbecue Buffets. Check out the menu on their website for more information.
Highlights
Homestyle Specialties
Caters for all types of occasions
21. Culture Catering
BEST FOR

Budget Friendly & Full Range Menu Selections 

PRICING

Starts from $4.00 onwards

WEBSITE

https://cateringculture.com.sg/ 

ADDRESS

Catering Culture Pte Ltd 

3017 Bedok North Street 5 #01-12 Gourmet East Kitchen Singapore 486121

CONTACT DETAILS

67422822

OPERATING HOURS

9am – 6pm 
From serving a single staff participating in a company-wide Halal Bentos Delivery for Webinar Catering delivered  to Multiple Delivery Locations to mammoth events of over 12,000 happy guests during the COVID19 pandemic serving Packet Meals. Trust Catering Culture to handle all Corporate Catering, Peranakan Catering & Home Catering well with both reliability and aplomb. 
At Catering Culture, they have been serving Halal Catering for over a decade. They have a strong Muslim core team that complies with the requirements set out by MUIS (the Islamic Religious Council of Singapore).
This is so that Muslim friends can rest assured and enjoy all their sumptuous Hari Raya Catering or Mini Buffet and enjoy Catering Culture as a Halal Caterer for all their friends and family. 
Catering Culture's Mini Buffet Catering or Catering for Small Party of 8-10 guests remain popular during the pandemic period. Their strong experienced team allows them to respond rapidly to do urgent Last-Minute Buffets for up to 500 guests within 2 hours. 
They have also prepared safety measures accordingly for the Safe Resumption of Halal Buffets.
These include plastic  shields, Staff-Served Meals for Packed Meals and other steps that they take so that you and your guests tie the knot with their Wedding Catering or whilst enjoying their International Buffet or their ever-popular Peranakan Buffets. 
Highlights
Halal certified
Full fledged caterer
Event planning

Special promotions  

Budget friendly  

HPB approved caterer  

Last minute order available  

Peranakan specialty 
Customer Reviews
Here are some feedback left by happy clients of Catering Culture:
Josephine Toh 
"Tried the good food over a friend 's home. awesome food in nice packaging as well. highly  recommended!!!!"
Quek Wee Teck 
"We always choose premium food for our customers onboard our yacht and that is the reason we always  choose them as they provide high quality food with reasonable price. Highly recommended!"
22. Eatz Catering Services
BEST FOR

Budget Friendly & Full Range Menu Selections 

PRICING

Starts from $4.00 onwards 

WEBSITE

ADDRESS

Eatz Catering Services Pte Ltd 

3017 Bedok North Street 5 

#01-02 Singapore 486121

CONTACT DETAILS

91883336 / 6789 0328

OPERATING HOURS

9am – 6pm 
Established in 2003, EatzCatering understands the significance of your upcoming event and will do their utmost in helping you run your event without a hitch.  
Their professional teams will make sure that every event turns out to be a memorable one for you as the host as well as your guests as they feast on the buffet spreads. Join their list of satisfied customers who have trusted EatzCatering to make their event a long-lasting delight, remembered for years to come.
EatzCatering's regular clientele includes MNCs, Government Statutory Boards, Government Offices, local SMEs, tertiary institutions, Universities, local schools and many more. 
They take pride on their expertise in both large and small-scale functions. Whether you need seminar, corporate catering services or an intimate buffet for your immediate family, EatzCatering will do their best in making your gathering a happy one.  
They assure topmost services to their customers; their professional and friendly staff are always willing to answer your catering enquiries.
EatzCatering strives to prepare healthy food with finest top-quality ingredients.  Their professional caterers seek to deliver exceptional experience to customers with their constant efforts to innovate and offer personalised food and catering services.  
Don't fret if you have last-minute catering needs too; they have the capability to serve up to 500 guests in 2 hours!  Absolutely the best caterer in Singapore if you have last-minute additions.
Highlights
Full fledged caterer 

Corporate discount  

Budget friendly  

HPB approved caterer  

Last minute order available  

Party boxes  

ISO 22000 

Biz safe 
Customer Reviews
Here are some feedback left by happy clients of EatzCatering:
"My guests were impressed with the quality and tasteful dishes of the lunch buffet. Both lunch and tea  reception set up was very elegant and beautiful. My hubby and I were extremely satisfied with the  prompt, professional, helpful and friendly service displayed by Sales consultant Roy, the set-up crew,  and pick up team. Eatz Catering was an contributing factor towards a successful housewarming. I have  recommended Eatz to some guests and I will certainly be a returning customer! Thank you Eatz!!" – Penny Koh 
"Ever since we found Eatz Catering's services online, we have been their faithful client! From our wedding  lunch buffet, to our son's first month buffet, to our housewarming buffet, to our daughter's first month  buffet, Eatz Catering has been our top choice. The food is good, pricing reasonable and decorations  (floral) look really nice and professional. But we are most pleased with the service they provide as they  try to meet our every need." – Sidney Lin 
23. QQ Catering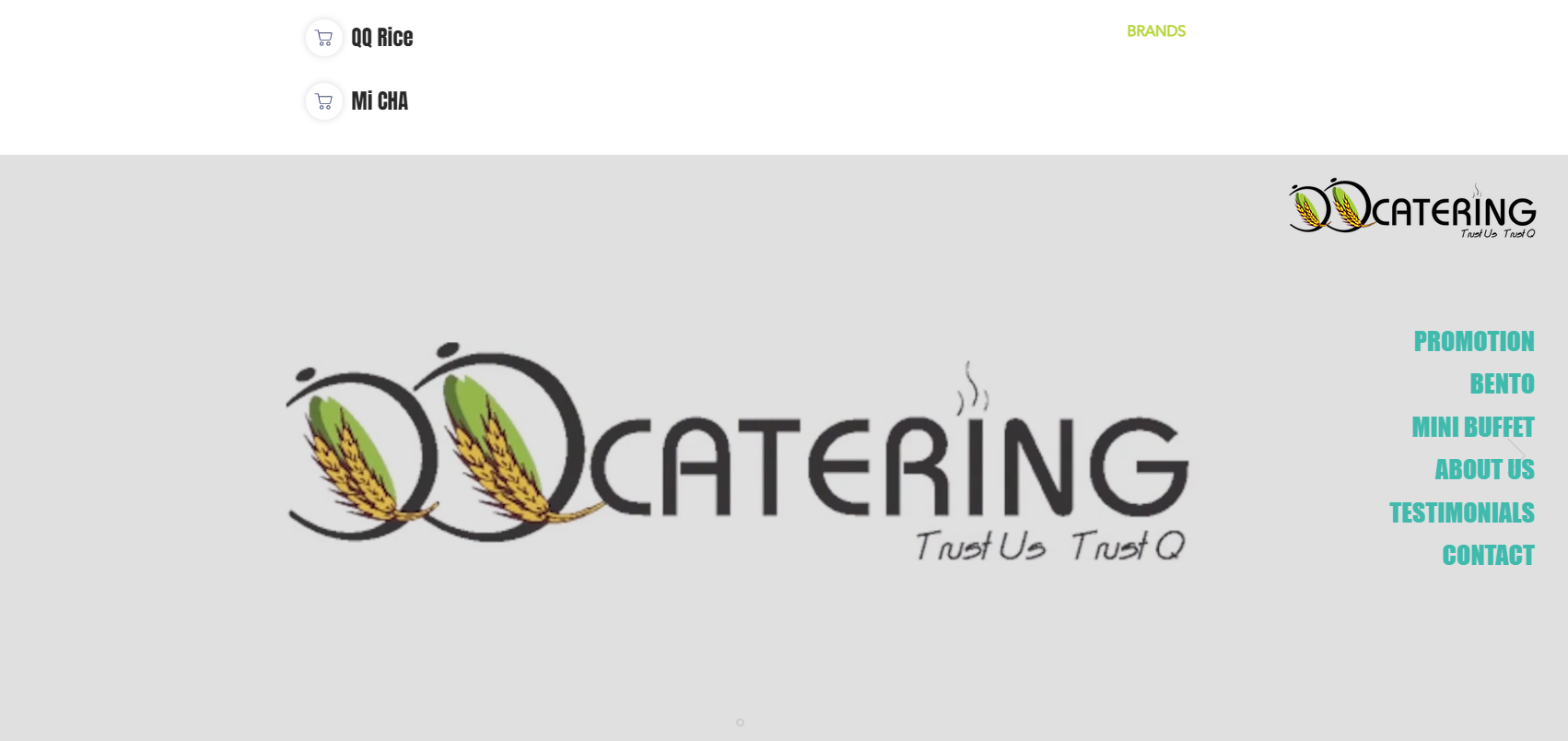 BEST FOR

Customised Catering Menu

PRICING

Contact for more information

WEBSITE

ADDRESS

1 Senoko Avenue, #04-04

FoodAxis

Singapore, 758297

CONTACT DETAILS

+65 6515 9905 | 6316 9696

OPERATING HOURS

Mon – Sat  9am – 8pm (Office)

Sun / PH  – Closed (Office)
Headed by various Food and Beverage Industry experts in Singapore, QQ Catering is considered to be one of the best options when it comes to food catering, buffet delivery, and bento services. 
QQ Catering endeavours to change the catering game by not only focusing on the taste of their food, but the nutrients it provides as well.
This goal has resulted in the company producing some of the most mouthwatering food menus, all of which are made with the freshest, finest ingredients in the market and carefully prepared by highly skilled chefs. 
Another reason why QQ Catering comes strongly recommended is the opportunity to customise the menu that the company presents to its clients. This service is available island-wide, and even promises great meal portions to the clients.
Highlights
Customised catering menus
Unique and nutritious food items
Food prepared by skilled chefs
Uses fresh ingredients
Service available island-wide
Customer Reviews
Here are some feedback left by happy clients of QQ Catering:
"The staff are prompt and efficient. They were also very accommodating when I had to change vanue. I really enjoy the food!"
"Healthy food that's less oil less salty and dessert is less sweet,, yet it's tasty. The service is also good and delivery is on time."
24. Tim Delight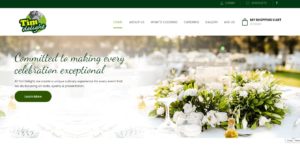 Tim Delight is a catering company that offers clients a wide range of food menus and selections that are specially crafted to accommodate clients who are in need of halal-friendly food. With years of experience in the food industry, they have since then been providing delectable catering options for family gatherings, and corporate functions among many other events.
We like their featured menus have a wide range of variations and choices wherein clients get to pick the best one for their events such as mini-buffets, bento boxes, and tea reception choices.
Furthermore, their customer service is efficient and helpful in guiding clients to craft the best option in terms of food choice and how to deal with the whole catering procedure.
Though we think that they could use improvement when it comes to decorations for the overall aesthetic appeal of their catering table for holidays.
Overall, with their generous portions and delicious signature dishes and specials, we highly recommend them to clients who intend to experience an authentic and halal-certified catering experience with no worries.
Highlights
Hala-friendly menus
Wide range of menu sizes
Accommodating customer services
Customer Reviews
Here are some reviews from their clients:
"Signature Curry Chicken with Potato was very nice, not oily or salty. Overall, we did not have much left cos guests had 2nd or 3rd helpings. 2nd time order from Tim's Delight! Thumbs Up!"
"After I've placed the order for food via food line, the caterer called within the day to confirm the order. The food arrived on time and the staff were very friendly. Good feedback on the food from all the guests."
And that's our list of the best caterings in Singapore! If we've missed out on some great services, share with us, as we'd love to add them to this list!
To know more buffet menu options, check out these best buffets in Singapore. Some of these picks offer exceptional catering too, services so make sure to take a look at them!
*Images are taken from each company's official website/social media