The 31 Best Corporate Event Planners in Singapore
Are you planning a company event to strengthen the camaraderie of your employees and colleagues? You can get help for that, as there are a lot of companies that offer the best corporate events in Singapore for all types of industries!
Whether you have a small or large number of employees, the event companies doing the best corporate events in Singapore will see to it that everyone will enjoy, learn, and have fun while being with their friends and colleagues.
Here's some of the places that provide the best corporate events in Singapore we found worth checking out:
1. Big Group Productions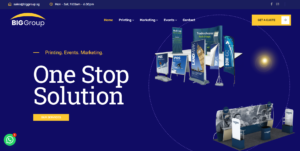 BEST FOR

Full Service Events Management

SERVICES

Consultation
Venue Liaison
Supplier Liaison
Talent Management
Events Productions

WEBSITE

https://biggroup.sg


ADDRESS

60 Paya Lebar Road, #06-33, Paya Lebar Square, Singapore 409051

CONTACT DETAILS

+65 8820 8060
If you're looking for a company that offers full-service events management, then Big Group Productions is the one for you. From brand activations and product launches to gala dinners and award shows, they got everything covered.
The company employs a team of technical producers and event planners to assist you with all your event needs. They also provide support in digital media and post production, delegate organization, travel, and delegate organization.
We also highly recommend them if you're hosting dinner and dance events. Big Group Productions can help you with creative concepts generation, staffing and entertainment, venue procurements, and catering.
The company has also built a reliable network of partners to help you boost sales and promote brand awareness through their exhibition management services.
You can even promote your event with their printing and marketing services. Needless to say, Big Group Productions truly lives up to their motto of being the One Stop Solution to all your event needs.
Highlights
Full-service events management
Reliable exhibition set-up services
Marketing and printing services also available
2. Epic Workshops

| | |
| --- | --- |
| BEST FOR | Terrarium Workshop |
| SERVICES | Workshops, experience kits, outdoor activities |
| WEBSITE | http://www.epicworkshops.com.sg/ |
| ADDRESS | 37, #03-10 Jln Pemimpin, MAPEX Building, Singapore 577177 |
| CONTACT DETAILS | +65 6355 0329 / +65 8150 8866 | [email protected] |
The essence of bonding isn't just to work well together, but also to be able to learn things from one another. Here in Epic, you'll be able to have the chance in learning a new skill or hobby, while picking up a thing or two from your friend or teammate.
They have a lot of workshops to choose from, like chocolate making, soap making, or even a terrarium workshop! The combinations are endless. They also have stress management workshops that helps in relaxing and helping your team cope with stress at the same time.
Take up on a new challenge with Epic Workshops and make every moment so epic!
Highlights
Casual environment
Interesting activities
Friendly guides
Hands-on experience
3. Musical Touch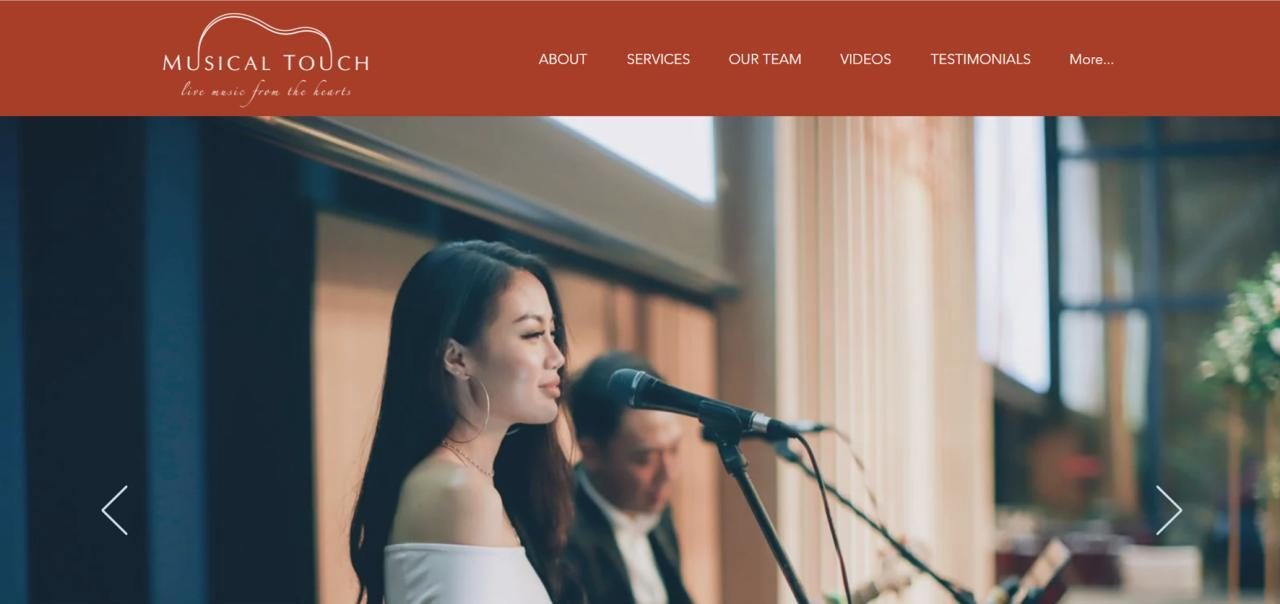 Since 2012, Musical Touch has provided events in Singapore the best performances to date. Your guests will be surely entertained when these amazing singers and emcees work on the stage.
From the venue to the set-up, as well as the execution of the whole event, rest assured that you can rely on the company to do all the job for you.
Enjoy the event and worry about nothing else, book your party with Musical Touch!
Highlights
Professional Singers / Emcees
Interactive Performance
Reliable Show Management
4. Syed Alwi LDF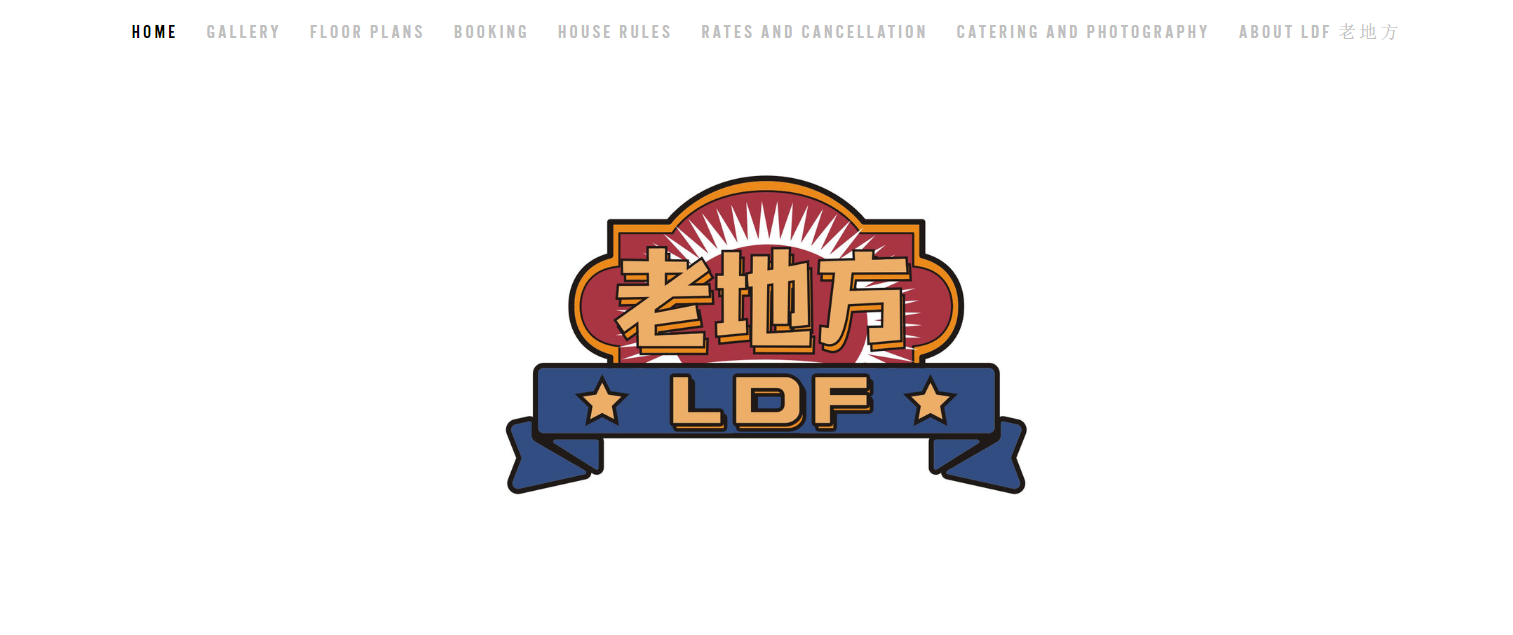 | | |
| --- | --- |
| BEST FOR | Rooms with Projection Screens |
| SERVICES | Room rents with different amenities |
| WEBSITE | http://www.ldf.sg/ |
| ADDRESS | 221 Syed Alwi Rd, #02-01, Singapore 207880 |
| CONTACT DETAILS | +65 83559800 | [email protected] |
Accessible, but still away from all the hustles the city life gives, Syed Alwi offers three wonderfully made rooms that would undoubtedly ensure your satisfaction. Equipped with 120 to 160 inch projection screen, Nintendo Switch with 4 joycons, high-end speakers and audio equipment, karaoke, pool tables, photo corner, poker table, beer pong, card games, and the likes, you'd never run out things to do when you're in their event spaces.
The rooms can accommodate up to 120 people, and would still look and feel really big. Looking for a place to spend celebrations? Have them here and experience exclusive and top-quality events, only with Syed Alwi.
Highlights
Close to convenience stores
Multiple Activities
Wide Space
5. Zero Latency

BEST FOR
State-of-the-art VR Gaming
SERVICES
Sol Raiders, Zombie Survival, Outbreak Origins, Singularity, and Engineerium
WEBSITE
https://www.zerolatencyvr.com.sg/
ADDRESS
3 Temasek Boulevard #03-346 (between Tower 2 and 3 Suntec City Mall, Singapore 038983
CONTACT DETAILS
6931 0331 |

[email protected]
Zero Latency offers one of the best corporate events in Singapore in the form of a virtual reality game. VR gaming is among the most in-demand weekend activities on the island today, and it becomes more exciting when you're with friends and colleagues.
VR gaming can also be an ideal corporate event because teamwork is often needed in order to win the game. In a way, your employees get to experience team building in a virtual world — which makes it even more exciting.
Some of the games offered by Zero Latency are Sol Raiders, Outbreak Origins, Singularity, Zombie Survival, and many more.
Highlights
Best VR gaming experience
State-of-the-art equipment
Free-roaming experience
6. Center Pottery's Pottery Workshop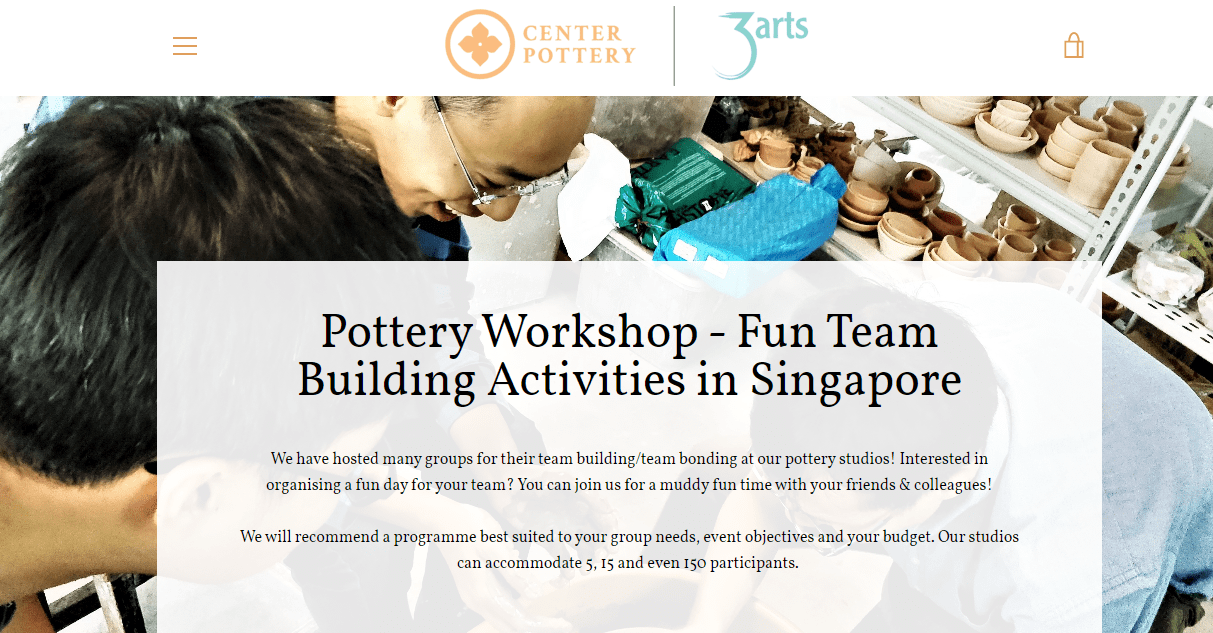 If you want a more quiet, relaxing yet creatively stimulating activity, then you might want to check out Center Pottery's Pottery Workshops. It's one of the best activities for your colleagues and employees to bond and brainstorm ideas together, as there are also group-based workshops.
What's more, pottery workshops enhance not only one's creativity but a team's dynamics as well — which is why we call it one of the best corporate events in Singapore.
Everyone can make their own bowls, cups, plates, pots, vases, and even sculpture. At the end of the workshop, everyone will have learned basic pottery skills and created their own original piece.
Highlights
Professional instructors
Can hold up to 150 participants
7. Electric Dreamz

BEST FOR
Technologically Heavy in Event Design
SERVICES

Audio Visual Rental | Event Crew | Lighting Rental | Sound Rental

Deejay | Pre-event Activities | Event Venues | Emcee | Entertainers

Game Prizes | Souveniors | Door Gifts | Plaques | Lucky Draw Prizes | Design Works

Fabrication Works | Decorations | Props | Backdrop | Photographer and Videographer

WEBSITE
https://www.electricdreamz.com/
ADDRESS
1 Scotts Road, #24-10, Shaw Centre, Singapore 228208
CONTACT DETAILS
+65 8586 0502 / +65 6683 9541 | [email protected]
Electric Dreamz has been turning every clients' dream into a reality since they first started as an event organizing company. Providing on any and every type of event, you would surely find what you need with their help.
As a one-stop solution for any activities, they pride themselves as having one of the most cost-efficient rates to date. Even with the low cost assistance, the quality is still up top and has continued to wow their clients. So if ever you're looking for an experienced event planner who offers invaluable advice and services, then Electric Dreamz is here to give that all at a reasonable price.
Highlights
Planning
Support
Audiovisual
Entertainment
Decoration
8. Perfume Team Building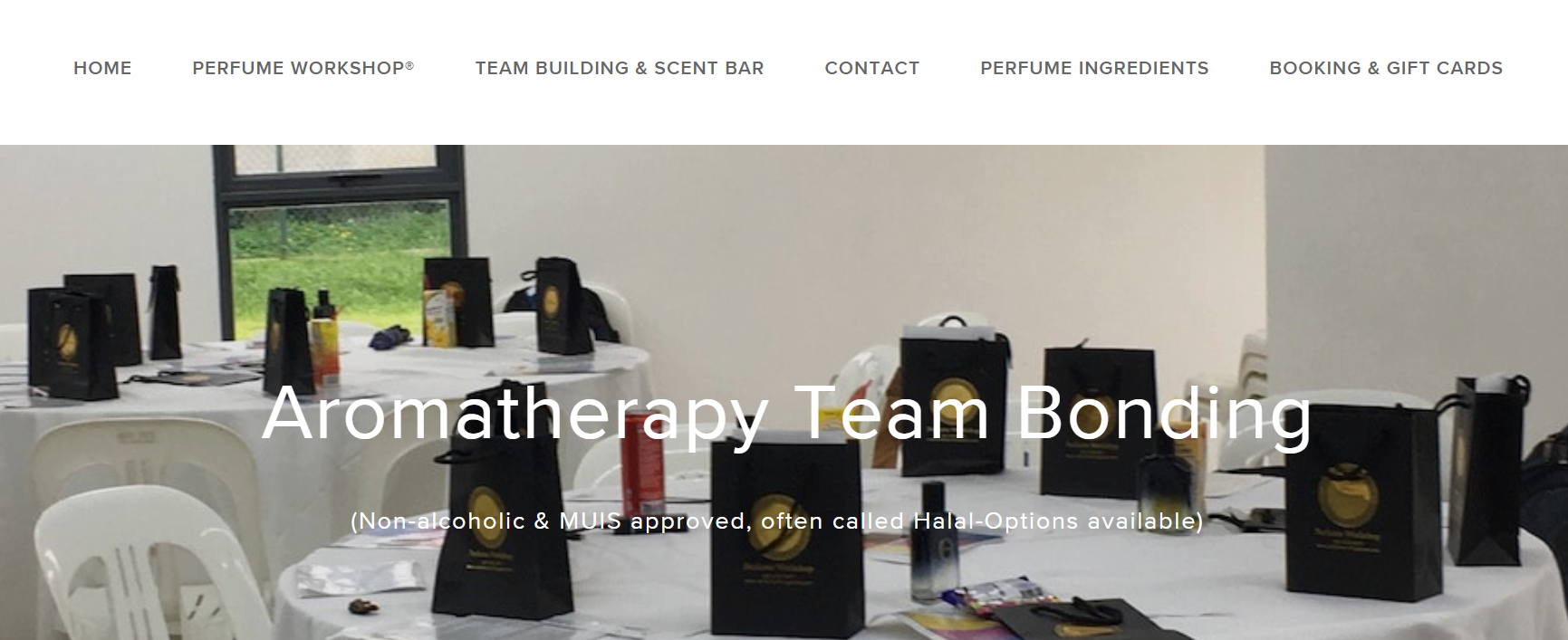 If you want to do a relaxing activity with your friends or loved ones, indoors, then Perfume Team Building's workshop is the one for you! An engaging and fun pastime that is suitable for all ages, you'll surely love making your own unique scent with them.
Using therapeutic oils native in Singapore, you can choose whether you'd want your masterpiece to be a UV diffuser or as a high-end perfume, or even as room fragrance. The possibility is endless, but one thing's for sure, you'll never be able to forget all the memories you get, as you finish your new scent.
Highlights
Friendly Staff
Hands-on teaching
Homey Ambiance
Group Activities
9. Sports and Wellness Pte Ltd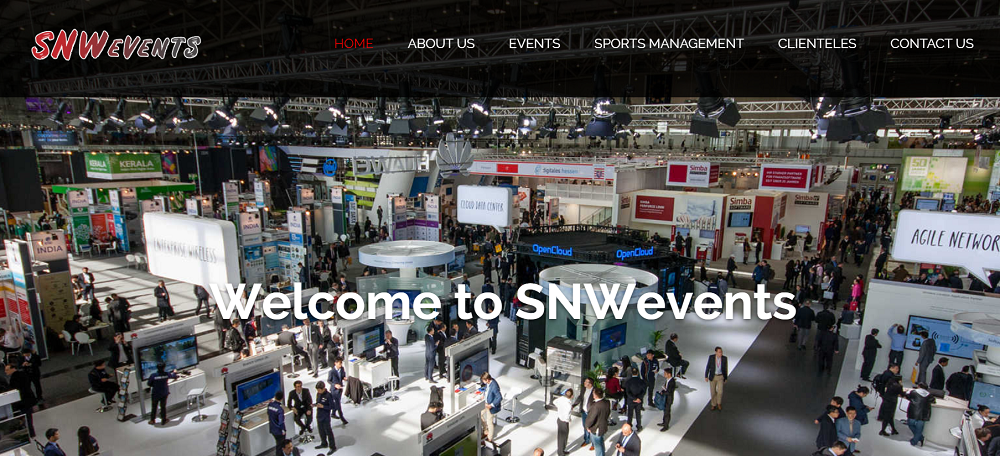 | | |
| --- | --- |
| BEST FOR | Sports Even Management |
| SERVICES | Creative conceptualisation, design, print & fabrication, talents management, logistical execution for events |
| WEBSITE | https://snwevents.com.sg/ |
| ADDRESS | LHK Building, 701 Sims Drive #01-07 Singapore 387383 |
| CONTACT DETAILS | (+65) 6748 5583 | [email protected]om.sg |
Established in 2005, Sports and Wellness Pte Ltd gives importance to the over-all wellbeing of not only their clients, but also their staff in the making. As a company that started solely with sports-oriented solutions, they have slowly widened their range throughout the years, still maintaining the best quality of service.
Now rebranded as the SNWevents, they pride themselves with the fact that they are able to provide assistance to any clients, covering all the aspects of an event. From the concepts to the execution, you as a customer would surely be satisfied with what they do and what they can co for you.
Highlights
Free Quotation
Strategic Event Solution
10. Excel Solutions Asia Events Pte Ltd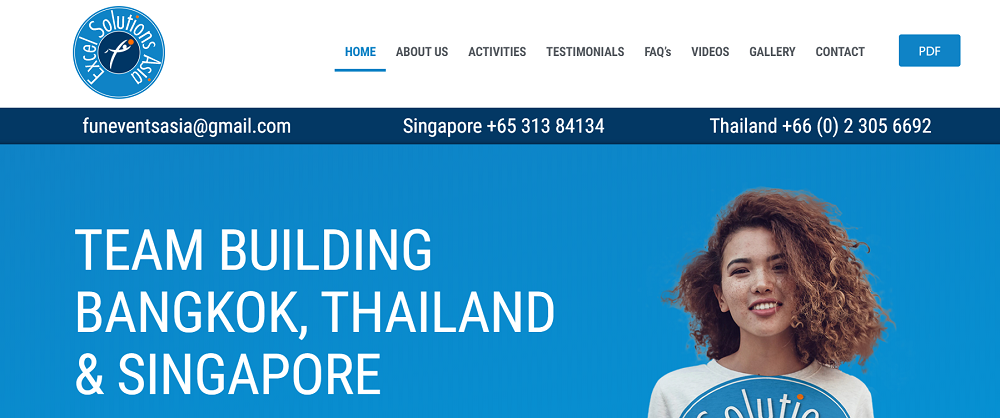 BEST FOR
CSR Workshops
SERVICES
Fashion Team Building and Design Selling Your Brand Label, Corporate Painting Workshops Art Attack Creativity, Raft Building and Cardboard Boat Racing. Fun Beach Events, Corporate Scavenger Hunts and Treasure Hunts Fun Adventures
Treasure Hunts and Scavenger, Amazing Race, and more
WEBSITE
https://excelsolutionsasia.com/fashion-events-singapore/
ADDRESS
60 Robinson Road #26-04 SBF Center, Singapore 068914
CONTACT DETAILS
+65 313 84134 | [email protected]
Believing that team building doesn't have to be boring, Excel Solutions Asia revels in having over 30 amazing activities made for you, both indoor and outdoor so you can choose where you're most comfortable with.
Excel Solutions Asia accommodates events no matter how large, providing an unbeatable experience to clients and maximizes the budget given, giving much more than what one usually gets, at a certain price.
Have your event planned by one of the most trusted company in all of Singapore and Thailand, trust in Excel Solutions Asia Events.
Highlights
Creative
Personalized
Well-Organized
11. Energize Singapore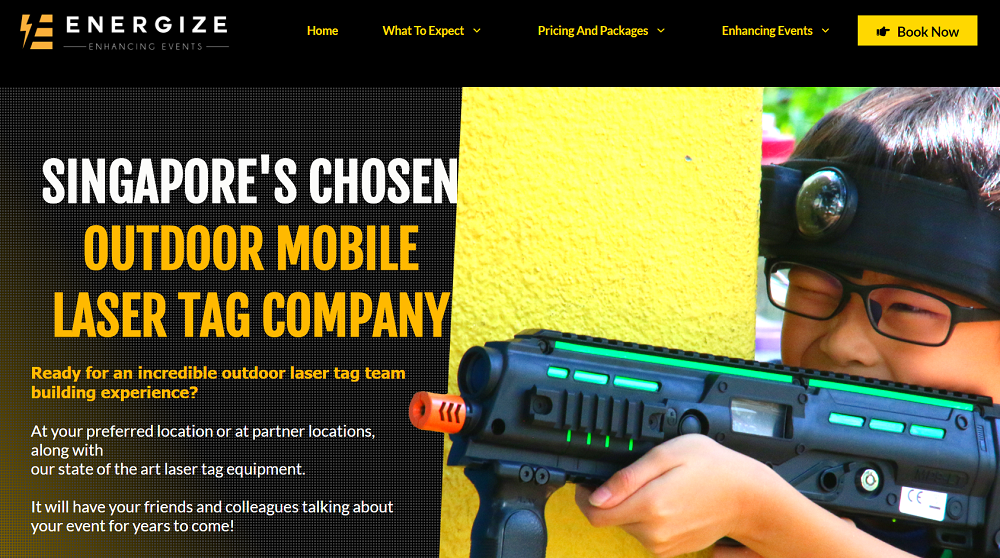 | | |
| --- | --- |
| BEST FOR | Ageless workshops |
| SERVICES | Laser Tag Birthday Parties, Laser Tag Team Building, Laser Tag Rental |
| WEBSITE | https://energize.sg/ |
| ADDRESS | 165 BUKIT MERAH CENTRAL, #05-3667, SINGAPORE 150165 |
| CONTACT DETAILS | +65 6377 1679 | [email protected] |
Energize Singapore has years of experience in the art of laser tag, providing exciting scenarios and wholesome packages to fit the needs of their customers. Throughout the years, they have expanded to over 20 intensive activities that would surely engage everyone in joining all the fun!
Using high-tech infrared lasers and sensors, every game would surely have your heart stopping, and excitement blaring with every aim and shoot. Book your event with Energize Singapore and leave the party feeling happy and energized!
Highlights
Most Competitive Price in Singapore
Free Delivery
Customisable Packages
12. Action Team

| | |
| --- | --- |
| BEST FOR | Virtual Bonding, Social Media Hunts |
| SERVICES | Team Building Activities, Large Group Team Bonding, Offsite & Retreat Events, Ice Breakers & Energizers |
| WEBSITE | http://www.actionteams.com.sg/ |
| ADDRESS | 37 Keppel Road, #1-03/1632, Tanjong Pagar Distripark, Singapore 089064 |
| CONTACT DETAILS | +65 9672 1677 | [email protected] |
Action Team being the leading organizer in Singapore since 1996, has incorporated both indoor and outdoor activities that cultivates the team spirit in everyone. Programs are tailored to every client in order to meet their objectives and requirements so you're surely be satisfied with thatever they have in store for you!
They've helped companies improve their team bond, decision making abilities, and resolve conflict, all by having fun and receiving enriching experiences. They have lead tons of successful team building all over the world. From Singapore, Philippines, to China, and all of Australia, with Action Team, you're surely in safe hands.
Highlights
Tailored & Personalized Programs to Meet Your Objectives & Requirements
Accommodating Staff
Interactive activities
Cost-efficient
Highly responsible team leaders
Diverse activities
12. The Karting Arena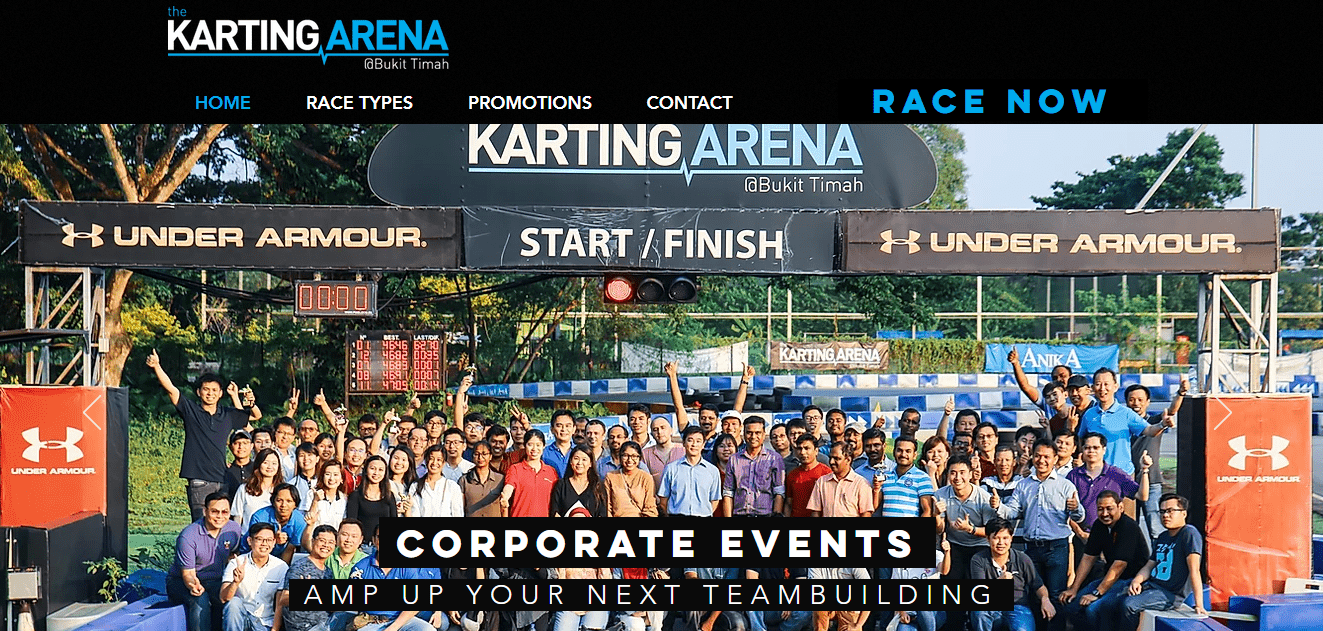 | | |
| --- | --- |
| BEST FOR | Company Celebration |
| SERVICES | Corporate and Team Building, Fun Karting, Kids Birthday, and Grand Prix |
| WEBSITE | https://www.thekartingarena.com/ |
| ADDRESS | 200 Turf Club Rd, #01-01B The Grandstand, Singapore 287994 |
| CONTACT DETAILS | +6596276771 |
If you're looking for a more exhilarating corporate activity, then you might want to consider having a corporate racing activity. The Karting Arena hosts some of the most exciting and fun racing events in Singapore, both for kids and adults.
What's more, The Karting Arena's space is specifically built for corporate functions and events with a large number of guests, so it can accommodate even the largest companies with a huge number of employees.
Another reason we consider racing one of the best corporate events in Singapore is that it brings competitiveness out of everyone. This can be applied to a corporate setting to help the company grow and flourish.
Highlights
Large venue
Adult and kids karting
No parking fee
Customer Reviews
Here's some of the feedback posted by customers on Google Reviews:
"First time there, amazing experience. Did a double date with some friends and everyone thoroughly enjoyed it. Staff was Super helpful and nice – they gave great tips to maximize the experience and get our lap times down. Definitely recommend doing the faster karts so you can push yourself and get the real racing experience. Great service, solid equipment, good fun for all!"
"E-kart racing. Very good experience! Track is great for quick close racing. Safety brief, helmets as well as disposable helmet liners are included too. For a small fee, go kart simulators are placed in the air conditioned waiting area, for you to have a feel of the track. Bring along some racing friends to enjoy this experience!"
13. Merry Bees Pte Ltd

Known for their premium service when it comes to events, Merry Bees offers an array of options to entertain guests at your event. You'll have the privilege of choosing over the people that would perform for the live band, to ensure that everything meets your standard. Rest assured that every member in the company is of only the best and provides only premier entertainment.
With over 300,000 guests pleased, and with their 6 years of experience, Merry Bees has continued to improve their services without having to increase their rates. True to their name, they really are a company that provides happiness.
Highlights
Flexible staff
Customer-centered services
Easy to contact
Adjustable packages
14. Grace At Work Teambuilding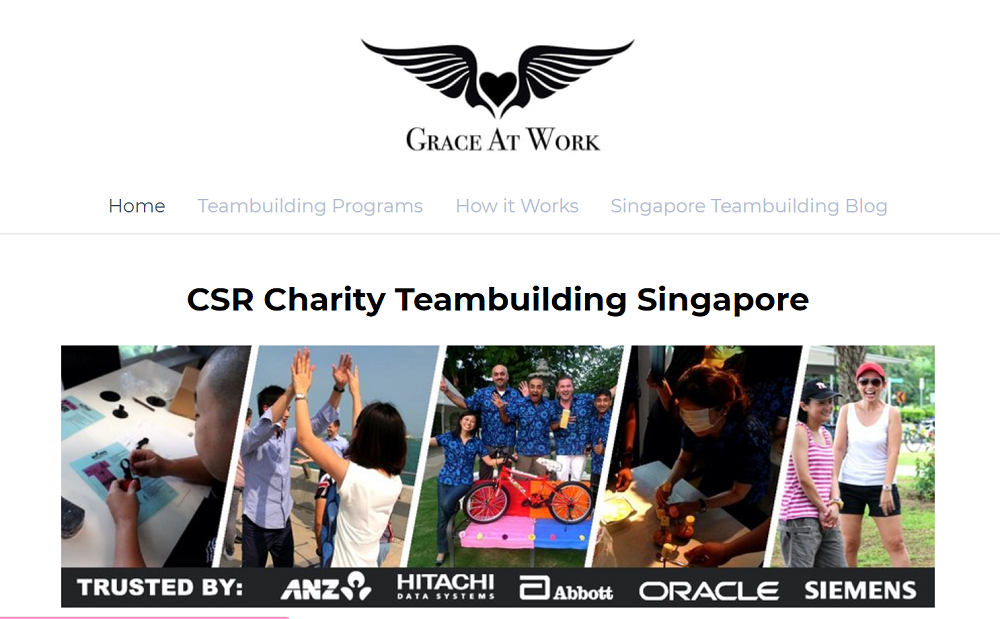 | | |
| --- | --- |
| BEST FOR | Charity-based Team Buildings |
| SERVICES | CSR Charity Team Building, Indoor Team Building, Outdoor Team Building |
| WEBSITE | http://www.graceteambuilding.com/ |
| ADDRESS | 63 Ubi Avenue 1, 408937 Singapore |
| CONTACT DETAILS | +65-83882353 | [email protected] |
Grace At Work Teambuilding is the first in Singapore to incorporate both the needs of their partner beneficiaries and the wants of their clients in a single activity where both mutually benefits from each other. With their help, not only are companies united through the teambuilding, but they also have the chance to provide the necessary materials that the charity works call for.
They also offer indoor and outdoor teambuildings, aside from the CSR-based, for the maximum satisfaction. With a lot of options to choose from, surely you'll be considering this company,
So if ever you're looking for a company that would help you build up strong companionship with your team, as well as be able to give back to the society through the activities, then Grace At Work is the one for you!
Highlights
All-in-one charity program
Uplifting facilitators
Mutually Benefiting Activities
15. Emcee Lester Leo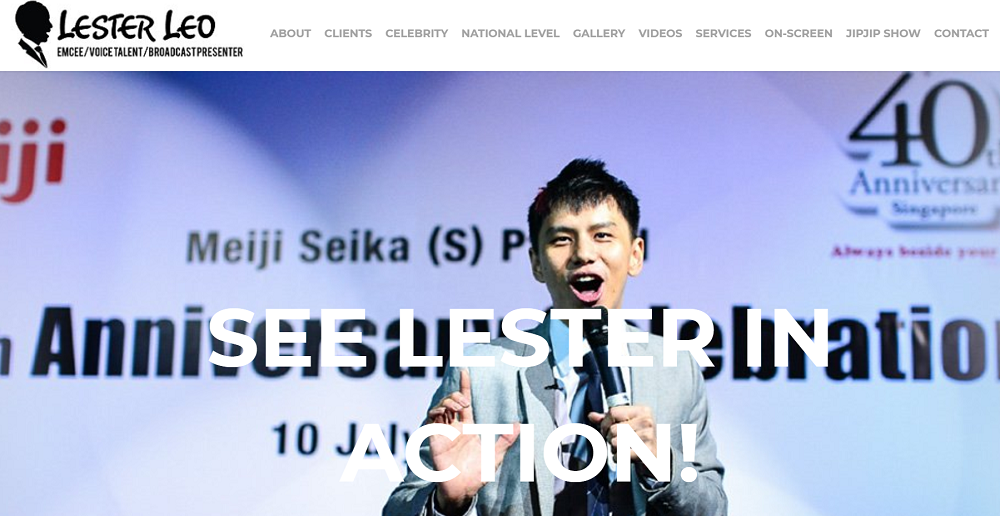 BEST FOR
Freelance emcee
SERVICES

Dinner & Dance

Product Launch & Showcase

Ceremonies & Celebrations

Exhibition & Tradeshows

Outdoor events & Carnivals

Seminars & Conferences

Anniversary Showcase

Family Day

Charity Event

Corporate Team Building

Roadshows

WEBSITE
https://emceelester.com/
ADDRESS
N/A
CONTACT DETAILS
(65) 8163 2525 | [email protected]
In need of an emcee with experience? Well look no further as Lester Leo is here to serve! Known for his immense energy and versatility, he's able to humor most audiences, no matter how old or how serious they may be.
Emcee Lester Leo has hosted for politicians, celebrities, and companies worldwide that proves his skills as an emcee. A true professional in his works, he always makes sure to leave the people entertained and very much satisfied, even as he walks off the stage.
Highlights
Lively hosting
Established personality
Trusted by famous clients
16. TVworkshop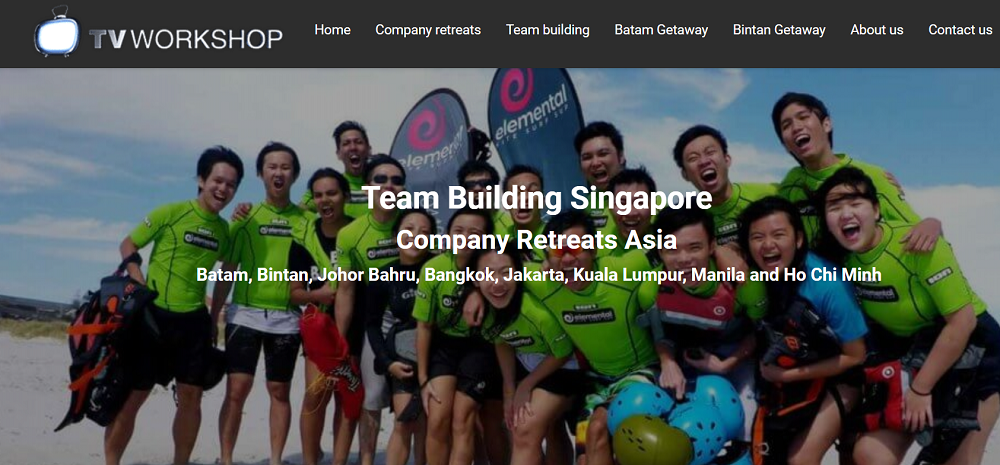 BEST FOR
Team Building, Virtual Online Team Building
SERVICES
Company retreats, Team Buildings, Virtual Online Team Building, Virtual Sustainability Journeys
WEBSITE
https://www.tvworkshop.com/
ADDRESS
26 Sin Ming Lane #06-121 Singapore 573971
CONTACT DETAILS
+6586484186 |

[email protected]
Team Building:
You are bored of doing the same kind of team building activities every year and out of idea's what to do now. TVworkhop Asia Guarantees your team building result never experienced before!
Company Retreats:
Company retreats & incentive travel programs with positive experiences will help strengthen an employee's relationship with their company! Corporate staff retreats or Executive Retreats are the best way to open up dialogues between employees and an opportunity for leaders to get away from the pressure of their day to day work and envision a new future for their impact and for their organization.
Online Virtual Team Building:
With the rise of virtual teams and working from home there is now more than ever a need for keeping your teams together. Online team building is the perfect solution for enhancing communication between your employees in different locations and time zones. Join our hosts and facilitators online, using video conferencing software and be led through a variety of stimulating team challenges and activities. Remote virtual team building will keep your employees productive and engaged no matter how far away they may be! We welcome your employees in Jakarta, Singapore, Kuala Lumpur, Yangon, Bangkok, Ho Chi Minh, Hong Kong and many more cities in Asia!
Virtual Sustainability Journeys:
CSR Virtual Remote Team Building! Treasuring and maintaining the magic of corporate & school expeditions. In cooperation with Dr. Marc van Loo of Loola Adventure Group Bintan Indonesia, we created 6 programs based on UN sustainability goals (SDG's). Choose which UN SDG(s) you wish to participate and support!
Highlights
Effective activities
Strategic events
World-class services
Customer Reviews
Today was a fantastic team bonding day! Lot's of fun and the team really enjoyed being on camera, creating the script and seeing the end results. My team even won the Oscar prize! Unique team activity to brand your company. Highly recommended team bonding activity in Singapore".
I would like to thank Emile for the great service! He makes sure our trip went well at Phuket. It was amazing and the overseas retreat Phuket and the team bonding activities were beyond all our expectations. I highly recommend TV workshop and his team in Singapore and Phuket.

A moment to thank Emile and The TVworkshop team for the beautiful organized 4 days 3 nights to Bintan! We had a great time and Emile is a wonderful experienced tour guide. Do you want a personal touch during your trip? TVworkshop!
17. Spinergy Inc Pte Ltd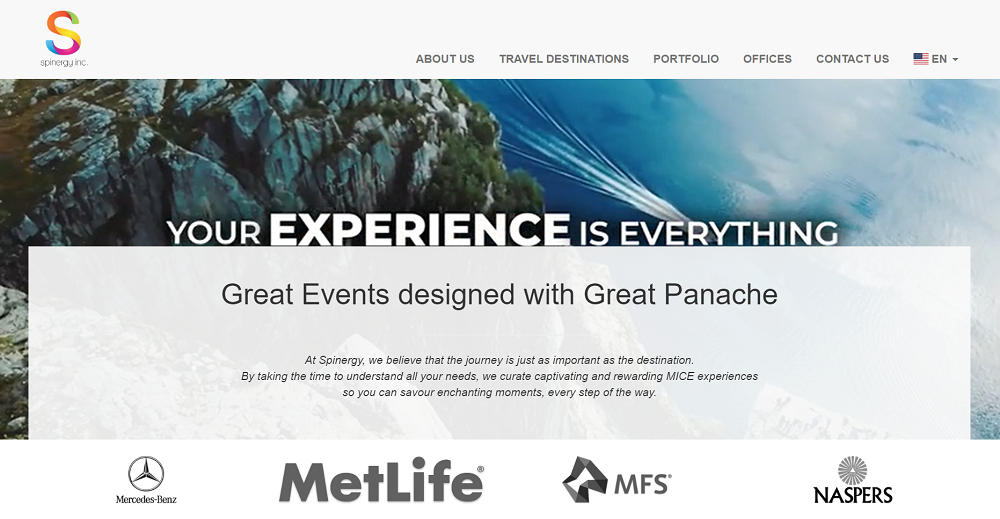 | | |
| --- | --- |
| BEST FOR | Corporate event planning |
| SERVICES | Activities, Corporate Incentives, Conference, CSR Initiatives, Gala Dinners, Teambuilding |
| WEBSITE | https://www.spinergy.com.sg/en/ |
| ADDRESS | 2 Kallang Ave, #06-31/32 CT Hub @ Kallang, Singapore 339407 |
| CONTACT DETAILS | +65 6224 0822 | [email protected] |
Spinergy is known to conduct activities that would surely have your brain working and your body moving. With over 10 years of experience, they have helped over hundreds of companies with building their teamwork and efficiency as a group.
Several interesting activities like Monopoly Dash, Heritage Races, and even mouth watering events like Chocolate Creating, would help your team not only learn from the teambuilding, but also to enjoy their time together. As an established company in Asia, Spinergy does live up to its mix of name; spinning up energy in every event they do!
Highlights
Personalized activities
Meaningful experiences
Once in a lifetime getaways
Memorable encounters
18. The Fun Empire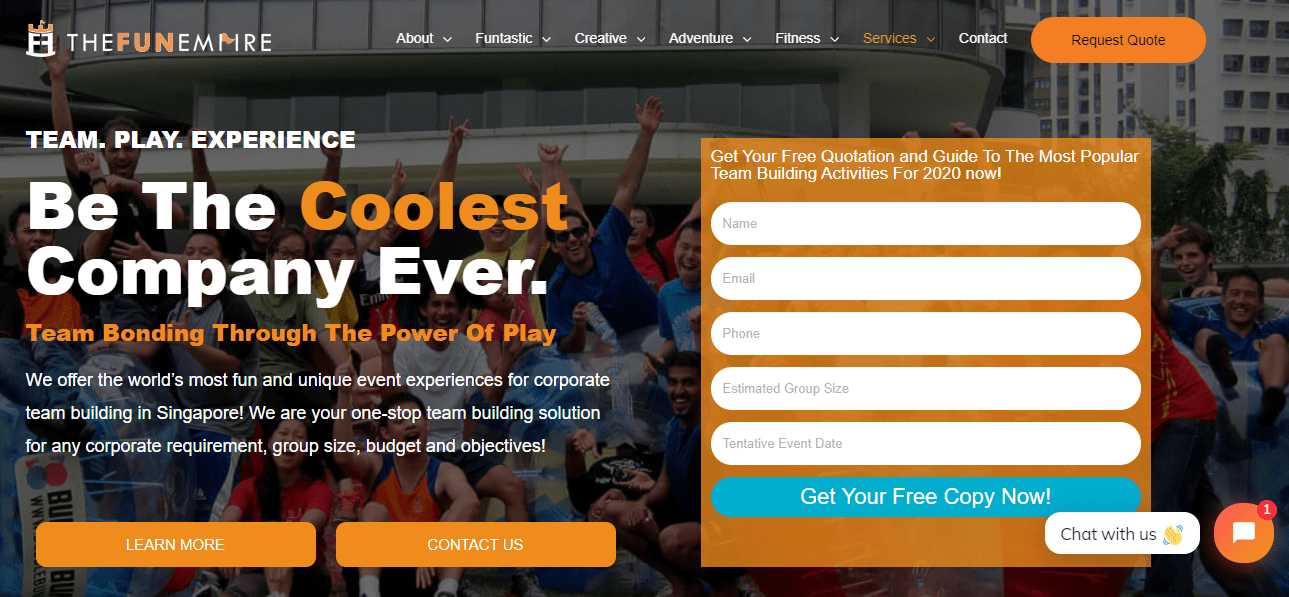 BEST FOR
One Stop Solution
SERVICES
Bumble Bump, Laser Tag, Archery Tag, Saber Tag, Ninja Tag, Cosmic Bowling, and Giant Board Games
WEBSITE
https://www.thefunempire.com/team-building/
ADDRESS
5B Guillemard Rd, level 3 Wing Fong Building, Singapore 399685
CONTACT DETAILS
6515 4146 |

[email protected]
If you're not yet sure which activity your employees and colleagues will like best, The Fun Empire will offer you multiple options, from team building to fitness activities. Included in its team building activities are archery tag, laser tag, saber tag, bumble bump, and bullet ball — and a whole lot more!
If you sign up for its activities, everything needed will be included. No need to worry about manpower, logistics, food catering, first aiders, and transportation.
On top of that, there are also creative group activities that allow everyone to showcase their talent in the arts. In short, The Fun Empire really has some of the best corporate events in Singapore.
Highlights
Exciting team building activities
Workshop classes
Affordable rates
Customer Reviews
Take a look at what clients have to say about the activities by The Fun Empire:
"Really fun activities and games suitable for team building and bonding. We played their newest activity, neon archery tag, and laser tag and our team had a blast. Their facilitators did a nice job hosting us and explaining the rules for the games we played. The games had a competitive element to it that made all the players strive to win, which made it even more fun. It was very interesting to play the games in a neon lighted environment and we felt like we were in a video game. Highly recommended if you're coming here with your team for an amazing team building experience!"
"Enjoyable art jamming session! Spent a nice afternoon painting with our group of friends and we had a fun time. Our event facilitators were helpful and polite during the event. All materials are provided so you just need to turn up and start painting on your art canvas."
19. Cohesion Singapore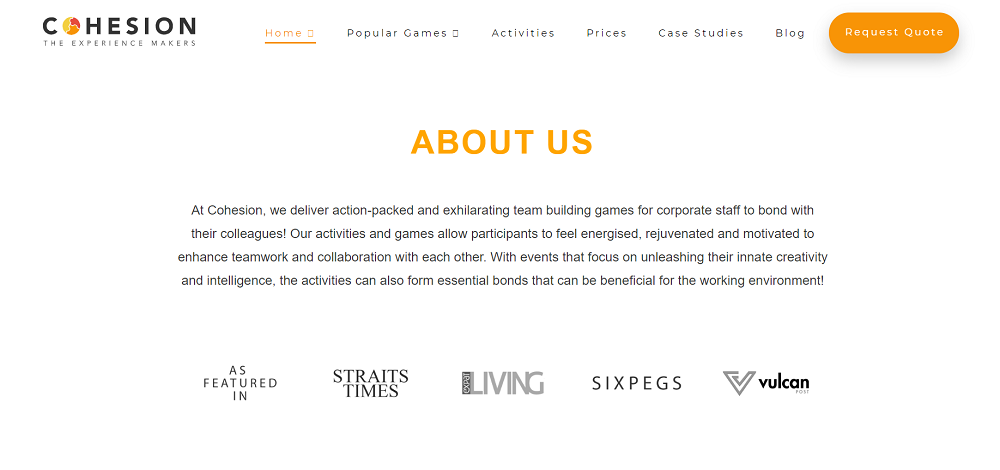 | | |
| --- | --- |
| BEST FOR | Laser Tag, Sword Tag |
| SERVICES | Outdoor and Indoor Teambuilding |
| WEBSITE | https://cohesion.sg/ |
| ADDRESS | Address: 38 Jln Benaan Kapal, Singapore 399635 |
| CONTACT DETAILS | +65 96200787 / +65 93381758 | hello[email protected] |
True to their name, Cohesion Singapore embodies the act of unity and solidarity within a team of corporate staff. While creating activities that are engaging and fun for everyone, they also prioritise the need of problem solving skills, creativity, and intelligence in games, for enhancement that would be beneficial for their own workplace.
Popular games are available to play; like dodge-ball, archery, splash tag, and many more, that would leave everyone exhilarated, but happy.
Highlights
Unique activities
Action-packed games
Enhances teamwork
Creative works
20. Eminence Events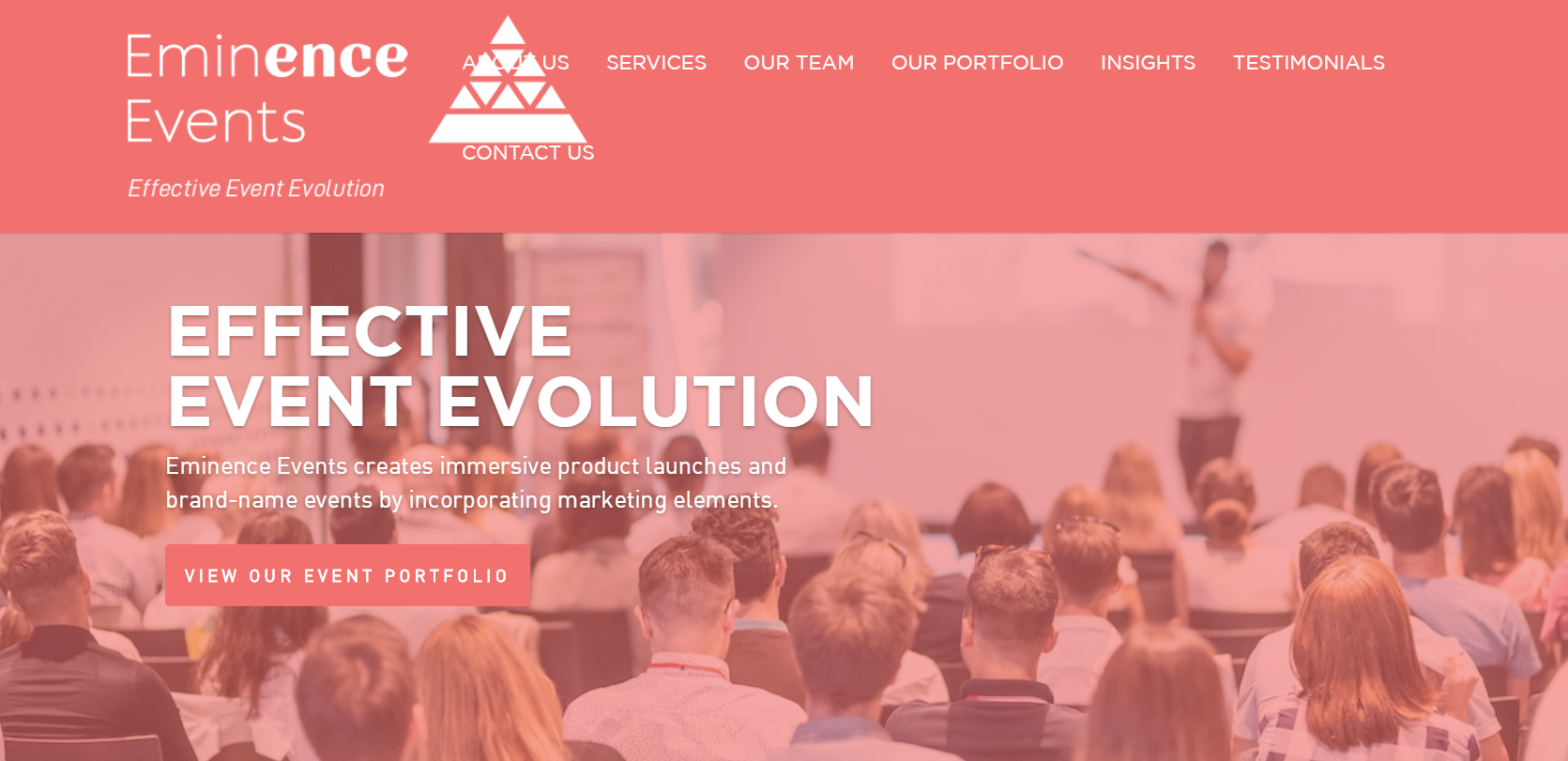 | | |
| --- | --- |
| BEST FOR | F&B and retail industries |
| SERVICES | Consultation, conceptualisation, client management, and events execution |
| WEBSITE | http://www.eminence-event.com/ |
| ADDRESS | 20 Cecil Street #26-02 PLUS Building, Singapore 049705 |
| CONTACT DETAILS | +65 3163 4653 |
Creating first-rate events that would leave guests elated, Eminence Events pride themselves in producing only the best for their clients. They have consistently made memorable events that effectively represented each and every company's brand and image. A true veteran in the field of event organizing, they uphold the spirit of excellence in every aspect of their work, respecting and continuously improving their services.
From the venue and set-up, to the food and beverages, rest assured everything is planned and executed to perfection. With Eminence Events, you will have only the best experience at a snap of your finger.
Highlights
Creates high value events that drive ROI
Help brands develop experiences on the ground
Help brands to connect with people
Change the way events are managed
21. Venuerific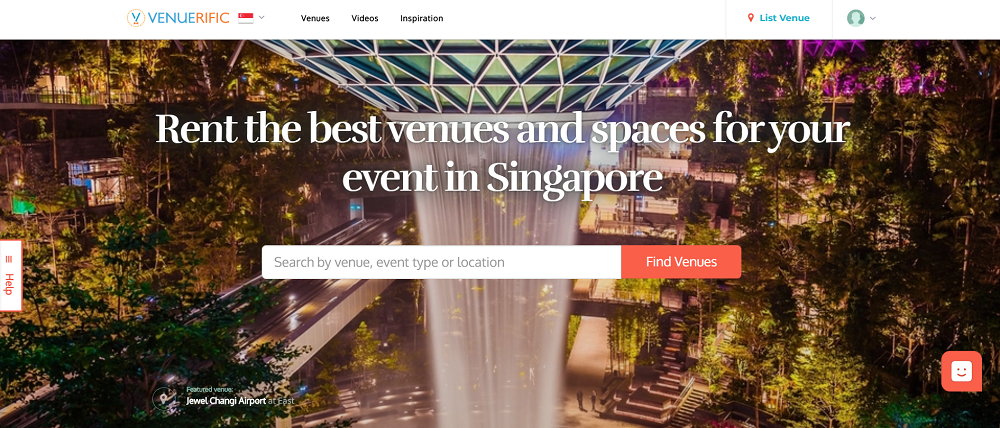 | | |
| --- | --- |
| BEST FOR | Southeast Asia's Largest Event Venue Marketplace |
| SERVICES | Corporate Events and Team Building, Personal Celebrations, Dinner and Dance, Exhibitions and Product Launches |
| WEBSITE | https://www.venuerific.com/sg |
| ADDRESS | Odeon Towers #02-01 331 North Bridge Road, 188720 |
| CONTACT DETAILS | +65 8448 9750 | [email protected] |
Venuerific is the go-to platform to book event spaces for corporate dinners or team building parties. Helping people to celebrate since 2013, Venuerific has hundreds of event spaces listed on the platform where you can choose from a wide variety of creative and unique venues to accommodate your corporate celebrations of any sizes.
For dinner and dance events, check out the elegant ballrooms such as the Cloud 9 Piazza in Jewel Changi that features the iconic rain vortex as the backdrop or the hilltop ballroom on Faber Peak with views of the ocean and rainforest. If you are planning an exciting team building activity, discover their long list of entertainment-packed event spaces such as Saint Games and RGB Space.
Most importantly, you are able to make quick inquiries about the venue you are interested in with a few simple clicks or contact the host directly on the phone. If you need help to find a suitable event space, their helpful staff are quick to respond and assist you.
Highlights
Zero Additional Cost
Fuss-free booking
Wide Variety of Event Spaces
Customer Reviews
"A fantastic, easy-to-use platform to find, discover and book event venues. I love how many hidden gems I found for my private event (which I otherwise would never have known existed!). Will definitely recommend this to all event planners. "

"The best platform to find spaces to organize events. Thanks I was able to find a space according to the needs I was looking for to organize my wedding, I found my space and instantaneously I contacted the owner. They also have a service of experts in advising for events that make your job much easier. Without a doubt an excellent option."

22. Tagtical Pte Ltd
| | |
| --- | --- |
| BEST FOR | Laser Tag, Inflatable Snooker |
| SERVICES | Events, Parties, Partnerships, Photobooth, Archery Tag, Laser Tag, Bubble Bump, and more |
| WEBSITE | http://www.tagtical.sg/ |
| ADDRESS | Ubi Techpark, Singapore |
| CONTACT DETAILS | +65 9337 1324 | [email protected] |
Tagtical is a company that aims to provide only the most educational but interesting activities for everyone to enjoy! One of the best in planning and organizing, you can bet that they're able to create games personally customized to your group.
If you're curious with what other services they do, do not fret as they are readily available to answer your questions and accommodate anyone who needs their assistance.
Highlights
No age limit
Educational activities
Established company
23. Emcee Services Singapore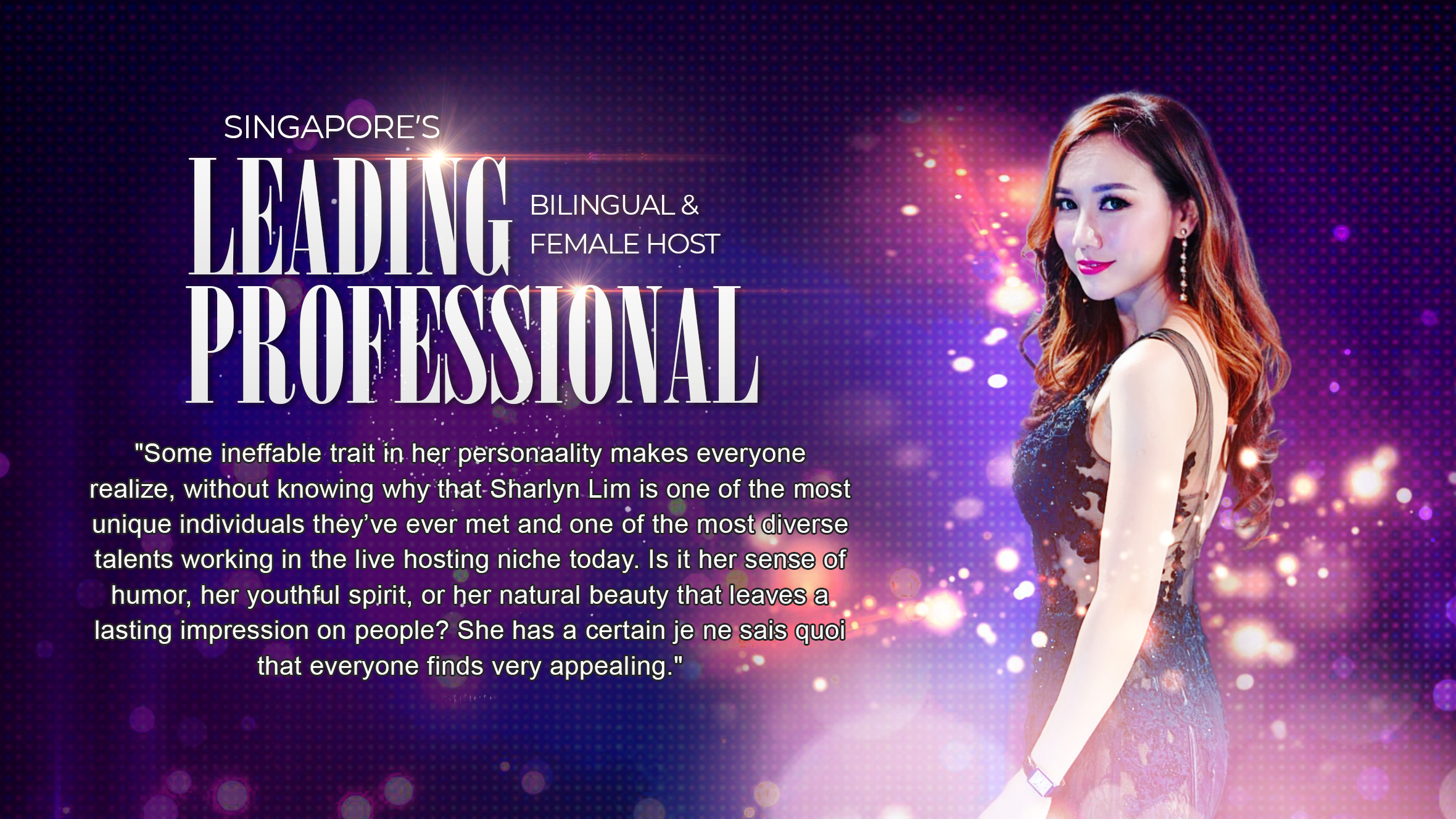 With a voice of an angel, Sharlyn Lim truly knows how to work wonders with her talent in speaking; a unique individual who has continuously proven herself to be one of the best hosts in the country, if not the world. Sharlyn had mostly stood in front of established and popular people in all of her years in hosting, but she's also ready to take up whatever challenge that faces her way.
Sharlyn has recently acted in the movie "Make It Big Big" directed by Mark Lee & acted alongside Fann Wong. Her soothing voice has also won over the hearts of Taiwanese Movie Producers &* landed her 1st ever Vocal Dubbing role in Jack Neo's latest movie – Killer Not Stupid.
Sharlyn is also a Part-timer Radio DJ with Love 972 FM. Her bilingualism both in written and spoken form is certainly a rare gem in this industry. She emanates a sense of style, with an approachable friendly demeanor.
It is no wonder Sharlyn is a highly sought-after emcee in Singapore, carving out a niche for herself in the realm of professional hosting! She has since hosted I have hosted events in the presence of dignitaries, C-levels, DPM, MPs
Highlights
Experienced host

Bilingual emcee
24. Partyinkers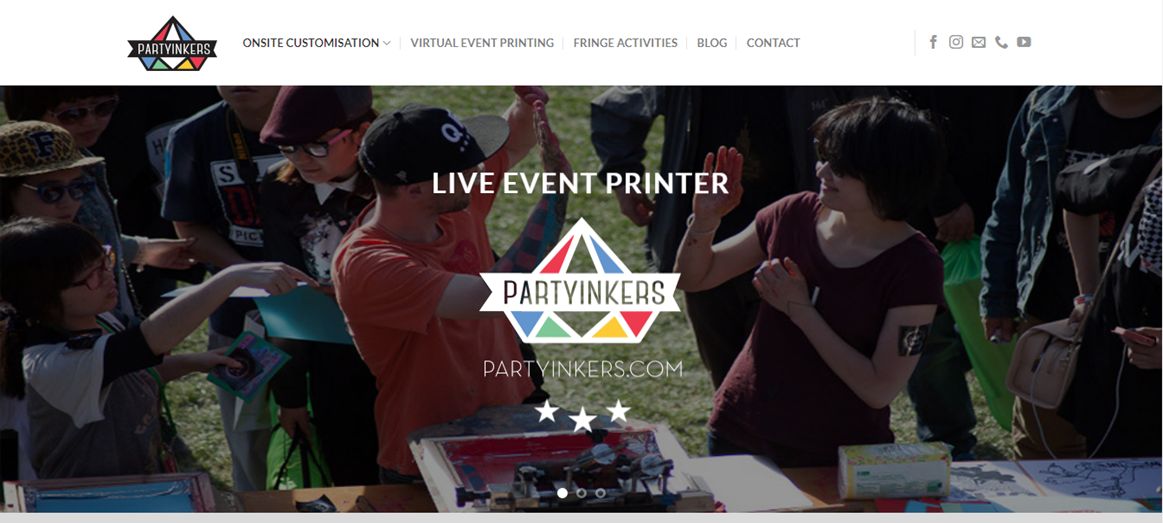 BEST FOR
Live Event Printing
SERVICES
Live Screen Printing, Live Digital Printing, Live Embriodery, Virtual Event Printing
WEBSITE
https://www.partyinkers.com/
ADDRESS
60 Kallang Pudding #03-00, Singapore 349320
CONTACT DETAILS
Contact: Roy +65 9007 5093
Contact: Keon +65 9877 9343
Email: [email protected]
Partyinkers prioritises every occasion important to you. Through the help of its printing services, it has been able to witness the success of thousands of events across Asia.
Partyinkers has worked with brands such as Disney, Rayban, Adidas, and many others. With over ten years of experience, its reliable team knows exactly how to handle any printing responsibility you require with excellence.
Whether it is live event printing, on-site screen printing, or T-shirt printing, you can count on the efficiency of Partyinkers. Give its staff a call and they will make sure to provide you with services and packages tailored specifically to suit your needs.
Highlights
Globally Experienced
Professional Team
Customized Printing Services
25. Funworks' Dinner and Dance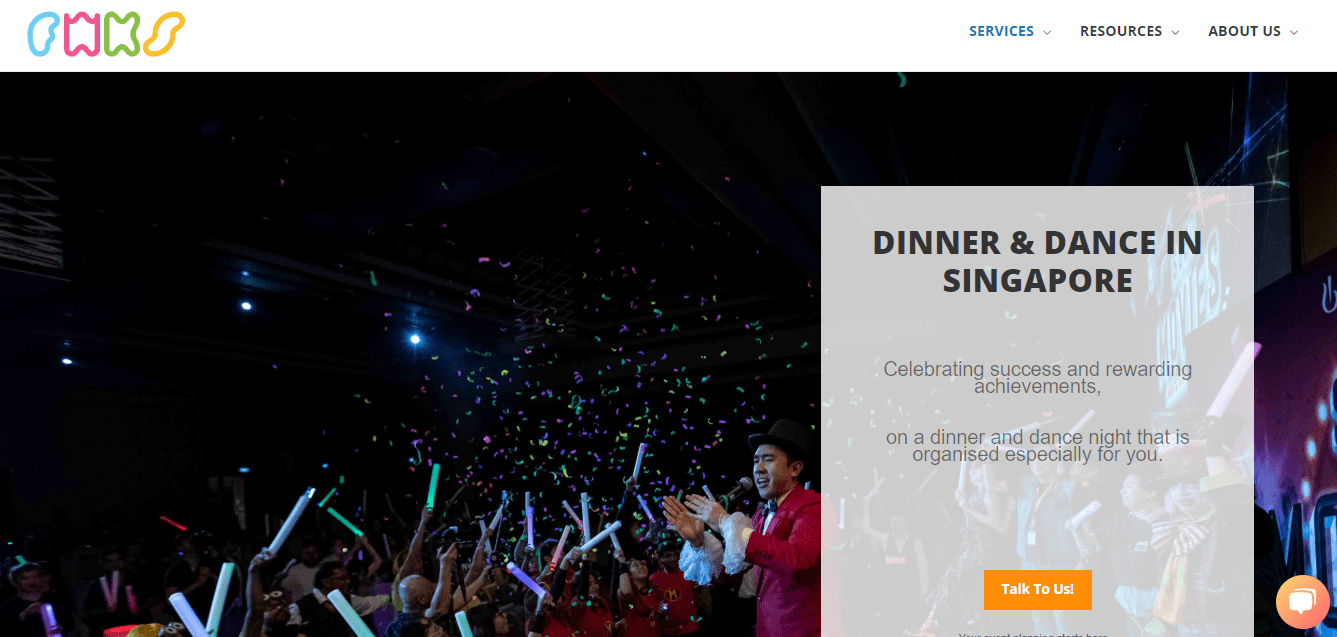 BEST FOR
Company Celebration
SERVICES
Team Building, Community Work, Dinner and Dance, DIY Terrarium, and Escape Room
WEBSITE
https://funworks.sg/dinner-and-dance/
ADDRESS
#04-59, 33 Ubi Ave 3, Tower A Vertex, Singapore 408868
CONTACT DETAILS
+65 6743 3077 |

[email protected]
What better way to celebrate your company's achievements than by having a dinner and dance celebration? It's definitely one of the best corporate events in Singapore offered by Funworks as it aims to gather all employees and celebrate the fruits of their hard work.
Funworks will also take care of everything, from the venue down to the catering. So, companies don't have to worry about anything other than making sure their employees will attend the event.
What's more, companies can also choose a theme for the celebration. Some of Funworks' most popular themes are superhero, under the sea, casino royale, futuristic, and retro night.
Highlights
Large venue
Delicious food catering
Themed events
26. 8th Wave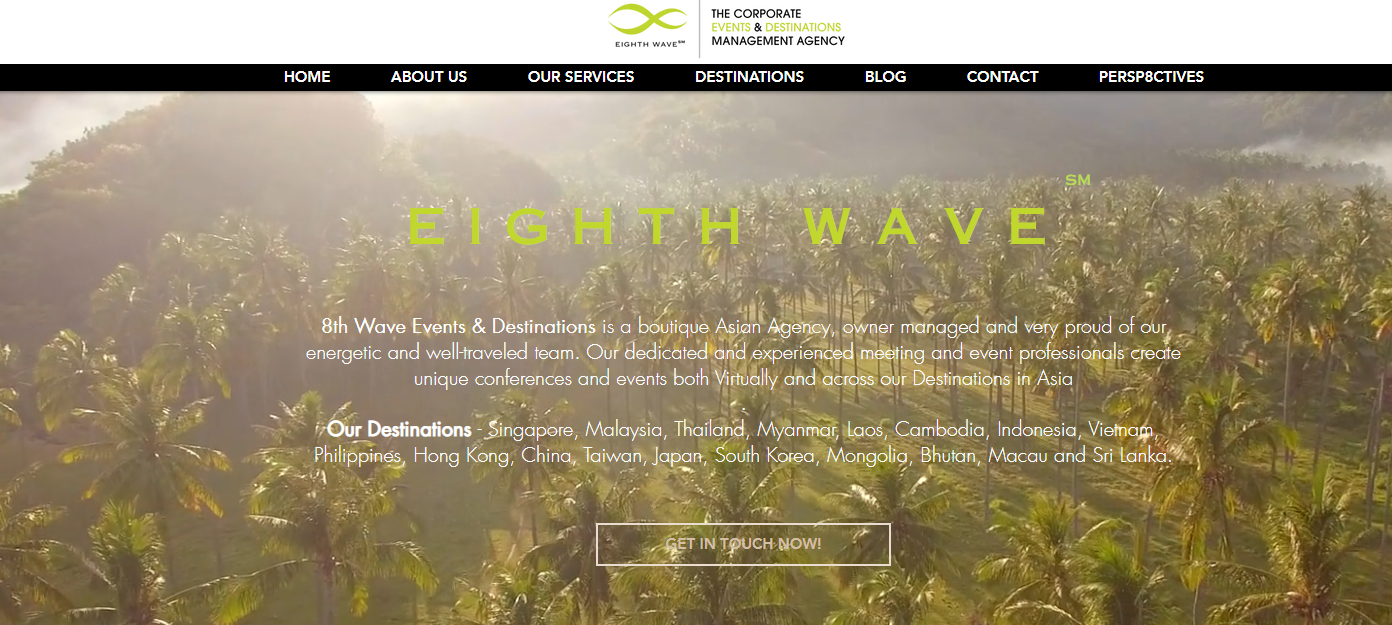 Best For
PCO and Destination Management Services
Services
– Meeting & Cinferences
– Branded Events & Shows
– Incentive Trips
– Virtual & Hybrid Events
Website
https://www.8th-wave.com/
Address
41 Sultan Gate
Singapore 198489
Contact Details
65 6474 0800 or [email protected]
8th Wave is one of the companies you can look up to if you're searching for a PCO and Destination Management Services for your corporate events. They develop experiential, inspiring, and streamlined travel & event services for any customer, big or small, with attention to detail and a detailed understanding of the host community.
They have a variety of services to choose from. May it be Meetings & Conferences, Incentive Trips, Branded Events & Shows, or Virtual & Hybrid Events — they ensure to provide it you with full certainty that everything will be taken care of.
You will never go wrong on trusting them with your corporate events. Get in touch with them today!
Highlights
Trusted experts

Fresh perspectives

Digital expertise


Wide array of services
And that's it for our list of the best corporate events in Singapore. We guarantee that any of these activities can bring out the best in your employees, colleagues, and friends!
If you know of other corporate events in Singapore worth checking out, drop their names and we'll check if we can add them to our roster!
By the way, if you're also thinking of a place to host a company dinner or function, you might want to read our list of the best event spaces in Singapore. These spaces can accommodate all types of events, from corporate to casual events.