The 12 Best Event Spaces in Singapore
Are you planning an event but haven't found the perfect place to host it? Well, worry no more because we know some of the best event spaces in Singapore that can accommodate all types of events!
Since there are a lot of event spaces scattered all over Singapore, we made sure to only include the ones that are clean and that have a huge seating capacity. That way, you don't waste time checking out a place that isn't worthy.
Without further ado, here are our picks for the best event spaces in Singapore:
1.  Den Space
| | |
| --- | --- |
| BEST FOR  | Cozy and fun gatherings |
| SERVICES | Special occasion, private party, performance, corporate meeting or conference |
| WEBSITE | http://denspace.sg/ |
| ADDRESS | 229 Joo Chiat Road #04-02 Singapore 427489 |
| CONTACT DETAILS |  +65 88177580 | [email protected] |
| OPERATING HOURS |   |
Looking for a venue that would surely wow your guests? Then rent Den Space's events place made for any and every occasion possible. Whether it's for a birthday party, family gatherings, corporate meetings or even for filming, Den Space has got you covered.
They currently have three rooms for events: A main space, Attic space, and a KTV Space. The main space can accommodate small to medium-sized events, fully equipped with fancy furniture and high-speed internet, this is a perfect place to have serious meetings or just a hangout with you favorite people. The attic space is a fully customized poker, automated majong table and traditional majong table and the KTV Space has a top-notched sound system great for movies and any sort of viewings.
Don't waste time looking for other events place when Den Space is here to provide you your every need! Contact them now for reservations.
Highlights
Flexible working space
Aesthetically pleasing event areas
Multiple facilities
Customer Reviews
Here's what customers have to say about the services of Den Space:
"Denspace is a somewhat hipster designed and conceived as a creative multipurpose event space. It is great venue to hold my 21st bday celebration. My guests are entertained by the facilities provided as well."

"Awesome place for parties and gathering! one stop venue with full of activities! will never get bored in Den Space! Place was clean and well maintained! We all enjoyed the party very much! Highly recommend! "
2.  HUONE Singapore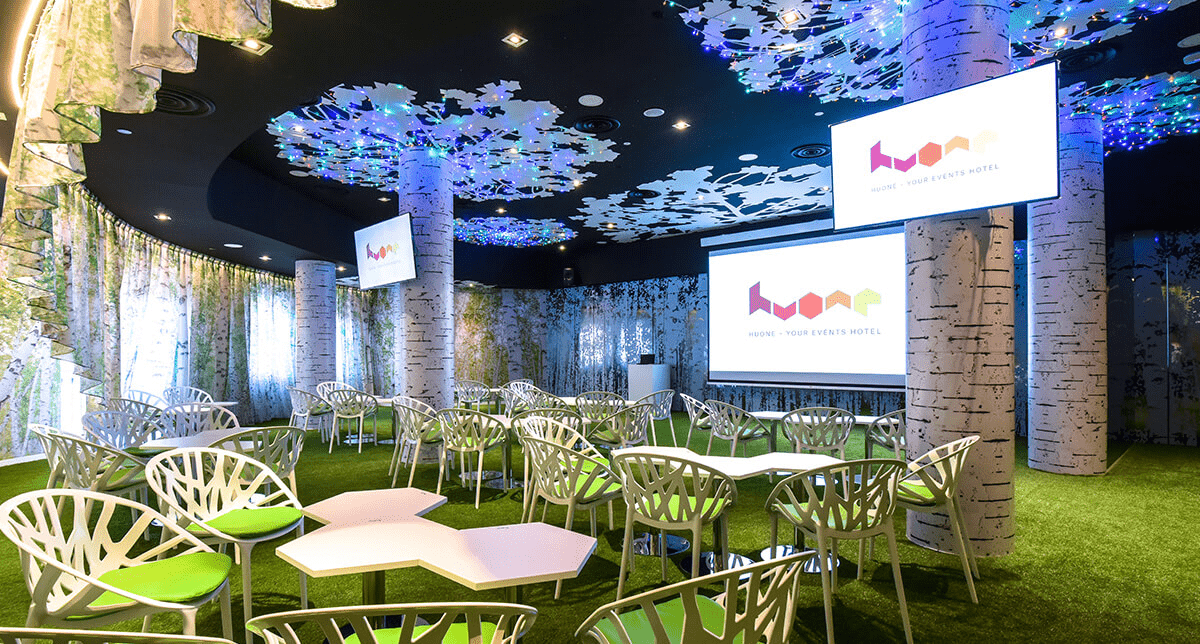 | | |
| --- | --- |
| BEST FOR  | Thematic Rooms |
| SERVICES | Corporate Events, Birthday Parties, Recreational Activities, and Catering |
| WEBSITE | https://www.huone.events/sg/ |
| ADDRESS | 3D River Valley Rd, #03-01 Block D, Singapore 179023 |
| CONTACT DETAILS | +65 8188 4793 |
| OPERATING HOURS | Monday – Friday, 8:00 AM – 10:00 PM |
HUONE Singapore is known for its thematic sets of rooms that are perfect for any type of occasion — may it be a formal event or a celebration. Some of the themes of its rooms include forest, igloo, cottage, warehouse, theatre, runaway, and a whole lot more spaces with unique concepts.
We found it worthy of being on our list of the best event spaces in Singapore because of its large-capacity rooms, making them an ideal space for events to be attended by a lot of people. Interested clients may also use its online booking system for easier room reservation.
More importantly, HOUNE's rooms are much cheaper compared to the rates of other event companies.
Highlights
Rooms with different concepts
Affordable rooms
Huge capacity
3.  Royal Palm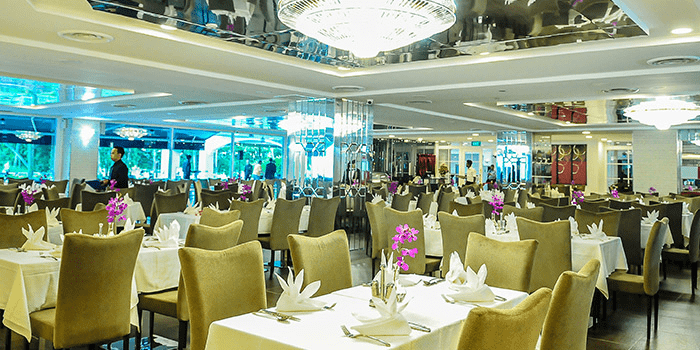 If you're planning a formal event — a wedding, perhaps — then we highly recommend checking out Royal Palm. It's the ideal spot to hold a wedding, corporate events, seminars, and even family gatherings.
More importantly, it has a seating capacity of 350 people, so rest assured that everyone invited will have a spot for themselves. If you're planning to invite more people, just talk to its representatives and they'll check if it's still possible to accommodate more guests.
On top of its quality services, it also serves up a delectable range of food that will definitely satisfy the tummy of every guest. And that's just one of the reasons we consider it one of the best event spaces in Singapore.
Highlights
350 seating capacity
Delicious menu
Professional staff
4.  Happen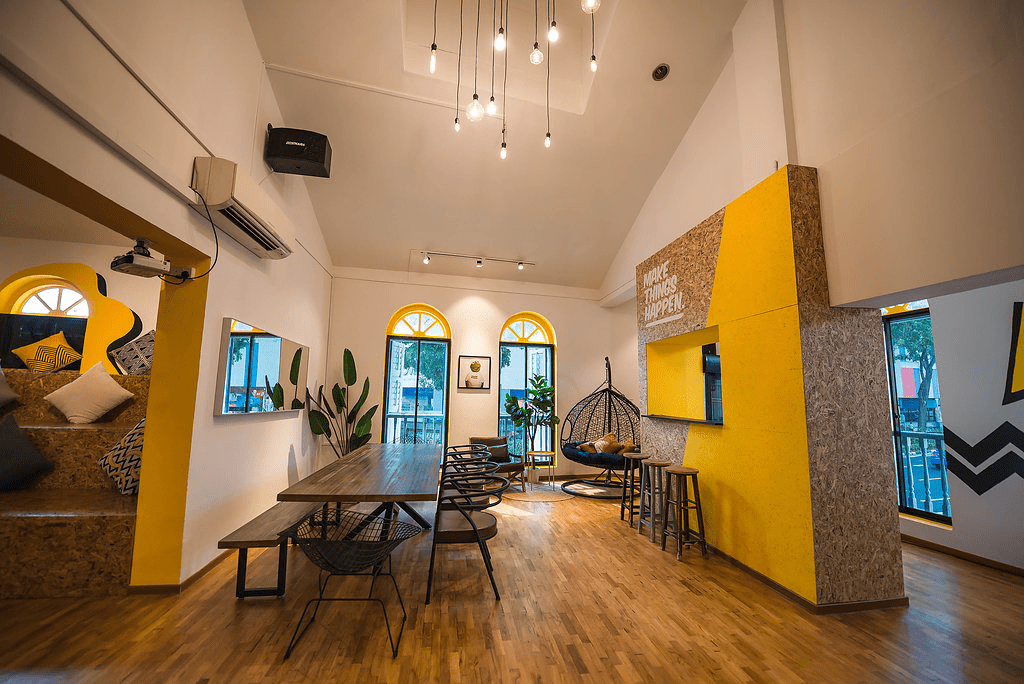 BEST FOR 
Small Functions
SERVICES
Birthday Parties, Corporate Events, Seminars, and Family Gatherings
WEBSITE
https://happen.sg/
ADDRESS
Jln Besar, 27A, Singapore 208796
CONTACT DETAILS
8892 8301 |

[email protected]

OPERATING HOURS
Monday – Friday, 11:00 AM – 11:00 PM
Happen is an event space designed to boost and lighten up everyone's productivity and mood, making it an ideal site for family gatherings, business events, and even birthday parties. It also has a complete set of tools and amenities needed for any type of event, such as projectors, internet, gaming consoles, and even board games.
Another reason we name it one of the best event spaces in Singapore is its awesome room features that make small events even more enjoyable. Among its room features are platform seating, wall murals, bar counter, lounge area, and bean bags.
Highlights
Creative space
Vibrant atmosphere
Catering and photobooth
Customer Reviews
Take a look at some of the feedback posted on Google Reviews:
"A great place to hold small company functions or celebrations. The space was good, the entertainment equipment given was decent enough, except for the faulty PS4 controller, a pool table that maybe needs some brushing and pool cues that need a little bit of maintenance. The karaoke is great, foosball was good too!"
"Great event space for parties or gatherings!  The loft radiates warm and cozy vibes as it is very nicely decorated, with beautiful furniture and picturesque ornaments. It is also very well equipped with a range of entertainment devices, such as a karaoke machine, pool table and board games! My guests were thrilled and entertained throughout the day, which was important to me as the host! It is snuggly located at the corner along Dunlop Rd, right opposite Jalan Besar MRT, which makes it accessible to my guests!"
5.  Project Central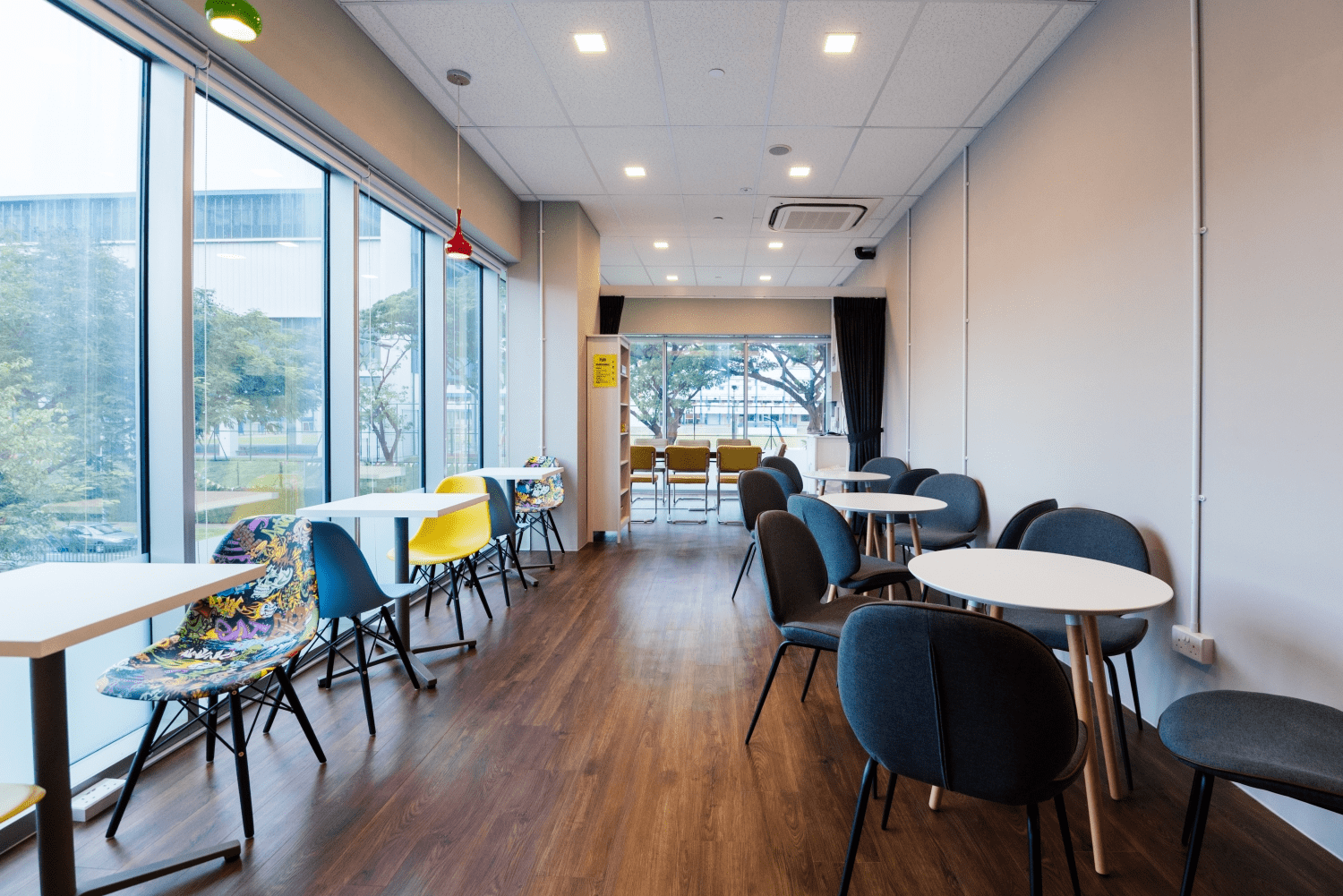 | | |
| --- | --- |
| BEST FOR  | Social Gatherings |
| SERVICES | Birthday Parties, Workshops, and Corporate Events |
| WEBSITE | https://projectcentral.com.sg/ |
| ADDRESS | 1187 Upper Serangoon Rd, #02-03 The Midtown, Singapore 533971 |
| CONTACT DETAILS | Tel: 98263347 | [email protected] |
| OPERATING HOURS | Monday – Sunday, 9:00 AM – 9:00 PM |
If you're looking for an event space that can help spark ideas and creativity, then look no further than Project Central, one of the best event spaces in Singapore. It's known for having clean and affordable rooms that are perfect for social gatherings and company functions.
More than this, Project Central also has facilities and equipment needed to make a company event even more productive. Each room comes with high-speed Internet, comfortable chairs and tables, bottled drinking water, and smart televisions.
Highlights
Complete amenities
Easy booking
Accessible
Customer Reviews
Project Central has been receiving praise from clients even since the start of its operations. Here are some positive comments from previous clients:
"It was a nice and cosy venue to host our small scale party for around 25 pax. The facilities were quite advanced with screen mirroring projection for the TV and bluetooth speaker that could be operated with a smartphone. Janet was very detailed in explaining how to use the equipment and also gave advice on where to hang the decorations. Thank you for your help."
"Janet has been a great host for helping in organising the retreat. The location is very convenient and with many F&B establishments nearby. The audio and visual setup for the event was all arranged timely.  A highly recommended event venue and organizer."
6.  Hyperspace
If you're planning a fun activity with friends or colleagues, then Hyperspace would be an excellent option for you. It's among the best event spaces in Singapore that are open to gaming sessions, parties, recreational activities, casual gatherings, team buildings, and even workshops.
Hyper Space also has the complete amenities and facilities that everyone would need to make an event more fun and memorable. Each room comes with a karaoke machine, Nintendo Switch, board games, pool table, beer pong, darts boards, and many more.
With Hyper Space, we guarantee that you and your friends will never run out of things to do!
Highlights
Full-range amenities
Catering services
Accessible
Customer Reviews
Here's what customers have to say about the services of Hyperspace:
"Came here for a birthday party and loved the space with lots of facilities. Clean and spacious. Interesting feature with the black lights that created a nice party atmosphere inside. Great location too near the mrt station."
"Beautifully designed and spacious event space. Price was affordable for our cny family gathering for a 4 hour booking. Our children loved it a lot because of all the games available. The adults and teenagers too. Will recommend it to others. Thanks for the fun time."
7.  IncuBaker®
BEST FOR 
Kitchen spaces
SERVICES
Co-working kitchen, meetings, private/corporate events
WEBSITE
https://www.incubaker.sg/
ADDRESS
21 Media Circle, #01-01, Infinite Studios, Singapore 138562
CONTACT DETAILS
 96956599/93821402 | [email protected]
OPERATING HOURS
Monday – Friday: 9am–5pm
Saturday – Sunday: Closed
Public Holidays: Time may differ
There's a saying that the best way to a person's heart is through their stomach, and what better way to do that than within the awesome space that is IncuBaker® Studio! IncuBaker Studio hits the spot be it for a company event for 60, a product launch for the media or just an intimate dinner for your special someone. All equipment is provided, so with your inspiration and passion, who knows what amazing creations await?
Highlights
Quality Equipment
Readily Available
Affordable rates
Sponsored by large brands
Customer Reviews
No customer has left IncuBaker's event space unsatisfied, most of which are determined to come back again! Here are some of the reviews left by happy clients:
"This is a Great Place to explore team building and food tasting/cooking improvement – this is like a Food "testing" "fine calibration" for perfection.
Well equipped and organized modern kitchen – any chefs or food business that looking for a modern well-equipped kitchen to horn their cutlery skill to the next higher level – Must explore here as one of their key choices!"

"Great location that supports the SG food start-up scene as well as runs interesting cooking classes. Also good cafe for people who work or live in the area."
"Go visit the place! Nice environment and affordable prices. Vegetarian cuisine, Thai, pastries are all available!"
8. 80RR Fintech Hub SG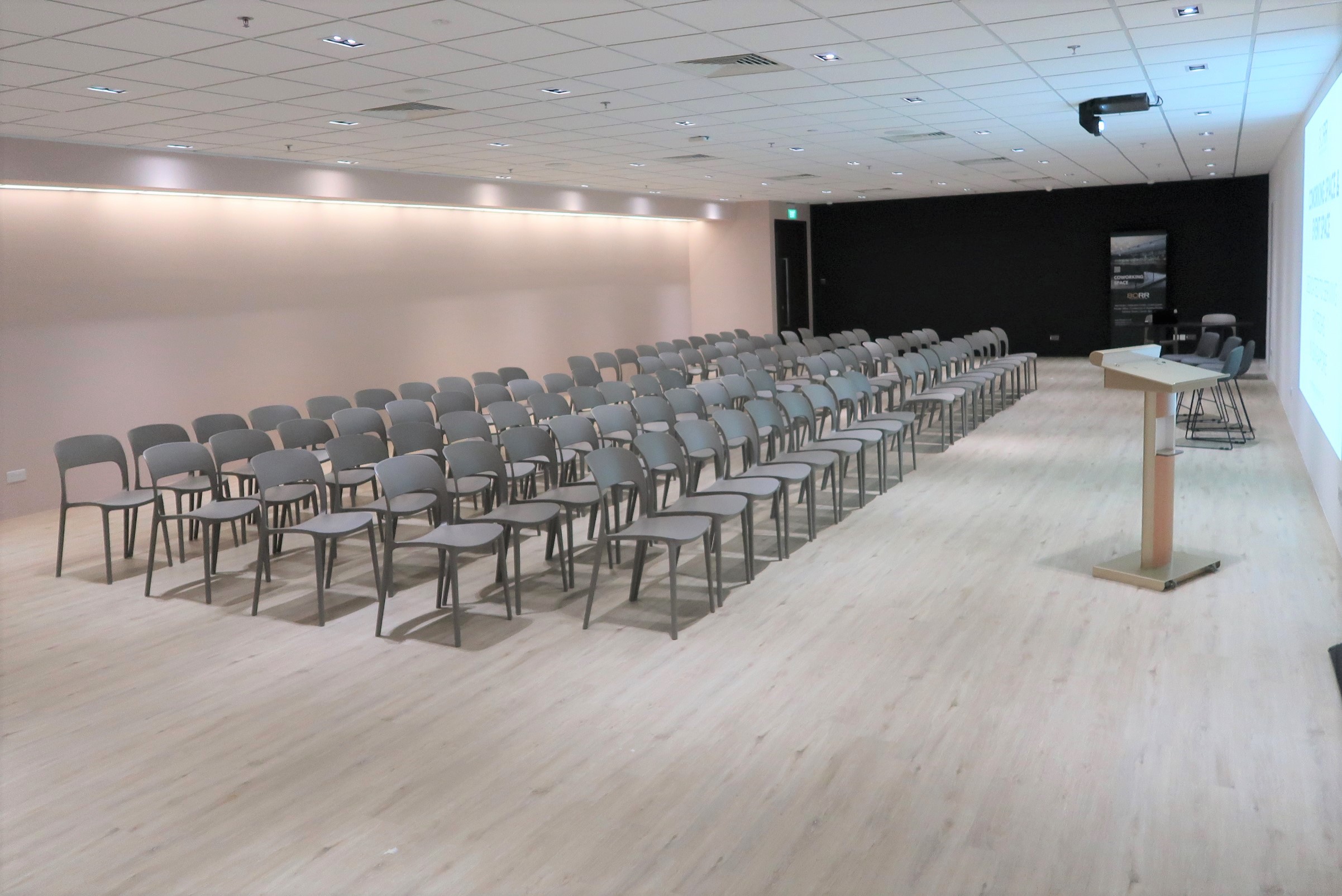 BEST FOR 
Coworking & Event Space
SERVICES
Event Space, Meeting Room, Pantry, Dining Hall, Breakout Areas, Meeting Pods & Calling Booths, Showers, Printers / Scanners, Lounge, Lockers, Server Space
WEBSITE
https://www.80rrfintech.com/
ADDRESS
80 Robinson Road, Level 8, Singapore 068898
CONTACT DETAILS
 +65 6228 6313 |

[email protected]

OPERATING HOURS
Monday – Wednesday: 9am–6pm
Thursday – Sunday: Closed
Public Holidays: Subject to change
A joint effort between Hong Leong Holdings Ltd (HLHL), the Monetary Authority of Singapore (MAS) and Singapore Fintech Association (SFA), 80RR was set up to support the growth of the Fintech Industry in Singapore. Currently, 80RR is home to more than 50 companies from diverse countries and background.
If you are looking for an event space for to host your networking sessions, seminars or even a product launch, 80RR Fintech Hub SG event space will be ideal for you. Their event space allows for flexible customisation to your desired layout and setting for your event. At approximately 2000 square feet, it is one of the largest event spaces in the CBD, being able to fit up to 200 pax.
Highlights
Privacy Soundproof Pods
Friendly staff
Convenient Location
Spacious environment
Fully functional and equipped areas
Customer Reviews
80 RR Fintech has proven their greatness time and time again. Have a look at some of their client's reviews left on google:
"Really like the working space at 80RR because of its warm lights and strong air-conditioning. The whole ambience is very conducive and comfortable to get some work done. The open working space also allows people from different entities to interact and mingle together." – Shawn Jong

"Stylish workspace with great location right in the heart of Singapore CBD! Warm friendly staff and Fintech community that made me feel really welcome. :)" – Nicole
9. City Serviced Offices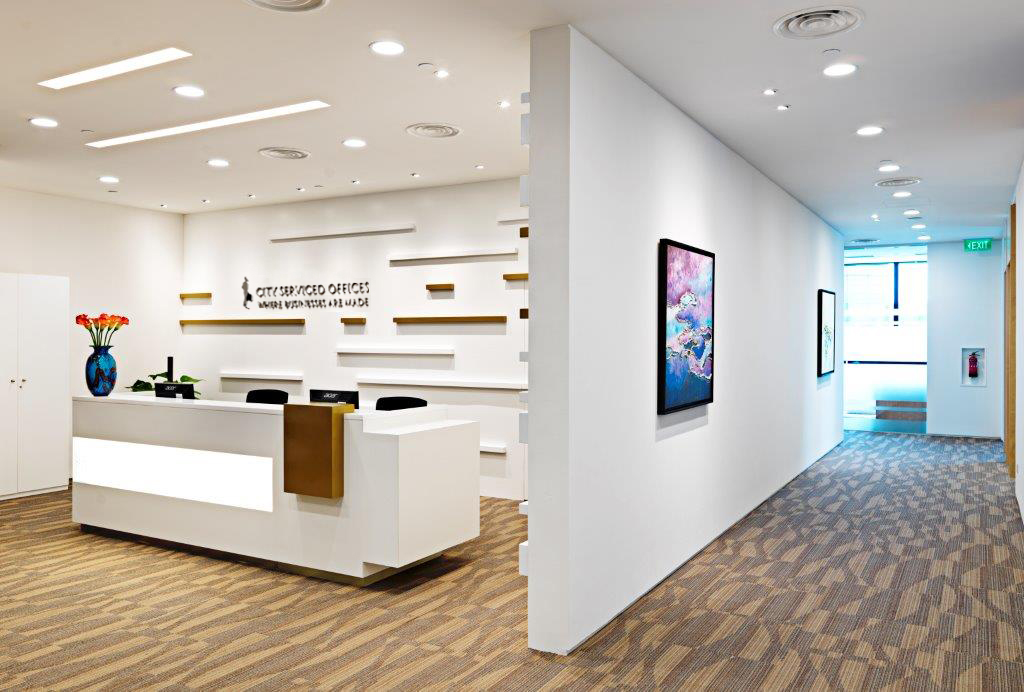 BEST FOR 
Offices
SERVICES
Fully Furnished Offices
Virtual Offices
Meeting & Conference rooms
Video Conference
Co-working
Business Services
Value Added Perks
WEBSITE
https://www.city-servicedoffices.com/
ADDRESS
9 Raffles Place Levels 57/58 Republic Plaza Singapore 048619
9 Raffles Place Level 17 Republic Plaza Tower 2 Singapore 048619
38 Beach Road Level 30 South Beach Tower Singapore 189767
CONTACT DETAILS
 + 65 6823 1388 |

[email protected]

OPERATING HOURS
Mondays to Fridays (except PH) 8.30-5.30pm
Offering a variety of services in Singapore, City Serviced Offices focuses on providing workspaces, be it temporary or permanent. Eager to serve their future clients more, they went the extra mile and increased their range of services.
They not only provide workspaces but also offer business and professional support if needed. Their staff is enthusiastic and dedicated, always willing to be a part of your team if you need extra pairs of hands.
Finally, they offer their services at an affordable price. They will take care of everything, from your workspace to your logistic needs, so you'll be able to focus on what matters the most– growing your business.
Highlights
Office Space
Virtual Offices
Valued Added
Customer Reviews
Here is a review left by a very satisfied client:
"The meeting rooms are clean with good amenities. Good for trainings and meetings. They have helpful and friendly staff. Very convenient location" – Michelle Ng 
10.  CoSpace Park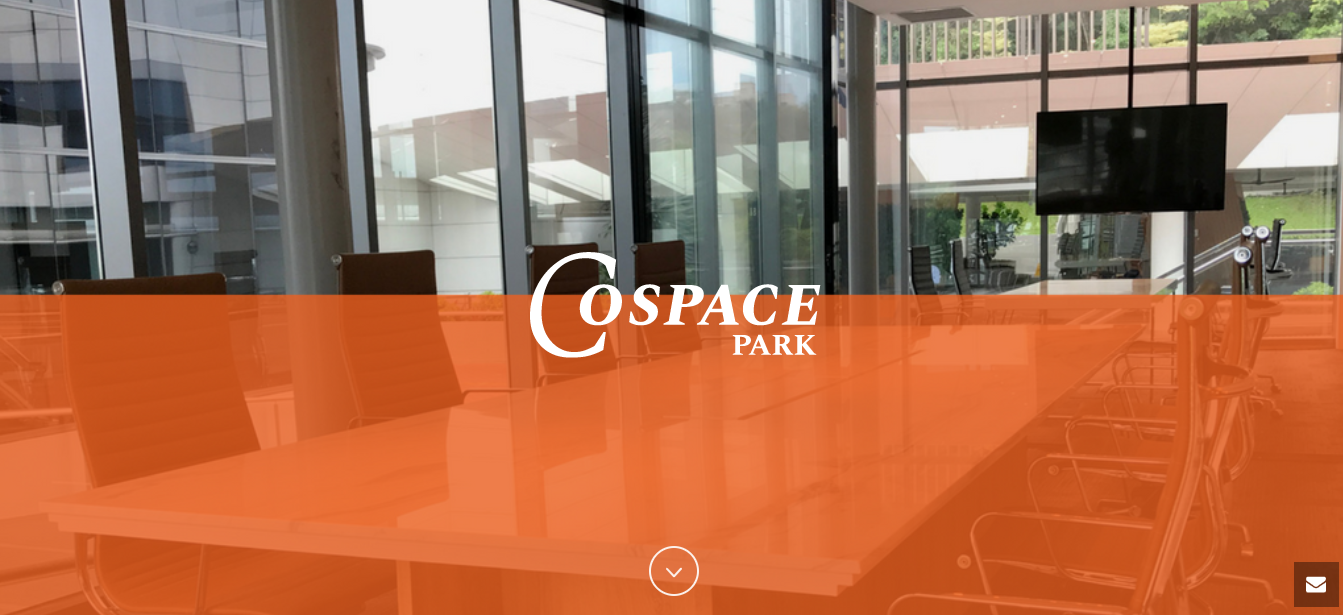 BEST FOR

Event Spaces

SERVICES

Co-working space and hot desks, private offices, meeting rooms and conference rooms, event spaces

WEBSITE

https://cospacepark.com/

ADDRESS

Singapore Science Park 2

 

43 Science Park Road #01-11 Singapore 117408

CONTACT DETAILS

+65 9146 6175

 

OPERATING HOURS

Mon to Fri 9:00AM-6:00PM
Nestled in the heart of the Science Park, CoSpace Park offers a luxurious and serene work environment away from the hustle and bustle of the city. In collaboration with renowned venture labs, they offer a wealth of connections to high technology start ups, access to funds and connections to corporate programs. 
They will be also granting customers an unrestricted avenue to the platforms they need to excel. With numerous wallet-friendly offerings to boot, it's no wonder why many call them home. 
Highlights
Co-working space and hot desks

Private offices

Meeting rooms and conference rooms 
Customer Reviews
Here's a review from one of CoSpace Park's clients:
"Professional and friendly staff. A lot of Singaporean entrepreneurs can be found in here."
Here's another one:
"Lovely space for any occasion!!"
11. TradingPLC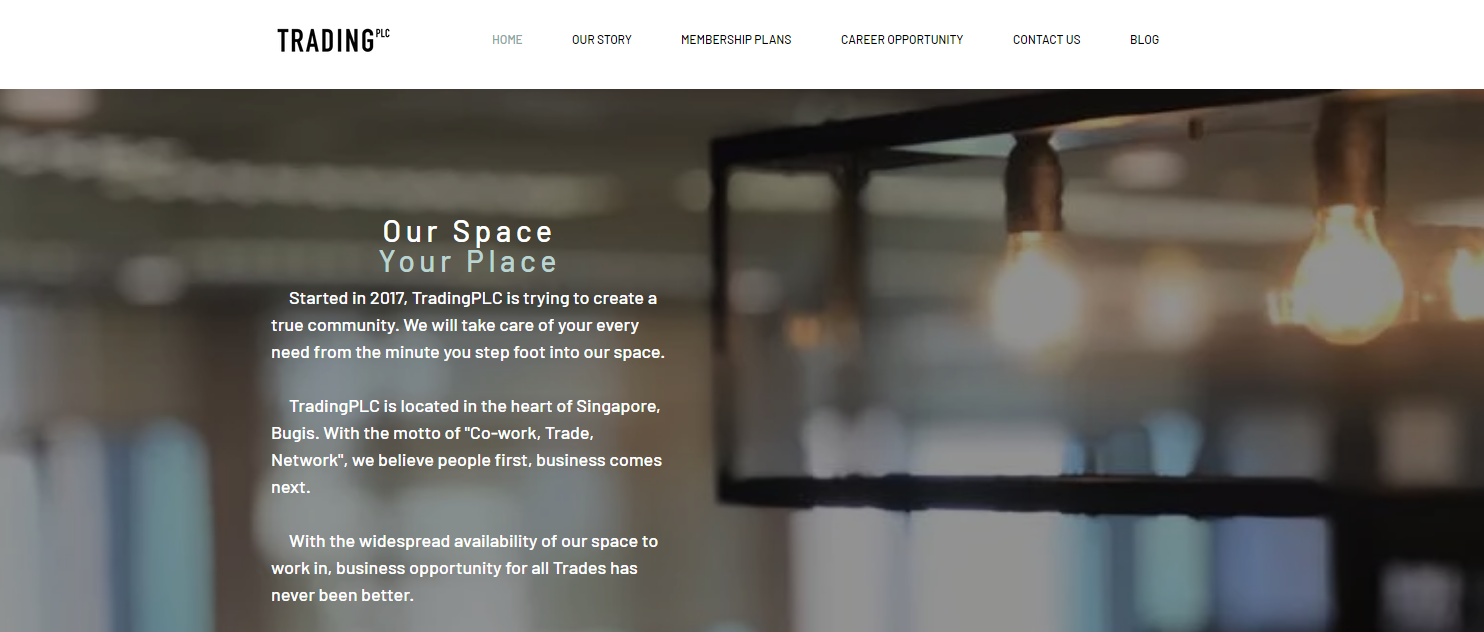 Best For
Working space
Services
Free Coffee & Tea, High Speed WIFI, Fridge & Microwave, Meeting Room, Community Host, Event Spaces, Whisky Night, In-House Entertainment
Website
https://www.tradingplc.com/
Address
45 Middle Road, #06-01, Foo Ann Building
singapore 188954
Contact Details
65 6909 5923 or [email protected]
Operating Hours
Monday to Friday (10am to 6pm)


Are you tired of working in a coffee shop? Now is the time to invest in a proper working place at TradingPLC! With the widespread availability of their workspaces, business opportunities have never been easier for their clients.
Recognized as one of the 1st Integrated Financial Arenas globally, they aim to build a safe and welcoming environment for start-ups, freelancers, and entrepreneurs to inspire and flourish together. They are deeply committed to providing their clients with world-class service to optimize financial benefits in meeting their clients' ease, expertise, intelligence, network, and comfort needs.
Your job experience will certainly be easy and efficient at TradingPLC. Book a tour now!
Highlights
Availability of work spaces
Massive business opportunities
Safe and healthy environment
Flexible arrangement
And that's it for our list of the best event spaces in Singapore. If you've visited any of these places before, share your experiences with us!
And remember, one way of making an event more fun is by serving delicious and healthy food. You may check out our list of the best food delivery services in Singapore so you know whom to call in case you have an event in the future!