Bowling is among the favourite pastimes of people on weekends because it's easy, fun, and a great group activity. If you're planning to do some bowling over the weekend, then why not drop by these places with the best bowling in Singapore?
Just remember that you don't have to be discouraged about going to the places with the best bowling in Singapore if you haven't tried playing it in the past. As long as you're playing with family and friends, all that matters is that you're having fun.
At any rate, we compiled a list of the places for the best bowling in Singapore. Check them out below to see which one is closer to your area:
1.  Westwood Bowl

BEST FOR 
Affordable Rates
SERVICES
Bowling Leagues, Bowling Tournaments, and Kids' Birthday Parties
WEBSITE
https://www.csc.sg/westwoodbowl/
ADDRESS
91 Bukit Batok West Ave 2, Singapore 659206
CONTACT DETAILS
+65 6333 5123 |

[email protected]

OPERATING HOURS
Monday – Sunday 9:00 AM – 1:00 AM
It's no secret that most bowling places are fully booked during weekends, which is why it's best to book an appointment days prior. It's a great thing that Westwood Bowls allows customers to book ahead online to ensure that they will be accommodated on their preferred dates.
What's more, Westwood Bowls has a total of 24 bowling lanes equipped with complete and proper equipment.
It also has more than 300 pairs of shoes of all sizes offered to customers to maximise their bowling experience — which is why we name it one of the top places with the best bowling in Singapore.
Highlights
24 bowling lanes
Complete equipment
Online booking
Customer Reviews
Take a look at what customers have to say about its services:
"Westwood Bowl @ Civil Service Club is a good place to bowl at. There is a store selling snacks and a shop selling bowling merchandise in the bowling alley, and there are arcade machines. The prices are also quite cheap, with one game costing $4. The toilet in the bowling alley is also quite clean. The touchscreen device is clean and displays information properly. The customer service is generally okay. The staff are generally polite."
"Well laid out bowling alley with the capability to do single pin trials, so very widely used by bowling academies on the weekends. Located right at the top of the small hill that houses Civil Service Club Bukit Batok, if you're driving then go all the way to the top and turn left to reach the Bowling Alley."
2.  Planet Bowl

| | |
| --- | --- |
| BEST FOR  | Large Capacity |
| SERVICES | Bowling Leagues |
| WEBSITE | https://www.csc.sg/planetbowl/ |
| ADDRESS | 60 Tessensohn Rd, Singapore 217664 |
| CONTACT DETAILS | 63915693 | 63915695 |
| OPERATING HOURS | Monday – Sunday, 10:00 AM – 1:00 AM |
If you're planning to go bowling with the entire family, then Planet Bowl would be the best option. It's a family-oriented bowling alley that allows families of different sizes to bond with each other over a bowling match or two!
More than this, Planet Bowl is known for having a competent and professional staff that assists all customers with all their concerns. All you need to worry about is bringing yourself to one of the top places for the best bowling in Singapore, and the rest will be up to their dedicated staff!
You may book a bowling session through their website to ensure that your desired date and time will be accommodated.
Highlights
Highly-trained staff
Bowling tournaments
Online booking
3.  K Bowling Club

K Bowling Club is the ideal place to go to if you're planning to have a long day of activities with friends and family. It doesn't only offer bowling — customers may also play darts, sing at the karaoke booth, and spend time with the arcade games.
It's easy for us to consider it one of the top places for the best bowling in Singapore given the different activities it offers. On top of that, K Bowling Club also has music, lights, food, and drinks that everyone can enjoy.
Highlights
Here are some comments posted on Google Reviews by satisfied customers:
"A cool glow-in-the-dark bowling, darts and pool place located conveniently within 313 Somerset itself. Great for some late night fun with a group as it opens till late. Serves a pretty wide selection of drinks and snacks too. Staff are friendly and do not interrupt while you're playing. It wasn't packed when my friends and I were there. Would definitely come back!"
"It's a great and modern short lane bowling party place. Having nice drinks and foods makes it even better to stay. Also enjoyed a lot of the darts. With its futuristic looks it's great for young party people who can enjoy live DJs."
4.  SuperBowl

| | |
| --- | --- |
| BEST FOR  | Multiple Branches |
| SERVICES | Bowling Leagues and Corporate Events |
| WEBSITE | https://www.superbowl.com.sg/ |
| ADDRESS | 1A Tampines Street 92, #03-01 528882 SAFRA Tampines, Singapore 528882 |
| CONTACT DETAILS | +65 6443 8238 |
| OPERATING HOURS | Monday – Sunday, 10:00 AM – 1:00 AM |
Out of all the bowling places on our list, SuperBowl is perhaps the most accessible option since it has 7 branches scattered all over the island. It's also been around for more than 25 years now, far longer than most of the bowling sites in Singapore.
Another thing worth noting about SuperBowl is how affordable its rates are compared to other bowling places. Indeed, it's the best place to visit if you want to destress from work without spending a lot of money.
What's more, SuperBowl also prides itself on its trained and professional staff that's willing to assist customers with their queries. We guarantee that you'll never be disappointed with the services of the top places for the best bowling in Singapore.
Highlights
Competitive rates
Professional staff
Large bowling space
5.  Orchid Bowl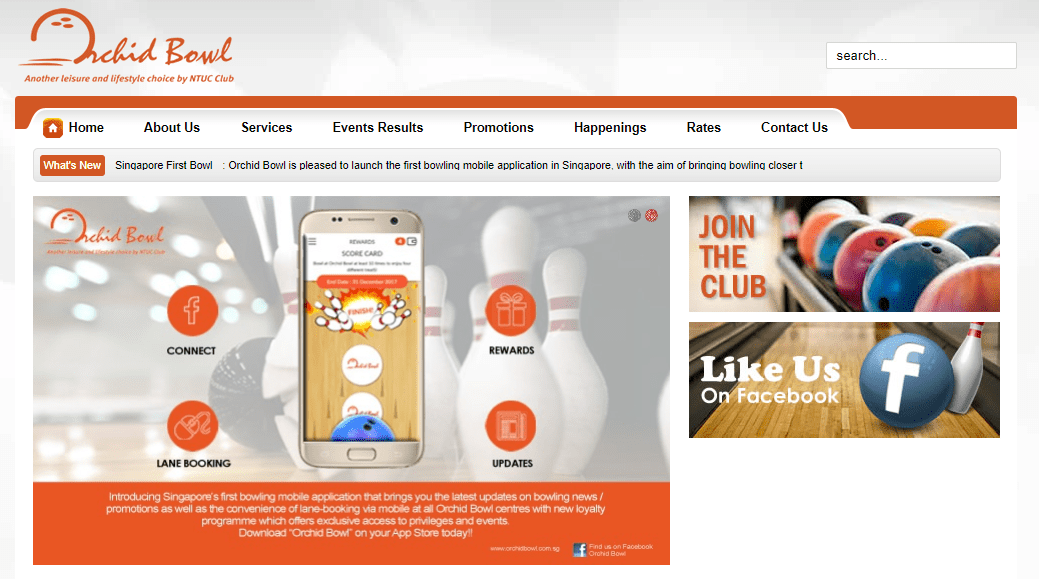 | | |
| --- | --- |
| BEST FOR  | Professional Staff |
| SERVICES | Bowling Leagues and Mini Bowling |
| WEBSITE | http://www.orchidbowl.com.sg/ |
| ADDRESS | 9 Sentul Cres, #05-03, Singapore 828851 |
| CONTACT DETAILS | 6385 6801 |
| OPERATING HOURS | Monday – Sunday, 10:00 AM – 1:00 AM |
Established in 1994, Orchid Bowl has slowly grown into one of the beloved bowling places in Singapore due to its quality services and professional staff. It's also patronised by a lot of people because it has affordable rates despite being one of the top places with the best bowling in Singapore.
Orchid Bowl also makes sure that all equipment and facilities are properly maintained and in perfect condition so customers will get to have fun without any inconvenience.
Lastly, Orchid Bowl also has a MiniBowl section that's perfect for kids who want to try out bowling without being intimidated. It's the ideal place if you want your kids to develop bowling as a hobby!
Highlights
26 years of experience
Affordable rates
Complete amenities
And with that, we end our list of the places to visit for the best bowling in Singapore. We guarantee that any of these places will make your weekends fun and productive!
If you know of other bowling alleys in Singapore, don't hesitate to share their names with us and we'll check if we can add them to our roster.
By the way, if you want to know other choices for stimulating activity to do over the weekend, why not bring yourself to the best workshops in Singapore? You will not only get to have fun but develop a new skill as well!