The 6 Best Debt Recovery Lawyers in Singapore
Are you searching for someone who can help you deal with a debtor who refuses to pay their debt? If so, you might want to consider hiring the services of the best debt recovery lawyers in Singapore.
No one wants to go to the trouble of hiring the best debt recovery lawyers in Singapore just to get their money back, but when the debtor refuses to cooperate, one is left with no choice. When that happens, might as well get the top lawyers so things are settled ASAP!
Check out our list below to know where to find the best debt recovery lawyers in Singapore and how to get in touch with them.
1. Farallon Law Corporation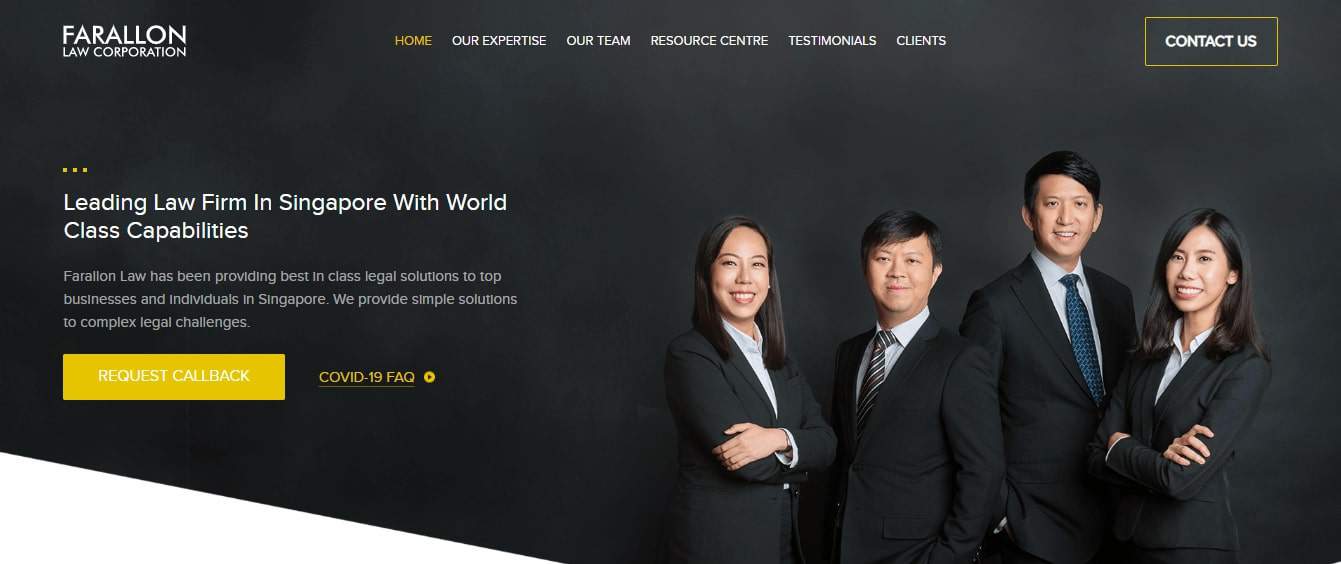 | | |
| --- | --- |
| BEST FOR | Experienced lawyers |
| EXPERTISE | Debt collection, corporate law, civil litigation, criminal Law, employment law, and international arbitration |
| WEBSITE | https://fl.sg/ |
| ADDRESS | 6A Shenton Way, #04-01 OUE Downtown Gallery, Singapore 068815 |
| CONTACT DETAILS | +65 6931 9000 |
| OPERATING HOURS | Monday – Friday, 9:00 AM – 6:00 PM |
As one of the top law firms on the island, Farallon Law Corporation is known for housing a team of sharp and experienced lawyers. It also employs some of the best debt recovery lawyers in Singapore who can give expert legal advice on how to get your money back from someone.
Other areas of law that its legal team can help with are criminal law, corporate law, employment law, civil litigation, and family law, among others. If you have other concerns that fall within any of these categories, don't hesitate to ask for further help.
Farallon Law Corporation is a law firm that aims to offer simple solutions to complicated, complex legal challenges. That's why you can be certain they'll help you resolve your issue in the most straightforward way possible.
Highlights
Wide area of expertise
Licensed, professional lawyers
2. I.R.B. Law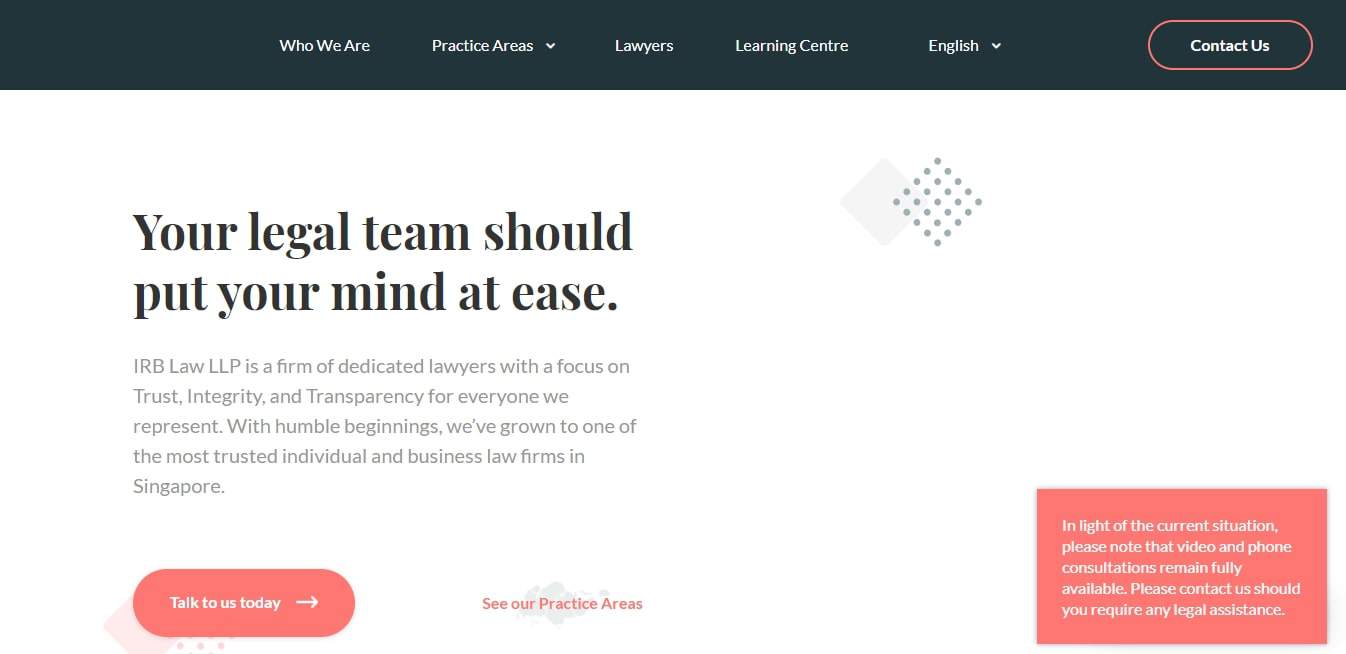 | | |
| --- | --- |
| BEST FOR | Legal method of debt recovery |
| EXPERTISE | Debt collection, divorce law, family law, will writing, civil litigation, employment law, and personal injury |
| WEBSITE | https://irblaw.com.sg/ |
| ADDRESS | 119 Jln Sultan, Singapore 199007 |
| CONTACT DETAILS | +65 6298 2537 |
| OPERATING HOURS | Monday – Friday, 9:30 AM – 6:00 PM |
I.R.B. Law is a law firm that aims to deliver effective, efficient, and affordable legal services to everyone, regardless of their legal trouble. It's composed of some of the best and sharpest minds on the island, all willing to do everything for their clients.
Unlike other law firms, I.R.B. Law keeps its service rates affordable by leveraging technology and falling costs of information. These services are shouldered by their clients to maintain the affordability of their services.
On top of having the best debt recovery lawyers in Singapore, I.R.B. Law has its own intricate process of debt recovery — which has proven to be effective a number of times now.
Highlights
Experienced lawyers
Affordable service rates
For businesses and individuals
Customer Reviews
Take a peek at what previous clients had to say about their experience with I.R.B Law:
"We lost a loved one recently and had to handle the legal matters revolving around his various assets, something which we were totally unfamiliar with. A relative introduced this contact and we are very glad that we engaged I.R.B. Law. Ms Joanne Giam was much dedicated to our case, patient and responsive to our many queries, knowledgeable and efficient. What we expected to take months was all concluded in mere weeks. She even took the extra mile to assist in matters that were beyond the scope of the case. Please accept our heartfelt appreciation for your great service at a time when we truly needed it."
"We engaged Sam Foo to assist with our adoption process. I must say what a smooth process and transaction it was. Very patient on processes and gave us the confidence that everything will go well. Thank you so much as we received our aim out of the whole process."
3. Lee Tan & Partners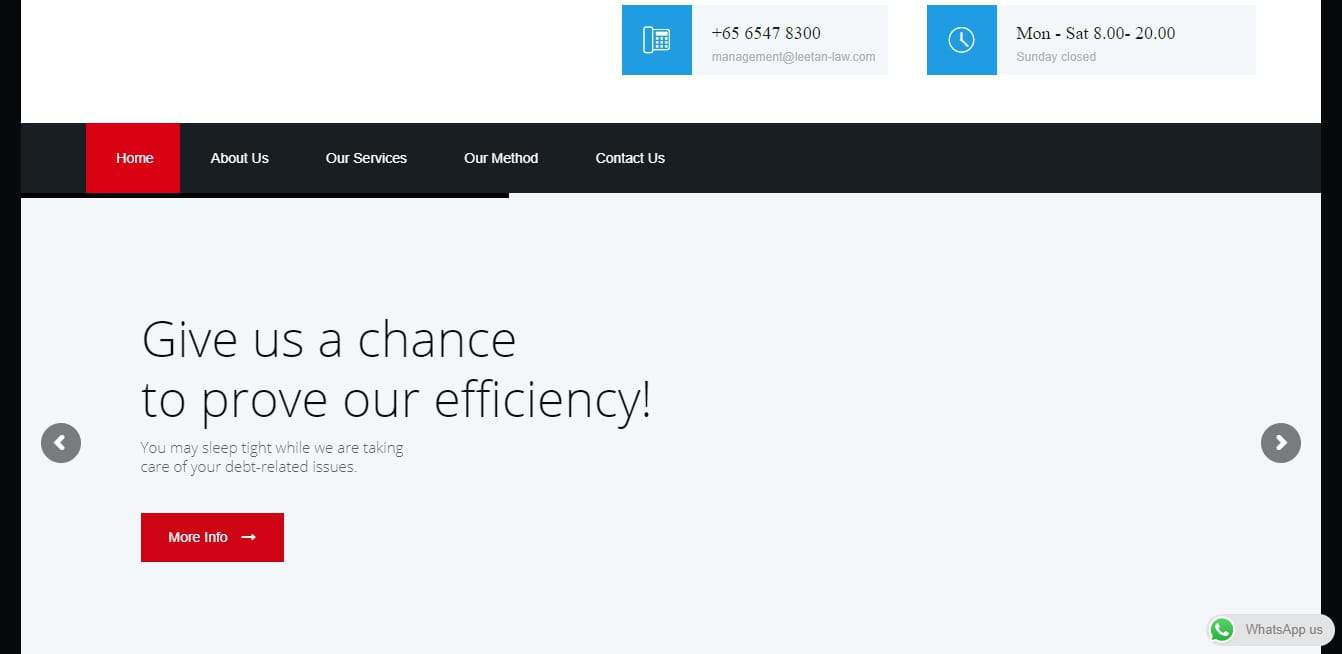 BEST FOR
Collection of commercial accounts receivable
EXPERTISE
Debt collection
WEBSITE
atradiuscollections.com/
ADDRESS
65 Ubi Crescent, #03-03 Hola Centre, Singapore 408559
CONTACT DETAILS
+65 6547 8300 |

[email protected]

OPERATING HOURS
Monday – Saturday, 8:00 AM – 8:00 PM
Lee Tan & Partners is one of the few law firms that specialise in the many aspects of debt recovery and collection services.
It can help with recovering home loans, consumer loans, commercial loans, vehicle loans, credit card accounts, and even bad cheques.
Beyond its team of the best debt recovery lawyers in Singapore, Lee Tan & Partners boasts an island-wide network of debt agents who are all ready to attend field cases any day. It promises clients that their money will be collected and returned in no more than a week!
Another reason we adore the services of Lee Tan & Partners is that it has reliable customer service representatives who are more than willing to answer the queries and complaints of their clientele.
Highlights
Operating 7 days a week
Fixed monthly fees
One-on-one customer service
4. JMS Rogers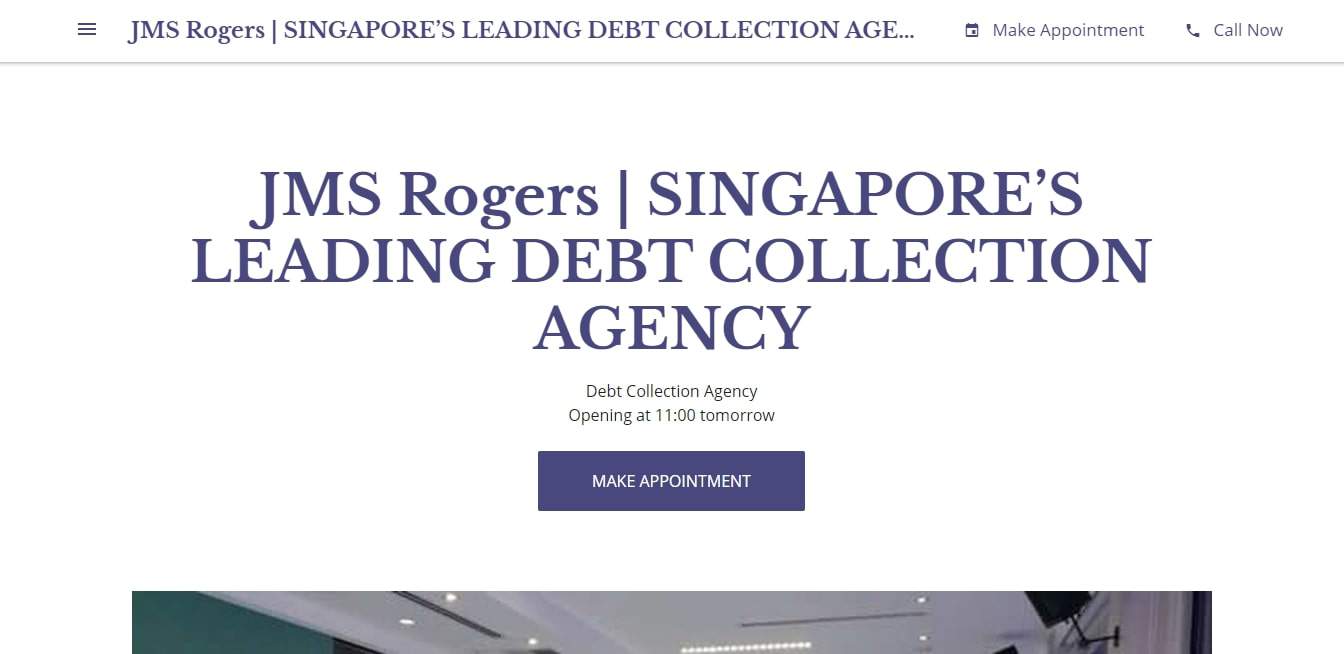 JMS Rogers isn't called the leading debt collection agency on the island for nothing. Apart from having the best debt collection lawyers in Singapore, it employs a team of dedicated, sometimes intimidating, debt collection specialists.
When we asked around for suggestions on the best debt recovery lawyers in Singapore, JMS Rogers was the name that was brought up multiple times.
It's no surprise, really, as most individuals and companies flock to its office for help in dealing with hard-headed people who refuse to pay their debts.
In fact, over its years of operation, it's managed to build a loyal customer base that swears by its services. So, if you're looking for an agency with a great track record, we recommend trying them out!
Highlights
Professional debt lawyers
For companies and individuals
Reasonable rates
Customer Reviews
Here are some reviews proving that it truly offers the best debt collection services on the island:
"JMS Rogers possesses a loyal customer base and is viewed as the person to go to by returning customers. I was recommended by one of their previous customers and true enough they managed to get back the money in part payments. I then had another friend who was scammed and referred her to. Professional plus speedy and trustworthy guys. Keep up with the great work!"
"Have been chasing a debt owing from a customer for more than HALF A YEAR. Went through all legal means but to no avail. After engaging JMS Rogers, I have successfully received the debt within 2 WEEKS. I'm really thankful for them and trust their service!"
5. Syariah Lawyers

BEST FOR
Divorce and Separation
EXPERTISE
Syariah Divorce & Custody, Wasiat & Hibbah, Faraid, and more
WEBSITE
https://syariahlawyer.com/
ADDRESS
100 Jalan Sultan, #02-09/10
Sultan Plaza, 199001
CONTACT DETAILS
[email protected]
+65 6298 2537
OPERATING HOURS
N/A
Syariah Lawyers is one of the leading law firms in Singapore. With over twenty years of experience, they are capable of handling many areas and specialisations of law.
Their team of lawyers are dedicated and diligent in their work. With Syariah Lawyers as your lawyer, your case can come to a satisfying conclusion.
Highlights
Leading law firm in Singapore
Many areas of expertise
6. Asia Law Corporation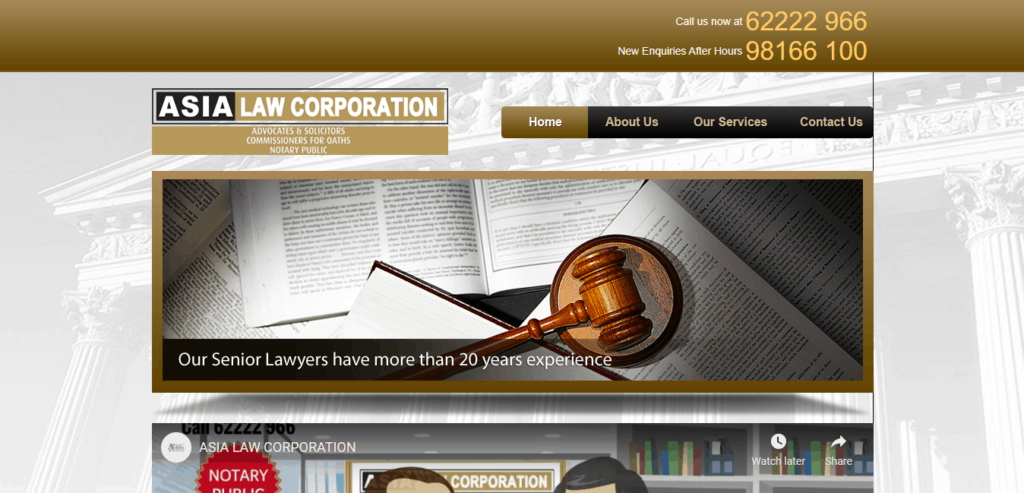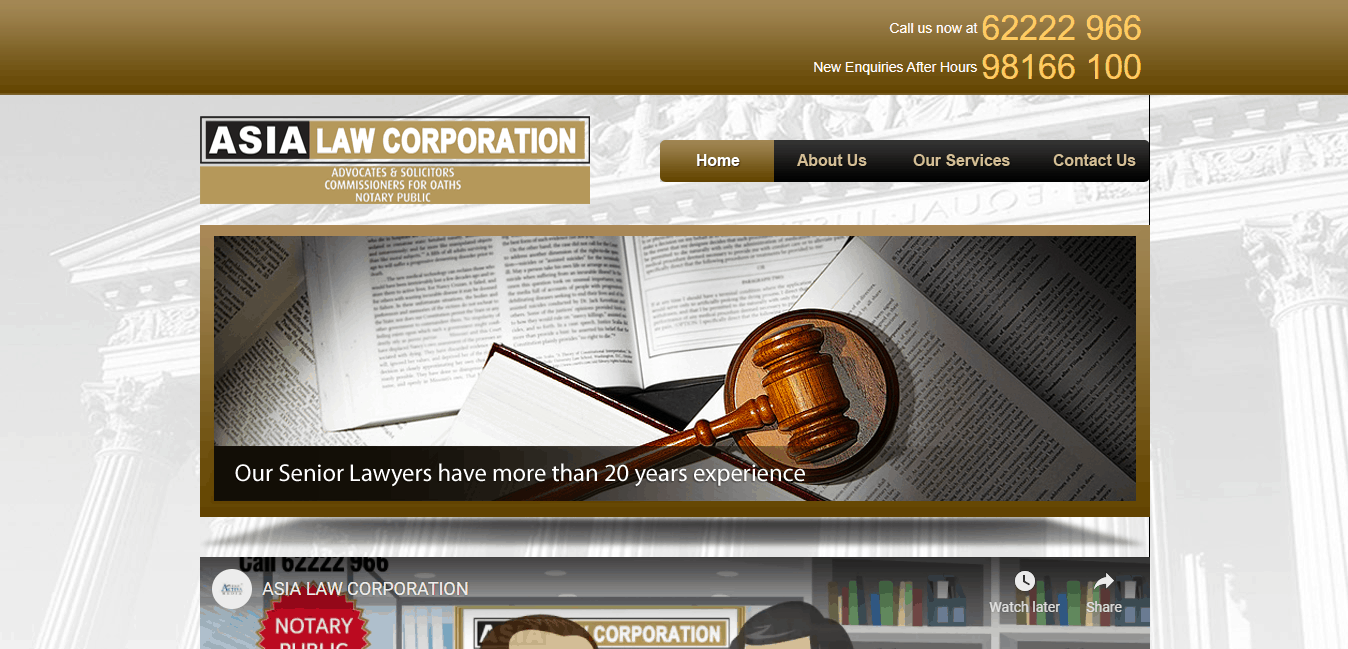 EXPERTISE
Debt recovery, debt claims, litigation and disputes, property transactions, divorce and family law, wills and estates, notary public
WEBSITE
https://www.asialawcorp.com/
ADDRESS
490 Lor 6 Toa Payoh, #03-17, Singapore 310490
CONTACT DETAILS
+65 6222 2966 |

[email protected]

OPERATING HOURS
Monday – Friday: 9:00 AM – 6:00 PM
Now, if you only want to trust lawyers with years and years of experience up their sleeves, then Asia Law Corporation may be a good law firm to choose. This law firm takes pride in having only senior lawyers with more than 20 years of experience in its team.
When it comes to debt, Asia Law Corporation can handle debt claims, debt recovery, and contract disputes alike. Thus, it can give its clients an all-around perspective on their cases, helping them win during disputes and litigations.
As such, Asia Law Corporation has represented just about anyone, from corporate owners, and landlords to private individuals. Most of its new clients are also brought as referrals by previous satisfied clients, solidifying itself as among the best debt law firms in the country.
Highlights
Its team is composed only of senior lawyers
Full range of debt expertise
Caters to corporate and private individuals alike
90% of clients from referrals
Customer Reviews
Read these reviews to know the quality of service you can expect from Asia Law Corporation:
"Had a good and pleasant experience with Asia Law recently. The conveyancy transaction was handled by the capable Marcus Tai and his legal assistant Catherine Teo. All went well and the transaction was closed smoothly and professionally."—MK Chen
"We changed our Lawyer to Asia Law. Asia Law's Lawyers really help us collect our bad debts. They give us good advice. Very good response time. Cost also reasonable. No regrets changing to Asia Law."—Leon Tay
---
And with that, we conclude our list of the best debt recovery lawyers in Singapore. If you've consulted with any of these law firms in the past, don't hesitate to share your experience with us.
For more options, you might want to check out our list of the best debt collectors in Singapore. These agencies may be a good first recourse if you don't want to jump straight to legal action just yet!