Top 7 Best Debt Collectors in Singapore: Most Efficient in 2021
A lot of people tend to think of negative things when thinking of debt collection in Singapore. However, associating with them can also help you propose different repayment solutions as a lender — that's why knowing the best debt collector in Singapore can be a great help!
Many of us are not familiar with searching for a skilled and reliable debt collector in Singapore, though. Therefore, we've narrowed down the top service companies that offer excellent consultations and resolutions.
1. Rocket Debt Collection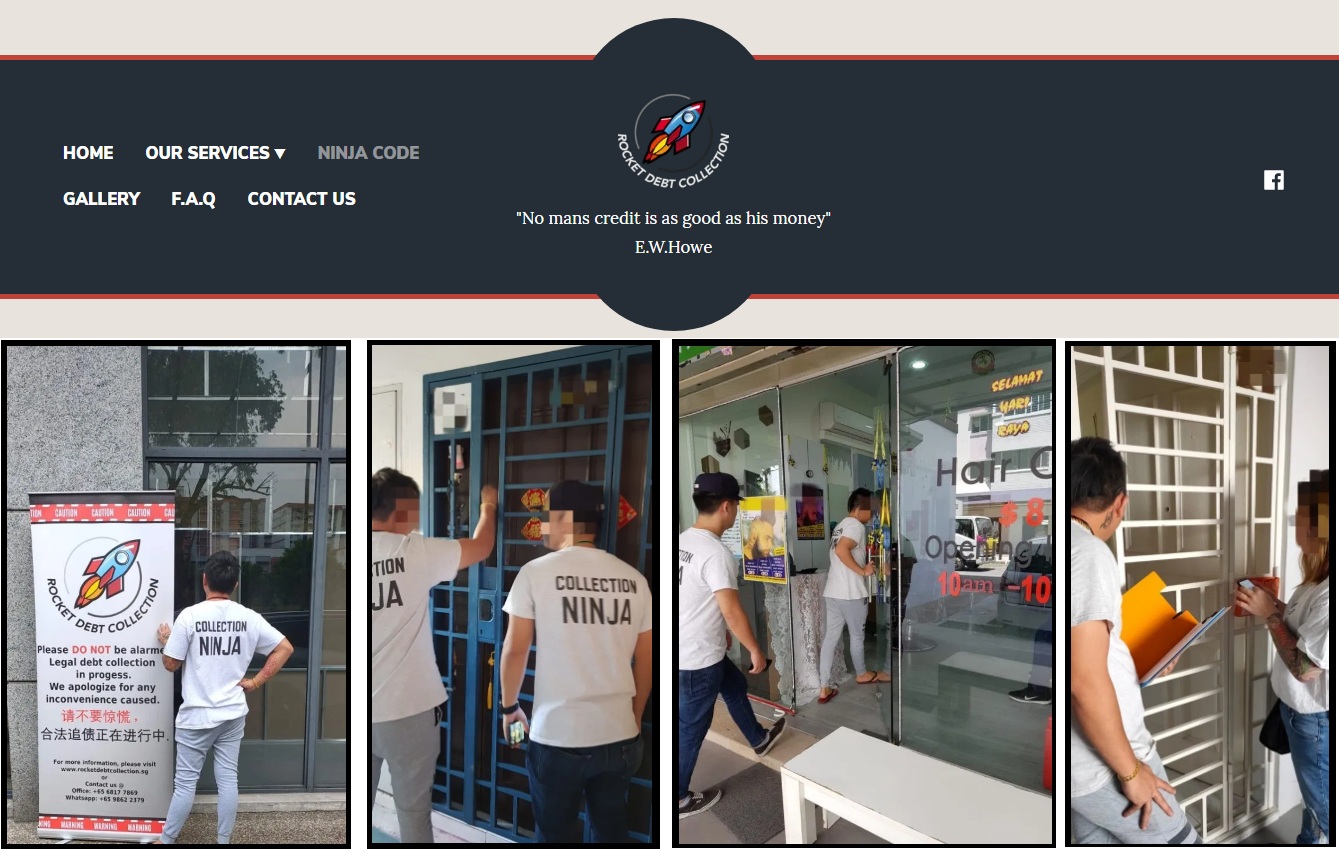 | | |
| --- | --- |
| BEST FOR | Responsible Debt Collection |
| WEBSITE | http://rocketdebtcollection.sg/ |
| ADDRESS | 21 Bukit Batok Crescent #15-75 Wcega Tower Singapore 658065 |
| CONTACT DETAILS | 9862 2379 or 68507751 |
Rocket Debt Collection prides themselves for their agents in which they call Ninjas. Enforcing a strict code of conduct for all their Ninjas, they behave and conduct themselves in absolute fairness, respectful and law-abiding methods when in contact with all parties to ensure objective dealings for all parties concerned.
They certainly erase the antiquated and generalised image of a Singapore debt collector as a thuggish force to be reckoned with. 
Rocket Debt Collection also provides an impartial mediation service to assist in resolving any existing conflict to smoothen the collection process and help lessen the stress for all parties involved.
Contact them now to discuss the process and debt collector rates in Singapore.  
Highlights
Corporate Debt Collection
Mediation Services
Invoice checking
Customer Reviews
"I have been using Rocket Debt Collection for my company and have also recommended them to business partners that requires debt collection services.
Thus far, my business partners and I have nothing but good things to say about their recovery rate.
Their customer service is prompt in providing updates. Their recovery team is diligent in helping recover the debts.
You know this because they update you with pictures on their debt collection process, for each and every case you assigned them to look into.
Highly recommend anybody looking for a trustworthy debt collection agency to seriously consider Rocket Debt Collection."
2. JMS Roger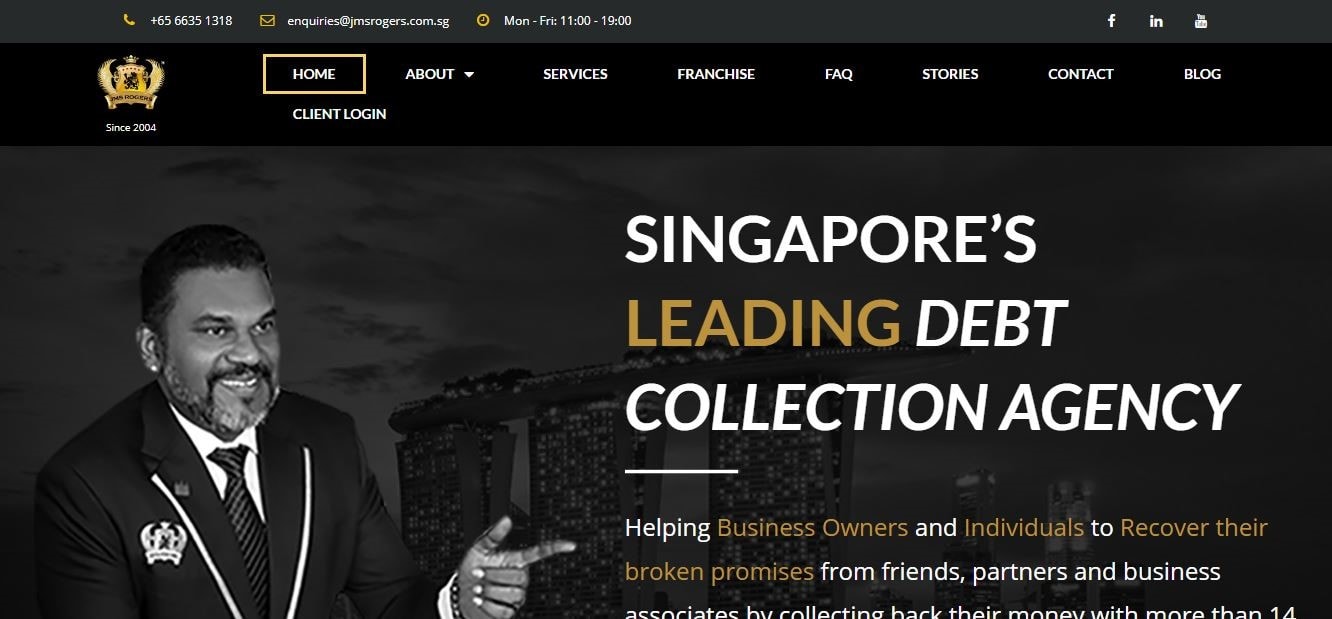 | | |
| --- | --- |
| BEST FOR  | Free legal consultation |
| WEBSITE | https://www.jmsrogers.com/ |
| ADDRESS | 71 Ubi Road 1 Oxley Bizhub 1, Lobby 4 #10-45 S(408732) |
| CONTACT DETAILS | 6635 1318 |
| OPERATING HOURS | Monday to Friday: 11am–6pm |
Dealing with debt collectors can be intimidating especially if it's your first time. To get bit of a warm up, it's great to find a licensed debt collector in Singapore that offers a complimentary legal consultation. 
JMS Roger is also one of the leading debt collection companies in Singapore. They're equipped with a skilled team that has years of experience when it comes to legal counselling, marketing, tracking, and more.
Their services cater to individual, business, local, and overseas debt collection. They've also been in the industry for more than 10 years — that's why they know how to make tailored approaches for each case.
Highlights
Legal counselling
Overseas debt collection
Customer Reviews
The clients complimented the professionalism and rapid process of JMS Roger. Some said that there are also delays during the festive season but they were able to manage it.
Hence, they're still the best debt collector in Singapore for most clients. Here's the feedback posted on Google Reviews:
"JMS Rogers possesses a loyal customer base and is viewed as the person to go to by returning customers. I was recommended by one of their previous customers and true enough they managed to get back the money in part payments. I then had another friend who was scammed and referred her to. Professional plus speedy and trustworthy guys. Keep up with the great work!" 
3. Alan & Steiner Debt Recovery Pte Ltd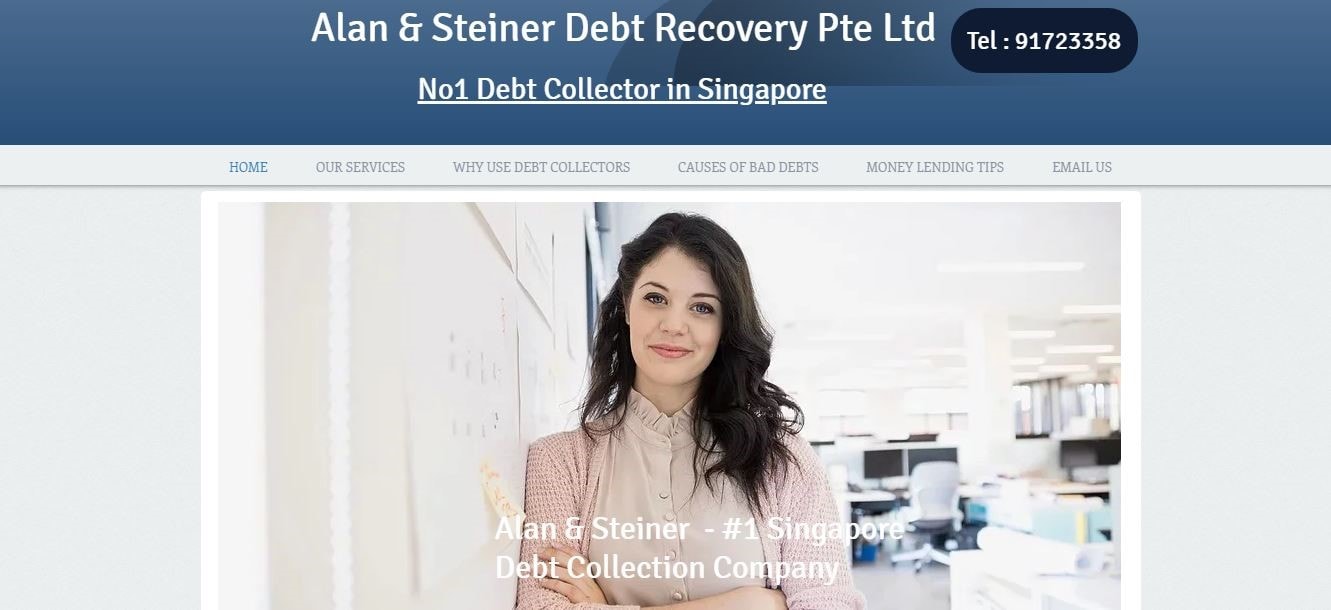 BEST FOR 
Personal and commercial loans
WEBSITE
https://www.alanandsteiner.com/
ADDRESS
 60 Paya Lebar Rd, #09-38, Singapore 409051
CONTACT DETAILS
91723358
OPERATING HOURS
Monday: 24 Hours

 

Tuesday to Friday: 8:30am–8pm

Saturday: 9:30am–7pm

Sunday: 8:30am–7pm
A company that has been doing debt collection in Singapore for over a decade, Alan & Steiner Debt Recovery Pte Ltd is one of the most well-known in the field.
Their Singapore debt collection services include both personal and commercial loans. They're also in compliance with laws and regulations so you can be sure that you'll be in good hands.
They offer all types of debt collection such as debt recovery, where you'll be advised about documentations and all negotiations to restore the debt. Moreover, they can prevent possible termination of the companies that owe you money.
So whether you're paying a debt or someone owes you one, you can count on their expertise and services. This is why they're considered one of the best debt collectors in Singapore.
Highlights
Debt restoration
Personal and commercial loans
In compliance with laws and regulations
Customer Reviews
Most of their clients were impressed by the professionalism and smart strategies of Alan & Steiner Debt Recovery Pte Ltd. A client from Google Reviews gave this feedback:
"Our company , Leiko , contracted Alan & Steiner Debt Recovery since Feb 2018 and they have recovered nearly 90% worth of our bad debts which we have difficulties collecting for the past 5 years. We found Alan & Steiner efficient and ethical as they charge a very reasonable fees as compared to others. Their process is very streamlined and have achieved great success with our cases assigned to them. We are more than happy to recommend them to our customers and anyone who request. Really must thank them for the great work that they have completed for us." 
4. Atradius Collections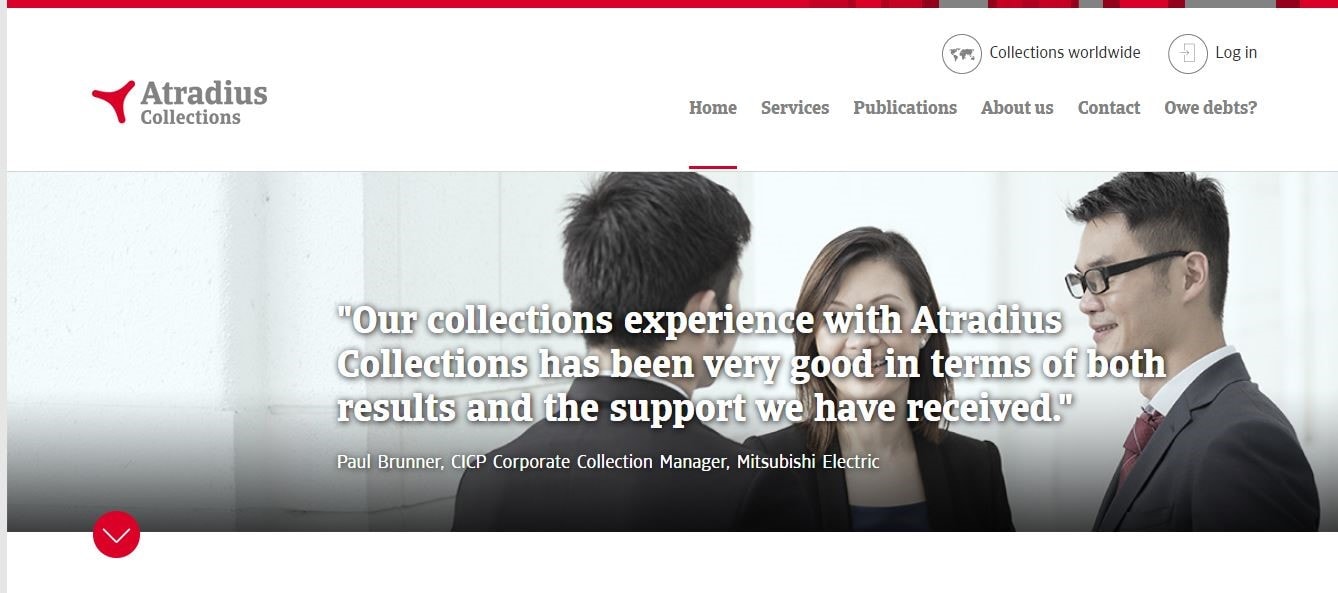 | | |
| --- | --- |
| BEST FOR  | Online debt recovery platform |
| WEBSITE | https://atradiuscollections.com/ |
| ADDRESS | AXA Tower #22-02 8 Shenton Way Singapore 068811 |
| CONTACT DETAILS | + 65 6372 5300 |
| OPERATING HOURS | Monday to Friday: 9am–6pm |
Atradius Collections is a bit different from your usual debt collection agency in Singapore. Their e-commerce debt recovery platform is what sets them apart from the rest.
With their digital setup, you can now get free quotes within a few minutes, submit cases online, monitor progress, and contact your manager. All of these can be done online, which means that it's less time-consuming and very convenient.
They offer services including debt collections, invoice checking, legal collections, and more. As they're one of the longest-operating debt collection companies, many consider  them to be the best debt collector in Singapore.
Highlights
E-commerce debt recovery platform
Invoice checking
Insolvency services
5. DMS Debt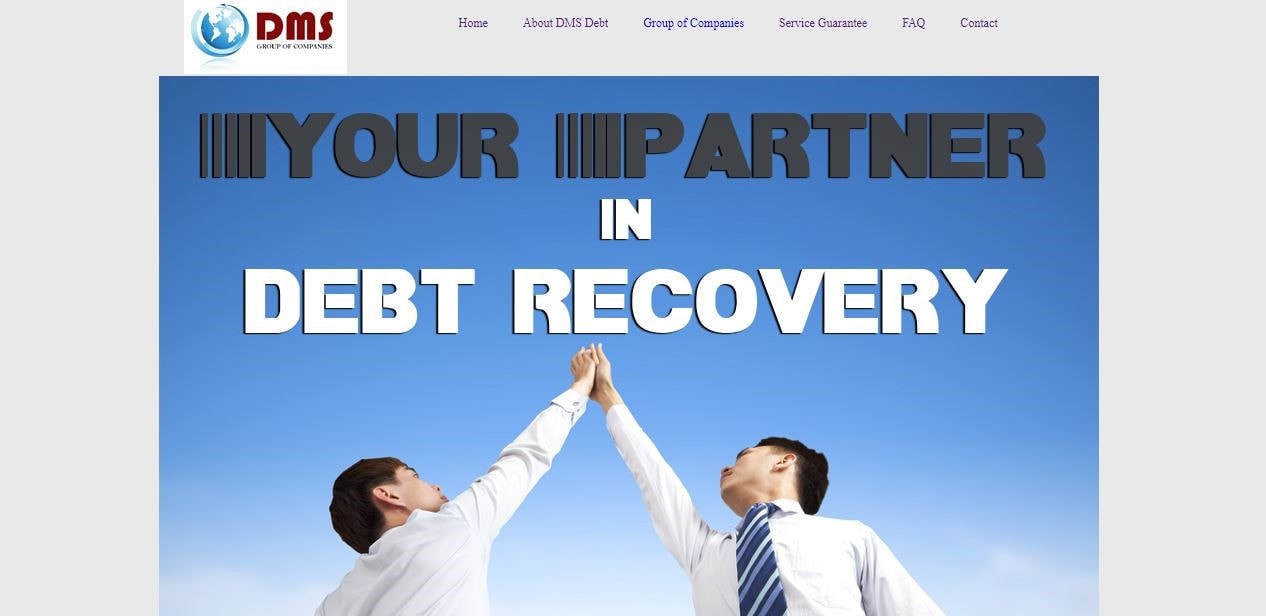 BEST FOR 
Corporate debt collection services
WEBSITE
http://www.dmsdebt.com/
ADDRESS
Main Office

 

65 Ubi Crescent #03-03 Hola Centre

Singapore 408559

Branch Office

22 Sin Ming Lane #06-76 Midview City

Singapore 573969

CONTACT DETAILS
65478300
DMS Debt takes pride in its management team that consists of ex-police officers, ensuring a reliable and honest service. Because of their skills and experience, they have a high success rate, making them one of the best debt collectors in Singapore.
They own a group of companies that handle different kinds of debt-related cases. With their wide range of services, you'll surely find the best option for you.
Hands down, they are considered to be the best debt collector in Singapore for corporate loans.
Highlights
Refund services
Mostly associated with corporate companies
6. Accurate Debt Recovery Pte Ltd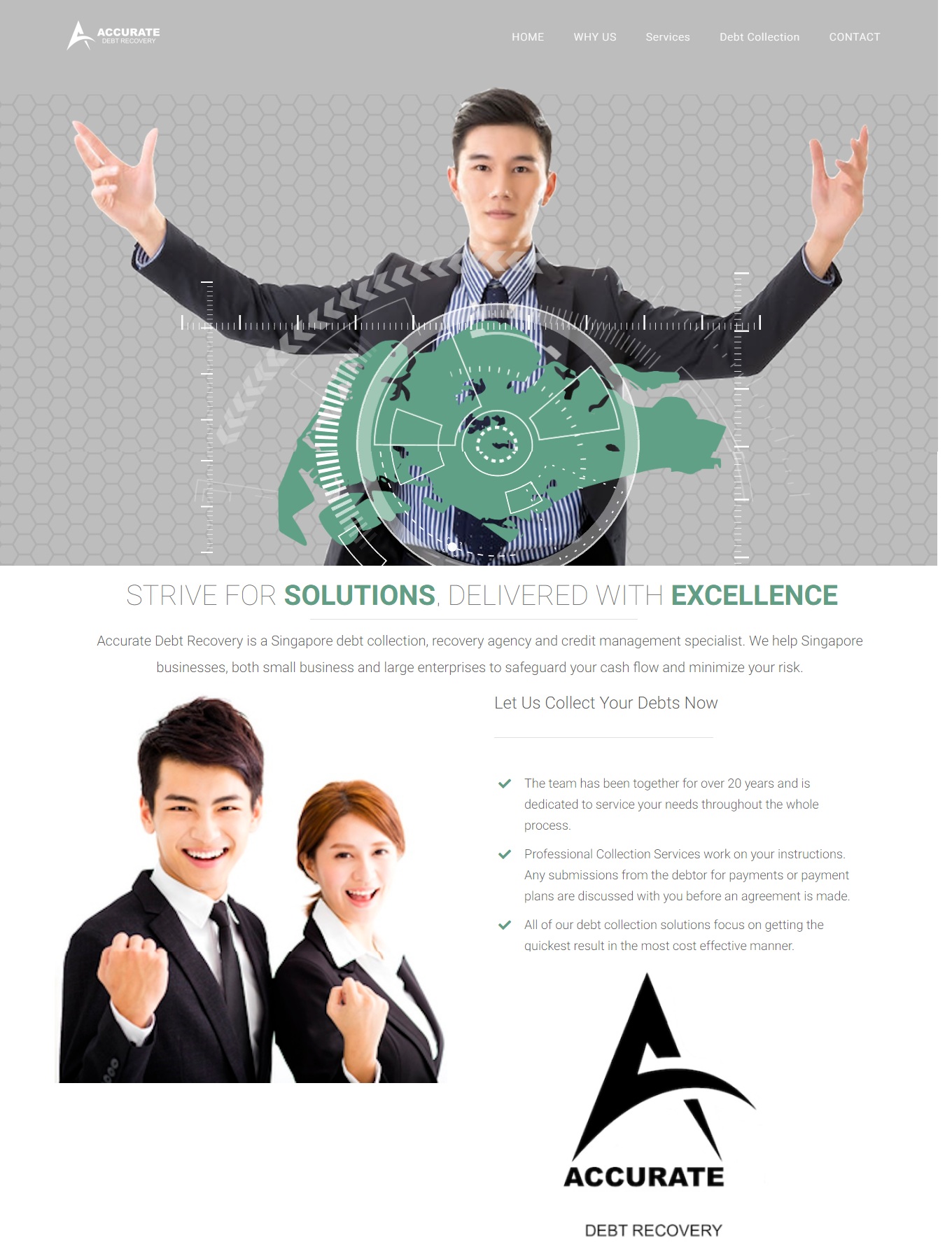 Accurate Debt Recovery's service can help you  save time, resources, and effort in collecting money. With their service, you can monitor what's going on with your collection process with complete and regular status.
All of their debt collection solutions focus on getting the quickest result in the most cost effective manner.
They acknowledge that each of their client has unique requirements especially in debt collection, thus they offer personalized services with guaranteed attention to detail.
Highlights
Personalized Services

Receivables Management

Credit Consultancy
7. Debt Collection

Debt Collection Singapore is one of the finest choices for Debt Collection Services and Financial Management Strategies. With their expert help, you can guarantee that your business will run as smoothly and efficiently as possible.
Aside from proficiency, Debt Collection Singapore also works to maintain their clients' existing relationships with those who owe them money. Thanks to their careful and calculating approach, there is a high guarantee of you getting your money back without having to burn any bridges.
Highlights
Personal debt recovery
More than 10 years of corporate debt collection experience
That's our list of debt collection agencies in Singapore that we trust! Keep in mind that when it comes to financial decisions such as loan repayments, you should take a lot of time before deciding on the right partner to negotiate with.
There's only so much you can tell about a Singapore debt collection service in  reviews so we highly suggest contacting a number of them that calls out to you so you can get a feel whether they can work for you or not.
Have you ever experienced failed results with debt collector companies? Let us know about it and how you dealt with it.
To know more about individual loans and be aware of your possible selections, see these best personal loans in Singapore. This will help you maximize your options and prevent scams or other unreliable sources.