Top 67 Places for the Best Bookkeeping in Singapore
Managing business operations will be much easier if all transactions are regularly recorded and properly organised. So for faster and efficient negotiations, you need the best bookkeeping services in Singapore.
There are a lot of services to choose from but which are the most competent accounting services in Singapore? To spare you the trouble of finding out for yourself, we've put together a list of the best bookkeeping in Singapore to know the office that you should visit.
1. Assembly Works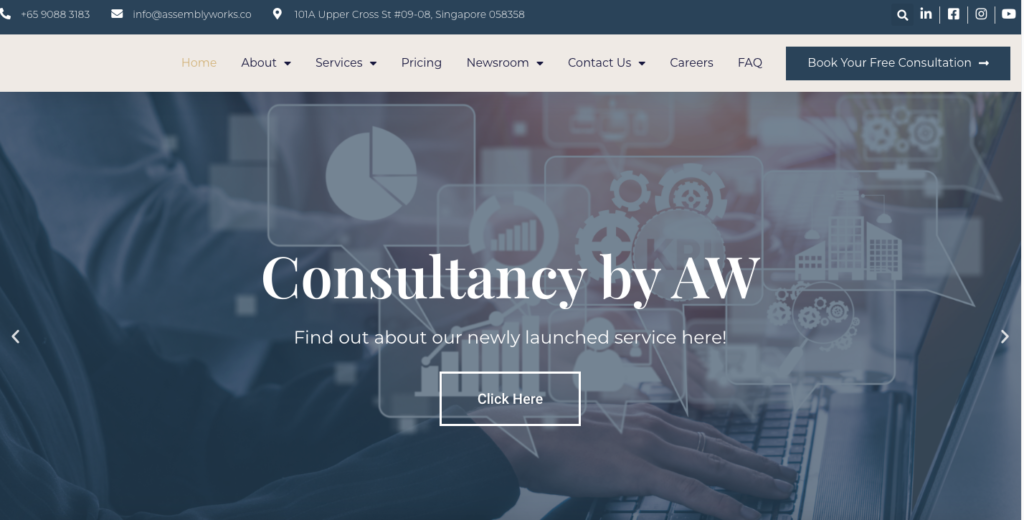 Assembly Works provides exceptional financial while maintaining the highest levels of professionalism, integrity and accuracy.
They assist their clients and help people achieve goals as well as maximise and protect their wealth in today's challenging economic environment.
Before they submit any document, their professionals make sure to go over each one with a sharp eye to ensure that everything is in order.
Over the years, they have also created a name for themselves. Their firm is famous for providing cost efficient services.
Pros
You can customise your package according to your needs
Each clients is provided with a point person who constantly stays in contact with them
Cons
They don't operate on weekends
Customer Reviews
Assembly Works has a very impressive overall rating of 5 stars online. Here are a couple of actual reviews from their satisfied clients:
A client named Nina Heusler says this about them:
Fantastic service! We just signed up with Assembly some months ago for bookkeeping, company secretary etc but are utterly impressed. Super friendly, professional, immediate replies, even on the weekend if needed. Can highly recommend Assembly works to everyone who needs this service!!
And another happy client Daniela Romao wrote this:
The biggest benefit of working with Assembly Work is that they are a true full service accounting firm. I was always highly impressed with their level of expertise and above it all they give the clients a real sense of security, knowing there's always quality advice on hand as our business grows and we have to make more decisions.
2. Counto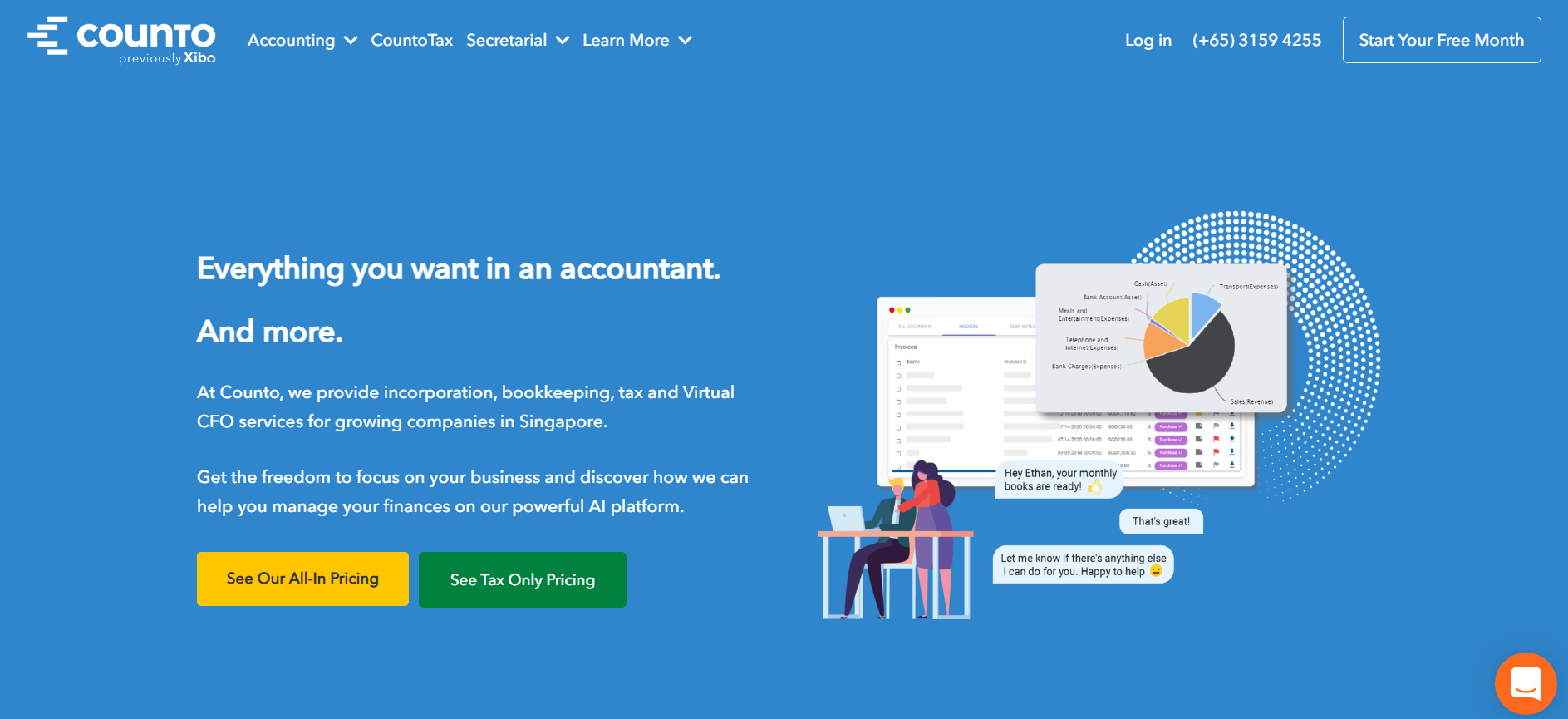 Counto has everything you want in an accountant and more. They earned the top spot of bookkeeping services in Singapore on our article for various reasons.
One is how they integrate with banks and other software you already use so that everything is kept effortlessly up-to-date for you. With their help, you can upload documents easily, store files securely, pull essential reports, automate payments to suppliers, and more.
Furthermore, their team responds fast and works round the clock to ensure that you get what you need, when you need it.
Pros
A dedicated team just for you
Tailored to your business needs
Active insights to help your small business grow
Cons
They don't operate on weekends
Customer Reviews
Here's what some people have to say about them:
"My previous accountant took forever to respond… after months of no action. Hiring Counto saved us valuable time and money. I recommend Counto 100%. Just wish I had discovered them sooner!" — Co-Founder of JustRentLah
"The entrepreneurial journey can get lonely and daunting. Having Counto looking out for me and guarding the crucial financial aspect of my business is very helpful. I feel like I'm always heard and my concerns are always covered." — Founder of Abound Lifestyle
3. SBS Consulting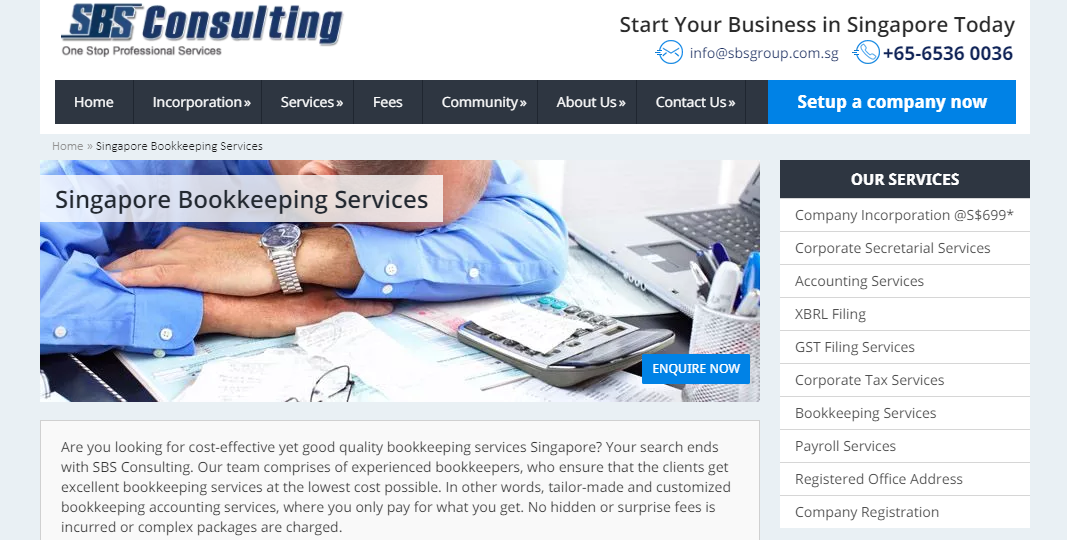 SBS Consulting, since 2010, is providing quality company incorporation services Singapore to local and foreign individuals & corporates. Besides, they also offer valuable compliance-related corporate services that the small businesses need.
SBS Consulting offers a wide array of corporate solutions such as Company Registration, accounting services, bookkeeping, taxation, GST reporting, and payroll services.
Over its years of operation, it has managed to earn the trust of small and huge business in terms of handling their Company Compliance (Annual Return filings, GST return Filings, Corporate Tax Filings etc…) efficiently and more importantly meeting stipulated government deadlines for these filings,
Above all, SBS Consulting will make sure that your company continues to comply with government rules and regulations.
Pros
10+ Years of Experience
Local expertise with Qualified Accountants
SME Focused Approach
Quick Turn Around Time
Efficiently Managing Filing Deadlines (For Both, ACRA & IRAS)
Full Suite of Compliance Services (From Accounting to Tax)
Cons
Not supporting Listed companies as of now (Only SMEs)
Not supporting BVI & Cayman Island companies as now
Meetings (Scheduled in Advance is required)
Customer Reviews
Its outstanding to see SBS Consulting being rated 4.2 out of 5 in independent google reviews, We love the very honest and candid customer reviews that clients of SBS Consulting has left for them online.
"We are very pleased with the service and professionalism provided by SBS Consulting Pte Ltd. In addition to registration, accounting and tax services you have assisted us with advise to better operate our business in Singapore. We happily recommend your services and look forward to a long and successful cooperation."
– Shelly Douglas James
Director of Okeover Holding Pte Ltd
Director of Arbutus Pacific (Singapore) Pte Ltd
"SBS Consulting provides truly excellent service in terms of professional advice, efficient execution and value-for-money. I would not hesitate recommending SBS Consulting to any business wishing to incorporate and operate a business in Singapore"
– David Smith
Managing Director of Intelligent Asia Pte Ltd
4. Sleek
Considered one of the top accounting firms in Singapore, Sleek provides every service that small businesses might need, including accounting, taxation, payroll services, business account services and more.
It's a full-range accounting company so you don't need to look for other firms to take care of other accounting needs. Rates for accounting services start at S$100 per month with no hidden costs along the way — making it one of the cheapest on the island.
Apart from that, it has an accounting team that's equipped in helping business owners in Singapore and neighbouring countries in the most cost-efficient way. It's rare for an accounting firm that aims to make their services as affordable as possible!
Sleek offers different accounting packages with different inclusions as well, allowing clients to choose the appropriate plan for their business's needs and budget.
Pros
Competitive rates
4 accounting packages
Skilled and trained accountants
Cons
Customer Reviews
Sleek has an average rating of 4.7 on Google Reviews. Here's what some clients had to say:
"I have been working in multiple countries in Europe, Asia, Middle East etc to set up operations, but never found – a service provider like Sleek. Platform is simple, sleek, affordable & effective. Team is responsive – from the sales team to accounts. Excellent platform for small., medium or big enterprises."

"Sleek is an exceptionally good company for incorporation in Singapore as well as for related services such as a company secretary. We are glad that we found and selected them, as all services provided are at an incredibly good level. Always a responsible team, ready and able to help us with all of the questions and requests that have already arisen."
5. Lanturn

If you're looking for a company that provides corporate and fund services in Singapore, then look no further way from Lanturn. Founded in 2017, they first started with the goal to digitize the corporate service industry. 
Helping over 400 companies nationwide, they focus on offering their services to early-stage and growth-stage companies since they get the most benefit out of their services. 
With a full suite of services such as incorporation, corporate secretary, accounting, company registration, and payroll software, they provide high-class service with quality technology to help their clients get the best from them. 
They also provide a company launching program and bookkeeping services. Their launch with Lanturn program is great for entrepreneurs looking to start a business although some criteria must be met in order to avail the program. 
The bookkeeping service, on the other hand, is perfect for any type of company. Checking their reviews, a lot of their clients have been commenting on how great their personalized bookkeeping service is and that they are always fast to respond to their concerns. 
Working with over 100 early-stage companies in Singapore, we think that they are a great company to work with if you're looking to start a company or a growing one; however, all of them can also be beneficial to already established companies. 
Customer Reviews
Cutting edge technology + personalized service + competitive pricing
"These guys do everything from A to Z incredibly well. Cutting edge technology + personalised service + competitve pricing.  Can always get a human to talk to when i need it. They have a great work ethic/culture and it comes across. Highly recommended" – Jaideep Bedi
Very proactive in maintaining the best relationship between client and service provider
"The Lanturn team was very proactive in maintaining the best relationship between client and service provider. I was very impressed with their fast service and their eagerness to improve themselves to provide the best services possible. Recommended fellow friends to Lanturn for their digital needs. Would continue to recommend. Keep up the good work, Lanturn!"  – Michelle Ngiam
6. Reliance Consulting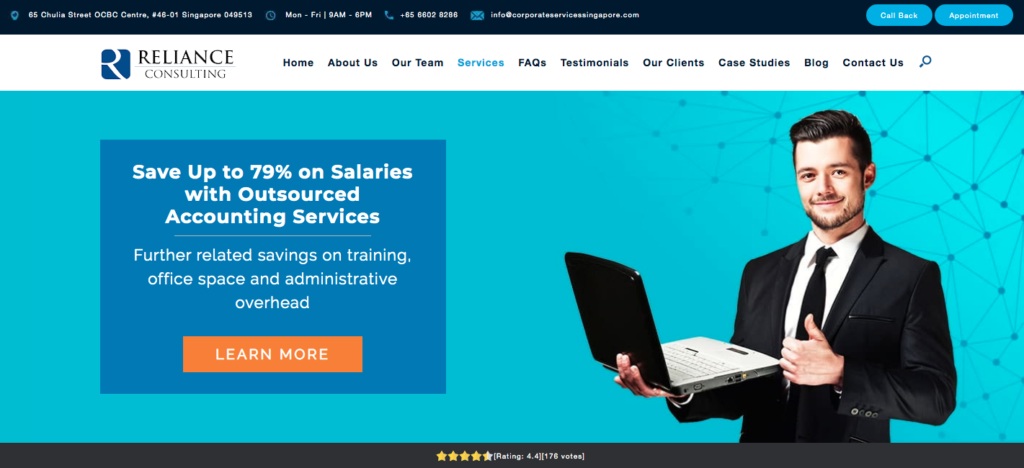 | | |
| --- | --- |
| BEST FOR | Extensive range of accounting services |
| SERVICES | Accounting services, company registration, payroll services, taxation, advisory services, and company secretarial services |
| WEBSITE | https://www.corporateservicessingapore.com/ |
| ADDRESS | 65 Chulia St, #46-01 OCBC Centre, Singapore 049513 |
| CONTACT DETAILS | +65 6909 2214 |
| OPERATING HOURS | Monday – Friday: 9:00 AM – 6:00 PM |
Despite having only 10 years of experience, Reliance Consulting has grown to become one of the most trusted accounting and advisory firms on the island. It's an accounting firm catering to the needs of small businesses in Singapore and overseas.
Aside from the best accounting services in Singapore, Reliance Consulting provides payroll services, bookkeeping, taxation, company registration and company secretarial services, among others.
Reliance Consulting continues to improve the quality of its services by constantly researching the growing needs of businesses in every industry. This is to ensure that their business solutions can keep up with the requirements of its clients.
Its experienced accountants and auditors are committed to understanding the needs of every client and formulating the right business solutions that would help them succeed.
Pros
Experienced accountants and auditors
Local and overseas services
Multiple accreditations
Cons
Relatively new compared to other bookkeeping service companies
Customer Reviews
Compared to other accounting and bookkeeping firms in Singapore, Reliance Consulting is pretty young (10 years), yet they have already earned a few reviews online. Joseph Daki, a satisfied customer says, "Overall their services are friendly, efficient and good value."
7. A1 Business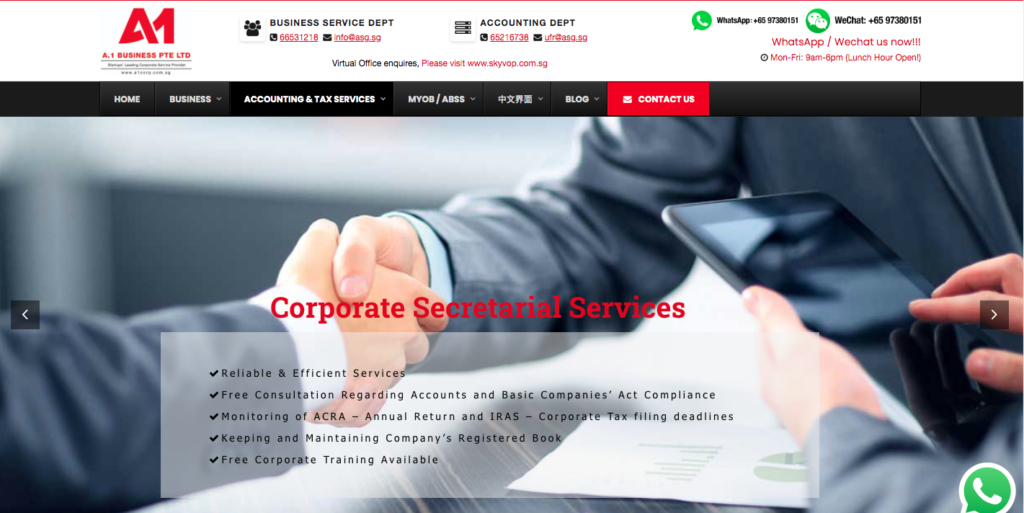 A1 Business is an accounting firm that services mostly small businesses on the island, addressing all their accounting and corporate needs. Some of the services offered are payroll services, company registration, taxation, and of course, the best accounting services in Singapore.
Signing up for its accounting services means that your business will be entitled to fixed asset registers, balance sheets, profit and loss statements, trial balances, trade debtors listing and others.
It may be more famous for its competitively priced accounting services, but A1 Business also takes pride in its fast turnaround time. If you're ever in a rush to have your returns filed, you won't be disappointed with what its team can do.
Pros
Efficient accountants
Quick turnaround time
Affordable services
Cons
Does not operate on weekends
Customer Reviews
While scouring reviews for A1 Business, we noticed that plenty of clients appreciate their customer service. This review from an anonymous client demonstrates that:
Ordered a new company stamp from A1. Despite me making an error with the order type they happily corrected it, refunded the difference, and responded quickly to all emails.
Additionally, I received the company stamp by delivery the NEXT BUSINESS DAY.
One of the best service experiences I've had with a business of its kind in Singapore to date.
8. Ackenting Group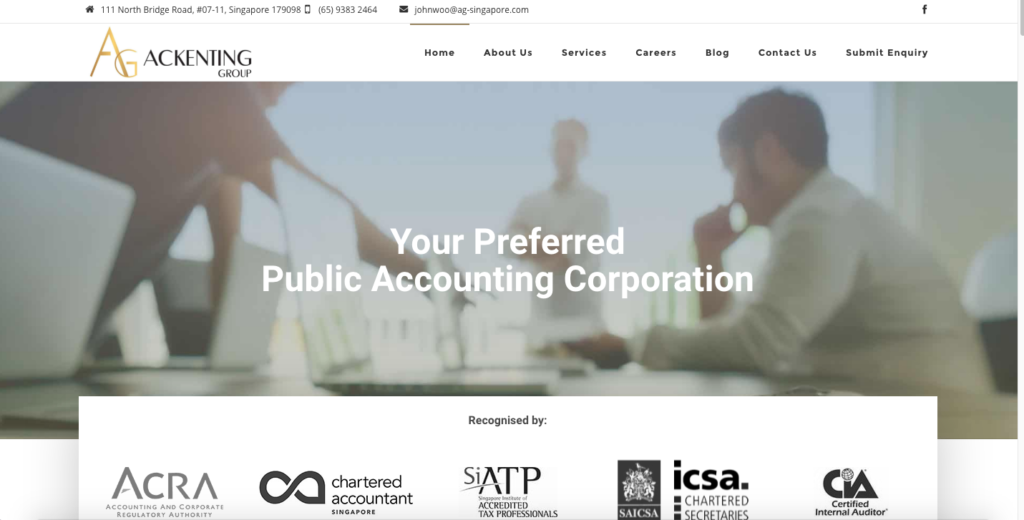 If you're looking for an accounting company with an excellent track record, then look no further than Ackenting Group. Over the years, the company has received numerous awards and is recognised as one of Singapore Most Trusted Tax Service Providers in 2020.
Ackenting Group has only been around for over 10 years, but it's managed to gain the trust of small and large businesses in Singapore. This comes as no surprise given that it employs a team of experienced and dedicated accountants, auditors and marketing specialists.
One thing we love about Ackenting Group is that it doesn't limit itself to serve a single industry. It makes sure that businesses from every industry can avail of its services, including those in retail, printing, healthcare, hospitality, logistics, engineering and even non-profit.
Pros
Caters to every industry
Wide range of services
10 years of experience
Cons
Customer Reviews
Take a look at some comments proving that Ackenting Group offers the best accounting services in Singapore:
"AG clearly spelt out what was required and had a firm grasp of our business model even though it was their first year auditing us. All the pre-agreed timelines were met, and we were able to complete our filing on time despite us engaging AG quite late."
"It is our best choice to engage AG Trust to help us in setting up our new organisation in Singapore and Malaysia. Working with AG Trust always gives me peace of mind. They are committed in supporting us from time to time and their professional services are insightful, timely and highly appreciated."
9. Win Global Solutions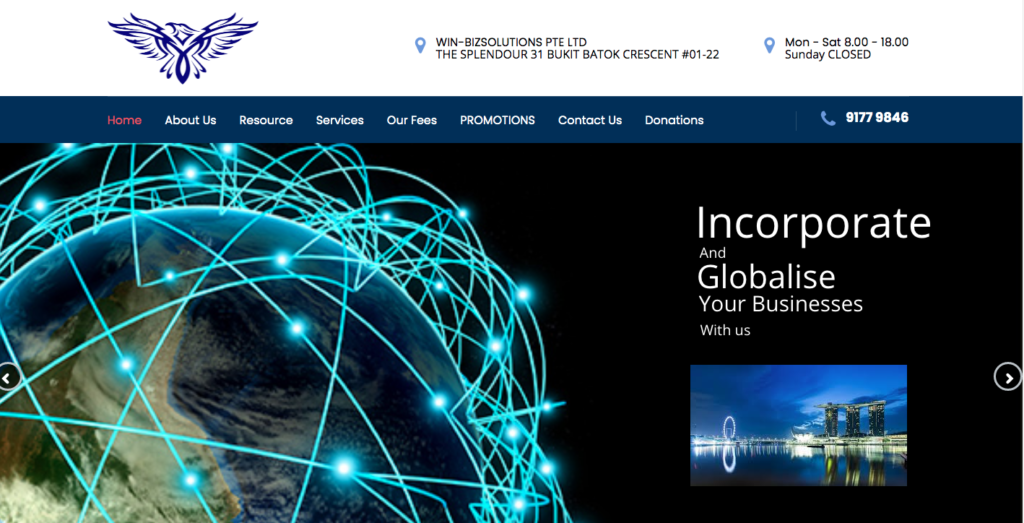 Win Global Solutions brands itself as the provider of first-class business solutions and consultancy. The company has over 25 years of experience, so you can trust that you'll only receive the best from them.
Win Global Solutions will help you maintain records, procure funds, draft financial statements, and file ACRA and other necessary documents with its accounting services.
Pros
Expertise in XBRL financial statements
Experienced and reliable accounting experts
Personalised business strategies
Open on Saturdays
Cons
Customer Reviews
Here's what a client has to say about Win Global Solutions:
"Professional and Trusting. Recommend business friends to visit them . Help my company save a lot of money which I can spent on other places. Thanks"
10. Ascend Corp. Services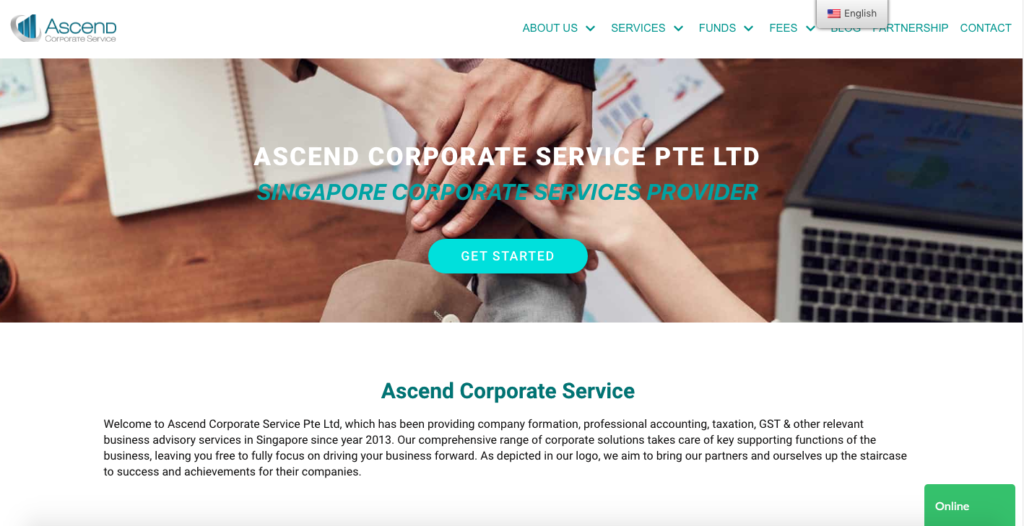 From company formation to maintenance and growth, Ascend Corporate Services offers to help businesses out. It guarantees consistency and affordability for their accounting, taxation, audit & compilation, and secretariat services.
For its accounting services, it provides bookkeeping services, monthly, quarterly, or yearly full accounts, and financial report preparation. Ascend Corporate Services offers a part-time accounting staff to help your business out.
Pros
SFRS-compliant accounting services
Affordable and consistent services
Four service categories
Yearly, quarterly, or monthly management of accounts
Cons
Not that much reviews online yet
Customer Reviews
We're pretty impressed that despite not having numerous online reviews yet, most, if not all of Ascend's reviews are a whopping 5-star. Here's a glowing review from their client Julianti Lim:
I have hired Ken as my Accountant and found him to be excellent. His knowledge of small business accountancy and tax affairs has really helped me and the service she provides has been efficient, prompt and thorough and his rates reasonable. I would definitely recommend him.
11. Amabel & Associates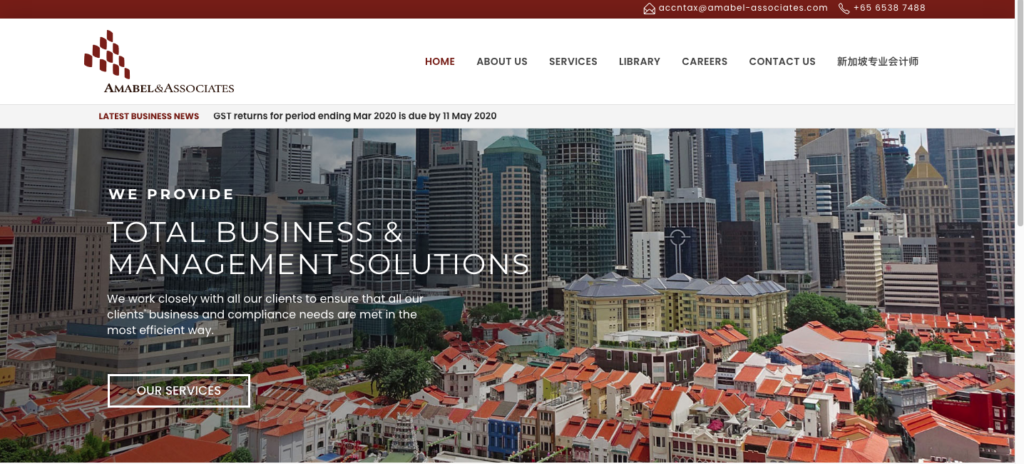 Amabel & Associates is an established firm that offers a wide variety of corporate services. They are able to cover many aspects of business management.
Their areas of practice range from corporate secretarial services to business and management consultancy. With their well-equipped firm at your service, you can rest assured that they will be able to handle any of your company's needs.
Pros
No obligation consultation available
Qualified team of professionals
Cons
12. Expede Tech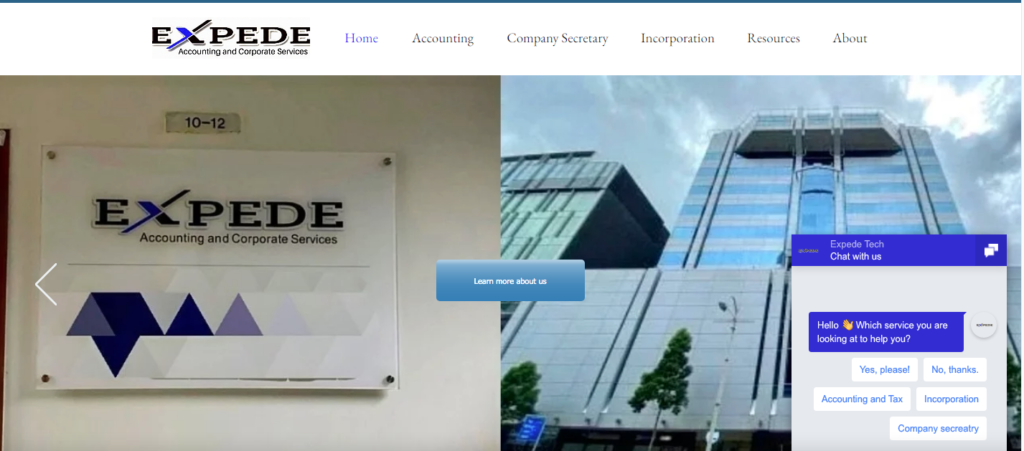 Expede Tech strives to lighten the burden of running a business by providing exceptional back office services such as online accounting, company secretarial work, and incorporation services.
Startups and small to medium brands can especially benefit from Expede Tech's work as their offered services ties in with technological advancements, helping ensure that clients will thrive in an ever-changing and evolving business landscape.
Pros
Works well with small to medium enterprises
Fast response
Excellent customer service
Cons
Customer Reviews
Looking at the reviews that clients have left for Expede Tech online, it's quite evident that they appreciated the company's professionalism and quality of work. Client Ong Wei says that they are "responsive and professional".
13. Yoss Services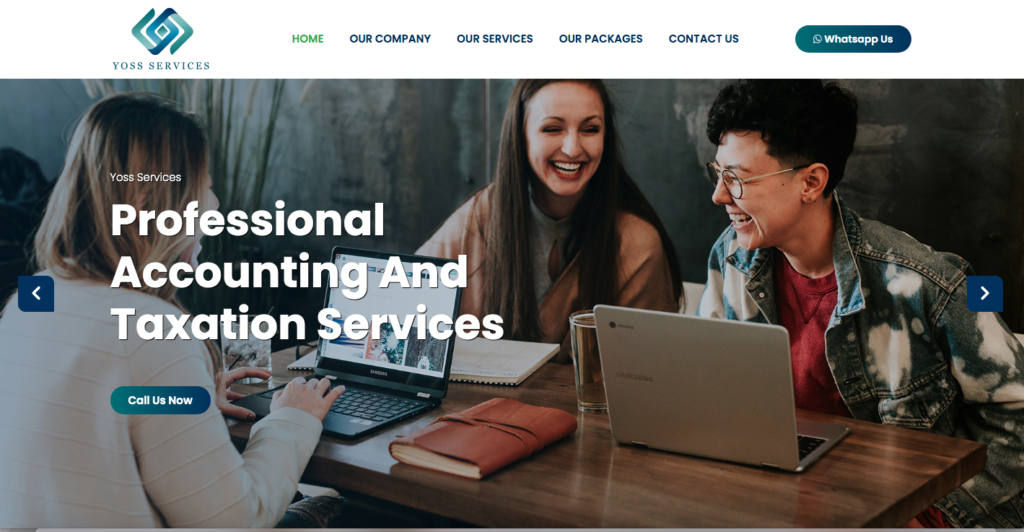 This humble company is their client's go-to for various services that unload their burden. They do all the nitty gritty of Payroll Computation, and even Tax Clearance For Foreign Employees.
They also offer Corporate Services. They go deep into the hard work that are needed by their clients such as Corporate Secretarial Services, Incorporation Of Company, and getting a Registered Office Address.
The Other Services they offer are CorpPass Registration And Authorisation and an Annual Corporate Survey. Their rates are reasonable while doing hard and dedicated work.
Pros
Compilation of Financial Statements
Taxation
Payroll Services
Cons
Does not operate on weekends
Customer Reviews
"Charges was reasonable, very auick and prompt in handling paperworks most importantly they go beyond their abiloty to ensure that the whole process of incorporating my company was a smooth and easy one. Highly recommended!"
14. BG Consultancy
BG Consultancy takes pride in tackling business situations. With a vast technical knowledge, they use past practical experiences to help their clients reach the top.
Their team provides the best advice to clients. They love to help their customers, even in their most complex situations.
With each enduring step, their company has taken extra care when it comes to looking after their clients. They have always put in 100% effort and have envisioned their clients soaring to greater heights.
Pros
Affordable rates
Professional work
Good at deadlines
Customer Reviews
"Jack is incredibly hardworking, diligent and most important of all, a man with integrity. I approached him a few years back for some company registration purposes, and he handled my work very efficiently, keeping me informed every step of the way. In a world where it is easy to find people charging you for lifting a pen, Jack is honest, does not charge needlessly and a delight to work with. I would recommend him for anyone seeking to start a business in Singapore, and indeed, requiring any other corporate affairs consultancy thereafter. I trust him completely."

"BG Consultancy is very quick in responding to the queries to the customers. They provide accurate information, provide key insights to your business needs with professional approach. I strongly recommend to take their relevant services. Thanks"

"Jack is very knowledgeable, honest and efficient. I would definitely recommend him if you are looking to set up a business in Singapore. He will take care of everything! I trust him completely. Extremely reliable. Very good service!"
15. Sprout Corporate Services Pte. Ltd.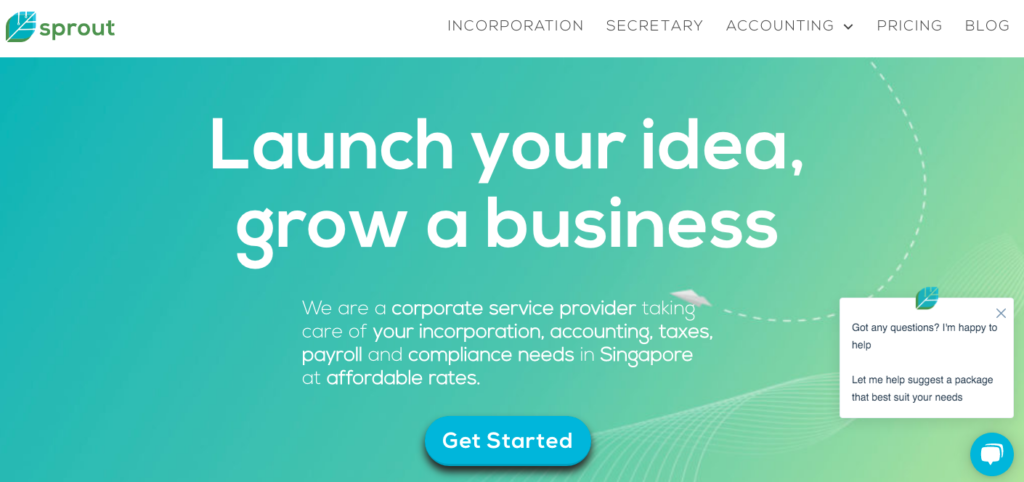 Singapore is one of the easiest places to do business in the world. And your business experience should be further enhanced by a company called Sprout Asia. They are a corporate service provider taking care of accounting, taxes, payroll and compliance needs in Singapore at affordable rates.
They go by a strong rule of law and efficient bureaucracy. Their services allow businesses to get started easily.
They can incorporate any company with ACRA registrar of companies. All Singapore companies must have a company secretary.
Pros
Corporate services & solutions
Incorporation in Singapore
Accounting services
Cons
They specialise in new businesses
Customer Reviews
Sprout Asia has an almost perfect average rating on Google (4.9), and many of their clients seem to be impressed with their transparent fees, quality of work and quick turnaround.
Here's one review by a client named Lee Meng Hon:
Have had a positive experience with the guys at Sprout. They have been patient, clear and extremely helpful. Highly recommend!
Also one by their client named Edna Lim:
Super good services and clear cut prices.
No hidden nor forced selling…good for new entrepreneurs.
Nice and atas address
Sign up here..
16. Accountingbpo.com Pte Ltd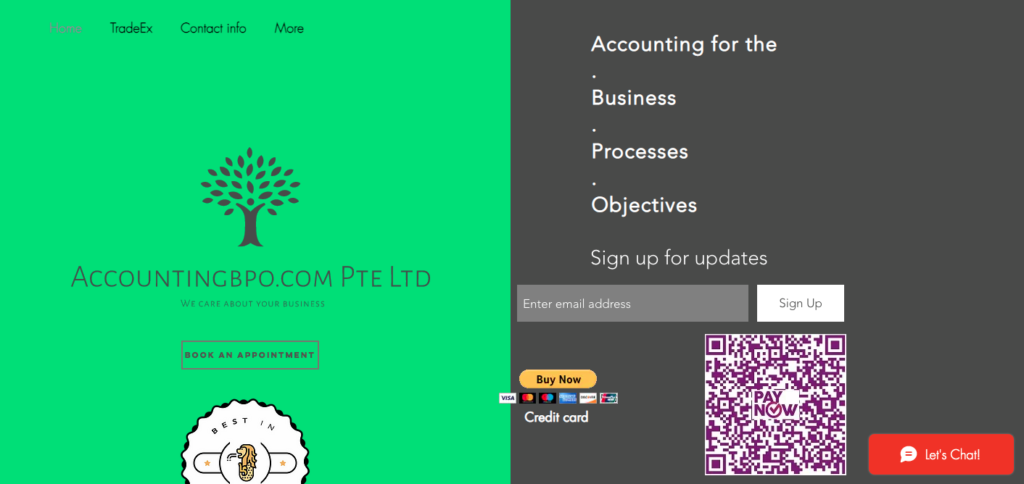 Accountingbpo.com Pte. Ltd. is a company that provides a wide range of services for small business, making sure that their growth is exponentially stable. One of the most sought after assistance that the company offers is their accounting services. You can definitely rely on them to help you with handling finances.
They promise to work with you throughout the whole process, ensuring that you control everything and that the service you paid for will be worth it.
Don't look for any other company, contact Accountingbpo.com Pte. Ltd. and book their accounting service.
Pros
Competitive rates
Expert accountants
Comprehensive services
Cons
Walk-ins not allowed (appointment is necessary)
17. JCP Accounting Services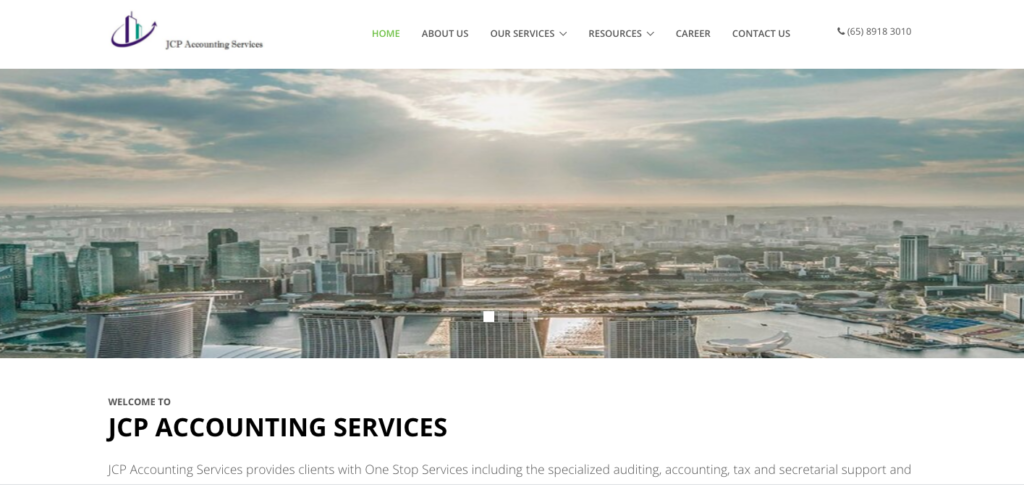 JCP Accounting is a one-stop service provider that offers a wide range of services. Auditing, accounting, tax, and secretarial support are just some of what they provide.
Their team of professionals has extensive experience working in various fields. Quality services are guaranteed, as each member is only selected based on their experience and knowledge in the industry.
If you decide to acquire their services, speedy responses are what you can expect. Their coordinated services ensure that each and every client they serve will get the results they desire.
Pros
One-stop accounting service provider
Cost-effective professional solutions
Highly experienced staff
Quick responses and sound business advice
Cons
Customer Reviews
JCP Accounting services may only have gathered just a handful of online reviews but they all are glowing and have rated them a perfect 5.
Here's a review from their client Pei Wah Chia:
Fast response and high efficiency. Staffs are very supportive and professional. Thank you for the excellent work!
And another one from Stacy Liaw, yet another satisfied client:
The team provide useful information regarding the accounting and taxation knowledge. And willing to give some suggestion on how to improve the business.
18. VOPlus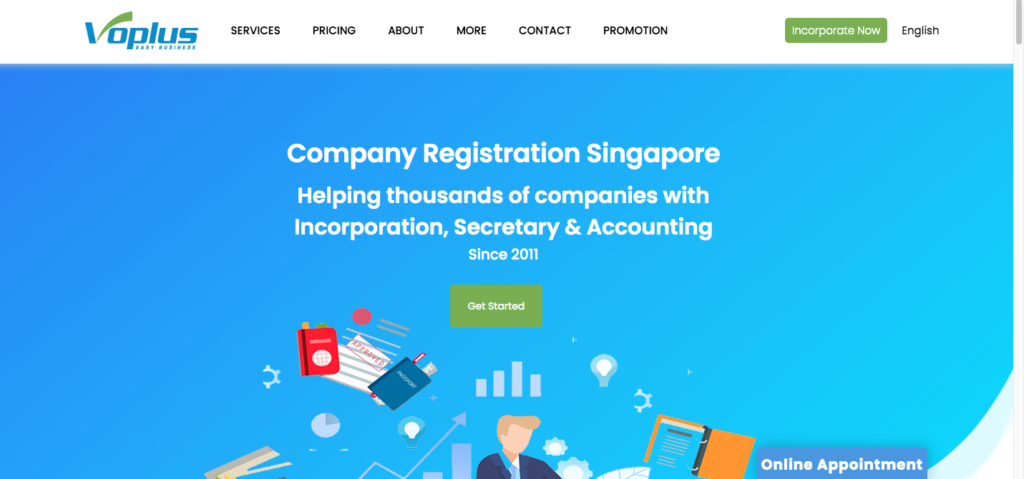 VOPlus was established with the goal of providing quality end-to-end corporate services to the people of Singapore. From 2011 till now, VOPlus has managed to successfully do so by providing clients access to great tools and robust support that allow them to operate like MNC.
The expert team at VOPlus offers every service that businesses may need, like accounting and taxation services, incorporation services for Singaporeans and foreigners, and corporate secretary services.
Pros
Great value with service guarantee
Experienced and qualified team of professional to serve you
End-to-end solutions for clients expanding/migrating their business to Singapore
Located at one of the most prestigious addresses in Singapore's central business district
Price transparency with no hidden cost
Cons
Primarily a company registration organisation
Customer Reviews
Looking at the impressive reviews online by clients of VOPlus, it appears that they really can walk. thetalk especially when establishing new businesses including the upkeep of their financial books.
Here's a review by one of their clients, Peter:
Simply amazing. Everything opened including bank account, remotely, in 14 days flat. The team went above and beyond to help us answering lots of small questions even after all of their services had technically finished. Highly recommended!
19. Pan Island Accounting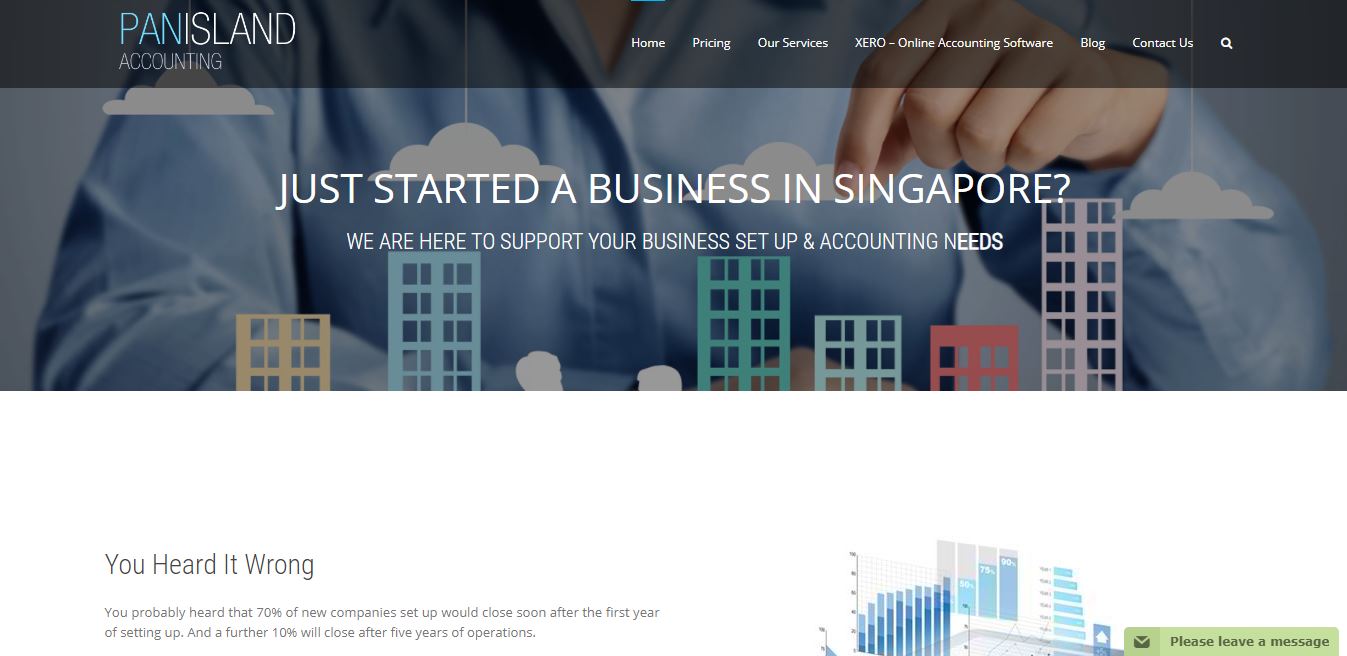 If you're an up and coming company that wants to be successful not only now, but in many years to come, then Pan Island Accounting may be what you need.
This firm has accounting specialists that will make technical accounting terms sound easy to understand. With this approach, Pan Island Accounting can help you understand financial regulations and legalities.
Pan Island Accounting guides businesses to success in many ways. It provides accounting advisory, connects you to the latest government grants, and recommends software solutions to help you stand on your own.
For its accounting services, Pan Island Accounting offers financial report preparations, audits, annual tax return filing, and even tax planning that can help you maximize your earnings while being compliant with the law.
Aside from these ad hoc services, Pan Island is also available for continuous bookkeeping services. With this service, businesses can focus on growing their business and spend less time, effort, and funds on maintaining an accounting department.
Pros
XERO cloud-based accounting for convenience
Updates you on latest government grants
Informative approach to bookkeeping and accounting
Tax planning and filing services available
Applicable for growing SMEs
Cons
Limited to e-mail corespondence
For SMEs only
20. SKS Consultancy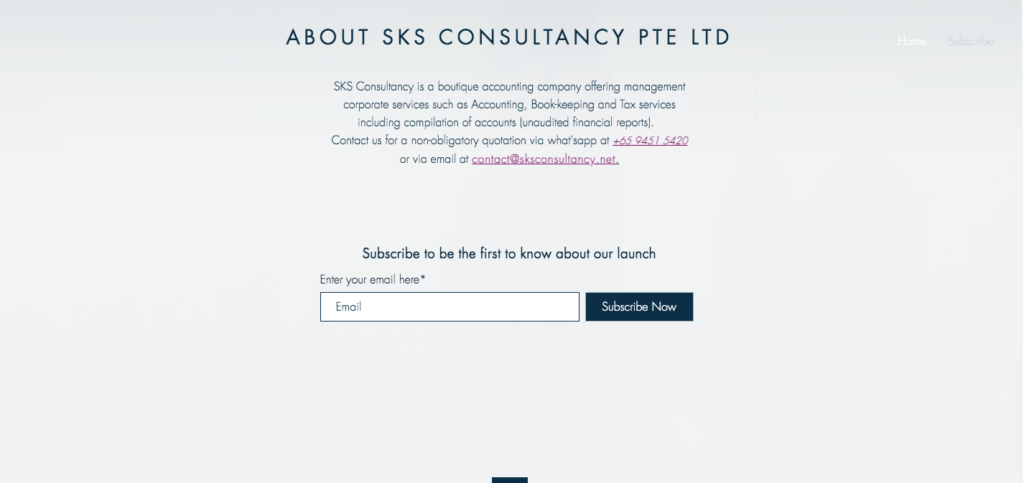 SKS Consultancy offers great corporate service management for different businesses all over Singapore. They're known to handle big finances, but still manage to give fast yet accurate results.
Their transparency and efficiency in working is one to go for, especially for start-up or small businesses. Let SKS Consultancy assist you in handling your sale and costs, without having to break the bank.
You can acquire their non-obligatory quotation, simply give them a call or head on to their website for contacting.
Pros
Competitive rates
Consistent accounting services
Transparency
Expert accountants
Cons
Their website is still incomplete
21. Maju Corporate Services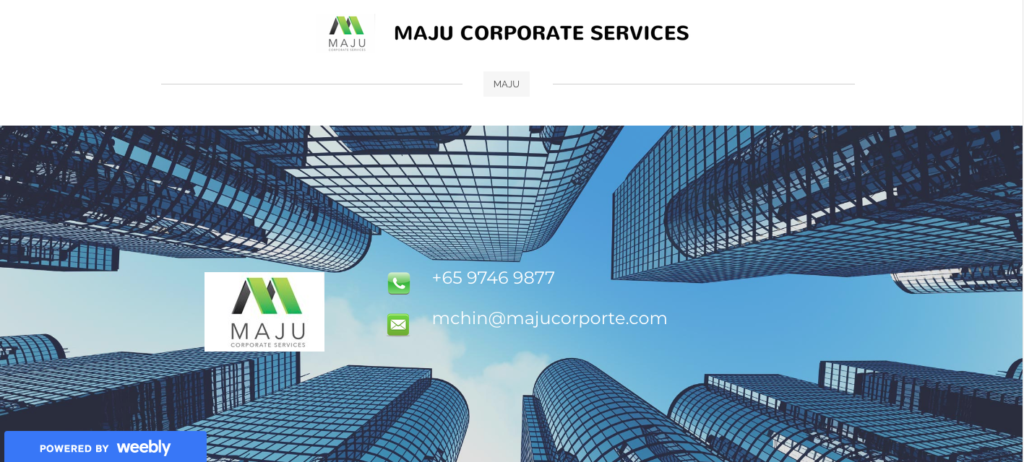 Maju Corporate Services offers a comprehensive set of accounting and corporate services to their clients. Their main goal is to help SMEs grow.
Their team is composed of professionals who are knowledgeable in various fields and industries. They are considered experts in their respective specialisations.
They're connected to various business partners around Asia. With their connections and expertise, your company is sure to reach great heights.
Pros
Professional advice
Timely delivery
Absolute confidentiality
Has business partners all around Asia
Cons
Customer Reviews
Maju Corporate Services may only have a few reviews left by their clients online but they are positive ones. One of their clients, Marcus Lim, has given them a three thumbs up, saying that he recommends the excellent service.
22. Osome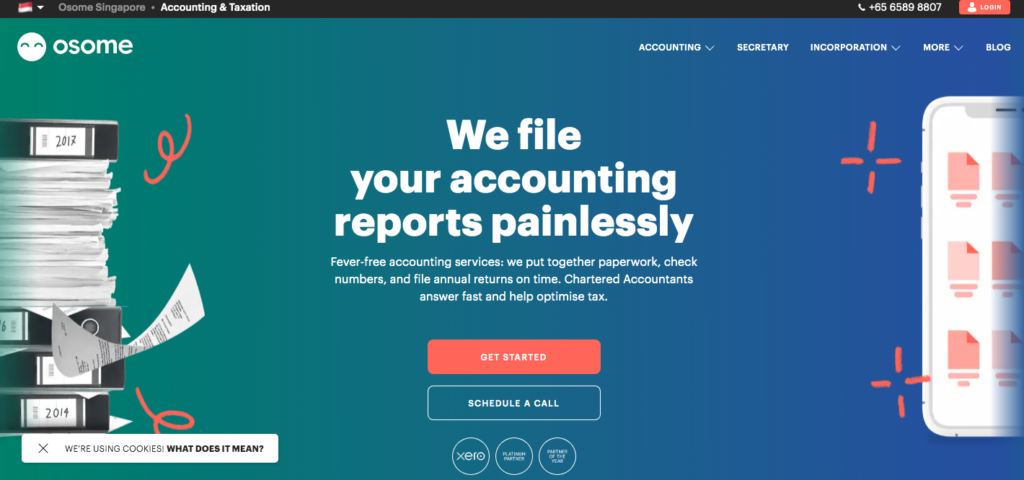 Osome is an accounting firm targeting small businesses from every industry, from retail down to real estate. It aims to help businesses be free from the stressful work of compiling and filing paperworks for registration and taxes.
Many of us conduct. our businesses worldwide and have global clients, Osome seems to understand this perfectly as they are open 24 hours everyday! That alone has impressed us enough to include them in our list.
It's famous for its competent ISCA-certified accountants who can process paperwork for clients, check numbers, and file annual returns on time. You won't have to worry about getting fined for forgetting to file your taxes for the year anymore!
Apart from the best accounting services, small business owners can also depend on Osome for their business registration, bookkeeping and secretariat needs. All of its services are offered at a competitive price to make sure that small entrepreneurs aren't drained of their resources.
Pros
ISCA-certified accountants
Competitive pricing
No manual labor
Cons
Customer Reviews
Osome has almost 80 reviews online left by their clients and majority of them are glowing reviews. Here are a couple of actual reviews left online by their clients:
"I was looking for a fast, easy and cost effective way to setup and run a business in Singapore. Osome provided the best pricing of all the solutions I found on the market. They were very helpful in opening the company, supplying all the documents and services that were in the proposed package. The accounting solution could not be better. I just need to scan the documents and they process them for me. Simple and straightforward. Just awesome!"

"I have been using Osome for a number of years to manage the corporate services and accounting for my business. Convenient, effective, concise communications, transparent fee structure and highly responsive as needed to various business needs."
23. Piloto Asia
There's nothing more important for any business than to keep precise financial records. It goes beyond year-end compliance. Companies could end up paying more tax than they should, because of unfamiliarity with local tax rules, or errors caused by simple bookkeeping.
Piloto Asia helps you avoid that. Their professional accounting team aims to help improve their clients' financial records to keep better track of their expenses, control costs, avoid tax penalties, and even secure business loans.
Piloto Asia is one of the few accounting firms that provides tax advisory services on top of bookkeeping services for a reasonable price. Backed by a professional team of accountants and tax consultants, Piloto Asia guarantees that their clients' books are correct while ensuring that their clients also follow Singapore's compliance with taxes and accounting.
Quality accounting services don't need to be expensive or exclusive, for that matter.
Pros
Statutory Audit
Web-based Cloud Accounting Services
Unaudited Financial Statements
Historical Accounts Review
Bookkeeping
Filing Personal Income Tax
Tax Clearance for Foreign Employees: IR21 Filing
GST Registration & Licensing
Cons
Customer Reviews
Piloto Asia may onnly have 31 reviews online yet they have a very impressive average of 5 stars. The detailed client reviews also speak volumes of how passionately happy the clients are with their service.
Here's a review by their client Lee Bowie:
We expanded our business from Hong Kong to Singapore, and have engaged Piloto Asia to register the new Singapore company and use other services such as accounting, company secretary and bank account services.

Tam and his team are really knowledgeable and have been superb in answering all our queries patiently and quickly. That really gave us a lot of confidence and hence decided to work with them. Thanks so much for your help, much appreciated!!
24. Dr. Biz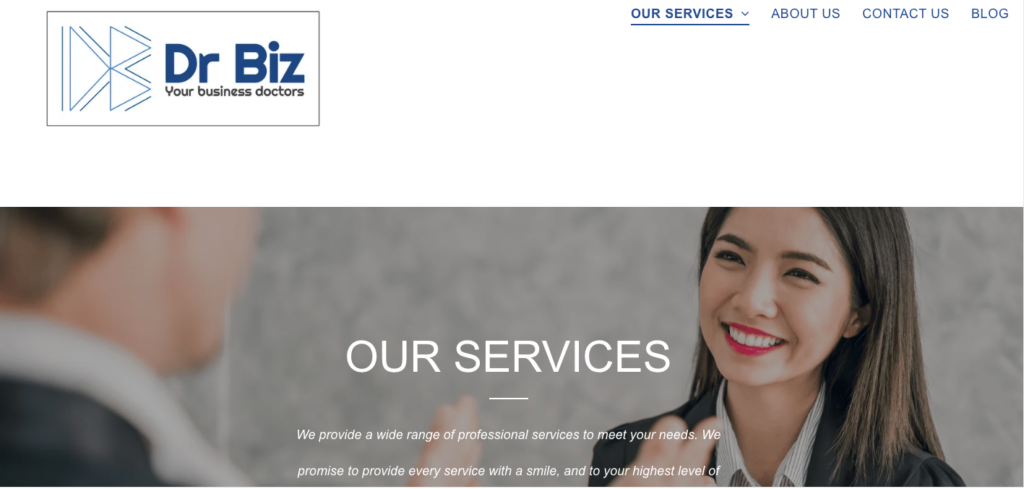 Smart accounting, more specifically bookkeeping, is a must for any business. After all, knowing how the money flows is the only way to learn if the business is actually earning or losing profit.
Dr Biz understands this need and offers professional external accounting services. Their team comprises expert, experienced accountants that are capable of taking a record of financial transactions and information pertaining to the business.
These accountants are highly meticulous, making sure to be organised and accurate with their bookkeeping, which then gives business owners peace of mind.
Dr Biz offers a wide array of accounting services, some to note are on-site bookkeeping, financial analysis, and management accounting.
Pros
5-star rating on Google and Facebook reviews
Diligent and meticulous accountants
Offers other corporate services
Cons
Customer Reviews
Here's a review left by Shaun Low, a client of Dr. Biz's who is seemingly impressed with their services:
Been working with Dr Biz since 2018, and my experience has been a highly positive one. Sharon and her team are diligent and meticulous, and are very pleasant to work with. I really appreciate their help in tidying up my accounts, and will continue to utilise their services in the years to come. Two thumbs up!
25. Roche Green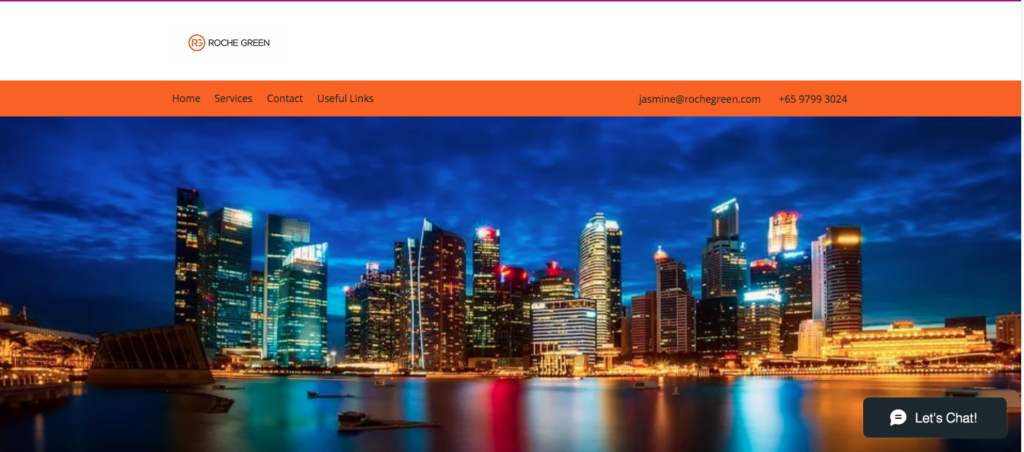 Roche Green is an accounting firm that offers a wide range of financial services. Many praise them for their quality, personalised accounting services.
Some of the services they offer include incorporations, corporate secretarial, cash management, and payroll assistance. No matter what you need, you can rest assured that their team of certified and professional accountants will be able to help you.
They work with businesses and companies belonging to various industries. With their wealth of skill and expertise, no financial problem is too big or small for them.
Pros
Wide range of financial services
Certified accountants
Skilled and knowledgeable team
Works with companies in various industries
Cons
No online reviews available yet
26. Ebos SG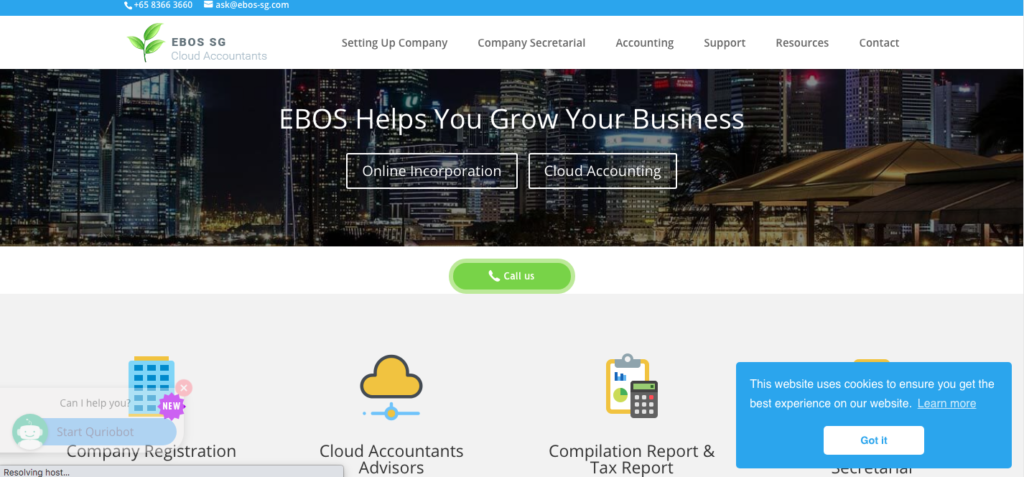 If your company is aiming to go paperless, then a cloud accounting firm is what you need to find. EBOS SG is one of the best cloud accounting companies you can consider hiring.
Besides cloud accounting solutions, they also offer services for company registration, compilation reports, corporate secretarial, and more. As a plus, their team of professional accountants will do their best to deliver only the most attentive and expert assistance you deserve.
Their in-house technology team comprises certified advisors to Dashbod, Enterpryze, Financio, and Xero. They can manage your book-keeping, unaudited financial statement, tax compliance with confidence to sole-proprietorships, partnerships, helping local and international companies to fulfil regulatory compliance requirements.
Plus, they are constantly working to upgrade their system, so you can rest assured that you will be getting the latest and most effective services when it comes to cloud accounting.
EBOS Cloud Accountants will also assist you with a paperless Cloud Corporate Secretary, where a true human being will accompany your enquiries and will listen to the customer and provide them with responsive human contact.
You can count on EBOS SG to help you grow your company to the fullest.
Pros
Provides immediate setup and training
Gives personalized training with Cloud Accountant
Keys in all your expenses
Handles painful bank reconciliation
Prepares unaudited financial statements + form CS filing
Handles time-consuming payroll, CPF and IR8A include best cloud accounting software for you to start earning revenue
Cons
Customer Reviews
Here's one review left by HK Juan, a client of Ebos SG:
At first, we think this is just a normal accounting company, as we compare lots of accounts firm. But before you engage, I am sure you will fall in love with their services, their reputations, their responsibility, their follow up, and their professionalism. Before engage their services, our company sourcing for accountings services and secretarial services. EBOS did a great follow up all the way, about few months they follow up us, no matter phone call, messages to show us their sincerity and professional. Before we engage, they answered our questions one by one even if we haven't commit anything, and even giving video call, face to face to answer our concerns. After several times of follow up, we engage EBOS for accounts and sercretarial services. They are promptly replied and patiently answer our questions although we are zero knowledge in accounts, and sometimes we ask during off from work hours. The accountant even provide personal contact for us to find them easily. After purchase accounting software, they also provide free video call one to one training to assist us. Indeed, we're really satisfied with their services, follow up, and their responsibility. They are such a such a good teamwork spirit and provide best services to us. Thanks so much😊
27. Healy Consultants
Healy Consultants has been serving clients from both local and global businesses for over a decade. Their consultants' group is led by some well-known specialists who have worked with prominent businesses across the world.
They have an exclusive and wide range of professional services offered at accessible rates. This includes global company registration, corporate bank account opening, assistance on stock exchanges and raising corporate finance, relocation and migration, and search engine marketing.
For accounting services, Healy Consultants endeavours to legally minimise their clients obligations to tax and finances. This means they prepare annual financial statements and tax returns, plan for legal tax exemption, negotiate underwriting agreements, outsource bookkeeping and payroll, and many more.
Healy Consultants is meticulous in every client they take on, noting the rules that apply to each country and actively adjusting their services to fulfill their clients' corporate needs properly.
Pros
Global corporate banking solutions
Financial services and solutions
Country comparisons
Tax and accounting services
Property investment advice
Cons
Customer Reviews
Clients mentioned that Healy Consultants was able to deliver results and services that met the needs and requirements of their business. Here's a review posted by one of their clients:
"I have used the Healy Consultants Group multiple times for the appointment of a resident non-executive director in Australia. Their process is thorough, fast, and comprehensive. The fees for their services are the best I've found for the great quality service and responsiveness to clients. I would recommend their services in full confidence."
27. Back Office Consulting Pte Ltd
Back Office Consulting Pte Ltd's bookkeeping services are aimed at sole proprietors or small business owners that do not have prior knowledge of bookkeeping. With their expertise, they can easily provide you with reliable bookkeeping service that meets the regulations set by the Singapore Financial Reporting Standards (SFRS).
They do the hard work so you don't have to. Trust these capable accountants to handle your account and get it all done on time for that deadline. We find Back Office Consulting to be among the best accounting services for small business in Singapore.
Highlights
Detail-oriented
Works and collaborates closely with clients
Prepares documents on time
28. J Accounting Pte. Ltd.
If you want a progressive accounting services in Singapore, you should consider J Accounting. In everything they do, they believe in making change for the better.
The way they change for the better is by implementing cloud-based accounting and bookkeeping solutions that help to reduce workload and save you time.
They just happen to be providing high-quality bookkeeping services in Singapore.
Highlights
Accounting and Bookkeeping Packages
Secretarial, Taxation and Payroll Services
Cloud Software Consultants

29. GAUGE TAX & ACCOUNTING SERVICES SINGAPORE

BEST FOR
Quality and reliable service
WEBSITE
https://gauge.sg/
ADDRESS
19 Cecil Street
The Quadrant
#04-00, Singapore 049704
CONTACT DETAILS
+65 6811 8997
OPERATING HOURS
Monday – Saturday: 9:00 am – 6:00 am
Gauge Tax & Accounting Services is a bookkeeping firm in Singapore that finds ways to help businesses with accounting and bookkeeping needs. They are committed to help their clients optimise their resources and provide greater control and clarity over their businesses.
Their accounting experts make sure that your financial books are clear and cohesive. More than that, everything is compliant with government regulations and standards.
They believe that their ability to consolidate data and keep your records organised to generate a reliable report makes them one of the best accounting services providers in Singapore.
Highlights
Affordable and reasonable prices
Qualified and Experienced accountants
Personalized services
Friendly Customer Support
Clear financial books and reliable reports
30. Tianlong Services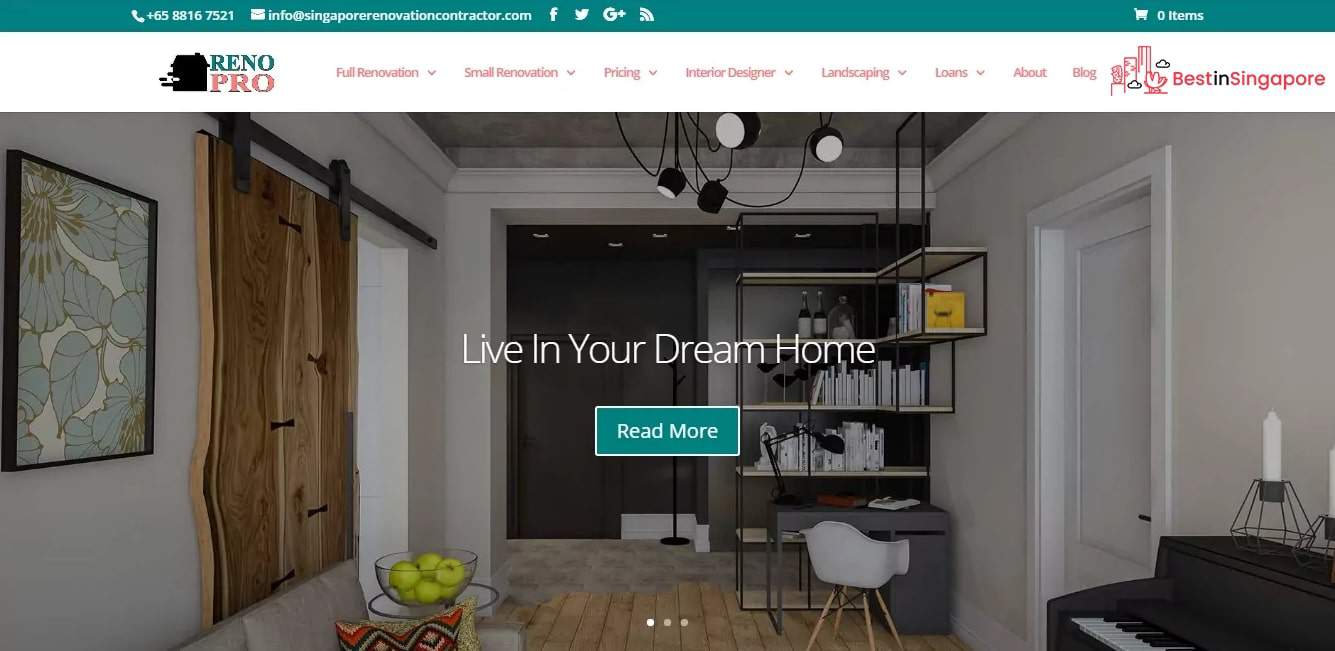 Tianlong Services helps you to run your business smoothly and swiftly. This is for the reason that they take care of the bookkeeping and accounting on your behalf.
Once you engage their service, the company ensures that they will do everything—from start to finish. That being said, you won't have to do anything for your auditing and the like. You will just have to worry about how to expand your business.
If you're not yet sure about their service, you may request them for a free trial. You can find this when you access their website.
Highlights
Paperless office
Comprehensive AR/AP tracking and reporting
Multiple currency support
Accrual basis bookkeeping
31. Upvue Pte Ltd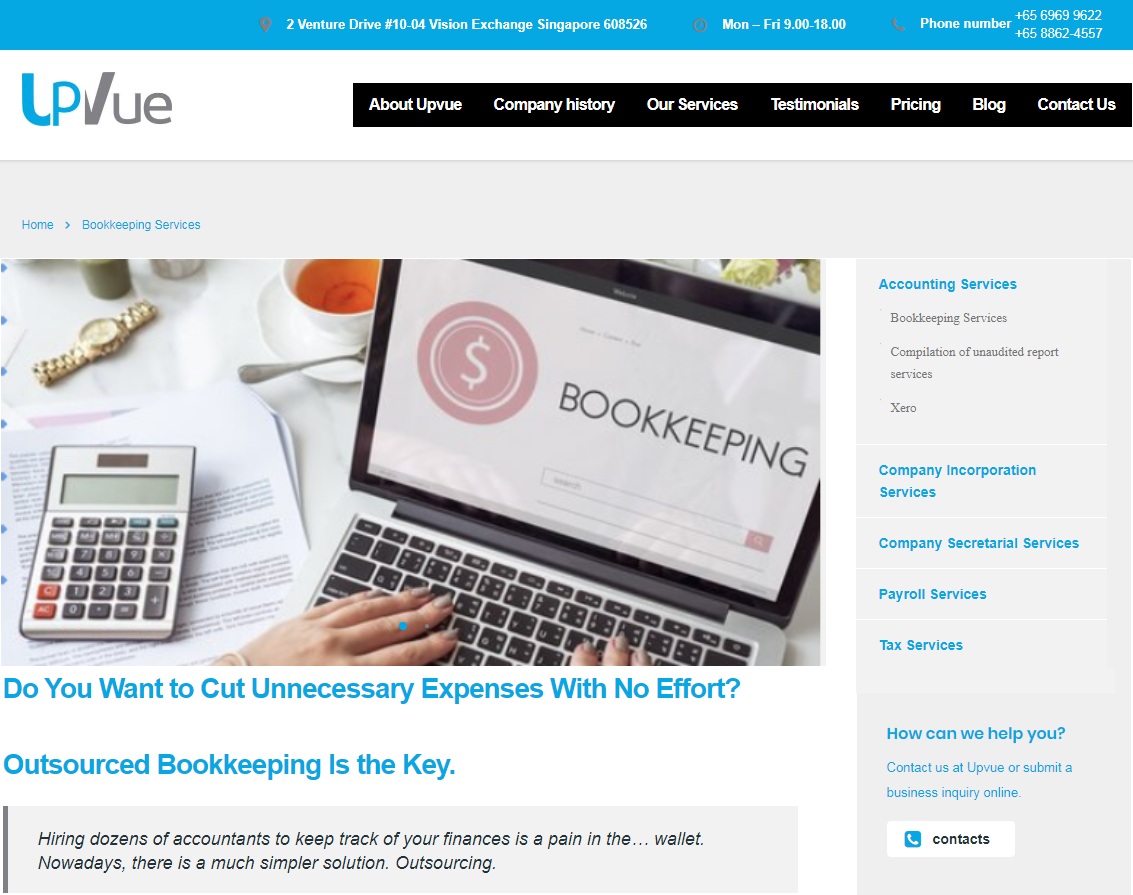 If you want a flexible bookkeeping service provider in Singapore that can work with what you or your company needs, Upvue Pte Ltd has an easy system that can help ease the way you track your finances.
The beauty of Outsources bookkeeping is the convenience of it all so this company makes sure you have all the choices so you can get the system that will cater to your style. Bookkeeping services in Singapore can be inbound or outbound and comes in either Full Monthly or Yearly Compliance Package.
This package includes Bookkeeping, Compilation of unaudited report and Tax Services so you'll be sure that every transaction is accounted for and will meet the government standard.
Highlights
All documents accounted for
Convenient and safe online transaction for all documents
Approachable and friendly staff

32. Profit Analytics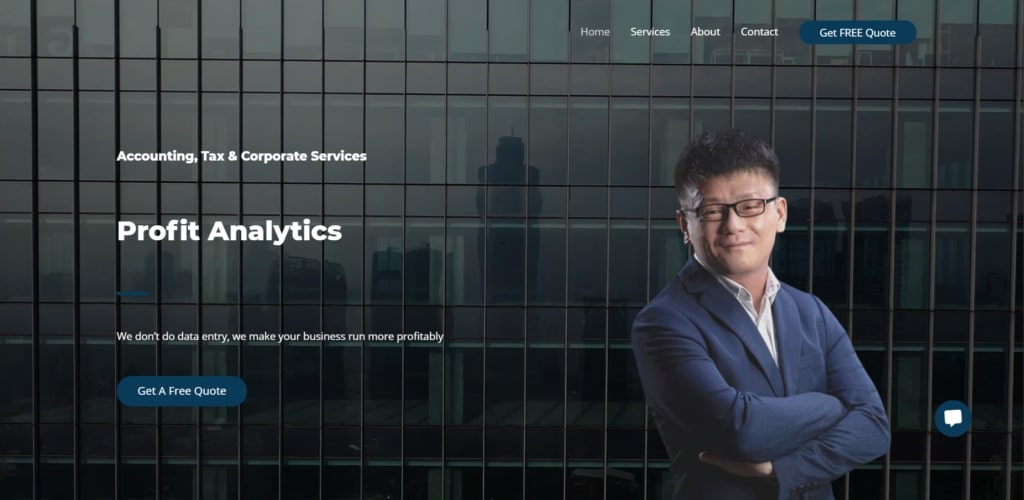 Profit Analytics will help you make the most of your resources. They offer a wide variety of accounting services to their clients.
Some of their services include Tax Services, Corporate Secretary Services, and Payroll Services. They've garnered a reputation for being timely and hardworking in their work.
With Profit Analytics, you'll be able to better focus on growing your company. You can count on them to handle the accounting paperwork in the meantime.
Highlights
Wide range of services
Meets deadlines
Available 24/7
Free quote available
33. Singapore Tax Accounting
Singapore Tax Accounting houses the best accountants in Singapore, garnering many decades of experience in the field. Their expertise is unparalleled and definitely worth every penny.
They offer various services under accounting and bookkeeping, like Setting up an Accounting System, Recording all accounting transactions, Providing Financial Analysis, and more! You won't have to worry about anything else if you decide on hiring Singapore Tax Accounting to do the work for you.
Highlights
Fast yet efficient service
Detailed work
Friendly customer support
34.  3E Accounting

| | |
| --- | --- |
| BEST FOR  | Foreign business owners |
| WEBSITE | https://www.3ecpa.com.sg/ |
| ADDRESS | 51 Goldhill Plaza #07-10/11 Singapore 308900 |
| CONTACT DETAILS | +65 66909262 |
| OPERATING HOURS | Weekdays,  9:00am – 6:00pm |
If you're a foreigner planning to establish your business in Singapore, then you should take care of your bookkeeping management by acquiring the services of 3E Accounting, an award-winning business solutions specialist.
Whether you're setting up or expanding your business venture, their accounting specialists can assist you with fast, responsive, and quality services. Their team provides the best bookkeeping in Singapore by helping you build a timely accounting system to manage costs and transactions effectively.
Highlights
Bookkeeping service packages
Secretarial, marketing, and taxation services
35. LEFTRIGHT CORPORATE PTE LTD.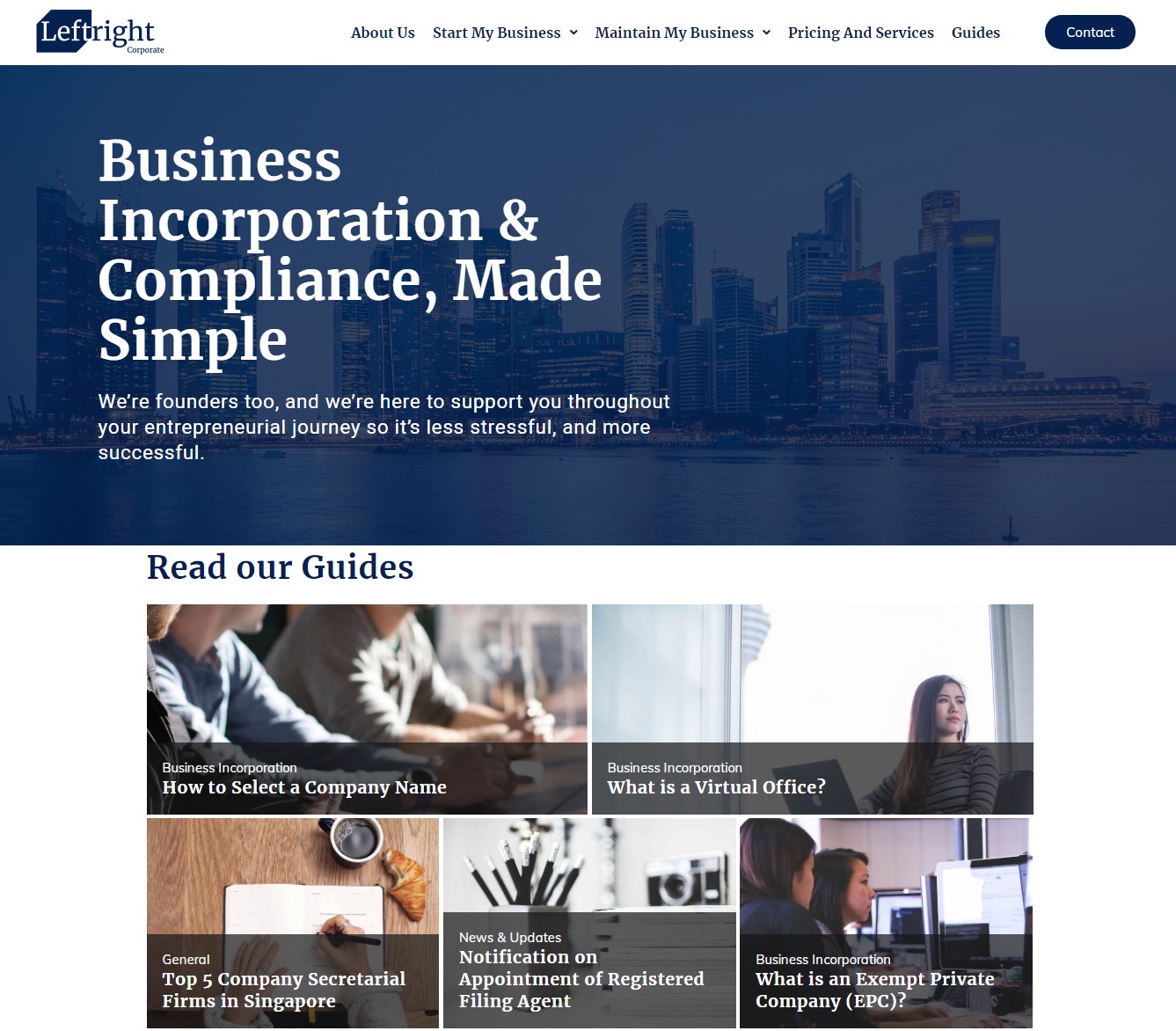 | | |
| --- | --- |
| BEST FOR | Professional staff |
| WEBSITE | https://www.leftrightcorp.com/ |
| ADDRESS | 190 Clemenceau Ave., #06-06, Singapore, 239924 |
| CONTACT DETAILS | +6531591818 |
| OPERATING HOURS | Monday – Friday: 10:00 am – 6:00 pm |
Leftright Corporate PTE LTD is your business solutions company. Whatever your business needs in putting up or maintaining a business up and running, they probably offer that service. 
Specifically, they would be happy to keep the bookkeeping and accounting problem off of your hands. With the service that they offer, you could save so much time from reduction of manual entry. 
They make sure that the figures on your end and on the bank are the same. Ledgers are well maintained to accurately display balances between your documents. They keep the documentation of books well-organized. 
These are just some of the services offered by Leftright Corporate PTE LTD. Be sure to check their website and call them to learn more. 
Highlights
Automated system which results to less human error
Professional working environment
Trustworthy and cooperative business service provider
Informative and well-versed staff
36. Akash Devasar & Co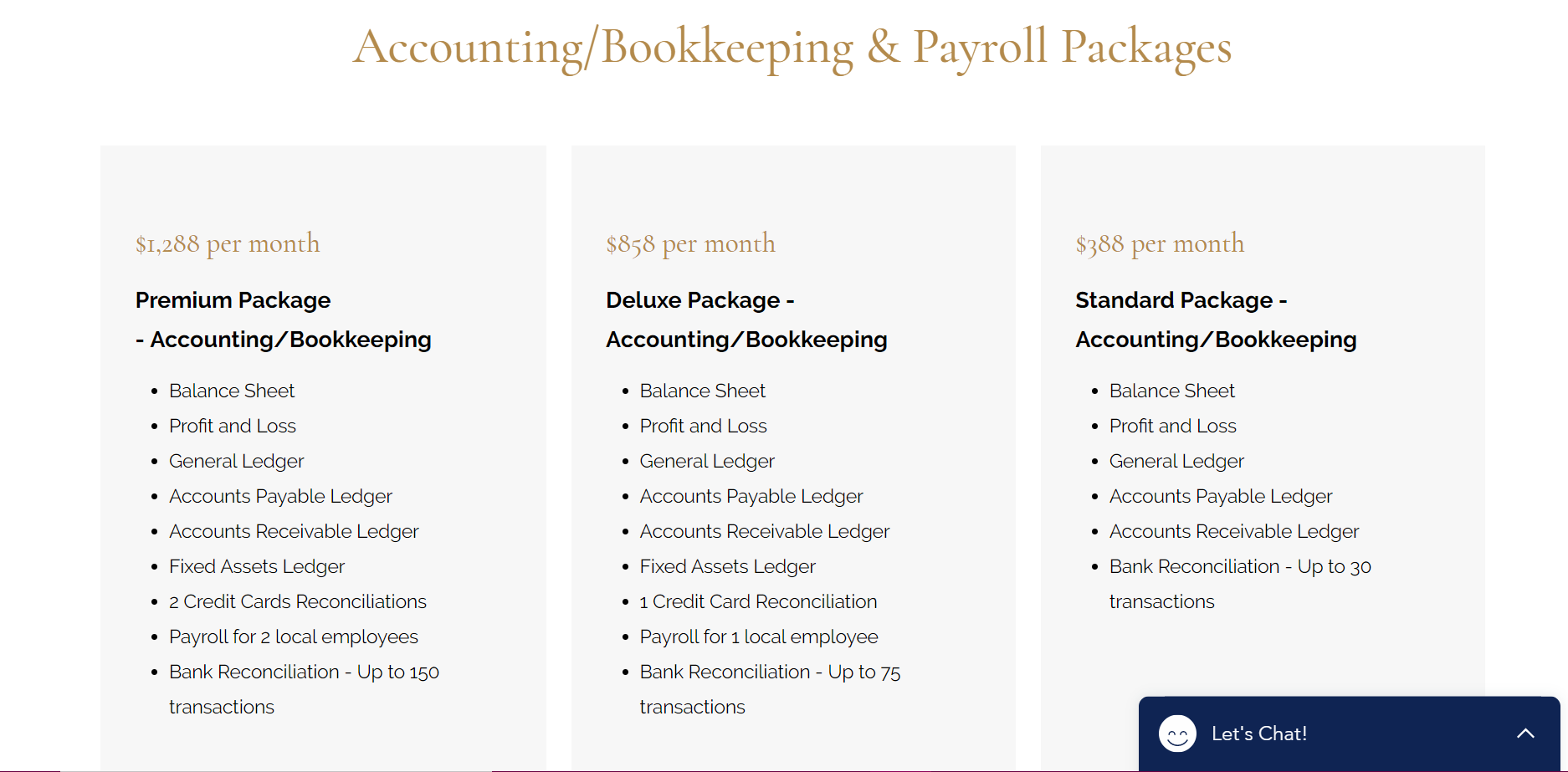 Akash Devasar & Co is one of the best choices if you're in need of assistance when it comes to bookkeeping. Known for their extensive services, Akash is definitely a one-stop solution for any of your financing and business-related needs.
For more inquiries, simply check out their website or contact Akash Devasar directly!
Highlights
Readily provides support in financing and bookkeeping
Smooth and effortless process
Timely arranged services
37. FELTON MANAGEMENT PTE LTD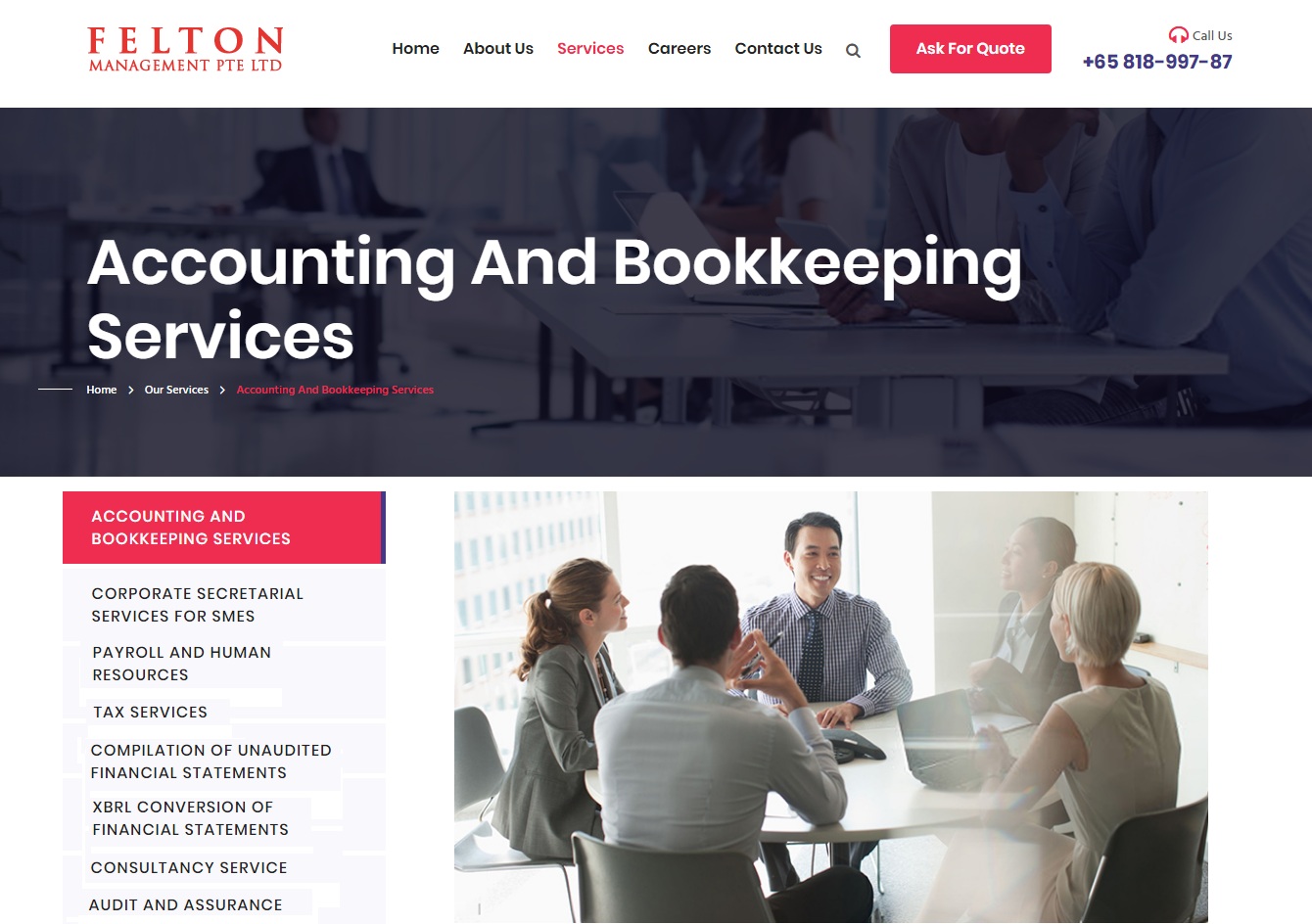 | | |
| --- | --- |
| BEST FOR | Accounting and booking |
| WEBSITE | http://www.fmgmt.sg/ |
| ADDRESS | 135 Middle Road #02-01 Bylands Building Singapore 188975 |
| CONTACT DETAILS | +65 818 99787 |
| OPERATING HOURS | Monday to Saturday: 9:00 am – 6:00 pm |
Felton Management PTE LTD has a complete deck of service for all your professional business needs. In fact, they are a registered Filing Agent fro the Accounting and Corporate Regulatory Authority of Singapore. 
With that, they provide assistance on business aspects that you could think of from audit to taxation. 
Their team of accountants are also one of the best in Singapore. They search for experienced and professional accountants that have the expertise to help you with your business concern. 
Highlights
Accounting and Bookkeeping
Audit and Assurance
Tax Services
Consultancy Services
Compilation of unaudited financial statements
Cloud Accounting
38. ACE FINANCIAL ACCOUNTING
Ace Financial Accounting understands that most businesses in Singapore need bookkeeping and accounting assistance. That's why they offer best accounting packages at a reasonable price. 
They do not just provide the service needed for a business, but they guide them every step of the process. This would ensure that they know what they're doing so they could apply it in the future. 
They guarantee excellent accounting and bookkeeping services. They could do profit and loss statements, balance sheets, fixed assets ledger, accounting filing, bank reconciliations, and many more. 
Highlights
Wide range of accountings services
Bookkeeping Packages
Affordable services
Customer Reviews
This accounting firm has every solution to your business financial service needs and they do the best they can to deliver excellent service. Here's what their customers have to say:
"Switched my Company Secretary to ACE Financial Accounting earlier this year, and really satisfied with their services. Staff in charge is responsive, and most importantly value for money!"
39. JM MANAGEMENT & ACCOUNTING PTE LTD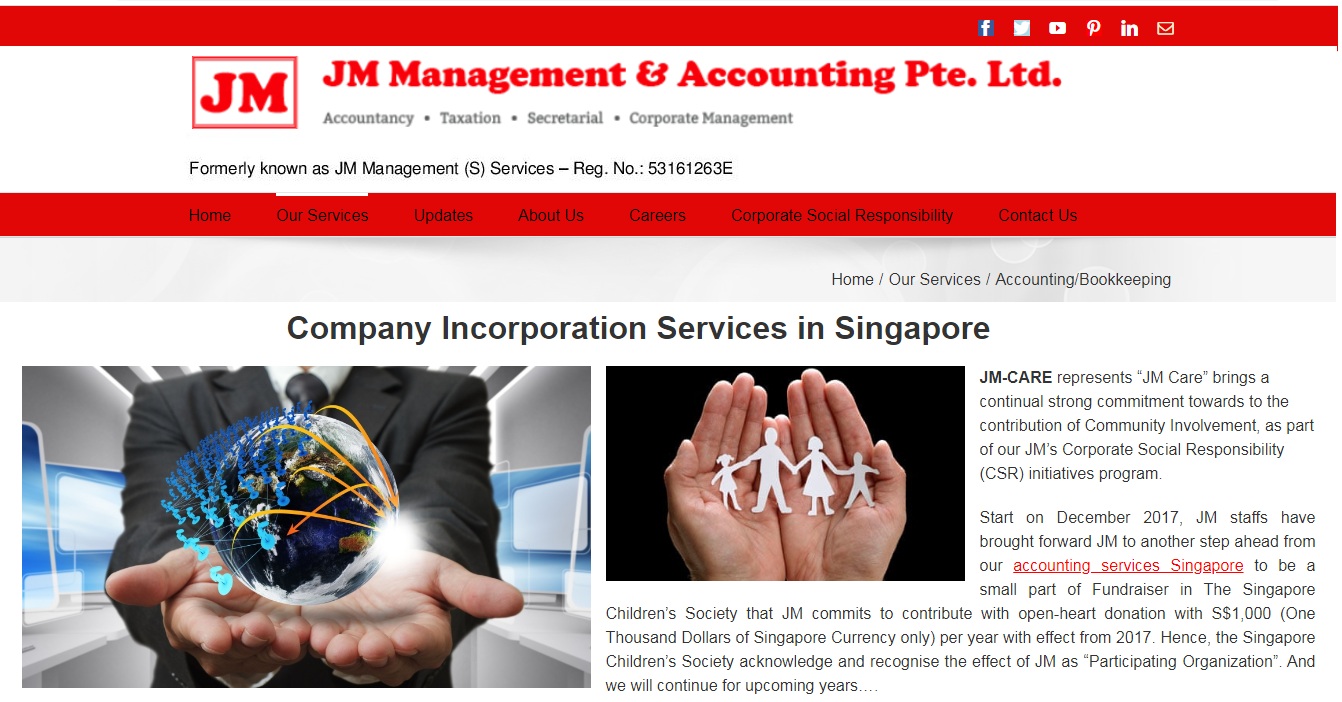 Regardless of your business size, JM Management & Accounting PTE LTD has got your bookkeeping service covered. 
They have professional accountants that could use MYOB, an accounting software to ensure error free data. They could generate essential reports and could offer credible insights that could help your management in decision making. 
So, if you need a bookkeeping service with only a minimal budget, you could always rely on JM Management. 
Highlights
One Year bookkeeping package
Reasonable price
Professional accountant and excellent bookkeeping service
40. VALUE ACCOUNTING PTE LTD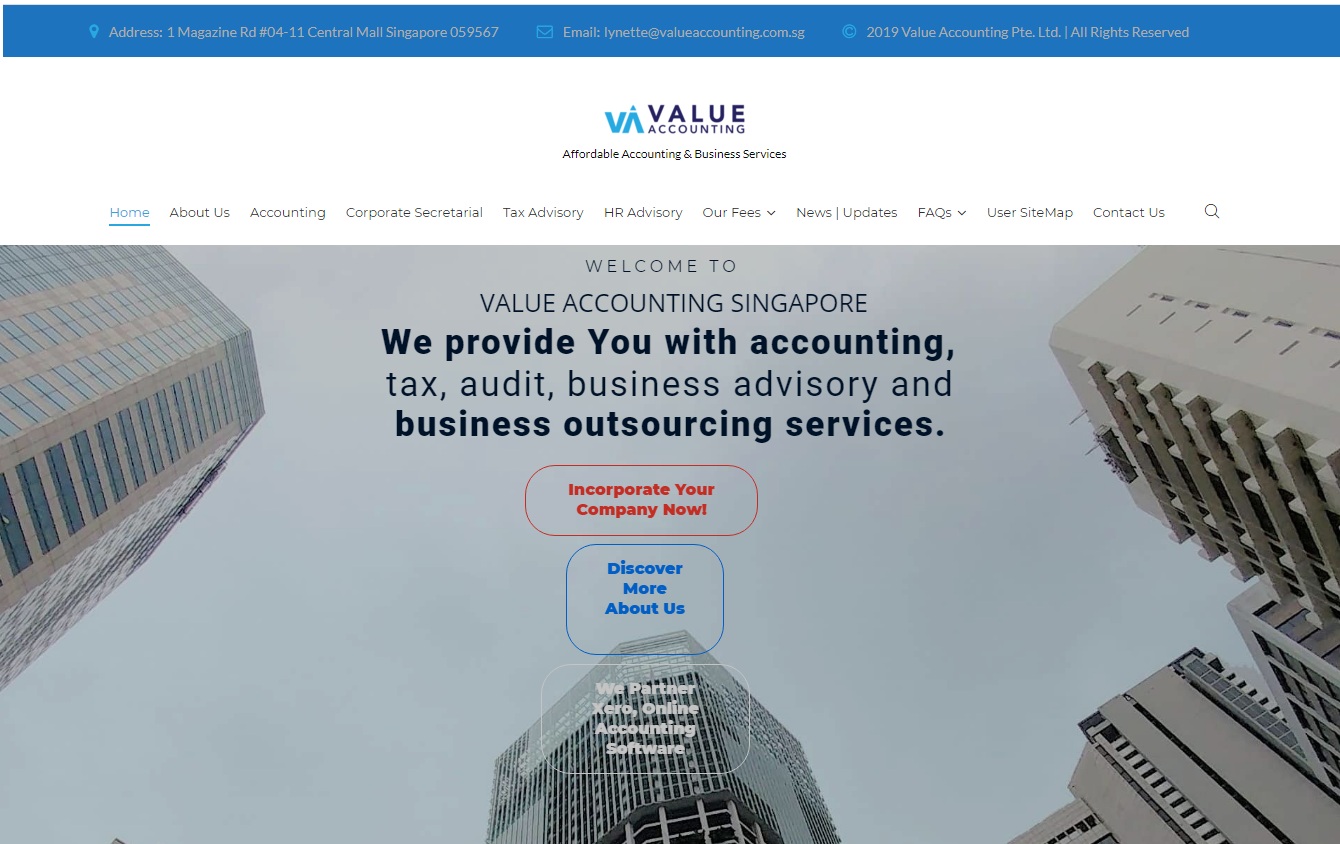 Value Accounting PTE LTD from the name itself offers reasonable accounting packages for small business owners. They handle bookkeeping and other accounting-related services of SMEs to ensure compliance. 
With that, they offer tailor fit accountancy services that fit the needs of their customers. If you need accounts reconciliation, basic bookkeeping, GST compilation, or others, you could have a wish list and they'll have an affordable proposal just for you. 
 They are used to working with small and medium enterprises, so the value of their services are totally customizable based only on your needs. 
Highlights
Accounting & Bookkeeping services
Other business-related services
Affordable accounting service package
Wide range of accounting services
41. ZE ACCOUNTING SERVICES PTE LTD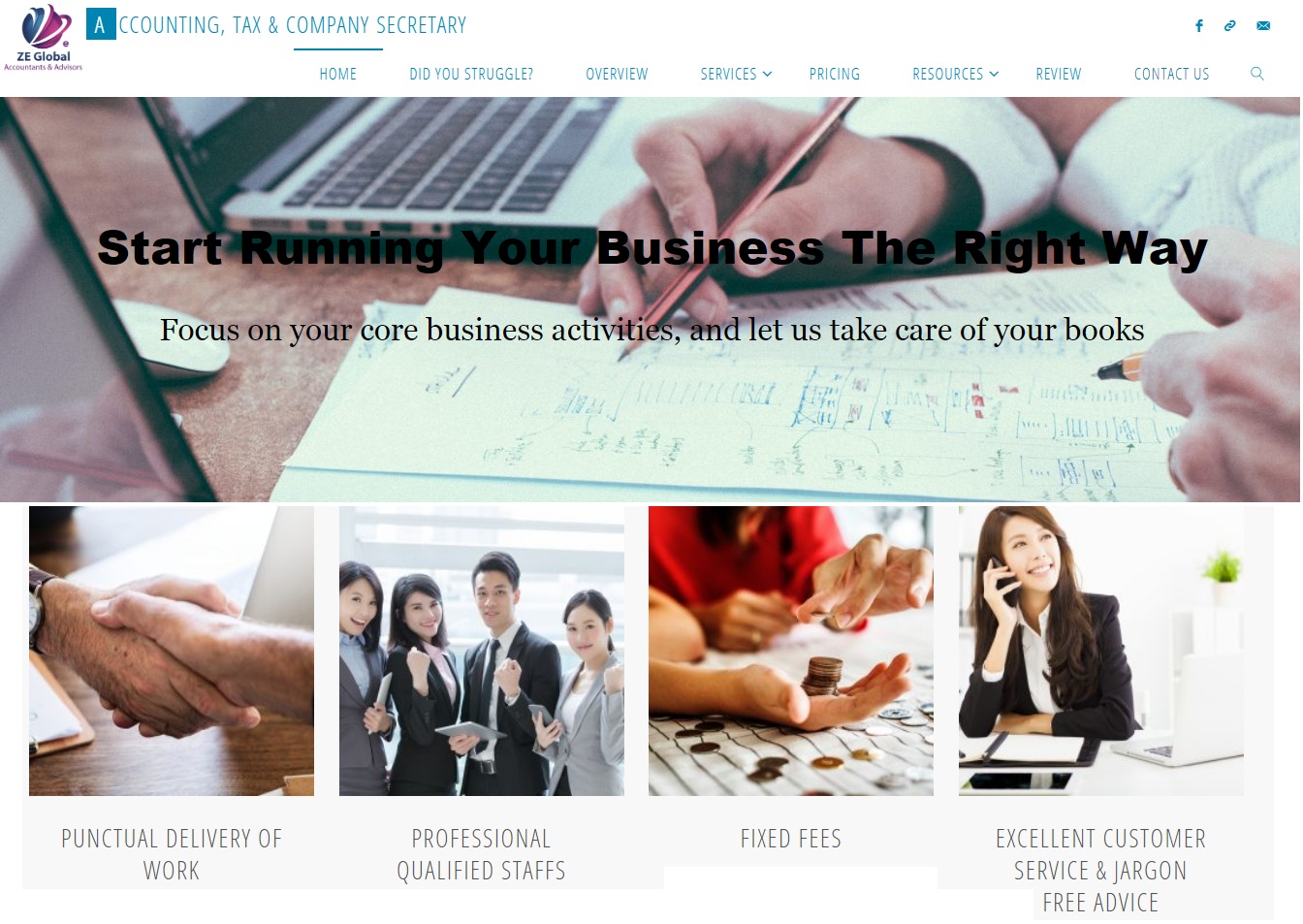 ZE Accounting Services PTE LTD delivers accounting services like never before. They provide new and exciting services that are essential in maintaining and updating financial books of your business. 
They ensure their customers that they deliver excellent service through their professional accountants  and advanced accounting software. With the convergence of these two factors, you are guaranteed of an error free data and fast turnout of reports. 
Aside from the bookkeeping services, they also provide more advanced services like compilation of unaudited financial statements, tacx services, audit and others. 
Highlights
Fixed fees for your business size
Excellent customer service
Compliant with regulations and standards
42. Venture Haven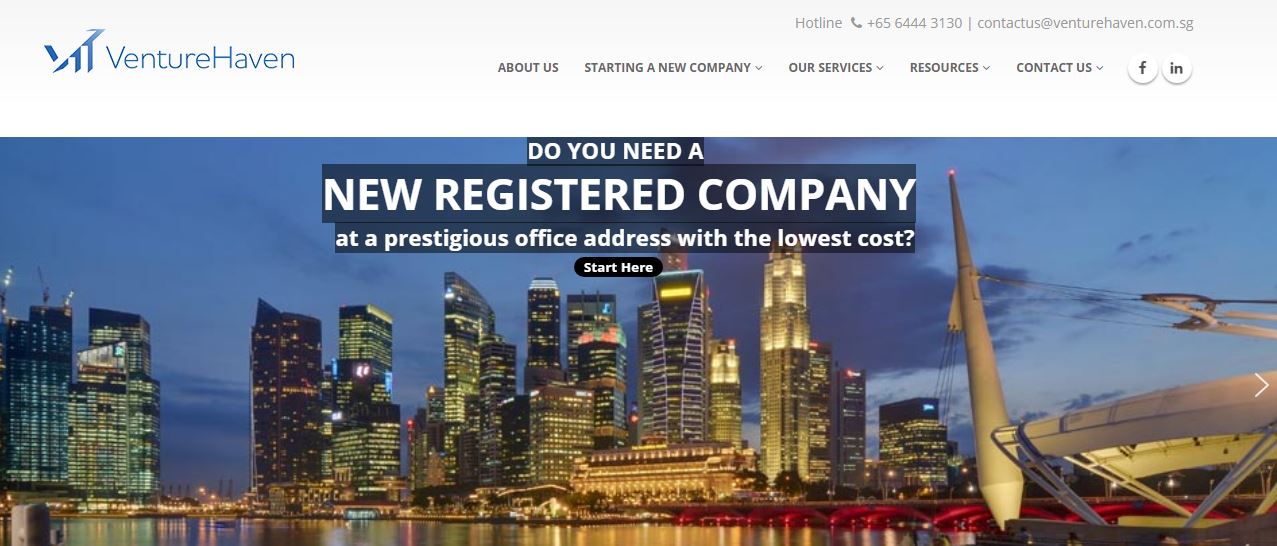 | | |
| --- | --- |
| BEST FOR  | Startup businesses |
| WEBSITE | https://www.venturehaven.com.sg/ |
| ADDRESS | 531A Upper Cross Street #04-95, Singapore 051531 |
| CONTACT DETAILS | +65 6444 3130 | WhatsApp +65 8122 3888 |
| OPERATING HOURS | Weekdays,  9:00am – 7:00pm |
 For those who are in the early stages of their business venture, you can outsource your bookkeeping tasks to Venture Haven.
Their accounting experts have years of experience when it comes to professional bookkeeping. With their skills and knowledge, they'll be able to provide excellent accounting solutions to newly established and even long-running companies.
Aside from this, they can also help you with company registration, immigration, secretarial tasks, annual compliance, and even website design and IT services.
With these services, they don't only provide the best bookkeeping in Singapore but also specialise in various fields that can help your company. 
Highlights
Accounting services
Bookkeeping service packages
Free consultation
43. Bluebox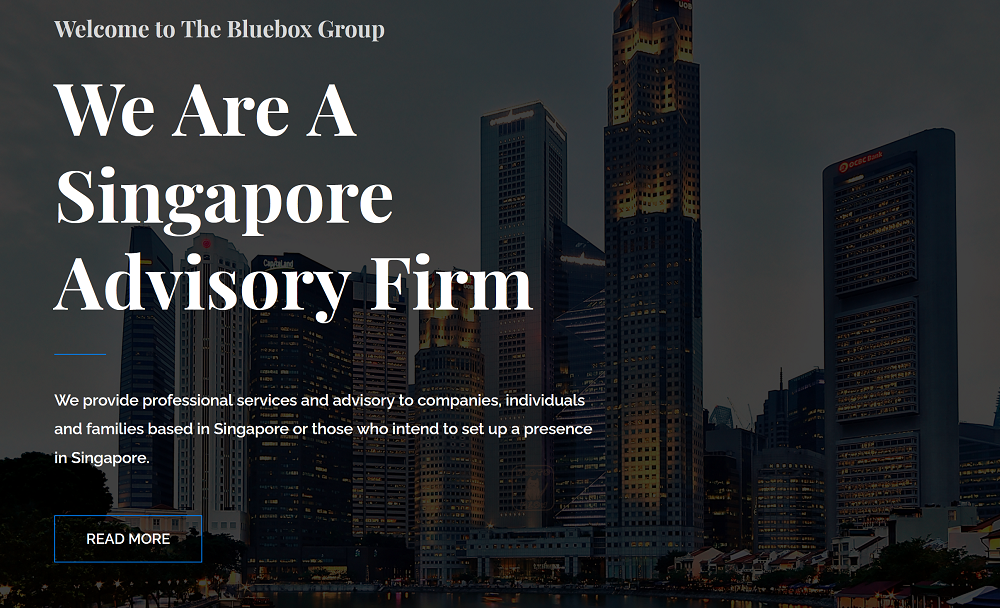 BEST FOR 
Comprehensive Services
WEBSITE
https://blueboxglobal.com/
ADDRESS

Consulting and Advisory
10 Marina Boulevard
Level 39 Marina Bay Financial Center
Singapore 018983
+65.68185757

Accounting and Corporate Secretarial
89 Short Street, Suite 09-08A
Golden Wall Center
Singapore 188216
+65.62244225

CONTACT DETAILS

Consulting and Advisory
+65.68185757

Accounting and Corporate Secretarial
+65.62244225

OPERATING HOURS
N/A
Bluebox is a company that offers boutique, high-quality services to their clients. Their primary focus is on entrepreneurs, high growth businesses, and investors who are based in Asia.
After forty years of working in the industry, they've now expanded their corporate services to consultancy services, investor services, and more. You can count on Bluebox to provide the best tax consultancy services you may need.
Highlights
Almost 40 years of working with SMEs
Personalised Services
44. LOL

If you're planning to start a new company, LOL will be your best partner. They provide the complete suite of services especially needed by startups.
From incorporation services to back-office outsourcing, LOL will offer only the best. Contact them now to boost your business' growth at a fast rate.
Highlights
Almost 40 years in the industry
Reliable and affordable services
45. W.L.P. Group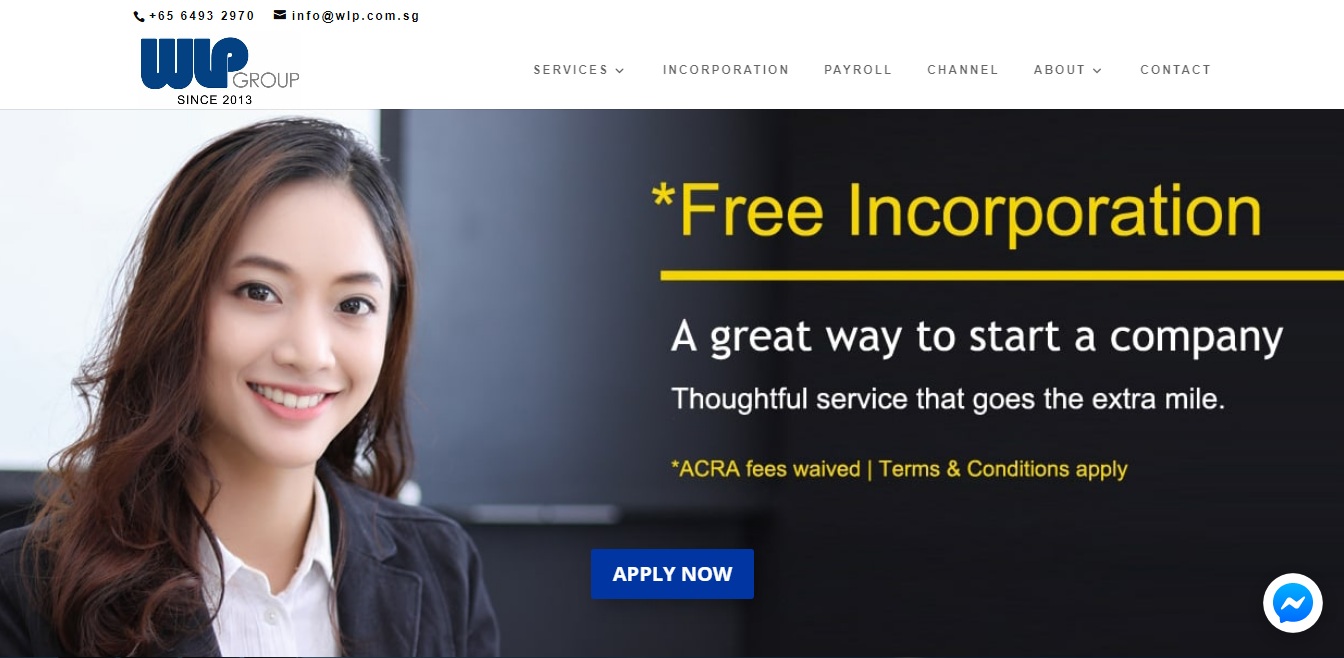 | | |
| --- | --- |
| BEST FOR | One-stop business solution partner |
| WEBSITE | https://www.wlp.com.sg/ |
| ADDRESS | 100 Jalan Sultan, #02-44 Sultan Plaza Singapore 199001 (Strictly by Appointment Only) |
| CONTACT DETAILS | +65 6493 2970 | [email protected] |
| OPERATING HOURS | Open 24 hours |
Whether you are a new business or a growing one, W.L.P. Group is a good business solution partner. It has a vast knowledge on the status of the economy in Singapore as well as the population characteristics. Thus, you are insured that they will provide you with an excellent overview of what it's like to enter business in the city.
In addition to what has been mentioned already, the company is considered as one of the top registration services providers in the country. It will be responsible for setting up the proper documents for registration. Furthermore, it offers free incorporation to its clients.
As for their accounting services, their accountant can prepare financial statements following the ACRA and IRAs requirements. They will also provide advice on your tax responsibility in accordance with the legal boundaries. 
Highlights
Team of qualified and experienced accountants
One-stop business solution partner 
Free incorporation
46. Ace Global Accountants And Auditors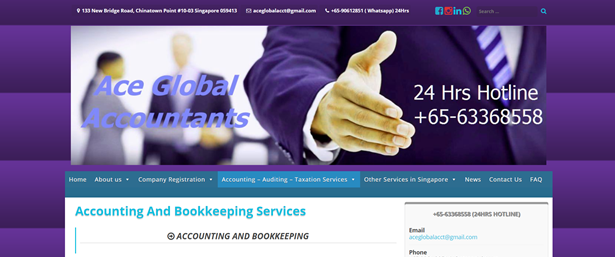 Ace Global Accountants is known for the conduct of work they provide all of their clients. Aside from the efficiency and effectiveness of their services, they're also professional and prompt, making sure to respond to inquiries within the hour of it being sent.
They have a wide range of services to choose from, including Bank reconciliation, General Ledger Maintenance, Audit Schedule, Cash Flow / Budgeting, Management Reporting, and more.
They are also able to support company registration, company secretary matters, due diligence, merger & acquisition, internal/external audit, taxation, accounting, market valuation, work pass application, trademark/patent registration, web design, and other services.
Additionally, as they are affiliated with a reputable law firm, they are able to support on legal work, sales and purchase agreement for company buyout, commercial litigation, sales and purchase of property, setting up a trust and other services.
Highlights
Corporate advisory
Corporate restructuring
Business process analysis
Tax advisory and planning
Corporate secretarial support services
47. Oaktree Cloud Solutions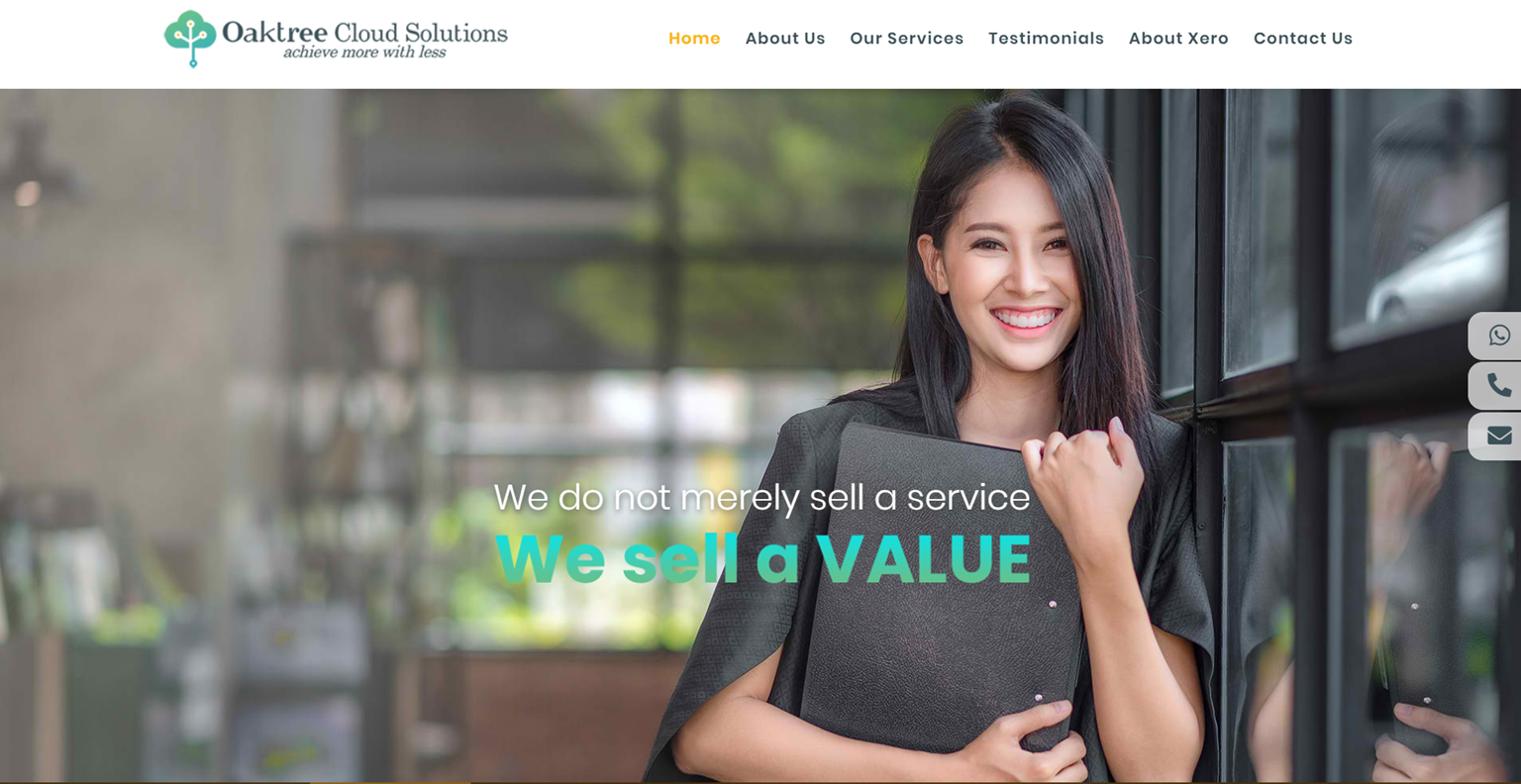 Oaktree Cloud Solutions is composed of greatly skilled CPA cloud accounting enthusiasts with passion and knowledge in advanced accounting services. They are able to reduce copious amounts of paperwork and documentation, helping businesses go entirely paperless and technology-based.
Their bookkeeping services are one of the best in Singapore, allowing the timely transfer of data digitally, and constantly ensuring that accurate numbers are posted. They help translate business transactions into actionable insights.
Aside from their bookkeeping, they also offer other services like Payroll Outsourcing, Taxation, Compilation Reports, and more!
Highlights
Great Creative Ideas
Fast Response Time
Experienced and Knowledgeable Team
48. Singapore Incorporation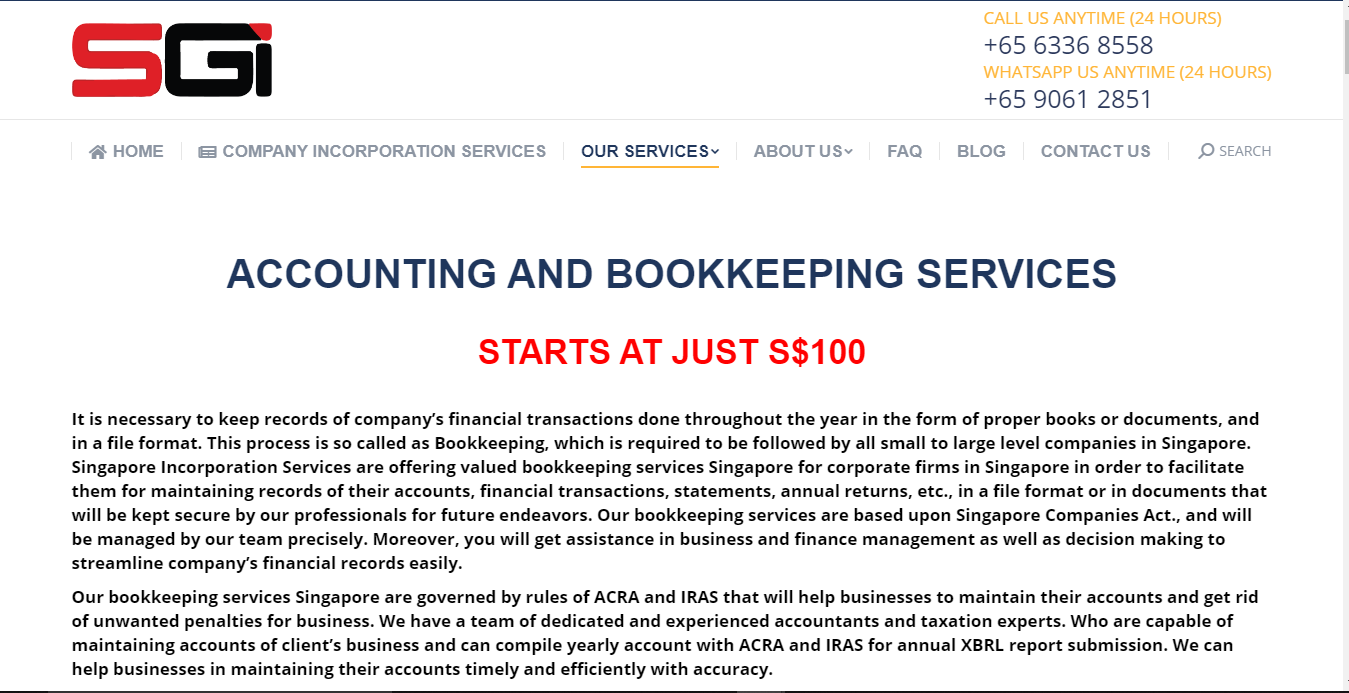 Singapore Incorporation is an agency that knows how essential it is to keep track of financial transactions in the company. Thus, they have dedicated themselves to offering efficient and secure bookkeeping services to various business owners, like you.
Their team is made up of highly experienced accountants and taxation experts, which are more than qualified to handle your accounts with increased accuracy. They are careful to render only fully organised and legal services at all times, making Singapore Incorporated one of the most trusted bookkeeping agencies to date.
Whether you're new to the market or a veteran in the world of business, you can rely on the expertise of Singapore Incorporated in financial management and accounting. Their performance is cutting-edge, highly secure, and of great convenience to any business or company owner.
Highlights
Professional and Experienced Staffs
Affordable Payment
Wide Range of Bookkeeping Services
49. Bestar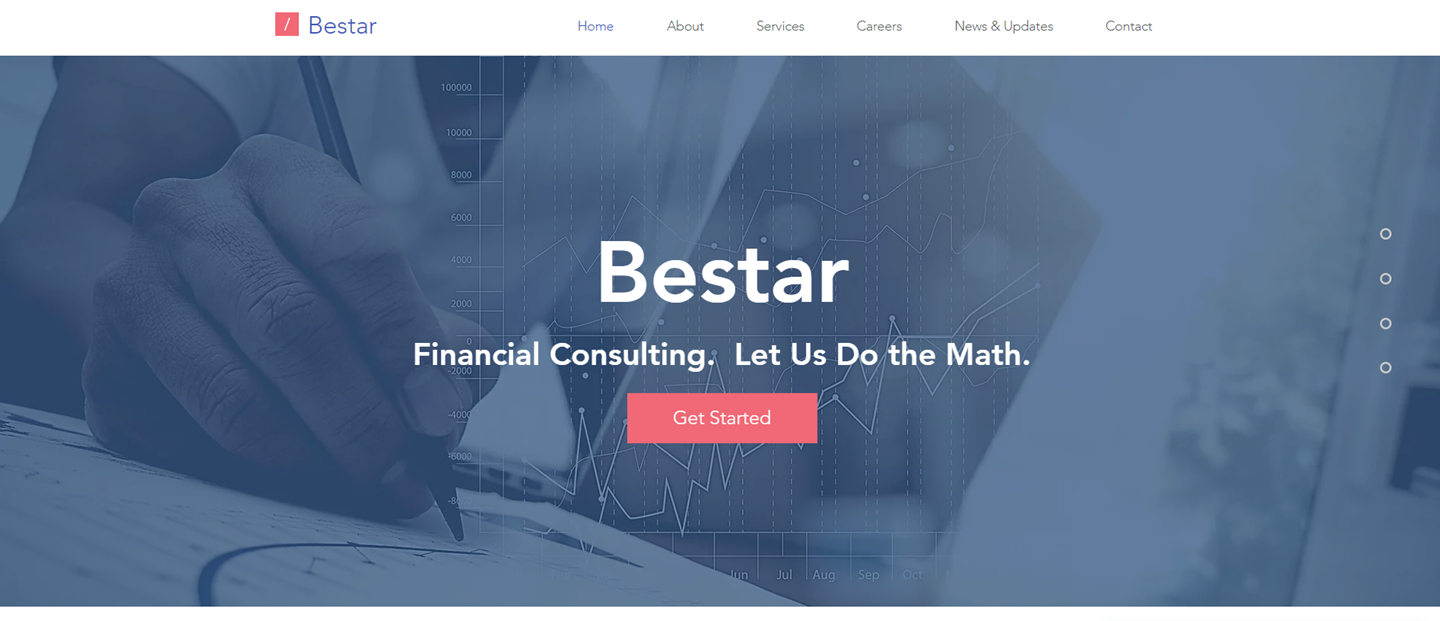 Bestar offers great deals of services done by certified professionals of each field. They always make sure to deliver the best results so you won't have to worry about anything else other than improving your business ventures.
They're best known for their bookkeeping service, which is unrivalled with its amazing performance. Their specialists make sure that each transaction, no matter how complex, are all accounted for and checked daily.
Aside from bookkeeping, they offer a whole lot more services. They have auditing, financial advisory, consulting, risk management, among many others. So if you're looking for a company that would help you in your business as a whole, then you should choose Bestar.
Highlights
Wide range of services
Highly professional staff
Years of experience in the field
50. TASA Trust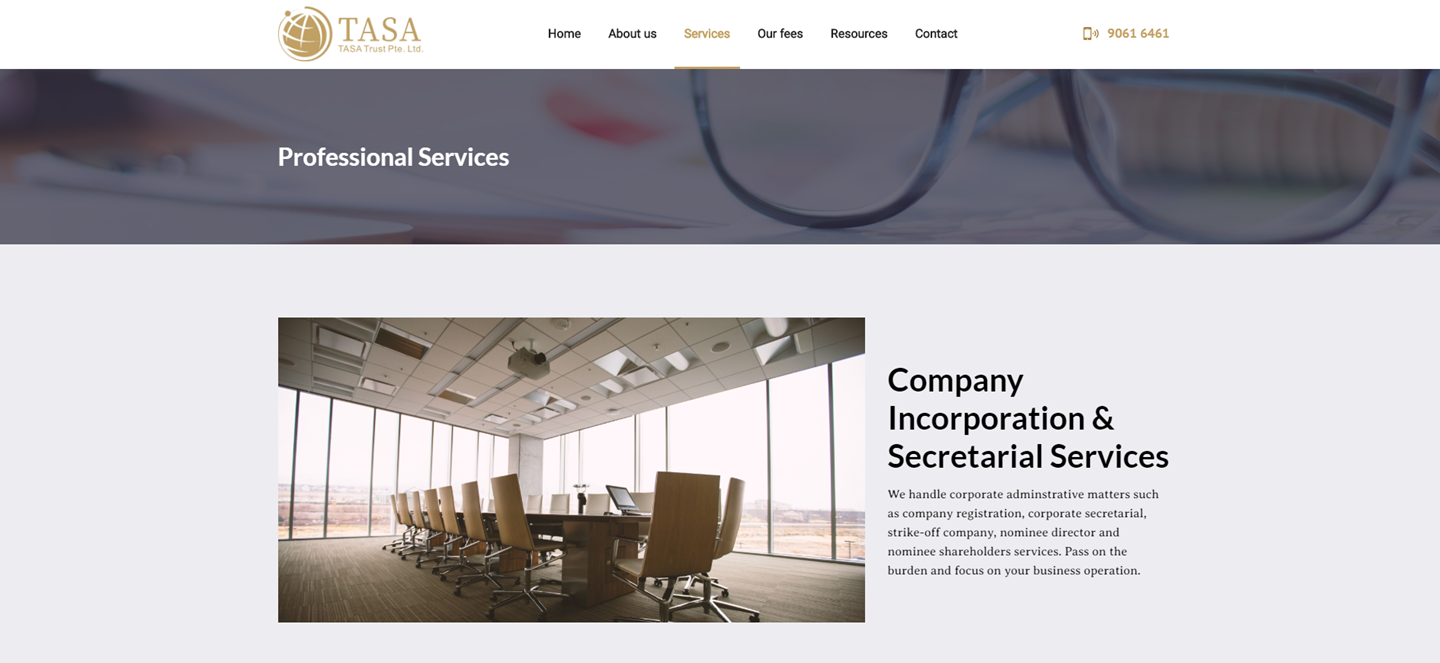 TASA Trust is a company that provides maximum support to small and medium sized businesses who are known to have problems with manpower and financial costs. They help owners have full control over every aspect of their business without worry. They offer a lot of services like Company Incorporation & Secretarial Services, Payroll Services, Compilation of Financial Statements, and of course, Accounting and Bookkeeping Services.
Their accounting and bookkeeping services include understanding your requirements before setting up chart of accounts, performing accounting-related matters, and more. You'll be getting all these as a package for their assistance, at a very affordable price.
So if you're looking for a company that can help you with bookkeeping without you worrying constantly, then make sure to take up TASA Trust's services. Trust in the experienced and skilled– trust in TASA Trust.
Highlights
Unlimited corporate secretary service for the year and inclusive of $60 to be paid to registrar.
Price inclusive of all system being used for the bookkeeping function.
51. KCloud Accounting

| | |
| --- | --- |
| BEST FOR  | Cloud-based accounting services |
| PRICING | Packages |
| WEBSITE | https://kca.sg/ |
| ADDRESS | 7 Keppel Road, #02-04, Tanjong Pagar Complex, 089053 |
| CONTACT DETAILS | +65 9863 8665 |
| OPERATING HOURS | Weekdays,  9:00am – 6:00pm |
 KCloud Accounting offers its own accounting software called Xero Accounting. It's a simplified platform where you can manage all tasks in one dashboard, easily access all files, and track invoices online. 
Since it's a cloud-based platform, all your files and transactions are safe and secured. It can also be installed on tablets and mobile phones for more convenient use.
Working with their trained and talented staff will help you improve the flow of your business and achieve progressive success.
Due to the advanced technology and smart strategies, they've become one of the companies providing the best bookkeeping in Singapore.
Highlights
Offers cloud-based software
Simplified operations
52. IMC Group

| | |
| --- | --- |
| BEST FOR  | One-stop Solution |
| SERVICES | Company Formation, Corporate Secretary, Corporate Finance, Taxation, Accounting, Trademark Registration, Immigration, and Payroll Service |
| WEBSITE | https://intuitconsultancy.com/sg/accounting-services-in-singapore/ |
| ADDRESS | 1 Raffles Place, Tower 2, Singapore 048616 |
| CONTACT DETAILS | +65 9234 0891 |
| OPERATING HOURS | Monday – Friday, 9:00 AM – 6:00 PM |
Established in 1979, IMC Group has grown to become one of the most reputable corporate service providers on the island. Starting with a limited range of services, it now offers every corporate solution that small and large businesses on the island might need!
Some of these services are corporate secretary services, immigration, taxation, accounting, trademark registration, and of course, the best bookkeeping services in Singapore. It's indeed a one-stop company for every business's corporate needs.
One of its goals as a company is to provide the best company formation services in Singapore at an affordable price and at a faster pace than others. This allows business owners to focus their time on other important matters.
Highlights
Flexible and reasonable pricing
Safe and secure storage
Streamlined and simplified process
53. OneStop Professional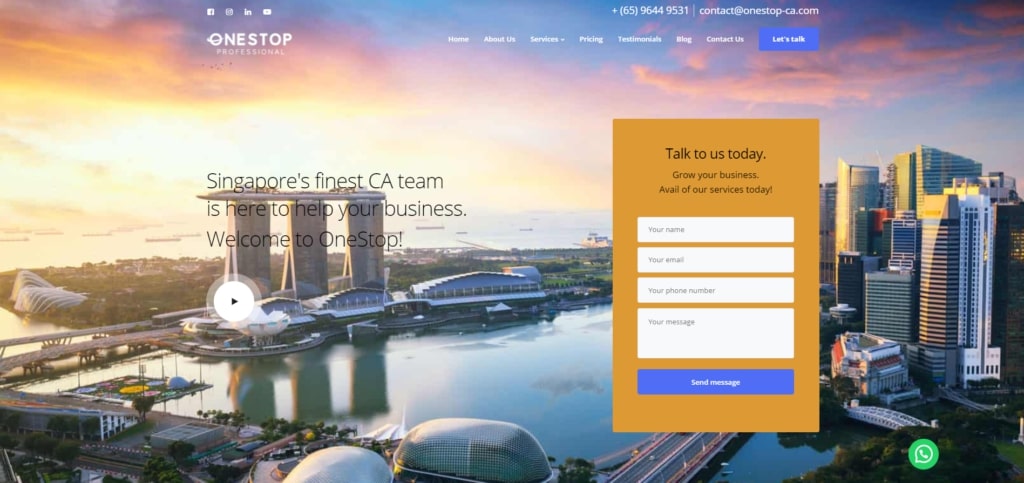 BEST FOR 
One-stop Corporate Services
SERVICES
Auditing, Company Secretarial Services, Corporate Finance, Financial Outsourcing, Grants, Legal, Loans, Tax, Valuation
WEBSITE
https://onestop-ca.com/
ADDRESS
10 Anson Road, #13-09 International Plaza,
Singapore 079903
CONTACT DETAILS
+ (65) 9644 [email protected]
OPERATING HOURS
Always Open
True to their name, OneStop Professional offers the complete suite of corporate services. They're one of the fastest growing corporate services provider in Singapore.
They make sure to work closely with their clients in order to achieve the best results. With OneStop Professional, you're not only getting various corporate services, you're also getting a partner you can rely on.
Highlights
One-stop corporate service provider
Delivers quality and professional corporate services
54. RedBun Bookkeeping Services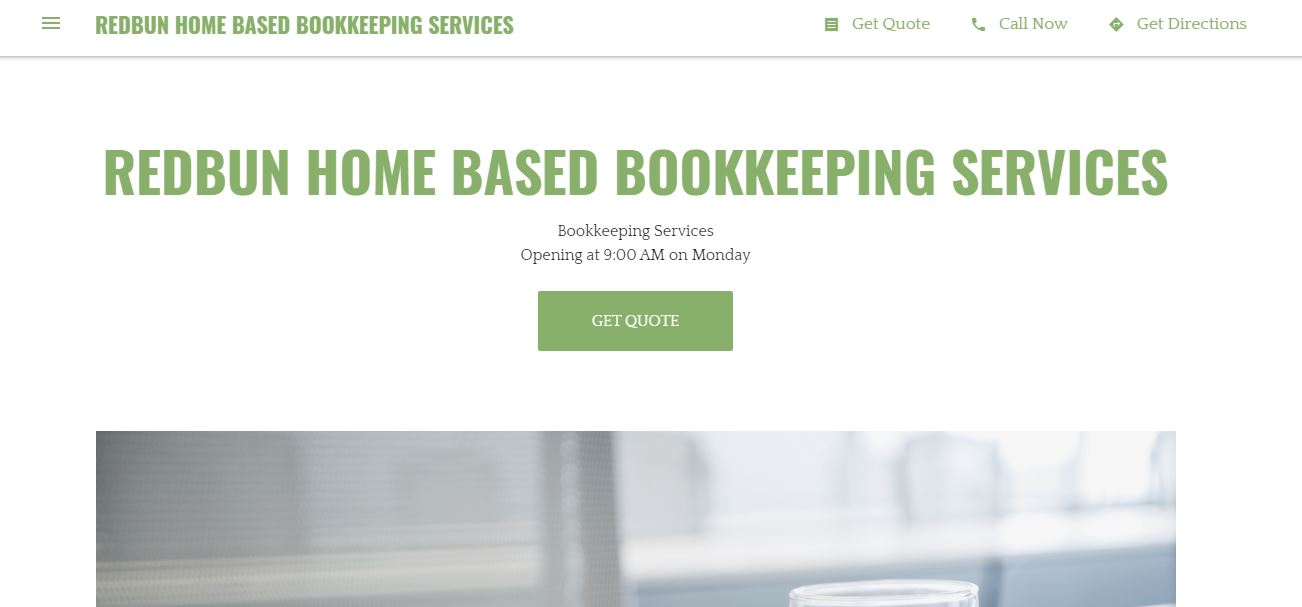 If you're currently starting your business with a home-based setup, you might be searching for the best bookkeeping in Singapore that caters to your work settings.
RedBun Bookkeeping Services is equipped with a freelance accountant with more than a decade of accounting experience. The services include setting up accounting software, recording a full set of accounts, and more.
Since it's a home-based outsourcing service, it's much more affordable compared to others. If you have a limited budget, then they might have the best bookkeeping in Singapore for you. 
Highlights
Home-based services
Affordable charges
55. Harvest Accounting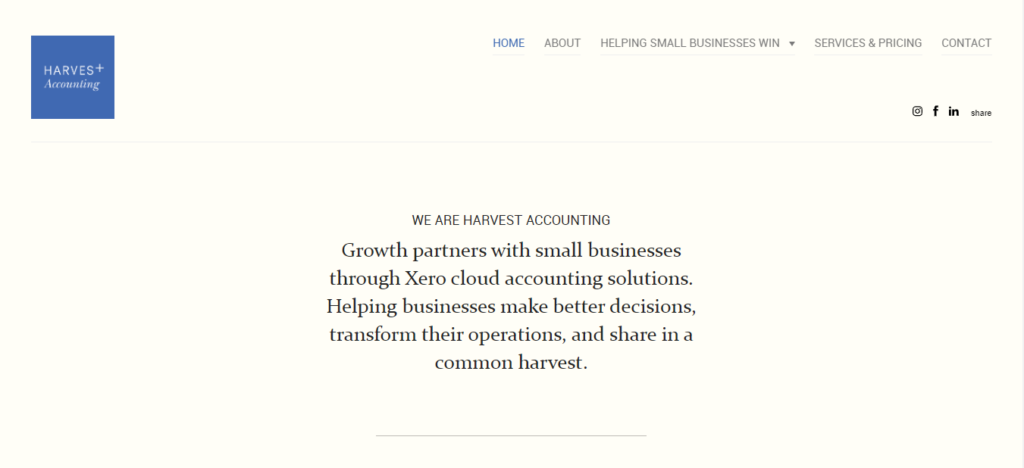 Harvest Accounting is a digital-first accounting firm that is passionate about streamlining workflows and identifying suitable add-ons and technology from the Xero app ecosystem to help small businesses win.
100% of Harvest Accounting's clients are using Xero, which is a cloud-based online accounting solution that can automatically handle tasks that used to take up all of your time.
From bookkeeping, to GST and taxation, let their team of experienced Chartered Accountants handle them for you.
Highlights
Expertise in Xero
Xero add-ons for innovative and personalised accounting
One-stop-shop for all accounting and business services
56.  Alpha Business Solutions PTE LTD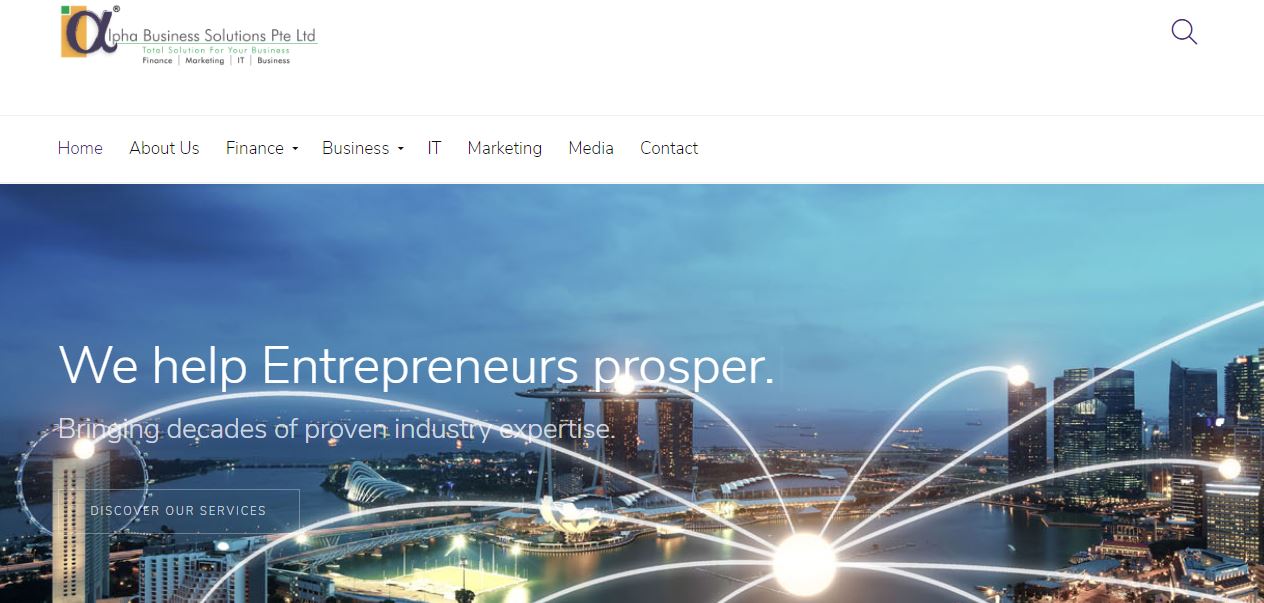 | | |
| --- | --- |
| BEST FOR  | Wide range of bookkeeping and accounting services |
| WEBSITE | https://abs.com.sg/ |
| ADDRESS | 59 Ubi Avenue 1 #03-11, Singapore 408938 |
| CONTACT DETAILS | +65 6746 7858 |
| OPERATING HOURS | Weekdays,  9:30 am – 5:30 pm |
 Business operations and transactions are a bit complex, especially, if you're just starting to explore all the tasks and factors related to it.
That's why Alpha Business Solutions PTE LTD offers a full range of bookkeeping services where you'll be guided through financial management and government requirements.
They provide services such as maintenance of ledgers and accounts, bank reconciliation, cash flow, financial analysis, statements and reports, management reporting.
Because of these services, they've been considered one of the companies that offer the best bookkeeping in Singapore.
Moreover, they also have IT, marketing, and media services, which makes them a one-stop business solution. 
Highlights
Full range of bookkeeping services
IT, marketing, and media services
57. NEXTPAGE SOLUTIONS PTE LTD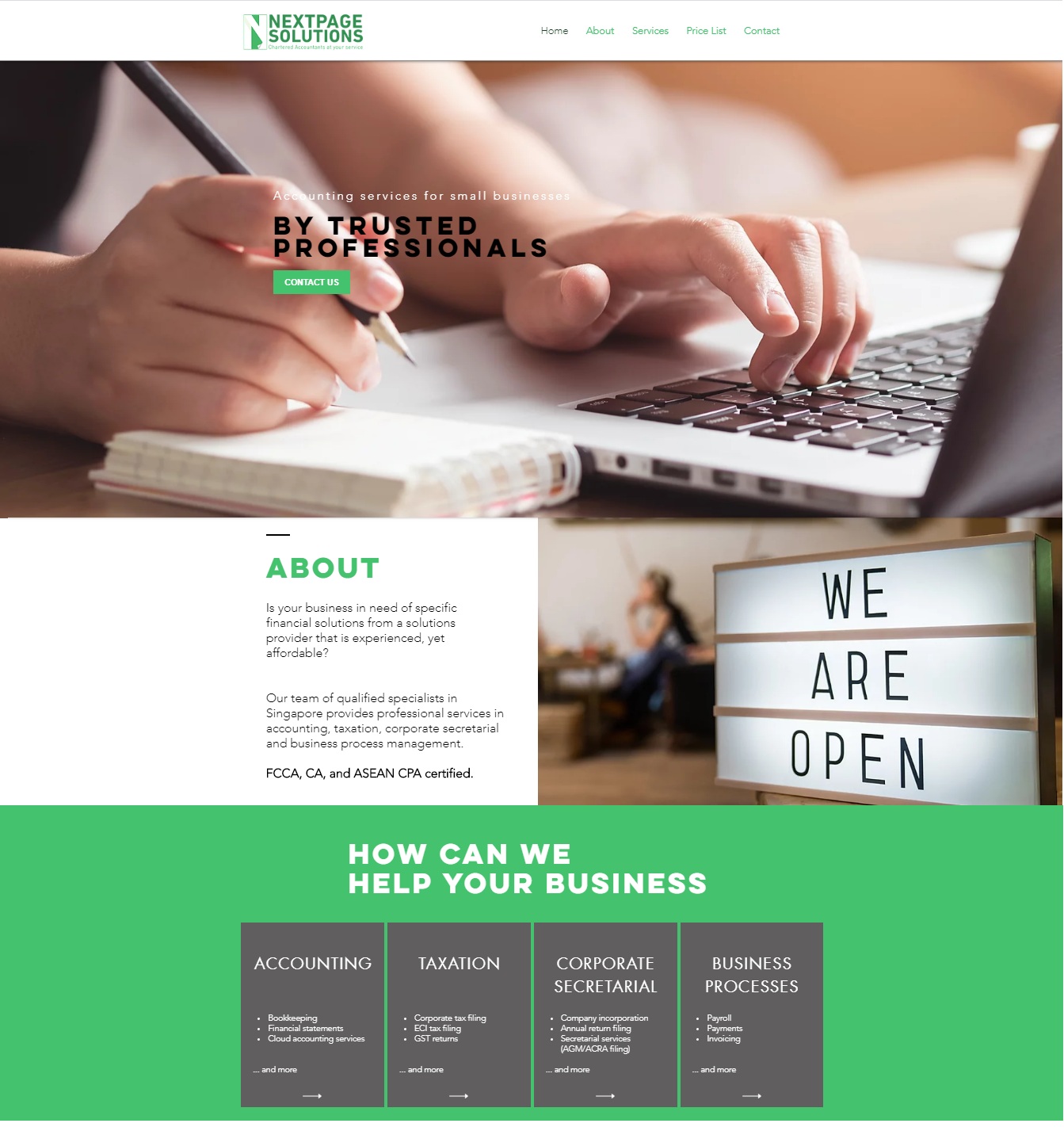 NextPage Solutions offers a wide range of accounting and business-related services. They guarantee that they provide high quality and prompt accounting services to your business. 
They have a team of professionals that would help you in your bookkeeping needs to ensure that your company is compliant to the government. Moreover, this is done to ensure that your finances are balanced. 
If you are also in need of other business related services, you could contact NextPage. They also offer incorporation, secretarial, business process review, and GST registration. 
Highlights
Wide range of accounting services
Affordable services
Qualified and professional services
Other business-related services
58. AG Singapore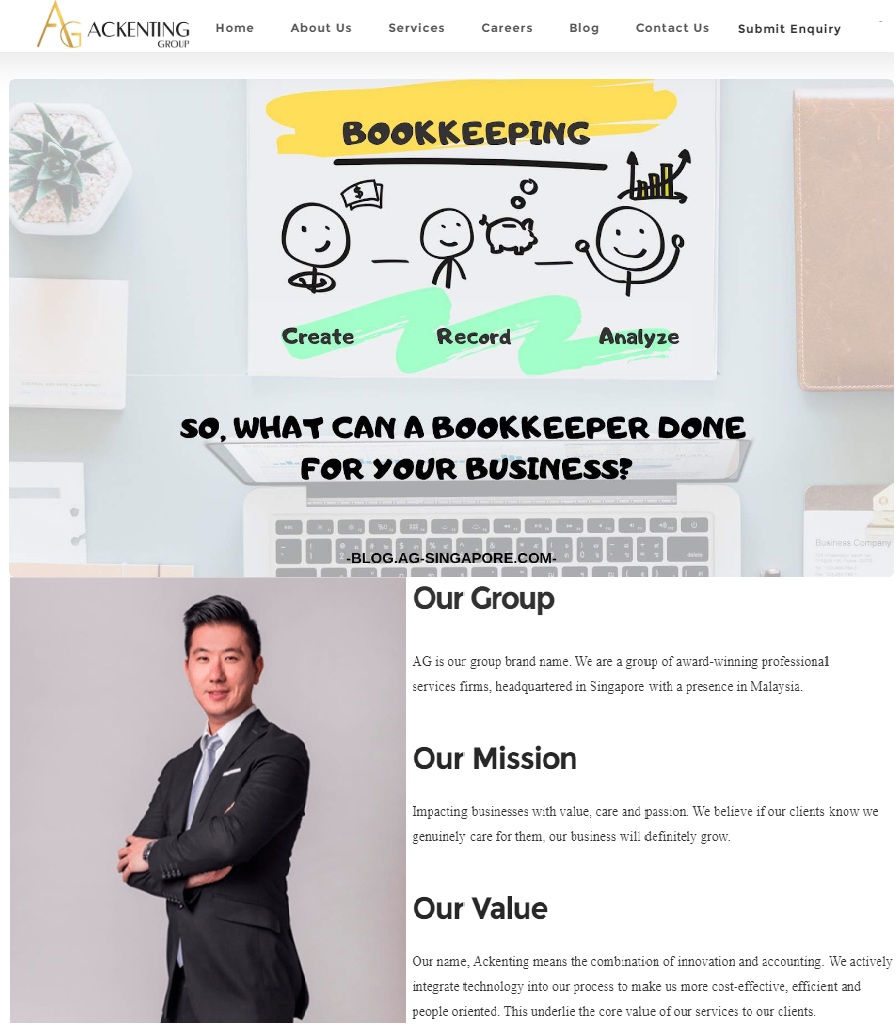 When it comes to bookkeeping, you know every detail counts and deadlines do matter. That's why AG Singapore's team is made up of capable accountants that will work in keeping your accounts in check and on time, every time. They even have a 30-day guarantee. 
Highlights
Audit-ready Accounting
No Delay
Affordable fees
Customer Reviews
Professional bookkeeping that never fails to be on time, that's their guarantee and looks like they keep that promise. Just check out some of the reviews given by their most recent clients:
"I have entrusted my company's Corporate Secretarial services to Darren from AG. He has been giving great service at an impeccable speed and always gives quality advice. As a new business owner, I feel assured by his advice."
"We had a few years accounting backlog before engaging AG. AG is very professional and efficient, they cleared up our backlog within agreed deadline which is very impressive."
59. DNA Accounting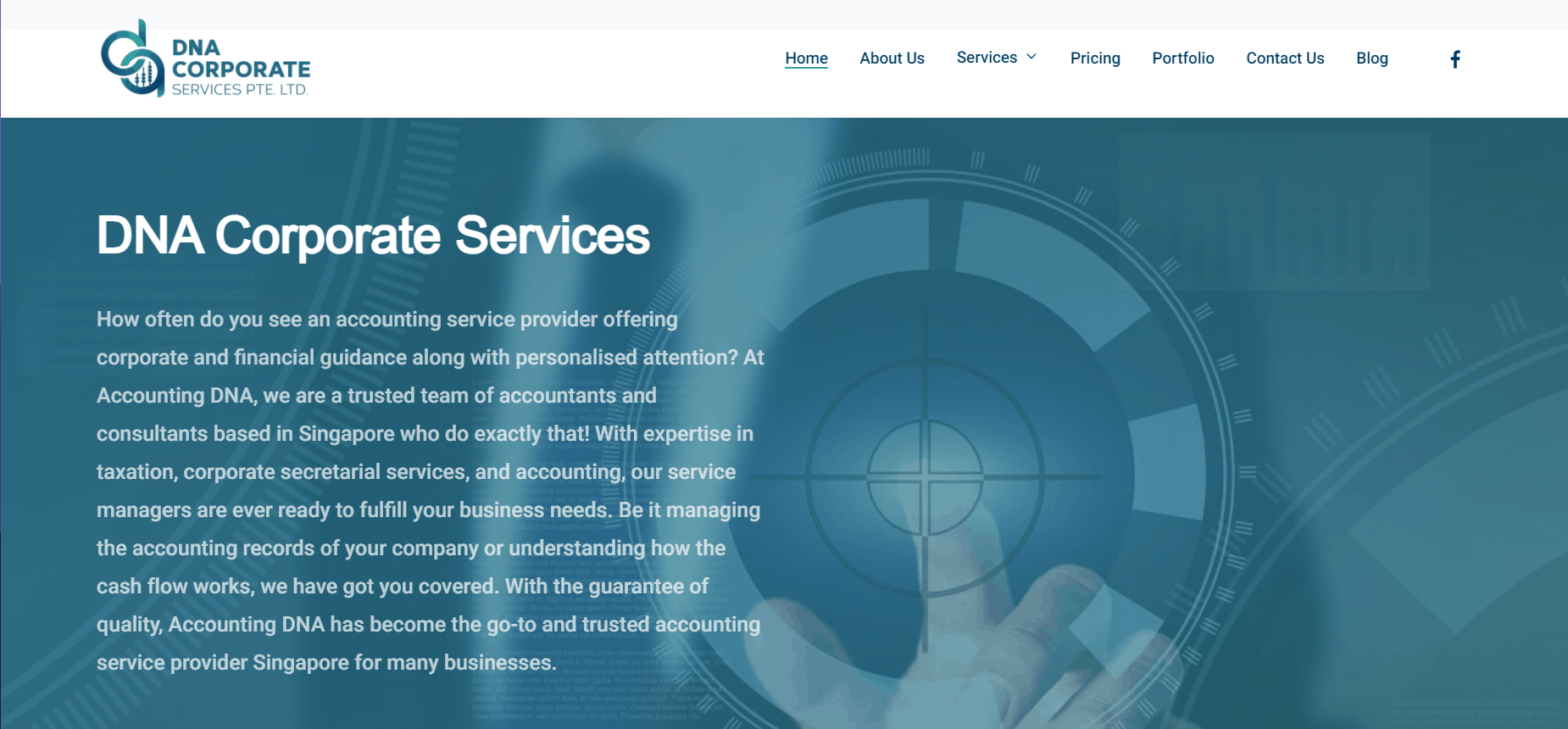 BEST FOR
Personalised Corporate and Financial Guidance
WEBSITE
https://accountingdna.com.sg
ADDRESS
73 Ubi Road 1, #06-54 Oxley Bizhub,
Singapore 408733
CONTACT DETAILS
Tel: +65 6242 3161 / 8338 8041
Email: [email protected]
OPERATING HOURS
Contact for more information
DNA Accounting is a one-stop solutions provider for clients in need of corporate and financial services. Unlike most bookkeeping firms, they strive to provide personalised accounting services to meet their client's needs, down to the last detail.
They handle a numerous areas of finance, some of which include taxation, corporate secretarial services, and accounting. Moreover, they're capable of providing a diverse set of services, from accounting records managements to cashflow computations, and everything in between.
Their team may be small, but their varied set of skills and specialisation are nothing to scoff at. They work together to provide quality services to each and every one of their clients.
DNA Accountings commitment to their client is one of the main reasons why many are satisfied with their bookkeeping services. They'll always strive to deliver what they promised to their client, no matter what it may be.
Highlights
Excellent service quality
Approachable staff of professionals
Constant improvement
Commitment to the client
60. Singapore Corporate Service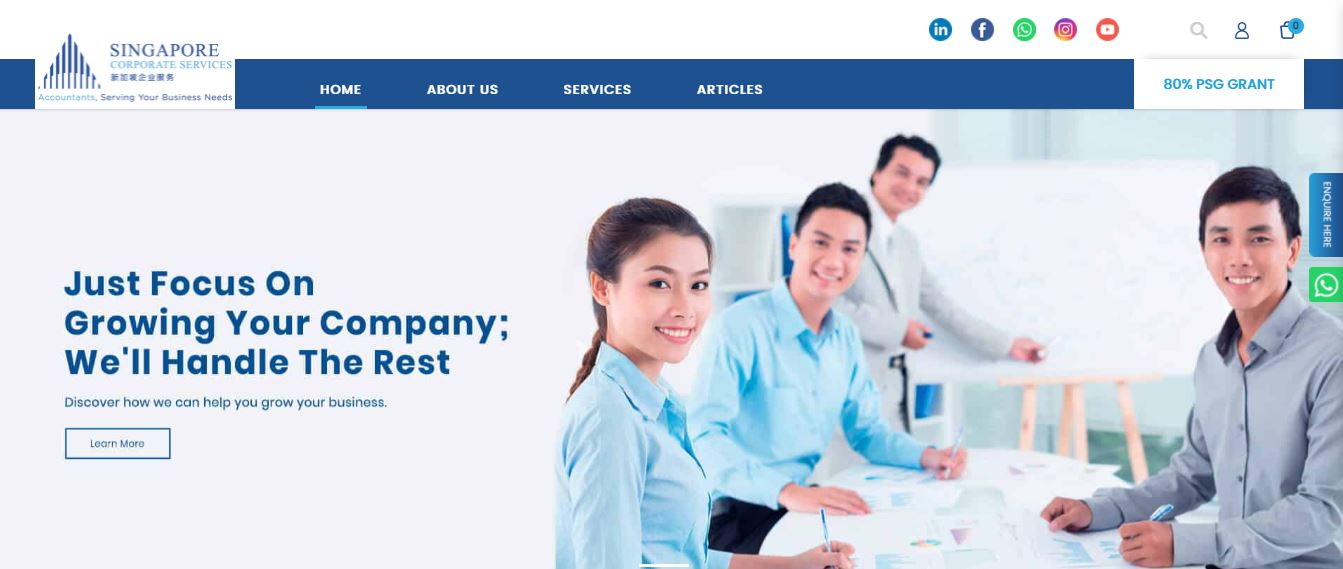 | | |
| --- | --- |
| WEBSITE | |
| ADDRESS | 112 Robinson Road, #03-04 Singapore 068902 |
| CONTACT DETAILS | +65 6914 1113 | [email protected] |
| OPERATING HOURS | Monday – Tuesday: 9:00 AM – 6:00 PM |
As its name suggests, Singapore Corporate Service (SCS) is committed to being a one-stop provider of all company needs. It offers everything, from secretarial services to auditing and tax services.
When it comes to bookkeeping and accounting, SCS uses cloud-based accounting software to sync all information with its clients. This company is a gold-level XERO Certified Advisor, so clients can expect nothing less than user-friendly accounting.
Of course, SCS also has certified public accountants in its team to make the bookkeeping process up to standards.
With many other services offered, SCS also lumps some services into packages. Its simplest starter package already includes tax filing service, one page of bank statement support, and access to a free accounting program.
Its best package is the premium package, priced at $500 per month. This package is best for fast-growing SMEs that need full support for bookkeeping, annual tax filing, management reports, and other corporate needs.
To pair its clients the best among its three packages, SCS does free consultations for 30 minutes.
Highlights
XERO-Certified advisor
Pre-Approved Solution Vendor for SMEs Go Digital Programme by Infocomm Media Development Authority 
One-stop corporate service provider
Exeperienced in using other accounting software like QuickBook, Financio, MYOB, and Autocount
Premium package support for fast-growing SMEs
61. The SG Service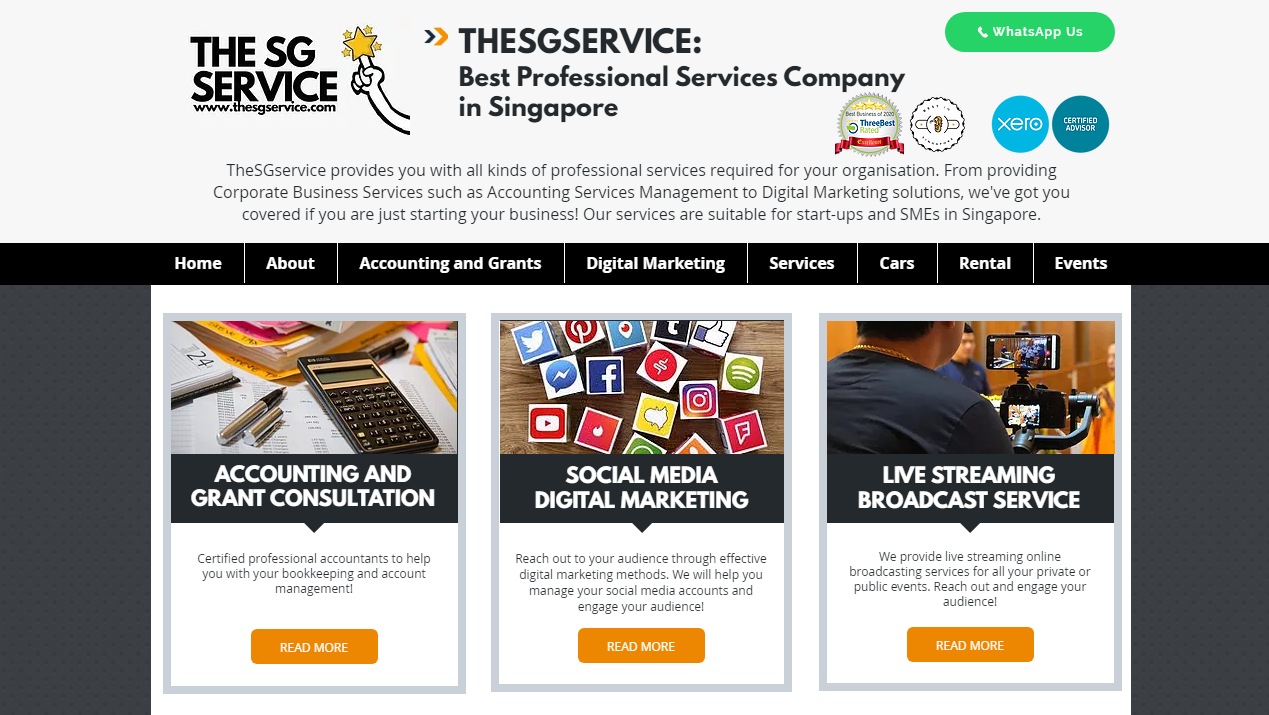 | | |
| --- | --- |
| WEBSITE | |
| ADDRESS | Singapore |
| CONTACT DETAILS | Tel: +65 8363 6136 |
| OPERATING HOURS | By appointment |
If you're looking for a firm that can help your business grow and thrive, then you may want to consider The SG Service.
The SG Service first opened its doors to the public in 2015, with the goal of providing quality professional services to those who are in need of it. These services include accounting services, company incorporation, grant consultation, web design, and social media marketing. 
Other than that, The SG Service also offers services in other fields, such as live feed broadcast services, HDB painting services, condo painting services, stain and varnish parquet flooring, moving services, Vilo socks consignment, SG car consignment. car rental services, and air-con rental services. 
Each and every service mentioned is delivered by individuals whose years and experience in their respective fields make them highly qualified to get the job done. Moreover, their customer service is second to none, with the staff working to get things done right the first time around.
It's also worth noting that The SG Service comes highly recommend because of their rates, which have been praised for their transparency and affordability. 
Highlights
Transparent, affordable rates
Wide range of services
Excellent customer service
62. Acc Pro Singapore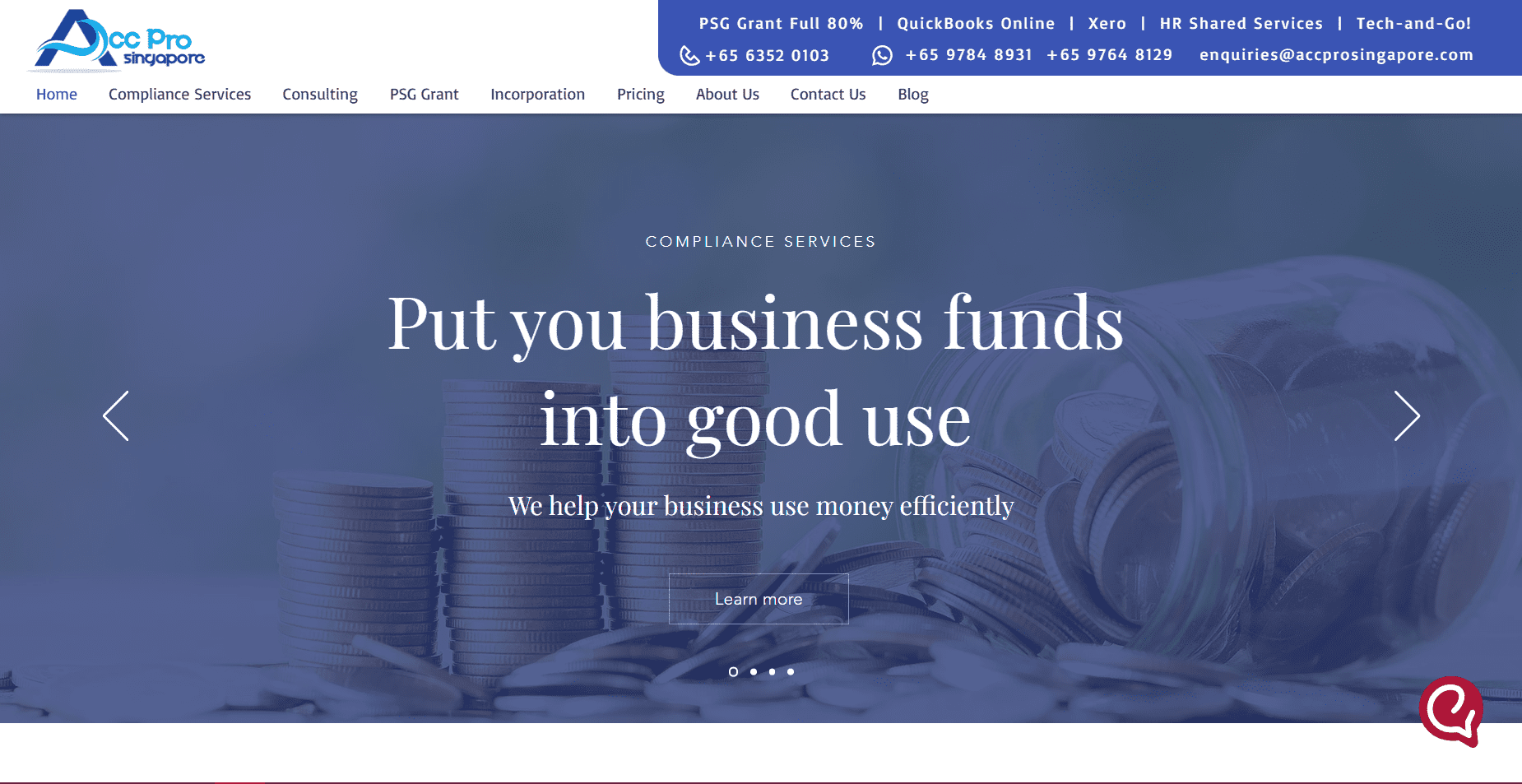 Acc Pro Singapore is a world-class company that provides a wide range of accounting services suitable for using your funds efficiently. Many praise them for providing nothing but value-adding technology and solutions that can make any company grow.
Their team is composed of Accredited Digital & Chartered Accountants, all of which are knowledgeable in the various aspects of accounting. With their diverse skillsets and perspectives, they work towards providing solutions tailor-fit to their client's individual situation.
Their bookkeeping and payroll management services are unbeatable when it comes to accuracy and efficiency. Unlike other bookkeeping services, theirs is automated and cloud ready, which makes it easier to monitor and maintain.
Best of all, they provide comprehensive information regarding your finances to help you make better, data-backed decisions. All in all, Acc Pro Singapores' flexible, high quality solutions make them an excellent solutions provider for accounting issues of all kinds.
Highlights
Wide range of services
Team of professional experts
Patient, friendly, and knowledgeable staff
Cloud ready software
63. CST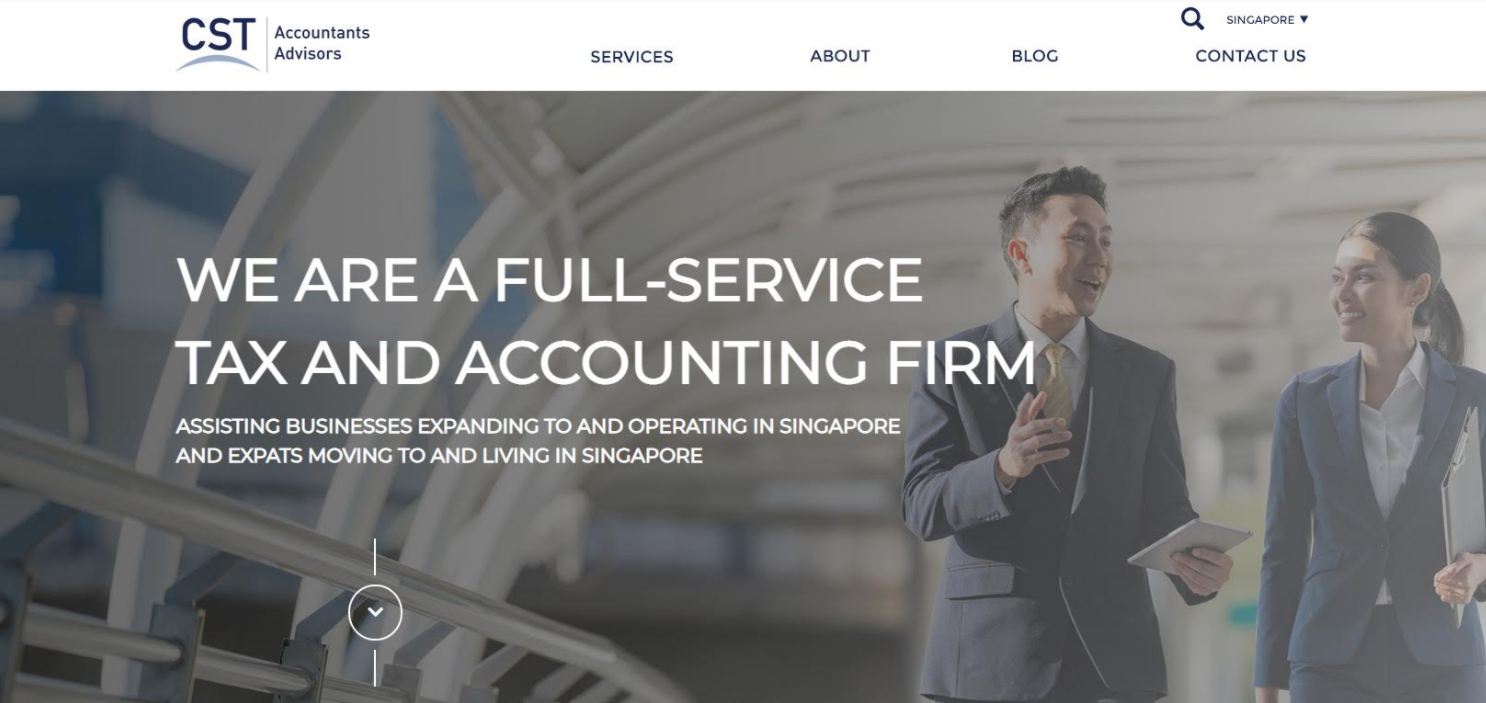 | | |
| --- | --- |
| BEST FOR | Fixed cost company tax and accounting packages |
| SERVICES | Tax and accounting services, bookkeeping, company registration, company secretarial, payroll services, and taxation advisory |
| ADDRESS | 80 Robinson Rd, #14-02, Singapore 068898 |
| WEBSITE | https://csttax.com.sg/services/business-tax/tax-and-accounting-packages/ |
| CONTACT DETAILS | +65 6226 5566 |
| OPERATING HOURS | Monday – Friday: 9:00 AM – 6:00 PM |
CST have been assisting businesses in Singapore since 2004. Their flexible, fixed-cost tax and accounting packages and services have been designed based on over 15 years of experience.
From company registration to ongoing tax and accounting management, to potential overseas expansion and an eventual exit strategy, CST provide a full suite of services to businesses. 
With CST's packages, you can start with essential services and add services as your business grows, having confidence that their qualified and experienced team can assist with complex tax matters. 
Highlights
Fully qualified and experienced team of accountants and advisors
Fixed cost monthly fees
Flexible service packages – start light, add as you grow
Full-service accounting firm
Customer Reviews
"I am an unapologetic fan of the CST team. Their knowledge of the Singaporean tax system and their global reach has ensured that my companies have been able to maximise profits from cross-border contracts."
Steve Nally, Group Vice President, ModuResources
"CST provide tax advice and preparation services for my company. I rely on them as my trusted advisor when I am looking to expand my business. They take the time to understand my goal and always provide me with sound and considered options, which I appreciate."
Joshua Canning, Founder & Managing Director, Select Metals
"I hold CST in the highest regard. They offer the quality of service of the big end of town but take a very personal approach. I consider CST a partner in the financial affairs of our business."
Jamie Osborn, CEO, Get Capital
64. Ascent Consulting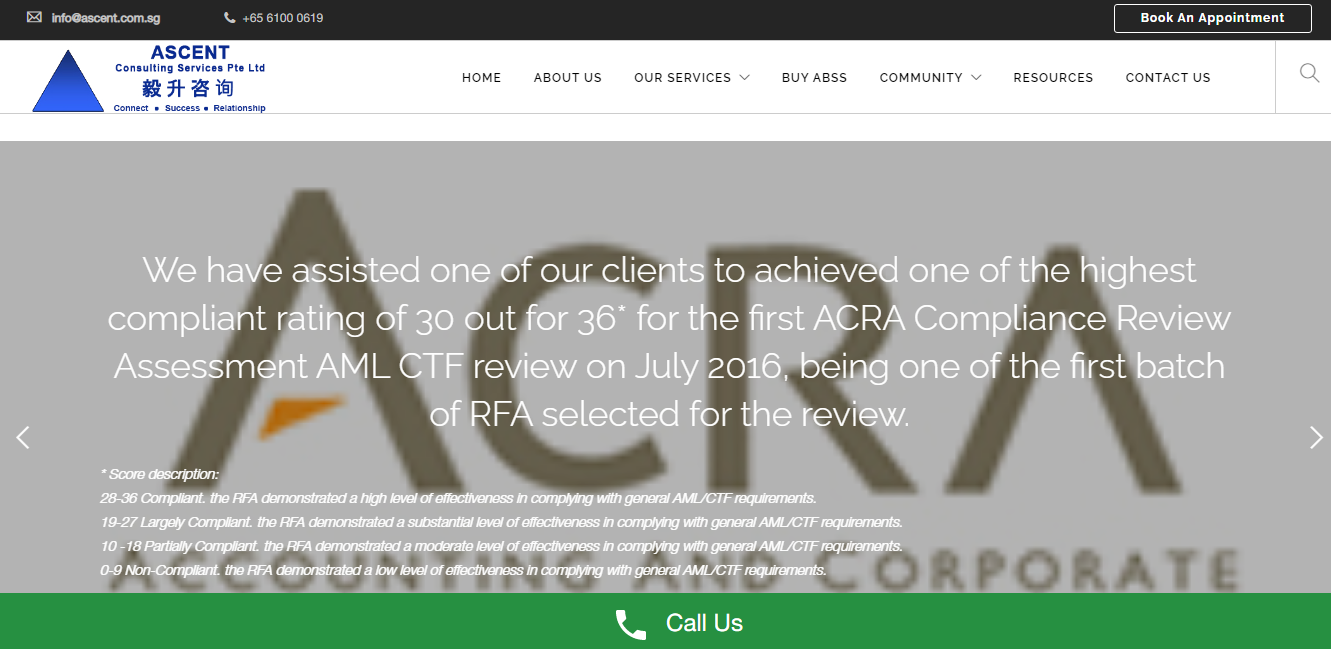 BEST FOR
Tax Advisory and ABSS Support System
SERVICES
Corporate advisory, Sale, Customisation & Support of ABSS, Securing Banking and Non-Banking FinancingTax, GST Advisory & Investigative Work, Trademark Registration, Training
WEBSITE
http://ascent.com.sg/
ADDRESS

26 Sin Ming Lane #03-118 Midview City Singapore 573971

CONTACT
Tel: +65 6100 0619
Email: [email protected]
OPERATING HOURS
Monday to Friday: 9.30 am to 7 pm
Ascent Consulting is a company that offers a wide range of consulting services to help businesses create better opportunities and offer business solutions as well. From accounting to corporate secretarial services, each is geared to support the growth of the client's business.
They understand that each company they handle is different in structure and may have various issues, so their approach is holistic as they ensure to present to clients various business models and business strategies to solve any potential threats.
Their website is comprehensive and offers resource materials for clients interested in learning more about their services and business strategies in general.
Clients get to work closely with professionals in the field and guidance in creating customized systems and strategies geared for their specific company as well.
Packages and price ranges are not readily available however clients can readily book an appointment with them on their website with only an easy to fill-up form.
Highlights
Systems can be bought for overall support
Holistic approach for client education
Online booking available
65. CKS Global Consultants Pte. Ltd.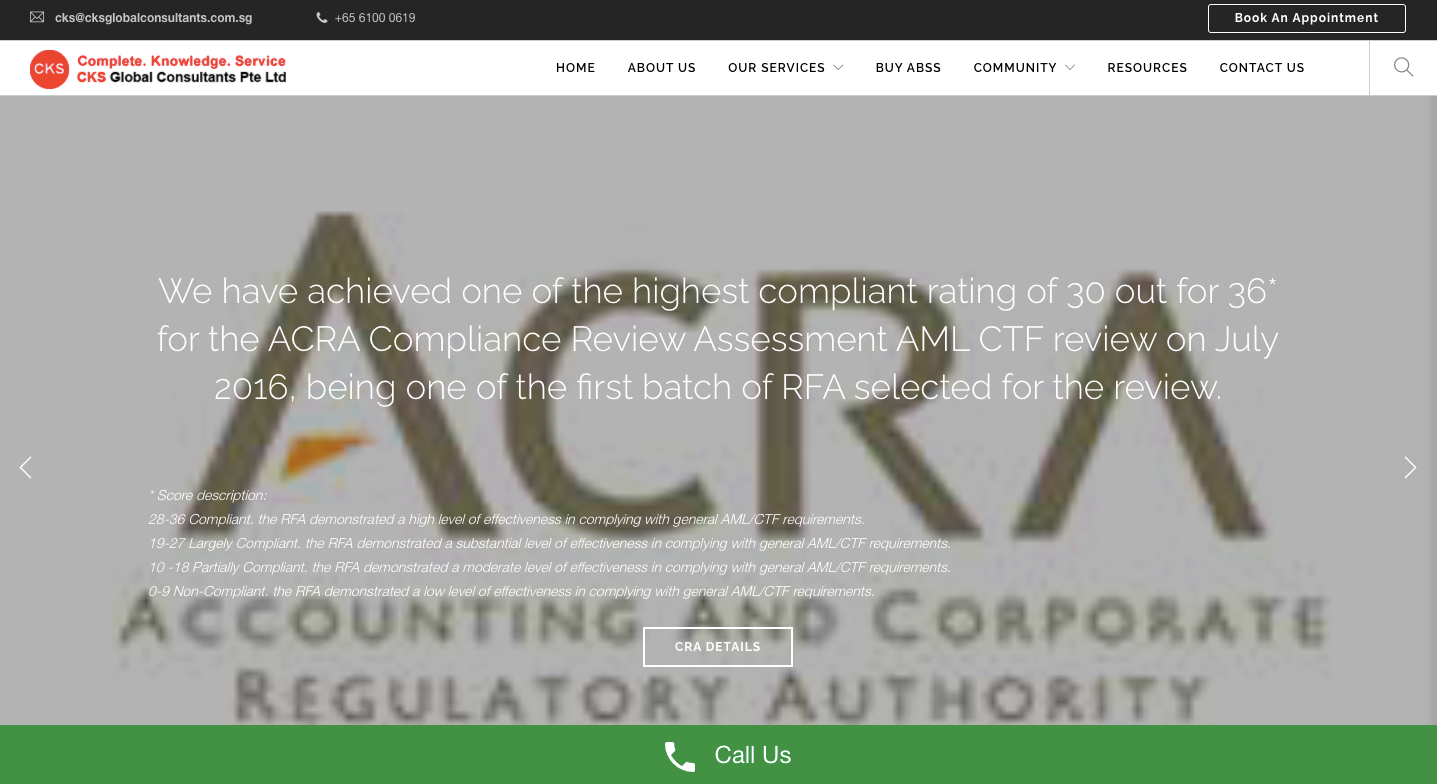 BEST FOR

Accounting Services, Taxation, Incorporation & Corporate Secretarial

SERVICES

Accounting Services, Taxation, GST, Corporate Secretarial, Software, Payroll

WEBSITE

http://cksglobalconsultants.com.sg/

ADDRESS

26 Sin Ming Lane #03-118 Midview City Singapore 573971

CONTACT DETAILS

Tel: +65 6100 0619

Email: [email protected]

OPERATING HOURS

Monday to Friday: 9:30 AM – 7:00 PM
Lunch Break: 1:00 PM – 2:00 PM
Saturday, Sunday & Public Holidays: CLOSED
Founded in 2002 and been incorporated as a company since 2009, CKS Global Consultants Pte. Ltd has been providing a full range of services – from accounting, GST compliance, secretarial, corporate taxation, and financing. 
It is impressive for almost all industries in Singapore, including Small and Medium Enterprises (SMEs) and government organizations come to them for their services.
Whether it's preparing financial reports, tracking sales and expenses, filing annual returns or fulfilling your company secretarial compliance with ACRA, understanding corporate tax or GST implications, or submitting tax returns and securing the necessary funding from banks to power your business, they have got you covered.
It has never been easier to expand your business and keep it organized. That is why trust them to be your business partner on your journey.
Highlights
Complete end-to-end service to provide seamless solutions to your business needs
Knowledge-based approach to provide the highest quality of service to their client
One of the highest compliant ratings of 30 out of 36* for the ACRA Compliance Review Assessment AML CTF review in July 2016
One of the first batches of RFA was selected for review.
66. One Accounting Solutions
BEST FOR

Outsource accounting services

SERVICES

New Company Incorporation
Accounting & Bookkeeping
Tax Return Filing
Secretarial Services
Manage Payroll
Director Nomination

WEBSITE

https://oneaccountingsolutions.com.sg

ADDRESS

6001 Beach Rd, #12-02
Golden Mile Tower S(199589)

CONTACT DETAILS

(65) 8155 3359
[email protected]

OPERATING HOURS

Mon – Fri: 9.00 AM to 6.00 PM
Saturday: 9.00 AM to 12.30 PM
Sundays: Closed
Established in 2013, One Accounting Solutions has been providing accounting and bookkeeping services to many small and medium-sized businesses in Singapore. Their team of qualified professionals has years of experience in the industry, ensuring that your business's finances are well taken care of.
One Accounting Solutions strives to provide an efficient and reliable accounting service that is tailored to your business needs. Their team is capable of handling anything from basic bookkeeping tasks such as invoicing, payroll and expense management, to more advanced accounting services such as financial forecasting and budgeting.
In addition, their knowledgeable staff can help you simplify the complexities of your finances, allowing you to stay focused on growing your business.
Aside from bookkeeping and accounting, One Accounting Solutions also offers new company incorporation, secretarial services, and director nomination. Their friendly and professional customer service makes sure that all your needs are met.
For businesses looking for a reliable bookkeeping and accounting partner, One Accounting Solutions is the ideal choice. They can help you take control of your finances, allowing you to focus on what matters: growing your business.
Highlights
Personalised approach to bookkeeping and accounting depending on client's needs
Offers services to aid with new company incorporation, secretarial work, and director nominations
Transparent pricing
67. Tan, Chan & Partners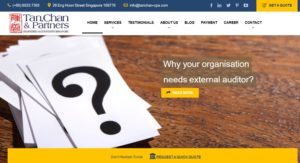 BEST FOR

OneStop Professional Audit & Accounting Services

SERVICES 

Auditing

Lucky Draw Audit

Compilation of FS

Strategic Planning and CF Analysis

Liquidation

Accounting Services

Digitisation Services

Tax Services

Corporate Secretarial Services

WEBSITE

ADDRESS

26 Eng Hoon Street Singapore 169776

CONTACT DETAILS

+65 6533 7393

+65 6533 6831

OPERATING HOURS

Monday – Friday, 9:00 AM – 6 PM
Tan, Chan & Partners was created in 1982 in Singapore by Mr. Tan Chin Ren. Since then, the company has progressed from a tiny to a medium-sized corporation. Their organization is one of the major professional service providers in Singapore, with over 30 skilled experts with diverse service expertise.
They assist individuals and businesses in creating the value they want by providing excellent solutions in assurance, financial consulting, accounting, and tax/corporate counseling. Their company is entirely focused on providing services at two distinct levels of bookkeeping.
They ensure that their clients have complied with all legal obligations with lower compliance and service costs on the primary level, while on the secondary level, they provide other value-added services to help their clients grow and nurture their business in line with recent IT trends and dynamic economic transformations.
What distinguishes them from others is that they are continually up to date on market changes, company governance, corporate and tax rules, and latest technology advances. They work hard to help their valued clients handle new difficulties and remain competitive in their respective industries.
Highlights
Over 40 years of experience

Has a diverse set of expertise

Up-to-date on market changes, company governance, and many more
Customer Reviews
GO4 World Mission – "It has been a long-standing and trusting relationship for over the past ten years – a partner who offers advices and delivers as promised."
BTC Clothier (S) Pte Ltd – "We have been successfully working with the team at Tan Chan & CPA since the 2016 financial year. I have no hesitation in referring Tan Chan & CPA to clients, friends and colleagues for any independent audit service.
And that's our list of the best bookkeeping in Singapore. When it comes to business transactions, it'd be wise to take your time, especially when hiring someone who'll handle all the confidential records and files.
If you know of other bookkeeping services, let us know about it and we may consider adding it to our list.
Also, if you're currently searching for an experienced and well-trained specialist for your other business tasks, then you might be interested in seeing these best recruitment agencies in Singapore they can help you find the most reliable assistance for your operations.