The 8 Best Financial Advisors in Singapore
Some people often assume that those who have a lot of money are the only ones who need a financial advisor. But if you look into it, there's a greater need for one among those who are just starting to build their savings or have no savings at all — so if you're one of them, you'd better start looking for the best financial advisor in Singapore.
If you're in the early stages of establishing your business or investing your savings, it's the right time to consult with a professional financial advisor so you can make smart financial decisions. Fortunately for you, you won't have to waste time searching for the best ones, because we've already done it.
Take a look at our list of the best financial advisors in Singapore to figure out which one suits your needs the most.
1. Global Financial Consultants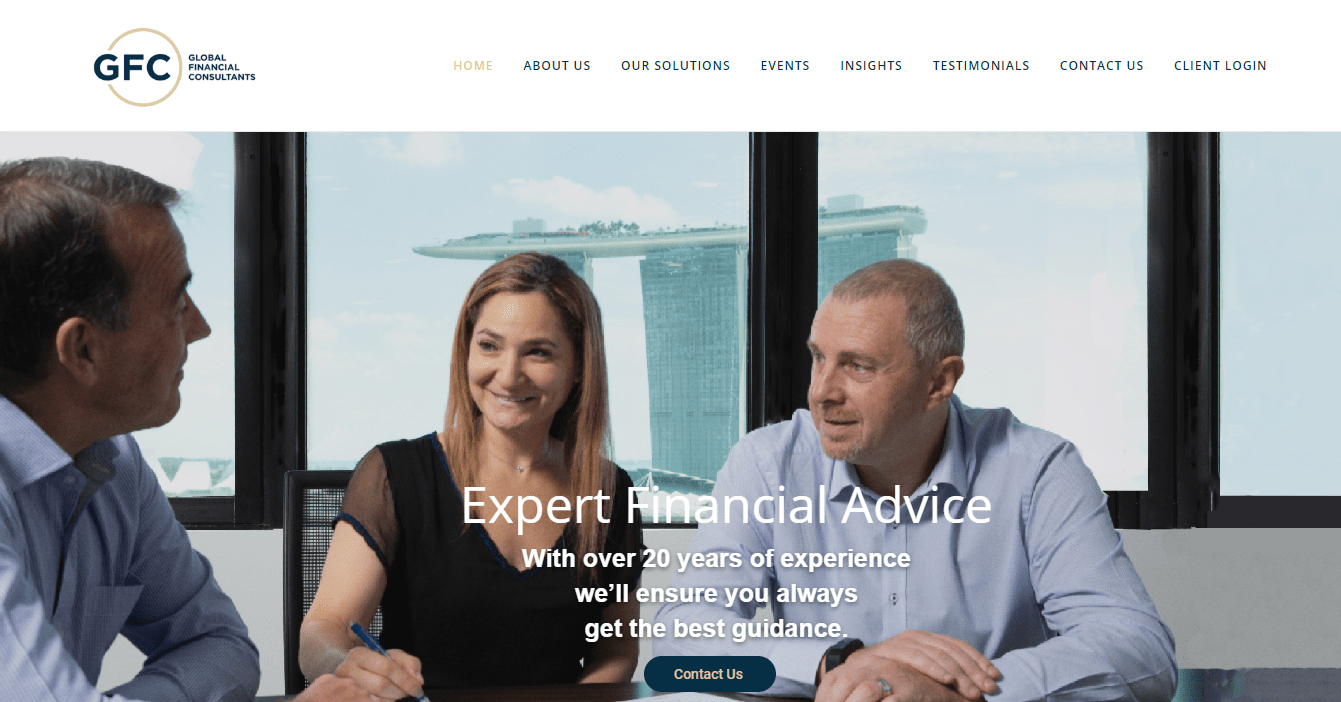 BEST FOR
Income protection and tax-efficient solutions
WEBSITE
https://www.gfcadvice.com/
ADDRESS
14 Robinson Road Far East Finance Building #10-01 Singapore 048545
CONTACT DETAILS
+65 6532 2711
OPERATING HOURS
Weekdays: 9am–5pm

Saturday: 8:30am–1:30pm
Global Financial Consultants is known for providing financial products and services tailored to the clients' desired financial goals. They offer a competitive range of solutions for education, retirement, and investments.
They can also help you keep your income protected and secured with inclusive insurance plans. For the foreign residents, you can consult with them as they're also experts in implementing tax-effective strategies.
Highlights
Pension plan for seniors
Income protection
Insurance and retirement planning
Customer Reviews
Global Financial Consultants has received a lot of positive feedback from the clients who have experienced excellent financial solutions because of their well-planned strategies.
This is why they've become one of the best financial advisors in Singapore. Here's a review from a client:
"Deepak Singh is a sincere and astute financial adviser. His advice on financial investment opportunities and management of my portfolio has been invaluable in putting my accounts in order. He is trustworthy and very knowledgeable in his field. He is consistent in his quarterly reviews, takes on the responsibility to update his clients of investment movements and is endearing and accommodating in the process. I am very satisfied with his services both as a client and friend."
2. Expat Advisory Group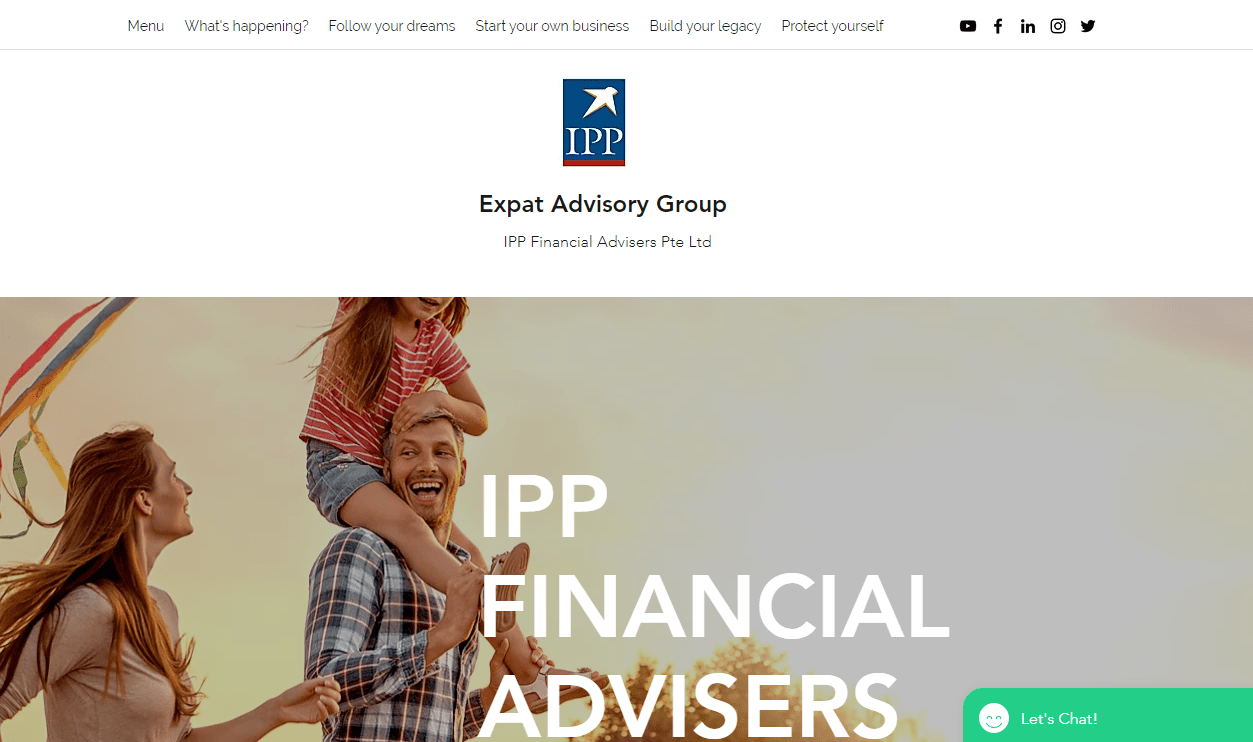 Expat Advisory Group has gained a lot of accolades through their decades of service, with many saying they're one of the best financial advisors in Singapore. They've helped local and international clients handle finances while living and working in Singapore.
They offer personalised and inclusive financial solutions such as multi-currency management, retirement planning, university planning, tax efficiency, and more.
To make sure that your family will have stability in the future, they also have life and health insurance as well as legacy planning, trusts, and wills.
Highlights
Whole range of business financial solutions
University fee planning
Retirement planning
Multi-currency wealth management
Local and international services
3. Synergy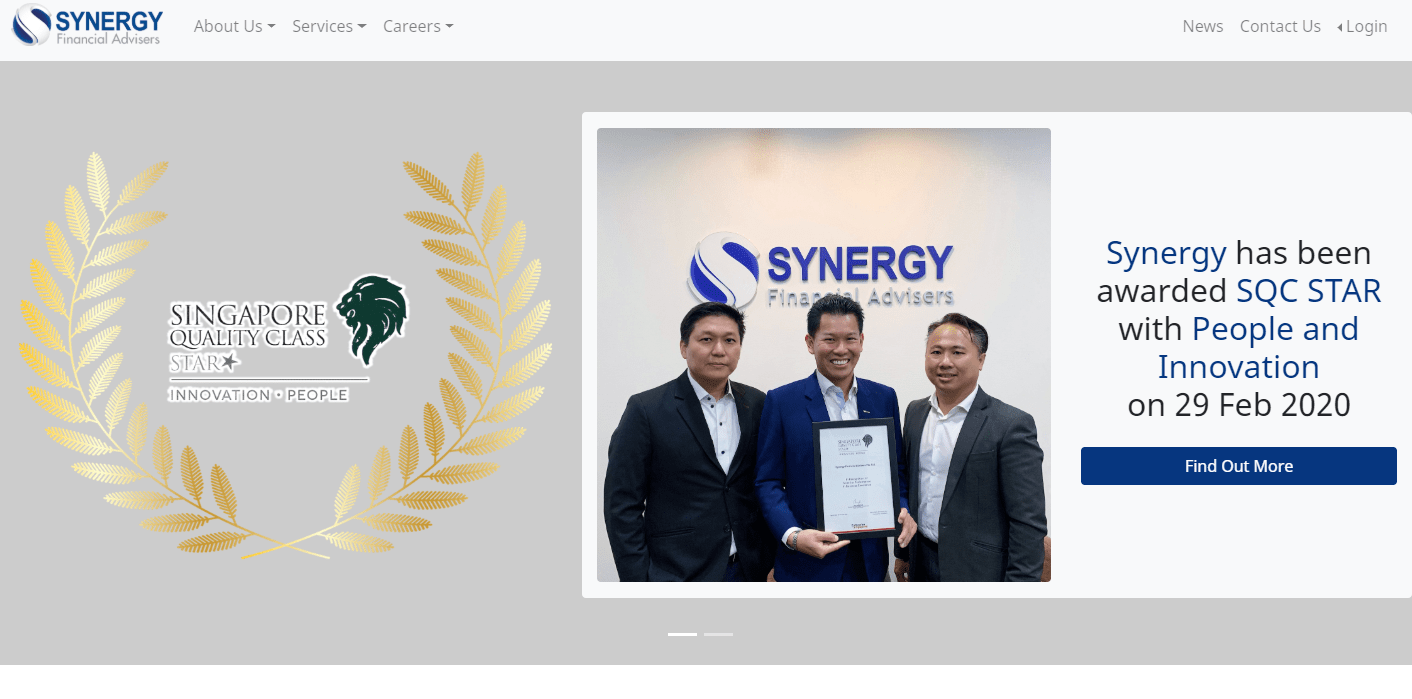 | | |
| --- | --- |
| BEST FOR | Large corporate financial solutions |
| WEBSITE | https://synergy.com.sg/ |
| ADDRESS | 229 Mountbatten Road #03-30 Mountbatten Square Singapore 398007 |
| CONTACT DETAILS | +65 6654 1888 |
| OPERATING HOURS | Weekdays: 9am–6pm |
Synergy is an award-winning financial advisory firm that's equipped with expertise in creating customised solutions for every individual and corporate client.
With their personal solutions, they can help you manage your investment funds as well as health and disability insurance.
They also provide competent coverage to maintain the stability of business operations. This includes comprehensive insurance management and buy and sell funding.
Highlights
Policies for personal and property insurance
Partnered with accredited investors
Customer Reviews
Clients shared that Synergy is highly detailed when it comes to corporate solutions and they even recommend the firm as the best financial advisor in Singapore for those who own a large business.
Here's feedback from one of the clients:
"I will like to thank Jim for helping me to sort out my finances and my portfolio, I greatly appreciate of what he is doing for me. He is not like any adviser that I had met. He will take time to understand my entire situation, give me independent advice and provide me with insight & information that is useful. I'm glad to have an adviser like him. Thanks Jim!"
4. Providend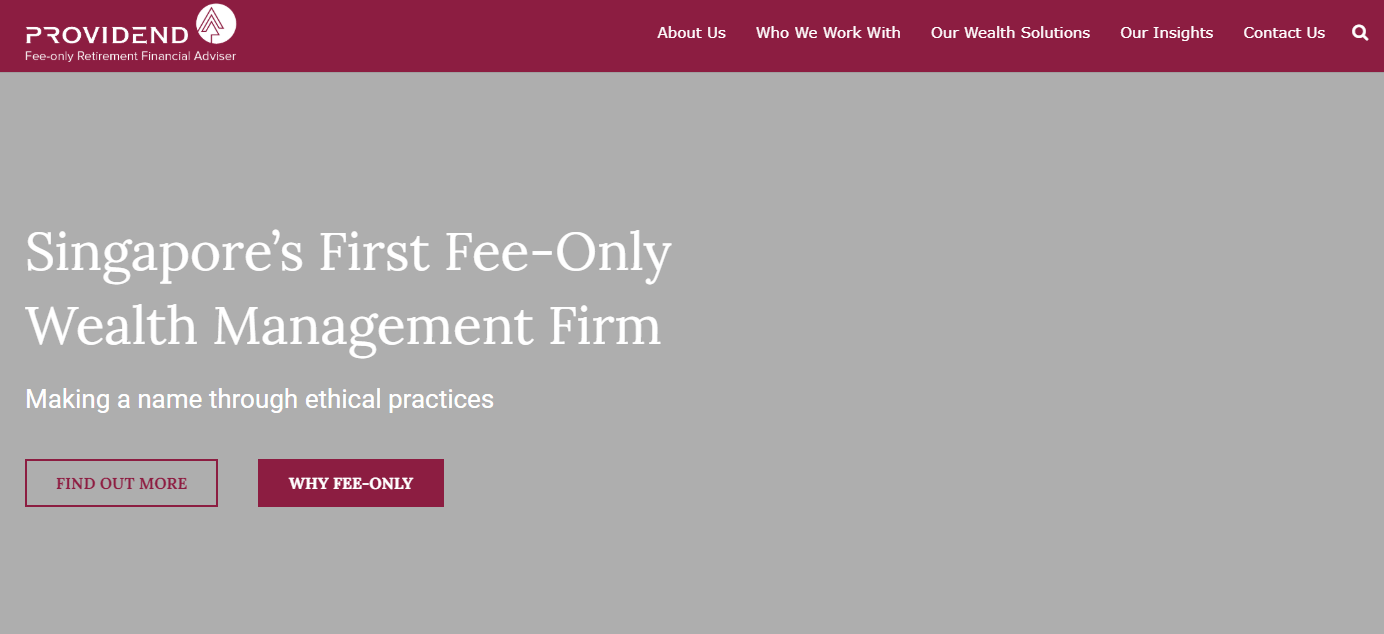 | | |
| --- | --- |
| BEST FOR | Comprehensive financial planning |
| WEBSITE | https://www.providend.com/ |
| ADDRESS | No. 38 Duxton Hill Singapore 089616 |
| CONTACT DETAILS | +65 6309 2488 |
| OPERATING HOURS | Weekdays: 9am–6pm |
Providend offers a whole set of financial management solutions for busy professionals, parents, and senior retirees. Their solutions include excellent and effective plans for managing wealth, investment, and insurance.
Estate planning is also one of the main highlights of their offered services. They make sure that your years of hard work will not be put to waste and will bring absolute stability to your beneficiaries.
They've also been featured on various media outlets and they're mostly praised by retirees who mentioned a well-executed plan for their family's future.
Highlights
Retirement and inheritance planning
Insurance and investment management
5. Great Eastern Life
| | |
| --- | --- |
| BEST FOR | Wide range of insurance plans |
| WEBSITE | https://www.greateasternlife.com/ |
| ADDRESS | 1 Pickering St, Singapore 048659 |
| CONTACT DETAILS | 1800 248 2888 |
| OPERATING HOURS | Weekdays: 9am to 5.30pm |
Being one of the longest-running firms on the island, Great Eastern Life has helped countless clients achieve healthy and secured wealth and well-being. They offer comprehensive plans to help maintain your family's future as well as protect business and employees.
For their business solutions, they offer employee benefits plans and wellness programmes. For their personal solutions, they have flexible insurance plans for the whole family.
Clients were impressed by how the firm ensured the financial security of their family and business as well, making the firm one of the best financial advisors in Singapore.
Highlights
Home and travel insurance
Employee benefits plans
6. Singapore Financial Planners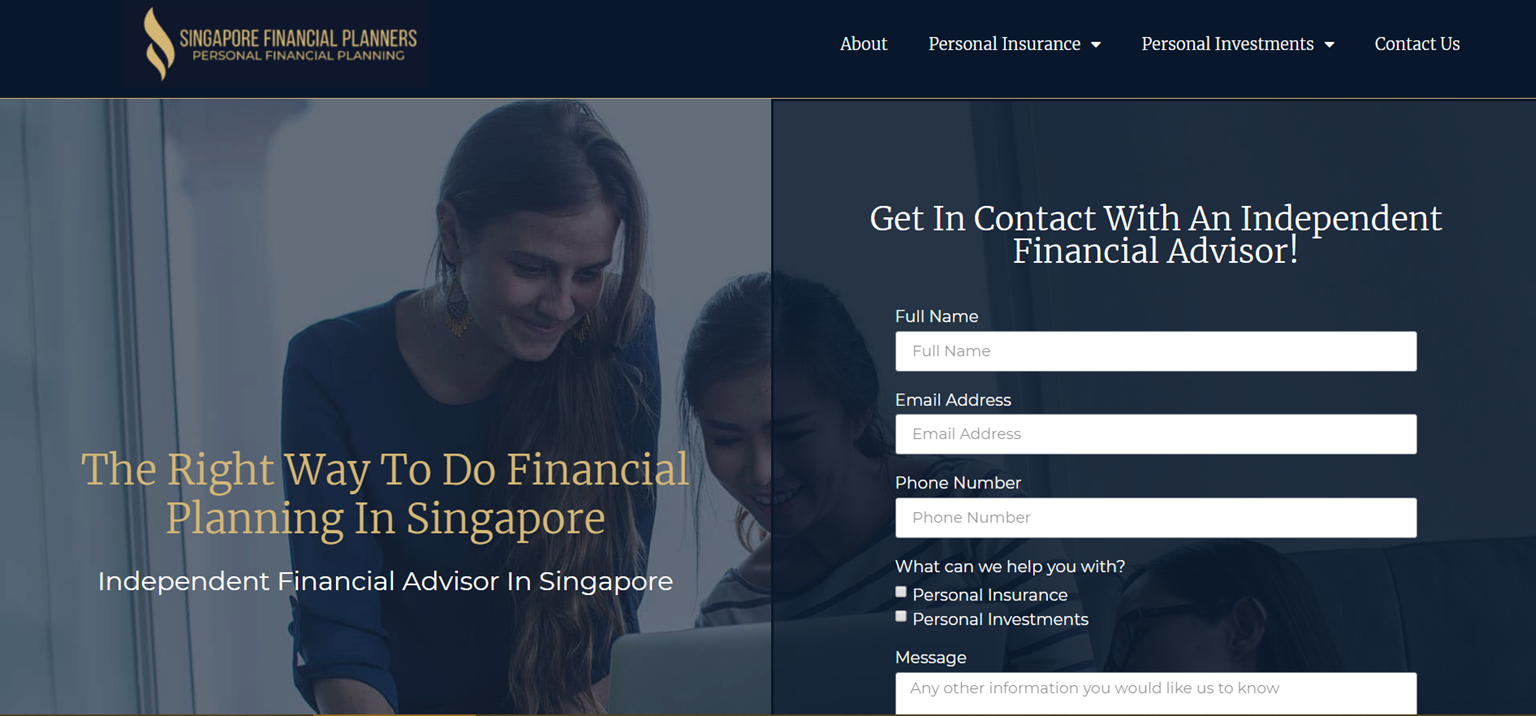 With the abundant amount of financial advisors in Singapore and many individuals falling prey to less-than ethical FAs, Singapore Financial Planners were founded with the aim of educating you on the importance of proper financial planning. They aim to grow their content base so that you can make an informed decision based on your needs.
They are not a financial advisory firm, but they are a platform that connects you to unbiased financial advisors that are vetted by their strict selection process. These advisors are from various financial advisory firms and partner with each other so that you can get a customised financial plan built just for you.
Unlike other platforms in the market, they provide this matching service totally free-of-charge so that you can get connected to an FA in their network.
Highlights
The selection process is strict so there's only a handful of FAs in the network
Comprehensive financial planning services
Highly unbiased financial advisors
Customer Reviews
Singapore Financial Planners is considered as one of the leading contenders for best financial advices, and it's definitely because of their experience and expertise. Check out what one of their clients had to say about their service and how it affected their lives immensely:
"Singapore Financial Planners helped me in my financial portfolio. Thank you for being patient and understanding towards my financial woes and giving me great and useful advice. Because of them, I understand what health insurance plans suit me the best and I'm looking forward to consult them about investing in the near future."
7. Ian Pryor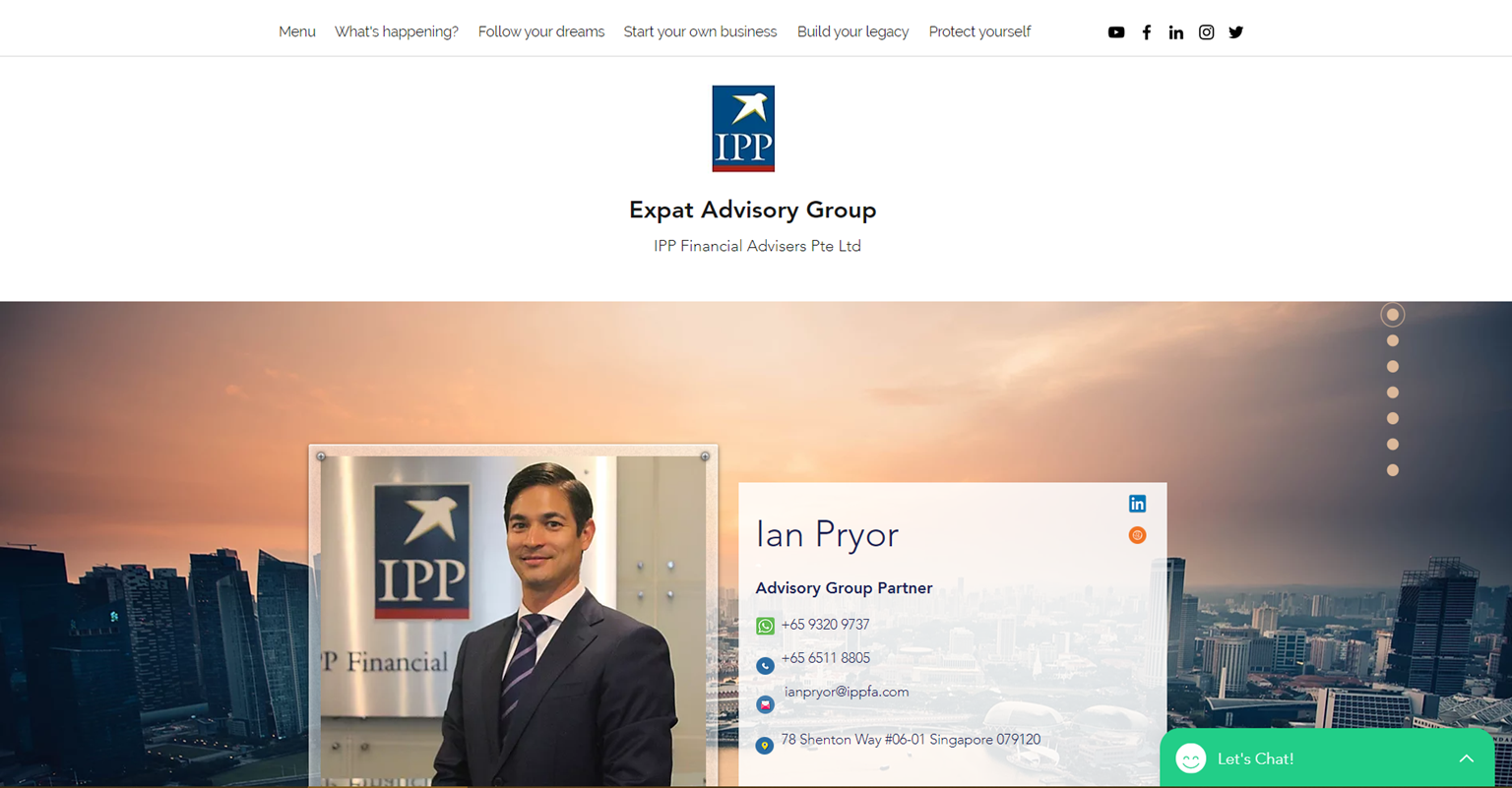 Ian Pryor is one of the most sought after financial advisors in Singapore. His experience within the field is unparalleled– high net worth individuals from different countries in Asia are always asking for his expertise.
He's had clients who have been with him for over 5 years. Until now, they continuously ask for his advice and support when it comes to proper account handling and financial stability. He's known to provide advice in all areas of economics, finance, financial planning and portfolio management.
His expertise includes, but aren't limited to, CPF Investments, Medisave & Medishield, SRS Investments, Multi-Currency Wealth Management, and Retirement Planning.
Highlights
Expert Financial Advices
Long term services
Customer Reviews
Ian has received nothing but positive feedbacks from his clients, especially those who have been with him for years. He's dedicated, skilled, and personable. The relationships and rapport he's built are truly one of a kind. Here's what one client had to say about his services:
"ian is professional, comprehensive and really takes the time to understand your investment needs. We've been working together for almost a year, and what I really love is his proactive, innovative approach to investments. I highly recommend working with him."
8. PolicyPal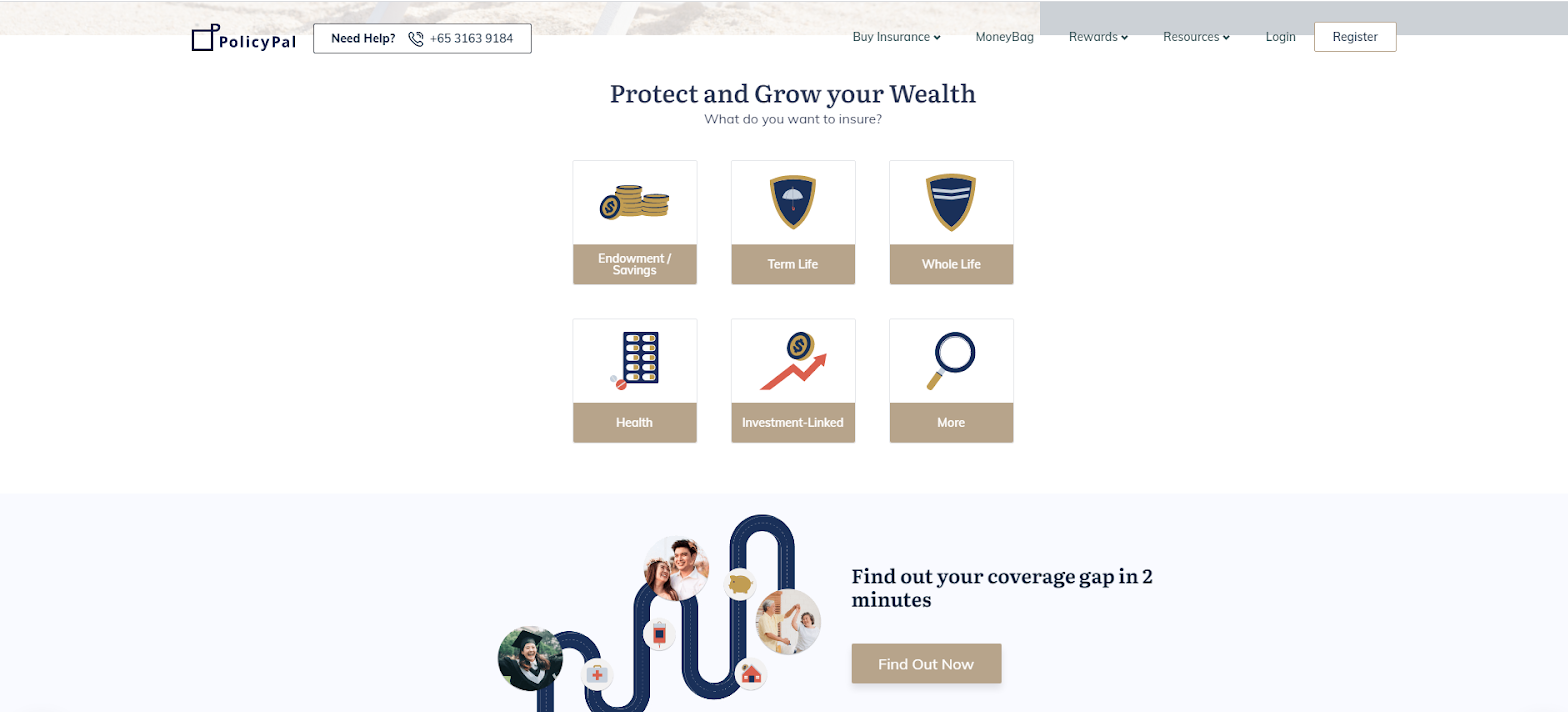 Whether you would like to invest in term life, whole life, or personal accident insurance, PolicyPal promises to provide you with a life plan that will give the best value for your investment and your precious life.
Their personal accident insurance covers Death Benefits, Permanent/Partial Disablement, Temporary Disability, and Medical Expenses.
You may choose whether to get insurance for yourself or for any members of your family. They also offer cashback where they reward you with 5% cashback in P$ credits with each Travel, Car or Pet Insurance purchased.
Highlights
Customer-oriented

Value for money

Time-Saving
And that's the end of our list of the best financial advisors in Singapore! Have you already decided which one you'd like to have a consultation with? If you have, feel free to share with us your thoughts!
Also, for the seniors out there who are getting ready to retire soon, you might be interested in consulting with these firms that offer the best retirement planning in Singapore. They have flexible plans catered within your means.