The 21 Options for the Best Company Registration in Singapore
If you're in the early stages of building a start-up, you definitely need the help of corporate service providers that offer the best company registration in Singapore. Seeking their expertise will make the complicated process of registering and legalising your company a lot easier and more convenient.
Luckily, there are quite a few reputable corporate service providers willing to lend a helping hand to start-ups coming from all industries. We combed through the island in search of the ones worth hiring.
We've listed the ones whom we think are worth hiring below for your convenience. Make sure to check them out!
1. 

J Accounting Services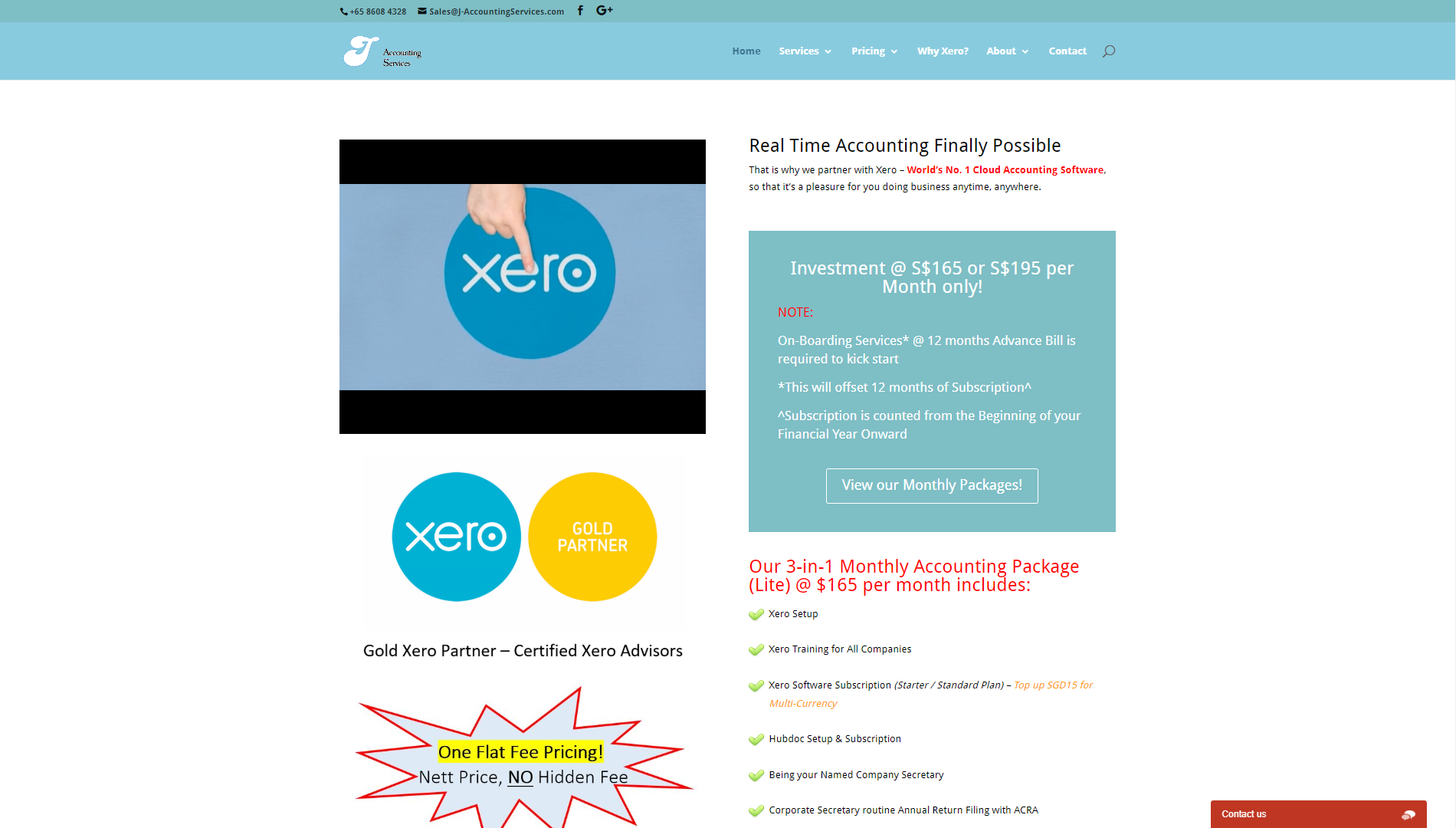 J Accounting Services is a business to business website that is focused on raising tech-savvy accountants. They offer the latest innovations in the business through the form of real-time accounting.
Their team is composed of professionals who have extensively trained to earn their qualifications. Their extensive range of accounting services is sure to cover any of your corporate needs.
They make sure to work closely with their clients to produce the best results. If you're interested, check out their website for more information!
Highlights
Wide range of services
Skilled team of professionals
2.  Corporate Services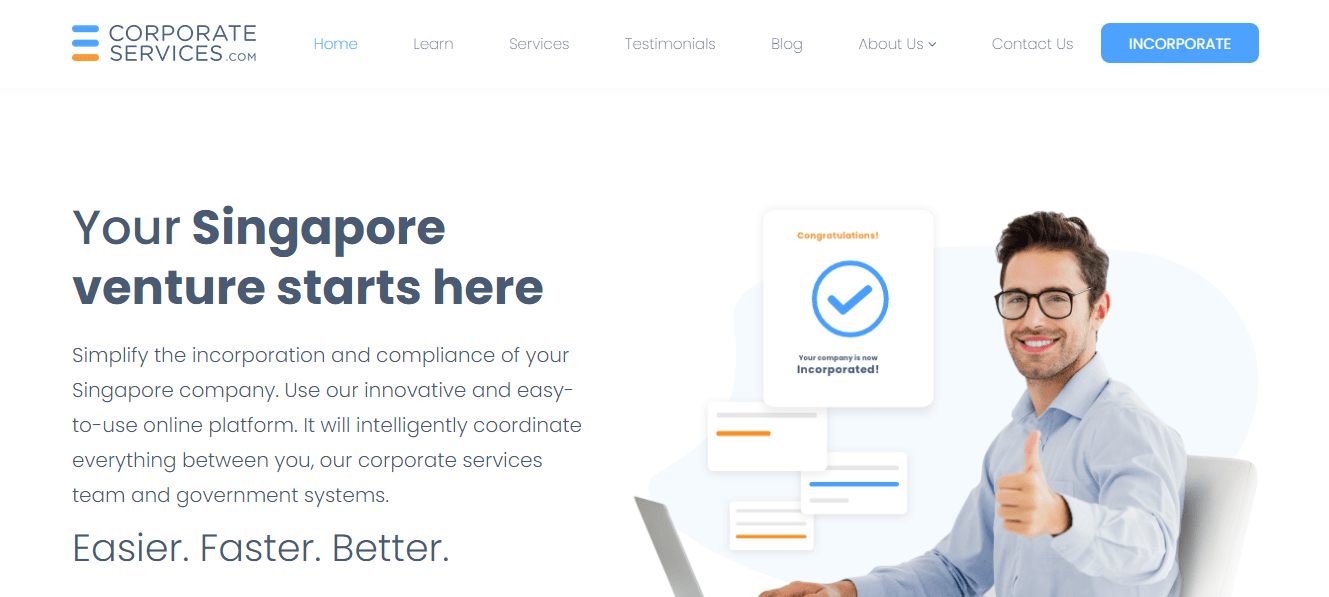 | | |
| --- | --- |
| BEST FOR  | Trusted by Global Companies |
| SERVICES | Company Registration, Corporate Secretary, Accounting, and Bookkeeping |
| WEBSITE | https://www.corporateservices.com/ |
| ADDRESS | 65 Chulia St, #46-01 OCBC Centre, Singapore 049513 |
| CONTACT DETAILS | +65 6602 8286 |
| OPERATING HOURS | Monday – Friday, 9:00 AM to 6:00 PM |
If you're looking for corporate service with an excellent track record, then consider checking out Corporate Services. It boasts a huge clientele composed of major global brands such as Sandbox, Delta Global Solutions, Cytron Technologies, Suitsforme, and more.
Corporate Services comes with its own efficient online platform that removes the need to print papers. If you hire its services, every transaction will be done online, including arranging meetings and filing of corporate taxes.
One reason we consider it a top option for the best company registration is its competitive, transparent rates, available to both new and huge companies.
Highlights
Own online platform
Transparent pricing
Wide range of services
Customer Reviews
Here's some of the reviews posted by customers on its website:
"Amazing team, fantastic platform and superb service! I learned my lesson the hard way – incorporated with another company, got frustrated with their poor service, legacy systems and silly automated bots, then switched to CorporateServices.com. Should have started here."
"Company incorporated, bank account opened, employment pass approved – thank you guys! I am very impressed with the smooth manner and quick pace at which everything was done. I explored several service providers in Singapore but am very glad to have finally engaged your team. Your online platform is awesome – it makes it very easy for me to work with your team and access my documents."
3.  Reliance Consulting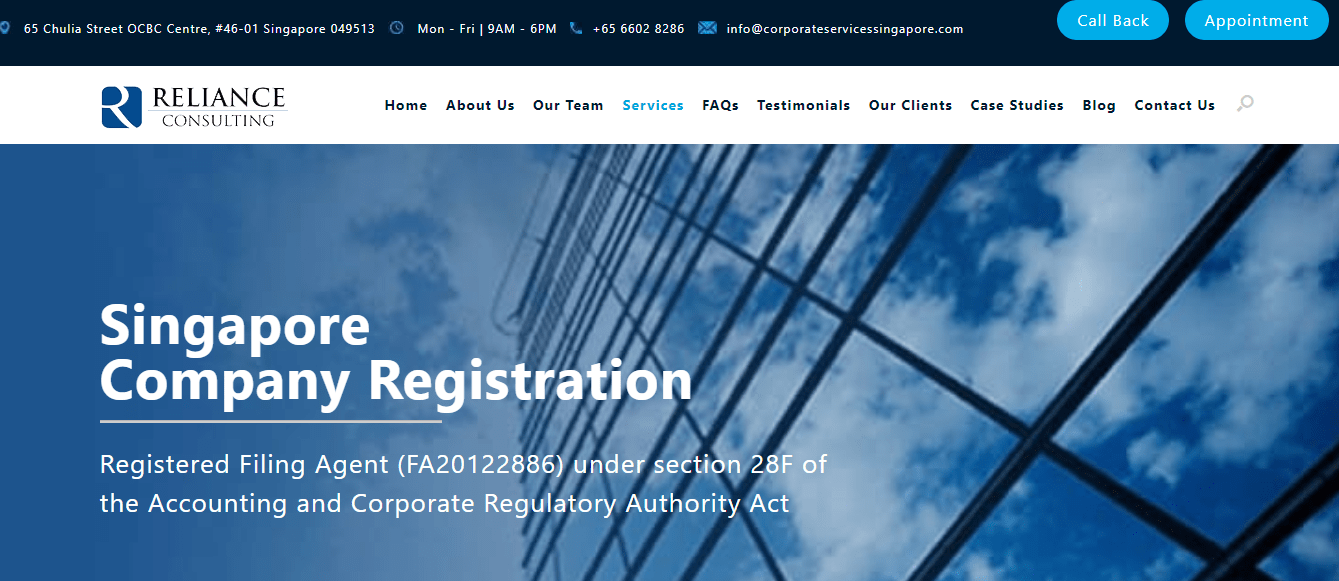 | | |
| --- | --- |
| BEST FOR  | Corporate Services |
| SERVICES | Corporate Registration, Corporate Secretaries, Auditing, and Taxation |
| WEBSITE | https://www.corporateservicessingapore.com/ |
| ADDRESS | 65 Chulia St, #46-01 OCBC Centre, Singapore 049513 |
| CONTACT DETAILS | +65 6602 828 |
| OPERATING HOURS | Monday – Friday, 9:00 AM to 6:00 PM |
As one of the most trusted corporate service providers on the island, Reliance Consulting can assist in a wide array of tasks, such as company registration, secretariat work, payroll, taxation, auditing, and more.
Reliance Consulting is a famous name with small and medium-sized companies in Singapore for its affordable and transparent fees, all with no hidden costs. They're also known for providing a clear upfront price of the service requested.
What's more, Reliance Consulting can promise a fast and easy process because it has a huge team of competent and experienced employees, all of whom are willing to go the extra mile for clients — which is why we call it one of the top options for the best company registration in Singapore.
Highlights
No hidden cost
Fast and easy process
Experienced team
4. Biz Atom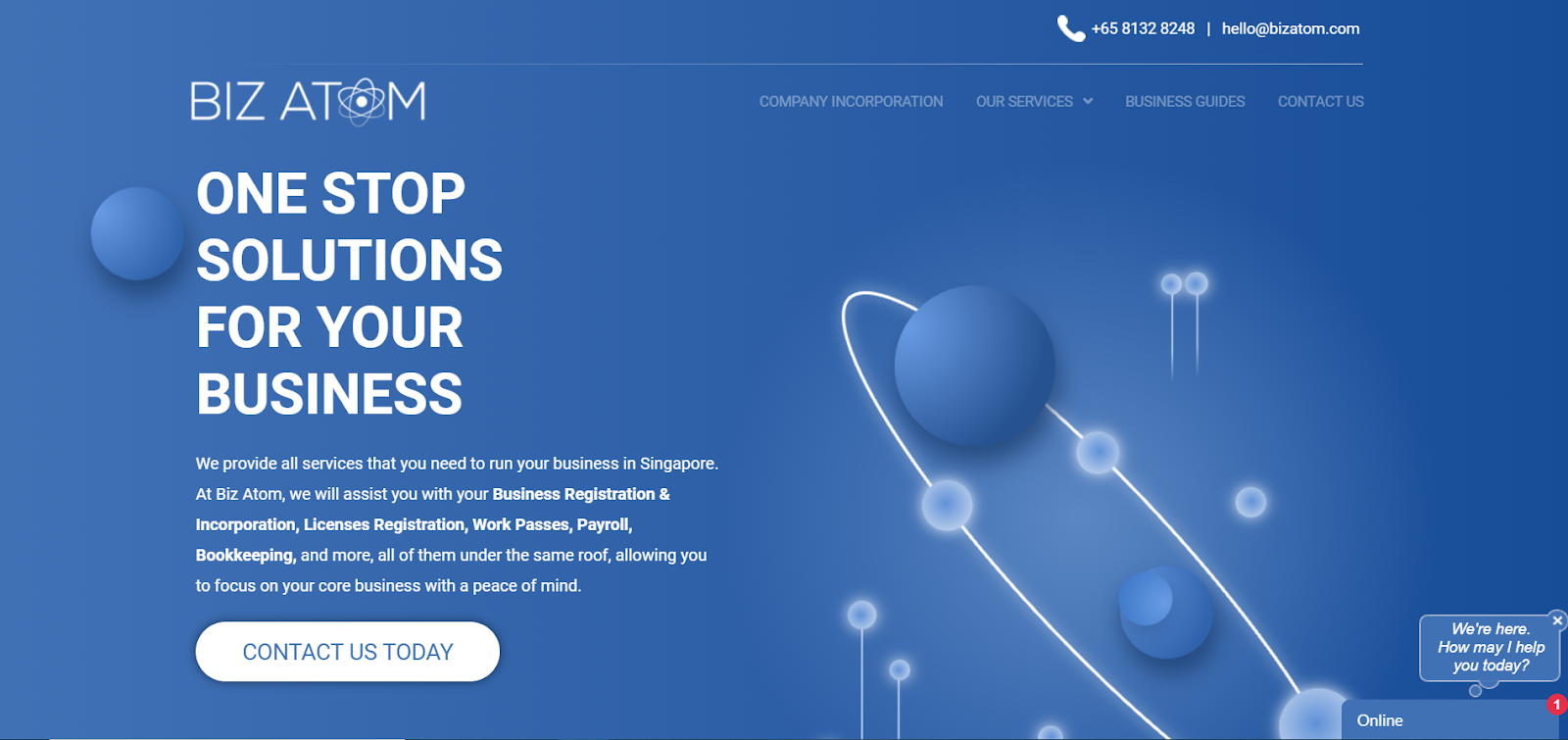 | | |
| --- | --- |
| BEST FOR | Efficient Business Registration |
| SERVICES | Business Registration & Incorporation, Licenses Registration, Work Passes, Payroll, Bookkeeping |
| WEBSITE | https://www.bizatom.com/ |
| ADDRESS | Vertex Building, 33 Ubi Avenue 3 Tower B #05-04, Singapore 408868 |
| CONTACT DETAILS | (+65) 8132 8248 | [email protected] |
| OPERATING HOURS | Monday – Friday, 9:00 AM to 6:00 PM | Saturday, 9:00 AM to 1:00 PM |
The process and paperwork needed to register a company take a lot of time and effort. With Biz Atom, they can help with all your company registration and incorporation needs, hassle-free!
Biz Atom is a one-stop consultancy for finding business solutions. Not only can they handle registration, but they can also guide you through licensing, work passes, payroll, bookkeeping, and more.
They have also given satisfaction to both international and local clients. Biz Atom is commended for their efficient processes, knowledgeable advice, and great customer care.
Highlights
Customer Care
Efficient Processes
Internationally and Locally Satisfied Clients
Customer Reviews
"Bizatom helped me to set up my business within a few hours, and completed the paperwork for company incorporation very efficiently. I've had a very positive experience working with Chris and his team, they are warm and ever-ready to provide guidance and advice. They have also helped me to set up my company domain. I would highly recommend Bizatom to any new business owner looking for a corporate secretary or management consulting services."
5.  Rikvin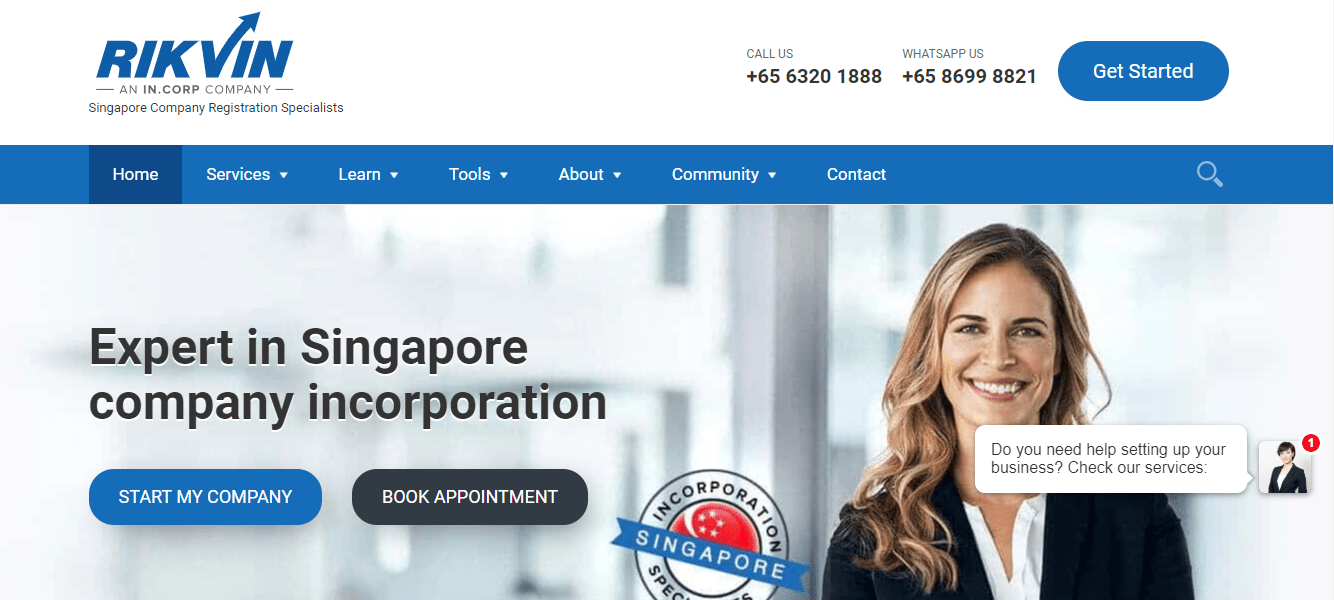 | | |
| --- | --- |
| BEST FOR  | Offshore Services |
| SERVICES | Corporate Secretaries, Company Registration, Tax, Accounting, and Business Support |
| WEBSITE | https://www.rikvin.com/ |
| ADDRESS | 30 Cecil St, #19-08 Prudential Tower, Singapore 049712 |
| CONTACT DETAILS | +65 6320 1888 |
| OPERATING HOURS | Monday – Friday, 9:00 AM to 6:00 PM |
With more than 22 years of experience, Rikvin has helped thousands of companies from all types of industries in Singapore. It's the leading corporate service provider to businesses that need an extra hand dealing with both admin and business concerns.
Some of its services include corporate secretary services, taxation, accounting, filing of visas, HR outsourcing, international expansion, and of course, the best company registration in Singapore.
Rikvin promises a quick and efficient company incorporation service for both individuals and corporate entities.
Highlights
Wide range of services
22 years of experience
Customer Reviews
As one of the most trusted corporate service providers in Singapore, Rikvin has received countless praise from companies of all industries:
"Excellent end to end service with a knowledgeable & proactive support team. Set up my company with Rikwin/ Incorp last year and the process was smooth and seamless- with a full suite of service options available.I specifically also like the fact that they diarise and monitor my compliance delivery dates to ensure I don't miss any. I would recommend their service anytime."
"I'm so glad that Rikvin takes care of all our Accounting needs. Their services are awesome. They handled all our business accounting and regulatory details smoothly. It was really a smart choice to have them because they deliver services that are very efficient in terms of complying to all the statutory regulations. It allowed me to have more time in my business operations."
6. Bestar Services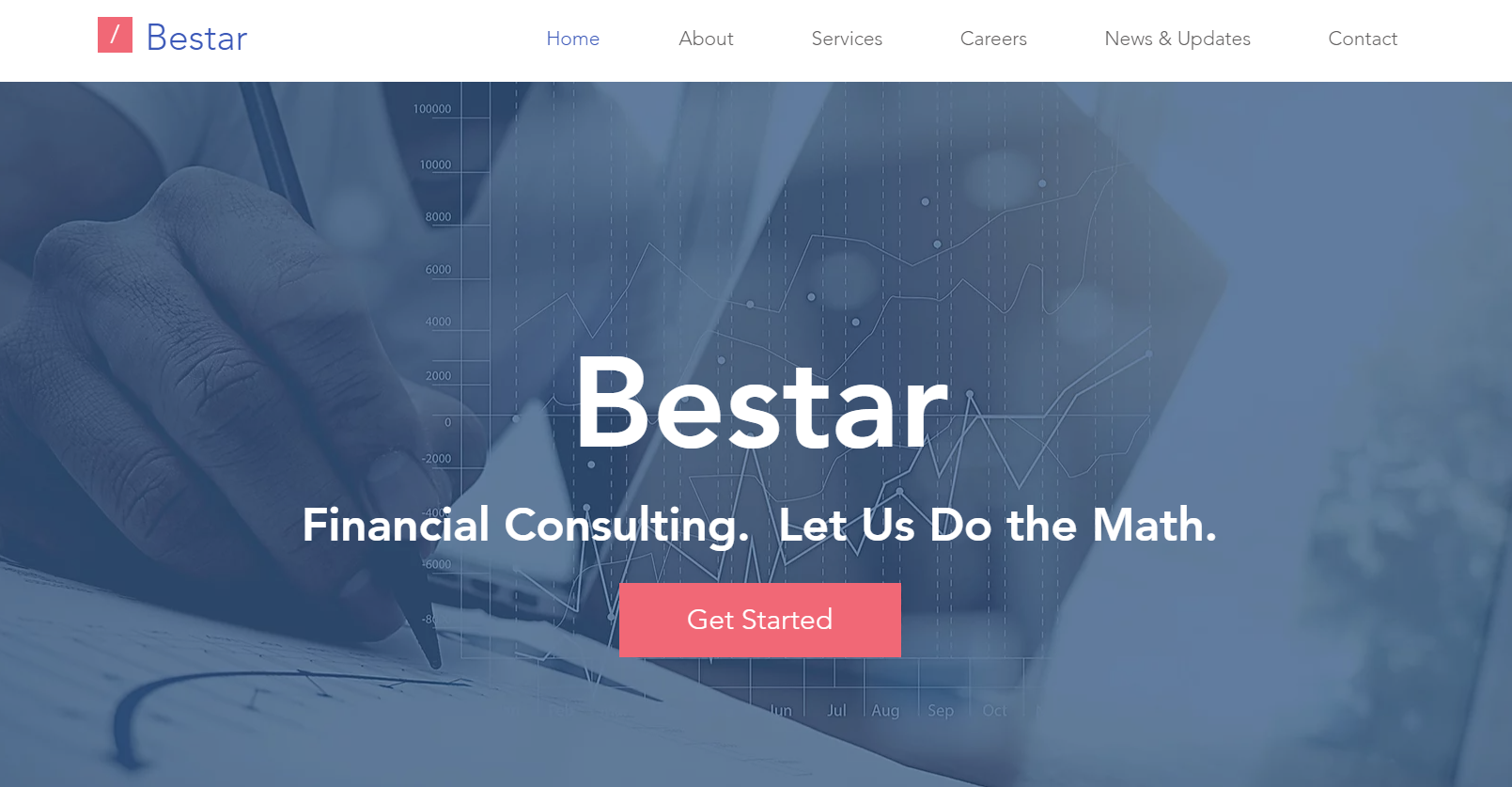 If you're looking for a corporate outsourcing company that offers an extensive array of services, then you might like Bestar Services! Some of its services include payroll managing, auditing, consulting, financial advising, HR support, and corporate taxation.
One of its services that we can firmly stand behind is payroll management. It uses a sophisticated, advanced, and cost-effective platform to ensure that employees are paid correctly and on time.
More than this, Bestar Services offers its payroll expertise at an affordable price without compromising the quality of services.
Highlights
Competitive rates
Wide range of services
Web-based platform
7. Leftright Corporate

BEST FOR 
Customer-oriented Business Solutions
WEBSITE
https://www.leftrightcorp.com/
ADDRESS
190 Clemenceau Avenue
Singapore Shopping Centre
#06-06 Singapore 239924
CONTACT DETAILS
Weekdays: 10am – to 6pm
Leftright Corporate proudly calls themselves the goldilocks of business solutions and for good reason. While they evolve and adapt to the newest techniques, they also make sure that they allow their clients to adjust in the process.
Starter businesses won't need to fumble and experiment as they try to understand the current trends in business. With Leftright Corporate, technological innovations can be comprehended and utilised as easy as possible.
Highlights
Focuses on customer satisfaction
Keeps up with the current trends in business
8. A1 Business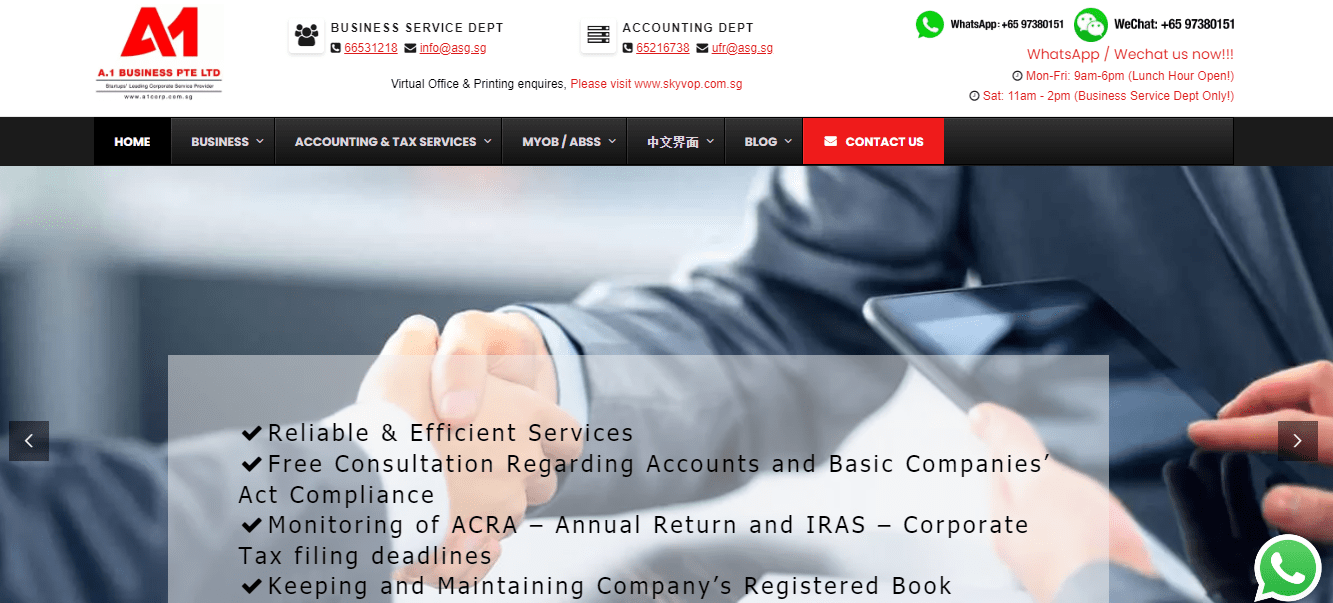 | | |
| --- | --- |
| BEST FOR  | Start Ups |
| SERVICES | Corporate Registration, Corporate Secretaries, Partnership Registration, Auditing, and Taxation |
| WEBSITE | a1corp.com.sg |
| ADDRESS | 65 Chulia St, #46-01 OCBC Centre, Singapore 049513 |
| CONTACT DETAILS | +65 6653 1218 |
| OPERATING HOURS | Monday – Friday, 9:00 AM to 6:00 PM |
If you're looking for a corporate service provider ideal for small companies and startups, then look no further than A1 Business. Most of its corporate services are aimed at helping startups get settled and small companies deal with corporate duties like shelling out a huge sum of money.
In line with that, A1 Business offers its services for an affordable and competitive price. It's a company committed to providing value for money services that will help small businesses flourish.
In terms of experience, A1 Business has been around for more than 12 years, so rest assured that it knows the next move forward for startups if assistance like that is needed.
Highlights
12 years of experience
Competitive pricing
Unlimited services and advice
9. SBS Consulting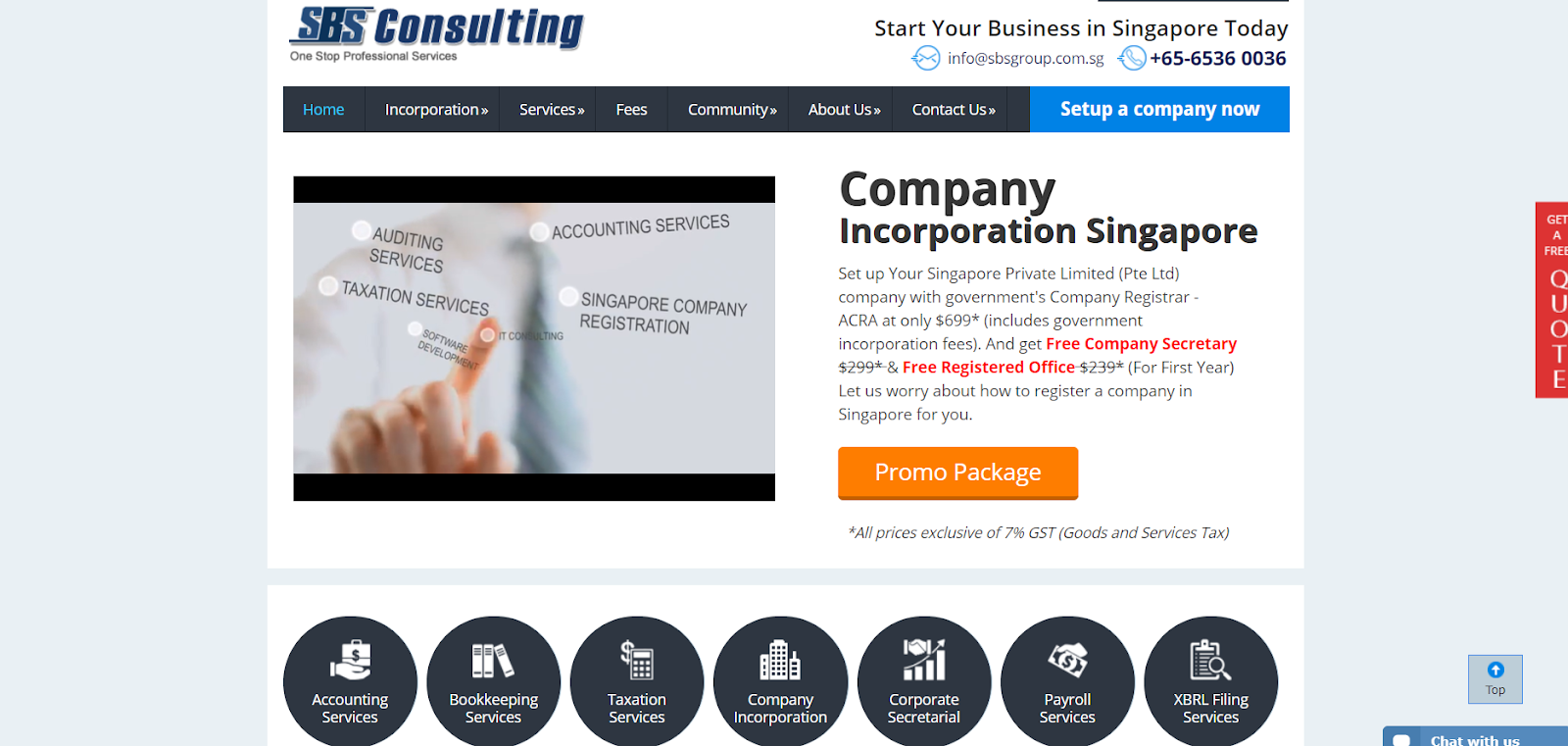 | | |
| --- | --- |
| BEST FOR | Customized and Cost-efficient Business Solutions |
| SERVICES | Accounting Services / Packages, Bookkeeping, Taxation, GST Filing, Payroll Services, XBRL Filing, Singapore Accounting Firm |
| WEBSITE | https://www.sbsgroup.com.sg/incorporate-a-singapore-company/ |
| ADDRESS | High Street Centre, #18-03, 1 North Bridge Road, Singapore – 179094 |
| CONTACT DETAILS | (+65) 6536 0036 | [email protected] |
| OPERATING HOURS | Monday – Friday, 9:00 AM to 6:00 PM |
You may find that some business consulting services tend to beat around the bush about certain subject matters. With SBS Consulting, you can get straightforward and clear-cut advice.
SBS Consultancy provides a wide range of services covering almost every aspect of the business. They also provide accurate and insightful advice through their team of highly competent and committed professionals.
On top of all this, SBS Consultancy is not only straightforward with their services, but also with their transparent quotes and fees. The best part is that you can avail all of this online through their efficiently digitized procedures.
Highlights
Digitized Processes
Transparent Fees
Accessible Online Services
Customer Reviews
"Overall, my experience with the SBS Consultancy was positive. I get the good response from them on my inquiry. SBS is really helpful in getting my documentation done. I have associated with them from more than year Service and Knowledge of staff is excellent. I think they are one stop solution for Incorporation to Taxation, Accounting, XBRL Filing in Singapore."

"It was great experience, Entire team at SBS is very professional. I was able to register a company in singapore within a day with SBS Group. I would defintely recomend them for company incorporation singapore."
10.

UpVue Pte Ltd
UpVue strives to free clients from the burdens that come with starting one's own company. With their team of experts, they offer guidance with the foremost ways to register a startup. Not only that, but their packages include corporate secretarial services as well. 
The company also offers rescue tax accounting & bookkeeping services. Thus, UpVue will help you catch up with GST and IRAS demands through this service, keep up with charges and penalties, and organize your documentation for future use.
Aside from its reliability, UpVue also prides itself on its affordable pricing that has no hidden fees.
Highlights
Caters to locals and foreigners
Takes charge of both incorporation and registration
Comprehensive services for a one-time fee
11. Piloto Asia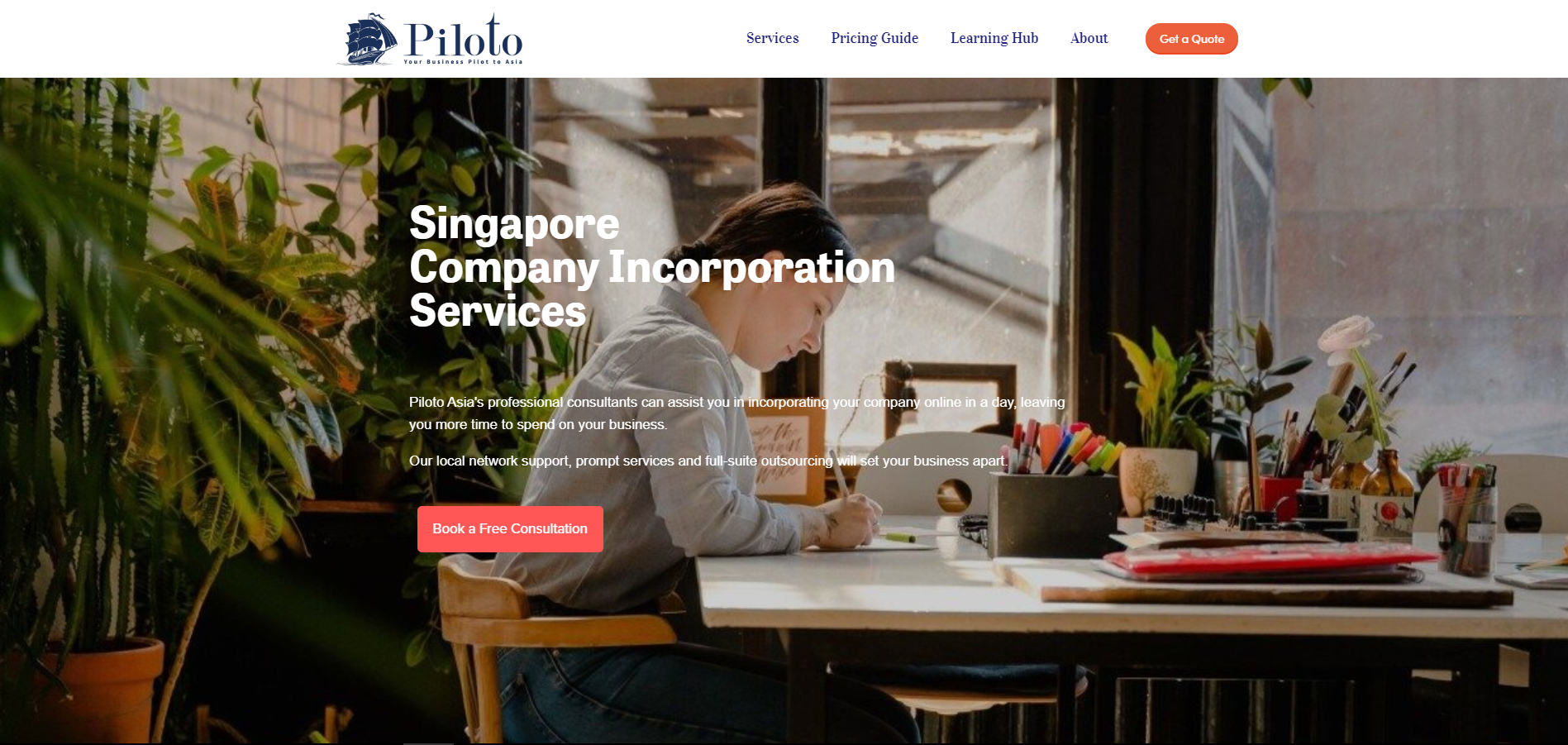 BEST FOR

Business Outsourcing

SERVICES

Company Incorporation, Company Secretary, Tax & Accounting, Business Bank Account Opening, Work Visa & Immigration, HR Support, Change Your Company Secretary

WEBSITE

ADDRESS

105 Cecil Street
#18-00, The Octagon
Singapore 069534

CONTACT DETAILS

(65) 9234 2902
[email protected]

OPERATING HOURS

Monday – Friday: 9 AM – 6:30 PM
Saturday & Sunday: Closed
Singapore is constantly recognized as the world's best place to do business by the World Bank. 60,000+ new businesses are registered in the country so they can enjoy low corporate tax and easy access to capital. 
Piloto Asia's team of professional consultants will assist you in incorporating your company online in a day, 100% remotely without the need to travel to Singapore. This gives clients time to focus on the more important parts of their business. 
The Piloto Asia team takes an extra mile for foreign corporates who are new to Singapore. With their 1-on-1 concierge service and their firm understanding of Singapore's business regulations, Piloto Asia consultants help hundreds of overseas companies expand their footprint to ASEAN and beyond.
Highlights
Personalized Account Manager

100% Remote Company Incorporation

Corporate Bank Account Opening

Accounting and Tax Support    

Registered Address

Employment Pass and Team Relocation    

Payroll Outsourcing and Local Hiring

GST Registration and Compliance

Corporate Pass and CPF Account Setup  
12. Accounting Solutions Singapore

Accounting Solutions is a trusted cloud advisor to many Singapore businesses. Their services are focused on streamlining your business on Cloud, as well as managing your financials properly.
Their expert team of professionals will ensure that you make the best financial decisions that will help your company grow. Best of all, they offer their services for the most affordable prices. Contact them now!
Highlights
Transparent prices
Efficient services
Competent team
13. Singapore Incorporation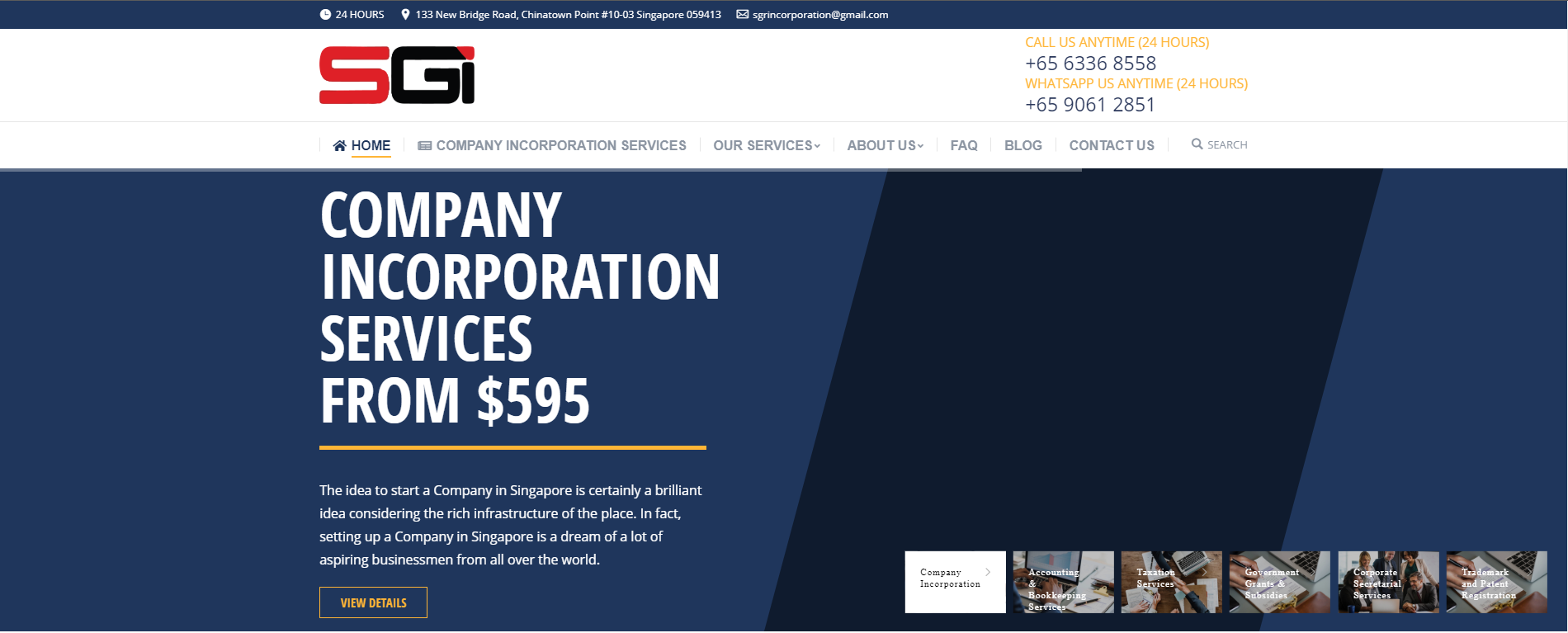 BEST FOR
Wide Range of Services
SERVICES
Company Incorporation, Company Registration, Corporate Secretarial Services, Accounting & Bookkeeping, Taxation Services, Auditing Services, Immigration/Work Pass, Government Grants & Subsidies, Trademark & Patent Registration, Business License Application, Business Advisory, Human Resource Advisory, Virtual Office, Legal Services
WEBSITE
https://singaporeincorporation.org/
ADDRESS
133 New Bridge Road, Chinatown Point #10-03 Singapore 059413
CONTACT DETAILS
+65 6336 8558 (Call) 24Hrs
+65 9061 2851 (Whatsapp) 24Hrs
[email protected]
OPERATING HOURS
N/A
Singapore Corporation is a company that offers many incorporation services to its clients. They have worked with many prestigious organizations all around Singapore.
It was founded and incorporated, Ms. Thung Sai Fun, its director. With more than 20 years of experience in the industry, you'd best believe that she will be able to serve your company well.
Don't hesitate to rely on Singapore Corporation for any of your company incorporation needs. You certainly won't be disappointed.
Highlights
Various services available
Vast industry experience
14. IMC Group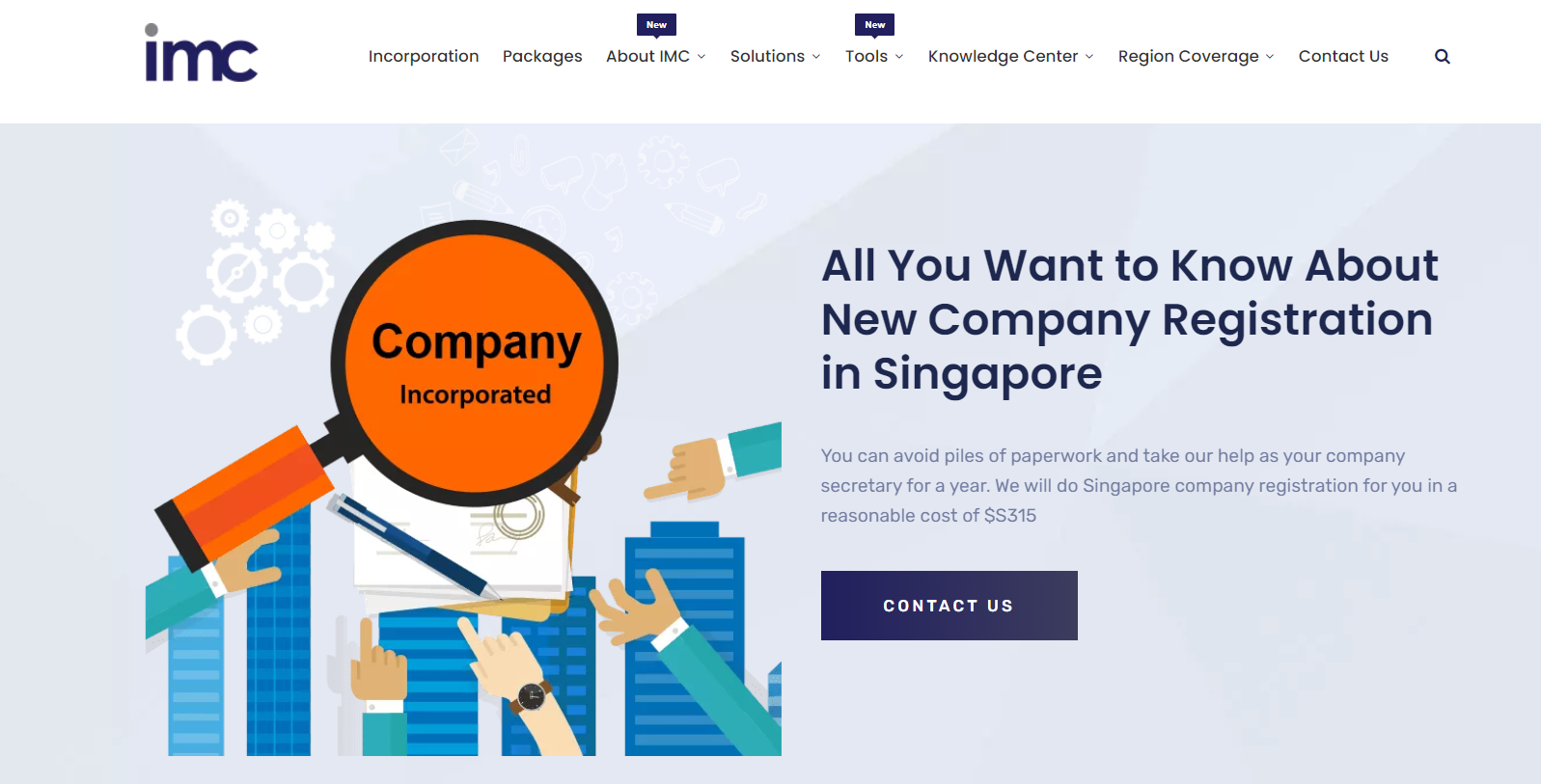 | | |
| --- | --- |
| BEST FOR  | One-stop Solution |
| SERVICES | Company Formation, Corporate Secretary, Corporate Finance, Taxation, Accounting, Trademark Registration, Immigration, and Payroll Service |
| WEBSITE | https://intuitconsultancy.com/sg/singapore-company-incorporation/ |
| ADDRESS | 1 Raffles Place, Tower 2, Singapore 048616 |
| CONTACT DETAILS | +65 9234 0891 |
| OPERATING HOURS | Monday – Friday, 9:00 AM – 6:00 PM |
Established in 1979, IMC Group has grown to become one of the most reputable corporate service providers on the island. Starting with a limited range of services, it now offers every corporate solution that small and large businesses on the island might need!
Some of these services are corporate secretary services, immigration, taxation, accounting, trademark registration, and of course, the best company registration services in Singapore. It's indeed a one-stop company for every business's corporate needs.
One of its goals as a company is to provide the best company formation services in Singapore at an affordable price and at a faster pace than others. This allows business owners to focus their time on other important matters.
Highlights
Flexible and reasonable pricing
Safe and secure storage
Streamlined and simplified process
15. Osome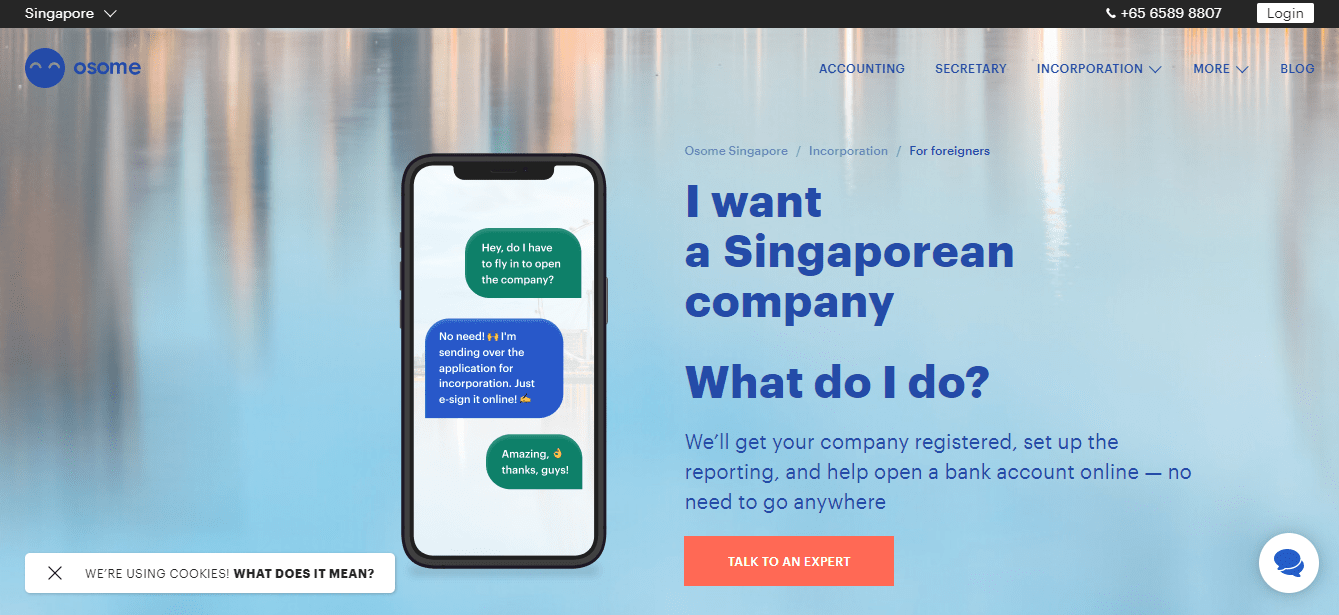 | | |
| --- | --- |
| BEST FOR  | Online Corporate Services |
| SERVICES | Company Registration, Corporate Secretary, Accounting, and Bookkeeping |
| WEBSITE | https://osome.com/ |
| ADDRESS | 80 Robinson Rd, #08-01, Singapore 068898 |
| CONTACT DETAILS | +65 6589 8807 |
| OPERATING HOURS | Monday – Friday, 8:00 AM to 5:00 PM |
Osome is a corporate service provider that focuses on helping companies in a purely virtual manner. Some of the services it offers are corporate secretary, accounting, taxation, and of course, the best company registration in Singapore.
If you're not looking forward to dealing with a huge pile of paperwork, then hiring the services of Osome will be perfect for the company.
It promises clients that they will never have to experience the nightmare of arranging and submitting paperwork to be registered.
Interested clients can get in touch with Osome by downloading their mobile application and sending them a message through it.
Highlights
Virtual services
With mobile application
Customer Reviews
Take a look at what clients had to say about its services:
"I was looking for a fast, easy and cost effective way to setup and run a business in Singapore. Osome provided the best pricing of all the solutions I found on the market. They were very helpful in opening the company, supplying all the documents and services that were in the proposed package. The accounting solution could not be better. I just need to scan the documents and they process them for me. Simple and straightforward. Just awesome!"
"Easily the best team I have worked with. From company incorporation, to application and successful outcome of my Employment Pass. Team Osome is (rightly called) Awesome! Full marks to Deepthi and team for taking care of our needs. Would definitely recommend and use them again."
16.

3E Accounting Pte Ltd
3E Accounting is a one-stop-shop for all your business solutions. It has various services, including accounting, taxation, registration, legal, and IT and design.
It can help you set up and maintain cloud accounting systems to make everything accessible yet secure for its accounting services. Aside from accounting systems, 3E Accounting can also help you with bookkeeping and compiling financial reports.
While many firms offer such services, 3E Accounting is unique for responsiveness, transparency, and commitment to economical solutions. It also has a dormant company package for those who still want to run their businesses, but at lower costs.
Highlights
Fast response and excellent customer service
No hidden fees
Dormant company package for low-cost business maintenance
Internationally-recognized by ACCA
Customer Reviews
Read these reviews from 3E Accounting's clients to learn more about their quality of services:
"We have never had this good communication in ages. The accounting of our company was almost never good even though we hired and changed many accountants. We were very tired. We finally decided to experiment with 3E Accounting, and their communication is their great thing. They always talk to you and they also always want to know what has been going in the office. They aren't only talented, but they are also very serious in the bookkeeping work."
"Their bookkeeping is very honest. They ask you about what you want, they do their work, and after that, they again ask if their work was up to your standards. They also send you every detail about your funds. Your funds are in good hands if you have accounting and bookkeeping services of 3E Accounting."
17. FINOVA

BEST FOR 
One-stop Corporate Services
SERVICES
INCORPORATION
ACCOUNTING
TAXATION
BUSINESS ADVISORY
EMPLOYEE CARE
IMMIGRATION
WEBSITE
https://www.finova.com.sg/services/incorporation/
ADDRESS
182 Cecil Street, #23-02 Frasers Tower, Singapore 069547
CONTACT DETAILS
+65 63270620
[email protected]
OPERATING HOURS
Monday – Friday: 9am to 6pm
FINOVA takes pride in being a one-stop corporate services firm to their clients. They provide a wide, comprehensive set of solutions that are tailored to their client's situation.
Their team of professionals are knowledgeable and skilled in what they do. Their diverse set of specialisations are the main reason why they're able to offer various corporate services proficiently.
No company is too big or small for their assistance. With their highly personalised solutions, your company's growth is sure to skyrocket.
Highlights
Wide range of services
Customised solutions
Team of experienced professionals
Clear communications
18.  Bluebox
BEST FOR 
Comprehensive Services
SERVICES

Corporate & Legal Services
Company Formations

Compliance and Legal

Accounting, Tax and Payroll

Immigration and Work Passes

 

Management Consulting
CxO Services – Strategy and Finance

Business Process Outsourcing

Contracts and Legal Documentation

Risk and Security

 

Digital Transformation
Digital Marketing

Digital Strategy and Technologies

Digitizing Operations

Automating Processes

 

Capital Markets Advisory
Advisory on Fundraising

Advisory on Mergers & Acquisitions

Financial Modelling & Valuation

Transaction Support Services

 

Ventures
New Market Expansions

Funding Strategies

Advisory Boards

Access to Strategic Investor Network

 

Cross Border Advisory
International Corporate Migrations

Cross Border Tax Planning

Family Office and Private Client Services

Government Liaison

 

Investor Services
Legal and Financial Due Diligence

Portfolio Company Audits and Management

Tax Efficient Holding Structures

Curated Deal Flow Pipeline

WEBSITE
https://blueboxglobal.com/
ADDRESS

Consulting and Advisory
10 Marina Boulevard
Level 39 Marina Bay Financial Center
Singapore 018983
+65.68185757

Accounting and Corporate Secretarial
89 Short Street, Suite 09-08A
Golden Wall Center
Singapore 188216
+65.62244225

CONTACT DETAILS

Consulting and Advisory
+65.68185757

Accounting and Corporate Secretarial
+65.62244225

OPERATING HOURS
N/A
Bluebox is a company that offers boutique, high-quality services to their clients. Their primary focus is on entrepreneurs, high growth businesses, and investors who are based in Asia.
After forty years of working in the industry, they've now expanded their corporate services to consultancy services, investor services, and more. You can count on Bluebox to provide the best tax consultancy services you may need.
Highlights
Almost 40 years of working with SMEs
Personalised Services
19.  LOL
BEST FOR 
Reliable, Affordable Corporate Services
SERVICES
IncorporationPackages
Accounting and BookkeepingPackages
Payroll Management
Tax Filings
Corporate Secretarial
Immigration and Work Passes
Outsourced Admin Services
Legal Documentation
Government Loan Schemes
Cloud Accounting
HR and Payroll
Digital Marketing
Digital Academy
WEBSITE
https://www.lolcorporate.com/
ADDRESS
89 Short Street, Suite 09-08A
Golden Wall Center
Singapore 188216
CONTACT DETAILS
+65.62244225
[email protected]
OPERATING HOURS
N/A
If you're planning to start a new company, LOL will be your best partner. They provide the complete suite of services especially needed by startups.
From incorporation services to back-office outsourcing, LOL will offer only the best. Contact them now to boost your business' growth at a fast rate.
Highlights
Almost 40 years in the industry
Reliable and affordable services
20. CorporateRoom Services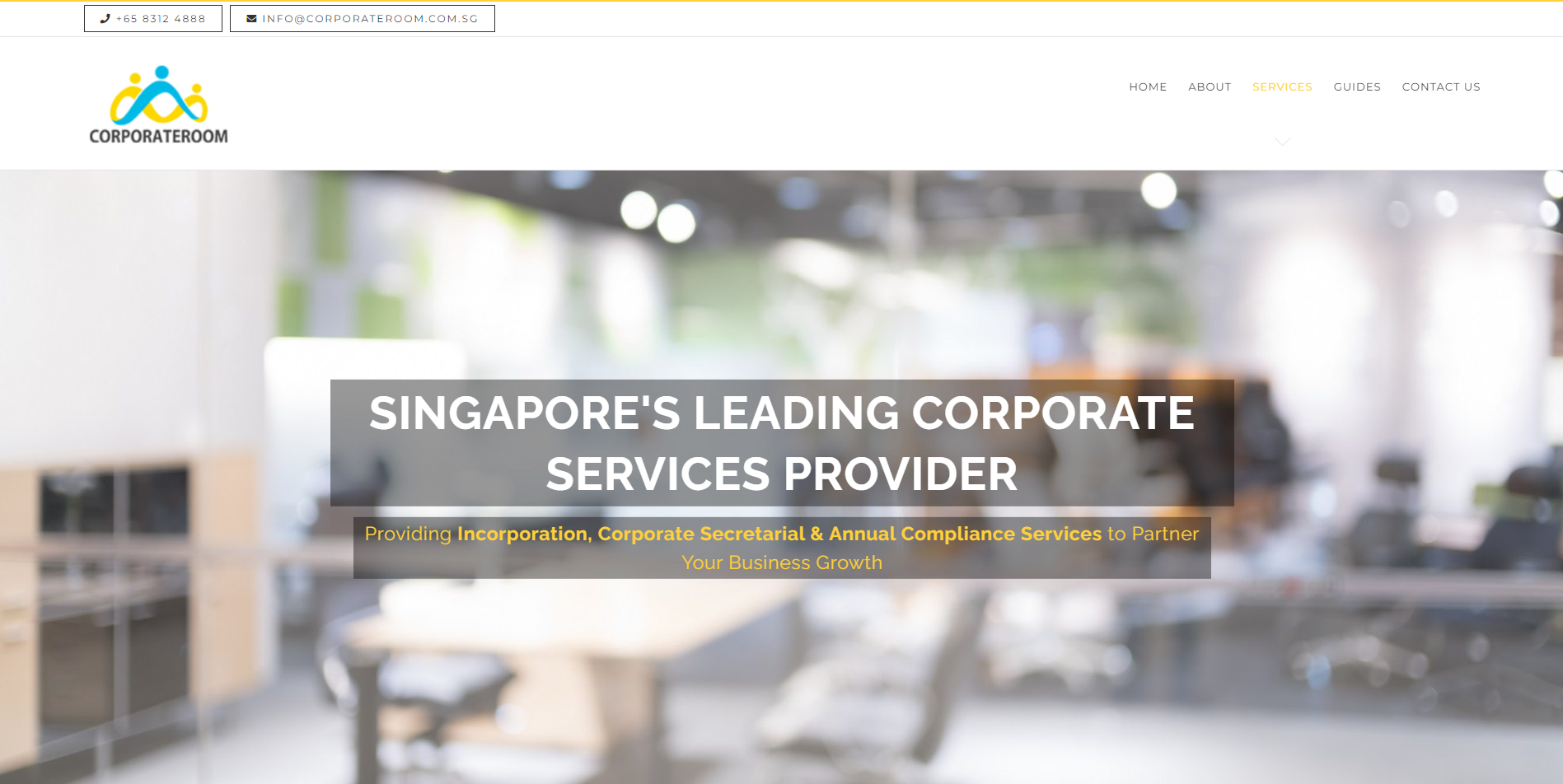 BEST FOR
Corporate Services
SERVICES
New Company Incorporation, Company Secretary, Company Corporate Actions, Company Annual Compliance, Escrow Services, Variable Capital Company, Singapore Work Pass Application & Consultancy
WEBSITE
https://www.corporateroom.com.sg/
ADDRESS
531A Upper Cross Street
#04-98 Singapore 051531
CONTACT DETAILS
Office: +65 6589 8660
Hotline: +65 8312 4888
Email: [email protected]
OPERATING HOURS
Mon – Fri . 9.00 – 18.00
Corporate Room assists Singapore companies in incorporating to the business. They provide professional advice tailored to their client's needs.
Besides advising clients on the recommended actions to take, they also offer corporate services involving documentation and execution. Check out their business structures now!
Highlights
Offers business guides on their website
No-obligations advice available
21. AG Singapore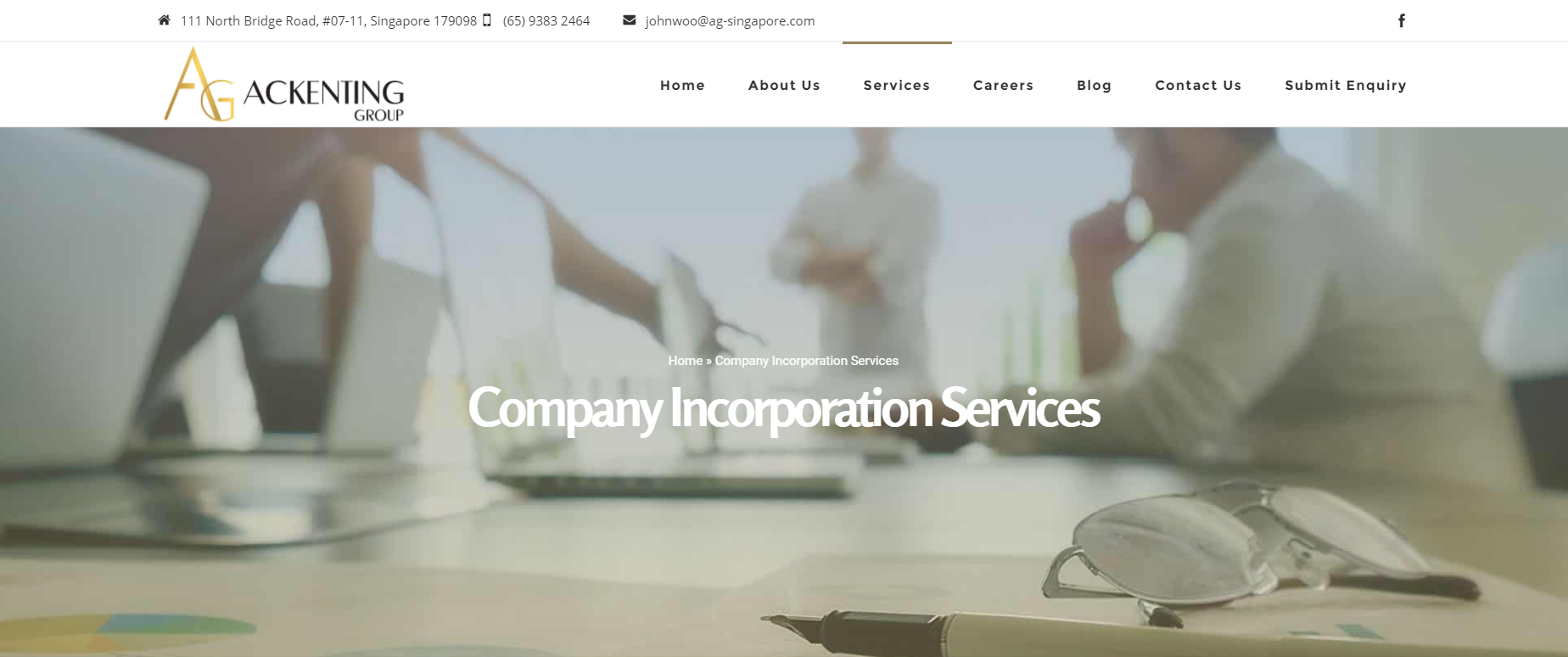 BEST FOR   
One-stop Accounting Solutions
SERVICES
Audit Services
Accounting Services
Branding Services
Company Incorporation Services
Corporate Financing
Financial Reporting Services
GST Services
Payroll Services
Secretarial Services
Tax Services
Winding Up Services
Digital Marketing Services
WEBSITE
https://www.ag-singapore.com/company-incorporation-services/
ADDRESS
111 North Bridge Road, #07-11, Singapore 179098
CONTACT DETAILS
+65-93832464
+65-66358767
[email protected]
OPERATING HOURS
24/7
AG Singapore is an accounting company that provides outsourced accounting services. They're well-known for offering tailor-made solutions for their clients. 
They offer the full suite of corporate solutions and accounting services to their clients. They cover a wide range of industries, such as Logistics, Oil & Gas, Construction & Engineering, and more.
They aim to serve mid-tier to small organisations all around Singapore. You can count on them to give you the best services, no matter your company registration needs.
Highlights
Award-winning professional accounting firm
Fast, effective, and proven solutions
Full suite of corporate advisory solutions and accounting services
Delivers results each and every time
And with that, we conclude our list of the top options for the best company registration in Singapore. If you've consulted with any of these companies before, share with us your experience with them!
If your company specifically needs only bookkeeping services, then you might want to check out our list of the best bookkeeping in Singapore. Our list features only the most trusted services providers on the island with affordable rates.