The 6 Options for the Best Cat Boarding in Singapore
Not sure where to leave your cats during your business trip or short getaway this coming weekend? You might want to consider checking them in at a great pet hotel where your precious cats can experience the best cat boarding in Singapore!
At cat hotels, they offer a complete range of facilities and activities that your pets will surely enjoy! You can also be sure that they're safe and properly taken care of — unlike when you leave them with your neighbour.
Read our list below to know where you can find the best cat hotels in Singapore!
1. Nekoya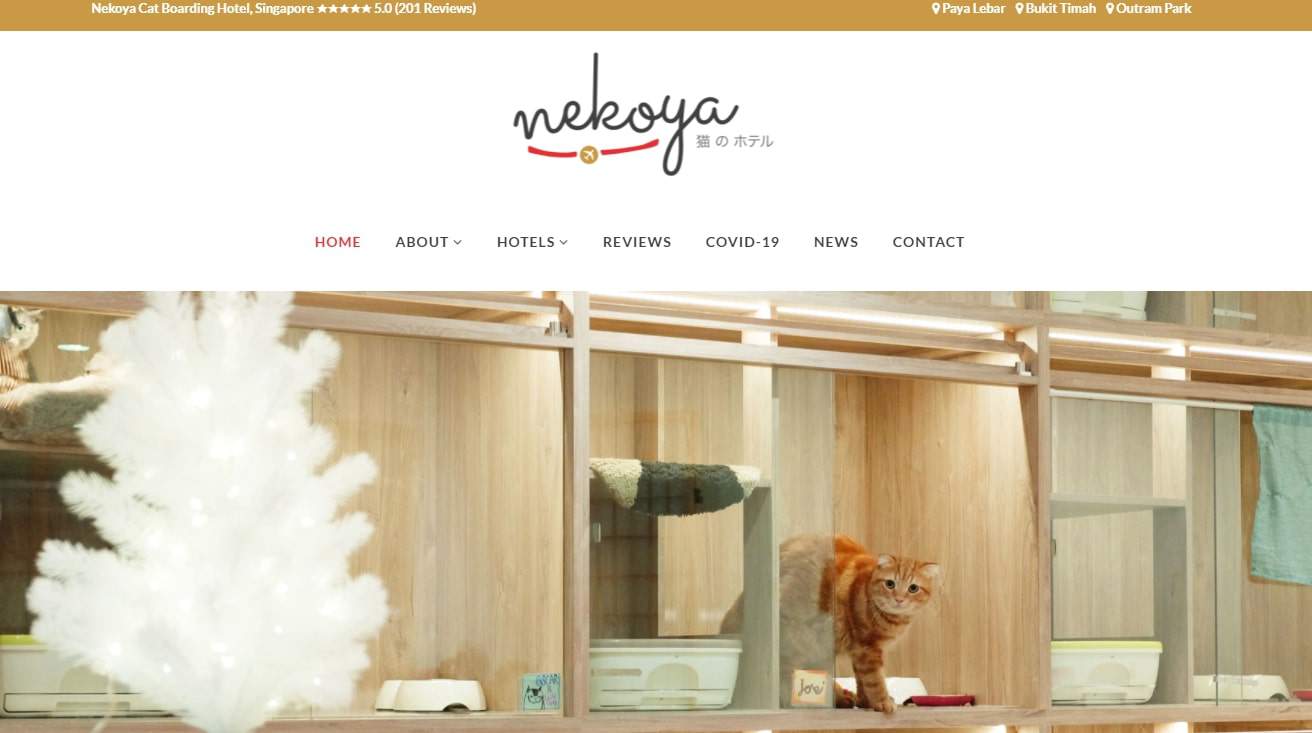 Nekoya is known for offering stress-free, holistic, and pleasant cat care in which they provide all the physical, emotional, and mental engagement that your pets need.
The entire hotel has a custom-designed air-filtration system to keep a healthy environment. It's also regularly maintained with veterinary-grade disinfectants for further safety measures.
Their boarding facilities are air-conditioned, well-ventilated, and climate-controlled. So you can be sure that your cats can rest and relax in an atmosphere that's comfortable for them.
Each private cabin is designed with resting, feeding, and bathroom areas. All spaces are also custom-built and cosily furnished — perfect for cats of all life stages with different characters and preferences.
Moreover, they provide personally chosen meal menus, spa services, medication care, and media updates.
Simply tell the staff about the habits and routines of your cats so they can help your pets adapt to the new surroundings.
Being one of the best cat hotels in Singapore, they've also been featured on various media publications.
Highlights
Quiet and secure location
Private playtime
Low nightly rates
Rescue and foster care service
Pet taxi service
Customer Reviews
Customers said that they were satisfied with the constant care and supervision of the staff at Nekoya. They also said that they were impressed by how they welcome abandoned, injured, and rescued cats.
A customer posted this feedback:
"It was a lovely experience! Hotel was very clean and well maintained. Caretakers were awesome, providing timely updates on my cat, played and fed him per scheduled. They were friendly to us and gentle with the cats. Will definitely come back again every time we are away! We trust our cat with Nekoya."
2. Kittycare Haven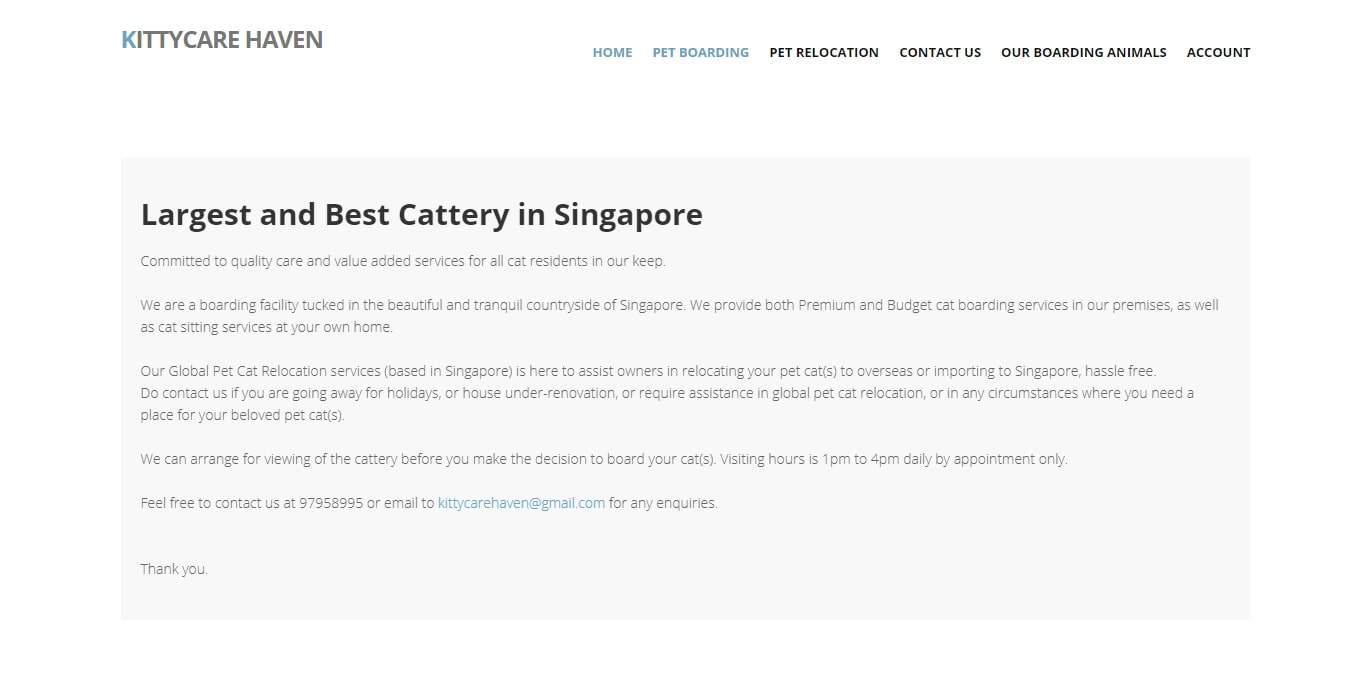 | | |
| --- | --- |
| BEST FOR | Budget-friendly cat boarding services |
| PRICING | Room Rates |
| WEBSITE | http://www.kittycarehaven.com/ |
| ADDRESS | 80 Lim Chu Kang Lane 1 Singapore 718911 |
| CONTACT DETAILS | (+65)97958995 |
| OPERATING HOURS | Daily, 1–5pm |
Kittycare Haven is one of the largest cat hotels located in Singapore. Aside from the tranquil boarding facility, they also provide quality care for their cat residents.
This involves having private, spacious, and comfortable rooms. All areas are either air-conditioned or fan-cooled — and have temperature control that's appropriate for your cat.
They also have scratch posts, shelving, and toys to let your cats have fun. Your cats will be personally attended by trained and live-in cat sitters for 24/7 guidance so there's no need to worry about leaving them in someone else's care.
If you opt for a cheaper boarding facility, they have a budget-friendly service package with wooden and plastic shelving as well as a mandatory parasite control treatment. Their lowest rate is at $25, which is much more affordable than most cat hotels.
They even provide pet relocation services for locals who are relocating to another country or foreigners who are moving to Singapore.
With these facilities and services, they've become known for having the best cat boarding in Singapore.
Highlights
Private and well-conditioned rooms
Lived-in cat sitters
Global pet relocation services
3. Catopia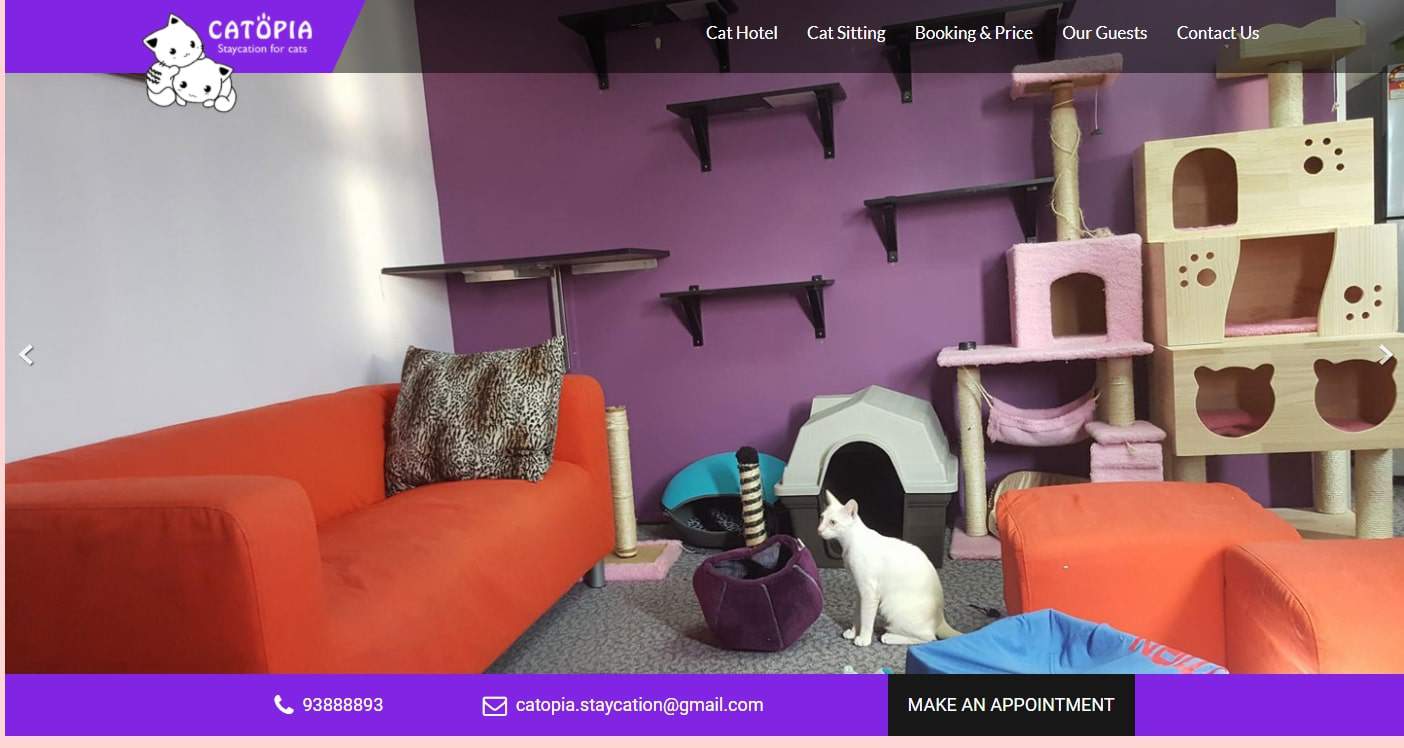 | | |
| --- | --- |
| BEST FOR | Rooms for same family cats |
| PRICING | Room Rates |
| WEBSITE | http://www.catopia.sg/ |
| ADDRESS | 406B Joo Chiat Rd, Singapore 427634 |
| CONTACT DETAILS | +65 93888893 |
Catopia is an exclusive boarding house that offers a cats-only environment for a comfortable and safe stay.
This best cat hotel in Singapore has various rooms including private, shared, and executive areas — all rooms are well-ventilated and air-conditioned.
Their executive rooms can accommodate up to 4 cats but only the same family ones. So if your cat is quite sensitive, you may opt for an executive room rental.
Rest assured that their experienced cat sitters will maintain the regular feeding schedule of your cats and take care of their basic needs throughout the whole stay.
Also, all viewings and visitations are by appointment only so make sure to book an appointment in advance.
Highlights
Media updates
Cat care services at home
Call-in grooming service
Cat transportation service
4. Pets Eden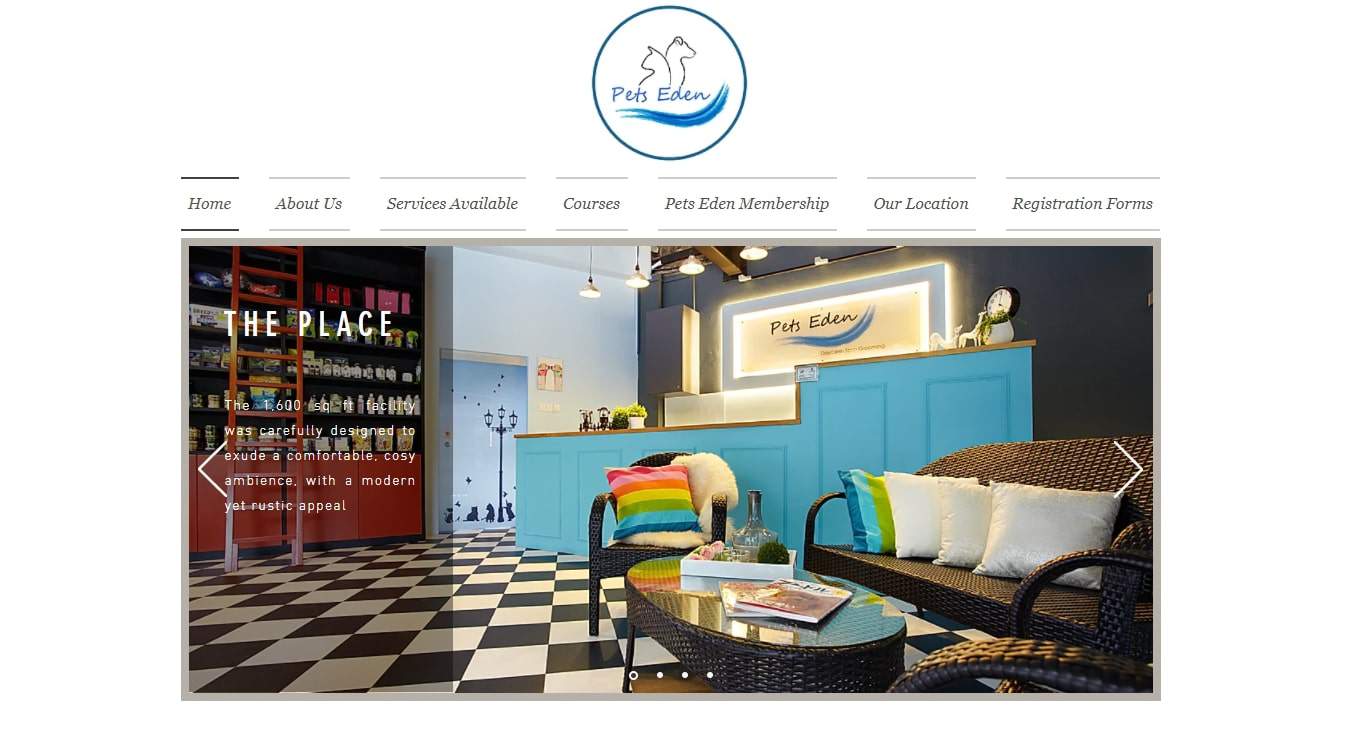 BEST FOR
Cat vacation services
PRICING
Room Rates
WEBSITE
https://www.petseden.net/
ADDRESS
29 Everitt Road Singapore 428576
CONTACT DETAILS
6258 3201
OPERATING HOURS
Weekdays and Saturdays: 10am to 7pm

Sundays: Sun: 10am to 5pm
Just from a glance at the colourful and bright interiors, you can immediately tell that your cats will surely have fun at Pets Eden! This hotel features a specially designed facility that provides a comfortable and cosy ambience.
Aside from their modern interiors, they also have separate grooming rooms for cats so your furkids can be pampered by their gentle groomers.
Each suite is air-conditioned, steam-sterilised and monitored by the staff for a relaxing, safe, and peaceful rest.
In their deluxe rooms, there are cushioned alcoves where your cats can rest while soft music is playing to calm and soothe them. There'll also be daily room service filled with fresh supplies of cat litter!
The whole facility is regularly inspected and maintained by pest control services and all of the pets are vaccinated and have a strict flea and tick protection regime.
All of their staff members have gone through comprehensive training courses so you can be sure that your beloved cats are in good hands.
Once you've purchased a membership, you can get access to their exclusive perks such as huge discounts on grooming services, spa treatments, food and accessories, and so much more!
Highlights
Clean and hygienic suites
Personalised concierge services
Daily playtime with human play companion
Pet limousine service
Plaque and tartar removal treatment
Customer Reviews
Customers shared that after the staycation of their furkids at Pets Eden, their cats were well-groomed. They also said that the staff made sure that all pets are well-fed.
A customer gave this review:
"Fantastic place for pets. Our cat stays here when we're away for a few days. Staff are super friendly and knowledgeable. Rates are good. They also offer pick-up and drop-off services. Highly recommended!"
5. Mutts and Mittens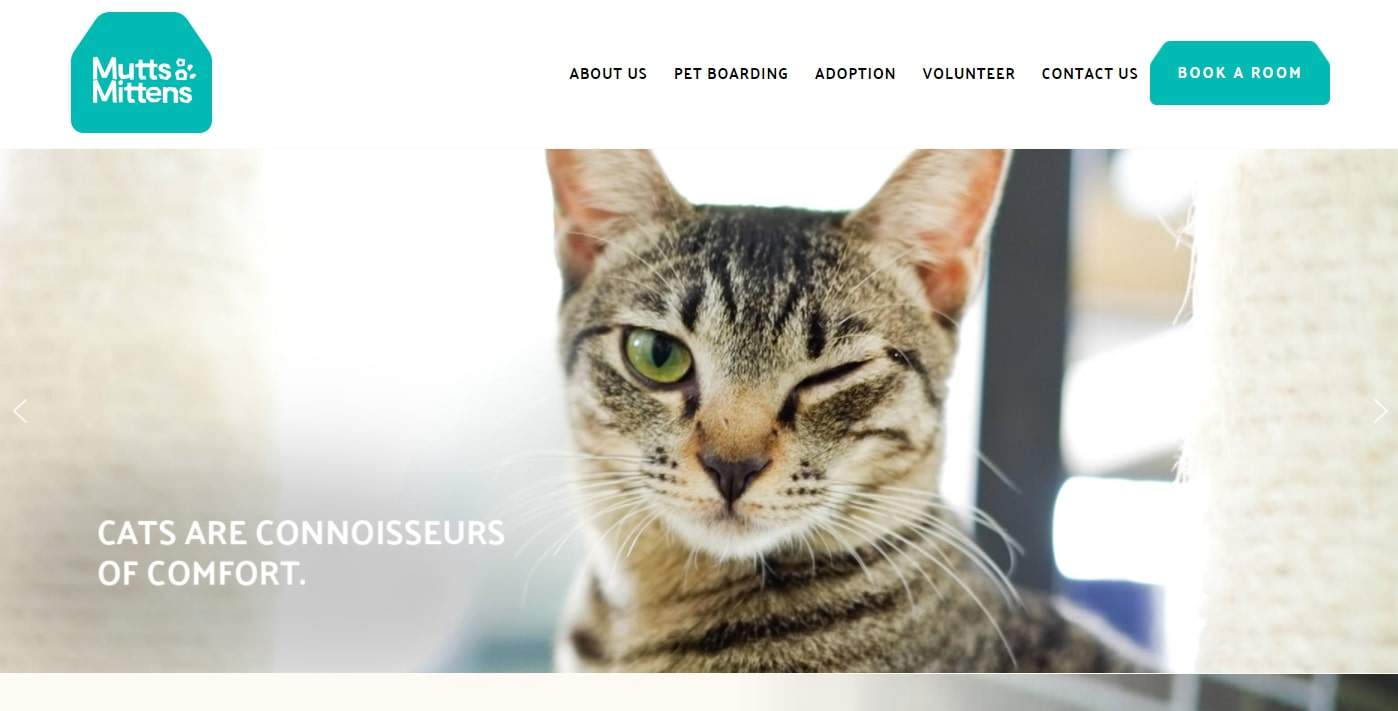 | | |
| --- | --- |
| BEST FOR | Resident vet nurses |
| PRICING | Room Rates |
| WEBSITE | http://www.muttsnmittens.com/ |
| ADDRESS | 59 Sungei Tengah Road Blk B #01-03/04 The Animal Lodge Singapore 699014 |
| CONTACT DETAILS | (+65) 6583 7371/72 |
| OPERATING HOURS | Daily, 9am–6pm |
Mutts and Mittens provides both cat and dog boarding services, so if you have both and you don't want them to stay in separate facilities, then this hotel is the perfect choice for you!
Their staff is experienced with all breeds and temperaments so no need to worry about the high sensitivity of your cats.
They also have resident vet nurses to take care of special needs such as medications, injections, and changing dressings. All rooms are spacious and air-conditioned, and they also come with elevated beds!
Similar to the previous option, each suite is designed with colourful and fun interiors! They also have hidey holes for the cats to rest and chill in.
Climbing shelves, floating beds, and scratching posts are all included in the rooms. There's also a litter box that's filled daily with tofu litter!
The entire facility has 24/7 CCTV cameras installed in every area — ensuring a safe and secure environment.
Highlights
Cat and dog boarding services
Well-versed in all breeds and temperaments
Animal rescue program
Customer Reviews
Most customers complimented the overall services of Mutts and Mittens, saying that the staff truly provides the best cat boarding in Singapore. They mentioned clean facilities and proper meals that were given to their cats as well as the secure and safe surroundings of the hotel.
A customer wrote this review:
"Couldn't ask for more for the experience of the stay. Kitties were showered with love and cuddles. Love it that there's a night caretaker which many boarding places do not have. And even love it that there's CCTV to spy on the cats even when we were away. It's a stressful time when cats aren't in their usual familiar places, the love Mutts and Mittens at Guillemard gave our cats compensated more than ever."
6.  Petpause
BEST FOR 
Luxurious Boarding Experience
PRICING
Rates
WEBSITE
https://petpause.sg
ADDRESS
59 Sungei Tengah Road
Blk W #01-54
Singapore 699014
CONTACT DETAILS
+65 9753 6787
[email protected]
OPERATING HOURS
N/A
Petpause is a pet hotel that offers the best accommodations for your furbaby. Their airconditioned rooms are fully furnished for a calming environment, from the orthopaedic bed to the soothing ambience and constant aroma therapy.
Their pet handlers are knowledgeable when it comes to the ins-and-outs of pet boarding. You can rest assured that if you leave your pet in their care, they will give you services well worth their price.
Highlights
Over 40 years of experience
Comfortable and fully-equipped rooms
And that's our list of hotels with the best cat boarding in Singapore! If you'd like to recommend more places, let us know!
But if you prefer to have someone take care of them at your home, see our list of the best pet sitters in Singapore instead!