The 17 Options for the Best Dog Grooming in Singapore
If you're looking for a pet salon that knows how to take care of all breeds of dogs, we got you covered! Today, we're going to take a look at the top grooming parlors that offer the best dog grooming in Singapore.
Sending your beloved pets to a grooming parlor with the best dog grooming in Singapore is part of your long list of duties as a pet owner. Luckily, we found some options with trusted dog grooming services.
Anyway, check out our list below to see where to find pet grooming parlors that offer the best dog grooming in Singapore.
1.  Likeable Pets

| | |
| --- | --- |
| BEST FOR  | Home and mobile services |
| SERVICES | Dog grooming, cat grooming, and rabbit grooming |
| WEBSITE | https://www.likeablepets.com.sg/ |
| ADDRESS | Singapore |
| CONTACT DETAILS | +65 8685 2360 |
| OPERATING HOURS | Monday – Friday: 10:00 AM – 4:00 PM |
If you're a pet owner who has little to no time to bring your pet to a grooming parlor, then you're definitely going to like the services of Likeable Pets. It's a pet grooming parlor that specialises in home and mobile grooming services.
Likeable Pets services almost every corner on the island, so even if you live far away, your address will still be accommodated. It's made up of a large team of experienced and skilled pet groomers, so rest assured that your precious dog will be in good hands.
It's also worth noting that its groomers are known for being punctual and respectful of clients' time. This is why we consider it one of the top options for the best pet grooming in Singapore.
Highlights
Trained pet groomers
For dogs, cats, and rabbits
Home services
Customer Reviews
Here are some comments shared by pet owners about their experience:
"I have been using Likeable Pets to groom my two Ragdolls for over 2 years now. I did try another home cat groomer for comparison but I didn't like the way they rough handled my cats. I also didn't like taking them to a groomer's premise due to the transport hassle, waiting and stress it puts on my cats. Likeable  Pets are always responsive and super reliable. Pamela in particular handles my cats very well. She is gentle and friendly with them and knows how to groom them well. I highly recommend Likeable Pets to pet owners."
"I had a fantastic experience with Likeable Pets. It was easy to set up the appointment via text message (the customer service was friendly and thoughtful) and the convenience of having a mobile service meant I didn't have to bring two finicky cats in a taxi to their location."
2.  Doggylicious Studio

| | |
| --- | --- |
| BEST FOR  | Affordable grooming services |
| SERVICES | Dog grooming and pet transportation |
| WEBSITE | http://doggylicious-studio.com/ |
| ADDRESS | Ang Mo Kio Ave 1, #01-1831 Block 330, Singapore 560330 |
| CONTACT DETAILS | +65 9477 1804 |
| OPERATING HOURS | Monday – Friday: 10:00 AM – 7:30 PM |
With more than 9 years of experience, Doggylicious Studio has grown into one of the most trusted pet salons on the island. It provides convenient and hassle-free island-wide pet grooming and pet transportation services.
If it's not possible for you to personally drop by its salon, you may opt to have your dog picked up at your address and delivered back once the grooming is over. It's a great option especially for pet owners who usually have too much on their plate.
Another reason why we consider it one of the top options for the best dog grooming in Singapore is its competitive and reasonable rates. You won't have to worry about paying for unreasonably overpriced grooming services.
Highlights
Dog pick-up services
Competitive rates
Experienced groomers
3.  Pawpy Kisses Pet Shop & Pet Grooming Services
| | |
| --- | --- |
| BEST FOR  | Wide range of services |
| SERVICES | Dog grooming, cat grooming, pet dental care |
| WEBSITE | https://www.pawpykisses.com/ |
| ADDRESS | 238 Balestier Rd, #01-01, #01-02, #01-03, Singapore 329701 |
| CONTACT DETAILS | +65 9060 6501 |
| OPERATING HOURS | Monday – Friday: 10:00 AM – 7:00 PM |
Pawpy Kisses Pet Shop & Pet Grooming Services offers everything from pet grooming down to pet dental care. It's one of the few pet salons on the island that provides almost every service your pets may need.
It's known for having a team of friendly and passionate animal lovers who will make sure that your pets are properly taken care of during the entire grooming process. Pawpy Kisses Pet Shop & Pet Grooming Services also trains its groomers before giving them any task.
Highlights
Dental care
Pet products and accessories
Customer Reviews
Here's a customer sharing his experience with Pawpy Kisses Pet Shop & Pet Grooming Services:
"Really friendly, caring and responsive staff! It was my first time sending my dog for grooming and I was worried as he gets very nervous around new people. However, the staff from Pawpy Kisses were all really nice; they handled my dog well throughout the grooming session. He also smelled great after his spa and his fur was really soft! Highly recommend Pawpy Kisses for grooming and will definitely send my dog there again!!!"
4.  Surrpaws Pet Grooming Singapore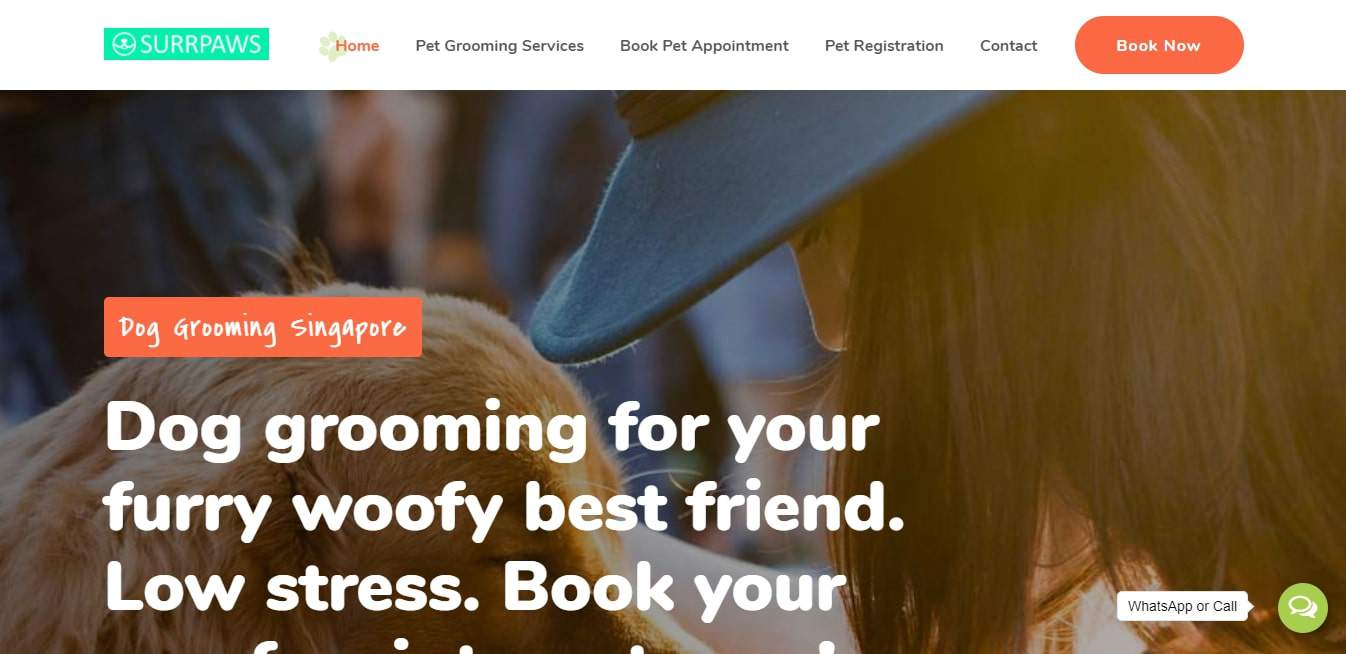 | | |
| --- | --- |
| BEST FOR  | Easy booking of appointments |
| SERVICES | Dog grooming, cat grooming, pet dental care, and pet medical check ups |
| WEBSITE | https://surrpaws.com/ |
| ADDRESS | 590 Montreal Link #01-21 Singapore 750590 |
| CONTACT DETAILS | +65 8845 7183 |
| OPERATING HOURS | Monday – Friday: 10AM to 10PM |
Surrpaws Pet Grooming Singapore provides both dog and cat grooming services, but it's more famous for offering the one of the best dog grooming in Singapore. In fact, it's been featured numerous times on magazines and review websites for its unparalleled pet care services.
The groomers at Surrpaws Pet Grooming Singapore treat every pet as their family, so rest assured that your precious pets are going to be in safe and capable hands. Its groomers are well-experienced in handling anxious and aggressive pets.
If you're interested in having your dog groomed at Surrpaws Pet Grooming Singapore, don't hesitate to call their hotline. You may also book an appointment through its website.
Highlights
Online booking of appointment
Skilled pet groomers
Customer Reviews
Take a look at some feedback posted by pet owners on Google Reviews:
"I brought my little Chi for teeth cleaning after hearing that they can clean without anaesthesia. Was worried that she would have problems doing the job with my feisty naughty girl. But it was a job well done in 2.5 hours. Less risky and more affordable option for sure. Highly recommended."
"Groomer did a really great job cleaning my 15 years old Japanese Spitz's teeth. She shared tips with me on how I can clean the teeth more effectively, and also tips on taking better care of a senior dog. Grooming was quite satisfactory and could tell she really cares for the dogs!"
5.  Masmasgroomers Pet Grooming Centre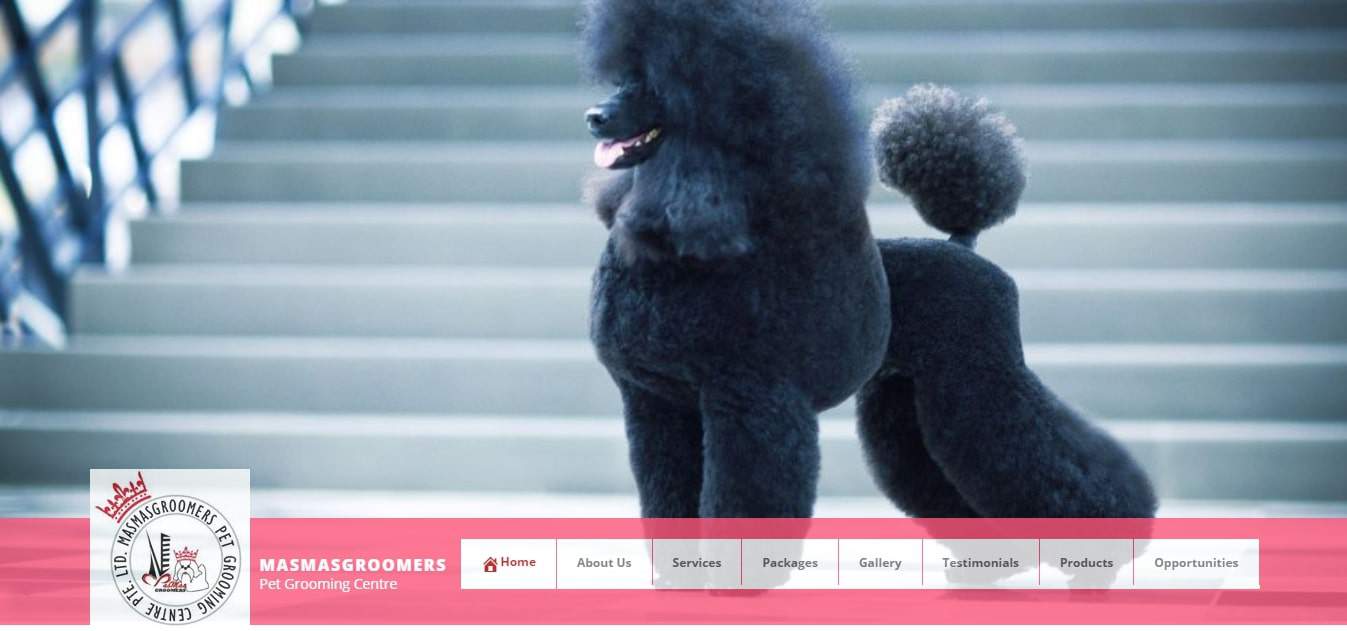 | | |
| --- | --- |
| BEST FOR  | All sizes of dogs |
| SERVICES | Dog grooming, cat grooming, and pet transportation |
| WEBSITE | https://masmasgroomers.com/ |
| ADDRESS | 551 Bedok North Ave 1, #01-554, Singapore 460551 |
| CONTACT DETAILS | +65 8113 0933 |
| OPERATING HOURS | Monday – Friday: 10:15 AM – 7:30 PM |
If you're looking for a pet salon that knows how to groom dogs of all shapes and sizes, then look no further than Masmasgroomers Pet Grooming Centre. It's a trusted pet grooming parlor that has experience in grooming all breeds of dogs, from shih tzus down to golden retrievers.
Masmasgroomers Pet Grooming Centre promises that your dog will undergo a positive transition after the grooming process. Its grooming method makes them look more radiant, improves their blood circulation, skin condition, and overall mood.
In terms of prices, you might want to save up a bit more because its rates are higher than most pet salons. However, its services come with the guarantee that your dog will feel and look better than ever.
Highlights
17 years of experience
Professional pet groomers
Pet grooming packages
6. PetAugust
BEST FOR

Pet Boarding

PRICING

Starts at $48

WEBSITE
https://www.petaugust.sg/
ADDRESS

52 Jalan Limbok. S(548731)

*We are located at Yio Chu Kang Road, near Serangoon garden side.

CONTACT DETAILS

90639457

OPERATING HOURS

10.30 am-6:30 pm (Daily)

Public Holiday (Appointment Only)
Pet August offers pet sitting, daycare, grooming, and many more services for you and your fur babies to enjoy. They have a mini playground where your pets could move around and drain their energies. 
Since grooming is a great way to make sure that your pet is in the best condition, they offer different packages for pet grooming. Come and visit their shop and treat your fur babies. 
Highlights
Sincere staff

Warm place

Good groomer
Customer Reviews
Here's a review from one of Pet August's clients:
"It's our first time boarding our little Lexie for 8days 7night. We recce many many places and felt the most at ease with Pet August. The staff here are really sincere and genuine. I could tell their genuine love for animals. Being away for so long away from Lexie, naturally we felt very very anxious. But they sent frequent updates, videos and photos. And they were extremely patient with our long list of questions and requests. Also have them to groom her and she came home smelling great and looking cheerful. She must have had so much fun looking at her sound asleep with a smile on her face… thank you Shinny, Vinna and all the staff and little ones like sunshine and ice for giving her so much love and joy. Definitely gona bring Lexie back every now and then for day care or boarding or grooming:) very satisfied little Lexie and paw-rents. :)" – Lau Belle Lifeng
Here's another one:
"Friendly. Trusted place to groom my dog. :)" – Recovery Cxvpher
7. Pooch Image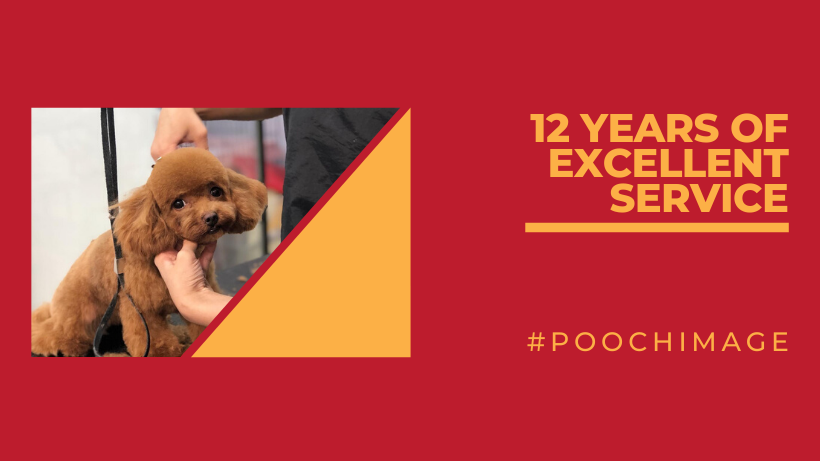 BEST FOR 

Wide range of services

SERVICES

Dog grooming, cat grooming, Rabbit grooming, Pet dental scaling (Magic White Treatment)

WEBSITE

ADDRESS

119 Upper East Coast Road, Singapore

Parking available along woo mon chew road. (Free parking)

CONTACT DETAILS

+65 63444044

+65 83688444 – (Whatapp only)

OPERATING HOURS

Tuesday – Sunday: 11:00 AM – 7:00 PM
Pooch's image has been established since 2008.
Our Award winning team have competed in various International dog show & Dog grooming competitions. Pooch's image team have also obtained many achievements and awards over the years and are consistently upgrading ourselves for our customers.
Today, Pooch's image is one of the stronger player in the market and will continue to provide our best service and care for our customers and their pets.
At Pooch Image Grooming, we understand the importance of where you take your pet to be groomed. It is an experience that is going to follow your pet throughout his or her lifetime. This experience should be as stress-free and as pleasing as possible.
Every dog is different, so we customize each grooming session to fit your fur-child's unique needs. We work hard to give your dog an enjoyable and relaxing grooming experience every time.
We know that your dogs are your family, which is why we treat your dogs like they were our own. We want every dog to be comfortable during the grooming experience and every owner to be comfortable knowing their dog is in our care. If you have any special requests, feel free to let us know. We look forward to your visit!
Highlights
13 years of experience
Award-Winning stylists
Cheap and Affordable
Customer Reviews
Here's a customer sharing his experience with Pooch Image's Grooming Services:
Vernon A – Muttons in the Morning:Radio Dj & Celebrity
"Always a treat (even to the doggies, I swear!) when we bring them to @poochimage for their grooming. Yogi is still recovering from her eye surgery and I can't think of a better groomer to cut her fur without worrying too much. Thank you Melvin, Jason and Valerie for always taking care of my baby giant each time we bring her over 
️" 
8. Furkids Home

BEST FOR   

Dog spa therapy packages

SERVICES

Dog grooming, dog spa therapy, pet sitting

WEBSITE

ADDRESS

Bedok Central #01-136, Block 219, Singapore 460219

CONTACT DETAILS

+65 6243 1008

OPERATING HOURS

Monday – Friday: 11:00 AM – 8:00 PM

Saturday – Sunday: 10:00 AM – 7:00 PM
Furkids home offers various pet care services such as grooming and sitting for dogs and cats. They also have herbal, aromatic, deep cleansing, and microbubble spa therapy for your dog's relaxation.
In Furkids Home, they know that every dog is unique, so they offer individualised grooming services. They also have hypoallergenic shampoo for pets with sensitive skin.
And if your dog has medical skin conditions, you can visit Furkids Home for the shaving of your pet's matted coat.
But the best things about Furkids Home is that they can also offer home delivery for their services.
Highlights
Small bath, basic grooming, and full grooming services

Dog spa with 6 choices for spa therapy

Pet sitting, doggie walks, and home visits
Customer Reviews
Read this review to learn about a customer's experience with Furkids Home:
"I had my dog groomed by them before the Lunar New Year this year. The price was reasonable, even with the surcharge. We did the full grooming with styling, and my little dog came back cuter than ever. Observed the part of the process of grooming, and the dogs were treated well enough. My dog's mood wasn't badly affected by them as well. So will use their services again!"
9. Pet Lovers Centre
| | |
| --- | --- |
| BEST FOR    | Accessible locations |
| PRICING | |
| WEBSITE | |
| ADDRESS | 494 Changi Rd, Singapore 419903 |
| CONTACT DETAILS | +65 6449 2436 |
| OPERATING HOURS | Monday – Sunday: 10.00 AM – 10.00 PM |
Pet Lovers Centre is a famous online shop for everything dogs, cats, fish, reptiles, and other domesticated animals need.
They have 70 shops all over Singapore, with 13 of them offering pet services such as grooming, boarding, and veterinary care. They also have dog training services and a bakery for pets.
Their basic package for dog grooming already includes nail clipping, ear cleaning, fur shaving, bathing, conditioning, and brushing. Pet Lovers Centre also offers a puppy bonus plan that's complete with a shampoo, food, and VIP membership plan.
Highlights
13 grooming salons in Singapore

Membership benefits

Bathing, basic, and full grooming packages
Customer Reviews
Here's a review from a Pet Lovers Centre's client, Ashley Ong, to tell you more:
"Every staff treated me very nicely ! Was impressed with the knowledge from the retail staffs! Bought so many goodies for my dog thanks to their help. It was a pleasant experience altogether. Even the grooming made me very impressed as every dog that left looked like a show dog. Moreover the shop was clean and items were easy to locate !"
10. Super Groomers Pets Academy
| | |
| --- | --- |
| BEST FOR  | Beginners |
| SERVICES | Dog Grooming Courses |
| WEBSITE | |
| ADDRESS | Blk 551 Bedok North Ave 1, 01-554 Singapore 460551 |
| CONTACT DETAILS | 91557993 or [email protected] |
| OPERATING HOURS | Tuesday to Friday (11am to 6pm) and Saturday to Sunday (by appointment) |
As an established pet grooming school in Singapore, Super Groomers Pet Academy conducts courses for all classes and levels of Pet Grooming Skills, even for beginners.
Michelle Foo, the instructor, is exceedingly dedicated to providing premium-grade services and teachings that are easily accessible and understandable. Moreover, she is committed to producing successful professional pet groomers through her extensive foundation of knowledge and passion.
With 13 years of devotion in the industry, and having groomed more than 25,000 dogs, you can be assured that she will cater to you with her best efforts.
Highlights
SKC Appointed Grooming School
Affiliate with one of Taiwan's Top Grooming Academies
Professional Team
Customer Reviews
Take a look at what the clients have say about their services:
"Informative course on pet grooming. The staff are extremely helpful in assisting us in the grooming progress" – Praise Tan
"Very professional and structured way of teaching. The staffs are very passionate in their job, I learnt a lot of good practice in dog grooming" – Gilbert Handoco
11. Pawrus Grooming
| | |
| --- | --- |
| BEST FOR  | Low Cost Grooming Services |
| SERVICES | Dog grooming, Cat grooming, Dog Handling and Conditioning, Seminar or Workshop, Be a Pet Groomer |
| WEBSITE | |
| ADDRESS | Singapore |
| CONTACT DETAILS | +65 8223 9340 or [email protected] |
| OPERATING HOURS | Monday to Friday (10am to 5pm) |
If you're looking for a pet grooming service that offers a house-call and mobile grooming for your cats and dogs, customized dog handling and conditioning classes and programs, and premium house-call for a low-stress dog grooming price list, then no look further than Pawrus Grooming. They pride themselves on giving you the best service they have.
The staff are highly experienced and have even received accreditation in their acceptance of numerous awards since 2017. They are passionate animal lovers, and it is without a doubt that your pets will be properly taken care of throughout the entire process
Entrust your pets in their care, and they will not let you down!
Highlights
Offers free delivery above $88
Dogs, cats, and other small animals
Accommodate Health Concerns
12. Precious Pets
| | |
| --- | --- |
| BEST FOR  | Mobile Pet Grooming |
| SERVICES | Dog Grooming, Cat Grooming, Rabbit grooming, Guinea Pig Grooming, Pet bath and Oral Care |
| WEBSITE | |
| ADDRESS | Singapore |
| CONTACT DETAILS | 96973337 or [email protected] |
| OPERATING HOURS | Monday to Sunday (10am to 7pm) |
Precious Pets provides dog, cat, guinea pig, and rabbit pet grooming services on the go. They have been featured on different blogs and magazines for their dedication to high-quality care with convenience.
Their groomers are exceptionally experienced and committed to ensuring that your pets will have the best care they clearly deserve. Along with their mobile pet grooming service, they also provide a relaxed and stress-free environment – resulting in a happy and secure feeling for your pets while receiving regular grooming.
Contact them now and be confident that your pets will have the best care they had never experienced before!
Highlights
Professional groomers
Home Service
Customer Reviews
Jessica Kwok loved Sam, their staff, because of his skills and patient in handling her dog. Check out her experience:
"First time tried this mobile groomer after reading the positive feedback. Indeed, Sam (the groomer) is very skilful and patient with my dog. He doesn't rush through the process to finish it quickly. My dog was calm and did not appear anxious throughout the grooming process. The price is reasonable and offers a huge convenience to me as I need worry about transportation of my dog. Highly recommended"
13. Fur & Away
| | |
| --- | --- |
| BEST FOR  | Different breeds of Dogs |
| SERVICES | Pet Groomimg, Skin treatment, Dental Care, Boarding and Daycare, Obedience Training |
| WEBSITE | |
| ADDRESS | 445 Sembawang Rd., Singapore 758403 |
| CONTACT DETAILS | +65 6853 7549 or [email protected] |
| OPERATING HOURS | Monday, Wednesday to Sunday (9am to 6pm) |
As one of the leading pet grooming salons in Singapore, Fur & Away is highly committed to bringing you the best grooming services perfect for your dogs. They are equipped with top-notch grooming equipment to ensure that they will be able meet your expectations with the best treatment.
They accommodate various breeds of dogs, as well as different kinds of coats. They understand that each dog has unique needs so they make sure to provide services that is customised specifically for your dog. Their professional groomers are able to treat dogs with varying personalities with patience and consideration.
Not only they provide your dogs the highest quality of service, their salon also boasts a safe and comfortable environment to ensure that your dogs will experience a relaxing and soothing grooming service.
Highlights
Fully equipped, top quality grooming equipment
Certified Professional Stylists
Consultants on skin problems
14. InuTown

BEST FOR 

Professional Grooming Services

SERVICES

Pet grooming, Puppies for sale

WEBSITE

ADDRESS

215K Upper Thomson Rd, Singapore 574349

CONTACT DETAILS

Tel: 87696118 (General Hotline)

81244051 (Puppies Enquiry)

OPERATING HOURS

Tuesday
12–7PM

Wednesday
12–7PM

Thursday
12–7PM

Friday
12–7PM

Saturday
12–7PM

Sunday
12–7PM

Monday
12–7PM
InuTown is an establishment that prioritises the well-being of all dogs. They offer advice regarding all aspects of pet ownership, making them an excellent choice for beginner and experienced pet owners.
Those looking to have their pet groomed can also avail of InuTown's services. Their expert team believes that grooming is just as vital to a pet's health as other care methods. Having one's pet groomed at InuTown will result in the fur baby looking, smelling, and feeling healthier as when they came in.
Highlights
Photoshoot services for dogs after grooming session
Makeover pet styling
Award-winning groomer and Class A Certificate groomer
Pet ownership advice from industry veteran
15. Petitudo International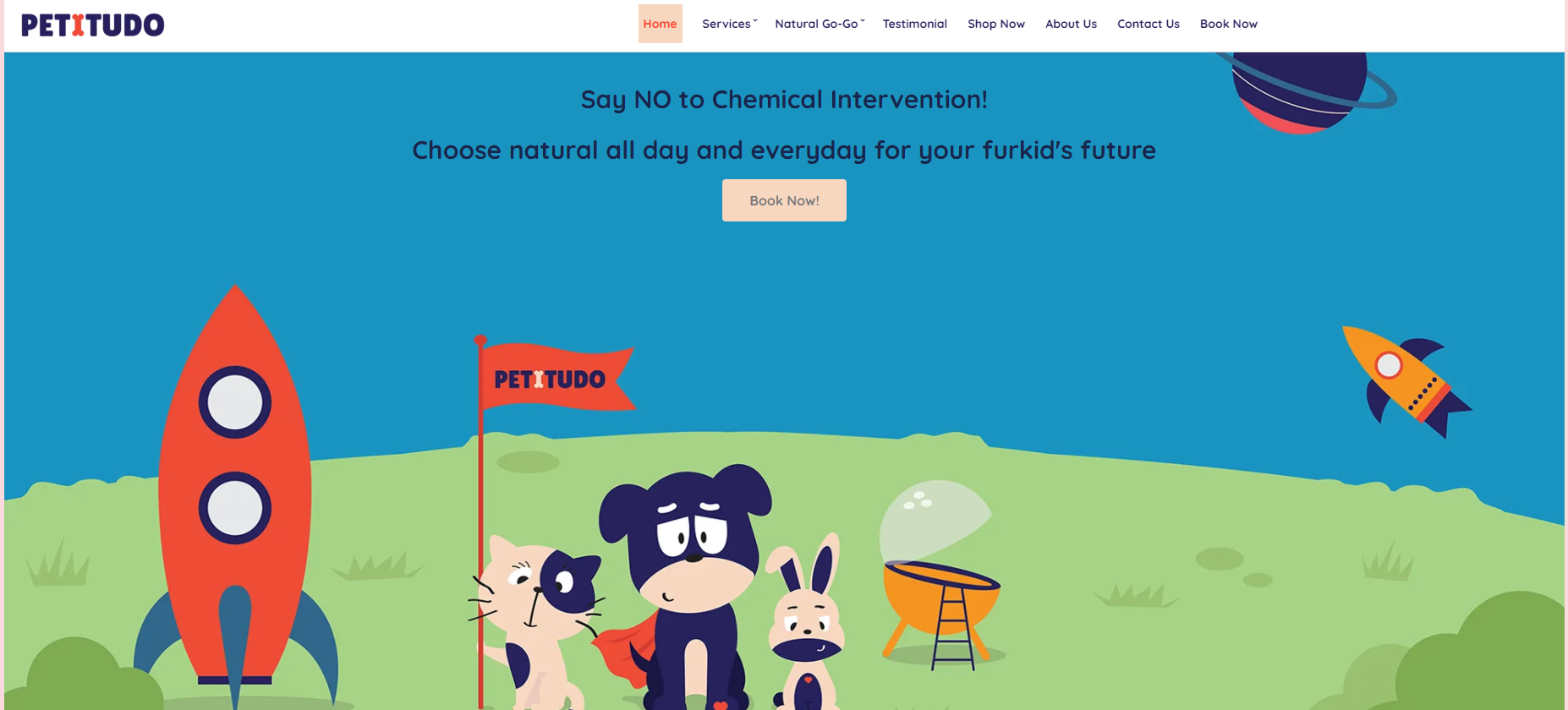 BEST FOR 

Grooming with Natural Products

SERVICES

Pet spa, Grooming, Ala Carte Services

WEBSITE

ADDRESS

15 Thomson Hills Dr, Singapore 574759

CONTACT DETAILS

OPERATING HOURS

Monday – Sunday: 9am – 5pm

Closed on Public Holidays
If we're talking about pampering our fur friends, then there is no forgetting Petitudo International.
Petitudo International is a one-stop pet wellness centre known to offer premium spa and grooming services as well as pet products like affordable nutritious pet food. 
In terms of grooming services, Petitudo provides both the complete service and ala carte services like wash and blow, paw pad shaving, dematting, and undercoat removal. What makes Petitudo stand out, though, is the shop's commitment to mainly using all-natural formulations filled with nourishing ingredients to keep our furkids free of toxic residues and harmful preservatives.
Aside from the all natural grooming and pet products, Petitudo International is also known for its skilled and friendly staff. Groomers at Petitudo have the training and patience to get furkids through mostly stress-free grooming sessions. 
To top things off, the shop is open seven days a week from nine in the morning to five in the afternoon, making Petitudo one of the most accessible grooming stations in the island.
Highlights
Uses all natural products 
Open seven days a week
Trained and friendly groomers
Spa services available
16.  Pet Master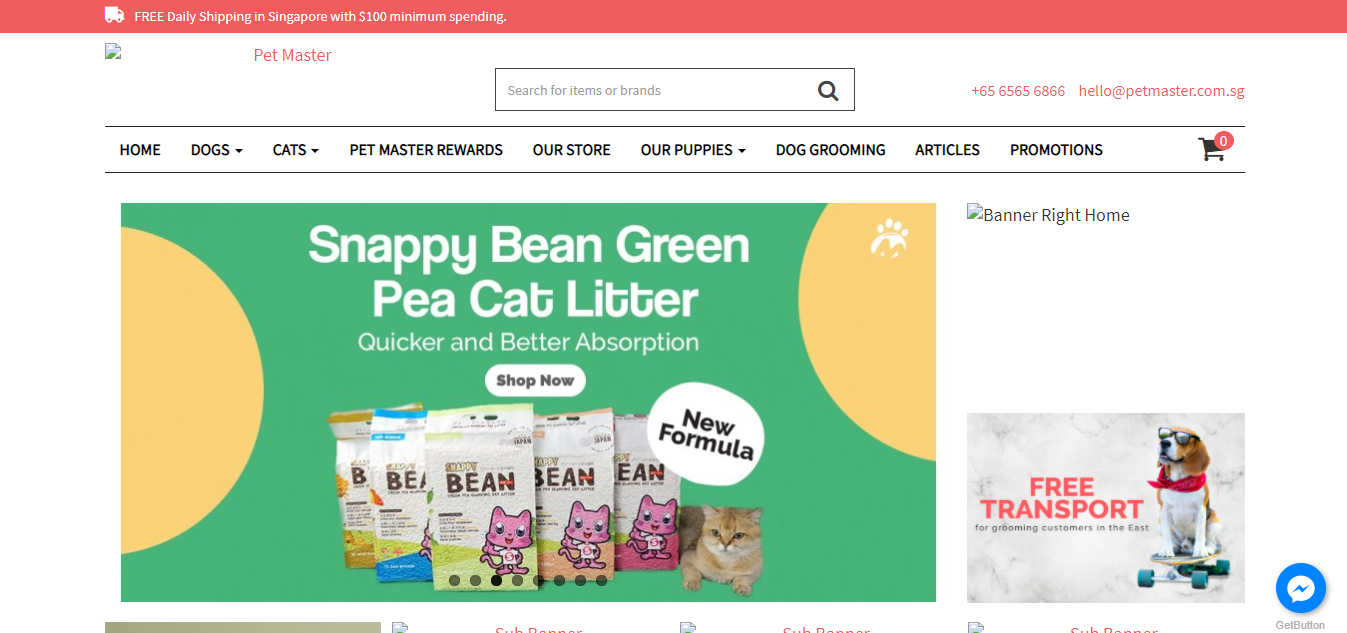 BEST FOR 

Pet store for dogs

SERVICES

Dog Food
Dog Treats
Dog Grooming
Dog Toys

Cat Food
Cat Treats
Cat Grooming
Cat Toys
Litter box

WEBSITE

https://petmaster.com.sg/

ADDRESS

Singapore

CONTACT DETAILS

[email protected]



+65 6565 6866

OPERATING HOURS

Mon-Sun, 9AM – 6PM
(Excluding PH)
Are you a pet owner that does not know where to buy things for your pet? Pet Master is the perfect online shop for you.
People love them because they offer different types of services for both dogs and cats.  They definitely got your back from foods and treats to toys and furniture.
In comparison to other stores, all of their products are carefully selected to meet the needs and improve the life of your fur baby.
With Pet Master, you can ensure that your order will be delivered to your doorstep quickly and safely. With minimum spending of $100, you will be able to avail of their free shipping.
Highlights
Deliver 7 days a week
Professional groomers
High-quality foods and treats
17. Shaggy Hangout by Shaggy Wagon Pte Ltd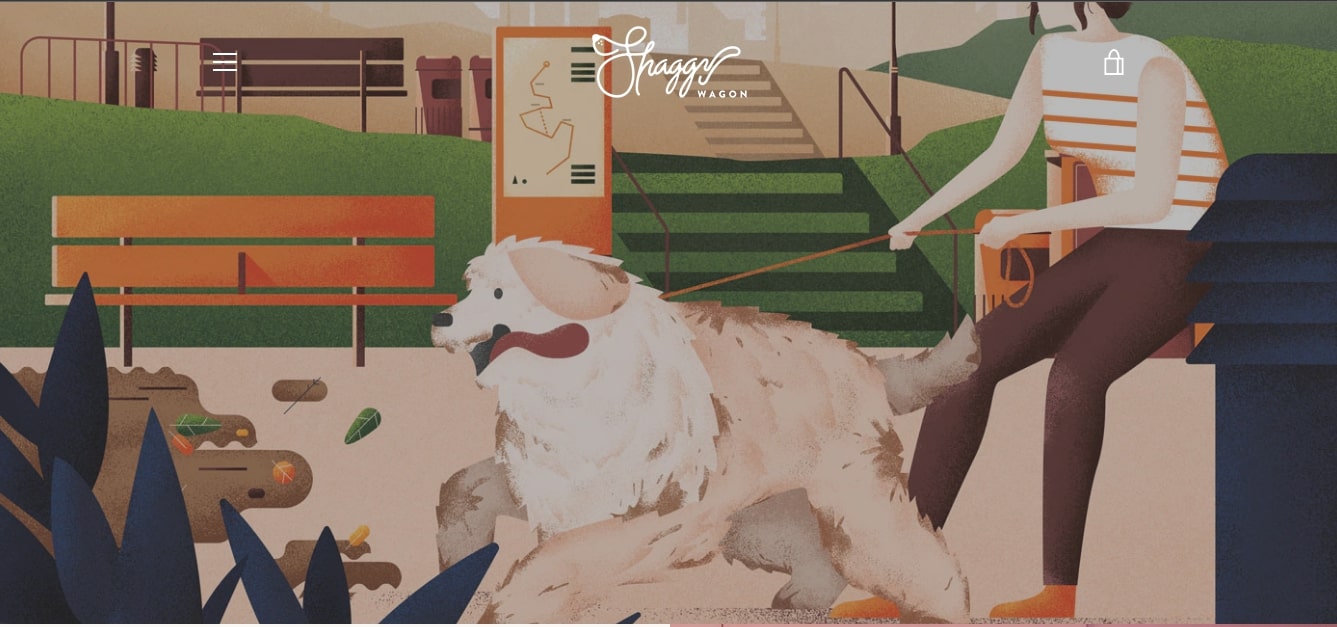 Shaggy Wagon is a mobile salon that provides full-time care for dogs from grooming to a daycare wherein clients can leave their furry friends with them should they have a tight schedule. Founded by 3 friends, their salon is especially geared to accommodate the busy schedule of clients and deliver equally stellar grooming and spa services for dogs.
We find it impressive that in their shop, they have the animals roam free and interact with their team before starting a session. This is so that your fur babies will be more comfortable with the grooming process.
They also make it a point to handle pets differently and cater to each one individually based on what is suited and better for them. One can even say that they treat them as they do their own children.
What we find impressive is that they are a mobility feature is able to accommodate both grooming and daycare services that with rates ranging from only $10-$20 per way anywhere in their area of scope in Singapore.
Another thing we find commendable is their online shop that can offer clients a wide variety of dog products that is able to resolve common issues such as anti-odor products, flea repellants, and health supplements among many others.
The products they use is even organic, specifically Oh My Swag by Spina Organics from the USA.
The rates for all of their services along with add-ons are readily available at their website and a highly inclusive package from that of basic grooming to full grooming as well.
However, despite the positive reviews regarding accommodating staff and efficient grooming, security and individual grooming services could be improved in order to avoid future complaints regarding injuries and the like.
Highlights
Flexible scheduling
Quality food options at their shop
Comprehensive grooming packages
Customer Reviews
Here are some reviews from their clients:
"Our dogs love grooming at Shaggy Wagon! The owner is very professional and kind. She makes extra effort for all the dogs at the shop and is always there. The dogs are always excited to go for grooming and always come back with a smile!"
"Fantastic service. First time there and it exceeded our expectations. Environment was clean and everyone was friendly and helpful. Will visit again. Highly recommended!"
And that's it for our list of pet salons that offer the best dog grooming in Singapore. If you've been to any of these in the past, share with us your experience in the comments!
If you ever need someone to look after your dog while you're away, we recommend checking out our list of the best pet sitters in Singapore. Our list features some of the best and most trusted pet sitters on the island.