The 14 Options for the Best Cat Grooming in Singapore
If it's been a while since your cat was last groomed and cleaned up, then maybe now's the right time to bring them to a pet salon that offers the best cat grooming in Singapore. Cats don't need regular grooming as much as dogs, but it doesn't mean they don't deserve the best treatment.
For pet owners who don't know where to find pet salons with the best cat grooming in Singapore, we have you covered! We combed through the island and asked pet owners in search of pet grooming parlors that know how to deal with cats of all shapes and sizes.
Anyway, here are our picks. Check them out below to see which one offers the services needed by your precious cats.
1. Hanis The Groomer
| | |
| --- | --- |
| BEST FOR | Different types of fur cuts |
| SERVICES | Trim short, trim neat, comb cut, lion cut, and bear cut |
| WEBSITE | http://www.hanisthegroomer.com/ |
| ADDRESS | 162 Joo Chiat Rd, #03-01, Singapore 427437 |
| CONTACT DETAILS | +65 9100 1737 |
| OPERATING HOURS | Monday – Friday: 10:00 AM – 8:00 PM |
If you're looking for a pet salon that offers a wide range of grooming services, then look no further than Hanis The Groomer. It's among the few pet salons on the island that specialise in cat grooming.
Some of the types of furcuts offered by Hanis The Groomer are customised shaving, trim short, comb cut, lion cut, and bear cut. If you've always wanted your cat to sport a different look, then Hanis The Groomer can definitely help out!
Hanis The Groomer's grooming packages include nail cutting, sanitary butt shave, triple shampoo, chin cleaning, ear cleaning, and full comb-out, among others. This is why we consider it as one of the top pet salons with the best cat grooming in Singapore.
Highlights
Trained groomers
All cat breeds are welcomed
Customer Reviews
Hanis The Groomer has over 250 positive feedback from pet owners. Here are some of them:
"It's been close to 2 years now.. & engaging groomers Hanis & Saffri (together with the rest of the team) has been the best decision we as a family have made. Still as professional, still as brilliant today. Amazing people with tons of experience who take pride in providing you & your feline companions tip-top service. Our cats come home visibly pampered & at ease after every visit"
"Definite 5 stars review for the Hanis the Groomer team. We had left both our fur babies with them and stayed throughout the session as our cats had motion sickness during the car ride. Despite it being the first grooming session for one of our cats, the team took great care in babying and ensuring that our kitten wasn't startled by this new experience. The end product was great and our cats look fresh, trimmed and handsome."
2. The Precious Pets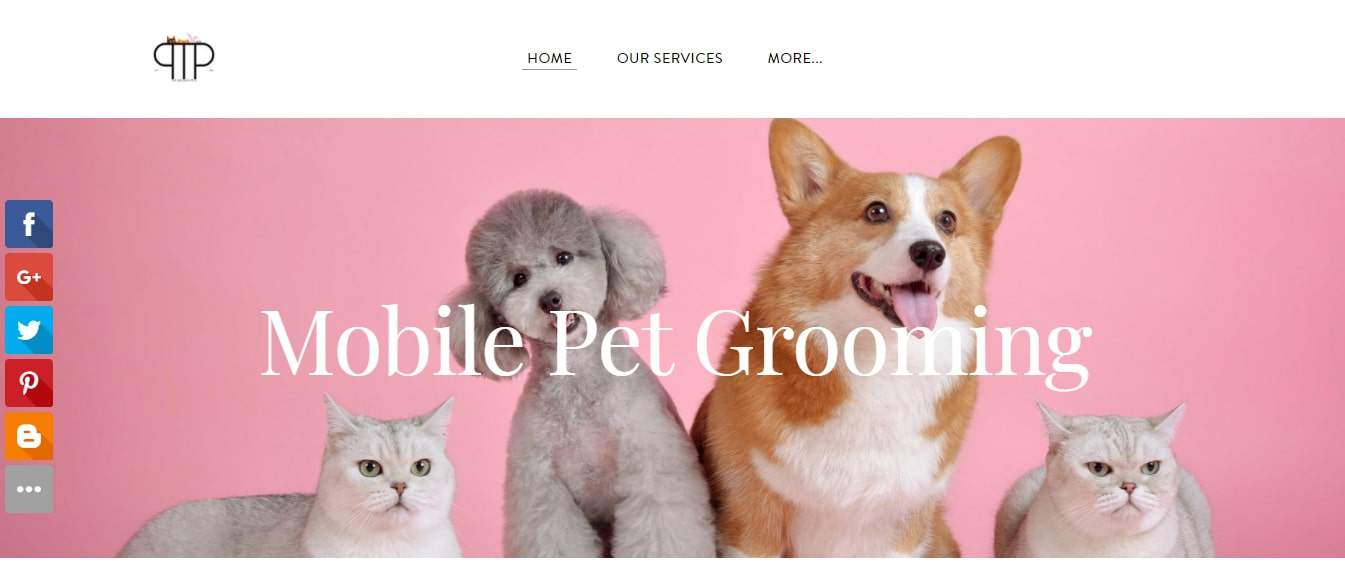 | | |
| --- | --- |
| BEST FOR | Mobile services |
| SERVICES | Cat grooming, dog grooming, rabbit grooming, guinea pig grooming, and pet bath |
| WEBSITE | https://www.thepreciouspets.com/ |
| ADDRESS | Singapore |
| CONTACT DETAILS | +65 9697 3337 |
| OPERATING HOURS | Monday – Friday: 10:00 AM – 8:00 PM |
Another option that busy pet owners can consider is The Precious Pets. It's a certified and trusted pet salon that offers island-wide home grooming services to all breeds of cats, dogs, rabbits, and even guinea pigs.
The Precious Pets can also provide the perfect solution for pets suffering from separation anxiety when their owners are away. You won't have to worry about your cats giving the groomer a hard time anymore.
Speaking of groomers, The Precious Pets boasts a team of professionally-trained and experienced pet groomers, so rest assured that your cats will be in capable hands.
Highlights
Home services
Professional groomers
Quick booking of appointment
Customer Reviews
Take a look at some comments proving that The Precious Pets truly offers the best cat grooming in Singapore:
"I'm more than happy to pay for this premium doorstep grooming service! Groomer was on time, very courteous and polite. Knows how to handle my 2 pampered dogs and gave them a very neat and cute haircut! We will continue to use your dedicated service and we hope to have the same groomer that was assigned to us before to come again on all our grooming appointments. Highly recommended to all pet owners out there!"
"You have an awesome groomer! We like his confidence in handling our difficult and timid dog. Not many groomers can do a good job like him. Really appreciate his long hours spent on our dog and not even charging us extra. Definitely a dog lover and is professional in his work! See you guys again in 6 weeks time! Cheers!"
3. Nekomori Cat Grooming Salon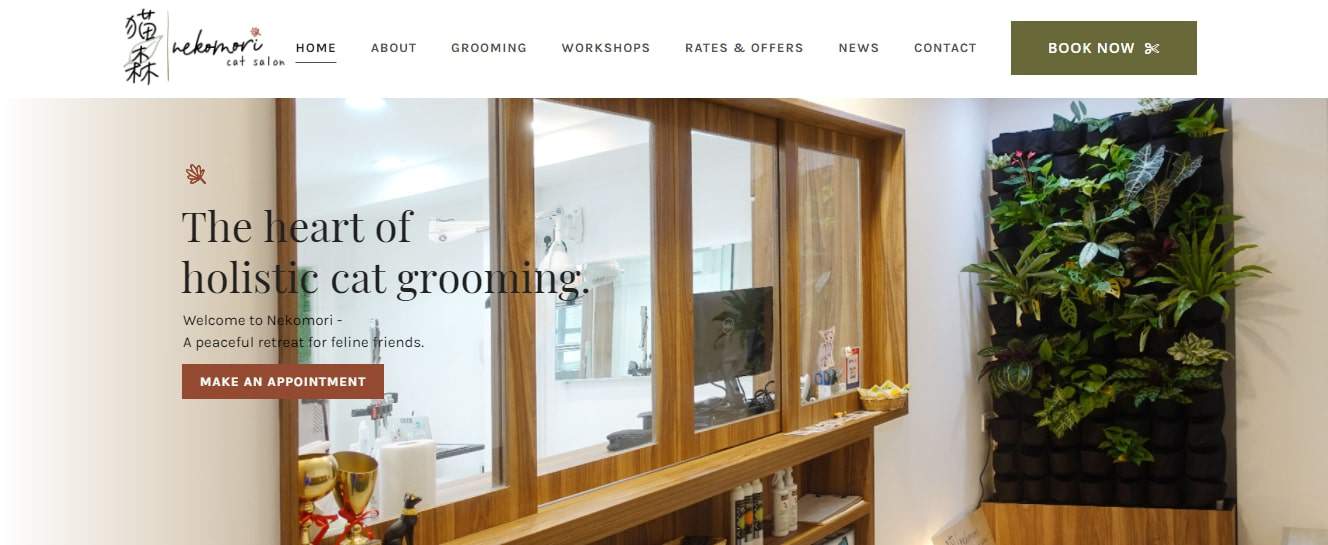 | | |
| --- | --- |
| BEST FOR | Holistic cat grooming |
| SERVICES | Cat grooming and spa treatments |
| WEBSITE | https://nekomori.co/ |
| ADDRESS | 59A Kampong Bahru Rd, #02-02, Singapore 169367 |
| CONTACT DETAILS | +65 6996 7908 |
| OPERATING HOURS | Monday – Friday: 11:00 AM – 7:00 PM |
Nekomori Cat Grooming Salon is considered as Singapore's first holistic grooming establishment for every cat breed. It aims to provide cats not only comprehensive grooming services but also a relaxing experience through its spa treatments.
If there's anything that makes Nekomori Cat Grooming Salon stand out from other pet salons, it'd have to be its safe and hygienic spaces. Its groomers will help cats feel rejuvenated, refreshed, and completely at ease.
What's more, it has a team of trained, seasoned cat handlers who will make sure that every cat receives the type of treatment they deserve.
Highlights
Spa treatments
Safe and hygienic establishment
Seasoned cat handlers
Customer Reviews
Take a look at some feedback shared by pet owners on Google Reviews:
"Muri (My cat) has had about 3-4 cuts with Nekomori! The artisans (both male and female) are very friendly. To the point they can even notice when I got a new carrier for Muri. Their cuts are impeccable. My cat comes home looking like perfectly sheared sheep and feeling like velvet. On top of it all, my cat doesn't feel too stressed! The artisans keep her as comfortable as they can and are very gentle. Muri is able to strut around the front desk of the shop with her tail held high when I come by to fetch her from her grooming session."
"Highly recommend this cat salon.. very professional Artisans who not only make the pet parents comfortable, our little cat also behaves well and calm during the whole process. I am very happy with them and will definitely go back again. On top of the good services, the salon is exceptionally clean and neat. Smell nice too."
4. Surrpaws Pet Grooming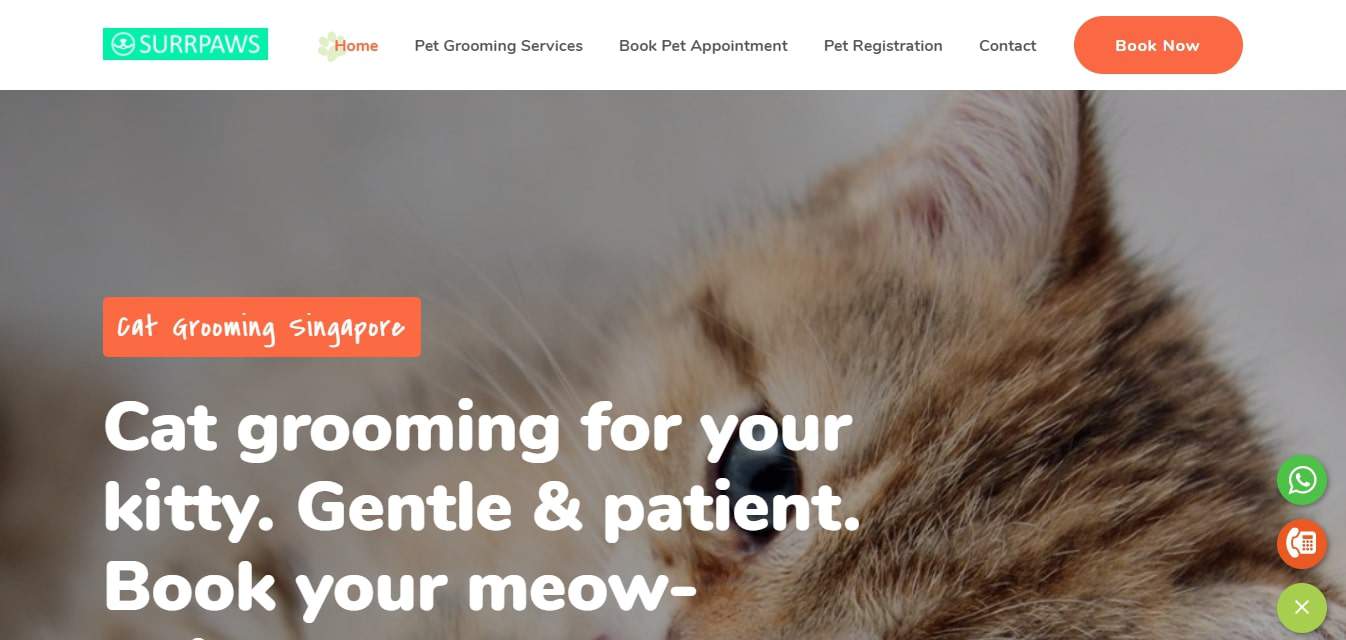 | | |
| --- | --- |
| BEST FOR | Experienced pet groomers |
| SERVICES | Cat grooming, dog grooming, pet dental care, and pet medical check ups |
| WEBSITE | https://surrpaws.com/ |
| ADDRESS | Kensingston Square, 2 Jln Lokam, #01-21, Singapore 537846 |
| CONTACT DETAILS | +65 8845 7183 |
| OPERATING HOURS | Monday – Friday: 10:00 AM – 7:00 PM |
For pet owners searching for a pet salon that offers everything that your cat might need, we recommend taking a look at Surrpaws Pet Grooming. It's a trusted pet salon that aims to provide everything your pet needs–from grooming down to medical checkups.
The staff behind Surrpaws Pet Grooming is no joke. It employs a large team of experienced and competent pet groomers and veterinarians as well.
If you have extra time to kill after having your cat cleaned up, you may opt for a consultation with its veterinarians to know the current health status of your cat.
Highlights
Trained groomers
Seasoned veterinarians
Easy booking of services
Customer Reviews
As one of the top salons for the best cat grooming in Singapore, Surrpaws Pet Grooming has received countless praise from pet owners. Here's what some of them had to say:
"Ms Paige did a wonderful job with grooming our furboy. She's gentle with him and its amazing to see how our cat is so calm with her. His ears and teeth are all cleaned up, nails cut, nicely shaved and smells good. Full grooming with reasonable price."
"Very satisfied and highly recommended. Groomer is experienced and professional. Brought my rescued cat for grooming and was surprised by how tame she was, very different from how she behaved at the previous grooming place."
5. PetAugust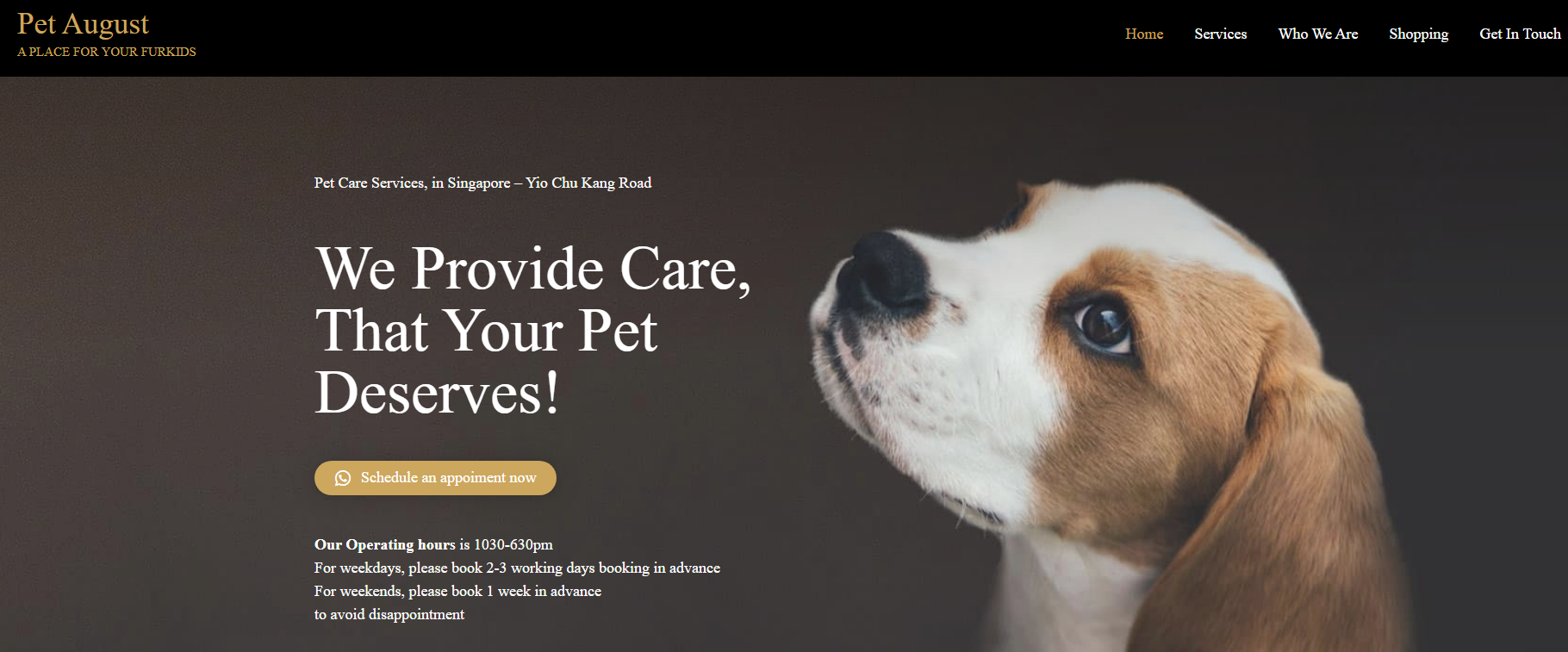 BEST FOR

Pet Boarding

PRICING

Starts at $48

WEBSITE
http://www.petaugust.sg/
ADDRESS

52 Jalan Limbok. S(548731)

*We are located at Yio Chu Kang Road, near Serangoon garden side.

CONTACT DETAILS
[email protected]

90639457

OPERATING HOURS

10.30 am-7 pm (Daily)

Public Holiday (Appointment Only)
Pet August offers pet sitting, daycare, grooming, and many more services for you and your fur babies to enjoy. They have a mini playground where your pets could move around and drain their energies.
Since grooming is a great way to make sure that your pet is in the best condition, they offer different packages for pet grooming. Come and visit their shop and treat your fur babies.
Highlights
Sincere staff

Warm place

Good groomer
Customer Reviews
Here's a review from one of Pet August's clients:
"It's our first time boarding our little Lexie for 8days 7night. We recce many many places and felt the most at ease with Pet August. The staff here are really sincere and genuine. I could tell their genuine love for animals. Being away for so long away from Lexie, naturally we felt very very anxious. But they sent frequent updates, videos and photos. And they were extremely patient with our long list of questions and requests. Also have them to groom her and she came home smelling great and looking cheerful. She must have had so much fun looking at her sound asleep with a smile on her face… thank you Shinny, Vinna and all the staff and little ones like sunshine and ice for giving her so much love and joy. Definitely gona bring Lexie back every now and then for day care or boarding or grooming:) very satisfied little Lexie and paw-rents. :)" – Lau Belle Lifeng
Here's another one:
"Friendly. Trusted place to groom my dog. :)" – Recovery Cxvpher
6. Petronize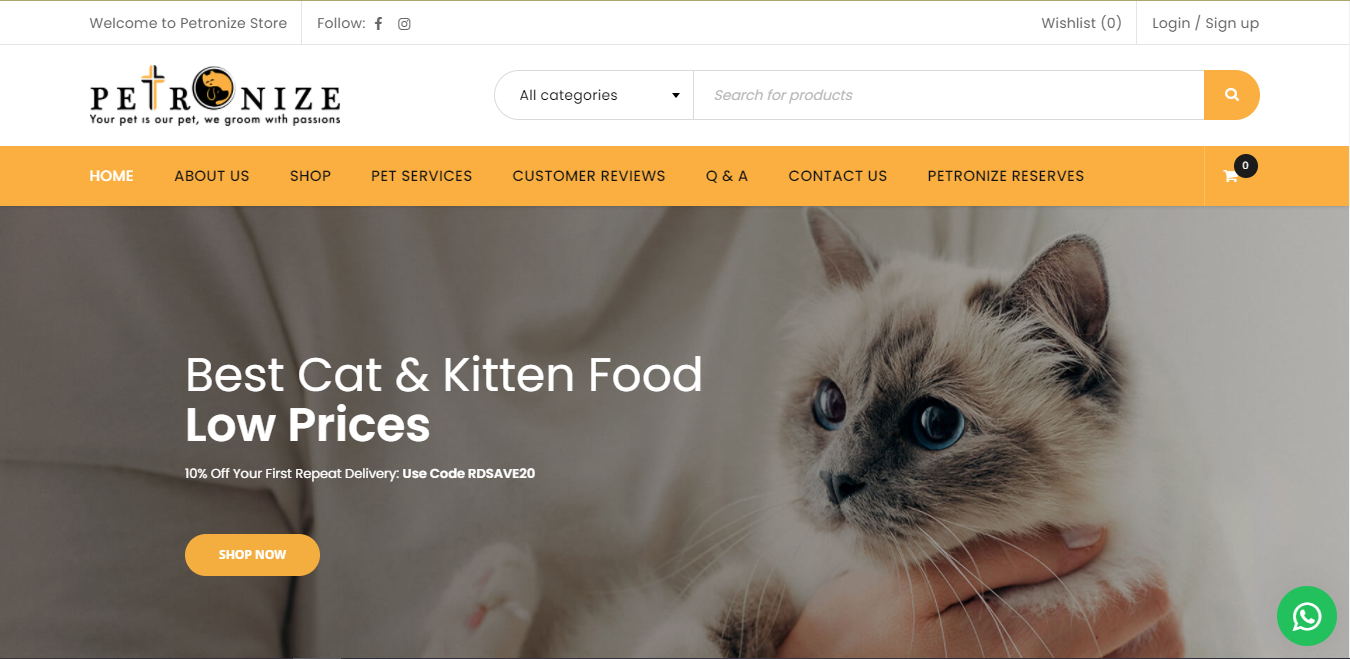 | | |
| --- | --- |
| BEST FOR | Grooming including bathing |
| PRICING | Contact for more info |
| WEBSITE | |
| ADDRESS | 18 Upper Boon Keng Rd, #01-1135, Singapore 380018 |
| CONTACT DETAILS | +65 9871 7593 |
| OPERATING HOURS | Monday to Sunday: 10am–6pm |
Whether it may be grooming or boarding, Petronize is an expert in everything your pet needs. They offer grooming services such as groooming complete with bathing for cats.
Additionally, Petronize's facilities include a daycare centre for your pet to relax and socialize with other pets while you're out.
Besides, you can also buy essentials such as food and vitamins, and accessories, at their store. They also sell glass cages and travel bags for rabbits, tortoises, and other small pets.
Highlights
Pet grooming, sitting, and boarding services

Full grooming without bathing

Services for dogs, cats, rabbits, and other small animals

Pet food, accessories, and cages
Customer Reviews
Read these reviews to know about how you and your pet cat may benefit from Petronize's services:
"A very pleasant experience. The staff is friendly and helpful too. I will definitely use their service again. My cat was groomed well and he did look very happy too :D"—Suyash Shukla
"Very friendly staffs! It was a great experience as they made my cat felt at ease at all time! Was expecting my cat to react agressively but she was calm throughout!! Very professional! will definitely come back again!!!"—Shafiqah Rashid
7. Pet Lovers Centre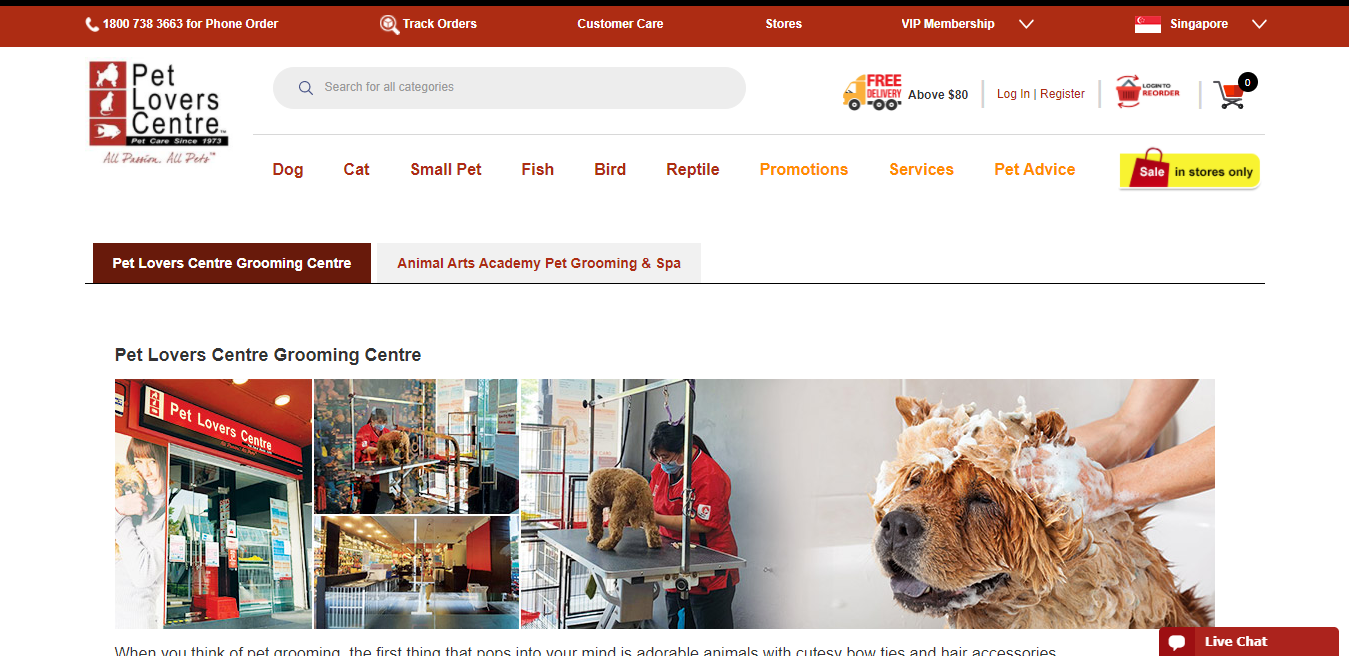 | | |
| --- | --- |
| BEST FOR | Accessible locations |
| PRICING | |
| WEBSITE | |
| ADDRESS | 494 Changi Rd, Singapore 419903 |
| CONTACT DETAILS | +65 6449 2436 |
| OPERATING HOURS | Monday to Sunday: 10.00am – 10.00pm |
Pet Lovers Centre is one of the biggest online shops for food and accessories that your cats, dogs, reptiles, and other domesticated animals need. They even have four nurseries for puppies and kittens.
Additionally, Pet Lovers Centre also has 13 branches around the city offering pet services. These services include grooming, boarding, and veterinary care.
Their basic cat grooming package includes nail clipping, ear cleaning, fur shaving, conditioning, and brushing. To further groom your car, you can also avail of Pet Lovers Centre's hair styling services.
Highlights
13 grooming salons in Singapore

Hairstyling, brushing, conditioning in basic cat grooming package

Nail clipping, ear cleaning, and dental services

Kitten nursery
Customer Reviews
A customer wrote this review about Pet Lovers Centre's services and customer care:
"I would love to recommend PLC in Simpang Bedok branch as they have a very friendly staffs. They take their time to listen and do their best to educate and share their knowledge according to pet owner's need. I can see the dedication, respect and professionalism to all of the staff. They have a wide selections of items and have grooming services too! Petlovers Centre can really compete internationally.I definitely won't hesitate to do business with them again."
8. Pawrus
Pawrus offers a full range of pet care and training services and this includes their best cat grooming services in Singapore! Jasline, the head of the team, boasts a handful of awards and certifications. Not only that, but she has years of experience under her belt when it comes to grooming and training.
It doesn't matter if you're looking for a full groom for your Furkid, or just A la carte services, Pawrus will make sure that they come out looking (and smelling) better than they did before.
Highlights
Offers housecall services
Various grooming pacakages available
9. Fur & Away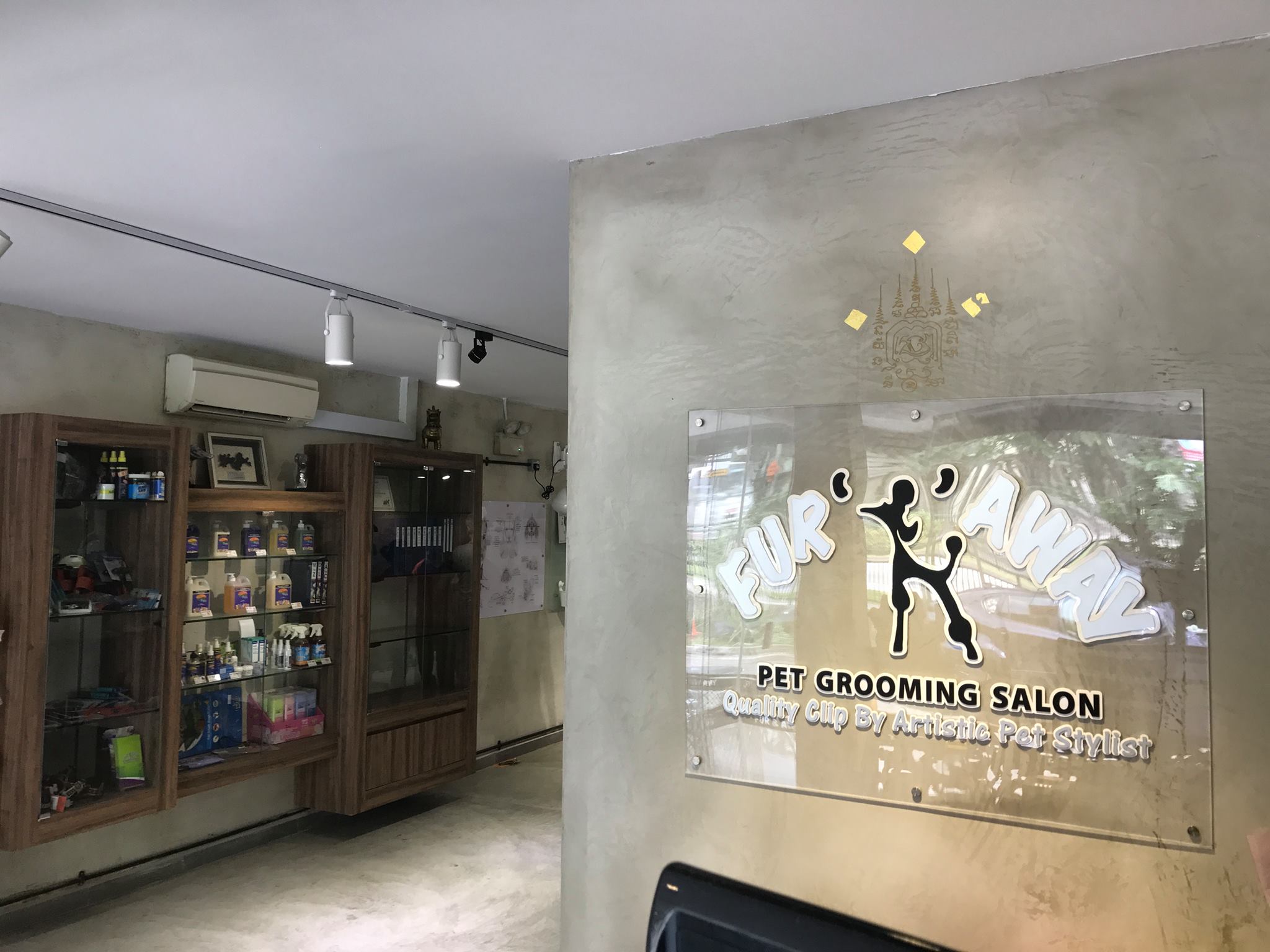 Fur & Away considers each pet as part of the family, which is why they go above and beyond when providing pet care, be it grooming or boarding.
In terms of grooming, guests have a wide array of packages to choose from, ranging from the full grooming service to something as simple as de-ticking and de-matting. Fur & Away also has professional stylists on board, so don't be afraid to approach them for any concerns that may affect your Furkid while undergoing grooming.
Highlights
Floor to ceiling glass walls.
Fully equipped, top quality grooming equipment.
Confident Certified Professional Stylists.
Consultants on skin problems.
In-house use of Plush Puppy Products.
Grooming Packages.
10. Pet Pat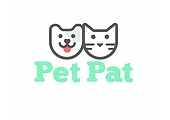 | | |
| --- | --- |
| BEST FOR | Stress-free Grooming Experience |
| PRICING | Starts at $48 |
| WEBSITE | https://www.petpat.org/ |
| ADDRESS | 183 Jin Pelikat, B1-62 The Promenade, Singapore 537643 |
| CONTACT DETAILS | +65 8434 3224 |
| OPERATING HOURS | Wednesday to Friday (11am to 6pm), Saturday (11am to 8pm), and Sunday (11am to 5pm) |
When it comes to choosing a pet grooming salon for your cat, Pet Pat is definitely one of the best picks! They pledge to only use premium-grade shampoo to make sure that your cat will have asoft and healthy fur.
They do not restrain or put the cats in cages, so rest assured that they can provide your cat a stress-free experience from start to finish. They're simply one of the best, with their outstanding services partnered with high quality products that are all good for your cat.
You can always count on them when it comes to thorough attention and care that your cat deserves. Book an appointment now and become one of their many fulfilled clients!
Highlights
High quality cat products
Friendly and accommodating staffs
Certified Cat Stylist
Customer Reviews
The staff of Pet Pat are said to be very friendly and efficient. Here are some compliments that Pet Pat has received:
"Thank you @petpatgrooming.sg for helping me with my matted fur that's been hurting me for some timr. i look handsome again." – Muffmeow
"Thank you Jen for making my lovely baby a gorgeous handsome cat now! He is so neat! I will come back again!" — Ann
11. Furkids Home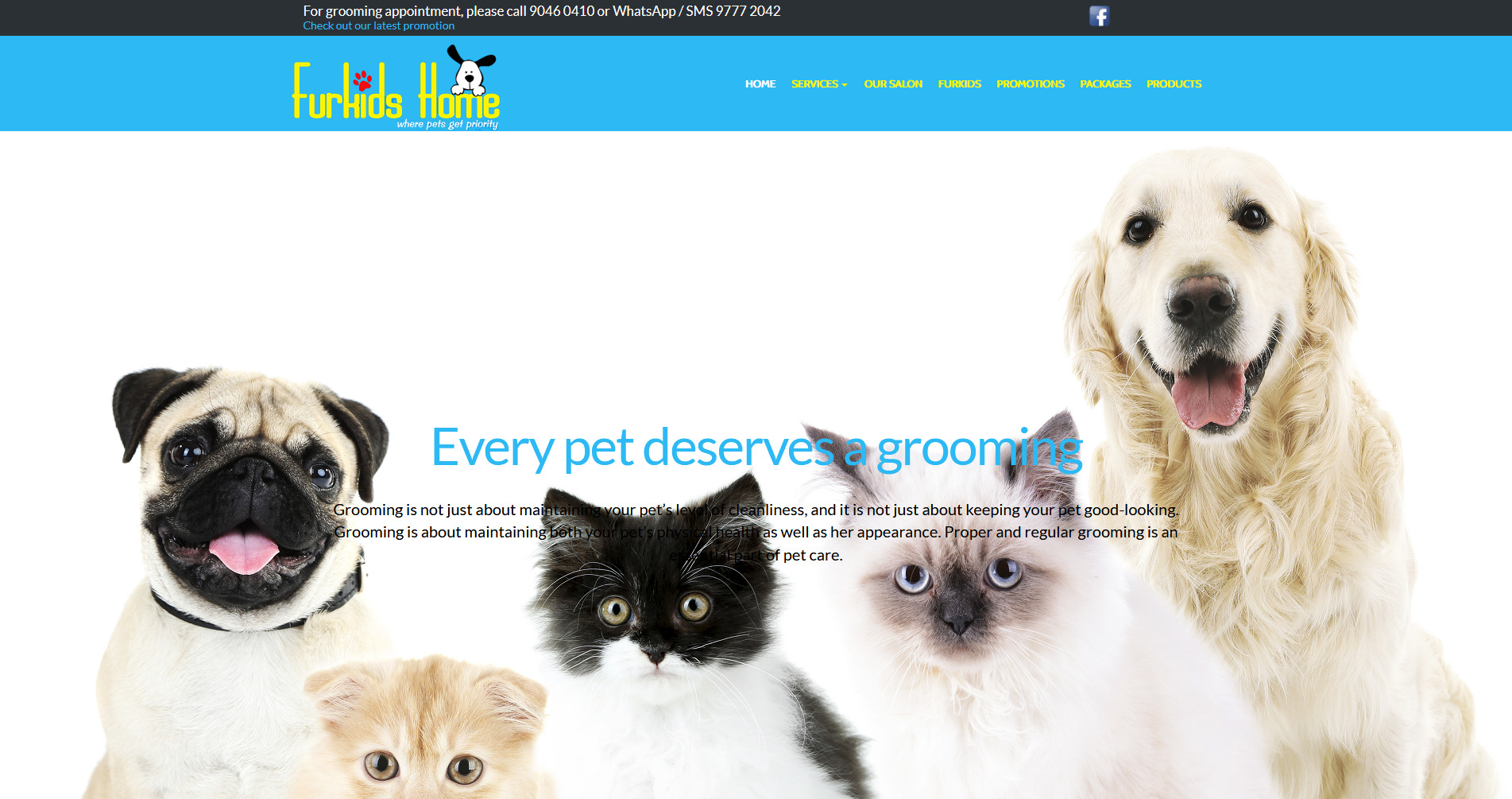 Furkids Home believes that every pet has the right to quality and compassionate grooming. The expert team at Furkids Home takes the time to meet with every client to thoroughly discuss whatever the pet may need.
Clients have a wide array of grooming services to choose from, too. From a basic grooming to a full-on spa day, Furkids Home guarantees that pets will come out looking and smelling better as they did going in.
Highlights
Personalised grooming services
Humane dematting services
12. Likeable Pets

BEST FOR
Home grooming services
SERVICES
Cat grooming, dog grooming, and rabbit grooming
WEBSITE
https://www.likeablepets.com.sg/
ADDRESS
Singapore
CONTACT DETAILS
+65 8685 2360 |

[email protected]

OPERATING HOURS
Monday – Friday: 10:00 AM – 4:00 PM
Likeable Pets is a great match for pet owners who have no time to personally drop off their pets to the nearest pet salon. It offers island-wide home grooming and mobile grooming services.
With more than 6 years of experience under its belt, it's groomed thousands of cats, dogs, and rabbits. In fact, it's managed to build a strong clientele of pet owners from every corner of the island, proving that it offers the best cat grooming in Singapore.
Likeable Pets understands that not all pets are the same–some are aggressive, while some are more friendly. Regardless, it promises that all pets will receive the same level of treatment and care from its team of experienced pet groomers.
Highlights
House-call pet grooming
Experienced groomers
6 years of experience
Customer Reviews
Here are some comments shared by pet owners about their experience with Likeable Pets:
"I had a fantastic experience with Likeable Pets. It was easy to set up the appointment via text message (the customer service was friendly and thoughtful) and the convenience of having a mobile service meant I didn't have to bring two finicky cats in a taxi to their location. Pamela, the groomer, was professional, friendly, and polite. Most importantly, she was gentle with my cats even when they weren't too gentle with her in return"
"Pamela did a fantastic job, my naughty cats who have never been groomed before were treated gently but firmly by her. She did her task fast and well, had both cats under control. She also gave me tips on daily grooming of the cats. Highly professional. Convenient to book slots and make payment."
13. Loving Pets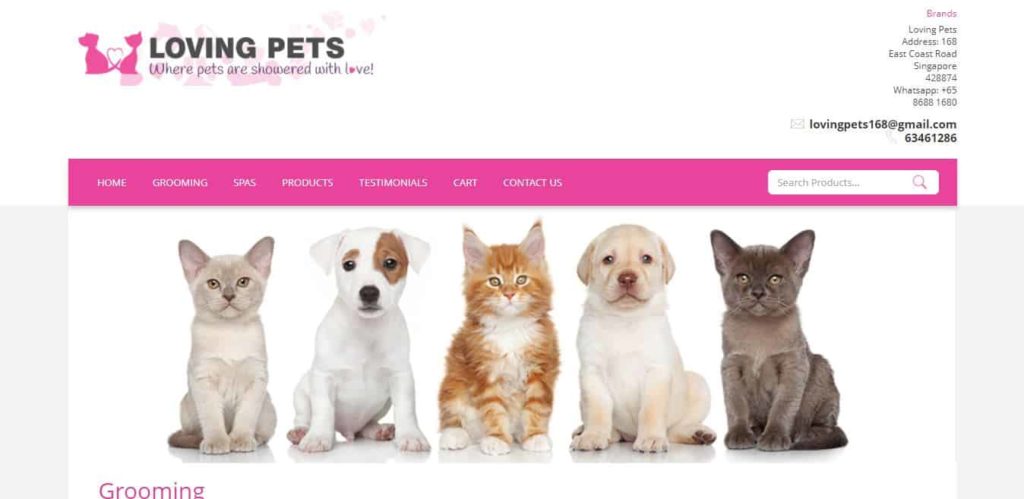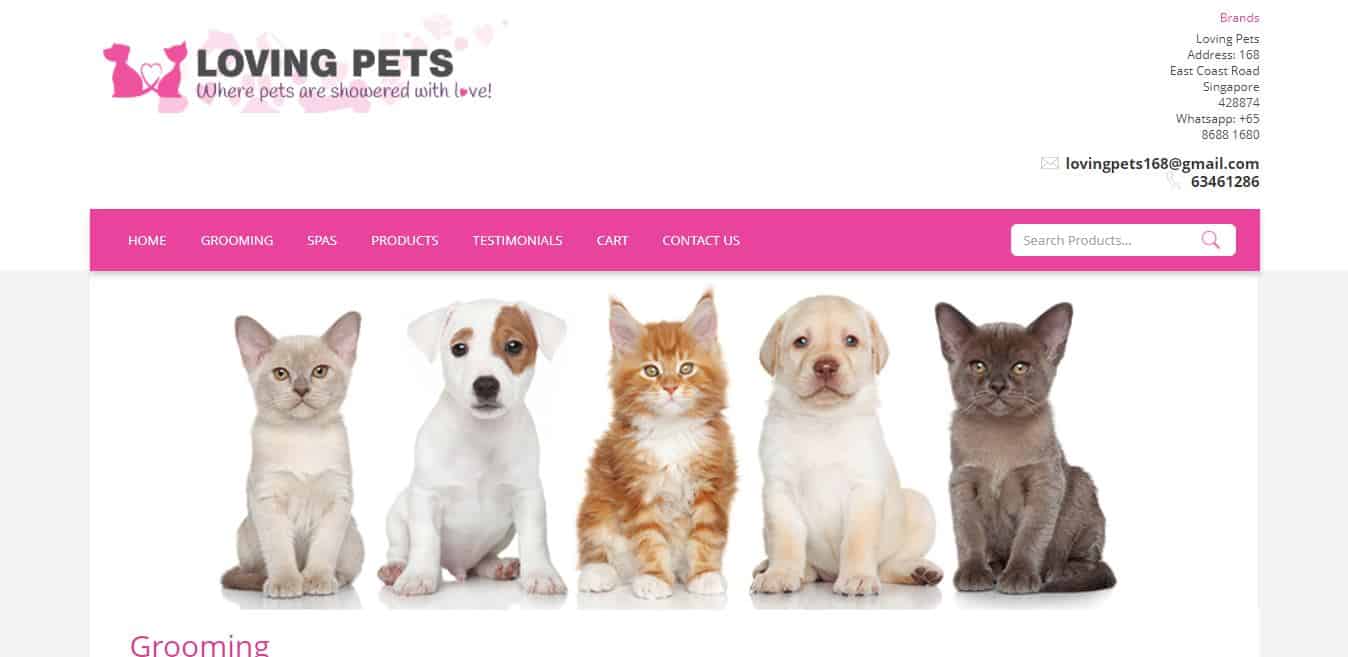 | | |
| --- | --- |
| SERVICES | Simple baths, grooming, mud baths |
| WEBSITE | https://lovingpets.com.sg/ |
| ADDRESS | 168 E Coast Rd, Singapore 428874 |
| CONTACT DETAILS | +65 6346 1286 |
| OPERATING HOURS | Tuesday – Sunday: 12:30 PM – 9:00 PM |
Loving Pets calls itself the pet groomer in the East Coast and Katong. It also takes pride in its reasonable and affordable costs, with its full cat grooming services ranging from around $80–$90.
It uses nothing but herbal and organic products for services like basic baths, full grooming, mud masks, and skin healing treatments. This way, it can cater even to pets with sensitive skin.
Loving Pets treats each cat and dog like they're their very own fur friends, so pet owners can trust that their pets are in good hands. To allow pet owners to watch and monitor their pets during the grooming process, Loving Pets' grooming rooms have surveillance cameras and see-through glass panels.
To maintain your pet's grooming outcomes, you can also buy products from the Loving Pets online store. The shop even does free delivery anywhere in Singapore for orders reaching a minimum of $80.
Loving Pets is even open up to 9 PM on most days—even public holidays, a feature we think is especially beneficial for those with busy work schedules.
However, booking an appointment can be a bit of a hassle, especially since you can only schedule appointments by calling the pet spa.
Highlights
Late closing hours, even on holidays
Surveillance cameras and glass panels for monitoring in the grooming room
Affordable grooming services
Herbal and green grooming products
Free delivery for pet orders above $80
Customer Reviews
Read these reviews to know what to expect should you choose to visit Loving Pets for your cat grooming needs.
"Switched over to this place after having a disappointing experience with a different grooming salon. Loving pets is very caring, professional and the pricing extremely reasonable for a full grooming session."—Loereme Jacob
"I've been a customer of Loving Pets for 14 years, and have had 6 dogs and 4 cats over this period of time, all rescues. Owner Jane, her mum, Serene and the team of groomers truly care for, and are knowledgeable about animals. I am particular about what I feed my furbies, and Jane goes out of her way to research what is suitable. She even stops me from buying some products when she believes they won't be beneficial. When she does not carry certain products, she takes the trouble to help me source for them. Owning rescues often comes with its set of challenges. I always have a listening ear and good advice when I consult Jane for help with certain issues. When it comes to grooming for my dogs, the team is very careful, use premium products, and give them such star treatment that my dogs love going to see their friends. Any issues of concern that require a vet's attention are highlighted, something I deeply appreciate as I miss the signs sometimes. I always recommend Loving Pets to anyone who is looking for a reliable partner for their pet's health as they truly live up to their name. Thanks, Loving Pets!"—Bernie
14. Awesome Pawsome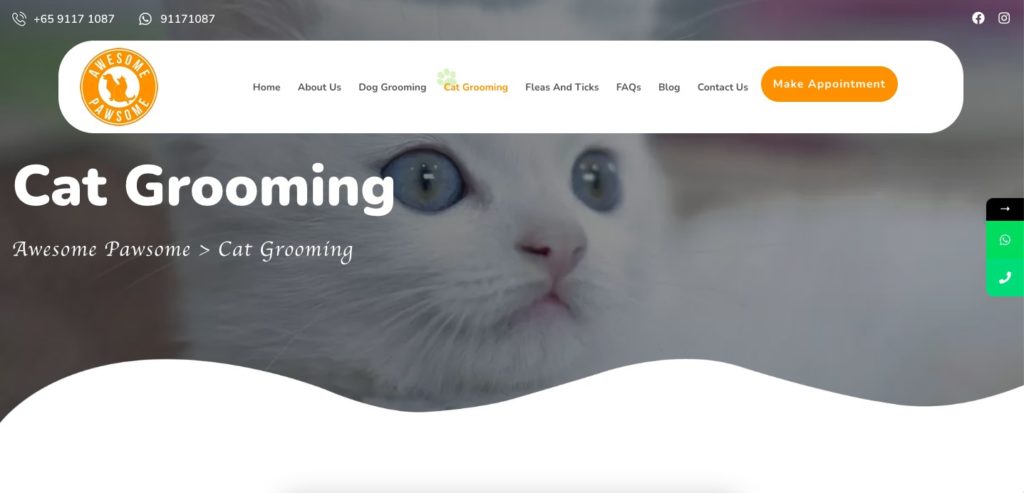 SERVICES
Home Services for Basic and Full Grooming
WEBSITE
awesomepawsome.sg/cat-grooming/
ADDRESS
Contact for more information
CONTACT DETAILS
Phone : (+65) 91171087
WhatsApp: (+65) 91171087
OPERATING HOURS
Mon – Sat: 9 am – 5 pm
Awesome Pawsome is a professional and premium mobile house-call pet grooming that services the entire island of Singapore.
It was voted as the #1 cat grooming in the country—and with good reason. They offer you convenience by accommodating your schedule so you don't have to wait too long, they help reduce stress-inducing factors for your pets since they don't have to leave the comfort of your home, and their home service reduces overall risks.
Since pet grooming is an art, their groomers all have notable experience and have undergone training at pet grooming schools. They're professionals, so you don't have to worry about your pets!
They offer basic grooming for short fur and long fur cats. This includes nail clipping & filing, ears and eyes cleaning, shaving of belly, underpaw & sanitary areas, bath & blow dry, and comb out.
Their full grooming package includes everything in the basic package plus the choice of de-shedding, comb out, lion cut, or shave down. They also have de-ticking/de-flea treatment available.
If you want to avail of their service, just make sure to call 3-7 days ahead to ensure that you have a slot.
Highlights
Groomers with credentials
Basic and full grooming packages
De-ticking/de-flea treatment
Book 3-7 days ahead
Customer Reviews
"Daniel and his team are always the best at tending to my two fussy cats who dislikes bath time. They are so calm and efficient that my cats feel so much better after their grooming session. The best part is we get to do it at the comfort of our own home. Thank you so much! 100% recommend!"
"Super excellent! I asked them to groom my cat at least 5 times already so far, my cat is very skittish when it comes to vet visits and grooming so i prefer to do it at home. Thus having found them, it's been a true joy to us. My cat is always relaxed and pampered throughout the grooming session. Good job!! 👍"
And with that, we conclude our list of pet salons that offer the best cat grooming in Singapore.
Have you already decided which one to go with? Tell us about it in the comments below!
By the way, if you're going out of town soon and need someone to look after your cat, you might want to take a look at our list of the best cat boarding in Singapore. With these services, you can rest assured that your cats will be in capable hands while you're away.