The 7 Best Serviced Apartments in Singapore: 2021 Picks
If you're looking for a temporary place to live in — whether because you're still seeking permanent lodgings or because you're only in the country temporarily — serviced apartments in Singapore offer a nice option. With a serviced apartment, you get the perks of both private apartment living and hotel stays!
Fortunately, service apartments in Singapore have been getting more popular over the years. As such, there are now a lot of choices available for interested lodgers.
We took a look at the highest-rated Singapore serviced apartments and compared them to each other. Afterwards, we ended up with a list of the best ones, which we'll show you below:
1. Far East Hospitality
| | |
| --- | --- |
| BEST FOR  | Selected deals for business and personal purposes |
| SERVICES | https://www.stayfareast.com/en/Serviced-Residences |
| WEBSITE | https://www.stayfareast.com/ |
| ADDRESS | https://www.stayfareast.com/en/serviced-residences |
| CONTACT DETAILS | 65 6428 8600 |
Far East Hospitality has serviced residences in different locations, so it should be easy for you to find the one that is nearest your work or the heart of the city.
Each location has its perks. They prioritise the needs of their visitors and have well-curated deals that will suit your agenda during your stay.
Each unit has the essentials and all the usual modern appliances and technology needed for a convenient living experience. Their amenities include a swimming pool, wine cellar, gymnasium, and other facilities.
Overall, if you're looking for service apartments in Singapore that has locations scattered throughout the island, Far East Hospitality may be one of the best options for you. 
Service Highlights
Discounted promotions
Casual, comfortable, and modern ambience
Concierge
Customer Reviews
Far East Hospitality has made it possible for many tourists to have a hassle-free trip and enjoy the beauty of Singapore. A reviewer expressed some gratitude towards their services and wrote this on Trip Advisor:
"We stayed here with our children in a lovely spacious family room with bunk beds. The room was furnished nicely, clean, and very spacious. Beds very firm but comfortable. Good air conditioning. Big balcony overlooking Orchard Road. Free bottles of water replaced daily. Good location at the end of Orchard Road, a 5 to 10 min walk to Orchard MRT station and shops. Lovely helpful staff and a special mention to Jonathan at reception for helping us out and nothing was too much trouble, very polite young man. Thank you for a lovely stay for our family holiday." 
2. Figment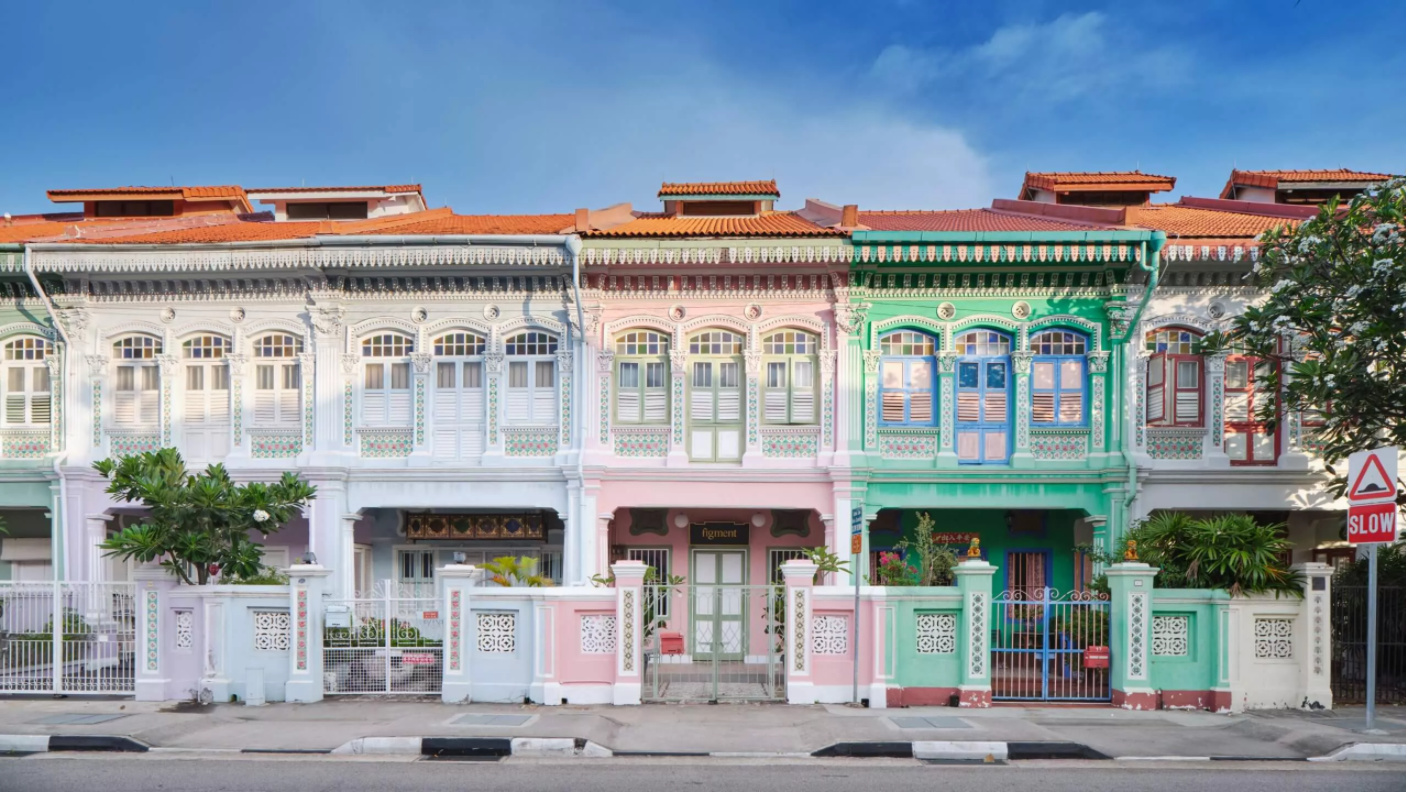 | | |
| --- | --- |
| BEST FOR | Boutique rental homes |
| SERVICES | https://www.figment.live/houses/ |
| WEBSITE | https://www.figment.live/ |
| ADDRESS | 36 Petain Road Singapore, Singapore 208102 |
| CONTACT DETAILS | [email protected] |
| OPERATING HOURS | Monday to Sunday 8am to 8pm |
If you want to get a service apartment in Singapore that will give you a feel of being part of a community and neighbourhood, take a look at Figment.
Figment is the premier choice if you're looking for high-quality serviced apartments in Singapore. The company has been praised constantly in local spaces for providing a list of boutique properties located in the trendiest neighbourhoods.
Aside from the amazing locations, there's also the lease to talk about. With Figment, you won't have to worry about entering an agreement that's too long, too short, or too expensive for your tastes. This is because Figment offers flexible leases to all of their clients.
While leasing any of the properties on Figment, you'll also gain access to the company's top-notch amenities that complete the overall experience of staying in a serviced apartment in Singapore.
Service Highlights
Amazing amenities
Diverse selection of properties
Flexible leases
3. MetroResidences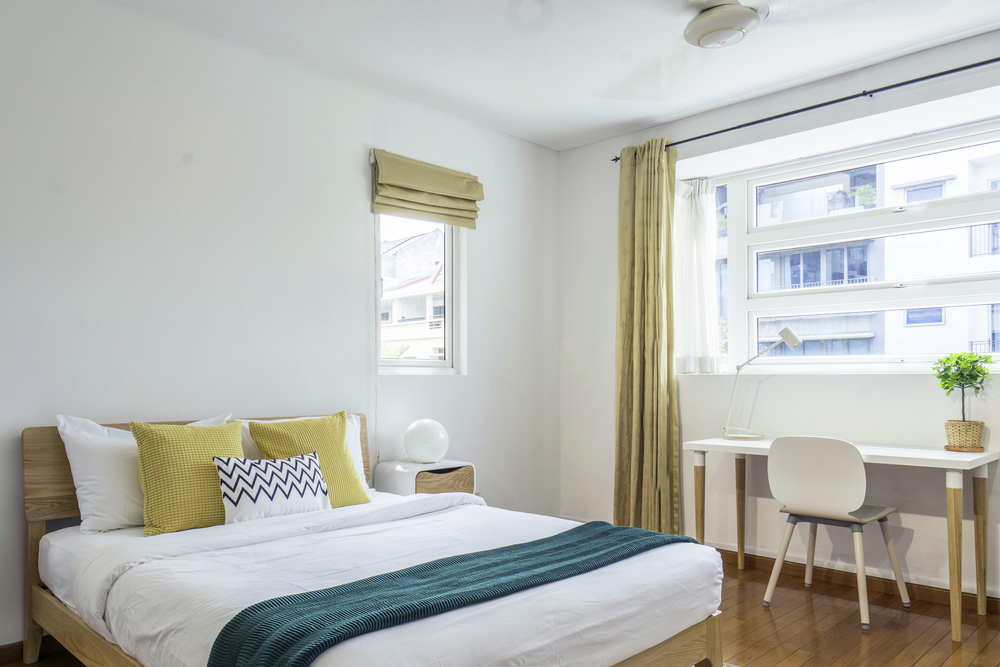 | | |
| --- | --- |
| BEST FOR | Wide range of bedroom apartments with cosy environment |
| SERVICES | List |
| WEBSITE | https://metroresidences.com/sg |
| ADDRESS | 29 Mayo St, Singapore 208315 |
| CONTACT DETAILS | +65 6513 0030 |
| OPERATING HOURS | 9am-9pm, Monday-Friday |
Finding the most suitable Singapore service apartment that can live up to your standards and lifestyle is made easy with Metro Residences. It has a full listing of service apartments in Singapore with guaranteed competitive facilities and great deals.
You can also easily filter out your options according to your budget and preferred locations. Their apartments can accommodate as many as 6 guests, or if you choose to have a space of your own, they also have a specific listing for that.
Their rates are also reasonable, given their spacious and comfortable living condition. They have a signature modern minimalist look in their spaces which some use as an apartment staycation in Singapore.
Service Highlights
Wide range listings

Regular housekeeping services

Quality exterior and interior structures
Customer Reviews
One of the perks of staying in MetroResidences is that your comfort is always their priority. That is why they strive to maintain high standards in their Singapore serviced apartments in their structure and in service.
Rachel Zaniolo left a review on the company's website saying,
"I had an amazing stay with MetroResidences! The team made me feel right at home and I've made great friends with the guest community throughout my stay."
4. Wilby Residence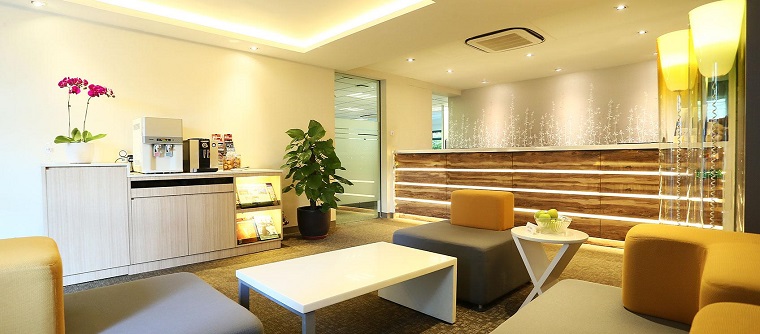 | | |
| --- | --- |
| BEST FOR  | Recreational activities and nature-themed settings |
| SERVICES | https://www.wilbyresidences.com/en/wbt/?pg=facilities_services |
| WEBSITE | https://www.wilbyresidences.com/en/home/ |
| ADDRESS | Locations |
| CONTACT DETAILS | Locations |
Wilby Residence has a laid-back ambience that will please those who just want a simple yet accommodating environment. For the nature-lovers, the outdoor appearance has excellent greenery for an amiable experience.
What's more, near the residence, you can find different dining options, supermarkets, and entertainment venues. For an easier trip, you can also ride on a shuttle bus to explore the Holland Village.
The apartments can occupy a maximum number of 6 people. They also have exclusive facilities and services.
For us, these are the best serviced apartments in Singapore for those who are active and prefer to have nearby recreational areas. 
Service Highlights
Private workstations
Chauffeur services
Tennis court
Customer Reviews
Travellers commended the services, stating they were able to have a private and relaxing experience throughout their stay. A reviewer gave this top-rated feedback on Trip Advisor:
"We had a fantastic stay at Wilby! This place has everything you need in Singapore. Walk to a broad range of facilities, from Hawker's markets all the way through to high class restaurants (including Raffles). Easy walk to MRT and easy access to wherever you go. Breakfast was included (unexpected bonus) and the staff at Wilby were friendly and very helpful. Welcome basket on arrival was a great touch. I would definitely stay there again and recommend it to anyone."
5. Heritage Collection
If you prefer for your temporary abode to have a feel of luxury serviced suites in Singapore, it's worth taking a look at Heritage Collection.
Unlike some other serviced apartments, Heritage Collection has corporate bookings for those who will be going on a business trip with a number of employees.
This would also be a great option for first-time visitors because the overall interior of the building has local architectural influences.
You also be able to visit the famous tourist attractions easily when staying here, as the apartments are located in the Central Business District.
Service Highlights
Flexible lease terms with minimum stay of 3 months is required
Fully furnished apartments
Exclusively curated apartments and personalised services
Customer Reviews
Heritage Collection, previously known as Heritage Apartments, is known for their hospitality and attentive staff service. They consistently check up on their guests and provide for their needs according to their preferences.
A reviewer from Agoda praised the accommodations and shared this experience:
"The City Hall Premium Loft in which my husband and I stayed for a week was a gorgeous, compact and well-planned space right in the heart of town. Considering my stay was for a week, it would have been great if towels were replaced once every couple days instead of having to use the same ones through the week. Towels aside, it was a comfortable stay and my Guest Relations Managers, Aryanna and Ray, really complemented my stay with their attentive service. Thank you Heritage Apartments for the wonderful week!"
Another reviewer said:
"It is difficult to describe the experience as it's rare to be on receiving end of such above and beyond hospitality, especially in Singapore where for every 10 people one meets, maybe only 1 will be willing to make your stay a memorable one. But here at Heritage, the first person you meet, you Guest Experience (Aptly named) Manager, is clearly on a mission to make sure you remember Heritage and are willing to take the time, like what I am doing now, to write about your experience. The Loft unit i took was clean and the cutleries were spotless. The bed above was cozy and romantic and the TV has Netflix, Apple and what not to ensure you get the movie you want, not even Marina Bay Sands does this! MBS's TV is not even Smart!

Just below the apartment, right outside the door in fact, conveniently located, is a Tapas bar that is full or cool people throughout the day. I thoroughly enjoyed my experience and I will definitely come back again to try another location, mine was on Seah. Lastly, a very special mention to my Guest Experience Manager Jarwin. He is very prompt and quietly efficient in going about his Job. I was completely taken by surprised when Jarwin went, I am not sure where, and bought for me a large packet of Ice when I told him I did not see a ice tray in the Fridge. I was expecting a tray and was given a packet! This is what I meant by going above and beyond. I will strongly recommend Heritage to everyone who is looking for an affordable yet exceptional experience. It is the kind of experience that one usually sees in cities like Prague and Berlin and seldom expected to see in Singapore. Kudos Heritage, I hope you guys have surpassed your own expectations :)))"
6. Frasers Hospitality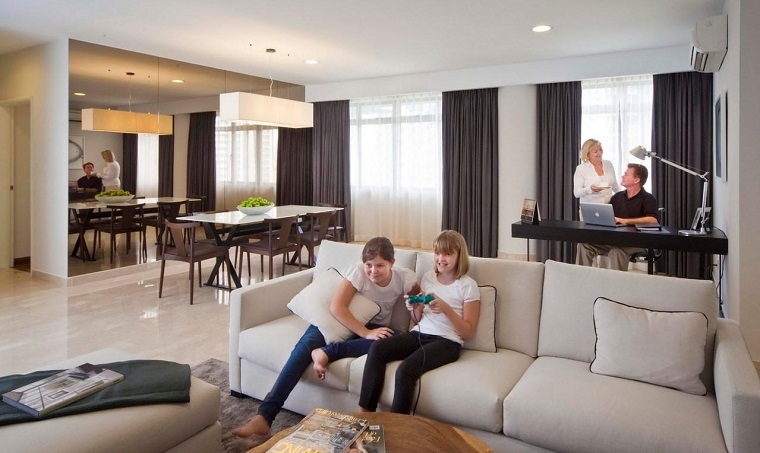 Frasers Hospitality has been serving local and foreign guests all around the globe for many years. They have achieved astounding milestones in each generation, proving their claim of providing high-quality and impeccable services.
They have different amenities suited to business-people, couples, kids, and friends. It is indeed a residential area for the whole family and can also be used as a service apartment for staycation in Singapore.
They even have discounted offers and deals for more affordable services.
Service Highlights
Outdoor recreational facilities
One-way airport transfer for a stay of one month and above
Residents' programs
Customer Reviews
Frasers Hospitality has been praised for its comfortable accommodations and well-maintained lodgings. A reviewer left this review on Trip Advisor:
"Stayed at Fraser Suites for almost 3 months due to work and had a lovely experience overall. They gave me a free upgrade to a 2 bedroom apartment from 1bedroom, so I could have my visitors stay in the extra bedroom. The rooms were spacious and comfortable, and amenities felt like living at home. Free shuttles to various shopping districts and to my office were the most convenient of many touches they provide to their guests for comfort. An amazing experience and recommend to anyone traveling for long for work."
7.Hmlet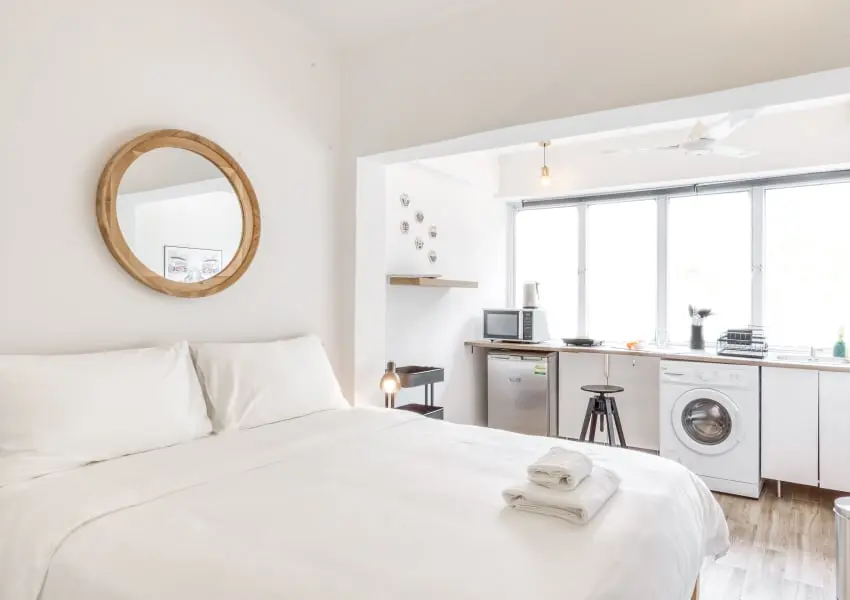 Hmlet is a renowned brand in Asia that offers a wide range of flexible living homes. With years of experience in the industry, they offer over 1,500 residences across Singapore, Hongkong and Tokyo, and are looking to expand their portfolio in the coming months.
Hmlet aims to provide hassle-free living in the form of fully-furnished apartments, all-inclusive rent (cleaning, maintenance, utilities and Wi-Fi are provided) and opportunities to mingle with like minded individuals through virtual and in-person events.
Apart from traditional long-term leasing, they also offer short-term stays that start from 3 months — making Hmlet a good choice for short-term business trips or if you are looking for a place to stay while your HDB BTO is being renovated.
All available accommodation options along with their accompanying amenities are listed online, which means you can easily browse and book your stay with little to no hassle or stress.
Service Highlights
Numerous accommodations available in various countries
A kindred community of like-minded individuals
Excellent interiors
Customer Reviews
Here are some reviews from their clients:
"I love the social aspect of Hmlet. Always having someone cool by your side to hang out with is the perk no money can buy." – Viktoryia P
"Hmlet made my solo move to Singapore from the UK very stress-free and now I have a great circle of friends." – Poppy King
Try any of the above serviced apartments the next time you need to stay in the country. They're easily among the best serviced apartments in Singapore whether you're on the island for business or pleasure.  
Of course, if you want something more along the lines of an actual inn or hotel, there are options for that too. Try our list of the best staycation hotels in Singapore, for instance!
---
*Images are taken from each company's official websites/social media.