By Lindsey Tan
IPL or Intense Pulsed Light therapy is a method of hair removal that's been getting more and more popular of late. If you have to get it done, though, you should get it from the best IPL services in Singapore.
That's because it's still a medical procedure. All medical procedures carry their share of risks… and should thus only ever be entrusted to consummate professionals.
If you want to know where the best IPL services in Singapore may be found, we're going over the top ones we discovered in this article. Here are the best establishments we found on the island for IPL.
(Note: This list is in no particular order.)
1. Japan IPL Express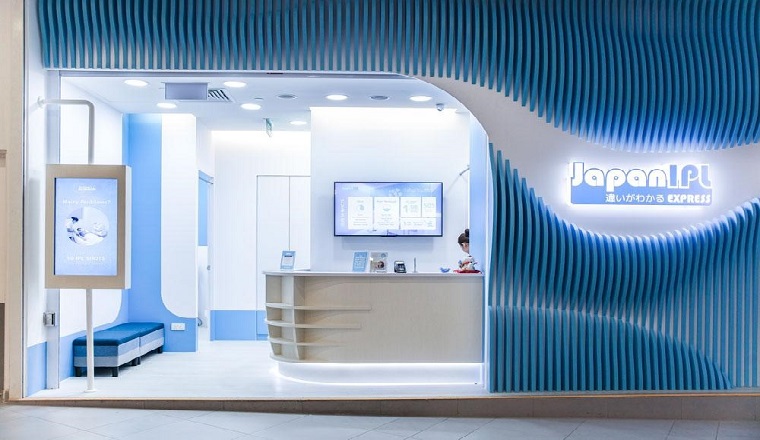 | | |
| --- | --- |
| BEST FOR  | Unisex IPL body and facial treatments |
| PRICING | Rates |
| WEBSITE | http://www.japaniplexpress.com/ |
| ADDRESS | 1 Raffles Place B1, 51, Singapore 048618 |
| CONTACT DETAILS | +65 6636 0550 |
| OPERATING HOURS | Monday to Saturday – 10:30am–9pm |
If you're wondering whether hair removal options are for women only, the answer is "No".
Japan IPL Express believes that everyone has the right to do it. They acknowledge that men may also have unwanted hair on some parts of their bodies and they also want to take care of their hygiene.
At this place, they use modern equipment for a safe, fast, and painless procedure. They offer a broad range of hair removal services for the chest, underarms, stomach line, bikini line, brazilian, or boyzilian, and other areas.
They also provide permanent hair removal, which is more convenient and practical than shaving or plucking everyday.
SERVICE HIGHLIGHTS
Permanent hair removal
Facial treatments
Affordable prices
CUSTOMER REVIEWS
Customers of Japan IPL Express have recommended the services because of excellent service at a low-cost. They were also impressed that there is no need to book an appointment, as you can simply go directly to their clinic and receive the treatment.
Cynthia Kuang was amazed by the fast and attentive accommodations and left this feedback on the official website:
"It took me about 5 minutes for facial and about 15 minutes for my brazilian area and tadaaaaaa! I am done!! That was how fast it was!!" 
2. Musee Platinum Tokyo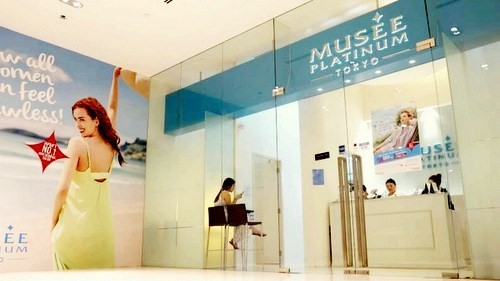 At Musee, you can have an initial consultation first before acquiring their services, which gives you time to decide which option are you most comfortable with.
Their well-trained and skilled staff offer three types of removal: waxing, laser, and the IPL. Hence, even if you change your mind and decide that IPL isn't the hair removal procedure you want, they may still be able to accommodate you with their other services.
They use only the latest equipment for each of their procedures and occasionally have discount promotions.
SERVICE HIGHLIGHTS
Special promotions
Full body treatment
Refund
CUSTOMER SERVICE
Musee has earned the satisfaction of many customers because of the numerous hair-removal options to choose from. Customers also like that as a way of guaranteeing satisfaction, they offer refund services.
A reviewer from Google Reviews made this comment:
"There is a lifetime IPL for underarm and bikini line. If you introduce to your friend, you will get a free $10 Starbucks Card. They have friendly staffs and will advise you on how to have a good care of your body to obtain a smooth, clear skin!" 
3.

The Clifford Clinic
BEST FOR 
Quality Noninvasive Treatments
WEBSITE
https://www.singaporeaestheticpractice.com/ipl
ADDRESS
24, #01-04 Raffles Place, Singapore 048621
CONTACT DETAILS
3129 2550
OPERATING HOURS
Mon to Fri: 10am to 8pm
Sat: 10 am to 5pm
Sun: Closed
Closed on Sundays and Public Holidays
The Clifford Clinic is an excellent choice for Intense Pulsed Light therapy. The procedure that the clinic offers can help improve the color and texture of the skin.
Dr. Gerard Ee, their head dermatologist, works with his team of expert aesthetic doctors in delivering the best services. With his interest in minimally invasive surgery and aesthetic medicine, you can rest assured that any treatment you undergo in Singapore Aesthetic Practice will go well.
SERVICE HIGHLIGHTS
Minimal Downtime
Minimal Scarring
Safe Procedure
Accurate Treatment
4. Syuen Beauty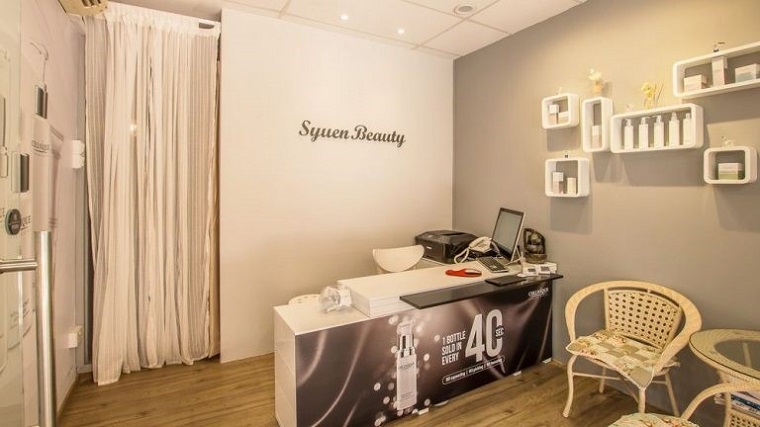 BEST FOR 
Super hair removal – non-invasive light treatment technology
SERVICES
http://syuenbeauty.com.sg/shr-hair-removal/
WEBSITE
http://syuenbeauty.com.sg/
ADDRESS
Blk 186 Toa Payoh Central, #01-420, Singapore 310186
CONTACT DETAILS
+65 6222 2284
OPERATING HOURS
Tuesday – Friday: 11:30am – 21:00pm

Saturday: 10:30am – 19:00pm

Sunday: 10:30am – 18:00pm

Closed on Monday and Public Holiday
Syuen Beauty proudly presents its own SHR hair removal, which  introduces modern and one-of-a-kind hair removal treatment.
The Super Hair Removal technique uses the latest technology from Korea to eliminate all undesired body and facial hairs on the non-laser rate. It produces a flawless and longer-lasting result.
If you have a low pain tolerance, this would be an ideal option for you! You will surely feel comfortable throughout the treatment for it is said to be free of pain and heat, unlike other IPL services.
Their hair removal services are available on both small and large portions of a body.
SERVICE HIGHLIGHTS
Signature treatments
Skincare and beauty products
Special offers
CUSTOMER REVIEWS
Syuen Beauty has been praised by customers for their unique approach to IPL, which clients say is very effective. Shirley Goh has recommended the staff service and wrote this on the official Facebook account:
 "Have been doing SHR hair removal service with them and I am very happy with the result! Cindy takes her time to explain what is it about and always follow up with the results. Will definitely reccomend others to try out their other services too."
5. Strip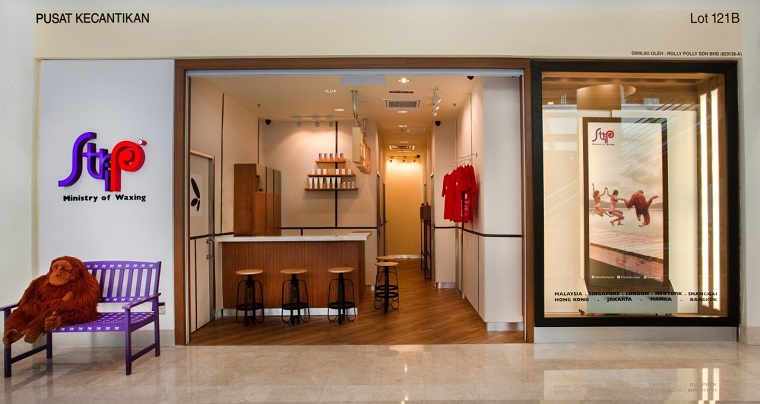 Strip offers an interesting variation on the traditional IPL technique by using fluorescent pulsed light instead of broadband pulsed light. Its special hair removal therapy is called AFT Powerpac Hair Removal, which is provided for both male and female clients.
One main difference between the two that it is only semi-permanent. Regardless of this, it can still result in a long delay in hair growth.
It is also safe, and (most importantly for a lot of clients) uses a gradual heating system with a very low risk of burns and far less discomfort than the traditional IPL technique. There is also a cooling system so the heat will only last for a short time.
SERVICE HIGHLIGHTS
Trial offers
Skincare products
Extensive outlets
CUSTOMER REVIEWS
Most customers stated that the AFT technology of the Strip is a painless procedure that lessens the possibility of extensive hair growth. Some even compared it to a massage, calling it more comfortable than a standard IPL procedure.
A reviewer left this feedback on the official website:
"Powerpac hair removal treatment was warm and relaxing with no slight discomfort or pain at all."
6. Expressions

with 30 years of experience in improving the overlook look and wellbeing of their clients, Expressions has broadened their offerings to include state-of-the-art IPL Treatments. Their award-winning IPL Acne Clearance is perfect for those who want a long-term solution to remove their blackheads/ whiteheads, milia seeds, oil clogs, acne or acne scarring and open pores.
SERVICE HIGHLIGHTS
IPL Acne Clearance
IPL Permanent Hair Removal
IPL Skin Rejuvenation
CUSTOMER SERVICE
Anna En's Facebook recommendation:
"It's always a pleasant experience at Expressions. I'm usually greeted with a smile and immediate service by the efficient staff. They have tried their best to answer all my queries patiently and attentively. My treatments at Expressions have left my skin a lot tighter and youthful looking. The sessions are usually very comfortable and relaxing. The staff informs me of the step by step process of the treatment which is reassuring to me. "
7. Honeypot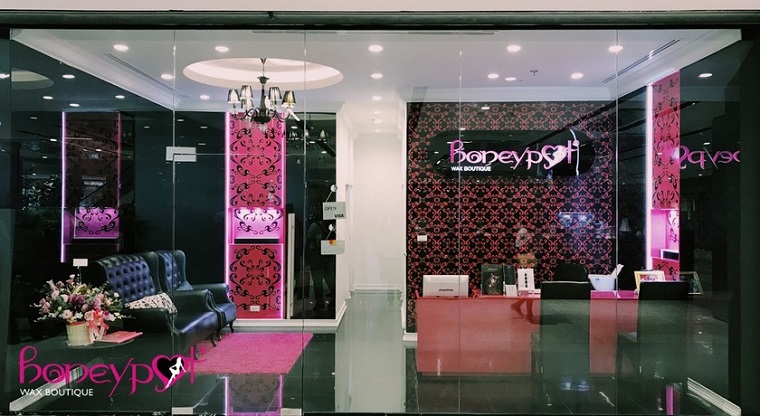 Honeypot is an award-winning clinic that offers different kinds of IPL treatments. This might not be the main focus of their services, but they have competent services at a reasonable price.
Similar to other clinics, they also assure you that the process will be painless with the use of certified equipment. They have several franchises too, so accessing them is usually easy no matter where you are on the island.
SERVICE HIGHLIGHTS
Skincare products
Accessible locations
Affordable prices
CUSTOMER SERVICE
As Honeypot has also been featured in various publications such as Elle, Timeout, and Prestige, it's not hard to see why it's on this list of the best IPL services in Singapore. Many customers appreciate their professionalism and skills.
A reviewer from Google Reviews wrote:
"If you want superb hair removal services, Honeypot is for you. I personally have a low pain tolerance, so I go for Brazilian wax only. Their special wax and attention to detail leaves me happy and smoothe. They of course offer laser treatment too and more. Check out Honeypot!"
8. Only Aesthetics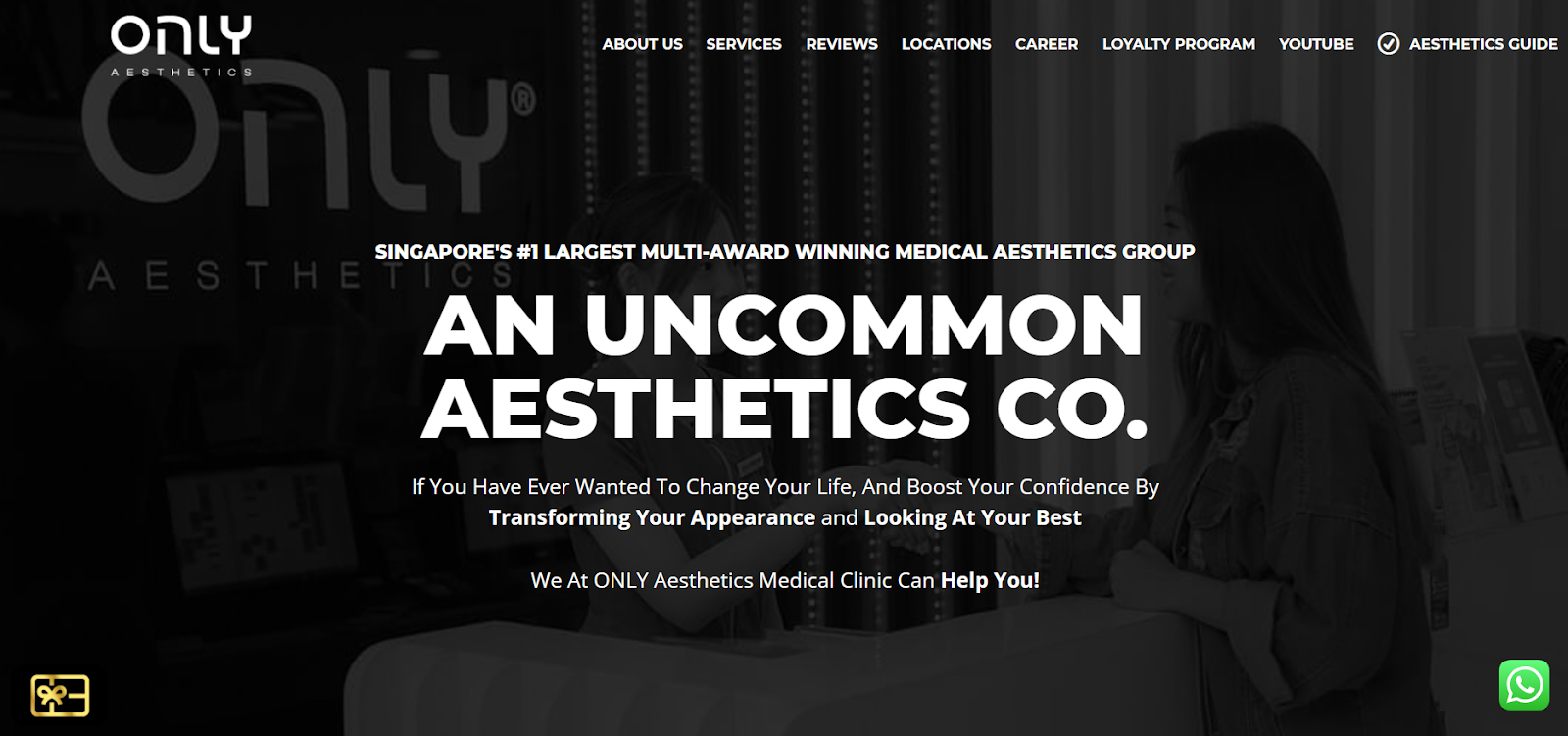 | | |
| --- | --- |
| BEST FOR | Wide variety of medical aesthetic services |
| SERVICES | Various hair removal treatments, face and skin treatments, body treatments |
| WEBSITE | https://onlyaesthetics.sg/ |
| ADDRESS | Locations |
| CONTACT DETAILS | (+65) 6338 4434 |
| OPERATING HOURS | Monday – Friday, 10:30 AM to 8:30 PM | Saturday, 10:30 AM to 6:30 PM |
If you're looking for a one-stop medical aesthetic clinic, then ONLY Aesthetics is the place you're looking for. You will definitely find what you're looking for with their wide variety of treatments from hair removal to skin treatments to fat reduction.
They also provide many non-surgical treatments for those who prefer to not go under the knife. Along with all of this, to take better care of their patrons and new customers, ONLY Aesthetics also offers loyalty programs to give you the best service.
They believe everyone should be able to be confident with themselves and their clinic can help you with it. With 15 years of experience on their backs and thousands of satisfied customers, ONLY Aesthetics can truly bring out the best in you.
Highlights
15 years of experience
Non-surgical treatments
Offers Loyalty Programs
Customer Reviews
"Been doing underarm IPL for about 2 years now. Good service and staff are not pushy with the packages. Good place for a fuss free treatment!"
"I have been with ONLY Aesthetics for the past 4 years and I truly recommend them for all your skin needs. I am pleased by the accomodating staffs and the dermatologist who assisted me. They didn't hesitate to answer my queries and even given me suggestions suitable to my skin problem. In terms of the cost, for a foreigner like me whose in a tight budget they have given me a great deal that suits me. I have achieved great results. I am glad I had came upon their ad in facebook. I do hope more clients will be able to try their services and I am sure they wont regret."
9. Esthe Clinic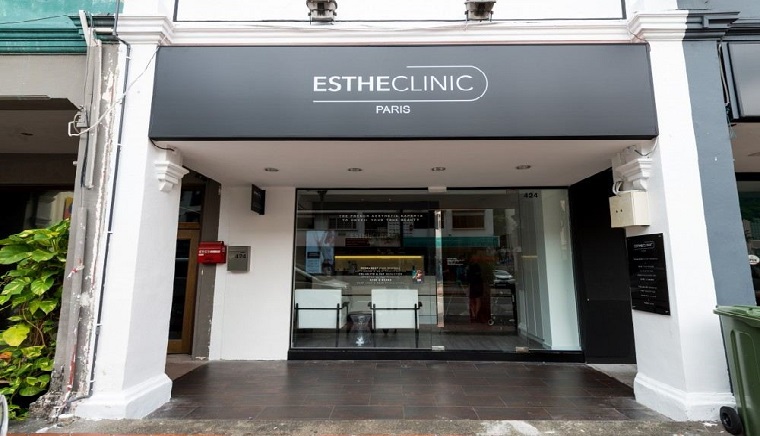 Esthe Clinic has won awards due to their excellent IPL hair removal services. Unlike other clinics, they only offer one hair removal option: IPL treatments for facial and body parts.
They proudly use their advanced hair removal technology that is said to be much faster compared to the traditional laser equipment. Their treatments are also effective and suitable for all skin types, so there is no need to worry if your skin is sensitive.
SERVICE HIGHLIGHTS
Risk-free procedures
Customised prices
High discounts
CUSTOMER REVIEWS
Esthe Clinic has received much love from their customers because of their high-quality hair removal options, which clients describe as fast and painless. Winter Chee shared her experience on the official website:
"Newfound confidence thanks to my underarm IPL treatment at EstheClinic. I am so amazed by the significant reduction in hair and the whole process was painless too. This is definitely a game changer for sure. Bye hair, bye pain! Hello smoother skin!"
That completes our list of the best IPL services in Singapore. With the clinics above, you should be able to find an IPL specialist capable of providing what you need.
Take note that this is just one of our many articles on the best services for beauty and health in Singapore. You may want to look at the others too, such as our article on where to get the best facials in Singapore!