14 Options for the Best Company Incorporation Services in Singapore
Incorporating your services? Since it's no easy task, most businesses ask for help from corporate service providers that offer the best company incorporation services in Singapore.
If you're on the lookout for the best company formation services in Singapore yourself, worry no more about where to find them — we're here to help. We looked for and compiled the most trusted corporate service providers with an excellent track record and reasonable rates.
We'll also cover the corporate service providers with the cheapest company incorporation in Singapore. We hope that by the end of our list, you will have found one to trust your company with!
1. Aspire
Best for

One stop solution for incorporation, corporate services and business account.

Competitive pricing, 100% online, quick turnaround, integrated business account, $50,000 worth of rewards

Services

Incorporation, company secretarial services, digital business account

Website

Address

1 Syed Alwi Rd, Singapore 2017

Contact Details

+65 3165 1500, [email protected]

Operating Hours

Monday – Friday, 9:30 AM – 6:00 PM
Made for the modern entrepreneur and startup owner, Aspire is the #1 Digital Neobank for Businesses. Aspire Kickstart is their end-to-end incorporation service, which helps entrepreneurs from anywhere in the world register their company and open a business account in Singapore in less than 10 minutes, 100% online.
Aspire helps entrepreneurs to save time with its timely and fully online processes, and save money with its transparent pricing. Making it the ideal choice for foreign entrepreneurs and startup founders.
In addition, Aspire incorporations include access to a startup resource kit with over S$50,000 worth of benefits from the biggest names in business tech including, Google, Microsoft Office 365, Xero, AWS, Stripe, Shopify, Hubspot, and more.
Highlights
The most competitive pricing in the market (even cheaper than doing it yourself)
100% online registration, from anywhere in the world
Same-day business account opening, 100% free and ready to use immediately
$50,000 in benefits from platform partners
Customer Reviews
"Given the inherent challenges of navigating Southeast Asia, the easier it is for investors and customers to trust and transact with you, the better. Singapore is the place for that, and Aspire is the platform to get started with their full-stack of services for startups from incorporation to revenue management. – Yinglan Tan Managing Partner, Insignia Ventures"
"Aspire's applications and processes are all completed online. The approach is attractive as it is a fuss-free portal to serve our day-to-day banking needs." – Founder of Ohm Energy
"Our experience with Aspire was seamless; with the onboarding process taking a few minutes to complete with clear instructions and help for each step." – Founder of Dayra, Fintech based in Egypt
"When we had to transfer money from Singapore to Vietnam, it was crazy expensive. Now, transferring money with Aspire is still the most competitive and is much easier to use compared to others." – Head of Finance at Thuocsi, Pharmaceutical company based in Vietnam.
2. Counto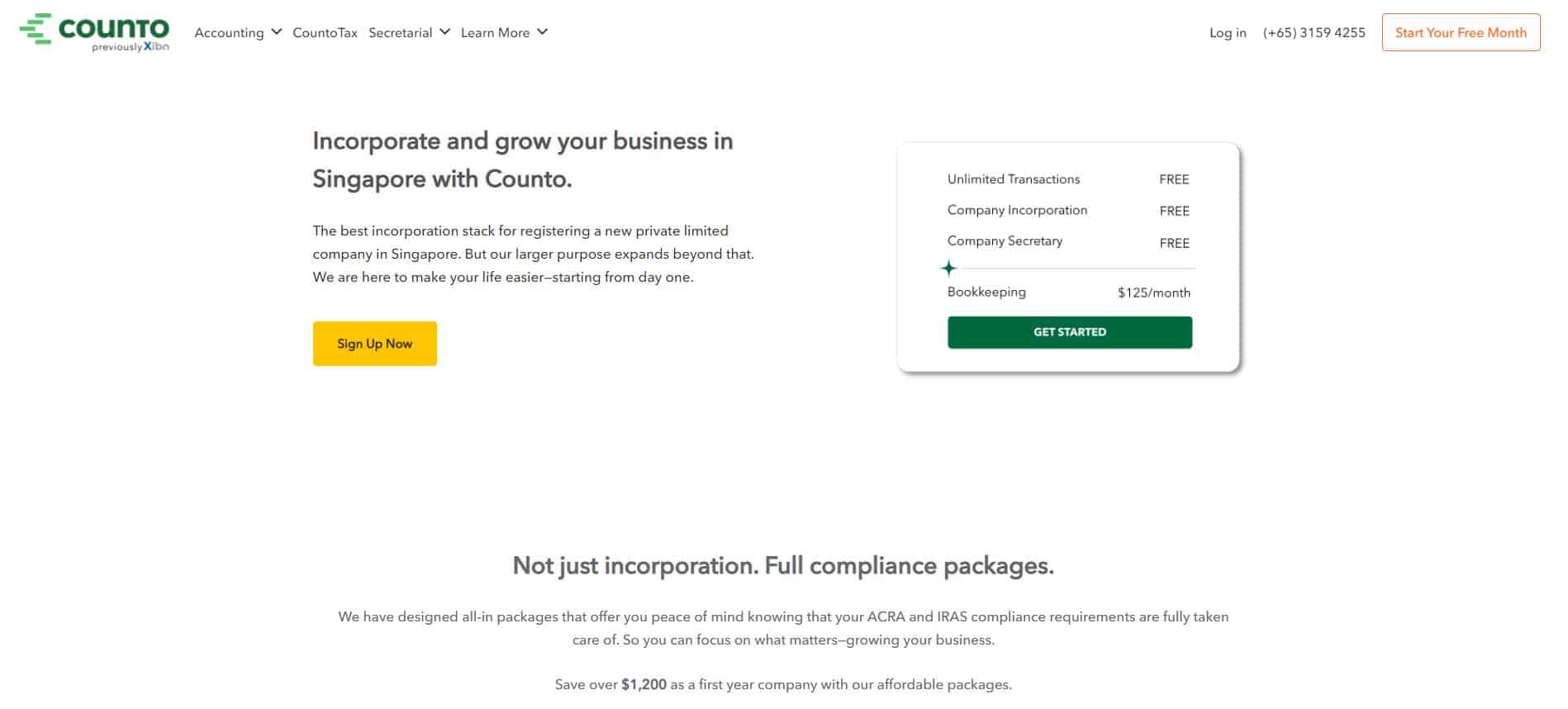 BEST FOR

Incorporation packages with top-notch accounting and tax support

SERVICES

Incorporation, Accounting, Tax prep and filing, Company Secretary, CFO services

WEBSITE
https://mycounto.com/company-incorporation/
ADDRESS
100 Amoy
St, Singapore
CONTACT DETAILS
OPERATING HOURS

Monday to Friday:

8 am to 11 pm

Weekends and Public holidays: 10 am to 6 pm
Counto understands that when you start a new company, you need great support and advice to grow your revenue. Your financials will play an important role in decision making.
For this exact reason, they offer the best all-in incorporation packages that go beyond incorporating your business with ACRA.
As compared to other accountants, Counto's mission is to keep your year-round accounting costs as low as possible. They make it possible by eliminating manual processes through AI technology.
In fact, their bookkeeping comes with unlimited transactions, and their own tax software is AI-powered and IRAS-approved. You can save over $1,200 as a first-year company with their affordable packages.
Another reason why we think they are great is that they are known for their excellent customer service. Their team responds fast and works on weekends to ensure you get what you want quickly.
Highlights
New age accountant that uses proven AI technology to execute transactions faster
May add additional services when you need like automated payments and payroll 
Active insights to help your new business grow
Customer Reviews
"My previous accountant took forever to respond… after months of no action. Hiring Counto saved us valuable time and money. I recommend Counto 100%. Just wish I had discovered them sooner!" — Co-Founder of JustRentLah
"The entrepreneurial journey can get lonely and daunting. Having Counto looking out for me and guarding the crucial financial aspect of my business is very helpful. I feel like I'm always heard and my concerns are always covered." — Founder of Abound Lifestyle
3.  Hawksford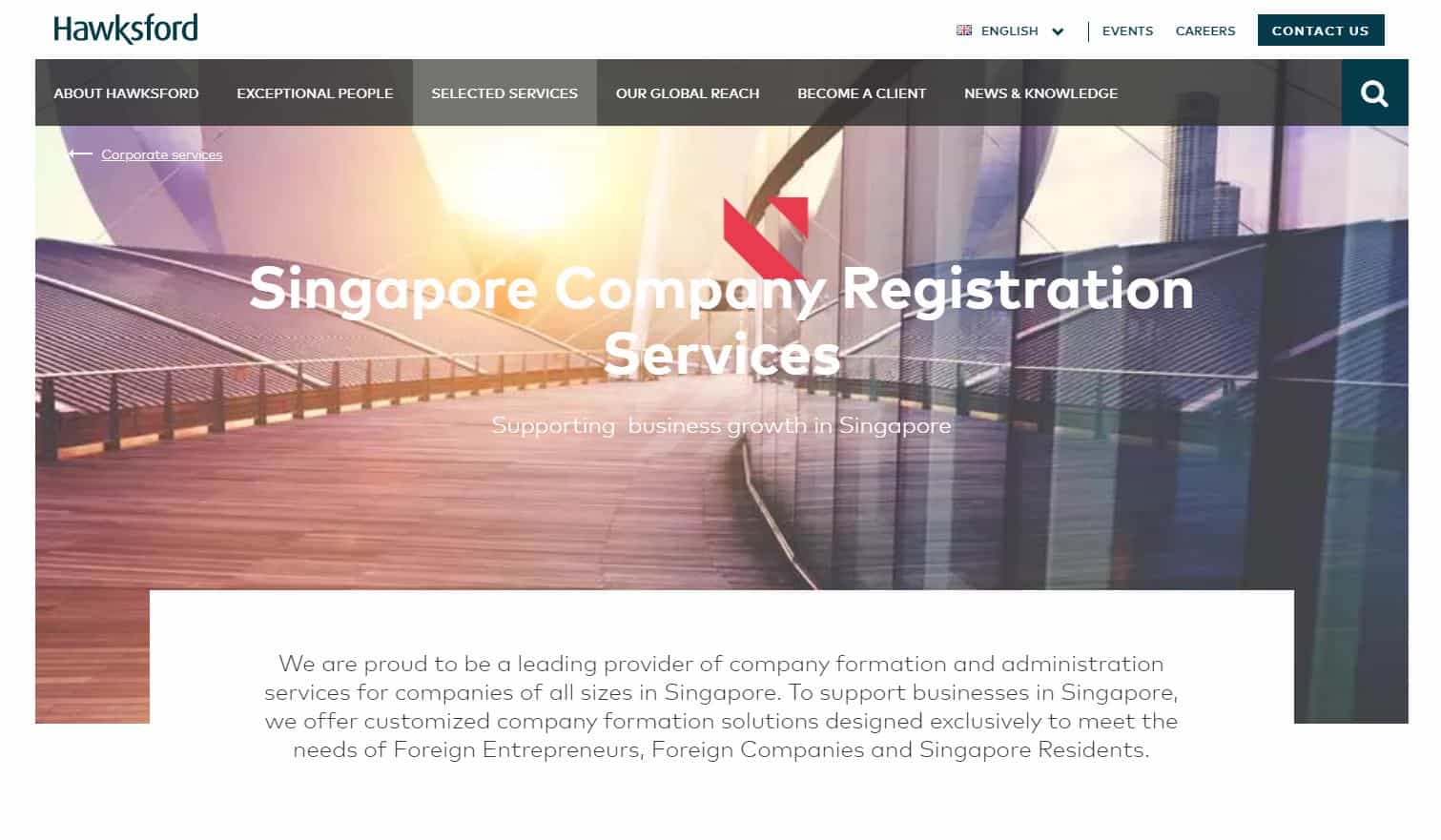 Hawksford is a company that specialises in incorporation and business incorporation services. They offer services that are tailored to individual needs and business requirements.
They help you with the process of setting up your new company, which can be done in just two days. You will get the necessary support to start your own business through the process. Hawksford also provides access to world-class resources for entrepreneurs like them and their network of partners and advisers worldwide.
Hawksford's unique approach has made them one of the top companies in their field by making life easy for entrepreneurs and business owners alike.
They are different from other companies because we don't just provide traditional incorporation services. They also offer advice on building and managing a strong team culture while protecting your new venture with innovative intellectual property rights.
Highlights
A dedicated team of personnel for each project
Guides you through the entire services
Personalised approach for each company
Customer Reviews
Here's what some people have to say about them:
"Hawksford has been faultless in supporting myself and my company in setting up in Singapore, arranging employment passes, sorting out international tax queries, managing company financial submissions and even helping with my personal Will. I cannot speak highly enough of Hawksford Singapore and everyone I deal with. A wonderful experience, and I look forward to many more years for their support."
"Overall, my experience with Hawksford was very positive. I got a good response from them to my inquiry. They are fast and very helpful in getting all documentations done. I registered my company and opened a bank account in Singapore. Seriously recommend setting new company in Singapore!"
4.  Lanturn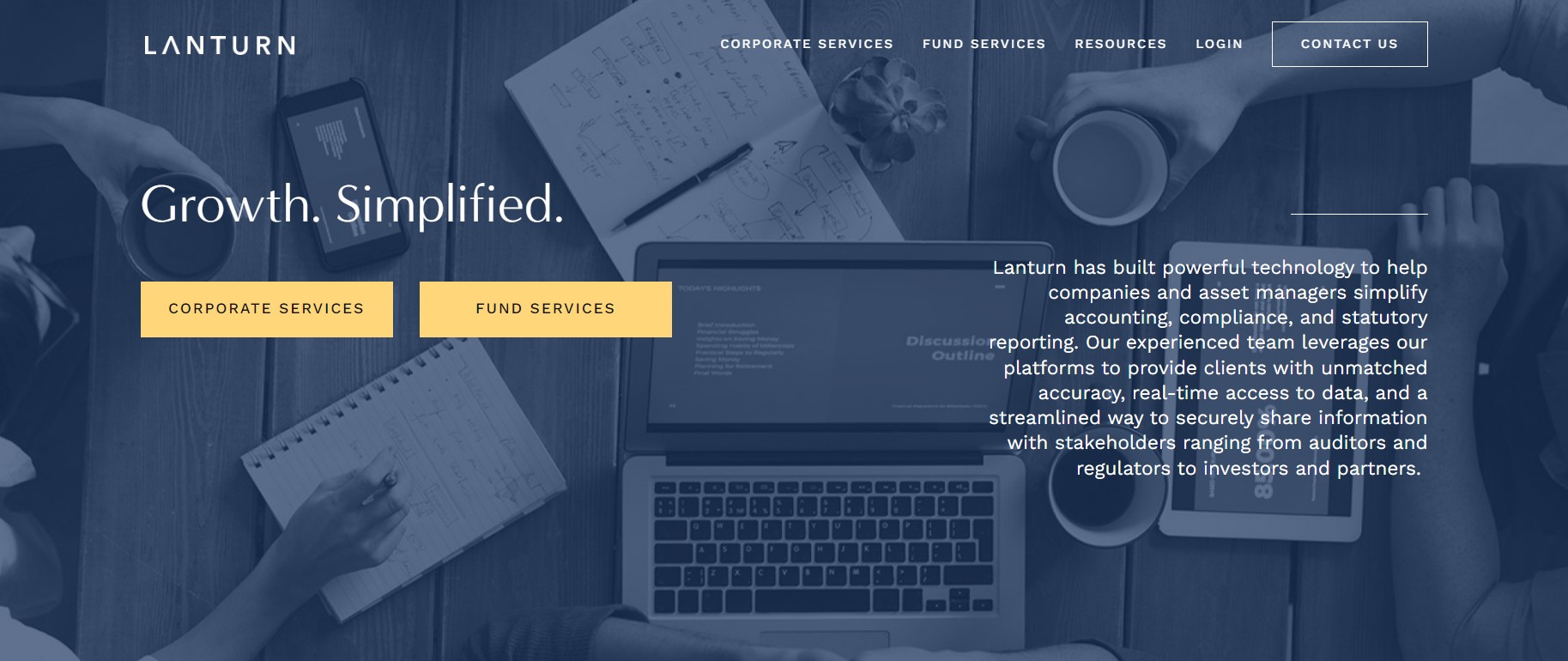 | | |
| --- | --- |
| BEST FOR  | Easy, Streamlined Process |
| SERVICES | Company Incorporation, Corporate Secretary, Accounting & Tax, Immigration & Visas, and Virtual CFO |
| WEBSITE | https://www.lanturn.com/ |
| ADDRESS | #10-05 SBF Centre, 160 Robinson Rd, Singapore 068914 |
| CONTACT DETAILS | +65 6304 8087 |
| OPERATING HOURS | Monday – Friday, 9:00 AM – 6:00 PM |
If there's one thing that makes Lanturn worth hiring, it is its experienced and professional directors and advisors. They're willing to go the extra mile to reduce the burden carried by most small business owners.
For business owners who don't know much about government rules and regulations, we strongly recommend asking for help from Lanturn's team of competent advisors.
On top of that, as one of the top sources of the best company incorporation services in Singapore, it completely removes the need for paperwork with its own software.
It's also known for offering the best all-inclusive corporate services packages in Singapore, so small business owners don't need to worry about shelling out a huge sum of money in the early stages of their business.
Highlights
Excellent 

service

 at competitive prices

Experienced team 

No need for paperwork

 
Customer Reviews
Here are a few customer reviews proving that Lanturn offers one of the best company formation services in Singapore:
"Thanks for such a quick and efficient process to have my company setup in Singapore, more so not being a Singaporean. Great team, transparent pricing and packages to make sure all your basics are sorted and obligations are met. The winner was ensuring important deadlines are easily managed, allowing me to focus on building the business. Would recommend it to many others!"
"Despite there being many service providers out there, I have to say that Lantern's services are the most value for money. As a first time founder, Lanturn has given me such a seamless and pleasant experience – being super friendly and informative about the various regulatory requirements. After experiencing the speed of their response, I doubt I can go back to a traditional corp sec anymore."
5. Singapore Company Incorporation Consultants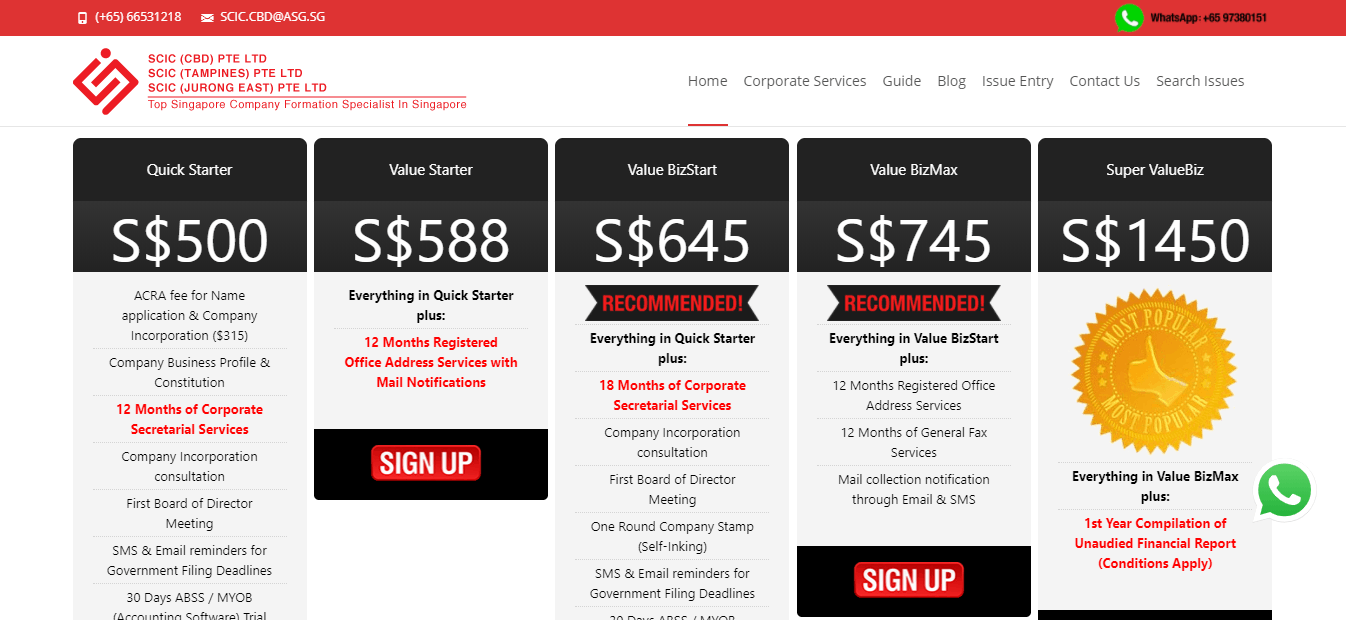 | | |
| --- | --- |
| BEST FOR | Foreign Entrepreneurs |
| SERVICES | Company Formation and Corporate Secretary |
| WEBSITE | https://www.companyregistrationinsingapore.com.sg/ |
| ADDRESS | 10 Anson Rd, #27-15 International Plaza, Singapore 079903 |
| CONTACT DETAILS | +65 6653 1211 |
| OPERATING HOURS | Monday – Friday, 9:00 AM – 6:00 PM |
If you're a foreigner hoping to start a business in Singapore, then we highly recommend checking out the services of Singapore Company Incorporation Consultants.
It's an expat-friendly corporate service provider that offers one of the cheapest company incorporation services in Singapore. You may expect a paperwork-free company registration when hiring its services.
Apart from offering the best company incorporation services in Singapore, Singapore Company Incorporation Consultants can also help improve the presence of small companies on the island. That's crucial in the growth of local small businesses!
Highlights
Reasonable service rates
Catered to the needs of expats
Customer Reviews
Singapore Company Incorporation Consultants has an average rating of 4.9 based on 39 reviews on Google Reviews, making it one of the best-reviewed corporate service providers on the island.
Here's a comment from a previous client:
"The staff over there are highly knowledgeable with the rules and regulation on how to set up a new company. They will explain to me clearly on the processes and procedures. Furthermore, the staff are friendly, patient and efficient. I would also like to say thanks to Su Ying, I never thought I would find someone that would go the extra miles for me in order to get my company set up. I thought incorporating a company might be a hassle and time consuming, but those guys make it easy for me. All in all, I have a great experience with them."
6. IMC Group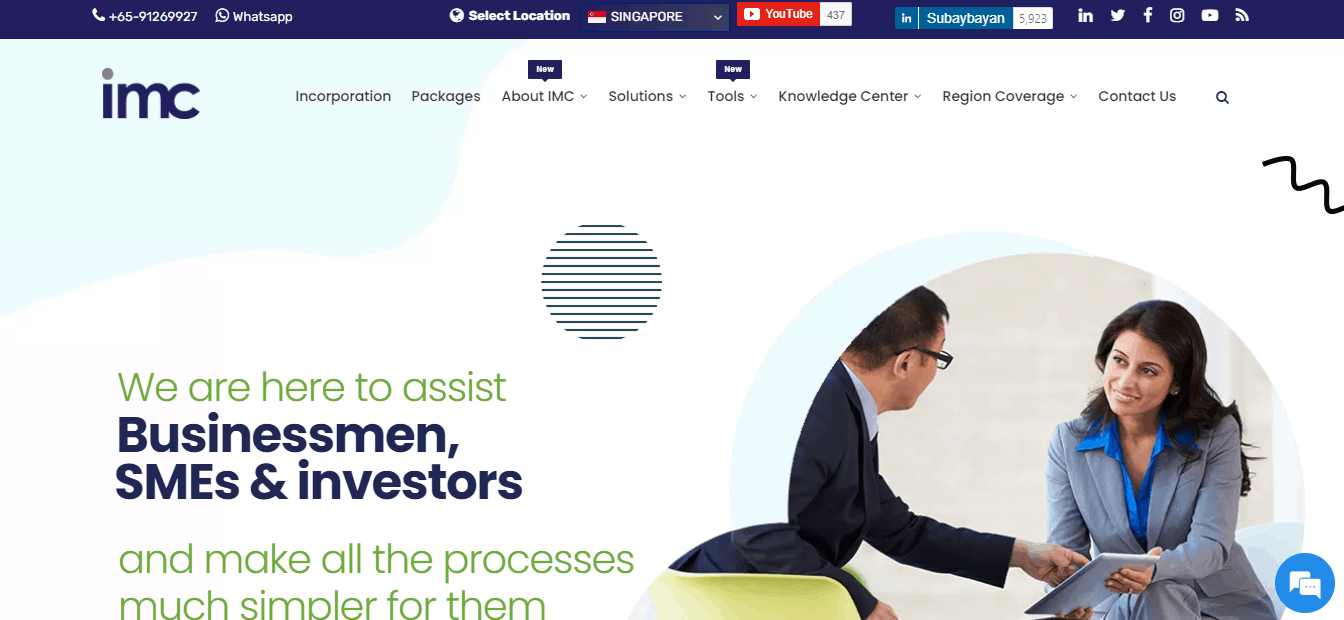 | | |
| --- | --- |
| BEST FOR | One-stop Solution |
| SERVICES | Company Formation, Corporate Secretary, Corporate Finance, Taxation, Accounting, Trademark Registration, Immigration, and Payroll Service |
| WEBSITE | https://intuitconsultancy.com/sg/ |
| ADDRESS | 1 Raffles Place, Tower 2, Singapore 048616 |
| CONTACT DETAILS | +65 9234 0891 |
| OPERATING HOURS | Monday – Friday, 9:00 AM – 6:00 PM |
Established in 1979, IMC Group has grown to become one of the most reputable corporate service providers on the island. Starting with a limited range of services, it now offers every corporate solution that small and large businesses on the island might need!
Some of these services are corporate secretary services, immigration, taxation, accounting, trademark registration, and of course, the best company incorporation services in Singapore. It's indeed a one-stop company for every business's corporate needs.
One of its goals as a company is to provide the best company formation services in Singapore at an affordable price and at a faster pace than others. This allows business owners to focus their time on other important matters.
Highlights
Competitive rates
Safe and secure storage
Streamlined and simplified process
7. Fastcorp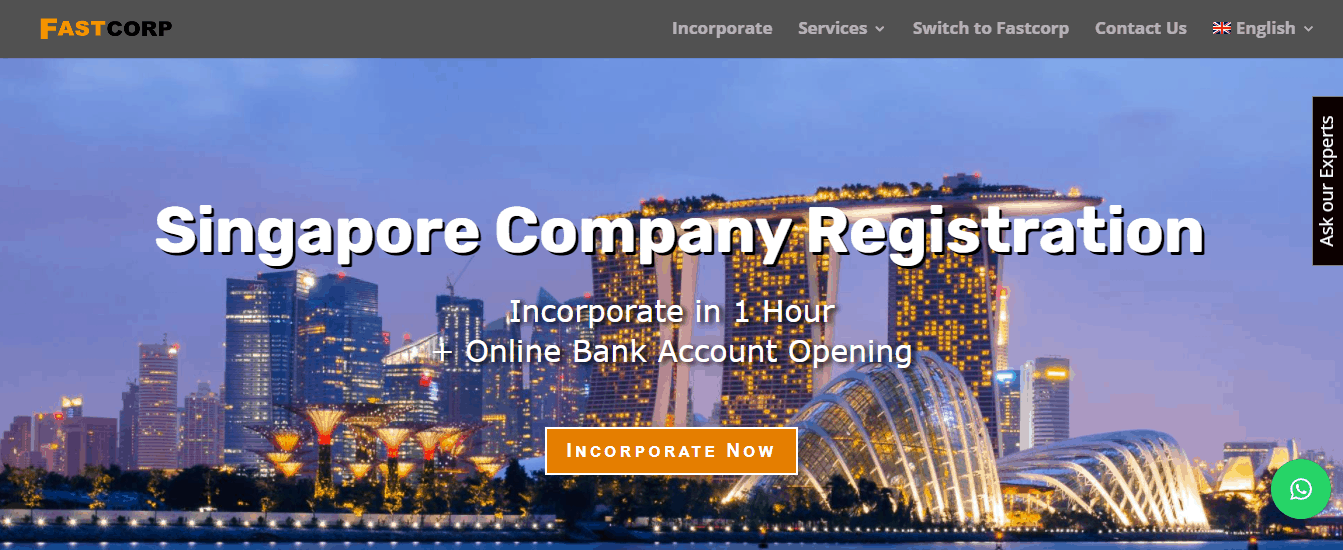 | | |
| --- | --- |
| BEST FOR | Quick Services |
| SERVICES | Company Formation, Corporate Secretary, and Employment Pass |
| WEBSITE | https://fastcorp.sg/ |
| ADDRESS | #12-02 Raffles City Tower, 250 North Bridge Rd, Singapore 179101 |
| CONTACT DETAILS | +65 6817 9888 |
| OPERATING HOURS | Monday – Friday, 9:00 AM – 6:00 PM |
With 20 years of experience under its belt, Fastcorp has helped thousands of aspiring business owners set up their companies in Singapore. It's known for its affordable, reliable, and above all, quick company formation services.
When we say quick, we mean that your company can be registered with all requirements handled in as fast as an hour! Everything will be taken care of in a short amount of time, from the business seal down to the corporate bank account.
Being a source of one of the cheapest company registration in Singapore wouldn't be possible without its team of experienced and competent corporate advisors. If you're curious about trying its services, make sure to give their hotline a call!
Highlights
Registration in less than an hour
Free quotation
Team of experienced corporate services professionals
Customer Reviews
Take a look at some of the comments that prove it provides the best company formation services in Singapore:
"The Fastcorp team was really helpful from start to end. We had a great experience with them. Their follow ups were from time to time and also they helped us in resolving a few issues though we were not able to travel at times. Special thanks to Kenneth, Hazel in helping us throughout. Highly recommended for our side."
"Fastcorp is really the one stop location to register a new company. I am very pleased with the speedy support and aid they have given to us. The process to register a new company is daunting but Fastcorp makes it so simple and quick. The communication and explanation of what we should know, the process, from start to the end is very clear and professional. Actually we really don't have to do much at all. Good job Fastcorp."
8. Bluebox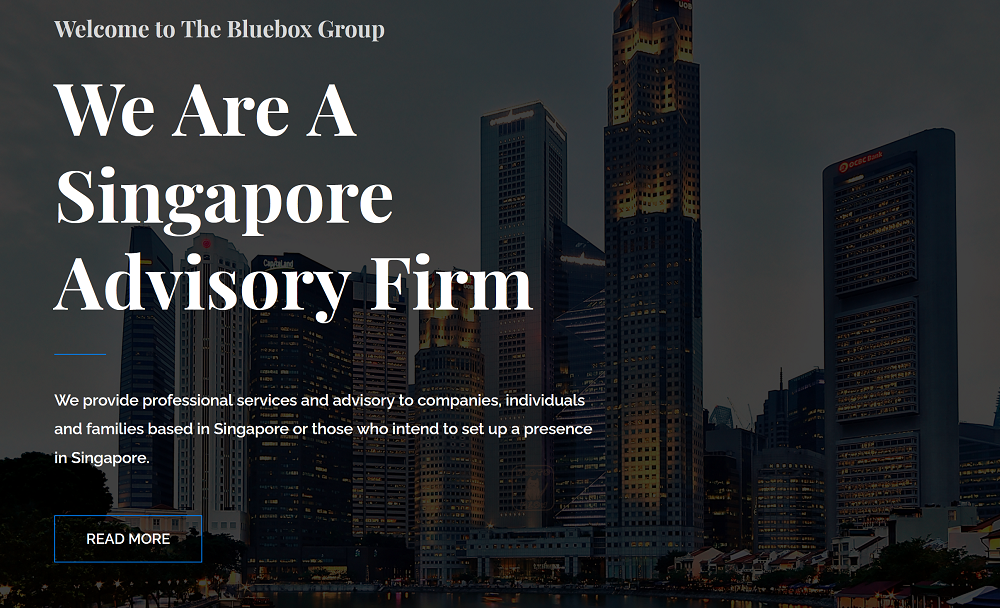 BEST FOR
Comprehensive Services
SERVICES

Corporate & Legal Services
Company Formations

Compliance and Legal

Accounting, Tax and Payroll

Immigration and Work Passes

Management Consulting
CxO Services – Strategy and Finance

Business Process Outsourcing

Contracts and Legal Documentation

Risk and Security

Digital Transformation
Digital Marketing

Digital Strategy and Technologies

Digitizing Operations

Automating Processes

Capital Markets Advisory
Advisory on Fundraising

Advisory on Mergers & Acquisitions

Financial Modelling & Valuation

Transaction Support Services

Ventures
New Market Expansions

Funding Strategies

Advisory Boards

Access to Strategic Investor Network

Cross Border Advisory
International Corporate Migrations

Cross Border Tax Planning

Family Office and Private Client Services

Government Liaison

Investor Services
Legal and Financial Due Diligence

Portfolio Company Audits and Management

Tax Efficient Holding Structures

Curated Deal Flow Pipeline

WEBSITE
https://blueboxglobal.com/
ADDRESS

Consulting and Advisory
10 Marina Boulevard
Level 39 Marina Bay Financial Center
Singapore 018983
+65.68185757

Accounting and Corporate Secretarial
89 Short Street, Suite 09-08A
Golden Wall Center
Singapore 188216
+65.62244225

CONTACT DETAILS

Consulting and Advisory
+65.68185757

Accounting and Corporate Secretarial
+65.62244225

OPERATING HOURS
N/A
Bluebox is a company that offers boutique, high-quality services to their clients. Their primary focus is on entrepreneurs, high growth businesses, and investors who are based in Asia.
After forty years of working in the industry, they've now expanded their corporate services to consultancy services, investor services, and more. You can count on Bluebox to provide the best tax consultancy services you may need.
Highlights
Almost 40 years of working with SMEs
Personalised Services
9. LOL

BEST FOR
Reliable, Affordable Corporate Services
SERVICES
Incorporation Packages
Accounting and Bookkeeping Packages
Payroll Management
Tax Filings
Corporate Secretarial
Immigration and Work Passes
Outsourced Admin Services
Legal Documentation
Government Loan Schemes
Cloud Accounting
HR and Payroll
Digital Marketing
Digital Academy
WEBSITE
https://www.lolcorporate.com/
ADDRESS
89 Short Street, Suite 09-08A
Golden Wall Center
Singapore 188216
CONTACT DETAILS
+65.62244225
[email protected]
OPERATING HOURS
N/A
If you're planning to start a new company, LOL will be your best partner. They provide the complete suite of services especially needed by startups.
From incorporation services to back-office outsourcing, LOL will offer only the best. Contact them now to boost your business' growth at a fast rate.
Highlights
Almost 40 years in the industry
Reliable and affordable services
10. TMF Group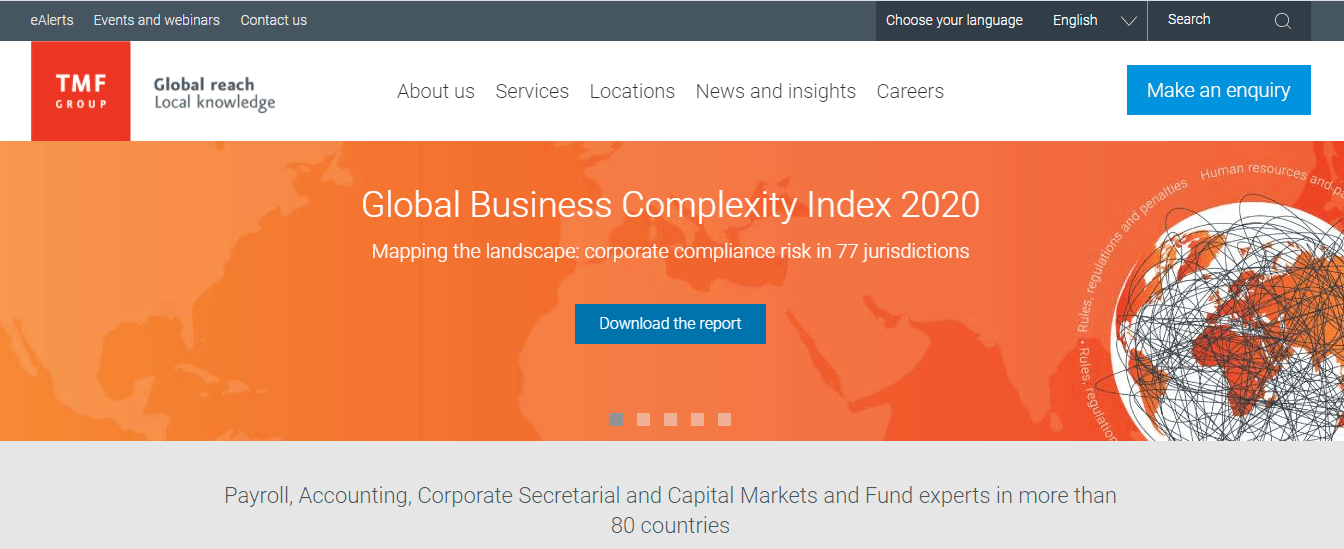 | | |
| --- | --- |
| BEST FOR | Quick Services |
| SERVICES | Company Formation, Corporate Secretary, Accounting and Taxation, Consultancy Solutions, Global Payroll, Wealth Preservation, and Succession Planning |
| WEBSITE | https://www.tmf-group.com/ |
| ADDRESS | 38, #29-11 Beach Rd, South Beach Tower, Singapore 189767 |
| CONTACT DETAILS | +65 6808 1600 |
| OPERATING HOURS | Monday – Friday, 9:00 AM – 6:00 PM |
If you're looking for a corporate service provider with a great track record, then make sure to check out TMF Group. It's considered the global leader in corporate solutions, offering all sorts of services that small and large companies might need.
Some of the services provided by TMF Group are accounting, taxation, corporate secretariat, consultancy solutions, payroll services, and of course, the best company formation services in Singapore.
Its rates might be a bit pricey compared to competitors, but it comes with the guarantee that your company will be taken care of by the best corporate advisors on the island.
Highlights
Wide range of services
Experienced corporate advisors
Global leader in corporate solutions
11. 3E Accounting
BEST FOR
Global recognition
SERVICES
Accounting, taxation IT and design, legal, immigration, corporate secretarial, auditing, business setup and advisory, human resource, virtual office
WEBSITE
https://www.3ecpa.com.sg/
ADDRESS
51 Goldhill Plaza #07-10/11 Singapore 308900
CONTACT DETAILS
+65 6690 9262

[email protected]

OPERATING HOURS
Monday – Friday: 9:00 AM – 6:00 PM
3E Accounting is a one-stop-shop for all your business solutions. It has various services, including accounting, taxation, registration, legal, and IT and design.
It can help you set up and maintain cloud accounting systems to make everything accessible yet secure for its accounting services. Aside from accounting systems, 3E Accounting can also help you with bookkeeping and compiling financial reports.
While many firms offer such services, 3E Accounting is unique for responsiveness, transparency, and commitment to economical solutions. It also has a dormant company package for those who still want to run their businesses, but at lower costs.
Highlights
Fast response and excellent customer service
No hidden fees
Dormant company package for low-cost business maintenance
Internationally-recognized by ACCA
Customer Reviews
Read these reviews from 3E Accounting's clients to learn more about their quality of services:
"We have never had this good communication in ages. The accounting of our company was almost never good even though we hired and changed many accountants. We were very tired. We finally decided to experiment with 3E Accounting, and their communication is their great thing. They always talk to you and they also always want to know what has been going in the office. They aren't only talented, but they are also very serious in the bookkeeping work."
"Their bookkeeping is very honest. They ask you about what you want, they do their work, and after that, they again ask if their work was up to your standards. They also send you every detail about your funds. Your funds are in good hands if you have accounting and bookkeeping services of 3E Accounting."
BEST FOR
Business Outsourcing
WEBSITE
https://www.pilotoasia.com/
ADDRESS
105 Cecil Street
#18-00, The Octagon
Singapore 069534
CONTACT DETAILS
(65) 9234 2902
[email protected]
OPERATING HOURS
Monday – Friday: 9 AM – 6:30 PM
Saturday & Sunday: Closed
Piloto Asia offers a wide array of business solutions, including company incorporation services, making them a go-to firm for clients looking for a partner that gets the job done.
To build the foundation for long-term relationships, they provide services that are not only affordable but also high-quality. With their help, your company is sure to grow financially and holistically.
Highlights
One-stop business outsourcing
Free Consultation

| | |
| --- | --- |
| BEST FOR | Online Corporate Services |
| WEBSITE | https://osome.com/ |
| ADDRESS | 80 Robinson Rd, #08-01, Singapore 068898 |
| CONTACT DETAILS | +65 6589 8807 |
| OPERATING HOURS | Monday – Friday, 8:00 AM to 5:00 PM |
Osome is a corporate service provider that focuses on helping companies in a purely virtual manner. Some of the services it offers are corporate secretary, accounting, taxation, and of course, the best company registration in Singapore.
If you're not looking forward to dealing with a huge pile of paperwork, then hiring the services of Osome will be perfect for the company.
It promises clients that they will never have to experience the nightmare of arranging and submitting paperwork to be registered.
Interested clients can get in touch with Osome by downloading their mobile application and sending them a message through it.
Highlights
Competitive pricing
No manual labor
Mobile application available

BEST FOR
Corporate Service Packages
WEBSITE
https://www.officem.com.sg
ADDRESS
10 Anson Road, #33-03, International Plaza, Singapore 079903
CONTACT DETAILS
[email protected]
+65 6909 8177
OPERATING HOURS
Monday to Friday : 9.30am to 5.30pm
Next on our list is Office M, which is founded by professionals who wish to see entrepreneurship to be collaborative, transparent, and knowledge-based. Their team is diverse and highly experienced, with their chief consultant having more than a decade of experience providing the people of Singapore with various corporate services.
Office M offers a wide range of professional work, all of which are reasonably priced and very reliable. They believe in constantly maintaining service quality, so clients can rest assured they won't receive subpar work from Office M.
Now, some of the services that Office M has to offer include Company Incorporation, Secretarial Services, Accounting, Tax Filling Services, and Auditing.
Office M gives enterprising business owners the opportunity to focus more on their core dealings as Office M takes charge of corporate statutory work and compliances. Their friendly consultants are eager and provide advice whenever possible.
Highlights
Affordable, reliable services
Wide range of corporate services offered
Skilled, diverse team of consultants
And that's it for the companies with the best company incorporation services in Singapore. Have you already decided which one to hire? If so, tell us all about it!
We're sure there are other corporate service providers out there that weren't included in our list, so if you know one that's worth checking out, don't hesitate to share names with us!
And for more options, you might want to consider checking out our list of the companies that offer the best company registration in Singapore. Like this list, that list will introduce you to some of the most in-demand corporate solution providers in Singapore.