The 17 Best Bedsheets in Singapore for All Bedrooms
Owning the best bedsheets in Singapore can do a lot to help you get a good night's sleep. Luckily for you, we've already found some of the best bedsheets in Singapore that are perfect for all types of rooms, from masters to single bedrooms.
Since there are many bed sheets sold on the island, looking for the perfect one can get a bit difficult. However, you don't have to worry anymore because we're here to help with our list of the best bedsheets in Singapore.
Before we move on to our picks, we'll share a few tips on how to pick out the best bed sheets in Singapore that will fit not only your bed but the vibe of your room as well. That way, you can be sure that you're getting one that can give your money's worth.Anyway, let's start, shall we?
Factors to Consider When Buying Bedsheets
Shopping for bed sheets is definitely easier said than done. If you want to get some that will give you your money's worth, you have to take a lot of factors into consideration before deciding to purchase a bed sheet.
For example, the fibre content has to be considered. It determines whether a bed sheet can last years or mere months.
Then there's thread count, size, weaves, and return policies. All of these are important when seeking the best bed sheet in Singapore.
Let's elaborate on each point below.
1. Fibre Content
If you're looking for a comfortable yet durable bedsheet, then you might want to consider going for cotton ones. Cotton bed sheets are known for being the softest and most affordable options.
If you want a more expensive-feeling bedsheet and have the money to spend on it, we highly recommend choosing an ELS (extra-long staple) cotton, such as Pima or Egyptian. These types of cotton are known to be a lot softer than standard cotton.
On the other hand, there are also bedsheets with cotton and polyester blends. If you don't mind the synthetic feel, you might want to check them out. They're also less prone to wrinkling.
2. Thread Count
Some people would say that the thread count of a bedsheet barely matters, but we believe that if you want a durable and soft bed sheet, you should never ignore its thread count.
As per our research and experience, bedsheets with thread counts that go beyond 500 are the softest and most long-lasting, on top of being extremely affordable. However, these bedsheets often lean towards the pricey side.
If you can't afford an expensive quality bedsheet, then we think that opting for one with 300 to 400 thread count should be enough. There are even bed sheets with 200 thread count, but they might not be as comfy as the former.
3. Weaves
Weave will mainly depend on your personal preference. Bedsheets sold on the island come in different types of weaves, but we believe that percale and satin are the best ones to choose from.
If you want a bit of a textured, rough bedsheet, then we strongly suggest getting a percale bed sheet.
On the other hand, some people prefer bedsheets with a smooth and soft texture, in which case satin ones would be the perfect option for them
4. Size
Before going to a store to check out a bed sheet, you must first get the measurements of your mattress and mattress topper. However, don't expect that you're going to find one that will exactly fit your mattress.
You must also take into account that some bed sheets may shrink after the first wash. So, make sure to purchase a bed sheet that's slightly larger than the size of your mattress/mattress topper.
5. Return Policy
Return policies are important for all types of items, most especially household ones like bed sheets. A few shops accept returns as long as customers can provide a valid reason, such as factory defects and the like.
If you end up not liking the feel of the bedsheet on your body, you may also return it to the shop, as long as they have a lenient return policy.
The Best Bedsheets in Singapore
And that's it for our tips on how to find the right bedsheet for your room. Now that you know about these things, you're probably ready to see our picks!
So, without further ado, here are our picks for the best bedsheets in Singapore.
1. HeavenLuxe Sheet Set
Best for Softness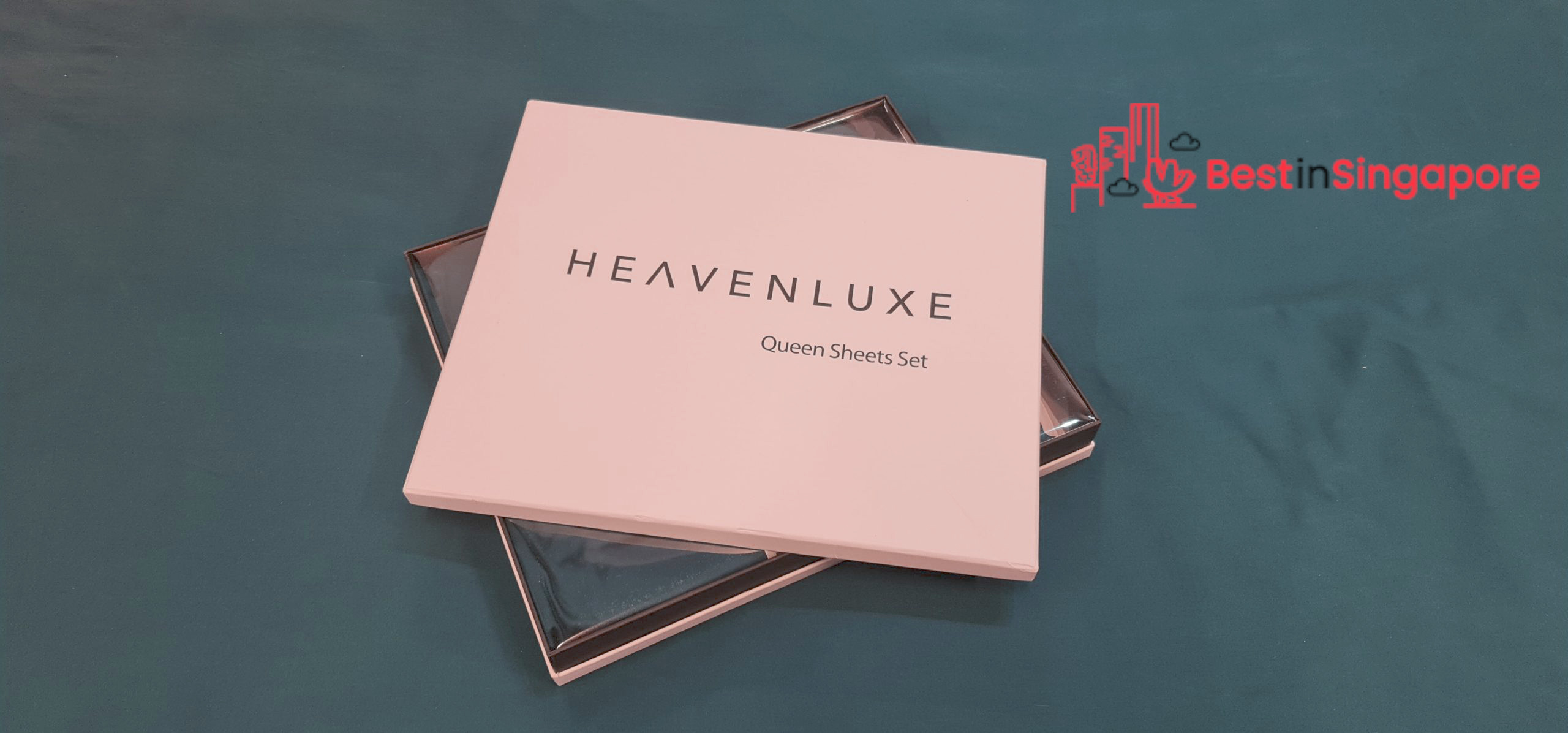 Price: $289 (Get $50 off with code BEST50)
Heavenluxe is truly wonderful sheets. It is on my own bed when I sleep at night. Do you know that moment when you go to a fancy hotel and just can't stop saying how awesome the sheets are? Wouldn't it be awesome to do that every night? That is where the Heavenluxe comes in.
I must warn you, Heavenluxe is not the cheapest option in the sheet market, my own sheets were just around $300, but when it comes to night time comfort I am willing to pay a bit more. Now you can save $50 off your purchase if you use the code BEST50.
Full disclosure Heavenluxe did not pay for us to write this, those sheets really are on my bed at night, but we are reader-supported and if you click on our link and make a purchase with our promo code we will receive a commission.
Highlights
Soft and cooling fabric
Made from high-quality material
2. Bed Tribe Iced Bamboo Sheets Set
Best for Softness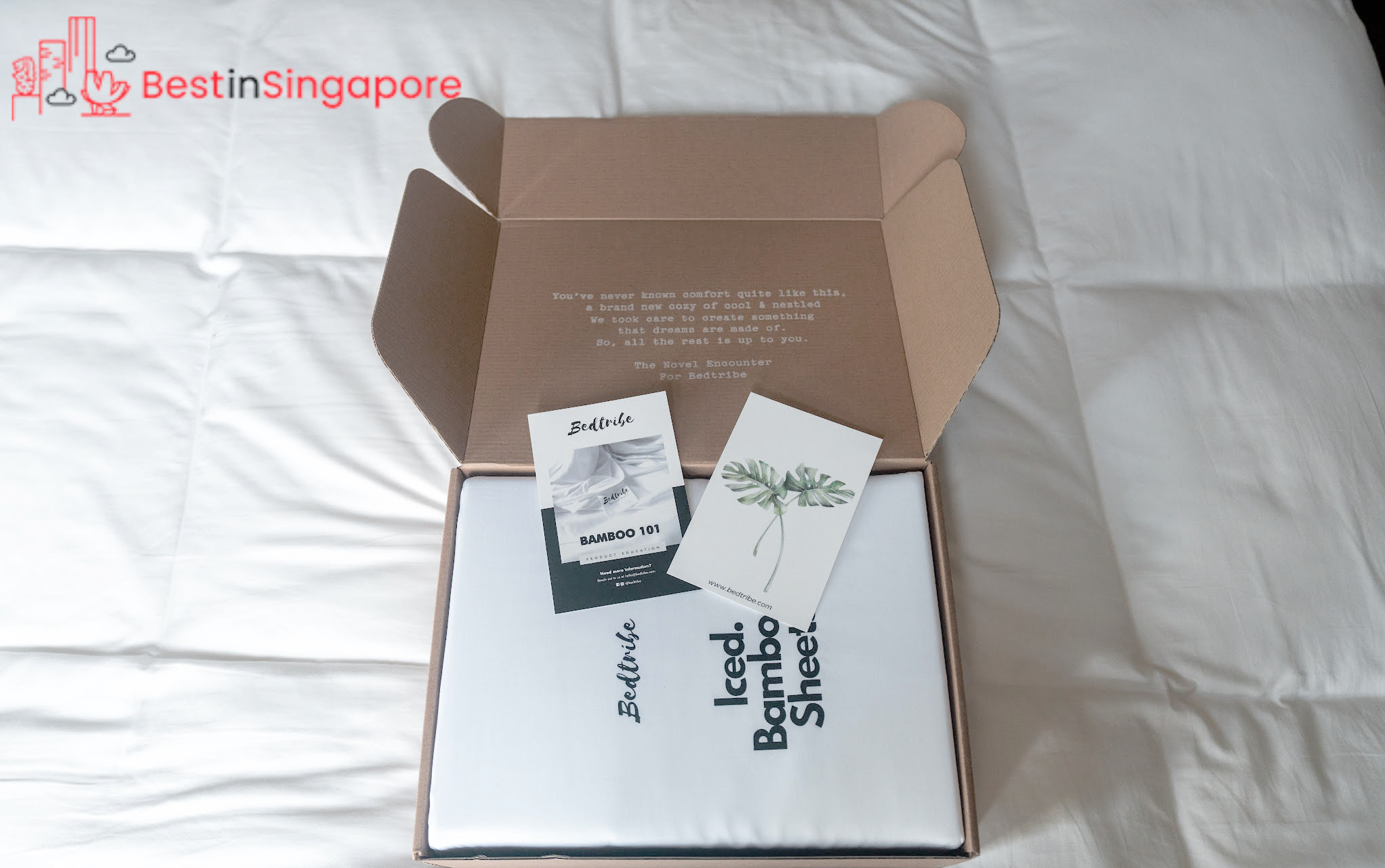 Price: $99.00
Iced Bamboo Sheets Set is preferred by the people because of its affordable price. They said that even though it is less than $100 , the quality is still superb and hvery high-quality.
Unlike other sheet sets, they offer this in five colors: white, grey, blush, navy, and forest. For the sizes, they have single, super single, queen and king.
What's unique about them is that customers can choose the type of pillow case the set will go with. People can either choose pillow & bolster case only or all pillow cases.
From the reviews of their previous buyers, they said that this sheet set is a must because it is perfect and can definitely give a good night sleep. They also mentioned that this product is the right one when the weather is humid and warm.
Highlights
100% naturally elongated bamboo fibers
300 threadcount
Machine washable
Hypoallergenic and antibacterial
3. Sunday Bedding Provenance Bamboo Sheet Set
Best for Minimalistic Design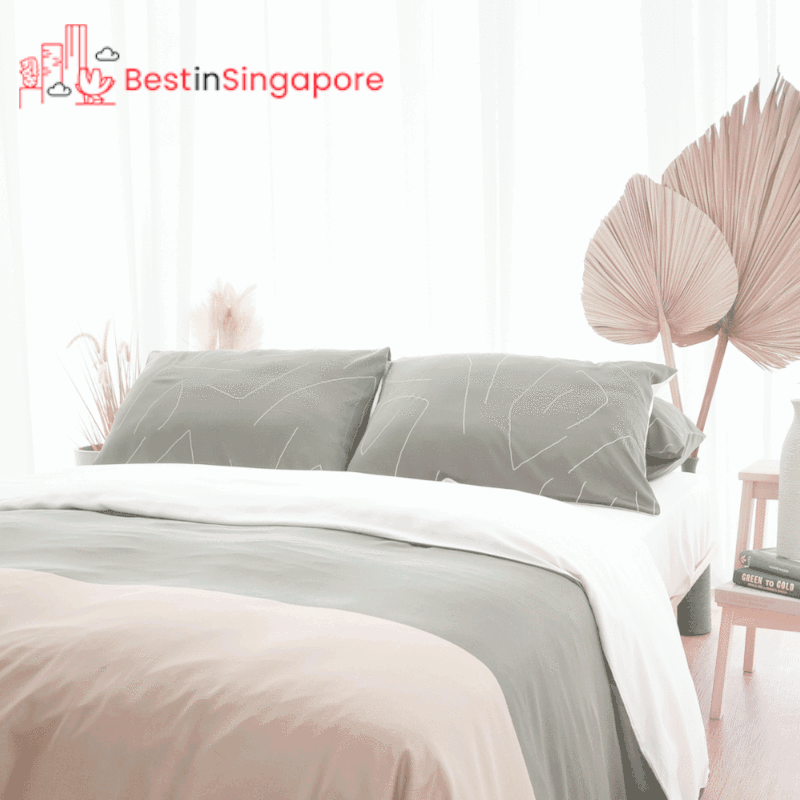 Price: $240
Sunday Bedding's Provenance Bamboo Sheet Set is specifically designed to mimic a well and perfectly decorated bed. From the reviews of their previous customers, they love buying this sheet set because of how smooth and cooling the material is.
Unlike other sheets, this set is made of 100% Bamboo Rayon. This is prefered by people who sleeps warm because it is more absorbent than your usual sheets.
What's unique about their set is that has one fitted sheet that can fit mattresses up to 40cm deep, one duvet cover with four twill ties at the corners, and two queen sized pillows.
People feel comfortable buying from Sunday Bedding because they have free and easy returns within 30 days after you brought the said product. They do this because they prioritize the comfort of their customers first.
Highlights
7 different sizes
Reversible sheets
Sustainably produced
4. Weavve Home Lyocell Sheets
Best for Cooling Comfort
Price: $115 – $279
Cooling is one of the best comforts an excellent bed sheet can bring. Weavve's Lyocell bed sheets will be able to just that thanks to its soft and breathable material.
You won't need to worry about bacteria or odour either. Lyocell bed sheets don't gather moisture easily and without the aid of any chemicals. With this bed sheet, you can get the most peaceful night's sleep possible.
Highlights
Enhanced breathability
Gentle & hypoallergenic
Anti-bacteria & odour
Sustainable manufacturing
5. Canopy Luxe Quilt Cover Bedset
Best for Different Designs
Price: $83.30
If you want to get a bedding set that's worth your money, then you might want to check out the Canopy Luxe Quilt Cover Bed Set. It comes with a bed sheet, pillow case, blanket, and linens, all of which are made from pure cotton sateen.
What's more, it also comes with a wide range of designs and colours that can match any bedroom interior. There are designs that kids, teeangers, and even adults would like — which is why we consider it one of the best bed sheets in Singapore.
In terms of durability, the Canopy Luxe Quilt Cover Bed Set surely doesn't fall short either. You can have it washed multiple times a month and its quality will not decrease.
Highlights
Made from premium materials
Variety of designs
Complete bedding set
6. SLEEPTYDE™
Best for Wrinkle-Free Bedsheet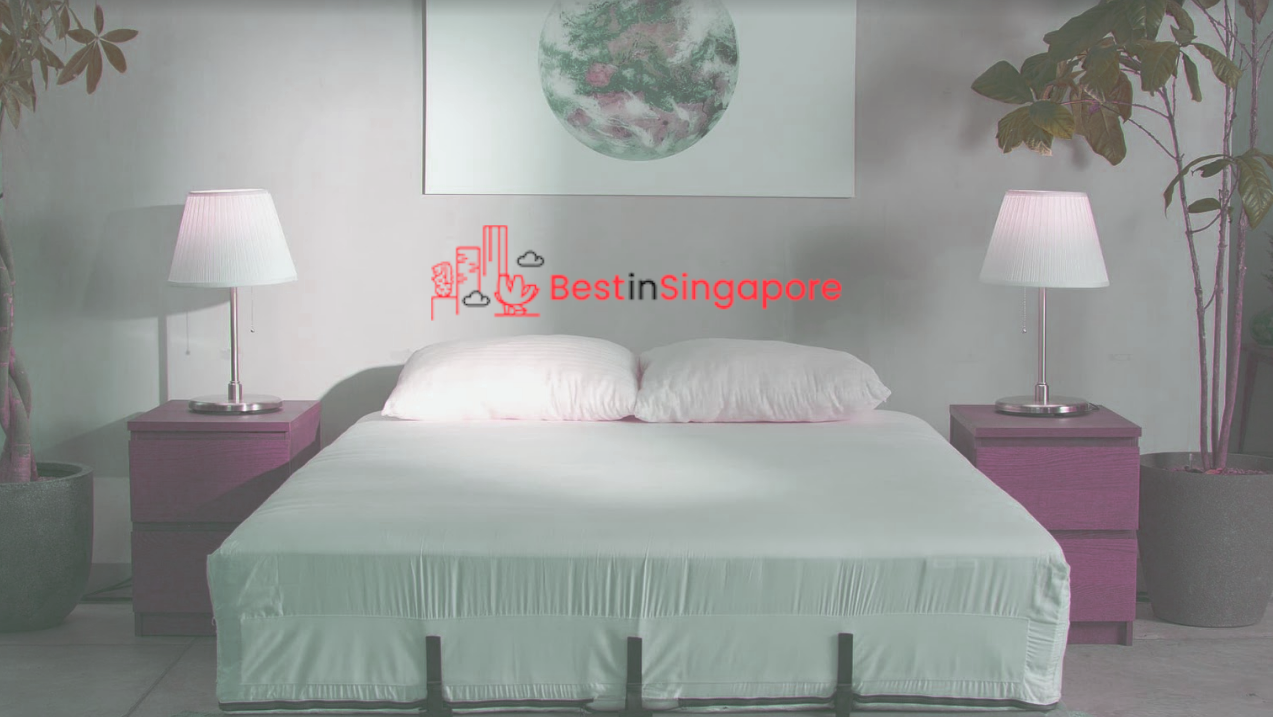 SLEEPTYDE™ is a bedsheet tensioning system that keeps your bed sheet wrinkle-free and regulates your temperature for better slumber. Designed to hold bed sheets in tension without breaking a sweat, it allows different tightness adjustments according to your preference without needing extra manpower. Bedsheet so tight, it's under tension.
The tensioning system holds your bed sheet in place, makes changing bedsheets easy, and protects your mattress by forming an enclosure.
Highlights
Uses 4 quadrilateral autonomous tectonic rigid plates which will move towards each other when the belts are pulled
9-point belt system is designed to spread pressure evenly to the connecting bed sheet requiring minimal effort at each station
Sheets are thoughtfully designed so you never have to wrestle with fitted-sheets or lift the mattress ever again
7. AKEMI Cotton Select Adore
Best for Overall Value
Price: $69.00
AKEMI is one of the most trusted household brands on the island, so it's no surprise that one of its bed sheets ended up on our list. Here's the AKEMI Cotton Select Adore, and we believe it's among the best bed sheets in Singapore.
For one, the AKEMI Cotton Select Adore has a total of 730 thread count, significantly higher than the previous option. So, customers can guarantee that it's strong, durable, and will definitely last for a long time.
More than that, it also comes in 6 various designs, from modern geometric shapes to floral prints. It's guaranteed that there's a design that can complement the atmosphere and vibe of your room.
The AKEMI Cotton Select Adore is also made from 100% cotton, making it an extremely soft and comfortable bed sheet that can give you your best sleep yet!
Highlights
100% cotton
6 different designs
730 thread count
Customer Reviews
As one of the best bed sheets in Singapore, it's received tons of praise and positive feedback from customers. It's also one of the best-reviewed bed sheets on Lazada Singapore.
A lot of customers mentioned that it's a high-quality bed sheet for an affordable price, so they were shocked to discover how soft and comfortable it is on the body.
8. AKEMI TENCEL Concord
Best for Comfortable Sleeping Environment
Price: $71.10
If you have extra cash to spare, you might want to get your hands on the AKEMI TENCEL Concord. Since AKEMI is such a reliable brand, we couldn't help but include another one of its household products in our list,
We consider it one of the best bedsheets in Singapore not only for its sleek and elegant design but for its charcoal-infused fibres as well that can provide any user with a comfortable sleep.
On top of this, it has a total of 930 thread count, making it the most durable bed sheet in our list. You can expect that these will not only help you sleep better but may also last longer than most bed sheets sold on the island.
Highlights
Anti-odour properties
Elegant colour and design
Charcoal-infused fibres
9. iSleep Solid Soft Bed sheet
Best for Affordability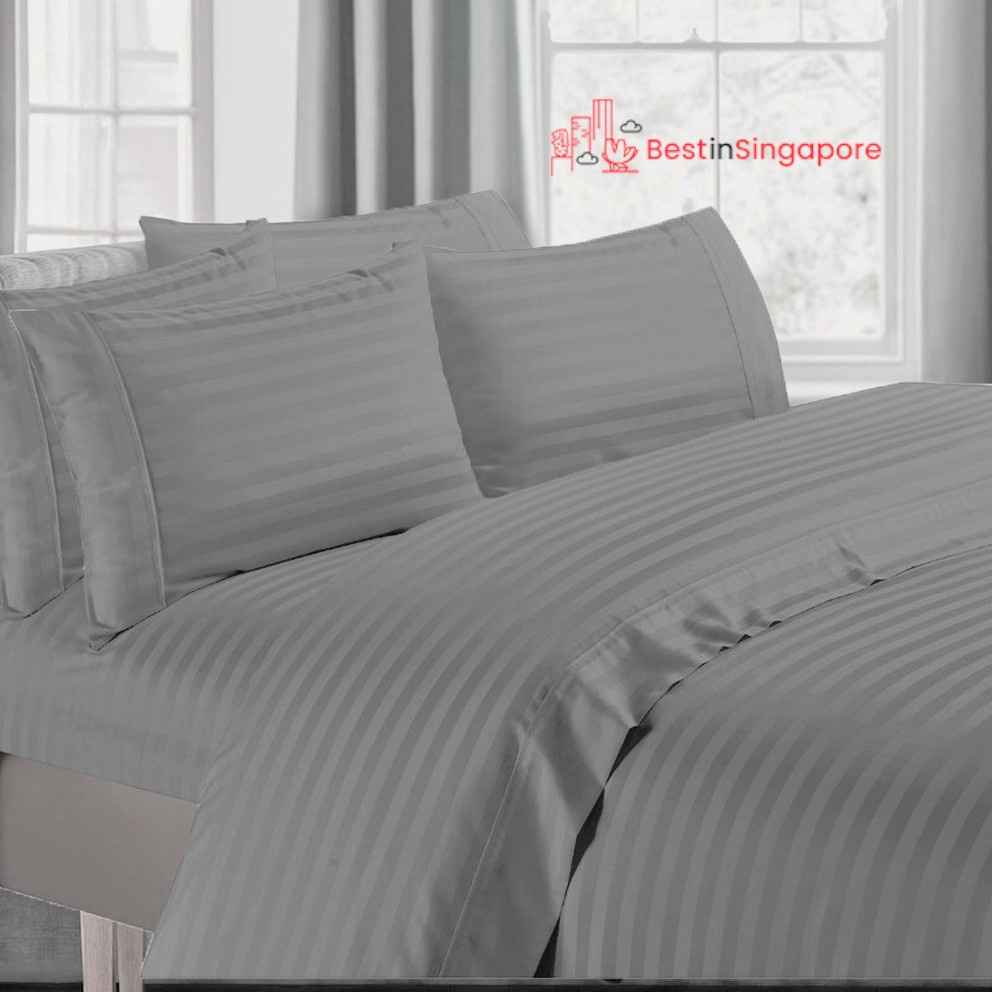 Price: $15.90
The iSleep Solid Soft Bedsheet is definitely the most affordable option in our list. For less than $15, customers can get their hands on a premium, high-quality, and durable bedsheet that can provide them with their best night sleep to date.
More than that, what makes it one of the best bedsheets in Singapore is its metallic charcoal design — which goes with any bedroom interior. It's also made from high-quality microfibres, so customers don't have to worry about it not lasting long.
What's more, its microfibres are also ideal for people with allergies as they can repel dust and all types of allergens. So, if you're prone to allergies, you might want to get your hands on the iSleep Solid Soft Bedsheet.
Highlights
Made from premium microfibres
Repels dust and allergens
10. Herbie – Contempo Atelier Fitted Sheet
Best for Natural Design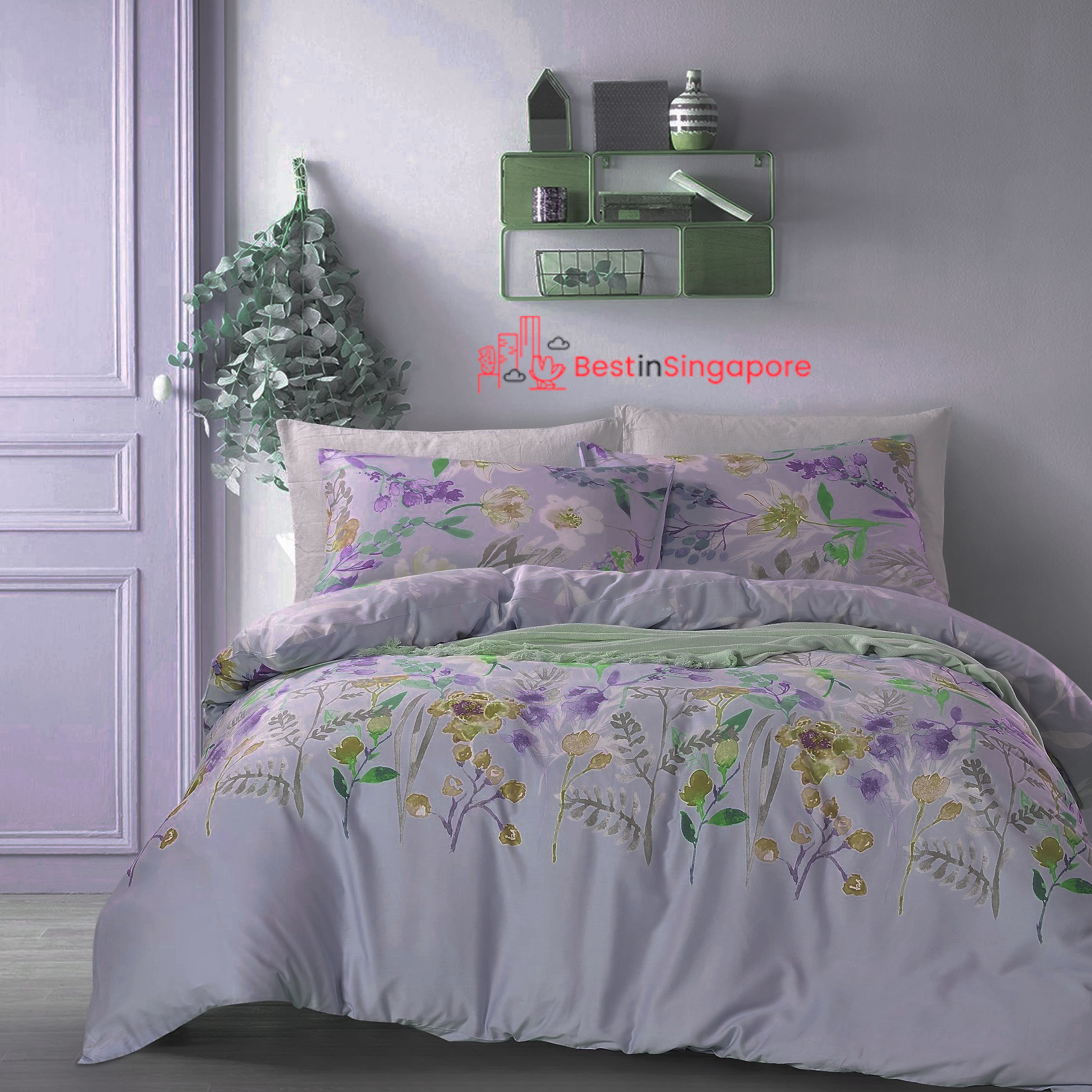 Price: $179.00
Komme is one of the most trusted brands when it comes to lifestyle products, so it's no wonder that their Herbie-Contempi Atelier Fitted Sheet Set is also truly one of the best. It comes with a bed sheet, pillow case, bolster case, blanket, and linens, all of which are made from 80% Tencel, 20% Cotton and has a total of 300 thread count.
It is incorporated with herbal botanical printed design to give you that springtime vibe for your bedroom. It also has a contrasting bottom panel that will bring your sleeping abode a pleasing appearance and elegance.
Get on your hands on the Herbie-Contempi Atelier Fitted Sheet Set now– you can rest assured that you will have a sleep experience like you've never had before!
Highlights
Soft and cooling fabric
Exceptional design
Gentle on skin
11. French Stoned Washed Linen
Best for Tropical Weather
Price: from 88 SGD to $358 SGD
Check It Out on ÉDITION LIMITÉE
You can't underestimate the value of a good night's sleep. It improves mood, productivity, general health, and even keeps you both looking and feeling young! That's why we want to share with you our secret: stonewashed linen sheets, the best way to beat the heat with the French Touch– especially at night.
Edition Limitee's signature items are beautiful bedding such as duvet covers, pillowcases, fitted sheets and flat sheets; but Julie has also designed a line of tablecloths, napkins, and cushion covers.
Driven by quality, clean lines and the use of natural materials such as cotton and linen, Julie also handpicks capsule collections of fashion apparel, jewellery and handbags with an eco-conscious approach, avoiding plastics and unnecessary packaging where possible.
Highlights
100% Natural
Very soft and gentle on skin
Bacteria resistant
Ventilating and moisture absorbing
Wide range of colours
Sizes: baby to adult
Durable
12. Solid Color Combo Designs
Best for Stylish Comfort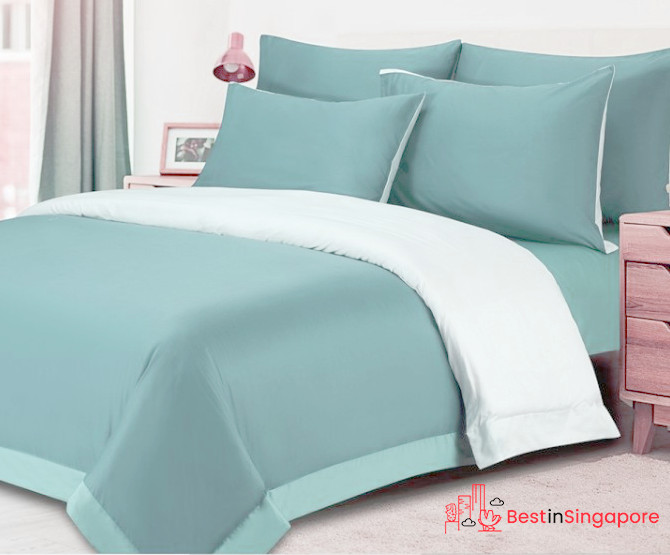 Price: S$139 – S$179
Do you sometimes feel tired even if you have been lying in your bed the whole day? Have you been experiencing sleepless nights, even though you are tired from all of your daily activities? Maybe the bed you're sleeping on is not really helping with your fatigue.
You should change your outlook and seek a better mattress. A mattress that will reduce your fatigue, increase your energy, envelop you in a right amount of warmth, improve your quality of sleep, and helps you recover faster from tirelessness.
Consider using Bed Origin. Bed Origin has a Nanotechology Coating System, which provides everything a sleeper wishes for a good night of sleep. It is also sold for an affordable price. If you purchase this product, you will never have a sleepless night again!
Highlights
Affordable Prices
Nanotechnology Coating System
Imported Directly from the Factory
No Retailed Middleman / No Dealer Mark-Up
Customer Reviews
Here is a review left by a very satisfied client:
"The mattress arrived in good order and it's beautiful. I was expecting a firm mattress but not to my expectation. The edges is soft and rounded, so you feel like falling off if sleep to far to the edges. Overall am happy with the product." – New Ah Lek
13.   MaxCoil Essential Fitted Bedsheet Set
Best for Durability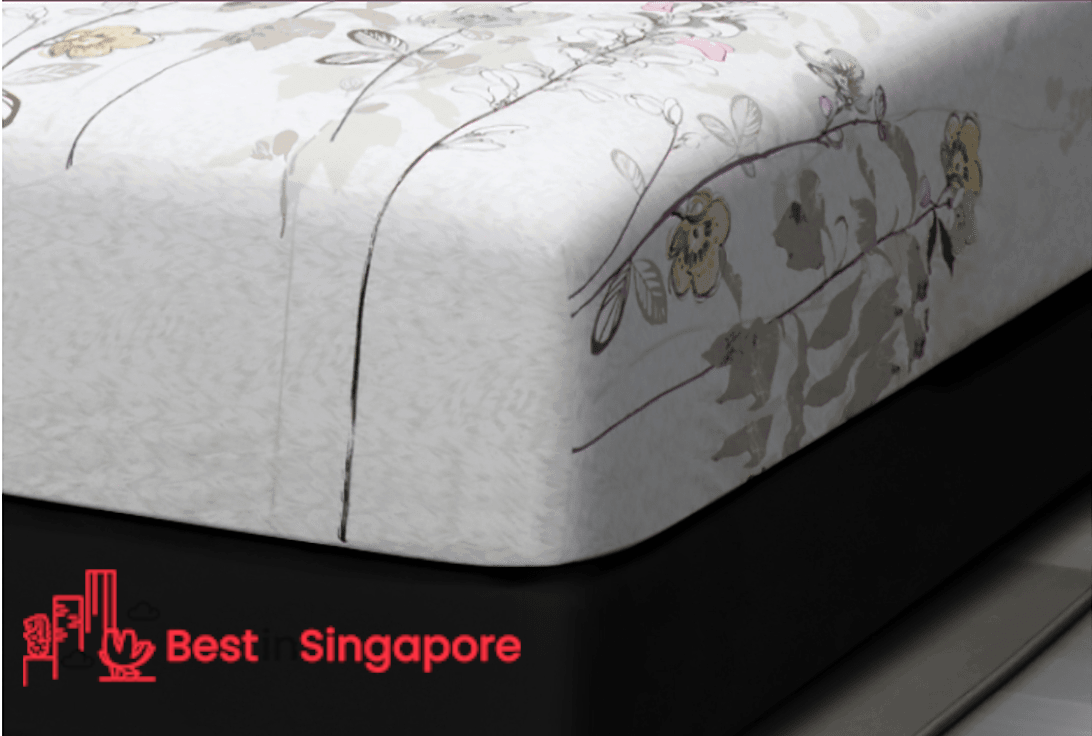 Price: $24.90
If you're looking for a quality but affordable bedsheet, then look no further than the MaxCoil Essential Bedsheet. It comes in various sizes that can accommodate single, queen, and even king-sized beds.
More than that, there are also lots of designs to choose from, allowing you to pick one that can complement your bedroom. Customers may pick from a total of eight designs, such as floral, vintage, and seawater, among others.
The MaxCoil Essential Bedsheet also comes with a smooth microfibre material, twill weave, and a total of 360 thread count, so rest assured that it will stay soft and smooth for a long time  — which is why we consider it one of the best bedsheets in Singapore.
Customers also won't have a hard time washing it because it's extremely lightweight. It can also withstand multiple washings without shrinking and wrinkling.
Highlights
Multiple designs
Durable material
Different sizes
14. Waterproof Mattress Protector
Best for Water Protection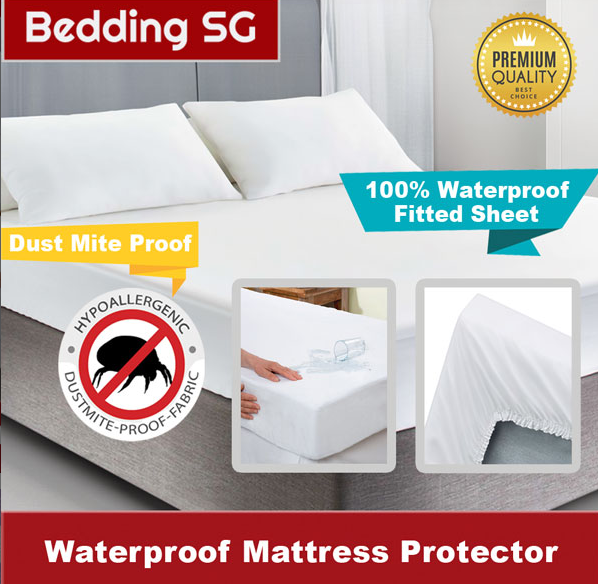 Price: $27.90 – $35.90
Protection from liquid spills is one of the biggest factors to consider when choosing sheets. Fortunately, this issue becomes a non-issue with the help of Bedding SG's Waterproof Mattress Protector.
See, the Waterproof Mattress Protector is exactly what it says it is.
It's a plain fitted sheet that protects the mattress from fluids spill, perspiration, urine, bed wetting. Not only that, but it protects the mattress from dust mites as well.
Aside from protection, we must also commend the fact that this sheet doesn't make any crinkling noises unlike most waterproof sheets in the market.
Lastly, the Waterproof Mattress Protector has a breathable, cool surface, making it an excellent choice during Singapore's more humid days.
Highlights
Free shipping in Singapore
100% waterproof
Easy to fit in
Hypoallergenic
Made from premium quality fabric
15. Granjoy Premium Bedsheet Set
Best for Premium Tencel Sheets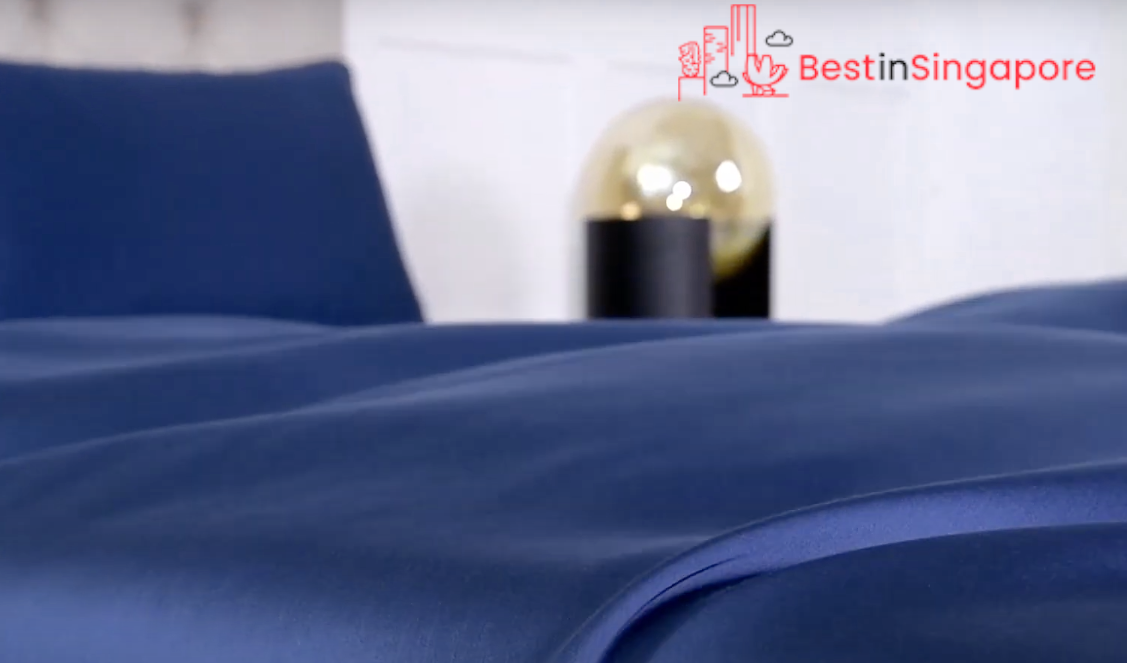 Price: $188 – $228
Next on our list are bed sheets perfect for those looking for something a little more luxurious.
Introducing Granjoy's Premium Bed Sheets, which are 100% made from TENCEL™ fabric.
For those who do not know, TENCEL™ Lyocell fibres are known for the softness and comfort they bring. Since the Premium Bed Sheets are made from this material, it's not at all surprising that they're so soft and feel like sick.
Except, they're much better and vegan.
Aside from that, the Premium Bed Sheets are hypoallergenic. So, they're soft as well as gentle to the skin, perfect for babies and those with sensitive skin and skin issues.
Lastly, the TENCEL™ fabric has allowed Granjoy to enhance the Premium Bed Sheets' breathability, which leaves the user feeling cool and dry while they sleep. Definitely an amazing choice for Singapore's humid weathers.
Highlights
Sustainable production
Soft, smooth, and gentle to the touch
Available in four colours
Comes with fitted sheet, pillow cases, bolster case, and gift box
16. 380TC Classic Tencel Quilt Cover Set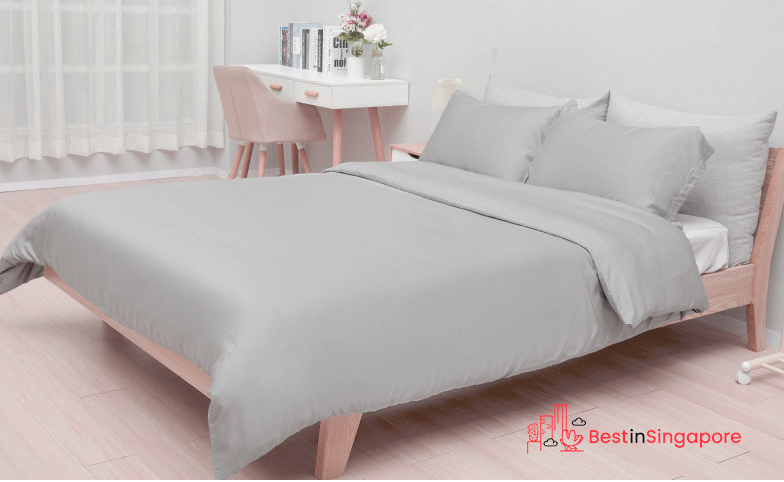 Price: $129.90 – 169.90
If you're looking for bed sheets that offer a more sophisticated look, then you may want to consider IUIGA's 380TC Classic Tencel Quilt Cover Set.
The 380TC Classic Tencel Quilt Cover Set is once again made with TENCEL™ fabric, which is breathable, skin-friendly and soft and smooth to the touch. Even those having trouble getting comfortable at night will have no trouble settling in with this bedsheet set.
As for the colour options, the 380TC Classic Tencel Quilt Cover Set is available in white, grey, and pink; and comes in three sizes: super single, queen, and king.
While the options for both size and colour are a bit lacking, the 380TC Classic Tencel Quilt Cover Set more than makes up for it by offering a thee to four-piece set, consisting of a fitted sheet, quilt cover, and either one or two pillow cases.
IUIGA offers customers the opportunity to purchase the bedsheets through installments with the help of atome. Moreover, free shipping all over Singapore is also provided.
Highlights
Comes in three colours: white pink and grey
Available in three sizes: super single, queen, and king
380 thread count weave
Comes with a fitted sheet, quilt cover, and two pillow cases
17. Nuloft Dreamer Bedsheet Set 
Price: $199.00 – $329
Bed size measurements are different in Japan and Singapore, but with Nuloft Dreamer Bedsheet Set you do not have to worry because they offer both.  Because of this, they are the only one that has 7 available sizes for this product.
Aside from this, we also love how they have 4 colors for this set— Cloud White, Moon Grey, Azure Blue, and Natural Brown. Perfect for those who want to use the same set for different aesthetics. 
Given that the fabric material is 100% combined cotton sateen, you will be able to sleep comfortably with its soft and smooth-to-touch bedding that no other bedsheets have achieved.
Another reason why we prefer this set over others is its corner ties. This may not seem like a big deal for others, but we still believe that it is something convenient.
This feature can really ensure that your bed linen and duvet will stay in place and keep your bed looking neat every time.
If you really want the best sleeping experience, this sheet set is best paired with their Nuloft Natural Latex + Memory Foam Mattress which is also available in both Japanese and Singaporean sizes.
Highlights
12 months warranty
Active printing and dyeing process that makes colors not fade easily
Even taller mattresses (up to 40cm height) fit perfectly
Neutral colors
And with that, we conclude our list of the best bedsheets in Singapore. If you've purchased any of these bedsheets before, don't hesitate to share with us how they helped you sleep better.
And if you want an even more comfortable sleep, you might want to get yourself the best mattress toppers in Singapore. You may well experience the best sleep you've ever had with the combination of these quality bedsheets and mattress toppers!