The 8 Best Mattress Toppers in Singapore for a More Comfortable Sleep
Does your back often hurt because your mattress is too soft or too hard? Time to say goodbye to your recurring back pains with the best mattress toppers in Singapore today!
A great mattress topper can not only provide you better and uninterrupted sleep but can also reduce your chances of developing back problems. With the right mattress topper, you'll wake up feeling more energised each day.
If you're clueless as to where to find the best mattress toppers on the island, don't worry! We've already listed the ones worthy of your attention here.
But before that, we'll give you tips on how to pick out a great mattress topper worth your money. That way, you'll be able to confidently go through our list knowing that you're equipped with the knowledge you need to choose one.
Let's start, shall we?
What to Consider When Buying Mattress Toppers
While mattresses are commonly used to relieve back pain, they still have multiple benefits that are worth noting. One of which is extending the lifespan of mattresses (which, by the way, can cost a fortune).
In line with this, mattress toppers cost a lot less than a brand new mattress. Hence, buying a mattress topper is more practical than spending money to replace your mattress more often.
Among the first things to look out for when choosing a mattress is the type. On top of this, the firmness, thickness, and the pricing are also worth noting.
Let's go over the types of mattress toppers first.
1. Type
In order to maximise the benefits of a mattress topper, you must choose the type that suits your needs.
Latex, the most common type of mattress topper, provides excellent body comfort and support. However, latex mattress toppers can be a bit on the pricey side.
In addition, there are two types of latex: the natural and the synthetic. And both do the job well, so it's up to you which material you prefer to have inside your home.
On the other hand, memory foam will conform to your body as you sleep, giving you maximum body support. Like the latex, it can also get a bit expensive.
If you're looking for the cheapest option, though, polyester bend is a great choice for you. It also does the job of providing you with comfort and support quite well.
2. Firmness and Softness
There are people who prefer to sleep on firm mattresses, while there are others who sleep well on soft ones. With the right mattress topper, you don't have to worry about not getting enough body support as you sleep, especially when you have a relatively old mattress.
Firm mattress toppers are proven to be effective in reducing your chances of developing back pains and other bodily discomfort.
On the other hand, a soft mattress topper conforms to your body, providing you with perfect back support that can help to improve your posture.
3. Thickness
A standard mattress topper has a thickness that ranges between 2 to 8 inches, depending on the type. If your mattress has gotten very soft due to years of usage, a much thicker mattress topper would be advisable for you to get better sleep.
In addition, if you sleep next to someone, a thicker mattress topper is ideal to prolong the life of your mattress. Memory foam and latex mattress toppers are the ones with the perfect range of thicknesses.
4. Pricing
 As with many other products, higher price doesn't automatically guarantee quality with mattress toppers.
We suggest that you go for the mattress topper that fits your budget and not opt for the one that will drain your wallet. But we also recommend that you seek other options so you can compare their prices.
That's why we're here to provide you with our list of the best mattress toppers in Singapore that will give the most bang for your buck.
The Best Mattress Toppers in Singapore
Now that you know what factors to consider before buying a mattress topper, you're definitely ready to see which ones we think worthy of your attention.
Without further ado, here's our list of the best mattress toppers in Singapore!
1. Peacelily Mattress Topper
Best for a Luxury Plush Comfort Feel
Price: $349.00
The Peacelily Mattress Topper features 5cm of 100% natural rubber latex to add an extra layer of comfort to your mattress. Experience better sleep, with the plush version aiding in relieving pressure with its cloud-like feel.
The topper is also ideal for all sleep positions and those wanting a more luxurious feel. The plush topper can also improve the comfort feel of a mattress that is too firm. If you already have the Peacelily Mattress, this is definitely the perfect partner to enhance either the medi!
The rubber sap used as raw material for latex is harvested and processed sustainably. Rubber trees are hand-tapped and the sap is used for the foam latex layer. The material is so natural and free from toxic chemicals and this is backed by ECO Institut and Oeko-Tex Standard 100 certifications.
It also comes with a breathable, GOTS-certified 100% Organic cotton cover, wadding and tape edge. Quality materials from the inside and out make this a standout sleep product.
The mattress topper does not receive any chemical fumigation nor get sprayed any fire retardants. It meets some of the most rigorous natural and non-toxic standards, making it perfect for children and adults who are highly sensitive to these toxins. It is truly the safe, healthy and natural choice for better sleep.
Highlights
10 year warranty 
100 night trial
Safe and non-toxic
Built for durability
Customer Reviews
Here's what some people have to say about the mattress topper's quality as well as their experiences with it:
"My son left home and left us with the latex mattress that he chose (another brand, not Peace Lily). We bought that particular mattress because he has a severe dust mite allergy and we wanted latex. It suited him but for anyone else it was like sleeping on planks. I bought the Peace Lily Plush Topper in the hope it would enable my daughter to use hRead more about review stating Converted a rock hard mattress into a comfortable mattressis bed and it did. No more feeling every bone in your body and waking with a sore back. Now she has a comfortable night's sleep. So much cheaper than buying a new mattress and because it's latex my son can still use it when he visits."
"I have been through 4 mattresses in the past 6 years trying to find one that is both comfortable and supportive to my back and neck. I can never be comfortable for more than a few hours before my limbs hurt. I purchased this topper as a last resort as my husband refused to entertain buying yet another mattress. This topper is fantastic. It supportRead more about review stating Changed my lifes your body so well, I can't believe It. There are no bumps in the middle like most mattresses develop. It is so comfortable yet fully supportive. I wake up refreshed and bodily rested each day now. I would recommend this topper to everyone. I was nervous of taking a risk on spending the money but am so happy I did. Next mattress will be a Peacelily one for sure."
2. Nile Valley Mattress Topper
Best for Hotel-like Experience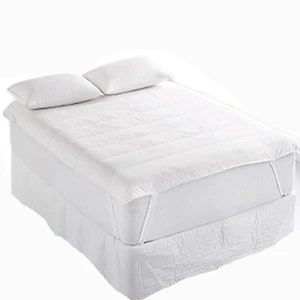 Price: $64.00
The Nile Valley Mattress Topper is perfect for anyone who has wanted to get a full night's sleep for the longest time. Made with 100% Egyptian cotton, it has the perfect level of fluffiness and softness that can give you the most comfortable sleep to date.
One of its key features is its 6-in-1 protection feature. You will not only be protected from terrible sleep but from bed bugs, allergens, odours, and dust mites as well.
More importantly, this is the mattress topper that most luxury hotels use. So, buying this one will give you a hotel-like experience in the comfort of your home and without costing you a lot of money.
Highlights
Protected with mite guard
Machine-washable
Elastic design cover
5cm thickness
Customer Reviews
Customers who have used the Nile Valley Mattress Topper mentioned that it's amazingly soft but still provided support for their backs while sleeping. On top of this, they also said that they could feel its luxurious warmth every time they lay on top of it.
Another thing that most buyers commented on is that it helps transform their bed into a hotel-like bed that feels good for the whole body.
3. Origin Cooling Gel Memory Foam Mattress Topper
Best for Affordability
Price: $94.90
Check it out on Origin Mattress
Since mattress toppers can be a bit expensive, we made sure to include one that fits anyone's budget but still does the job pretty well. This is the Origin Cooling Gel Memory Foam Mattress Topper, and we think it's superb despite being cheap!
You can say goodbye to sleepless nights because this mattress topper is infused with gel, providing you with the best uninterrupted sleep you will ever have. You will wake up the next morning more prepared to face the day.
It takes its users' comfort to another level by relieving them of back pains and other bodily discomfort. This one's even made from premium high-quality memory foam that supports your posture as you sleep.
And if you have a partner who changes position every minute, this mattress topper can eliminate the disturbance that creates, giving you a more comfortable sleep.
Highlights
2-inch thickness
Made from high quality memory foam
Eliminates partner disturbance
3-year warranty from local seller
Customer Reviews
A customer who bought a mattress topper to relieve himself from back pains commented:
"Finally disposing of my old mattress of 11 years and made the best decision ever by purchasing from Origin. The mattress is the most comfortable and affordable mattress ever purchase, thanks to their pressure-relieving foam and clinically proven support technology. I was diagnosed with a L2 slipped disc and it was challenging to find a good mattress that also helped to relieve the pain. This mattress fit all the necessary requirements for a slipped disc patient, it helps to relieve the tension in my back and the foam shape the contour of my back perfectly. Went down to the showroom on weekend, the staff is super patient in replying all my enquiries. Definitely recommend anyone looking to replace their old mattress give this brand a try."
4. Elefen Mattress Topper
Best for Overall Value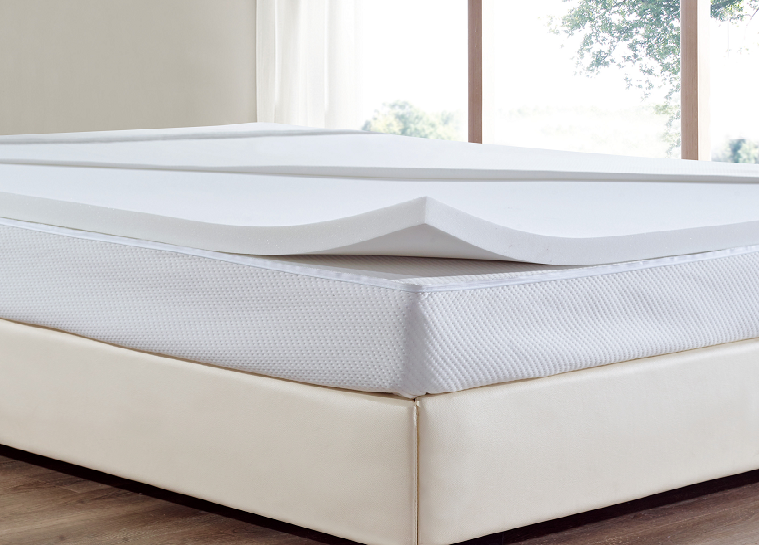 Price: $152.91
If you're looking for a mattress topper that provide maximum body comfort and support without being too expensive, then the Elefen Mattress Topper is a great match for you. It's made from 100% polyester memory foam that can improve an old and saggy mattress.
You'll get to experience a long, full night's sleep once again like a child when you get a hold of this amazing mattress topper. It's also extremely breathable, so you don't have to worry about your mattress overheating at night.
So, if you want a mattress topper that won't disappoint you, then we highly recommend that you get this one. You may not want to leave your bed ever again once you do!
Highlights
Affordable
5cm thickness
45D memory foam
Hotel-like experience
5. Sleepthetic Fitted Memory Foam Topper
Best for Posture Improvement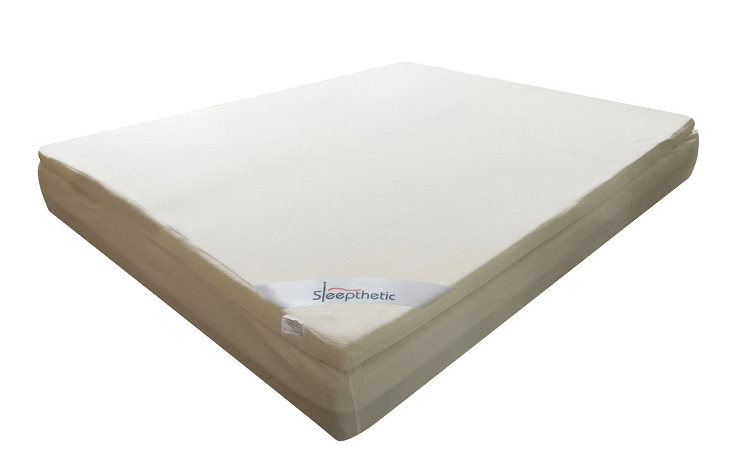 Price: $98.00
The Sleepthetic Fitted Memory Foam Topper might be the mattress topper you're looking for to make your dreams come true. For a cheap price, it can renew the comfort of your bed.
It has a smooth and soft sleeping surface that will not only give a proper sleep but support your entire body as well. It can support and mold to all body types, so whether you are big or small, you'll get a lot out of this one.
More importantly, the Sleepthetic Fitted Memory Foam Topper relieves pressure from the body parts that bear the most weight, providing you with a more comfortable and sound sleep.
And if all this still isn't enough to convince you of how good this topper is, it's also resistant to dust mites, bed bugs, and even allergens.
Highlights
Provides therapeutic support
Releases stressed muscles
Anti-dust mites
Open cell memory foam technology
Customer Reviews
A customer who bought three pieces of this mattress topper commented that everyone in her family now gets to sleep comfortably because of this. She adds that it helps in extending the lifespan of their mattresses.
Most customers also loved that it has a simple yet elegant design. They said that it perfectly complements their sheets and duvets.
6. Tatami Mattress Topper
Best for Hot Weather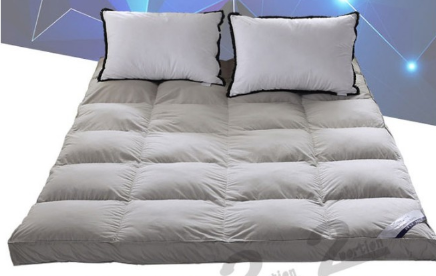 Price: $29.90
While the Tatami Mattress Topper may be the cheapest one in our list, that doesn't mean it's low-quality. It's extremely soft, comfortable, and smooth — like the ones produced by well-known brands but with the exception of the hefty price tag.
If you worry about using mattress toppers during hot weather because it tends to be uncomfortable, consider this one different because it is perfect for such weather. Some owners even commented that you won't need to turn on the air conditioner even when you use this one on a super sunny day.
It's also packed with cotton fibre to provide you with uninterrupted sleep. You'll want to spend your entire day in bed once you've experienced how comfortable this mattress topper is.
What's more, attaching it to your mattress won't be much of a problem because it comes with 4 durable elastic bands on each corner.
Highlights
Affordable price
Extremely durable
Perfect for hot weather
Cotton fibre filling
10cm thickness
7. Luxe Collection Super Cooling Mattress Topper
Best for Relieving Body Pains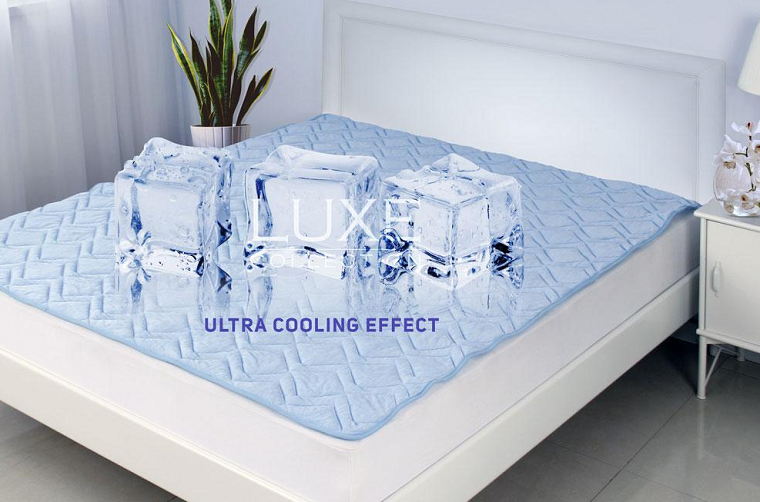 Price: $79.90
The Luxe Collection Super Cooling Mattress Topper boasts an ultra cooling effect that can't be found in other mattress topper, making it perfect during hot and sweaty weather. If you want to be cool even on humid summer days, just make sure that you lie down on this mattress topper.
It's also perfect for working individuals who just want to sleep once they get home. That's because its cooling mechanism makes it easier to fall asleep comfortably.
Lastly, it's made from safe and breathable materials that are skin-friendly and won't give you allergies. It's also easy to clean and wash because it's lightweight and machine friendly.
Highlights
Ultra cooling effect
Hypoallergenic
Washing machine-friendly
Breathable material
Customer Reviews
Customers are really impressed with its ultra cooling mechanism. They say that when it gets hot at night, they don't need to turn on the air conditioner on anymore because its cooling effect can be enough to keep them cool.
With this feature, they get to save electricity as well. So, if you're a person who doesn't like sweating at night, many of the owners of this topper would recommend it.
8. The Herculean™
Best for Comfort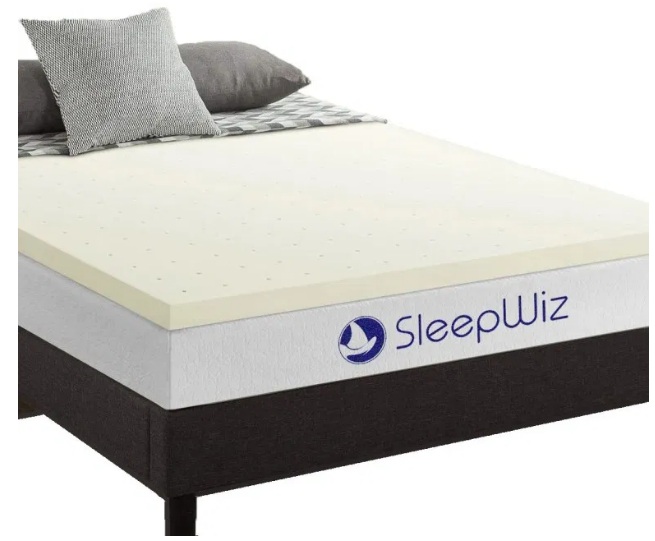 Price: From $209.90
Feeling restless even after 8hrs of sleep? Maybe your mattress is just too hard or too soft for you.
With Sleepwiz's Herculean™, Goldilocks might never leave your bed. It's an all-natural latex mattress topper that gives just the perfect amount of structure for your body to relax without leaving a sinking feeling.
Try not to sleep too long with Sleepwiz; we perfectly understand though! A mattress doing absolute wonders, who would have thought?
Highlights
Structured

Perfect balance between firmness and elasticity

Perfect for hot weather

Hypoallergenic
And that's a wrap for our list of the best mattress toppers in Singapore! We hope that you've found the one that fits your needs.
Do you have a trusted mattress topper that wasn't included in our list? If so,tell us its name and what makes it a great mattress topper!
By the way, you may also be interested in our list of the best foldable mattresses in Singapore! Pair them with one of the mattress toppers in this list and you'll be able to give even unexpected guests the perfect night's sleep.